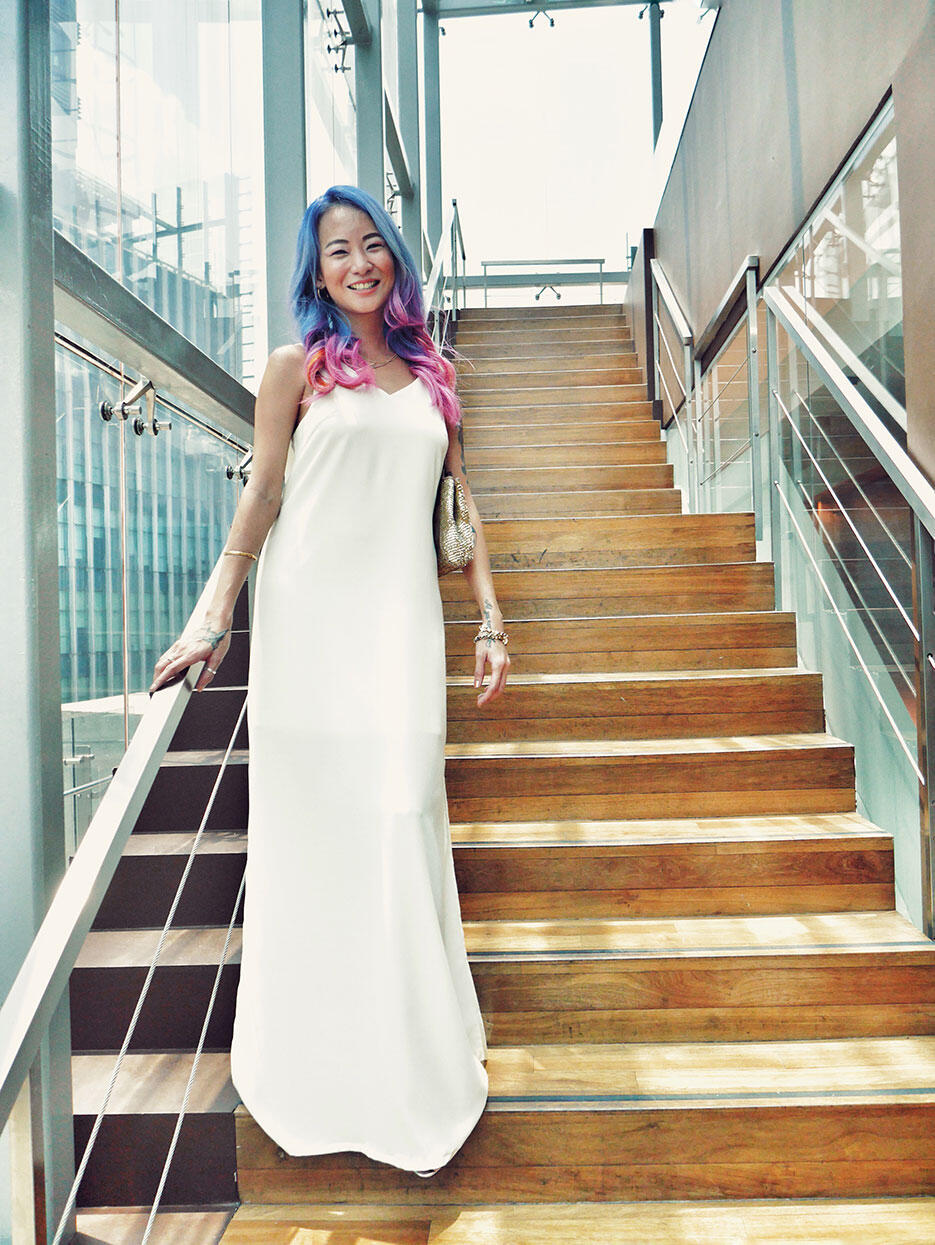 Hi, i'm Joyce Wong aka KinkyBlueFairy, and i started this blog in February 2004 because i've always had the writing bug. I'm a Connector and Creator, and running this blog for the past 14 years has allowed me to share all the experiences and people who have inspired and enriched me.

Recognitions: MSN Top 10 Young Malaysians (2011); one of five finalists for Best Lifestyle Blog at the Asia Pacific NAPBAS Awards; Cleo Young Achiever Awards (2010); Nominee for the New Man Creative Pioneer Awards, New Media category (2012); Top 10 Lifestyle Bloggers, Top 10 in Asia (2013); Role Model to Mass Commers, SEGI University (2016); and Celebrity Star Award at Face of Asia Pacific (2018).
KinkyBlueFairy has evolved from a personal blog into a boutique creative agency specializing in PR (events, influencer engagement, online strategy); and content for the blog. PR-wise, we're extremely grateful to have worked for awesome brands like Love, Bonito, Walt Disney Pictures, Rimowa, Longchamp, Isetan, Nuxe, Strip, Browhaus, Tommy Hilfiger, etc.
We are based in Kuala Lumpur, Malaysia; and cater to clients from around the world.
If you'd like to get in touch, please email:
joyce@kinkybluefairy.com
+ + + + + + + + + + + +
More info >>
Advertising
- KBF has had the pleasure of working for over 150 established brands from the FMCG, F&B, fashion, tech and lifestyle industries. You can view some of our past clients and collaborators *here*
- Past advertorial blogposts for clients can be viewed *here*
Publicity
- Featured by The News Straits Times, The Star, The Malay Mail, Juice, New Man, Torque, Surf!, Men's Health, KLue, Health & Living, FACES, Cleo, Marie Claire, Emmagem, Hanger, etc.
- Blogged about by Kenny Sia, and Karen Cheng.
- Named by Channel [V] as Malaysia's Top Female Lifestyle Blogger ('07)
- Appeared in a Levi's campaign twice ('08 and '14)
- Shot by director Peter Bannan for an Intel ad for MTV ft. creative individuals from Thailand, Singapore, Indonesia and Malaysia (08)
- Okay list was getting long, so you can view the others *HERE*

Ambassador
- Western Digital
- Power Over Cervical Cancer campaign ('10) Article on The Star here.
- Singapore Tourism Board ('11)
- Dove chocolates ('11)
- Bodytone Powerplate ('12)
- Shu Uemura ('13)
- Celebrity Fitness ('14)
- Love Bonito ('14-'15)
- Airbnb ('15)
- Bodytone Powerplate ('15)
Campaign model
- La Senza Cervical Cancer Awareness campaign ('11)
- Estee Lauder Beautiful Earth Campaign ('11)
- Watson's ('13)
- Mitsubishi ('13)
- L'Oreal ('14)
- Centro Hair Salon ('15)
Emcee
- The Styliste launch
- Official launch of Blackberry Bold 9700 + Storm2 9520 Malaysia ('10)
- Che Che New York x Hello Kitty launch ('10)
- Hanger SS10 launch
- Pole Stars Malaysia 2010 Competition
- Gallo AW 2011 fashion show
- Shiseido Ibuki launch ('13)
- eBay Trunk Show ('13)
- Vidal Sassoon #GetSassooned launch ('14)
- Rent A Dress launch ('14)
- Love Bonito launch ('14)
Judge
- Animax Fashion Design competition ('07)
- Cleo Beauty Awards ('09)
- Gallo Styling Contest ('11)
- Glam Asia's Top Glam Bloggers ('12)
- Harper's Bazaar Beauty Awards ('13)
- Cointreau Finals Malaysia ('16)
Creative/Art projects
- Heineken Green Room State Of Mind project ('08)
- Fred Perry Mod Meets Bold ('10)
- Live in Levi's ('14)
Trips
- Cebu for Malaysia Airlines
- Singapore Audi Fashion Week for Singapore Tourism Board
- New York for SATC 2 premiere for HP ('10)
- Hong Kong for Disneyland HK ('10)
- Brisbane for Future Music Festival ('12)
- Shanghai for Benefit Cosmetics' Glamouriety Premier ('12)
- Phuket for Sri Panwa resort ('12)
- Bali for One Eleven resort ('13)
- London for Qatar Airways ('13)
- Hong Kong for Cathay Pacific, Accor Hotels + HK Tourism Board ('13)
- Germany for Lufthansa Airlines ('14)
- Korea (Seoul and Jeju) for Airbnb ('14)
- Phuket for Awesomeness Fest ('14)
- Seoul for OMEGA launch of De Ville Butterfly ('14)
- Sydney for NBC Universal/launch of Fashion Bloggers ('14)
- Paris for Uniqlo SS15 media preview ('14)
- Japan for Glico / Pocky ('14)
- Macau for Macau Tourism Board ('15)
- Europe and USA for Airbnb ('15)
- Spain for Spain Tourism Board and Qatar Airways ('15)
- London for London Fashion Week and Malaysian Airlines ('15)
- Tokyo for Uniqlo SS16 preview ('15)
- Ho Chi Minh for Cuckoo ('16)
- Hokkaido for Parlo Tours and AirAsia X ('16)
- Taipei and Tainan for Taiwan Tourism Bureau and Everrich ('17)
Public Speaking
- on New Media at Sedaya and Taylor's colleges ('08)
- on Marketing and New Media at YouthSays Convention PWTC ('09)
- on Social Media platforms at the Asian Bloggers & Social Media Convention ('10)
- on Social Media platforms at Naga DDBO ('09) and Dentsu ('11)
- MME Symposium ('15, '16)
- on Influencer Marketing at the GetResponse Marketing Summit ('17)
Party
In the past, I threw indie rock party nights called Cat Got Your Tongue with radio announcer Rudy. Previous parties took place in Heritage Mansion, Palate Palette, and Barsonic, Zouk.
Sarah and i DJ-ed under the name SalahWrong, derived from the combination of our names - Sarah Chan + Joyce Wong = Salah Chan + Joyce Wrong = SalahWrong. Our past gigs have included Cloth & Clef, Palate Palette, Barsonic, Lava Lava (Johor), MNEP for a Heineken event, and the Hanger SS11 party. We were named Song Selektors 2009 by Juice Magazine. I'm pretty sure they made the award up cos they loved us so much 😀
Fashion
- Appeared on the runway at Malaysian Fashion Week as Justin Yap's muse
- Inspired a piece in Jimmy Lim's 2009 collection
- Was one of the personalities chosen by Sonny Son / Eclipse for Illuminare
- Named one of Topshop's Favourite Bloggers
- Appeared at Singapore, London, Berlin Fashion Week
In February 2010; Chelle Pong, Jacinta Cheng and i formed Leftblock - a company aimed at alternative fashion projects. We organised a fashion show for Nike Sportswear SS10, played music at fashion parties, organized two annual fashion flea markets, and designed two collections.
Work

I was in media for five years (as a Photographer, Writer and Stylist) with the exception of spending a year in between working in Brand Development for British American Tobacco. During my earlier years in media, i wrote primarily on lifestyle issues (personalities, food, party, travel, fashion) for publications like The Star, Malay Mail, New Man, Faces, KLue, Junk, Tattle, Vida!, Expatriate Lifestyle, The Expat, etc.
In February 2008, i joined Freeform Sdn. Bhd. to found regional fashion blog Tongue In Chic. Throughout my role as Managing Editor, it was fantastic to see the fashion community grow closer with freelancers & fashion bloggers we hired in KL, Singapore, Philippines, HK and Indonesia. Am also appreciative of being interviewed by BFM 89.9 and Unseen.TV (watch vidoe here). In October 2009, i decided to leave my full-time position.
In August 2011, i joined Universal McCann with the designation Lead Storyteller. My father asked what sort of job i was doing when he heard that one. I was a Digital Strategist and worked on pitches and ideation for many global brands. My contract for UM ended in August 2013.
In October 2013, i registered KinkyBlueFairy as a company and set up a team to work on content for the KinkyBlueFairy blog, an e-commerce store selling fun and colourful lifestyle products, provide PR and event services, supply party accessories and deco to events and festivals, and basically anything that tickles our creative fancy.
In October 2016, i decided to cease the online store as the blog and PR work got way too busy for me to oversee, and i realised not many people buy party accessories on a daily basis! Now KBF focuses on social media strategy & content, influencer engagement, and PR. We're extremely grateful to have worked on PR projects+events for awesome brands like Love, Bonito, Walt Disney Pictures, Rimowa, Longchamp, Isetan, Nuxe, Strip, Browhaus, Tommy Hilfiger, etc.

LIFE
I strive for growth and exploration, spiritually and mentally. My hobbies have evolved from traveling, fashion and food to MORE traveling, personal growth, health, science, and happiness. I think i've spent a huge chunk of whatever i've earned on traveling alone! I took a year off working in 2010, and used that year just to travel (okay admittedly i freelanced too). Never regretted it, and just makes me crave for more. I'm also big on nature, and have climbed Mt. Kinabalu (Malaysia), Batur (Bali), Stromboli (Italy), and Kilimanjaro (Tanzania).
When people ask me what my life plan is in 2 or 5 years, my answer is always that i have no fucking clue.
The way i live it is to go with the flow, and let life take me where it wants.
It's done me good so far so imma keep on riding it... best described by Eckhart Tolle in a single line: "Life is the dancer, and you are the dance."
xxx