*written by Rachel*
It was only my first week with the #KinkyBlueFairyTeam when King popped the question.
No, she didn't ask me for my hand in marriage. Pffftt.
What she really asked, was whether I wanted to go to Vietnam. I didn't really think much about it and said YES immediately.
Vietnam is a place that I never thought about visiting…like ever. Mainly because of the weather. I'm a total princess when it comes to the heat. I won't deny that. And it isn't everyday you actually hear people talking about their trip to Vietnam. The vacation stories that I usually hear about are of Japan, Europe and Korea. So I guess this trip was something different. A first for me.
This trip to Ho Chi Minh was sponsored by Cuckoo; a Korean electronics brand that specializes in rice cookers and water purifiers. It was my first time hearing of this brand, so I did what I do best: I stalked them. *cue 007 theme song* The very first thing that I found out about them was their brand ambassador, Kim Soo Hyun! Oh, you know the guy from that very popular Korean drama 'My Love From the Star'!! A little part of me hoped that I'd get to meet him, fan-girl (just a little) and make everyone else jealous. Unfortunately, that didn't happen. 🙁
Anyways, before I left for the 3D/2N trip, I received tips on how to survive in Vietnam. Basically, a 101 Guide to Vietnam. Everyone seemed to have this preconception that it's very unsafe and the local vendors will try to con you for money and all that jazz. Well, when you're in a foreign land, you'll just have to be street-smart and you'll be good.
I had zero expectations for Vietnam because of all the negative reviews that I heard and read up on. But, by the end of the trip, I actually wished that we had more time to explore Ho Chi Minh on our own. There was still so much to see and so much to do. 
Upon arrival at the airport, we met our tour guide, Tom. I was very impressed by his language proficiency. Not only was he fluent in English, but also in Cantonese and Mandarin. He really put the Chinese in me to shame.
I really loved the houses in Ho Chi Minh. They were all tall and slim. Even though each one of them had its own character, oddly enough, they looked really nice right next to one another. The size of their homes sort of reminded me of the Stuart's residence in 'Stuart Little', wedged between two huge estates. But in Ho Chi Minh, there were twice the amount of Stuart residences.
Speaking of slim, Tom explained that there are 4 things that are slim in Vietnam; the water pipes, roads, houses, and girls. Apparently all Vietnamese girls cap their weight at 46kgs… which takes a whole lot of dedication, I guess. True enough, I've never seen an overweight Vietnamese lady on the street.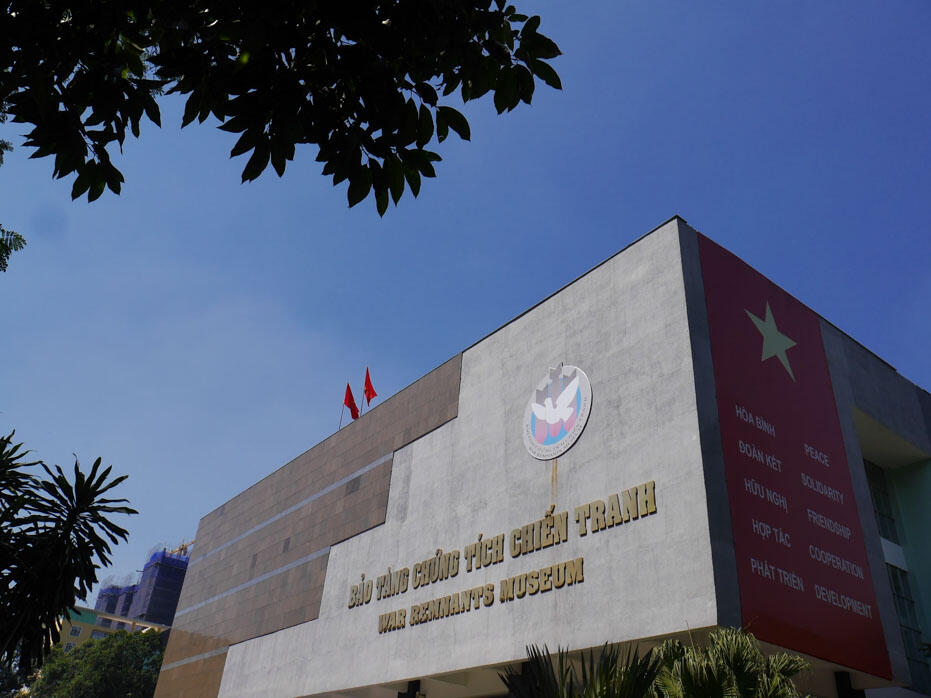 Our first stop was the War Remnants Museum. The museum mainly exhibits very visual images of the Vietnamese War when it was invaded by the American and French colonies.
My absolute favourite part of the museum was this trippy 3D art.
We visited a lacquerware factory next. He explained in detail the step-by-step process in producing beautiful pieces.
My favorite piece in the entire factory which I knew my mom would love as well. Even though I was a millionaire in Vietnam, I still couldn't afford it. Haha.
Best meal we had during our entire trip was at this place!
Xuan from 988FM and Evelyn. Evelyn and I were assigned as roommates. She's such a lovely lady! She gave me mosquito repellent patches to help me fend off mosquitoes and even fed me charcoal pills just in case my tummy got upset from the food that we had. I felt very, very blessed to have met someone like her on the trip. :')
A typical Vietnamese meal is very similar to a Chinese one whereby it's an 8-course meal served with rice and soup.
After lunch, we visited the Notre-Dame Cathedral. Too bad it wasn't open on the day we visited. 🙁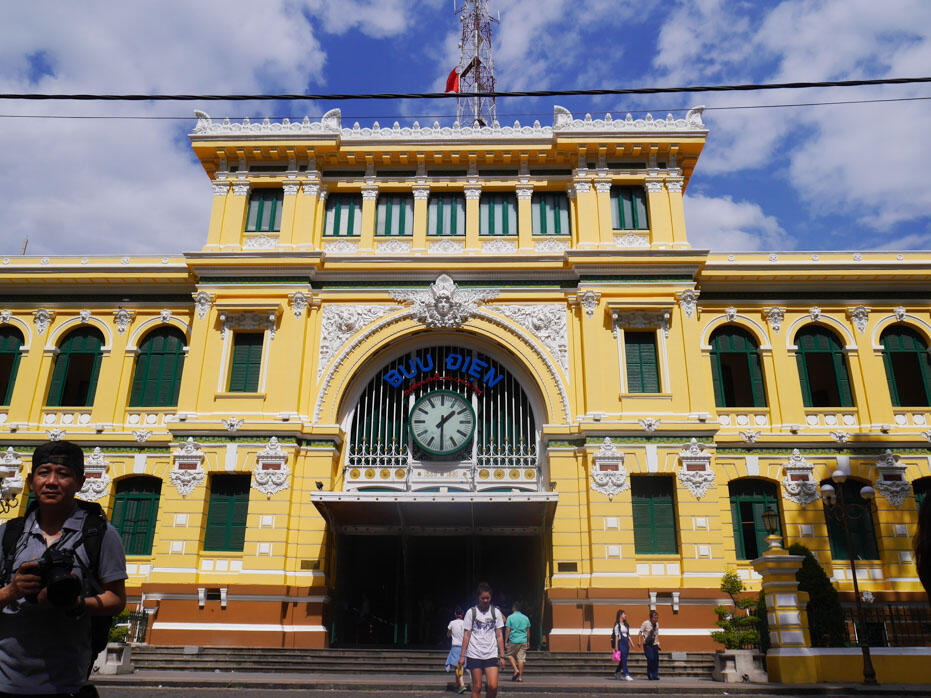 Right across the street from the Cathedral was the Central Post Office.
The architecture of the post office was simply majestic!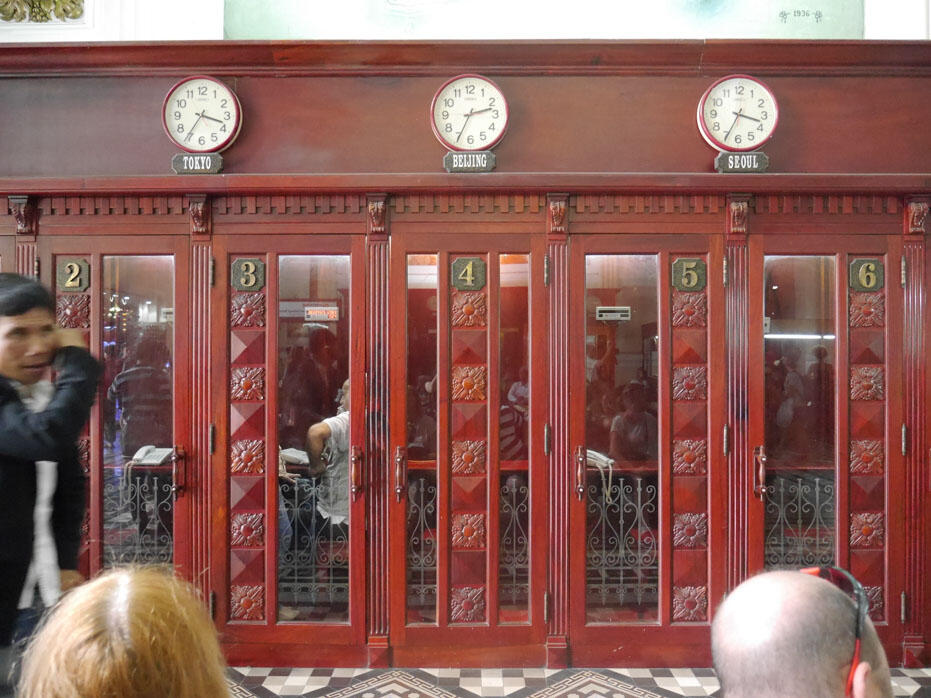 There were even some old-school wooden telephone booths at the post office.
Everyone were intrigued with this guy carrying the wig. From the moment we stepped foot at the post office, he was already brushing the wig. When we left the post office, he was still brushing non-stop. Hahaha.
That's Uncle Ho of Ho Chi Minh, outside the People's Committee Hall.
We got to visit one of Cuckoo's branch in Vietnam. I actually expected a demo of the products to be done when we were here but that wasn't the case. We just checked out the products on our own and yeah…well, that was basically it.
After that, we checked in to our hotel and got ready for Cuckoo's Gala Dinner. While I was busy laying out my outfit, Evelyn was hard at work replying to e-mails and getting some work done. Boy, she's one hardworking lady! She woke up at 5AM just so she could squeeze in some work-time while I was still snoozing away.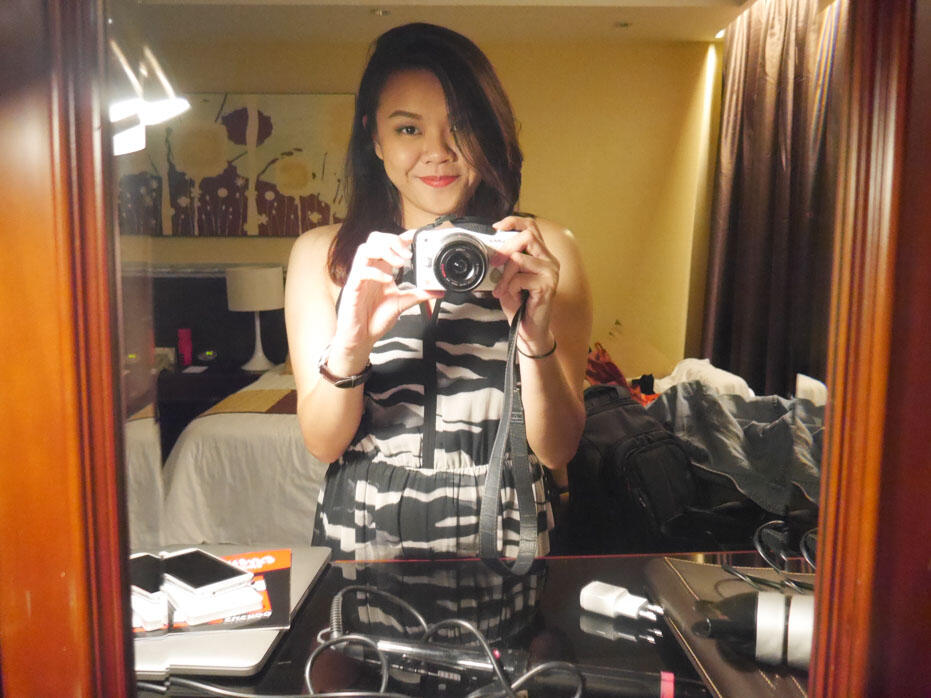 Here's half of my #OOTD. The schedule was so packed that I didn't even have the time to even take selfies. Even when I had time, all I wanted to do was to catch up on some sleep.
Mr. Hoe, CEO of Cuckoo Malaysia. A very passionate and enthusiastic man.
During the Gala Dinner, they gave out awards to employees who excelled in their sales achievement.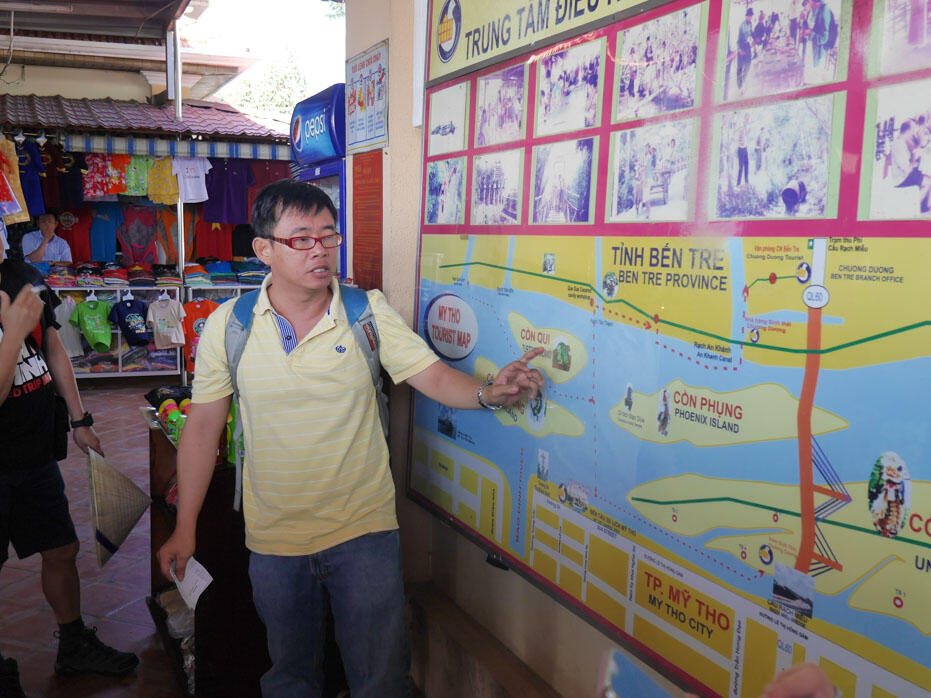 We visited Mekong River the next day. I can't believe that the nerd in me still remembers that I studied about this river back when I was in high school. Mekong River is situated in Mỹ Tho which is about an hour and a half drive away from Ho Chi Minh city.
We did some island hopping throughout the Mekong River. We alighted at Unicorn Island first. I kid you not. They actually named an island, Unicorn. Obviously, there were no pink fluffy unicorns that welcomed us.
Instead, there were bees. It was a bee-keeping farm.
There was also a honey tasting session. It was said to be honey infused with longan but all I wasted was just plain ol' sweet honey.
Coconut candy making in process. The texture of the candy was sticky and chewy. Very similar to the texture of dodol. It was a little too sweet for my liking though.
"If our asses were any bigger, we wouldn't be able to sit on these stools," – Rebecca.
So this was me trying to illustrate how small they were. Haha.
And off we went on our sampan adventure. They provided us with traditional Vietnamese conical hats to shield ourselves from the sun. How thoughtful! The ride was about 2km long.
As soon as we headed back to the city, we were dropped off at Ben Thanh Market to do some shopping! I wasn't planning to get anything so I just wandered around in search of interesting goodies.
There were different sections of the market; the wet market (which only opens in the morning), a section selling apparel and trinkets, the dried foods section selling mainly coffee, nuts and chips, and also a food court.
Because Ben Thanh Market is a tourist attraction, we found that the prices of goods fell on the high side.
We asked a local to recommend a good place that serves pho nearby the market. We were actually expecting/hoping to have pho from a street vendor but the local raved about how this place served the best pho in the area.
Well, it turned to be a pretty decent meal. Nothing to shout about, really.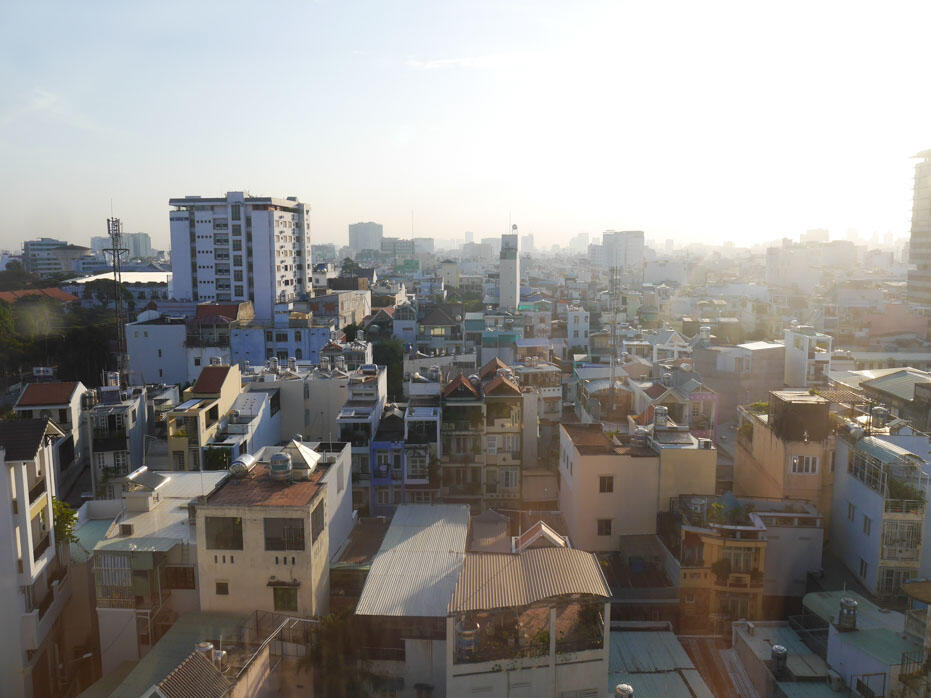 Personally, I found Ho Chi Minh to be a great city to explore. Evelyn suggested that I visit the southern part of Vietnam which I definitely will some day!
Thanks for having KBF, Cuckoo!
+++++
For more information about Cuckoo:
Website: www.cuckoo.com.my
Facebook: www.facebook.com/CuckooInternational/