I went to Hong Kong for a whirlwind trip sponsored by Cathay Pacific and Accor Hotels/Novotel (while also supported by the Hong Kong Tourism Board). Thank you! I had a GRAND TIME, and saw so much of Hong Kong i never knew about before, thanks to the Es-capers Scavenger Hunt they painstakingly organized.
Two media per country from Malaysia, Australia, Singapore, Thailand, Japan, and Indonesia were flown to HK to experience as much as possible within three days, and from the length of this post you can see how much we managed to cram in!
Click on the title of the post to view all the pictures/full blogpost!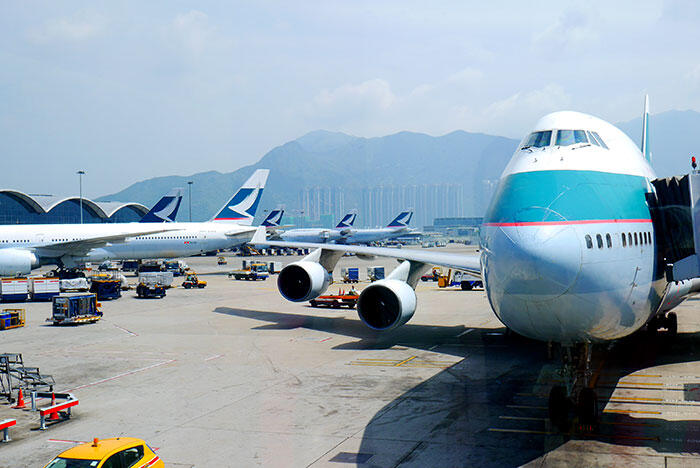 First up, i gotta thank Cathay Pacific for flying me on Business Class. After traveling so well this year, i went home to Clem and proclaimed, "I don't know how i'm gonna fly economy anymore!!!"
Poor man fell silent.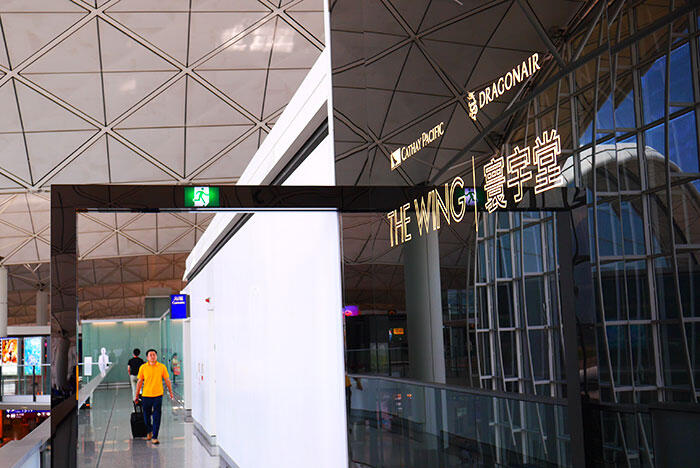 I visited The Wing @ Hong Kong International Airport for the first time. This is the First Class Lounge which was designed by Foster + Partners (a world-renowned architect and design firm based in London) and recently completed its renovations just early this year.
The Wing originally has open ceilings and unobstructed views since 1998, which have remained its trademark. The new facelift it just underwent includes contemporary and refreshing elements set to re-establish The Wing as one of the best airport lounges in the world.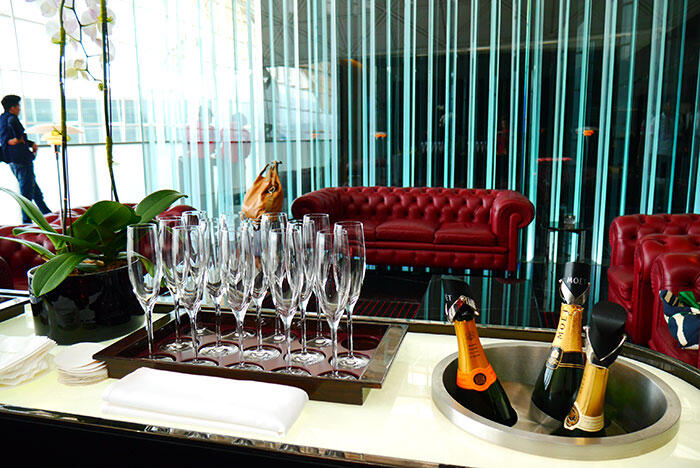 Well, they definitely can't go wrong with The Champange Bar.
Specially crafted by Marzorati Ronchetti of Italy, the bar offers a selection of free flow champagne.
My luck seems to be that every time i'm in a first class lounge with the best wines and champagnes at my disposal, i'm too hungover to have any  -_-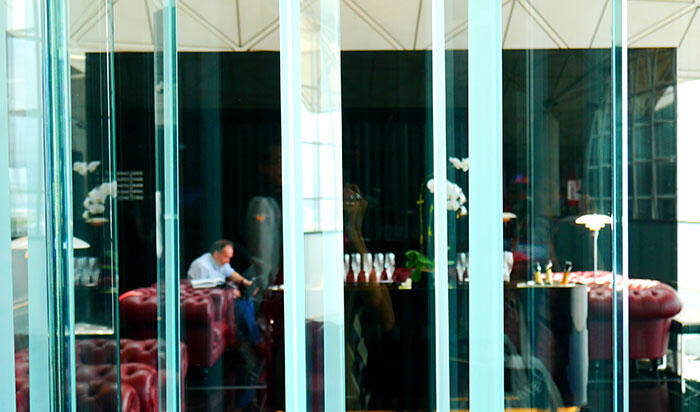 The luminous wall that is the First Class Reception Wall is made of Venetian glass fins handcrafted by Fabbian of Italy to create an abstract and contemporary interpretation of bamboo silhouettes. I totally see it!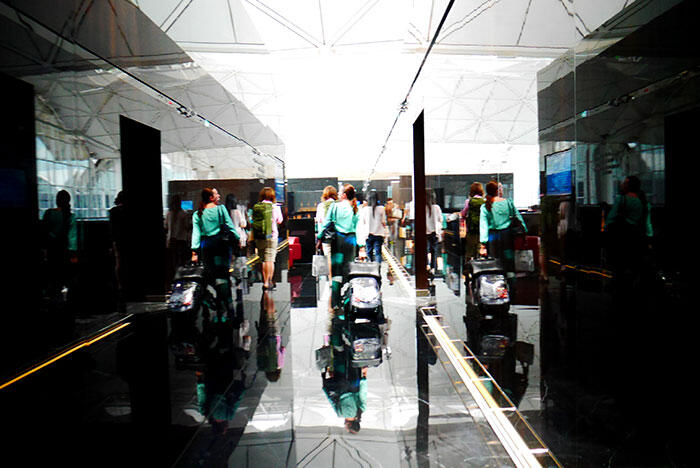 Reflective black glass walls and "Nero Marquina" black marble floors are accentuated by crisp white marble and natural Eucaluptus wood walls for a premium and comfortable environment.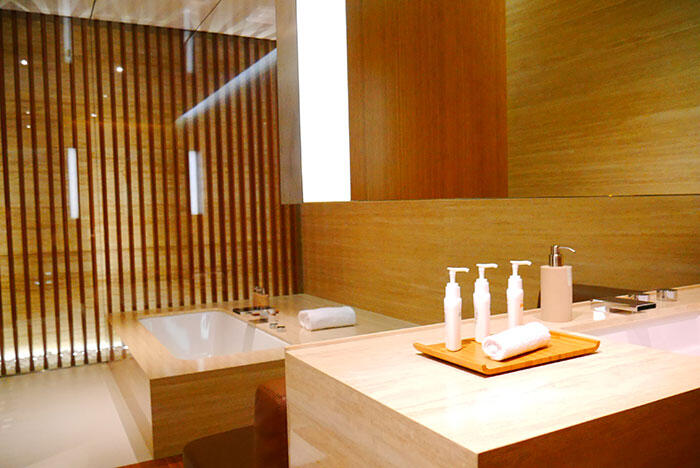 The Cabana and Shower Suites are one of the classic features of The Wing.
Made of natural Travertine stone complemented by wooden floors, each cabana has a spacious shower, full-sized bath and comfortable day bed – making it the perfect private sanctuary for passengers before a flight. Besides the five cabanas, there are also 12 luxury shower suites for those who just want to freshen up.
The Haven is an iconic feature of The Wing's First Class Lounge that has expanded into twice its original capacity.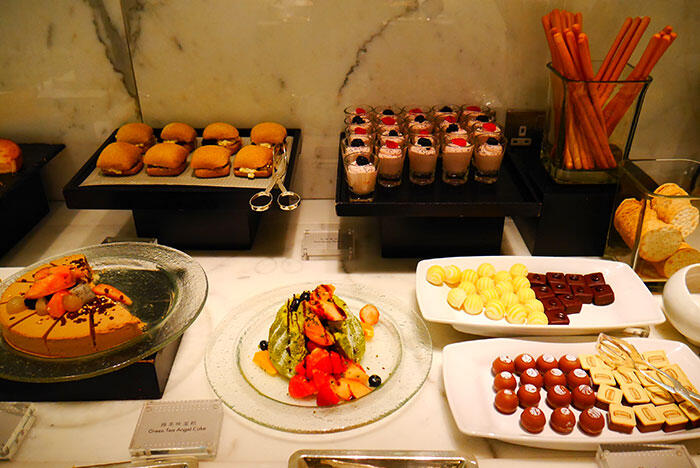 Hand-carved white Carrara marble walls set the stage for a delectable buffet counter that consists of appetizers, Asian and Western dishes, and delicious desserts. Above it (not seen in pic) is a contrasting decorative burgundy silk wall that's specially woven in Belgium out of high quality silk (of course).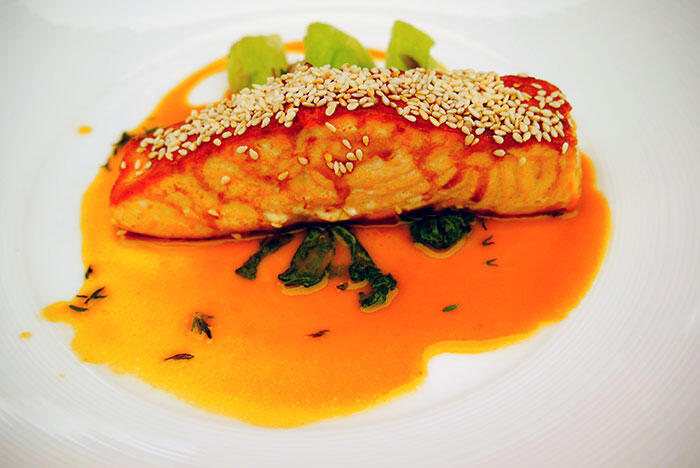 Besides sampling from the buffet, i had champagne (someone convinced me i could cure my hangover with it, just sayin') and ordered dishes from the a la carte menu complemented by recommended wine pairings.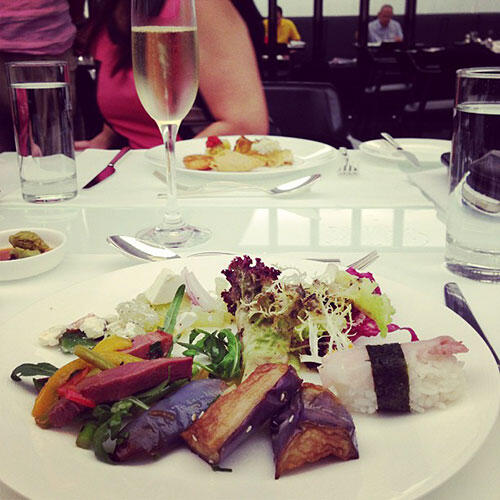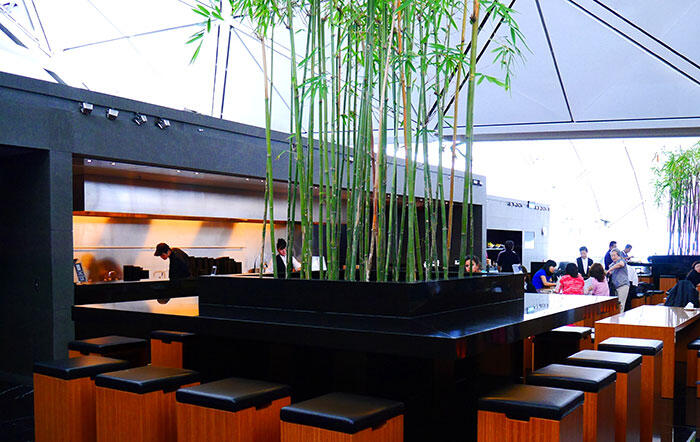 Above is the Noodle Bar which is made of bamboo and natural stone, giving it a modern Asian feel to it. The Noodle Bar is famous for its signature Dan Dan Mien, besides offering a selection of authentic Asian dishes.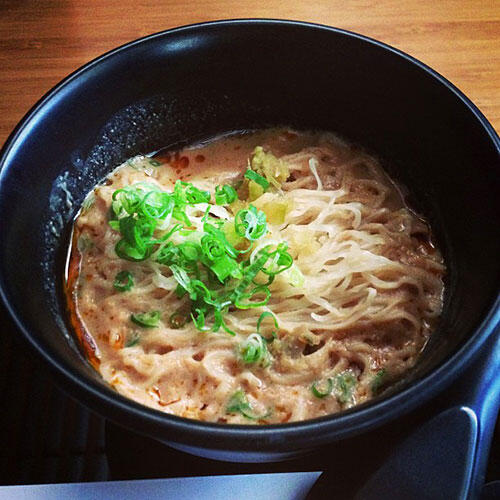 Dan Dan Mien is a crushed peanut and chicken-based soup noodle dish with special seasoning like sesame paste to enhance its flavour. I am slightly dying just looking at this picture. It was so so so so sooooo good… something that i crave for but i can't get where i am 🙁
After The Wing, we walked to The Cabin Lounge, a new Cathay Pacific Group lounge for First and Business Class passengers. Covering 1,339 square metres; The Cabin has five different zones – The Reception, The IT Zone, The Deli, The Health Bar, and The Relaxing Zone. As with The Wing, The Cabin is made of materials of the finest quality with emphasis on locally sourced renewable materials.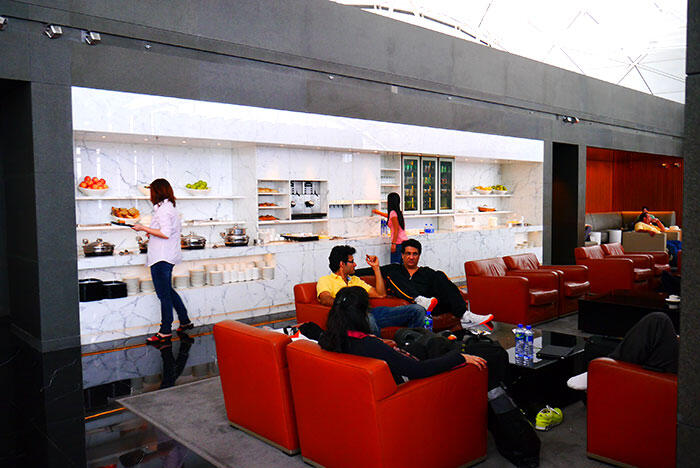 Above is just a small part of The Cabin.
I went to The Health Bar (serving freshly squeezed juices, herbal teas and other beverages), before making my way to The IT Zone to do some work. The IT Zone comes with high speed internet, 11 PCs, 6 iMacs, a vid conference suite, and 20 iPads that come with the latest apps for newspapers, mags and games. If you wanted to just chill, there are lots of lounges around, some built into quiet alcoves, and even couple booths.
+ + + + + +
Below are pix of me in Business Class from KL to HK:
I already had breakfast in the Cathay Pacific Lounge in KLIA so i just had fruits despite being pleasantly faced with choices of mushroom and onion frittata + chicken + beef bacon + asparagus, braised chicken sambal + fried rice + spicy pickles, and stir-fried prawns + ginger + spring onion + jasmine rice + pak choy + shiitake mushrooms. Spoilt for choice!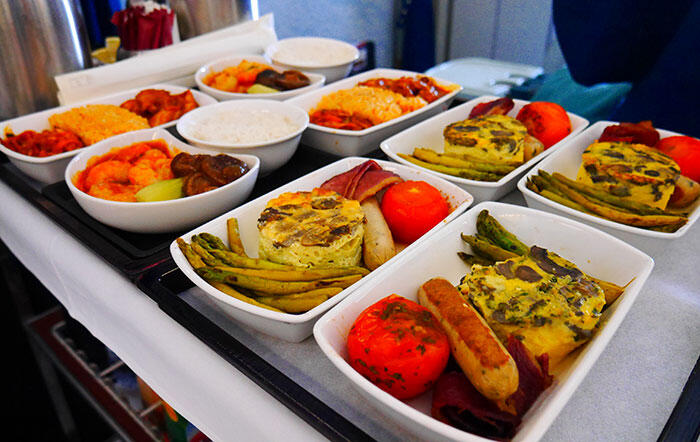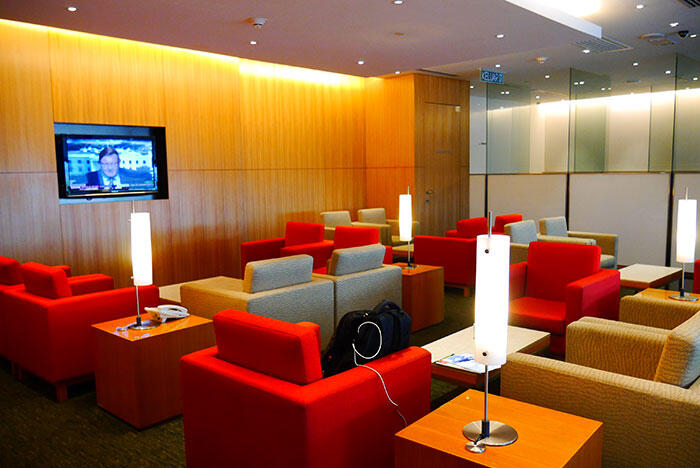 Some pix of the Cathay Pacific First Class Lounge @ KLIA
+ + + + +
When we arrived in Hong Kong, the media from the other countries had already arrived cos their flights were slightly earlier, so we rushed to the scavenger hunt briefing at Novotel Hong Kong Nathan Road Kowloon, where we would also be staying that night. Oh by the way, "we" refers to me and another blogger from KL called Rebecca Saw.
We discovered that it was a real proper scavenger hunt that we had to run all around HK to complete! Each member of the media was given a list of checkpoints to take pictures with, HK$100 pp/day, and a guide or two to make sure we didn't kill ourselves by accident get too lost XD
Winners were decided after 2 days of the hunt, and were based on:
– creativity of pictures taken
– amount of budget per day used, the less the better
– amount of time taken to complete hunt
– number of checkpoints visited
We were all not allowed to take taxis, though public transport like the train and bus were allowed (which would cost one $ so the more enthusiastic would run). And run we did. Or rather, Rebecca ran and i kept up while taking pictures and uploading pix unto my social media.
Check out all the places i managed to visit in a mere TWO DAYS! >
Day 1: Kowloon Checkpoints
Checkpoint 1: Australia Dairy Company
Address: G/F, 47-49 Parkes Street, Jordan, Kowloon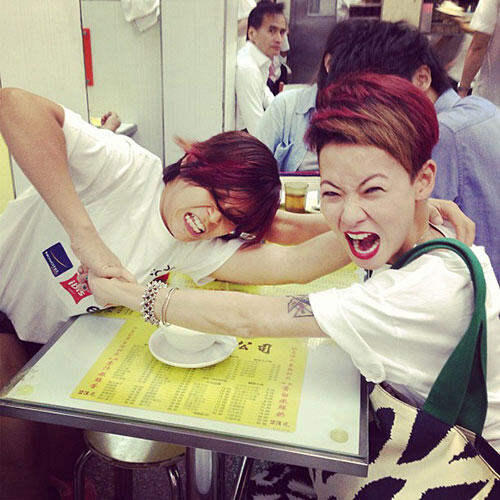 One of Hong Kong's most popular and famous cafes complete with a chaotic ambience and long queues.
Each team had to try a bowl of Double Boiled Egg White Milk Dessert and take a fun photo. We did the photo, but i'm a bit sad i didn't get to finish my egg white milk dessert… it was so yummy!!!
+ + +
Checkpoint 2: Ladies' Market
Address: Tung Choi Street, Mong Kok, Kowloon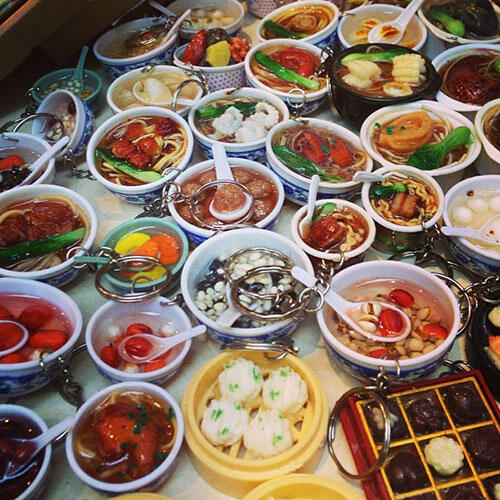 I can't find the pic we took but here's one of some cute food keychains i was wondering about buying. The challenge was to practice our haggling skills and buy something cheap and cheerful!
+ + +
Checkpoint 3: Temple Street Market
Address: Temple Street, Jordan, Kowloon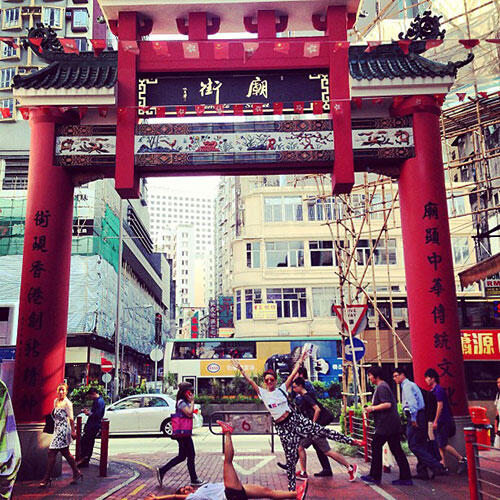 Temple Street features row after row of brightly lit stalls peddling fresh seafood and hotpot dishes. At the end of the street is Yau Ma Tei area where you can see impromptu performances and fortune tellers.
+ + +
Checkpoint 4: Star Ferry
Address: Star Ferry Pier, Tsim Sha Tsui, Kowloon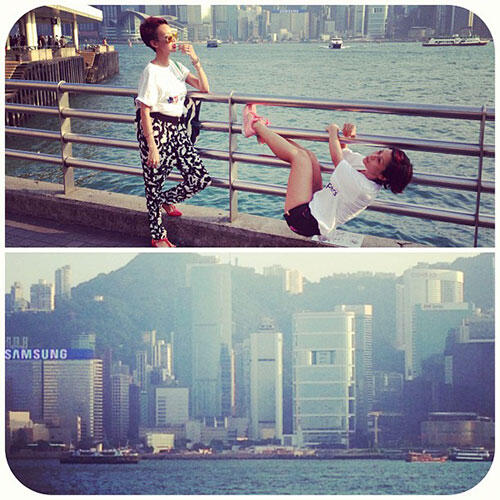 The famous Star Ferry has been carrying passengers since 1888 and was rated by National Geographic as "1 of 50 Places of a Lifetime."
+ + +
Checkpoint 5: The Avenue of Stars – Bruce Lee Statue
Address: Promenade, Tsim Sha Tsui, Kowloon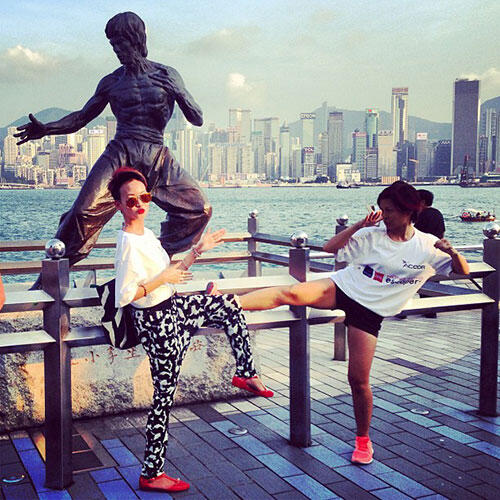 Hong Kong is known as the "Hollywood of the East". There are many-a tribute to famous names here as well as a panoramic view of the city's skyline beautifully set against The Peak.
+ + +
Checkpoint 6: Jade Market
Address: Junction of Kansu Street and Battery Street, Yau Ma Tei, Kowloon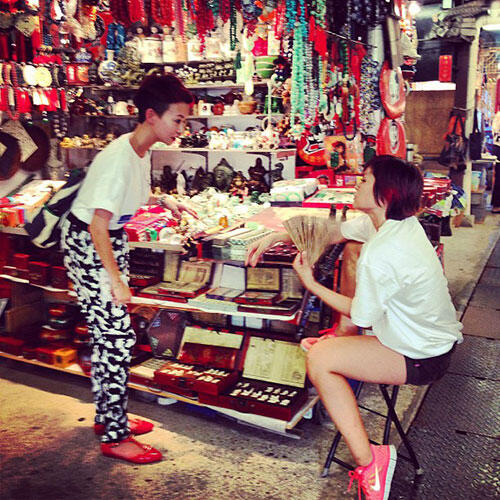 Rebecca and i pretending to be customer and seller
+ + +
Checkpoint 7: Discover the best street food in Mong Kok
Address: Mong Kok, Kowloon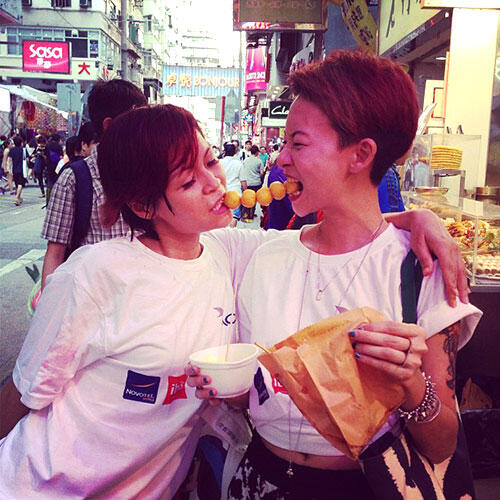 Fish balls are one of the most iconic street food in Mong Kok, tho i ended up buying a bag of grilled squid as well. There goes my 'budgeting plan' haha.
+ + +
Checkpoint 8: Novotel Nathan Road Kowloon
Address: 348 Nathan Road, Kowloon, Hong Kong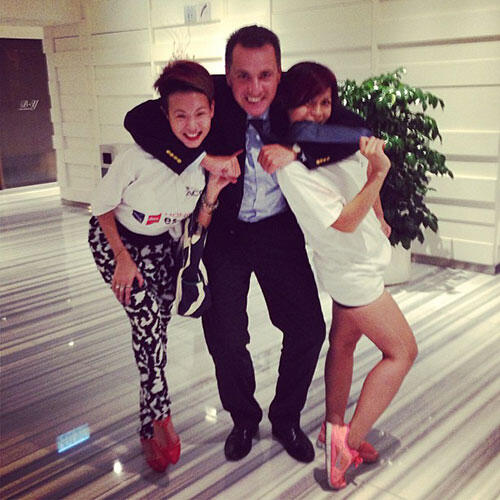 We had to take a pic with General Manager Mr Olivier Moies-Delval.
Luckily it was where we're also staying so we could stop running around after that!
A long shower was in order…
That night we were all invited to Shanghai Min for dinner with all the GMs from Accor Hotels, and Hong Kong Tourism Board. The view was fantastic, there was lots of wine, and gorgeous Chinese cuisine.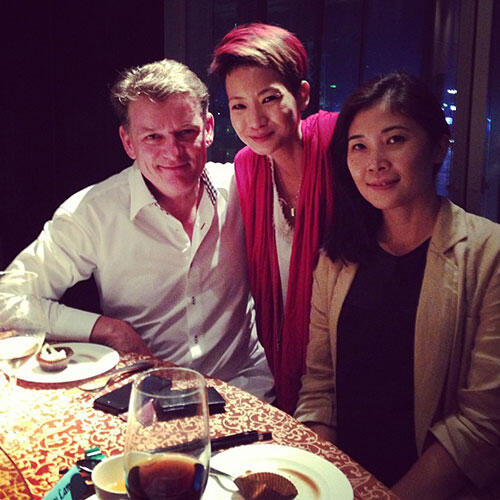 With Jerome and Amy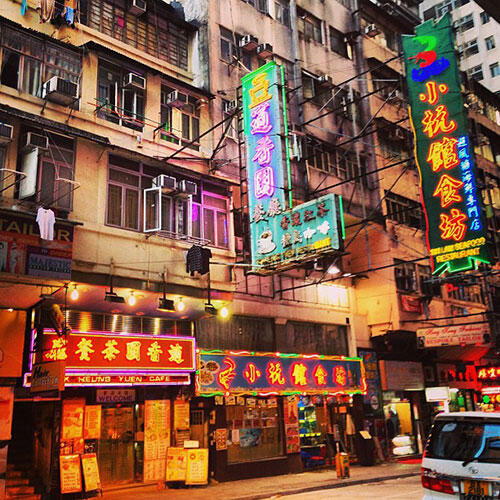 Across the street from the hotel.
The next morning, we visited Ibis Hong Kong Central and Sheung Wan Hotel (will come in another blogpost cos there are too many pix!)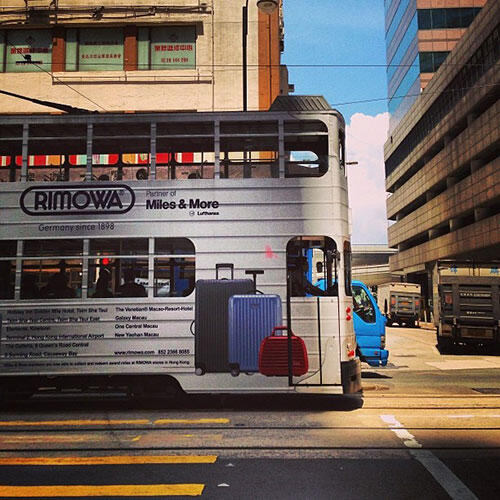 For lunch, we went to Lin Heung Kui Restaurant, an old-style restaurant that has traditional Cantonese dishes and dim sum.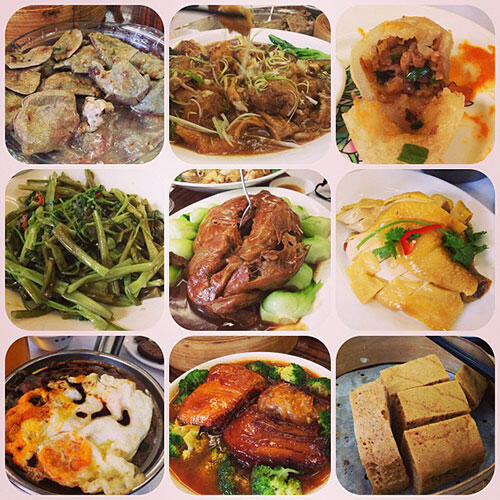 There was so much food… I thought we were all gonna pass out during that afternoon's scavenger hunt!
Day 2: Hong Kong Island Checkpoints
Checkpoint 1: North Point Famous Mini Egg Puffs
Address: 492 King's Road, North Point, Hong Kong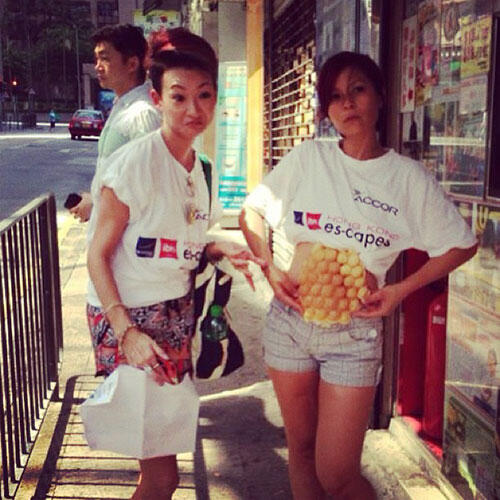 Rebecca and her "egg-pack"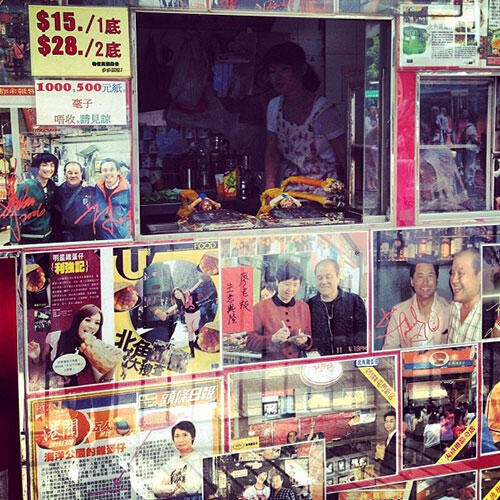 Pix of celebrities and articles plastered all over the stall
+ + +
Checkpoint 2: Joy Hing Chiu Chow Roasted Meat Shop
Address: Shop C, 265-267 Hennessy Road, Wan Chai, Hong Kong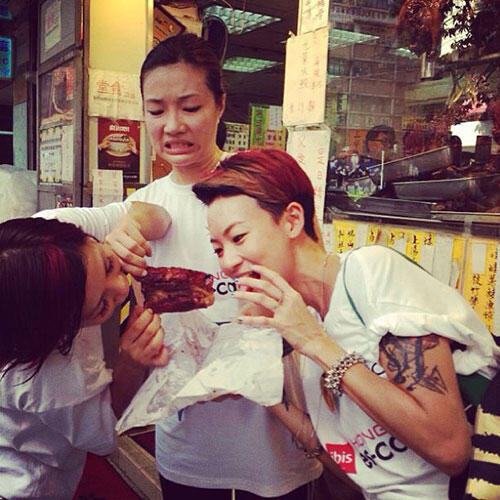 That's Virginia behind us, she and Connie were our fabulous guides for the whole scavenger hunt!
+ + +
Checkpoint 3: Man Mo Temple
Address: 124-126 Hollywood Road, Sheung Wan, Hong Kong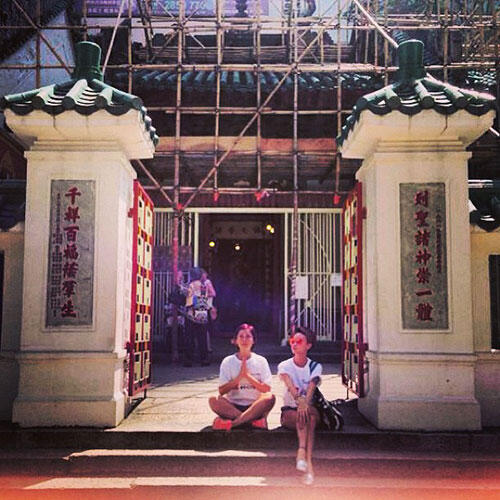 Hong Kong is home to hundreds of famous temples and shrines, but one of the most famous is Man Mo Temple.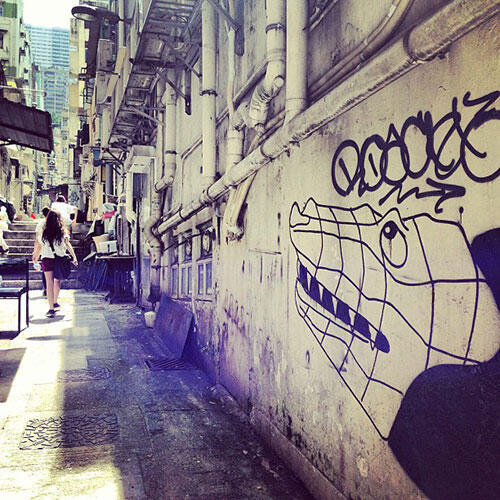 Random pic of graffiti i managed to capture while running around like a maniac.
+ + +
Checkpoint 4: Villian Hitting Under a Bridge
Address: Canal Road Flyover in Causeway Bay, Hong Kong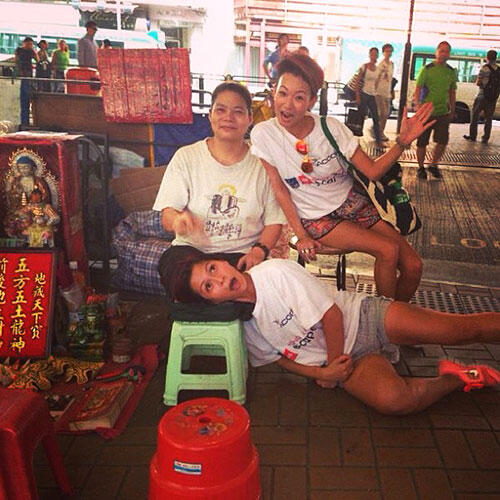 It's a strange pavement filled with little old ladies who carry out an old Chinese ritual that involves hitting a slipper to put a curse on your villain, or in other words, your enemy. I didn't want to put a curse on anyone, so we just pretended. The lady was nice enough not to charge us!
+ + +
Checkpoint 5: Western Market
Address: 323 Des Voeux Road, Sheung Wan, Hong Kong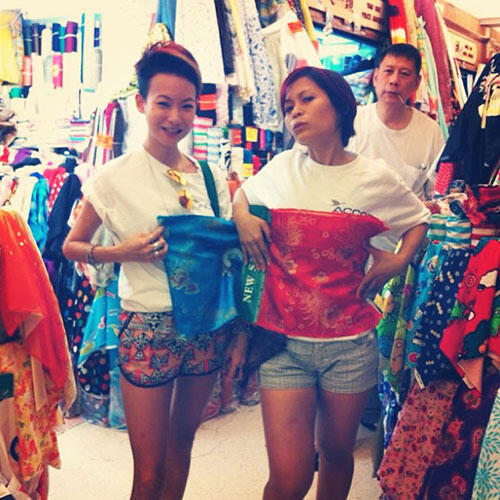 The Western Market is an Edwardian-style building featuring lots of fabric merchants who were formerly located in the old alleys of Central, and arts and crafts.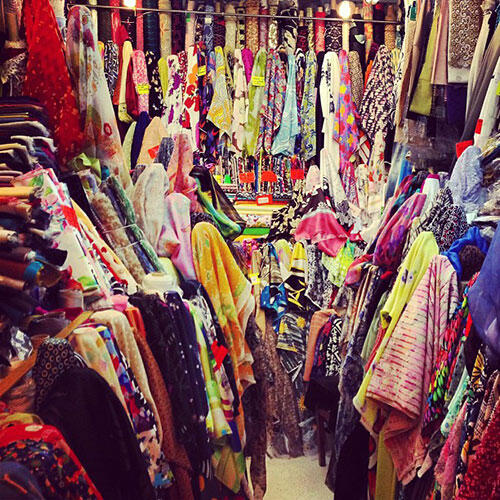 My kinda heaven.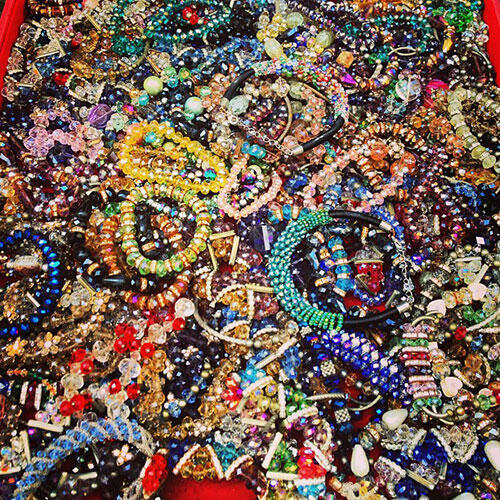 + + +
Checkpoint 6: Dried Seafood Street
Address: Des Voeux Road West / Bonham Strand West / Wing Lok Street Sheung Wan, Hong Kong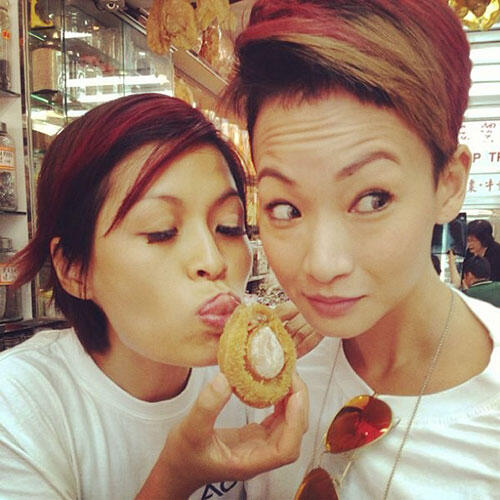 We were requested to take a picture with a big abalone… so imagine us running around trying to find a shop with the friendliest looking owner who'd let us touch food we weren't gonna buy! In the end we had to muster our acting skills and pretended to argue on whether to buy abalone for a friend while quickly sneaking in a pic.
+ + +
Checkpoint 7: Sunbeam Theatre
Address: 423 King's Road, Kiu Fai Mansion, North Point, Hong Kong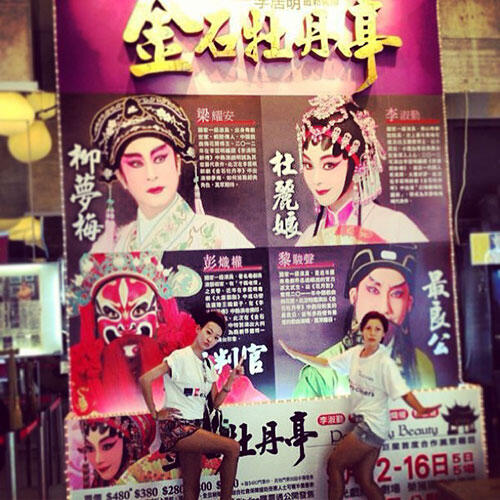 The only theatre in Hong Kong that has regularly scheduled Cantonese Opera performances.
+ + +
Checkpoint 8: Times Square
Address: 1 Matheson Street, Causeway Bay, Hong Kong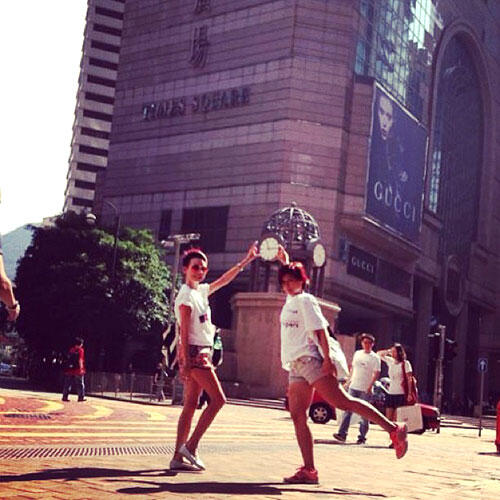 + + +
Checkpoint 9: Wanchai White House
Address: 1-11 Mallory Street, 6-12 Burrows Street, Wan Chai, Hong Kong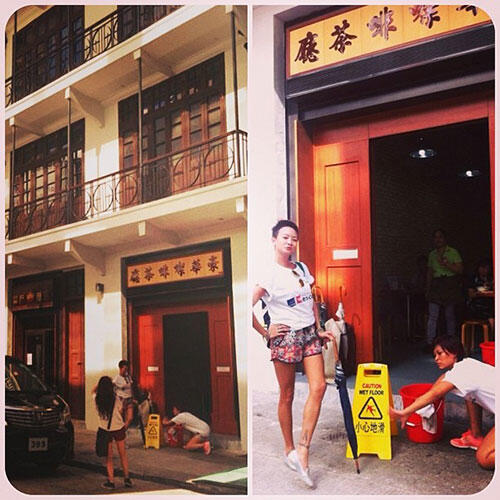 + + +
Checkpoint 10: ibis Central Hong Kong & Sheung Wan
Address: 28 Des Voeux Road West, Sheung Wan, Hong Kong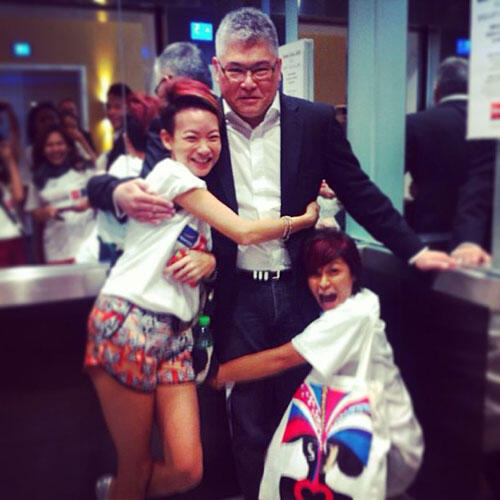 We had to take a pic with General Manager Mr. Warren Tam
+ + +
Checkpoint 11: ibis North Point
Address: 138 Java Road, North Point, Hong Kong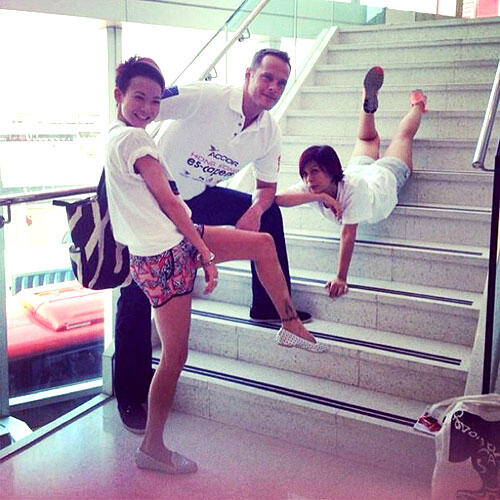 Took a pic with General Manager Mr. Adam Hipp
+ + +
Checkpoint 12: Novotel Century Hong Kong
Address: 238 Jaffe Road, Wan Chai, Hong Kong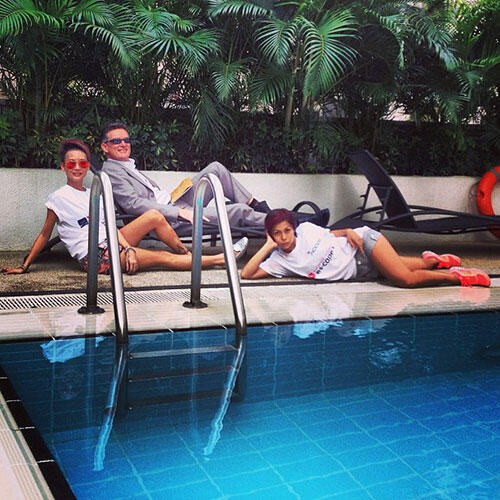 Took a pic with General Manager Mr. Jerome Stubert
AND THEN WE WERE DONE!
Were you tired just reading that…!? Can you imagine how exhausted i was after running around all day… Haha! But now i can say i've seen some of the best famous spots in Hong Kong!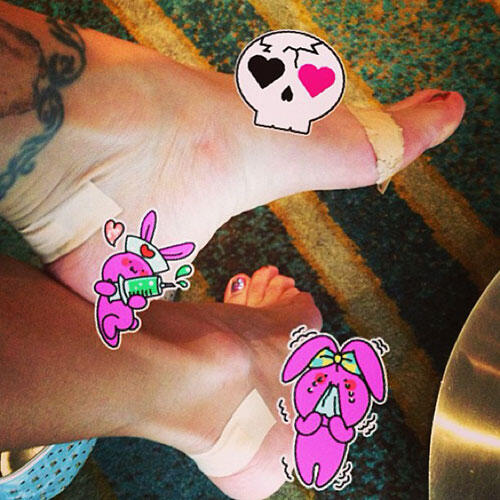 The price to pay for running around in shoes that are not sneakers -_-
I had high hopes for my shoes cos they ARE comfortable… but i guess i didn't expect to have as much activity as that!
In the evening, i went back to my room at Novotel Hong Kong Century to shower, get some work done, then got ready for a night out! WOOHOO!! PARTY TAIM!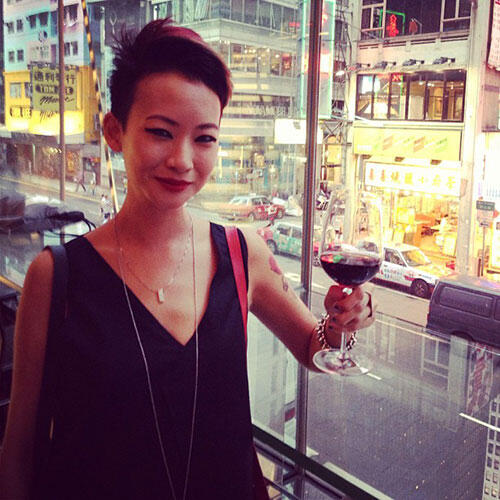 We had some aperitifs at the hotel bar before adjourning for one of the most beautiful treats… a sunset cruise with cocktails and canapes on the Aqua Luna!
I didn't think much of it when i read it on the itinerary, but once we were sailing on the boat with the faultless skyline winking at us, cocktail in hand, and wind blowing through my hair; i couldn't stop hopping around in glee, taking pictures and gushing how gorgeous it was. I'll post proper pix of that in my next post!
They announced the winners of the EsCapers Scavenger Hunt, and you know what… We came in first! I guess all our crazy pictures and breathless running about paid off!! Rebecca and i each won 3 nights stay at The Royal Beach Seminyak in Bali! (Also part of Accor Hotels!) All the other teams won great prizes too – stays in Bangkok and Singapore, and bottles of champagne.
THANKS SO MUCH ACCOR HOTELS!!!!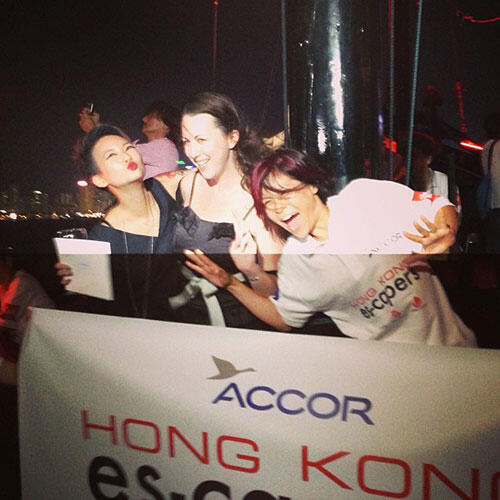 After the cruise, i went to look for Becky (my lovely friend i met at Awesomeness Fest) at Quinary, this very cool bar that she owns on 56-58 Hollywood Road. It was so cool i went home at 3:30am or something like that. Will blog about it in another post cos it's so deserving!
So i was drunk, washed my hair, dried it, woke up the next morning at 9AM and this is what it looked like.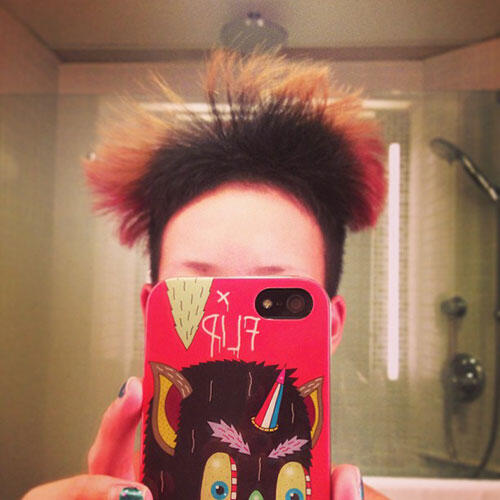 Even my hair had so much fun in Hong Kong :p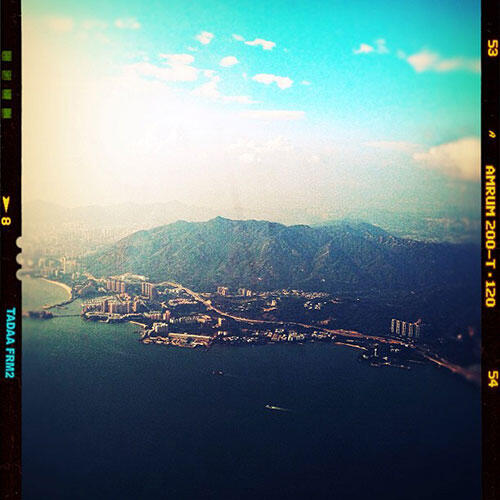 Pic of Hong Kong on the Cathay Pacific flight home.
A very big THANK YOU to:
Cathay Pacific, Accor Hotels, Hong Kong Tourism Board, Priority Communications for such an awesome trip.
Also thanks to Cynthia and Gaynor, and Virginia and Connie 😀 <3
You just added on to the wonderful adventures i've already had in my life! <3
Cathay Pacific links:
Website: www.cathaypacific.com
FB: www.facebook.com/cathaypacific
IG: instagram.com/cathaypacific
Twitter: twitter.com/cathaypacific and twitter.com/dragonair
Accor Hotels, click on links below:
Novotel Hong Kong Nathan Road Kowloon
Novotel Century Hong Kong
ibis Hong Kong Central & Sheung Wan Hotel
ibis North Point