*written by Baby*
With Joyce gone for her #KBFsummer15 trip, the office felt a bit mundane. Days seemed to be moving a bit slower and e-mails weren't as crazy. I was scrolling through my inbox one morning, replying mine and those on behalf of Joyce when I saw an email subject reading "Media Invitation: Qatar Airways & Spain Tourism Board Media FAM Trip".
I thought to myself, "Oh, man… She's not here. She would love to go". And I clicked on the email to reply with "Thanks for the invite, but Joyce is on her summer holiday…" Oh, but wait… the email said that they're aware Joyce is away and would like a representative from KBF to cover the trip anyway. I immediately thought… could it be? I'd better ask. So I forwarded the email to Joyce and a few minutes later, I got a reply from her…
"Hey Baby,
Guess what? YOU ARE GOING TO SPAIN!
😀 😀
SEE YOU IN BARCA!"
My heart was beating so fast, I felt a bit dizzy from the sudden rush of excitement. I stood up, walked to the back of the office and SCREAMED!
"I'M GOING TO MADRID! I'M GOING TO SPAIN! OH. MY. GOD!" and I did my secret happy-dance.
It all felt so… unreal. My heart felt so full with joy and about to burst! I had this stupid grin on my face the whole day and I couldn't wait to tell someone.
The first person I told was Vig when we met for coffee that afternoon.
B: Hey, guess what? *biiiiig grin*
V: What??
B: I'm going to Spain. I just got the news this morning!
V: That's fantastic!
And true enough, FANTASTIC is the most perfect word to describe my trip to Madrid and Barcelona –  the food that I tasted, people that I met, things that I saw and most importantly, the experience – all the new things that I learnt… They were all so amazing, I even got proposed to there, how about that? Haha!
The day finally came for me to leave Malaysia and head over to sunny Spain. My journey to the Land of Passion was a memorable one thanks to Qatar Airways for flying me via Business Class. It was truly a 5-star experience that deserves its own post. I will get to that but for now, let me start with my arrival in Madrid.
I met up with Weiling (rep from Qatar Airways), Chet Francisco (rep from Spain Tourism Board) and other media from Singapore, Thailand and Philippines at Hamad Airport in Doha. We boarded the 7-hour flight to Madrid together and arrived at the Adolfo Suarez Madrid Barajas International Airport (known simply as Barajas Airport) at approximately 2PM (local time).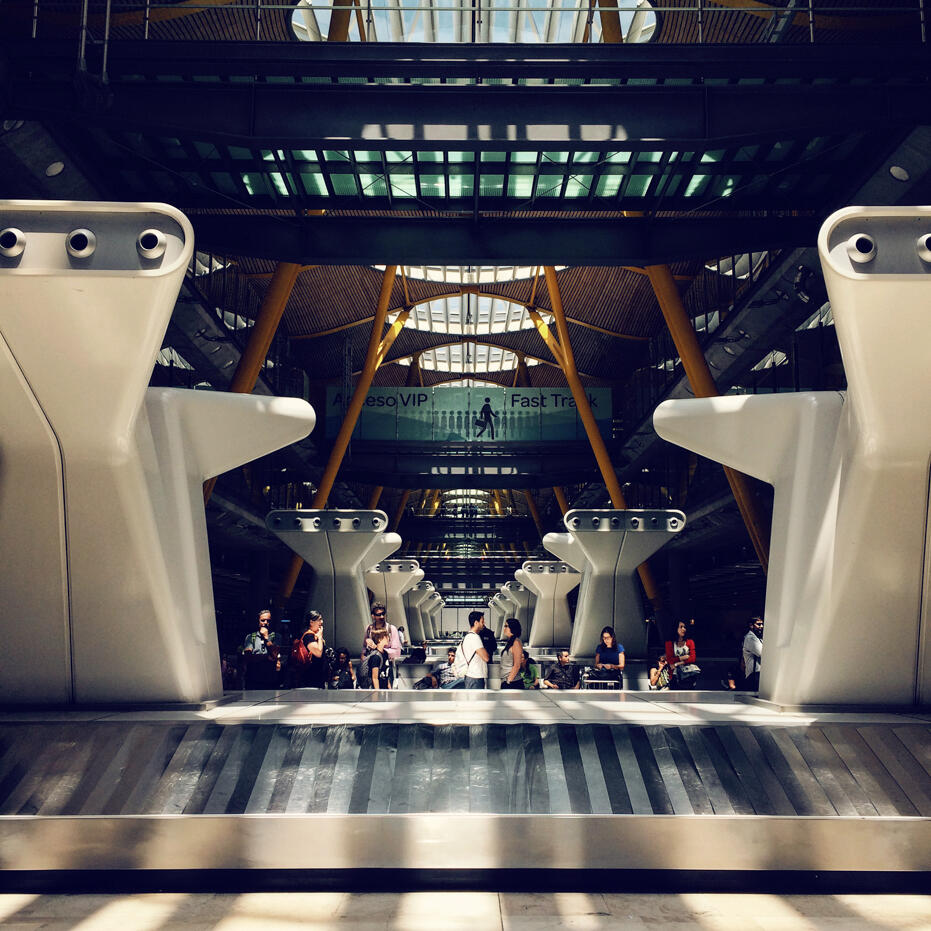 This was the first picture that I took upon my arrival. I was just waiting for my luggage but I couldn't help gazing at this exact same view, soaking it all in 🙂 Look at the pretty skylights. At that very moment, it dawned on me that I'm finally there. In Madrid. I couldn't believe it I was so excited!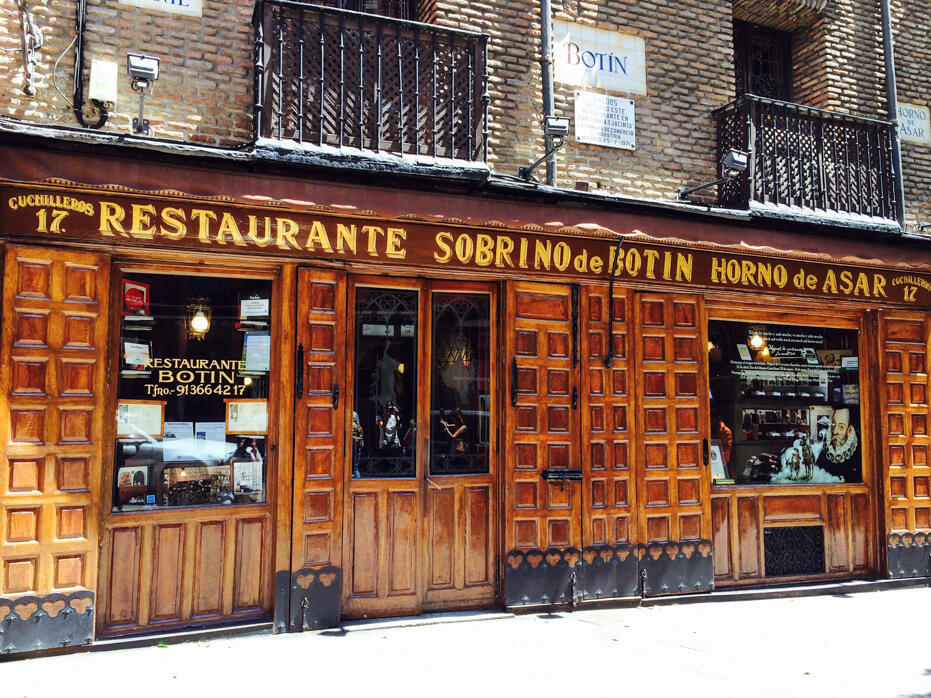 Our first stop was Sobrino de Botin for lunch. This, my friends, is the oldest restaurant in the world which first opened waaaay back in 1725! Founded by Jean Botin, the restaurant was originally called Casa Botin (The House of Botin) and later inherited by his nephew, Candido Remis who later changed the name of the establishment to Sobrino de Botin (Nephew of Botin). The restaurant is well-known for its cochinillo asado (roast suckling pig). I'm guessing that the dish must be super-duper good as Ernest Hemingway mentioned it in his novels The Sun Also Rises and Death In The Afternoon.
"We lunched upstairs at Botin´s. It is one of the best restaurants in the world. We had roast young suckling pig and drank rioja alta. Brett did not eat much. She never ate much. I ate a very big meal and drank three bottles of rioja alta." – Ernest Hemingway, The Sun Also Rises
"… but in the meantime, I would prefer to dine on suckling pig at Botin than sit and think about the accident which my friends could suffer." – Ernest Hemingway, Death In The Afternoon
(Maannnn… I actually dined at a place where Hemingway once did. How many of us can say that? I'm so grateful that I got to go for this trip)
Sobrino de Botin is in the old area of Madrid, very near to Plaza Mayor (Main Square) which is the most touristy part of Madrid. You would think that being the oldest restaurant in the world, the place would be filled with tourists during summer; but surprisingly when we were there, the place was packed only with locals enjoying their lunch. Botin does not serve trendy food. Far from it. It serves traditional food where two of its specialties are roast suckling pig (€24.60) and roast baby lamb (€24.60). According to my media friends, they were divine! There are three dining areas in Botin- basement, ground and upper floor. We were ushered to the basement dining area which was like going down into a dungeon.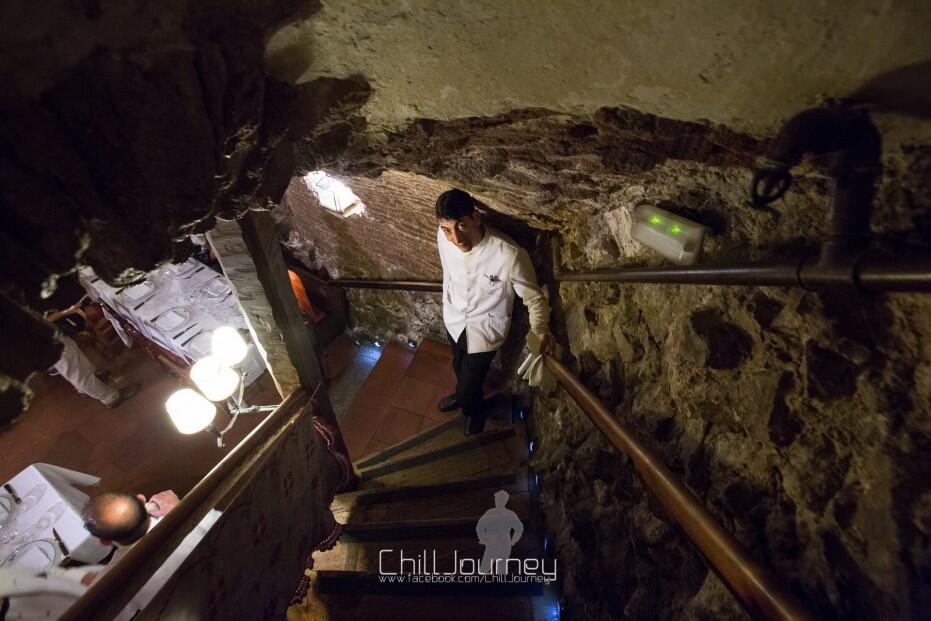 The way down (pic by Chill)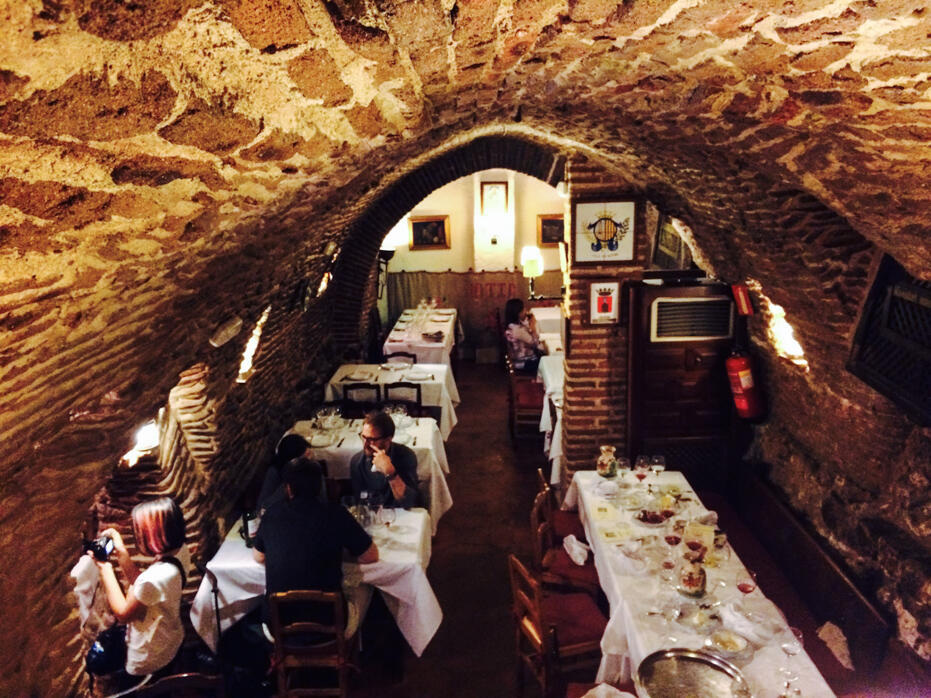 The bodega-like basement dining area.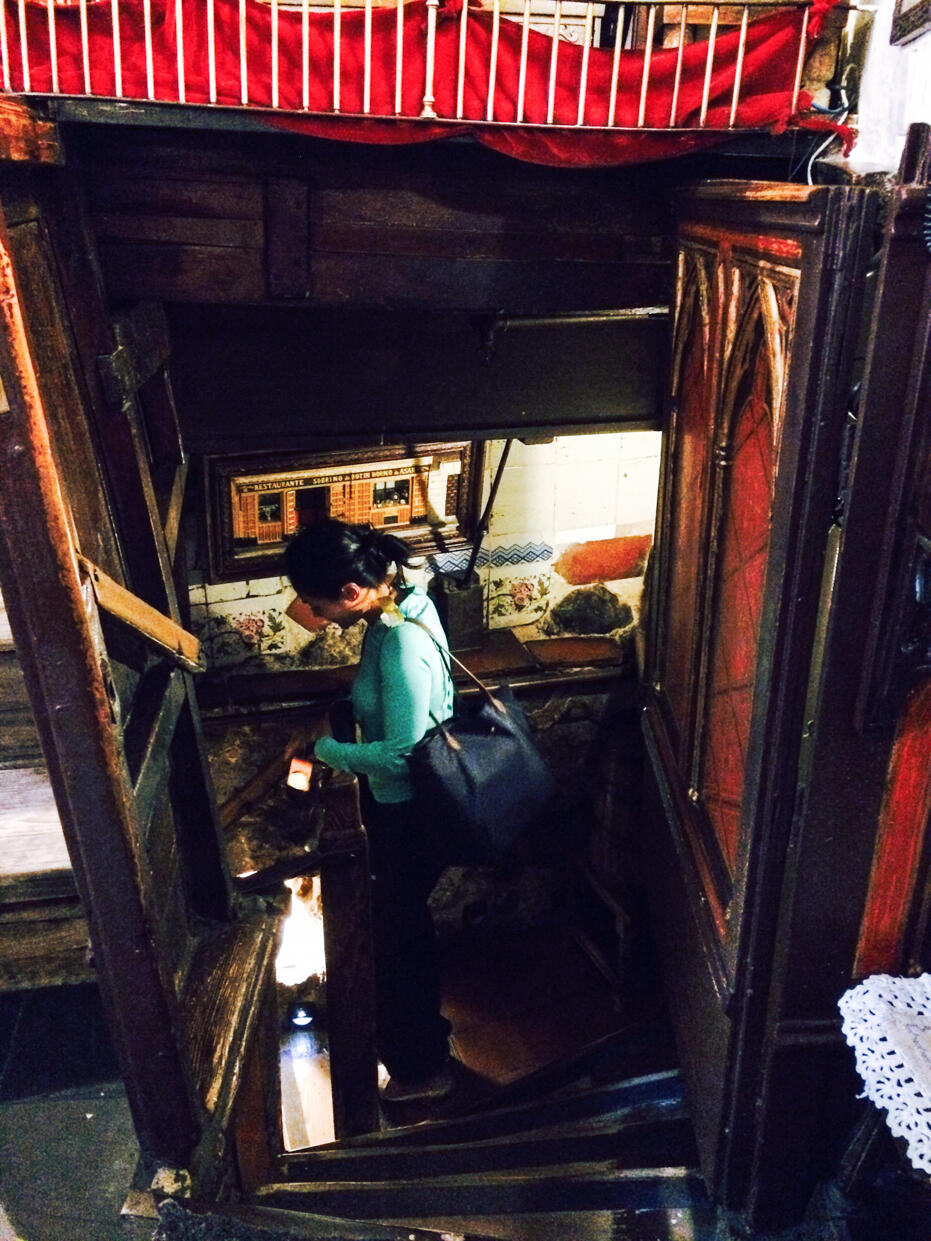 Mavis Teo, going down the narrow staircase to the basement section.
Weiling (rep from Qatar Airways), Chill (a travel writer from Thailand) and North (a blogger from Thailand)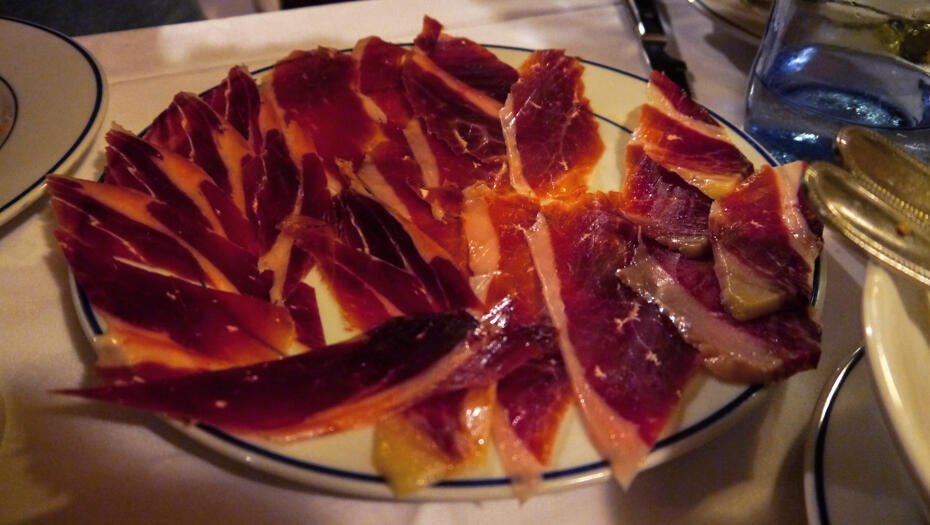 Iberian jamon (cured loin of pork)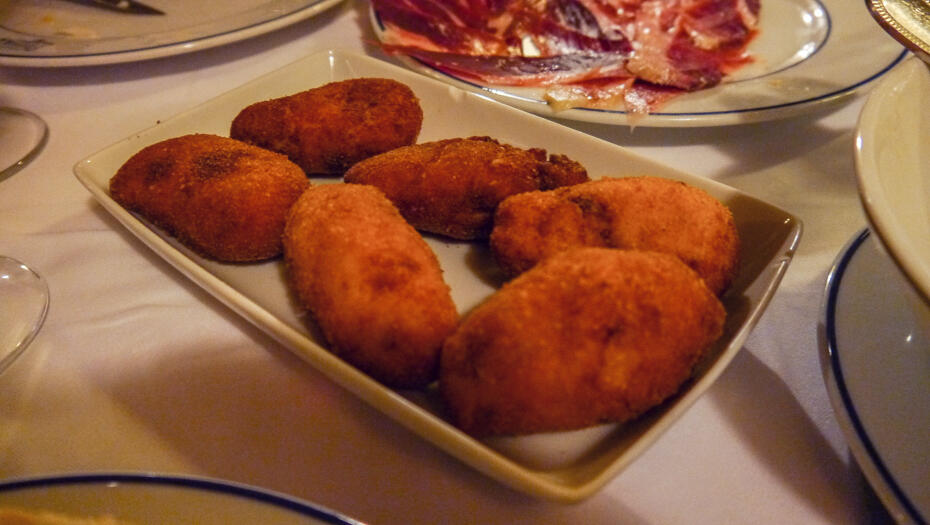 One of the best croquettes I've tasted in my life (or maybe I was just very hungry).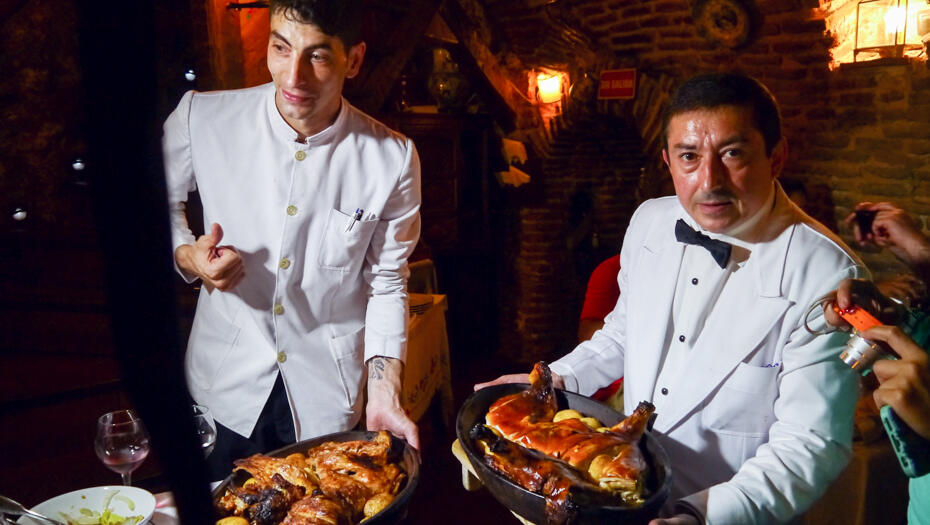 Our two camamero (waiters) explaining how the two dishes were roasted on oak wood with ingredients used according to tradition creates the Castilian roasted meat with its very special taste.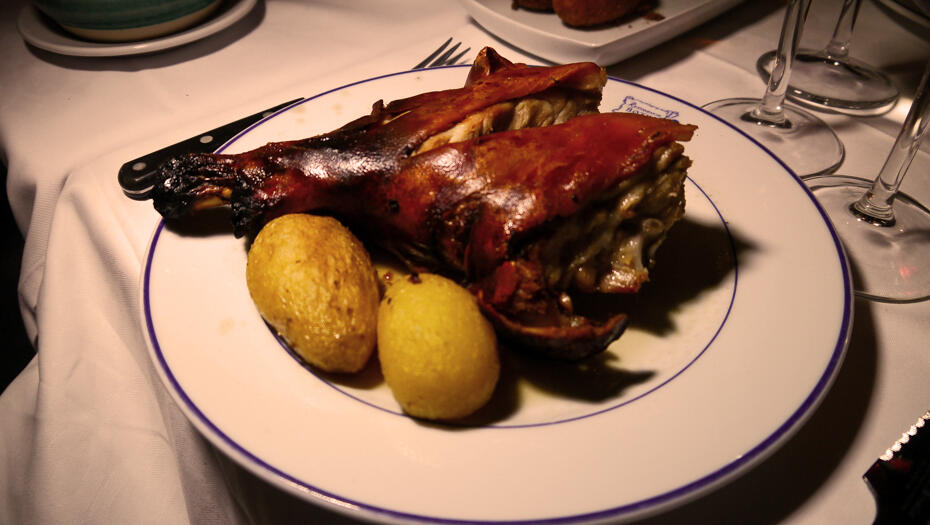 Part of the roasted suckling pig.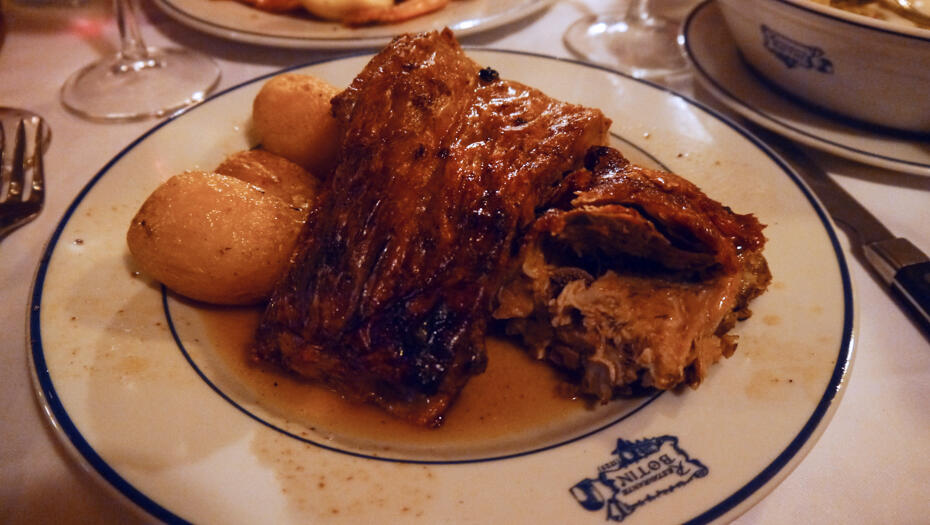 This roasted lamb was life-changing! Where have you been all my life?!?!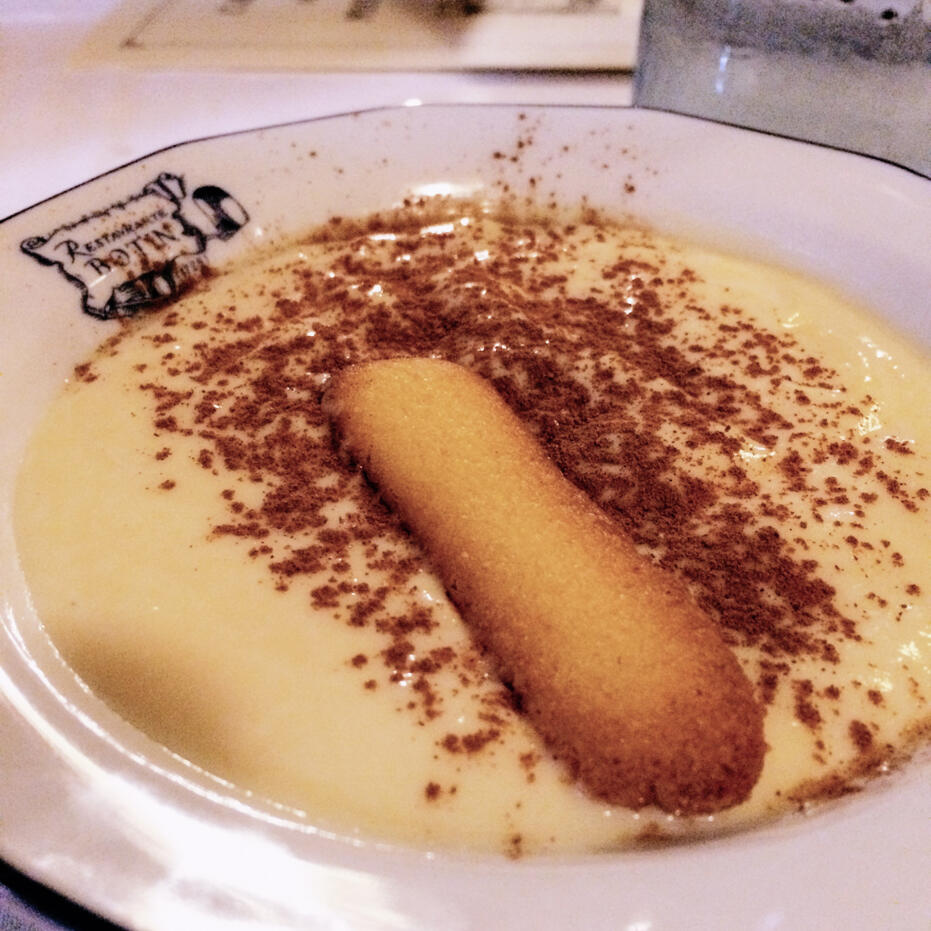 Please believe me when I say this is the best custard dessert ever! I can still remember how it smells and tastes. Rich and creamy with a perfect dusting of cinnamon powder.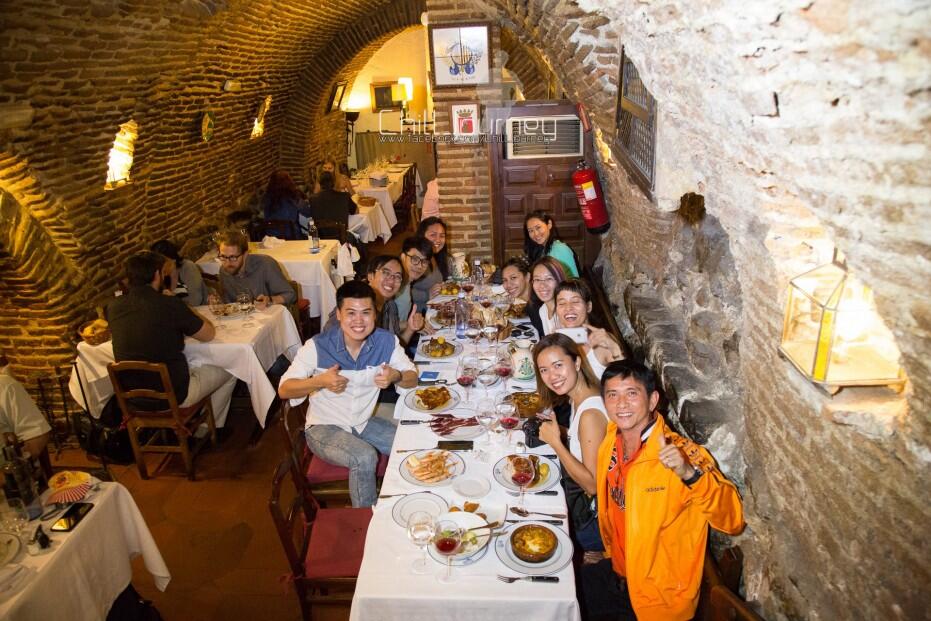 The South-East Asia media gang! (Pic by Chill)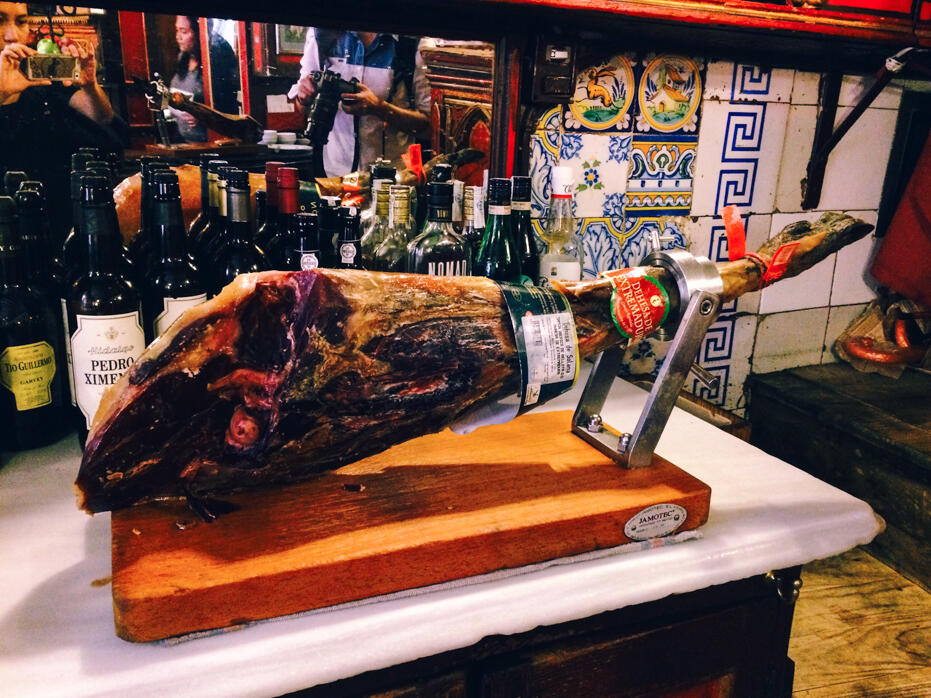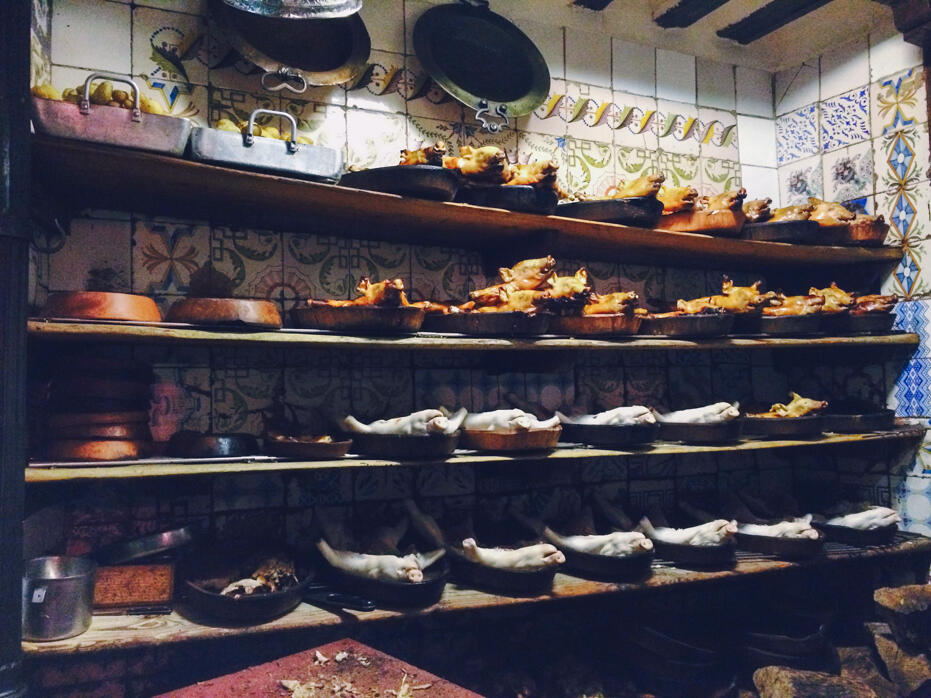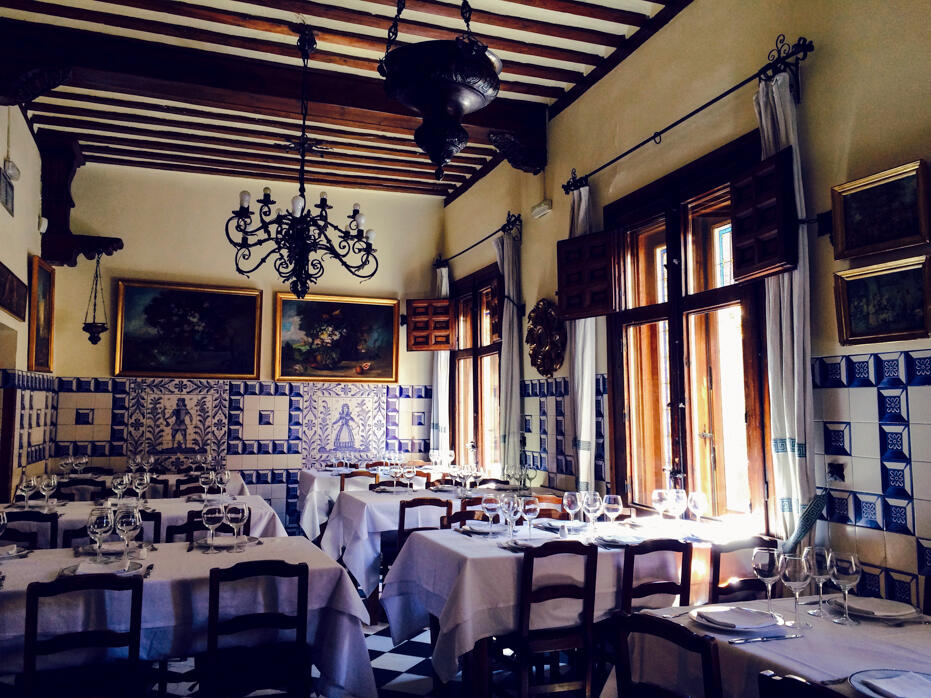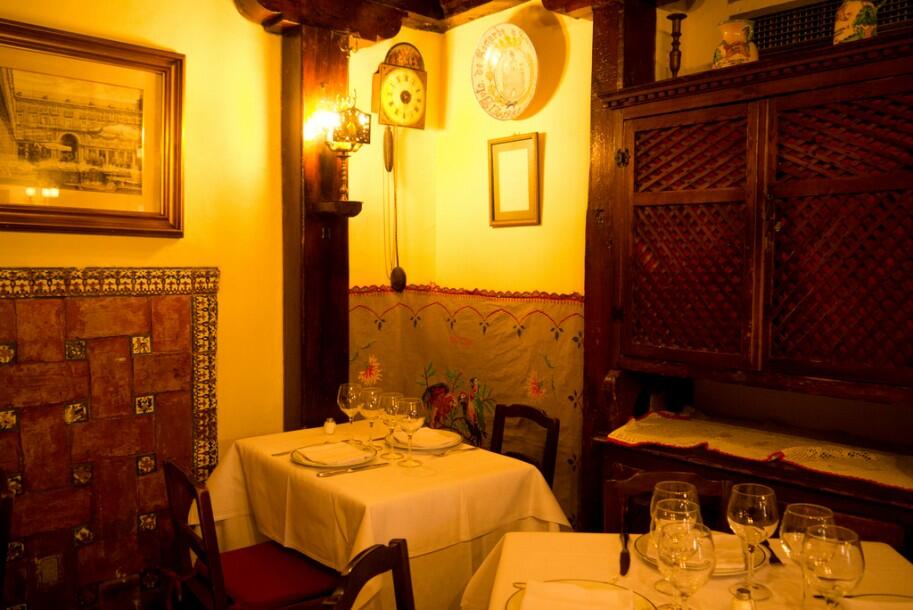 (pic via Curiosity Travels)
This is the dining area upstairs where Hemingway used to dine. You can actually sit at the exact same table where he did whenever he dined at Botin. It's a corner table that seats two and you'd have to call in advance to book THAT particular table.
After lunch, Chet and Weiling went to a phone shop to rent wifi dongles for us media to share (see? they're such awesome hosts) knowing how important the internet is in our line of work (life!). Thank you Chet and Weiling 🙂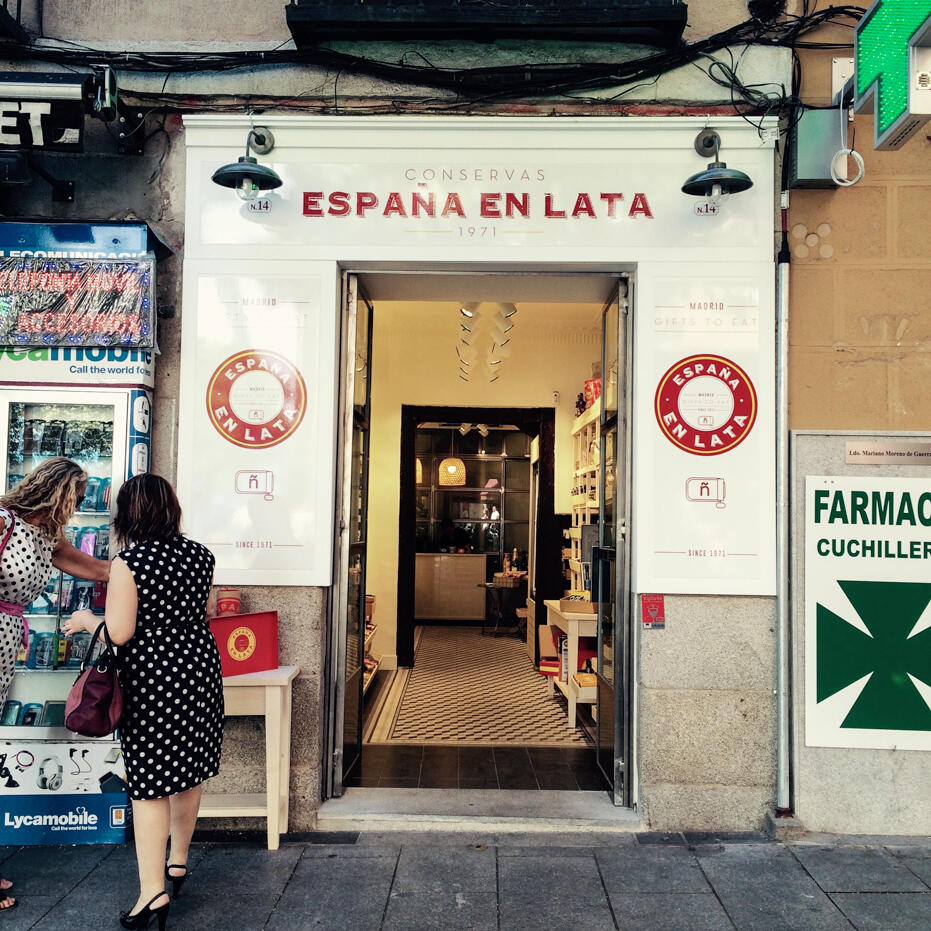 Across the road from Botin, was this interesting-looking shop called España en Lata (Spain in a Can) with a facade that intrigued me. Tucked between a sundry shop and a mobile phone shop, is this little gem where food from all parts of Spain are sold. What could be a more amazing souvenir than food from a foreign land, seeing how many people flock to Madrid for it's glorious food, along with its amazing summer weather, architecture, and museums.
Some countries have strict regulation policies where the Department of Custom restricts you from bringing in food like Spanish jamón and cheese. España en Lata makes that possible for us, as only the best and traditional products from each Spanish region is canned and well-preserved, perfect for long-distance travel.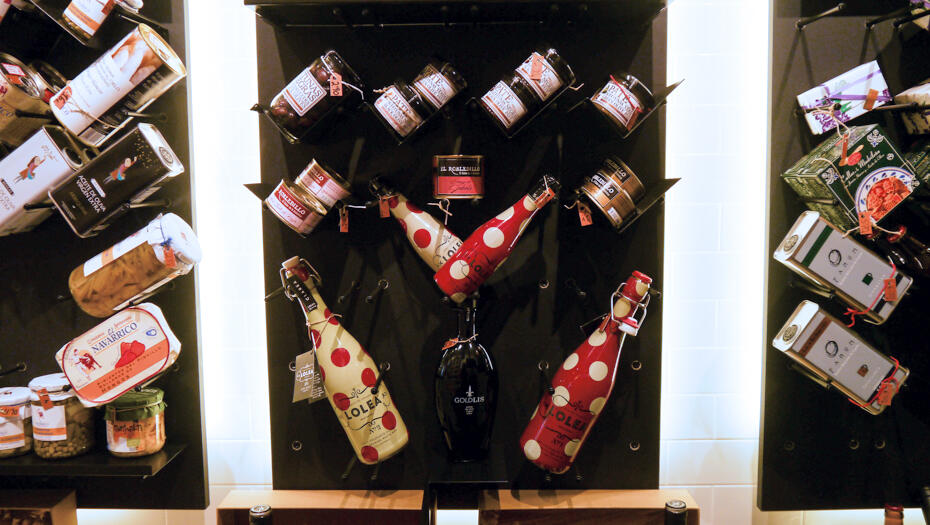 Lolea's red and white wine Sangria, tuna and sardines from Basque Country, paté, anchovies from Cantabria…
Olive oil, chocolates in pretty tins, beer and wine from Madrid and even paella from Valencia!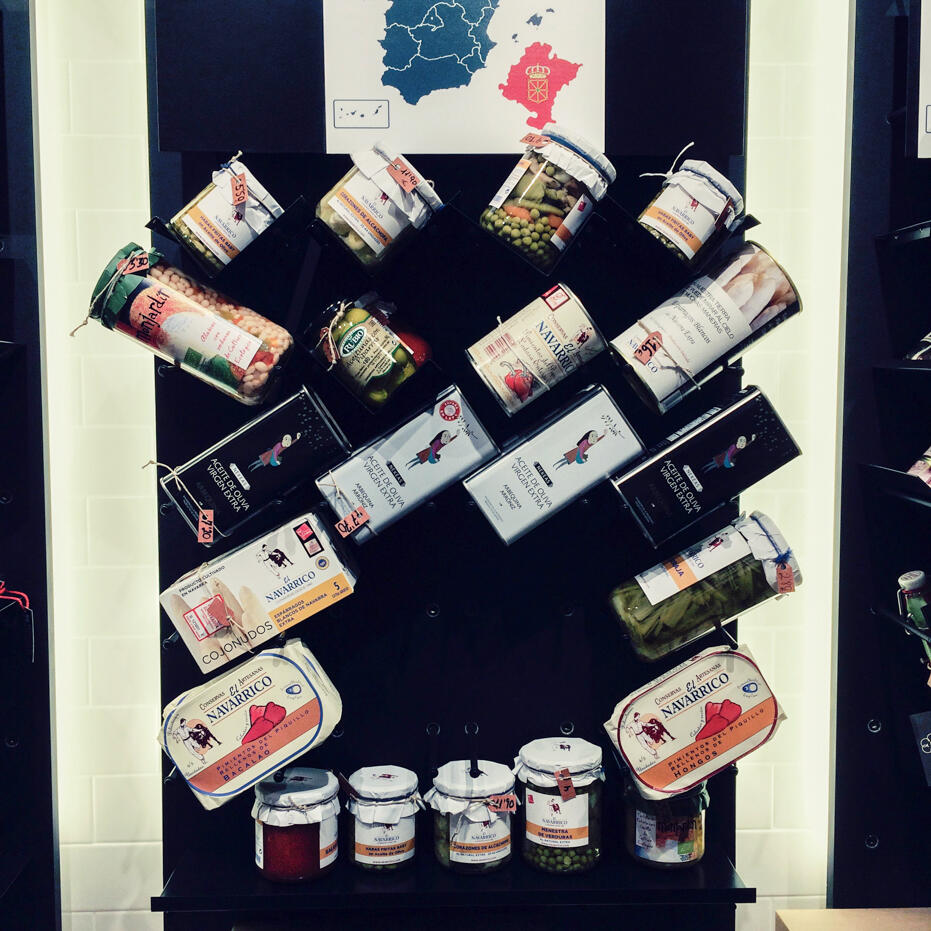 Asparagus from Navarra, piménton, beans and other wonderful stuff! I spent my first Euro there and came out all smiles!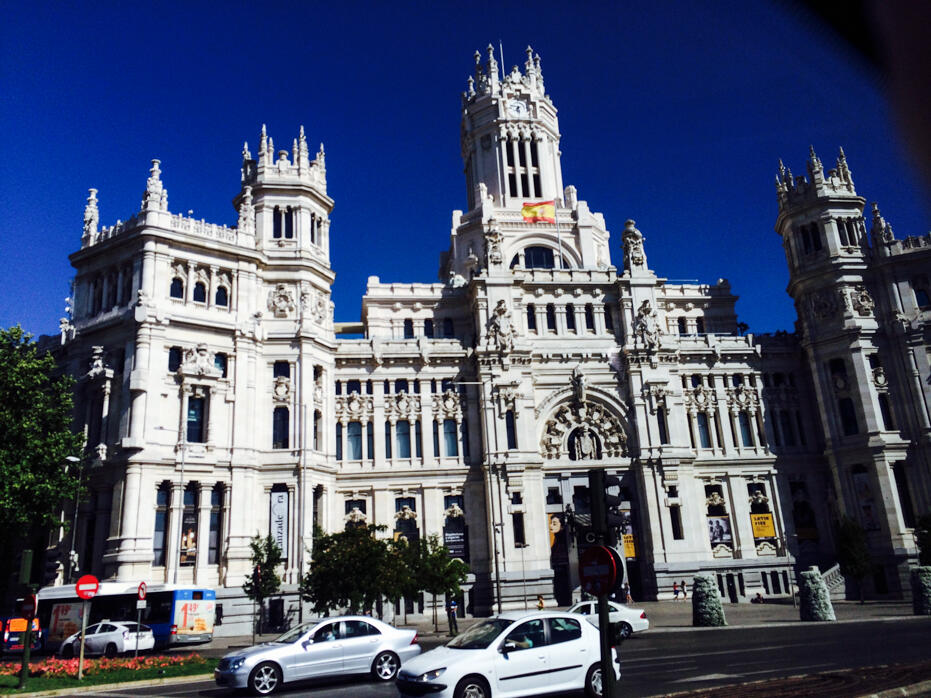 We were put up at Hotel Chamartin. It's a little far from the city but no complaints because by that time, we were all fighting jetlag and just wanted a bed! Chet said we were to meet up at the lobby at 8PM for dinner. YES! One hour to spruce up for dinner. I managed take a 15-minute power nap which helped a lot!
Welcome spread from the hotel when we arrived. Sangria, gazpacho, bite-sized Spanish omelette and mini burgers. We had a bite of each because we were all still very full from lunch at Botin.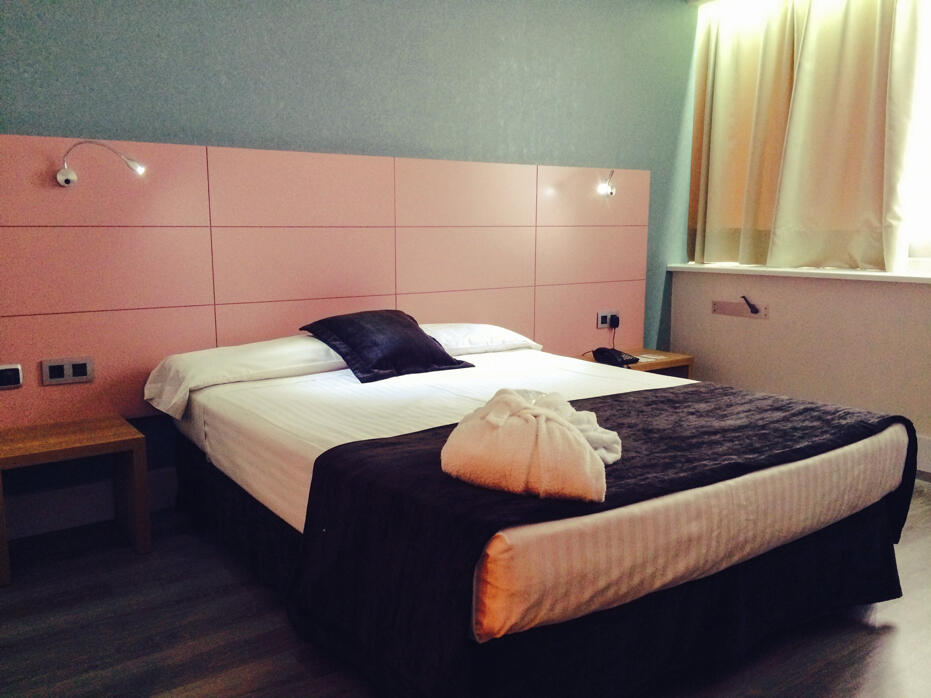 This is my room in Madrid. I was crazy tired from all the traveling so when I saw this bed I went, "Hello, baby…"
The room is pretty basic, but very clean. I had problems with my air-con when I arrived so the management had to call the maintenance team to sort it out because the heat in Madrid during summer is no joke!
At 8PM, we were ferried to Platea at Calle Goya, an insanely ginormous place at 6,000 square meters (that's 64,583 sq. ft.). Before Platea, the place used to be an amphitheatre and now, it's a very luxurious food court accessible from Goya, Hermosilla and Marqués de Zurgena. It's a magical place where we arrived together, but left with completely individual experiences.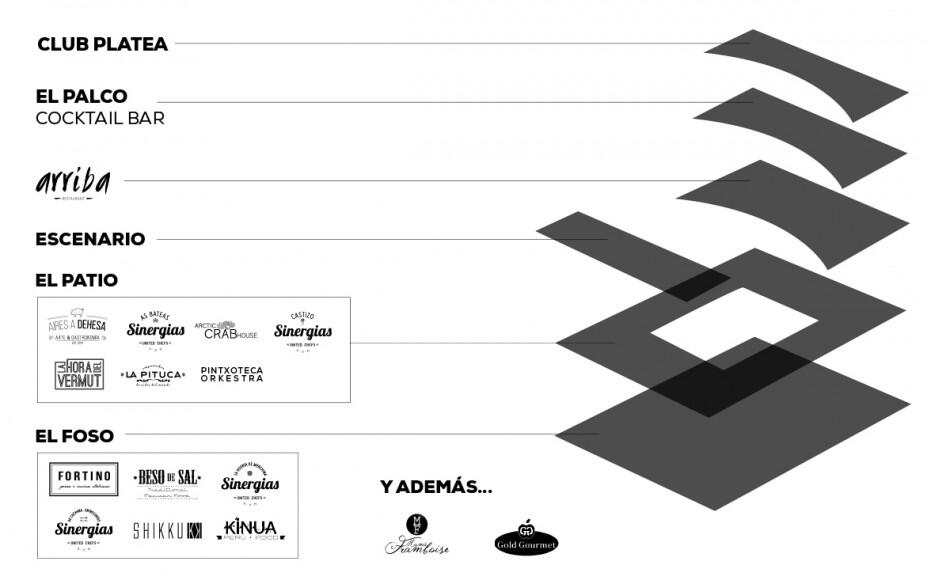 (pic via Platea)
There are six floors in total with El Foso on the lower ground (where food of the world section is), El Patio on the ground floor (all the tapas you could ever dream of and shops that sell EVERYTHING Spanish from wine, jamon, fruits and cheese and right down to salt!), Escenario on the 1st floor (performing stage), 2-Michelin star restaurant Arriba by Ramón Freixa is on the 2nd floor, El Paco on the 3rd floor holds a sophisticated cocktail bar with the best view of the stage, and finally, on the 4th floor is Club Platea where you can let loose and dance the night away.
Inside this spacious confines are roughly two dozens eateries vying for the attention of visitors' taste buds. Platea features 15 mini spaces designed by Michelin Star chefs – Pepe Solla (1 Michelin Star), Paco Roncero (2 Michelin Star) and Marcos Morán (1 Michelin Star). These tapas spaces are divided into pairs of culinary concepts that reflect quality Spanish products, ways of eating and the different regions that these chefs represent. The themes include oysters and pulpo (octopus), croquetas and frituras (fritters), potatoes, eggs and Spanish tortilla, empanadas, salad, bocadillos, tostas, soups and stews, meat, roasted chicken, hamburgers and so much more!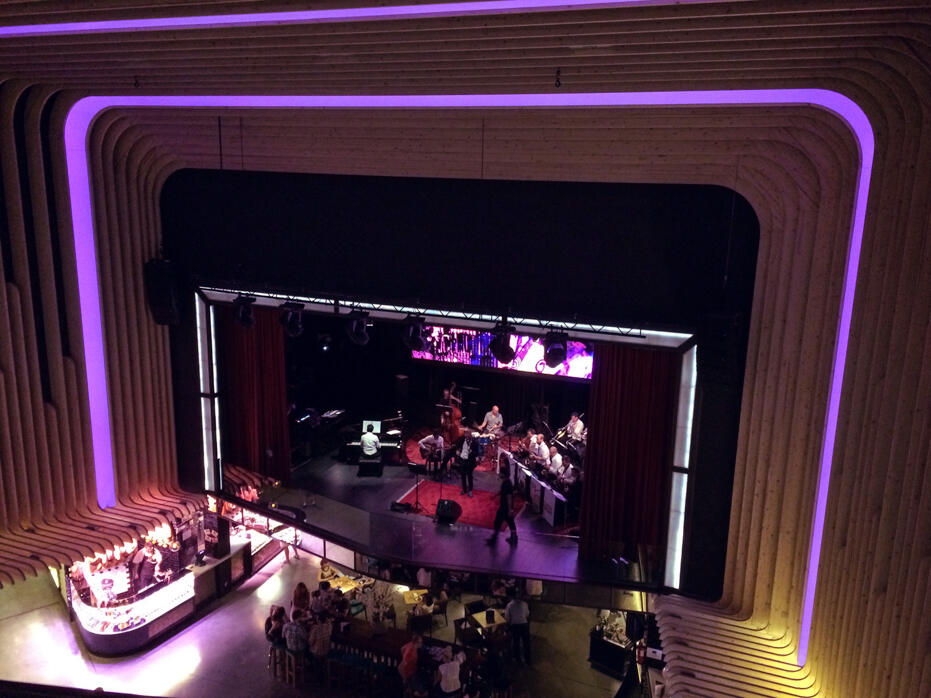 Part of the food court is the amphitheatre that has been restored close to its original state. There are shows every single night – dance, bands, DJs – so it's a perfect place for gatherings or to wind down if you're alone plus it's not hard to make friends in Spain 😉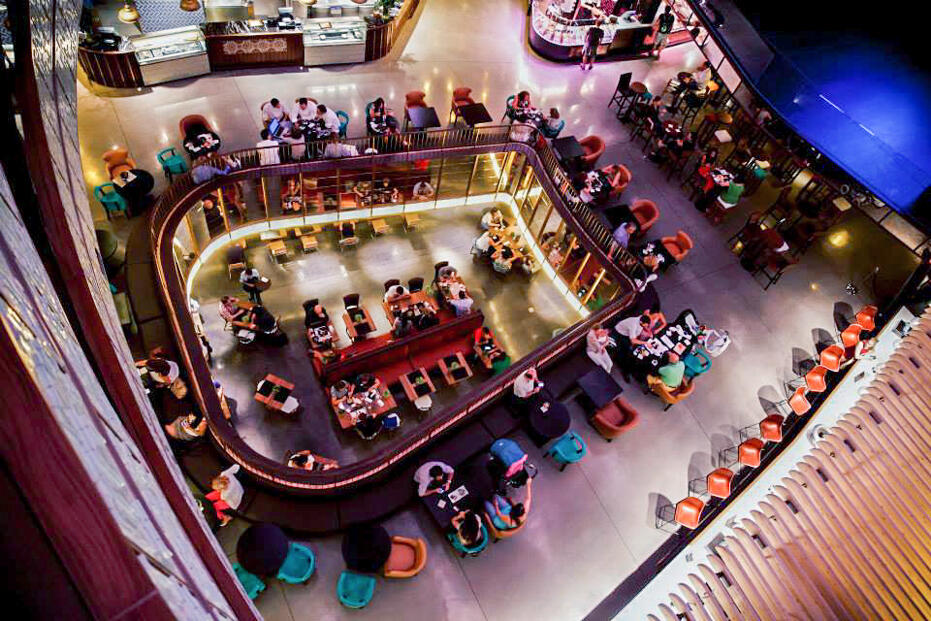 View of Platea from the cocktail bar El Paco.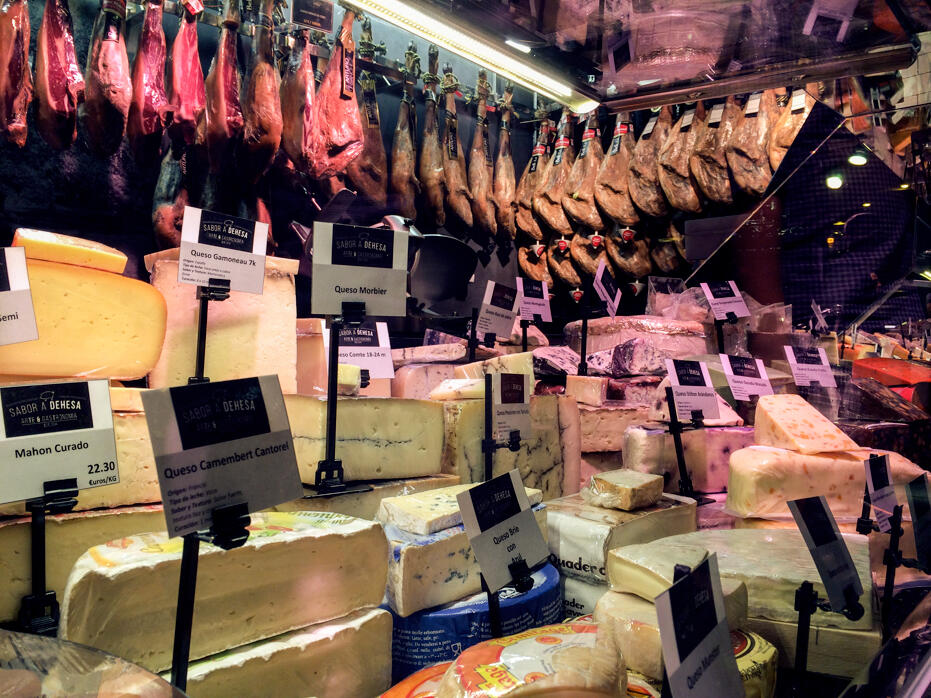 A wide range of cheese and well… cured pork! I'm in Spain after all.
The cocktail bar El Palco. I can't wait until I'm extremely rich and able to fly the whole KBF team here for cocktails!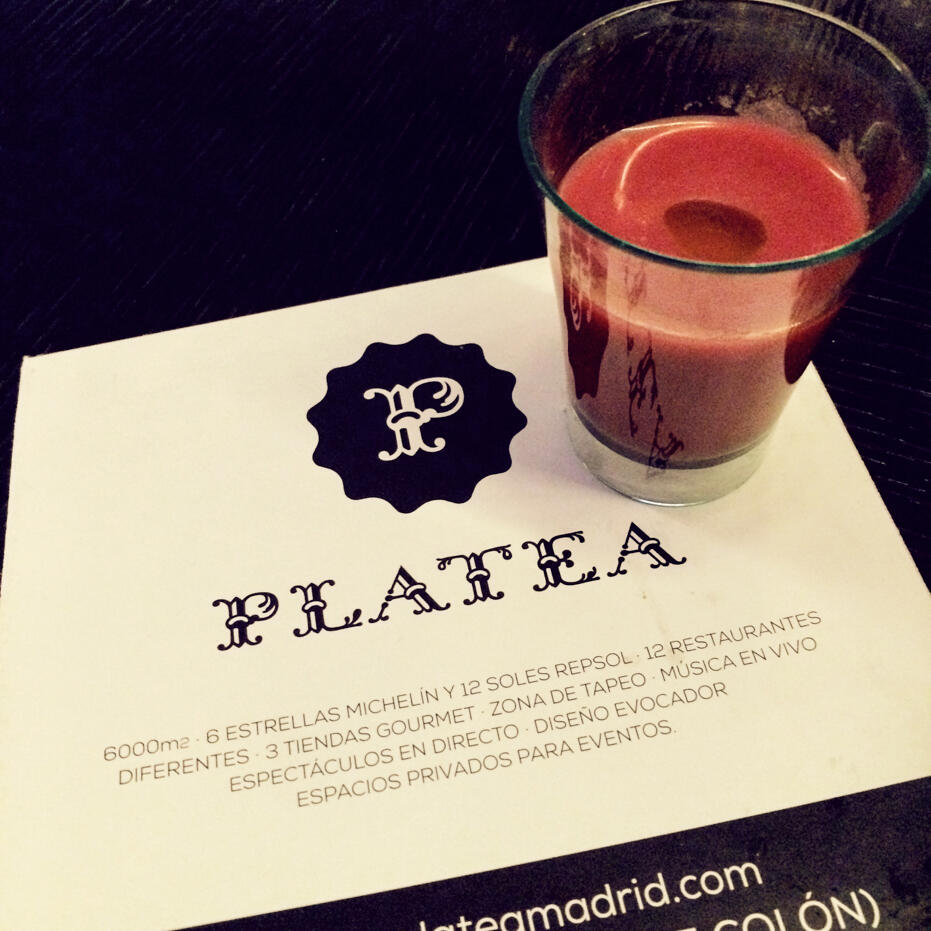 Gazpacho is always the first entree here.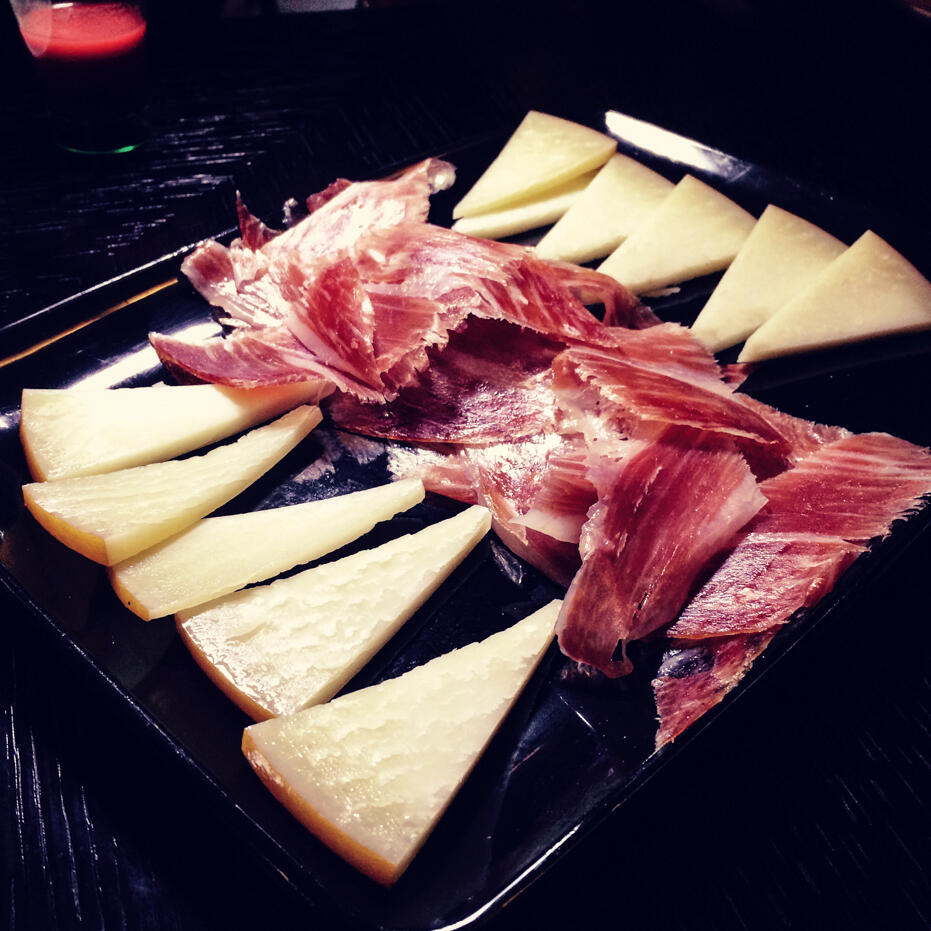 Followed by jamon and cheese.
Mavis from Singapore and me (Baby)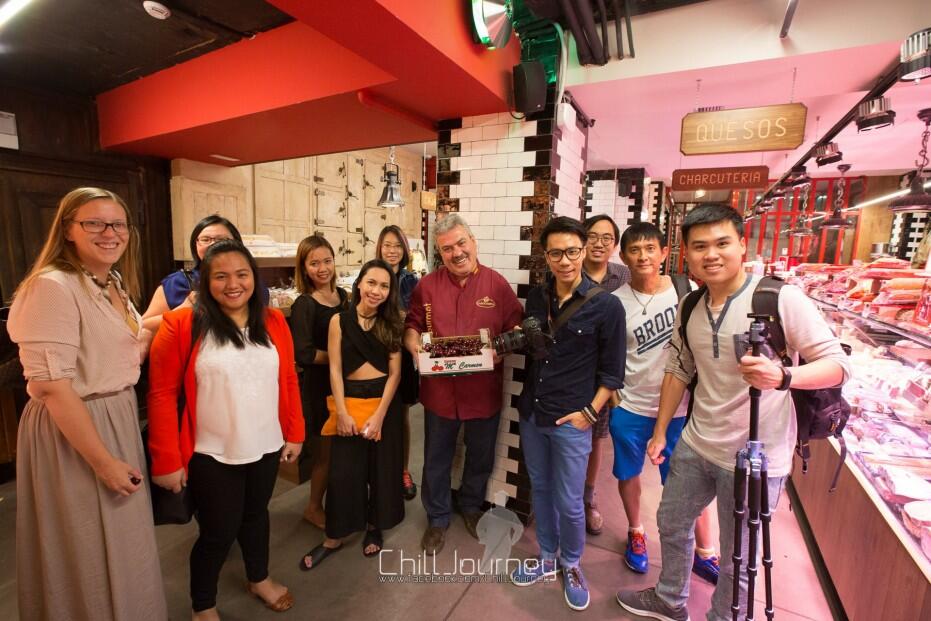 Group picture! We're all smiles but really tired from all the traveling. We passed out immediately when we got onto the bus. (Pic by Chill)
+ + + + + +
Sobrano de Botin
Calle Cuchilleros, 17,
28005 Madrid,
Spain
Website: www.botin.es
Espanã en Lata
Calle Cuchilleros, 14,
28005 Madrid,
Spain
Website: www.espanaenlata.es
Facebook: www.facebook.com/espanaenlata
Hotel Chamartin
Calle de Agustin de Foxá,
28036 Madrid,
Spain
Website: en.weare-chamartin.com
Platea
Calle Goya, 5-7,
28001 Madrid,
Spain
Website: www.plateamadrid.com
Facebook: www.facebook.com/plateamad
Instagram: www.instagram.com/plateamad