I had the loveliest stay in Jeju with a BIG part of the experience due to the sweetest sisters i've ever met! I found Citrus BnB quite randomly on Airbnb and booked it for the 3 nights i'd be on the Korean volcanic island.
I can't say i tried researching thoroughly for a place to stay cos i was so freaking busy with work and just relied on the reviews instead. So many people were saying such nice things about Citrus, i thought "ahhh can't go wrong" and booked it.
How fortunate for ME that i had a room for the nights i wanted! You'll see why by the end of this post.
I used Airbnb for ALL my stays in Korea (i tried staying in 3 different places) and it's so much more personal than simply staying in a hotel or commercial guesthouse. For those who have never heard of Airbnb – it's a community platform where hosts all over the world rent out rooms or entire apartments to travellers looking for a place to stay. You manage to find beautiful charming spaces with more character, for a lower price than you'd expect.
Hosts and guests then leave each other reviews after the trip, which later users can then refer to for reliable future connections.
Some hosts let out their space professionally,
some do it for additional income,
and some do it cos they just love company /hosting people/travelling themselves!
My bestest travel buddy Yishyene told me how she's made friends with some of the hosts she's stayed with in Porto, to the point she returns to visit them!
I'm so tempted to rent my own rooms out to travellers when i move to a bigger place… but that's pondering for another day.
I just went onto the Airbnb website to sibuk and check out what kinda rooms are listed in KL, and watched a video that pretty much sums up my experience when i use them to book accommodation >
I got goosebumps watching that vid!
They're so right about having a room with a view tho.
If i was semangat enough to go through all my travel archives and pick out all the pictures taken from inside my room, it'd be quite a cute post!
This was taken from inside my Jeju home!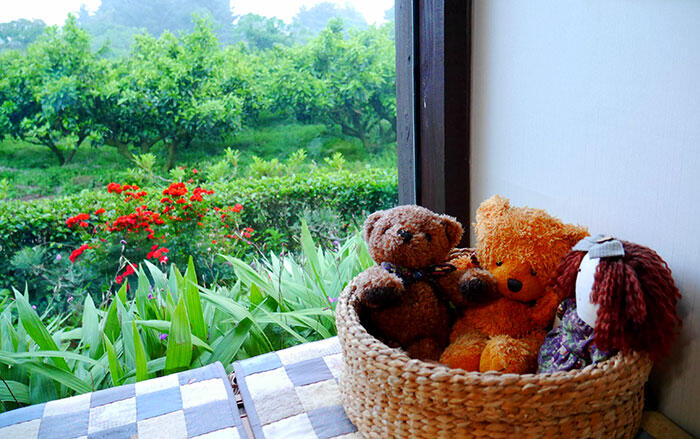 Do listen to the song below as you read the rest of my blogpost… i heard this play in Citrus Bnb during my last breakfast there and it'll get you to understand how i felt while i was staying there…
I decided to go to Jeju after i googled "beautiful places in Korea" cos i figured if i was going to go to Seoul, i might as well try to squeeze some nature into my trip cos there's nothing i LOVE more than spending some time in a foreign country's natural surroundings. I just love it so much!
Jeju came up immediately on my search, and admittedly, i'd never thought of going to Jeju prior to this… i don't know why no one has mentioned how gorgeous it is. All i can say is, look out for my following posts with pictures filled of Jeju cos it is by FAR ONE OF THE MOST BEAUTIFUL PLACES i've been to in my life, and no wonder it's listed as one of the top 7 natural wonders to visit in the world!!!
I flew via Malaysia Airlines from KL-Seoul(Incheon), than took Jeju Air from Seoul(Gimpo)-Jeju. The flight to Seoul was 6 1/2 hours, and the flight to Jeju was just a tad over an hour. Jeju is the biggest island in Korea, and it takes roughly 2-3 hours to travel by car from one end to the other. I'd compare it to the size of Bali, along with all the things you have to do and see there.
You'd need a good 8 days (5 days at least) to see all the things you want to.
I barely did it justice with 4D3N.
That's why i'm planning to return with Clem in tow + 2-3 more friends to fit one car!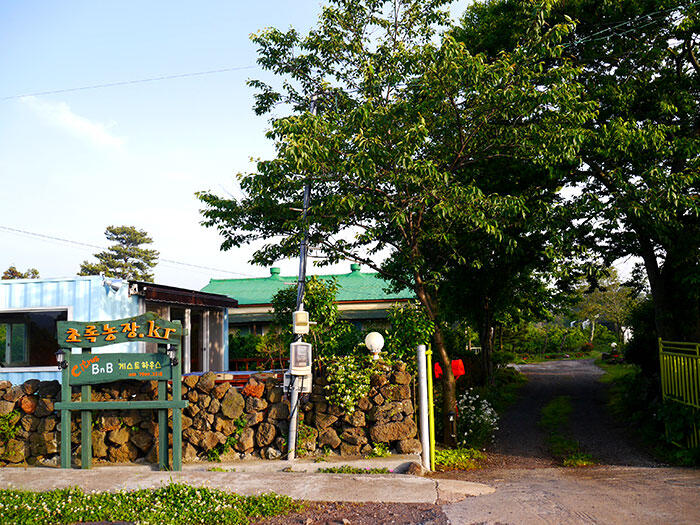 This is the entrance to where i stayed.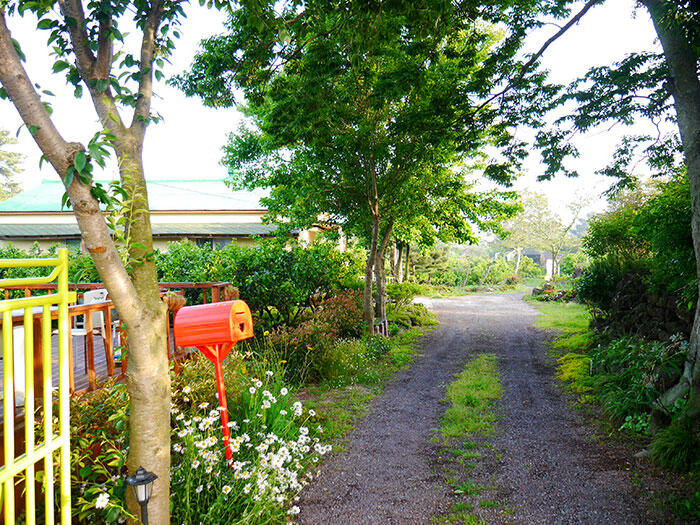 So cute! So many sights in Korea reminded me of a cartoon storybook…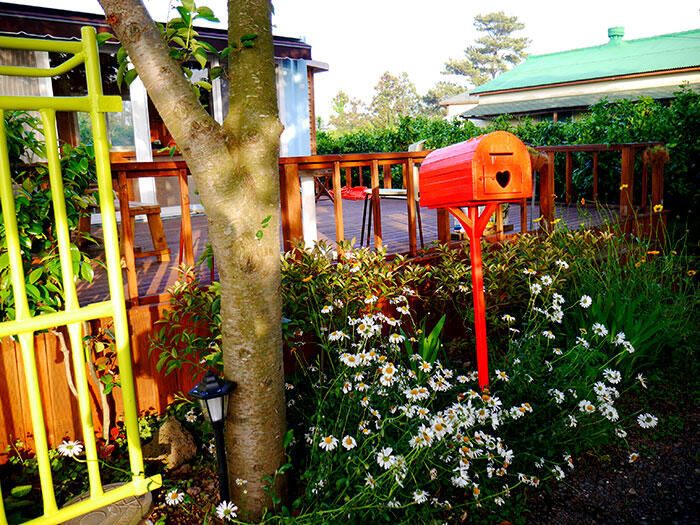 It's called Citrus BnB cos it comes with an orchard filled with citrus trees *SO CUTE i can't take it*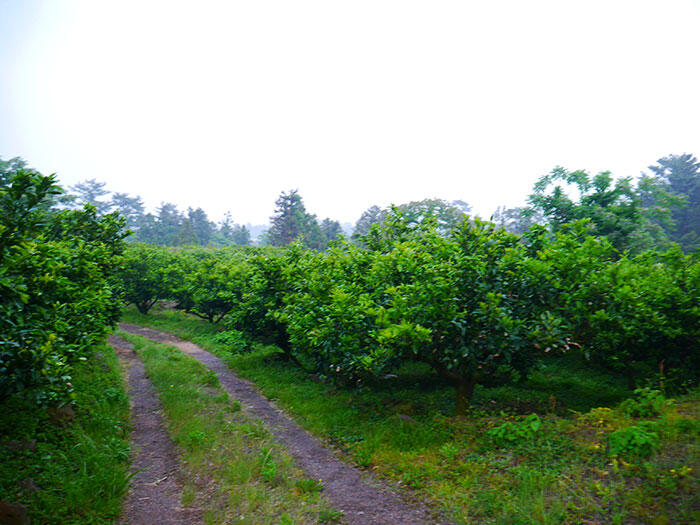 The land was bought by Young and Joo's mother years ago, and Young has been staying there for the past 7 years, with Joo joining her this year.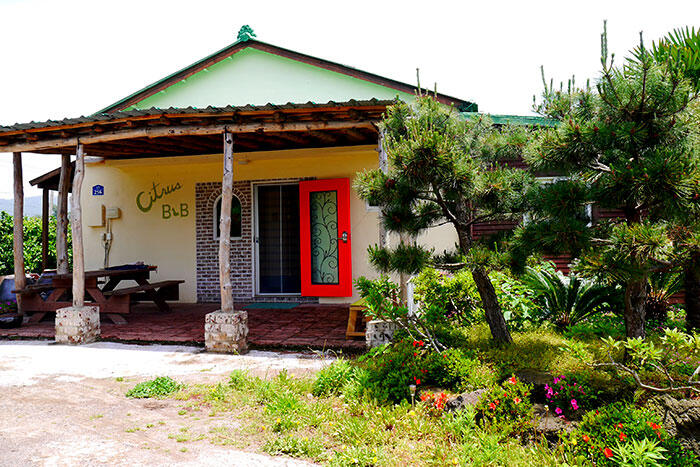 There are two houses on the land.
Young and Joo live in one, and their brother and his family stay in another.
The one above is the one i stayed in with Young and Joo, it's got three bedrooms (two are for let).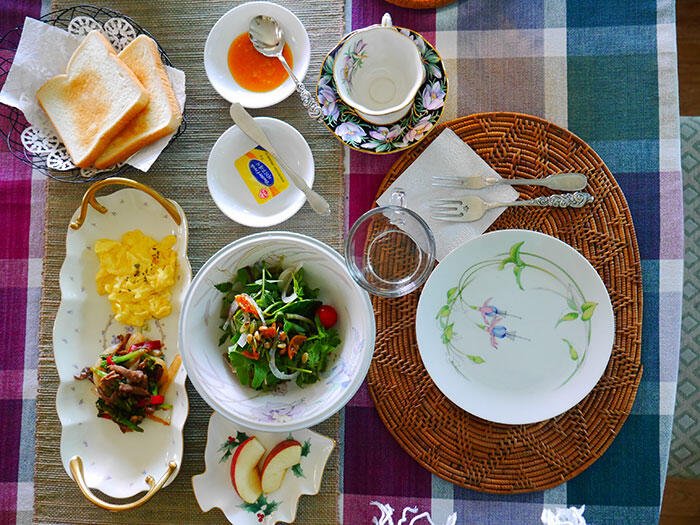 My first breakfast i had there, lovingly prepared by Joo every morning.
It was refreshing to have salad for breakfast. Extra points that everything is organically grown in their mother's farm 10 minutes away.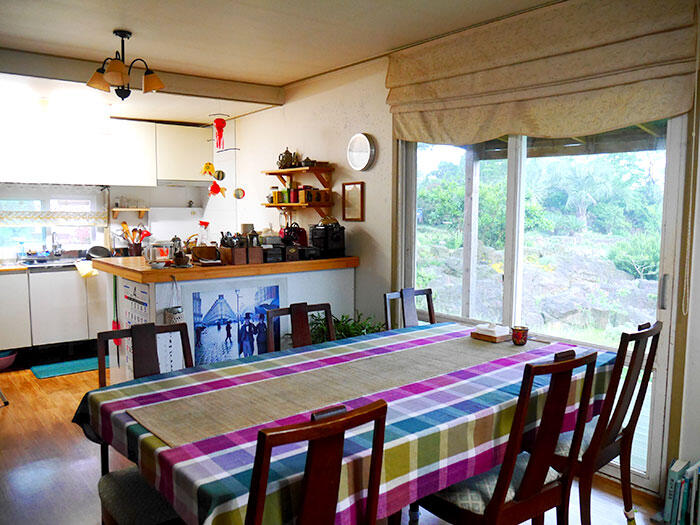 Their kitchen just feels like it's got so many happy memories to me. They told me stories about how it gets to minus 10 degrees in the winter, and how they'd pull out a stove to grill food to eat while watching the snow outside. Then Young would whip out her phone to show me a picture of Jeju in winter and it looked absolutely MAGICAL.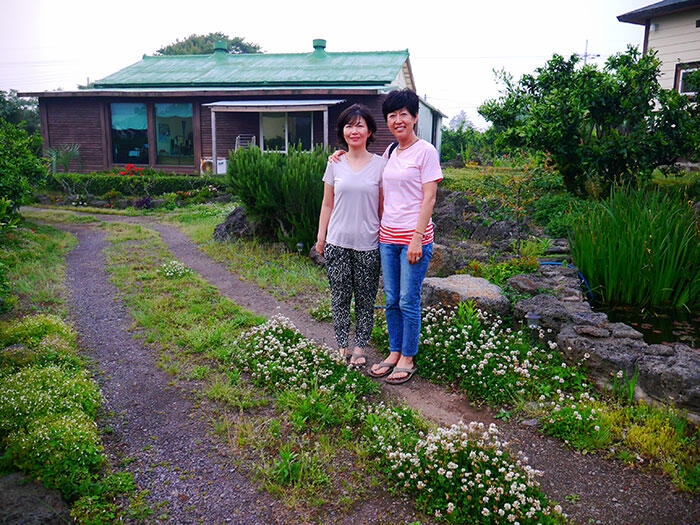 This is Joo and Young!
I can't tell you how wonderful they were to have take care of me.
You could tell how much love and kindness they had in them from the way they interacted with each other, it was so sweet to watch and made me WISH i had a sister too.
I felt like they were my older sisters to me… till i found out they have sons my age and are grandmothers themselves. (Damn these Koreans look really good for their age!!)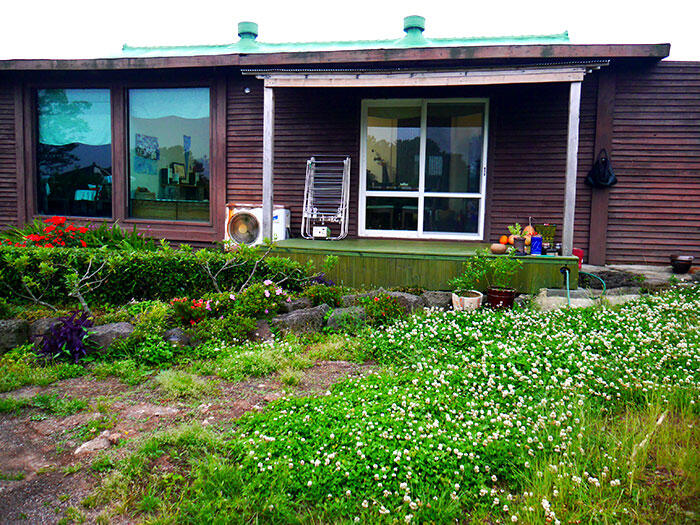 The house is surrounded by a pretty garden filled with various flowers, fruits and plants.
A giant rosemary bush outside their brother's house. They picked some to make tea with later that night 🙂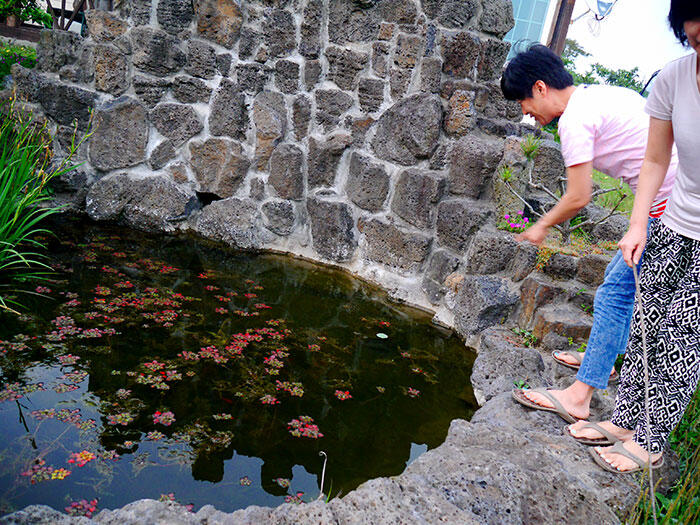 Young getting excited about a water plant she's nurturing that sprouted a leaf 🙂
They plucked a sort of peach or plum for me to try.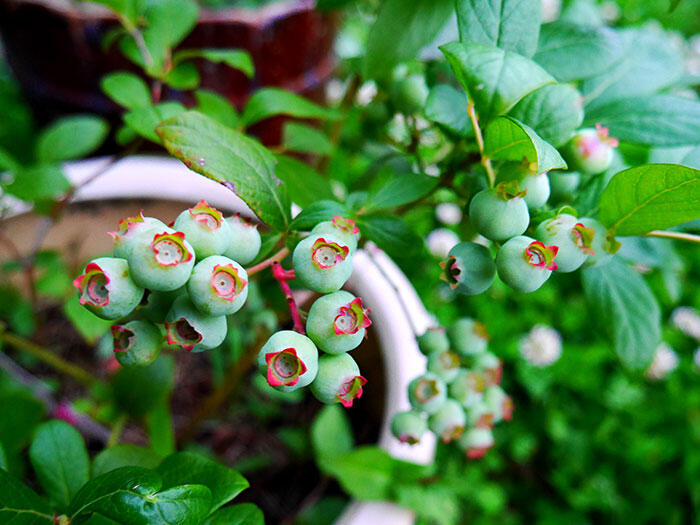 Blackberries-about-to-be!
Next to the gate entrance is a summer BBQ partyhouse which comes with its own bathroom, bar and indoor dining area.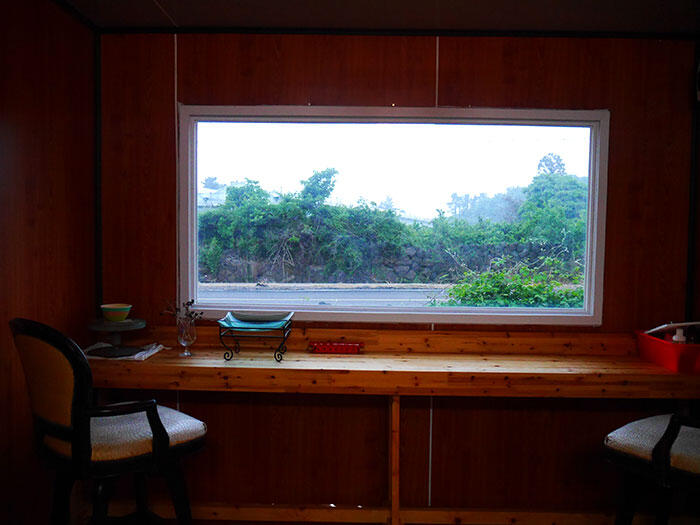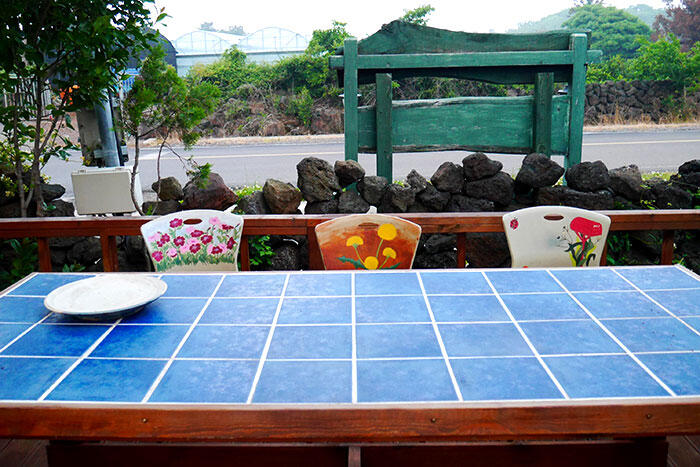 The chairs on the terrace are all individually painted!
I picked up this fan to admire it, and they admitted that it was really old and made by their mum a long time ago. It definitely looked it, i had never seen anything like it!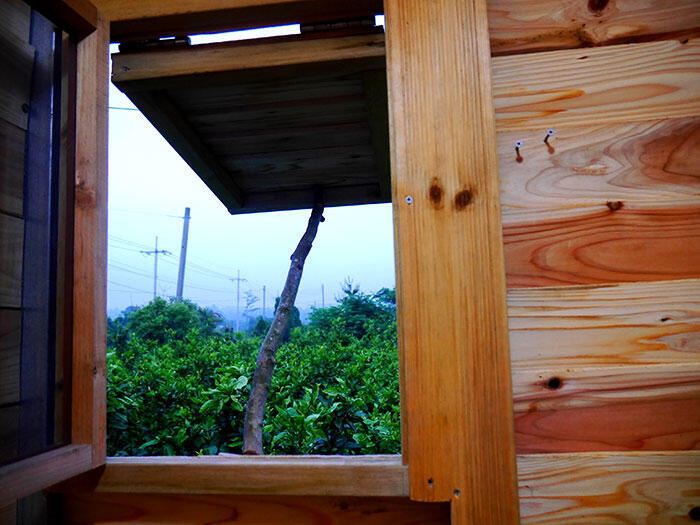 Young was very proud of this tree branch she found specially to hold up the bathroom window 😀 There was even a door handle made from a curved branch nailed to the wood.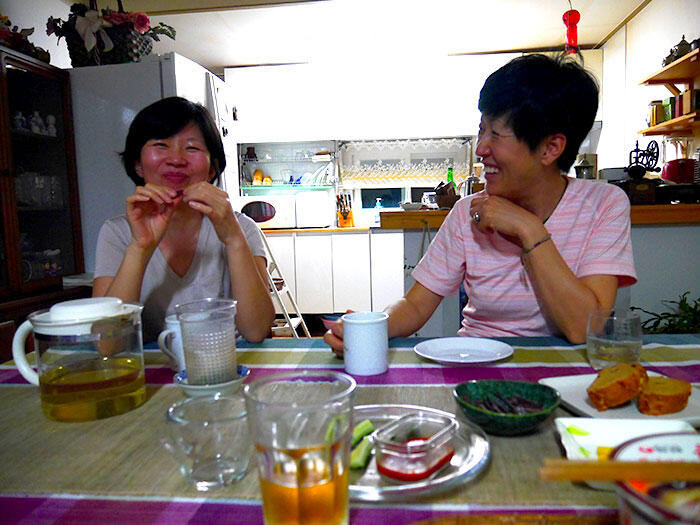 We had some beer, tea, and tidbits while chatting one night.
I found out that:
– Young used to take a sculpting class and Joo a jewellery-making one. One in Milan and another in the US? I can't remember the details (i suck).
– Joo makes rice cakes for Young, who loves it and gave her a side-glance when it was mentioned. I think she was hinting for it to happen again soon haha.
– Young completed a haenyeo course which i thought mighty impressive. The haenyeo (sea woman) are an old tradition of Jeju women who dive without apparatus up to as deep as 20 metres to retrieve seafood. Due to its danger factor, the number of haenyeo are fast dwindling as the younger generation prefer safer jobs.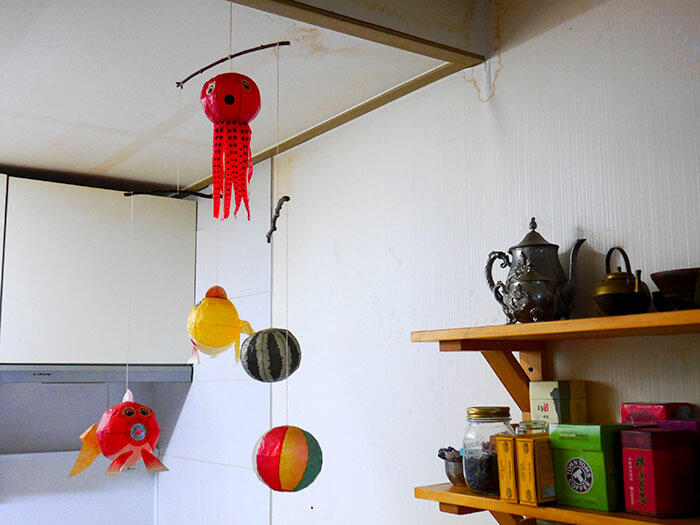 Cute stuff in their house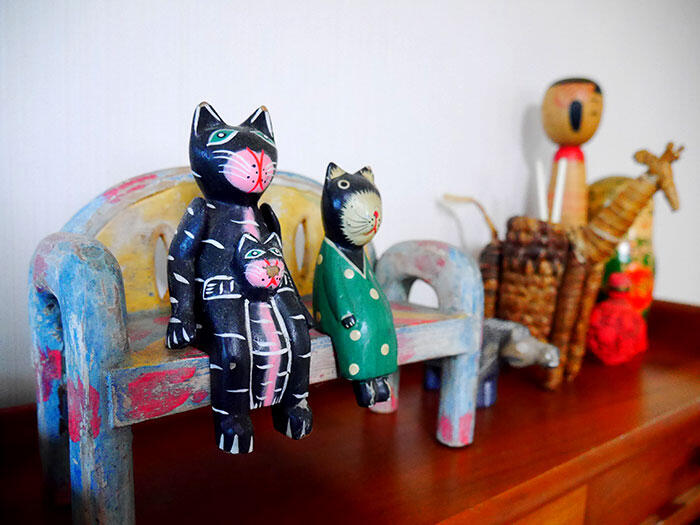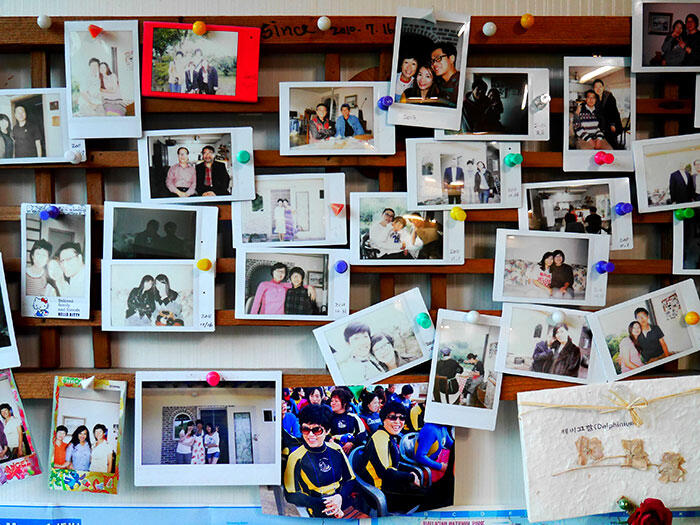 Pictures of past guests.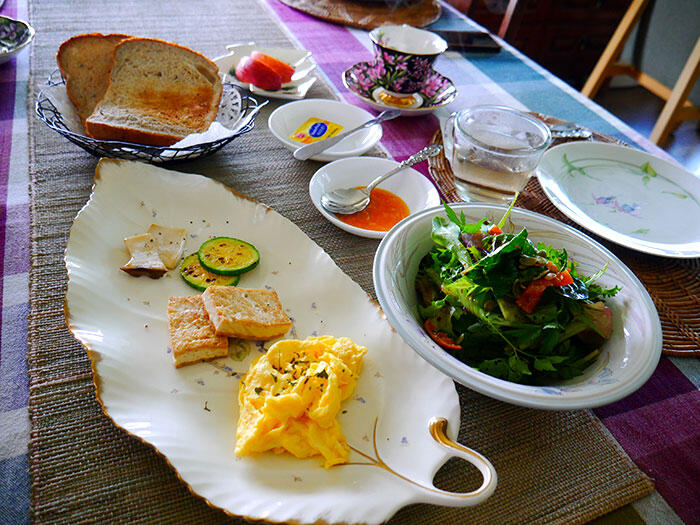 Breakfast #2. Every day was different 😀
I loved the lightly fried taufu/beancurd the most in this one!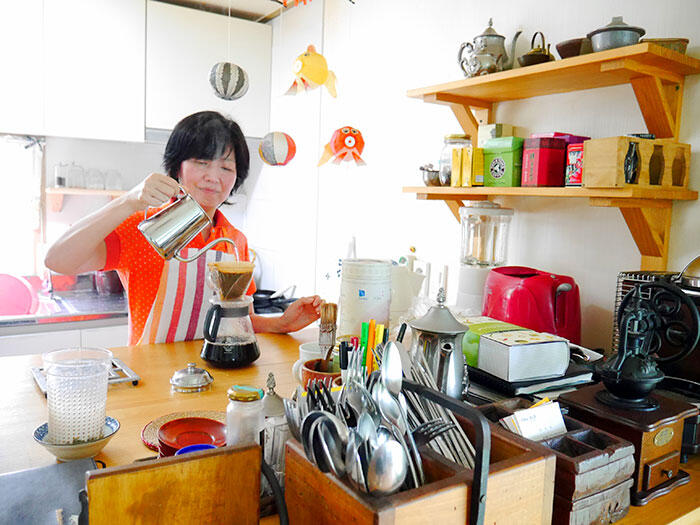 Joo looked so serene as she strained the coffee.
I don't usually drink coffee but i got back into it in Jeju.
It just looked so good and made with love that i just FELT like drinking coffee.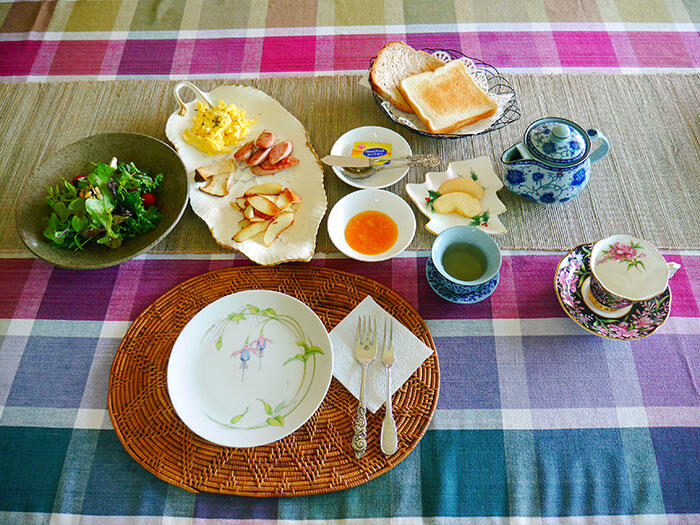 Breakfast #3 on my last day in Jeju.
It was so lovely to have a breakfast that was so carefully prepared that it made me consider how nice it would be if i could have breakfast like that with Clem every morning… I guess *i'm* gonna be the one making it cos Clem doesn't really cook.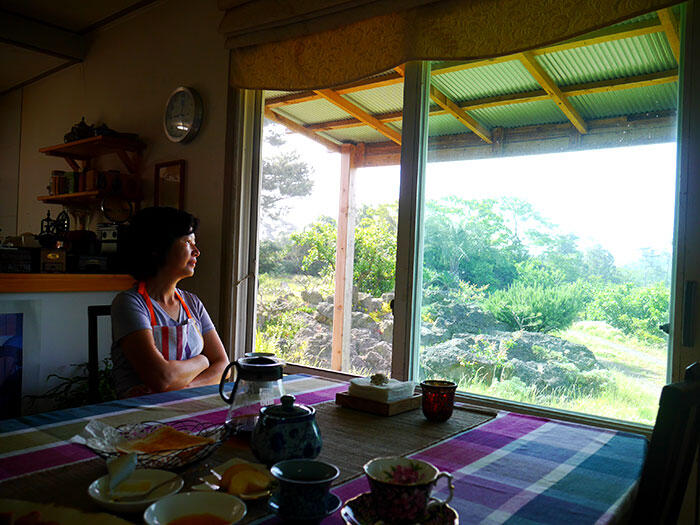 It's nice to be quiet with someone. We would just sit and stare out into the lush garden, watch for slight movements outside and listen to the whir, chirps and buzz of insects and birds while sipping on the last bits of our coffee and tea.
That was the calm before the storm.
One hour later i realised i'd got my flight time wrong (long story),
packed in a gigantic hurry by THROWING all my things into my rimowa
and leaped into the taxi while Joo translated to the driver to hurry.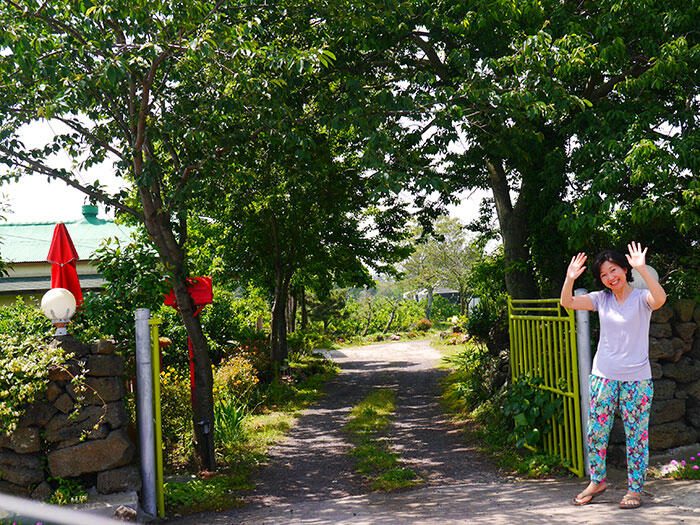 At least I still managed to squeeze in a picture of Joo waving bye, with both hands of course <3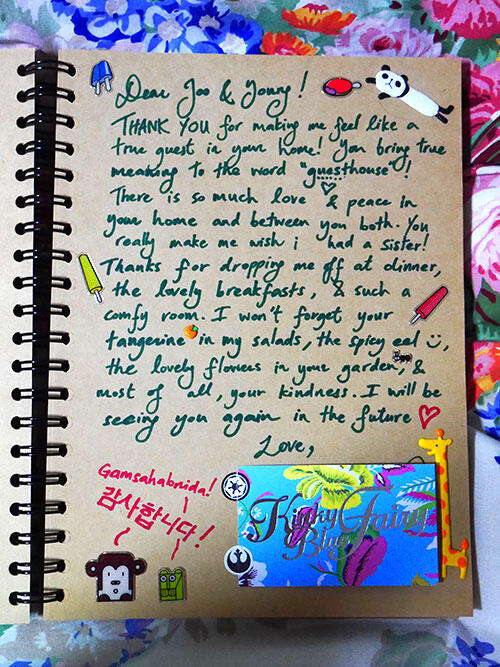 My page in their guestbook.
Awww i missed them so even when i reached Seoul!
I plan to return tho.
I HAVE to show Clem this awesome place and introduce him to them!
If you're ever interested in visiting Jeju, i suggest you stay in Citrus when on the West side of the island! Here's the link to the place on Airbnb.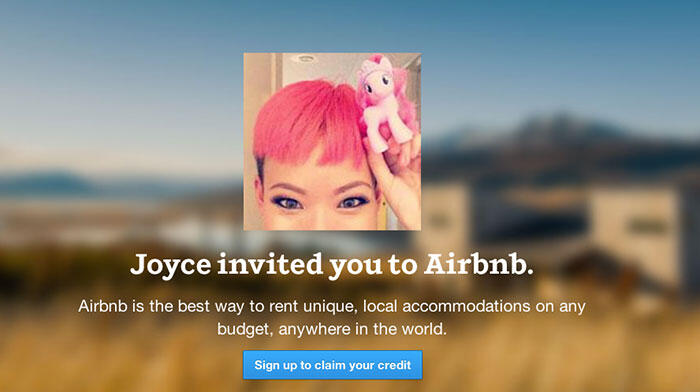 If you want to automatically receive USD25 credit when you sign up,
*USE THIS LINK HERE* 😀 😀 😀
At the same time, you're helping ME cos when you complete a trip using the credit,
i'll also get USD25 for my own trips.
More holidays FOR US ALLLLLLL