Inès de la Fressange is a name you must store in the fashion drawer(s) of your head.
A muse to Karl Lagerfeld and other top designers around the world; Inès was the first ever model signed exclusively to Chanel in the 80s and more recently walked for the fashion house again in 2011. She's also been the ambassador for Roger Vivier, and served as the model of Marianne – the symbol of France. That's just crazy. Imagine the image of yourself being used to represent your country!
The French model/fashion designer/perfumer was born an aristocrat in 1957 to a French stockbroker and Argentine model. I found her age terribly surprising as her exquisite features belie its figure (as you will see in the pictures below).
Inès has been featured by the likes of Vogue, NY Mag, Telegraph, and ELLE. One of her quotes that cracked me up can be found in an article on The Guardian, regarding her essential wardrobe items to being chic.
She declared the navy sweater being a definitive item, "This is universal – for men, women and children. Every one has a black one and thinks they look like Juliette Gréco but they look like a rat. Navy will always be beautiful – whether you buy it at Uniqlo or Céline."
I will never be able to look at a person wearing a black sweater without dispelling images of a rat in my head ever again. (I'm glad to say that i DO own a navy sweater, and from Uniqlo too, so yay me!)
Due to Inès' authority as a fashion legend and being the quintessence of French chic, UNIQLO has collaborated with her for a third collection for Spring Summer 2015.
I had the immense pleasure of being flown to Paris by Uniqlo for their SS15 press preview to speak to Inès, and Naoki Takizawa – UNIQLO Design Director whom Inès worked closely with for the collection.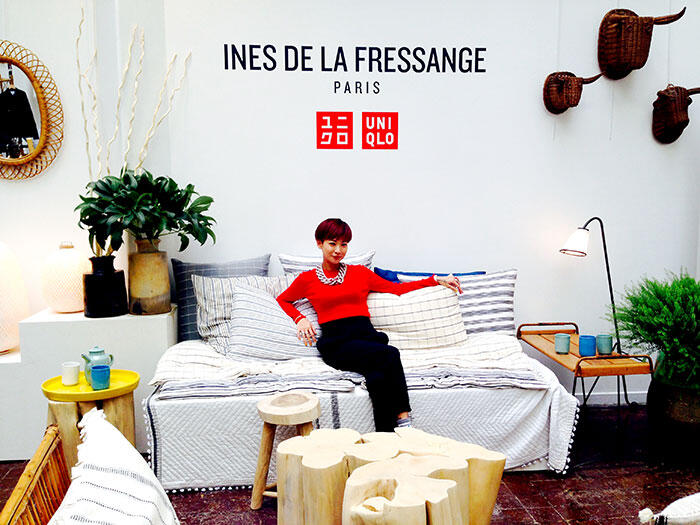 The press preview was held at Atelier Richelieu and spanned two floors. A large airy room on the ground floor was decorated specifically to show off the SS15 Inès de la Fressange x UNIQLO collection; complete with plentiful of interior props for a Southern French ambience and style inspirations on the walls.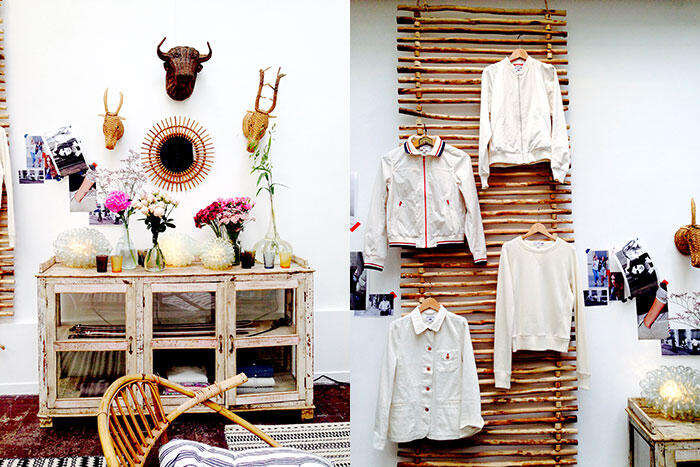 New items in this collection include sports jackets and sweat shirts in vintage styles, each added with subtle yet distinctive feminine accents that is emblematic of Inès. Her signature use of indigo is broadened with the inclusion of caramels and delicate grays.
I love how many cotton and linen pieces there are, making me think of how i'm going to be needing them on my holidays in Asia or summer trips in Europe. Also watch out for a concurrent theme of playful and feminine touches as can be seen in neckline openings, fit and slim silhouettes.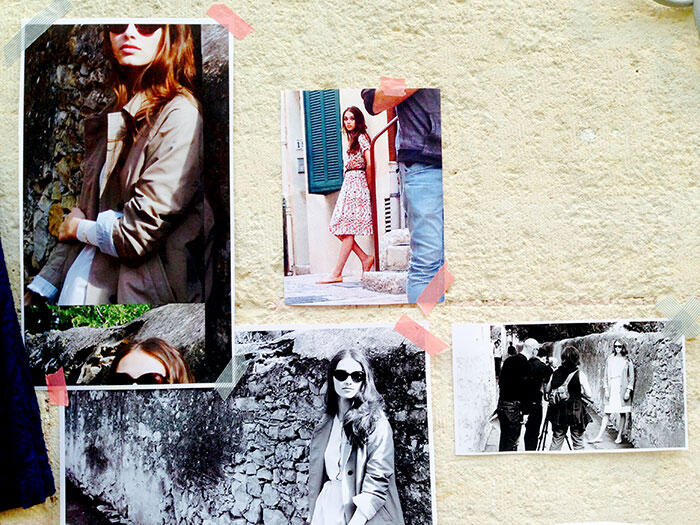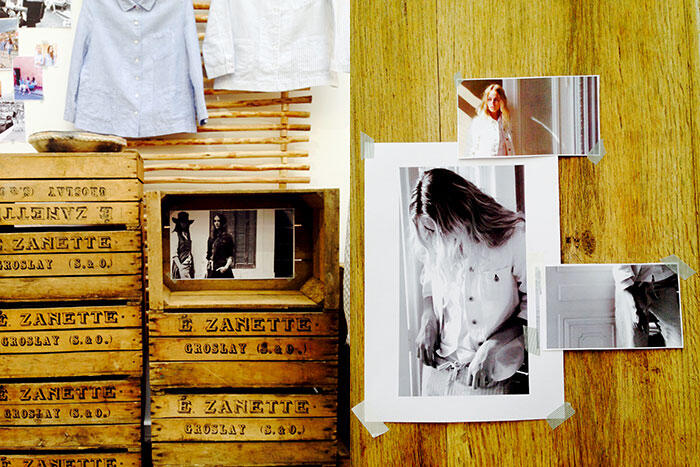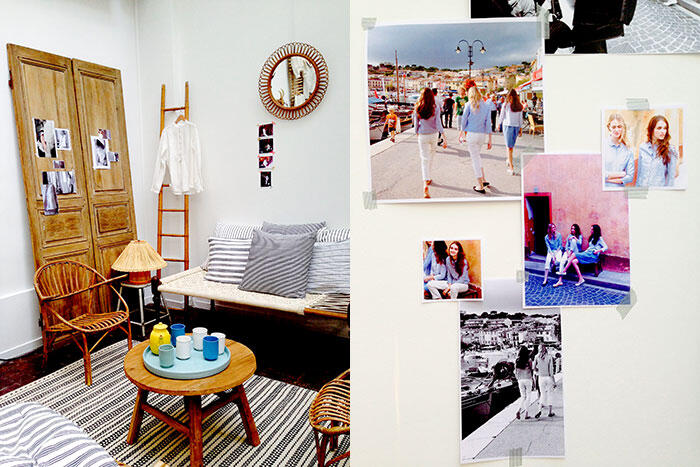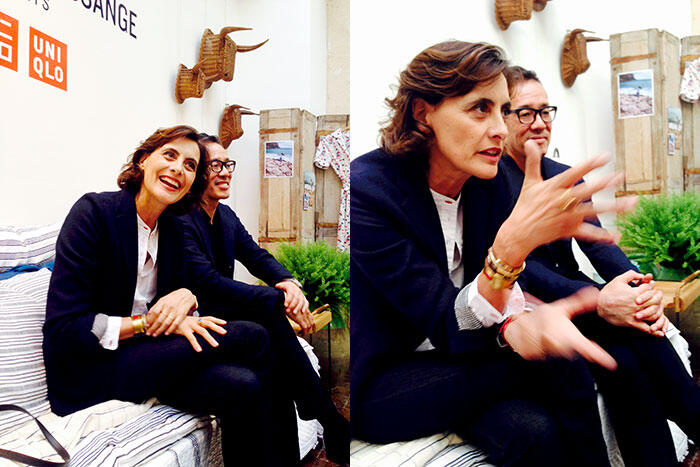 Parts of my Interview with Naoki Takizawa & Ines de la Fressange
Naoki: We're all naturally inspired by something. By each other.
Inès: Naoki shows me vintage things that he has, I show him vintage things that I found at a flea market. And then we discuss about fabrics. We don't have the work feeling that much but don't tell Mr. Yanai. It's like seeing a friend and showing them what you've found at the flea market and saying 'let's do a jacket that is similar'. We have great fun. Fashion is done by crazy people who are finally the most reasonable because we are the ones doing the business in the end. But there's no planning, he's much more French than I am, I'm the Japanese one, the serious one. That's how fashion should be done, with desire and happiness and enthusiasm. It's not something for intellectual people.
Naoki: I think for a brand like Uniqlo, we don't follow the trends. We try to think about what the customer needs.
Inès: A lot of down-to-earth things. I don't find a real raincoat that I want. So I say 'let's do it'. We don't even have a list of things to do. Usually when you design a collection you need two shapes of pants, two shapes of shirts, one coat. It's done like this nowadays in all the studios. But we never thought of those, we had such freedom, I must say.
Naoki: Also the model and how to show the clothes. With high profile designers like Karl Lagerfeld and Jean-Paul Gaultier, we see what are the good clothes for women. This is a good thing for us, we don't need to talk a lot, I don't need to explain to her about the fabric – 'this is wool, this is the front, this is the back.'
Inès: We work a lot like in the 80's. It was all about 'let's do the things we want'. Now in the studios it's no longer like that. The fact that there are a thousand shops in the world means that (there is) a lot of fabric and we cannot afford to have good quality fabric because of that. I didn't expect that (for this collection), having such good quality. I noticed that the pieces that we prefer in the first collection (became the greatest hits in the shops) and this gives us a certain power now. We've been showing what we like and what we believe in, and it was disappearing very quickly in the shops.
Which are personally your favourite pieces?
Inès: I think the jacket and jeans is perfection because it is well cut. And that first jacket there, it is very light and with no lining. I could fold it quite small and put it in my case. Wrinkle is beautiful and it will fit with the shirt, T-shirts, it would be easy. This has a classic cut, the colour is great the detail is there.
This is a very strong collection. I can imagine the lifestyle for it. 
Naoki: This collection is much bigger than the last collection.
Inès: And it is also exclusive fabric. Design exclusive. Like this print, it is just for us. We had more time to work and I hope they (Uniqlo) will order more clothes in the shops. I have my friends complaining that they can't find something in their size. Just today I received a text saying 'I can't find the pants in my size.'
Better be quicker next time!
Inès: Haha yeah maybe!
Naoki: What is the temperature during winter time in Malaysia?
We don't have winter, so it's 30 degrees all year round.
Naoki: Oh, so quite constant?
Yes quite constant tropical weather. 
Inès: Oh that's good. Because in France when you go outside you can't go in a swimming suit into the city. But you don't want to carry something heavy. And these for instance, they are not shirts and jackets but they are light like shirts. When it's very heavy, humid and warm you have to dress up a little bit but you don't want anything. I have the same problem, because sometimes during summer in France it is very very warm but I have to dress very chic so I can't go just in a T-shirt. I would love to but I have to be a bit dressy because some personality or journalist is arriving. Linen is a dream when it's very warm, even wrinkle is very beautiful. Cotton is perfection too.
+ + + + + + +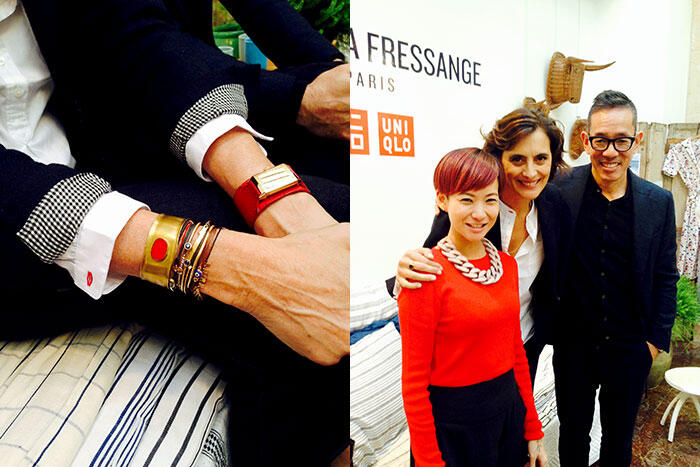 I had such a great chat with the both of them. It was comfortable as they were jesting and laughing, yet would sit upright when excitedly defending a point. What struck me most was their undeniable passion and devotion to fashion and style, yet not losing their zest for happiness and a fulfilling life.
And i think, no, i don't think, i KNOW why i feel more connected to the brand after that day. I could see and feel so apparently that their core value is happiness, and it's so strongly my own too, which is why i've felt more of an affinity thereafter.
During another part of our conversation, Inès went off into a passionate spiel. Read it, you can just feel her words spilling out of her soul:
"I prefer not to be that selfish and talk about myself, my image. But I really trust that if I sincerely like something, the others are going to like it. I always notice that things left during sales, left in the shops are the less good things. I trust the customer, even more than the professional people.
The customers are the best, they recognise the best immediately. I don't think I'm such an example but I trust my desires. And if I think I'm gonna wear it, for the others it will be the same.
I do lots of interviews explaining the Parisian style, on how to mix up things. Most of my life I explain what is the Parisian style. But at the end I know that in a shop, it's not style that you sell, it's items.
If there's a really nice white jacket, people are not going to buy the whole collection they are just going to buy a few items. The whole atmosphere has to be in that one item. They have to be happy even buying just one item.
Each of the things in the collection, we like it. If we didn't like something it's out of the collection. Everyone has been asking us which one we prefer, but we like everything. There are many people in Malaysia who have bought our clothes who haven't even heard of me, they've never seen a picture of me and sometimes they don't even understand that the girl in the picture in the shop is the designer. They just think it's an old mother. And I don't care about this, I had all the luck in my life, been famous, been modelling, working with all the best photographers. So my ego is fine.
I'm now much happier if people tell me that they bought a jacket that I did than if they told me they saw my picture in a magazine. It's like when you have children, people tell you 'Oh they're so polite they're so sweet.' You're happy from that much more than if people told you 'Your skin looks great.'
I'm happy with the success whether they do or don't put my name in it, it's not important to me. The rest of the collection of Uniqlo are things that could have been done by me, could have been inspired, and I'm quite proud of it. I know some people are going to wear these clothes in a way that I didn't expect and mix them up with other clothes that I didn't do and that's the game of it.
Finally to answer you shortly, I don't care if there's some of me in it or not. I just want people to be happy and I want them not to make a mistake. When they buy something it's something that they will actually wear and be happy that they bought it. I want them think "Uh oh I only took the white one. I should have also taken the navy blue." It's possible at Uniqlo to buy two."
To view the Ines x Uniqlo collection, visit: www.uniqlo.com/my/ines/
Good luck. I already want half the collection after touching and feeling them all in person.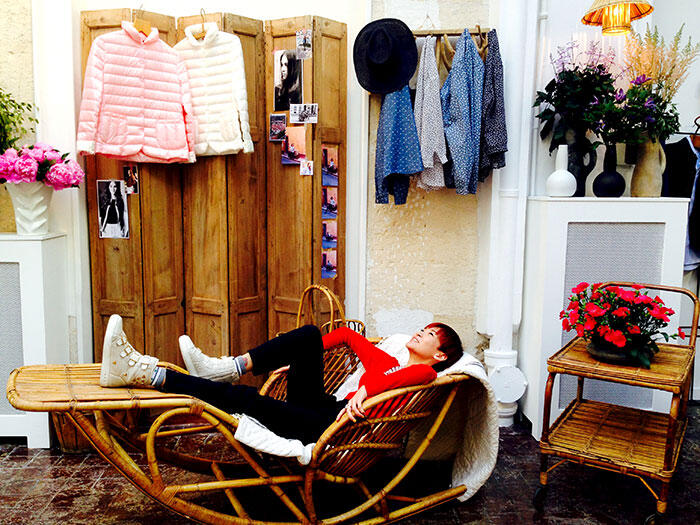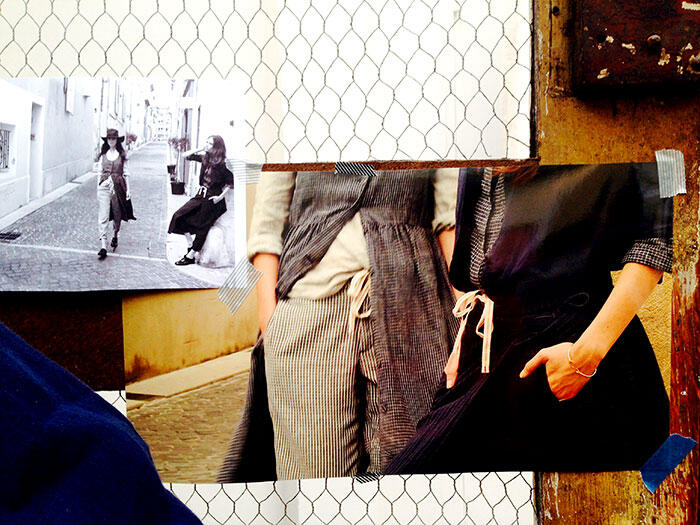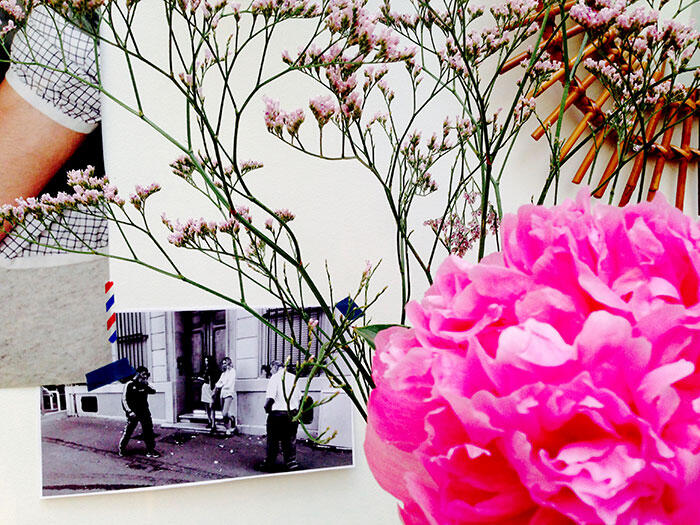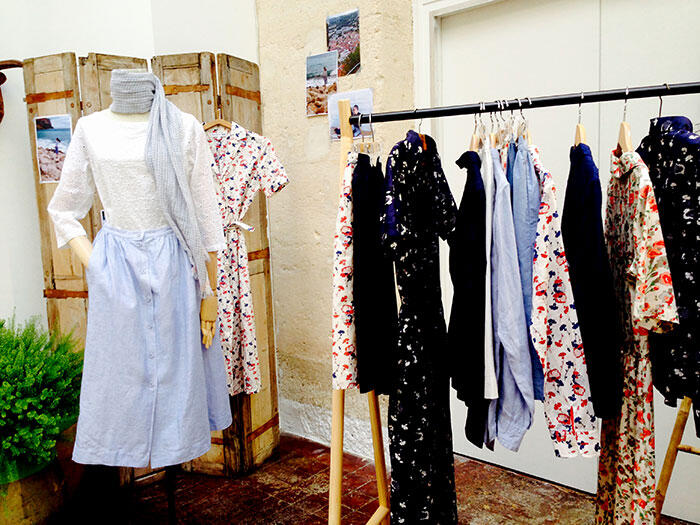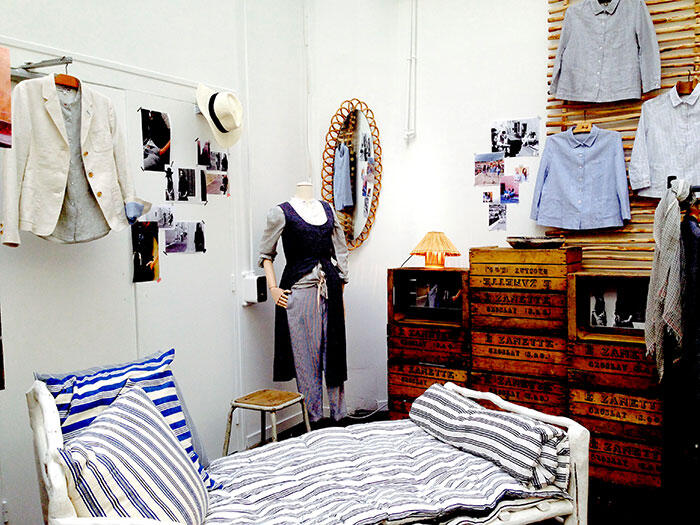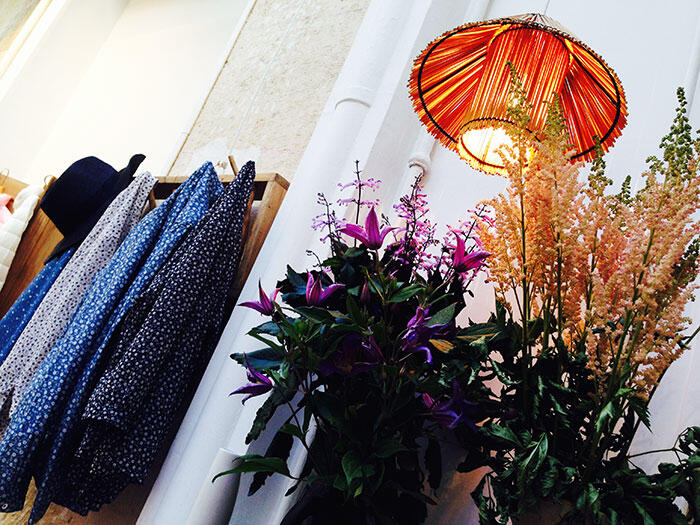 For more on Uniqlo:
Website: www.uniqlo.com/my
Facebook: www.facebook.com/uniqlo.my