This. Is. Gonna. Be. A. Damn. Long. Post.
Here's the post i wrote the night i came back from festival in case you missed it.
View line-up of acts at the festival.
+ + +
 
Friday
Yishyene and i took the train from Waterloo station to Portsmouth (2 hours)
and from there we caught a ferry to the Isle of Wight.
From the ferry port, we (were lazy so we) took a taxi to the campsite,
where we had to trudge through the most horrendous mud i've ever trod in my life!
The mud was so thick and slippery (thank god not smelly!)
i was just clutching at my knapsacks praying silently i wouldn't fall down
and soil my clothes like Bridget Jones.
We thought the stretch of camps would never end…
i swear it's like a km long or something!
Finally reached our campsite called Tangerine Fields.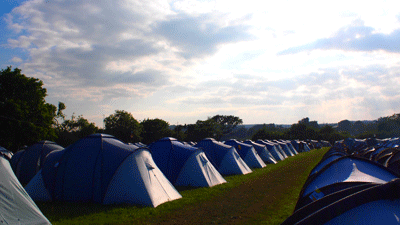 Okay, so we cheated at camping.
We paid for our tents to be set up, complete with sleeping bags and airbed.
80 quid a person for 3 nights, and COMPLETELY WORTH IT.
1. It's much nearer to the festival than all the other campsites, and walking a long distance after all that dancing is no joke.
2. Just watching other people set up tents, take them down, and having to carry them back to wherever they came from, got us tired even.
3. Tangerine Field tents have allocated portaloos, taps and showers. And the loos are generally cleaner than the public ones in festival area.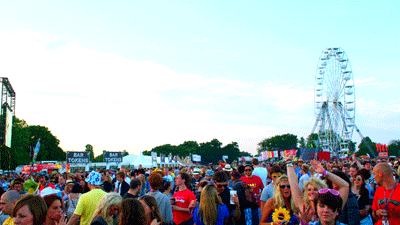 It was my first time in a large festival (where previous IOWs have attracted up to 60,000 ppl!)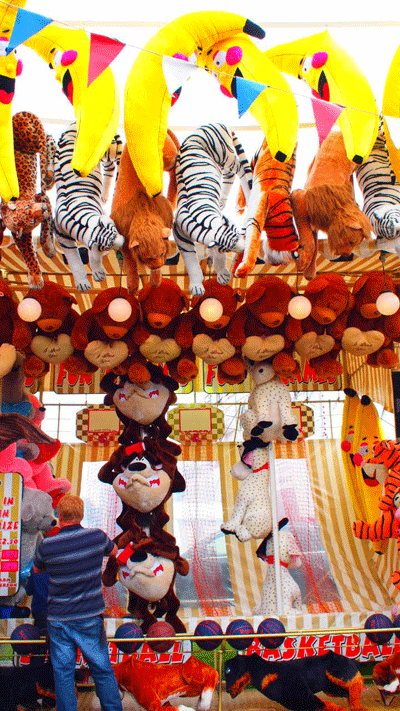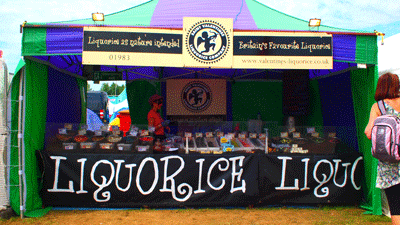 I walked past the store above and said to Yishyene –
Me: Liqour Ice… ooh… what's Liqour Ic.. OH. Liqourice. >.<
Her: 

Me: Trust me to just read the 'liqour' in 'liqourice' :p *finishes self-conversation*

There are groups of people who dress up in certain themes.
Some are, of course, nicer than others.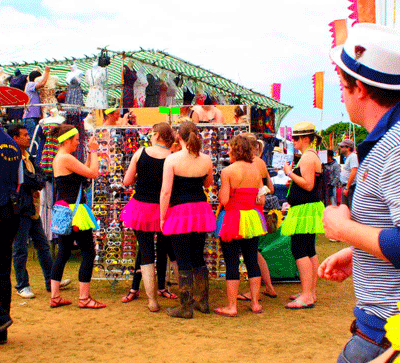 Above is the tutu group [not so nice] and below is a Hawaiian group, complete with blow up coconut tree [A for effort!]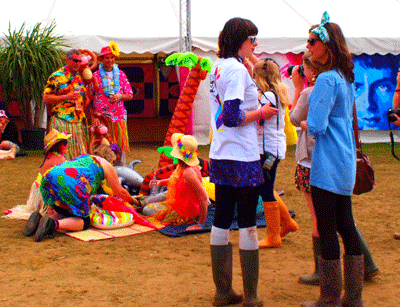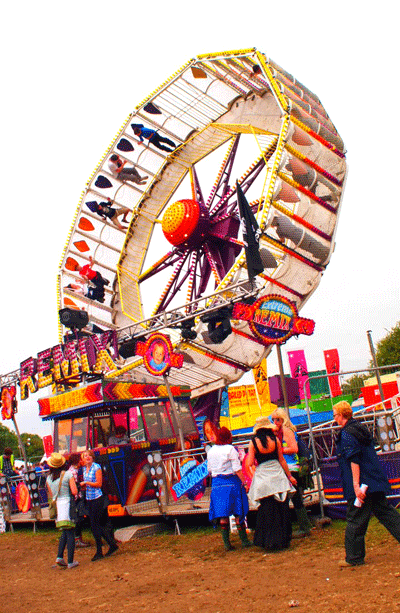 Lots of shops selling clothes and funny festival gear,
as well as funfair rides scattered across the whole arena.
Wanted to try the ride above but didn't make the effort in the end.
We should have!!
Apparently the momentum makes you stick on the sides like a fly to a wall,
with only a thin wire in front of your waist  0_o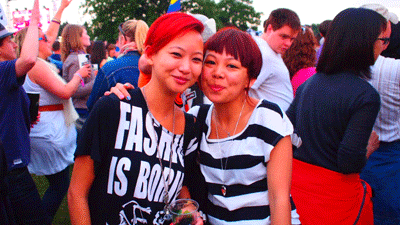 me + Yishyene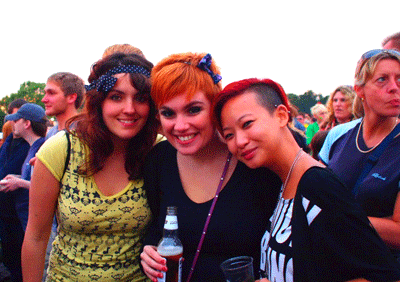 Louisa, Miriam + me
Miriam works for my aunty,
and i's so surprised we managed to bump into each other
seeing the number of people there were there!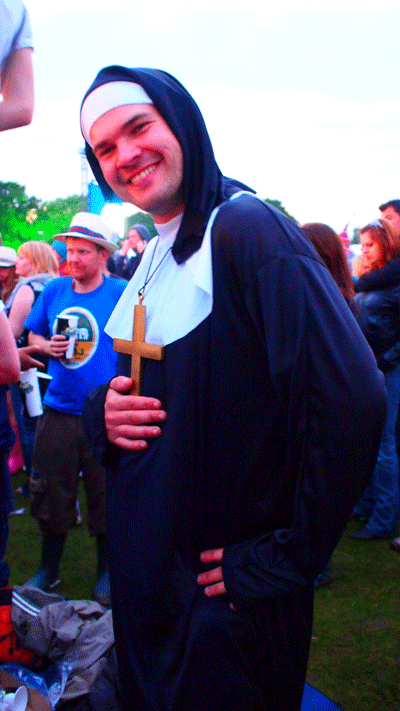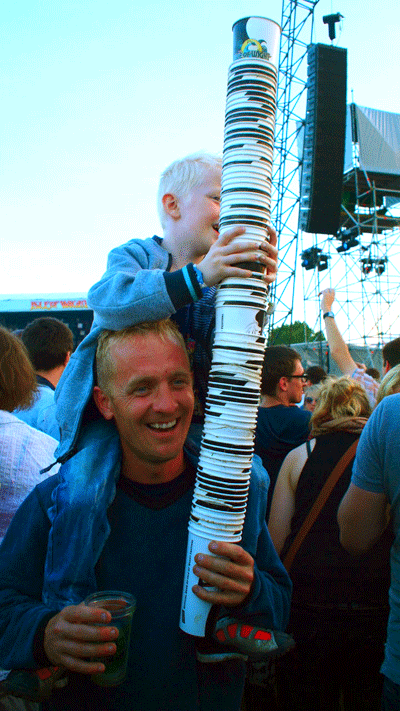 Everyone's encouraged to go green by returning their beer paper cups for 10p each.
Most people (like me) can't be arsed, and give the cups to (mostly) children collecting them to earn themselves some £
SPEAKING OF BEER PAPER CUPS,
i went through so much trouble just to BUY ALCOHOL!
I was asked for my passport when buying tokens for alcoholic drinks (£3.60 each),
and i said i didn't bring my passport (cos who would bring their passport to a festival and risk losing it?!)
I then showed my Malaysian driver's license.
And you know how our freaking Malaysian IC anad license doesn't state our birth date right?
It just shows a stream of numbers with the first two being our birth year.
I showed them the '83' in the front, and said i'm 27.
The guy looked back at me in disbelief and said, "Sorry, but i can't accept this. I need to see your passport."
Yishyene then went to try, and she failed too.
This is what happens when you look like a minor and attend a festival without your PASSPORT(?!)
I didn't know whether to laugh or cry.
Laugh = cos yay i look young.
Cry = cos i really want my drinks goddammit!
"I can't believe it… i can't even pass for 21 here. I'm 6 years over the age limit for chrissakes!" i complained to Yishyene
Imagine… back in KL people are throwing free drinks at me to the point i don't even want them.
Here, i can't even BUY MYSELF A DRINK 
We ended up approaching a stranger to help us buy tokens.
Then WAIT.
Problem not over yet.
When i wanted to PICK up my DRINK, i was asked to show ID too!
ARGHHHHHHHHHHHHHHH
Yishyene told me to not to smile,
"Just frown when you go pick up the drinks. Cos young people don't frown, so they'd think you're older."
So in complete opposition of my nature,
i went up the counter and frowned at everyone there…
and got my drinks -_-
At other times, the frown didn't work,
and we'd end up asking strangers to get our drinks for us too.
-_-
The next day, i was telling some guy queueing up behind us at the showers, about the whole ordeal.
"I'm 27, so i'm SIX years over the age limit, and can't even buy my drinks!"
"You're 27?!?! You don't look 27! *peers at my face* You have great skin."
"Thanks!"
"And actually… the age limit here is 18, not 21!"
"Ah crap. I was thinking of US age limit somehow. 18? I don't even pass for 18?! *incredulous*"
So yeah.
I look HALF MY AGE HERE ACCORDING TO PEOPLE.
Which is good… cos then when i'm 40 i'll look 20.
And will finally be able to buy my own drinks without flashing ID 
Acts we caught on Friday:
Calvin Harris!
Calvin Fucking Harris MAN!!!
RowdyRudy and i played his album to no end at our joint birthday party!
Sarah and i use his songs for SalahWrong sets!
Everyone was dancing, and he's also quite hot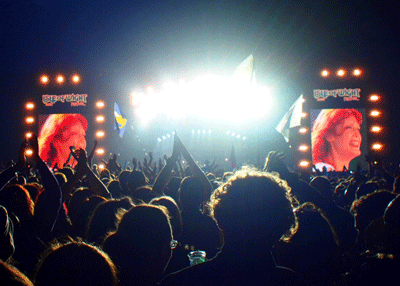 Then was Florence & The Machine
I like her image and think she's extremely ethereal on stage,
but admit that i only really like one song – Dog Days Are Over!
Ending the night was Jay-Z.
I'm not a big fan of hip hop (doop dee doo…) but still layaned his set just because he's Jay-Z :p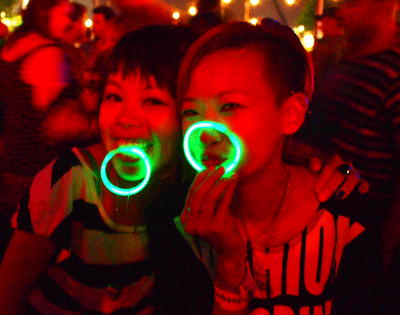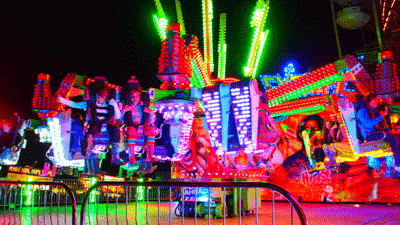 Saturday
When we woke up on Saturday,
first thing we did was line up for the showers, which took almost 2 hours.
By the time i got into a shower, the water was a mere trickle
and i had to cup my hands and stand really close to the freezing wall
just to splash myself with a miserable amount.
At the point of time i had lathered facewash on,
the water stopped trickling and i was begging the Universe to please not do that to me then and there!
Gave up trying to shower after that.
The queue and pathetic amount of water wasn't worth the trouble.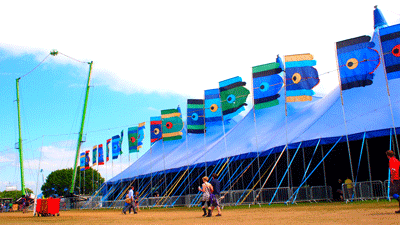 Very good thing: There was LOTS of food to keep us happy over the weekend!
English, American, Thai, Chinese, Carribean, Indian, even Filipino.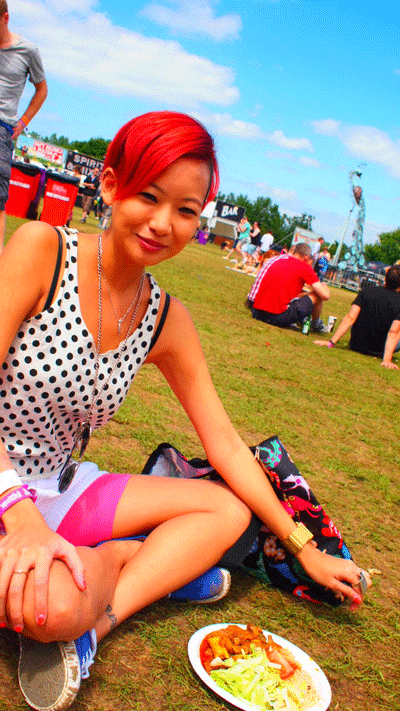 i'm wearing >
polka dot top; baci, kl
white shorts; aa, nyc
pink tights; calzedonia, spain
shoes; for £5! at brick lane
watch; nooka @ h5, kl
I had Carribean goat curry twice.
LOVE BONE MARROW!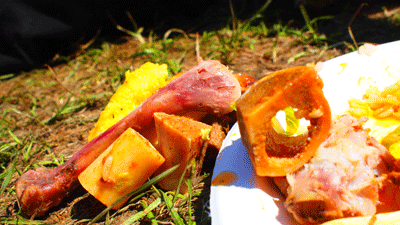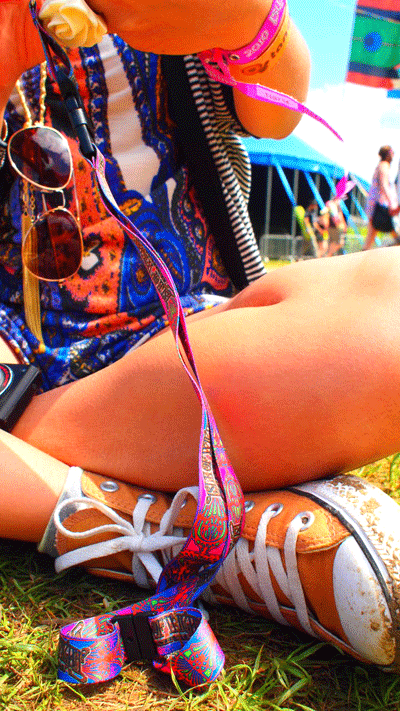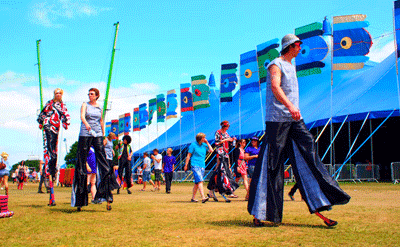 I spotted a balloon man selling all sorts of funny-shaped balloons,
and darted off like the wind to chase after him.
Thought very hard while choosing between a horse and a dog,
and ended up with a dalmation i christened Nigel Barkie (after Nigel Barker hardy haha)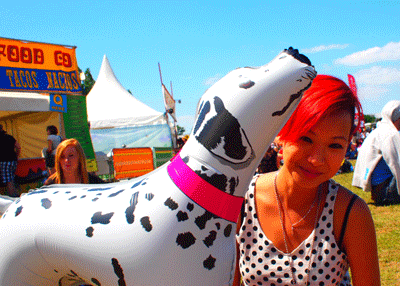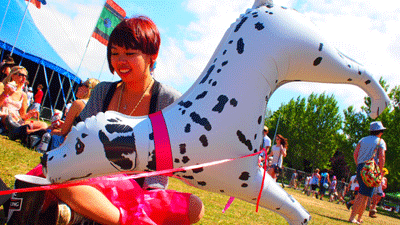 Nigel taking to the beer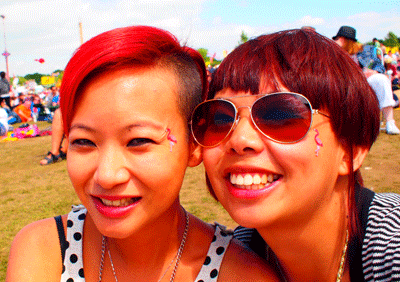 Yishyene had this brilliant idea to apply flamingo stickers on our faces.
So brilliant, that it left a flamingo-shaped tan on the side of my face after that
-_-
It was beautifully hot that weekend!
We were so lucky cos it was pouring the Thursday before.
The sun here is somehow different… i actually burn quite badly
and the only sunblock i could find was SPF 15 (cos kwailos like to tan -_-)
so i had to settle for that and apply it every 20 minutes!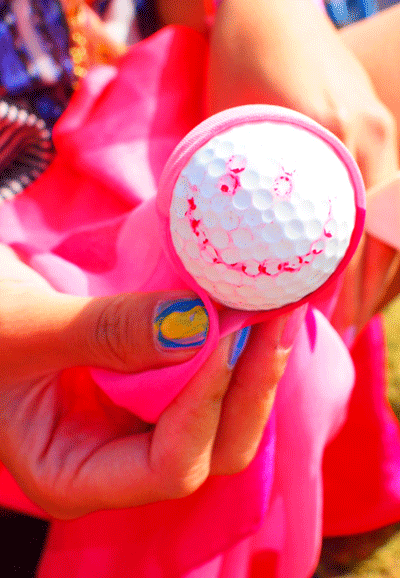 Wilson was hot too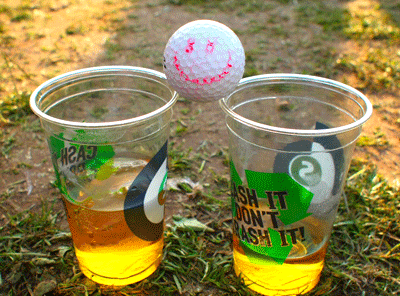 Balancing beer act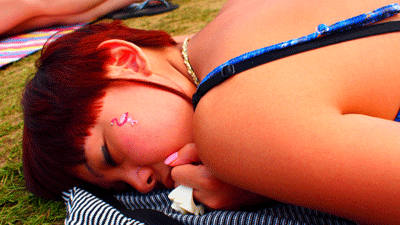 In between acts were breaks of 45 minutes,
when we'd nap in the sunshine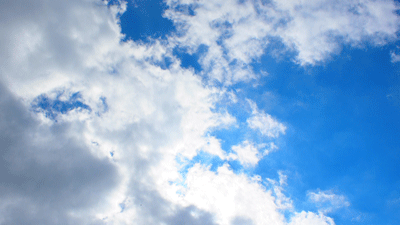 'Twas a beautiful day!
Watched Paloma Faith for the first time,
and i really like her!
Another act in another area that i took a fancy to is Marina & The Diamonds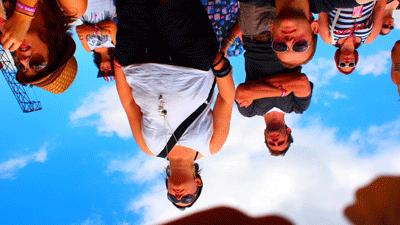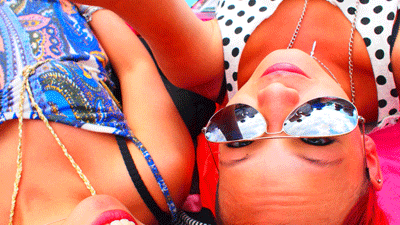 Crowded House took to the stage before Vampire Weekend,
and played some songs we've all heard before but never knew who sang it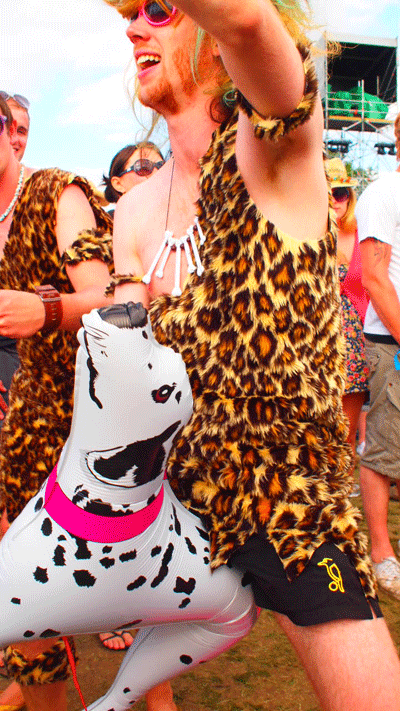 Poor Nigel got harrased by a group of cavemen…
Whereas Wilson met a friend!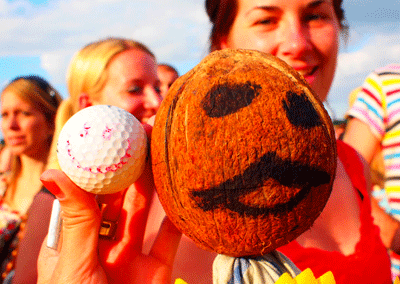 This girl had this coconut on a stick with a happy face on it,
and when i saw it,
i immediately plucked Wilson out of my bag and introduced him to them.
We were all laughing and taking pictures of our two balls
and i overheard one of the guys with her saying, "I want one now too!"
See, like-minded people who have balls as pets hang out at Vampire Weekend 
Vampire Weekend was FUN FUN FUN!
Check out the video below to see what a HAPPY PARTY it was!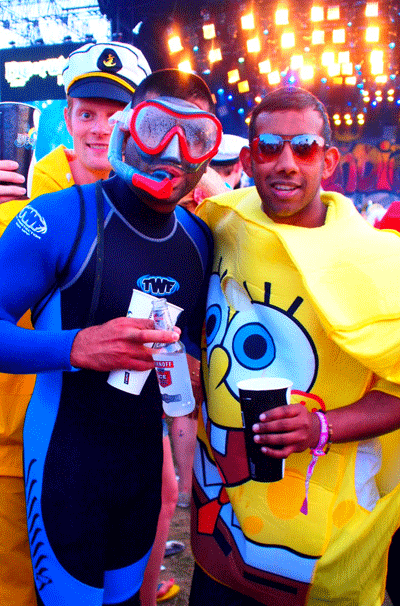 Right after Vampire Weekend, was Blondie!
The only band ever to have had #1 hits on the UK charts in the 70s, 80s and 90s
Totally thought of SarChan cos we put Heart of Glass on our SalahWrong playlist too!
Actually saying that is so redundant… cos almost every act i saw has songs we've used on our sets!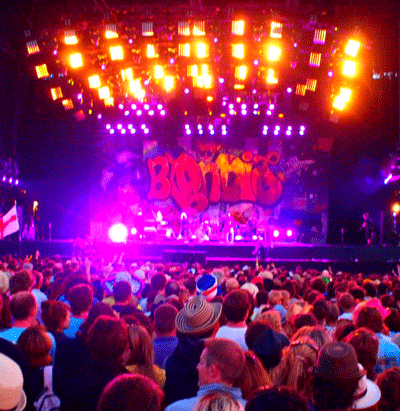 These two guys called James and Rudy were really nice to hoist Yishyene and i up to their shoulders,
so we could rock out to Blondie proper!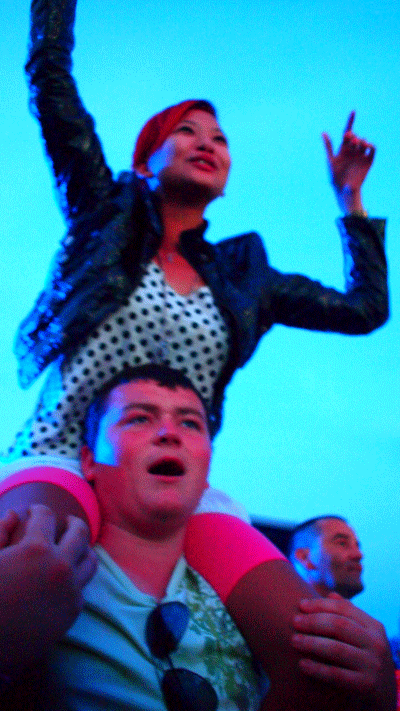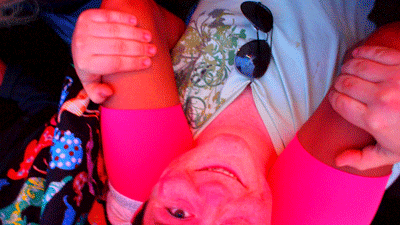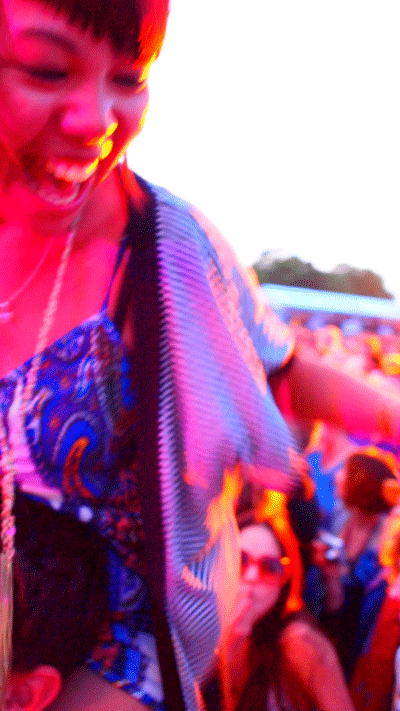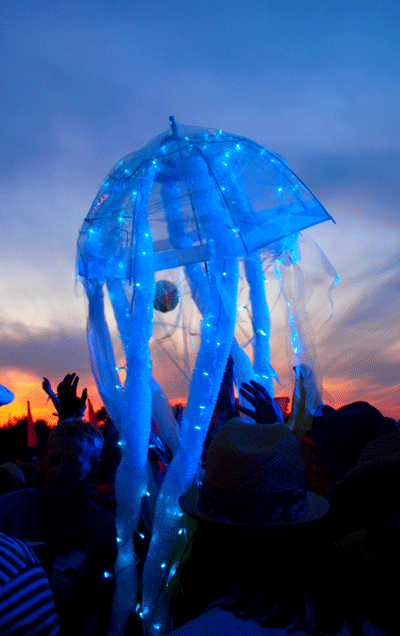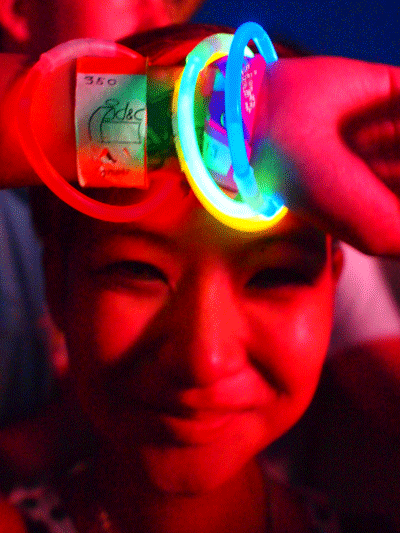 As if Vamipire Weekend and Blondie wasn't enough to kill me happy for a day,
The Strokes came up to close Saturday's performances!
Saturday night was AMAZING.
We danced and screamed and clapped so much,
we had to limp back to our camp in the cold after that.
We were tired and hungry so got some food to scoff in the tent before passing out.
Screw taking a shower in the cold.
We used wet wipes to get our make up off.

Sunday
I had this nightmare on Saturday night and tweeted about it even.
I dreamt that The Courteeners came on at 1:30pm instead of the scheduled 2pm,
and woke up in a jump cos i was so kancheong that i missed them!
Looked at the time and realised it was only 8am,
went PHEW,
and went back to sleep.
Told Yishyene my dream too, "Yeah i dreamt that they started at 1:30pm and you were being a total bitch to me and didn't care cos you don't really like them!"
We got lunch and sat on the grass,
before heading to the main field at 1pm to hang around
(and also because i wanted a good space to watch The Courteeners :p)
At 1:20pm –
"What… are they performing now? What time is it?" asked Yishyene
"Can't be… they're supposed to start at 2," i answered, checking the schedule again
"Is that them on stage?"
"So weird to be sound-checking now, they're not up yet."
And you know what?
They started at 1:30pm.
Instead of 2pm as stated on all the festival material.
Which was weird because EVERY OTHER act started at time stipulated to the minute!
HOW WEIRD IS THAT?!
MY DREAM CAME TRUE.
I think the Universe was just warning me cos I wanted to watch them SO BADLY.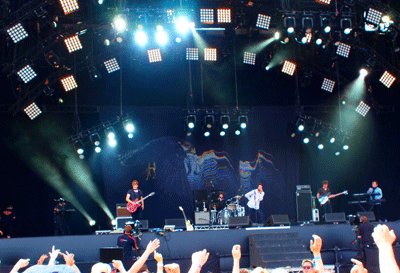 Superlove.
I was singing along to The Opener (my fave) and Take Over The World,
dancing and screaming and hopping about like MAD.
After The Courteeners was Friendly Fires,
who played Paris as their last song and i loveeee
I love Friendly Fires!
Love the vibe their songs always bring,
and it's so interesting to see the different types of people who make their way to the front for their favourite bands!
People were all dancing and waving their arms in the air and sunshine!
I brought funky glasses i found in Krabi, just for the fest.
And bubbles too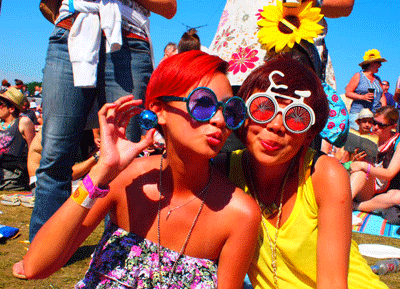 Look how tanned i got!!!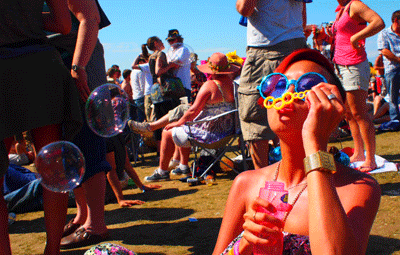 Spandau Ballet came up after that,
but i don't know most of their songs,
so i took a nap :p
Editors was very rock and i only know one song from them which they didn't play.
Dunno, i find them a bit noisy and most of the songs sound the same to me.
I much prefer more melody :p
Pink performed after.
To be truthful (and i know people are going to say i'm so undeserving to watch her)
i'm not a fan of Pink :p
However, she did give an entertaining performance,
what with shooting out of a box in the sky to appear on stage,
to whizzing thru the air above the crowd on wires,
and jumping into a zorb ball unto the crowd which i thought was a brilliant idea!
I just think that she probably has to do all those circus acts to make up for the lack in other areas
*avoids flying items from Pink fans*
And Pink fans at the festival… well, the ones that surrounded us,
were large drunk girls that pretty much scared the daylights out of Yishyene and i
cos they're so rough and don't give a damn who they bump into when they sing and stomp along.
Scary for small people, y'know?
Funny thing is during her performance, i felt my period come,
so i rushed to a portaloo feeling kinda stressed out cos i didn't have a tampon with me.
Upon emerging from the loo, Yishyene asked, "So how?"
Me: Oh. It wasn't my period. I guess Pink just made me wet my panties.
Her: Hahaha!
Closing the Isle of Wight festival was the legendary Paul McCartney.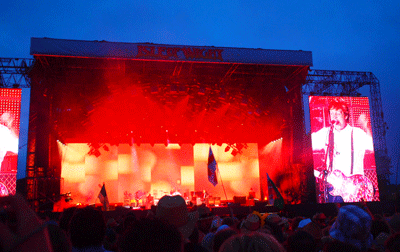 Paul McCartney.
One of the Beatles.
And i managed to see him.
Priceless, i swear.
His band is freaking brilliant as well.
You have to watch the video below.
Imagine tens of thousands of people all singing to Hey Jude…
Incredible experience.
Monday
Going home day.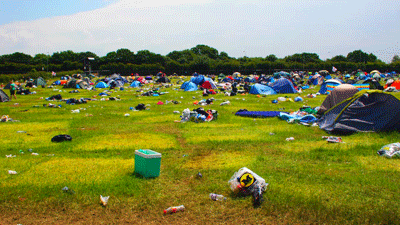 I was appalled by the mess campers left behind…
some didn't even bother taking down their tents to bring home with them!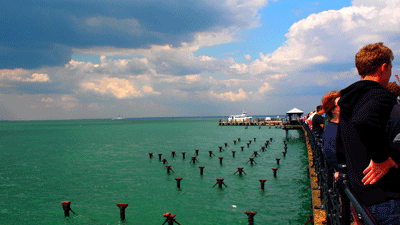 Had to wait for 2 hours on the pier to catch the ferry back
since so many people were trying to make their way off the isle as well.
A triangular cloud caught my attention and made constantly looking up at clouds worth it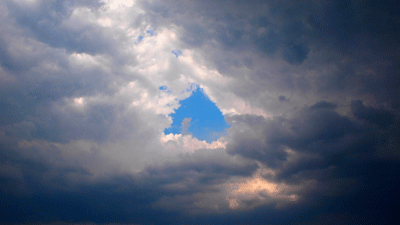 All in all, the festival was SO WORTH IT.
I paid £160 to attend it for 3 days,
and £80 for my 3 nights stay at Tangerine Fields.
It was completely magical with all the music surrounding me,
and i think… i'm going to watch out for other festivals next summer to see which one i want to go for next
Tips if you're going to a festival:
1. Bring toilet paper, sunblock, wet wipes.
2. Bring alcohol to drink before going in :p
3. Prepare not to shower for 4 days.
4. If you're small (like us), find small people in the crowd to stand with them.
5. The moment you think you get a whiff of fart, stick your neck out and breathe the air as high as you can. Or hold your breath. Whatever it takes. I've neve smelt so many people's farts in my LIFE.