UNIQLO is a staple in my wardrobe.
They're always the first pieces i grab when i'm traveling cos they match effortlessly with my more outrageous pieces,
and i love that most can be folded into itty-bitty bunches without wrinkling.
But that's just the surface of it.
There is so much more depth to the brand than most people realise… which undoubtedly attributes to its global success.
They're one of the few brands i hold alongside integrity and evolution, which is why i was more than happy to say YES to their invitation to fly to Tokyo for the Press Preview of their Spring Summer 2016 collection.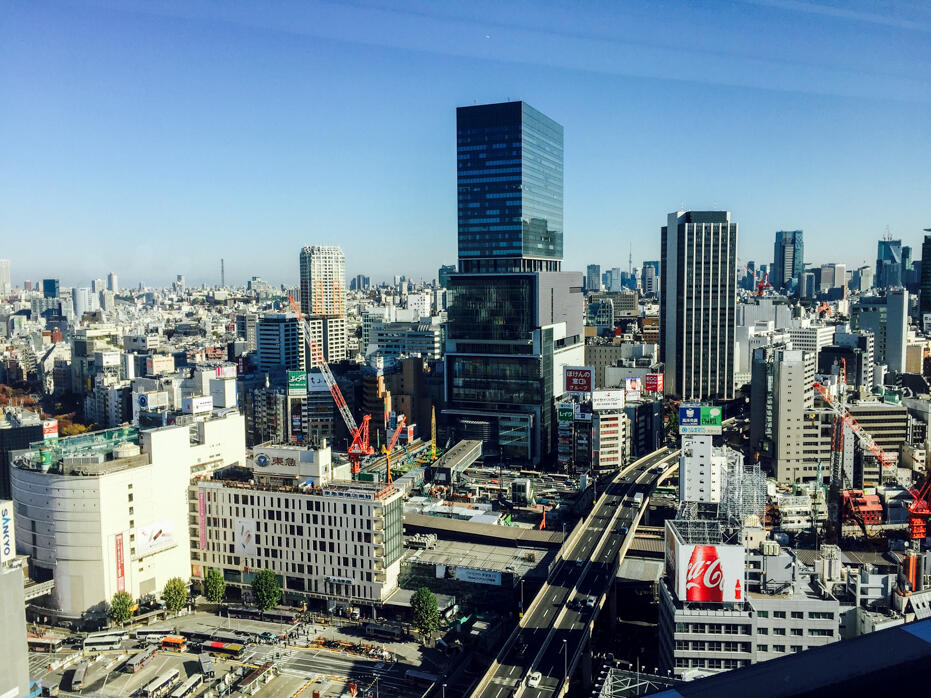 There are going to be a couple of blogposts to cover my trip in Tokyo, mostly because there is always so much to EAT there!
Besides shopping, i was mighty excited at the prospect of all the delicious meals i was about to devour.
On the morning of the press trip, i had a traditional Japanese breakfast at Cerulean Tower, where we were put up.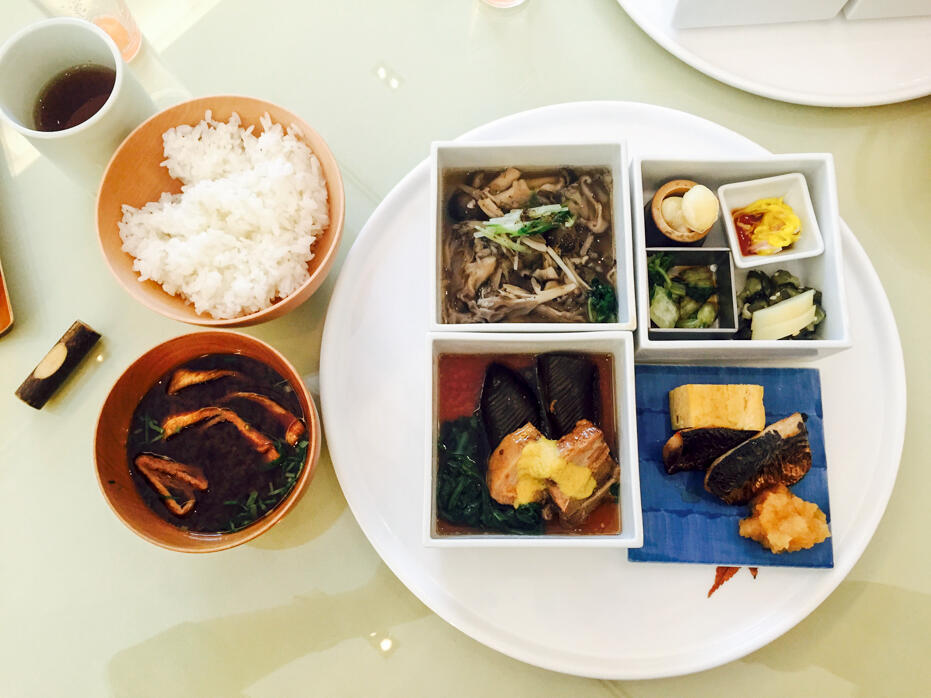 I had fresh fruit, vegetable juice, hot Japanese tofu with soy milk and soy sauce, grated ginger,
grilled sardine with Japanese omelette with grated radish,
stew of mushroom, burdock and Mizuna-leaf with pepper,
ginkgo nut dressed tofu sauce,
pickled Chinese cabbage, radish and cucumber,
stew of Sangen-pork and eggplant with starchy sauce,
rice and miso soup and Mistuba-leaf.
Misconstruing the concept of having a leisurely breakfast in true Japanese style, i hurried wolfed down my beautifully-prepared meal to rush downstairs to meet everyone on time. The press trip didn't just include media from Malaysia, but groups from other countries around the world. I didn't want to be *that* person who made everyone wait or embarrass my countrymen by being the last group on the bus i.e. "Oh, the Italians are always late…"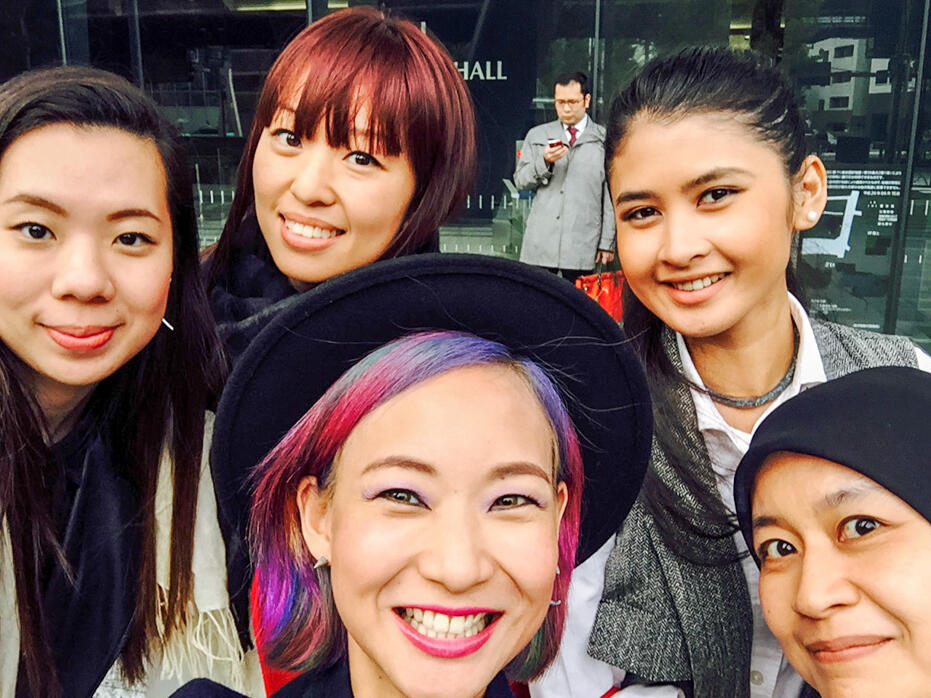 Joan from Female mag, Cai Mei from Buro 24/7, Julia from EH! mag, and Syida from NST.
My Malaysian media gang in Tokyo! (not including random Jap man photobombing the wefie)
I've been to Singapore Fashion Week with Joan before, Paris for a previous UNIQLO press trip with Syida,
and regularly see Cai Mei and Julia on the events circuit around KL, so it was a familiar comfortable group to be traveling with. ☺️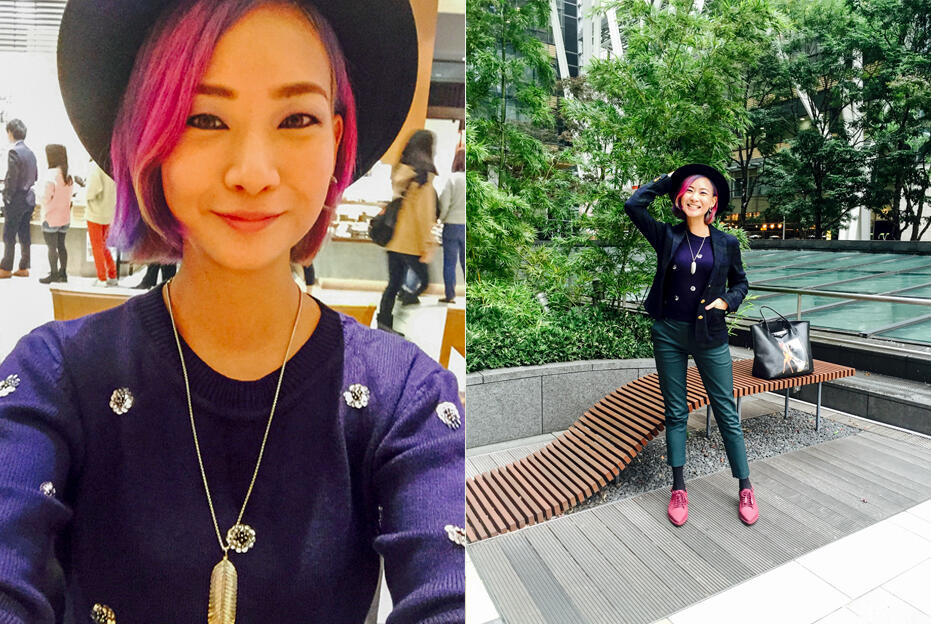 I'm wearing a wool jacket i got from Uniqlo years ago ?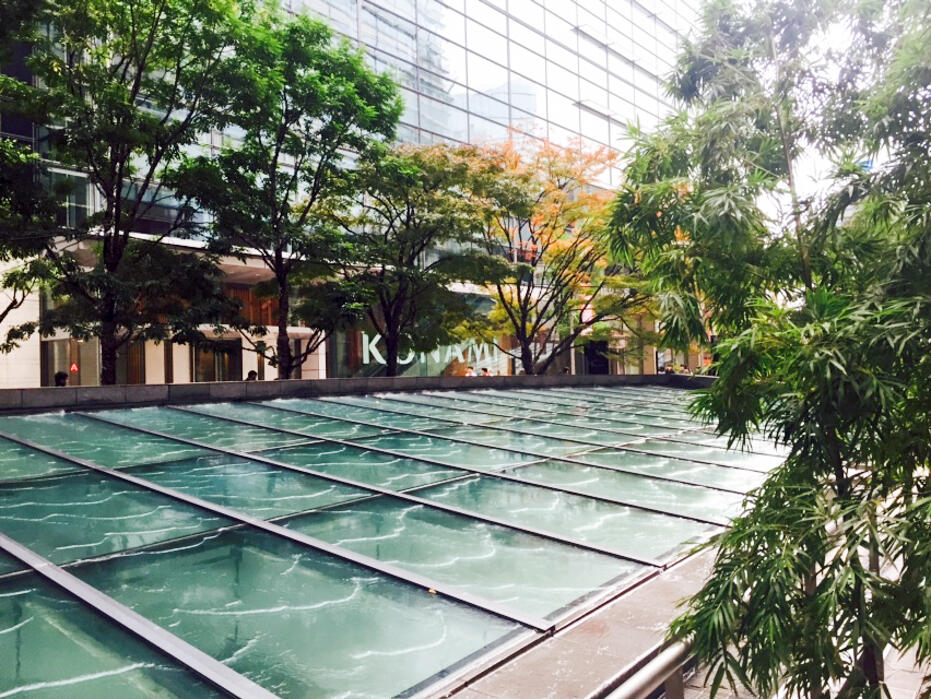 Outside the UNIQLO HQ
During the visit to their office, we were given a presentation on Fast Retailing Co. Ltd., the leading global Japanese retail holding company that designs + manufactures + sells clothing for Uniqlo, amongst other familiar brands like Helmut Lang and Theory making it seven in total. I love their corporate statement:
Changing Clothes. Changing Conventional Wisdom. Change the World.
Aldo Liguori, Global PR for Fast Retailing, took us through Uniqlo's history of its first store in Hiroshima in 1984 and how its name originally derived from the words 'Uniqe Clothing Warehouse.' The brand took off in 1998 when it opened its first store in Tokyo with fleece being the hit product that increased its popularity. An unconventional advertisement in its time further grabbed customers' attention with the line: "Not satisfied? UNIQLO will exchange it. No reason needed."
Uniqlo eventually grew to the extent every person in Japan owned a Heattech or innerwear from them.
Unsurprisingly, Uniqlo's success boils down to core factors like:
its focus on quality, SPA business model (how they're involved in the process from beginning to end),
superior materials they use (working with partners like Toray to develop technologically-advanced materials),
maintaining strong relationships with Takumi experts (Uniqlo employs a few hundred takumi experts to work in factories following strict procedures),
and low cost operation (efficiency in manufacturing, transportation).
I liked hearing about their efforts in being ethical while keeping costs low-
absolutely no use of fur,
goose down supply only from certain types of geese,
working with few manufacturing companies/factories long-term,
buying material/fabric in bulk and in advance,
produce closer to key markets…
It was more educative than anything, picking up key learnings on how a single store in Hiroshima multiplied to more than 1,600 stores worldwide and counting! (Expanding to London, New York, Paris and Shanghai since the beginning of this century.)
Take Toray for instance, one of the partners they work with for developing materials. Hand-in-hand, they invented the first thread used in Heattech products, before moving on to Airism. However, they never stop! Both parties are constantly striving to discover a newer material that will benefit human beings i.e. they're continuously researching ways to make Airism thinner and warmer.
Which brings me back to Fast Retailing's dedication in creating great clothing with new and unique value to enrich the lives of people everywhere.
It's not just words written down on a piece of paper to them.
I can see the people who work there believe it, feel it, and live it.
There is no denying the passion and love they feel for Uniqlo and its direction, which I couldn't help but let rub off on me.
After lunch (of delectable sashimi which i'll show in my next blogpost), we headed to Belle Salle in Shibuya where the SS16 press preview was held.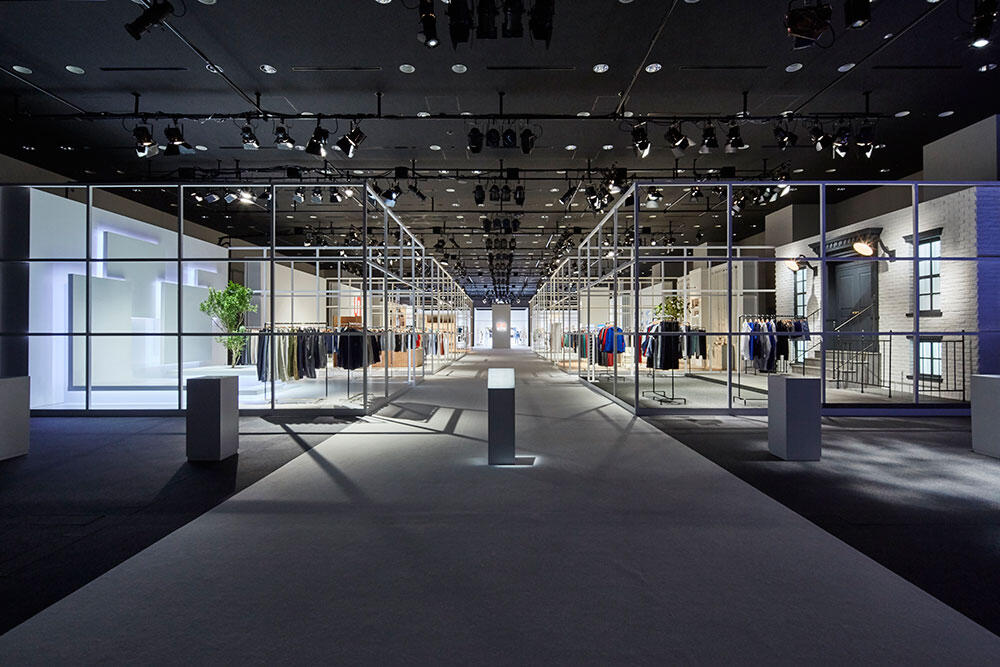 It was a beautiful set up showing off different collections in compartmentalized sections;
where I gasped over new pieces from the special collection with former Vogue Paris EIC Carine Roitfeld,
took mental notes of Ines de la Fressange x UNIQLO pieces to covet,
tried on crisp UNIQLO AND LEMAIRE capes,
absorbed the maximalist collision of prints at the LIBERTY LONDON for UNIQLO space…
It. Was. Collaboration. Heaven.
What made it all the more mysterious and enigmatic was how everything was revealed in sequential corridors and spaces, like a maze.
The first room I entered was bare save for a video projected on the wall,
and whose face should i recognise, but Margaret Zhang whom i'd met in Sydney the year prior!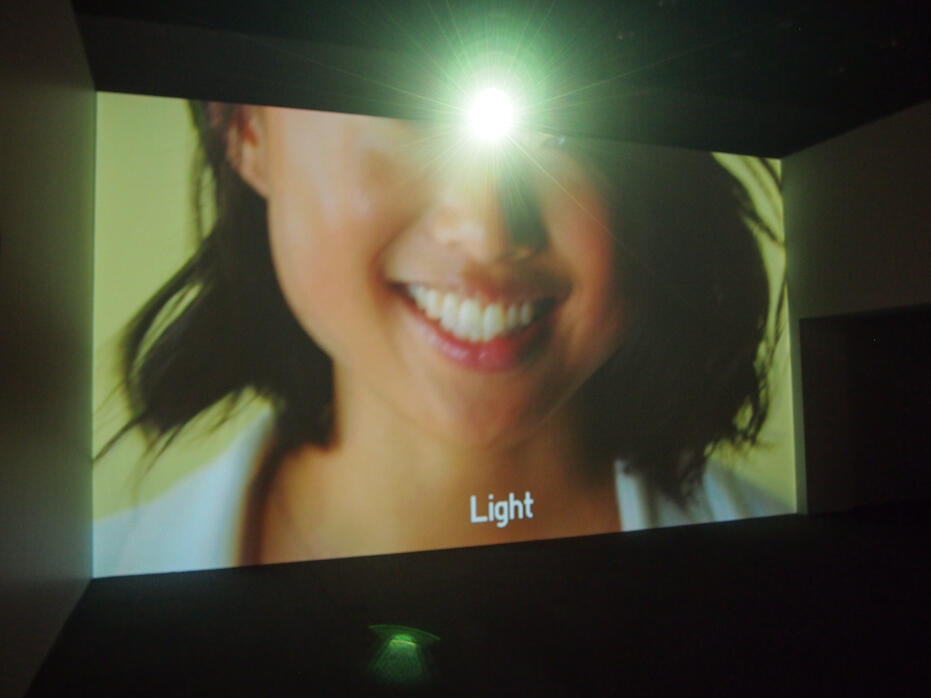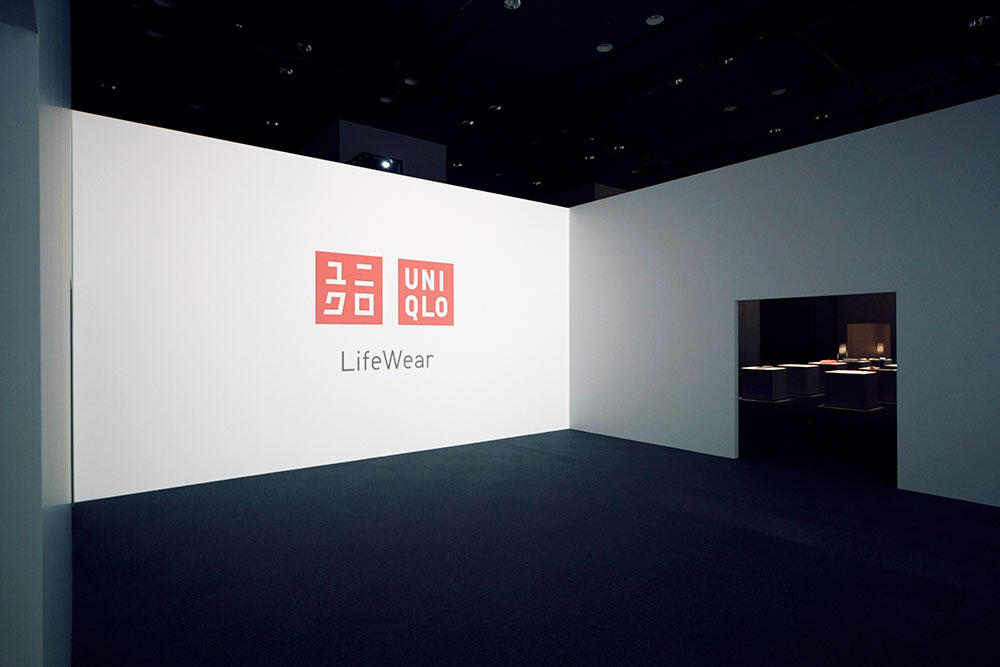 I earnestly stood there (and stupidly) took a video of the video being shown… but then i found it on YouTube so here is a clearer version -_-
Deriving from Japanese values of simplicity, quality and longevity; LifeWear is designed to be of the time and for the time.
Made with modern elegance, it becomes the building blocks of style and contributes to what one wears everyday being a reflection of who they are and their beliefs.
I love these lines:
"A perfect shirt that is always being made more perfect.
The simplest design hiding the most thoughtful and modern details.
The best in fit and fabric made to be affordable and accessible to all.
LifeWear is clothing that is constantly being innovated,
bringing more warmth, more lightness, better design, and better comfort to people's lives."
Call me a sucker but i love poetry and that, is poetry to my ears which are connected to my fashion-clad body.
Moving on!
From the first room, I entered a larger area exhibiting iconic LifeWear items worn by beings of various backgrounds.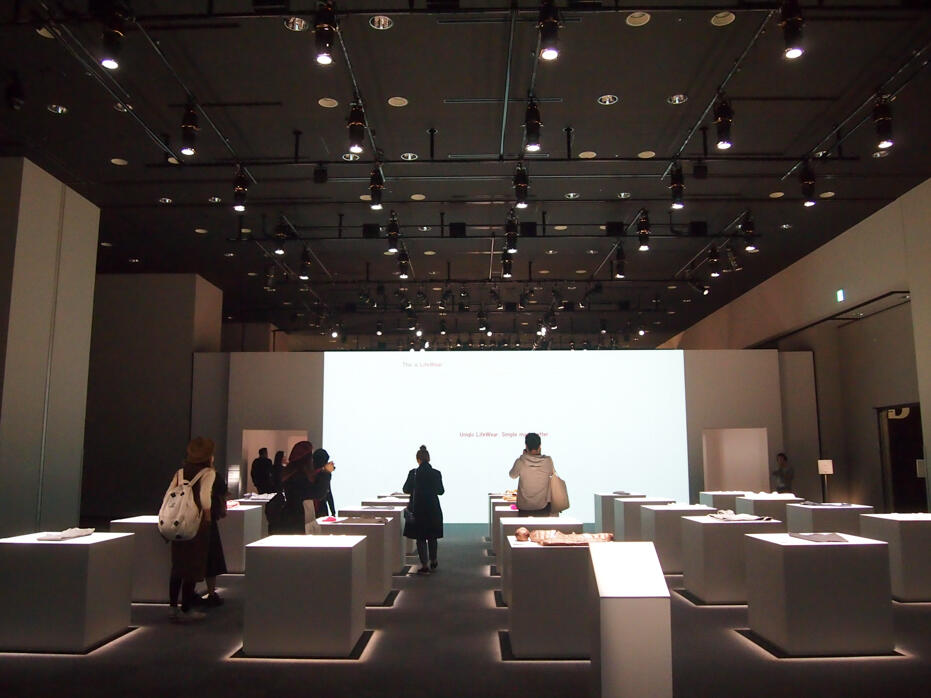 LifeWear believes in focusing on the wearer,
what they desire- like comfort, variety and being true to themselves,
how they prioritize their emotional over material needs,
and how individuality in fashion comes from within- how one wears the clothes, and not the clothes themselves.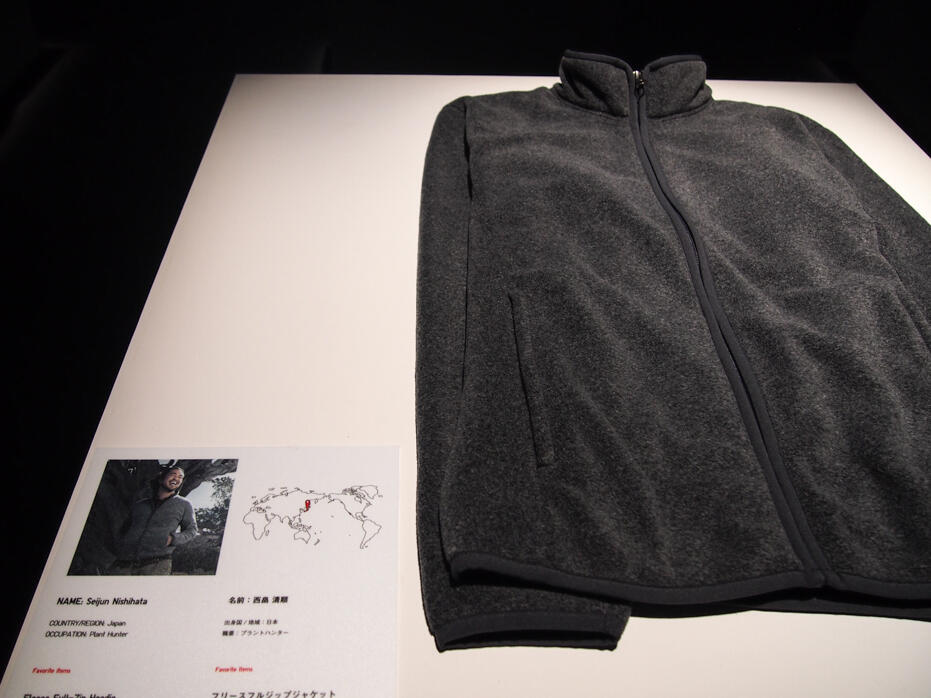 UNIQLO features everyday people who aren't necessarily your typical influencer.
Check out this guy's occupation – Plant Hunter! What kind of plants does he hunt?
+ + + + +
Active 
Understanding that many people incorporate exercise in their daily routines, like running before work or doing yoga after; UNIQLO developed a range of functional clothing for active people.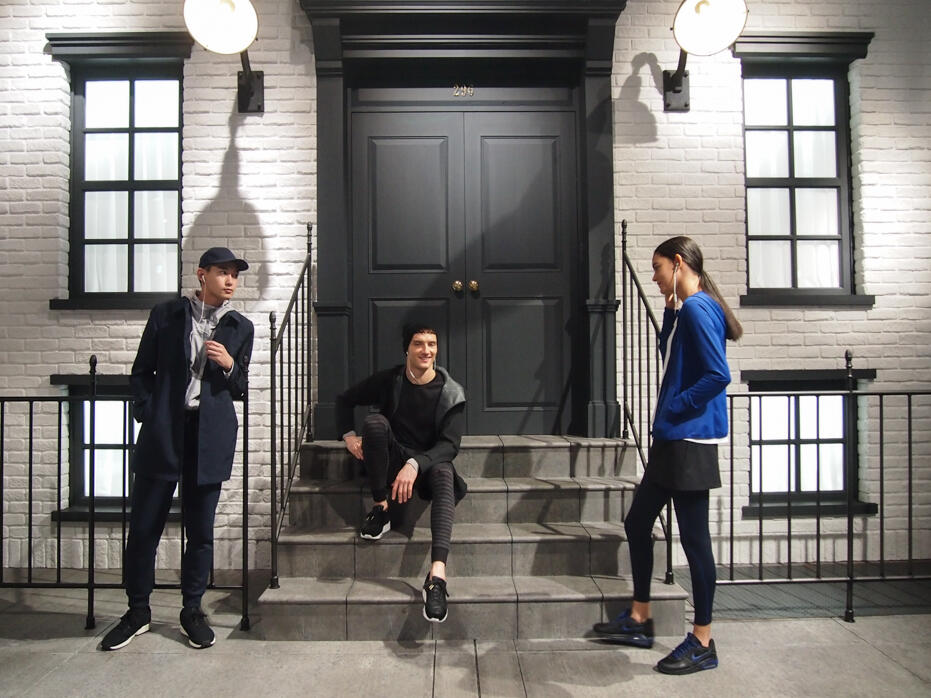 I totally get where they're coming from, as on days i don't have meetings, the #KinkyBlueFairyTeam can tell you that i relentlessly rock up in the office in workout wear because it saves me time from doing the whole outfit change (packing to and from powerplate takes up precious minutes!)
Look out for key items like the Dry EX Series and Block Tech Parka (with water repellant and skin humidity functionalities).
+ + + + +
Contemporary
In today's modern living, clean looks which are comfortable release us from the stress + strains of a busy schedule. Fashion designers like Michael Kors who admit to having a wardrobe that consists of black shirts and denim jeans, come to my mind.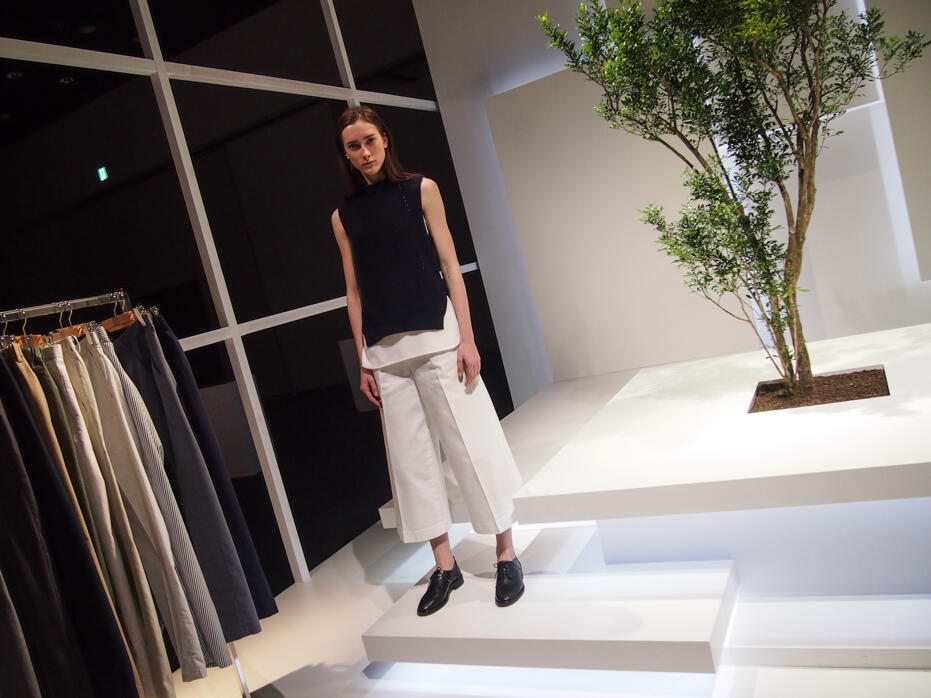 Key pieces include linen shirts, cotton shirts, wide pants, jogger pants and easy pants. I heard that the wide-legged pants sold like hot cakes in Japan upon its release.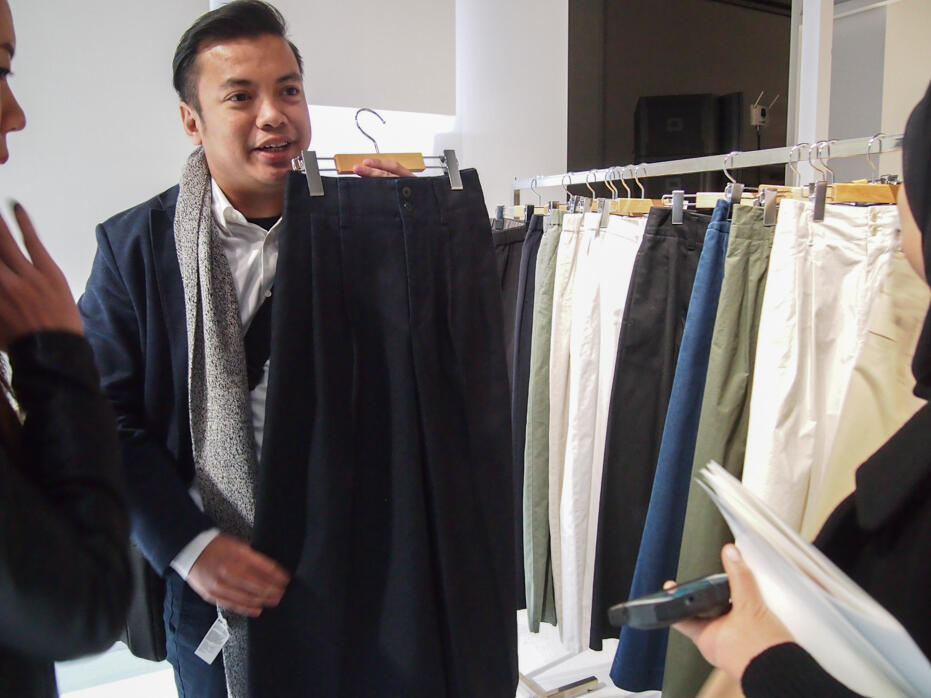 + + + + +
Relaxed
UNIQLO believes that we can be both stylish and comfortable even when we're at home. Here is clothing that we can wear without concern when with family and friends, or on the street without looking sloppy.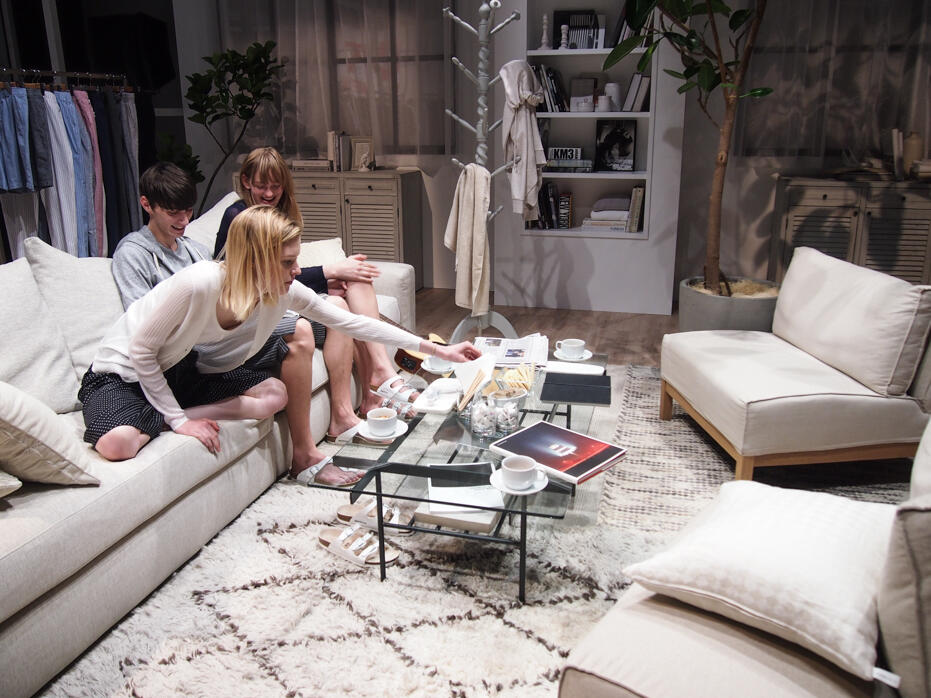 The models here are decked in flannel pants and STETECO & RELACO.
Suteteko is traditional Japanese apparel that inspired the creation of STETECO & RELACO; a range of relaxing pants for both men and women. This season include a line of RELACO dresses too.
+ + + + +
Essentials
Jeans, chino pants, linen or cotton shirts are essentials for our wardrobe. It's vital for these items to be thoughtfully designed and employ the very best materials and workmanship. UNIQLO strives towards perfection by observing what people want so they can create LifeWear essentials to enhance comfort and make life more enjoyable.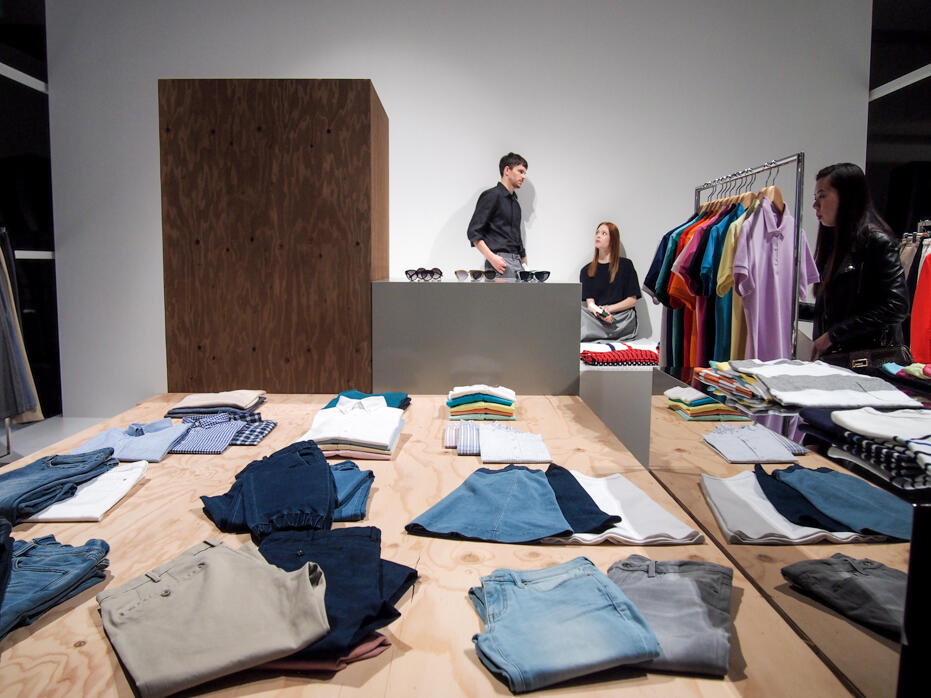 + + + + +
AIRism
UNIQLO's "Plus-One concept" involves wearing AIRism underneath a shirt or blouse, due to its technology in keeping people dry and comfortable by rapidly releasing perspiration and moisture in diverse various climates and temperature functions. More people around the world are wearing AIRism even where undershirts aren't local habit.
It's so hot in Malaysia recently that even i've resorted to wearing it on days i cannot tahan wearing anything more than a thin layer that breathes! Jun wears it all the time like his uniform, but he looks so good in it that i tell him to just buy more of the same colour.
Him: Can you tell Uniqlo to make them in more colours?
Me: Urm….. ?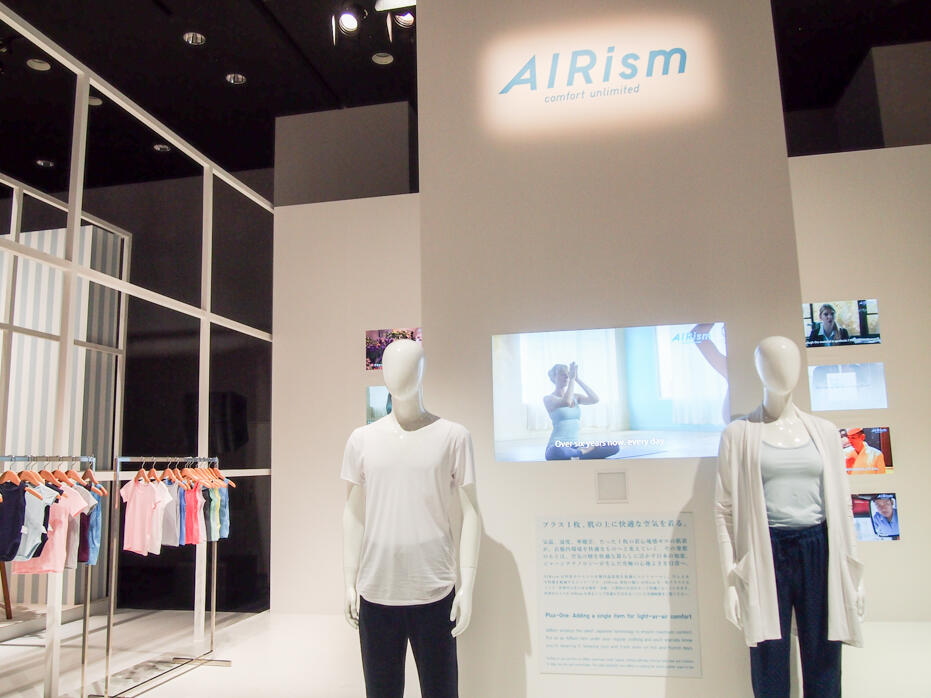 Carefully developed to match unique attributions of men, women and children; the AIRism of today incorporates special thin and durable stitching so that it's unnoticeable under polo/t-shirts for men, and AIRism mesh for children who perspire more than adults. They recently introduced a range for the first time for babies too!
+ + + + +
Comfort Beauty Wear
Understanding that comfortable innerwear for women helps in refining their silhouettes and is an important element in fashion, Uniqlo offers Ultra Seamless Shorts to keep hiplines smooth especially when worn under light garments during Spring/Summer.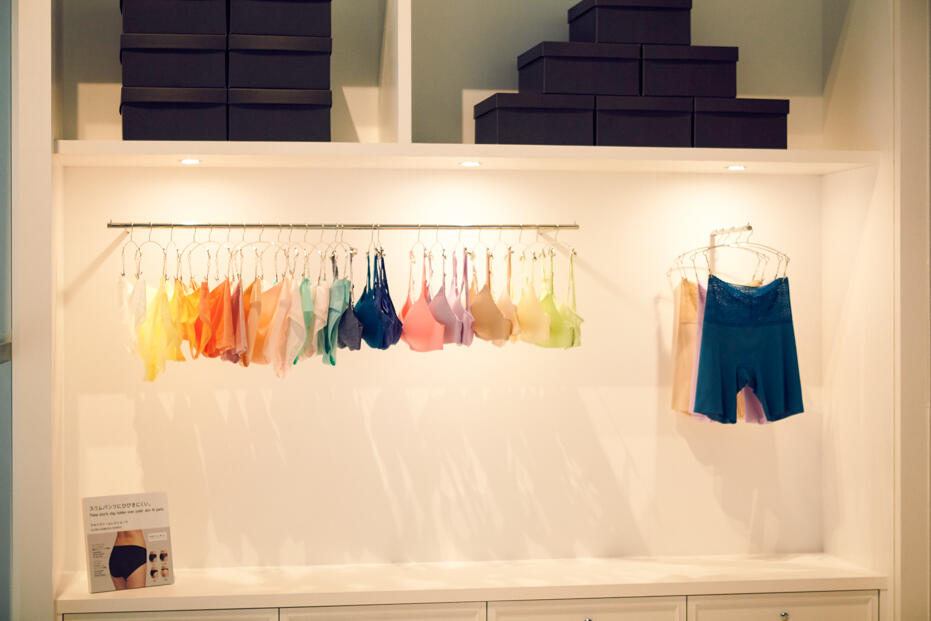 A new product which they gifted to me and i reach for in my underwear drawer constantly is the Wireless Bra Beauty Light- a light bra made with urethane resin supports to shape the bust line perfectly and comfortably.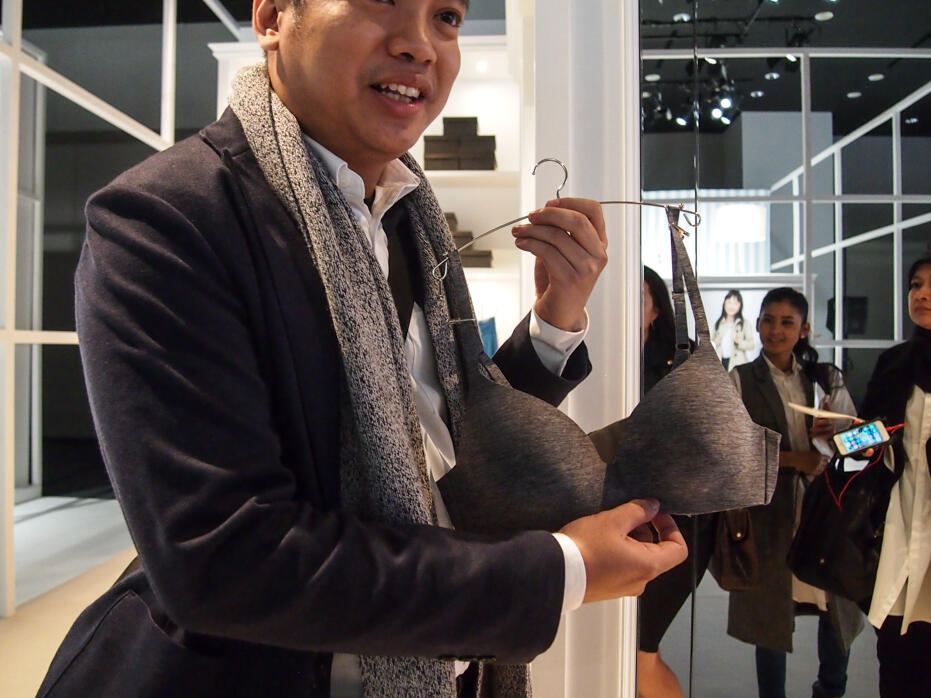 This is Keith from Uniqlo Malaysia. I love a man who can confidently hold a bra and explain it to women.
+ + + + +
Liberty London collab
Oh this one is so exciting! I follow Liberty London on IG cos i'm memang a fan of maximalist floral prints, which is the essence of the brand's products.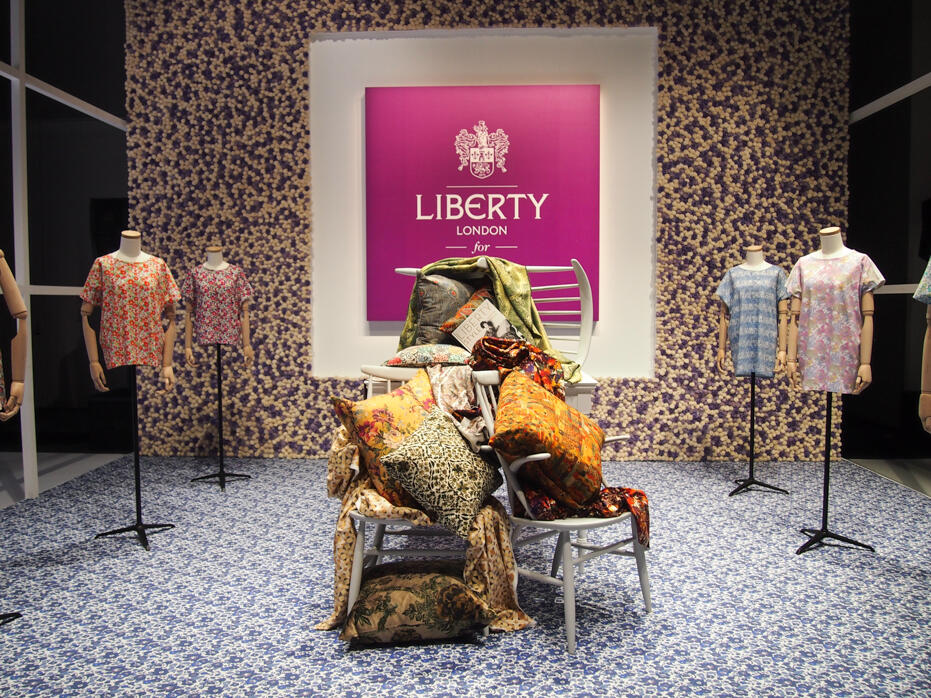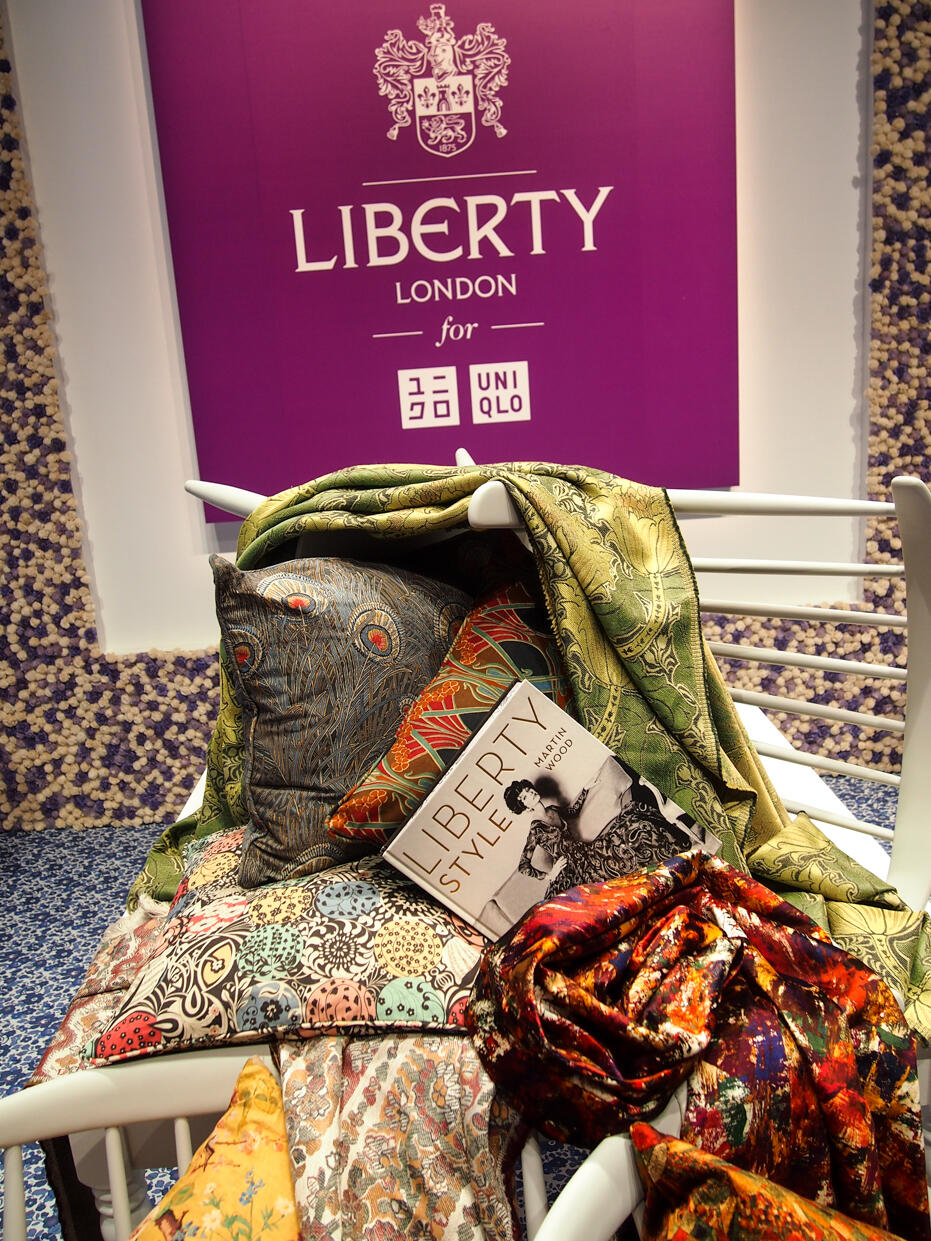 The much anticipated LIBERTY LONDON for UNIQLO collaboration unites British heritage with Japanese innovation, and will make available to us a special selection of Liberty's iconic floral prints on women's, girls', babies' and men's products via UNIQLO LifeWear (whose signature innovations make clothing lighter, more comfortable, affordable and accessible to all)!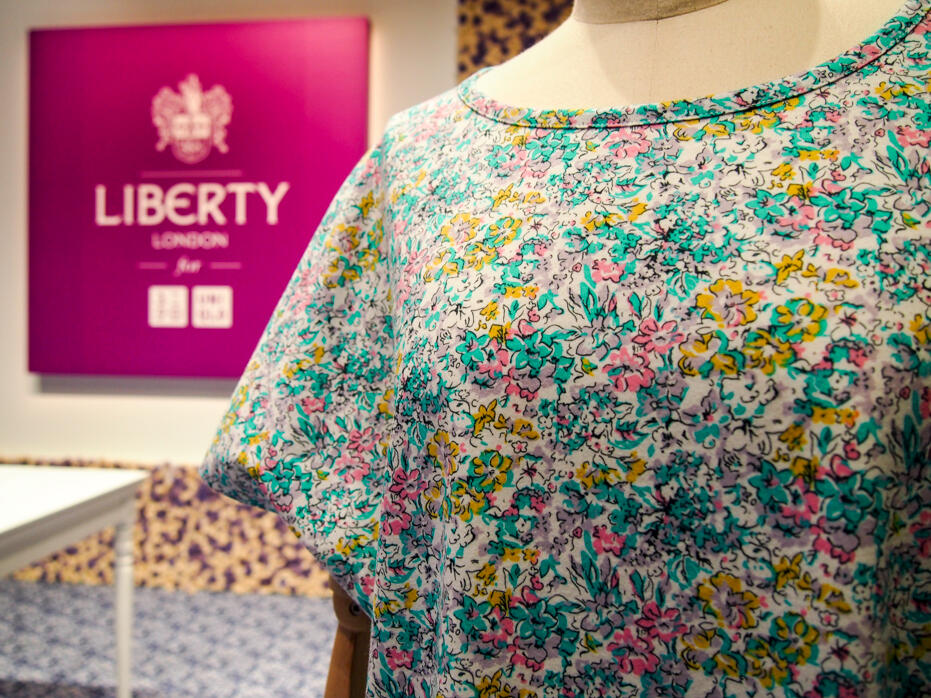 The collection will be available UNIQLO stores worldwide from Spring 2016.
+ + + + +
UNIQLO and LEMAIRE
I would don every piece in this collection if i had them all!
UNIQLO AND LEMAIRE offers the ideal wardrobe that consist of flexible and versatile pieces you can wear everyday. The collection fulfills the need for light, summer attire that you forget about once slipped on. Combining simple and relaxed lines with functional details inspired by sportswear; enjoy garments with clean silhouettes, generous volumes and spacious pockets. I'm a fan of POCKETS!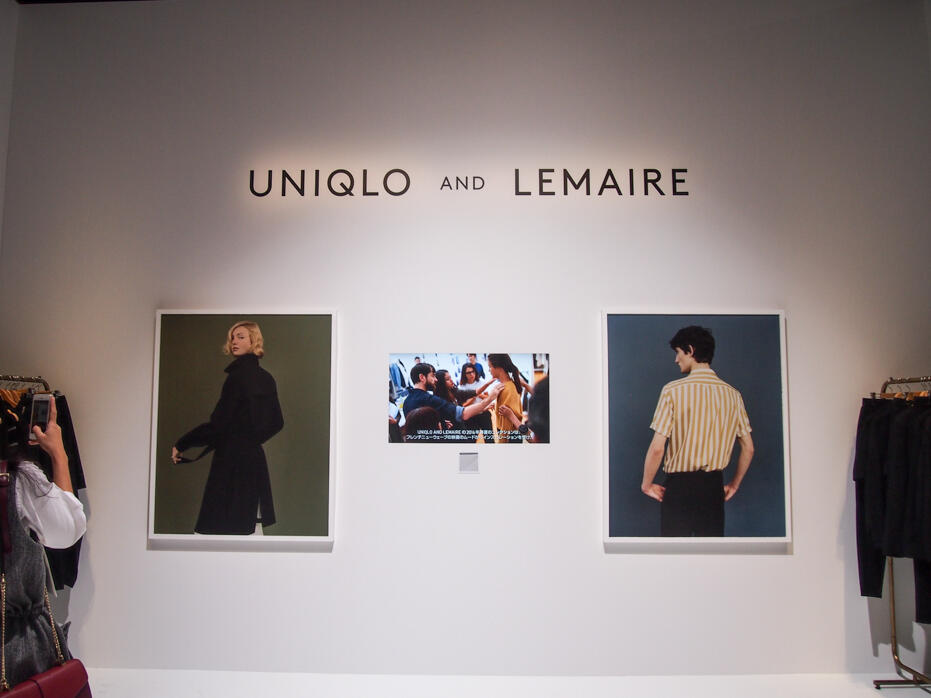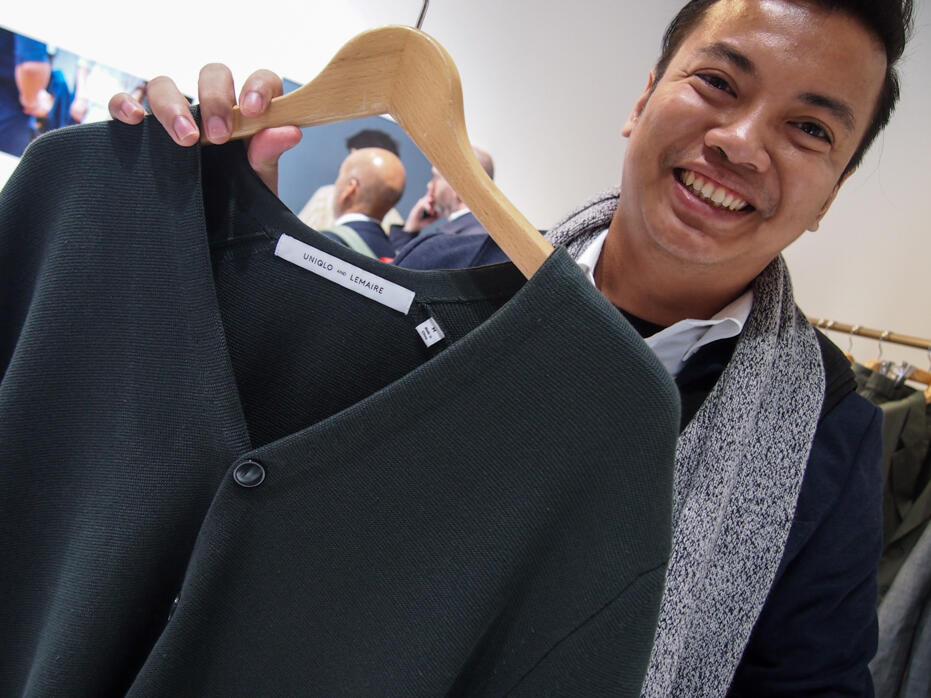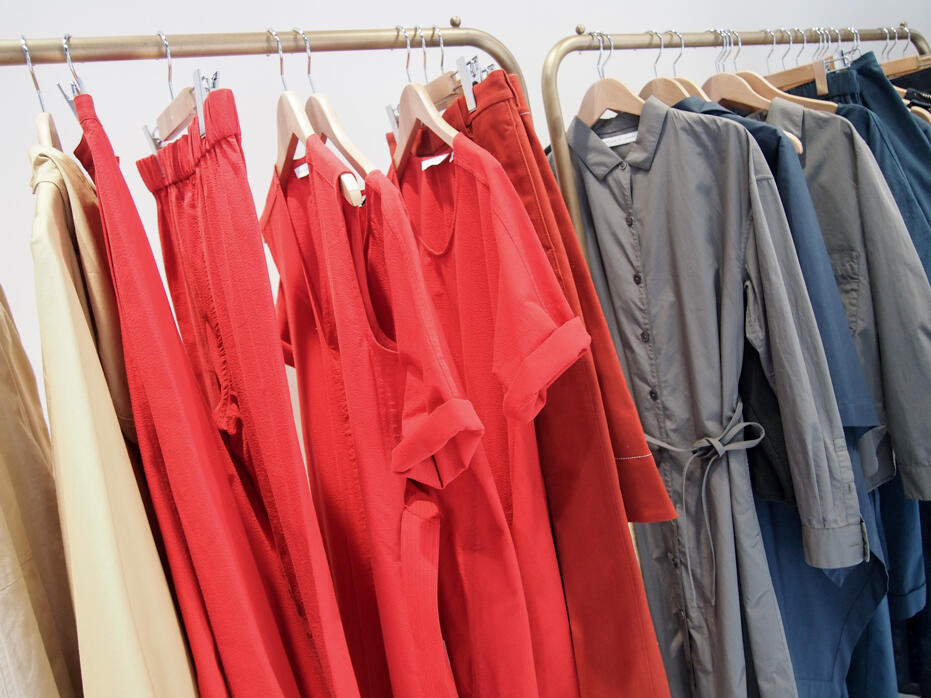 Ginger, mahogany, honey blue-green, ash grey and other half-tones seemingly faded by years of summer sun, are worn with deep blacks and luminous whites.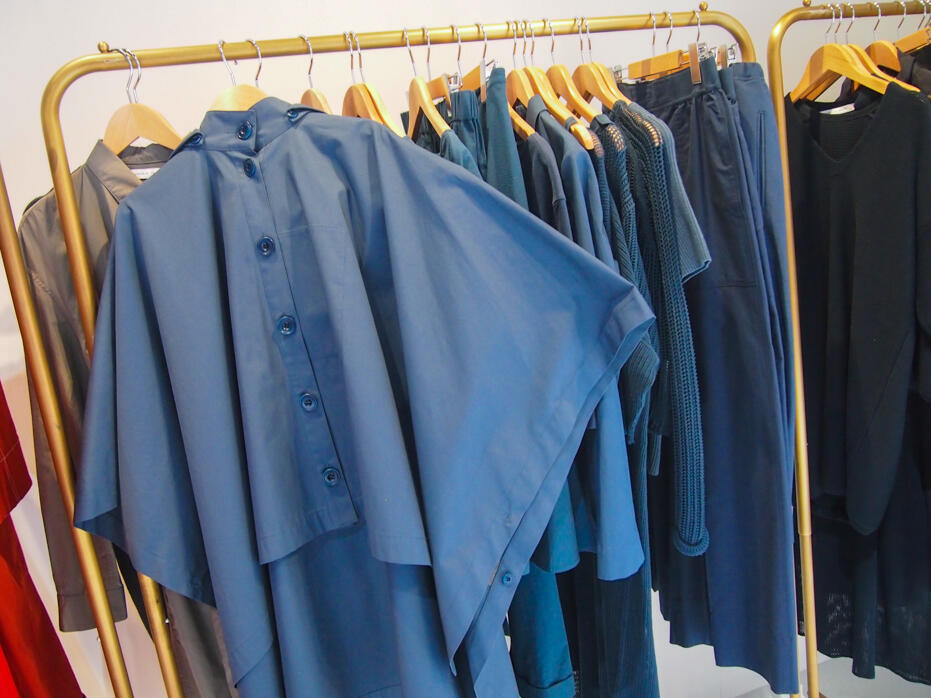 The Lemaire Cape in blue.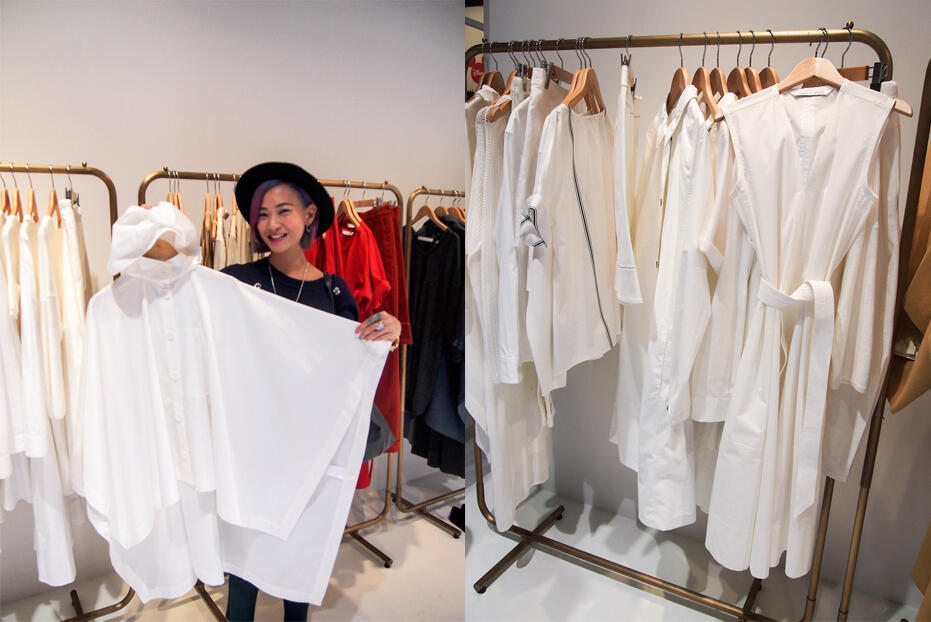 Besides going gaga over the dusky blues, i was enthralled by almost every piece in white. I couldn't decide which i wanted most and could envision myself parading in the safari or exotic holidays in them…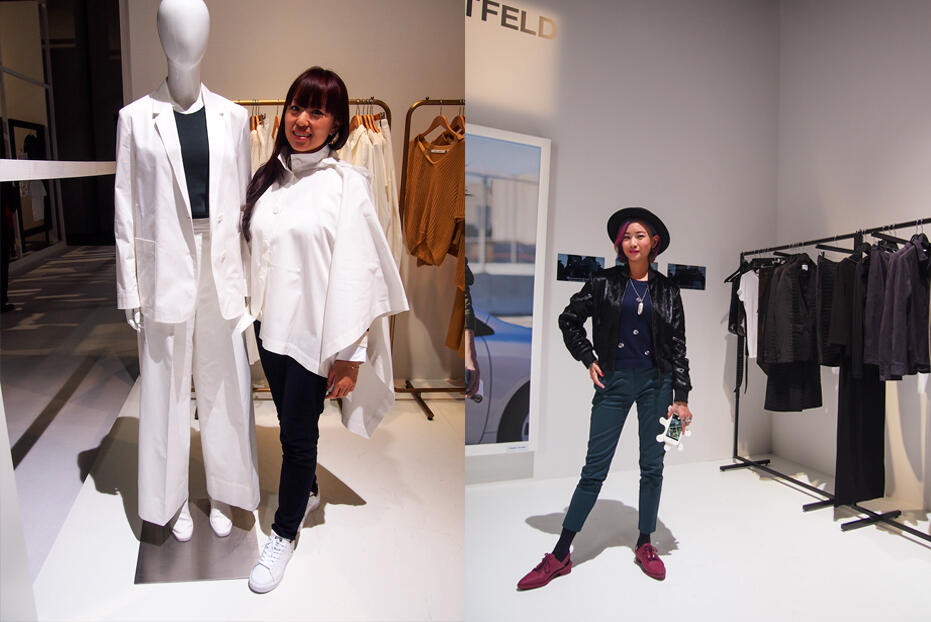 I wasn't the only one, i saw many including Cai Mei try on the white cape too!
On right is me wearing the Carine Roitfeld Faux Fur Blouson…
+ + + + +
Carine Roitfeld
I'm a big fan of Carine Roitfeld!! An influential icon in many different aspects of the fashion industry, she is primarily known for her successful tenure as Editor-in-Chief at Vogue Paris.
In her second collaboration with UNIQLO Design Director, Naoki Takizawa; Carine cites the "everyday working woman" as her inspiration for the SS16 collection.
Many busy women seek low-maintenance fashion that looks fabulous during and after work office hours. For Carine, fashion is all about the use of detail and proportion to accentuate femininity. This season's collection is no exception, featuring a range of alluring forms without comprimising functionality through the use of stress-free materials.
I can confidently say i bet my life on this collection… as i own three pieces from her recent AW15 one and the pieces not just fit me beautifully, they MAKE MY BODY LOOK AWESOME. I learnt (from an interview that same day with Mr. Naoki Takizawa) the design process, which involved Carine and him going back and forth on the designs + fit + styling she wanted, with him making adjustments till it was perfect. Carine is so on point. Every time i wear one of her pieces i feel like: 1) i can conquer the world, 2) I can kick some major ass that day, or 3) it's gonna be an a superb day/night.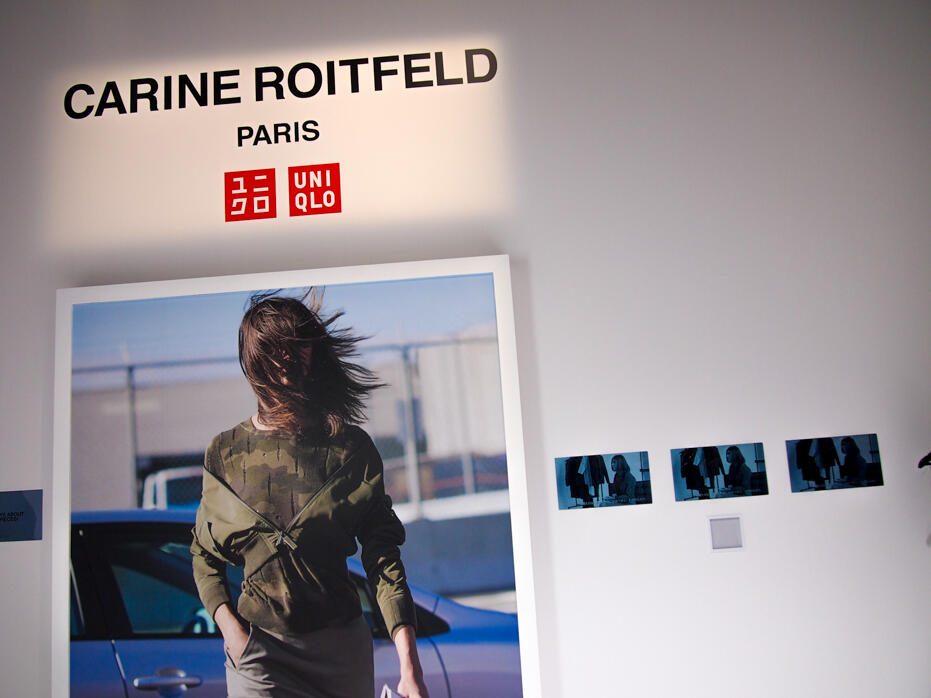 Carine loves the effect that comes from balancing masculine and feminine design elements. While jackets and coats feature masculine styles, slip dresses and other items use soft, feminine materials.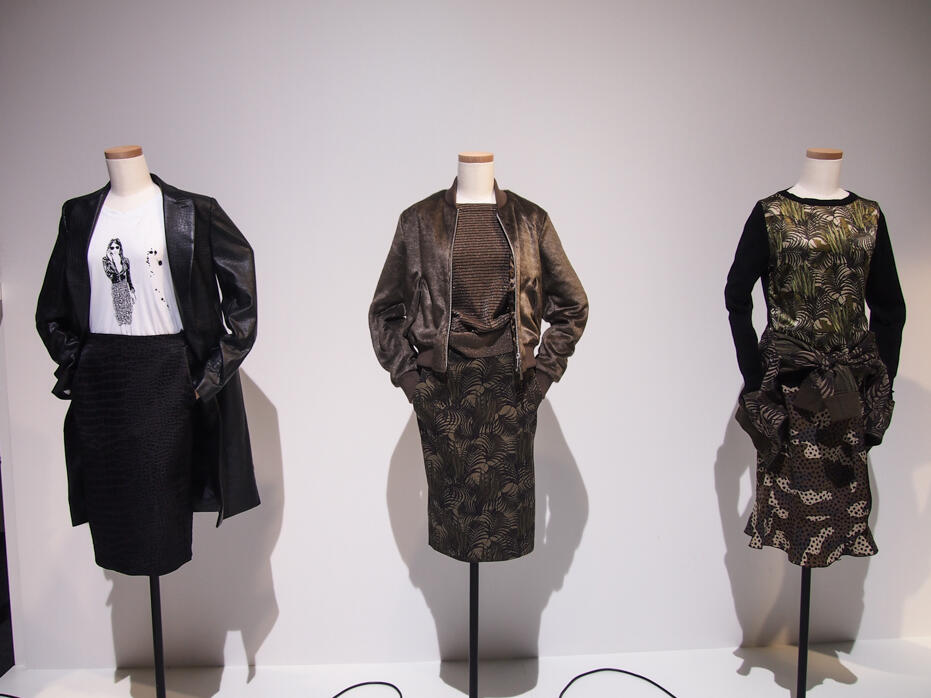 One of the collection's highlights is its varying animal prints.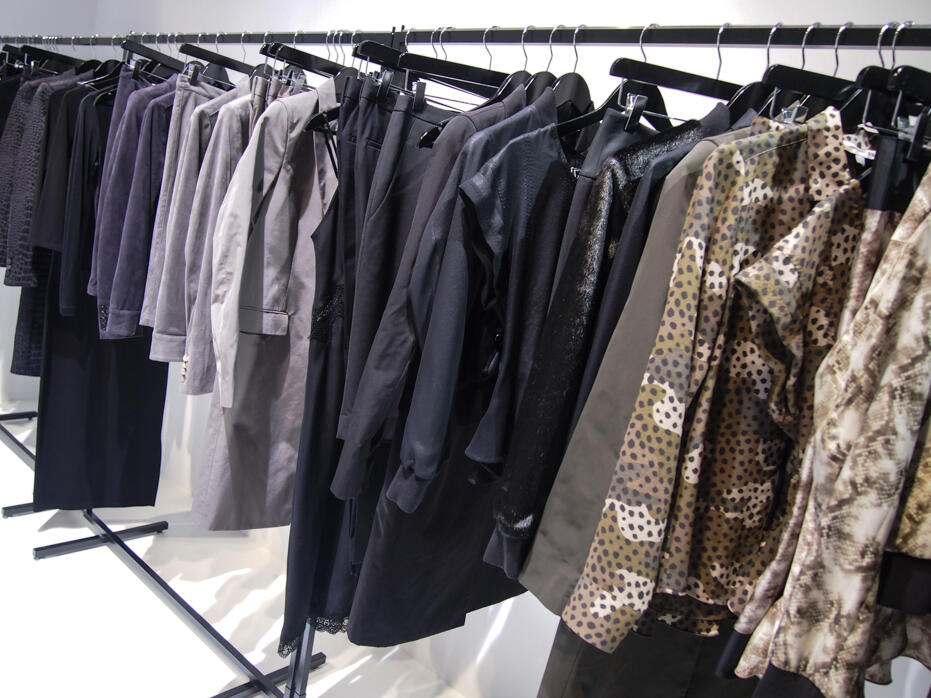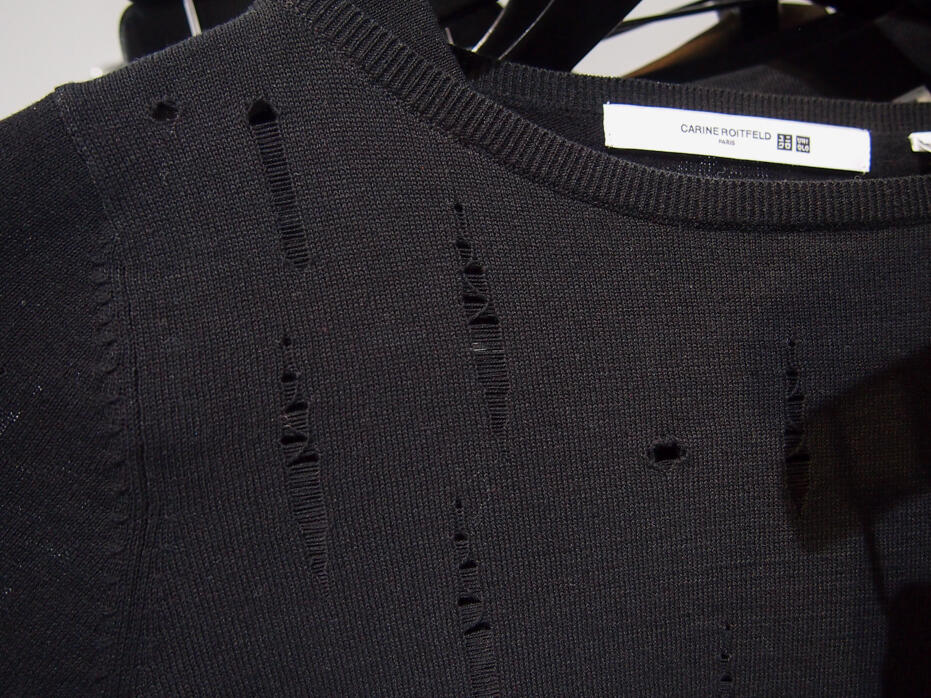 Detail on the Carine Boat Neck Long Sleeve Sweater.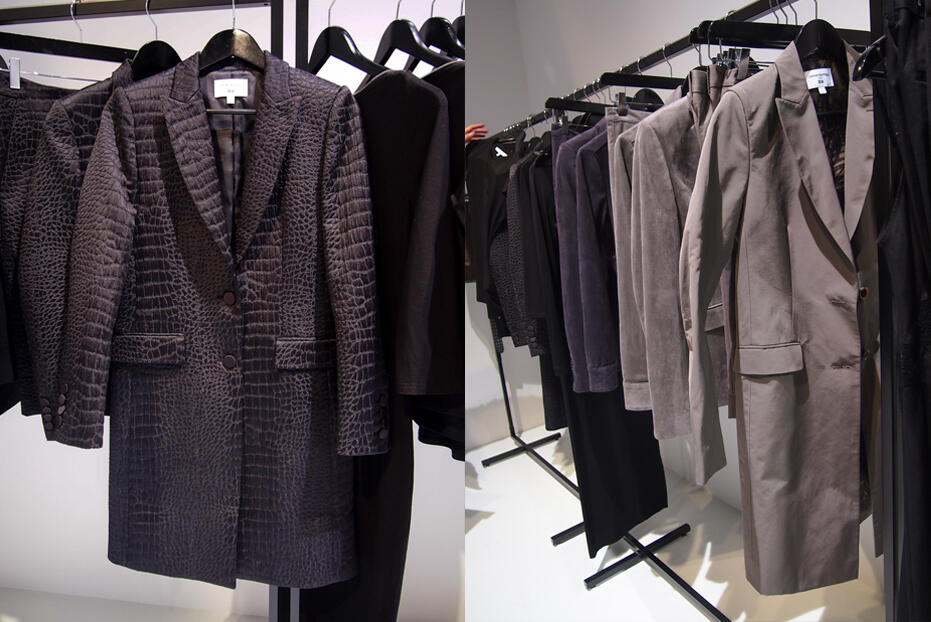 Carine Jacquard Coat (left) and Carine Chester Coat (right).
Carine Silk Lace Camisole (left) and Carine Synthethic Leather Coat (right). Love love love.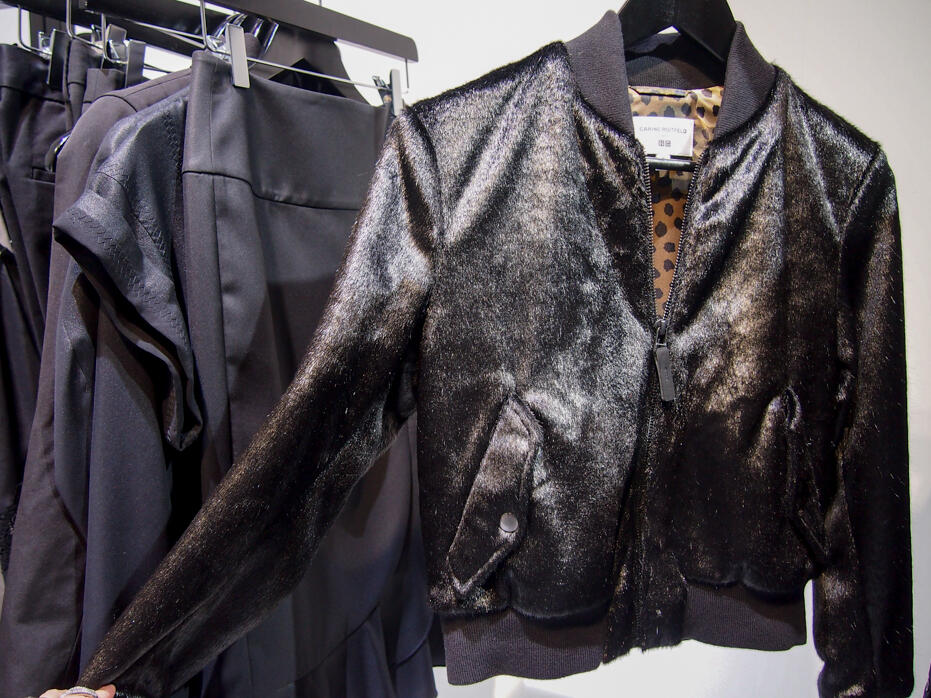 Carine Faux Fur Blouson.
+ + + + +
Ines de la Fressange
I met Ines when i interviewed her and Mr. Naoki Takizawa in Paris in 2014 and find her to be the epitome of your stylish French woman. Well, many would say she IS the face of that. The French model and former muse of Karl Lagerfeld has collaborated with UNIQLO yet again to enhance the lifestyles of women around the world.
The SS16 collection comprises Voyage, Le Sport, and Uniform lines to make it easy for women to look best wherever they are, with a mix of basics and a touch of sophistication in achieving the casual elegance that is quintessentially Ines.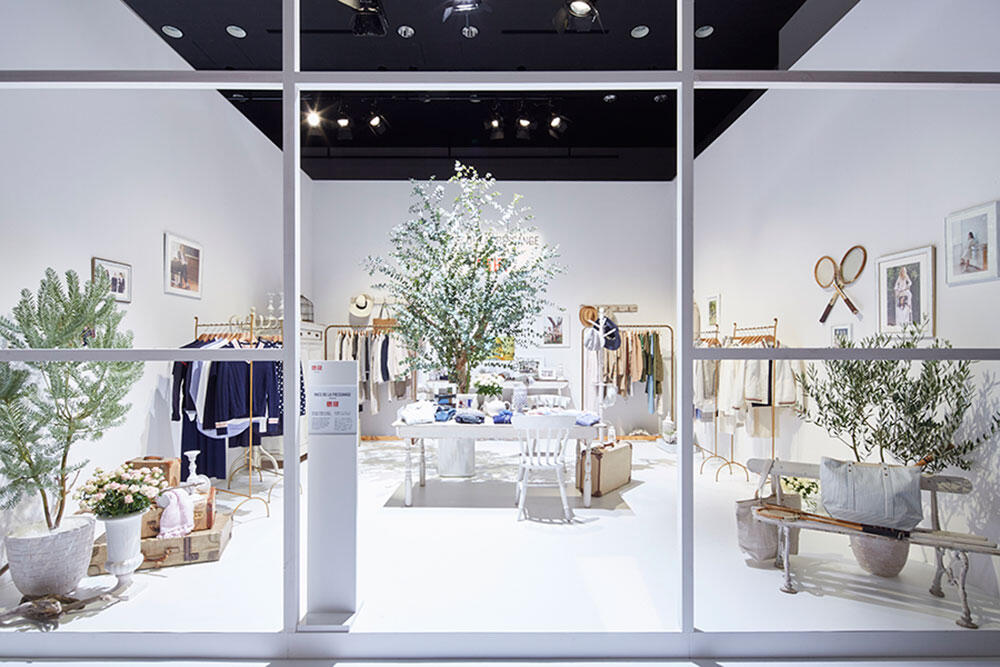 The collection features earthy beige, vibrant olive, and rose; some of Ines' favourites. These natural hues complement her signature indigo to enhance feminine beauty.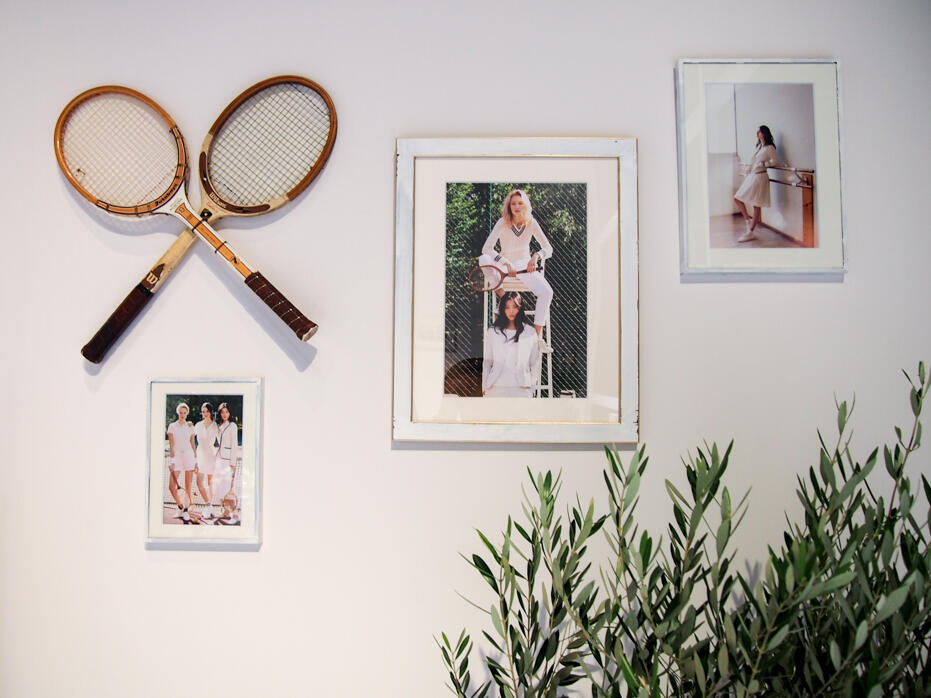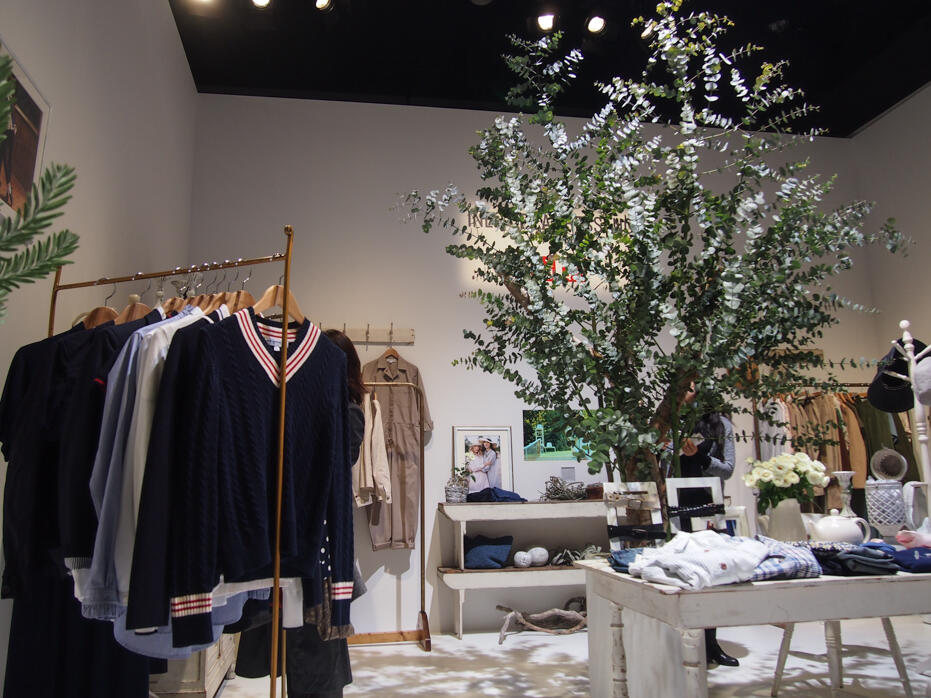 The Le Sport range effortlessly transports traditional sports club styling into refreshingly modern contexts, which includes polo shirts, cricket sweaters, and cord-lane jackets.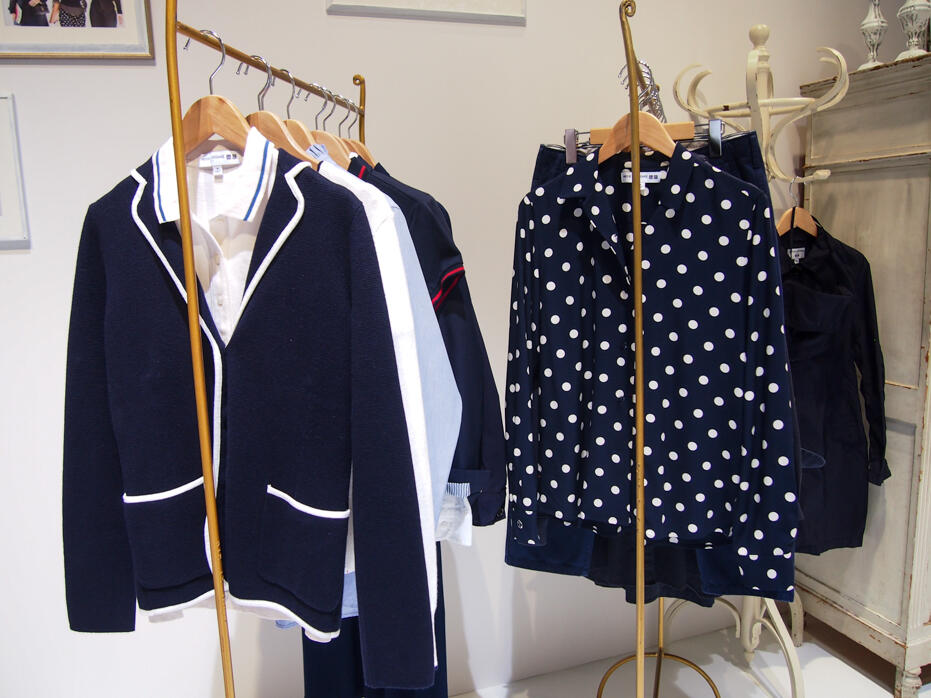 Milano Rib Long Sleeve Jacket (left) and Rayon Printed Long Sleeve Blouse (right).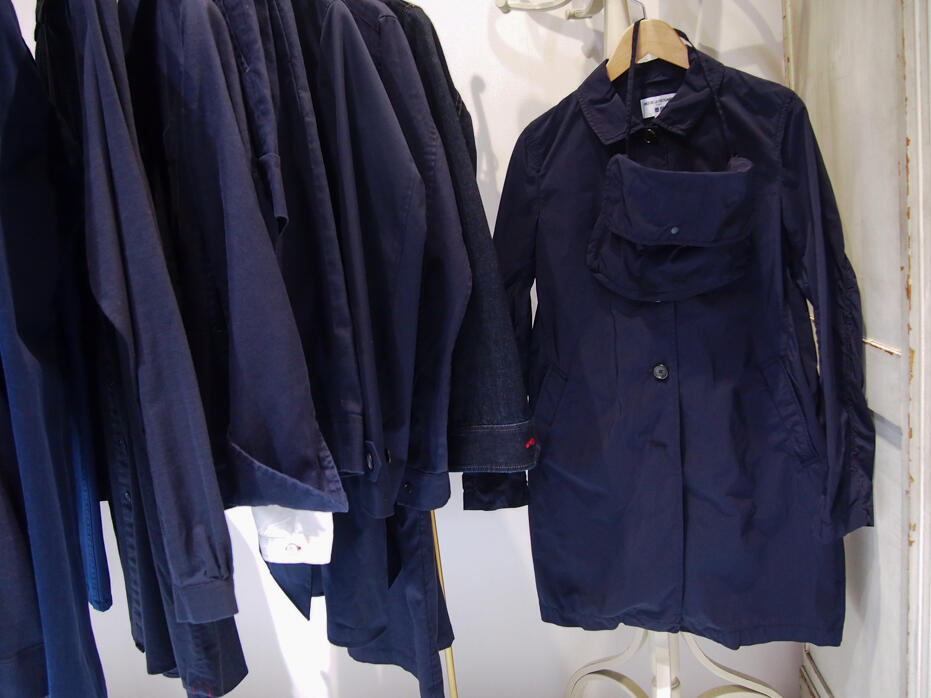 Ines is renowned for her love for jackets, and together with Mr. Takizawa, devoted particular attention to the items in this collection including a jacket with seersucker material.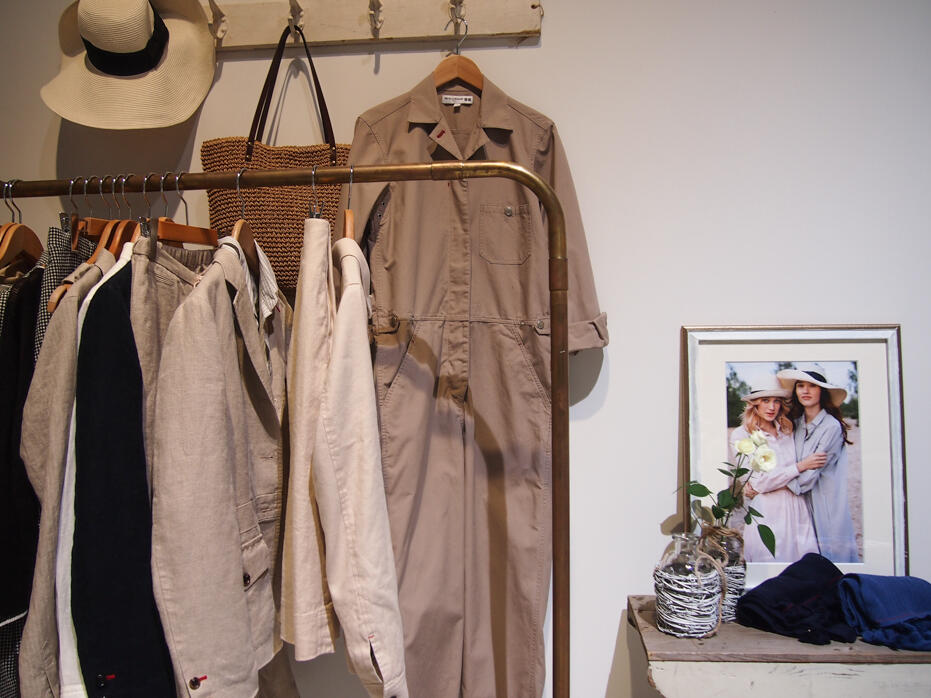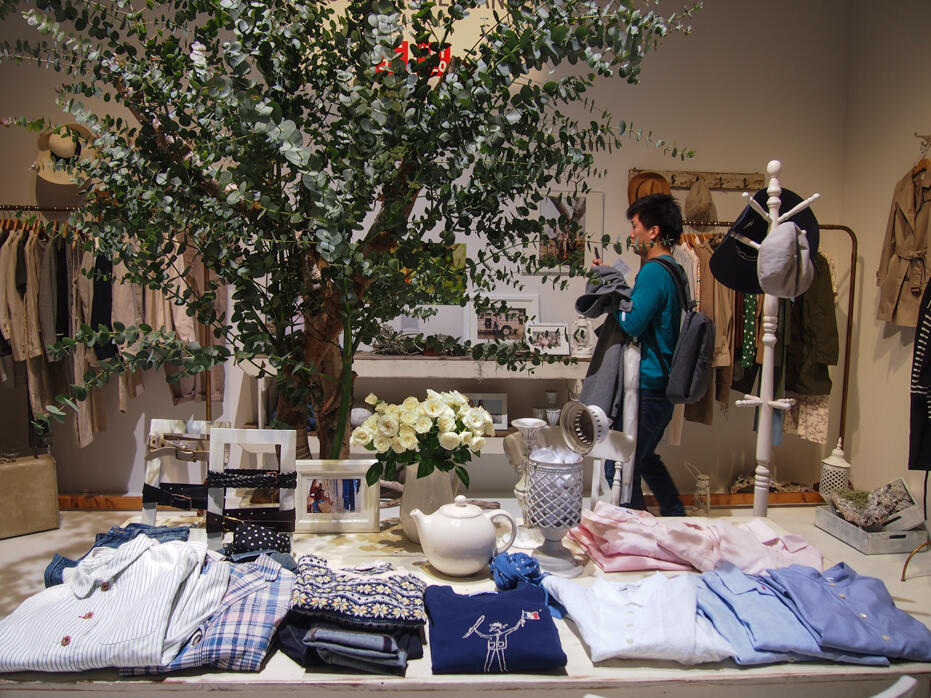 + + + + +
UNIQLO LifeWear Spring Summer 2016 Fashion Show
In between exploring the different spaces, we were ushered to our seats to watch the show: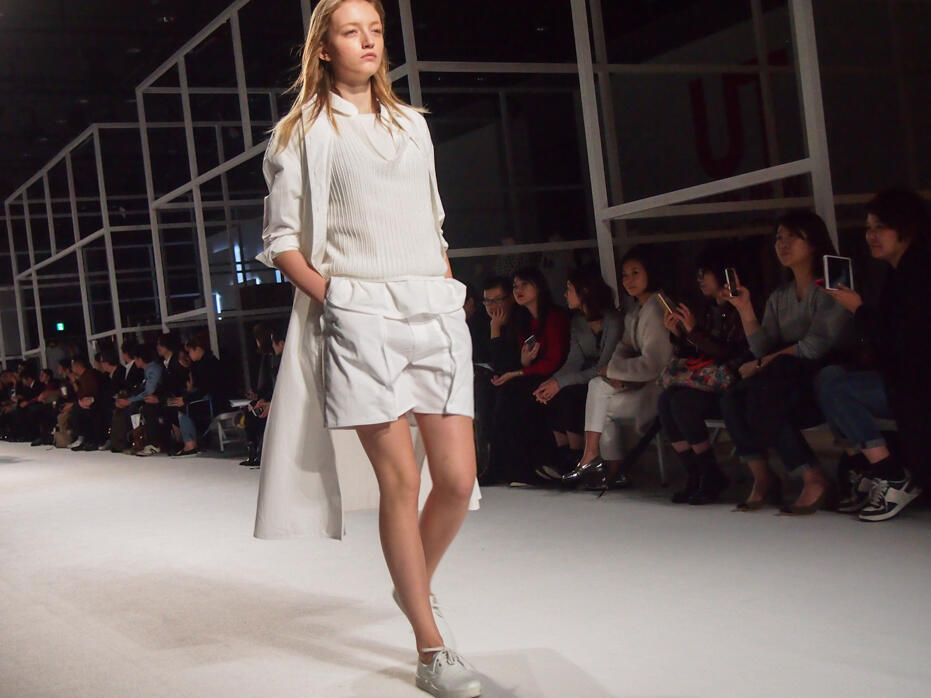 I'm loving all-white looks. Crisp, clean and all-together unfailing in my books.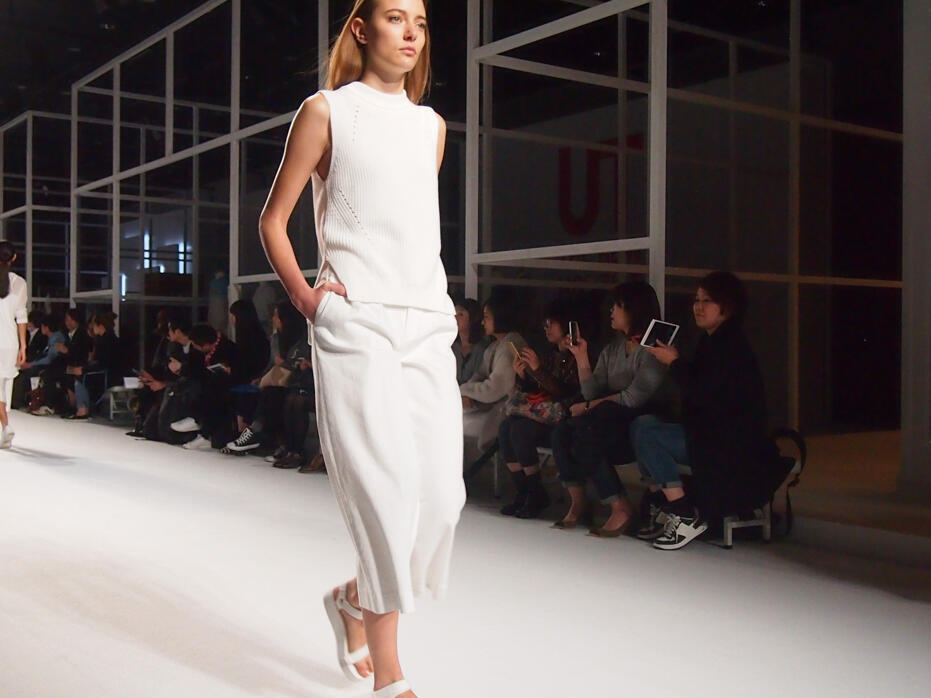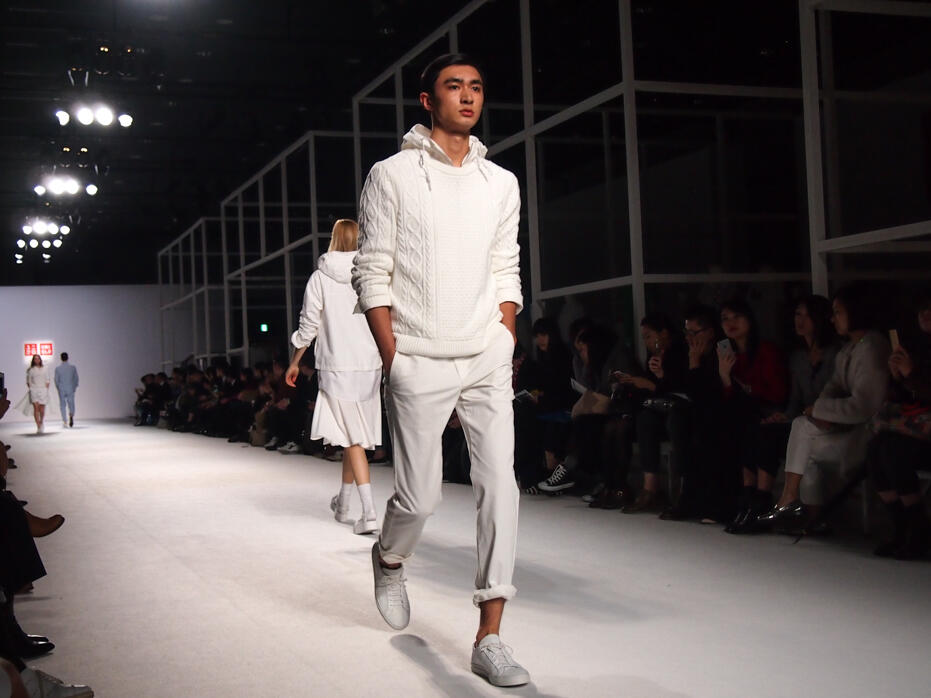 Me to team in office while sorting out these pictures: I love it when guys wear all white. SO sexy.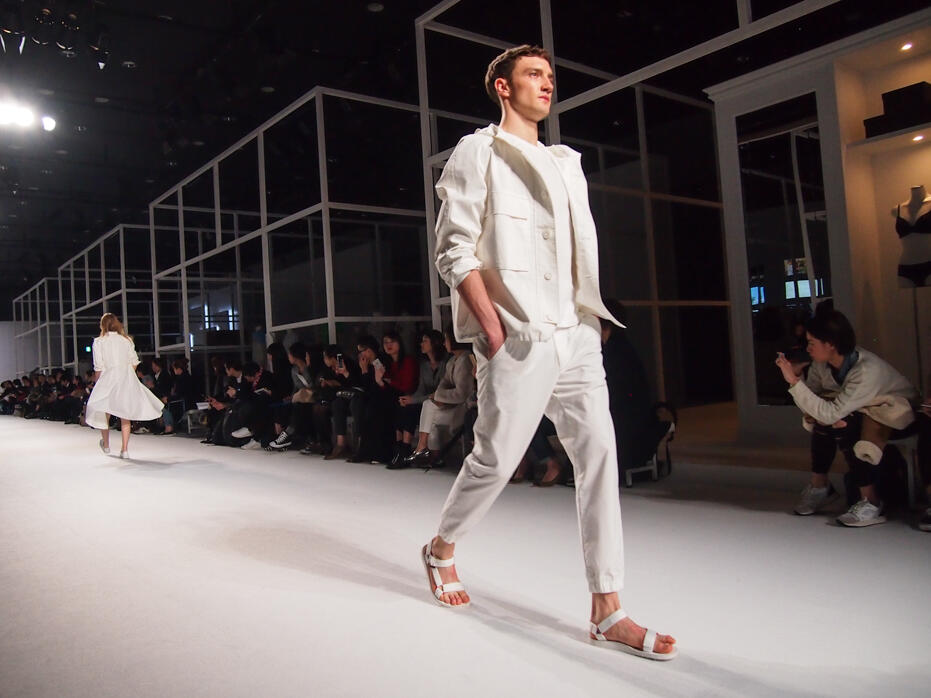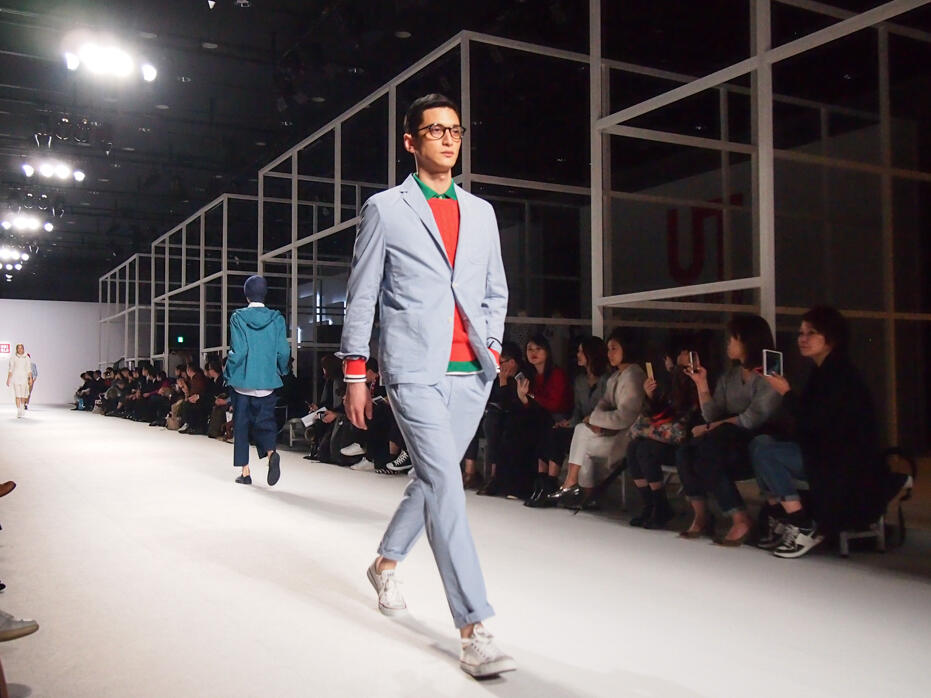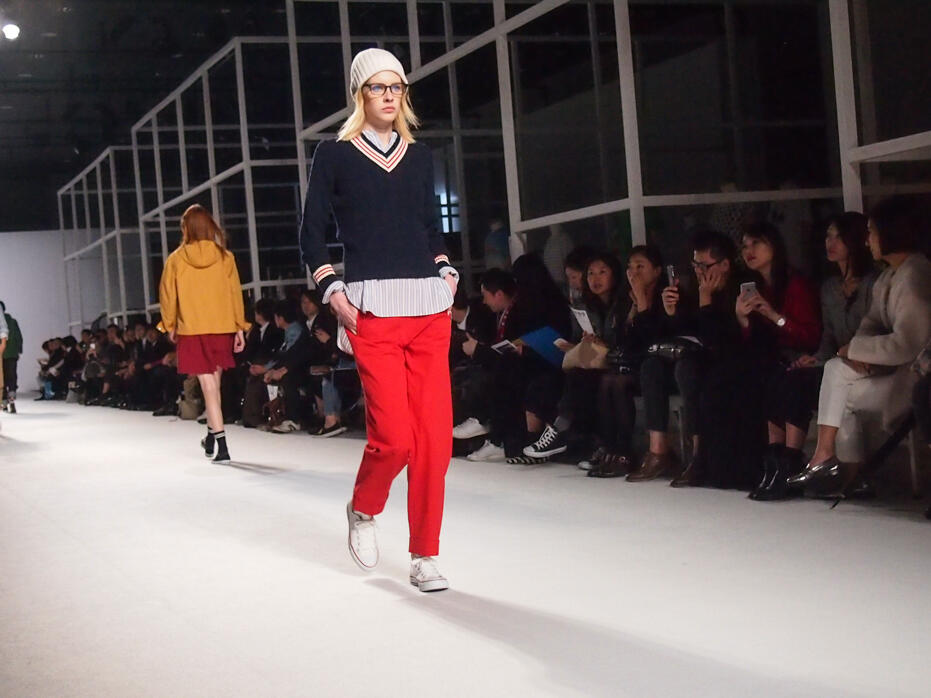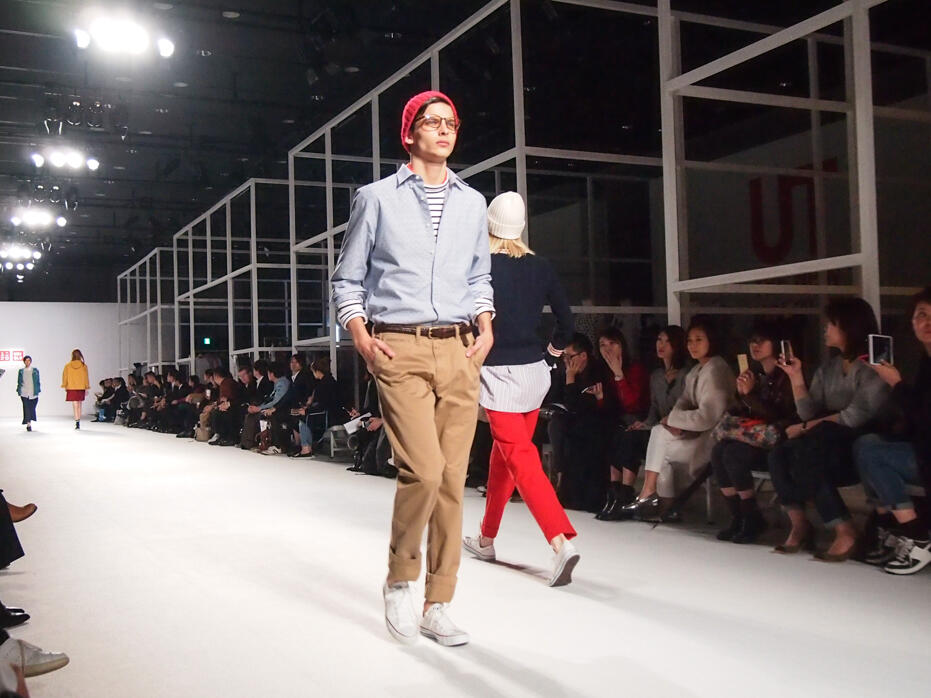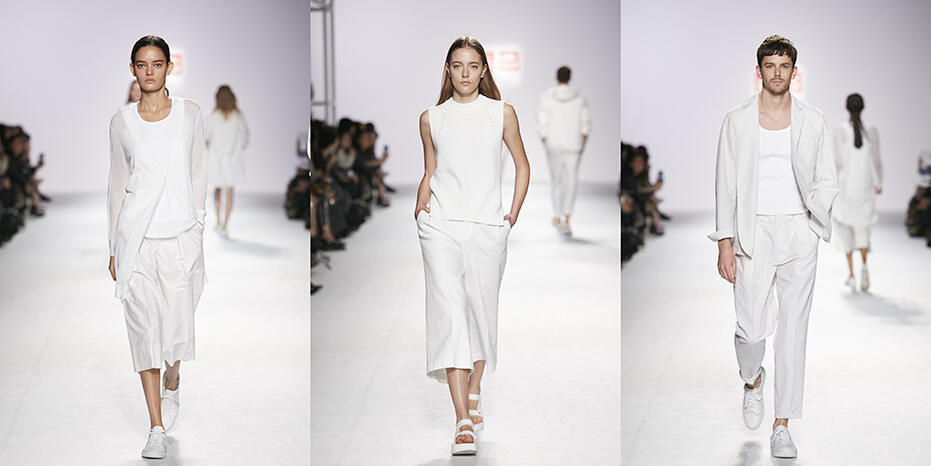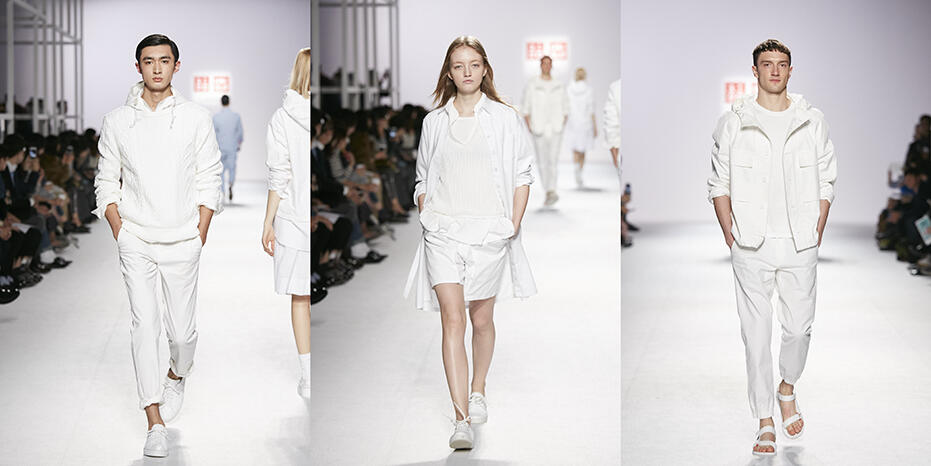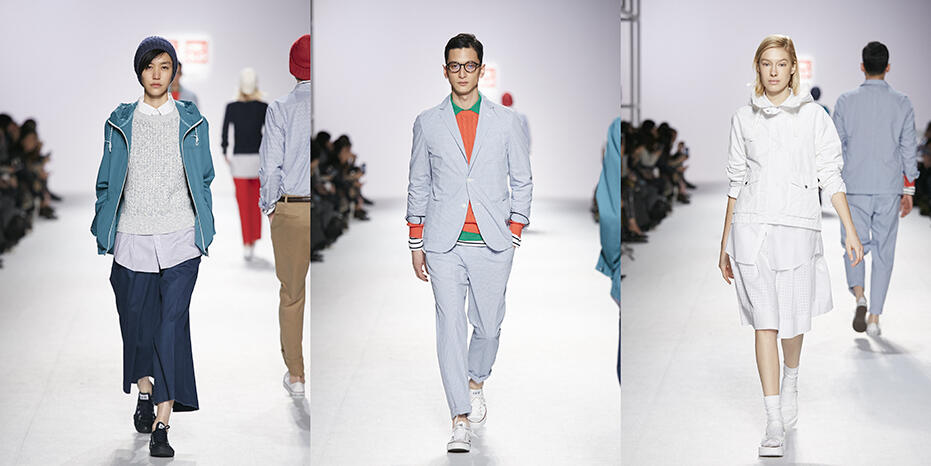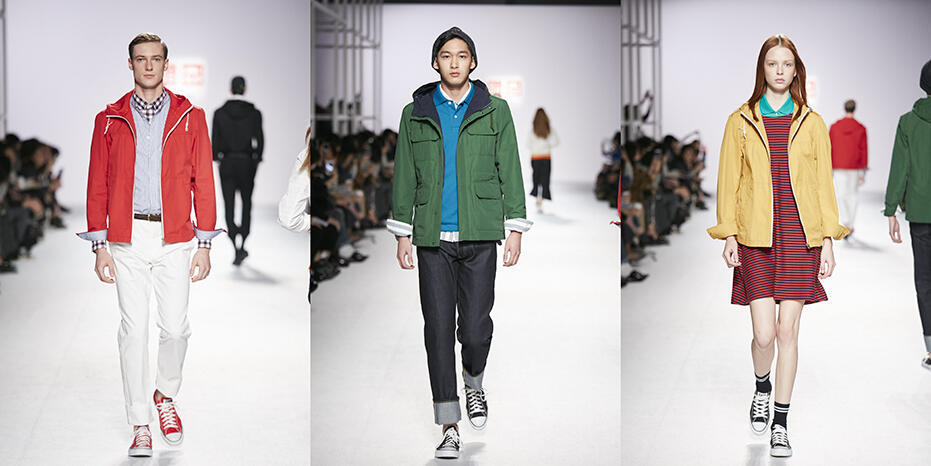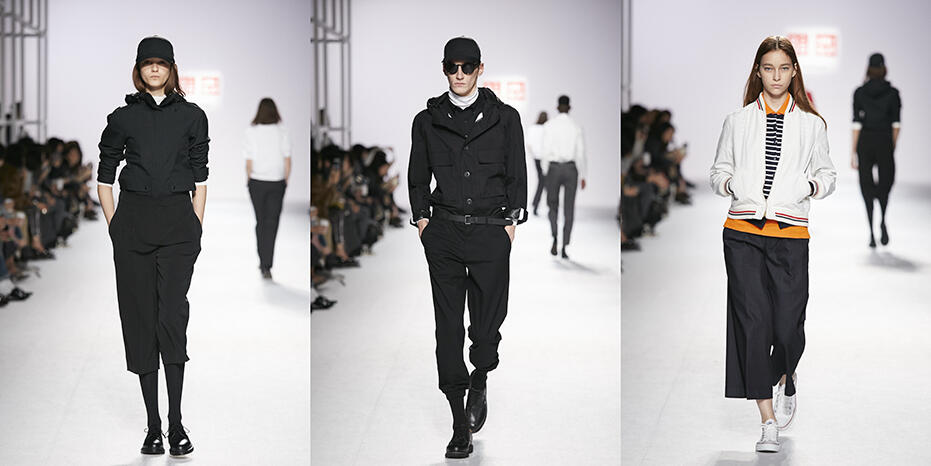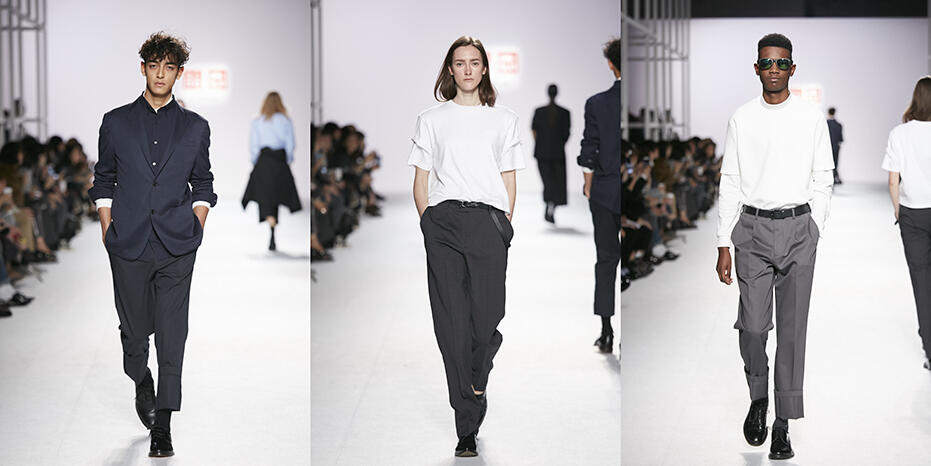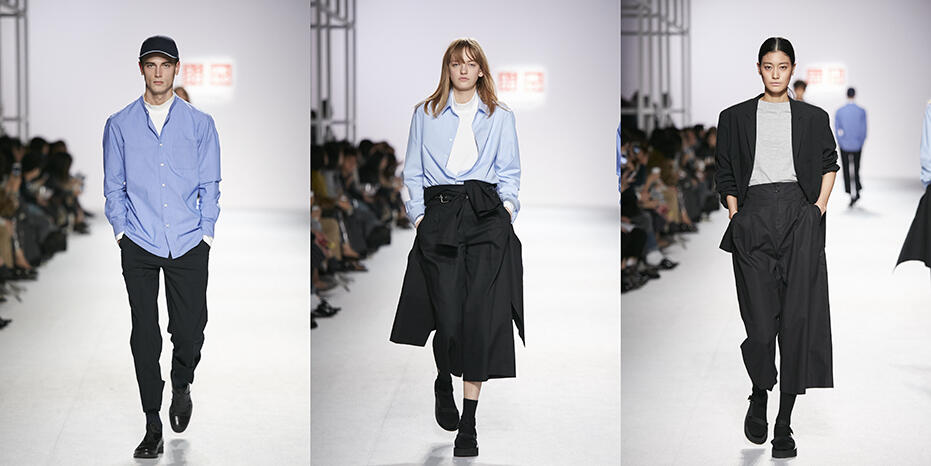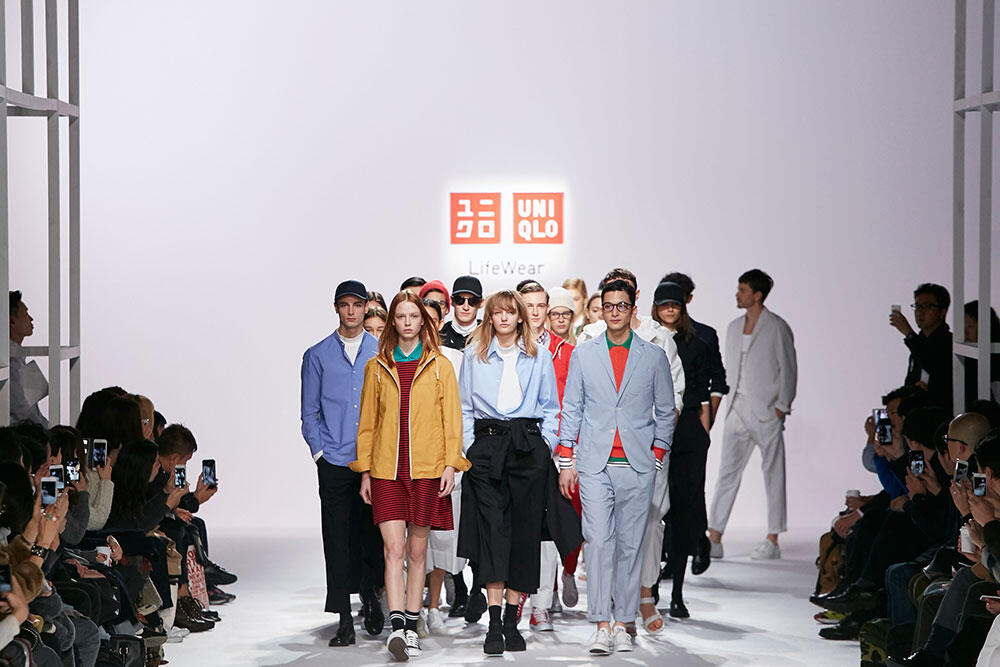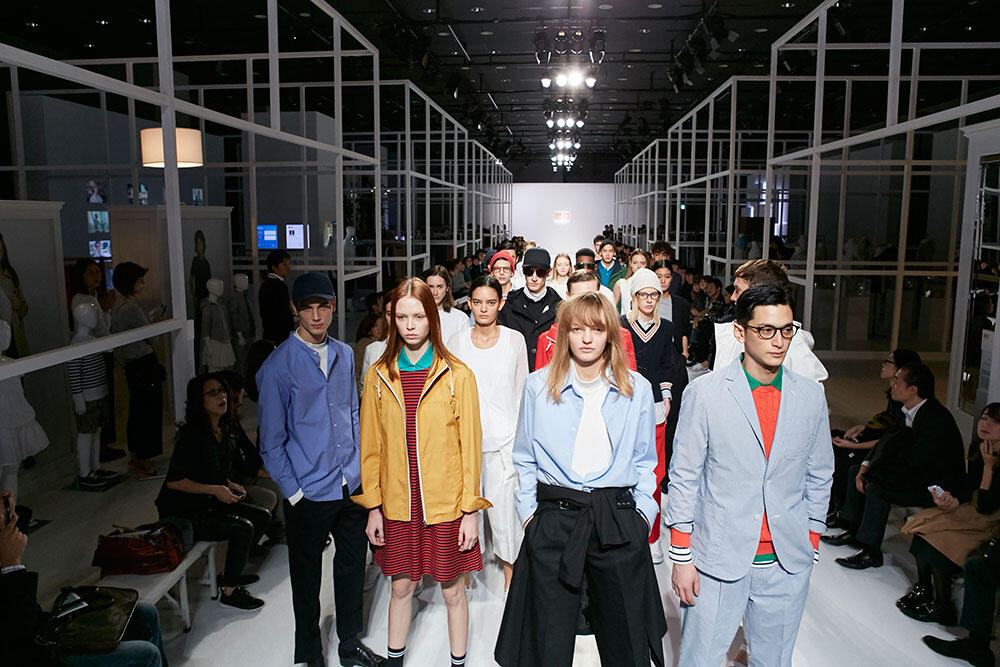 Vid of the show *here*
+ + + + +
MAGIC FOR ALL
A global collaboration with Disney Consumer Products, MAGIC FOR ALL adds a touch of Disney enchantment, Marvel action, Star Wars adventure, and Pixar creativity to UNIQLO's commitment to enriching lives with comfortable LifeWear. How can anyone say no to Frozen-themed clothing?! OK maybe you can, but i never will!! #FairyLovesFrozen
Besides Frozen, expect your favourite characters and prints from the likes of Alice in Wonderland, Avengers, Toy Story and more! Available for kids and adults, the MAGIC FOR ALL concept will be launched in sections of selected stores around the world. The first section debuted in the UNIQLO Shanghai Flagship Store in September 2015. This Spring, UNIQLO plans to open a store within the Walt Disney World Resort in Orlando, Florida.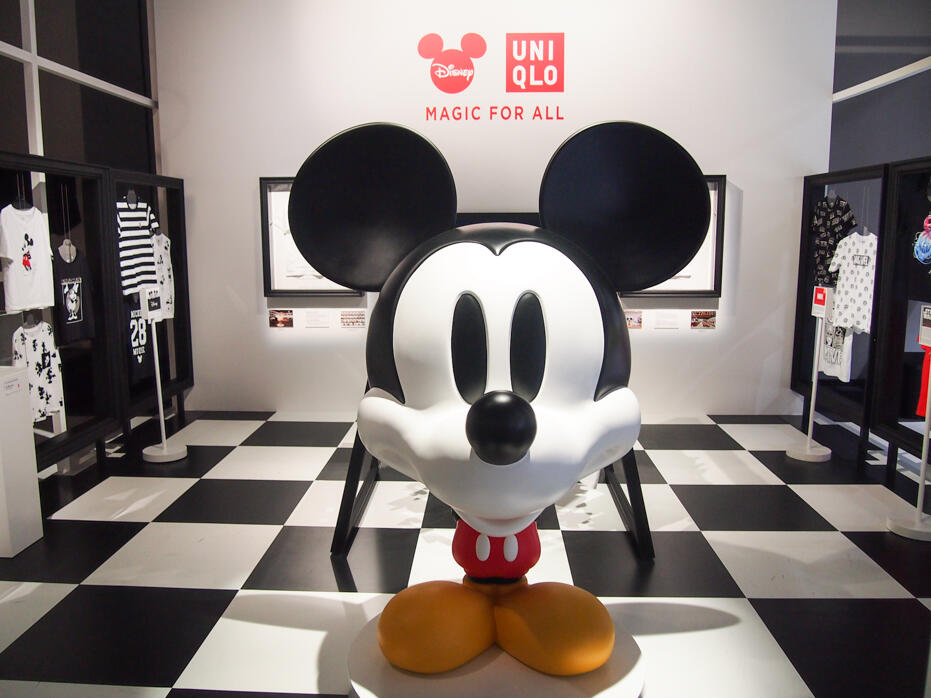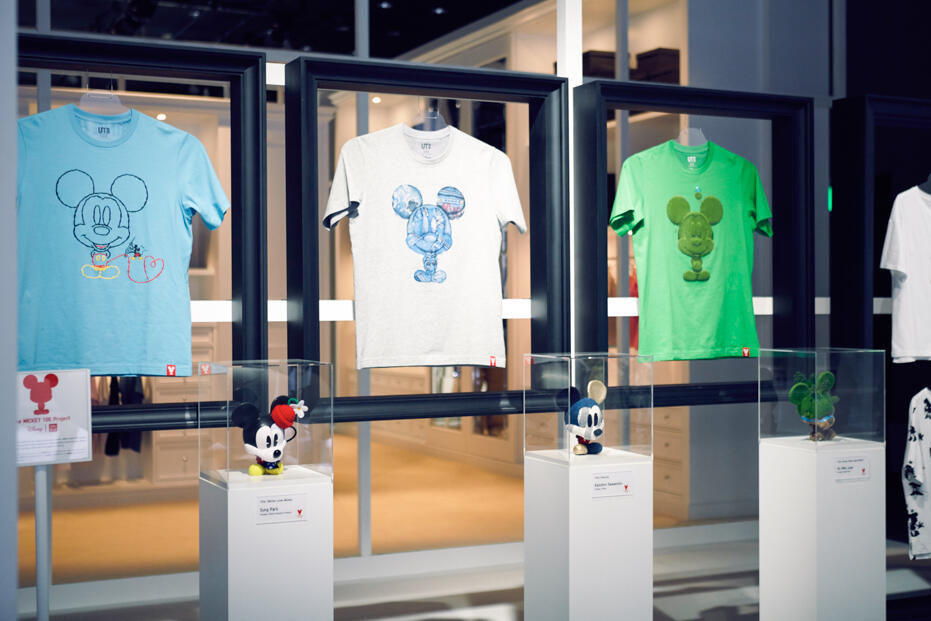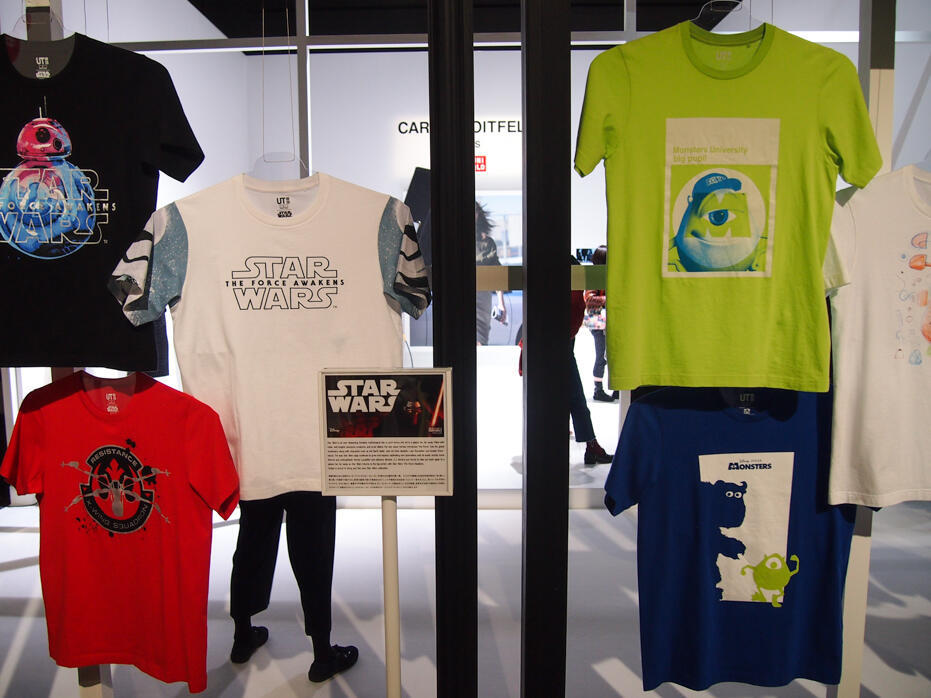 + + + + +
The very patient Keith playing butler by carrying our bags and coats while we take pictures ??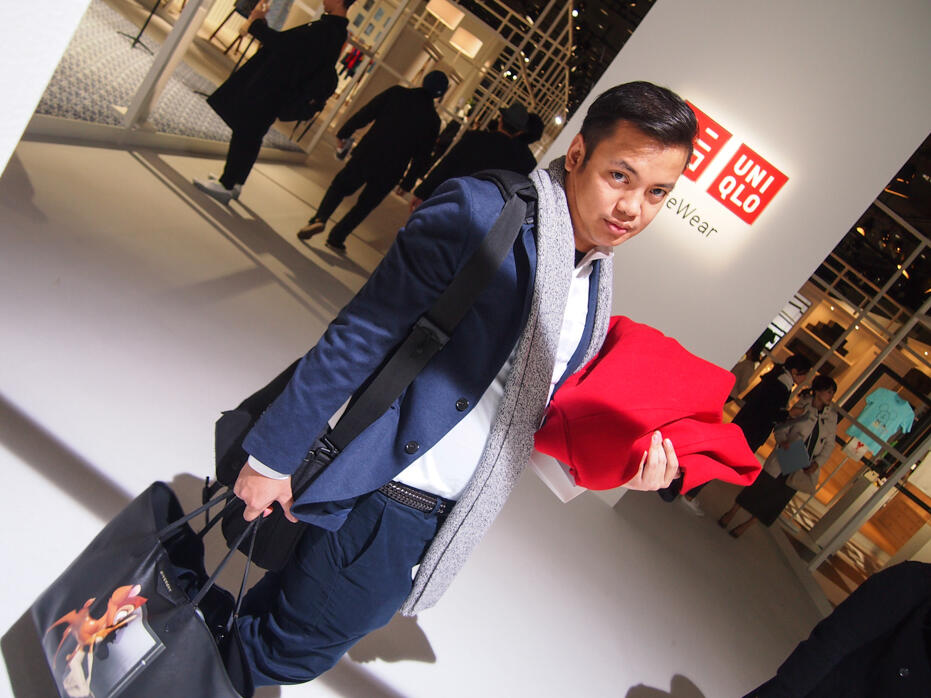 OK fine he does look a little bored but i'm sure he's pretending. Deep inside, he's really excited to carry our things.
Wasn't that a FREAKING long blogpost?!
I'm gonna leave you with a video on one last collab… the UNIQLO x Hana Tajima SS16 vid. Spot Yuna in it!
+ + + + + +
For more information about UNIQLO:
Website: www.uniqlo.com
Facebook: www.facebook.com/uniqlo.my
Instagram: @uniqloMYofficial