I can't believe it's November already… i feel like October JUST STARTED.
As i was paying Sweet her salary, we both agreed that it felt like she had been working for me for two weeks and not a whole month!
I've been doing a lot of shopping!
Kinda like to reward myself for going at it the past month.
Check out this crazy unicorn mask i bought! It's so cool and its hair is so soft!
Yishyene said, "Imagine if you walk into the post office wearing that."
And i said i should bring it to France (we'll be spending NYE together!) and take stupid pictures in the forest with it.
I told Clem that because she's coming to join us in Bordeaux, he won't have to worry about me (being lonely, cos not many ppl speak English there and my French is not conversational material -_-). He said, "Because she's coming, now i'm gonna be more worried about you.
-_-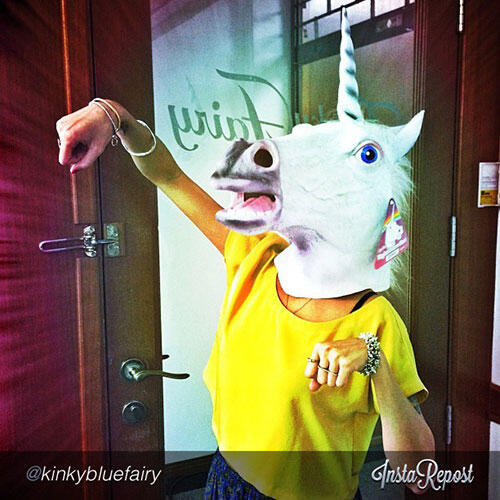 COME ON. How can you not laugh at this…!?
While Clem was sleeping in last weekend, i snuck on the mask and cuddled up to him in bed, poking the unicorn's nose into his face to wake him up. Darn those holes tho, i couldn't see his reaction plus i was laughing so much.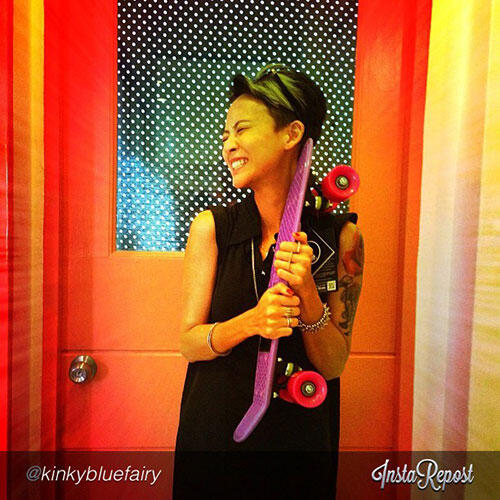 I also bought a skateboard! A Penny board to be exact!
I was inspired after watching The Eye Has To Travel – a documentary about Diana Vreeland, the first ever fashion editor in the WORLD. She INVENTED the editorial photoshoot and lifestyle. Amazing show, watch it!
Anyway in the show, she talks about surfing and skateboarding, and how people are essentially active creatures and how we have to USE our body. And i thought, "Hmm. I never even TRIED surfing and skateboarding…" I used to rollerblade so i need something new to excite me. So i thought a Penny board would do it cos it's so colourful and cute and small.
I recalled that Su Keats (Lynda's husband) owns a skate shop . So i msged her to ask whether he sells Penny boards, and he does! In all the different colours too! I took a while choosing one… they were all so juicy! I emailed her immediately with my order and pick up arrangement 😀 (If you're interested, i bought it from www.wl33.com.)
I did all this while the Diana Vreeland doc was paused btw -_-
I seem to act on impulse nowadays. Sometimes i get so carried away doing one thing after another that i forget what i was doing in the first place.
Anyway! I bought the skate board thinking i could use it as a prop for the eBay Trunk Show i styled and emceed last Thursday! (< yeah, that's my "excuse" for buying it)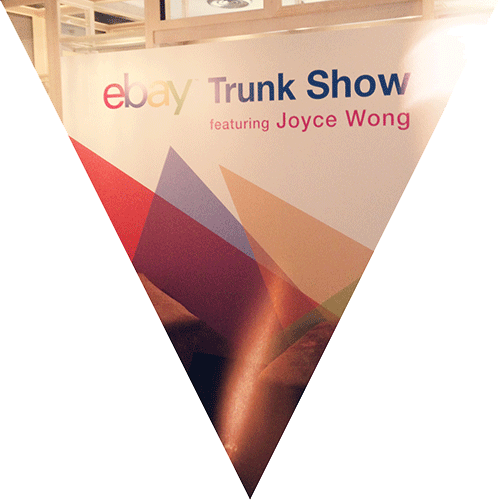 I didn't think they were gonna put my name on the stage! So cool! Haha (jakun la skit)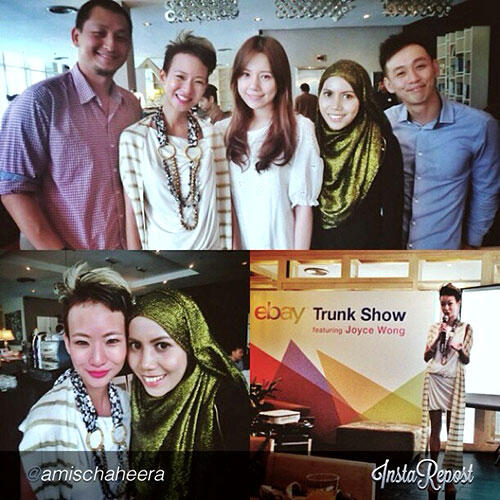 Stole this pic from Ami cos i forgot my camera BATTERY -_-
Will wait for all the pix from the official photog.
I really don't know how i would have managed to pick up all the props and deco without Sweet's help… She has been awesome!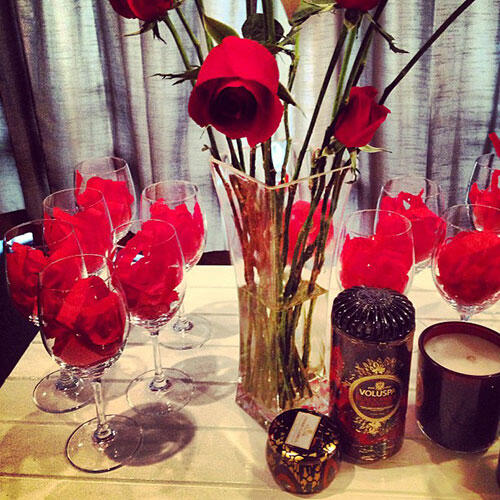 We were having a small crisis cos someone said they'd get the sparkle and confetti (red, and colourful), so i thought cool, don't have to worry about that. In the end i only got glitter… and it's my fault cos i expect people to know the difference between sparkle and glitter. >.< Lesson: Just get all the fun stuff myself… cos i know exactly what i'm looking for.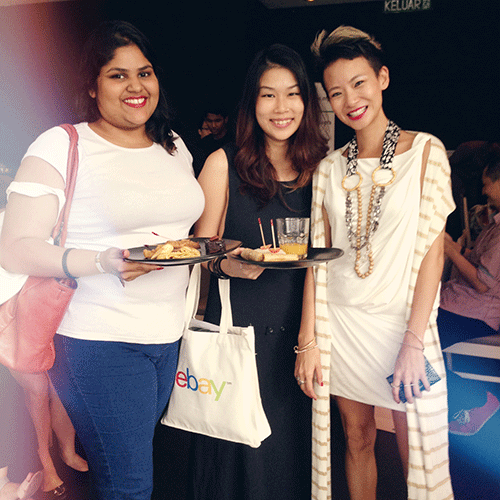 Rathika and Zoe from Tongue in Chic were also heading to the H&M launch after so they helped us pack and lug everything back to our cars! THANKS GUYS!!!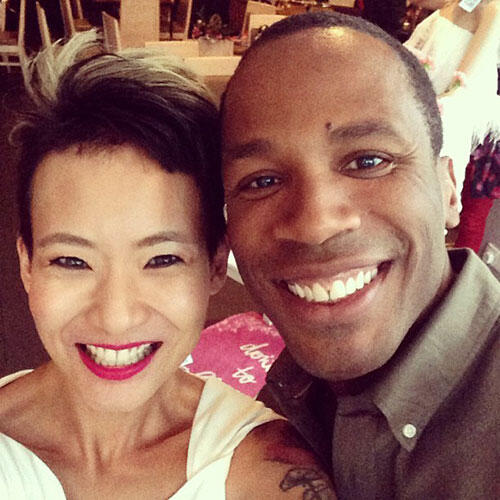 With Gene from eBay, it's been fun!!!
+ + + + + + + + + + + +
Right after we finished loading the car, discovering we had not lost Sweet's wallet, and said thanks to the events and PR company for such a wonderful experience; Sweet, Zoe, Rathika and i walked thru the underground tunnel to Avenue K, where the H&M launch was.
I think it's their flagship store and freaking huge, even *i* got lost inside… it's 3 storeys like the Lot 10 one.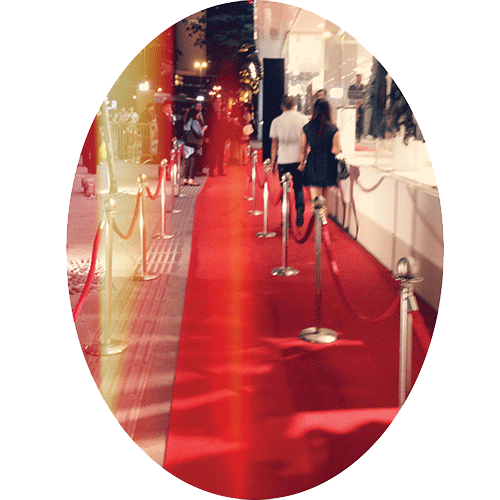 We were really early, or rather, right on time at 7pm (but that's early for a night-long event) and the first thing Sweet and i did.. was to look for somewhere to SIT. We were so knackered from the eBay event, and going to H&M after was perfect cos we needed some fun while waiting out the traffic.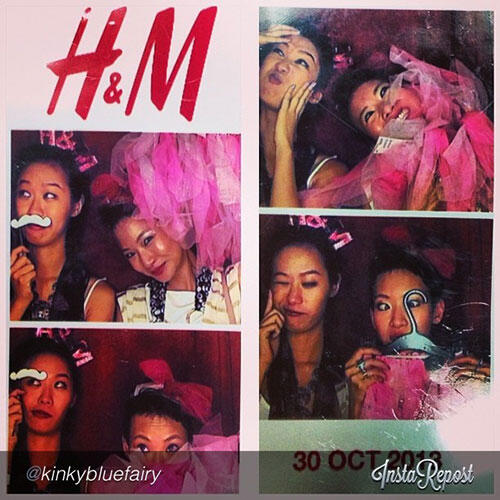 Found ourselves in the kids' section and i took a tutu to pose with.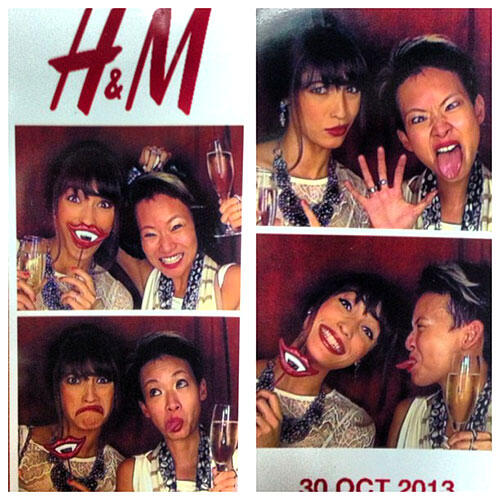 Patty & i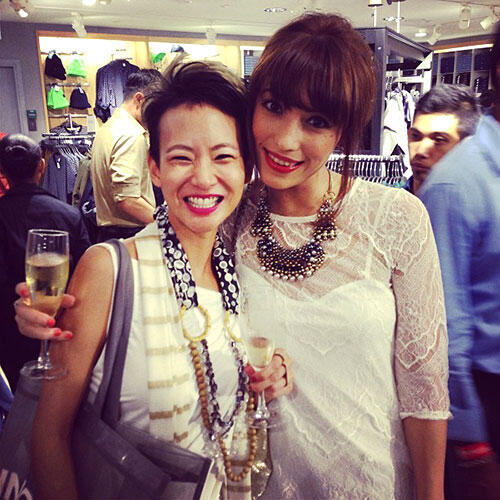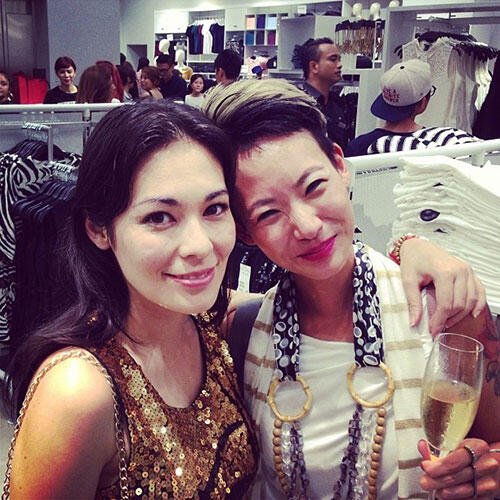 Super businesswoman Steph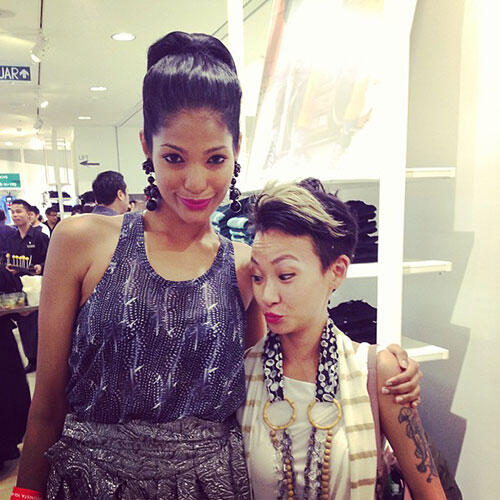 Every time i take a pic with Thanu, all i see are her boobies next to mah face.
H&M was FUN. So many people were there. Champagne flowing. Food. Shopping.
I looked thru every single thing in the children's section and discovered my size is… "10-12 years old." XD They've got such happier nicer colourful stuff than the adults' most of the time. And i think it's cheaper too!
Look at all the winter wear i got for Christmas time!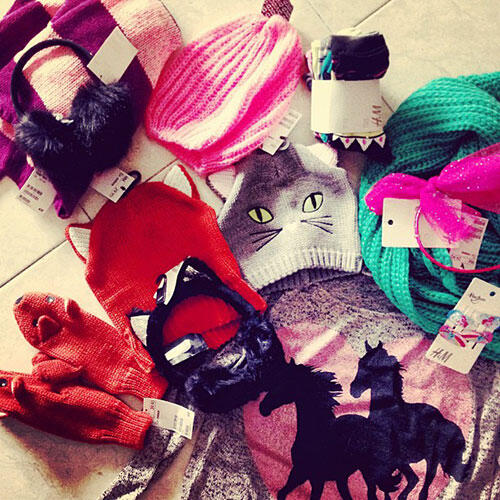 I went a bit overboard and got all sorts of fox and cat beanies, and fluffy ear muffs; cos my ears get terribly cold that i sometimes walk around with my hands over them. Enough of that!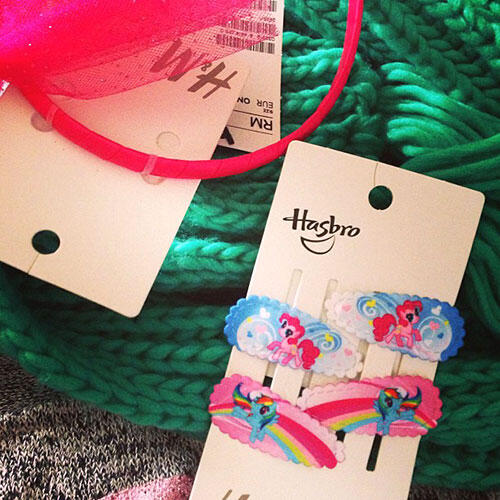 There were also My Little Pony hair clips!
I was really disappointed that these Disney underwear (of all the princesses, and aristocats) are only up to size 8-years-old. Especially since i couldn't take them out of the packet to check the actual size, i thought it was pushing it.
Shopping on champagne is dangerous -_-
+ + + + + + + + + + + +
I left when Waze said traffic was better, and drove straight to Bangsar where Melissa was launching her latest album @ Lara Gallery!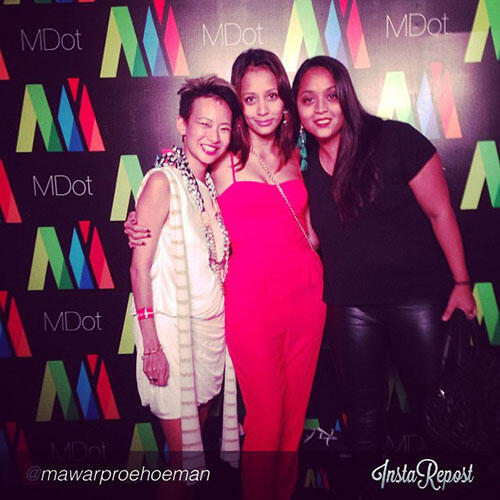 With Mawar & Melati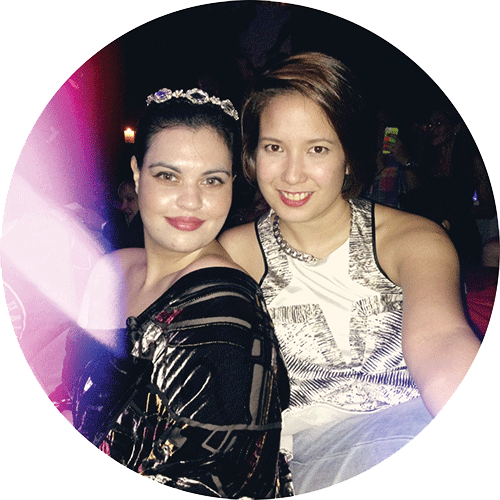 Iman & Ira.
Ira fell off the beanbag. And she was at H&M for longer than me #justsayin Teehee.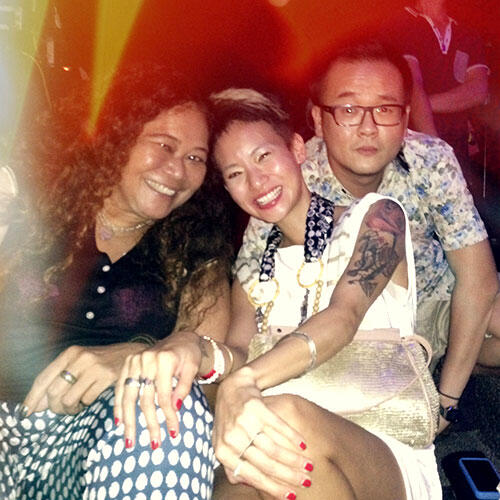 With Nina and Kevin Ian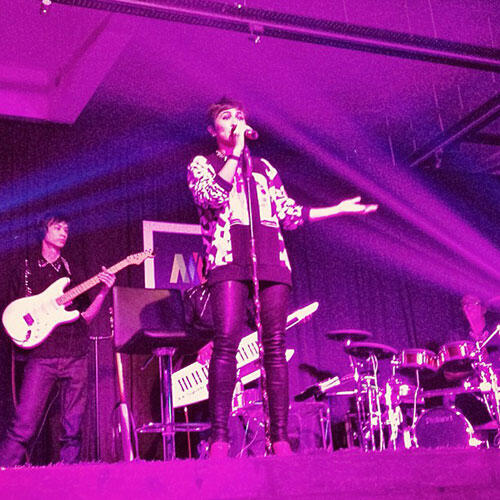 You can watch Melissa's latest single You And Me on YouTube. Video was shot by Red Bullets (aka Julian Oh, who did my arm tattoo)
And then my phone ran out of battery.
Aunty G and Uncle Mark flew in from London a few days ago and are here for a few weeks!
They came for Melissa's launch too, and met lots of her family members!
At midnight, people were starting to leave and i thought, "oh my god. i'm so freaking TIRED!"
Aunty G said to go for a nightcap so i shook off my tiredness cos she's barely in KL so i HAD to take her out somewhere. I suggested Rils cos they were having their launch that night and i was very sure they'd still be open… cos i always end up there at some stupid hour like 3AM for 'one last drink'.
+ + + + + + + + + + + +
Went to Rils (thanks to Paul and Fee for giving my uncle and aunt a lift, sometimes a 2-seater car is not the most convenient…) where there was still a full-fledged party going on. I haven't witnessed some friends there so drunk before… you're so lucky my phone had no battery haha!
Charged my phone at the bar.
Came back to life.
Pictures!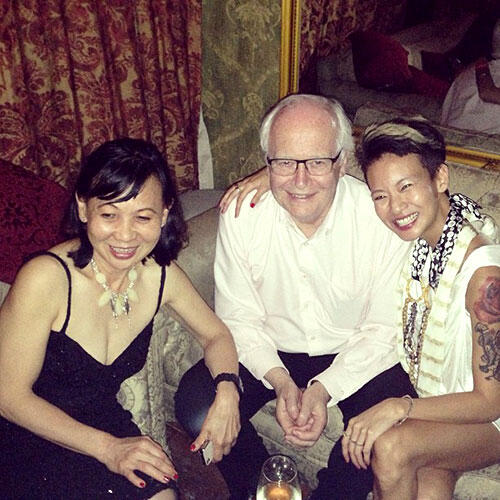 Aunt Gerry & Uncle Mark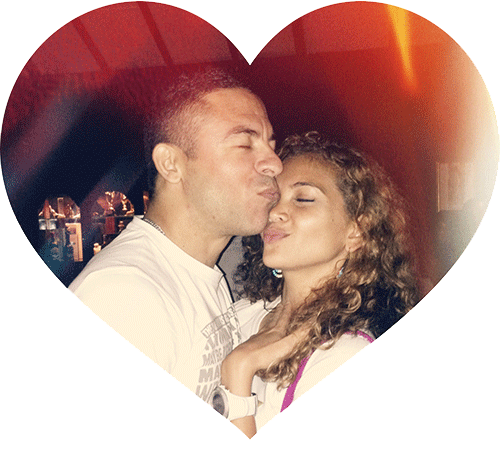 I'm so happy for you Azura!!! My cheeks hurt from smiling so damn hard.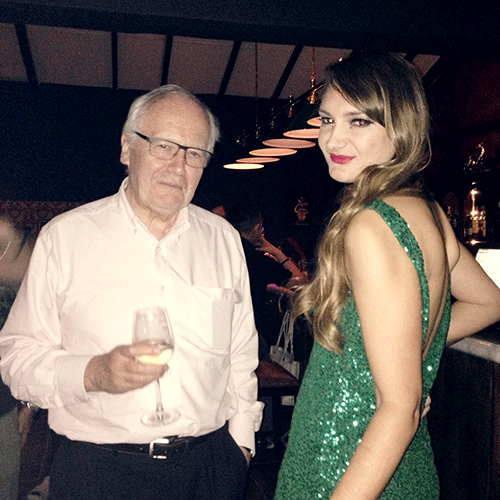 Uncle Mark and Laurie
We finally went home at 3am.
I can't believe i did 4 events in one day… it's been years since i attempted that!
But i must say… it was a truly awesome day! I met so many new people, DID SO MANY THINGS… I am a lucky girl 😀
I decided to carry some of the event stuff from my car to the apartment so i wouldn't have to make so many trips the next day. On the way to the lift, i saw my Penny board peeking out at me so i… carefully put down all the stuff on the floor, and attempted to skate with it for the first time.
Erhhhh it's not easy! And also, it WAS 3+am so i thought i'd better stop cos i was just ASKING for it.