I'm spending two weeks in Europe thanks to Lufthansa, who's sponsored me return flights from KL to Frankfurt so that i can experience their new direct flights on my way back. I'm a lucky fairy, i know 🙂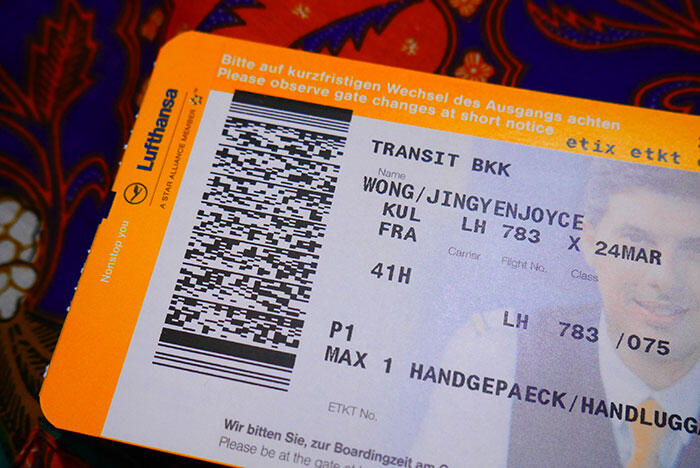 From 1st of April 2014, Lufthansa will be operating a new direct route from KL-Frankfurt 5 times a week, allowing passengers to connect easily with any city in Europe. Read more about it *here*.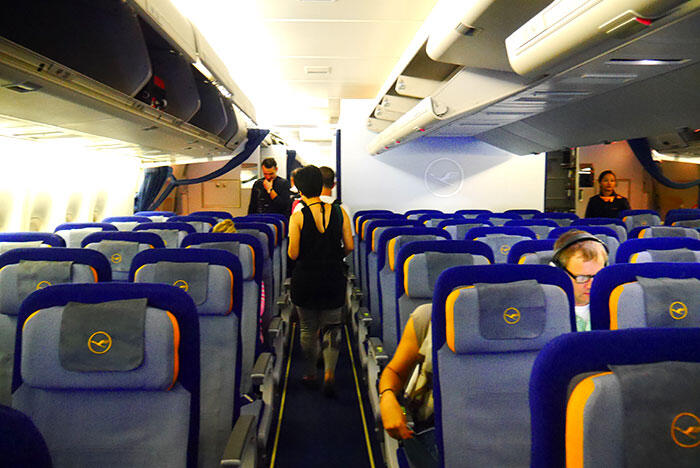 I was hoping that it wouldn't be a full flight so i could perhaps lie down on a few seats, but it was COMPLETELY FULL. I never knew so many people flew to Frankfurt!
I sat next to a young guy wearing a holiday hat and a tan hinting his return from a holiday. We didn't speak much till we landed in Germany, then we started talking about traveling and how he loved Thailand and its people. Turns out he's a Swede called Samir and I tried convincing him to visit Malaysia next time!
When i arrived, it was around 6am and i was pretty tired from the long journey but still had to find out how to get to my hotel. Upon enquiring at the airport's info desk, i discovered that some of the public transport was on strike (figures) and went about taking a train to Neu-Isenburg, which is the closest stop to the Kempinksi where i'm staying. From there i took a taxi cos no one could tell me which bus i should take and i just couldn't lug around my Rimowa and hand luggage anymore.
At first i was like, man, it's quite a trek to get to this hotel. But in the end, it was totally worth it cos the Kempinski is one of the NICEST hotels i've stayed in!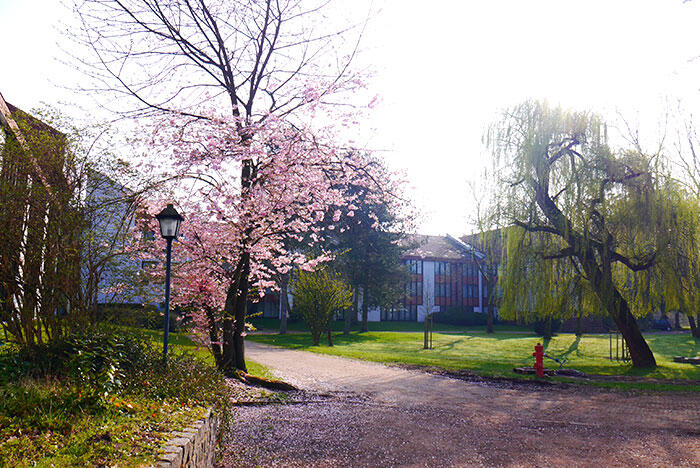 The Kempinski is a luxury 5-star hotel with the most beautiful hotel grounds, faultless staff service, delicious food and all the amenities one would desire including in-room spa service. Every morning after breakfast, i walk outside and stand underneath that cherry blossom tree to marvel at its beauty!
I've slept in many-a 5-star hotel bed and this one ranks in my top 3. The secret is in the Mühldorfer goose down pillows and bedding (i went searching for the brand they use) and now i want to get the same for our new bedroom! I've had such great sleeps in this bed… Soft but not too soft, it's justttt right!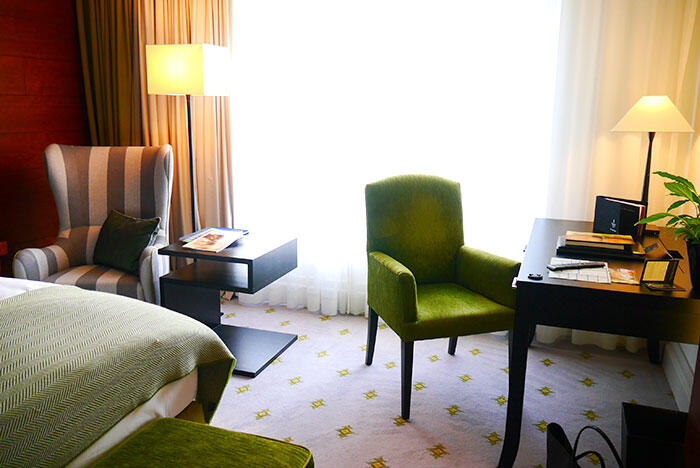 Study table where i'm blogging from right now. Even the reading chair on the left is extremely comfortable. The kind of design Clem likes and wants for his reading corner too.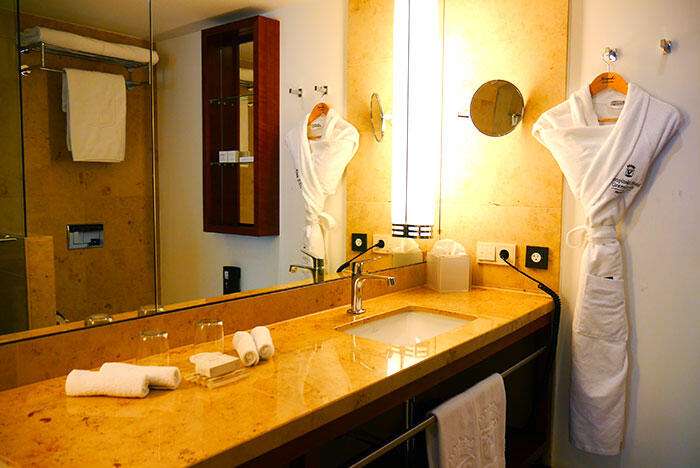 I was wondering why i didn't get the initial shock of cold marble flooring when i walk in, and realised – they're heated! So awesome.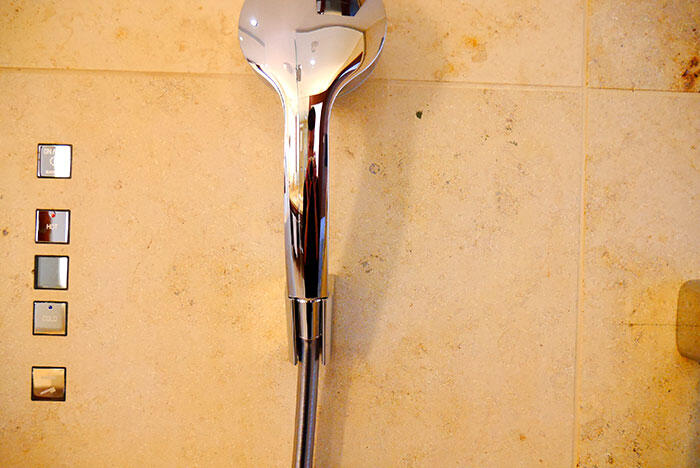 Ever since i got here, i realise that Germans sure love their flat buttons. When i was in the train station, i couldn't find the button for the lift, had to ask a local and even she hesitated a moment before pointing out the unmarked flat button to me. All the buttons in the rooms are touch-sensitive, and the rain shower comes with a precise gauge that measures the water temperature down to the degree 😀
After resting to get over the jetlag, i made my way out to the city around 3pm to potter about and see Frankfurt for the first time. Some German friends told me Frankfurt is boring and why would i want to go there, but i really don't care as long as it's somewhere i've never been before, it's still gonna be new to me! And to be honest… i sometimes prefer more quiet places so i'm not surrounded by throngs of people as i explore.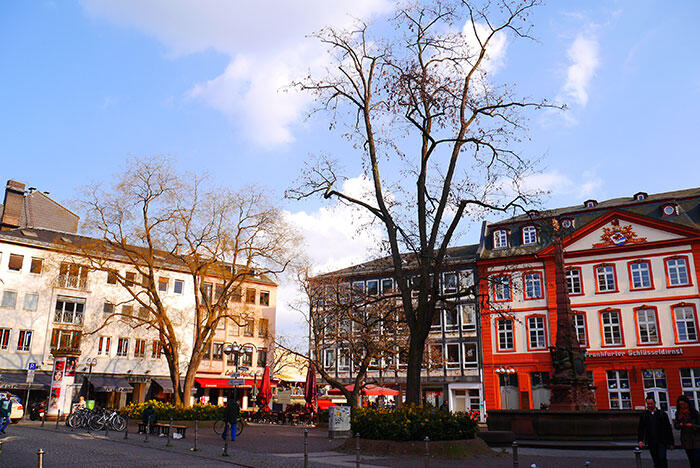 Every time i travel somewhere, the first word i learn how to say is "Thank you", then "Hello", then whatever else is easiest or necessary.
In German:
Thank you = Danke (thang-ker)
Yes = Ja (ya)
No = Nein (niyn)
Please = Bitte (bitt-er)
Goodbye = Auf Wiedersehen (owf vee-der-zay-en)
Good Morning = Guten Morgen (goot-en mor-gen)
Easy enough, i even got the accent down pat till a German shopkeeper blabbered to me in German after i said danke for one thing and he went, "Oh! Your accent was perfect, i thought you spoke German!"
Me: "Oh no…. i only know three words :p"
I had a really peaceful stroll through the city, it's pretty small and easy to walk around by looking at the map. I thoroughly enjoyed my solitude and realised… damn, i have to fly so far away just to be alone! I'm always surrounded by people and have so many things to do that i miss being alone for hours and days at a time. Am gonna make more effort to have more alone getaways every once in a while!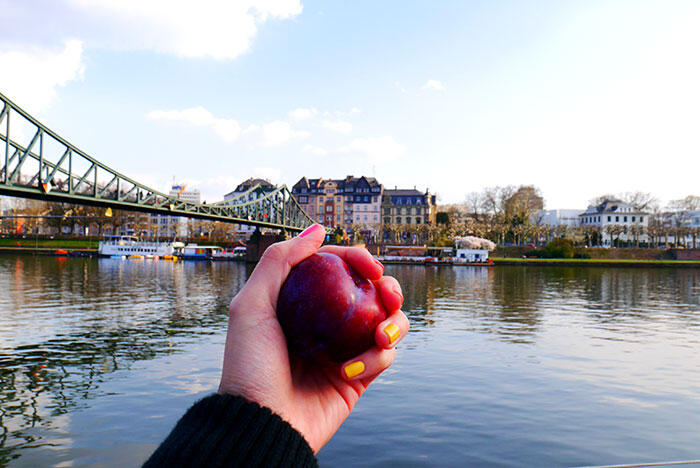 I bought some peaches from a local super and sat by the water eating it,
watching the sunshine glint on the river, people-watching,
and eavesdropping on a couple's conversation in German which i couldn't understand but enjoyed hearing anyway.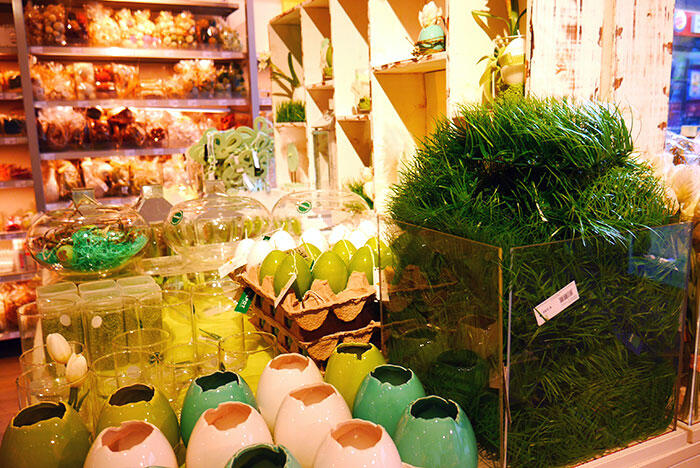 A shop with fake grass. Thought of buying it for my toys to live on but i already have a different version i got from London and i need to stop buying rubbish :p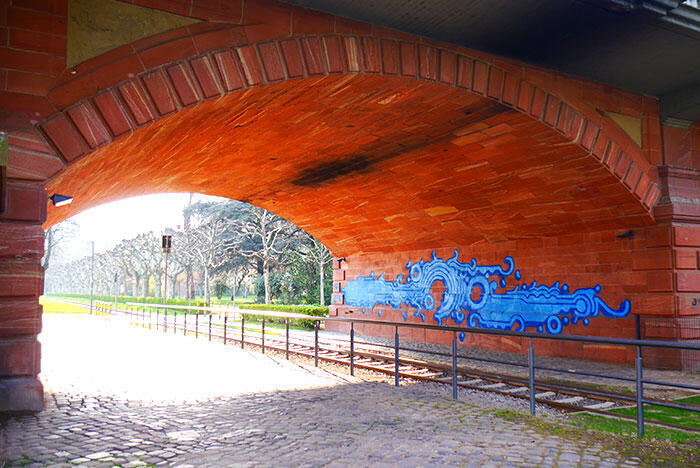 A lot of cool graffiti everywhere.
Well, there's a lot of graffiti in every European city, but i have to say that the majority of it in Frankfurt was really artistic and nice to observe.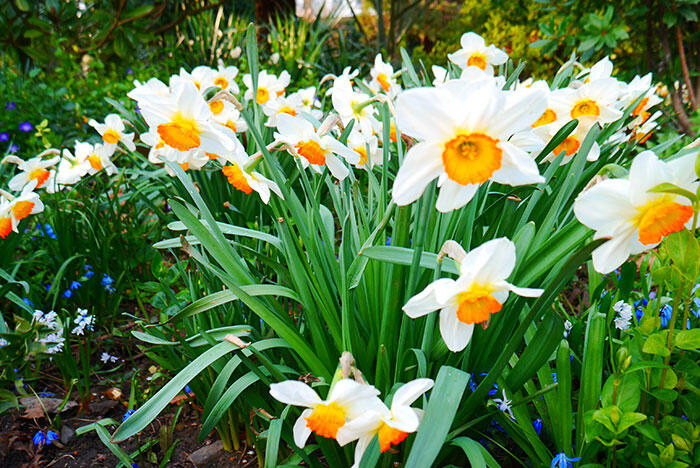 The daffodils are out! I miss daffodils!
Thanks to Adam for introducing me to his friend Samantha on FB! She asked me to meet her at this giant Euro sign and said i wouldn't be able to miss it…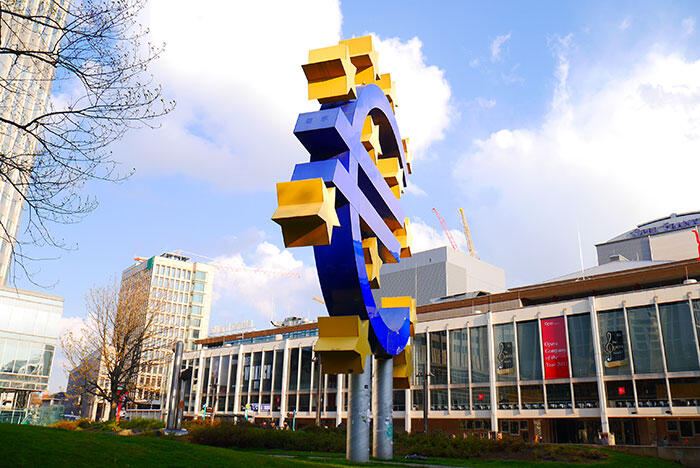 She was right. It was a gigantic sign bigger than some buildings.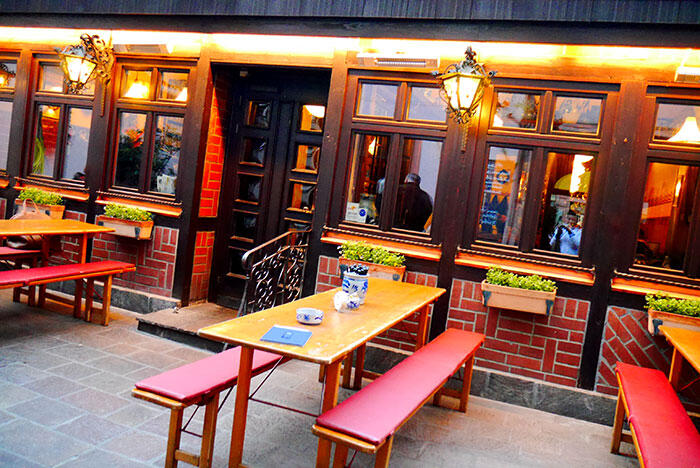 She took me to Apfelwein Wagner, one of the oldest family-run restaurants in Frankfurt serving traditional German food like schnitzel, apple cider and such.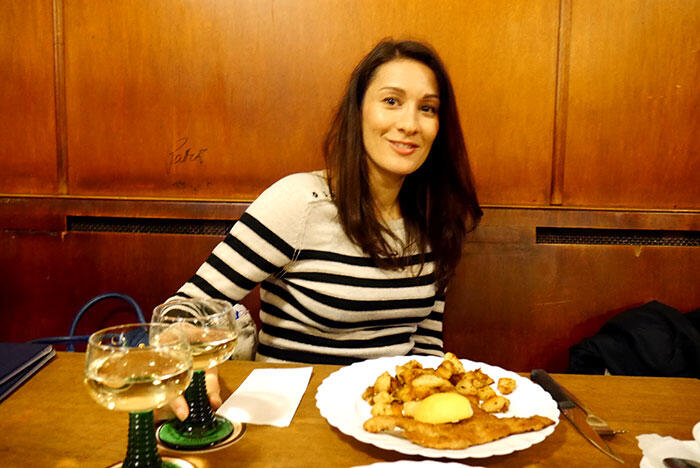 Thanks for meeting up with me and all the tips on what to see in Frankfurt, Sam! Adam said we'd get along famously and i wasn't expecting anything… but we were talking nineteen to the dozen and Sam is my kinda girl. She would fit right in with my girls back home XD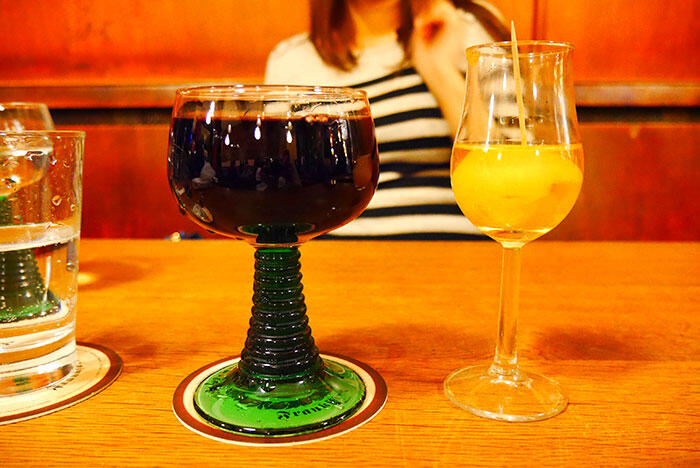 I tried this peach schnäpse (at least, that's what i think it was) by downing a shot and eating the alcohol-soaked peach at the bottom. Also tried the local white and red wine.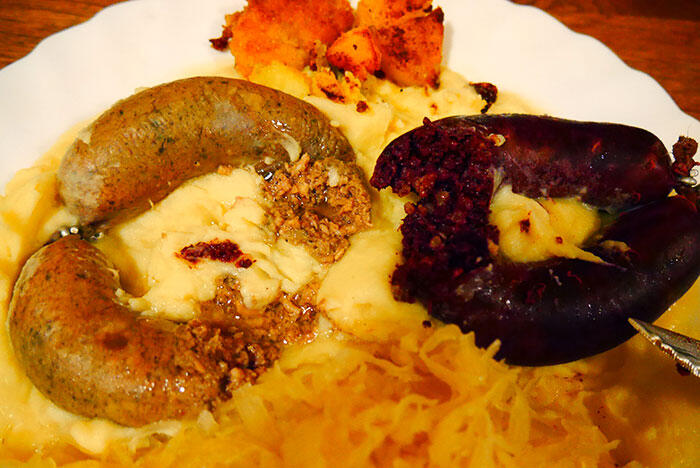 I love trying the weird foods when i visit someplace, and went for the liver and blood sausages with sauerkraut. It tasted great but my allergies BROKE out insanely on my arms that night, so there must be a lot of salt or something in there 0_0 It's cool, glad i got to try it and stocked up on extra vege and fruit after that night!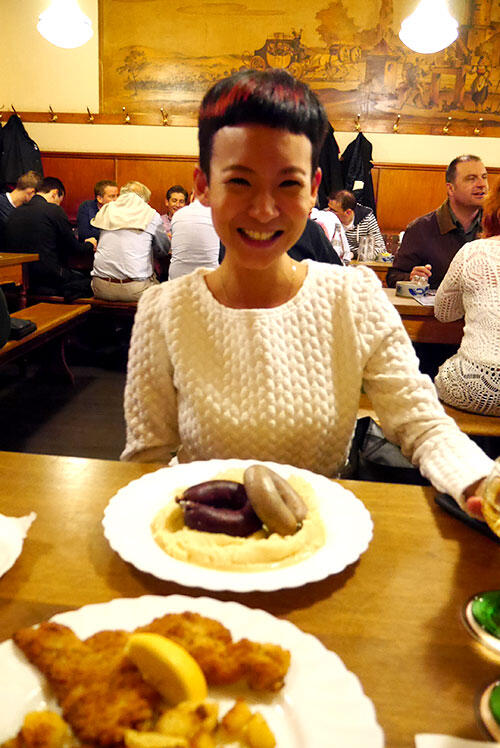 Moi! OK bye!
+ + + + + +
This trip was made possible by Lufthansa – www.lufthansa.com/my
From 1st April 2014, Lufthansa will be operating a new direct route from KL-Frankfurt 5 times a week. Read: www.lufthansa.com/my/en/nonstop-to-europe
I spent three days at Kempinski Hotel in Gravenbruch – www.kempinski.com/en/frankfurt/hotel-gravenbruch
The Kempinski hotel group is Europe's oldest luxury hotel group and have amazing establishments the world over. www.kempinski.com