I feel somewhat rewarded for being so loyal to Qatar Airways! I've been telling my friends for the past four years to fly via the airline since i've taken it on separate trips to Italy, Spain, England and France. This post is about my fifth return flight with Qatar, and how they've spoilt me nicely by sponsoring me a seat in Business Class! 😀
If you're familiar with traveling then you should be familiar with the brand, as Qatar Airways was named Airline of the Year 2011 and 2012 at the annual Skytrax World Airline Awards. It's quite amazing that over 18 million travelers worldwide cast their votes with the same airline winning the chief title two years running.
For an airline that was launched 15 years ago, Qatar Airways has also established itself as an industry innovator and set new onboard standards as the "World's 5-star airline". It currently flies to 127 destinations across six continents, and promises to increase that number to over 170 destinations by 2015, with orders for more than 250 aircraft worth over US$50 billion. I can't even fathom that kind of money.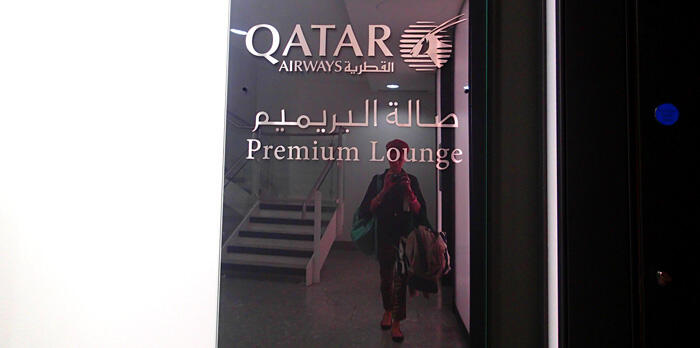 Besides orchestrating a network of flights that other airlines can only look up to, Qatar Airways looks like it's trying to outdo itself by simultaneously marking its reputation in the arena of airport lounges.
A prime example would be its new Premium Lounge at London Heathrow's Terminal 4 – the airline's first dedicated facility for First and Business Class passengers outside Qatar (where the airline operates its award-winning Premium Terminal at Doha International Airport).
The lounge was just opened in January last year and is a massive 750 sq metres, or 8070 sq feet, if you will. Pardon my pardon but i was expecting to relax in a, well, lounge; not a sprawling establishment that resembles a private members club like the RAC, with luxury bathrooms and showers, different dining rooms, martini bar, and secretarial service!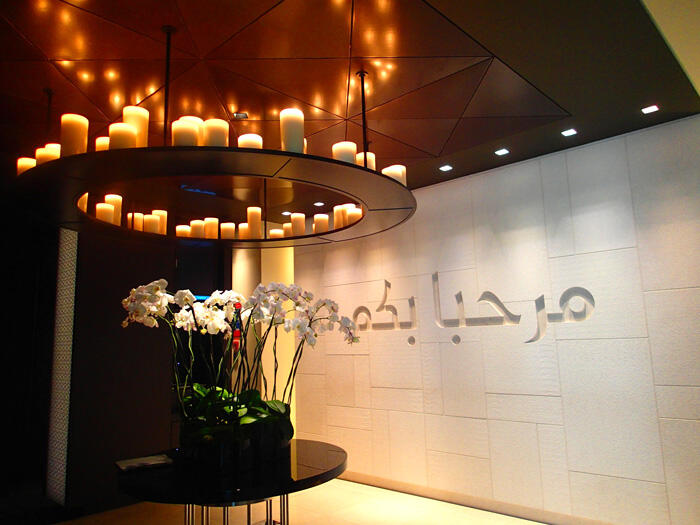 The new Premium Lounge took eight months in the making, and involved Qatar Airways staff visiting airline lounges throughout the world. In the end, the final inspiration for its design and concept was garnered from some of London's best 5-star boutique hotels and the renowned architecture of The Museum of Islamic Art in Doha.
Straying away from the convention of typical airport lounges, Qatar Airways gave designers a brief to create a space "with understated luxury, with an Arabic feel, all based on the boutique hotel concept, with Five-Star service" thus setting a new global benchmark.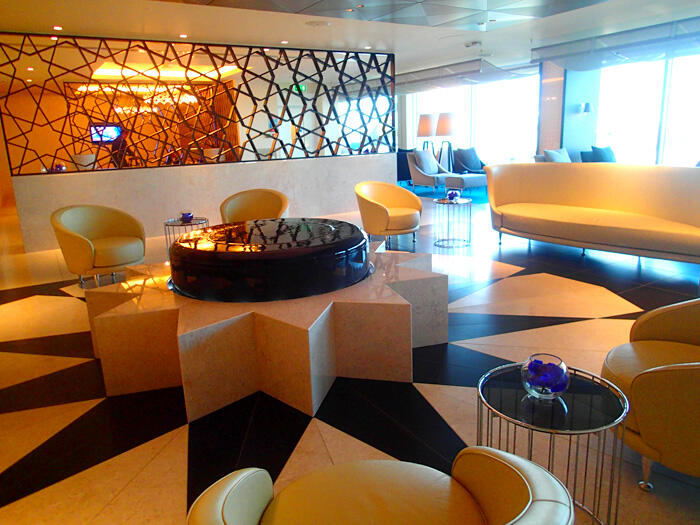 The moment i entered there was a Qatar Airways host greeting me with an iPad in hand to discreetly record down all my requests.
Touches of the airline's Middle Eastern heritage lie in the Arabic calligraphy on walls and carpets, the mosaics and water features. All the furniture in the lounge are carefully sourced luxury goods that include Italian designer furniture and a stunning black and white mosaic from an Iranian artist.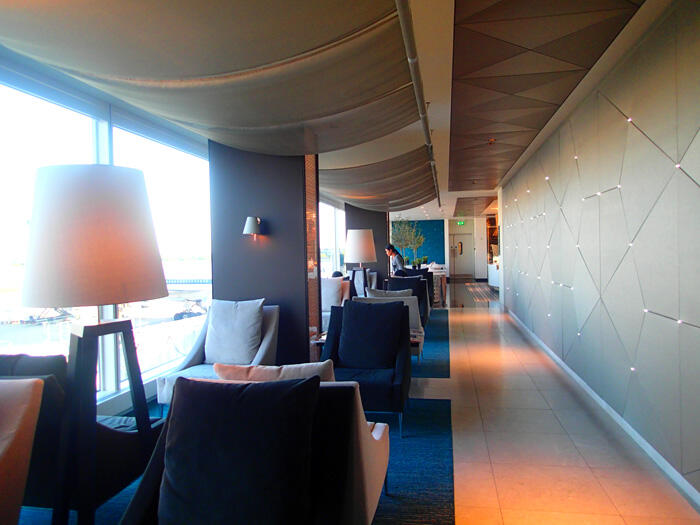 At the end of the large room, to my right was a corridor holding more lounge seats, and leading to the dining areas.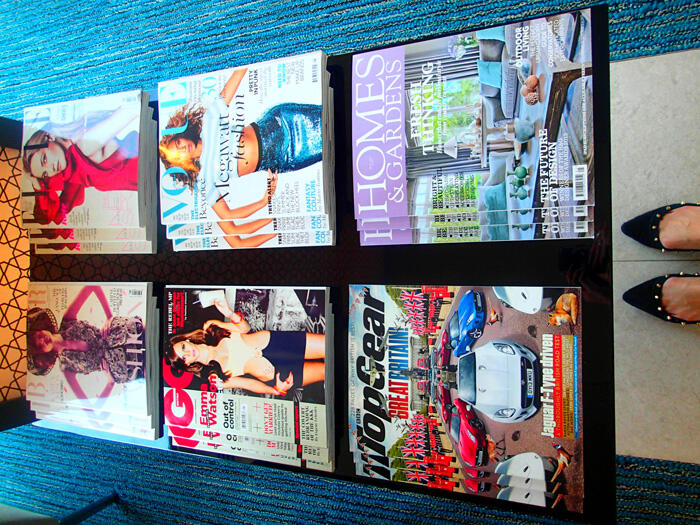 I did think about whether i should buy a book thirty minutes prior, guessing that they would have reading material, but buying the book anyway. Of course.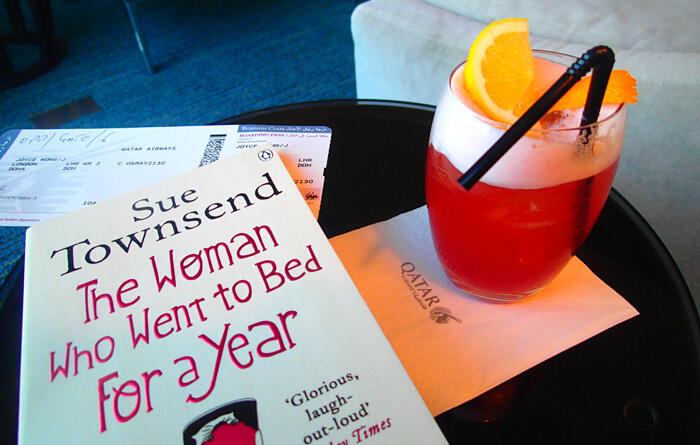 The book was a truly comical and entertaining read tho. No regrets.
I was served a mocktail of my choice while settling down in the lounge.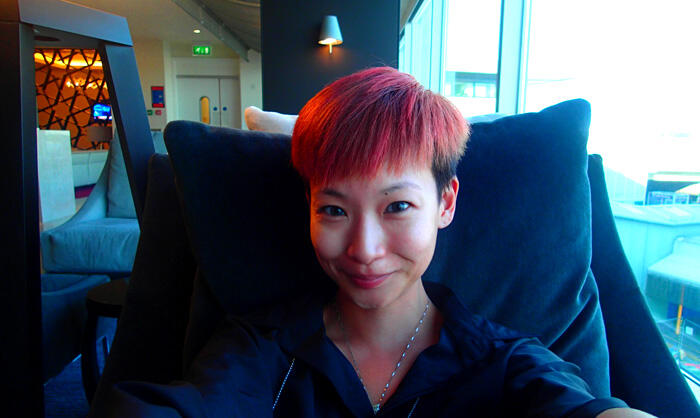 Me with no make up on. I'm honestly not that vain as to wear make up to sleep on the plane… i just can't do that to my skin. Plus with my self-satisfying habit of rubbing my eyes, i'm most likely to scare a passenger or flight host with my panda eyes if i wore eyeliner.
Much further behind me (where the yellow light is on the left) is the Business Centre – which holds PCs, printers, fax machines and secretarial services. I didn't have to go there to surf on my laptop of course, as there's Wi-Fi throughout the lounge and discreet power sockets at every seat.
When i felt a bit famished, i ventured down the corridor to explore (what i later read up) the innovative Delicatessen, a theatre-style Global Brasserie kitchen, and the elegant Signature Martini bar.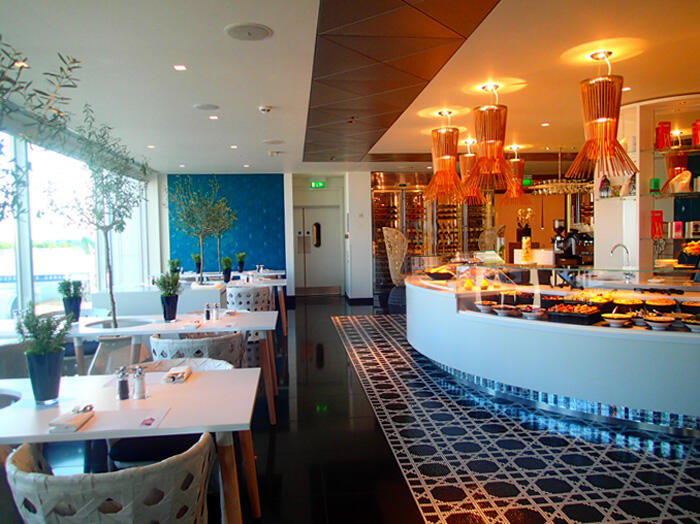 The Delicatessen is a casual dining area with two dozen seats, an open Deli Counter, and three real olive trees specially juxtopositioned through holes in the middle of the tables. The Deli Counter was really pretty to look at, with its inviting warm glow and varying dishes to tempt me…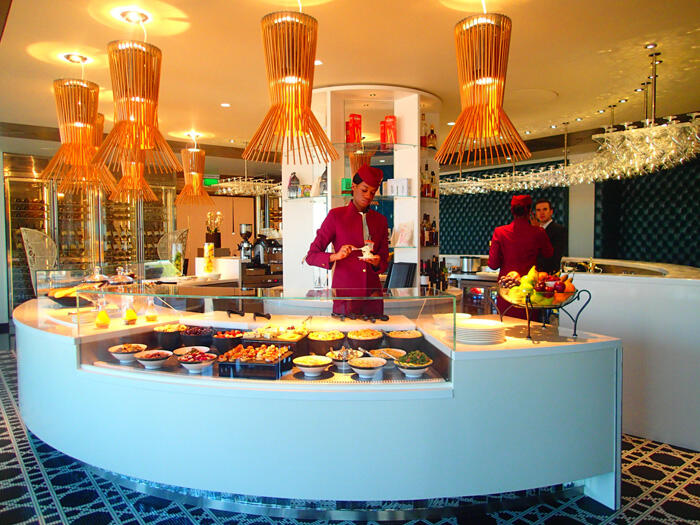 The staff in the lounge were supremely gracious. They spoke in the friendliest tones to everyone, but not in the way where you'd think it was fake. I had a decent conversation with one of them called Moira, and even observed her patiently administering to a 10-year-old's desire for what i am guessing was a video game.
You'd be a minority to discover that you're not understood, for the 12 dedicated staff recruited for the lounge speak 10 languages. They have all been handpicked from boutique hotels, with half from within the airline; as one of Qatar Airway's unique propositions is their absolute 5-star service.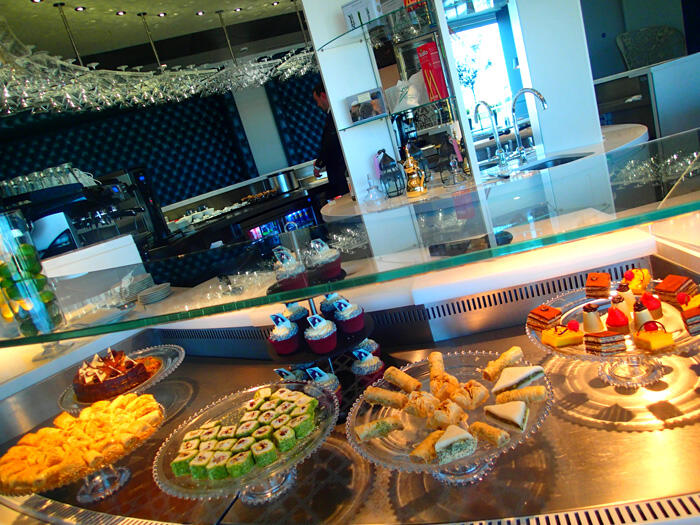 Pictures of the spread at the Deli Counter, which includes an extensive range of international and organic food, like artisan breads and cheeses, which is all prepared on the spot for you.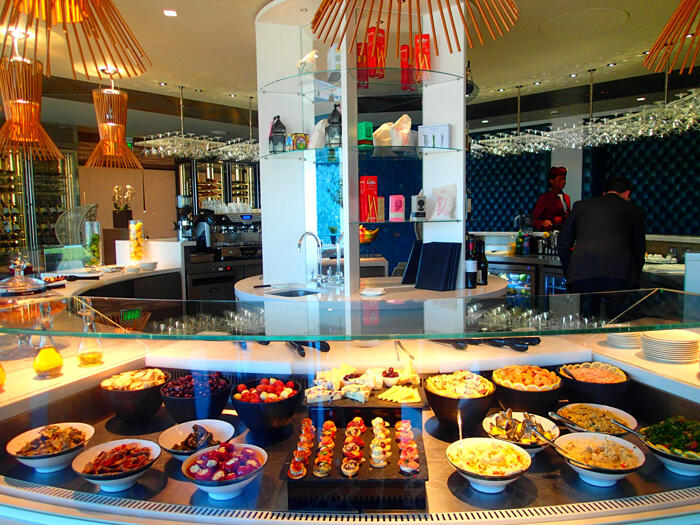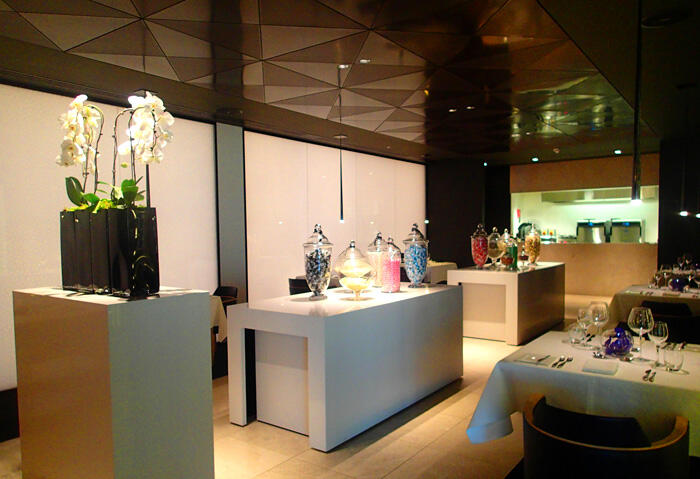 Beyond the Delicatessen is the stylish semi-formal Global Brasserie restaurant where diners can enjoy at-table service and witness chefs at work in an open theatre-style kitchen. The restaurant has 22 seats and a private dining room facility catering for 8 people.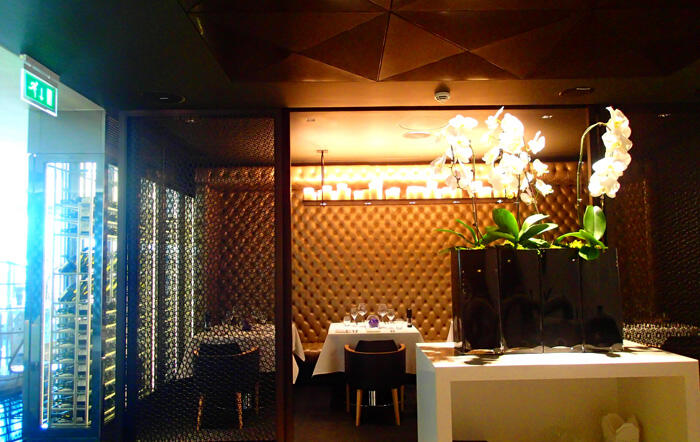 The chefs cater for special dietary requirements of even the most discerning travelers of any age, which i'm guessing also means children who are fussy with their food will be tended to as well. The seasonally changing menu is inspired by Asian, Arabic and Middle Eastern cuisine, and you get to pair it with top wines and champagnes from around the world.
Those with a sweet tooth will keel over at the luscious display of candies in giant jars.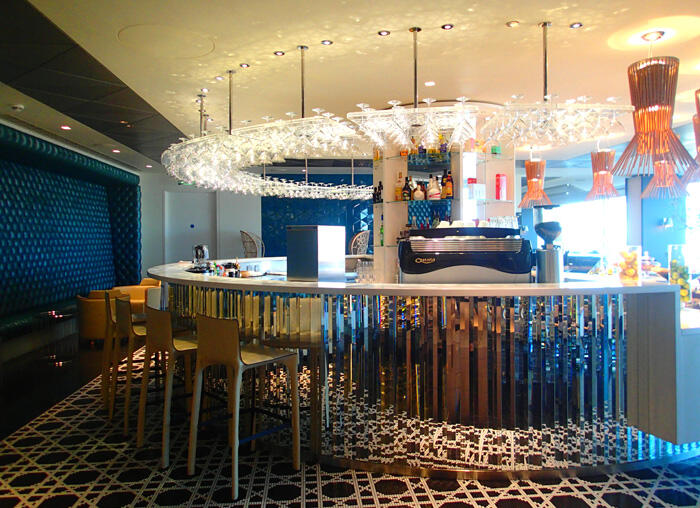 Going back outside to the Delicatessen, i spot what is the lounge's elegant Signature Martini Bar which has 20 seats, a dedicated mixologist to prepare 10 signature cocktails, and a striking sculptural wine cellar which offers a wide choice of red and white wines from around the world. Notice the stunning "martini glass" chandelier that hangs above the bar.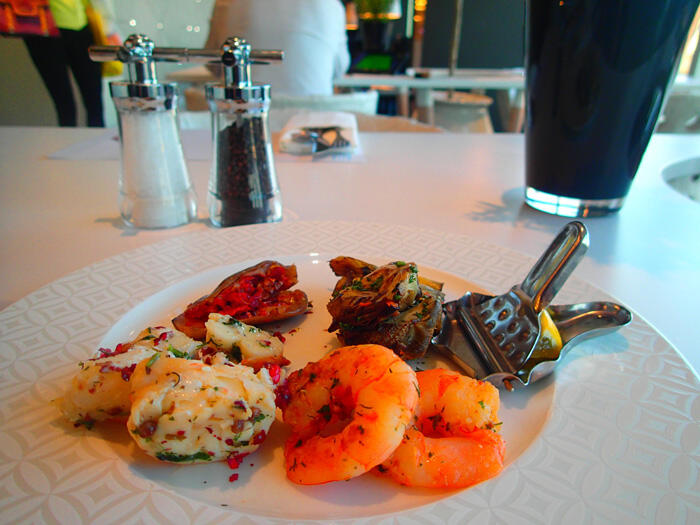 I felt a bit peckish so i had some lobster, prawns, artichokes and aubergine from the Deli Counter.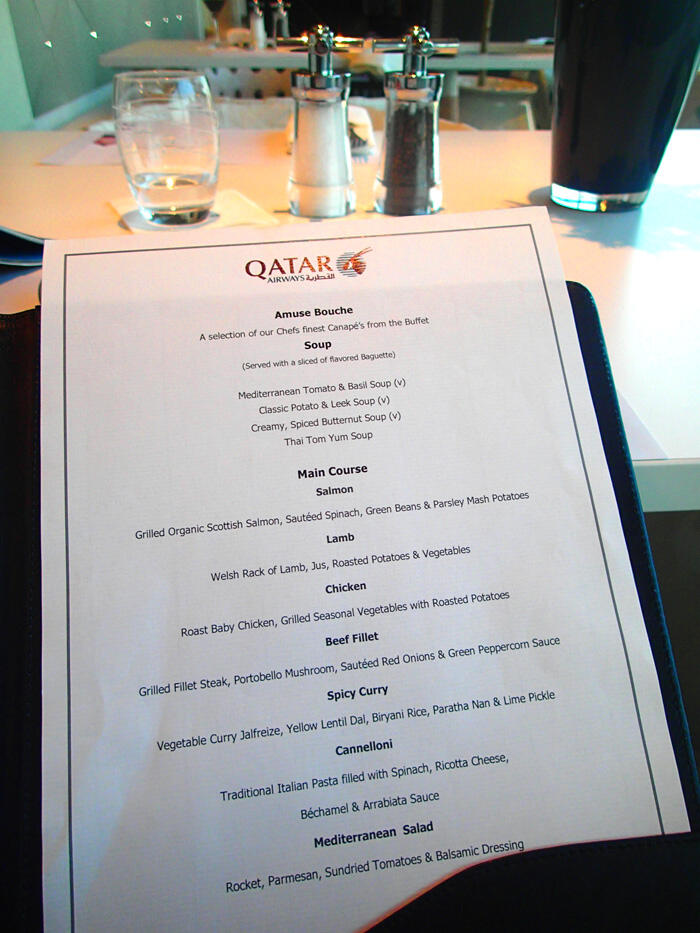 Then saw that i could also order anything from their menu… but i settled for a hot potato and leek soup instead of being greedy.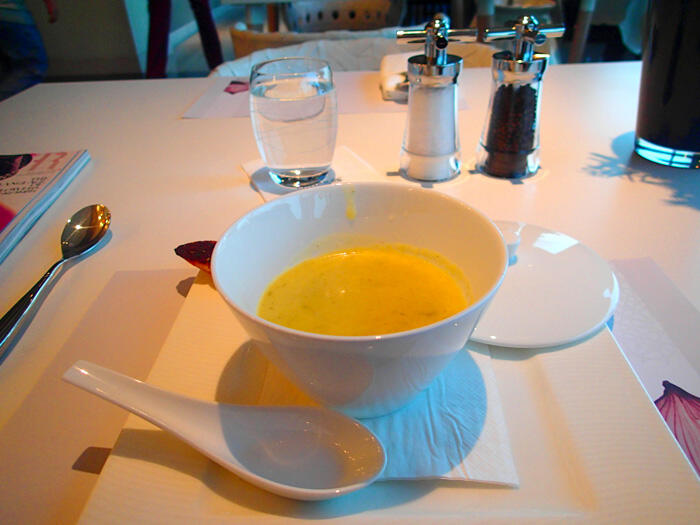 It was exactly what i felt for at that moment.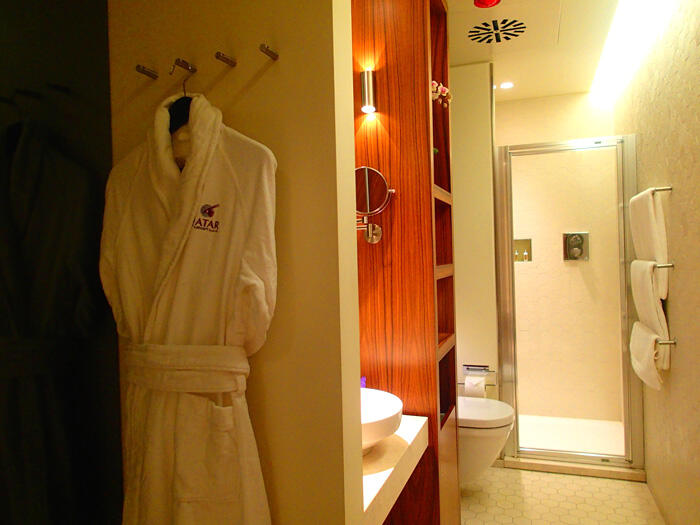 When i went to the bathroom, there was someone to open the door for me and i saw a whole row of luxury bathrooms. The one pictured above is the smallest one by the way -_- There was another massive one i didn't get to go into cos someone was using it. All the bathrooms feature spacious private shower rooms with chrome rain shower and massage jets, heated floor and mirrors, and Five-Star hotel quality linen with an assortment of natural beauty products.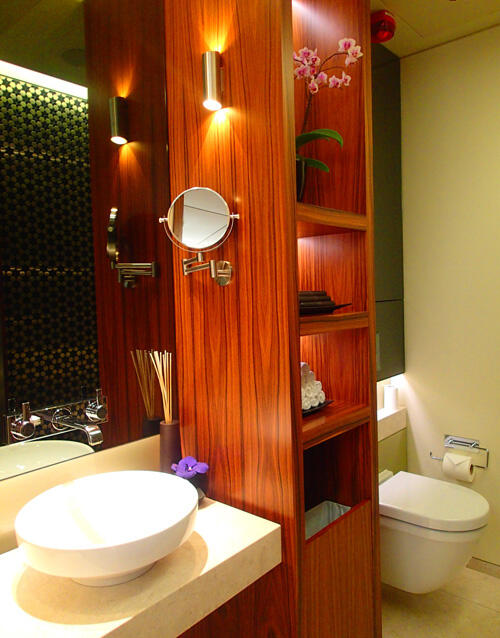 Now that you've seen what the Qatar Airways' Premium Lounge in London looks like, i have to add that it's also the little touches that fabricate its fabulosity. Understated mood lighting, candles and fragrances engage the senses; and elegant white orchids decorate the spacious interconnected areas.
I was utterly relaxed when i got onto my flight from Heathrow… and snapped this picture before the Business Class section filled up, it was almost full actually!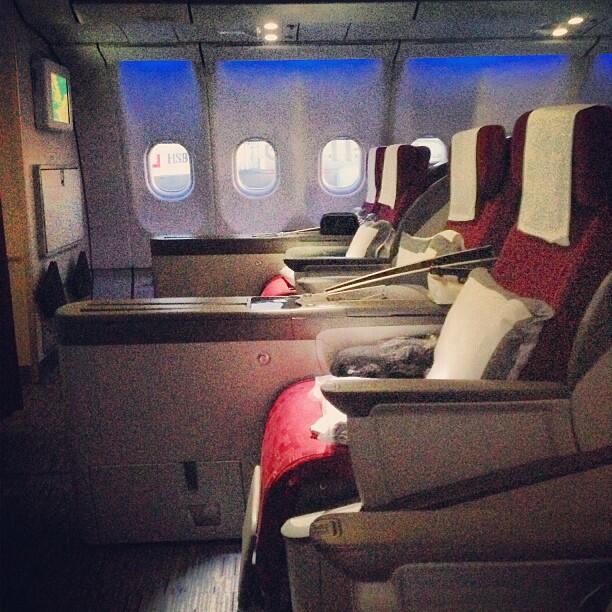 No other pictures for my London-Doha flight besides the one above cos i went to sleep for the whole journey. I changed into a set of comfy pajamas provided and snuggled into my seat which i set to sleeping position. It felt SO AWESOME to be able to sleep lying down in a flight..! I have to admit that i stared at the many buttons for awhile to figure out what they were all for – sleeping position, relaxed position, sitting position, and many other buttons to adjust different parts of the seat in the slightest way i desire.
When i woke up, we'd arrived in Doha (where all Qatar Airways flights have to transit).
I had a surprise waiting for me as i adjourned down the steps of the plane to where Business Class passengers take a special bus dedicated to them. Someone was holding a sign with my name on it, and ushered me to a white BMW right in front of us. I was like, "Awesome!" but i didn't get to take a picture because they were SO quick to carry my bags and put them in the boot for me (and my cam was in my backpack). It's okay, that feeling of being such a rockstar will live within me forever (and make me want MORE).
[Click to READ MORE!]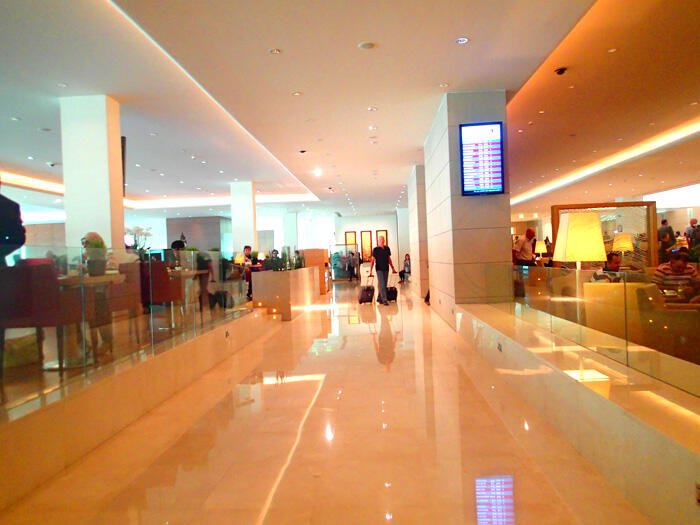 I was chauffeured to Doha International Airport's Premium Terminal – the world's first dedicated facility for First and Business Class passengers. The US$90 million Premium Terminal, built in just nine months, opened in November 2006. It features facilities such as sit-down check-in for First and Business Class passengers, a spa, Jacuzzi, duty free shopping, business centre, fine dining restaurants, delicatessen and a cocktail bar.
All the facilities are available 24/7 and designed to provide Qatar Airways' passengers with the best levels of comfort and hospitality prior to catching their flight!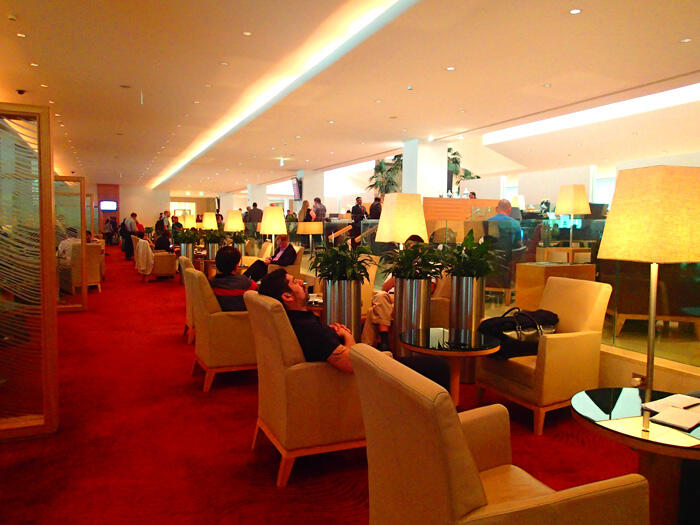 The place was huge! This was just a tiny area of where people could relax on some sofas. Apparently the Premium Terminal was  expanded in 2009 to accommodate over 80% additional seating space..!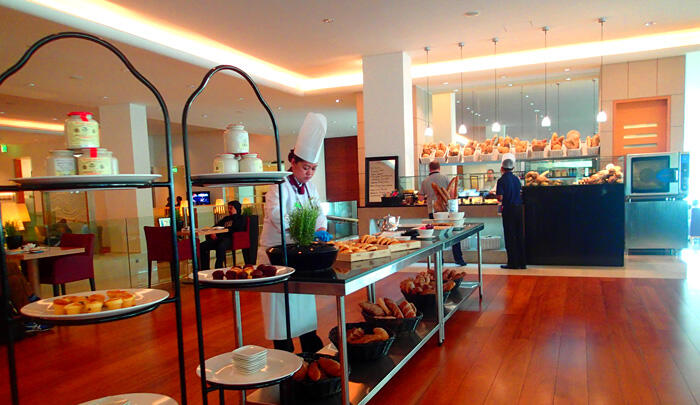 Above is also just one of the many dining areas…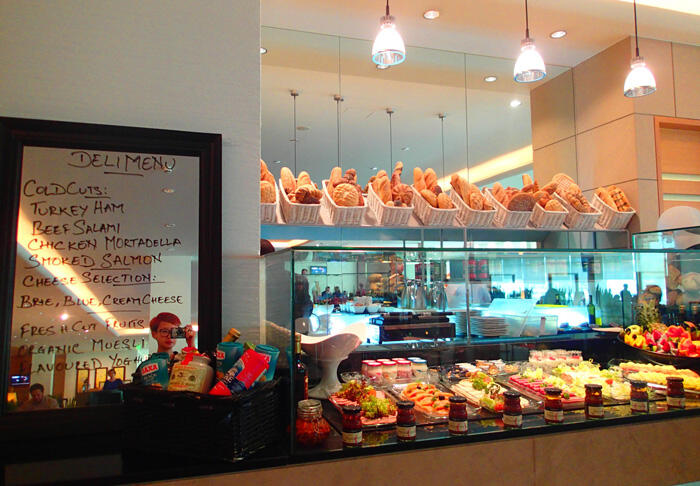 I walked around a bit but didn't have much time after having a carrot juice cos my transit was only for an hour.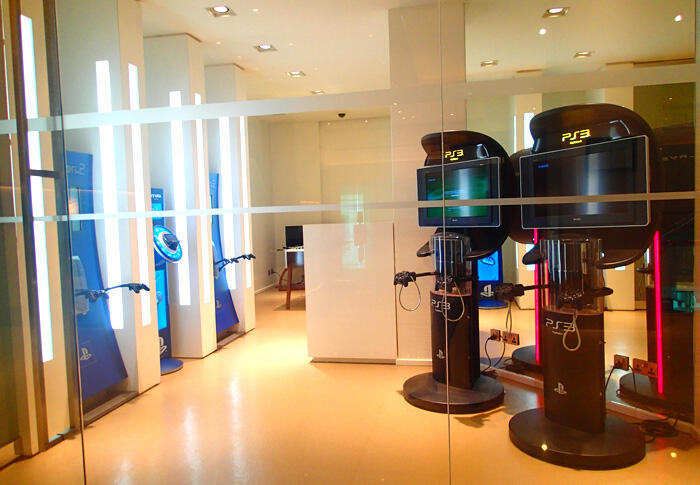 A room dedicated for GAMING.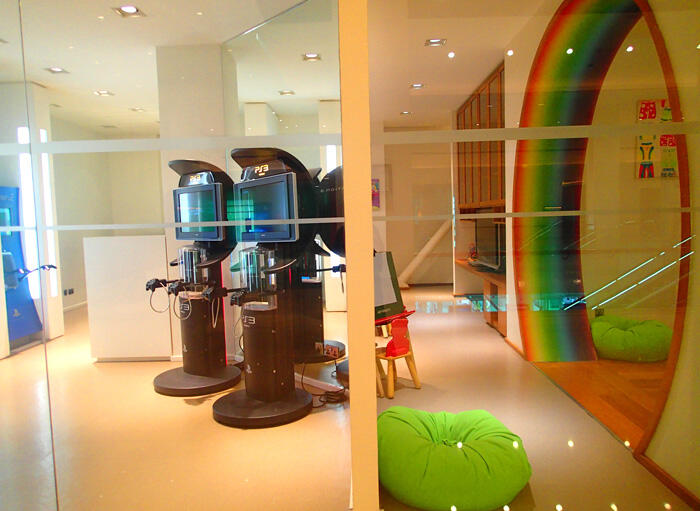 Rainbow kiddies room next to the gaming one. I can see how Clem and i could easily be satiated in these rooms 😀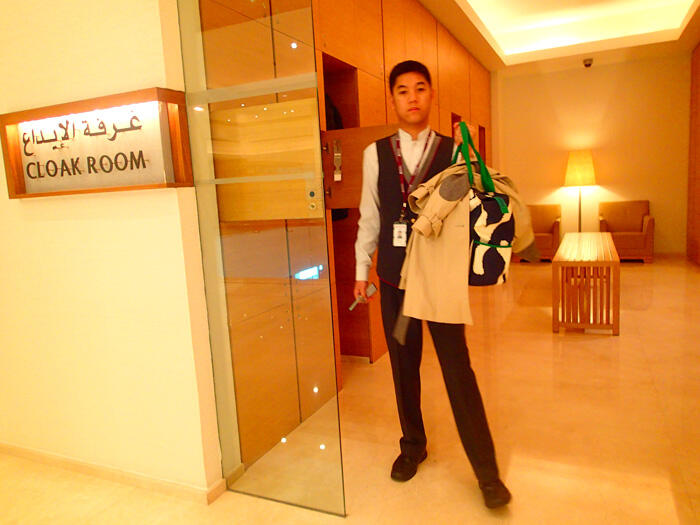 There was also a clinic on the same row of rooms.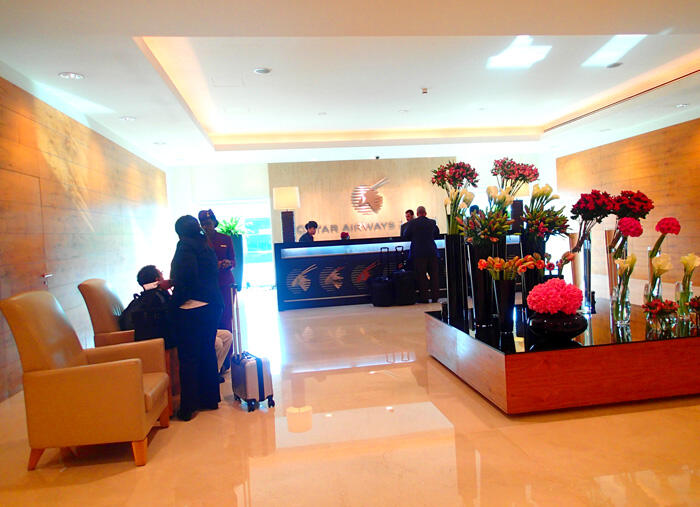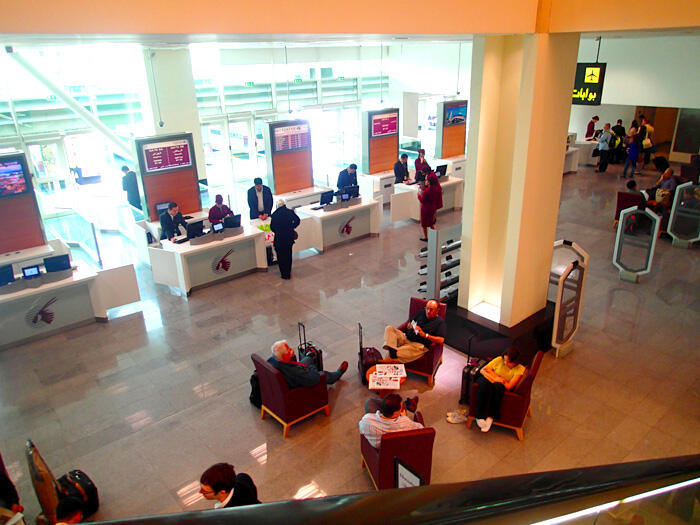 Special gate area just for Business Class passengers.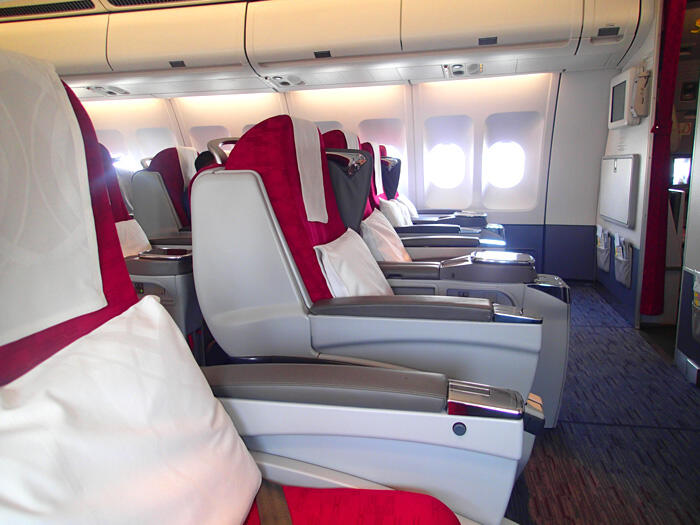 Business Class section from Doha-KL was quite empty save for me, and a few other passengers sitting further behind. It was real nice, i had a LOT of privacy and constant flight attendant attention 😀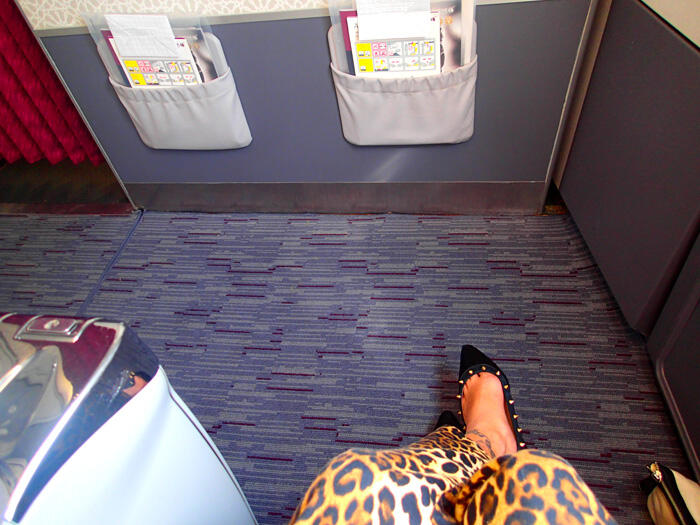 Fairies need lots of space.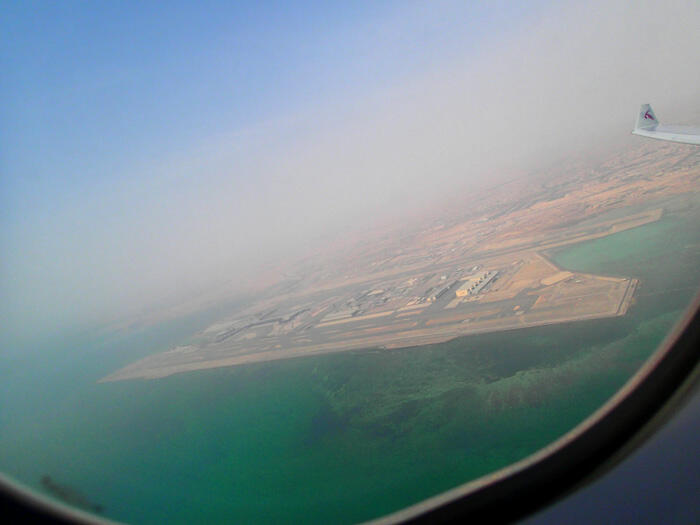 How strange does Qatar look from the air… the edges are all SO straight.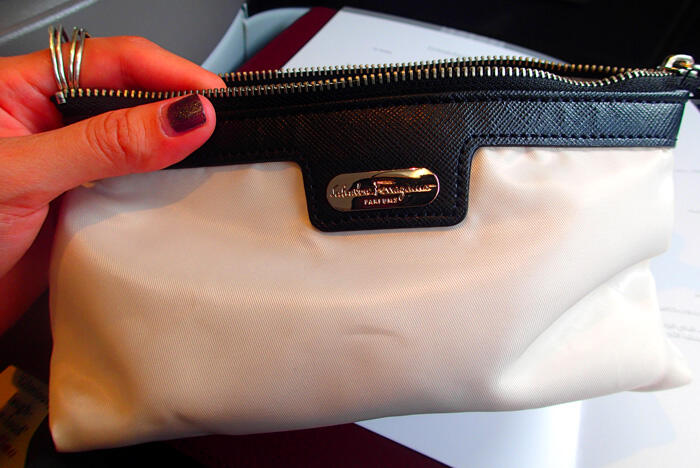 Had me some Salvatore Ferragamo body products and fragrance to freshen up with.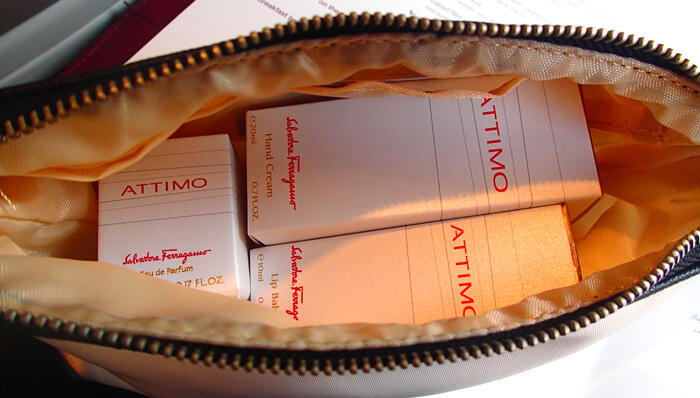 Qatar Airways takes their food very seriously and strive to provide a culinary journey for all passengers with dishes from the world's leading chefs and restaurateurs.
The culinary creators who collaborate with Qatar Airways are:
– London-based and Michelin-starred Tom Aikens, who is renowned for his imaginative and intricate take on modern French cuisine, and focuses on organic natural ingredients.
– Legendary chef and TV personality Ramzi Choueiri, who's recognized for his lively interpretation of Middle-Eastern cuisine in the Arab and Mediterranean world.
– Japanese Chef Nobu Matsuhisa, whose trademark is 'traditional Japanese meet South American' flavours.
– Vineet Bhatia, the first Indian chef to acquire a Michelin star (with a second star added since)
The Culinary World Menu covers dishes that will transport your taste buds around the globe, with vibrant flavour combinations, regional cuisine, traditional favorites and new discoveries designed to tempt the palate, in any order and at any time during the flight.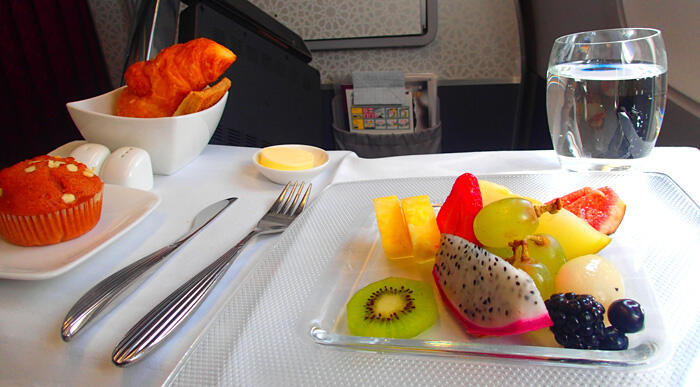 My breakfast was a very yummy raspberry white chocolate muffin,
croissant, white and brown toast,
a selection of fruits with the sweetest pineapple i've ever had,
and baked fillet of cod with sambal sauce (cos i'm so Asian like that).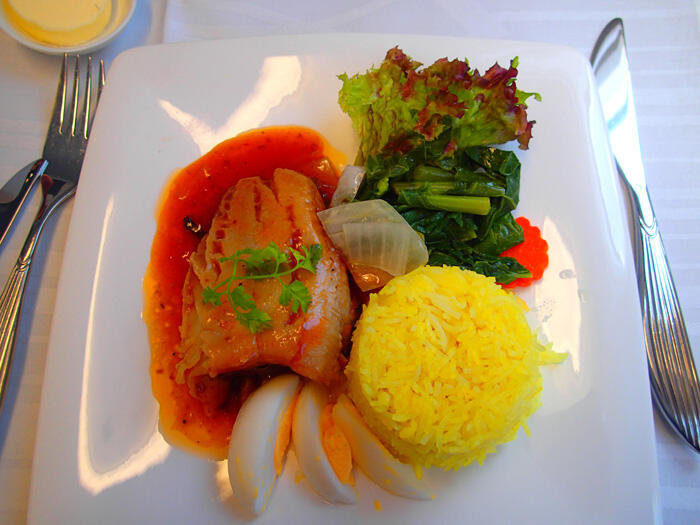 It was so hard to choose tho… for breakfast alone, there were also options for
blueberry pancakes with raspberry coulis,
paneer bhurji (yoghurt potato curry and spiced cashew nuts),
smoked tuna and apricot salmon with sundried tomato cream cheese and salmon caviar,
Arabic breakfast plate of tabouleh, hummus, baba ghanoush and moussabah,
delicious fruit juices, smoothies, coffees and teas of every kind (i had two strawberry ones!),
and sides of teriyaki salmon or mutton kebab.
Too bad i just have one tummy to fill.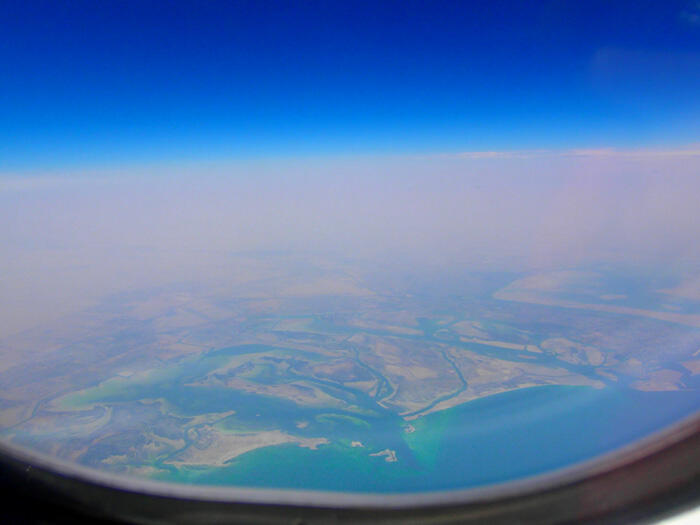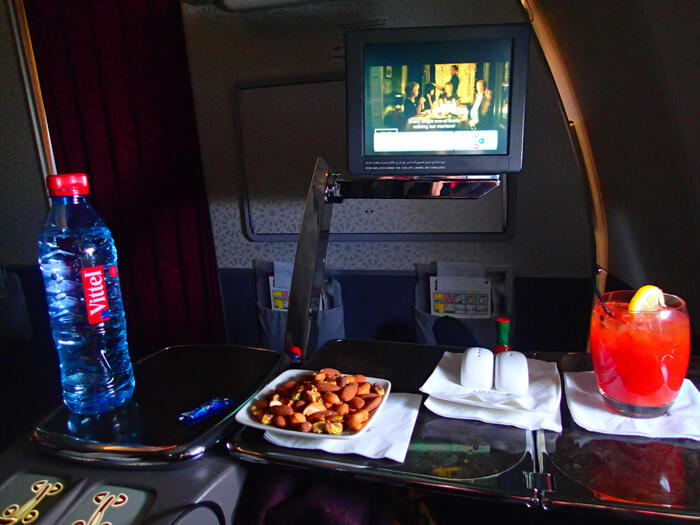 I had a Bloody Mary while watching Un Plan Parfait, a French comedy with Diane Kruger. Also managed to watch Warm Bodies, i have such a crush on Nicholas Hoult.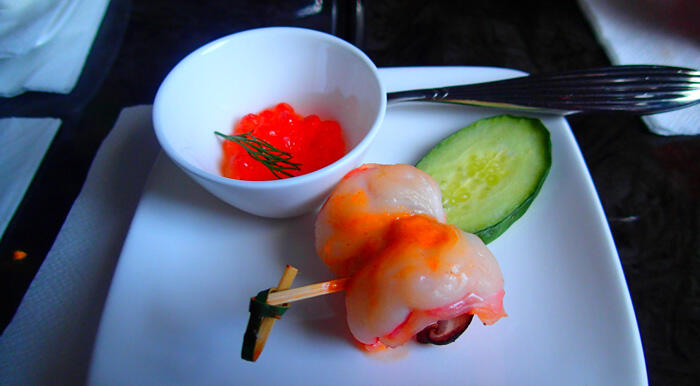 Later on during the flight i had a second meal of matsuhisa shrimp, and a coriander prawn salad (below).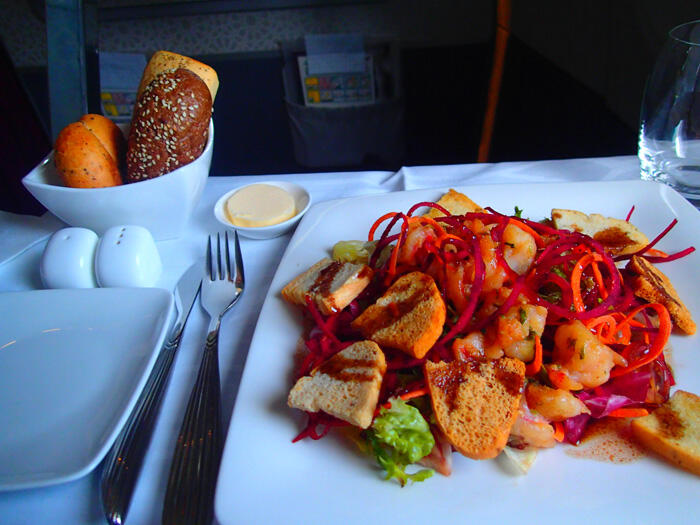 One of the flight attendants spotted me taking pictures of my food and offered to get one of me XD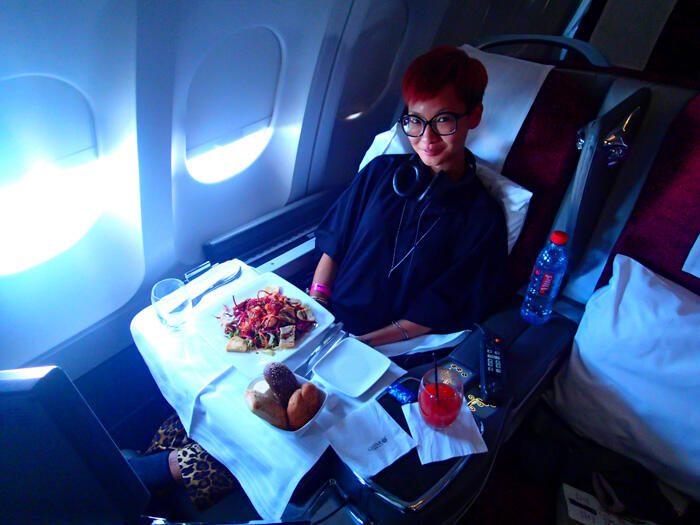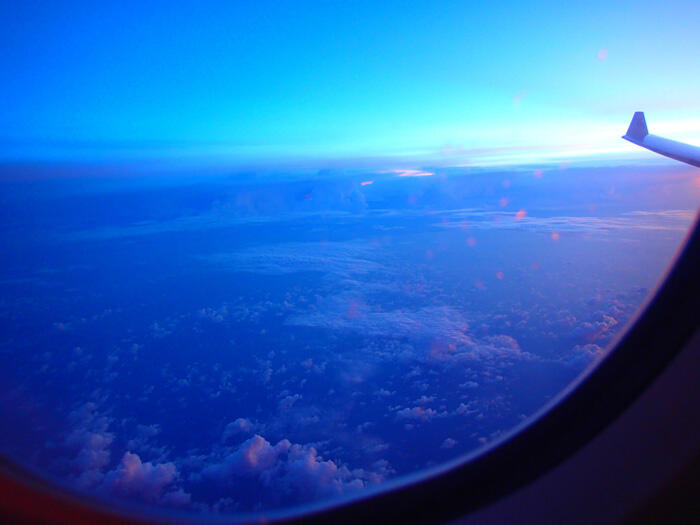 Flying is something like a chore for me, i see it as a procedure i have to get through so i can arrive at my destination. For once, I actually had FUN flying! I had the most pleasurable flight of my life… thank you Qatar Airways! I don't know how i'm going to return to Economy Class now -_-
Hmm but why return… why not just look forward to some day sleeping on the 180-degree horizontal flat beds in First Class. Teehee.
To discover more about the Best Airline of the Year for the past two years, check out:
Qatar Airways Facebook Page: facebook.com/qatarairways
Qatar Airways official website: www.qatarairways.com