Read my first post on One Eleven *HERE* if you haven't yet 🙂
On our second day in the villa, i woke up later than Clem cos i was so tired from the previous night's partying.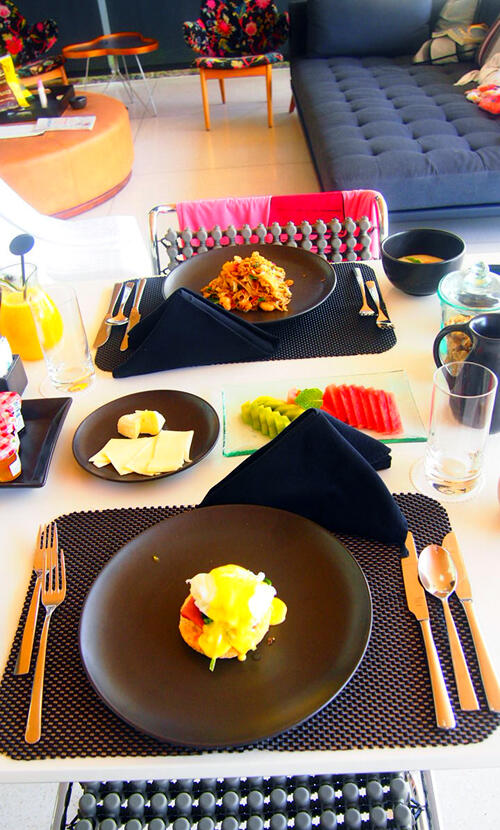 Clem was thoughtful enough to take pictures of our breakfast before he dug in.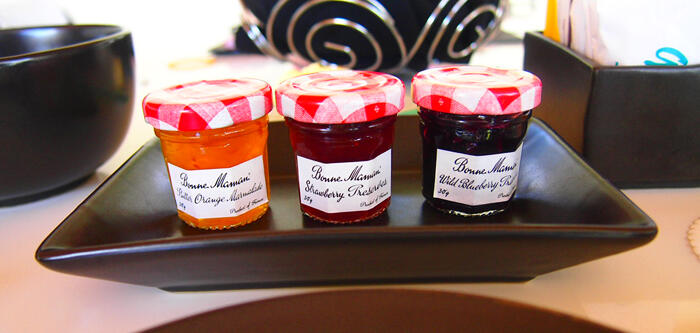 French jams that we have at home too!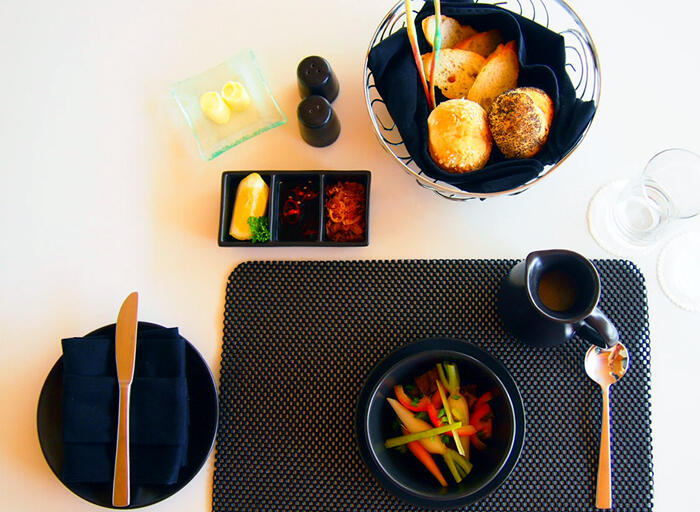 Around lunchtime i felt a bit peckish despite my late breakfast of koay teow,
so i ordered the batavia beef broth, which i enjoyed so much.
I love the miniature carrots they had in it.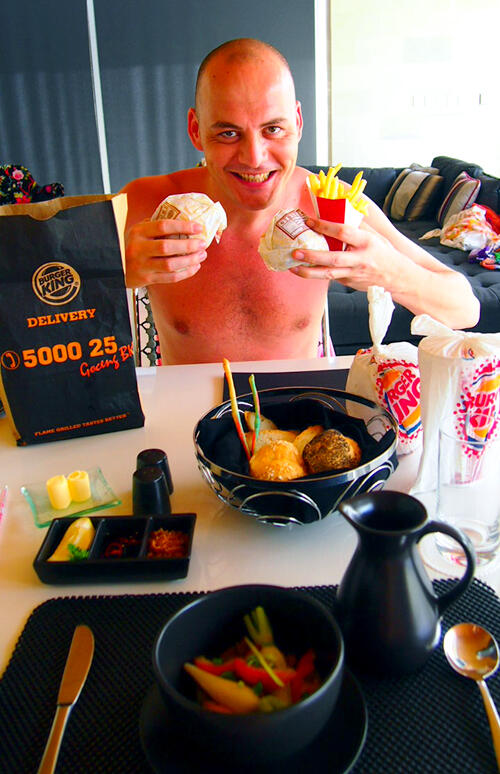 Clem really wanted Burger King -_- so the butler ordered it for him.
I was like, why must you eat Burger King when we have so much better food here!
But he insisted. I held my tongue cos i didn't want to smother him.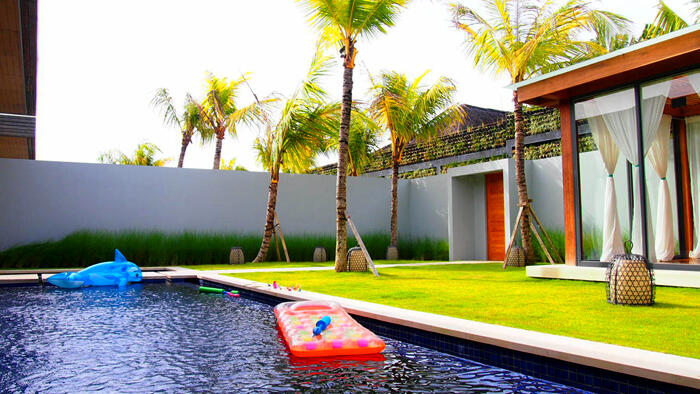 It was a REALLY HOT day – perfect for spending in the villa.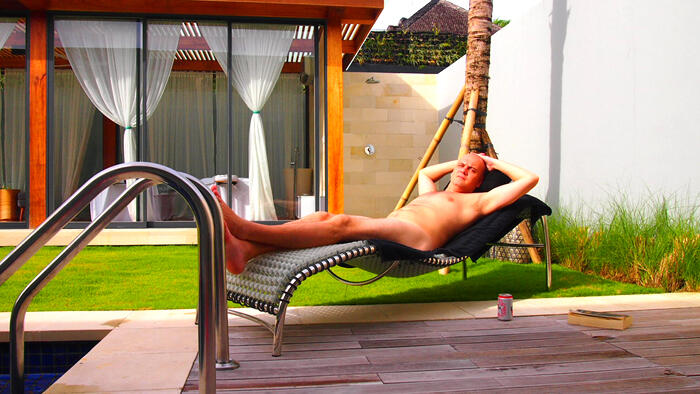 Clem was just STUCK to this sun lounge all day.
He didn't move off it and even got me to fetch him beers.
"I love this chair baby… oh you don't know how good it feels… i want to take it home," he said.
These magical sun loungers are designed by Indonesian designers Yos S. Theosabrata and Leonard Theosabrata of Accupunto; and have won numerous international awards for their ergonomic design, such as the Red Dot Design Award 2003, The Interior Innovation Award 2004 and Japan Good Design Award 2004. So no wonder Clem loved it.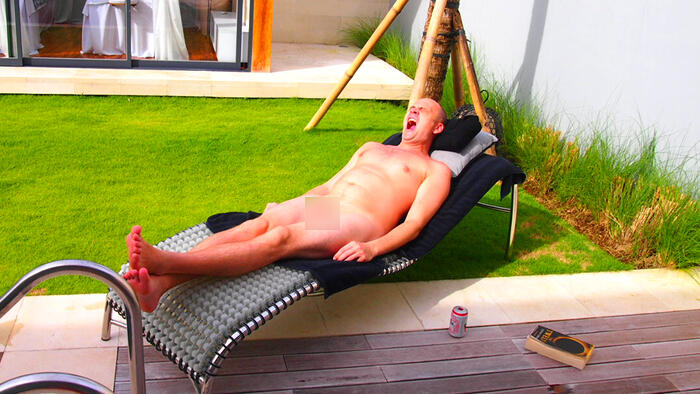 Hohoho i love this picture of Clem! Caught him at the right moment!
He reminded me of some sort of ANIMAL. Like Sid in Ice Age.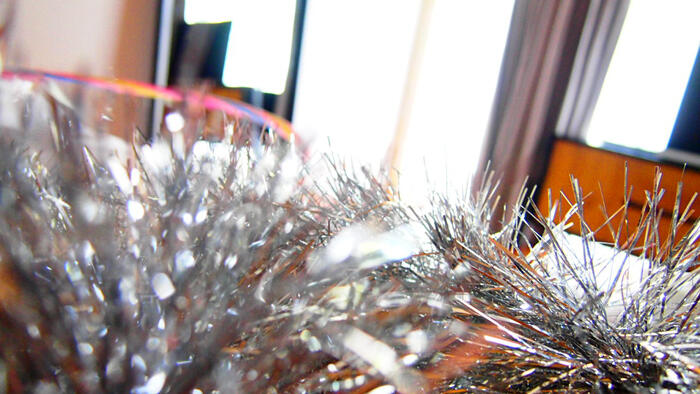 It was much too hot outside and i didn't feel like going into the pool yet,
so i played with my tinsel and rolled around in the air con room.
It felt really awesome. Like being a cat with shiny fur.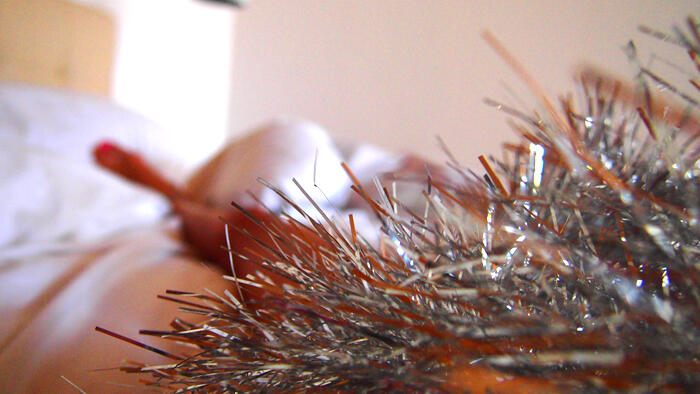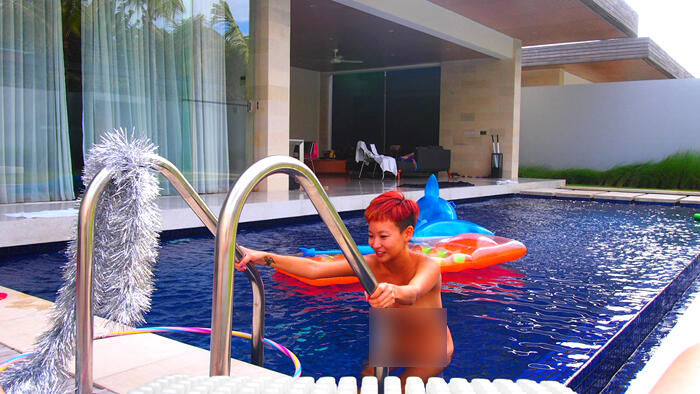 I was ready to go into the pool later in the afternoon!
But got so attached to my tinsel i brought it with me.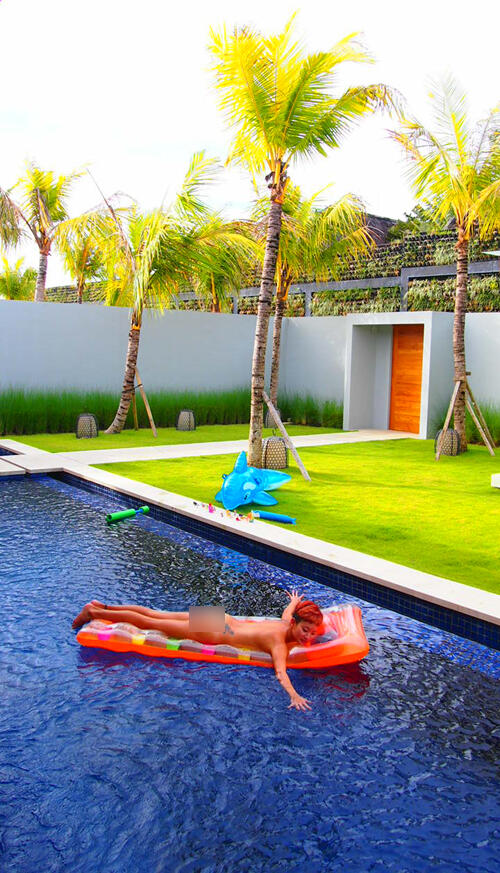 I'm so glad i bought this float from Koh Lipe for only 450 baht!
I'm even more glad i got the butlers to blow it up for me teehee.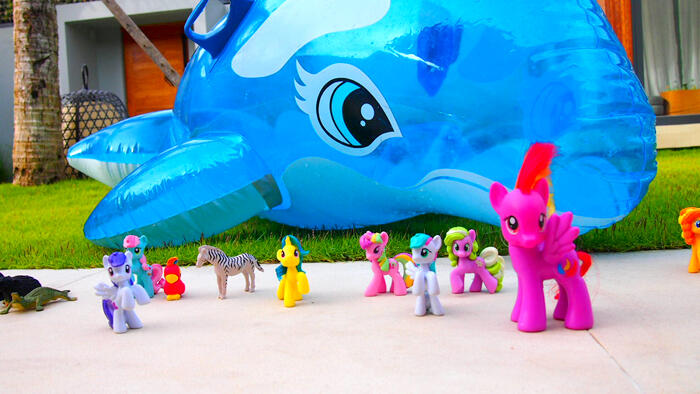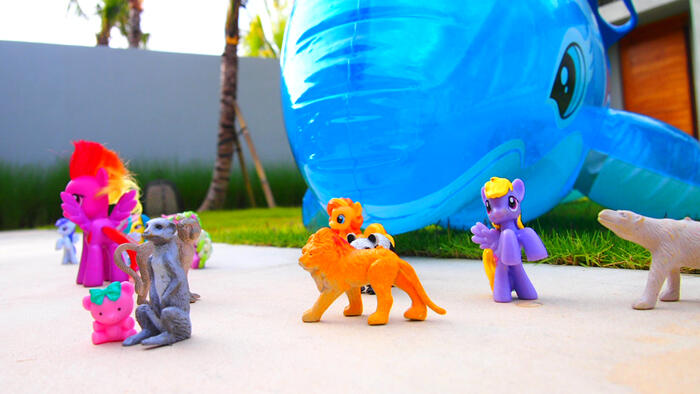 Unbeknownst to the meerkat and his teddy, he's got a giant stalker coming his way!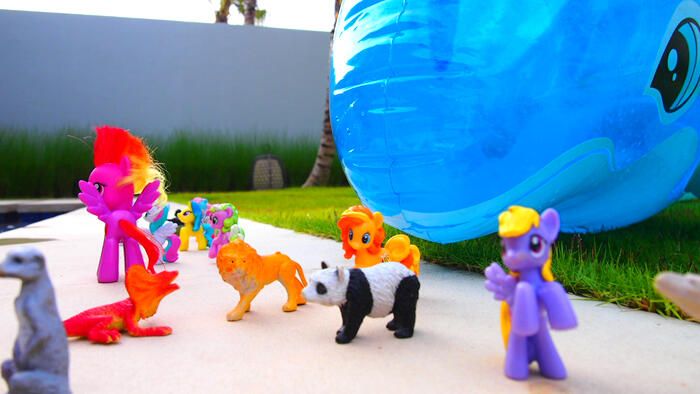 The monitor lizard's jaw drops in horror and fear of being eaten.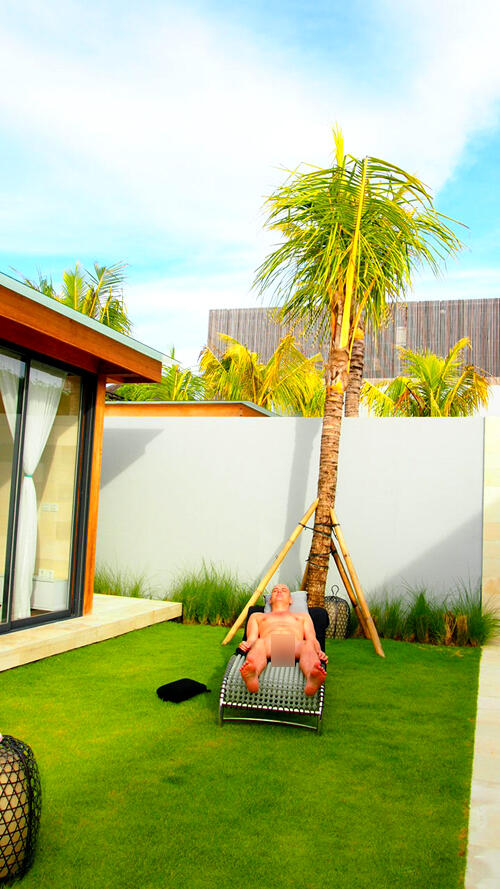 When i turned to Clem i realised he'd changed the position of his chair to get a different view.
Well… at least he did SOMETHING, i told myself.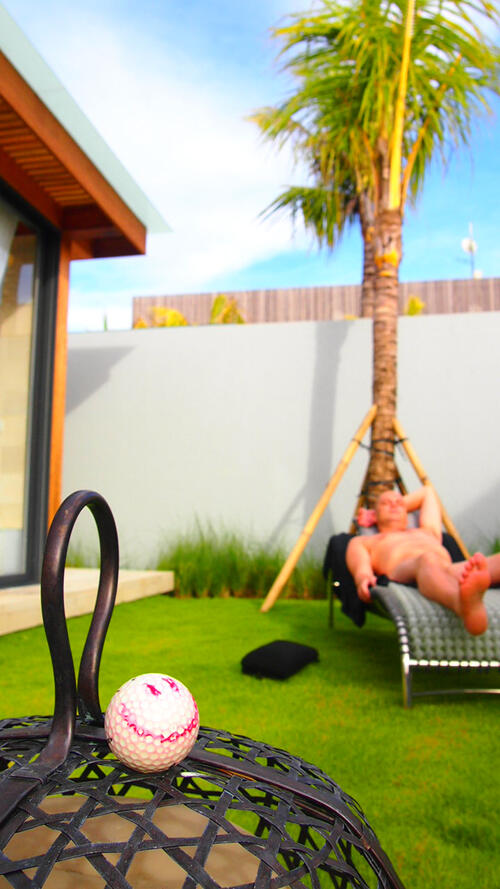 Wilson!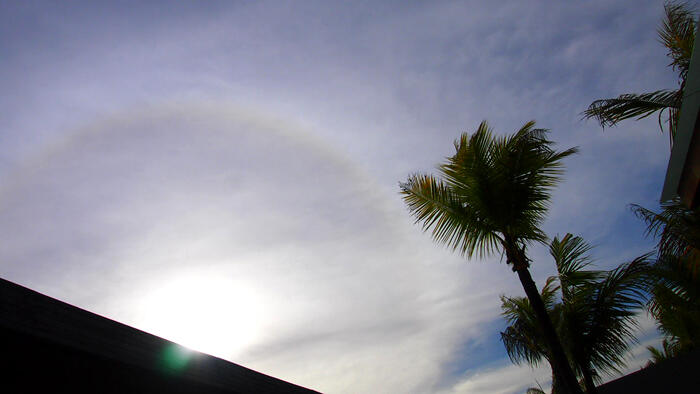 Can you see the halo around the sun!? I don't see it often enough!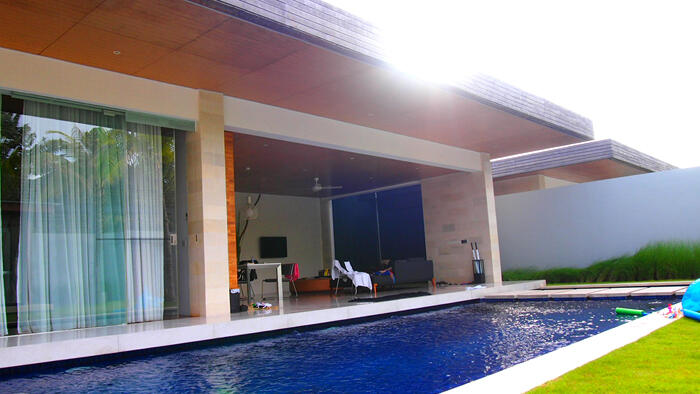 I felt really hot and thirsty, and wanted something non-alcoholic to drink so i went to the fridge and it hit me what a WELL-STOCKED fridge it is!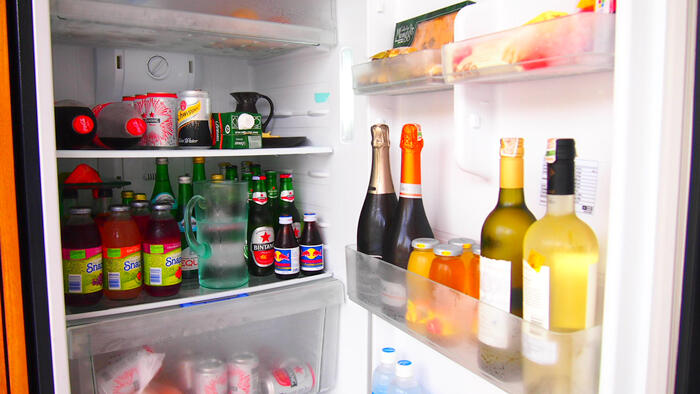 Just LOOK at all those drinks! Anything i possibly desired was there…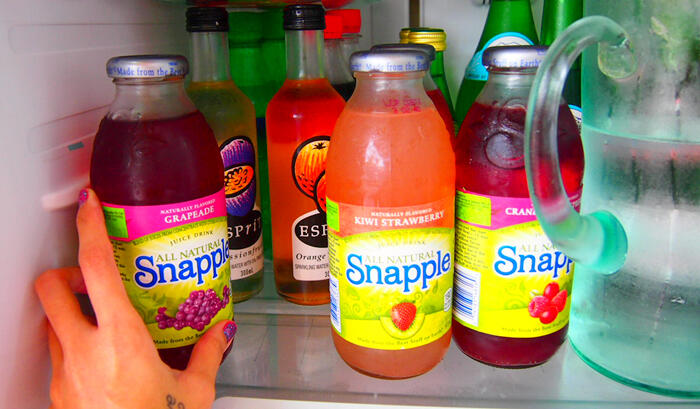 But what i really felt like was a sweet juice, and oh my!
So many wonderful colourful chilled juices for me to choose from!
I took such a long time deciding.
I wish Yishyene was there to drink juices with me! She lovesss juice.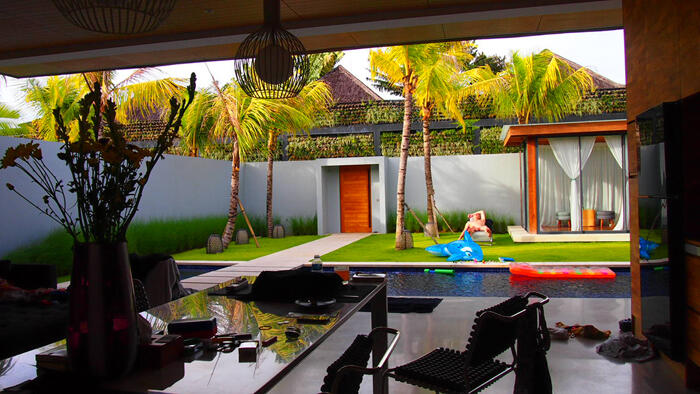 I quite like this picture i took from the inside of the kitchen.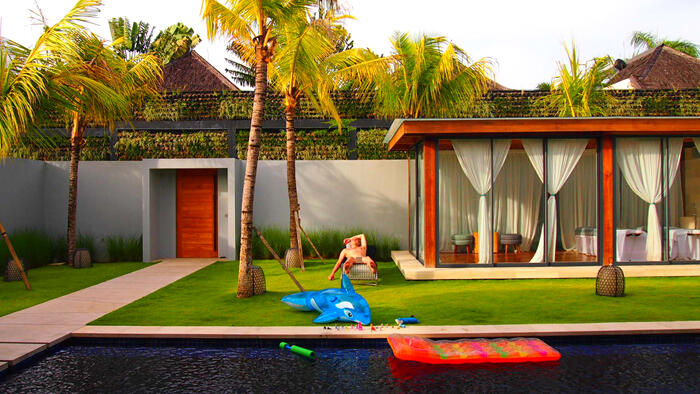 Oh yeah, as you can see, Clem moved his chair to its third spot of the day.
I think if i bought him that chair for his birthday he'd be so happy.
Thing is, we need a pool…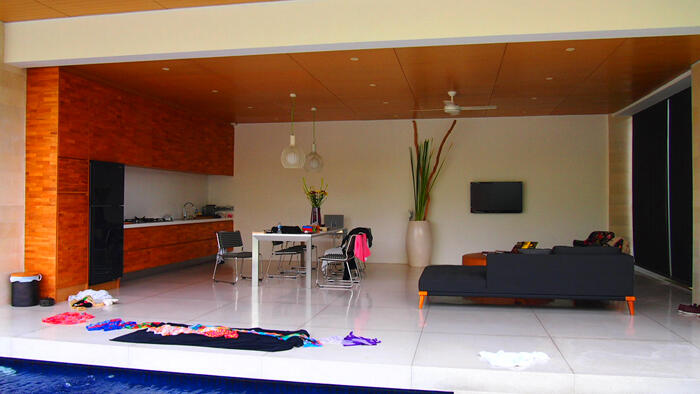 Ok it's a bit messy.. but that's because i was about to make a scarf train!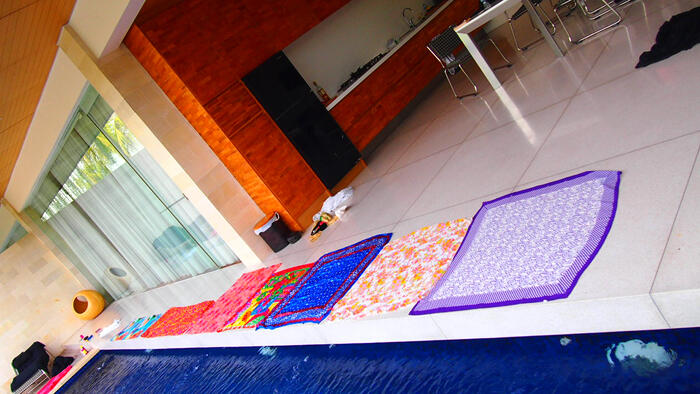 I don't even know why i did it for. There wasn't a purpose… i just felt like making one.
Maybe that's a bit like life – you do something for fun and not with an intention to gain something,
then in end, you DISCOVER what that action could lead you on to,
or give you ideas for something you wouldn't have thought of before if you didn't carry out the first selfless act.
(See how deep scarf trains can get one thinking.)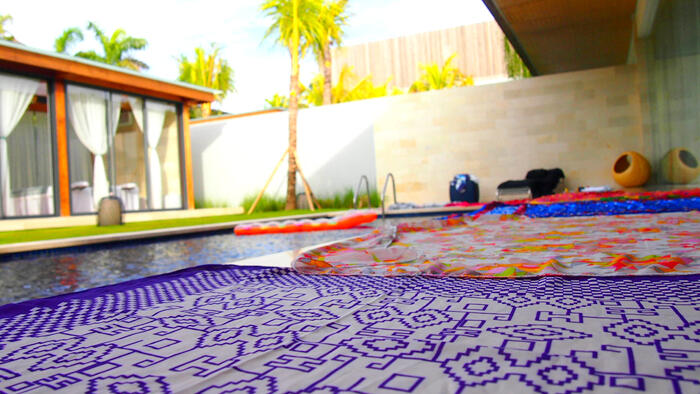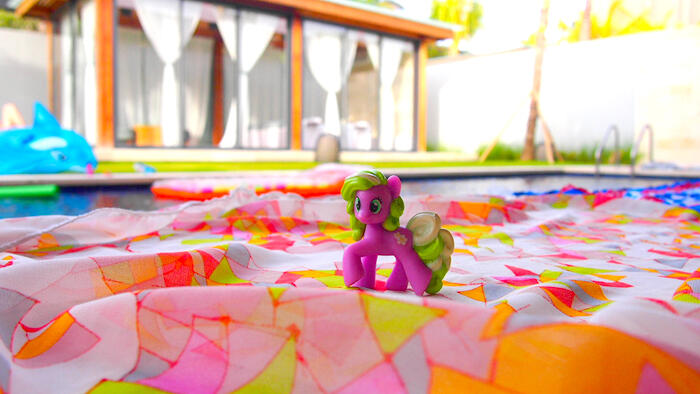 Pony is the same colour as my scarf!
Well considering i have SO many ponies… and SO many scarves…
Clem: Why do you have SO MANY scarves?
Me: *looks around at my scarves* This? This is not that many…
Clem: What do you mean? What about at home!?
Me: At home? Ha. The ones at home are just *pauses while i wonder whether to tell him* … a quarter of my scarf collection… the rest are in my parents' house cos we have no space!
Clem: WHY SO MANY?!
Me: *trying to justify* I had a phase when i was collecting scarves okay. But i've stopped! I've stopped now cos i realise… i have quite a lot.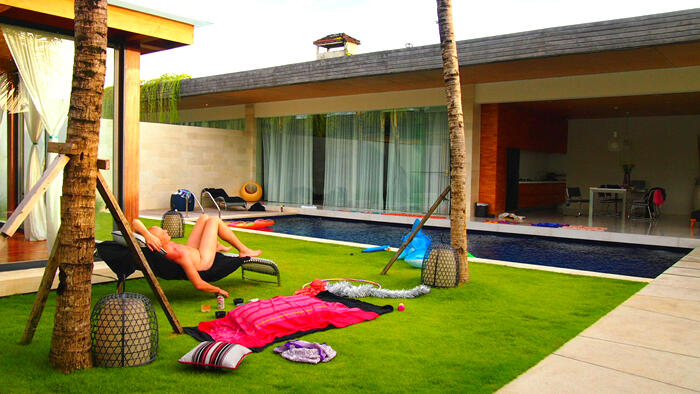 Clem said i keep on playing so far from him, so i moved ALL MY THINGS to be next to him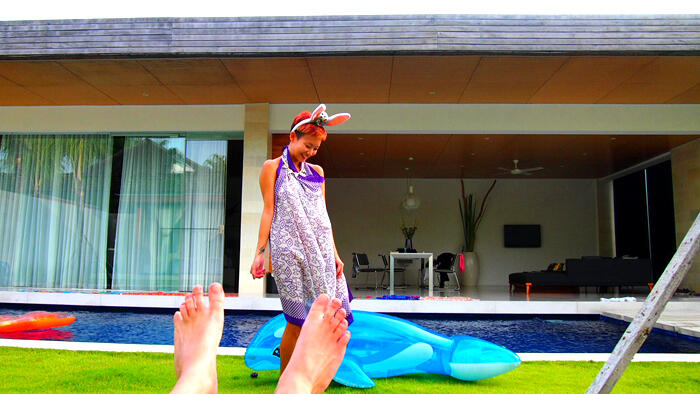 I tied a scarf on, for picture's sake. So i'm not just naked all the time. (Tho being naked is the best)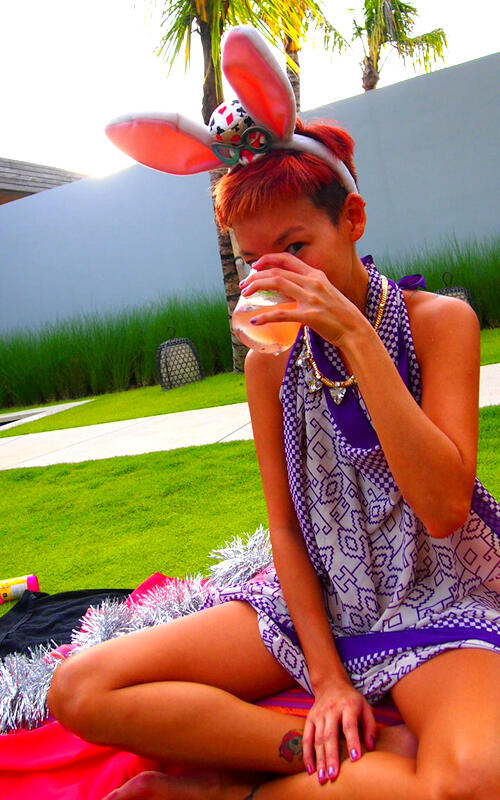 After awhile i didn't want to sit on the grass anymore
and wanted to try the awesome sun lounge that Clem liked so much,
so i made him carry the second one over.
It took me 20 minutes to make him do it.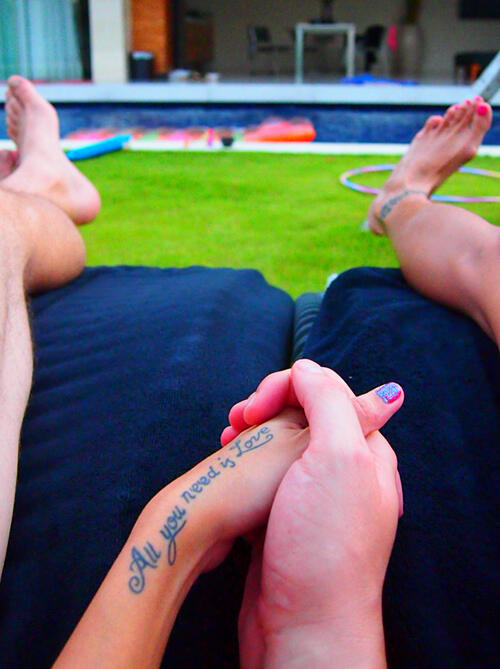 I'm using my foot to block out the wood (that's holding up the palm tree) in the picture.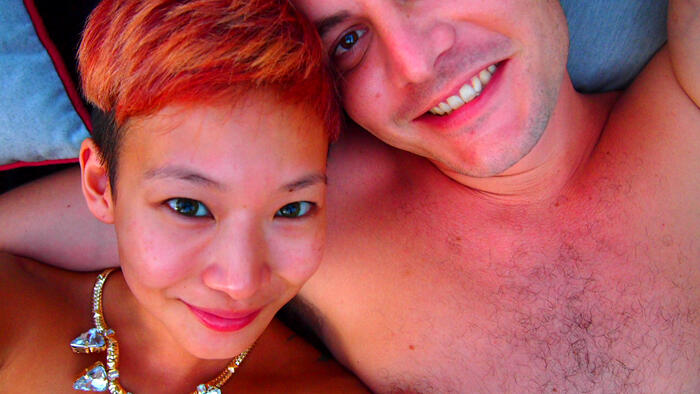 It was so nice to just lie there. So i took pictures of us.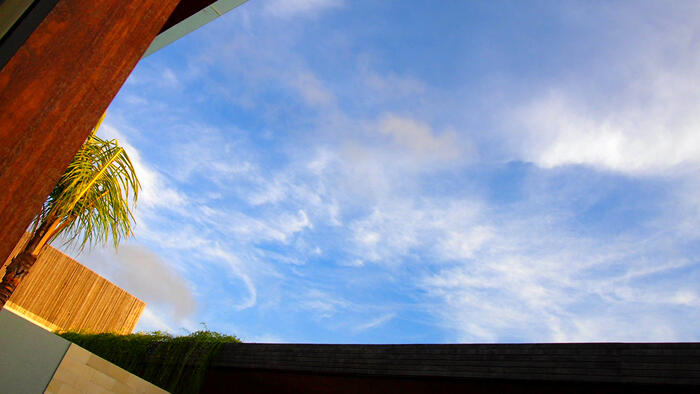 And the sky.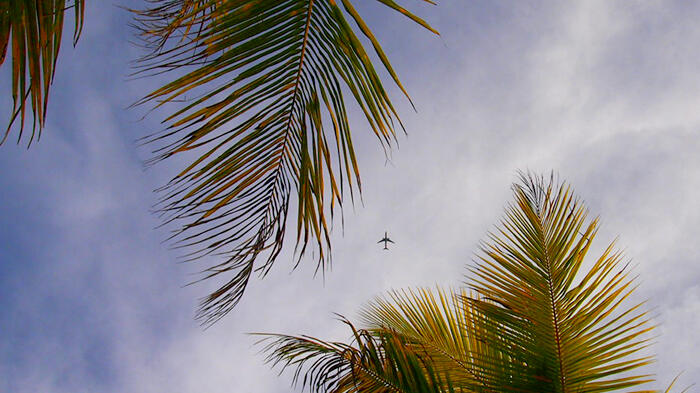 And a plane!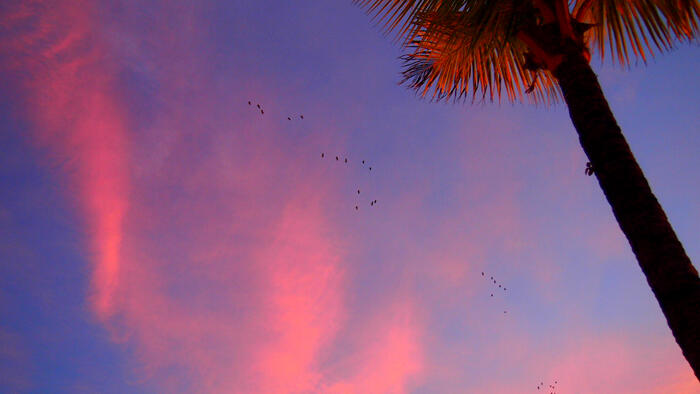 And birds going home, which made Clem sad cos he had to think about going home.
But i said, "At least we got to have a beautiful day here! In fact, i think this was the most beautiful Sunday we've ever had…"
And Clem said, "I think so too."
<3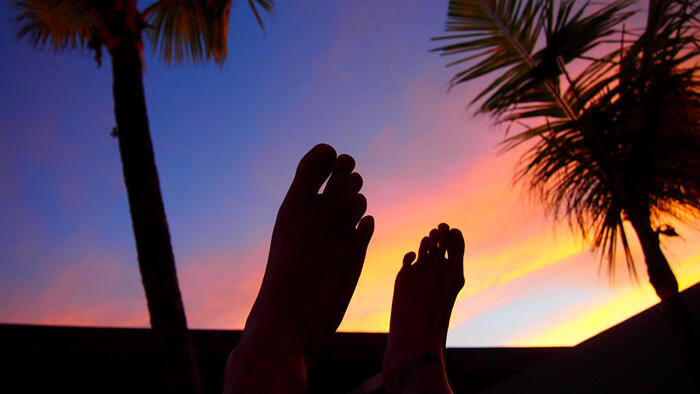 My foot is so ugly… but i don't hate it,
cos it's EXACTLY like my father's feet – second toe longer, and tiny toe far from the rest. <3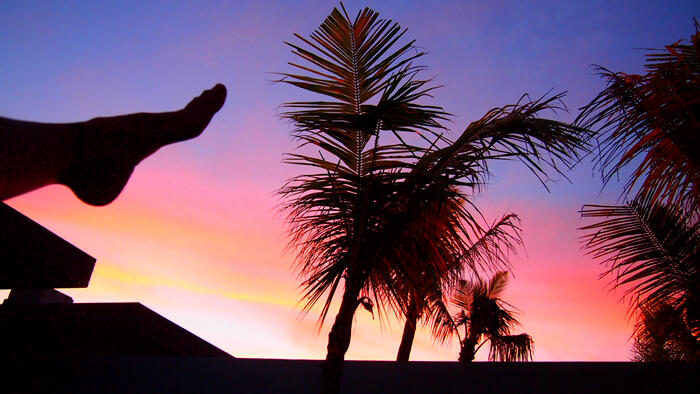 Me tryna make my foot look nice.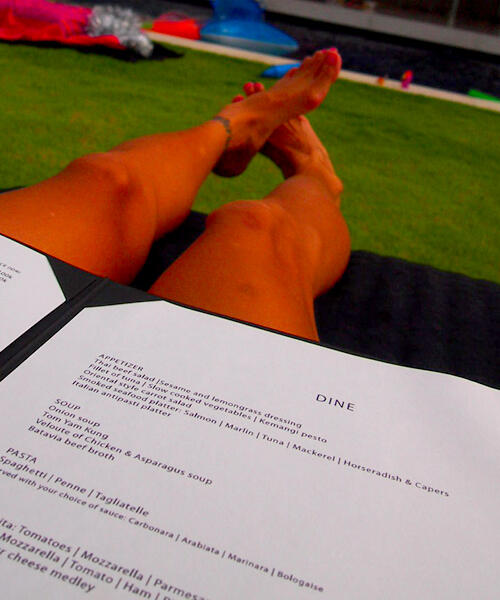 I was getting hungry so i pored over the menu wondering gleefully what i should have.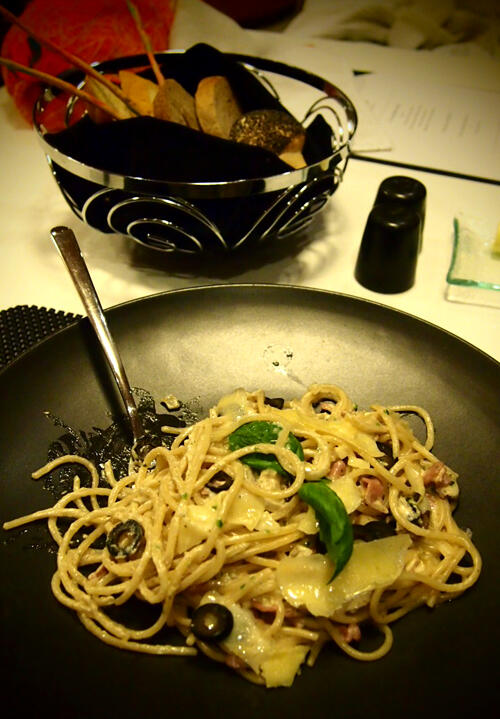 I opted for the carbonara and i was so so happy that it was exactly how i like it.
I get terribly upset (Clem says i have to fix this about myself) when my food isn't up to par.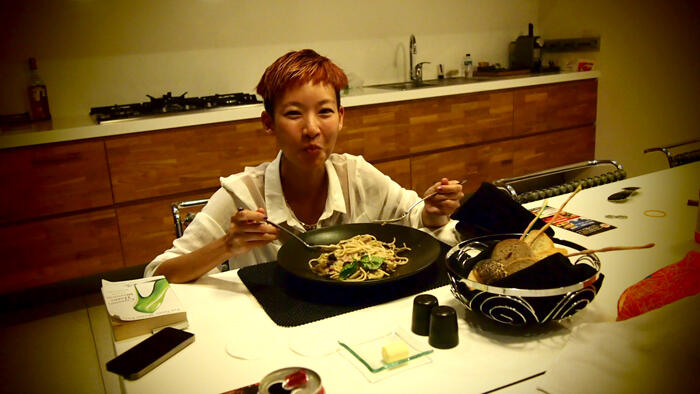 Not a very elegant picture of me, but Clem likes it, saying i look like a happy kid.
All the food at One Eleven is headed by their Resident Chef Risza,
who's had experience at Alain Ducasse in Doha, and serves "simple, elegant, and modern fare".
I really enjoyed every single dish i had there!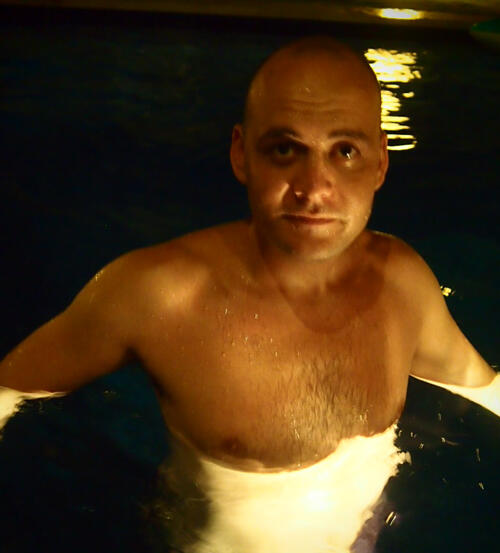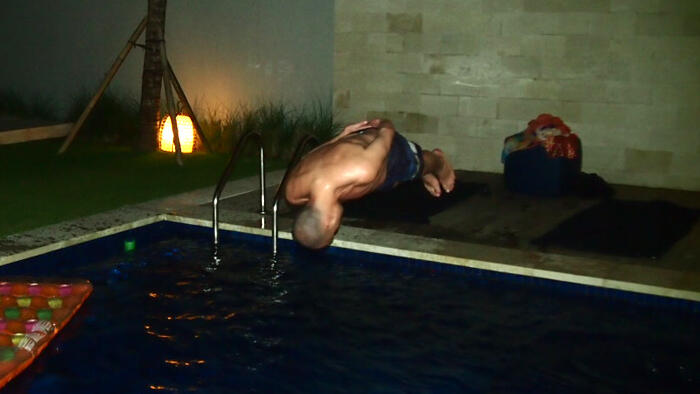 I tried taking some pictures of Clem jumping into the pool head first,
but they looked so much like him lying down that i couldn't stop laughing!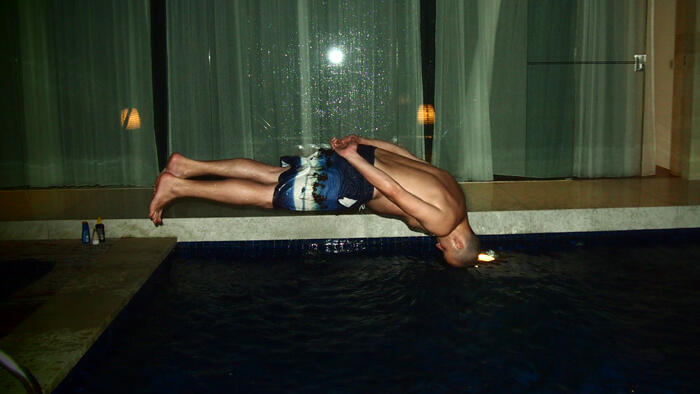 I mean seriously! It looks like he's dipping his head into the pool hahaha!!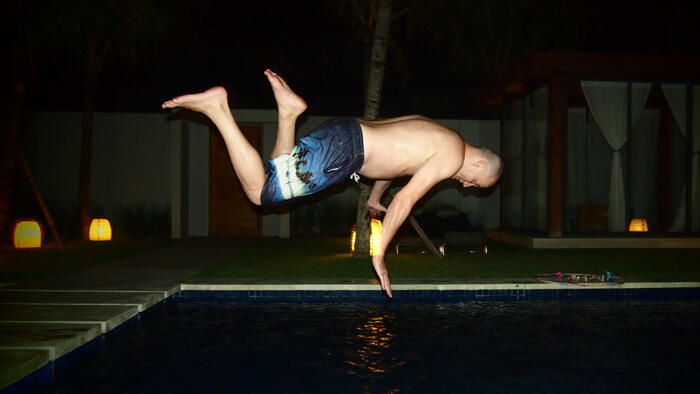 Best one we got. After that i told him i'd had enough of wiping the floor cos he got it SO wet.
I didn't have the audacity to call the cleaners in cos they'd just cleaned the ENTIRE villa before Clem decided to go jumping -_-
We tidied the place up in the evening cos we thought Aps and Fai were coming over… but she was still sick from food poisoning so they didn't. Sad. Clem was sad too.
Clem: They're not coming? Why!?
Me: She's still really sick…
Clem: No!
Me: What… my company isn't good enough for you?
Clem: I wanted two more people so i can play chor tai ti!
-_-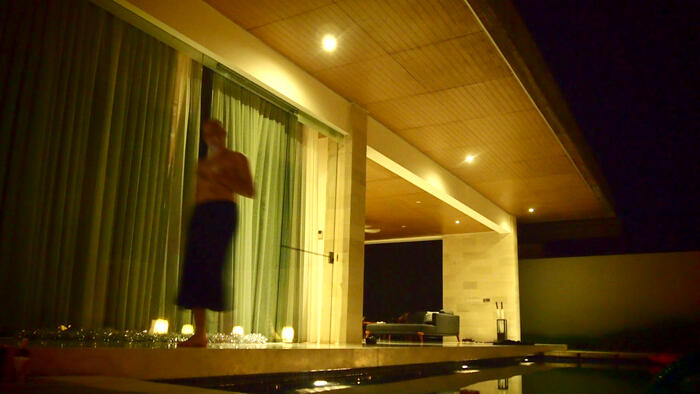 Later at night, we took the pillows from the bedroom and made a bed on the ground
to look at the stars
and the clouds drifting by
and make up people's faces and animals from it.
The moon was intensely bright that night
it was like a blinding headlamp really…
What i loved was that there was so much SKY SPACE to stare into
cos the villa was so big!
It was like being at Kudeta
except that we had our privacy
save for the cat that we tried to be friendly with the night before.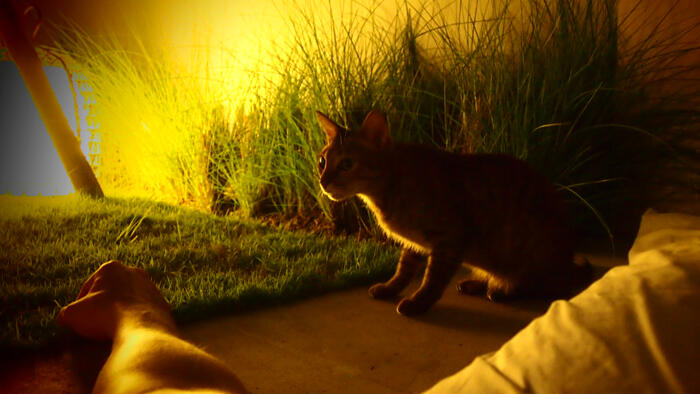 We must have laid there for hours… at about 1am we got a Margherita pizza.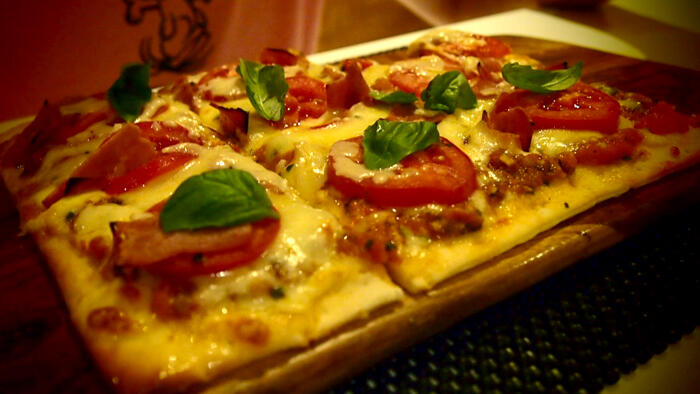 Let's just say we finished the whole thing even though i thought we wouldn't.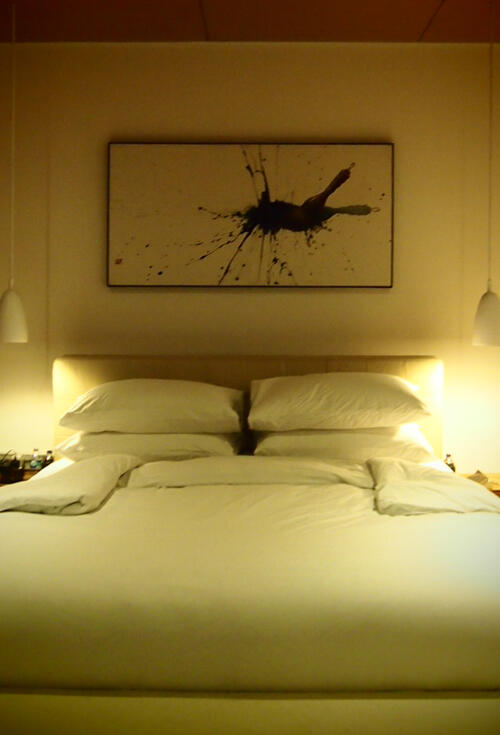 Bedtime!
+ + + + + + + + + + + + + + + + + + + + + +
Click the links below for more blogposts on One Eleven:
* Day 1 in One Eleven *
* One Eleven in instagrams *
* Shiro Sushi & Sake Bar @ One Eleven *
+ + + + + + + + + + + + + + + + + + + + + +
A night in One Eleven is USD600 (low season) to USD850 (peak season),
tho right now when you check on any date in their reservations calendar it's going for USD450/night.
1 11 exists with the notion of time at a standstill, as it was meant to
prolong unspoken yet important moments in everyday life. Although situated
in the heart of Bali's bustling beach town, Seminyak, and minutes away from
destination spots, 1 11 offers a private world that belongs only to its
guests. With only nine villa units, it may seem compact on the outside, but
each unit has been allocated a generous space considered for two; the idea
is to allow emptiness, sky and greenery to fill the space, where quiet and
intimate moments can exist.