Ohaiyo!
When Joyce assigned me to represent #KinkyBlueFairy for a media trip to Hokkaido, Japan with Parlo Tours and Air Asia X, I was over the moon as this would be my maiden trip to the "Land of the Rising Sun"! Haha, did I just use moon and sun in the same sentence? I amuse myself sometimes.
Joyce: I have been to Japan twice. You go for this one.
Baby: Are you sure?
Joyce: Of course! You deserve it!
Baby: Thank you. Thank you. Thank you. *tears of joy*
I have only read about Japan, watched documentaries, and heard from friends who've been there on how great Japan is to the point some make it an annual holiday destination. My ex-boss visits Japan at least twice a year (exemplifying how much he loves Japan). I didn't get it then but I do now, Japan is wonderful!
My trip started on Saturday. My overbearing sister, Dikwi, insisted on sending me to the airport (as she does ALL my trips). 
I arrived at KLIA2 at 9PM, and met up with the group at the designated check-in counter. There were 11 of us in total – 7 members of the media from various publications, 2 reps from Parlo Tours and 2 reps from Air Asia X. I was a bit nervous about the trip because I'm the only non-Mandarin speaking person in the group and afraid I would lose out on information throughout the trip. Luckily for me, Michelle Cheam from Parlo Tours volunteered to be my personal translator for the whole duration of the trip and later on, the whole group helped me in translate every single detail. I feel so grateful to be part of this media trip. Everyone was so nice, helpful and accommodating! #MediaFamily
We took the red-eye to Sapporo-Chitose airport. Reps from AAX, Siew Lee and Chui Yien, made sure we were all comfortable in our seats and well fed. Maybe next time, we get to try the sleeper seats 😛 After a meal of Nasi Dagang and coffee, I put my eye-mask on, slept for a good 7 hours and by the time I woke up, it was only an hour before touchdown in Hokkaido!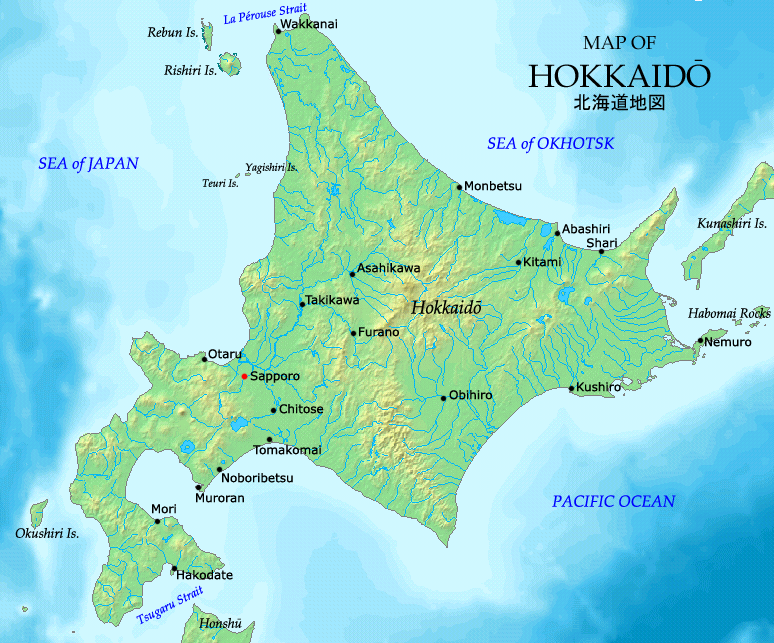 Hokkaido is the 2nd largest island in Japan (after Honshu, where Tokyo is). Hokkaido and Honshu are separated by the Tsugaru Straits, but connected by the underwater railway Seikan Tunnel (oh, Japan. You thought of everything!). The largest city in Hokkaido is Sapporo (yes, like the beer). While people frequent Tokyo for its hustle, bustle, and nightlife; Hokkaido is a place you go to relax your mind and enjoy nature. Time moves rather slow in Hokkaido. I don't know if it's the weather, or the life there, but I felt so relaxed and whenever I glanced at my watch, was always surprised, "OMG, how is it still so early?! We've done so much!" Because time seems to move slowly, we managed to cover a huge area of the island – Chitose, Sapporo, Otaru, Noboribetsu and Obihiro in just 5 days. 
We arrived in Sapporo-Chitose airport at 8AM local time. Immigration and baggage collection was a breeze. We walked out of the arrival hall and was immediately greeted by our tour guide Mr. Chow, a hilarious and patient man (for always accommodating my request for extra time). 
Baby: Noooo… 5 more minutes!
Mr. Chow: Ok, 5 minutes. You run, now. Now it's 4 and a half. Run, now!
Baby: *while running* THANK YOU, MR CHOWWWW!
The day was bright and sunny but cold, so cold. It's a nice change to Malaysian weather though. I was so freaking happy to be in Japan that I didn't mind the cold at all! I took a look around and saw that Japan is very clean. No cigarette butts on the ground, not even one single piece of rubbish around me. I'm so amazed! Amazed, and humiliated as to why most Malaysians are not at all concerned about the cleanliness of our own country. *sad face*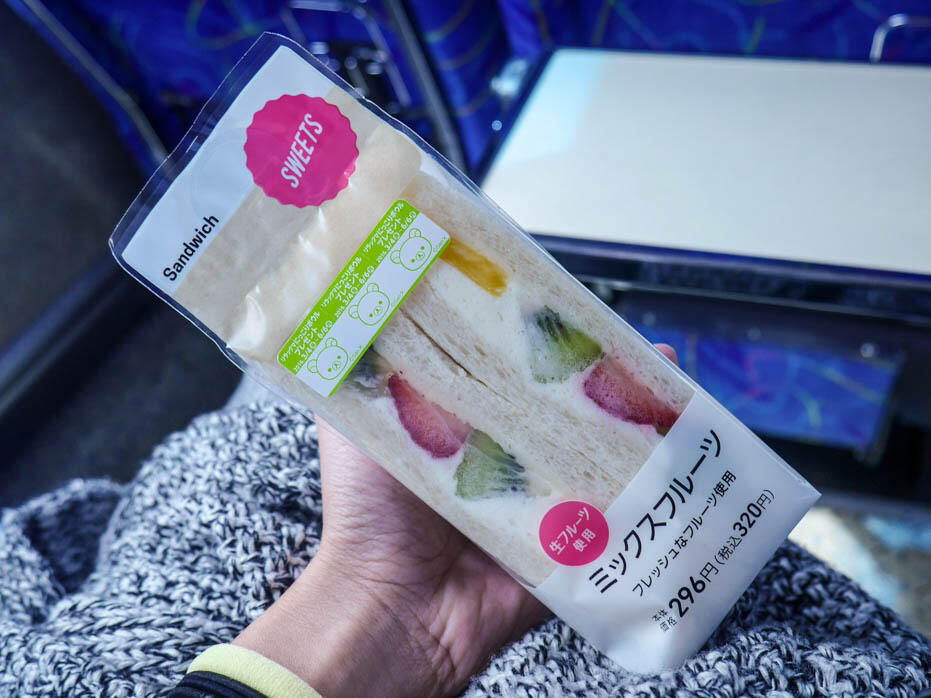 As we got on the bus from the airport, we each received this brilliant fruit sandwich filled with fresh Hokkaido strawberries, kiwi and cream! I love Japan!

We began our Spring in Hokkaido journey by bus to Noboribetsu Date Dijaimura. It's a history theme park highlighting the Edo Period (1603 to 1868) which is said to be the most interesting era in Japanese history. At the park, we got to see and experience what it was like during the Edo Period. All the staff were in character – the Ninjas, the Oirans (top ranked courtesan), the peasants, the business owners and the Samurais! The entrance fee is 2,900yen (RM107) for adults, 1,500yen (RM55) for kids, and 600yen (RM22) for toddlers. But if you're travelling in a group, the fees would be much cheaper! So, book your trip with Parlo Tours, ok?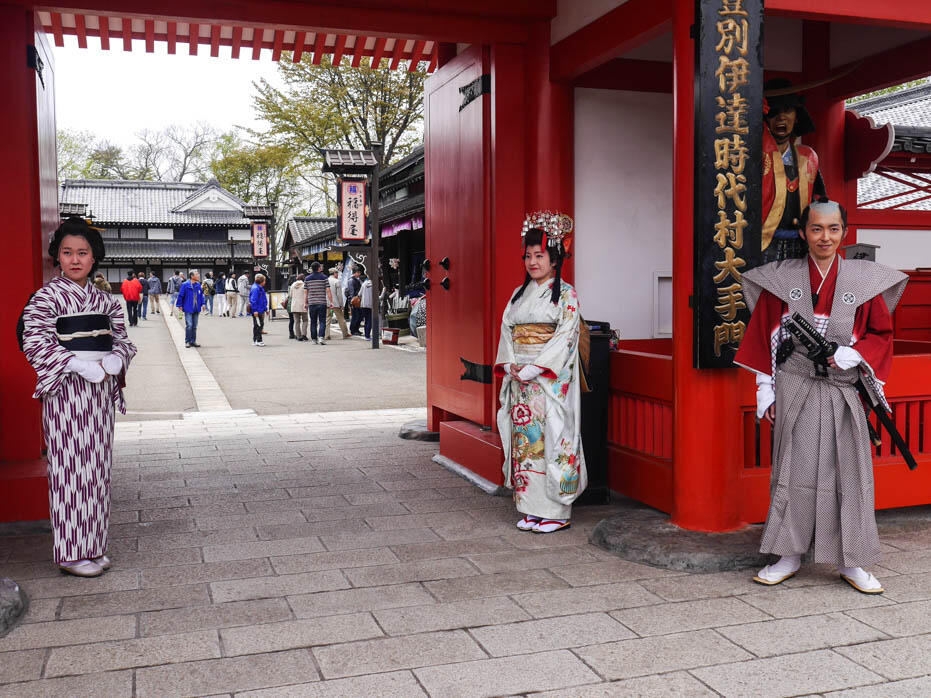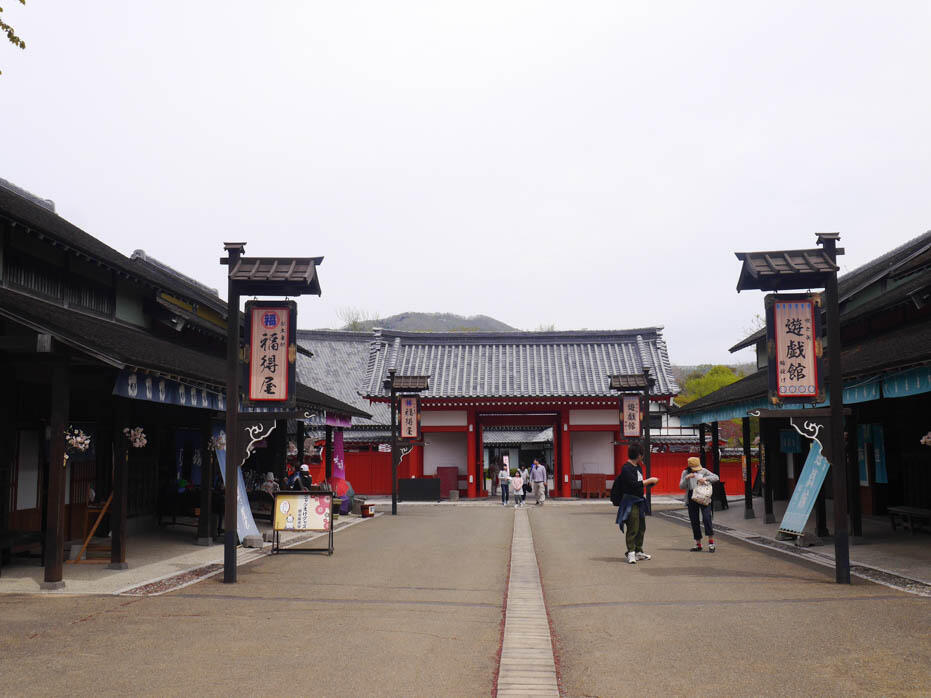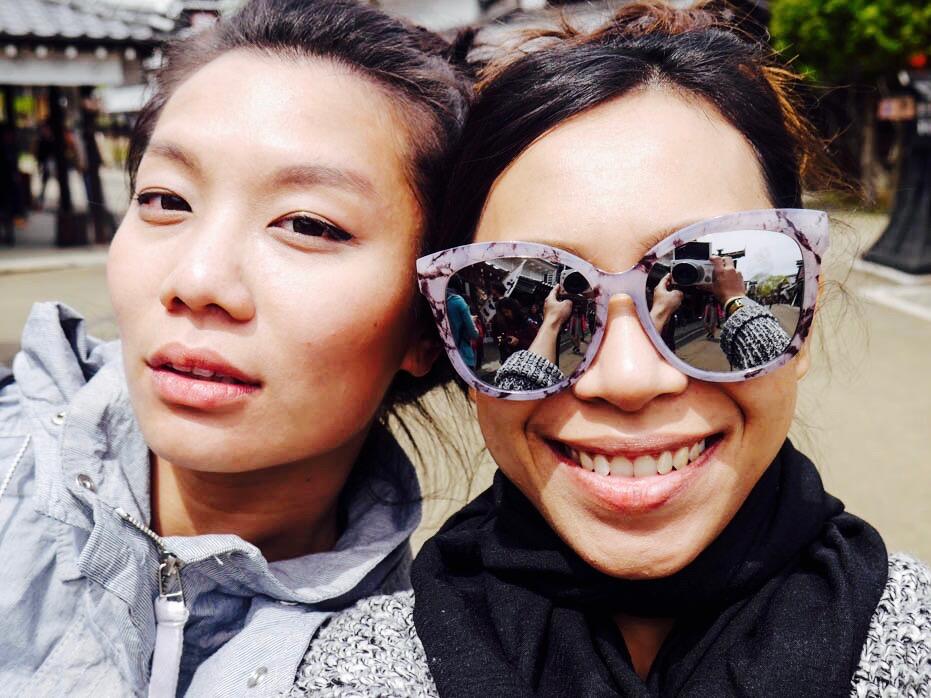 Michelle Cheam from Parlo Tours
We stopped by a little shop called Waraji-ya which sells Dango – a sweet Japanese dumpling made of mochiko (rice flour). There are 5 flavours to choose from – sweet bean, sweet soy sauce, soybean powder, black sesame and plum. We ordered all 5 to share as the dumplings are huge in size. They cost 250YEN (RM9) per stick and every bite was like a party in my mouth! *much love*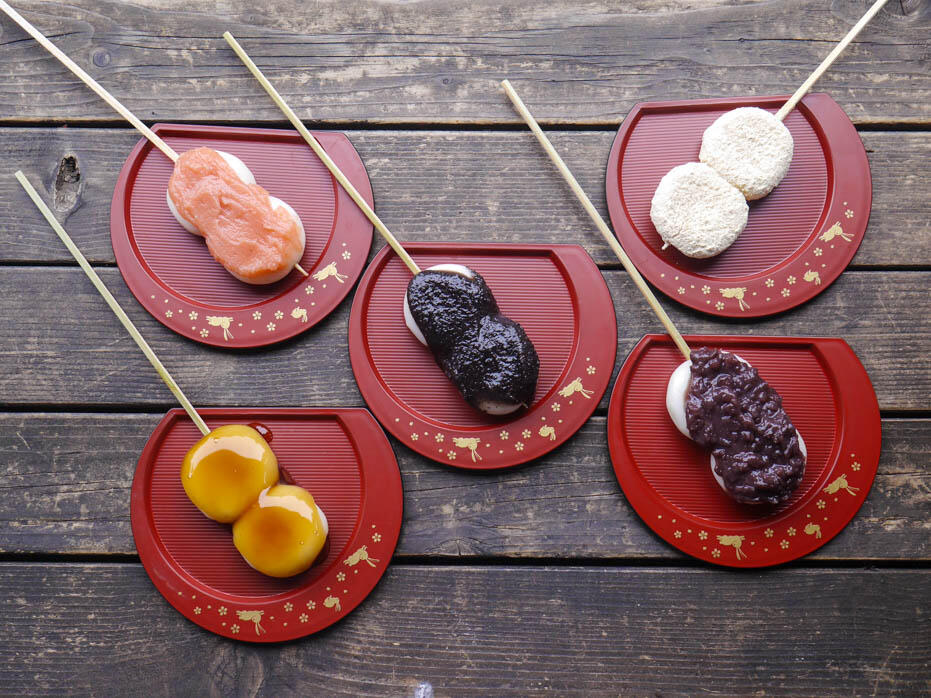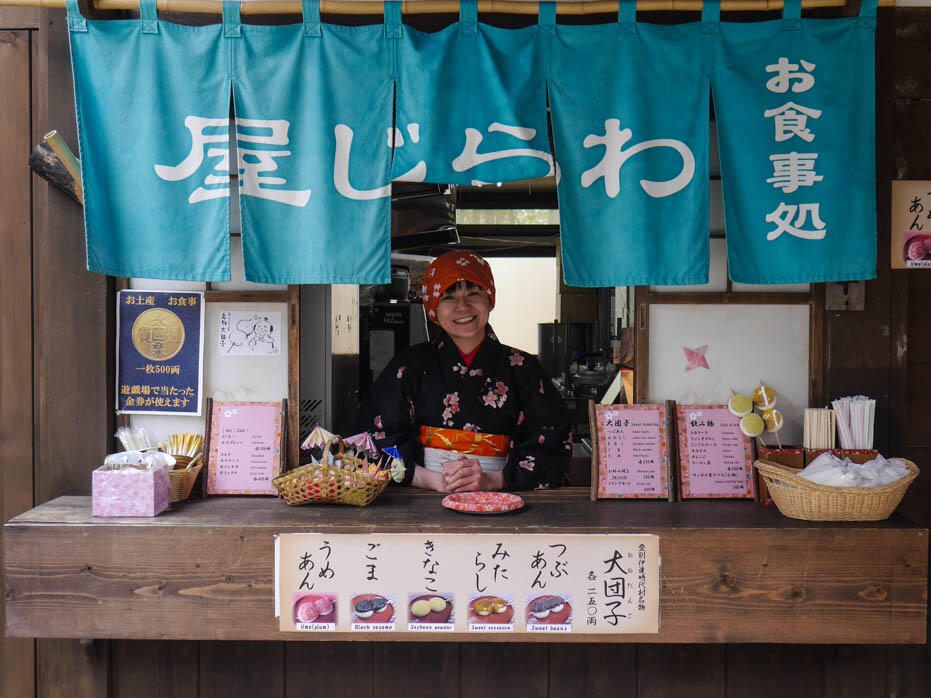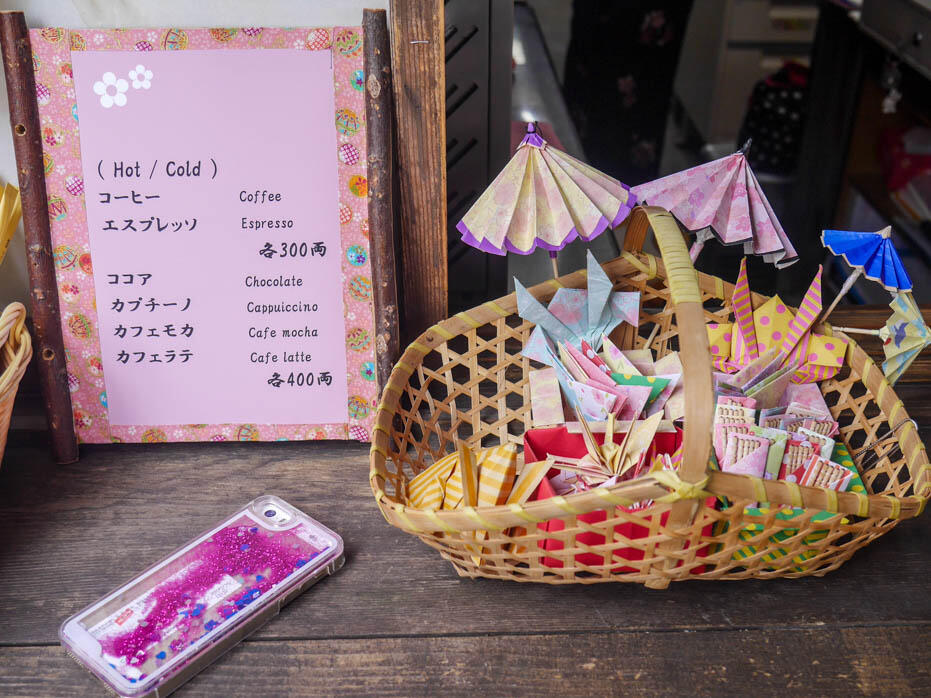 After an hour at the Dijaimura where we walked, played and took hundreds of pictures, we got back on the bus to head to the next spot. I must say that one hour is definitely not enough for you to fully enjoy the village as there are many fun activities going on but we were pressed for time, so we only got to experience the highlights!
If Hokkaido is your next holiday destination, please enjoy the village as much as you can and participate in EVERYTHING! Go to the Utsuroi-Kan where you can rent beautiful traditional Japanese robes and kimonos AND pretend to be a princess from the Edo period (i would totally do that!), or the Yugi-Kan to blow darts like a proper Ninja, or the O-nyanko Cat Temple, which is said to be haunted and the cute cat at the entrance is just a disguise to show that the temple is "cute" instead of scary, or test your Ninja skills at the Ninja Maze where you need to find your way out getting through obstacles and tricks, you know… like a real life RPG game!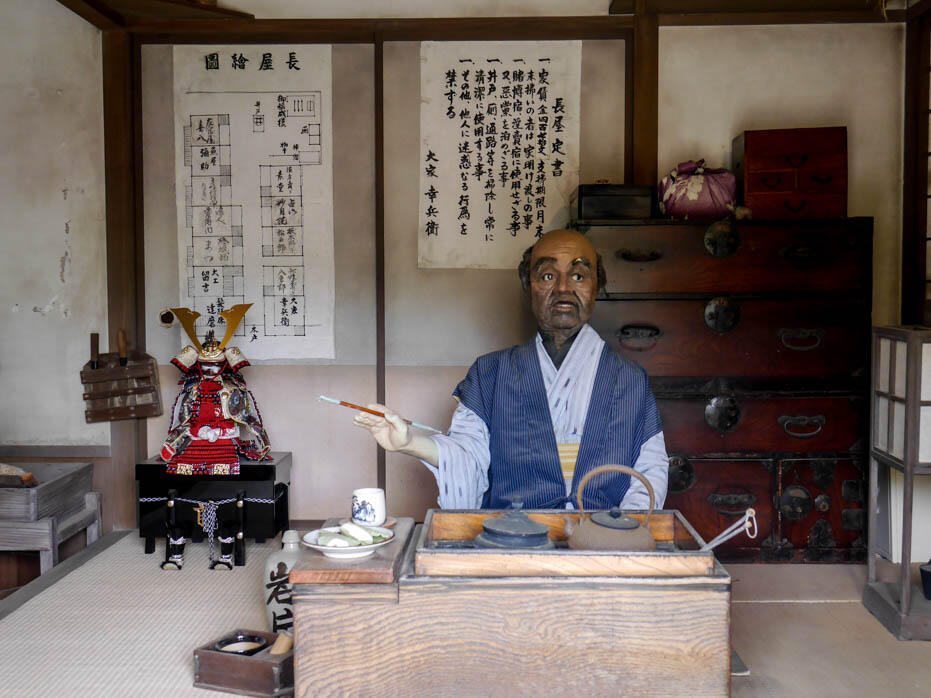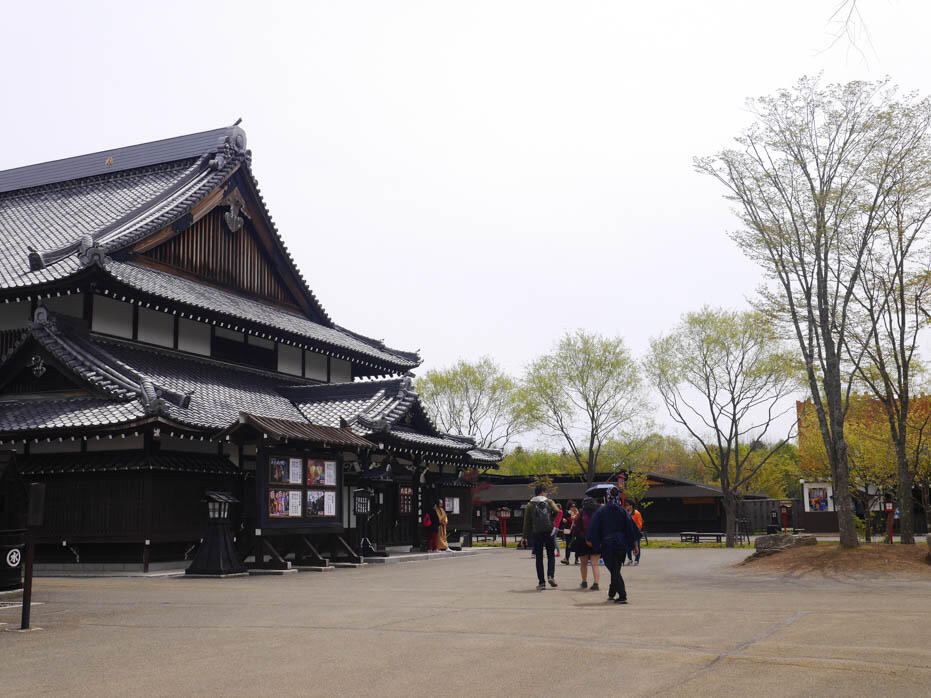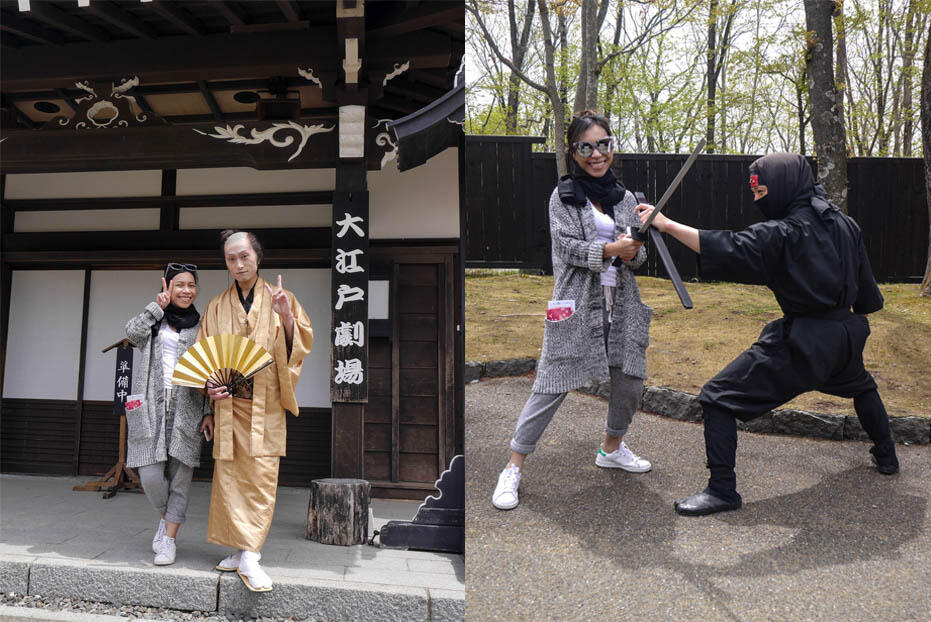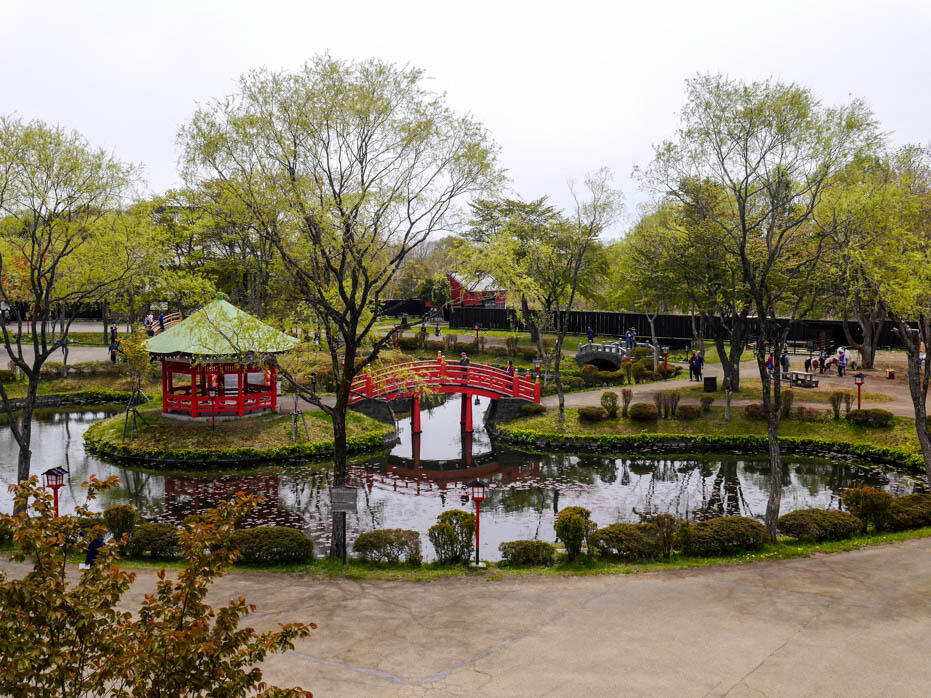 Our next stop was Lake Toya, part of the Shikotsu-Toya National Park. In addition to the lake, the surrounding areaa feature hot springs, an active volcano, and Mount Usu which last erupted in the year 2000! For those who like outdoor activities (thinking of you Joyce and Jun!) the area also offers many hiking and camping spots. The view is just breathtaking! I've never seen anything like it – outline of mighty mountains, rolling hills, trees that surround the lake and flowers blooming to welcome Spring. Oh, what a sight. And it's only the first day! 
There are two ways to get to the Mount Usu Crater Basin Viewing Point – first, you could take the Mount Usu Ropeway which includes a 6-minute gondola (cable car) ride, that can fit around 106 people! Or, you could opt for a 1-hour hike through the Usu Outer Rim Boardwalk, a trail that was recently re-opened for the first time in 39 years following the 1977 eruption. While circling the outer rim, you can observe the lava dome and crater basin, as well as enjoy the stunning views of Volcano Bay and Mount Yotei in the distance. 
Once we reached the Mount Usu Ropeway Summit Station, we went to the Lake Toya Viewing Point and when I saw they view, I said, "I LOVE YOU, PLANET EARTH!"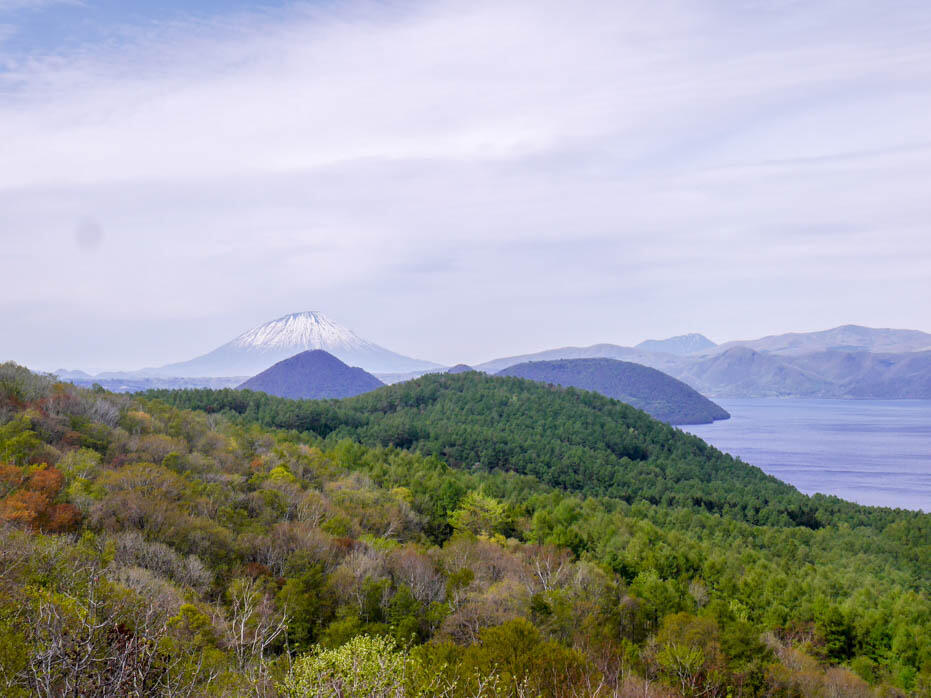 I WhatsApped a friend this picture and he said, "Can you stop sending pictures you took from Google Image?" Why, thank you!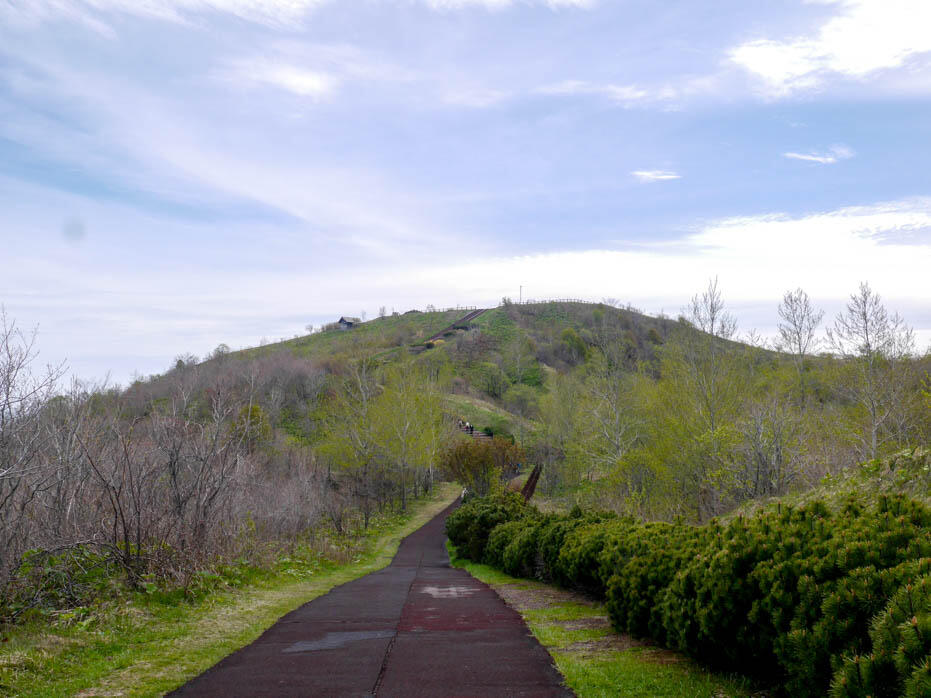 After the viewing point, we went on a little hike towards Mount Usu Crater Basin Viewing Platform.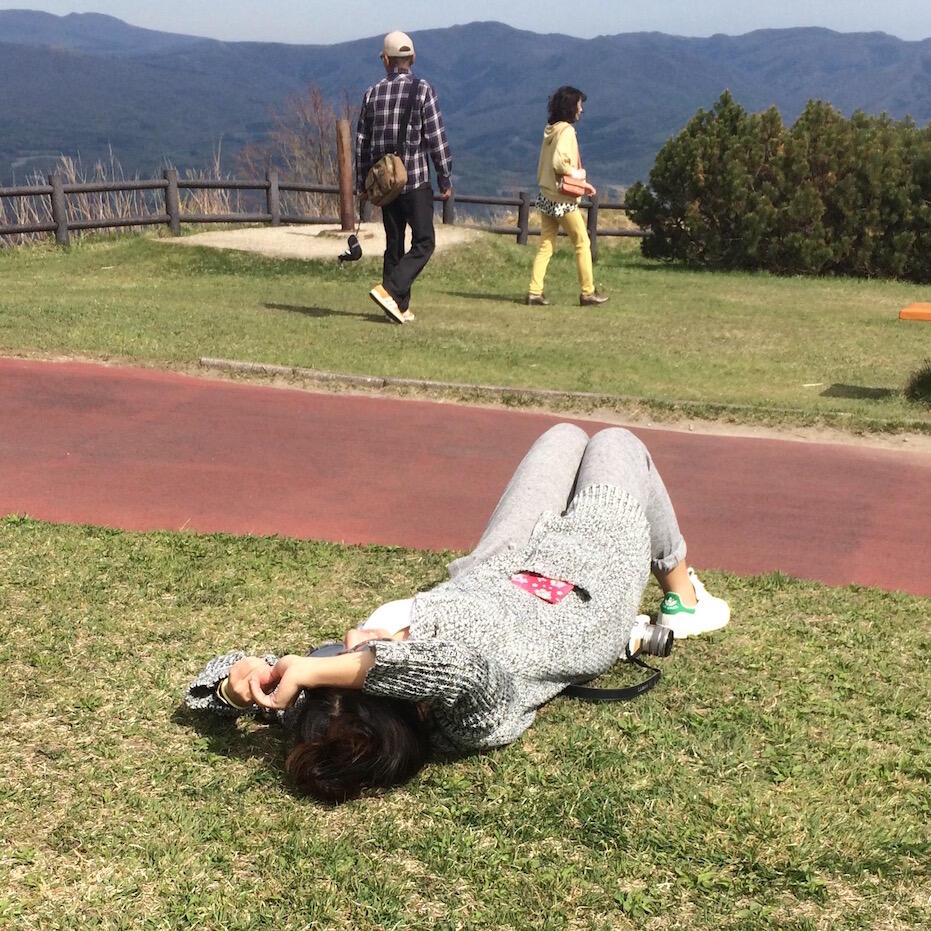 I just fell to the ground immediately upon reaching the top. I… made… it! *white flag*
Fun fact: It was just a 10-minute hike!
Next was the Noboribetsu Bear Park. This would be my least favourite place to visit throughout the trip because I strongly believe that the bears belong in the wild! But I was told that there are over 2,000 brown bears in Hokkaido and due to declining numbers, the bear park was built to study and breed the brown bears so they wouldn't go extinct. They started with only eight bears and now they have over a hundred.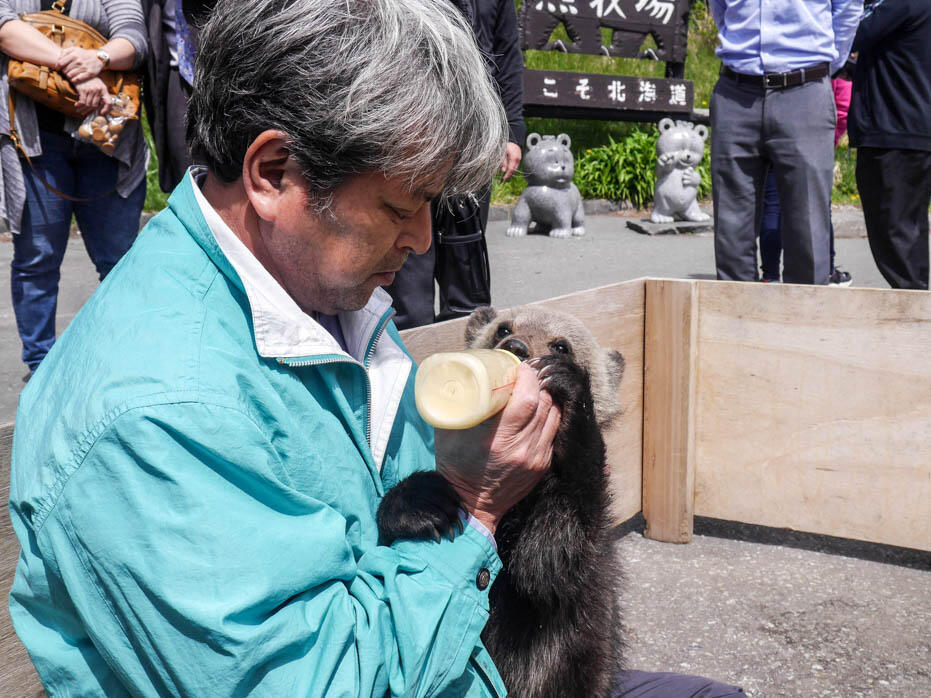 One of the staff feeding a baby brown bear. Sooooo cute!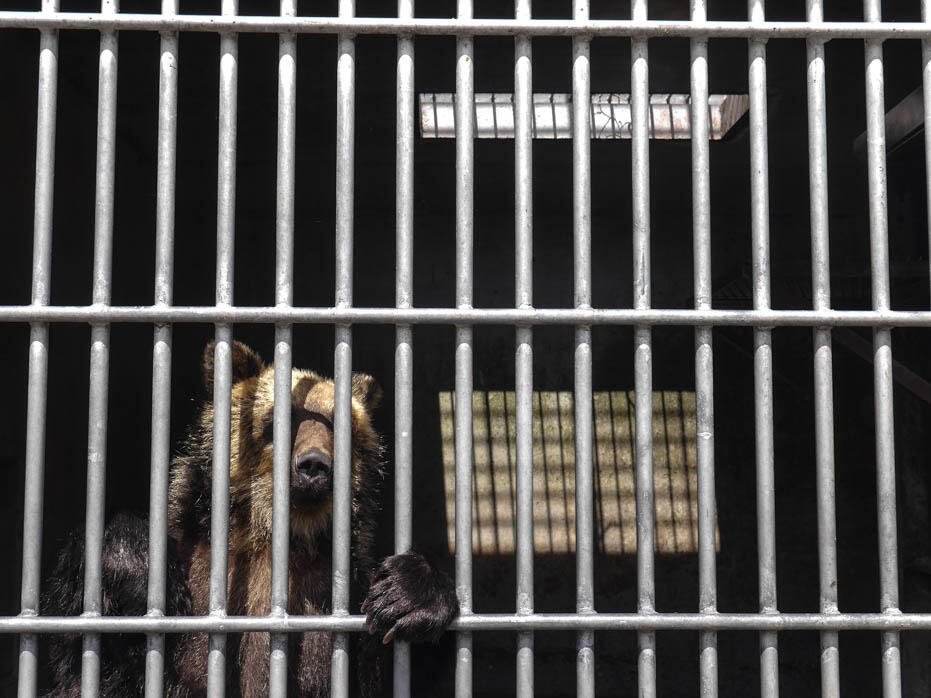 I know, bear. It's not nice being locked up  😥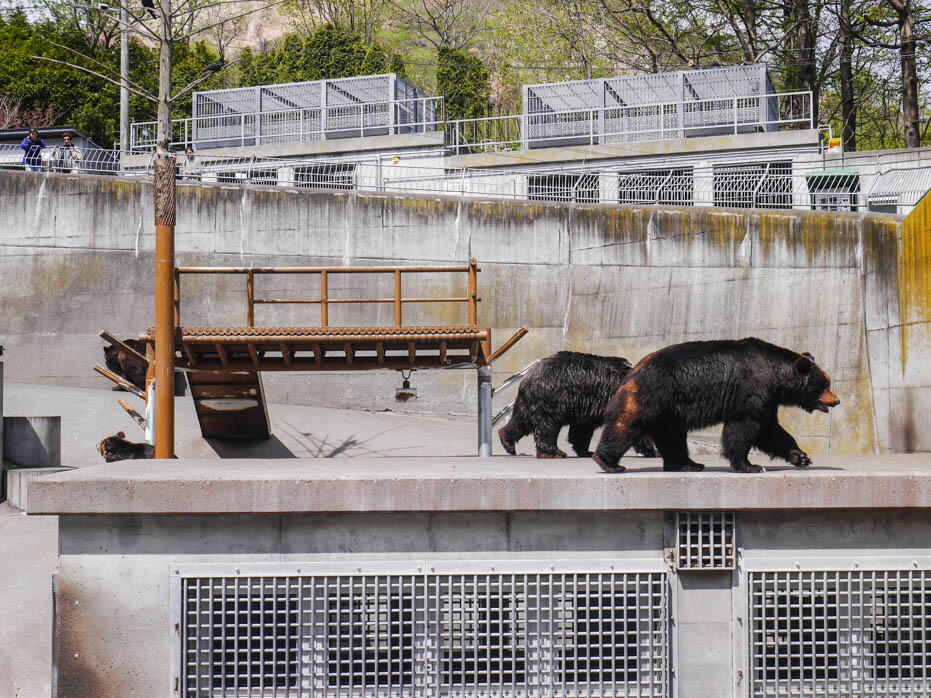 On the first night, we were put up at Green Leaf at Niseko Village Resort. Owned by YTL Hotels, Niseko Village is nestled at the south base of Mount Niseko Annupuri (1308m) where it sits within the Niseko United ski area that accesses interlinked ski resorts boasting a combined 2,191 acres of skiable terrain! Believe it or not, it is often compared to a world-class ski resorts like Aspen in Colorado and St. Moritz in Switzerland! If you're planning to go on a ski trip this coming winter, look no further, Niseko Village is the place to be. YTL Hotels is currently constructing two all-season lifts called Village Express and Upper Village Gondola for connectivity around the central village, restaurants, shopping and hotels within the vicinity.
The Green Leaf Niseko Village Resort has one of the best spas and onsen facilities, a dining and retail village hub, and the Niseko Village skifield – renowned for its dry champagne powder snow at low-altitude, variety of ski terrains, the world-class Niseko Village Snow School and Niseko Kids™ programmes.
In the summer, the resort transforms into a popular destination with two highly acclaimed golf courses designed by Arnold Palmer (I will strangle you in your sleep if you don't know who this is), a water-park for kids, an outdoor Pure at Niseko Village nature park, and a whole lot of other active pursuits! So believe me, Niseko Village is ALWAYS in season!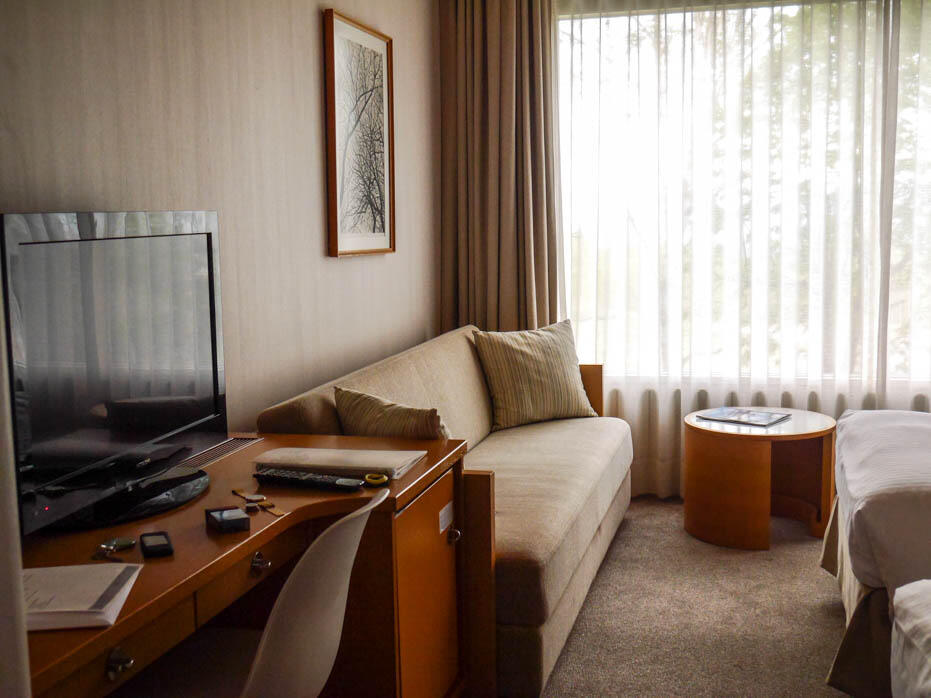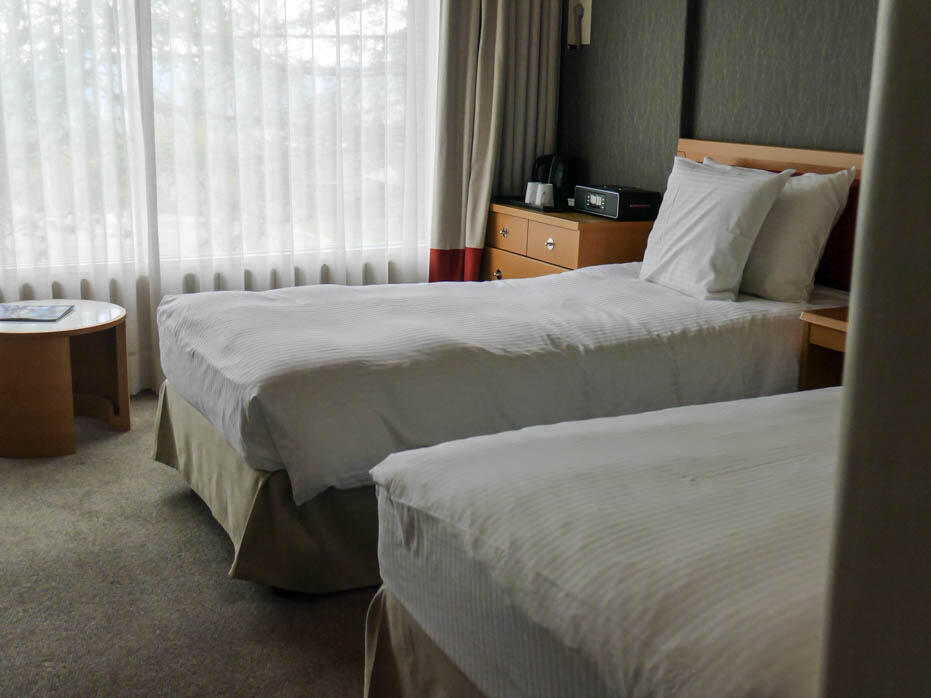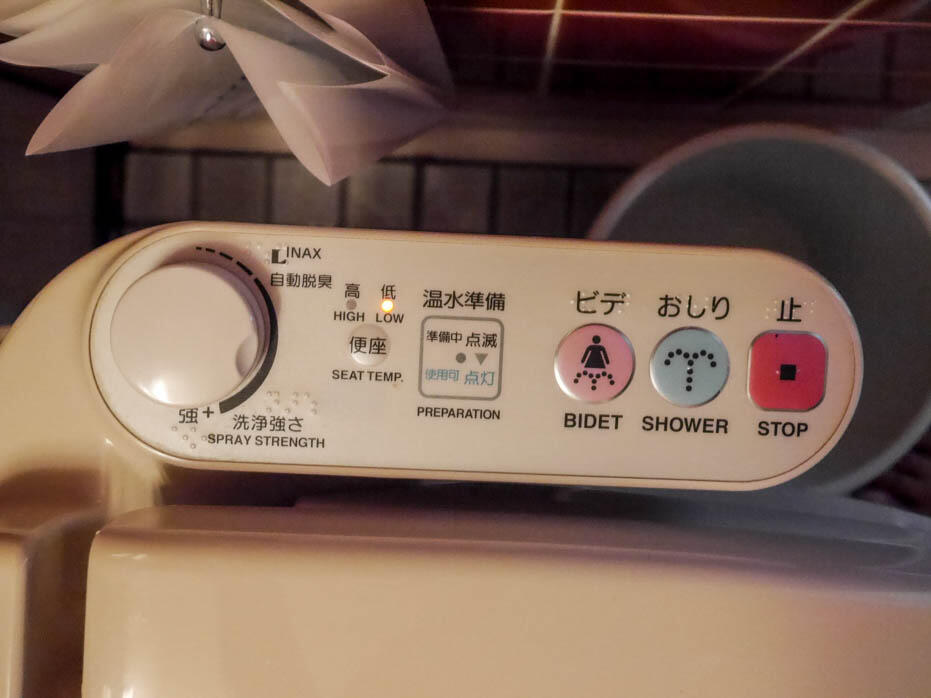 THIS! I was sooooo looking forward to using a Japanese toilet with heated seat! I've only heard stories about how fabulous it is and yes, it's FANTASTIC!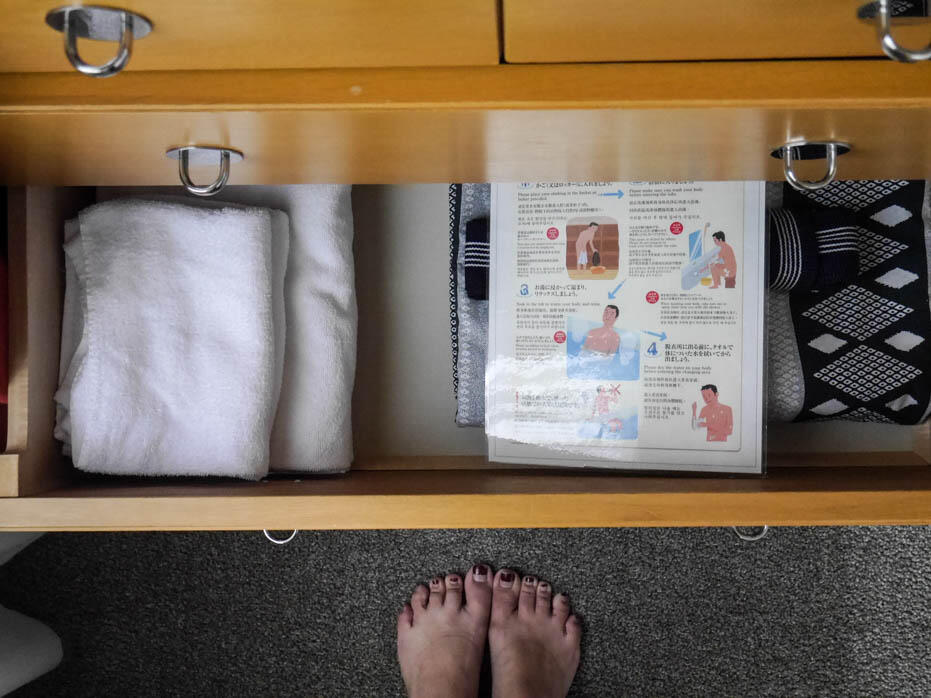 My onsen gear! I'd never been to an onsen before and oh, how I miss it right now!
As I mentioned earlier, The Green Leaf Resort has one of the best onsen facilities and I'm such a lucky girl for having my first onsen experience at this fabulous resort with one of the nicest and funniest people I've met, Michelle from Parlo Tours!
Michelle: Are you going to the onsen later?
Baby: Umm… I dunno. Do I have to be completely naked?
Michelle: Yes…
Baby: LET'S DO IT!
She called me at 9.30PM on the dot and we met in the hallway wearing our Japanese robes, all giddy and excited!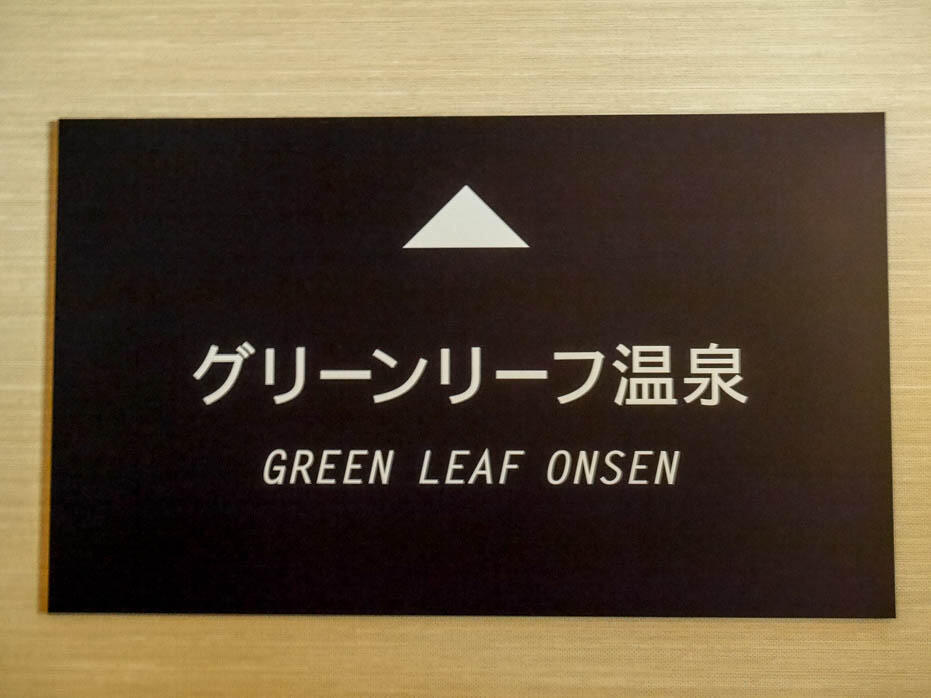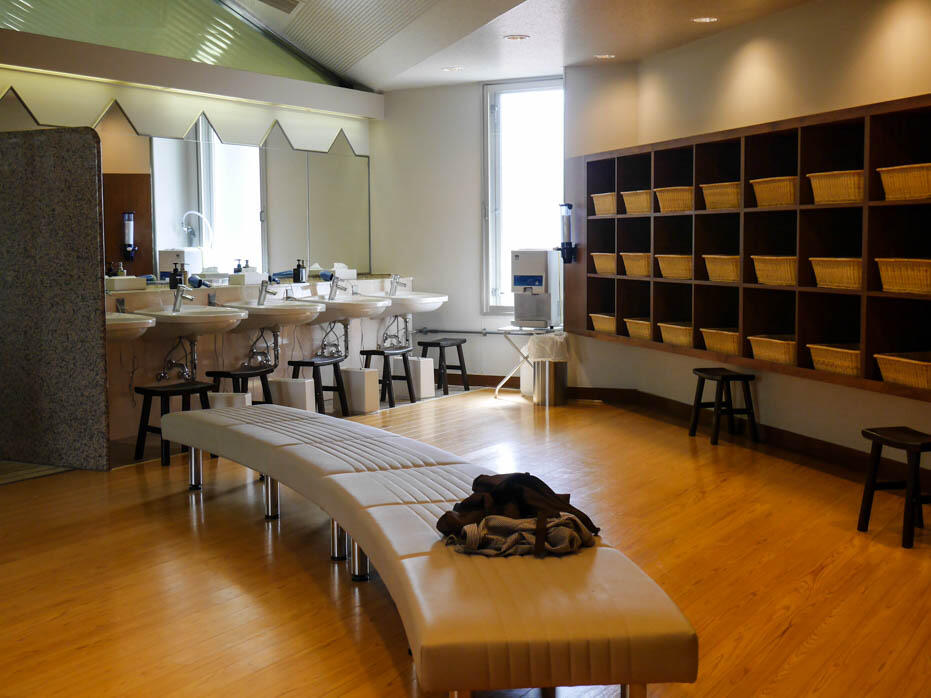 This is where you take your robe off to place neatly in one of those baskets and try not to giggle upon seeing the nakedness of your new-found friend for the first time.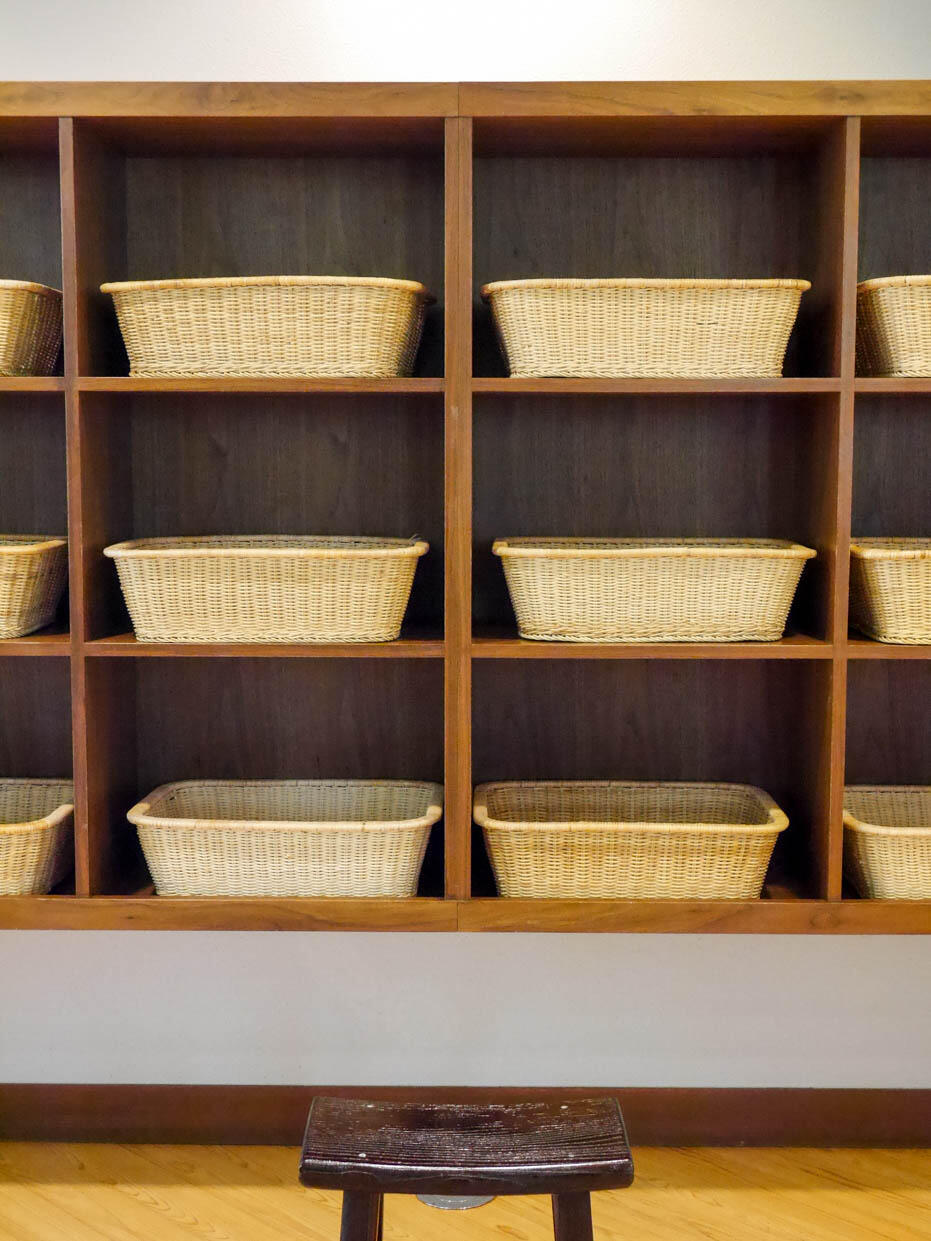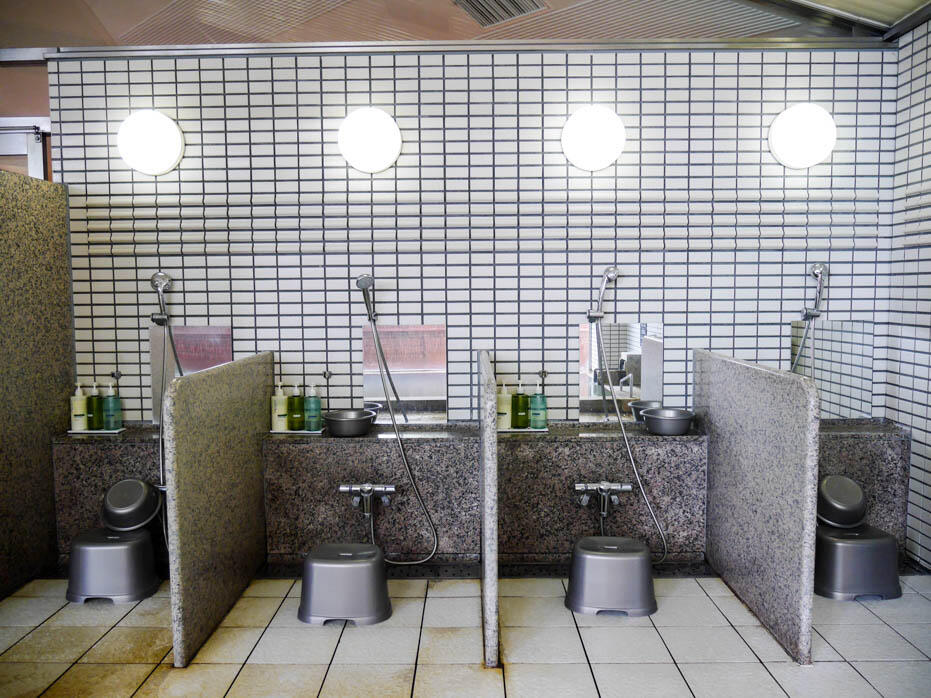 This is where you sit and clean yourself. You are expected to do the whole nine-yards: wash your hair, scrub and clean every inch of your body as much as possible.
And then choose to submerge yourself in….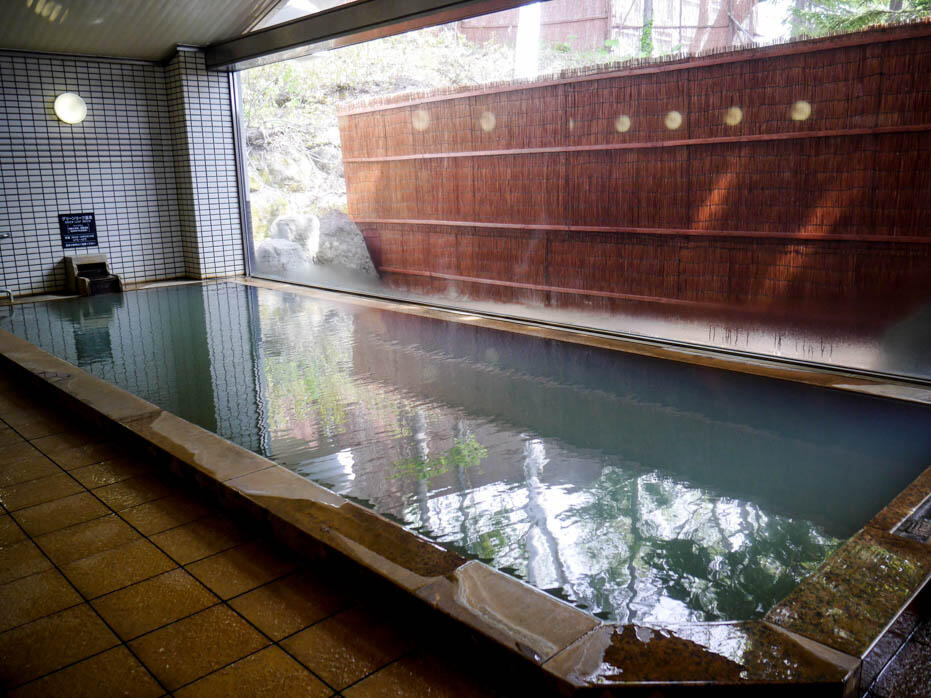 The indoor onsen or…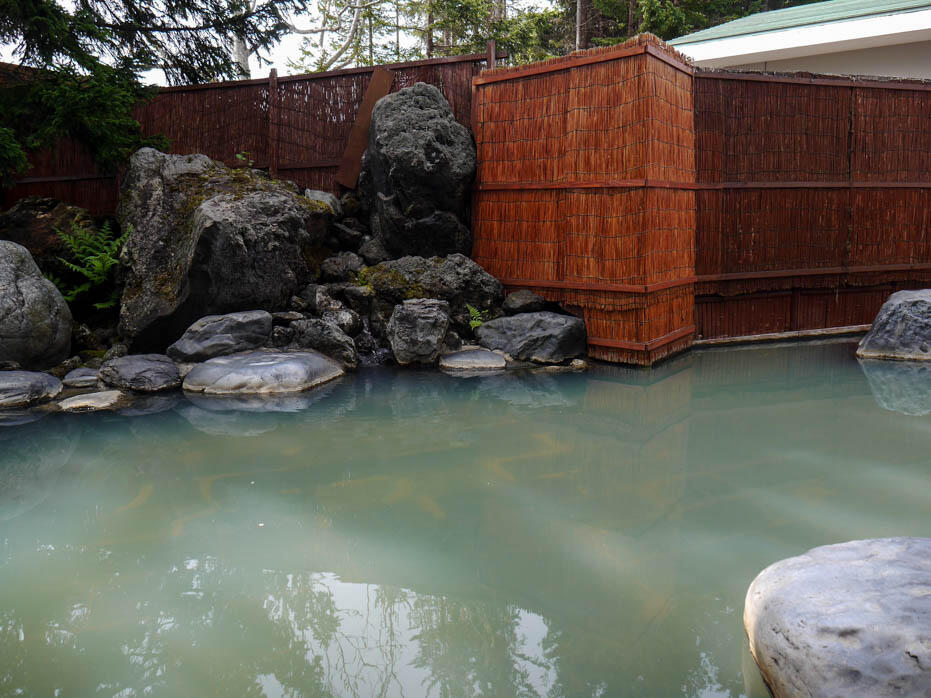 The outdoor onsen! Obviously we chose it as oxygen is aplenty with trees and stars above our heads. Imagine being completely naked outdoors at 5ºC  and then submerging yourself into a body of water at 40ºC. The sensation is innnnnnsanely good!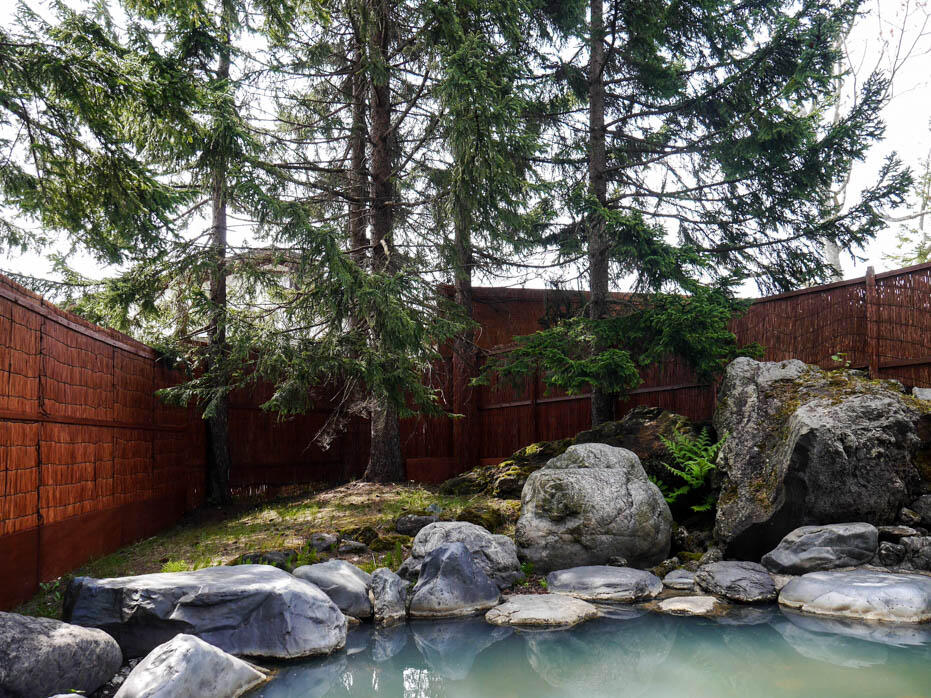 Michelle and I stayed for about an hour just connecting with each other, ourselves and nature. I live for moments like that – girl time. Japanese has often talked about the virtues of "naked communion" for breaking down barriers and getting to know people in a relaxed atmosphere. For those who know me, you would know that I have no problem being naked because I personally believe that  you should be comfortable with your own body, in your own skin. Self-confidence is our biggest asset and one that we as women seem to lack. I want you to know that as long as you have a body and limbs that move and a heart that beats, you really do have everything. And your body can do a lot of fantastic things like, dancing, hugging, running. YOUR BODY IS AMAZING, OK?
The next morning, after breakfast and check-out, we went to the Niseko Milk Kobo owned by Takahashi Dairy Farm. This place is a MUST visit if you're ever in Niseko. It is a complex with a cafe that serves mouth-watering pastries made of fresh produce, a yoghurt workshop, an apparel store and an art studio.
They have a rule to treat dairy cows with utmost respect where they are only fed with the best quality grains and drink only water streaming from the magical Mount Yotei.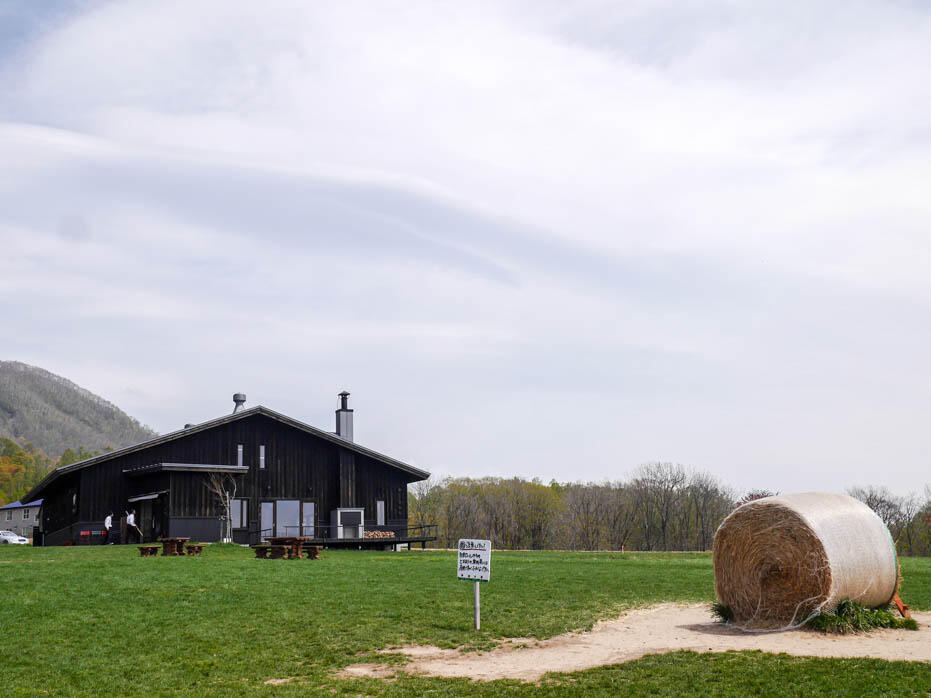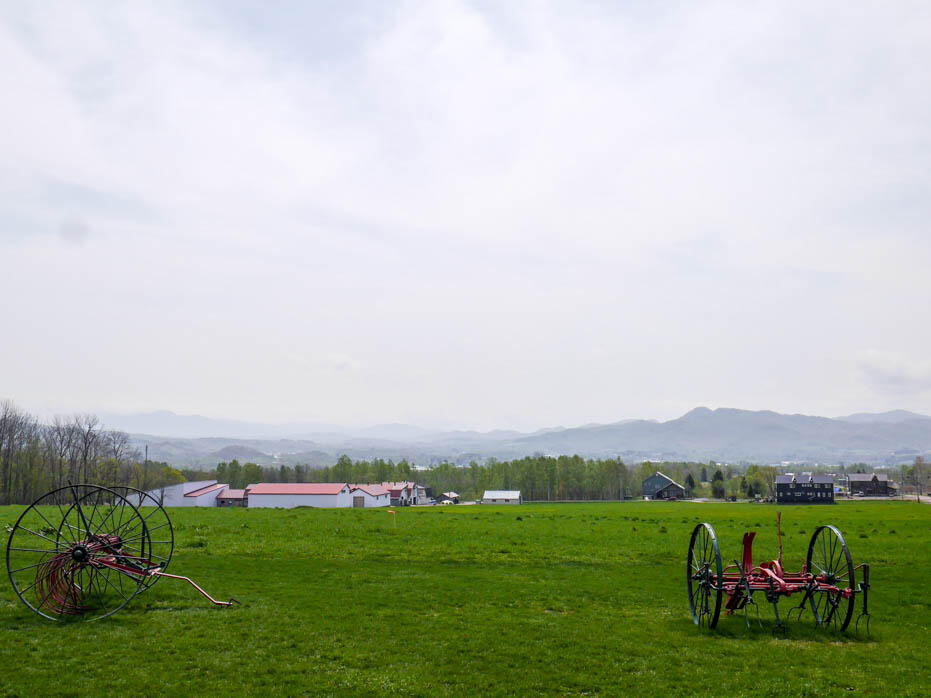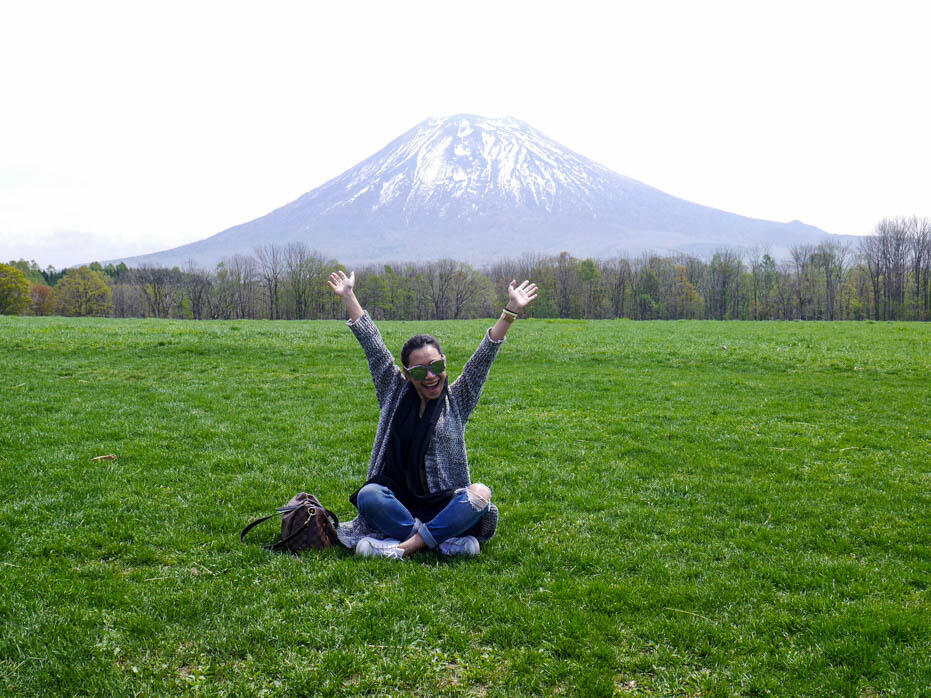 That's Mount Yotei at the back 🙂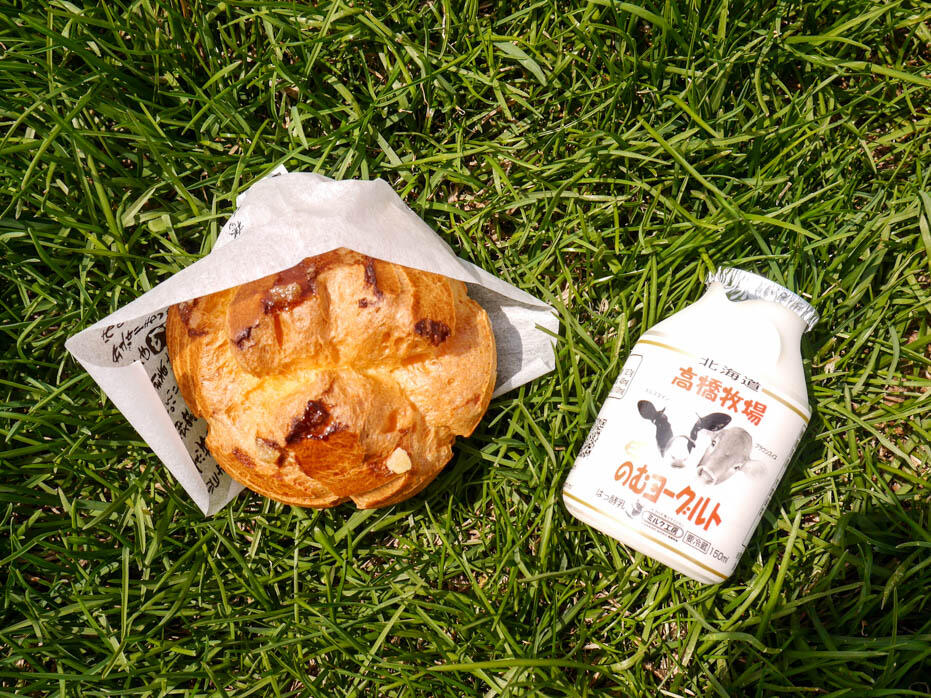 We had freshly baked cream puffs which were made to perfection with its crispy exterior that gives way to a melting interior of luxurious vanilla cream. The yoghurt is divine too!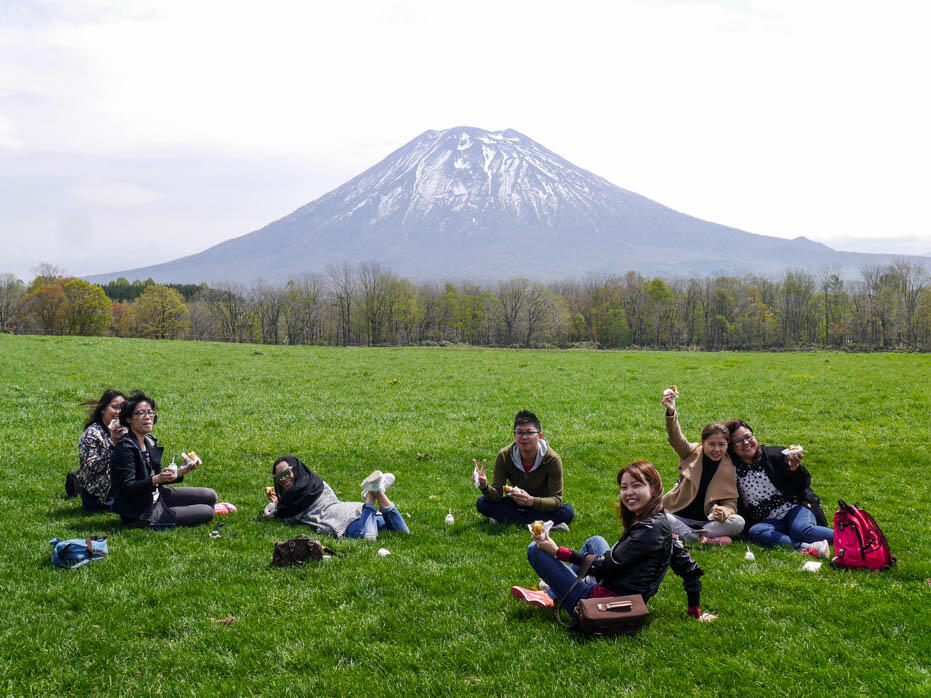 One of the best mornings I've ever had in my life – us eating cream puffs with that magnificent background!
After bidding the Niseko Milk Kobo farewell (with a heavy heart), we went over to the Niseko Village Plaza Farmer's Market (Pasar Tani, bro!) where you can find produce from over 60 farms in the area.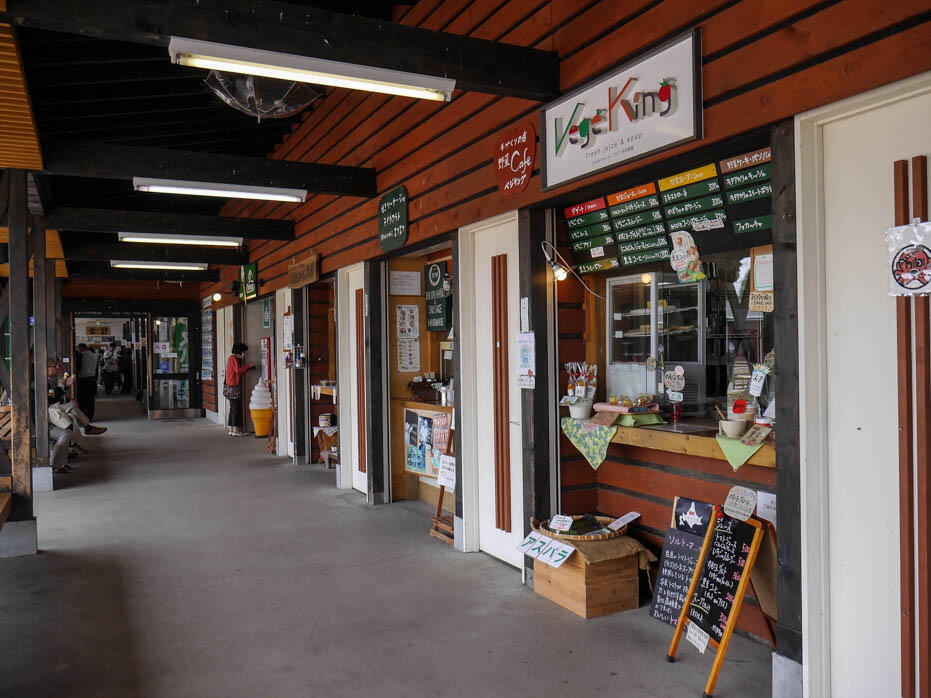 It's such a cute place to hang out because they have all these takeaway stalls, benches, a playground, cafes, and ice cream shops…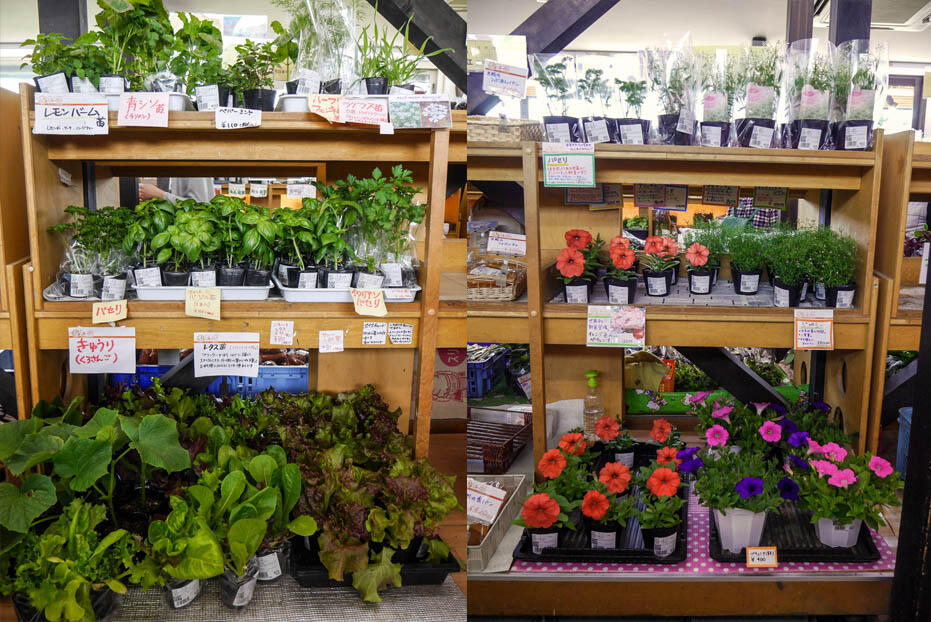 They sell flowers and herb plants…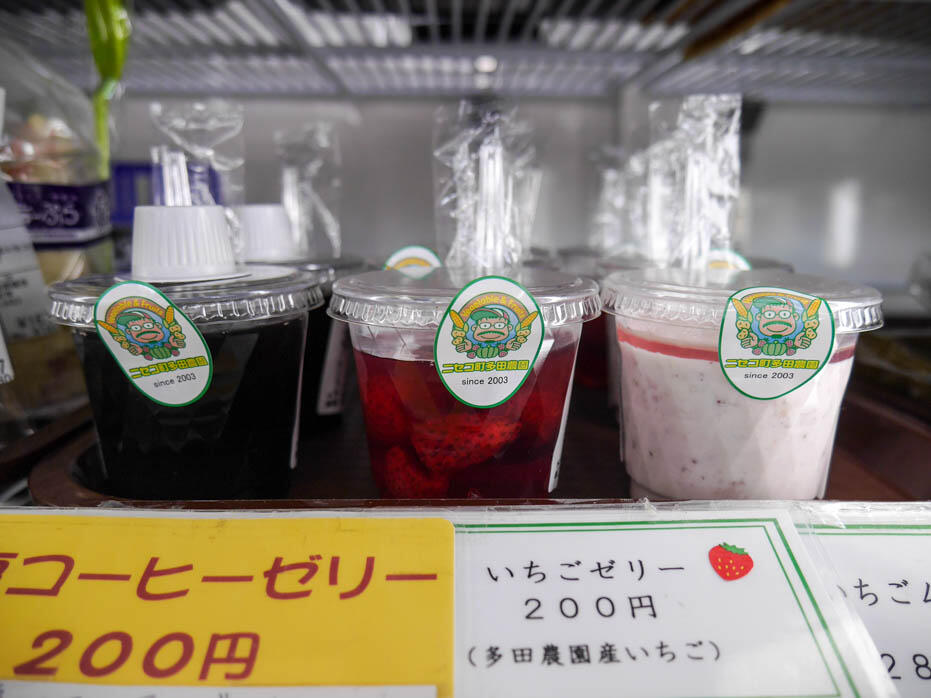 Dessert cups…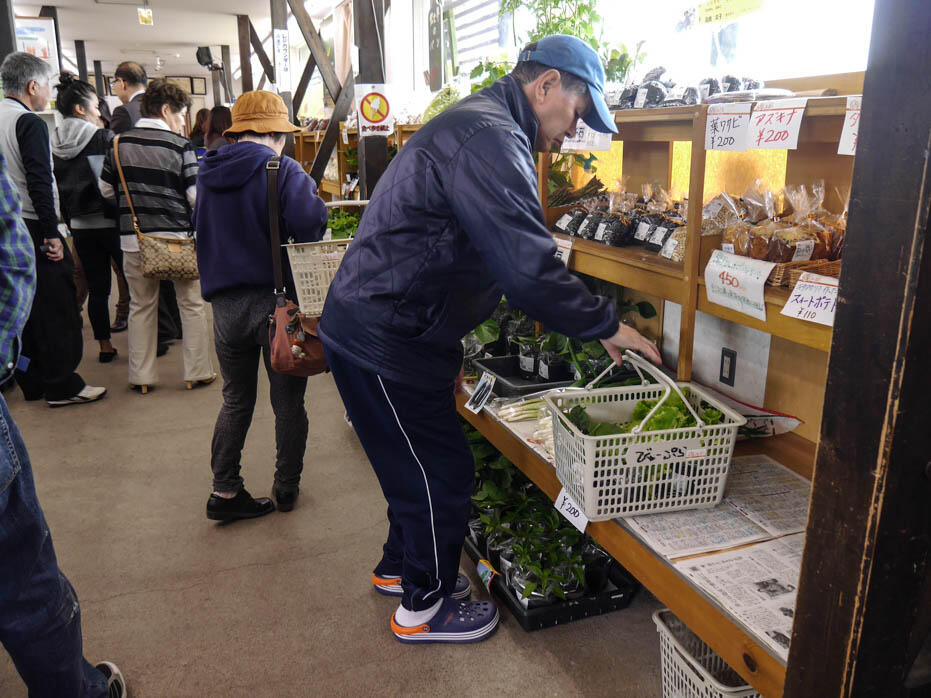 Cute uncles, aunties, grandmas and grandpas buying stuff…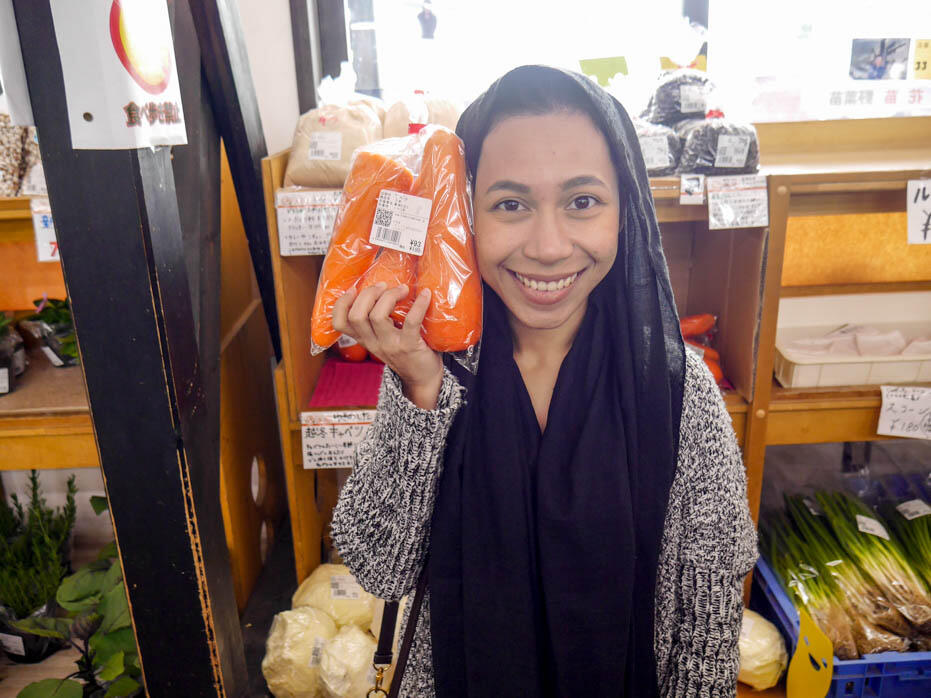 And carrots as big as my face!
Come lunchtime, we were ferried to Hilton Niseko where lunch was served!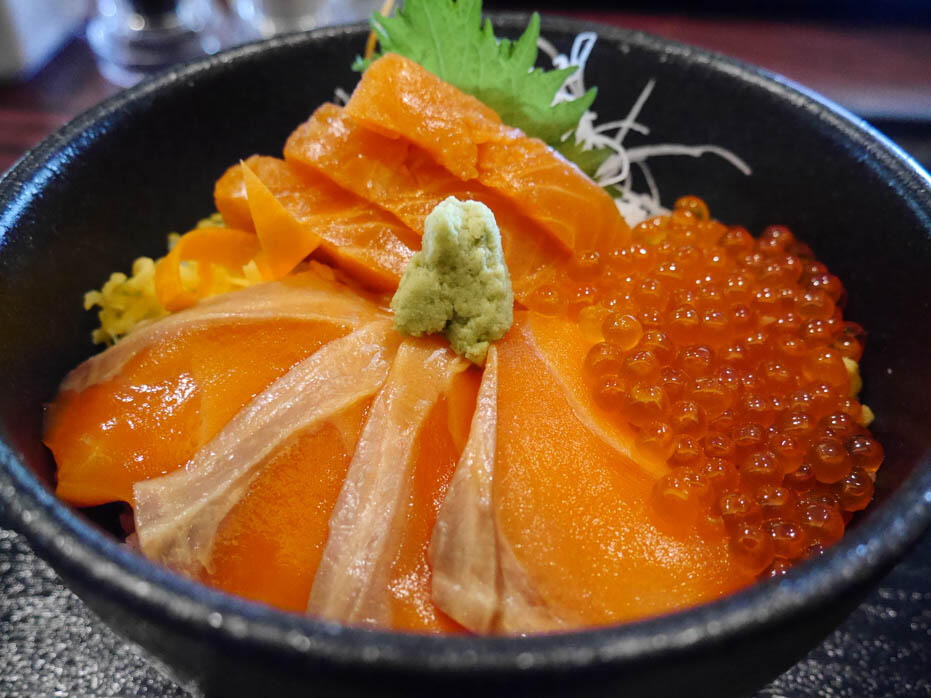 I had a salmon rice bowl which was soooooooooo awesome! (My tummy is growling as I'm writing this)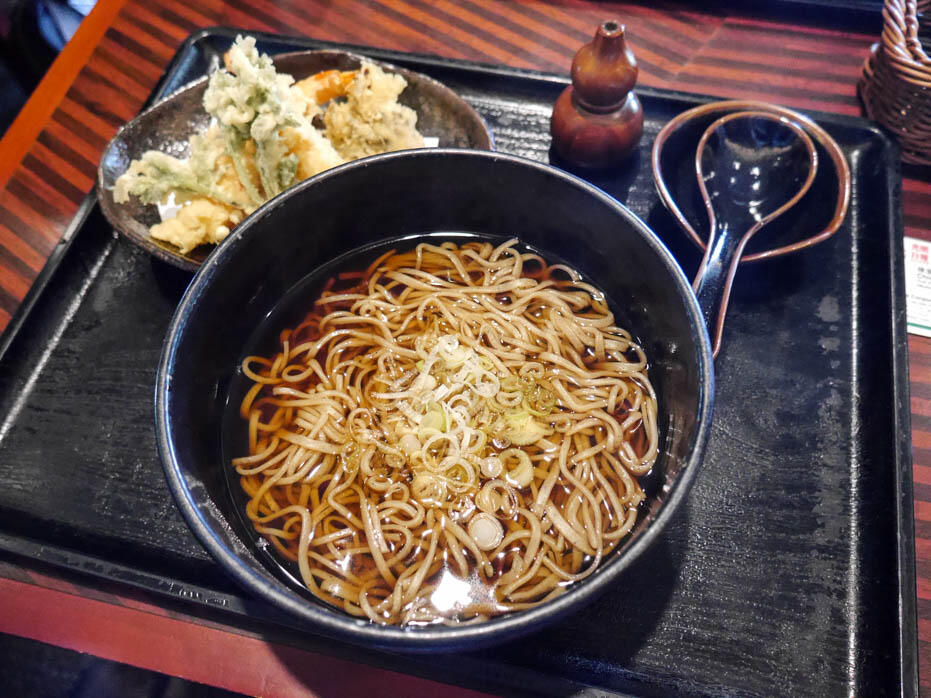 Michelle had the tempura soba which was so flavourful and delish that I kinda tricked her into swapping meals with me.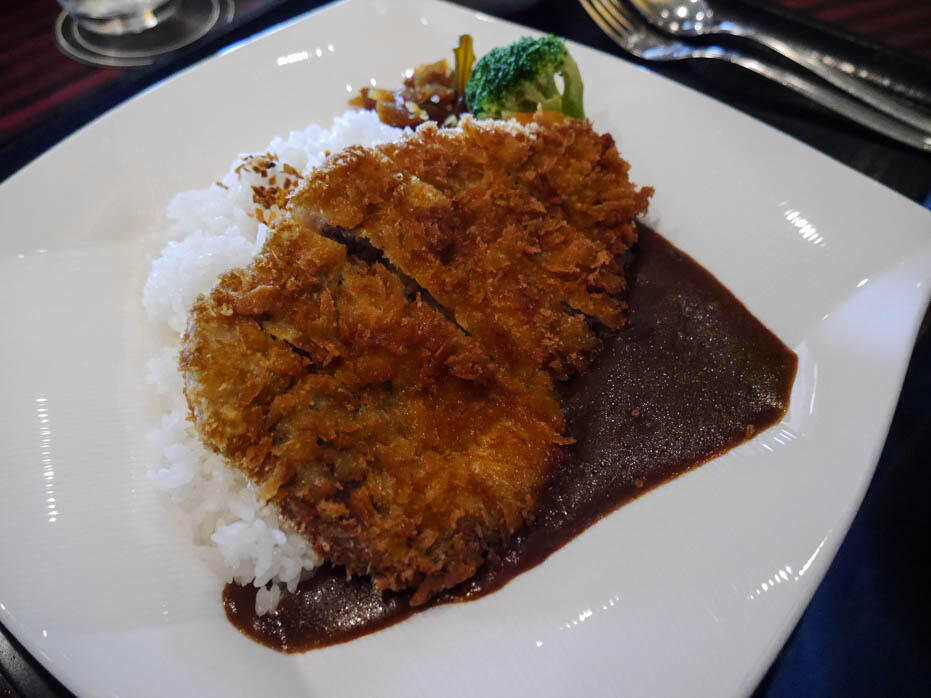 Chicken katsu-don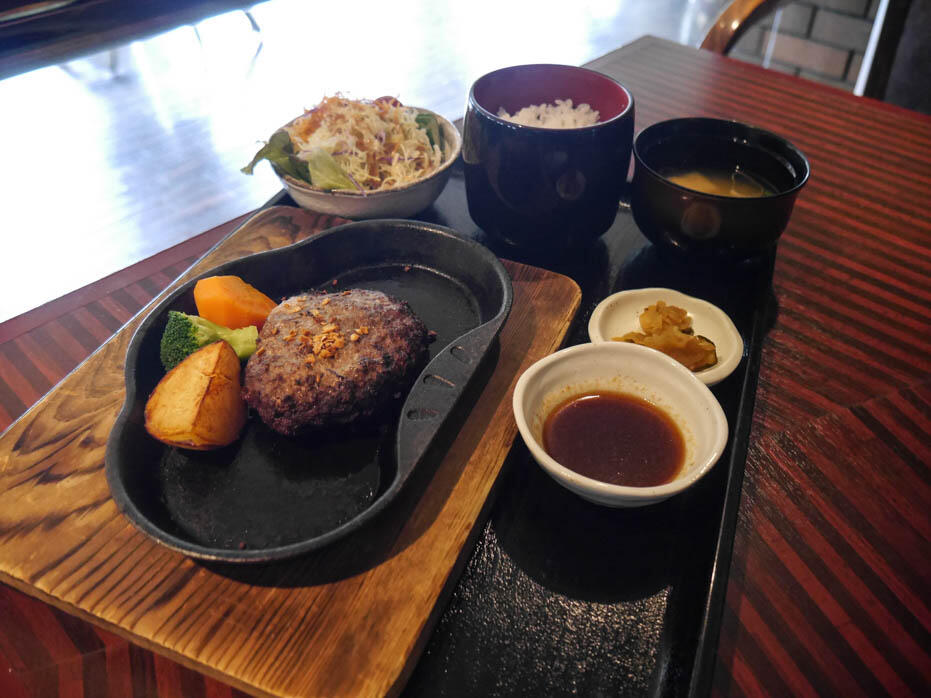 Hamburger!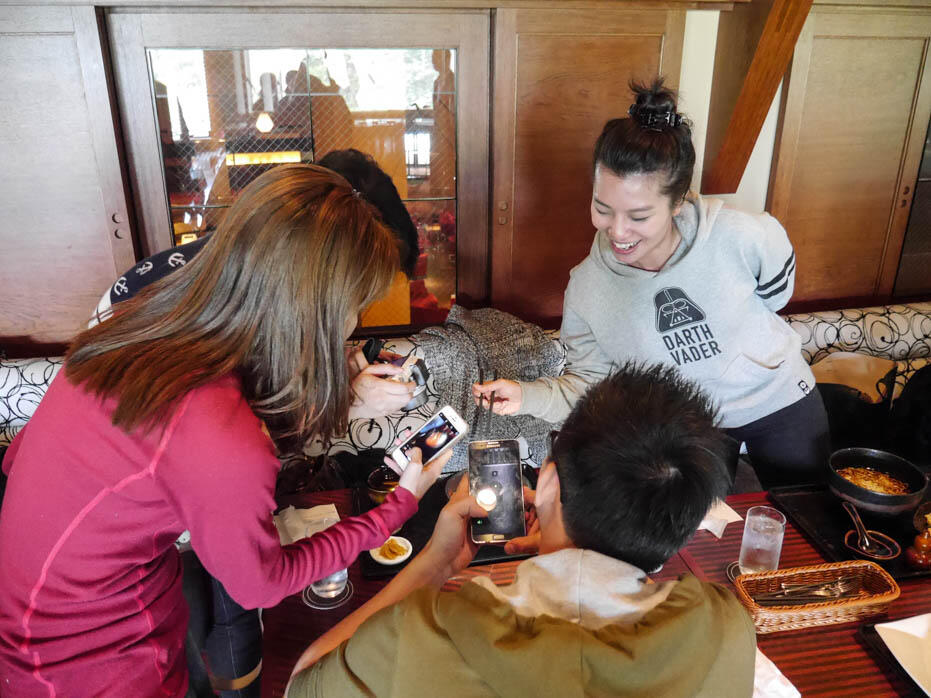 Normal sight at any FAM trip. <3
Right after lunch, we boarded the bus to Sapporo. Saying goodbye to Niseko Village was hard, you guys. I love it there!
It took us 4 hours to get to Sapporo and by the time we reached, it was dinner time. Meaning, no time to freshen up for the big dinner with the Japanese delegates. Egad! I was in my crop top and jeans! I actually had an outfit ready for that dinner 🙁
Dinner was at this posh restaurant called Sapporo Kani-Ya, where the hosts and waitresses wore Yukata and spoke in tiny voices. It was all very proper where reps from Air Asia X took out printed charts and explained to the delegates about the routes and forecasted tourist charts. While they talked shop, the rest of us sat quietly and ate our food like the good girls and boys that we are.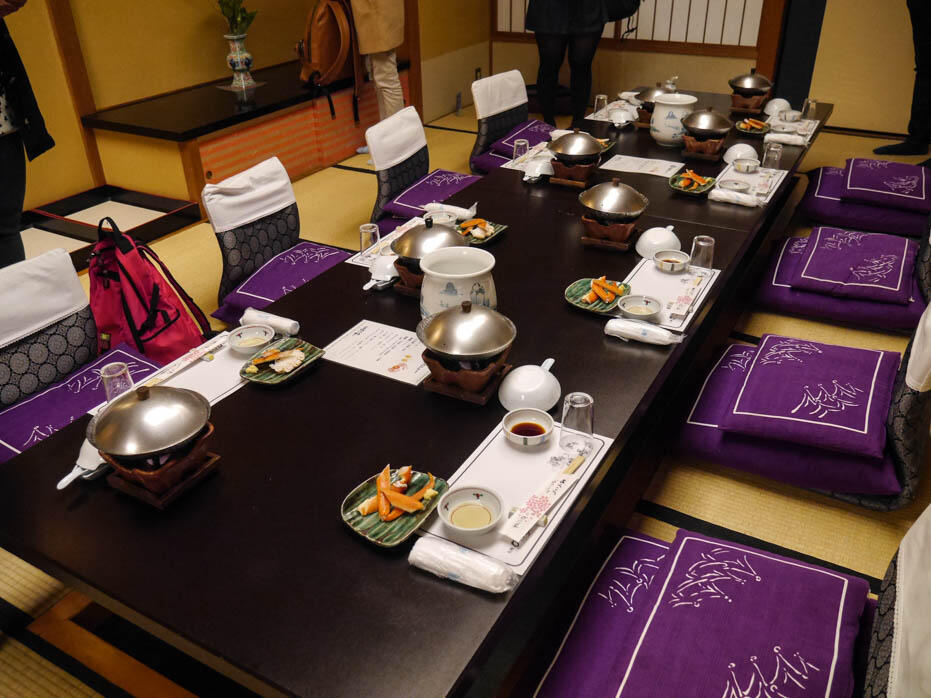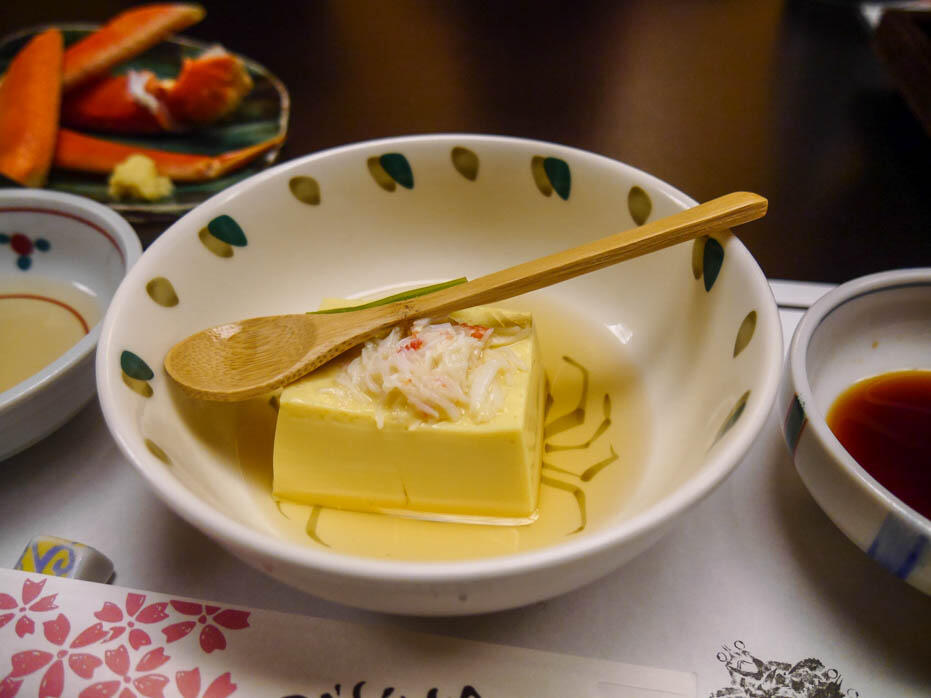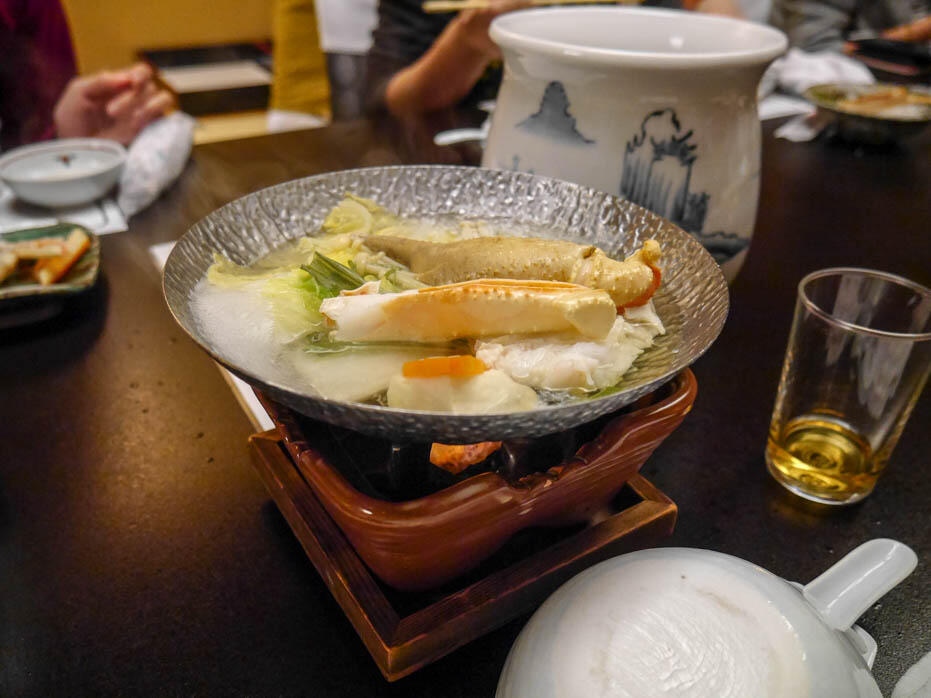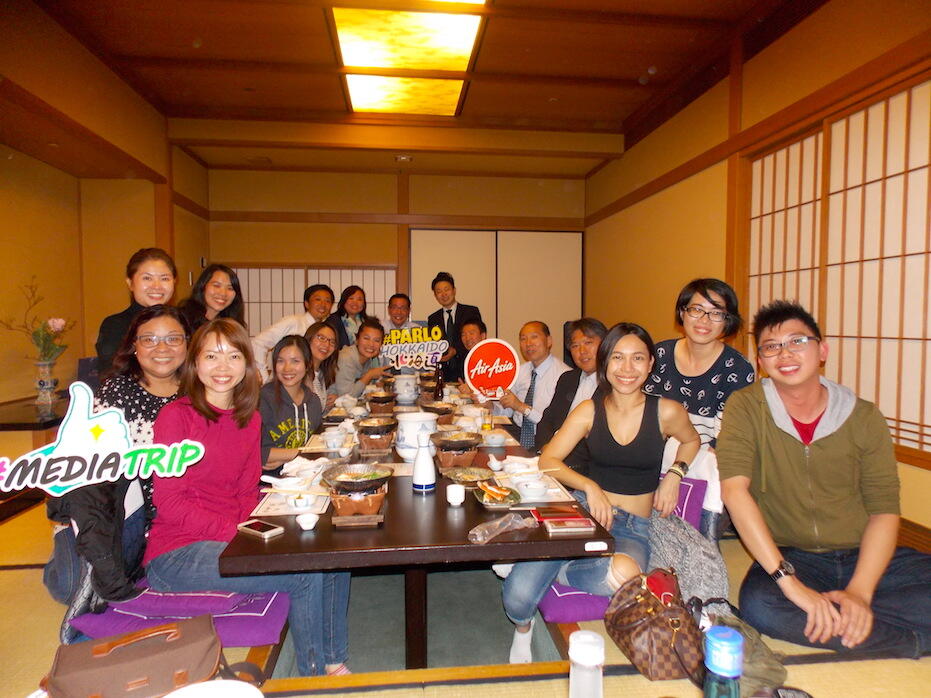 And after the tables were cleared and alcohol was served… it quickly escalated to
THIS!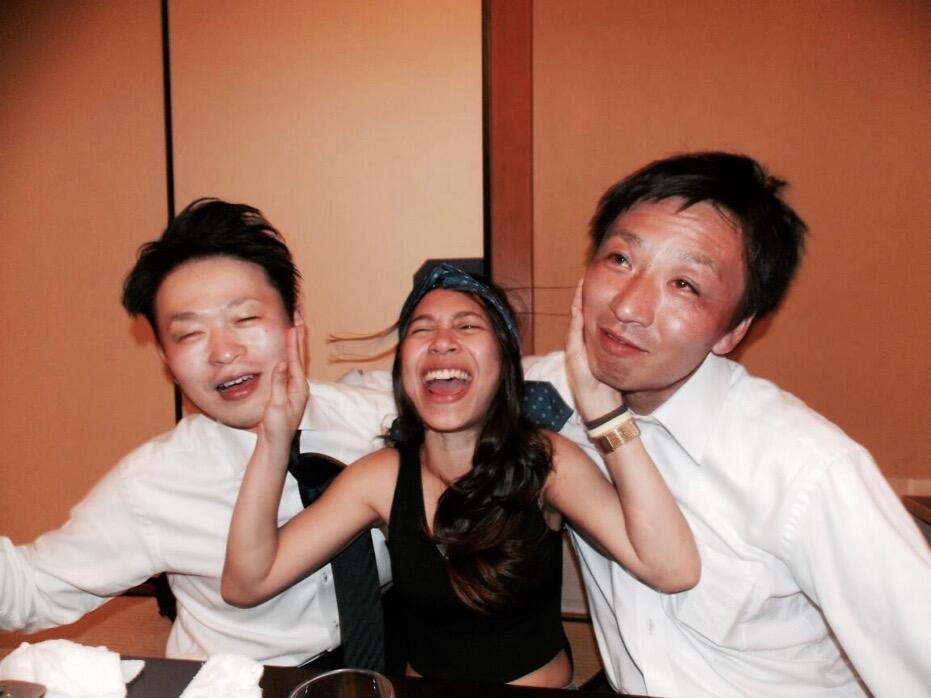 So, I learned that the whole 'tying necktie on your head after you had a little too much to drink' is true in Japan. Blimey, I've only ever seen in it films and I got to experience it first hand. It was MADNESS! I LOVE JAPAN!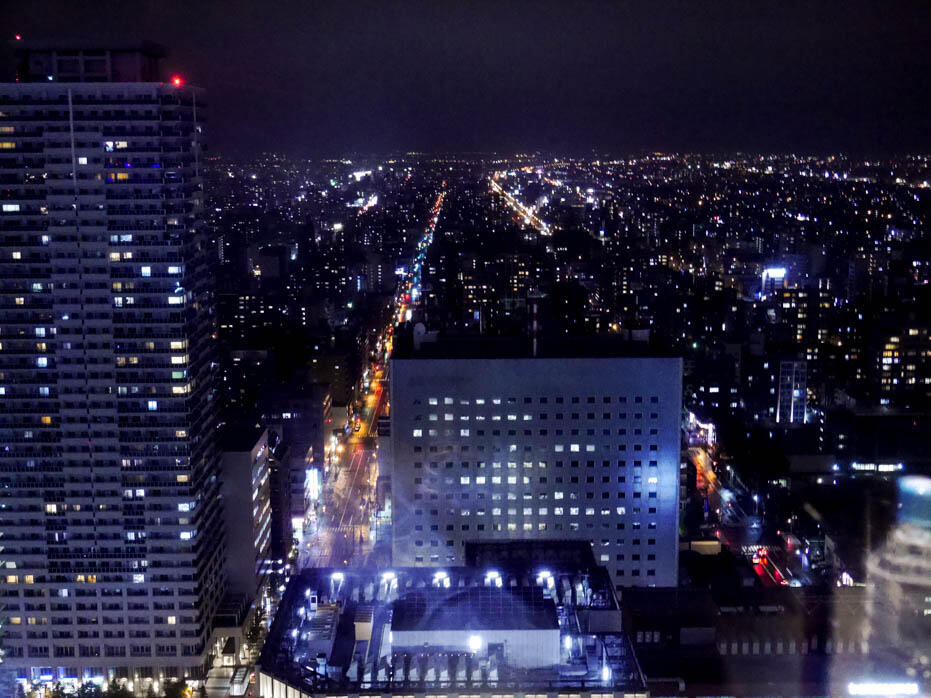 Stumbled back to my room to this view. <3
Next morning, we met up in the lobby at 8.30AM after breakfast and went on our way to the Higashimokoto Shibazakura Park! This is the highlight of the trip for most girls. Once they saw the view of the park from the bus, everyone (especially Yoong Ching) went, "Aaaaaaaaaahhhhhh!!!!!"
The Higashimokoto Shibazakura Park is situated in the town of Ozoro, Hokkaido and it's where dreams are made of. The park is famous for its 50m-high, 10-hectare hill with slopes of vivid pink. The view changes from the foot of the hill to its base. Similiar but not limited to the Sakura flowers, Shibazakura means lawn cherry blossom which means, it grows and spread on the ground. The park is so pretty I hope the pictures validate it.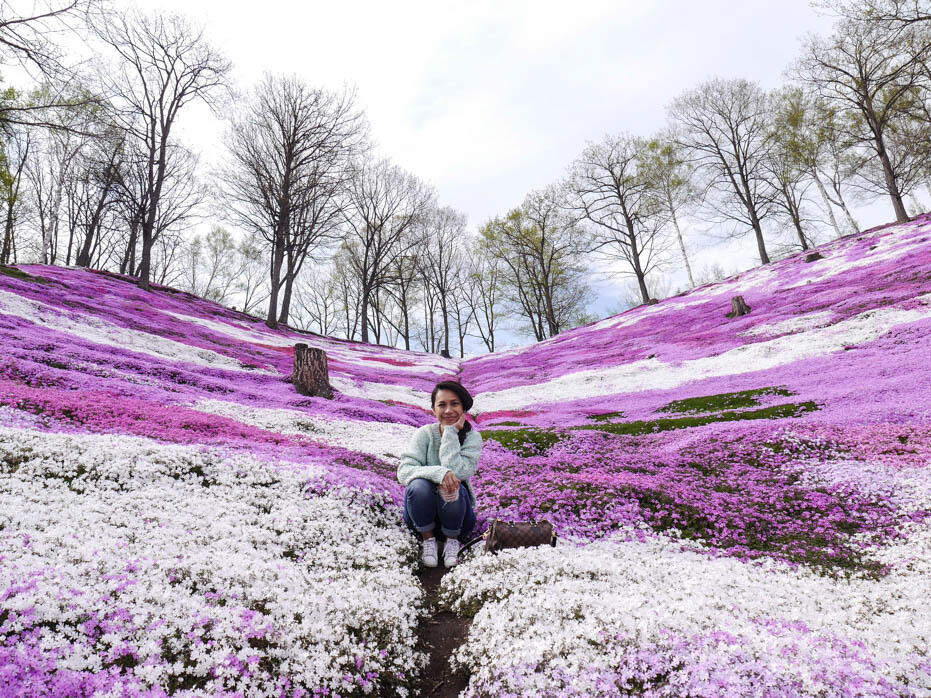 Not photoshopped!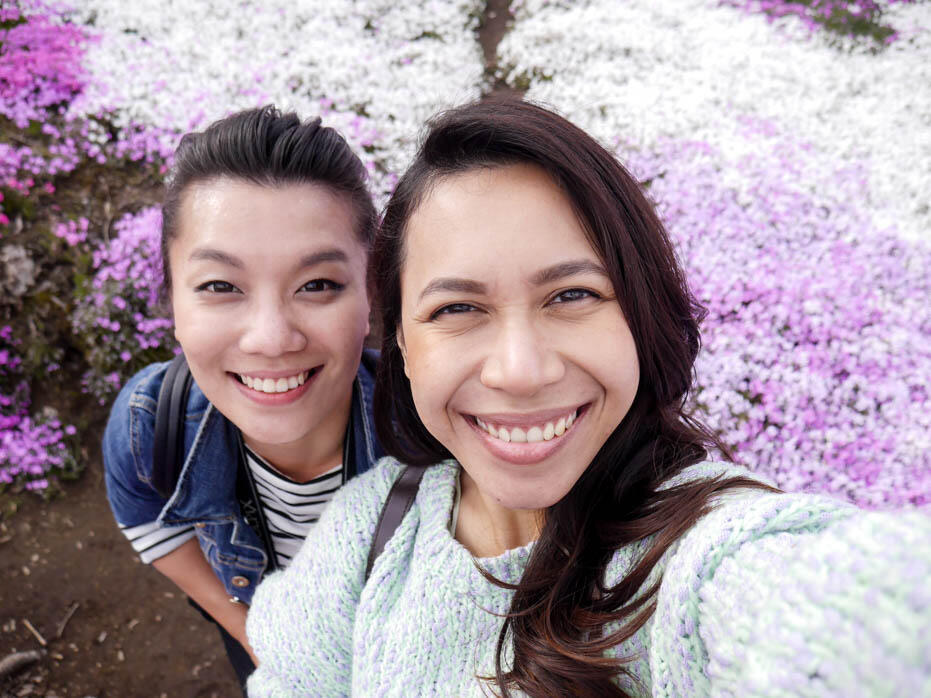 Michelle and I.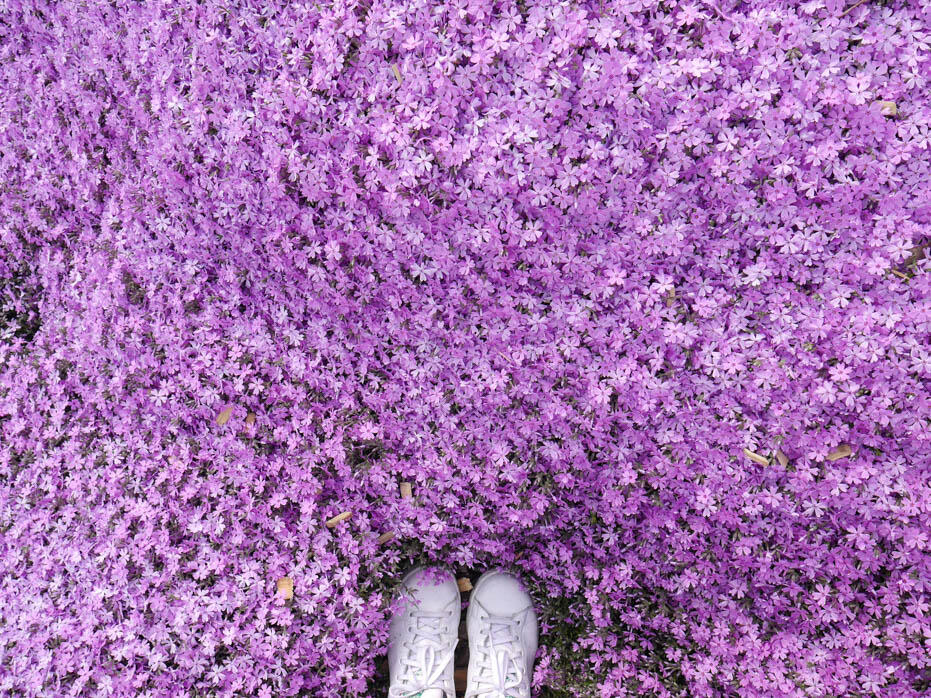 Sooo purple, so prettyyyyyy!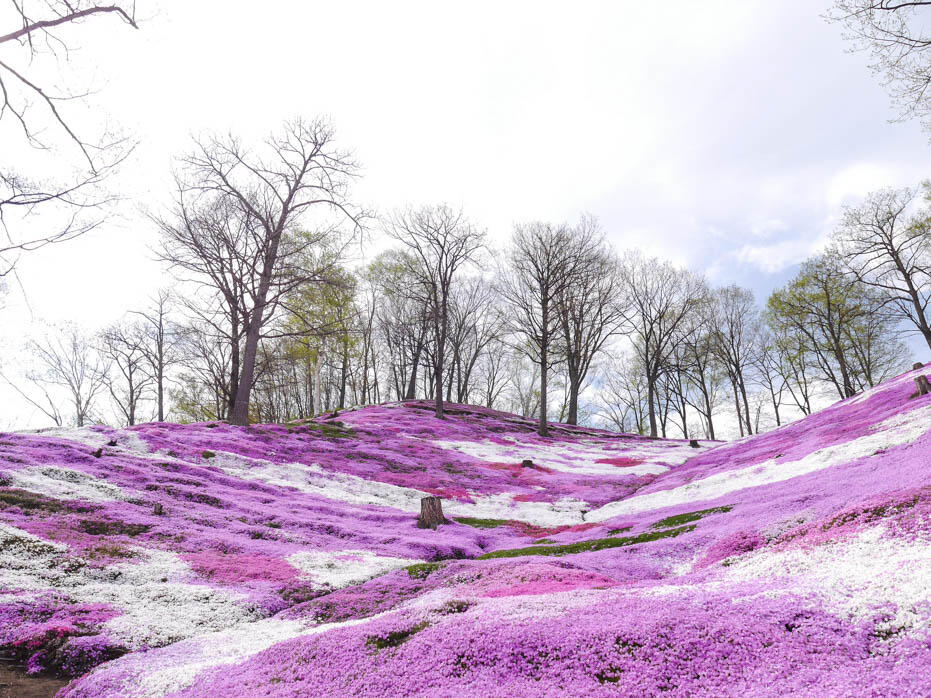 Mima (my mother) would totally faint if she's here. She's a total girl!
That night, we stayed at the New Akan Hotel where each of us got a Japanese-style tatami room with a nice view of Akan Lake. The room is massive with a living area, chill area and wardrobe.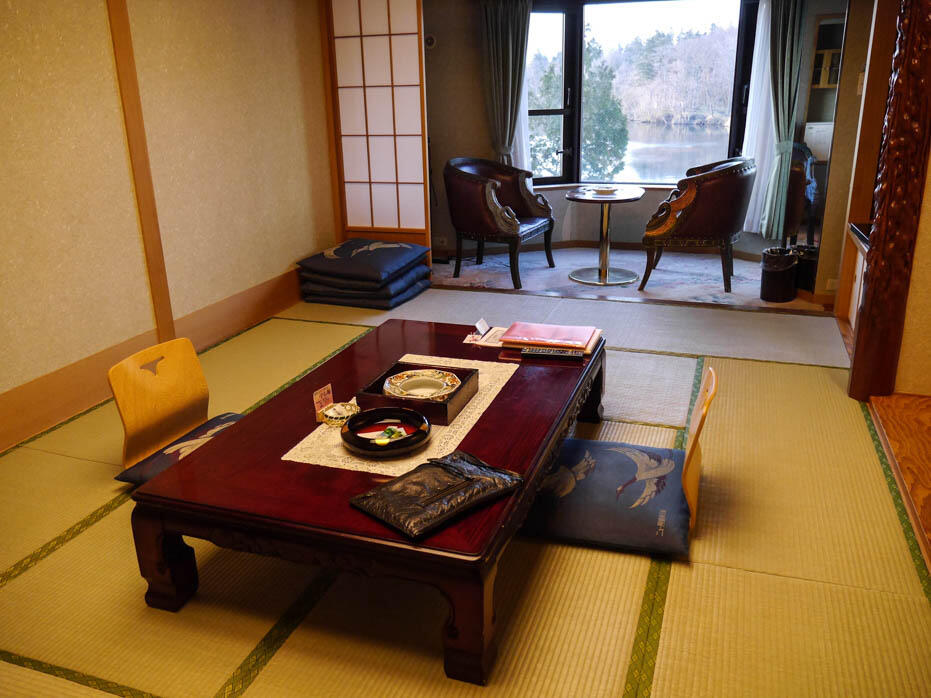 When I got in, it looked like this.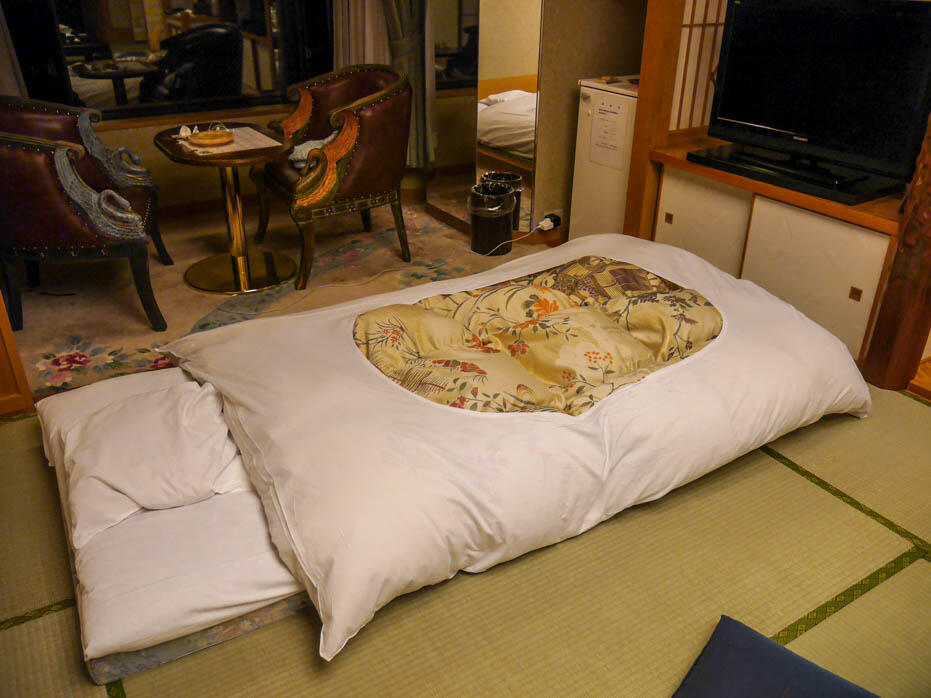 After dinner, I already have tatami to sleep in and it's oh-so-comfy!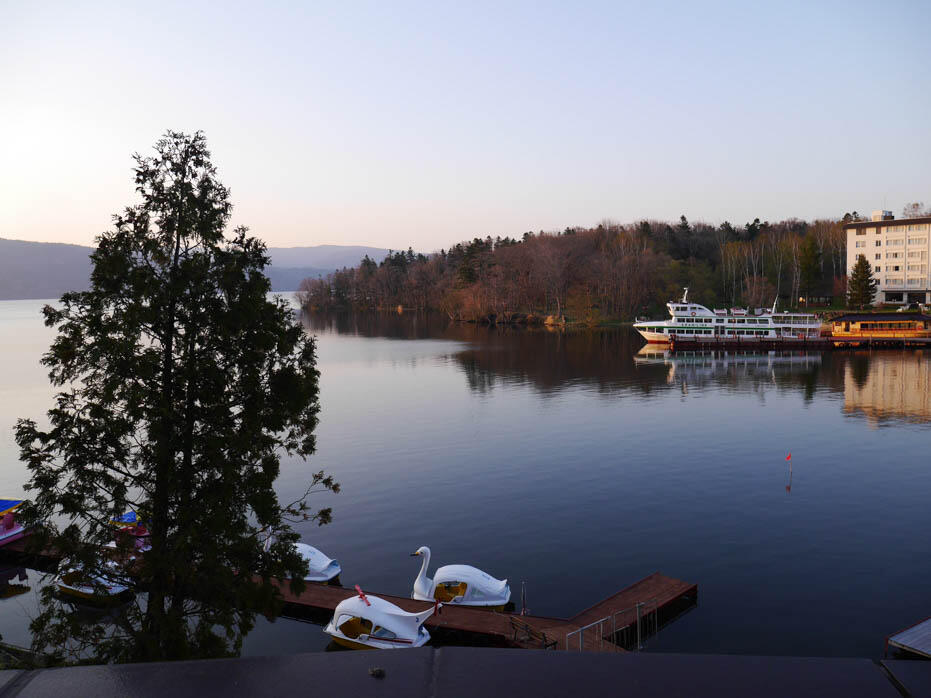 View from my room <3
By this time I'm already friends with everyone and in true Baby-style, I asked if they wanted to check out the onsen with me that night.
Baby: So, shall we get naked together at the onsen tonight?
Jane: *giggles*
Janice: If you go naked, I will join.
Yin Fun: Yes, let's go!
Yong Ching: Ok, I join!
Siew Han: *giggles shyly* Ok!
Baby: SPLENDID! Party in my room after!
After dinner, we went up to the 9th floor where the communal bath area was. At first, some of the girls were shy even though everyone around them were in their birthday suits chatting, sipping water casually next to the water dispenser like she's in a 60s French film. One of us had to go first. I did, followed by Janice to the shower area. In the midst of washing my hair, Yin Fun sat next to me, I gave her a "you go, girl!" nod and the rest just followed suit. I felt so proud of the girls for facing their fears and embracing the situation which was extremely fun and I wouldn't trade it for the world! I hope they felt liberated, even if it's just for a few minutes. #GirlPower
After we're done swimming around and singing in the Jacuzzi, the whole gang converged in my room to have a little party where we had snacks, wine and green tea. We also took A LOT of silly pictures and then talked until it was time for bed.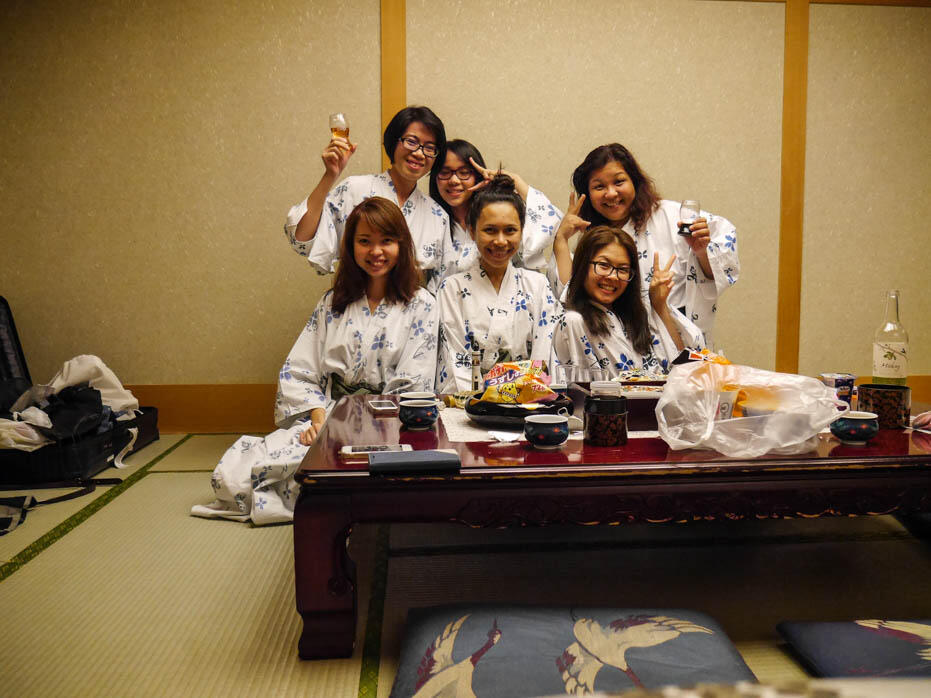 Clockwise: Yong Ching, Baby (ME!), Janice Poon, Jane Chin, Siew Han and Yin Fun <3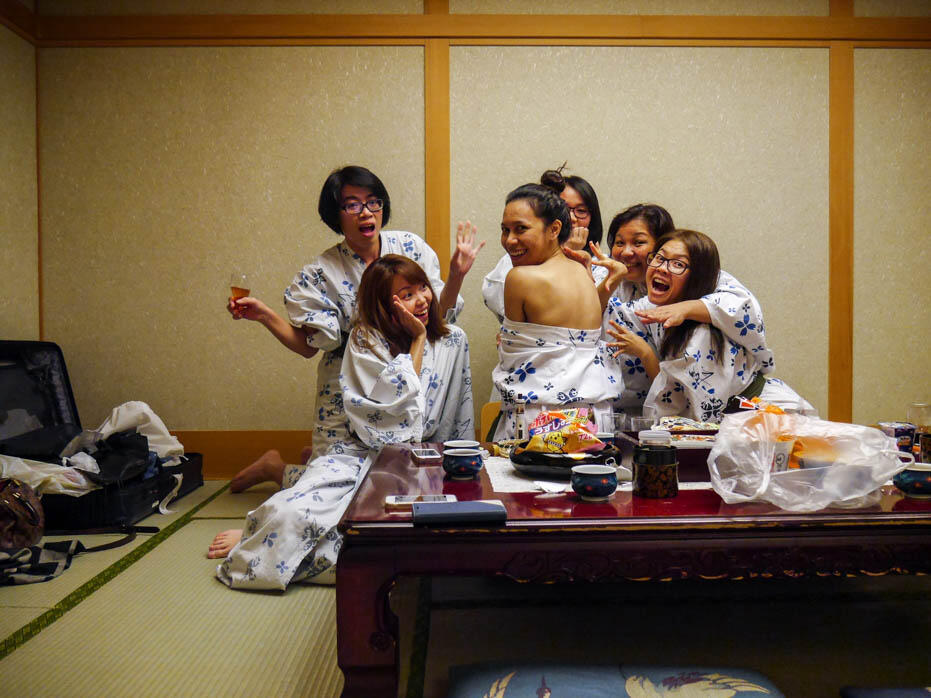 Of course I'm the most tak senonoh!
I went to bed happy that night and my heart full! 🙂
The next day, we boarded the Super Tokachi Shinkansen back to Chitose. Ours was a special train ride which you will only get if you book your Hokkaido trip via Parlo Tours. Called The Sweet Line, you will get a specialty treat at each town-stop throughout the 2h10m journey. It was so great to see new food items every time you open your eyes after a short nap 😀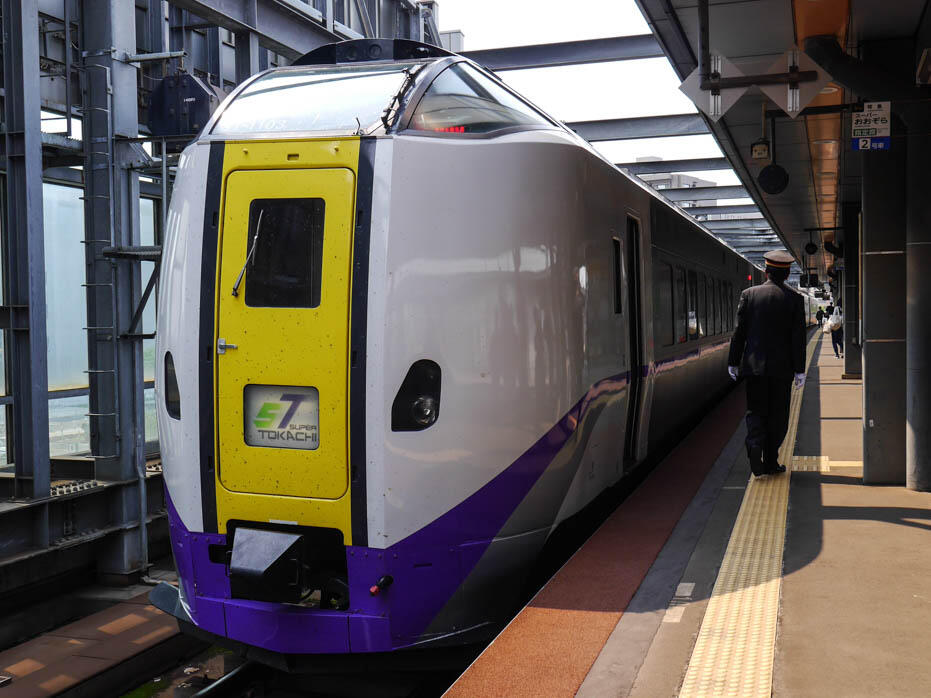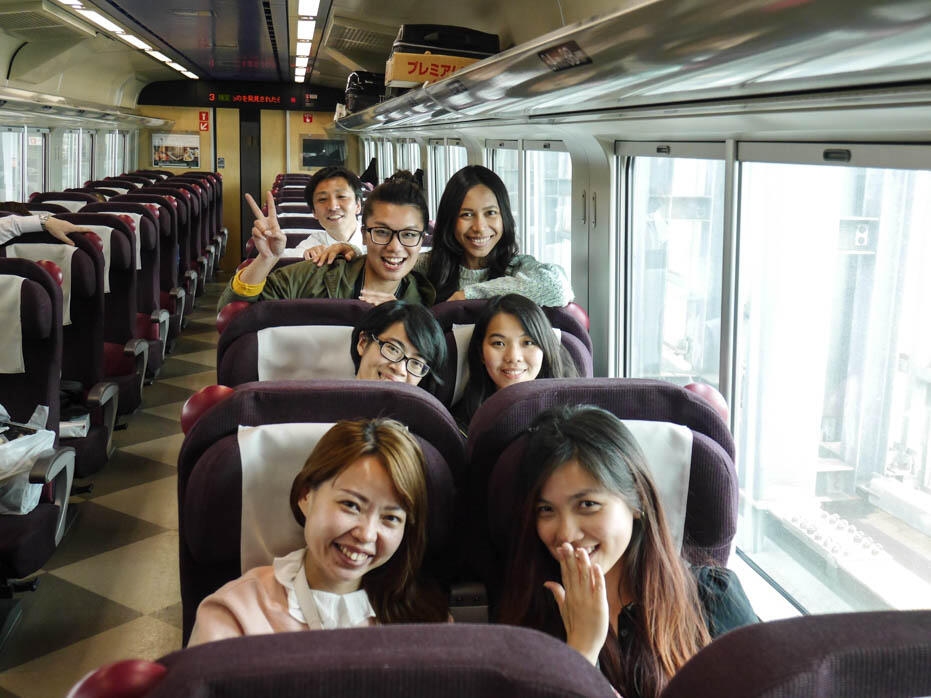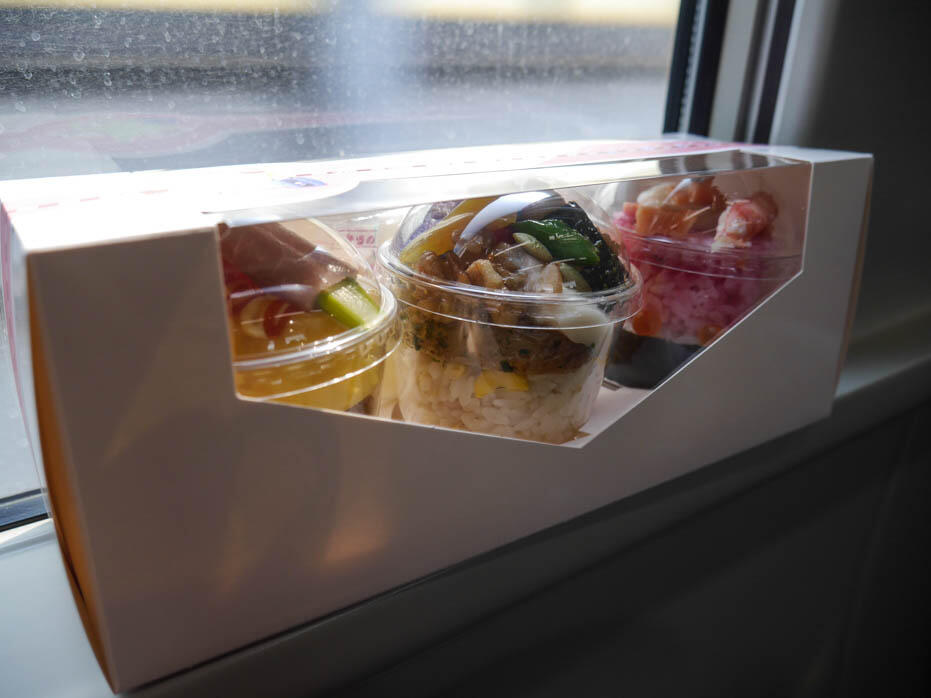 Rice cup.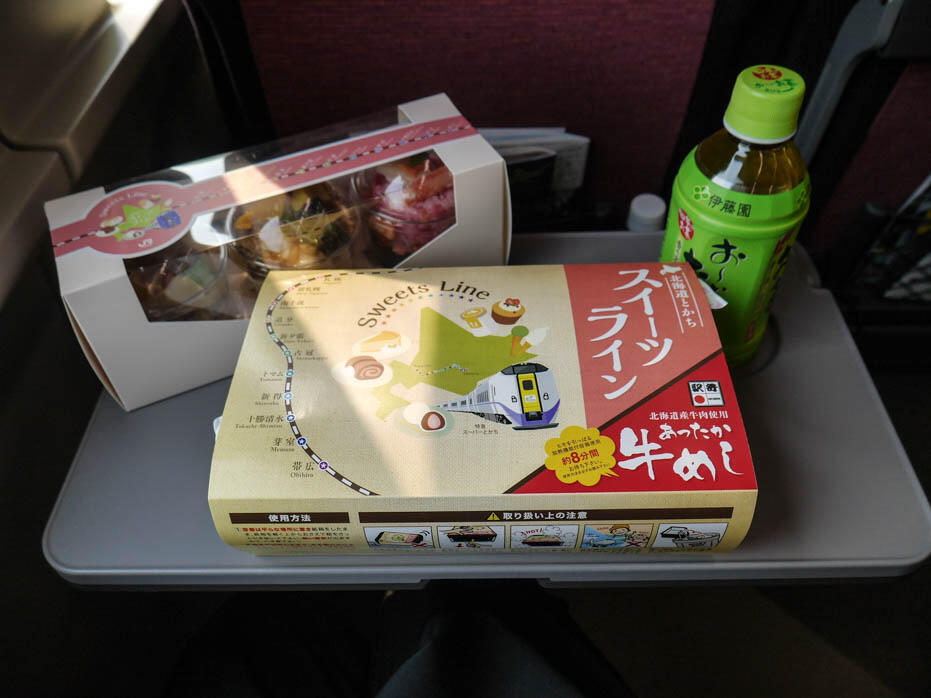 Beef rice. The technology of this boxed-meal is insane. It's a self-heat meal where you need only pull a string on the side of the box to heat up the food. After 2 minutes, you will get a piping hot meal! Japan, why are you so great?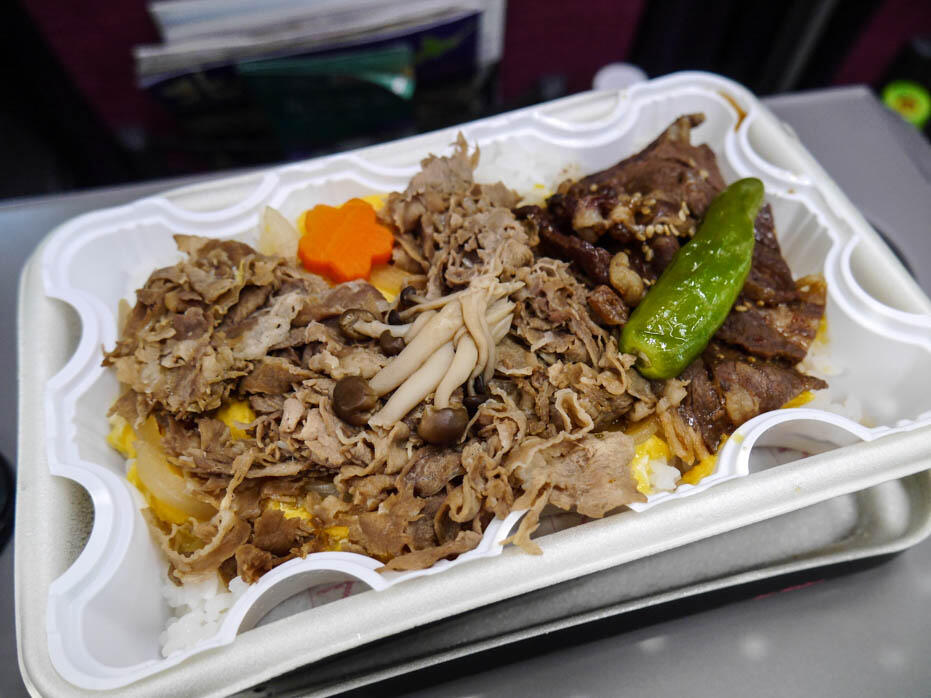 Tadaaaaaa!
That pretty much sums up my Spring in Hokkaido Trip where like other trips, I returned home with a muffin top, new experiences and maybe a little stronger and wiser.
Thanks for the opportunity Parlo Tours, Air Asia X and most of all, Joyce Wong!
+ + + + +
Parlo Tours
76, Jalan Kampung Attap,
Kampung Attap,
50460 Kuala Lumpur
Phone: 60 3 2274 7877
Website: www.parlotours.com.my
Noboribetsu Date Dijaimura
53-1 Nakanoboribetsucho,
Noboribetsu, Hokkaido Prefecture
059-0463, Japan
Website: www.edo-trip.jp/lng_english
Noboribetsu Bear Park
224 Noboribetsuonsencho,
Noboribetsu, Hokkaido Prefecture
059-0551, Japan
The Green Leaf Resort
Abuta District
Niseko, Hokkaido Prefecture
048-1592, Japan
Website: www.thegreenleafhotel.com/en
Niseko Milk Kobo
048-1522 888-1, Soga,
Niseko-cho, Abuta-gun,
Hokkaido, Japan
Website: www.milk-kobo.com
Sapporo Kani-Ya
2-11, Minami 4-jo Nishi,
Chuo-ku, Sapporo
064-0804, Japan
Website: www.kani-ya.co.jp
Shibazakura Park
393 Higashimokotosuehiro,
Abashiri District,
Hokkaido Prefecture,
099-3232  Japan
Phone: +81 152 66 3111
New Akan Hotel
2-8-8 Akancho Akankoonsen,
Kushiro, Hokkaido Prefecture
085-0467, Japan