So terrible (not Wonderfruit, but ME!) cos i went for the fest in 2017 and took hundreds of super amazing pictures and never blogged about it... BAD fairy! I just find it so difficult to put aside time to edit pix + blog these years. I may spend a few hours editing pix, then only end up writing the post WEEKS later... or worst still, NEVER.
This time, i'm adamant a post will go up!!!
I first heard bout Wonderfruit in their debut year cos Tame Impala was performing, but it was during a period when i'd just started the company and we ran a lot of events, and December was our busiest. Going away in December was out of the question. Cue years later, our business and my scope of work has changed (phew!!). So i went to Wonderfruit in 2017 with Way and Marcus - we had the BEST time cos we all gave each other permission to just BE who we were. One day i'll write about EVERYTHING i've experienced in a book...
But today, it's gonna be about the most recent Wonderfruit i went to!
As i grow older, i tend to lean back from making plans ahead of time cos i don't know where i'll be or HOW i'll feel when the time comes. What if i suddenly feel like being somewhere / doing something else? So i didn't commit to Wonderfruit. Till Rahul confirmed he got us comp tix a mere month prior and i was like 'Jeahhhhh meant to beeeee'
The boutique camping / glamping spots sold out rather quickly in 2018, so we resorted to sharing a villa 15 minutes away with a bunch of Rahul's friends - Sophie, Sarah, Cher, Charme and Charlie - all based in diff SEA cities. I did have a time remembering their names cos the first vowels were similar.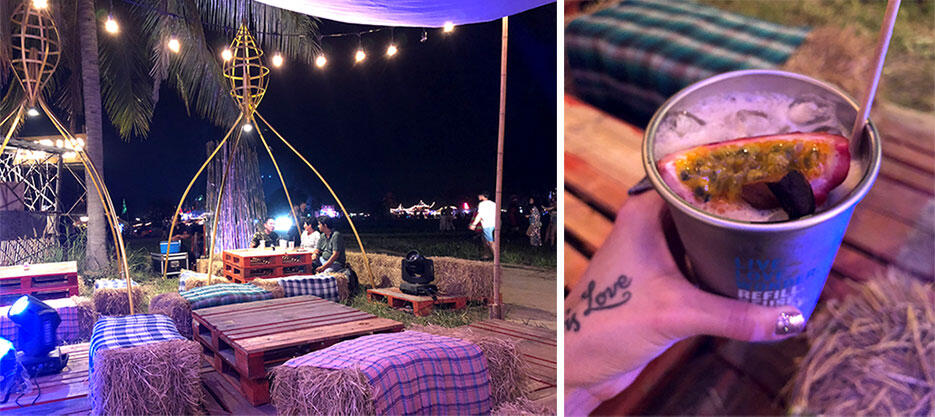 Rahul and i were super chill on the 2nd night of the fest (the day we arrived) cos we were just really tired from work. All i wanted to do was eat dinner there, suss out the vibe and go home :p #feelold
Speaking of, when we were catching our flight from KL, i received a notification that it got delayed by 30 minutes and decided not to inform him (cos y'know, he might run late). In the end, he did... and was wondering why i wasn't all over him when he picked me up 30 mins before check-in shut (we actually still had a full hour left). Haha. #RahulOhRahul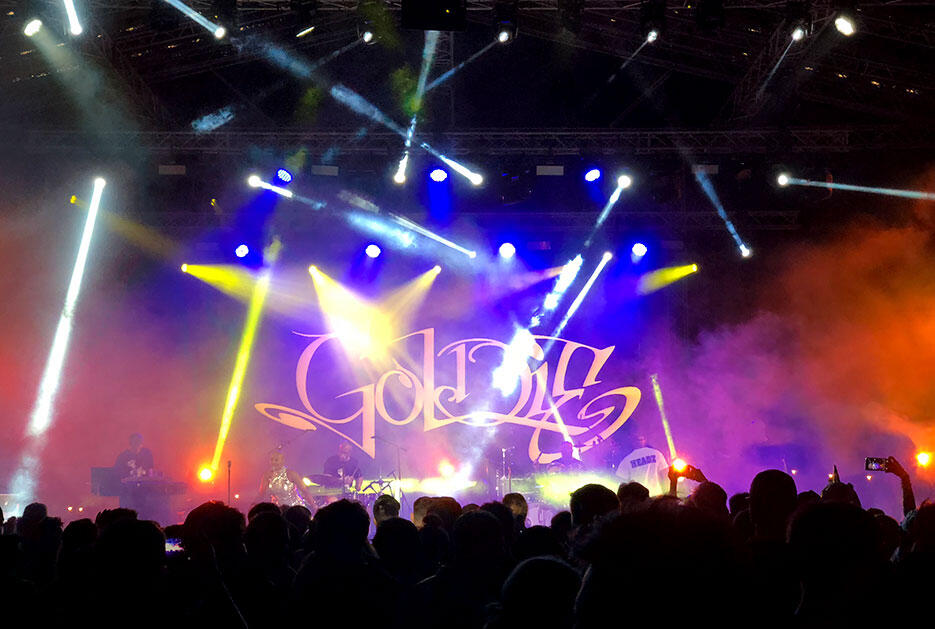 Managed to catch Goldie, but i could feel i was forcing myself to sway to the music; cos i was too knackered!
Went home at 1am.
Next morn, i woke up at 9am, did some emails and WAS SO READEHHHHH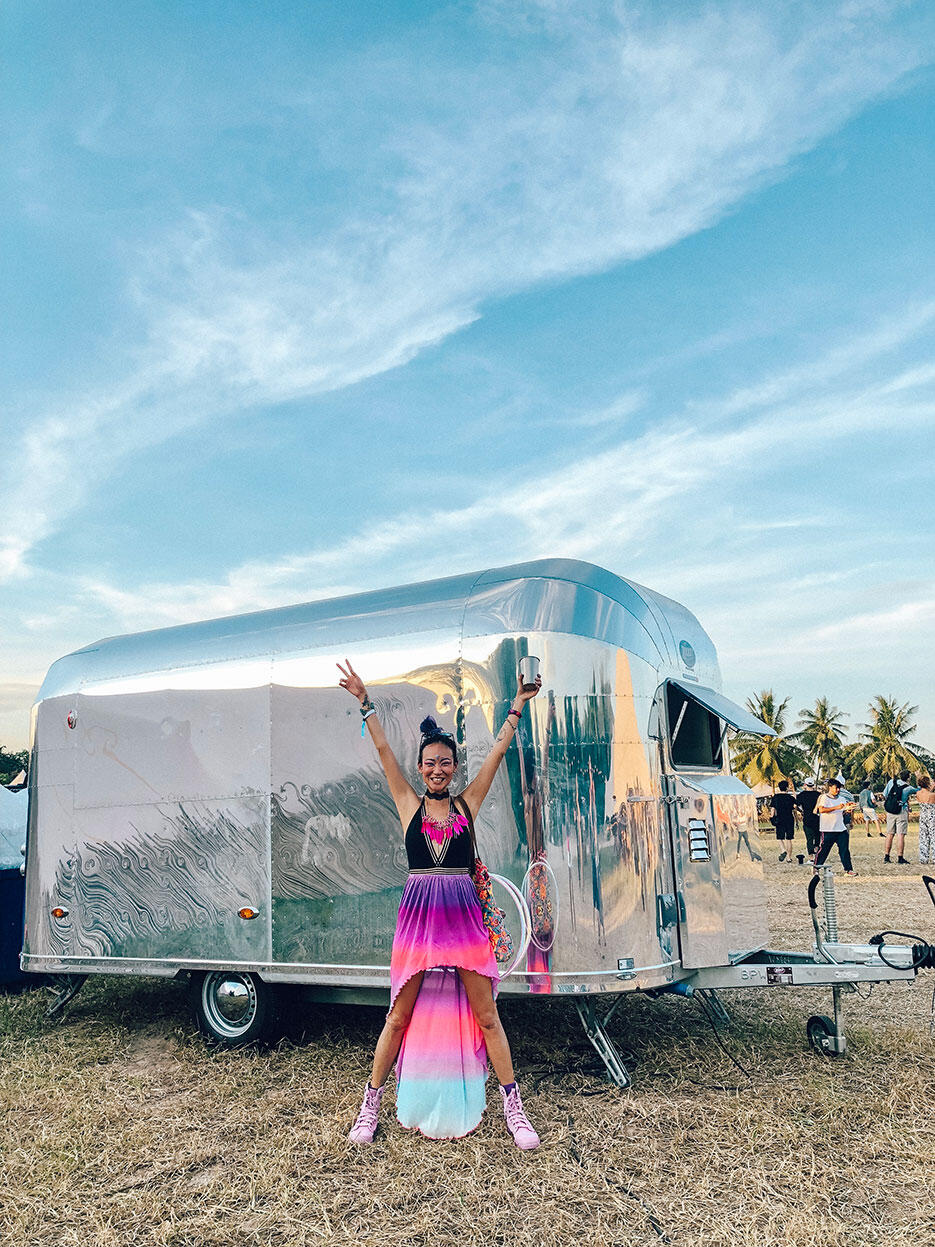 I bought this rainbow skirt 5 years ago and never wore it... knowing i loved it but never having the perfect occasion cos it was a wee bit transparent. Boots from Palladium, which i've worn at EDC Las Vegas, hiking thru Utah, and Burning Man.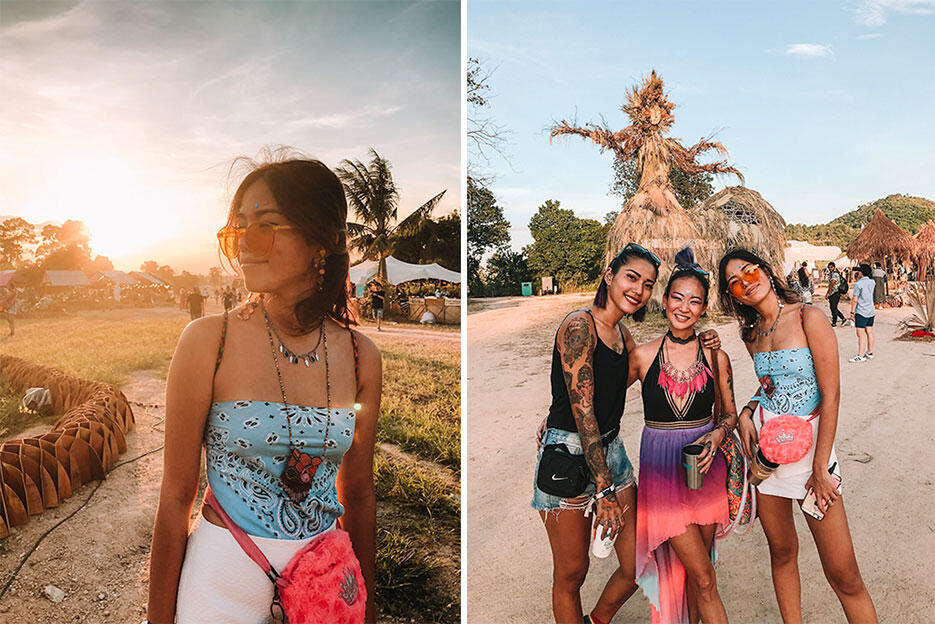 Cher and i got lost together for a bit, and bumped into Moe whom i met at 2017 Wonderfruit!