A year ago i felt like i desperately needed to clear out my material possessions, and constantly parroted that desire to Faridah (which was probably more of an out-loud reminder to myself).
Half a year later, I spoke to May from Rémy Cointreau, who suggested we throw a party in my apartment (cos it IS a beautiful and safe space!)
A month ago, Paperless approached me to collaborate for e-invites and i thought, "How perfect… all these elements aligned for me to release this energy for new things to enter!" I have people like Val stating that the world doesn't work this way, but i disagree… It's obviously existing for me!
Behold my card design made using Paperless! I simply had to choose one out of hundreds of template designs, adjust font colours + sizes, personalize my message, choose designs for the background + envelope, and manage RSVPs with tracking intact. I wish i'd known about this platform much sooner!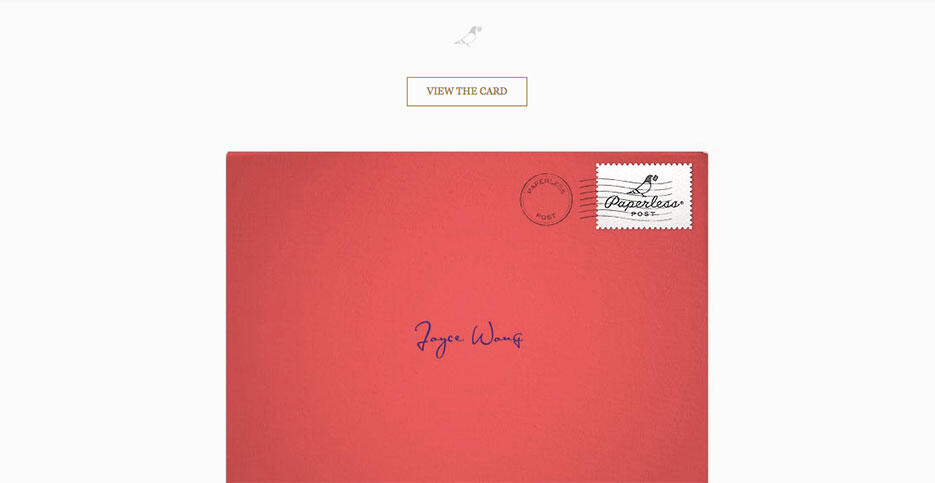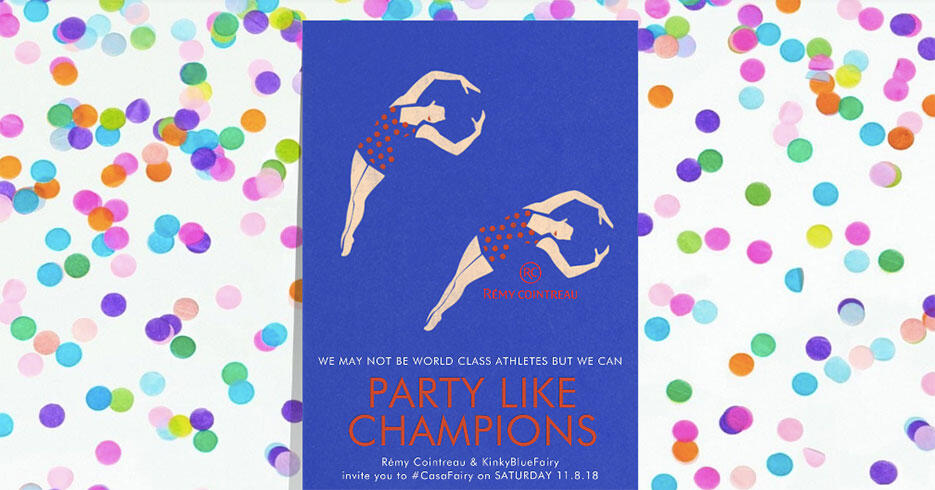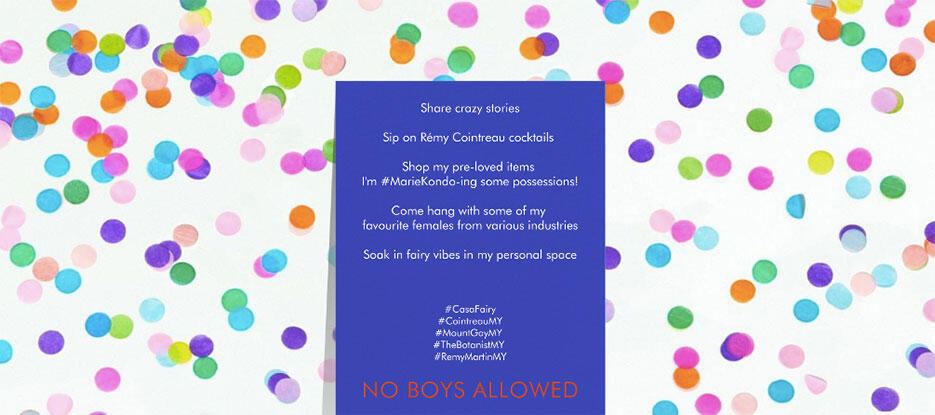 For some reason, a number of people were confused, especially with a 'no boys allowed' disclaimer.
"My husband asked why he can't come…" shared a gf.
I, in turn, was a little indignant that i wanted a space that allowed my closest gfs to be who they are with no subconscious expectations or inclinations. I didn't know what the big deal was. I freaking LOVE my male friends, but once in a while – girl time is SO important to us, and i didn't want to deny myself and my girls this occasion! We need spaces where we can function or just BE and simply share our stories with each other.
I'd invited my closest girlfriends, people i trust, people i feel are authentic, have no second agendas, and are just there to have a good time and connect with other beings.
I felt like people forgot why they throw a party in the first place.
Sure, i made a reason to build towards – cleansing my material space. But i wanted gfs who loved a good cocktail to come together to chit chat and HAVE FUN.
In my head, i felt this the opportune occasion (and major deadline) to finally clear out the horror that is my store room (actually a 3rd bedroom but rendered useless as that).
"Without a deadline, i'd never do it!" I lamented earnestly to Val.
He knew i meant it, and gave me my space to deal with this… black hole.
I spent hours sorting it out. Days, actually.
WHO KNEW! A single female in her mid-30s could accumulate SO MANY THINGS. I was abhorred. Horrified. Embarrassed. More shocked, than anything else, at myself. This is where my money went! All these THINGS and ITEMS that i impulsively purchased on a whim. Plus all these free clothes and gifts from brands and events! #TheJoyceStruggle
The evening after Friday's KL Fashion Week and late into the night, i spent 8 hours tiding non-stop. I was on a roll. I even missed Rahul's birthday dinner at Fuego cos i knew there was no way i could leave that mess behind and expect it to solve itself by noon the next day when set up was to start.
All the amazing photos below by Jane Lee @janethecrazy.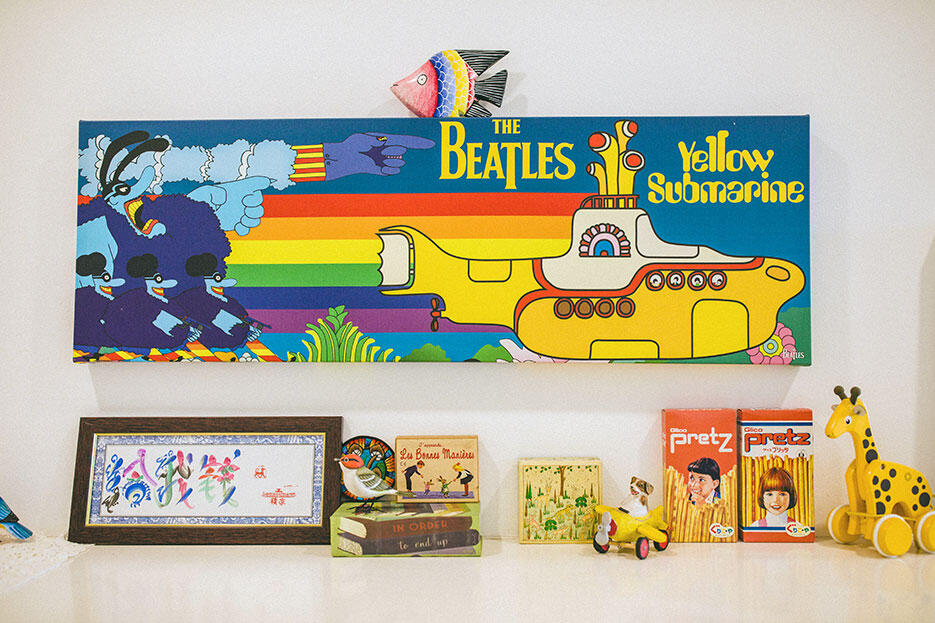 Friend: "Oh, i see now why you need to purge! Where did you get the Beatle's art piece? Wanna sell it?"
Me: "This is not the purge corner, i still want to keep these. Nice try, but NO!"
Pictured above: paraphernalia from JLC event/KL, Paris, Bali, Amsterdam, Tokyo, London and Tanzania.
Carved animal pencils from Tanzania magnified by glass from India Jane in London, with Thomas Ruff poster from Tokyo pictured in bg.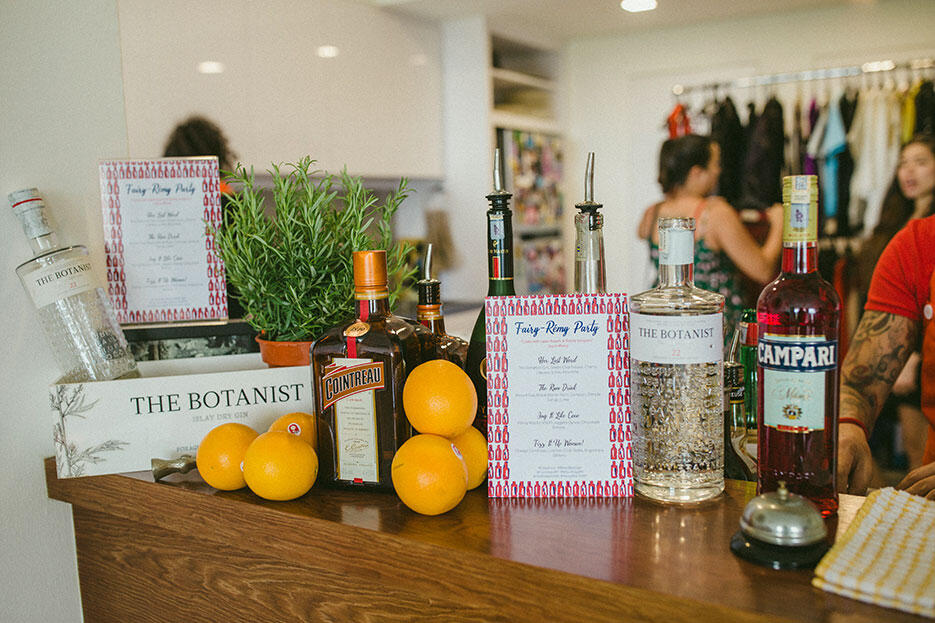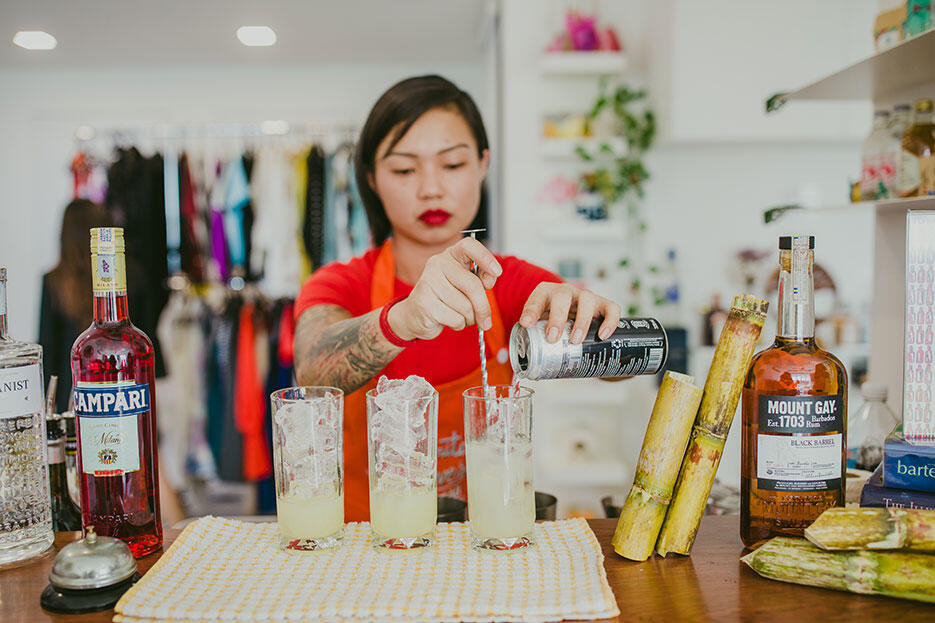 Award-winning mixologist Angel Ng, who was champion of La Maison Cointreau 2014, took over the bar that day. I first met her when she was bartending in Hit & Mrs, before she left and started her own bar PS150. Never would i have thought i'd have her happily mixing drinks in my home….  You are welcome to come back anytime!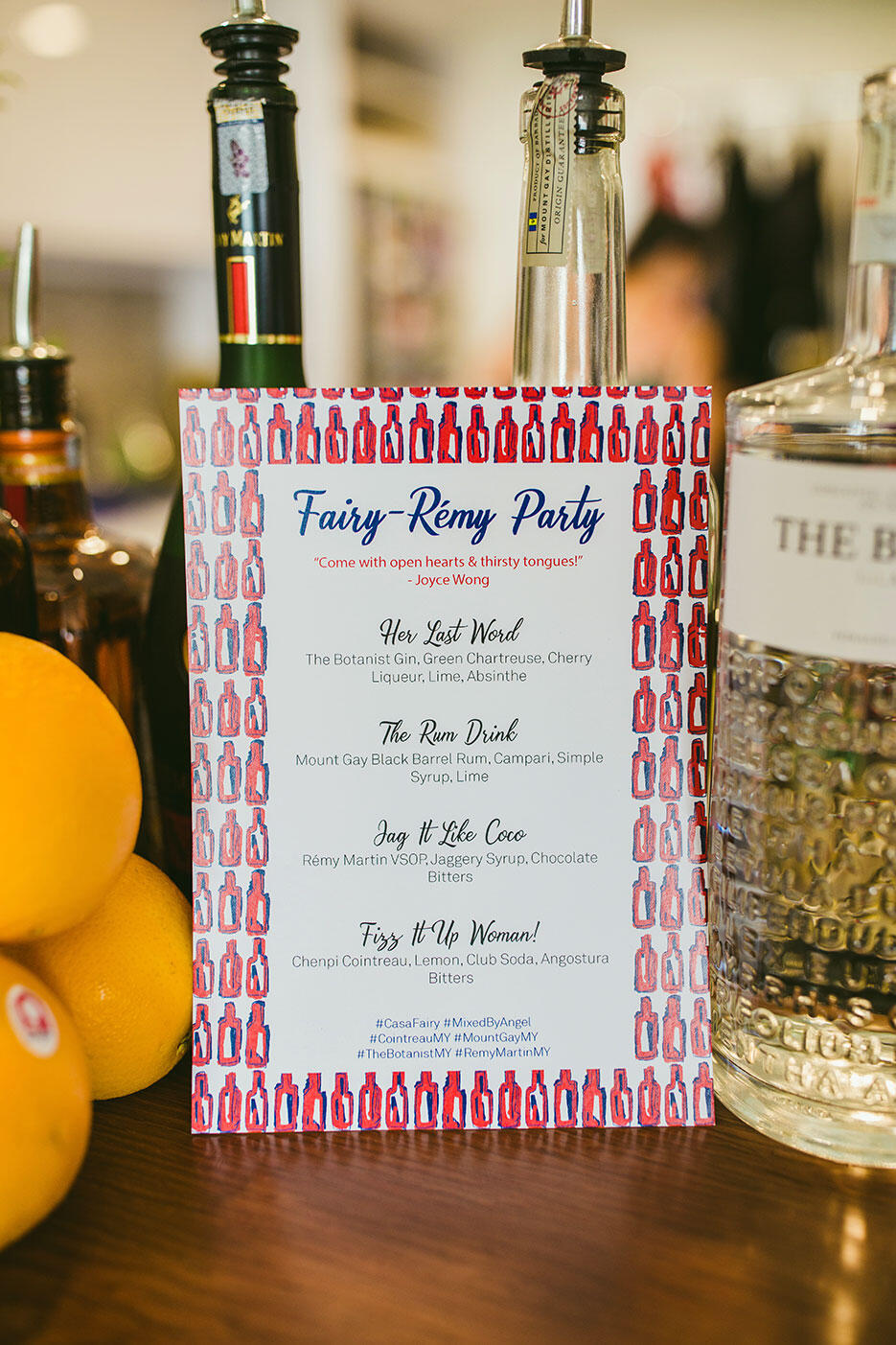 Rémy Cointreau cocktails #MixedByAngel:
Her Last Word – The Botanist Gin, Green Chartreuse, Cherry Liqueur, Lime, Absinthe
The Rum Drink – Mount Gay Black Barrel Rum, Campari, Simple Syrup, Lime
Jag It Like Coco – Remy Martin VSOP, Jaggery Syrup, Chocolate Bitters
Fizz It Up Woman! – Chenpi Cointreau, Lemon, Club Soda, Angostura Bitters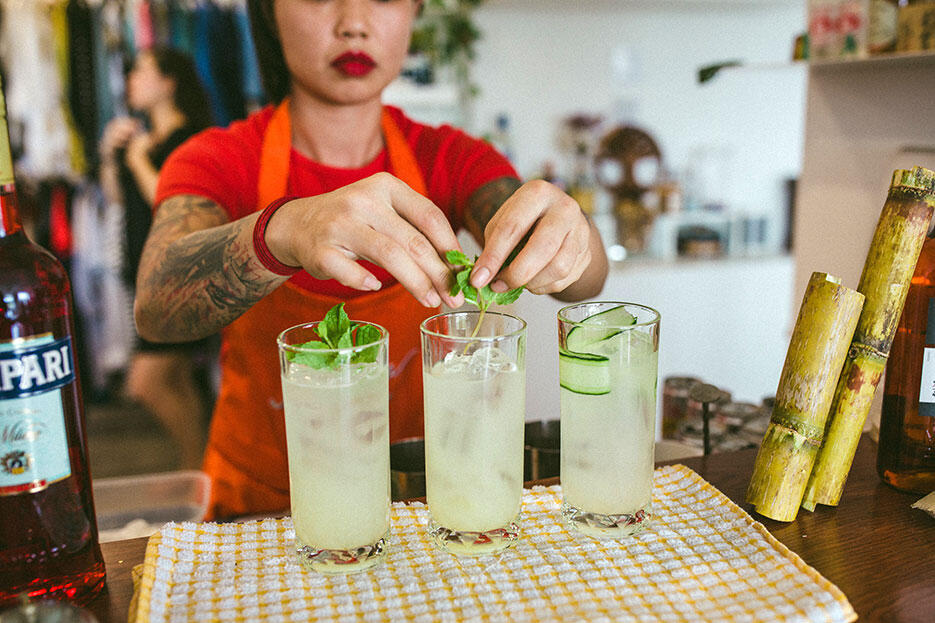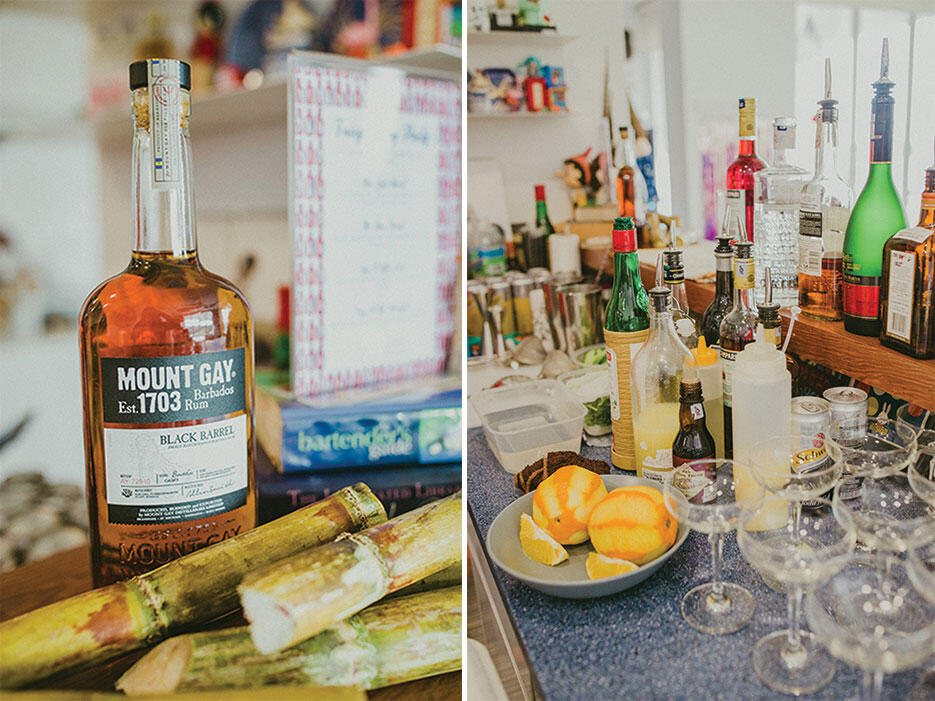 Bar was looking legit. Angel and her assistant Ali came with everything they needed, set up and cleaned up thoroughly before leaving later that night! We started at 2pm, and girls started coming at 3-ish…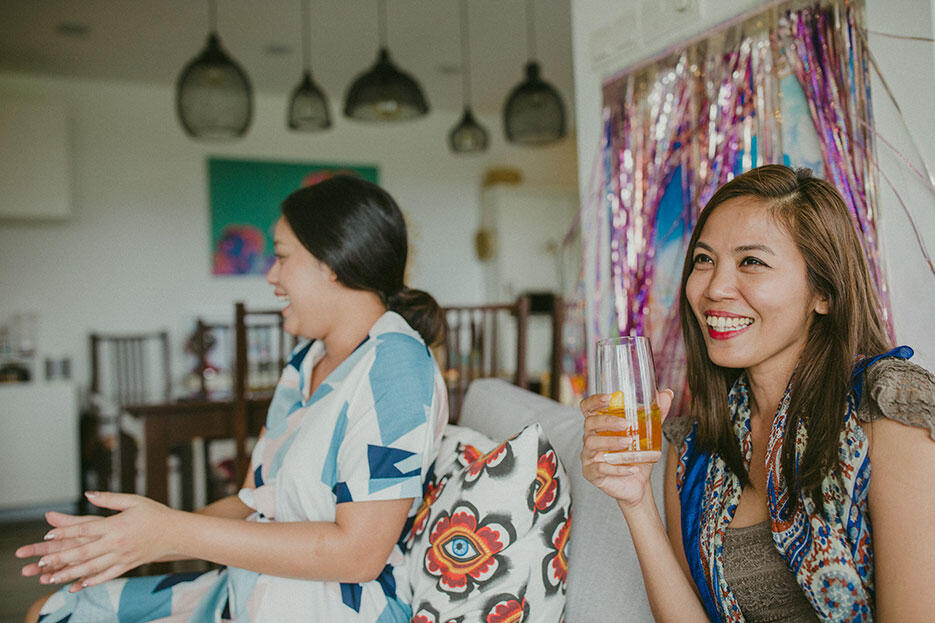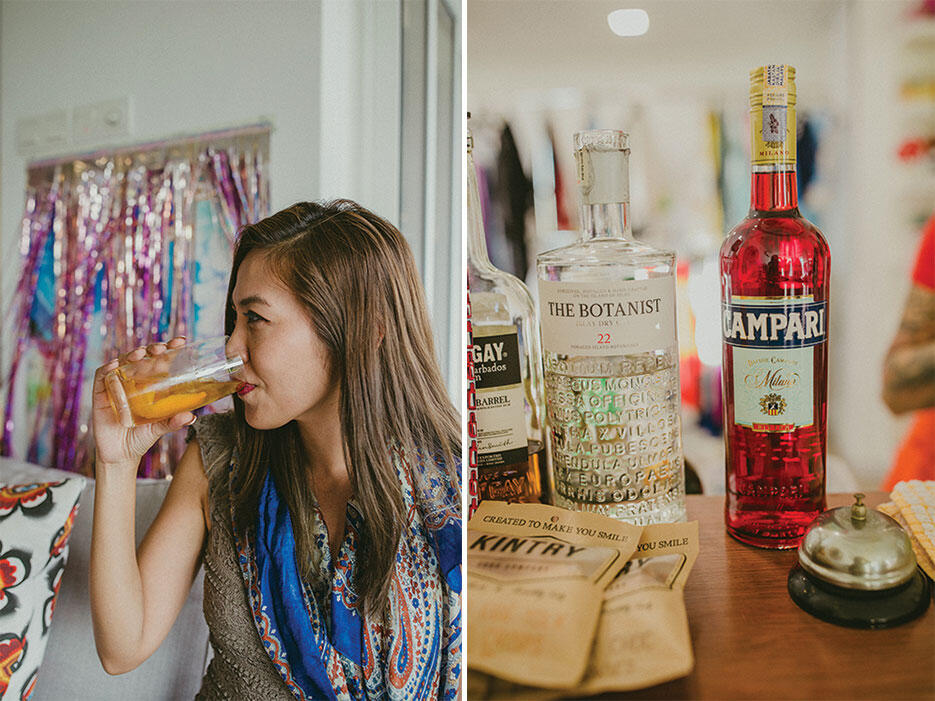 Shantini runs a dentistry in Kota Damansara called Dentistree.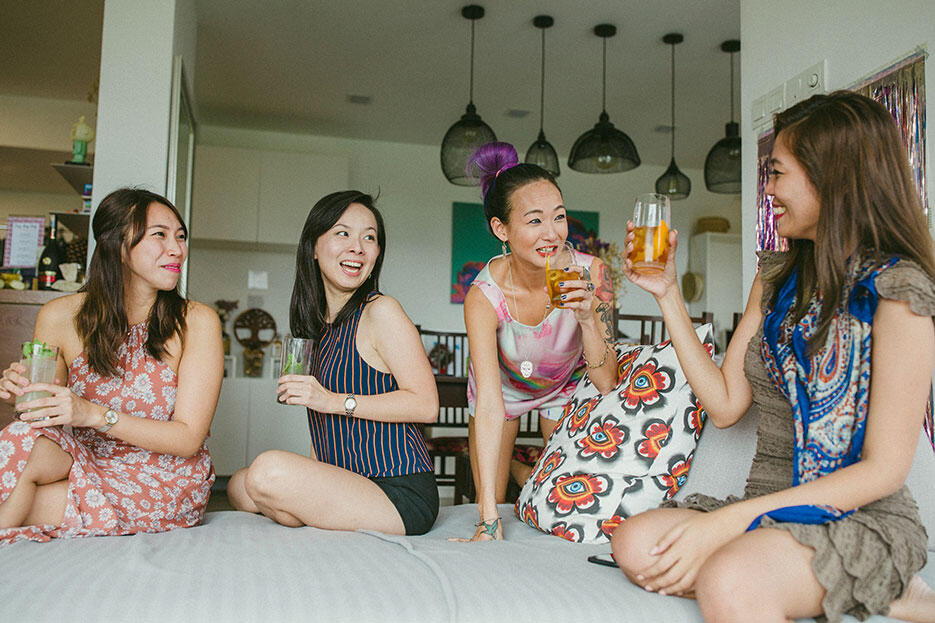 May from Remy Cointreau, Ee Laine aka Fireangel, me, Shantini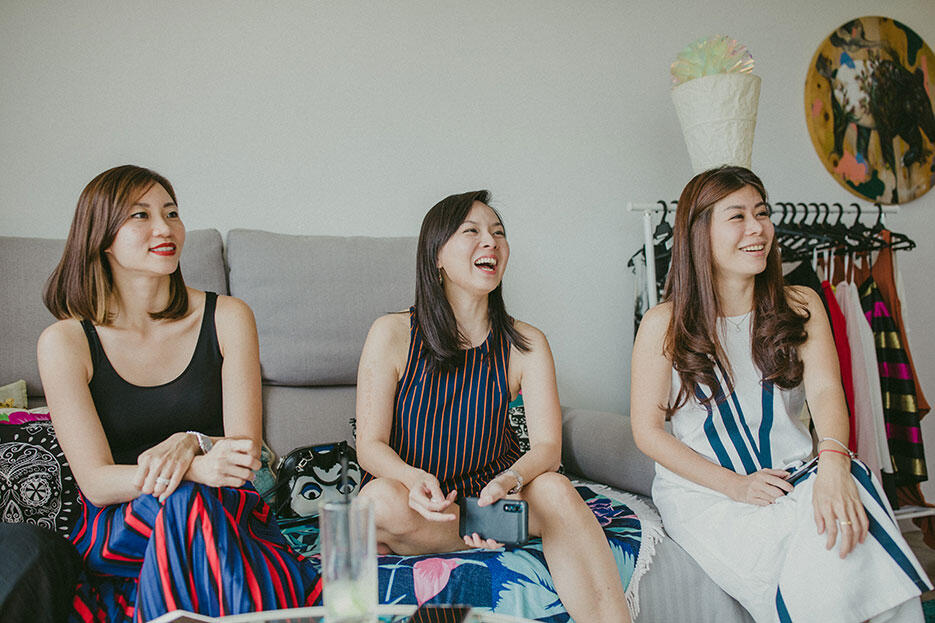 Fiona Lim, Eelaine Fireangel, Michelle Chai (Michelle, Pearly and i used to work together circa 2003…)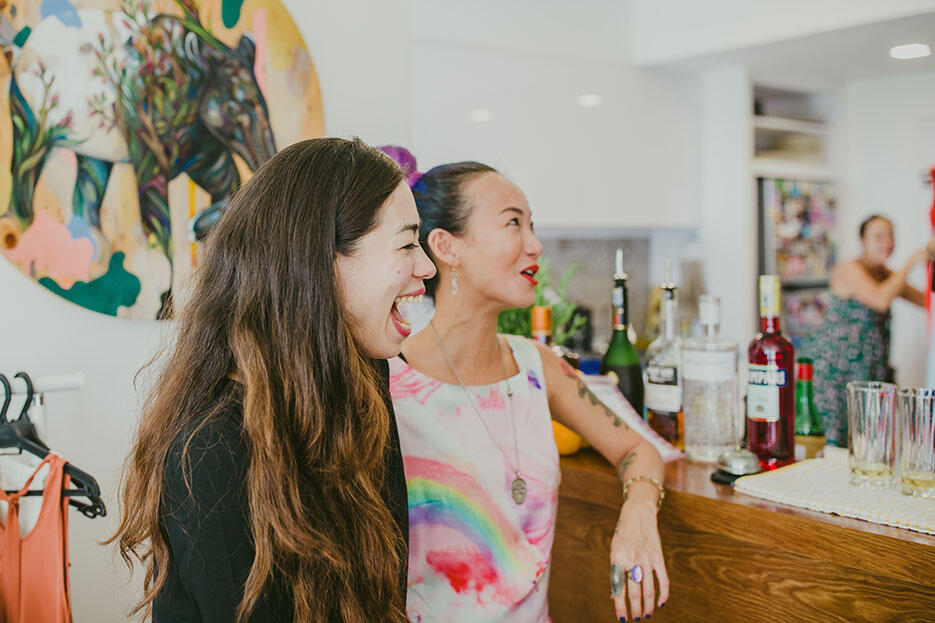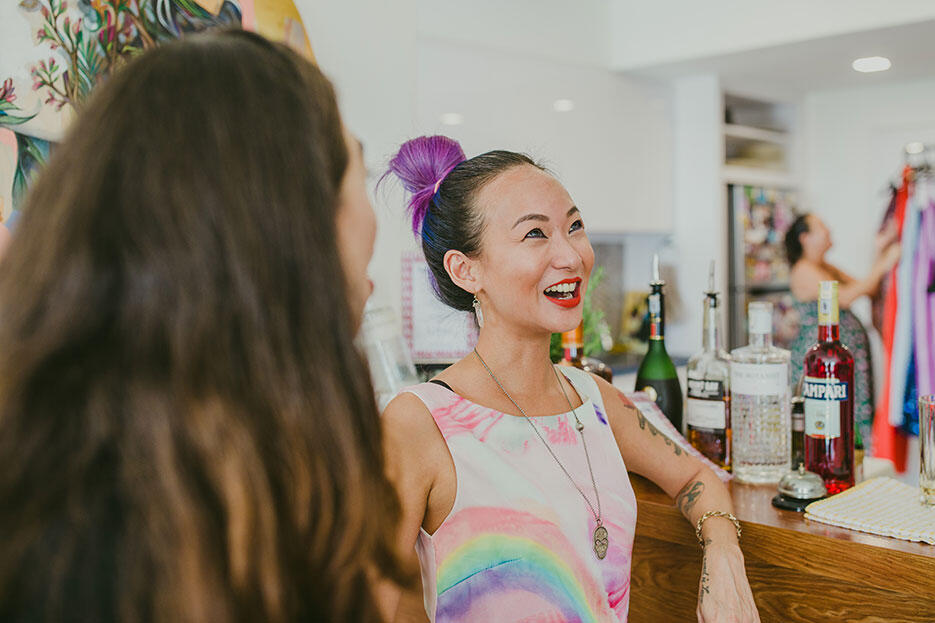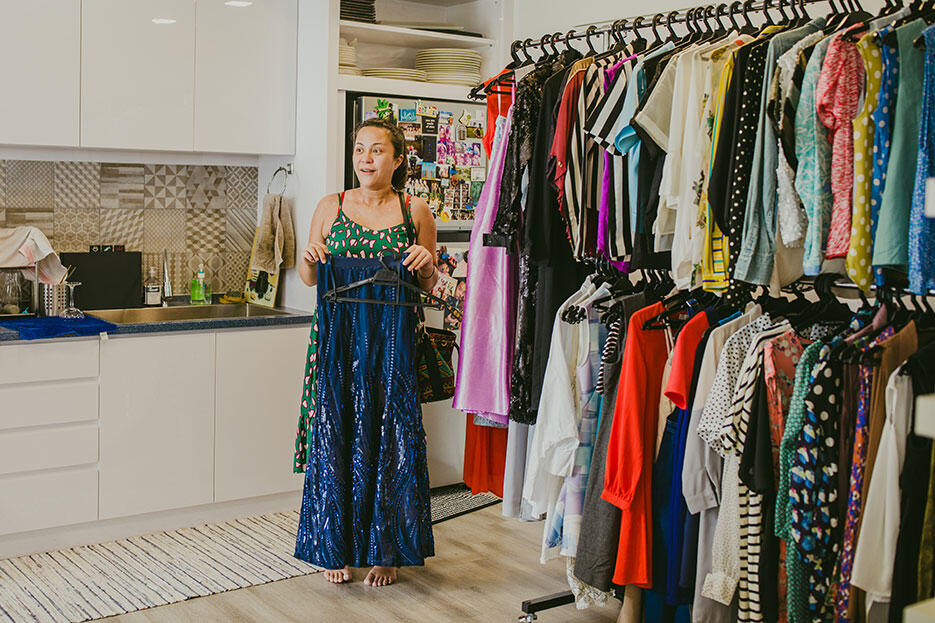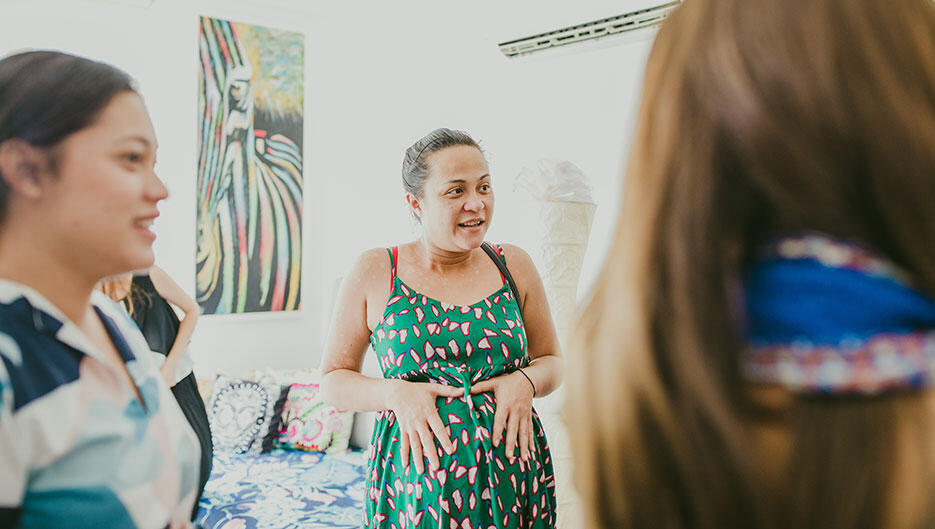 Steph has moved the whole family to Singapore and is about to pop her second child! A girl yayyyy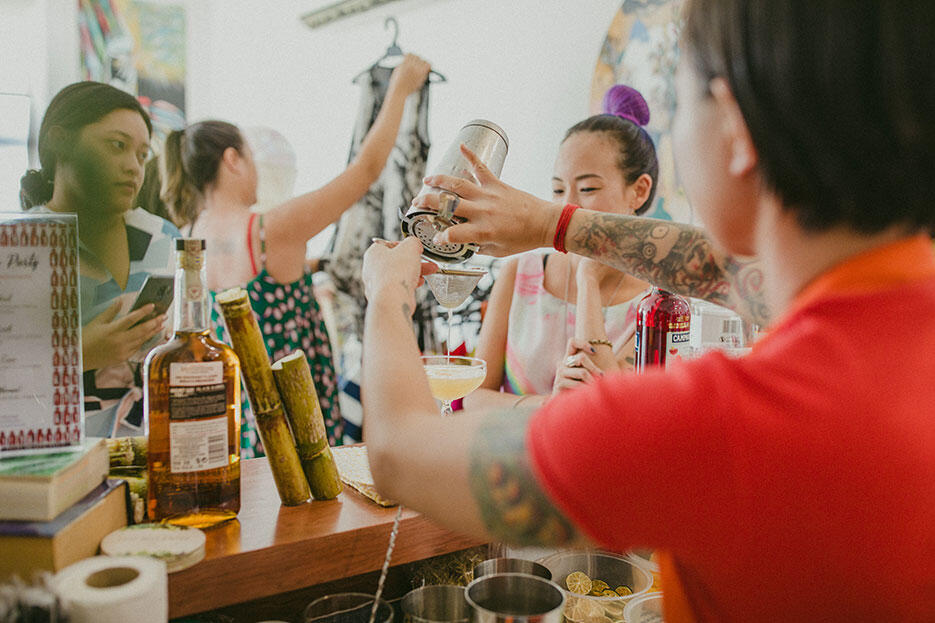 My face and Angel's forearm, and my assistant Dayana looking all calm.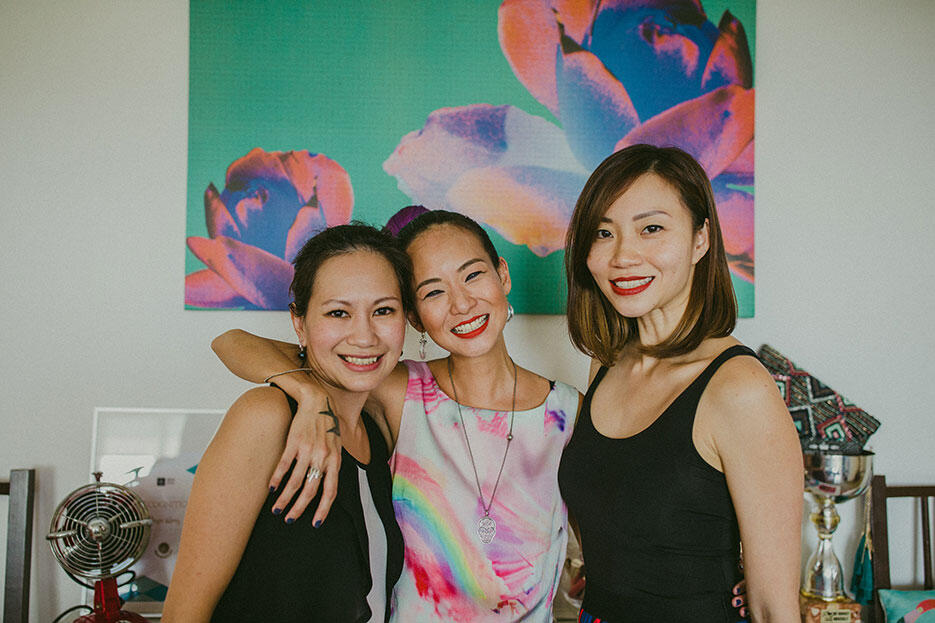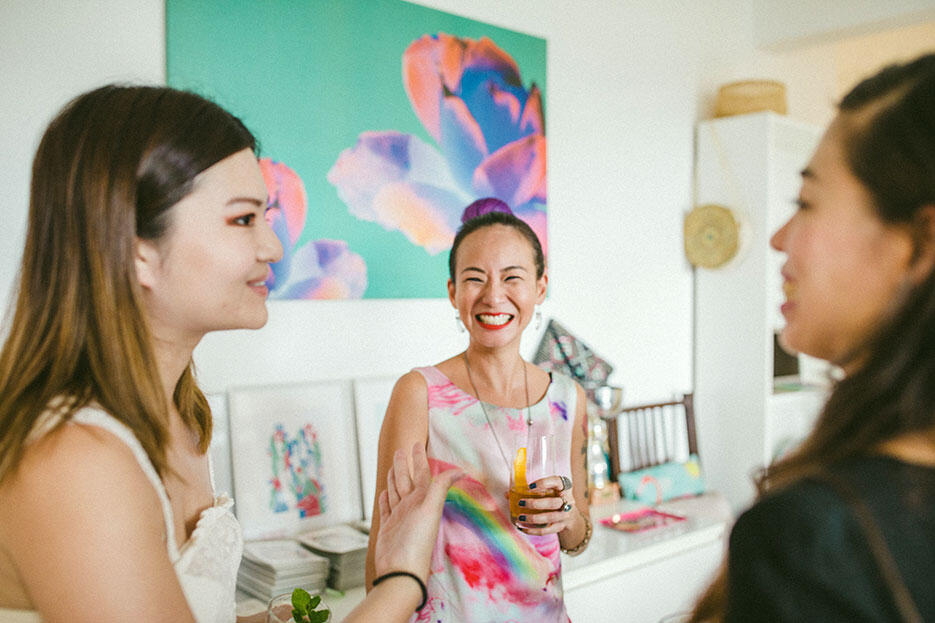 Nen aka ExquisiteFox meets Crazy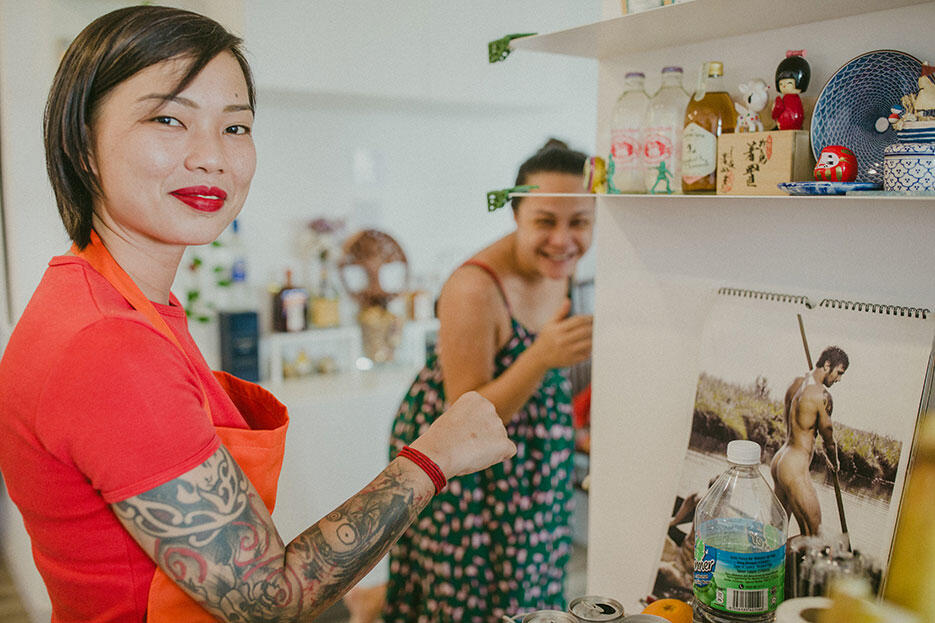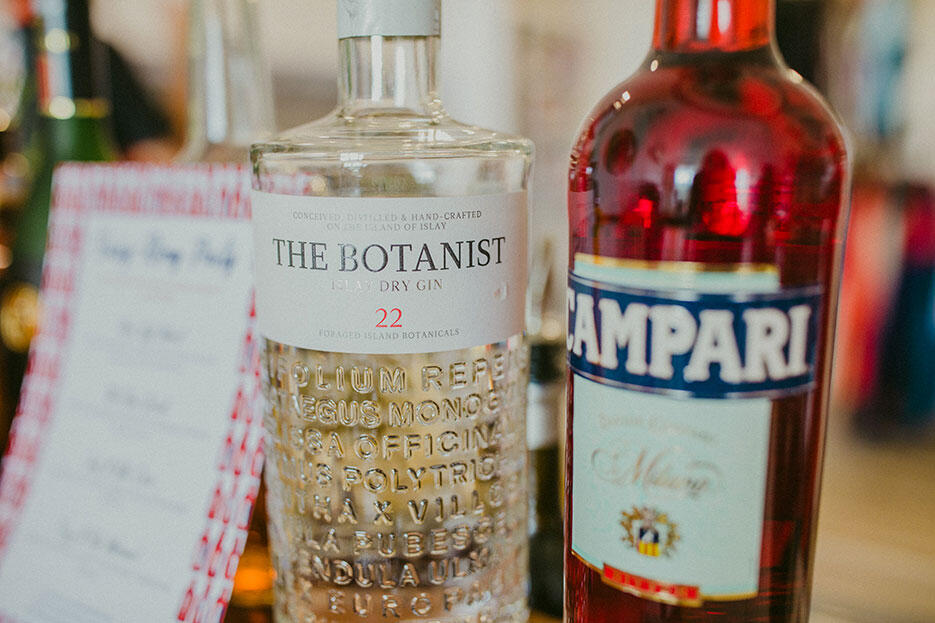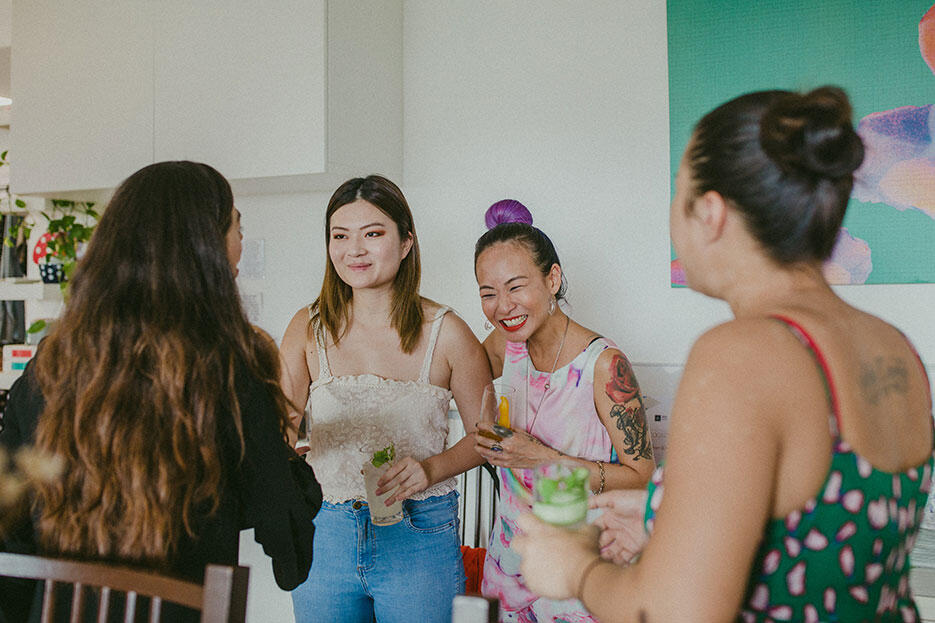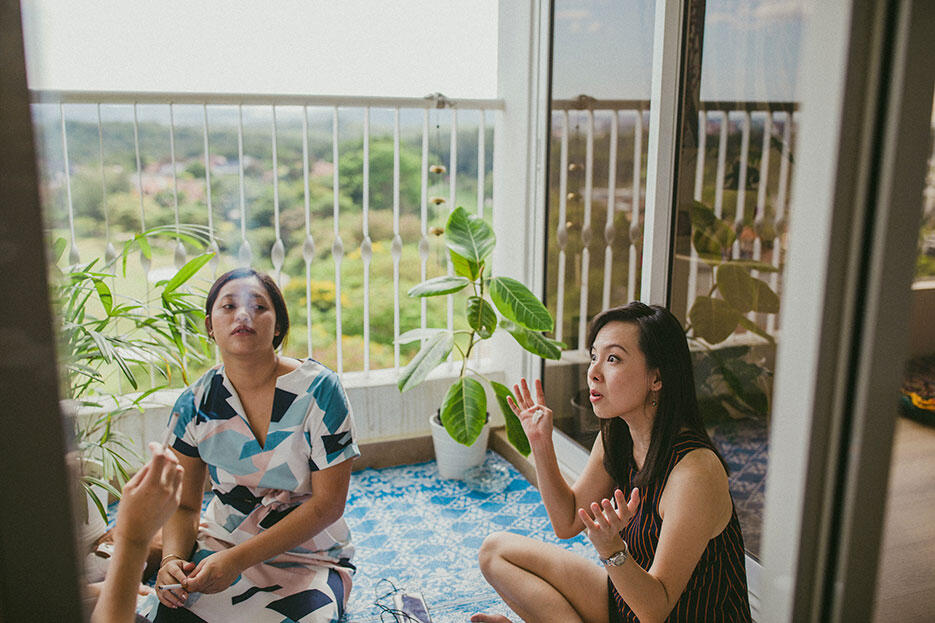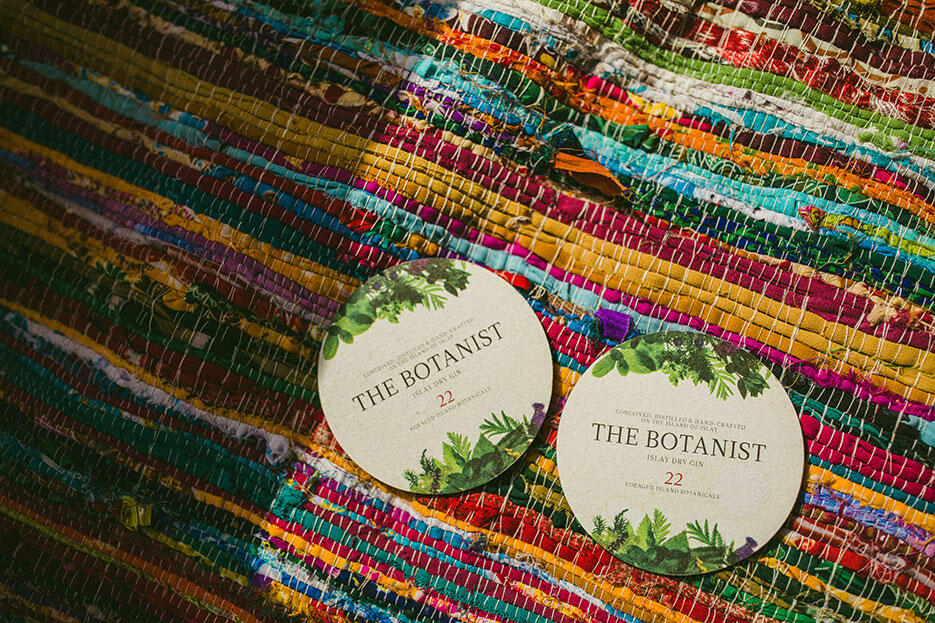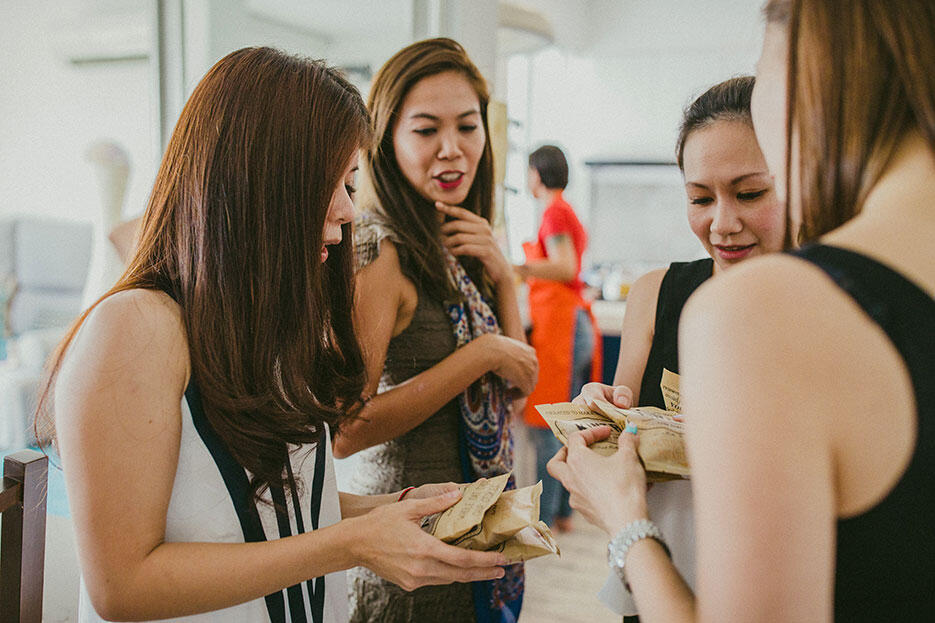 Michelle brought over her Kintry snacks for the girls to try. They're artisanal snacks like Salted Egg Yolk Potato Crisps, Gula Melaka Granola, Whole Oat Choc Chip Cookies, and Salted Caramel Granola; all handmade in Malaysia!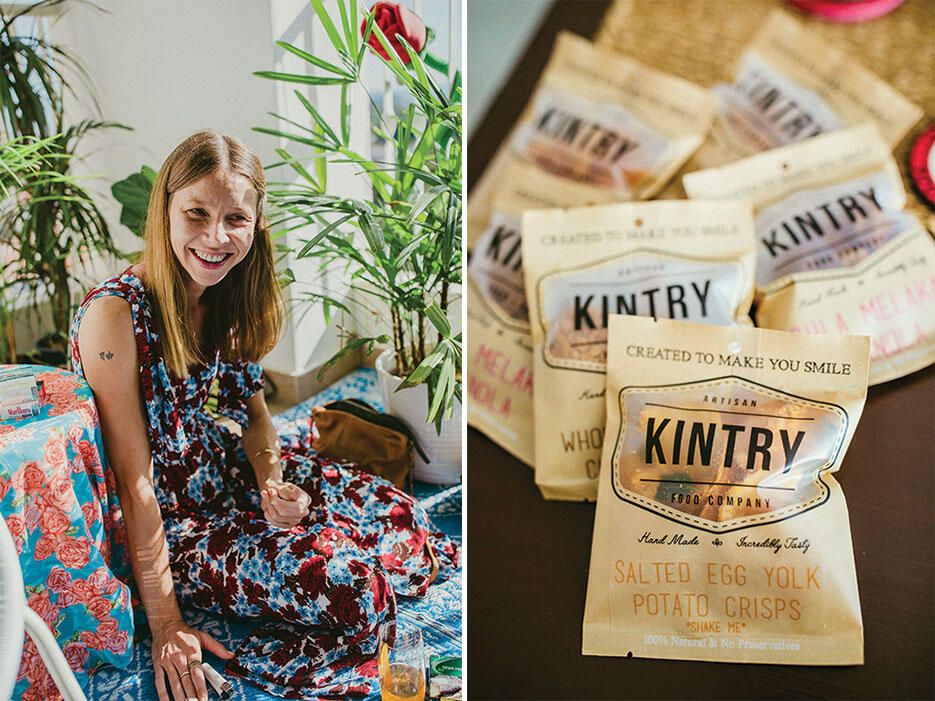 Love this pic of Jess!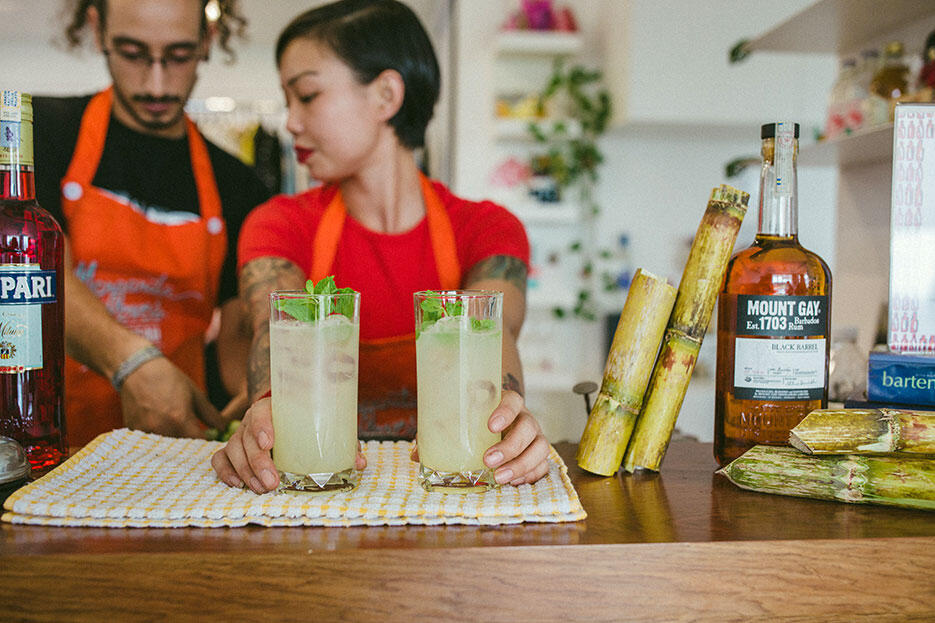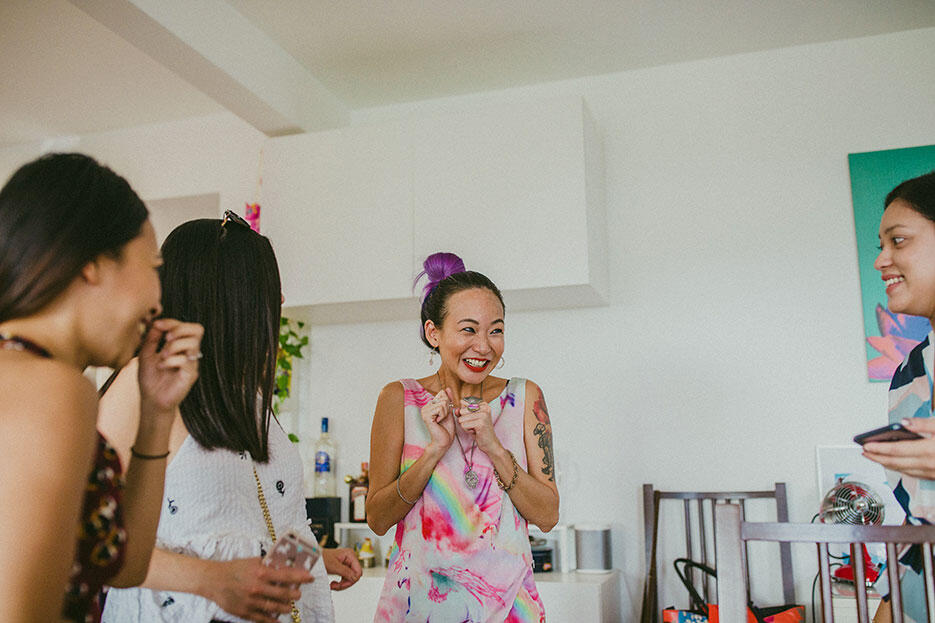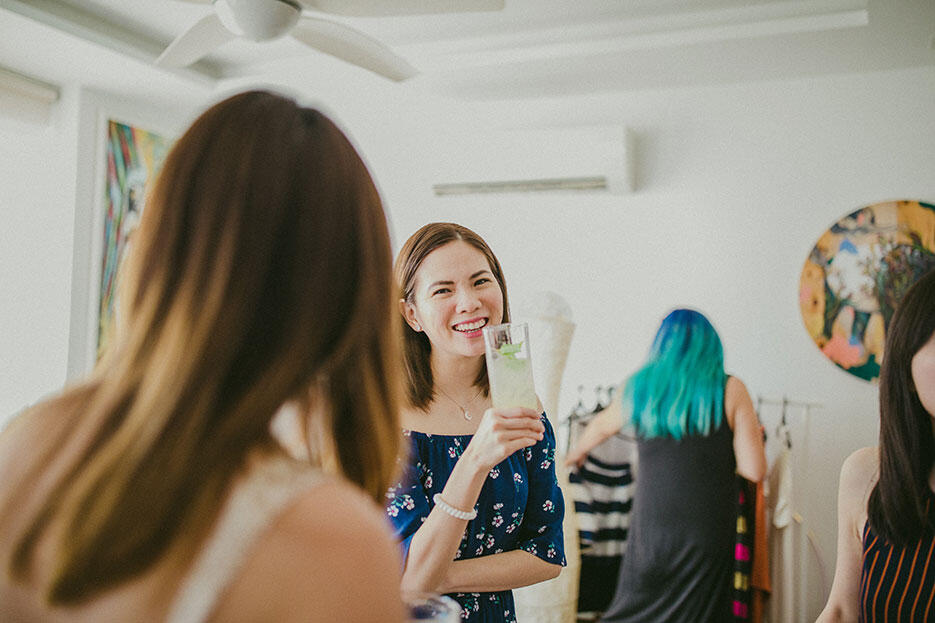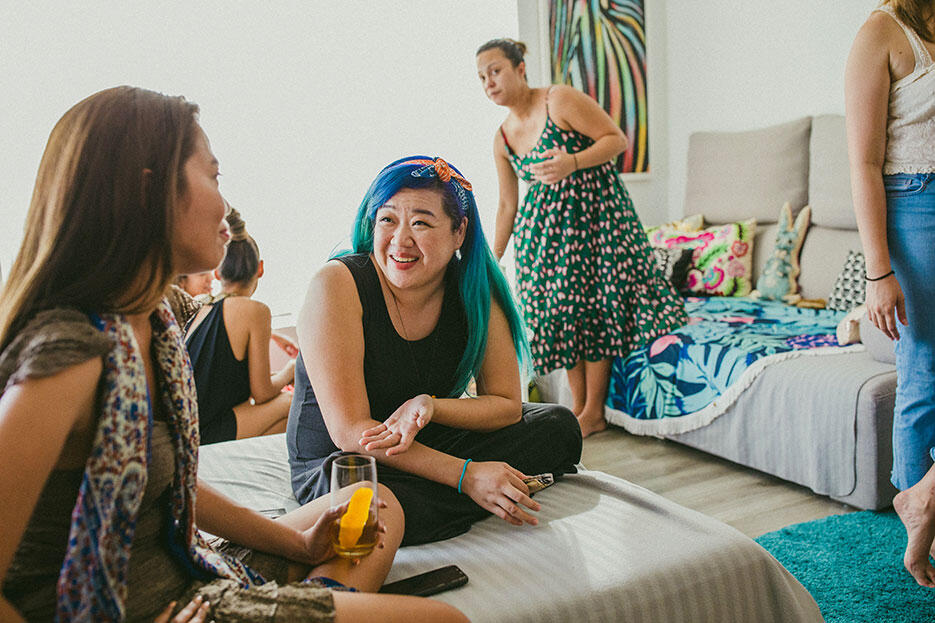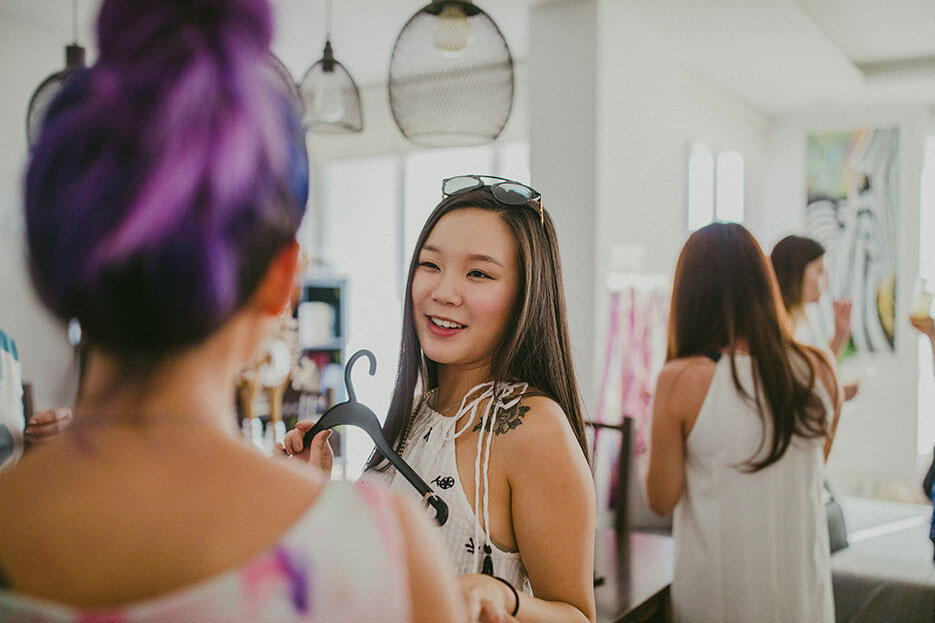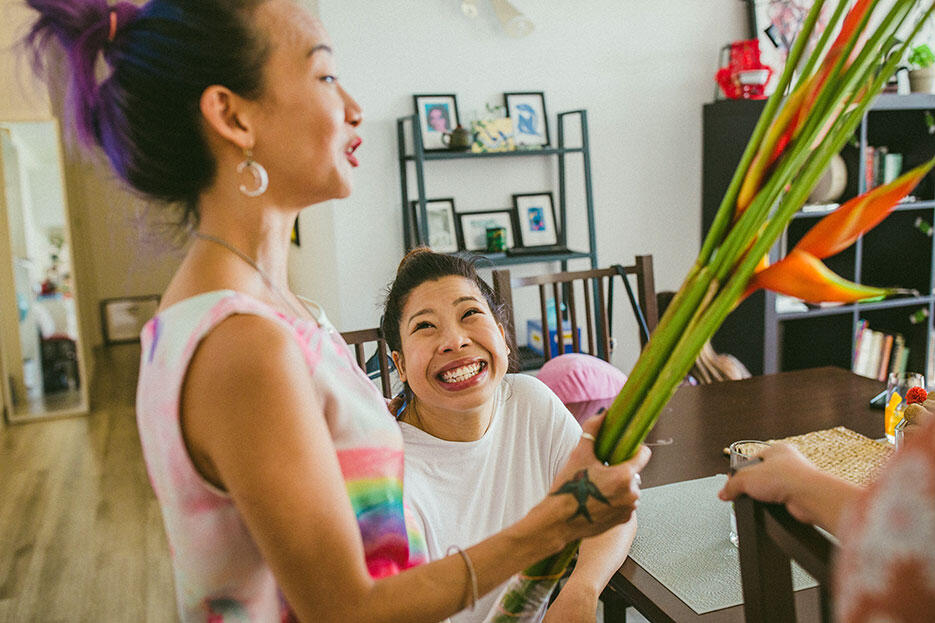 Thanks for bringing me my favourite table centrepiece Dianthus!!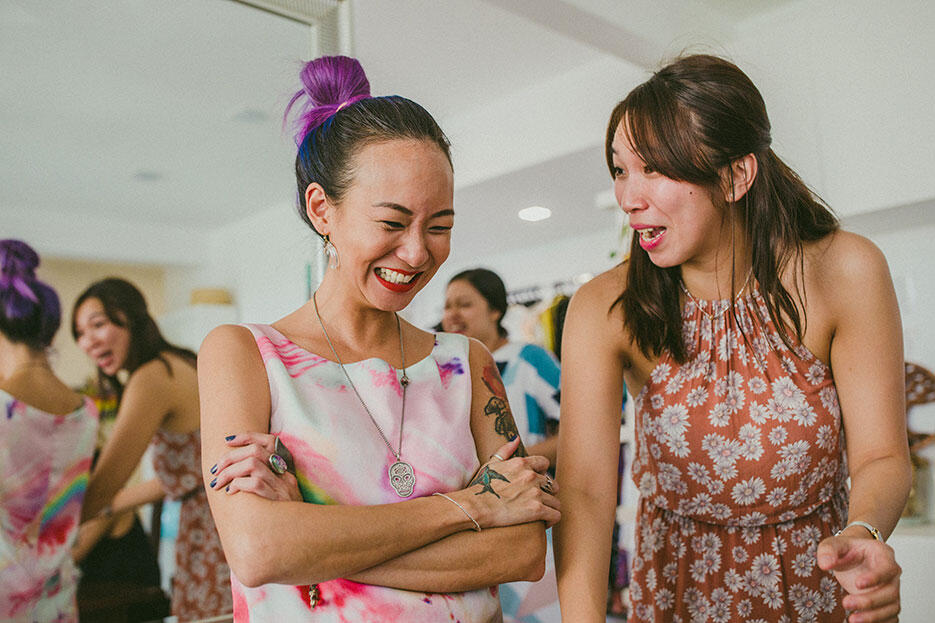 One of my fave pix from that day – how May and i do business. Laughing and drinki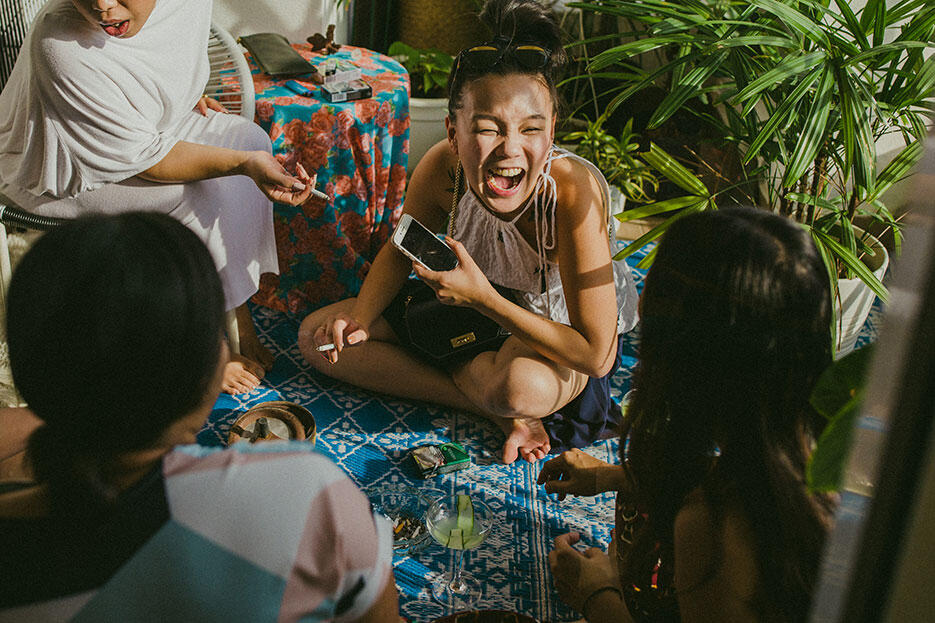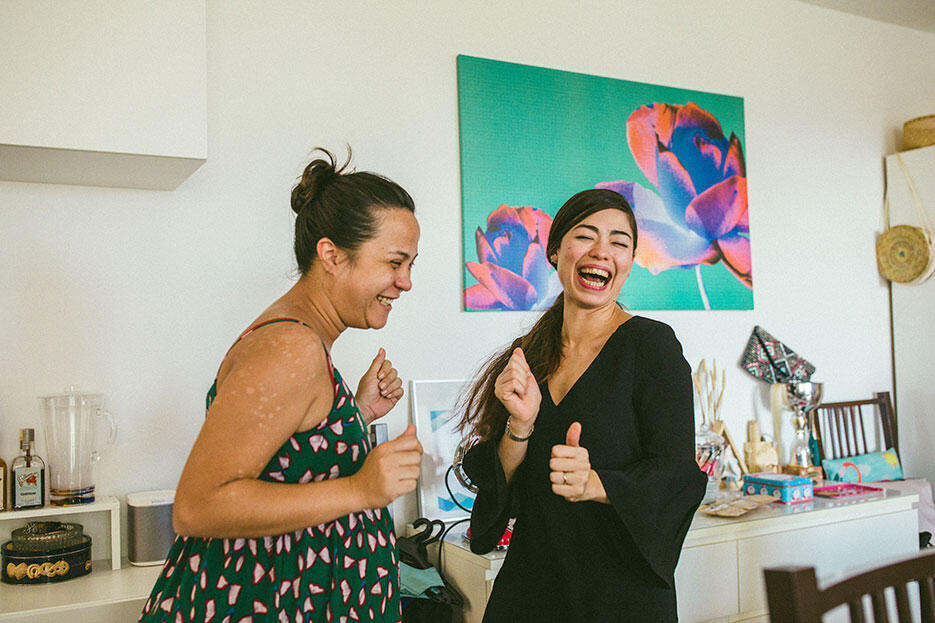 So many laughing pix, love it!!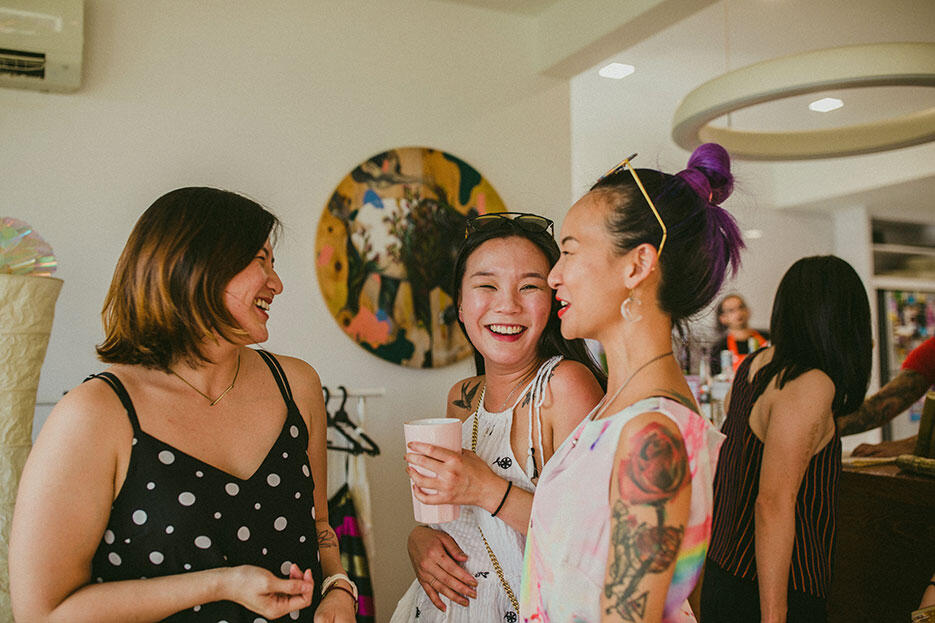 Sarch, April & me

Sweet & Jane – the first batch of KBF team members in 2013/14…
[Pix below by me]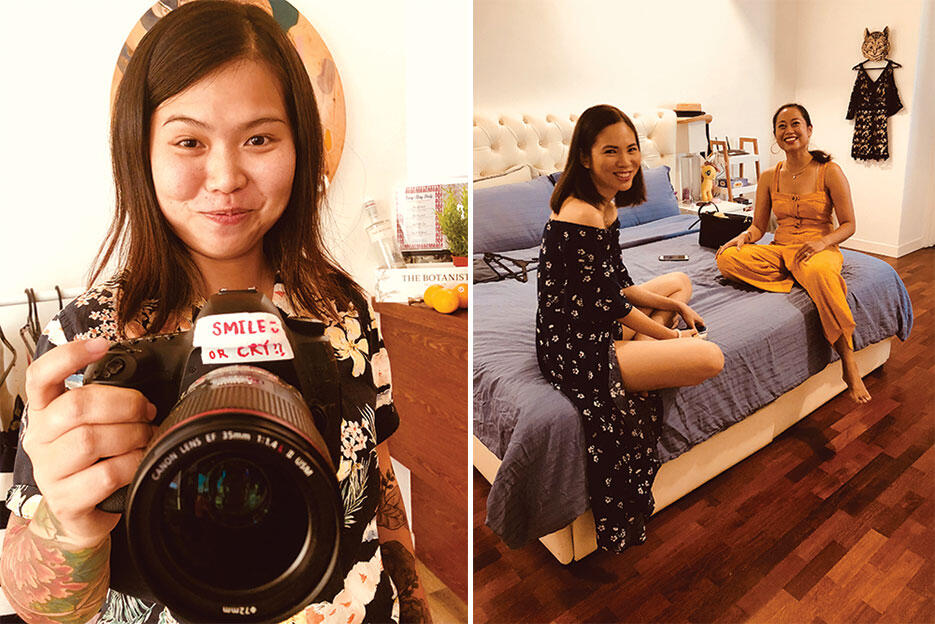 Jane on the left. If you want wedding or candid event shots, you should definitely book her!
On right are Mei Sze and Tianna.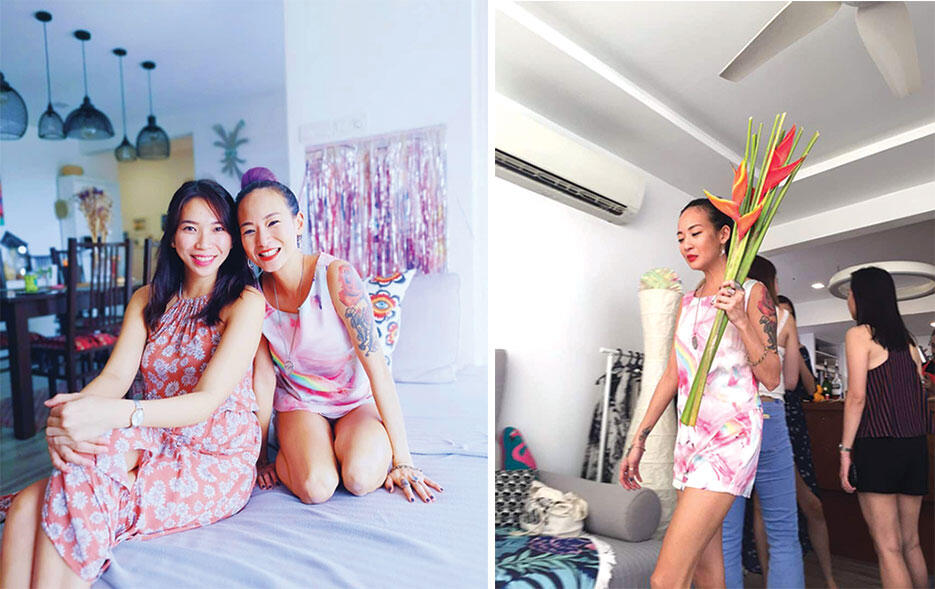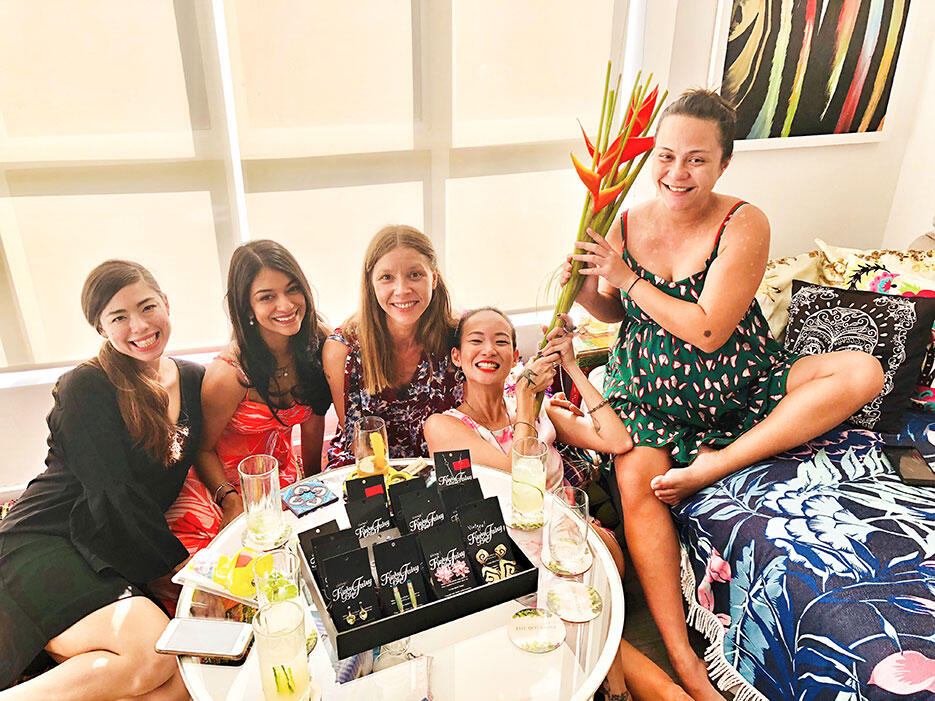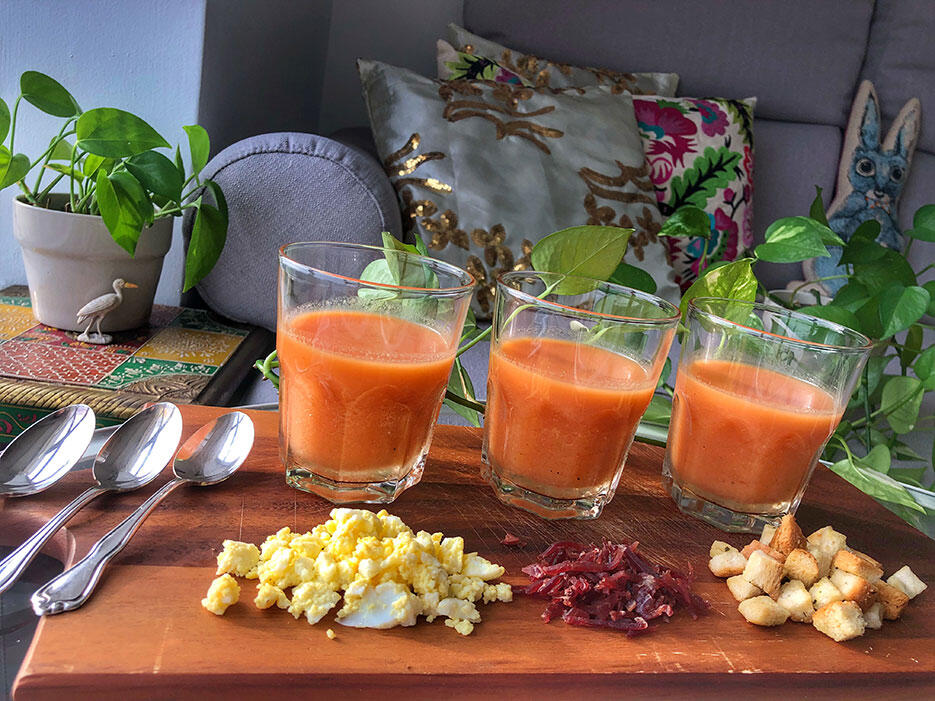 Thank you so much to the team at Curious Kitchen who prepared all the food for dinner time!
Menu was:
– Gazpacho with Jamon, Egg, Olive Oil and Crouton
– Fried Rice with Tobiko, Crispy Rice and Katsuobushi
– Bolognese with Parmesan and Basil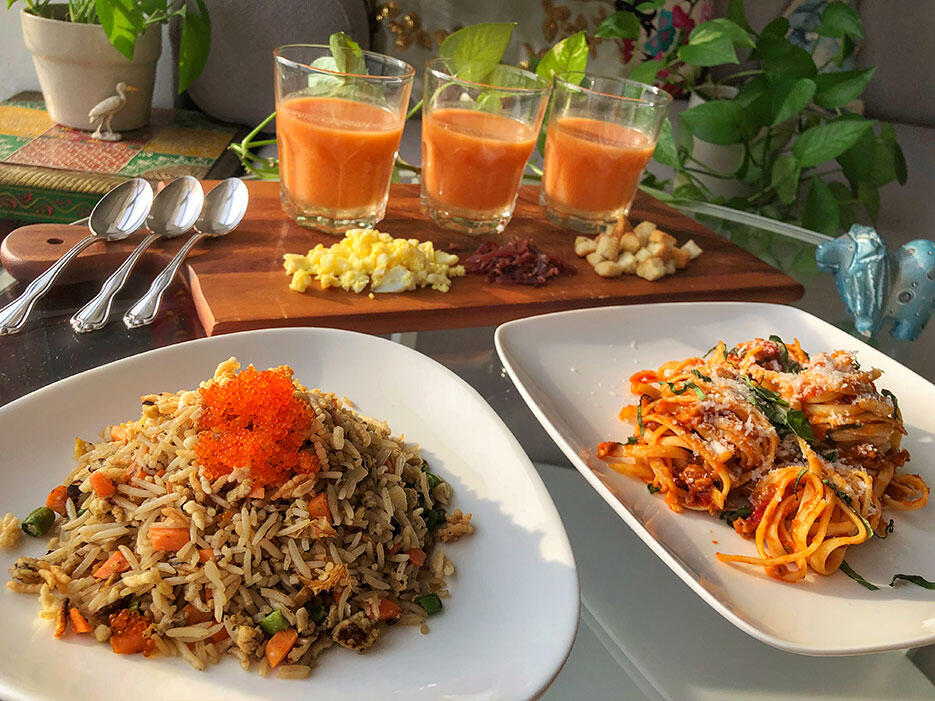 I'm a regular at Curious Kitchen, a restaurant & bar on the rooftop at Tropicana Avenue. Sometimes i go there after the gym just to hang out with the guys and grab a beer or light dinner, and Andrew was super nice to sponsor the food (do you remember Somo in Mont Kiara? He used to own that yearssss ago where i spent a lot of time too! I feel we've come full circle cos we lost touch when him and Nat were busy raising 3 kids whom are older now).
I was just there last night and someone asked whether i work there. I said i'm their mascot.
Besides their physical restaurant, Curious Kitchen also runs an online food store called Curious Grocer that provides cold cuts (like jamon, chorizo, salchichion) and prepped Iberico for effortless entertaining for dinner parties at home. They hinted that they'll send Chef Rainer over for separate dinner party at #CasaFairy next time. I'll be waiting for that one…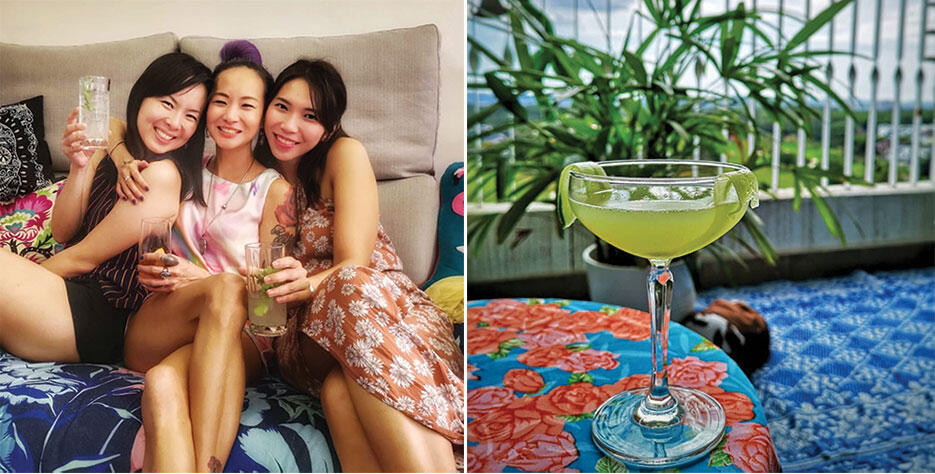 [pic by Eelaine Fireangel]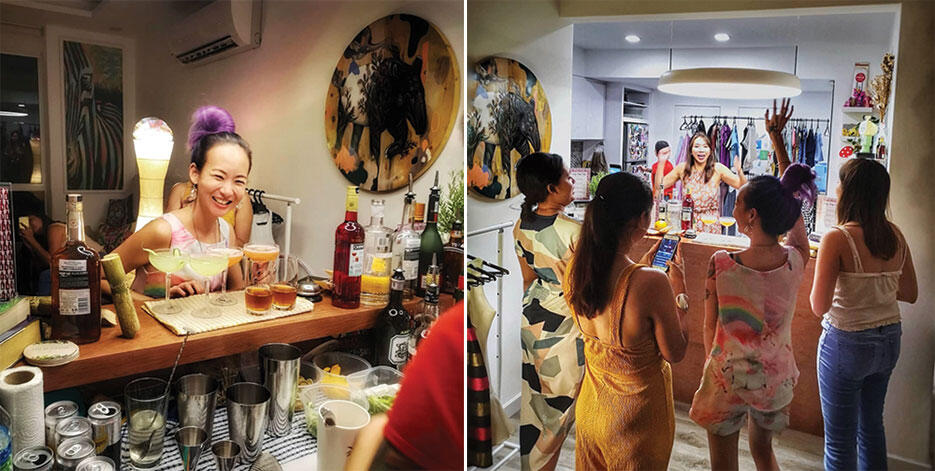 [pic by Eelaine Fireangel]
Bar was to stop at 8pm, and i think we did pretty okay with last person leaving at 10pm.
This is what happens when you're older – start early, and end early!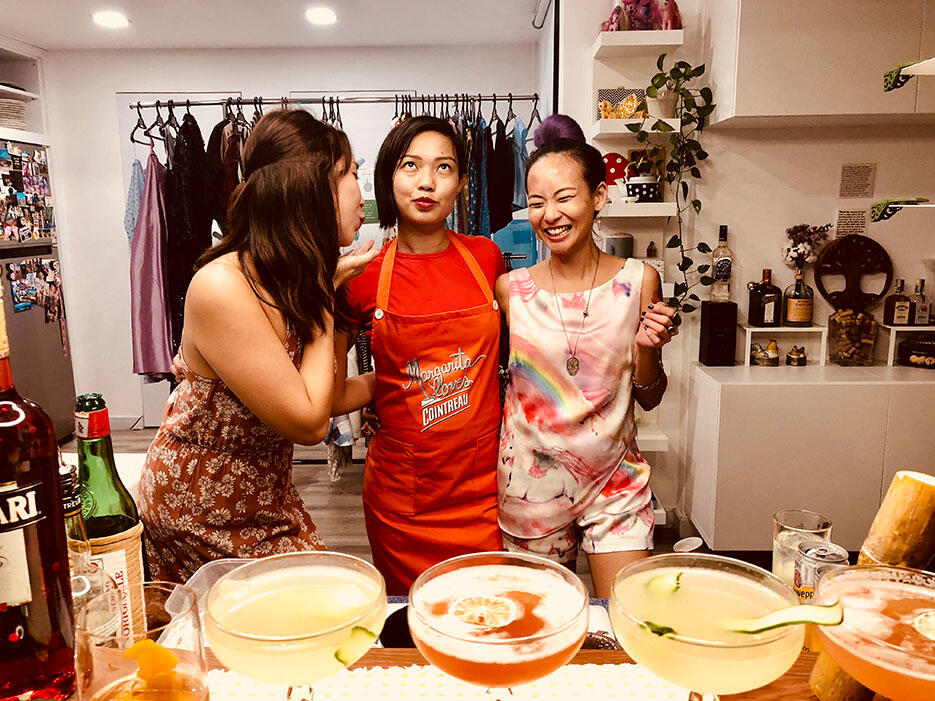 Big love to May and Angel for coming together to create such memories…
Unfortunately, most of my memory was gone that evening… #blankspace
+ + + + + + + + + + +
CREDITS:
Thank you Rémy Cointreau for sponsoring the drinks:
@remy.cointreau
#CointreauMY
#TheBotanistMY
#MountGayMY
#RemyMartinMY