I blogged a little about my dining area when my apartment was featured in Haven mag a month back, so here's a follow-up blogpost with some notes from my renovation and decorating process, including new accessories from Feca i recently added. Hope you learn a few tips so you don't make the same mistakes i did!
Friends are typically fascinated when they enter my apartment for the first time, mostly because of all the trinkets i place around. If one's home is a reflection of the inner workings of one's mind, then mine is undoubtedly colourful, quirky and a little whack.
I love product design (used to be obsessed with chairs?!) and spaces; and fulfil this hobby of mine by subscribing to ID mags, and picked up some ID books from Chelsea (where all the fabric and furniture stores are in London) which i hand-carried back to KL cos i was overweight with check-in luggage :p
I try to decorate each corner or space via colour and theme, so if i have something that has a slightly illustrative or lighter tone in colour, they subsequently go into said corner, and some get elected out. I have a hoarder issue… and sometimes just close my eyes and donate things which i feel contribute to clutter.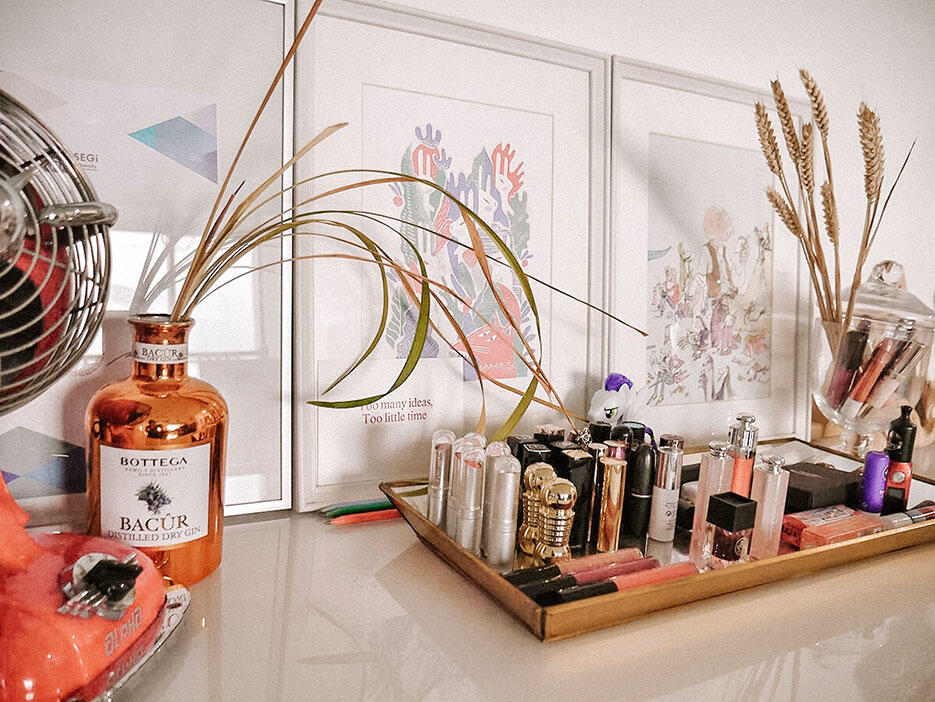 I recycle pretty alcohol bottles to place leaves in (which i buy from Dianthus' floral store at BIG in Publika). Leaves can last MONTHS in some water, so it's a budget way to have more greenery at home. Really should have bought new ones for the pic but didn't think about it. Other natural deco are dried flowers, stones, pinecones and feathers. See, hoarder issue.
My lipsticks are kept by the dining area (cos i like to decide which lipcolour to wear just before dashing out based on what i'm going to eat and drink that day) atop a mirrored tray i got from Peter Hoe's store @ The Row.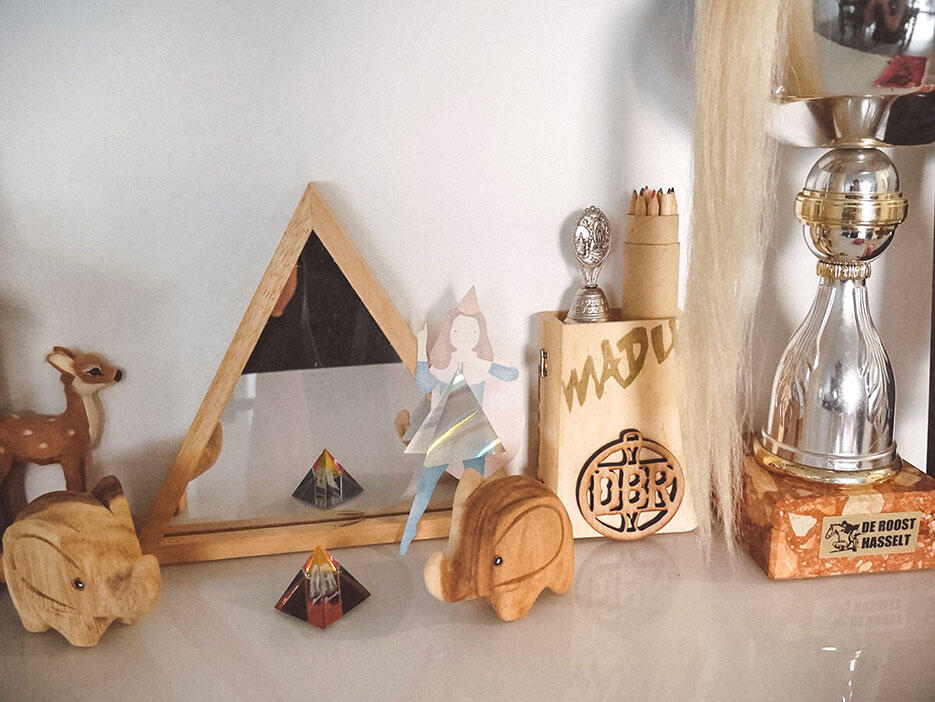 Triangle mirror from Publika, glass pyramid from Lourdes, paper girl with silver triangle from SweetEe, wooden Madu Cosmetics box from Hunny, wooden DBR pendant from Burning Man, that furry thing is a horsehair necklace from Jimmy Lim, and riding trophy not won by me… It was given to me by a super sweet family friend Nick Motmans who won it when i was in Belgium for my 18th birthday. He sadly passed away in a riding accident a few years ago.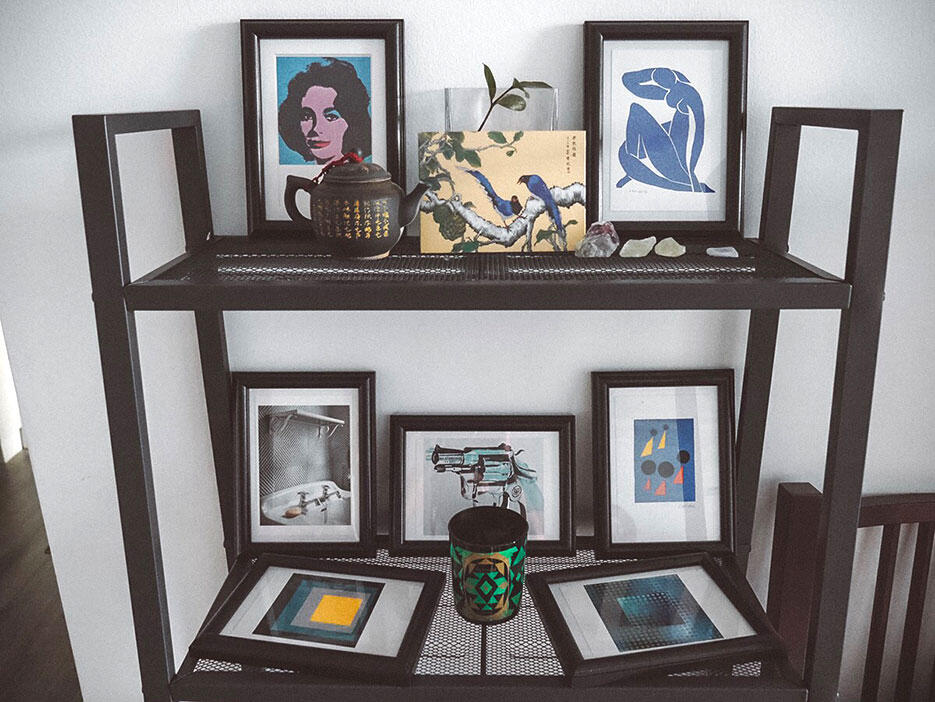 This metal shelf was initially bought for my main balcony, but the crazy strong storm winds made me decide otherwise. It now holds memorabilia like a teapot that belonged to my late babysitter from Penang, and prints from Matisse, Warhol, Thomas Ruff, Joseph Albers, Alexander Calder, and Victor Vasarely. When i want to bring prints home but don't think i can fit posters into my luggage, i pacify myself with postcards from museums in Tokyo, London and Paris. I have wayyyy more but the ones here made the cut!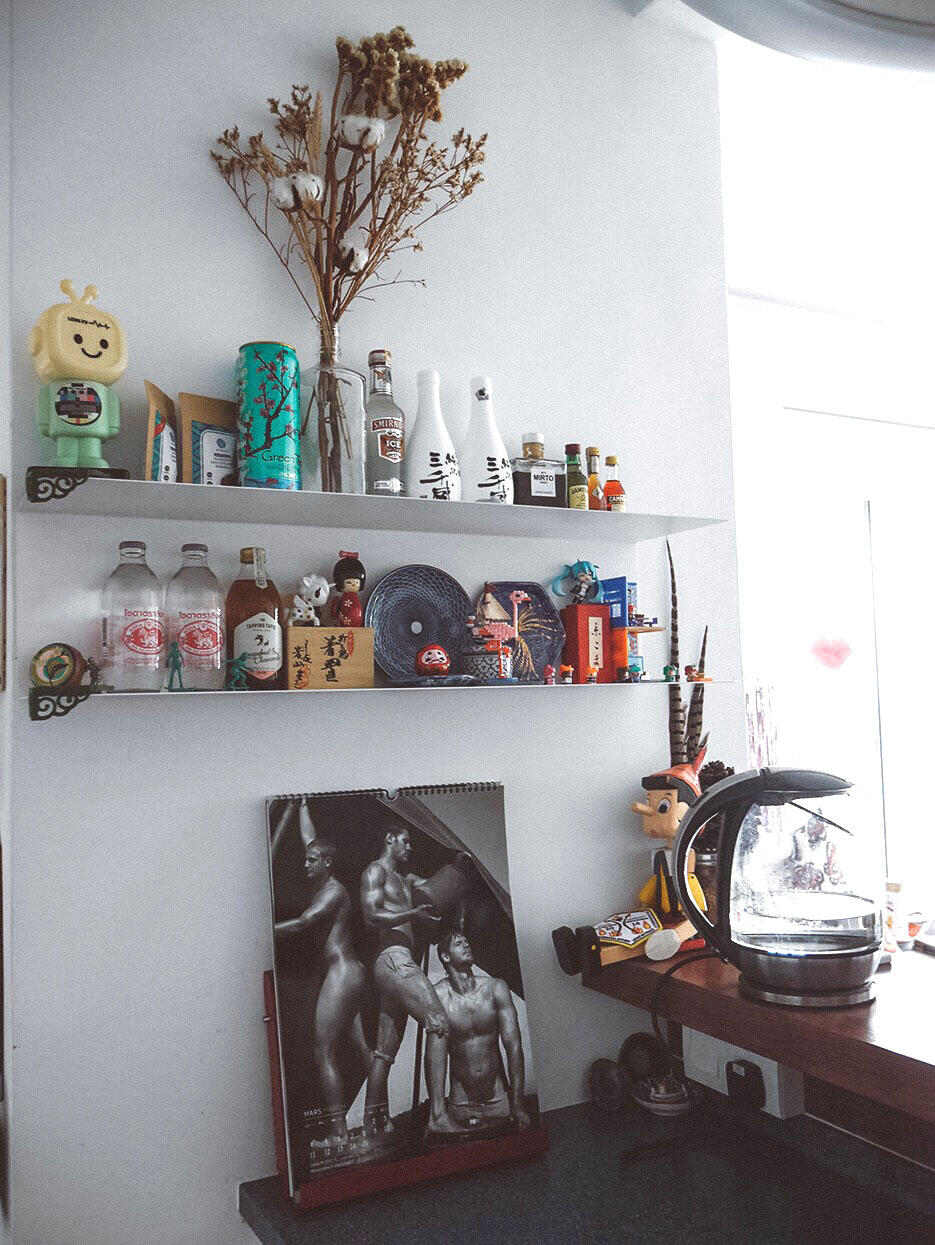 The bar which divides the kitchen and living area holds mostly drinks, Japanese homeware, and tiny toys. Oh and that #takhalal French rugby calendar which sits on a cookbook stand Didi + Nini gave me. I jokingly said i'll stick all the posters on the front of the bar, and Val dissuaded me from it before adding, "This is my nightmare coming to life!"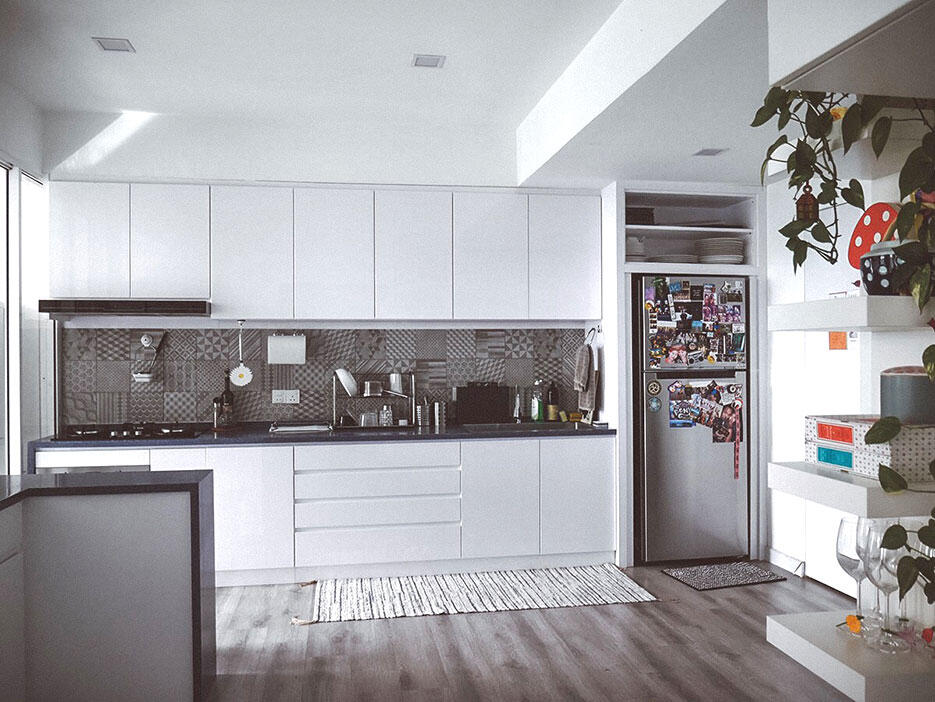 I selected a whole bunch of accessories from Feca for my kitchen and bathrooms! The first product i couldn't stop thinking about since i saw it was this paper towel holder, cos i've had the roll sit on the kitchen counter for the past 3 years and it's just so annoying to me cos i like things OFF work surfaces when possible!
Plus… the stainless steel finishing and sleek design was too good.
Maybe it's also an age thing, cos telling friends you're so excited about your new paper towel holder sounds really peculiar when said out loud.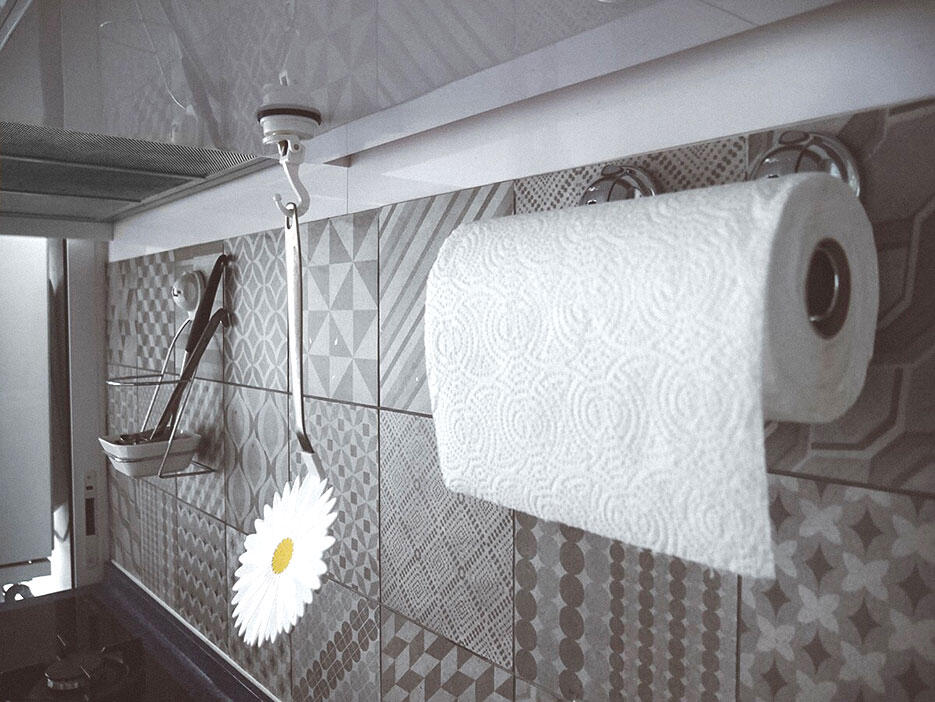 For the kitchen: i've stuck up the Earl Ladle Holder, Diana Swivel Hook (which i hang bananas from to keep yellow for longer), and Earl Stainless Holder for Paper Towels.
I say stuck, cos all Feca products are created using a patented suction cup which allows me to move the accessories around without nailing or drilling the walls! Thank the fairies, cos i don't think i can deal with anymore contractors coming in, nor holes in my pretty tiles.
You know all those products you see in other stores with suction cups? Forget about those. There's a reason why Feca is sold in over 400 locations globally, with Malaysia being the 41st country to sell it recently (so we're a bit late to the game, but better late than never!)
The award-winning Taiwanese brand has a wide range of high quality suction cup products designed in an aesthetically beautiful manner especially for people devoted to home organization.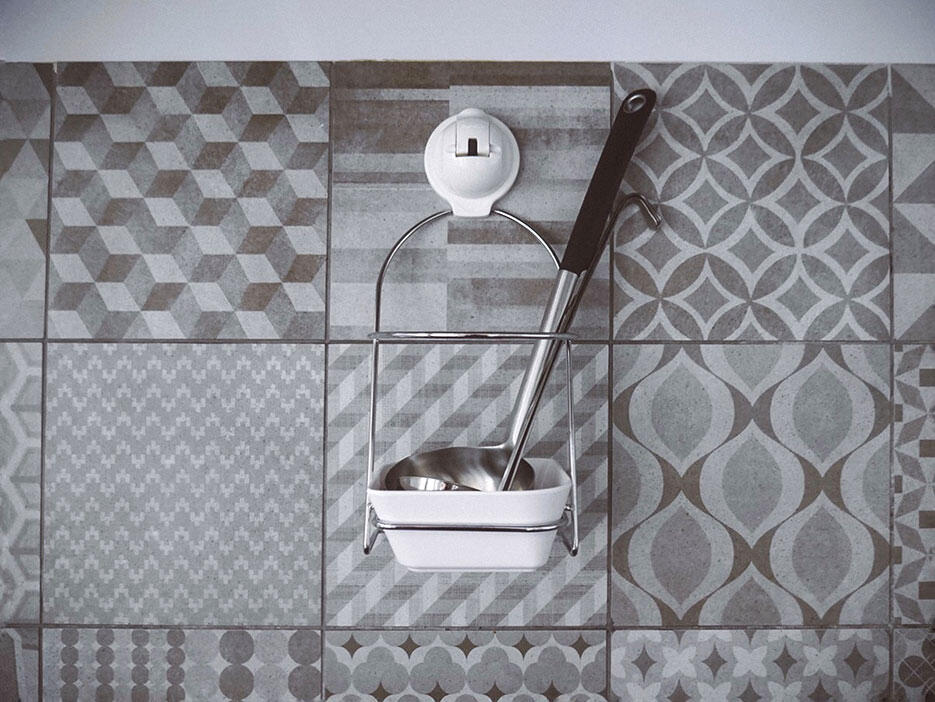 To some it might seem unnecessary to get a ladle holder, but i recall so many times especially during Christmas when i'd cramp bowls to hold ladles and sauce spoons, on the stove along with so many other pans and containers.
Someone mentioned how it didn't seem feasible to hang it directly over my stove, but i'm not using that particular stove very often, and when i do – i can just change its position cos WALA MAGIC SUCTION CUP! All the products are adjustable and reusable, and can withstand extreme temperatures from -10°C to 70°C so i don't have to be toooo worried!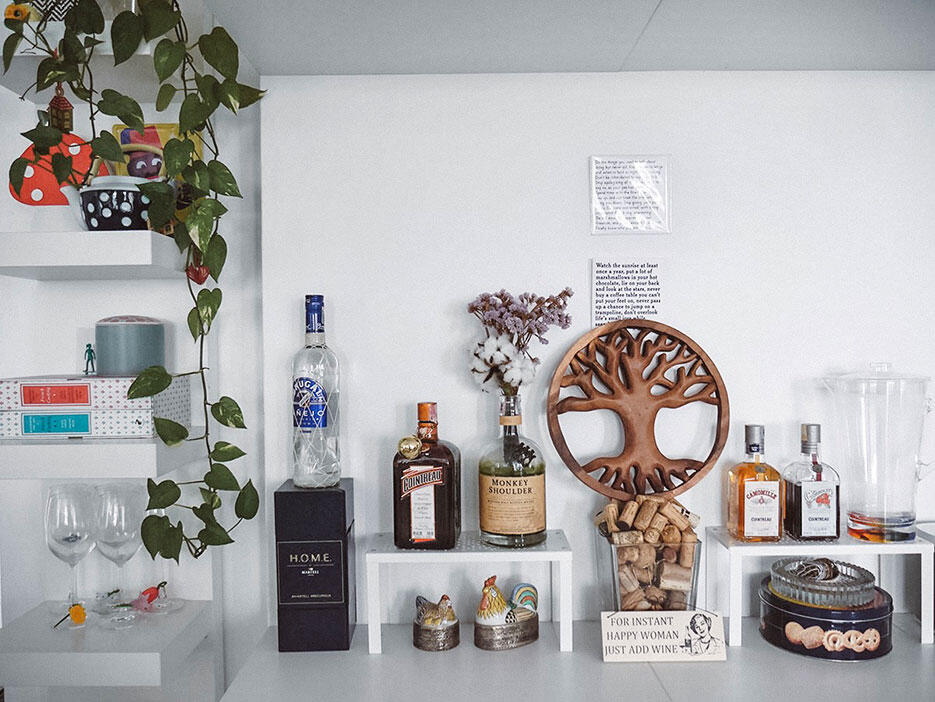 Back to knick knacks – see that polka dot teapot on the top left corner? I saw it in a teapot shop in Tokyo and it called out to me so strong i had to hand carry it home :p The wooden tree of life piece is a gift from Deep, and my mum gave me that Happy Woman sign.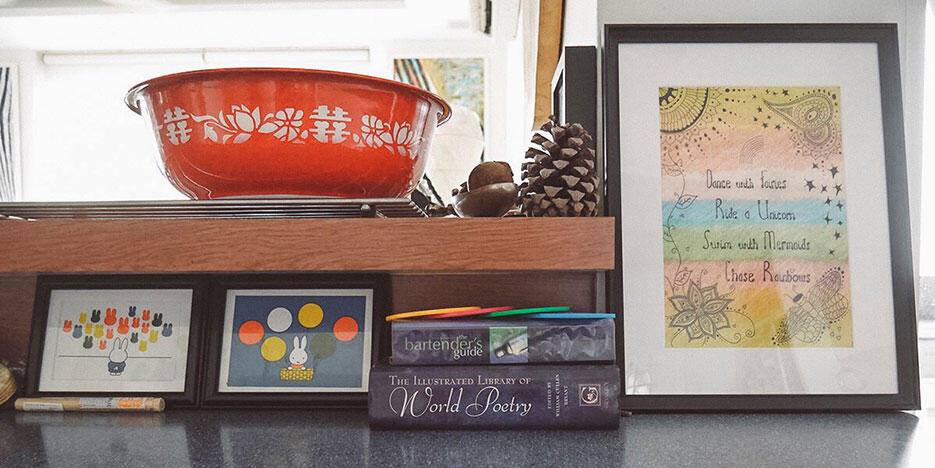 Vintage red enamel bowl from the weekend flea market in Amcorp Mall, bartender's guide and poetry books are from Gobi, Miffy postcards from London, pinecone from a holiday in Cap Ferrat, and drawing on the right is by Val <3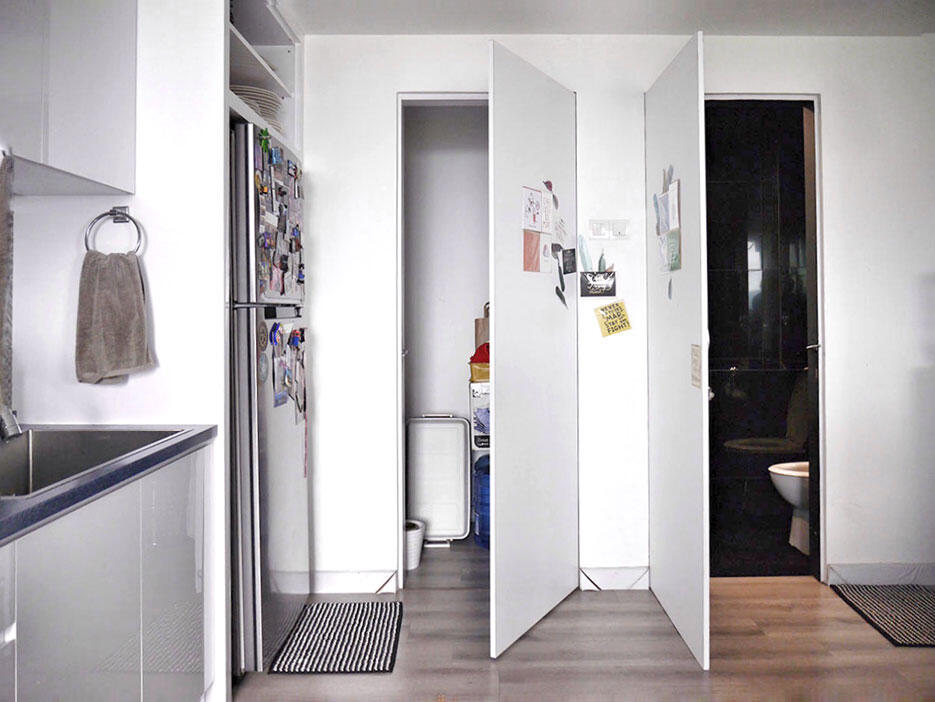 I knocked down a wall in the kitchen to make it larger, and decreased what would be the help's room to become a tiny store room, and kept the 3rd (and smallest) bathroom which i dub the Party Bathroom – cos it's usually used the most along with the guest bathroom when parties are had.
Danny (architect) and i said we'd find a nicer sink to install, but we never found one that was small enough. And even if we did find one now, i doubt i'm going to bother having people remove current sink. If you're doing reno… just go all the way cos you're not gonna bother changing stuff up once you move in. It just won't happen!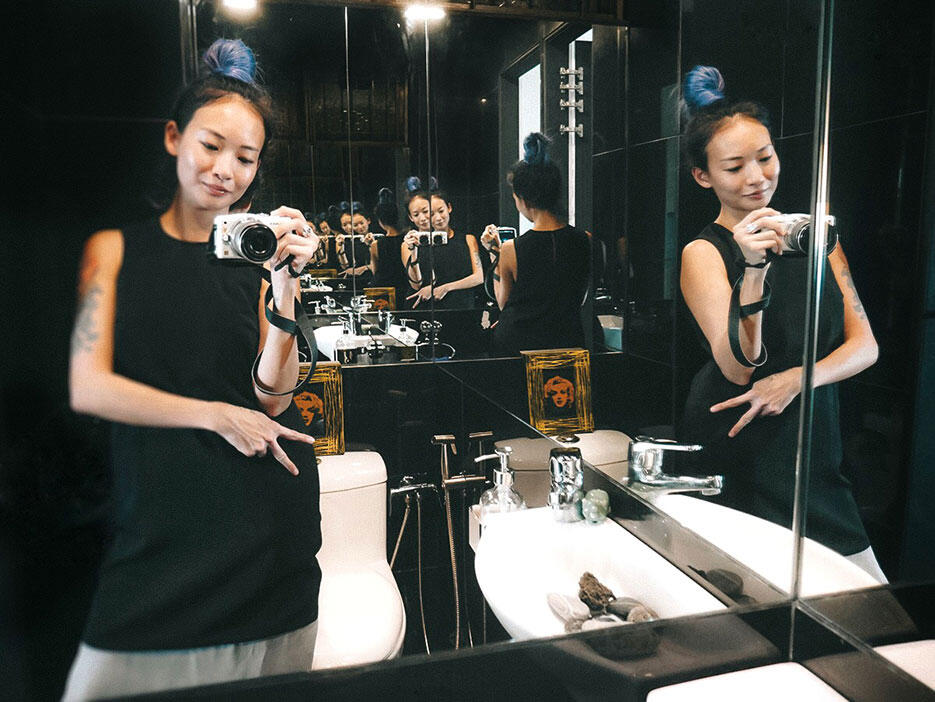 This be the Party Bathroom. It's also where i check my peaches out after hundreds of weighted squats.
I was inspired by the restroom in the Carat Club in Pavilion years ago, and felt mirrors all around would make the space seem larger. My dad + uncle were so against it saying the feng shui would be terrible, but i researched a little and placed some jade in there to balance the energy of it being in the North.
In the sink are stones i collected from Devon over 15 years ago, and the Marilyn art piece in the back is by my Arien brother + graffiti artist XUFUX.
When the bathroom was renovated, i couldn't install any fittings cos of the tile type – which would crack if we attempted to drill it. #facepalm So much for wanting a nice bathroom… when i can't even put handwash or towel in there. I looked around for tiny shelves that could sit on the floor but nothing struck me as suitable, so anyone who used the Party Bathroom had to pathetically wash their hands in the kitchen upon exiting.

Refer to left image for how bare it was!
I got so excited when i FINALLY had a solution to install the necessities without construction that'd damage the wall. Purple towel is hanging off the Nobel Towel Holder from Feca, and soap dispenser is placed in the Diana Multi-Function Holder in Silver. I also stuck on the Earl Toilet Roll Holder so friends don't have to awkwardly reach behind for the loo paper anymore :p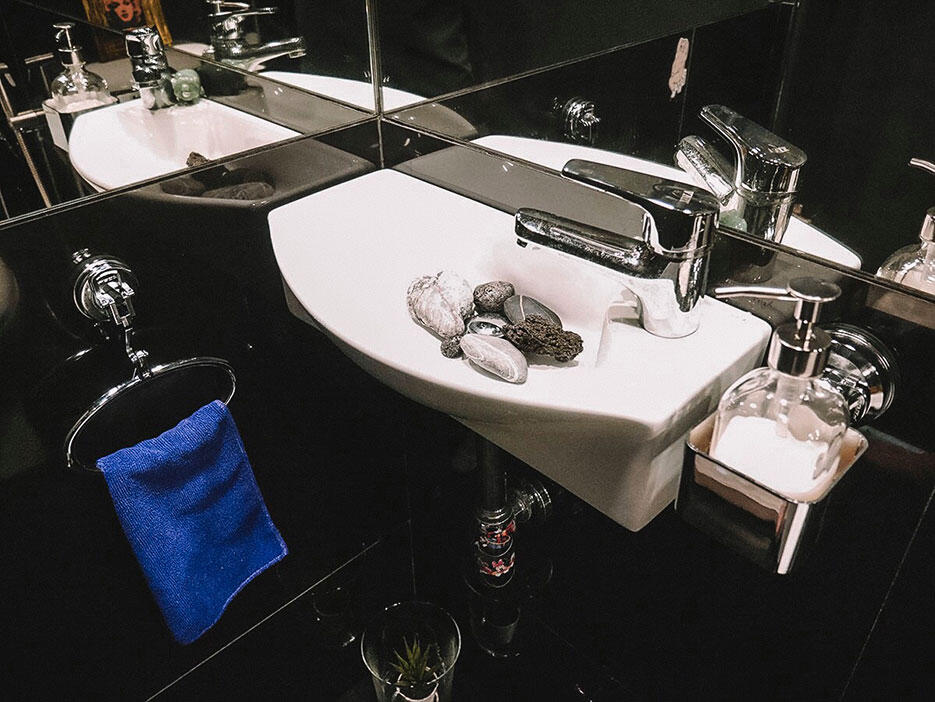 Because it's so easy to install and remove, i've been taking them out when the cleaners wash this bathroom, so they can get at the walls more efficiently. That Diana Multi-Function Holder can also hold plants, candles, or whathaveyou if i decide to change up its function.
I was so excited to show Val how different the Party Bathroom looked with the addition of a few accessories. He commented, "I can't wait for us to move in together (so we can move the accessories there)!" I was like: ?
Below is the wall next to the Guest Bathroom: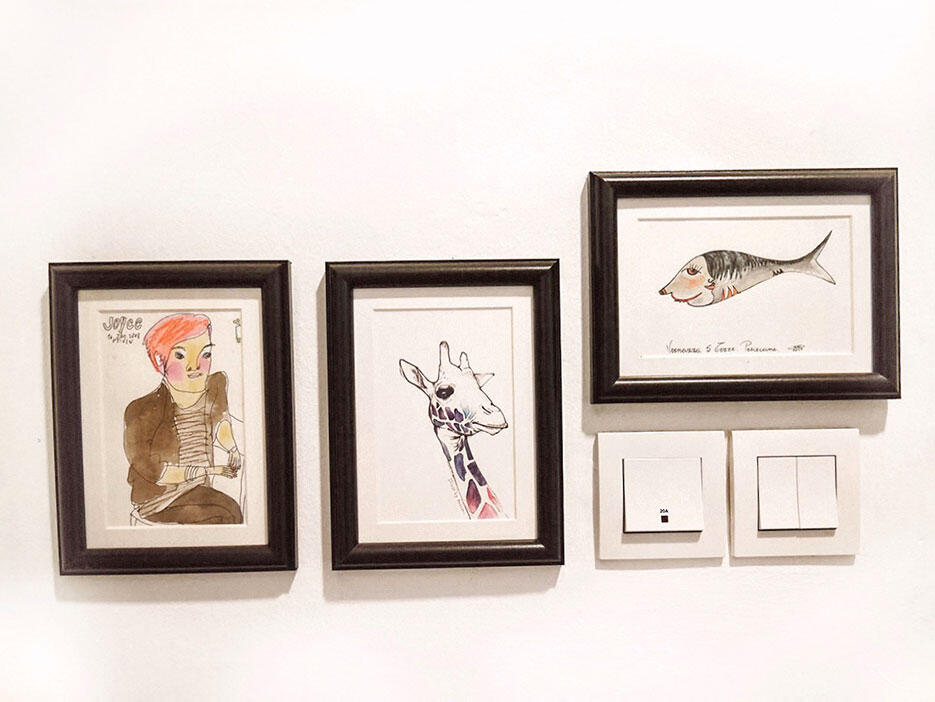 Art from Seoul and Cinque Terre.
My dad said he couldn't believe how the guy dared to drill a hole right above the light switches cos he could have got electrocuted. I didn't know about this… and retorted, "Well, no one did!"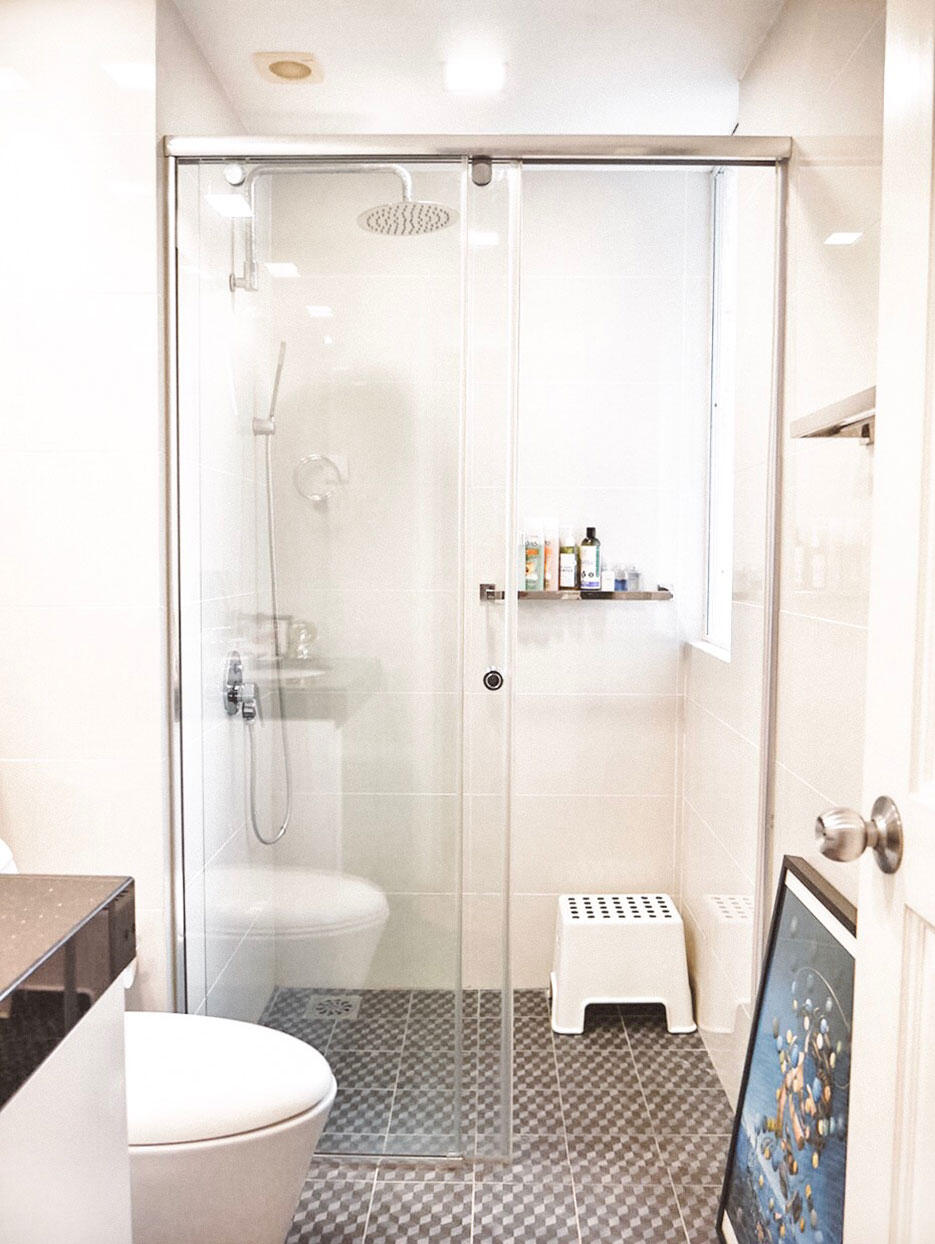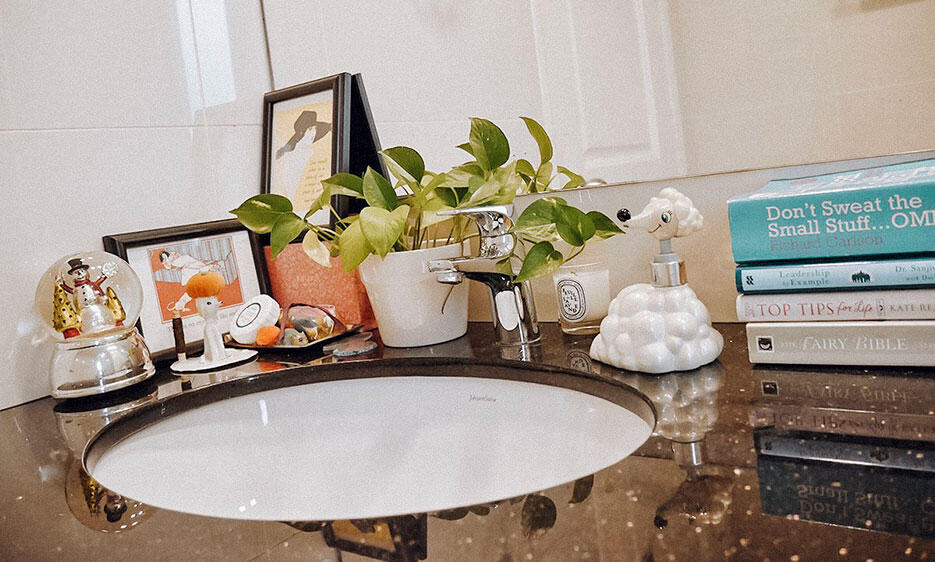 More art postcards, a Christmas globe that's always there, tiny porcelain dog sculpture i painstakingly carried back from central Sweden, and doggie soap dispenser from Rahul!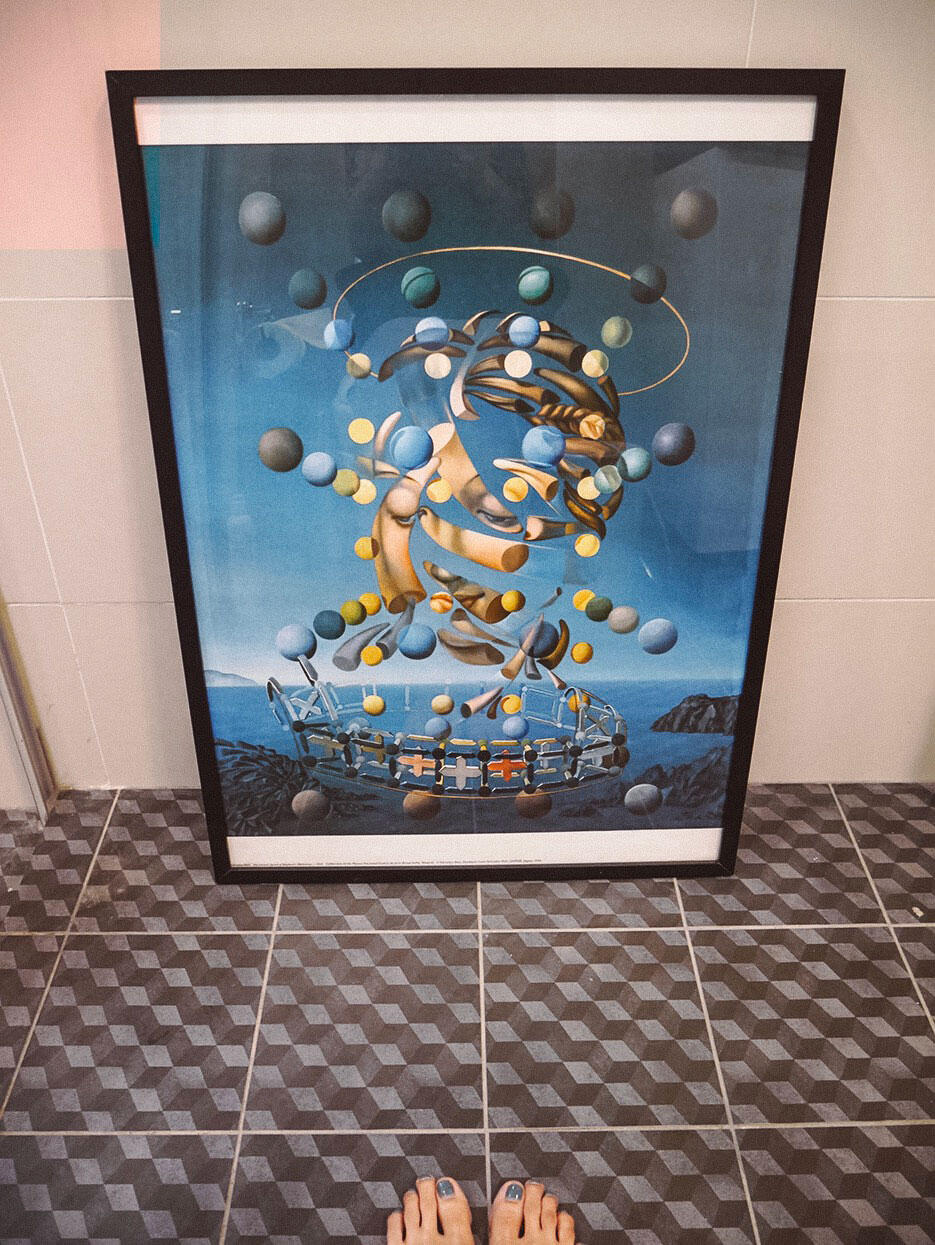 Right in front of the loo is a print of Salvador Dali's Maximum Speed of Raphael's Madonna that i procured from Tokyo. I felt it the right spot to place such an intriguing piece that allowed lots of time for inspection. This piece was propelled by Dali's fascination with nuclear physics, and ponderings post-Hiroshima.
Master Bathroom: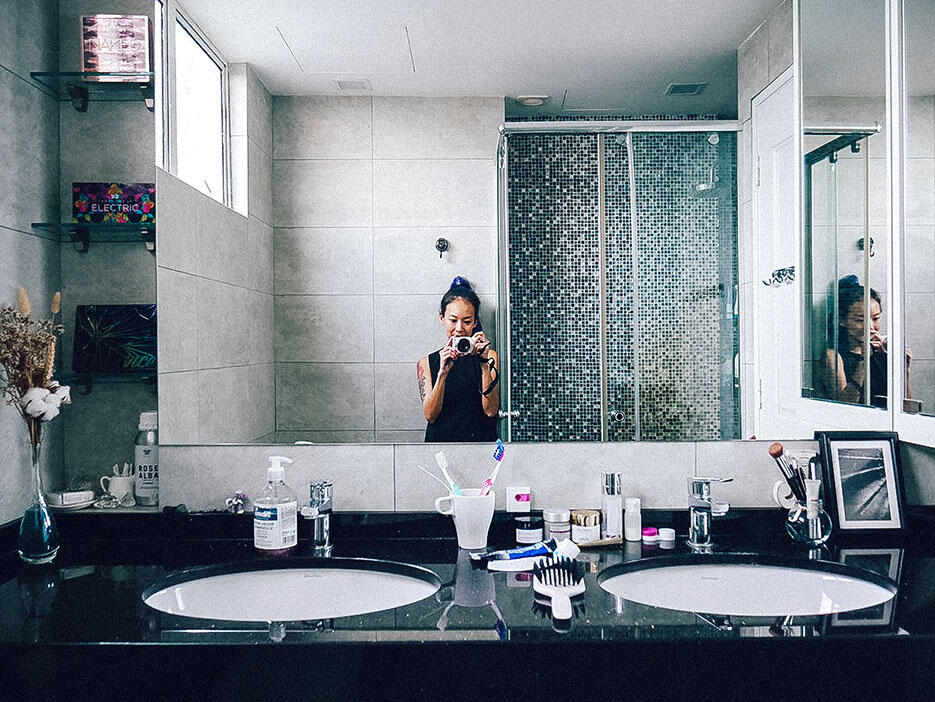 I wanted to keep to the apartment's original design of two sinks despite being single then, cos having two sinks before in my previous apartment made me realise how much BETTER and faster it was to get ready if you were a couple! If you can opt for this, go for it.
When Danny was designing the bathroom, i told him that i wanted a lot of concealed storage space, which is why you don't see most of my bathroom and beauty products out in the open. It's just so much neater, organized and pleasing to the eye! I just keep the major essentials out on the counter i.e. moisturizer, sunblock, and masks i keep reminding myself to apply.
If i get fresh flowers for the bathroom, i like putting them in front of the mirror cos it looks like TWICE as many flowers 😉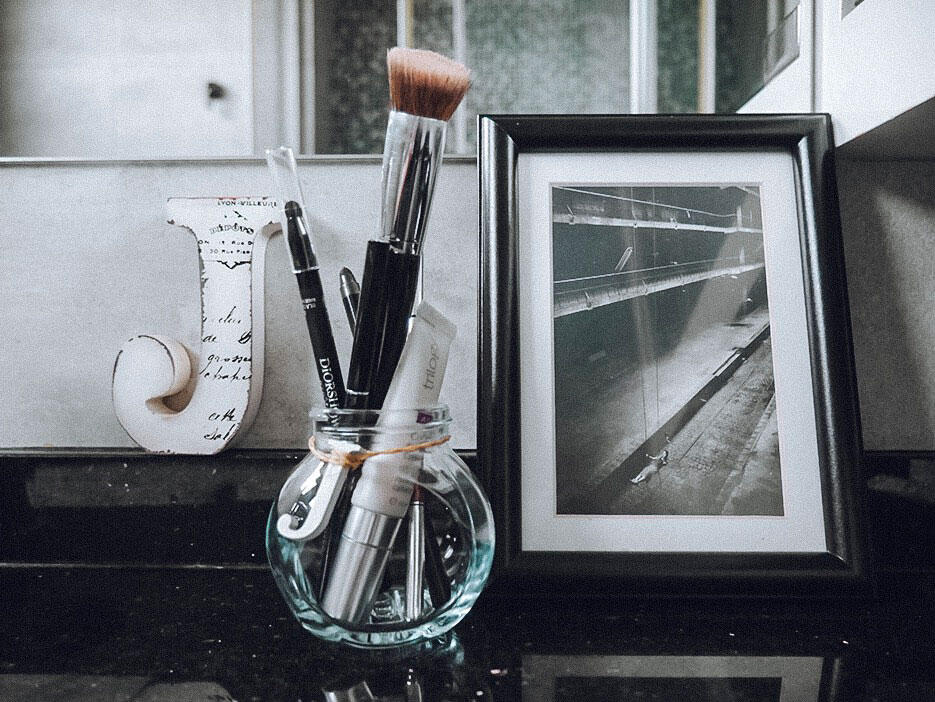 Letter J from Surrey, small jar with J from Myra, and i love swings! Hence swing postcard. I even wanted to have a swing built into my apartment… but at some point had no more money so swing was not a priority :p

I changed up the white cup holding our toothbrushes to a silver Diana Toothbrush Holder from Feca.
This toothbrush holder gives me so much pleasure to look at, you have no idea.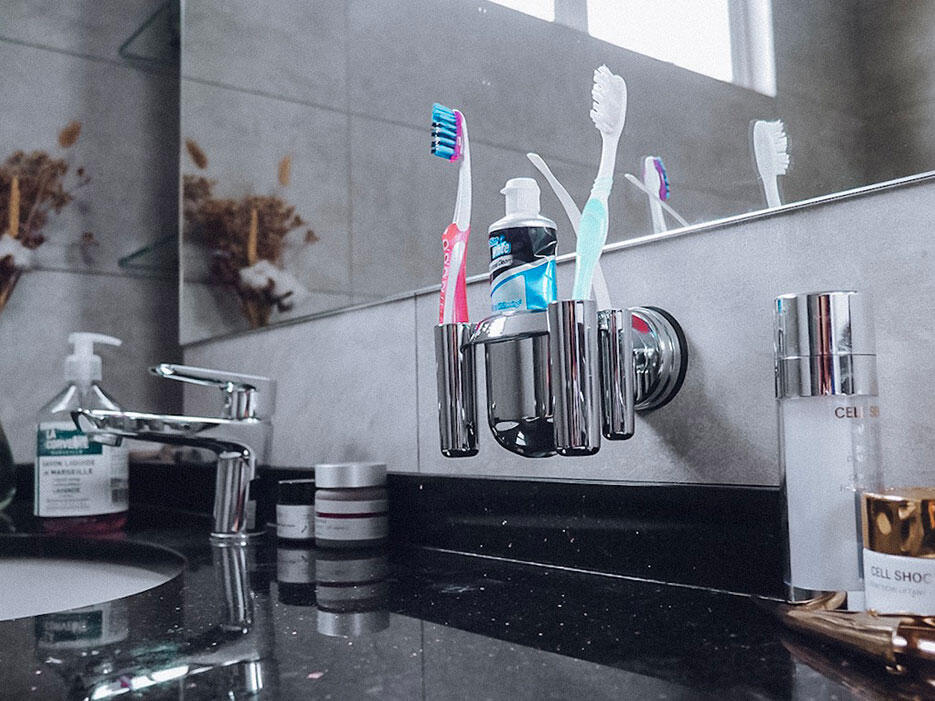 I picked it cos it looked shiny + futuristic and would match my bathroom, but now being able to appreciate it at least twice a day when i grab my toothbrush actually makes my heart skip a little every time cos it looks so fab.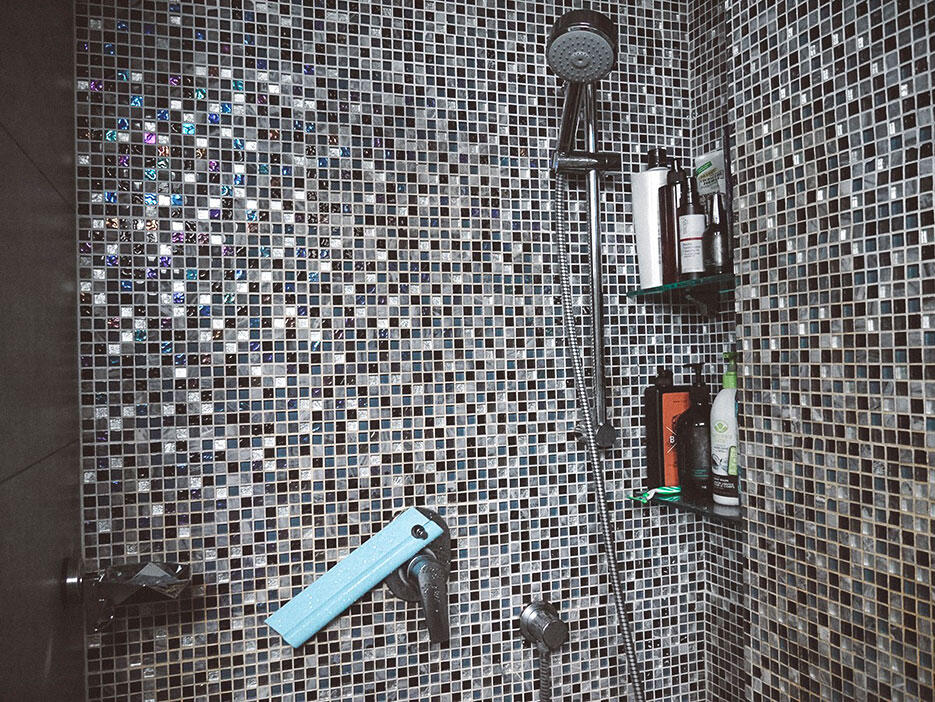 Do you like the iridescent rainbow tiles i picked!?
That sky blue glass scraper (to prevent watermarks on shower stall) is from one of my fave Japanese home accessories stores called Koncent. It's very dangerous to go in there…
In retrospect, i should have requested for additional shelves to be built, instead of just two. But like i mentioned before… if you don't fix it from the beginning, chances of rectifying fixtures are pretty low.
To add on a spot for soap bars, i just installed the Flora Rose Soap Holder in silver from Feca.
The unique rose petal rubber pad at its base keeps the soap dry, and can be removed to be used separately. Like the Diana Multi-Function Holder in the first bathroom, i can use this for so many other purposes aside from holding soap – like placing my jewellery if i forget to remove them halfway, place another bottle, or even a plant.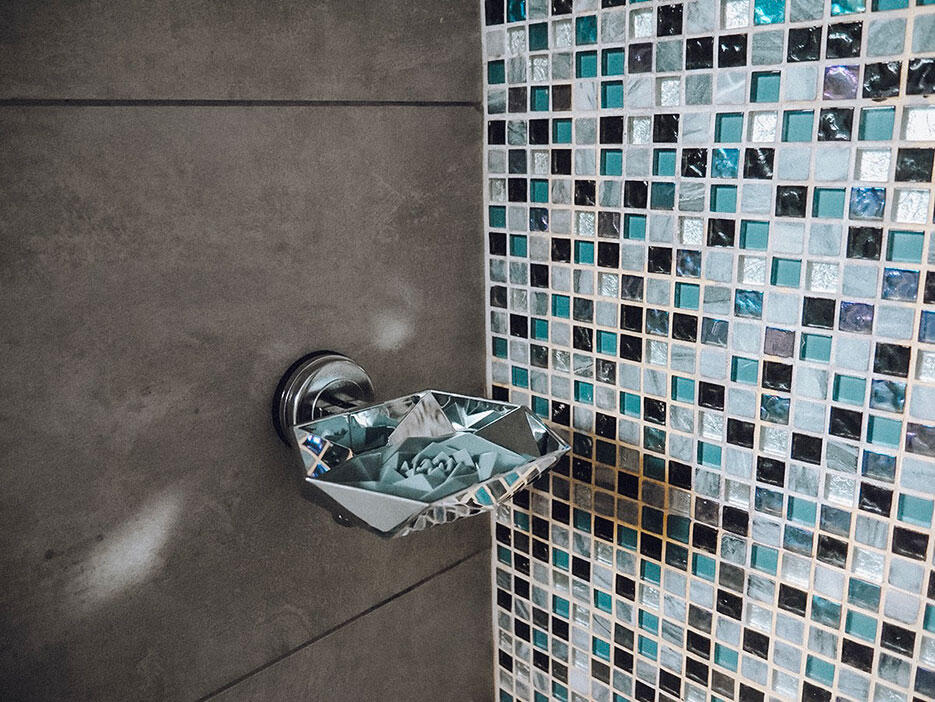 Seriously. I don't even feel like i need to put anything in it cos it's such a pretty art piece, i'm happy just staring at it while showering -_-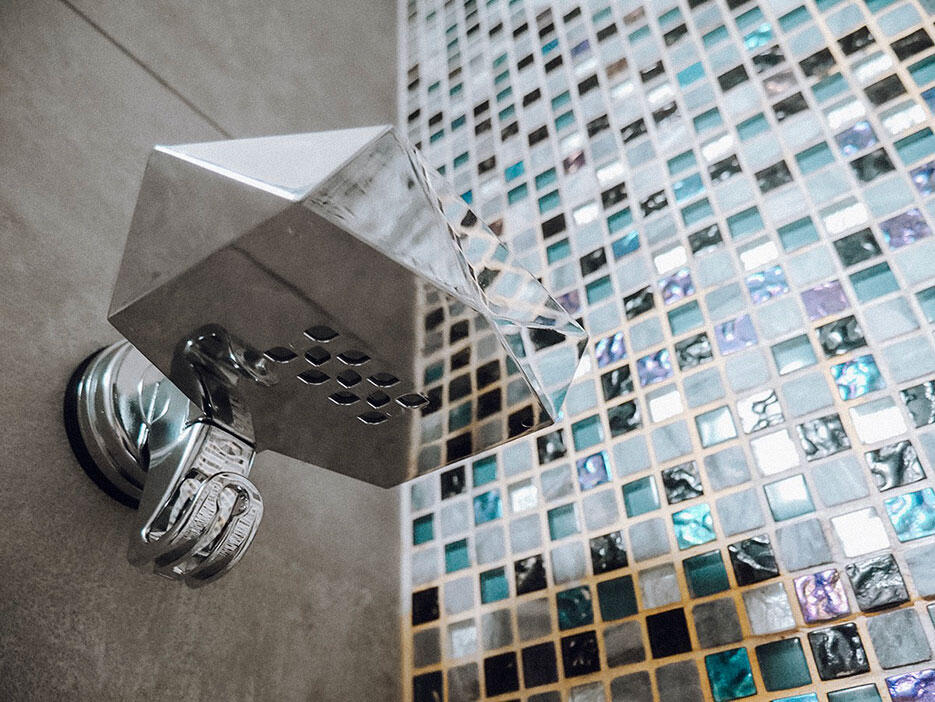 Even its underside is foxy! With a hanger for multiple uses… i could shift this to the kitchen or workspace if i fancy. I don't have to worry about this spoiling in the shower cos it's 100% waterproof and rust resistant.
A tiny bathroom woe i have is a row of hooks installed behind the door for bath towels, but because the door is made of wood, fungus tends to spread on it so i have to constantly clean it or hang my towel somewhere altogether. There isn't really a suitable place in the bedroom to hang it, so i finally got a hook to hang my bath towel from.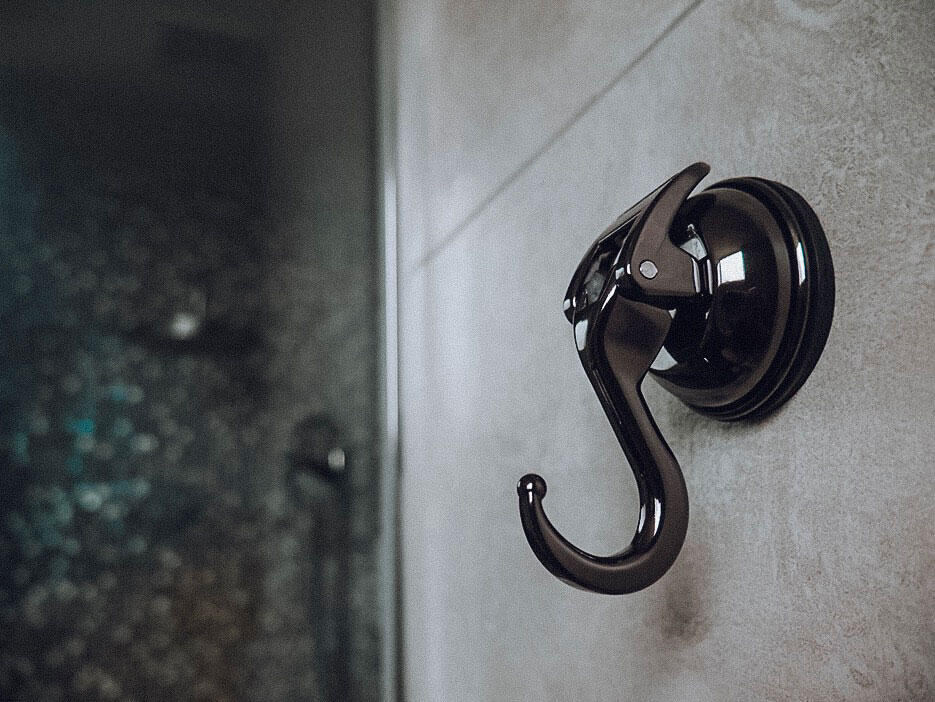 Behold the Earl Suction Hook in Black Nickel.
This hook is so sexy, i cannot.
I mean, just LOOK AT IT.
+ + + + + + + + + + + + + + + + + + + + + + + + + + + + + + +
Thank you to Feca Malaysia for sponsoring this blogpost!
I had so much fun writing it, and even more pleasure using the products… FOREVER.
Below is a price list of the Feca home accessories pictured in this post:-
Kitchen:
Earl Stainless Holder for Paper Towels, RM 169
Earl Ladle Holder, RM 168
Diana Swivel Hook, holds up to 6kg, RM 49.90
Party Bathroom:
Nobel Towel Holder, RM 82
Earl Toilet Roll Holder, RM 179
Diana Multi-Function Holder in Silver, RM 71.90
Master Bathroom:
Diana Toothbrush Holder, RM 89.90
Flora Rose Soap Holder in Silver, RM 109
Earl Suction Hook in Black Nickel, RM 109.90
+ + + + + + + + + + + + + + + + + + + + + + + + + + + + + + +
FECA magic suction cup provides consumers with more convenience, save construction cost, without damaging the wall, to create an elegant and comfortable living space. They have an extensive range of products (some you never even knew could elevate your life!) for the kitchen, bathroom, bedroom, office, garage and workspace.
No nails, no drilling installation
Adjustable and reusable
100% Waterproof and Rust Resistant
Withstand extreme temperatures from -10°C to 70°C
Can be used on even rough surfaces of 0.4mm; like porcelain, enamel, mirror, ceramic, glazed tile, non-porous tile, glass, plastic, acrylic, stainless steel, sealed marble, quartz
Combining functionality and aesthetics to save space and reduce clutter, FECA has received the Taiwan Excellence Award that commemorates products that solve day-to-day problems in creative ways.
FB: facebook.com/FECAMALAYSIA
IG: @FecaMalaysia
⌨ Website: myfeca.com
? Email: shop@myfeca.com
Feca outlet locations:
?FECA BSC
Lot SK01 2nd Floor
Bangsar Shopping Centre, KL
? +6011 1622 4298
9:45AM – 9:30PM
?FECA ESG
LK09B LG Floor
Empire Shopping Gallery
Subang Jaya
? +6012 919 2495
10AM – 10PM
?FECA MID VALLEY
LGC-09, LG floor
Mid Valley Megamall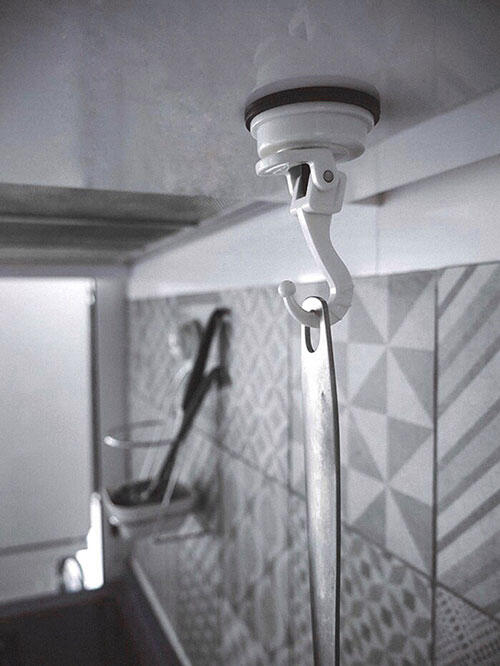 Diana Swivel Hook, holds up to 6kg, RM 49.90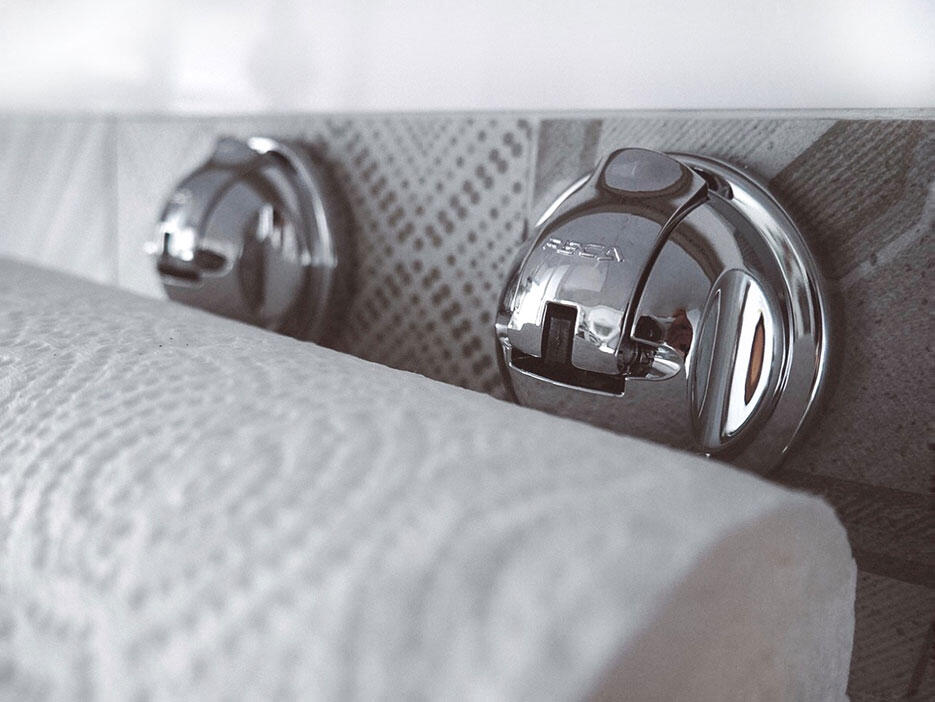 Earl Stainless Holder for Paper Towels, RM 169