One hectic period during an insane rush of campaigns, i was invited by Shareen via Whatsapp to go for a quick trip to Cameron Highlands for a whisky event that would take place in a month's time. At the time, i thought, "A GREAT REASON to get out of KL for a tad and enjoy whisky!!!" and immediately replied YES.
Organized by Single & Available with Highland Park single malt Scotch Whisky (since 1798) to launch a special edition whisky, a group of media (and i, the lone random blogger) were transported to Cameron Highlands were we were hosted at The Smokehouse Hotel — a lush piece of property that was built in the 1930s for the enjoyment of British colonists of the past who missed chilly weather and English traditions. Now, it's run by the first Malaysian family to take over its ownership.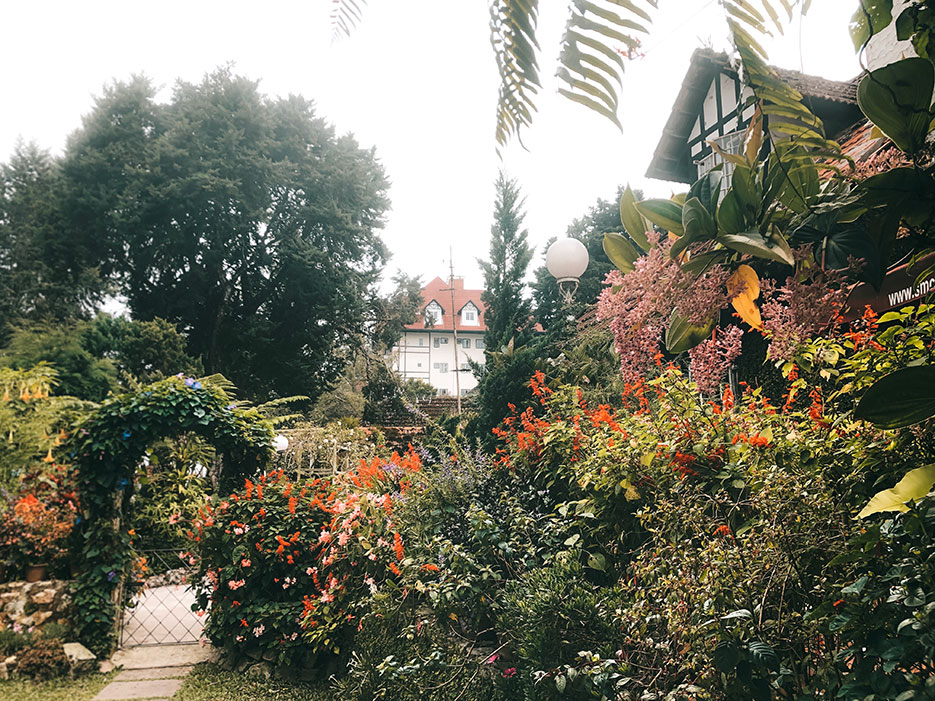 The gardens are so pretty! I haven't been to Cameron Highlands since 2012 when Cammy was pregnant with… Cameron. Haha.
And i've never been to The Smokehouse Hotel, and love how i got to experience the gem that it is!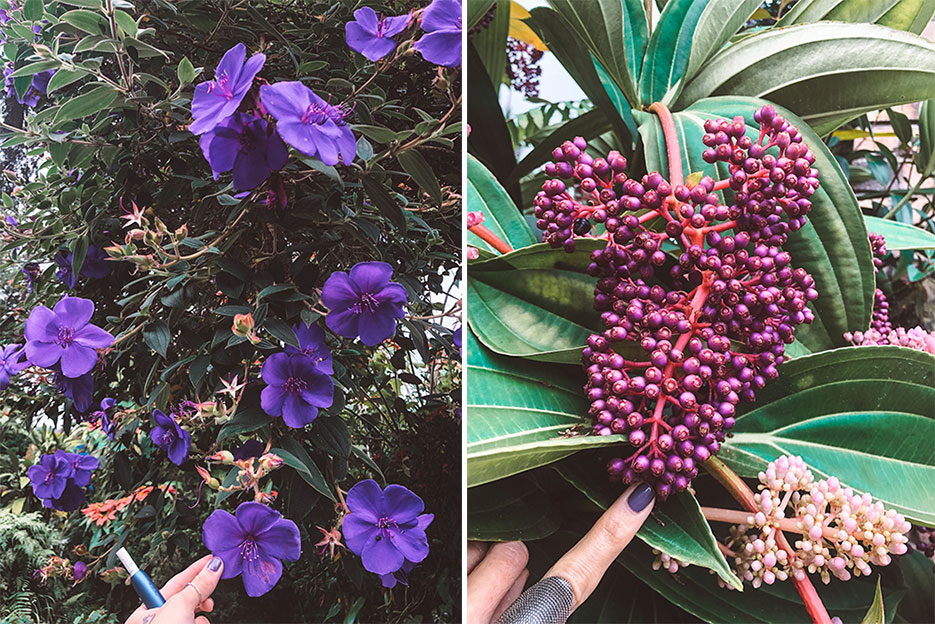 The rich flora well-suited the Highland Park Whisky exhibited in the award-winning gardens, more specifically, the Viking Legend series we were invited to experience.
The whisky is made on Orkney islands, a wild and stormy area once ruled by the Viking Kings of Norway and Denmark. You can visit their distillery (which lies almost in the Arctic Circle) to meet the modern-day Viking descendants who make Highland Park Whisky 😉
The brand partnered with Danish designer, Jim Lyngvild, to create the packaging for the trilogy. Jim's Viking lineage is traced all the way back to the 8th century, including his 36th great-grandfather Ragnvald Eysteinsson who was the 1st Earl of the Orkney islands.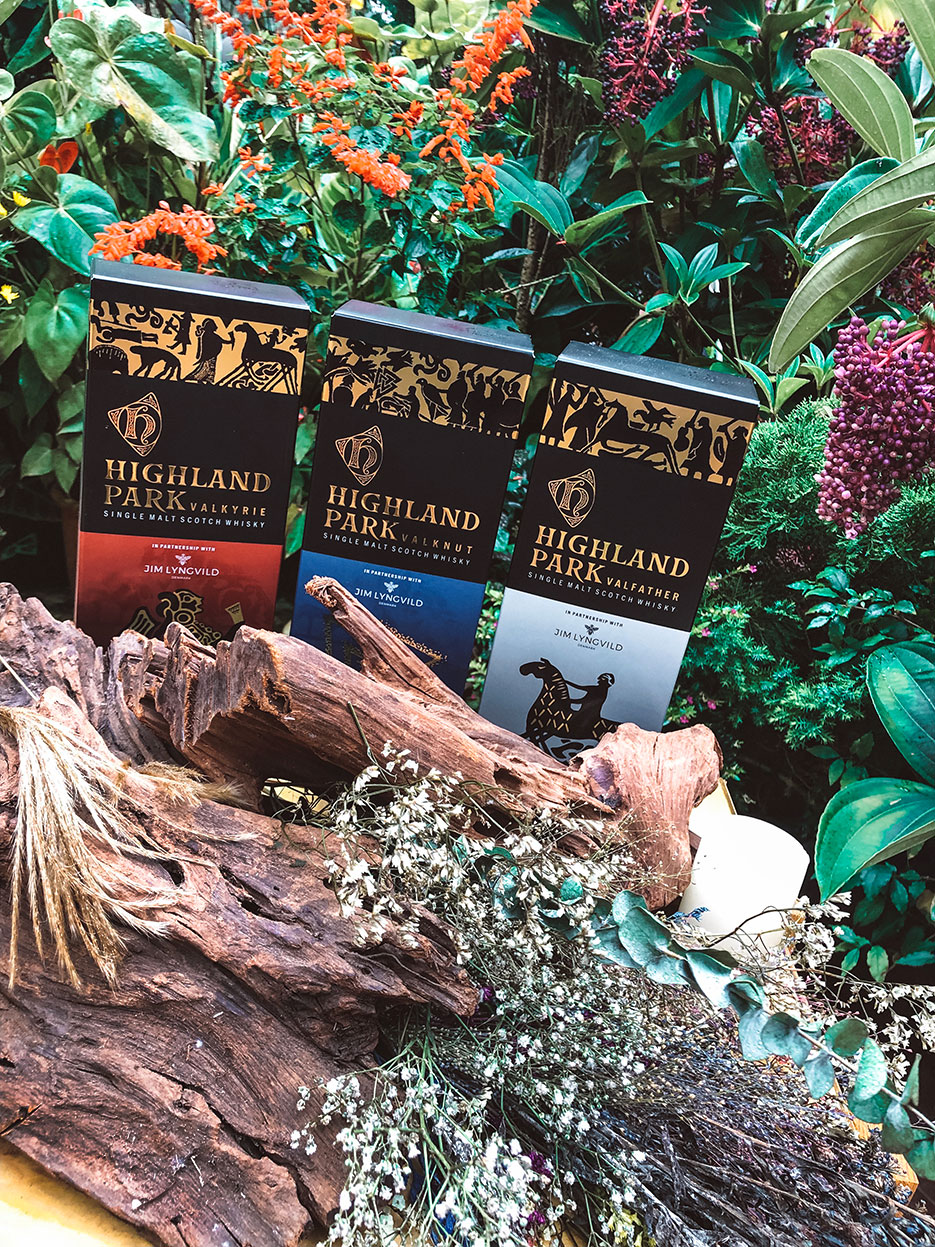 Highland Park Whisky's Viking Legend series uses some of the distillery's very limited 100% peated malt to create the collection, with the story behind the trilogy highlighting the legendary journey to Ragnarok, the battle at the end of the world. 

Valkyrie Flavours: Green apples | Sun-ripened lemons | Oriental spices | Vanilla | Preserved ginger | Dark chocolate | Salty liquorice | Warm aromatic smoke
Plunging down from the dark heavens, the Valkyries would descend like avenging angels on horseback to comb the battlefields for the bravest of the fallen warriors, heroes fit to enter the great Norse god Odin's hall, Valhalla. Valkyrie celebrates the brand's rich Nordic ancestry, where they were once part of a vast Viking kingdom.
The first of the Viking Legend series, Valkyrie was awarded the Chairman's Trophy in the 2017 Ultimate Spirits Challenge, scoring 99 out of 100.
Valknut Flavours: Toasted vanilla pods | Cracked black pepper | Oak shavings | Cloves | Aniseed | Aromatic peat smoke
The second of the trilogy carries a perfect blend of smoky and sweet flavours. Valknut, which means 'knot of those slain in battle', is associated with the Norse God, Odin. According to legend, Vikings who met a fine and honourable death were marked out by the symbol of the Valknut.
Valfather Flavours: Sweet apple | Fragrant pear | Crème brûlée | Toasted cedar wood | Smoked paprika | Aromatic peat smoke
The final release in this special edition Viking Legend trilogy, Valfather draws its inspiration from Odin. The Norse sagas tell us that Odin, the mightiest of the ancient gods, takes on many guises and is known by many names. As VALFATHER – Father of the Slain – he presides over the golden hall of Valhalla.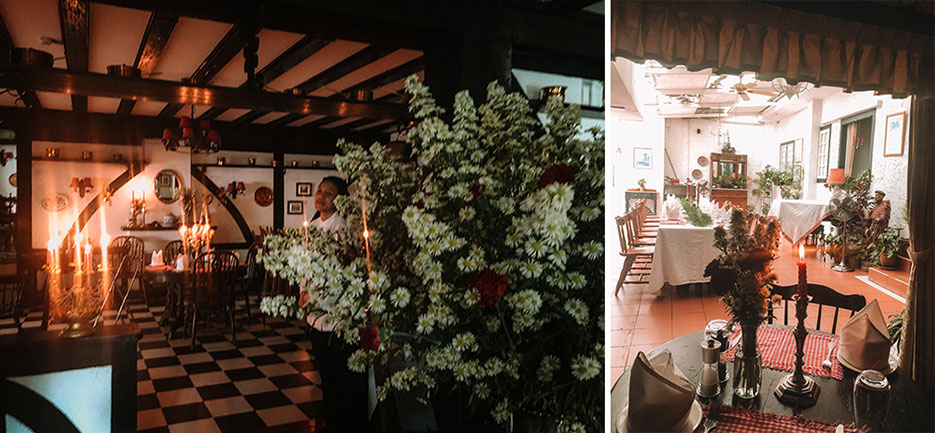 Back in the hotel, the dining area was romantically lit with candles everywhere and i thought, "Wow, the team went all out for our arrival." But in actuality, the power went off for an hour so it was legit panic candle mode on.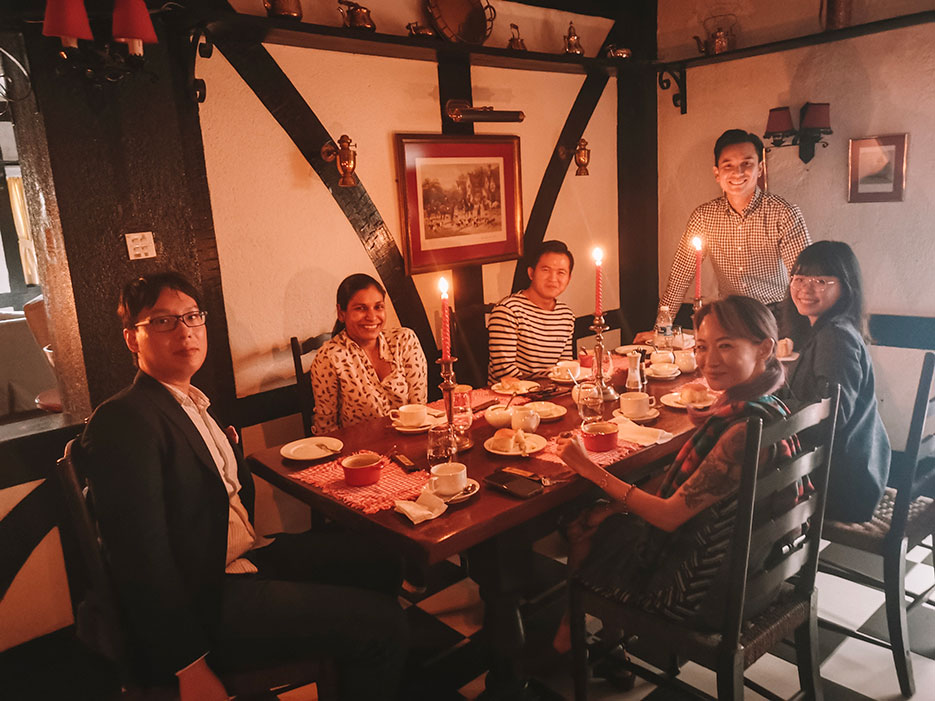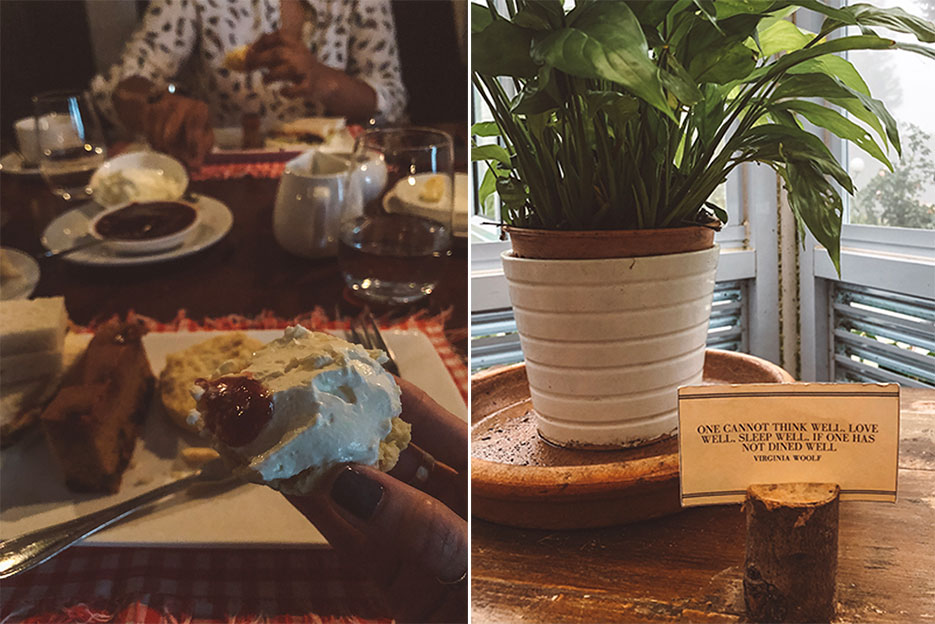 We were treated to a scrumptious tea including scones and cream which i'm so fond of, before retiring to our individually-designed rooms to refresh ourselves.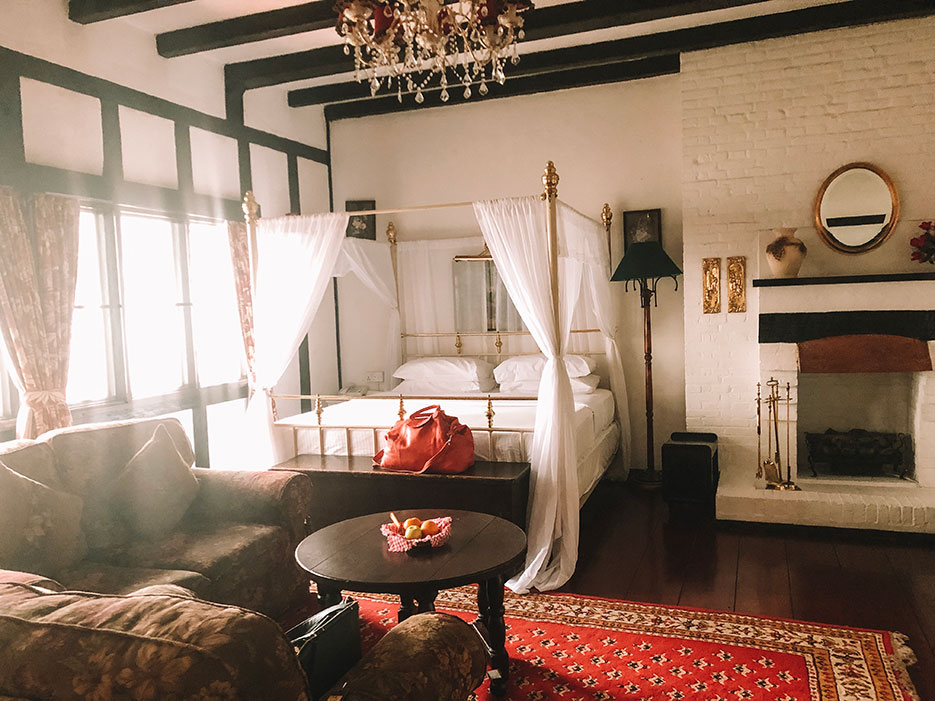 I loved my room, it was immaculately clean despite featuring a number of antiques.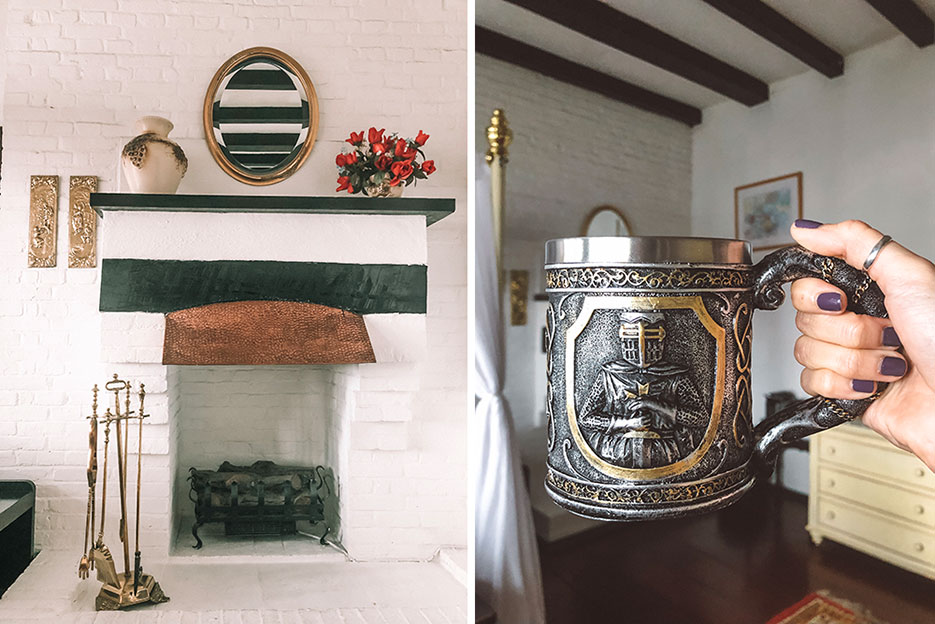 Mug on the right was a keepsake gifted to us for the trip!
I headed downstairs to meet the rest in the evening, and pulled on a woollen jacket because it was getting pretty chilly!
A few private living rooms facing the gardens were impressively done up to host us.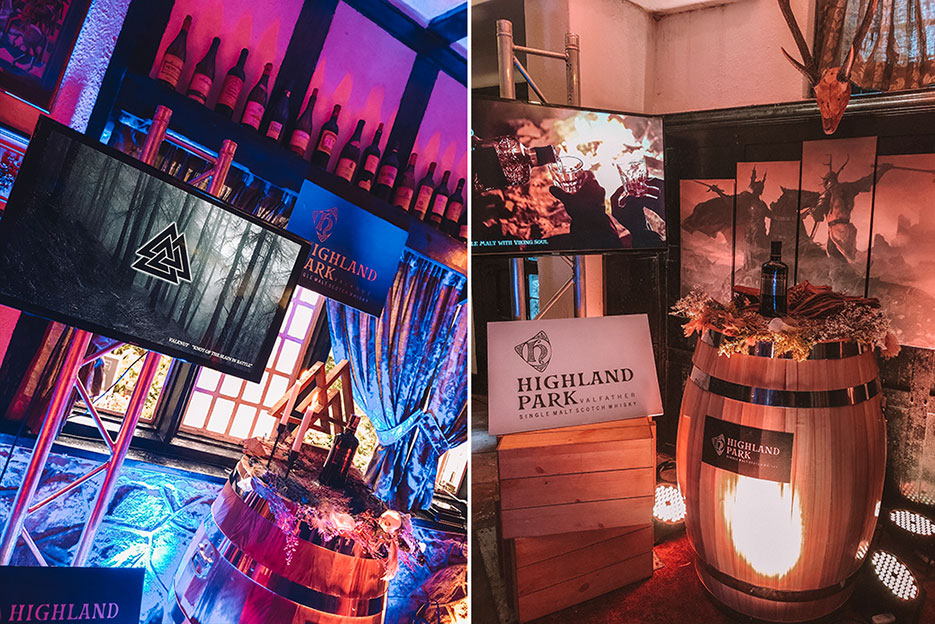 Valknut, which means 'knot of those slain in battle' has a symbol of three interlinked triangles which appear on numerous artefacts from the Viking Age.
"According to legend, Vikings who met an honourable death were marked out by the symbol of the Valknut and spirited away from the mortal world to the heavenly realm of Valhalla. The symbol is closely associated with the Norse god, Odin, who guided the spirits of the dead to the underworld and back to the world of the living, and is believed to represent the transition from life to death or the connection between earthly life and heavenly life."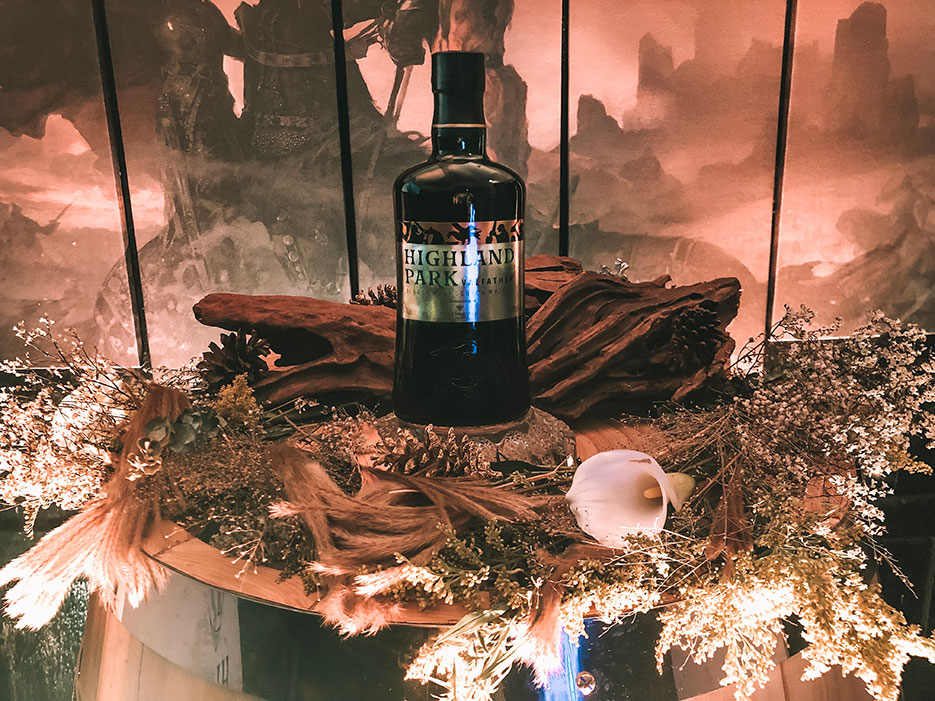 The highlight of the evening was the launch of Valfather: the final part to the Viking Legend series inspired by the Orkney-based distillery's Norse history.
Valfather – the final whisky in a 3-part special edition Viking Legend series – is named after Odin, the mightiest of the Norse gods. The most peated whisky that Highland Park has released to date, it is matured entirely in refill casks to give beautifully-balanced layers of flavour and a character as complex as Odin himself.
"Odin is associated with wisdom and knowledge; with sorcery and poetry; with battle, frenzy and death. The old legends also tell us of the tame beasts who bring him both protection and support – Sleipnir the eight-legged flying horse; the tame wolves, Geri and Freki; and Huginn and Muninn, his loyal ravens – but is at the jaws of the savage wolf, Fenrir, that Odin finally meets his end at Ragnarök."
Watch a youtube vid of Valfather's tasting notes *here*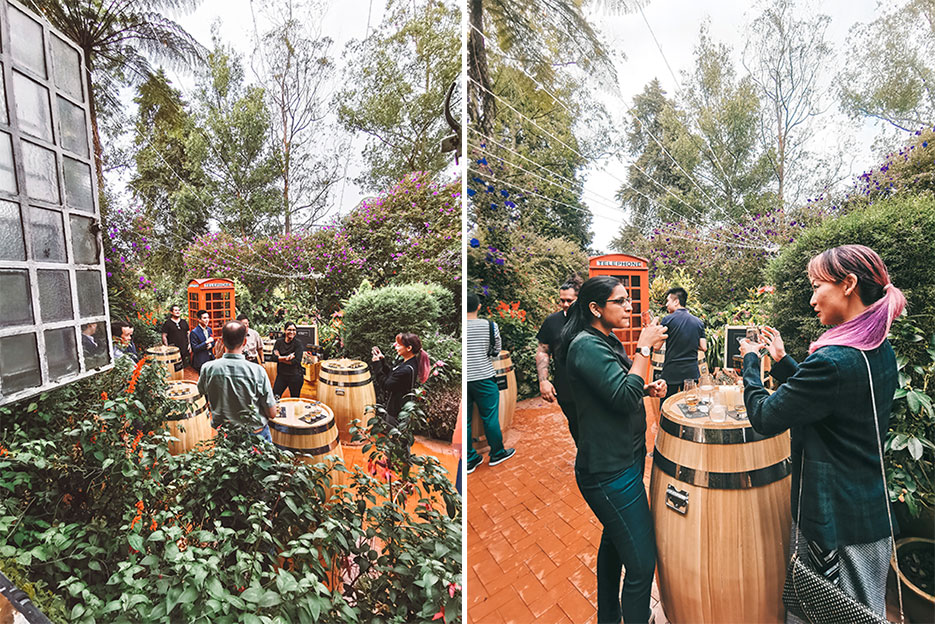 It had just finished drizzling and seemed the perfect weather to have a whisky-tasting to warm ourselves up from the inside, while enjoying the cold air outside.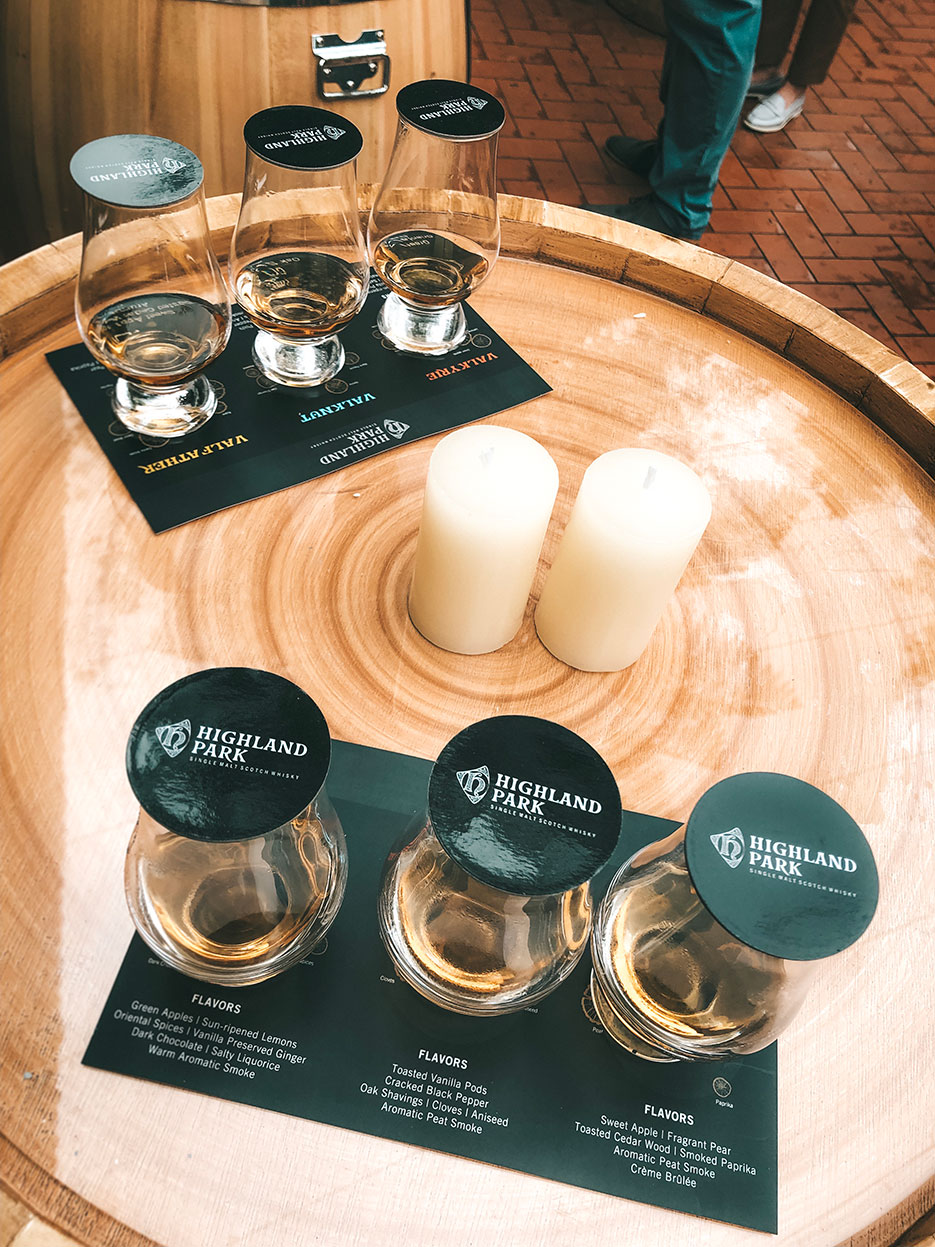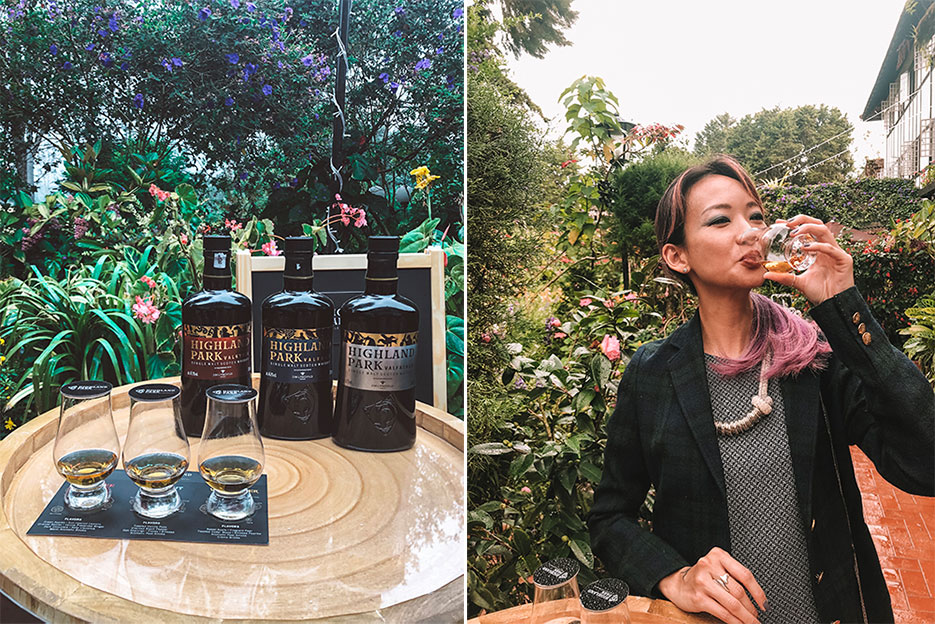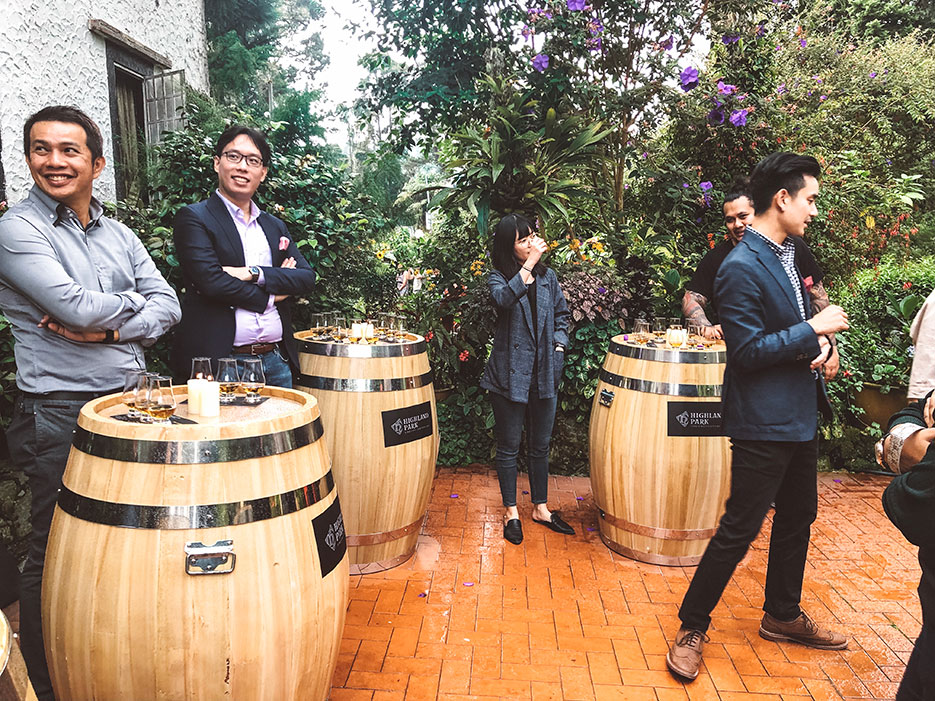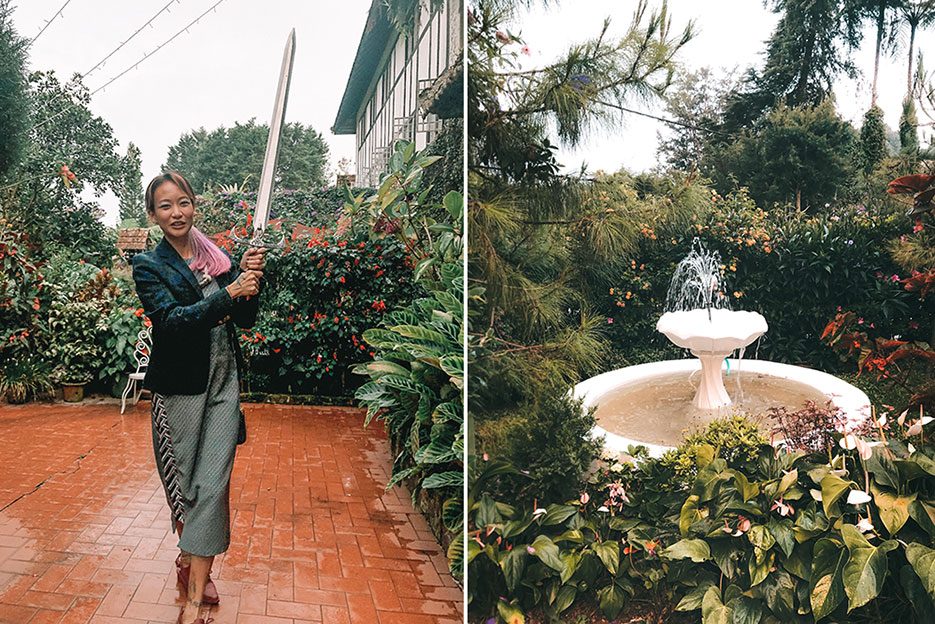 There was a real sword going around on display, i asked to hold it, and nobody said no! To be safe, i stood far away from everyone!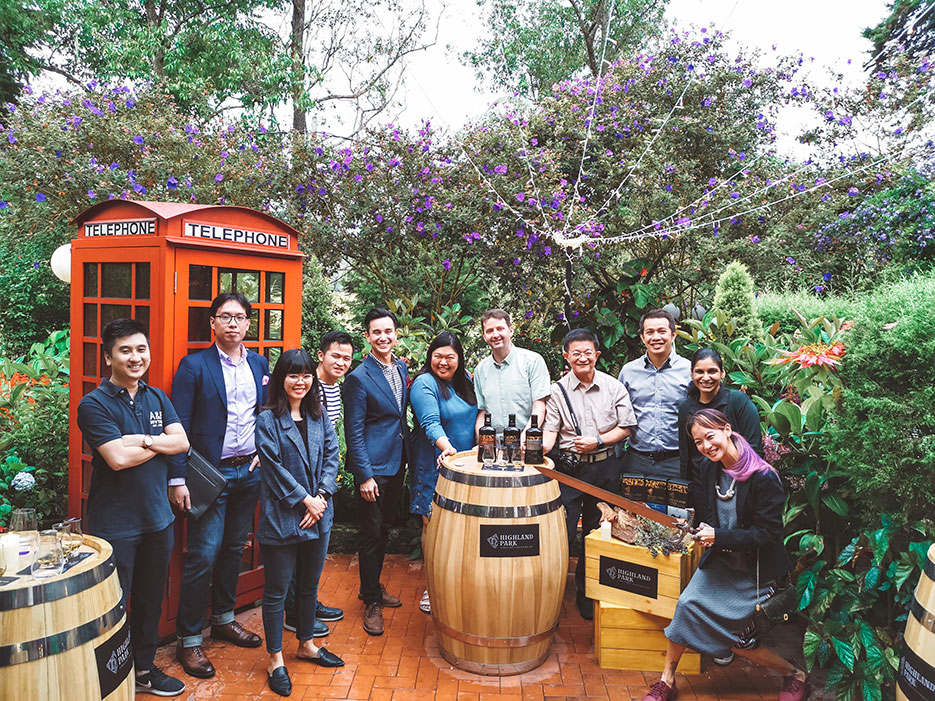 After the tasting session, we were split into groups of three to partake in a Smokehouse Hotel treasure hunt, which required us to collect clues from the manager and run around with our eyes peeled and phone cameras ready to snap pictures of our answers.
I teamed up with Mei, from Single & Available; and Chad from TEG Media. We had a pretty good head start, but started lagging behind on a couple of answers we were hard-pressed to find! I ran around so much i acquired two blisters on my feet, and no prize.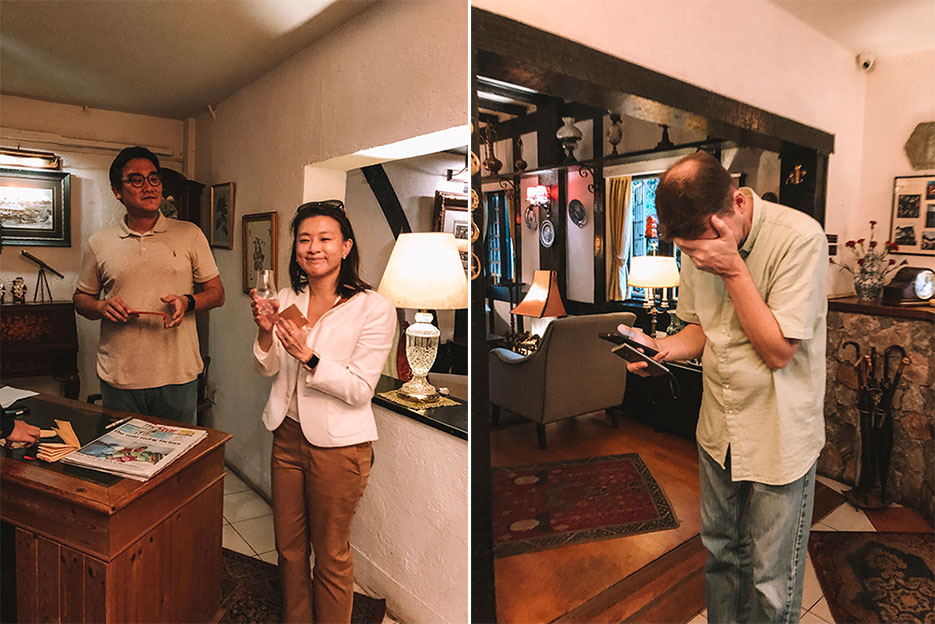 Left: Alex from Smokehouse Hotel, and Mei
Right: Chad accepting our loss. Sorry i slowed you down Chad! XD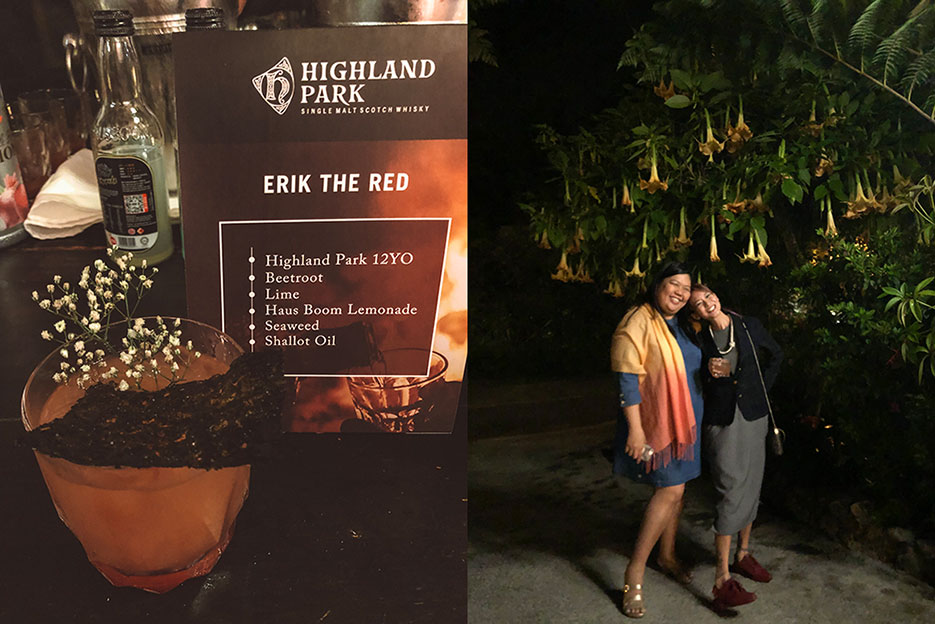 Later that night, we had aperitifs made with Highland Park whisky of course.
I pottered about outside and saw Shareen lifting her head up towards a tree filled with yellow trumpet flowers, sniffing at them.
"What are you doing?"
"Someone said they have psychedelic properties…"
"What, really!? *tiptoes to sniff eagerly at it too*"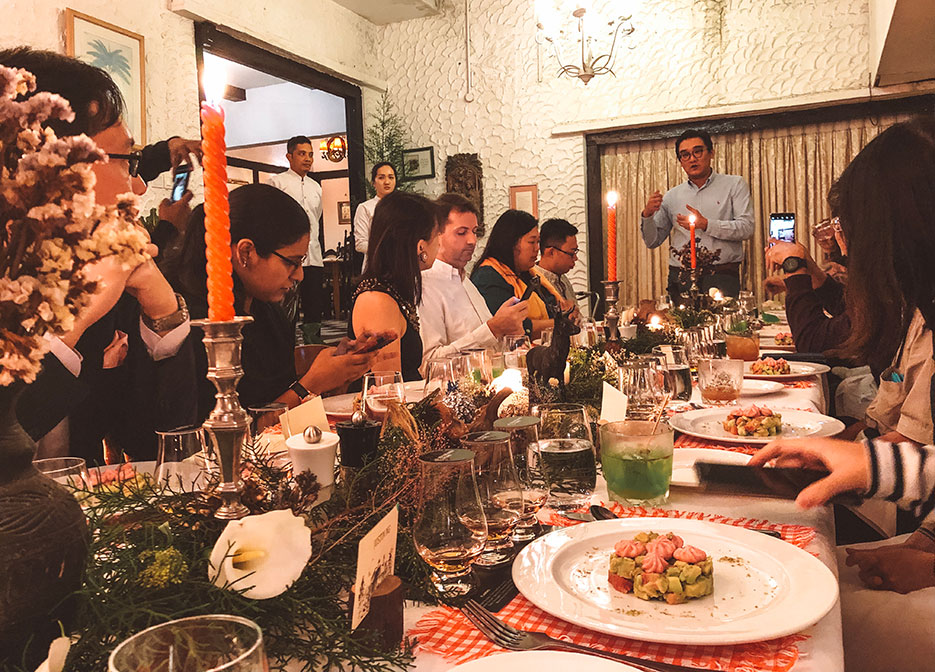 We were served a 5-course dinner prepared by the hotel's traditional British kitchen, with every dish being very satisfying. I was immensely full after.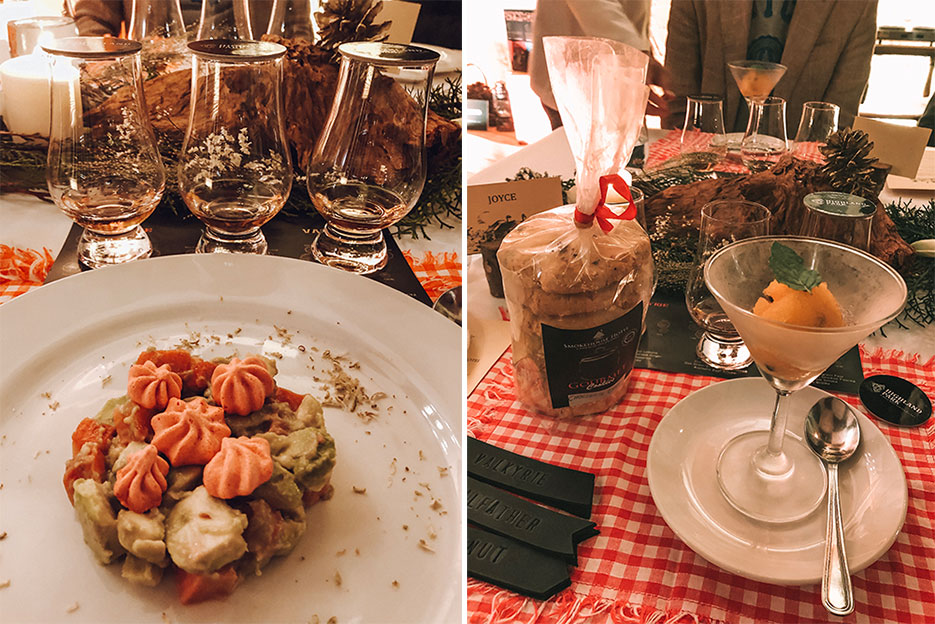 The Smokehouse Macaron with Highland Park Valkyrie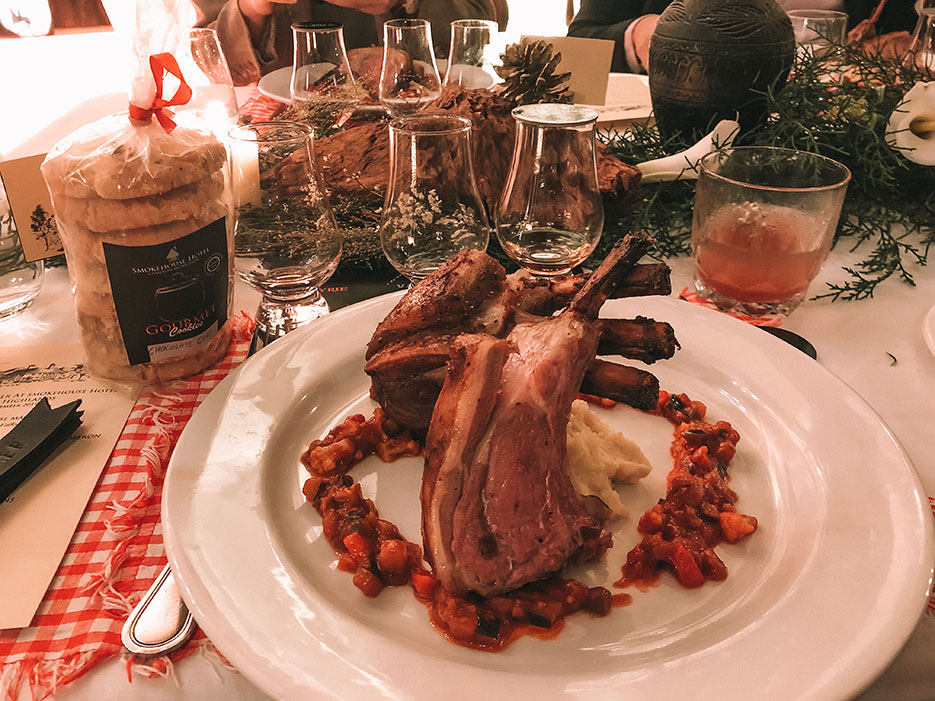 Then we had a Mediterranean Seafood Soup & Burnt Cameron Tomatoes with Highland Park Valknut, before digging into a delicious main dish i selected of Roasted Lamb Cutlets with Highland Park Valfather.
What a treat! I wish i could have a few bites of it again as i'm writing this.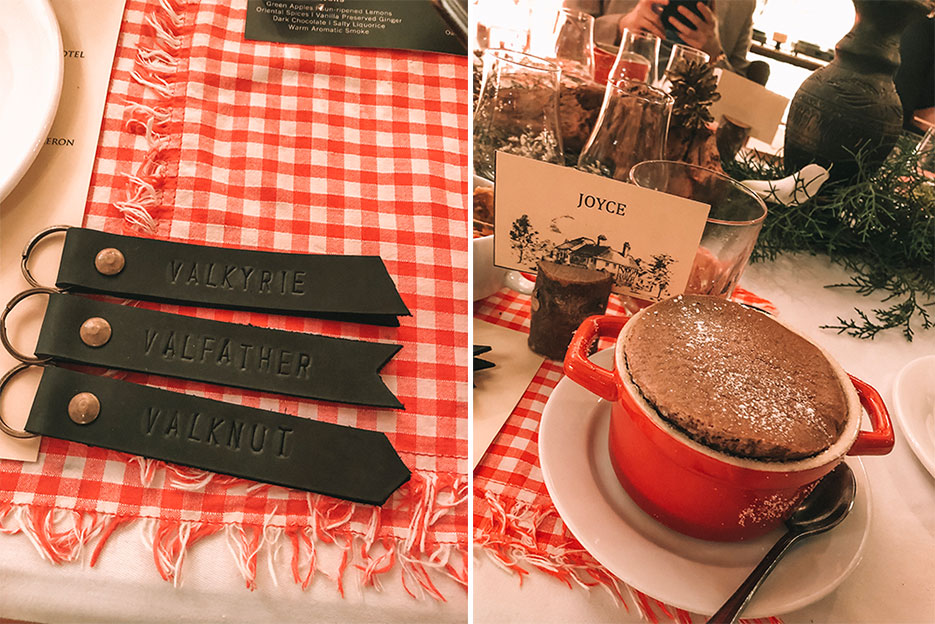 Leather keychain keepsakes, and Chocolate Souffle to end dinner!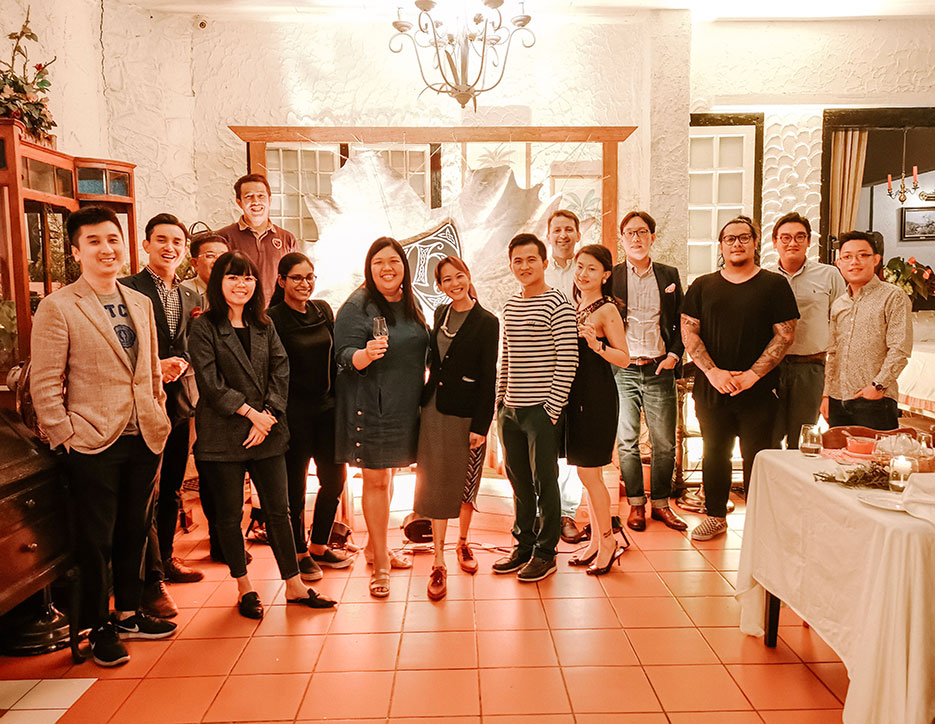 Group pic!
The night didn't end with dinner, we were ushered to a lounge and bar in the hotel with an inviting fireplace which reminded me so much of winters in England, where we continued sipping on more whisky, chatting and standing around outside looking up at the stars.
The next morning, i was very sleepy and satisfied at breakfast: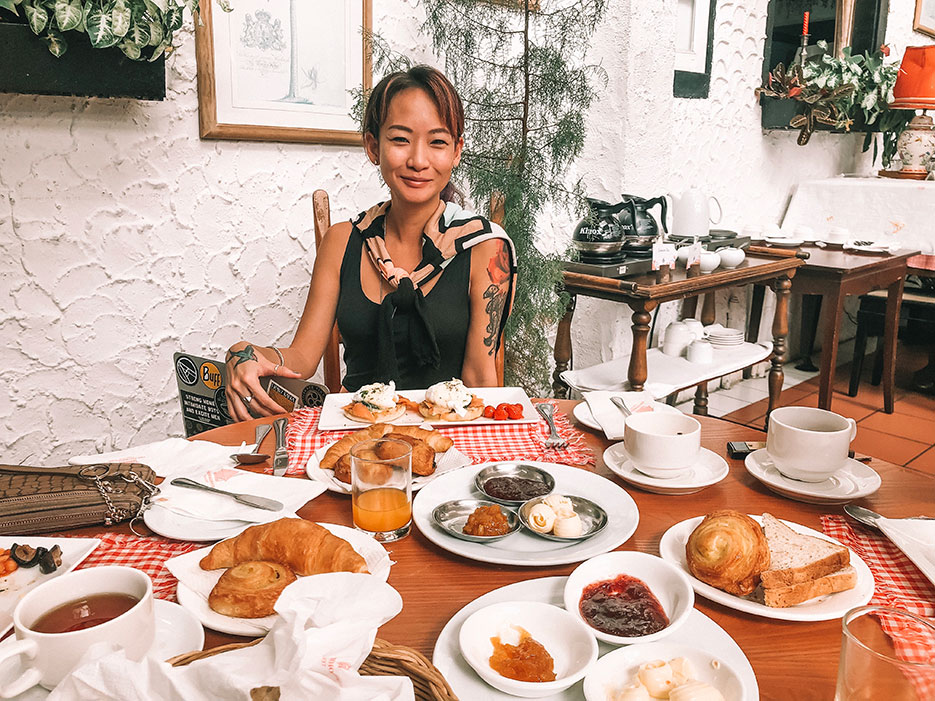 After polishing off my eggs benedict atop smoked salmon and bread, i couldn't finish my pastries and am so glad i wrapped them up in paper napkins to snack on in the bus ride home! Also purchased homemade marmalade for Daddy from the hotel. A croissant would taste so good right now. (Ahhh writing and looking at pictures of food late at night is torturous!)
I ate so well at The Smokehouse Hotel!
Thank you so much for having us, it was a beautiful treat all around!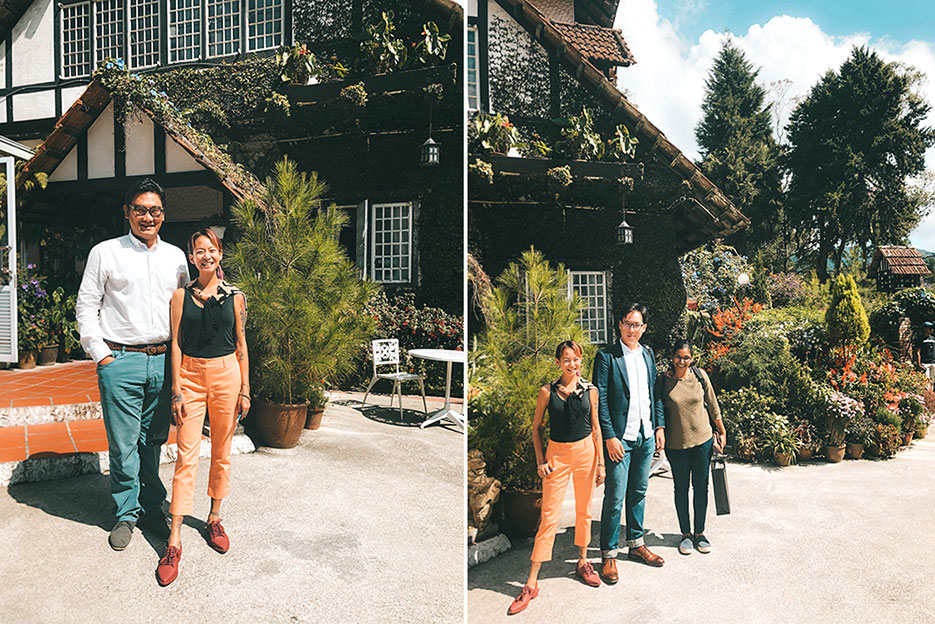 Left: With Alex from The Smokehouse Hotel, thank you for your brilliant hospitality
Right: With Wei-Yu from Robb Report, and Petrina from The Edge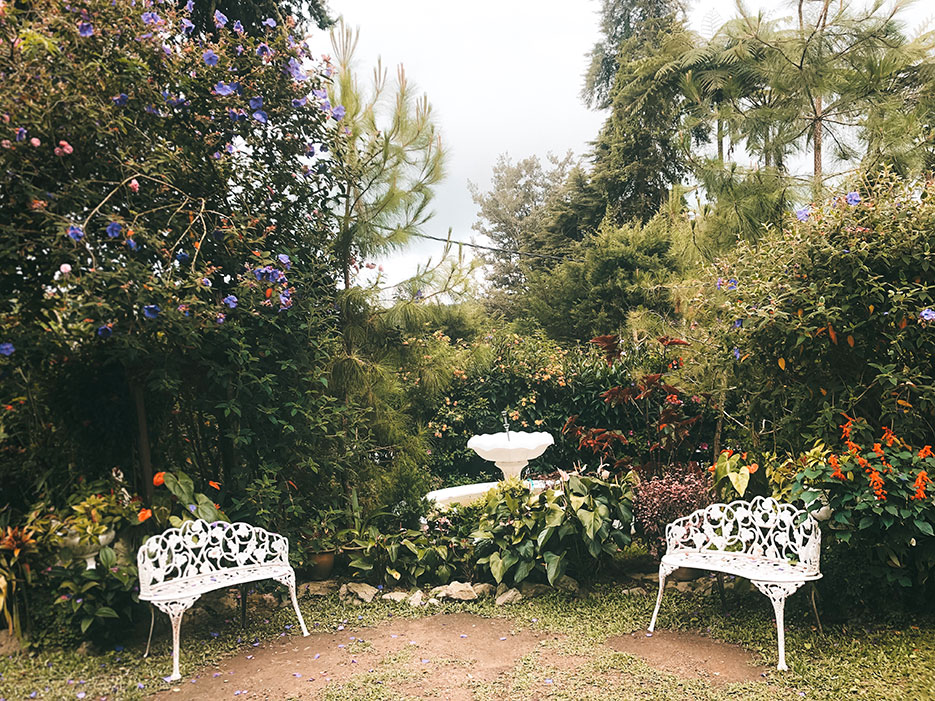 Just before leaving Cameron Highlands, we did a pit-stop at some market stalls to buy fresh vegetables and white corn! This white corn is legendary there, it's the only thing i wish i bought more of the last time i was there in 2012!
When we tumbled back onto the bus clutching our prized corn purchases, someone laughed, "Looks like we went on a corn trip instead of a whisky one!"
No harm no foul! Not gonna forget those Viking stories anytime soon!
+ + + + + + + + + + + + +
Highland Park Whisky
Website: www.highlandparkwhisky.com
FB: facebook.com/HighlandParkWhisky
Smokehouse Hotel
Website: www.smokehousehotel.com
FB: facebook.com/smokehousehotel