In mid-May, Deep said he was going on a road trip by himself. I offered to accompany him if he'd go a little later when i reckoned i would be more free, seeing it's Ramadhan and all. He actually waited for 2 weeks, Danny got pulled in to the trip, and next thing you know the both of us were asking Deep the day before we were to leave, "Where are we going?"
His retort: "Bring your passports, just in case."
We laughed, "How FAR are we going la? Thailand?"
Deep told me to bring modest clothes, cos we were passing through Kelantan (a majorly Muslim state).
The last time i did a road trip to that side of Malaysia must have been over 10 years ago… wait. I didn't even go to Kelantan then; i went to Kuantan, Terengganu.
He mentioned Gua Musang; and my father questioned why i was even going there. I said i was just going with the flow and that the boys were planning it… i was just getting in the car to ride. It felt like a good idea to just leave for a sudden road trip. The three of us are single, run our own businesses, and have no children. Who knew when the next possible time to do something as impulsive as this would come again?
It felt like a great idea to explore our own country, in a Malaysian car, and me armed with a recent purchase from Lit Books by Malaysian author Bernice Chauly. The book (Once We Were There) is set in '98 when Anwar was arrested and Reformasi took off, whilst also describing deeply moving experiences of various Malaysians (i totally recommend it. If you buy it from Lit, you can prollie get a signed copy).
Our first stop was a waterfall in Lentang Forest (Bentong, Pahang). We watched the locals hang out doing their Saturday thang from across the river. A man snoozed on a rock, his feet dangling in the cooling rush of water. A boy perched next to him quietly read a book. Some Chinese women waded around the shallower parts of the river, all dressed in wet clothes. I felt slightly awkward for having my bikini on and meekly sat on a rock, or submerged in the water. An hour later, it looked like it might start raining so we left, heading towards Gua Musang.
On the way there, we observed a standstill traffic jam start to build up just as we were going to turn off onto the main highway, and Deep refused to partake in it by parking his car on a petrol turn-out to the highway. I was a little confused cos i'd never sat in a car watching a traffic jam subside before. We couldn't turn back cos it was a one-way street (trust me, he tried and we told him it was too dangerous!). So he put it in park mode, took beers out from the cooler in the boot, and we hung out in the car watching the vehicles in front crawl minimally. In hindsight it WAS a good idea and less tiring for him! Turns out a bus burst into flames on the highway, hence the horrific jam. We drove past its black burnt shell later on.
As evening approached, we arrived in Pulai – a town i'd never even heard of. It's a small Chinese town in Gua Musang, Kelantan. I don't even know if it can be considered a town… i think it's a village? Or even a hamlet cos it was so tiny. When Deep said we'd go on a tour of it in the car, i looked down to read a whatsapp message and before i was done, he said, "Ok, tour over," cos we'd reached the end of the Pulai's main road and had to U-turn!
Danny had booked a place to stay (called Country House Pulai Holiday Village) while we were in the car earlier that day. I wasn't too fussed about where we were going to stay as long as it was clean!
The guesthouse (that resembled a government school building) consisted of a simple 2-storey cement building with six rooms – 3 on top and 3 on ground floor. We paid RM98 for a room with two queen-sized beds in pleasant kitschy floral sheets surrounded by pale pink, purple and mint walls. "I love this room! It's got all my favourite colours!" i exclaimed to the boys. They were like "hmm" obviously not caring much.
Its bathroom was cleaner than some home bathrooms i'd been in.
Danny took a nap at 8pm, while Deep and i went downstairs to sit next to the limestone caves which were decorated in a charming manner with red lanterns, accentuating the natural rock curvatures. Right next to us (directly in front of where we were staying) was a one-storey open-air room that looked like a small school canteen, except with two electronic darts machines against a wall that stuck out like apparitions.
"What is that?"
"Is that a bar?"
"That's so weird… Did you guys choose this place because it has a bar?"
"No *laughs* we didn't know!"
We looked towards it curiously, and a man who spotted us enthusiastically waved us over like we were old friends.
Deep: Guess we gotta go say hi
He got up, and i followed behind, suddenly feeling shy.
We walked into the 'bar' and joined a table of 8 guys. They all looked like they were in their 20s, but it's hard to tell cos you know, Asian genes.
I slowly lowered myself into a seat at the table and took my time politely looking at each of them.
Deep laughed quietly, "I don't think they've seen anything like you before!"
I had to take some time to digest what he meant by looking down at myself: i had long purple and pink hair, wore a cropped salmon t-shirt with cats printed all over, beige shorts, silver sandals and dangly crystal earrings.
But still, i have a great interest in people, how they live their lives and how they think.
So i continued my practice of looking at each of them because eye contact is a straightforward way of human connection. (You exchange millions of bits of information and energy via eye contact!)
Suddenly Deep caught my eye, shook his head slightly, and said, "Too young, Joyce, too young for you"
I couldn't help blurting softly, "What the fuck Deep!" while trying not to burst out laughing.
Turns out the guy who waved us over is the quinquagenarian bar manager nicknamed Suki. All the boys at our table were aged from their teens to late 30s. The only person who spoke English was Suki, after having worked in Australia for 2 years as a farmer so he could bring home more money, "cos time back then very bad here" he said. At current, his wife is working as a nanny in the UK, also doing her part to bring home more cash. He gleefully summarized his lifestyle with the fact that since his wife is away, he spends his time managing that space and having fun drinking.
Speaking of, the way they consume their drinks fascinated me. Every culture does. The Pulai peeps would buy a big bottle of beer for RM20, pour its entire contents into everyone's short glasses to the brim, and down it. I never downed mine, cos i didn't feel like it. Nobody chastised me for drinking less, and politely topped up my glass every time they refilled theirs and Deep's.
When Deep tried ordering the next bottle of beer, after they'd generously shared 5 bottles with us, they were even swifter with shouting out orders.
Me: Come on Deep, you gotta be quicker than that!
In the end we ordered in advance by queueing bottles.
It pleasantly surprised me how hospitable they were. They obviously earn a lot less compared to our urban lifestyles, yet as their visitors – all they wanted to do was hang out, chat, laugh, and share their drink + food + stories with us.
Deep was laughing at them laughing.
And i ended up laughing at Deep laughing at them.
I felt like i'd entered the Twilight Zone!
None of the rest spoke English, but rather a foreign mix slang of Hakka with Mandarin and Cantonese. I recognized my mother's and father's separate dialects (but i'm such a banana i'm unable to speak any. My French numbers are better than my Chinese, can you imagine all sorts of fucked up i feel inside) and ended up communicating in Malay with them.
The guy on my right was called Kat, in his late 30s and had previously tried working in Cheras for a few years as a pimp. He didn't like the life after a while, and came home to Pulai where he now works as a rubber tapper. Across the table, was a fair-skinned round boisterous boy called Fatty. I guess every community will have a Fatty. He turned out to be an impressive 18-year-old high school dropout who runs his own car workshop business.
Suki insisted on getting one of his boys to buy some famous Pulai dish he said we had to try, despite our protests that we'd already tapau-ed our dinner. He handed the boy some money, who rode off on his motorcycle. His return saw mysterious large dark pink plastic bags which were opened out in front of us to boast two different types of fish, cooked Chinese-style in a flavourful dark red gravy. They placed dozens of pairs of chopsticks around each dish, and urged us to try some. Everyone just stood up to pick from the fish, including people from other tables! Such community feels*.
The longer we sat there, the more the locals in other tables warmed up to us. Because of their lack in English, they would randomly shout out lines from movies regardless of its meaning, "See you tomorrow!" (sang out one dude with bleached hair that looked like the town gangster). I couldn't help laughter gurgling out due to all the nonsensical sentences they enthusiastically called from a few metres away- their way of communicating with us in any way possible.
Suki made Deep and i wake Danny up to join us. We all took a walk into the limestone caves which had a curvy sloping floor but so fun and pretty safe to saunter on. I made friends with the girls in the bar, and we all ended up exchanging each others' numbers by the end of the night.
Our anticipated early night turned out to end at 3:30am when i couldn't take it anymore and crept up to bed. The next morning, we roused early so we could make it to the jetty on time, but managed to sneak in a quick local breakfast of pan mee, half boiled eggs and coffee cos it just so happened where we stayed also had a separate cafe where the locals headed to.
I love how the place we chanced upon turned out to be the tiny town's social centre of sorts.
We wrapped up our meal, got in the car and waved bye to everyone, including Kat who'd just sauntered up sleepily from the main road.
Deep: He's wearing the same clothes as yesterday
Me: Is he?! I wonder where he went
That was such a fun Saturday night. I've mentally comparmentalized it into a drawer called "surreal Saturday nights" along with stories like throwing horseshoes with Navajo natives in the middle of Arizona.
+ — + — +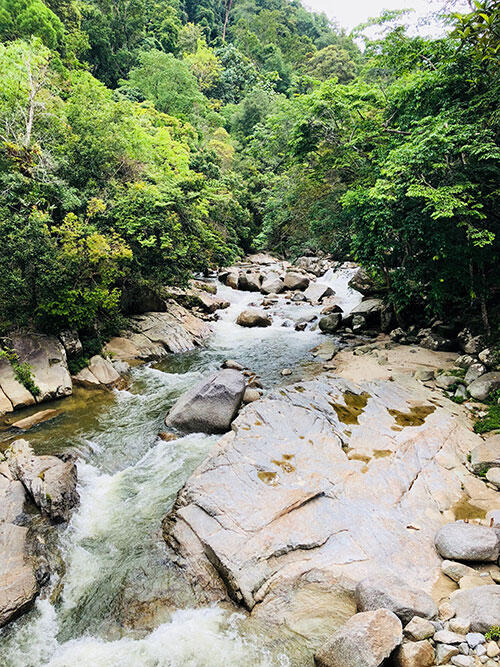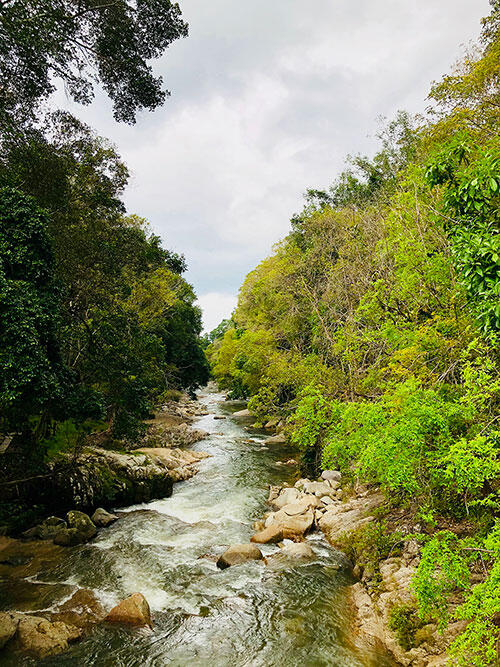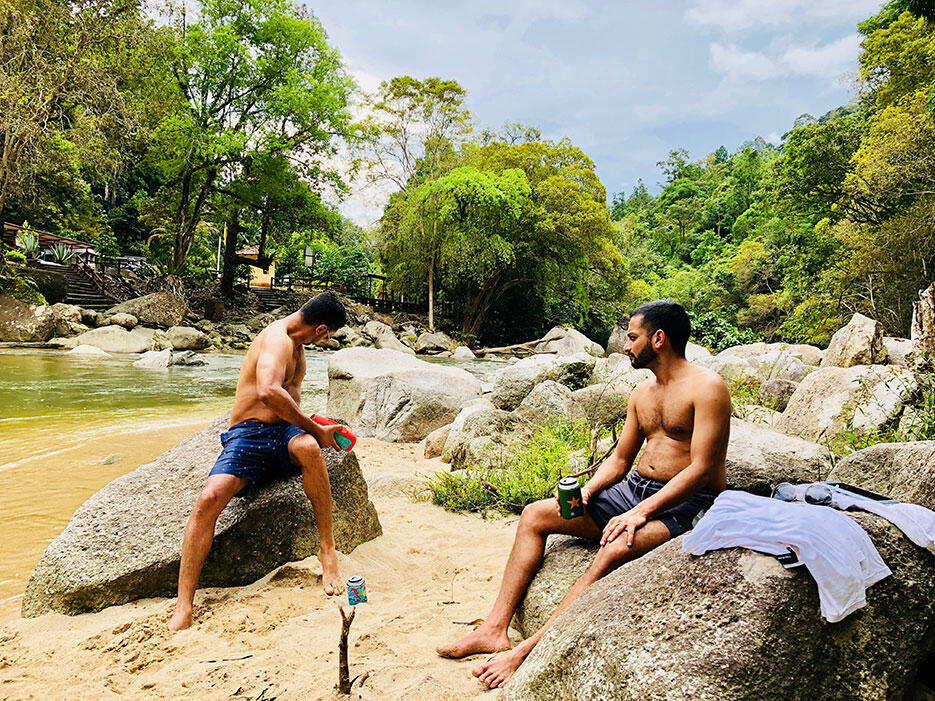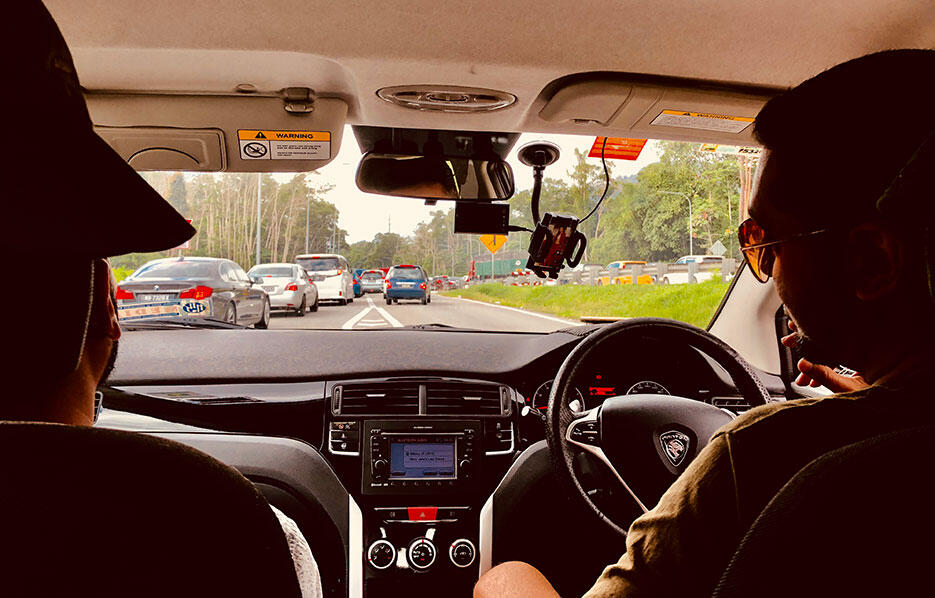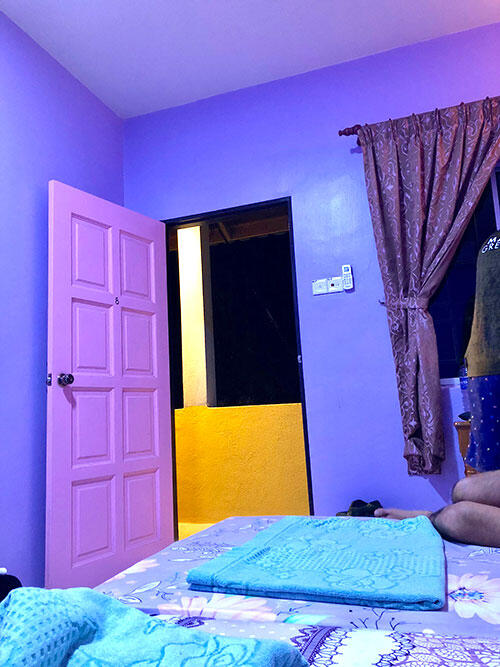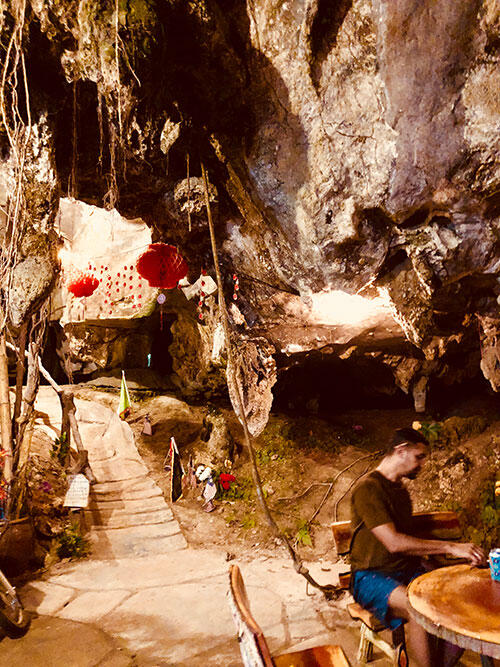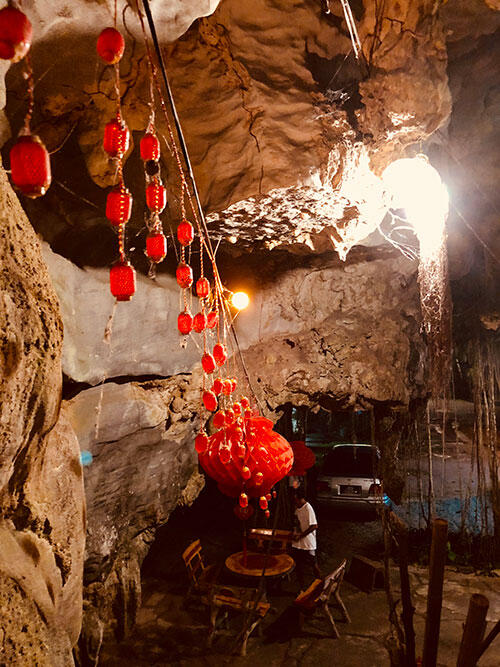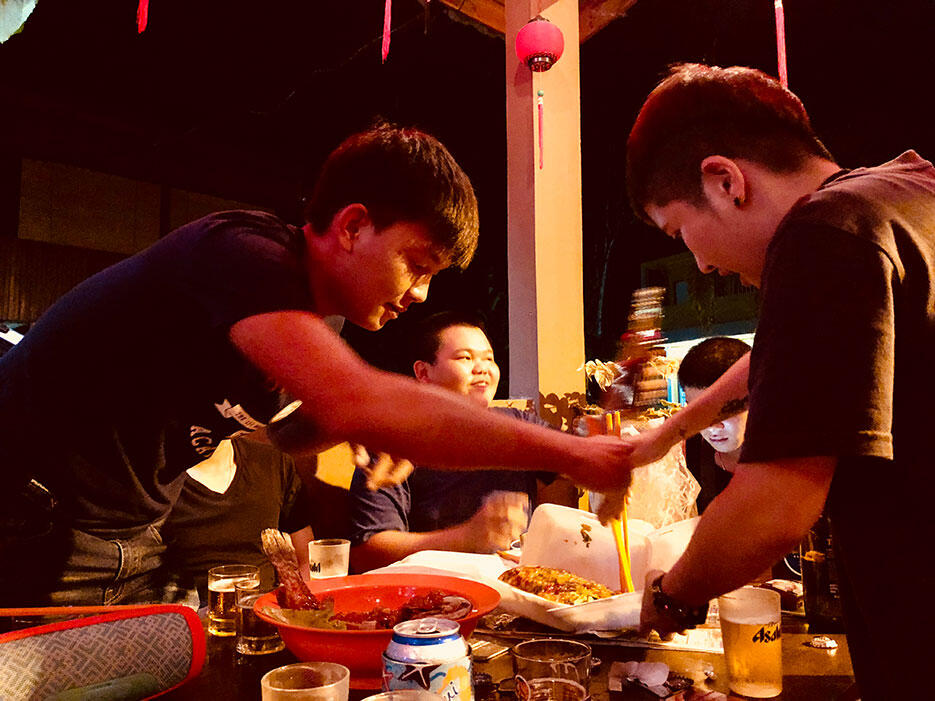 + +