Jun and i have been very busy with social events on weekends, plus with Good Vibes last week, and KL Fashion Week starting today; i think i'll be ready for a quiet holiday very soon!! This is a pic diary of all the stuff we've been up to!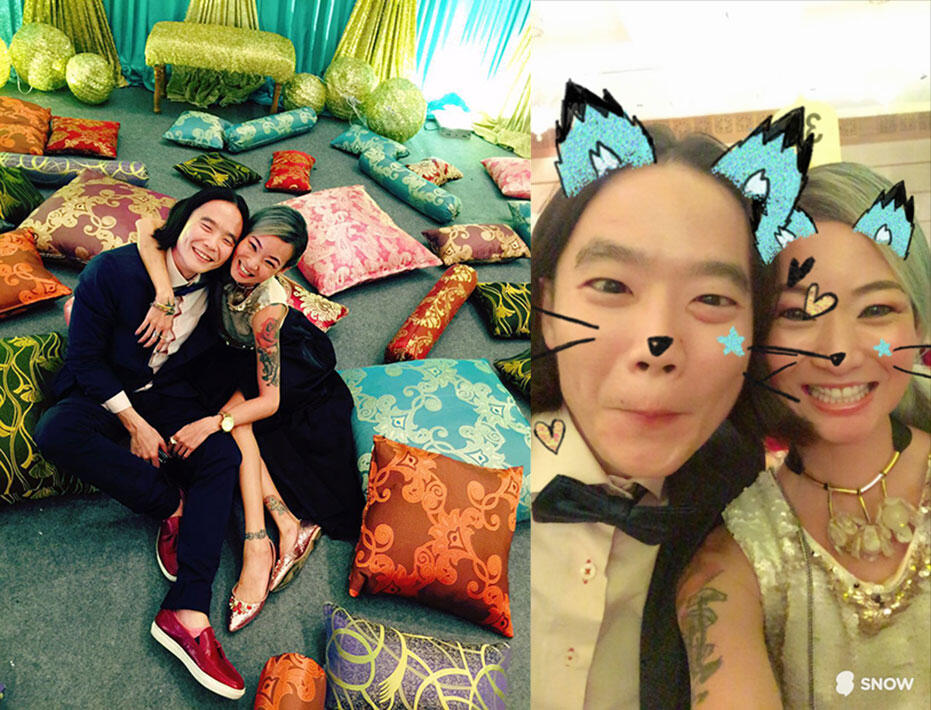 We went for Kubhaer and Serena's wedding on a Friday night. I wish i could have gone for their other weddings (they had four ceremonies) but time wasn't on my side so i had to settle for the city night do. Knowing Kubz and i have so many friends in common, plus it's an Indian wedding = dancing + drinking! – i knew it was gonna be a blast. I readily wore my flats. Who cares if i'm short! I want to be able to dance and run around without killing my feet or having to take off my shoes.
When we arrived, the seating arrangement was 'free seating' which was unconventional but worked, cos everyone was flitting around socializing. Aps & Jamie saved us seats at their table… right next to the bar. I stood in front of the long bar surveying what to drink, from left to right was red/white wine, beer on tap, whiskey, rum, gin, vodka and some i probably didn't notice.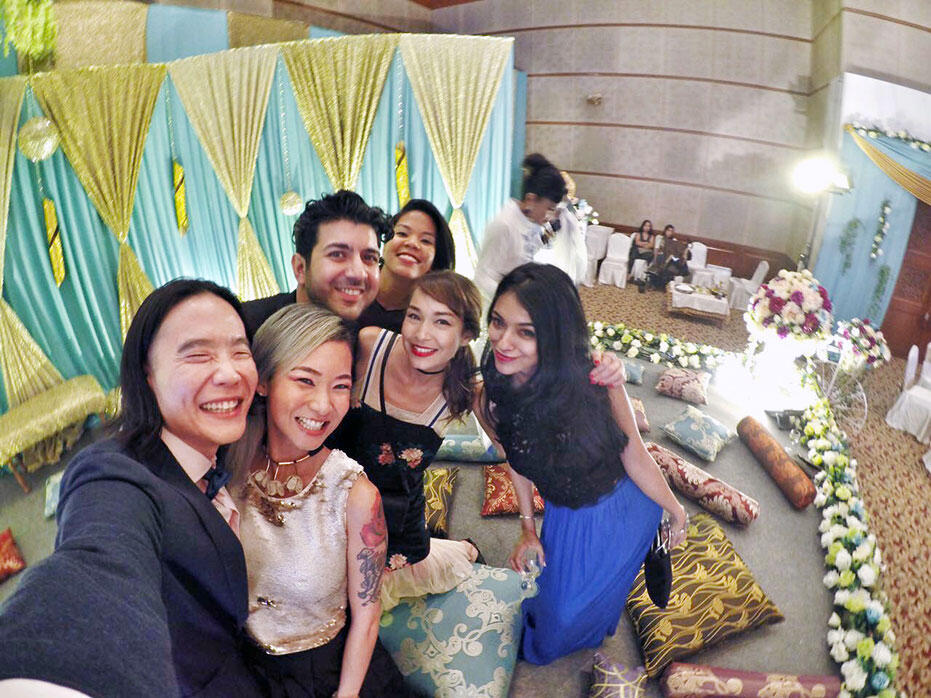 I had my hair washed + styled by Dexter at Centro Hair Salon just before, and Holly (who's visiting from LA) came with me.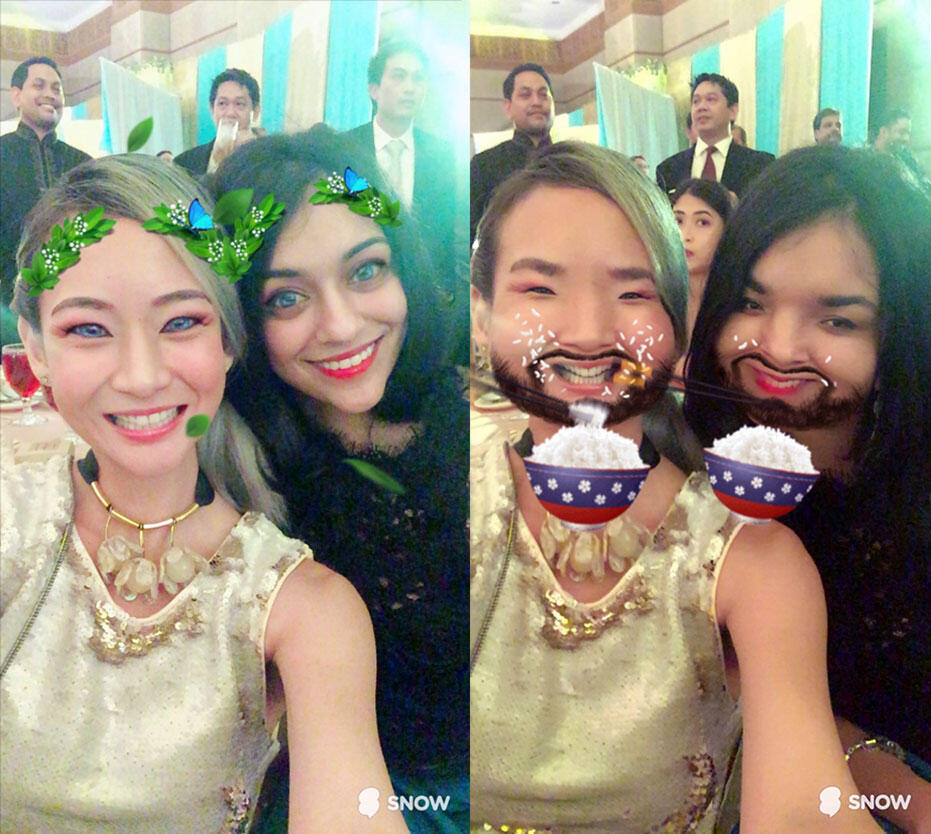 Aps and i entertaining ourselves with snow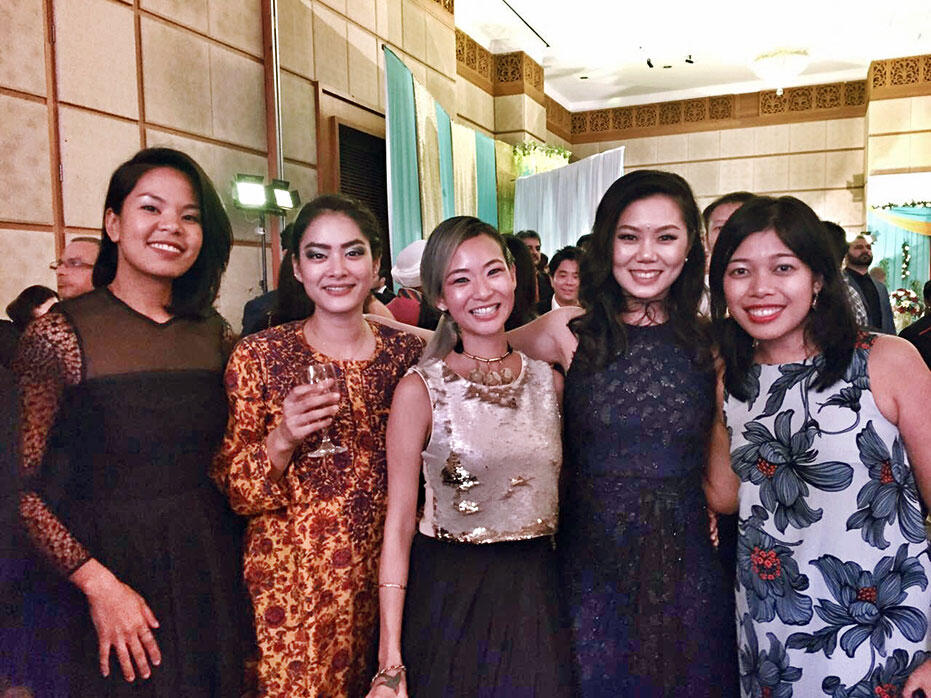 Some of the #Formerfrees – Didi, Clouds, me, Jia Wei and Myra!
Don't we look all grown up from our time working together in '08 XD
Claudia left being editor of Cleo, and is now working with Jia Wei on Epik-Shop!
It's got a lot of cool stuff and i just bought three posters to frame for my home last weekend :p
Logged off before i ended up with more stuff.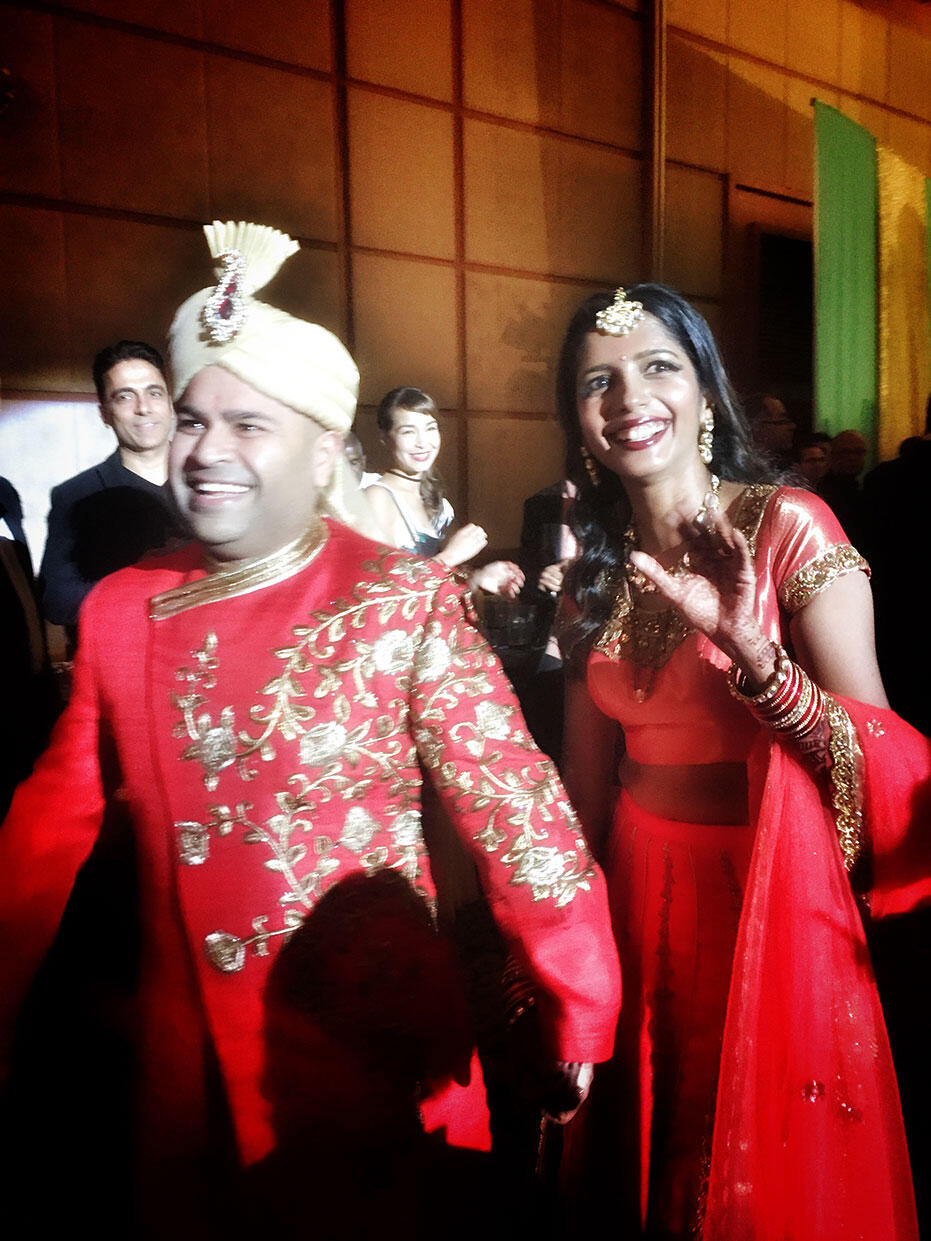 Kubhaer + Serena = #KUBRENA !
I remember Kubz telling me a few years ago about his aunties surfing the net with attempts to matchmake him with potential wives he had no interest in. Then he met Serena on tinder and they balance each other out beautifully. Plus, she ticked the major boxes for his family. Indian, check. Doctor, check. It would have been dumb for Kubs not to propose 😀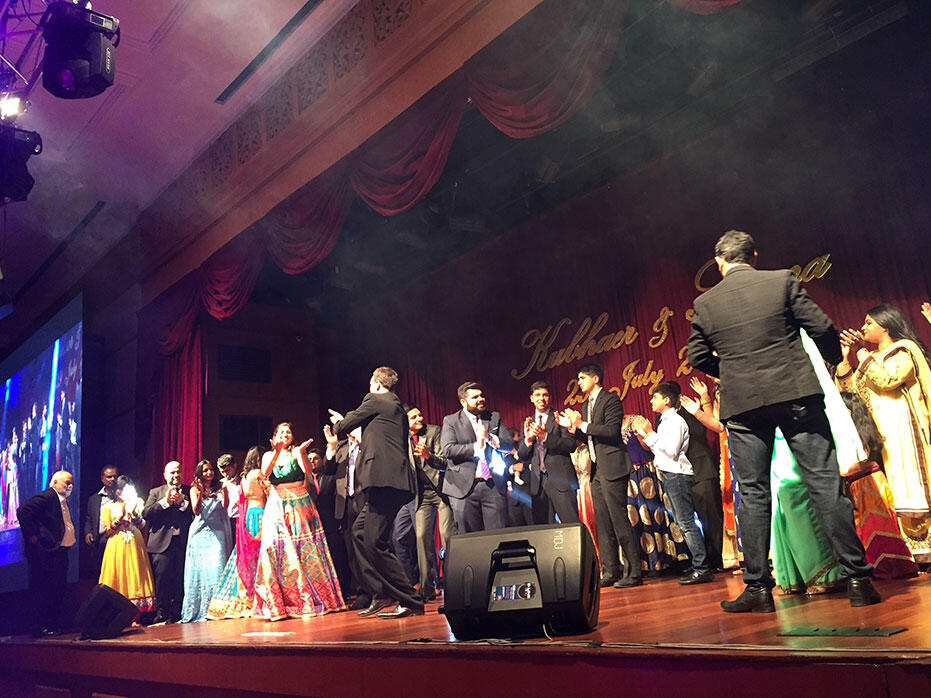 Lots of dancing! I LOVE INDIAN WEDDINGS!!!! There was a dance floor in front of the stage where we went crazy half the night. Some of the girls taught me new Indian dance moves woohoo!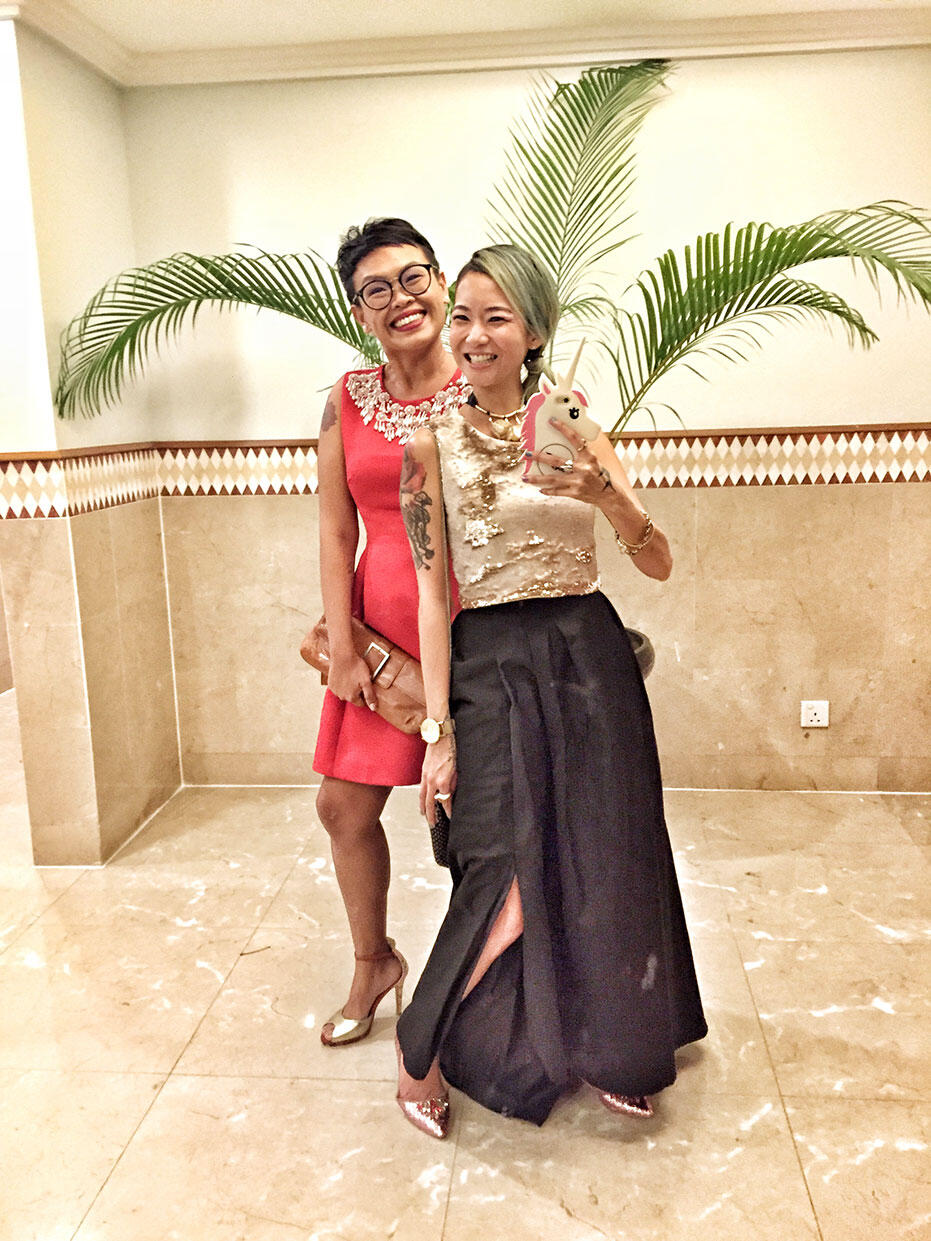 #girlboss with style Ying Nee
I'm wearing top from Selfridges in London,
skirt from Love Bonito,
shoes from LYN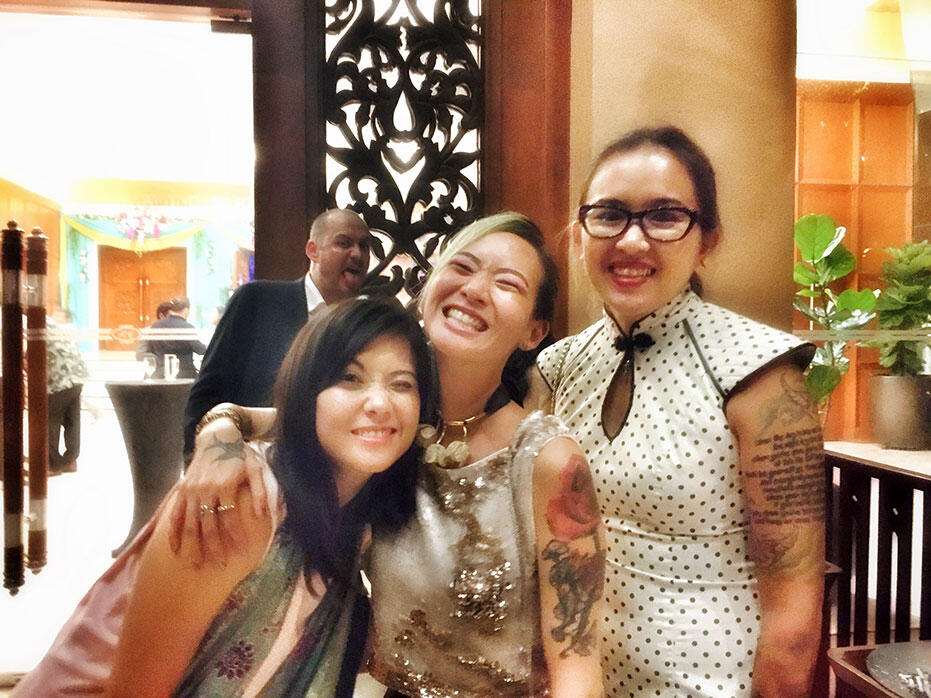 Eleanor, me and Carol (whose hubby Julian did my arm tattoo)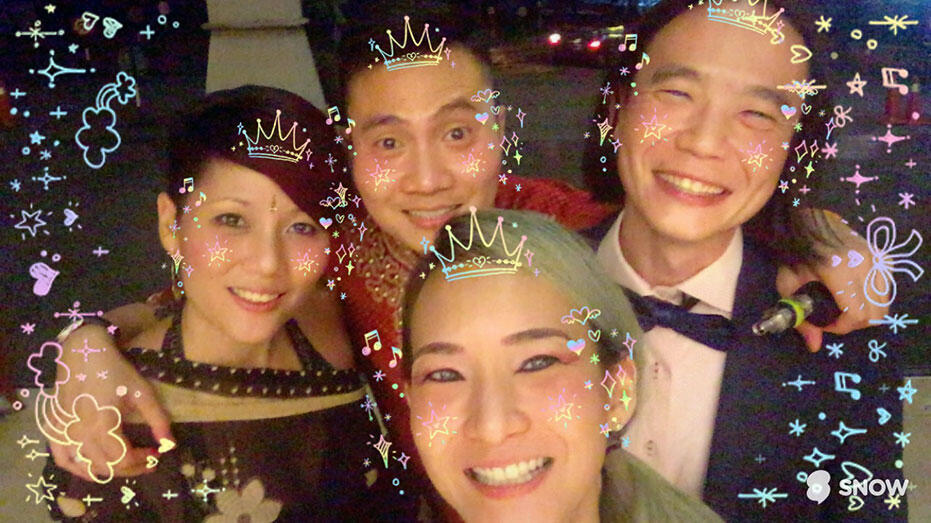 + + + + + +
The next night, we had Ben & Mei Sze's wedding reception at Intermark whose dress code was blue or white.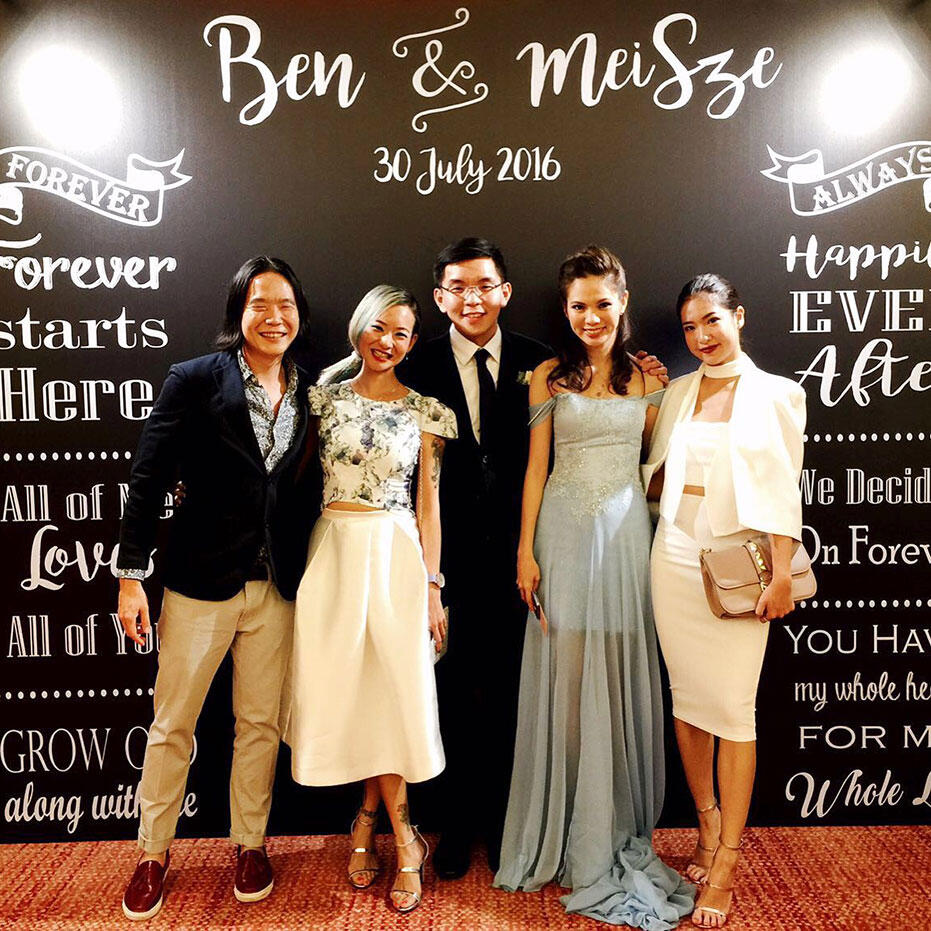 Jun, me, groom Ben & bride Mei Sze, and Bell
I first met Mei Sze at the Longchamp AW13 event, and we clicked instantly. We even attended an Omega event in Seoul together and i bump into her at some Thomas Sabo ones.
I feel very lucky to call her my friend cos she's one of the sweetest people i know (and Ben is equally super sweet so, ngam la). We both run similar businesses (dealing in PR) and share a lot about work and managing people and clients. When i was first getting into essential oils, Mei Sze remembered and gave me three for my birthday which was so thoughtful and useful. <3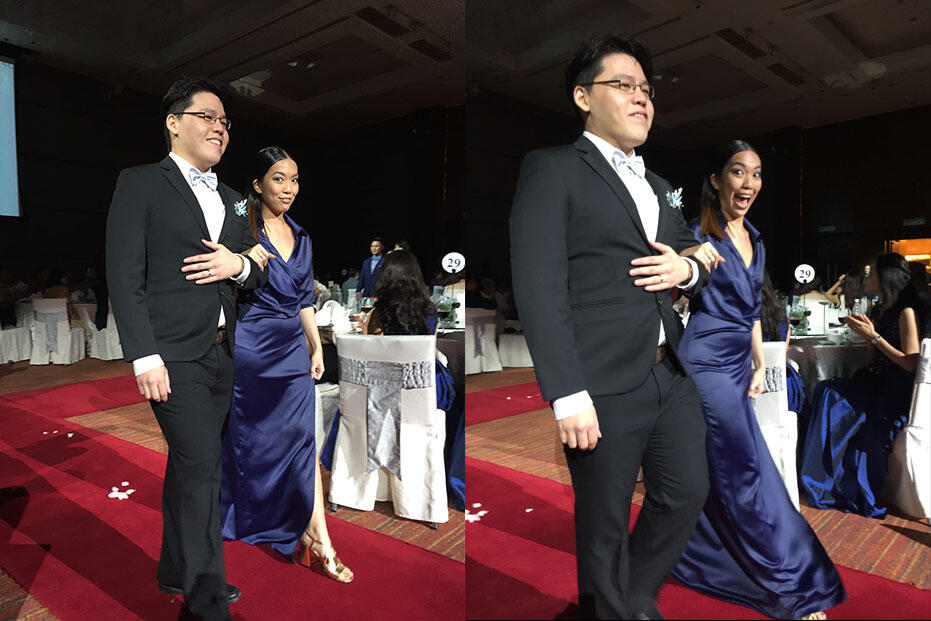 Mei Sze's maid of honour, May Sze (whom introduced me to Mei Sze!)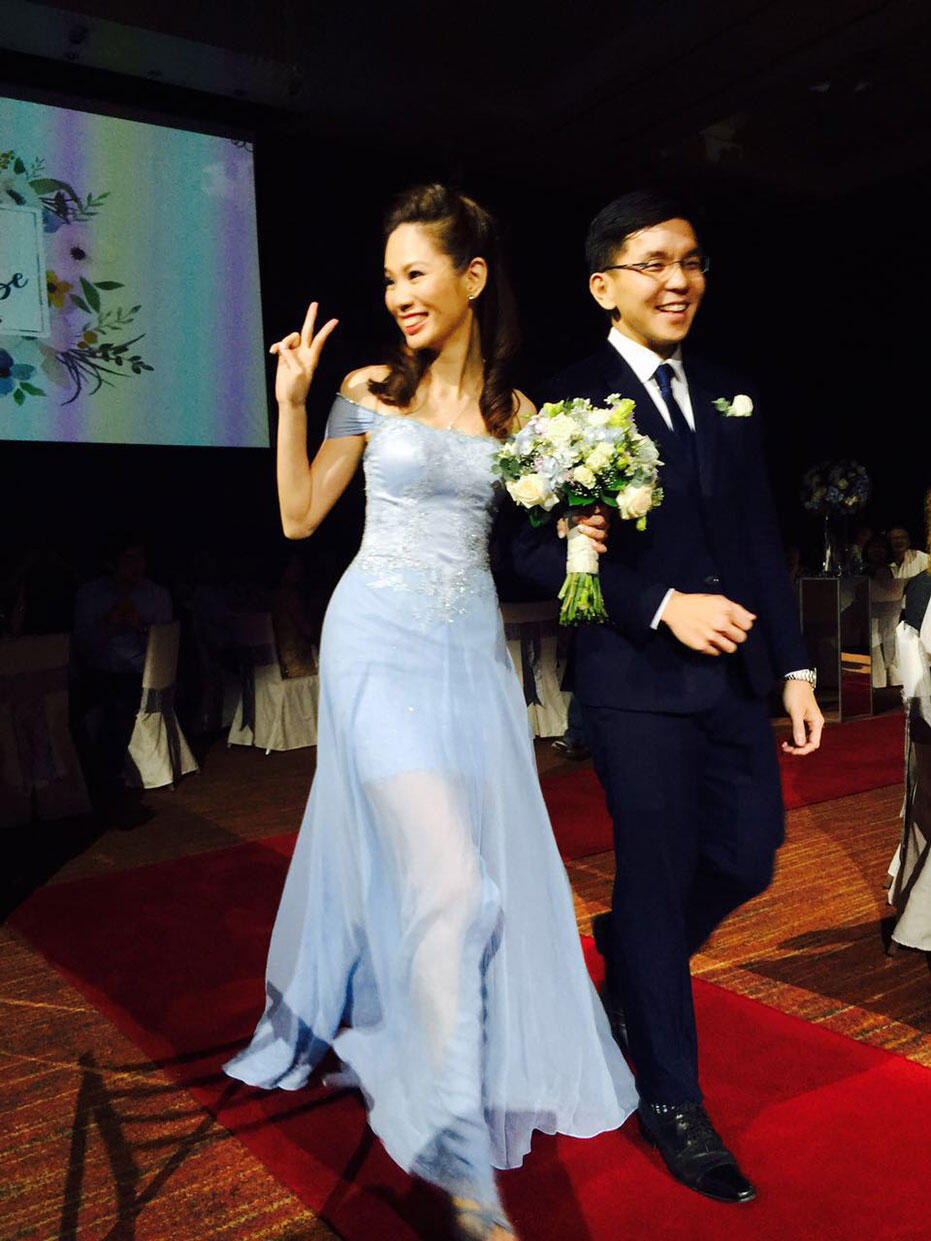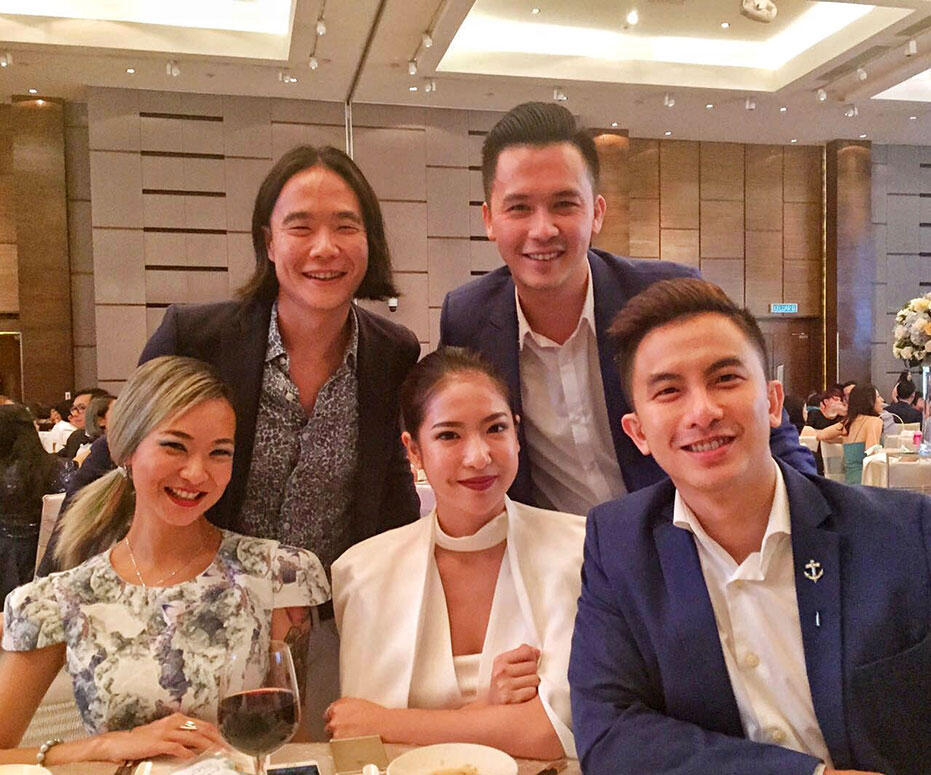 Jun, Arthur
me, Bell, Andy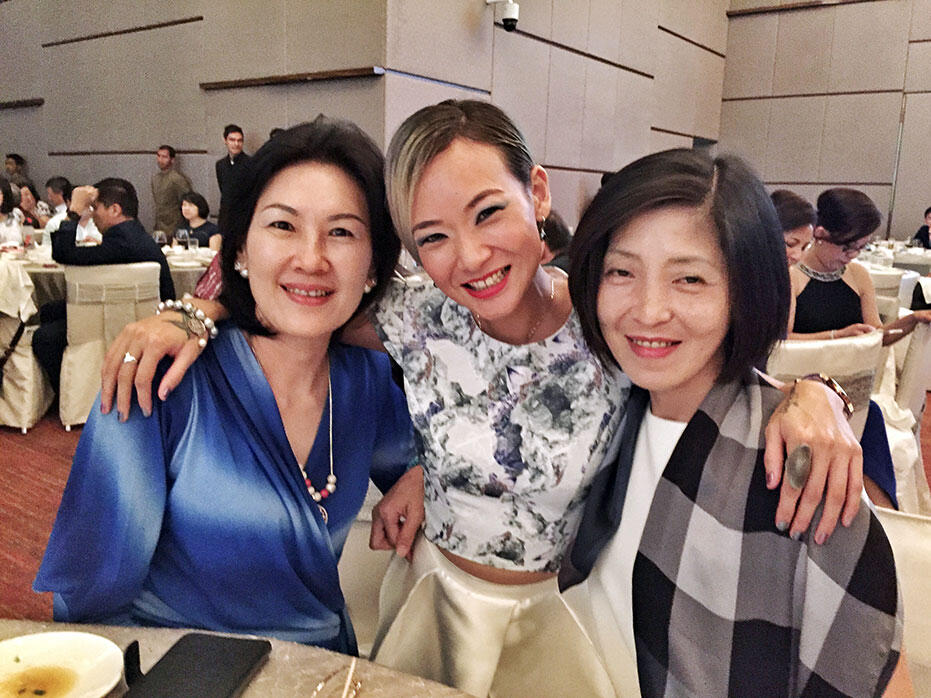 With Tricia and Fiona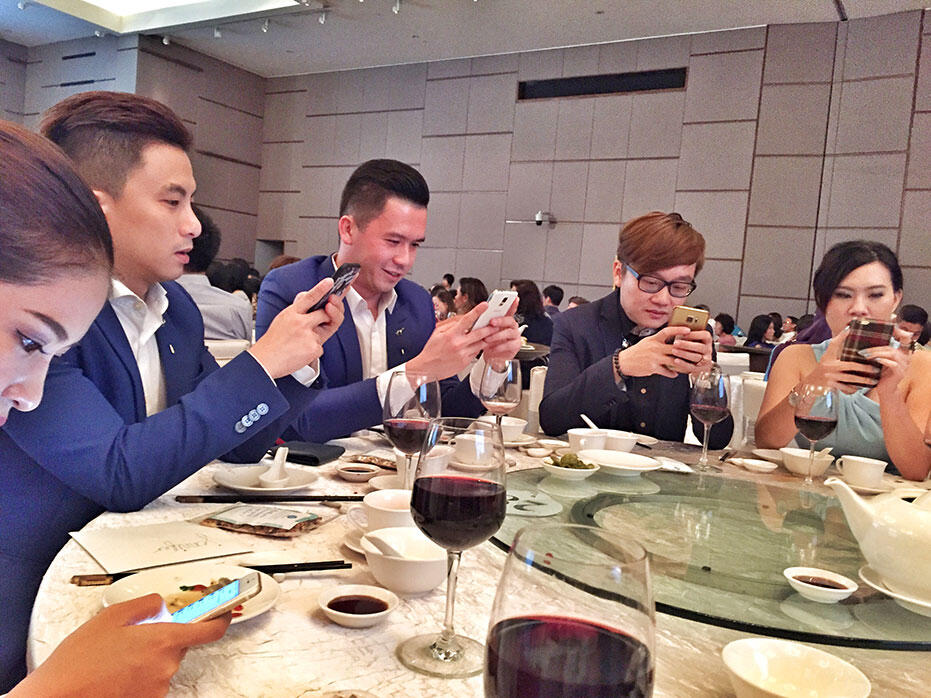 Everyone taking a break from conversation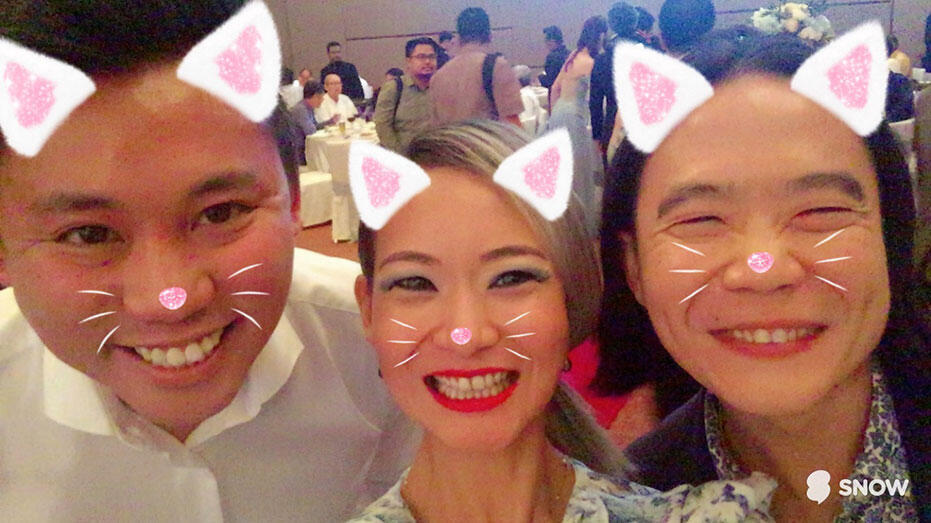 Mark (Yishyene's brother!), me and Jun
He just started this business called Carput which we're gonna blog about soon!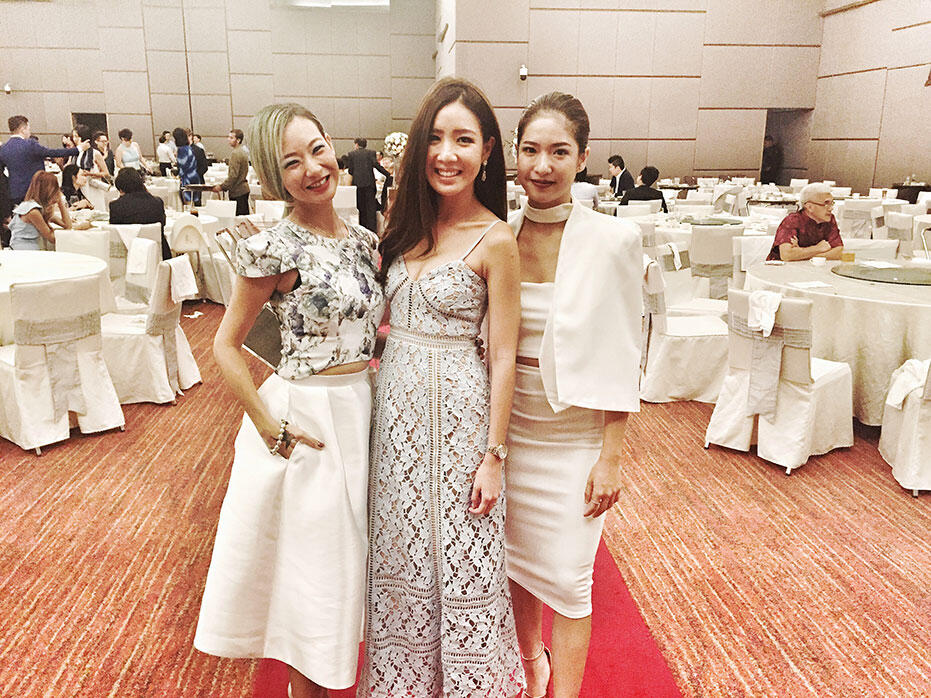 Me, Megan and Bell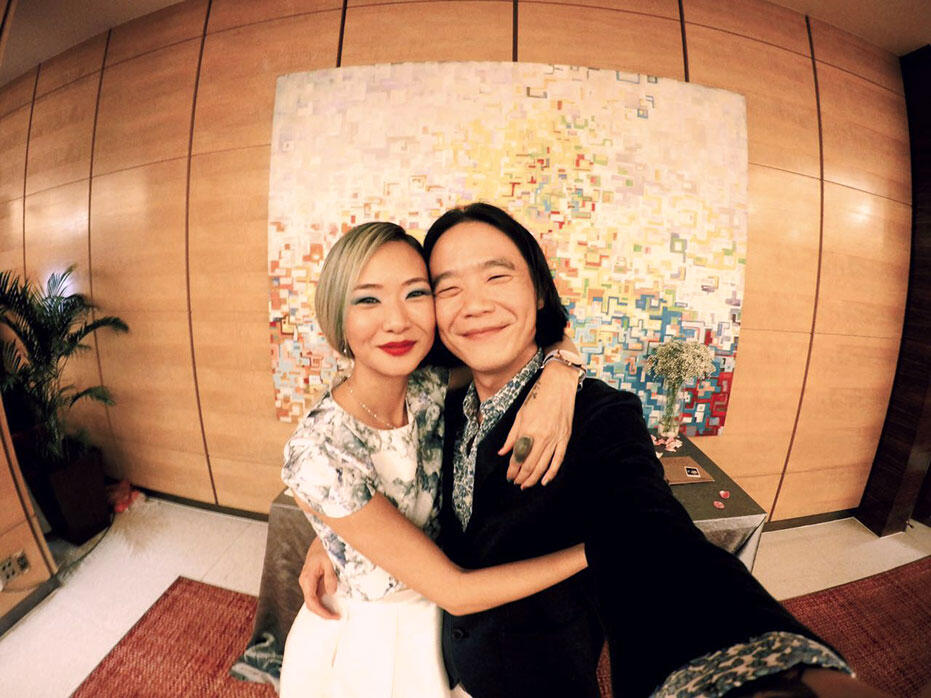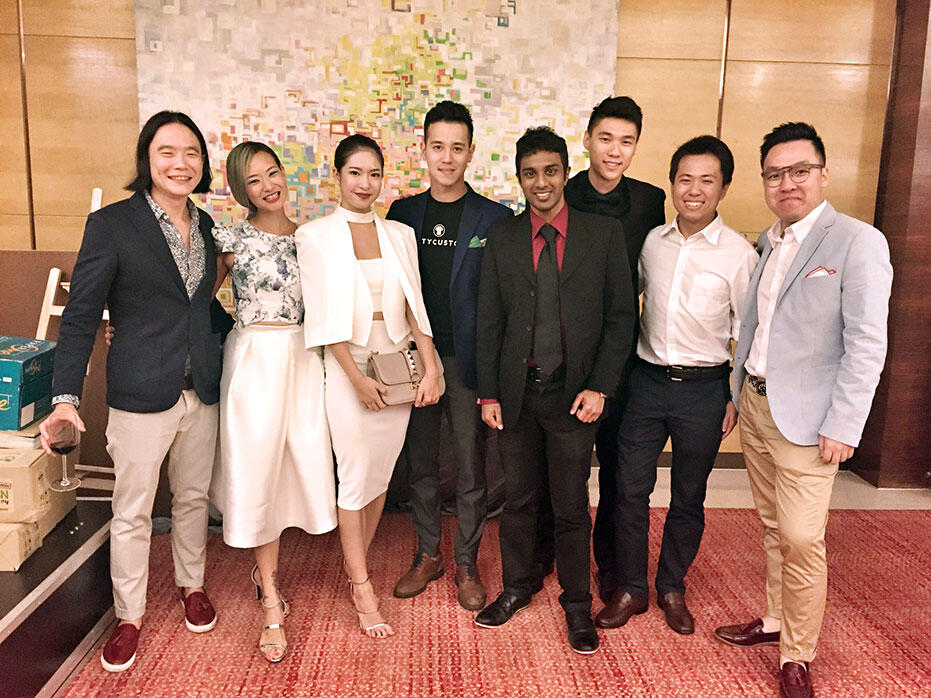 We all went to Tate for after-wedding drinks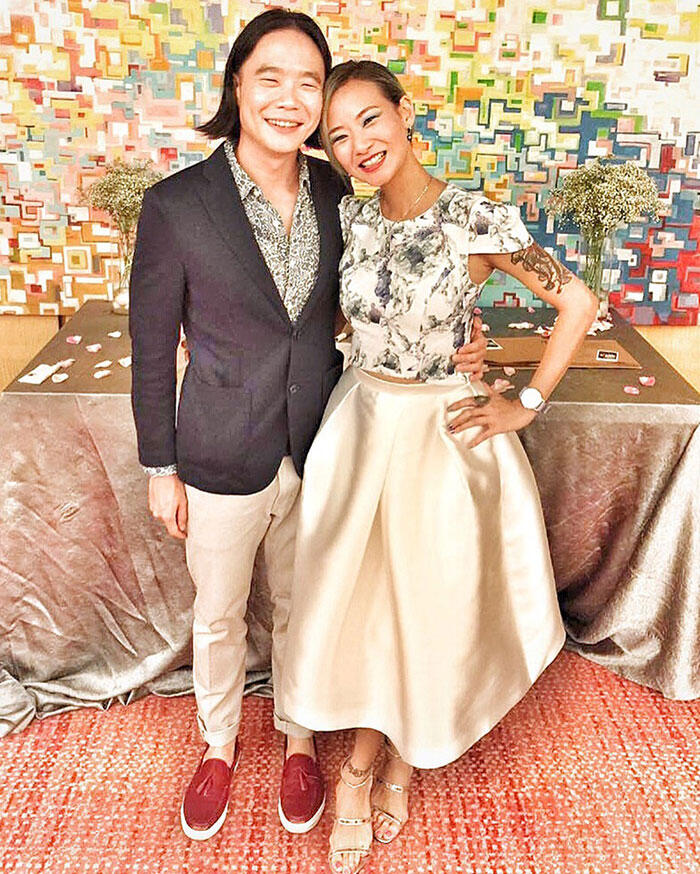 My silver shoes are from Christy Ng. They're ridiculously comfortable even after 5 hours.
My top and skirt are from Love, Bonito. I picked them out some time last year and never felt the right 'occasion' to wear it till then!
The brand has been sponsoring me clothes for over a year and are giving away a discount code to KBF readers till 21 August 2016. Just key in LBxKBF10 on the online store, or mention the same code at their flagship store in Mid Valley to get 10% off full-priced items.
+ + + + + + +
My Daddy turned 61 last week! We went for a casual dinner at Nathalie's Gourmet cos i was just there for the Dior event and thought about how i hadn't eaten there for ages.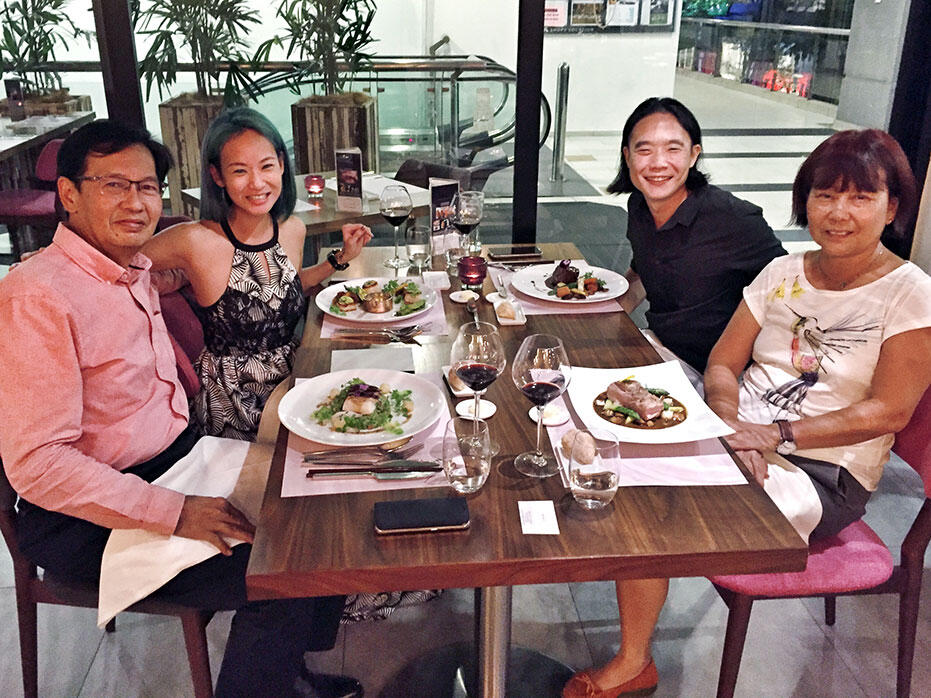 Daddy is my chief financial advisor. He's taught me more about money more than anyone else, tho i probably spend more frivolously than he'd like.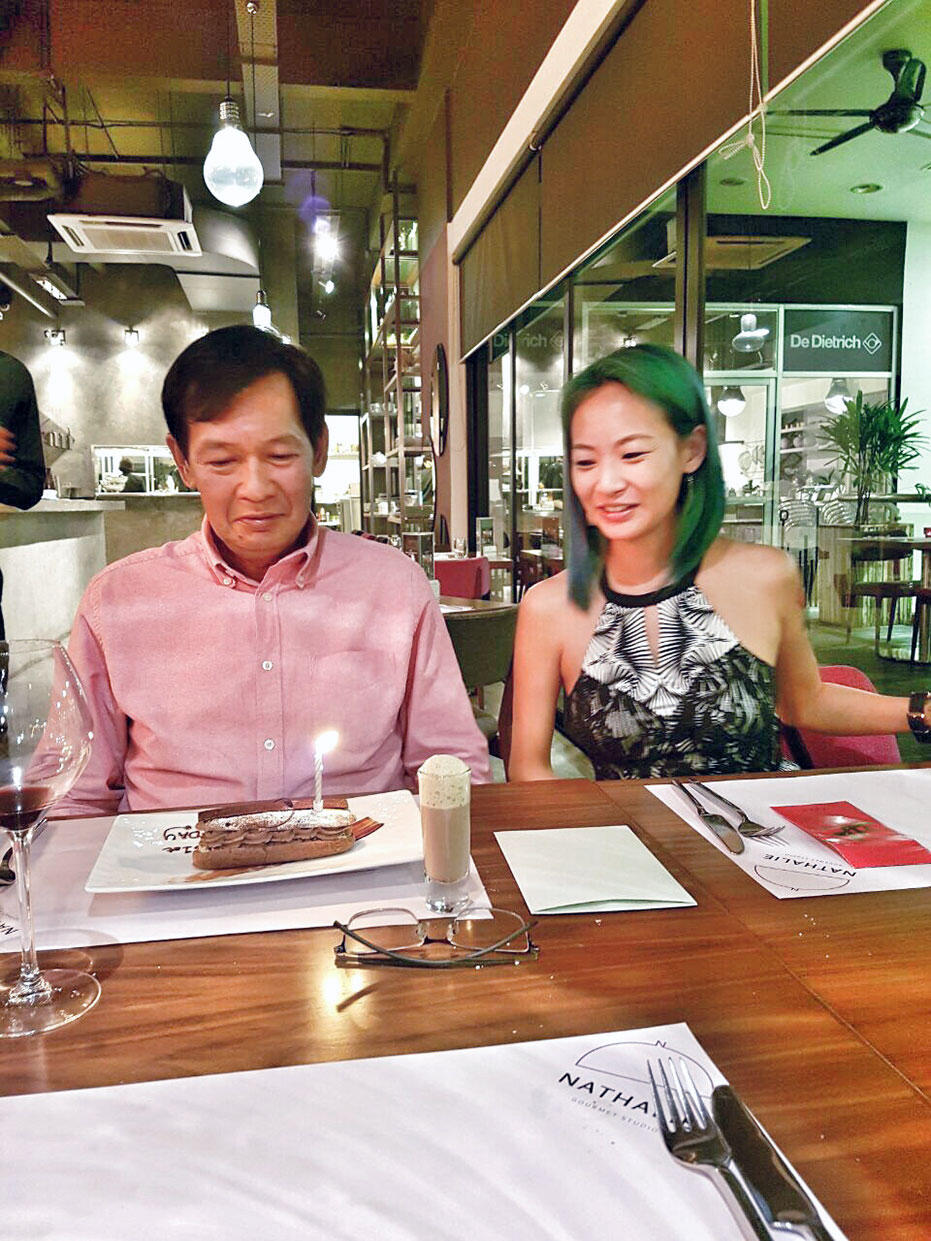 <3 I need to write a blogpost just about him.
+ + + + + + + + + +
One Friday, a bunch of us met at Tate for a DECODE event. Clem was gonna go too, and seeing he lives directly four floors above me, decided to uber with Jun and i.
I know i haven't blogged about Clem and i breaking up because… break ups are always difficult+painful and i didn't want to air that in public. We broke up two years ago in a rather clean manner… I told him how i felt attracted to other people as weeks passed, and one day decided we had to go our separate ways. We spent two weeks together before he moved out (cos i had more stuff :p). Clem was so set on the view from my new apartment i was gonna move into the following year (2015), that he found a unit in the same block to rent. We both said it wouldn't be weird, and after giving each other space for months by not communicating, felt it was cool to be friends and hang out again. Sometimes i pop up after work and we laugh for hours about work and current dating scenarios.
The first time Clem and Jun met, Jun gave him a hug much to Clem's shock. I still laugh about it. "Your boyfriend raped me." He's since had us over for dinner, we've had him over at ours, it's all cool!
So there was us three in the uber – Clem in front, and Jun and i at the back.
Me: I'm sorry we're late, it's my fault!
Jun: I have to say though, for a girl, you get ready really fast
Clem: That i have to agree
Me: Aww you guyssss
As we walked into Intermark, Clem sarcastically said loudly, "This is not weird, not weird at all guys!"
At the event entrance, Jun and i were taking a pic at the photowall, and Clem said, "Haha! I don't care i'm coming in!" and jumped into the pic before the photographer's flash went off. -_-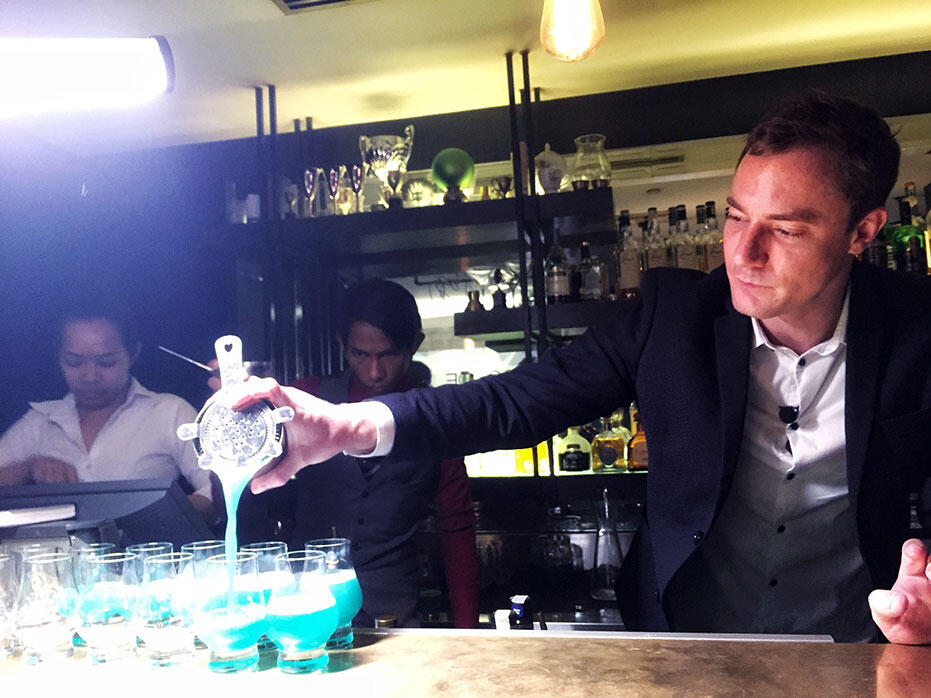 Joshua Ivanovic had a mixology sess going on with some winners. The rest of us just drank the end results.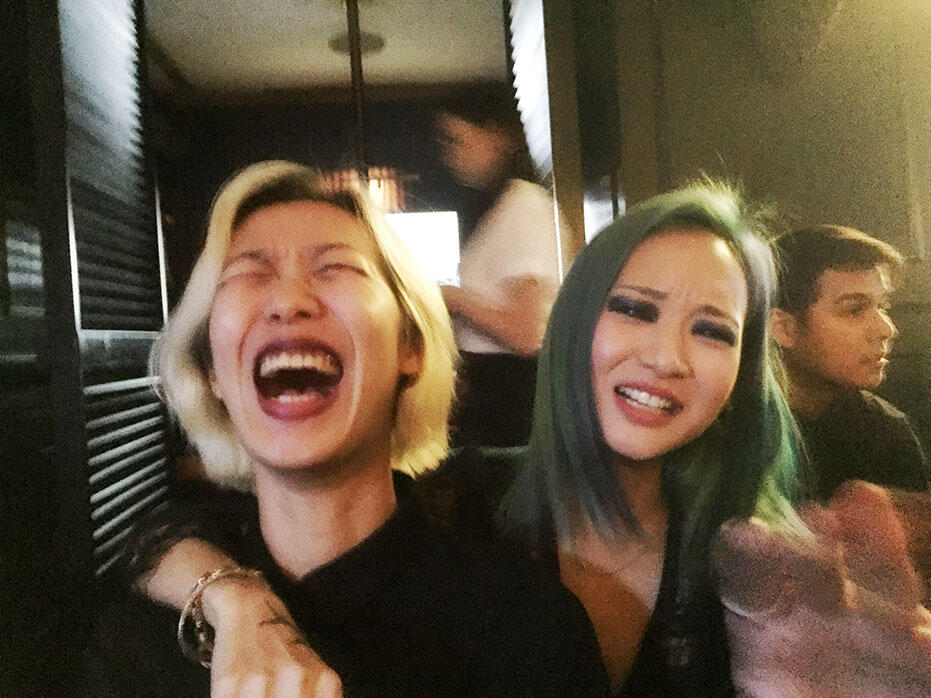 Sweet Ee, ah my first child. My first hire feels like my first child. After that it gets easier (or one knows how to deal better) but nobody can take that space in my heart that you have 🙂 Sweet now works for Tish and Cuevolution.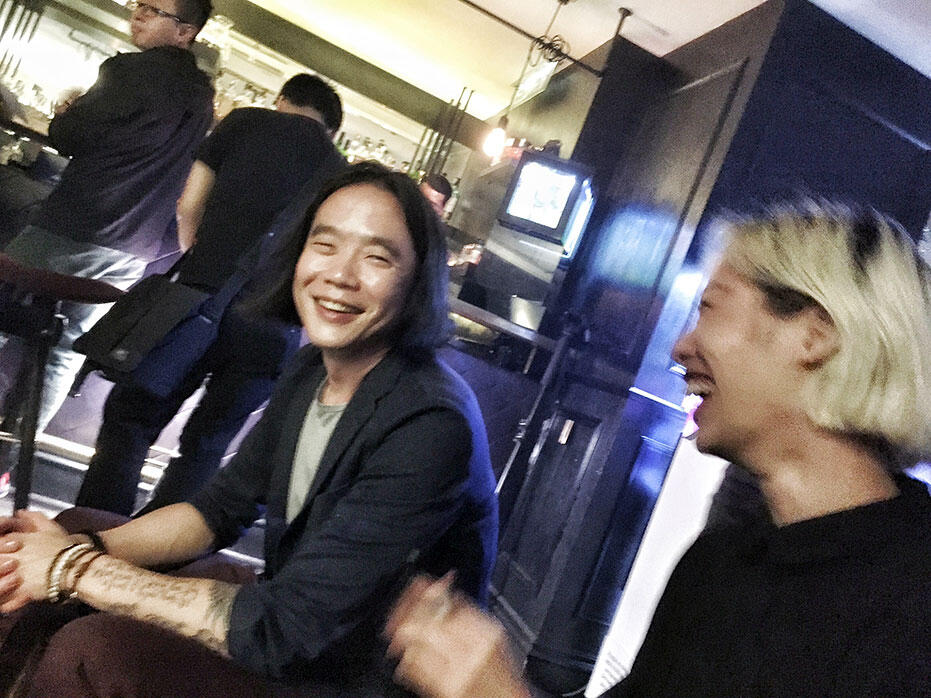 Sweet approves of Jun cos he takes nice pix of us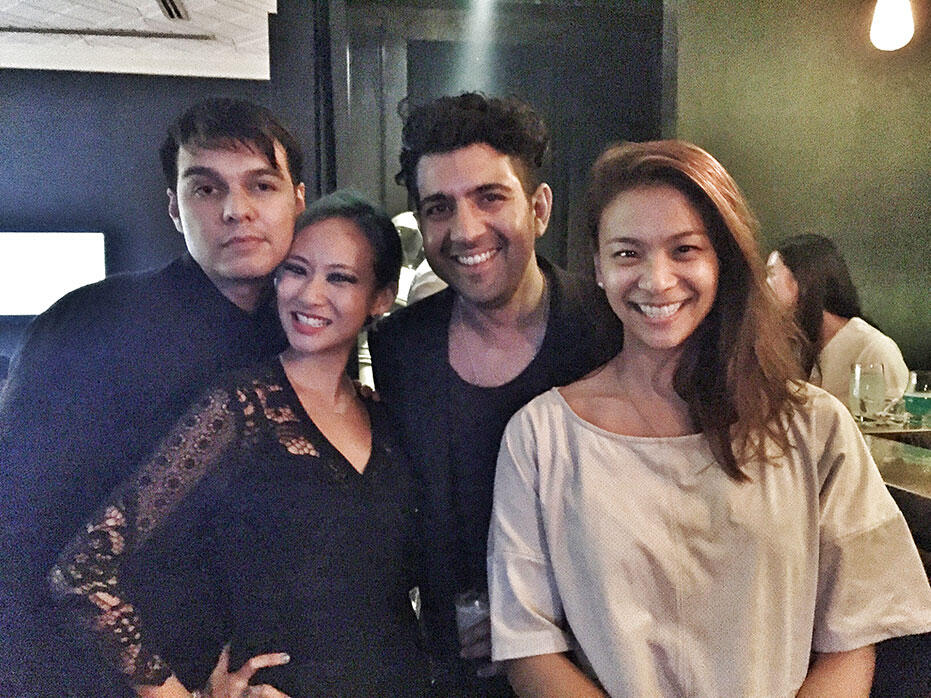 Rudy, me, Rahul and Gen
+ + + + +
The next day (Saturday), Jun and i went to visit Cammy + Kenny + Maddison + Cameron. Their help recently ran away so they've been raising the two kids.
Cammy: It's been good! It was HELL at first, but Kenny's been helping a lot, and he looks after Cameron while i look after Maddie.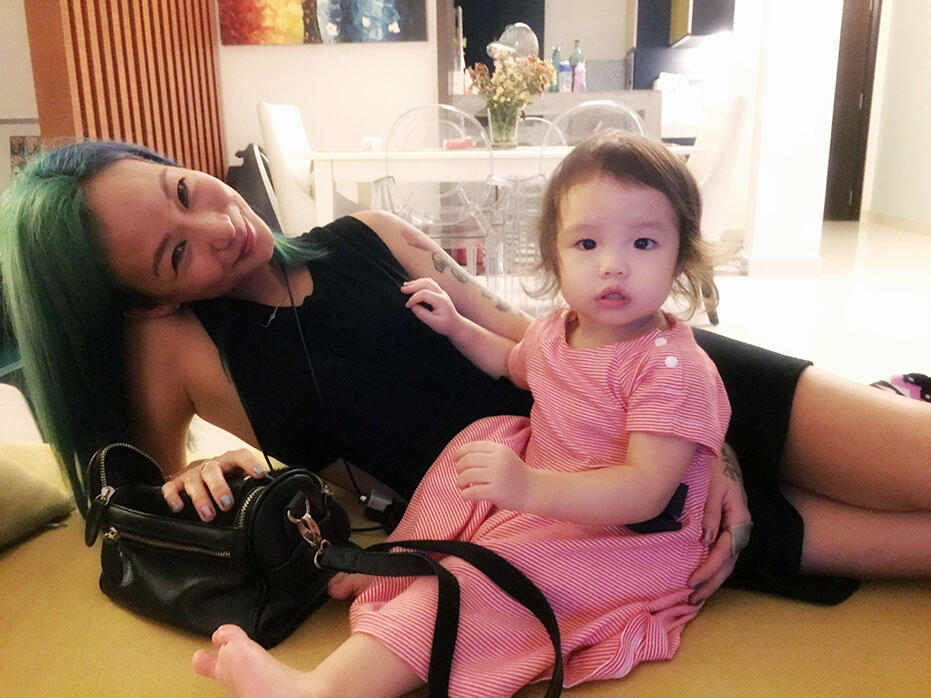 This is the little scrumptious pie that is Maddie.
Jun's very good with kids, and says i'm not an animal nor baby person -_-
Us 6 piled into the family's MPV and drove nearby for steamboat dinner that Kenny belanja-ed! The kids sat in between the parents, with Jun next to Kenny and me next to Cammy. Maddie was in a difficult mood that night, and refused to eat and threw things on the floor. After 2 hours, Kenny sat back and happily chimed, "See, Cameron has eaten, everything's good!" while Cammy gave the most distressed look cos she barely got to eat properly while taking care of Maddie and running after her. I couldn't help laughing cos it seemed like Cammy had the worse end of the stick that day!
Later at home, Cameron was playing with one of his MANY toys
Kenny: Cameron, you have so many toys! What are you?
Me: Yeah Cameron! You have so many toys!
Cameron: ….
Kenny: What are you? You're a… ??
Me: *thinking: lucky boy?*
Cameron: I'm a… rich boy
Kenny: NO!!!!!
Me: LOLOLOL
Cameron: I'm a lucky boy
Kenny and me: That's RIGHT, you're a lucky boy!
Hahahaha
After that, Jun and i left for a Fred Perry event in KL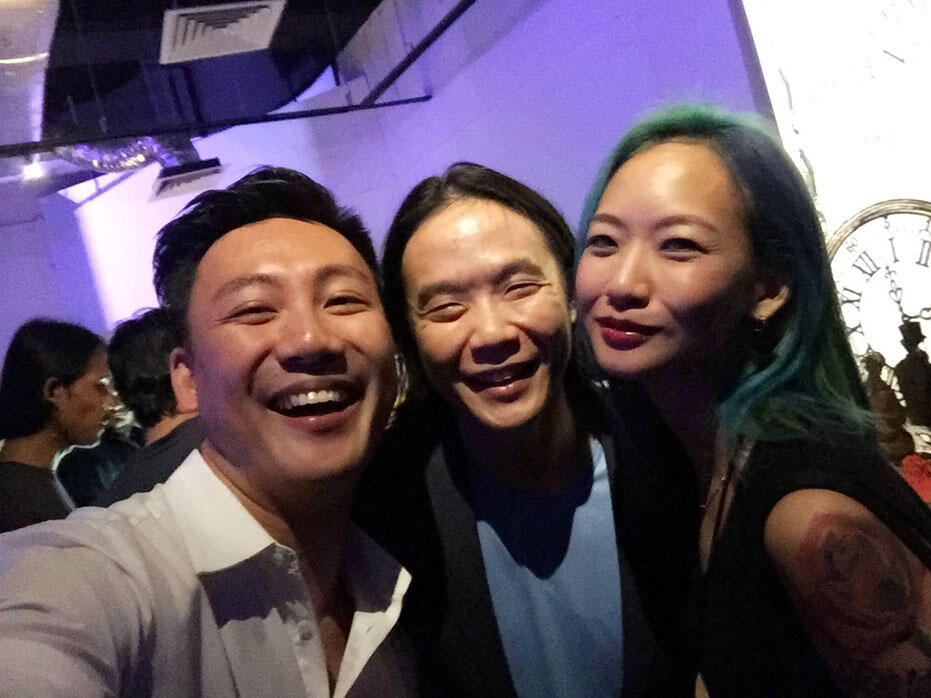 Matt is one of few (6?) people who knew both Jun and i before we got together a year ago.
Matt: Oh my god! It's like seeing right brain and left brain together!
Hmm i think Jun is creative too! Very, in fact. He has to be with his food! And he draws cartoon animals for me!
We barely knew anybody at the event. I think i knew 10 people and the rest… "… look really young," said Jun.
"Oh my god… are we that old?" I said, staring around. "Do you think they're looking at us thinking how old we are?"
"We don't look old okay, please."
Anyway, the thought of making our own drinks at home seemed more appealing so these two old folks headed home by midnight. On the way to the car, I saw Saufi outside the event trying to catch a Pokemon.
Speaking of, i installed it on the second day it was released here and couldn't register under 'kinkybluefairy' or 'joycethefairy'.
"Why!?" i lamented to Jun, "Did someone take my nickname already!?"
So i used TheRealKBF -_-
Was playing with it a little on Sunday, and found two in my apartment. Caught one, and the other was a zubat flying around. I walked back and forth the apartment trying to find my bearings, to find it was on the balcony. Come on… come onnnn, i couldn't catch it and it was flying further and further away. I stopped when i realised i was standing against my balcony railing with both arms stretched out holding my iphone trying to catch… a zubat. A stern voice spoke out in my head You better not drop your phone from the 11th floor playing pokemon go.
So i let the damn bat go.
The same week, i caught up with Clem who said, "I was leaving with a date, and i NEVER see you downstairs and saw you for the first time. But i think you were playing Pokemon Go cos you were facing a wall. So you didn't see me."
Anyway, i'm not really into the game. I don't have time to… i have real life actual things to do. After 3 days, switching on the app is the last thing on my mind. I can't even keep up with snapchat these days!
Jun thinks it's ridiculous and someone's going to get into an accident playing Pokemon Go, especially after we saw a bunch of kids walking around the neighbourhood with their phones and external chargers in hand. But i looked at them thinking how GREAT it is that at least they're outdoors and moving!
+ + + + + + +
One weeknight, i went for drinks with the guys from Cili Sos cos they'd interviewed me. It was about time to ketchup with Chak whom i used to lunch regularly with but haven't for yearssss (that's what happens when you get older and amass more responsibilities and friends).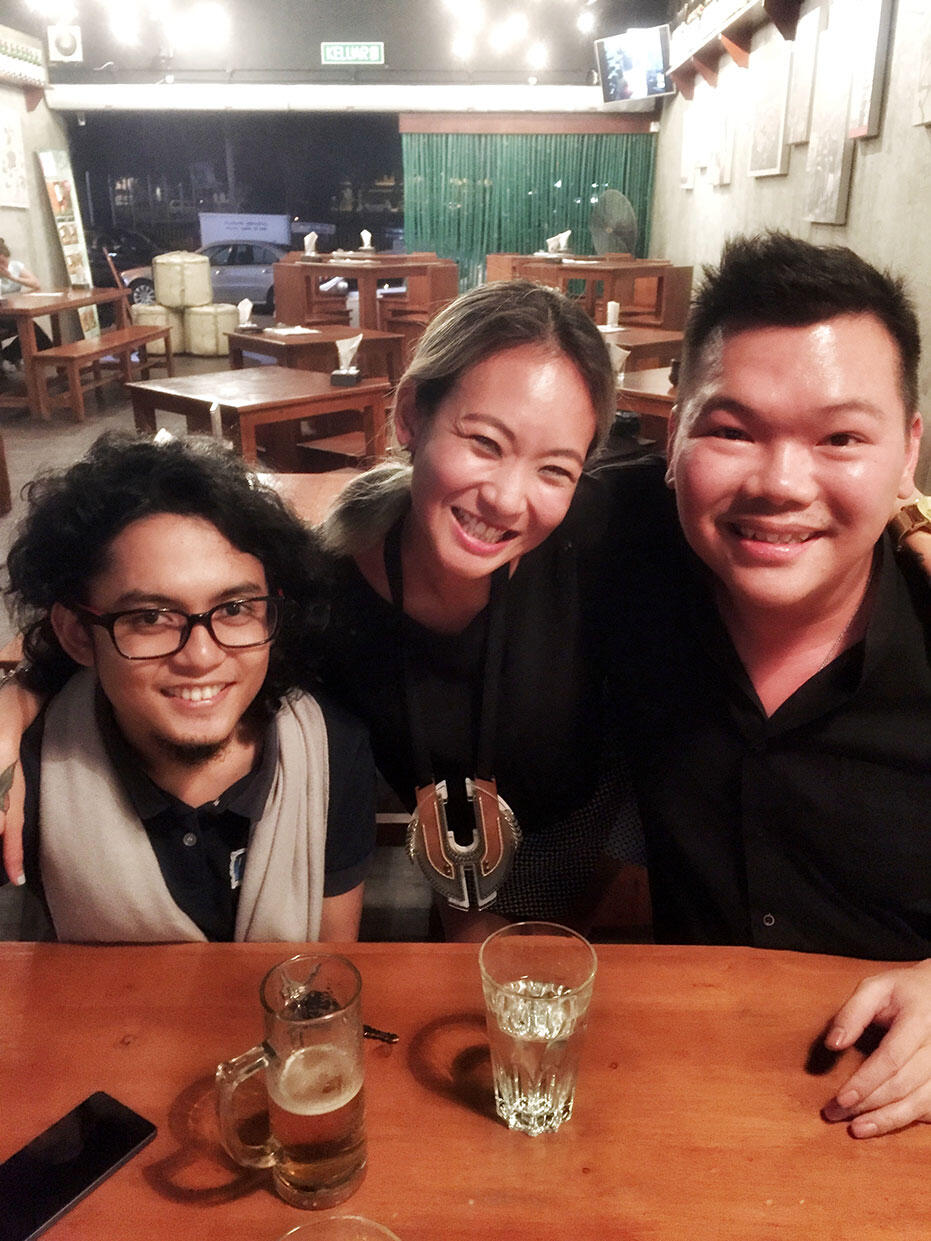 MK, me and Chak (previously known as GarfieldChak)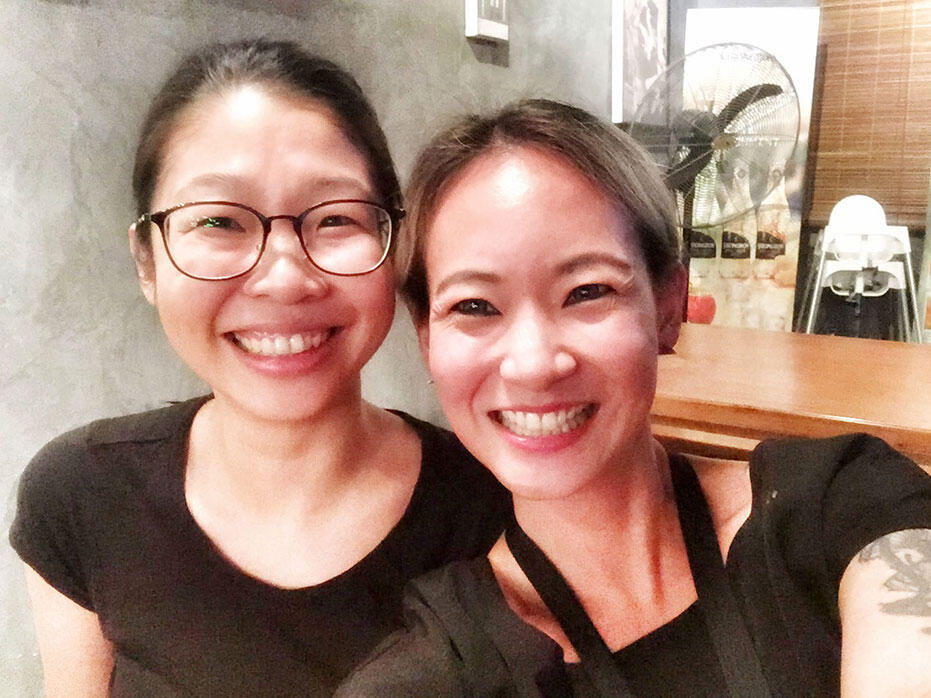 Jess came too! She's another one i hadn't seen for maybe 5 years.
+ + + + + + + + + + + +
Another day, i managed to catch MaryBerry for lunch and coffee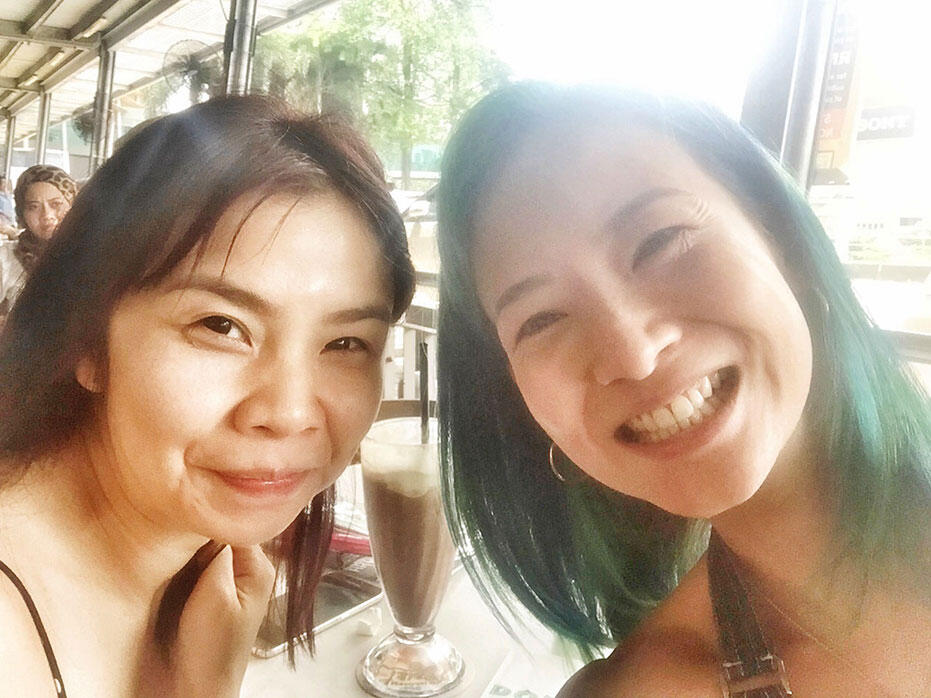 + + + + + + + + + + + +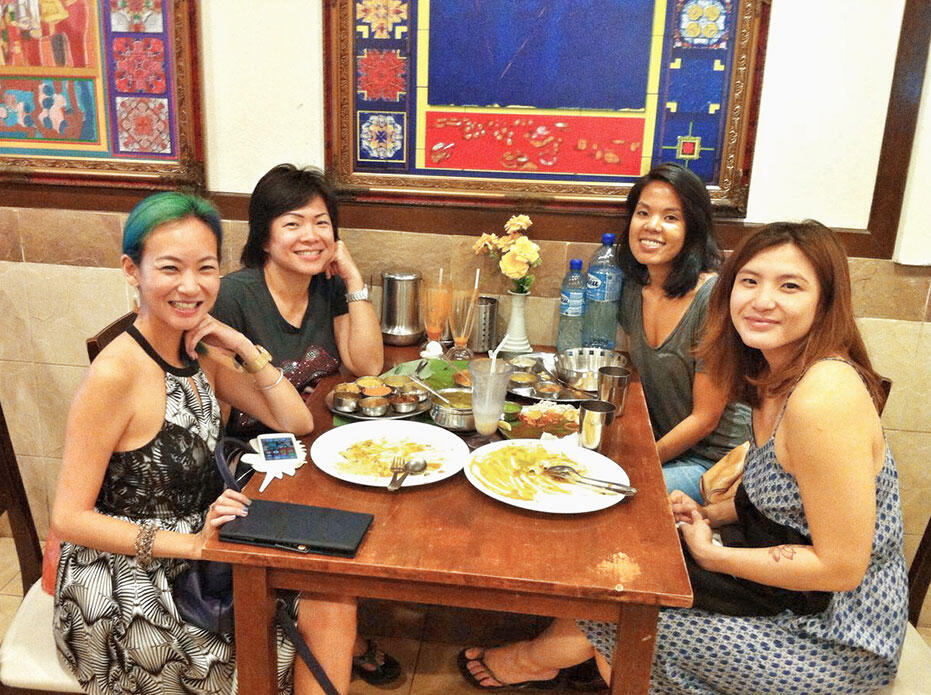 Had Indian dinner with April, Didi and Sarah; cos April is going to Canada for a 6-month sabbatical.
+ + + + + + + + + + + +
One Sunday, Jun and i went for Steph's Birthday BBQ. We dropped by my office beforehand so i could blow up some balloons to bring. The next day i told the team: "Helium balloons, children and an outdoor BBQ do not go."
The kids were excited by them for 2 minutes before one of the strings started wrapping around Maddie and i was inwardly frantic while trying to slowly disentangle her. Two of the balloons were in a tree after 5 minutes, and another child (not from the party) tried to run off with another.
That aside, it was so pleasurable to hang out in the pool with everyone, champagne in hand while making sure all the kids stayed alive.
Cameron had a ball playing with the water hose.
"He's having a fireman phase," said Cammy.
"Fire!!! FIRE!!!!" he'd shout gleefully while splashing the water from the hose around.
I almost taught him how to press the tip of the hose so he could spray further, but thought the better of it.
In the end, it was his father who showed him so he started spraying the adults.
Kenny: See Aunty Fairy? She's fire! Fire!
I'd squeal and dash away from the water (as i was still in my baju then).
This is what you do when you have kids, use them to torture everyone else around you.
Later on, Cammy and i were standing nearby chatting and watching the kids.
We both sympathized with each other how our english has deteriorated of late.
Then we heard Cameron shouting with the hose, "So many water!"
We both froze before shouting back indignantly, "So MUCH water, Cameron!", "Not so many! Much! MUCH!!!!"
On the sidelines were Steph's composed colleagues.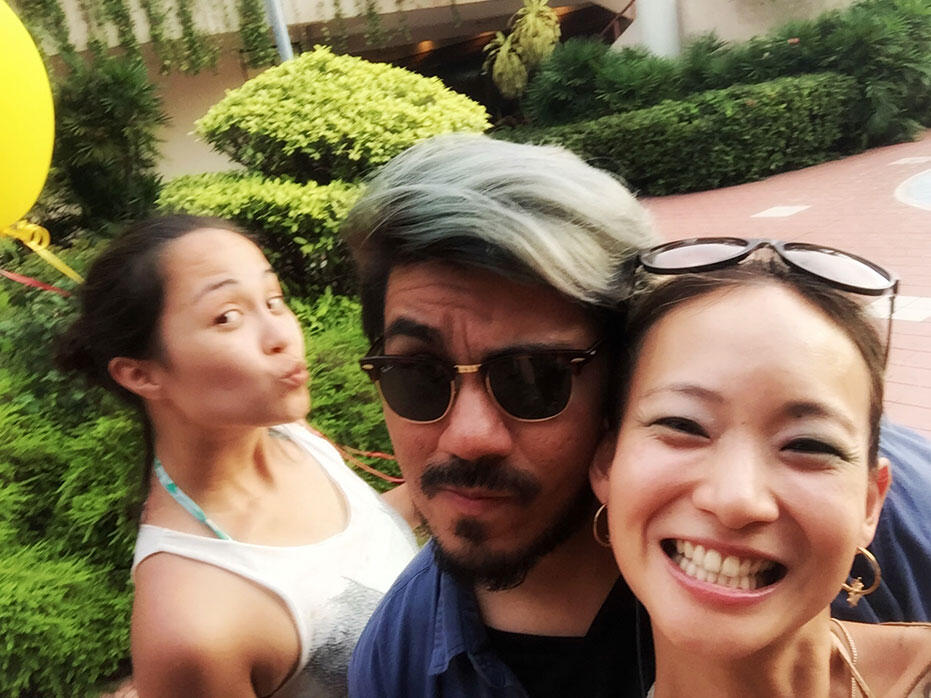 Steph, and Dave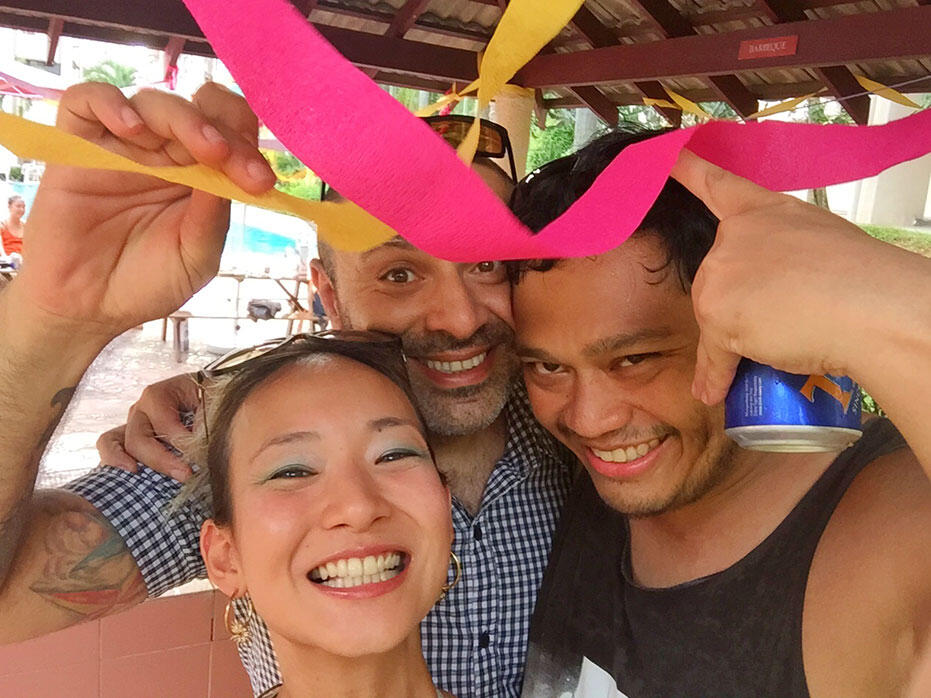 Me, Murat (whose birthday it also was recently!), and Rudy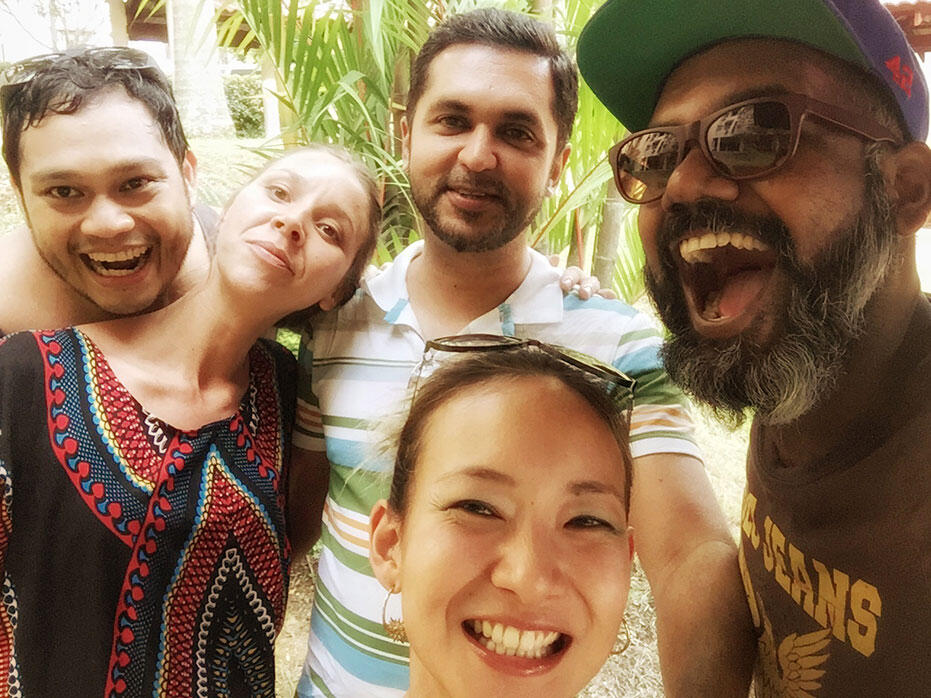 Rudy, Jess, Deep and Paulie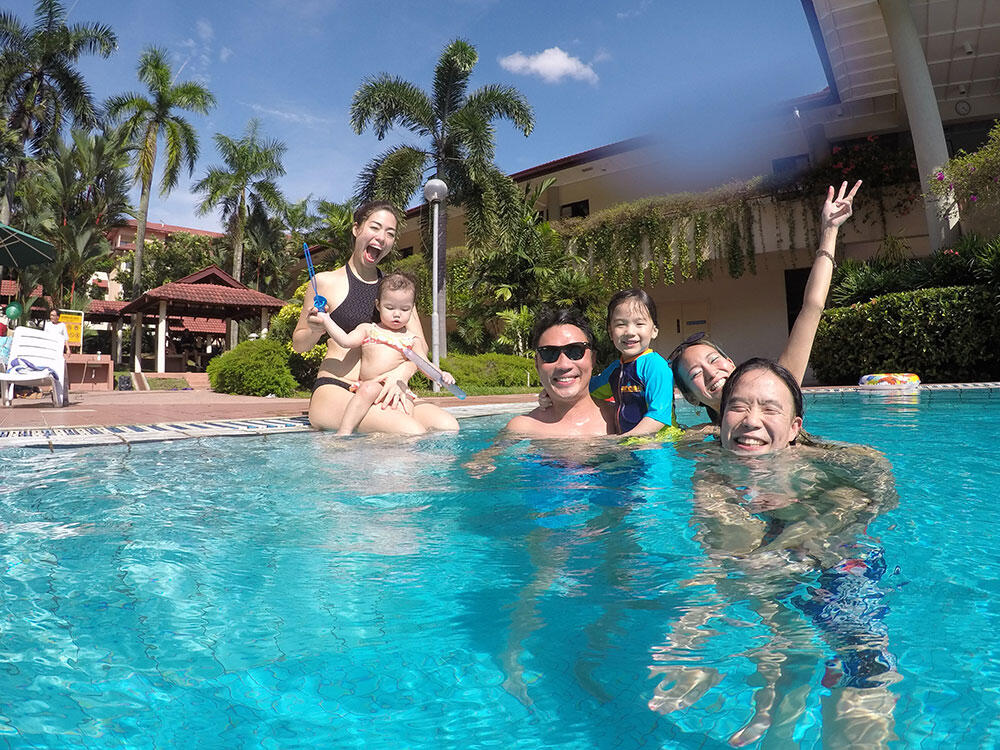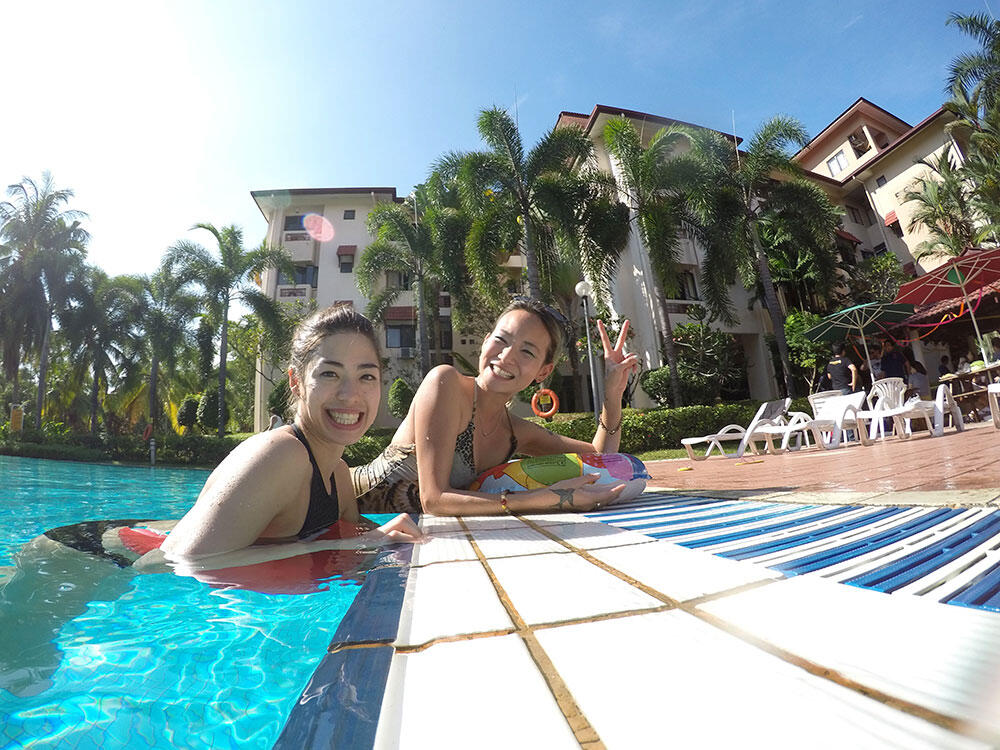 + + + + + + + + + + + + + + +
On August 9th, it was both Tai Yong and Rahul's birthdays. They're both two of my closest guy friends whom i spend a lot of time separately with partying and hanging out.
Jun and i went to ANTE to meet Tai Yong for a porky birthday dinner.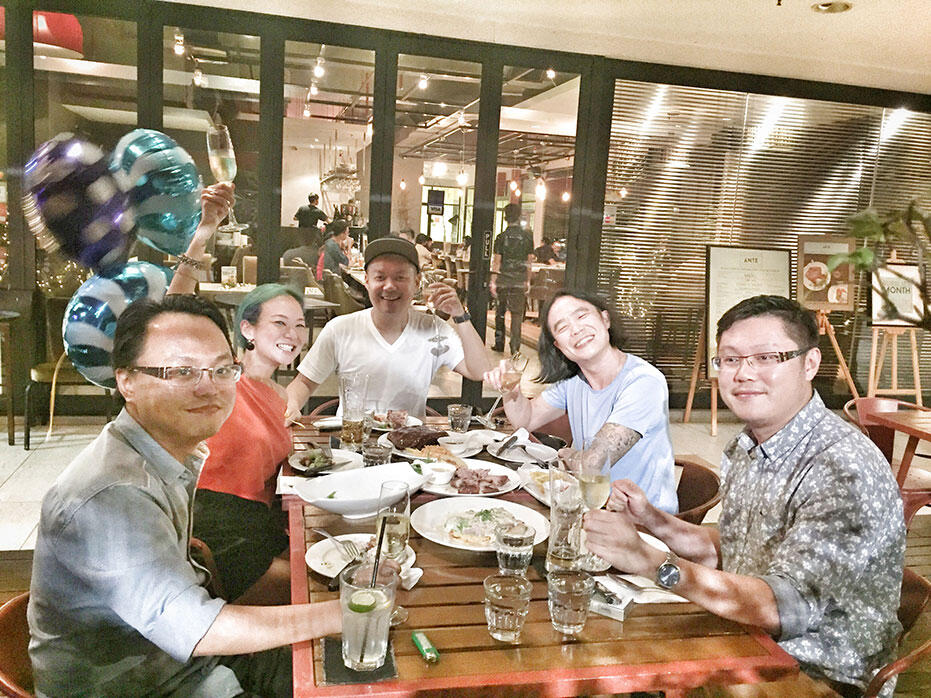 Rudy, me, TY, Jun and Kar Wei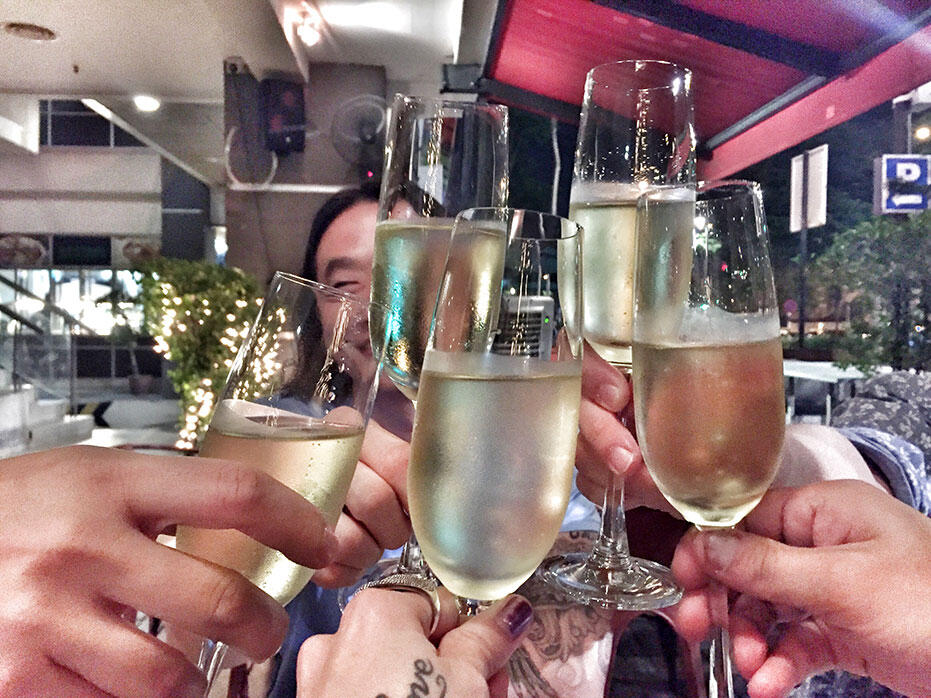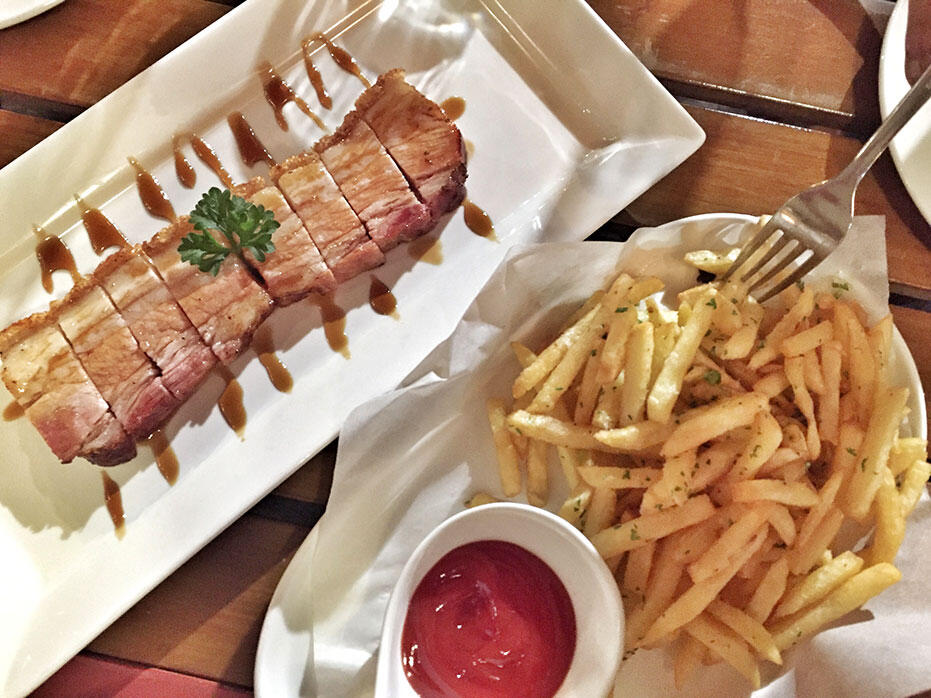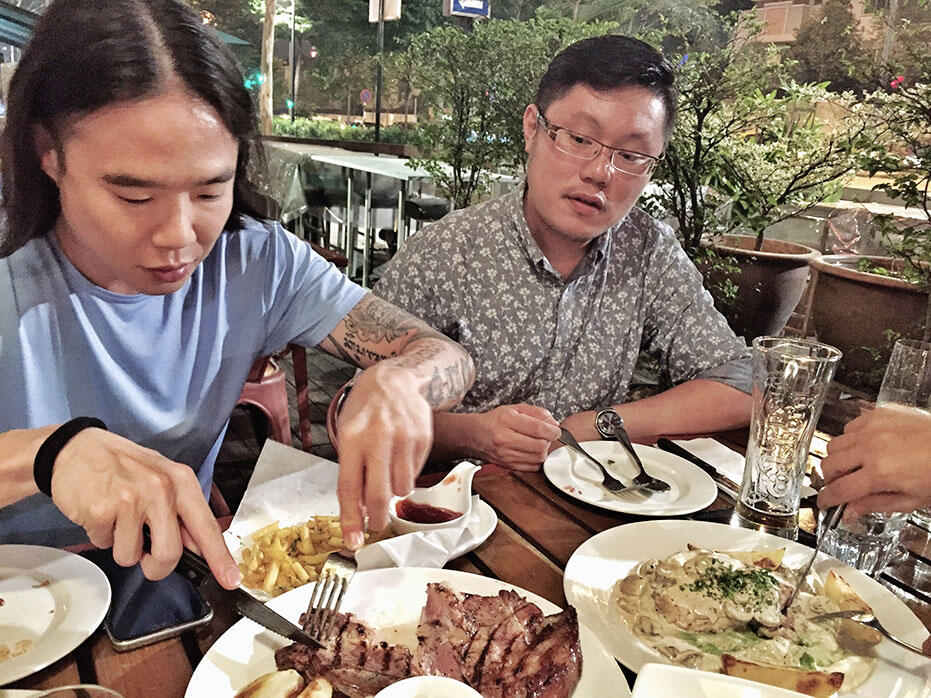 TY had a birthday date post-dinner, while Jun & i went to meet Rahul at Locker & Loft.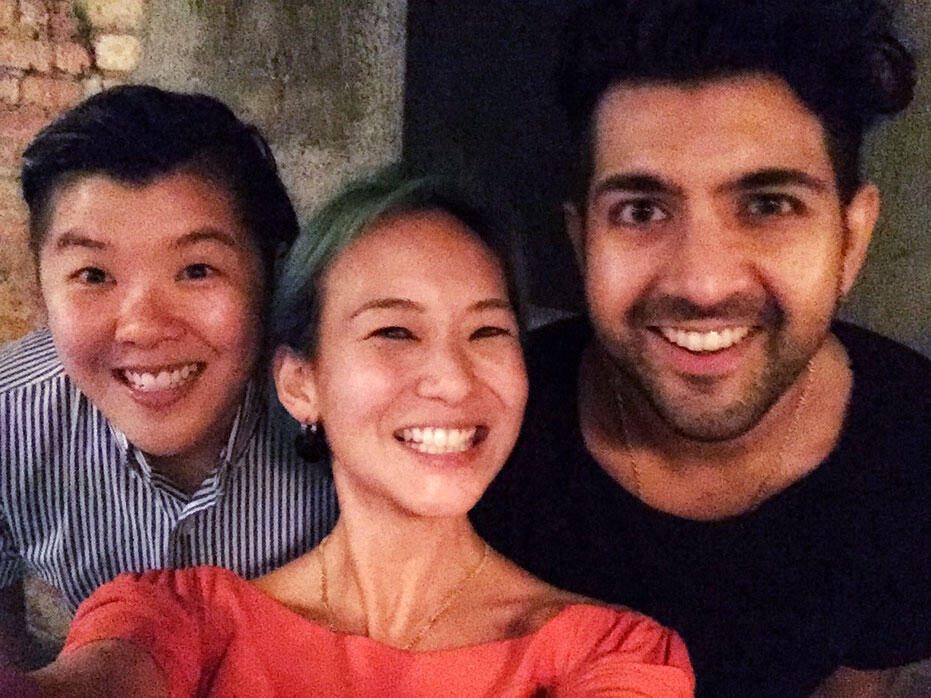 With Teng and Rahul.
Teng got me to try Tomintoul whisky for the first time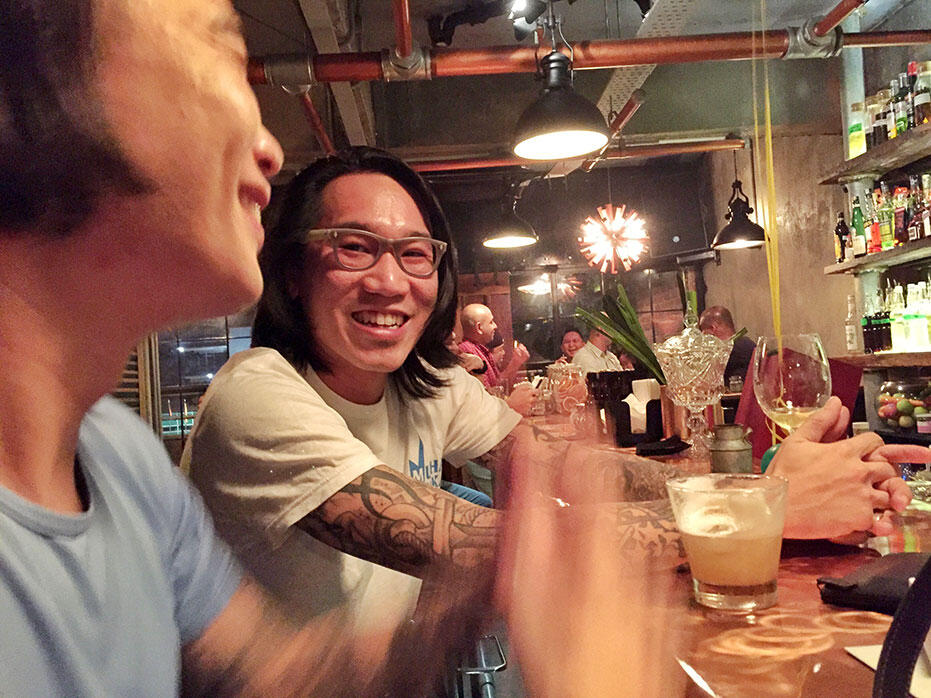 I love Eddy's brand Mutha Puaka. Tried to buy Jun a shirt from there in Bangsar but they sold out!
We meant to stay for two hours, but Amar turned up, and so did Hans…
It really hurt the next day.