I HAVE SO MUCH TO BLOG ABOUT!!!
SO MUCH HAS HAPPENED TO ME IN A MERE WEEK!
I modeled for The Met Hairdressing Salon at the Hairlah 2013 hair convention last Monday,
then on Tuesday i had my 8th and largest tattoo done by Julian Oh,
then on Wednesday i flew to Bali for Awesomeness Fest till my return last night!
I will definitely be blogging about the other stuff, but today i want to give thanks for my latest and largest tattoo!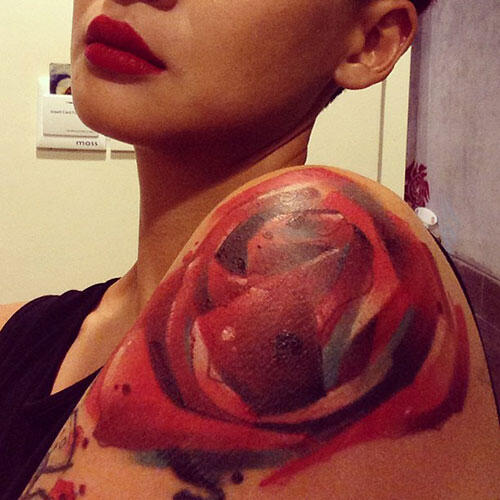 That's just the top bit of the tattoo… you gotta read the rest of the post to see it heehee
When i first thought about getting an arm tattoo, it was early 2012 and i fiddled with the idea for awhile. I *kinda* knew what i wanted to get but didn't have the entire concept in place, and also pondered on the backlash i might get for acquiring something so unconventional. I attend events all the time, and sometimes, high society ones where i'm probably required to wear an evening gown at which point the tattoo would definitely show.
Did i want people to know that i like tattoos THAT MUCH?!
Did i want people to think i'm a crazy party person?
What if i wanted to fit in with rich and successful people but it would cause me to look the opposite?
In the end, i thought SCREW IT.
If this is the person i am and this is what i want, then i'm just gonna get it and everyone is just gonna have to recode in their heads that a tiny colourful girl who loves tattoos is going to be rich and successful.
I wanted Julian Oh to do it for me cos i've been a great fan of his work. He's a real artist at heart, and also works on concepts, photography and painting besides being a tattoo artist. You can check out his work on his Instagram handle @iamjulianoh
When i saw Julian last week, he apologised for having put it off for so long cos my first email to him to discuss and set a tattoo appointment was in October 2012.
But i told him it wasn't his fault, it was mine too!
You know how i am always traveling in and out of KL,
and Julian is also forever at tattoo conventions in Europe and Australia.
As you're reading this he's just arrived in Scandinavia for another tattoo convention!
So i'm just real happy to have finally got it from him after 10 months in the making of one appointment!!!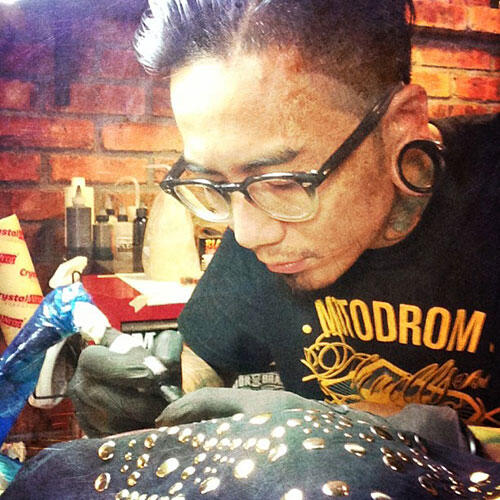 Julian saw me bring a book to the tattoo bed and said, "I don't think you're gonna be able to read…"
I said, "Hmm i don't know, i thought "just in case"… i once had lunch while having a tattoo so i thought i could save time by reading."
I did manage a good three or four chapters during our session 😉
Also took pictures of Bessa as i was lying down cos i noticed she looked so good in the light from the window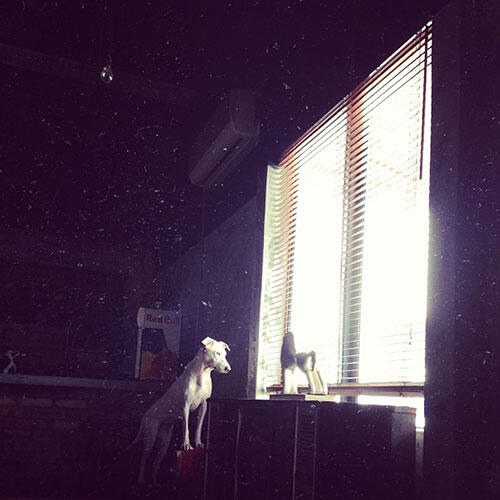 Julian and Carol's studio Redd Bullets is really cool with lots of paraphernalia in there. He's even got a glass cupboard full of oddities he's collected from his travels like freaky baby dolls, animal skulls, and…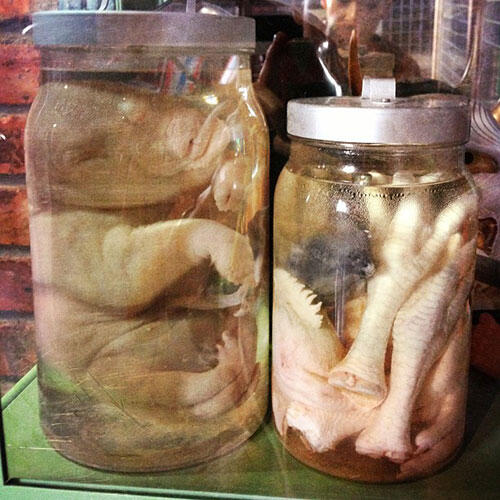 I was like, "Poor piggy!!!" then he said that the piglet was born prematurely so it's actually a foetus.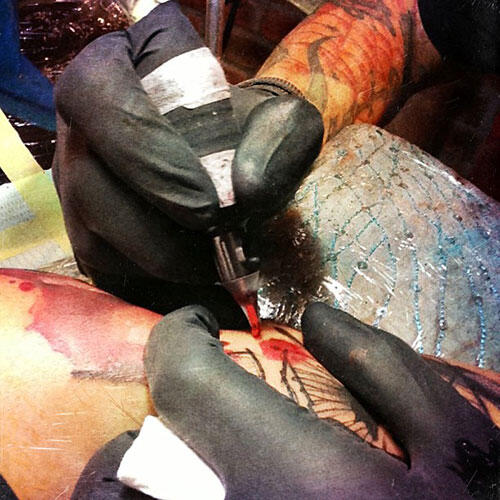 My tattoo took a bit under four hours to do, tho it felt longer cos i'm not including time for him to resketch some elements.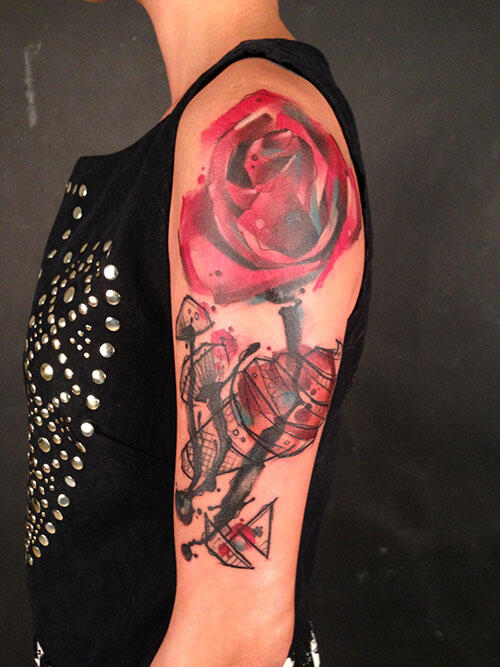 Tada!
Julian composes it in such a way that the elements even work out according to my tendons and muscles, and there's a proper balance between dark and light lines, and soft and hard elements. He is an artist after all… what did i tell ya.
The rose is cos my mum's name is…. 🙂 And i thought, why do people get tattoos for their loved ones when they're gone? Get them while they're still alive so they know you love them that much!
The ice cream is cos it reminds me of all the gelato Yishyene stuffed herself with when we were traveling around Europe (there was one day she had five). And… to remind me to be AS CRAZY AS POSSIBLE all the time cos SHE IS SO CRAZY.
The catamaran is to represent all my traveling… it reminds me of the awesome time i sailed from St. Tropez to Rome (thanks to Nir, and my Aunty G for introducing us), how i should never stop traveling and reach for the stars and believe that i CAN travel to every single country in the world, and how one day, i'm gonna have a BIG sailing boat with swimming pool and a chopper pad.
The Balinese mushrooms on the left are because i, well, love shrooms haha. They're not for everyone so please don't go stuffing yourself with them. It's just that ever since my first trip to Bali maybe 8 years ago, i return every year and always have a some shrooms which gets me thinking to where my life is right now and where i want it to be and what areas in my life i'm neglecting. Shrooms have always helped me step out of my own box to evaluate what i'm missing from my life, and things i have to do upon returning home. Well i didn't have any the last week when i was in Bali, but i did realise a lot more things without needing any soooo i'm just repeating that it's not for everyone!!