Ahh it's been so long since i blogged cos you know… LIFE. ADULTING. Work, errands, paying bills, chasing after property management on some burst pipe or faulty flooring cos it's flooding my tenant's bathroom! And on the other hand, still having lots of fun and enjoying the ride and high of LIFE.
A significant episode in my life recently was Aps & Jamie's wedding in Kuching! Aps had asked me to be one of her bridesmaids and i tried to be as angelic as possible… She gave me a pressie for everything last week so i think i did good!
This blogpost is bout the long Merdeka weekend on which they got married in Kuching – Jamie's hometown!
A whole bunch of us were flying in from KL, with Danny and Jess on the same flight as me. Us three separately made our way to KLIA2 and on the way there… ran into a horrendous traffic jam on the highway cos of some minor accident that people slowed down to stare at (WHY MALAYSIANS WHY!?). I sat in the car whatsapping them frantically and they said they too were in the same jam. I'd left the apartment with half hour to spare but it was still cutting it close, but as i know, you can't force life when it does stuff like this so i just slumped back into my seat and surrendered to the universe. If I missed it then i'd just buy the next flight, no choice!
I ran into the airport and headed to the kiosk to quickly cram my IC into the slot. On my direct left and right were Jess and Danny, we'd all arrived at the same minute. It was too late to check in via the kiosk so we busted straight for the counter where they charged us RM10 each for printing the boarding pass. Whatever cos we made it! RM10 to not miss the flight = WIN. Rahul & Nita on the other hand missed theirs later that day… #facepalm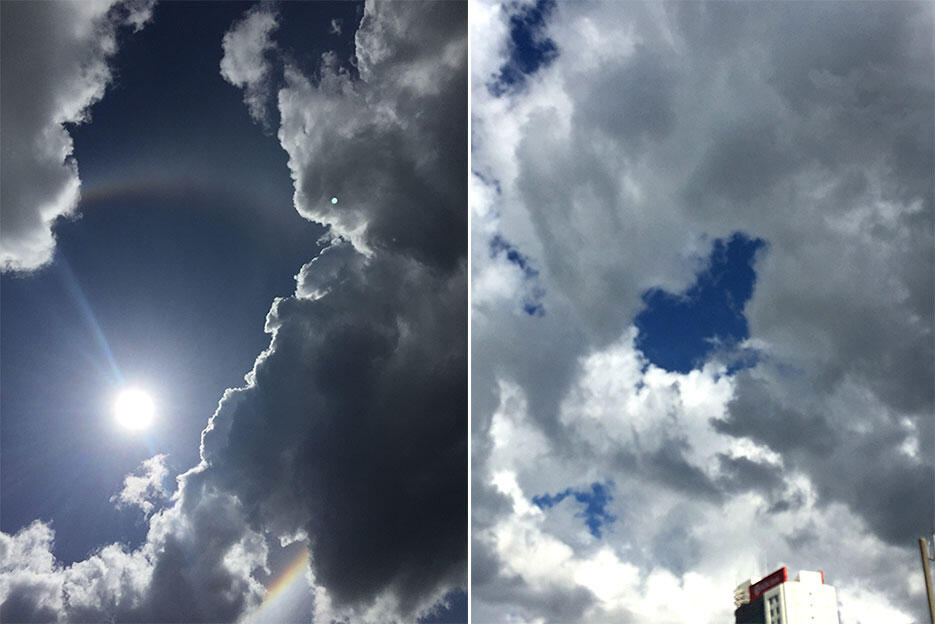 There was a circular rainbow around the sun when we landed in Kuching, aka sun halo or 22 degree halo – caused by sunlight passing through ice crystals in cirrus clouds within the Earth's atmosphere.
Also, the skies in Kuching are BLUE. I really miss blue skies ala Bali too… we're so used to the grey-blue sky in KL that we forget how polluted it is…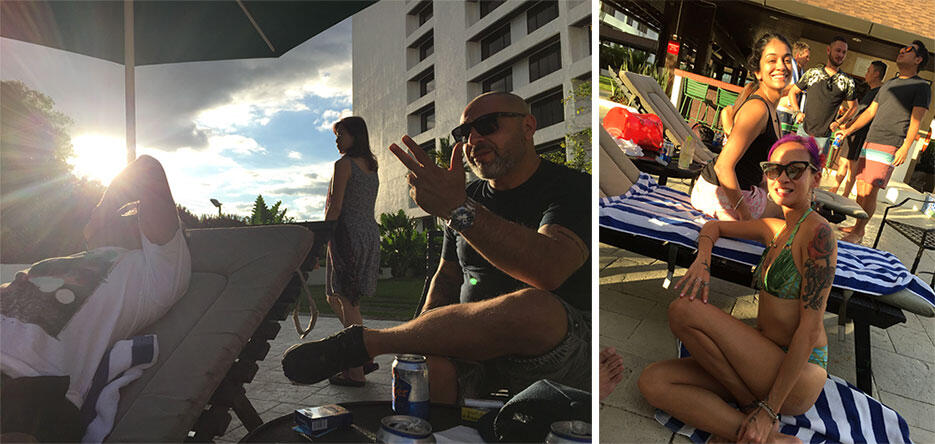 First arvo was spent catching up with everyone else at the pool and drinking RM28-per-Tiger-beer-can that the Hilton sells. Danny almost fell over when he saw the bill for everyone's beer.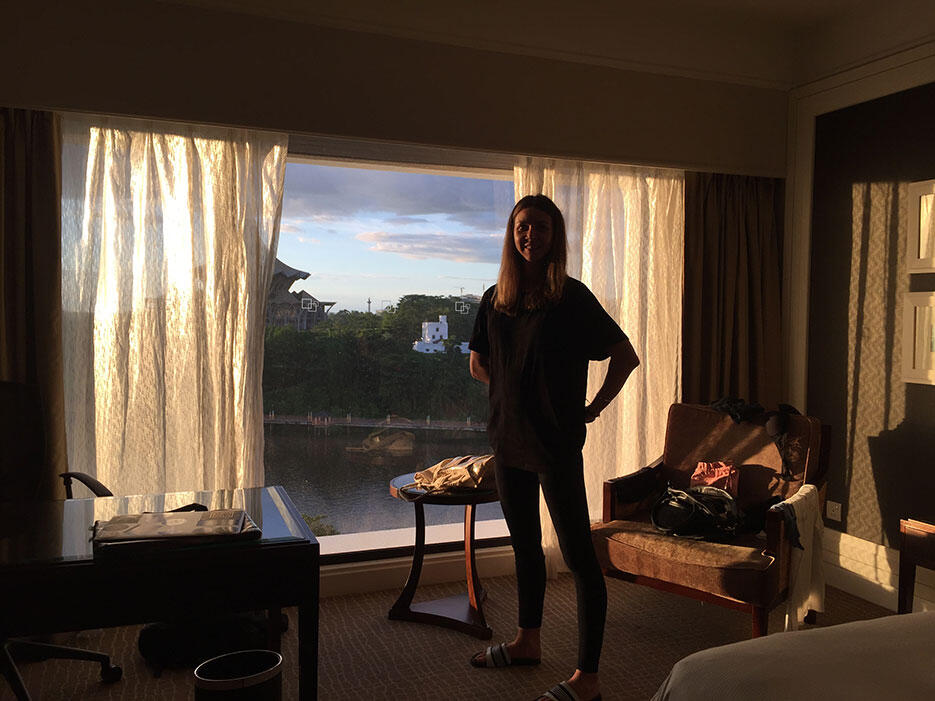 Jess be my roomie <3 We've done a bit of traveling together – Laos, Jakarta, Awanmulan and now Kuching!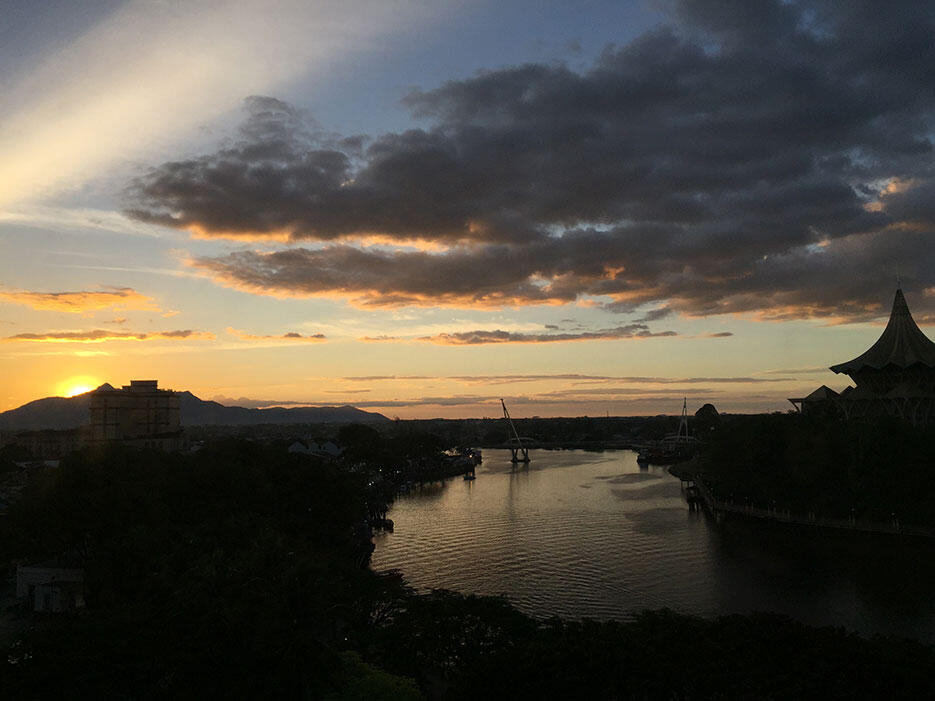 Sunset view from our room
We stayed in Kuching for one night before moving to Ironwood Valley Farm the next day, where the wedding was being held and half the bridal party were invited to stay too. It's an amazing piece of family-owned property an hour away from Kuching city, surrounded by lust tropical forest and a lake someone considered jumping into but decided against.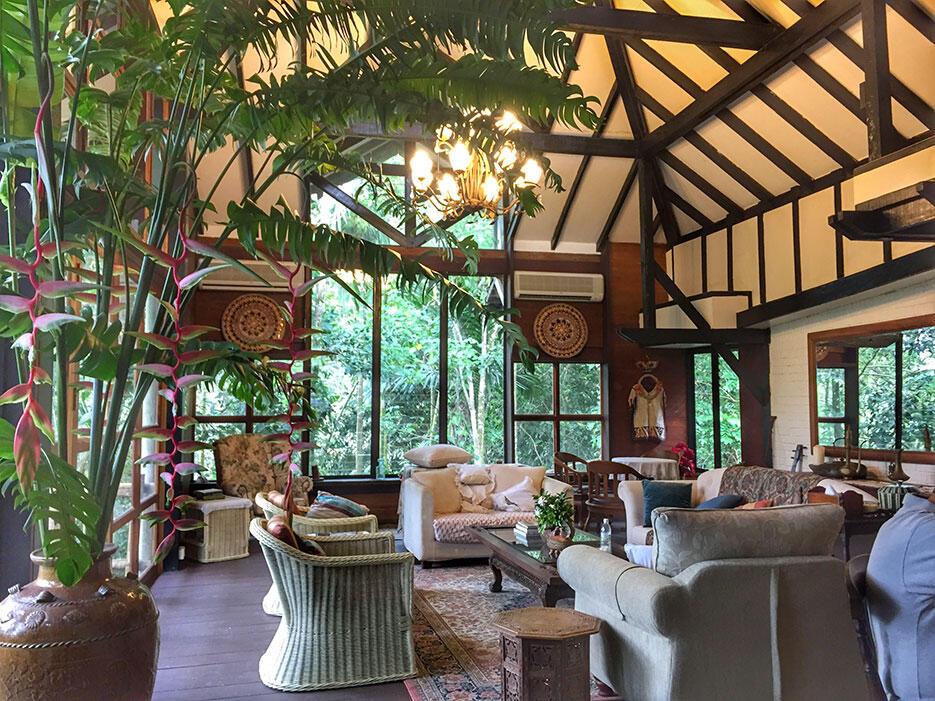 I think there are four living areas – ample space for the almost 30 pax staying there for 2 nights!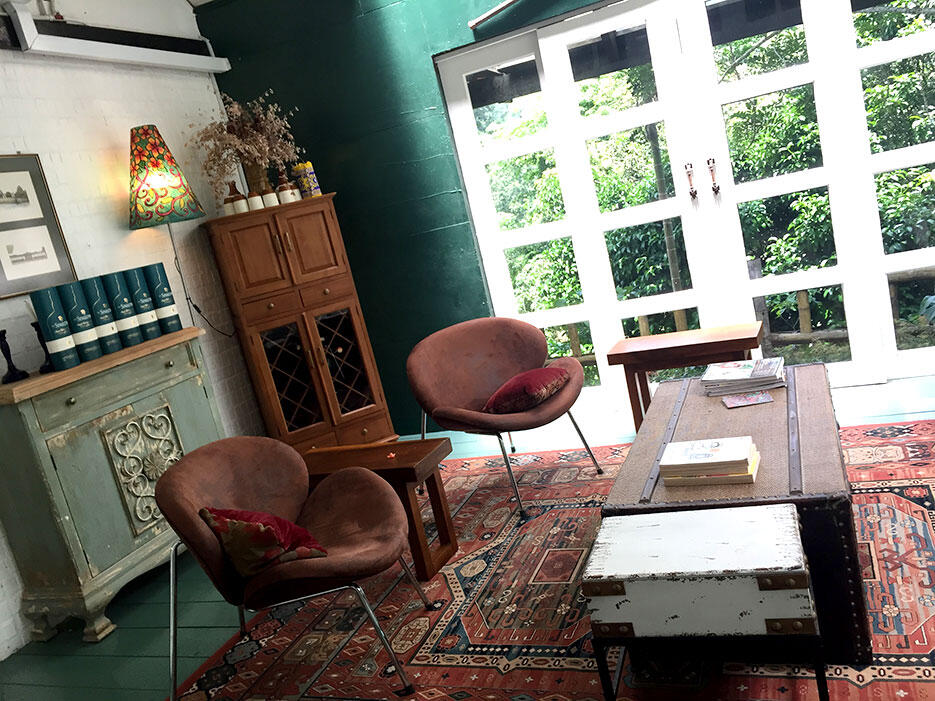 Each room is so lovingly decorated, i love it!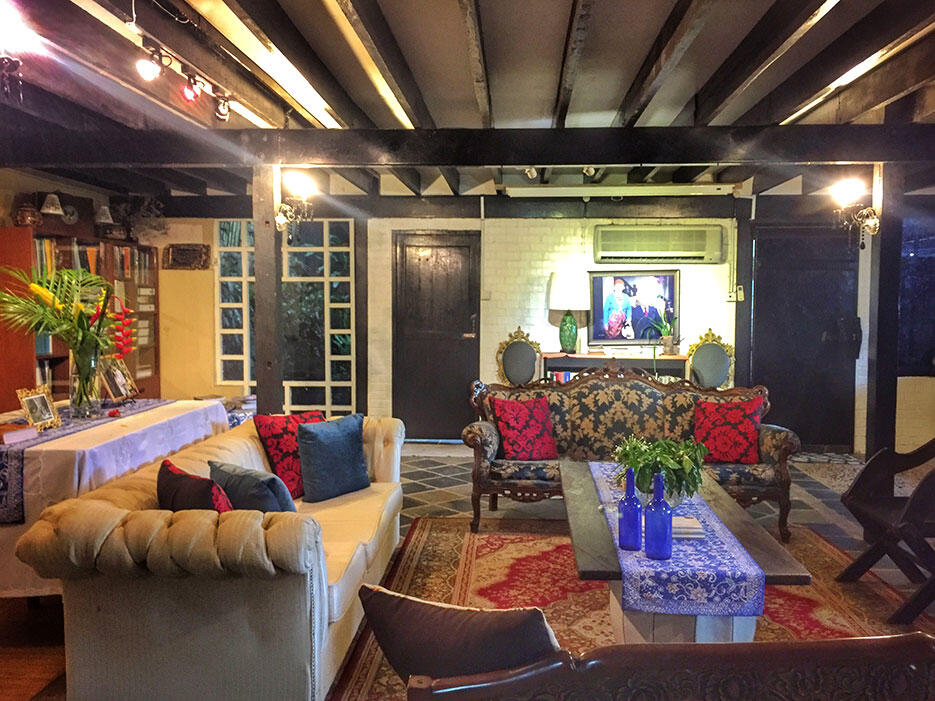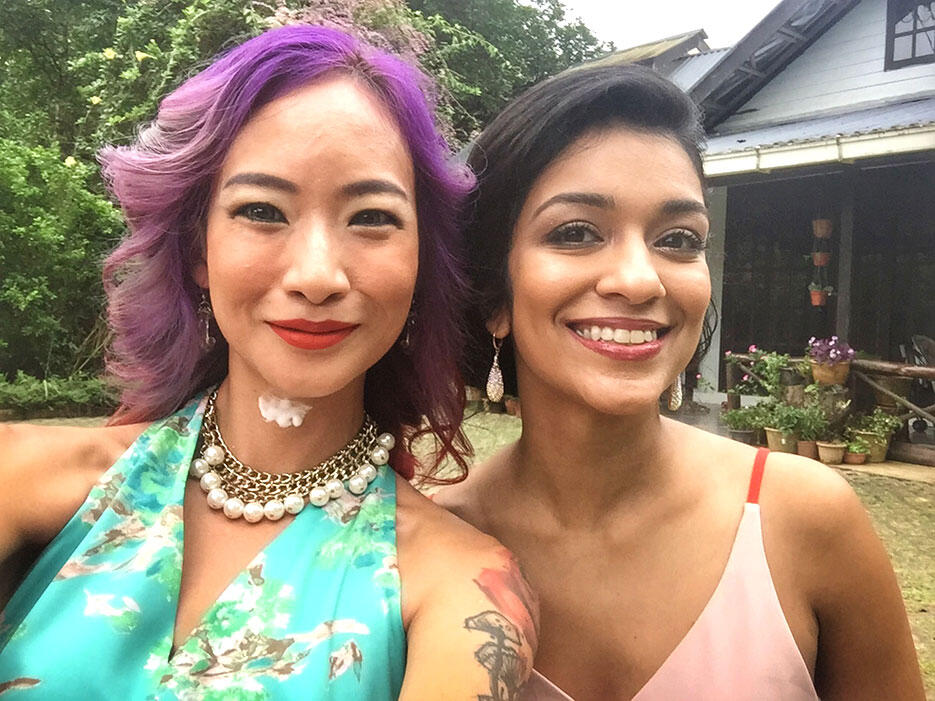 I uploaded this pic on my IG and captioned:
I was summoned by the bride to get myself to the cottage up the hill where the Christian ceremony was to take place.
Rushing in the nick of time, I slathered mosquito repellant on my legs (spread the extra on my neck), and ran.
Other guests grinned at me on my way and I grinned back.
Aps & I snapped a selfie, then headed into the air con cottage (to prevent melting make up), and she exclaimed, "what's that on your neck..? It looks like…"
We howled with laughter.
#theressomethingaboutfairy
#gohapsgo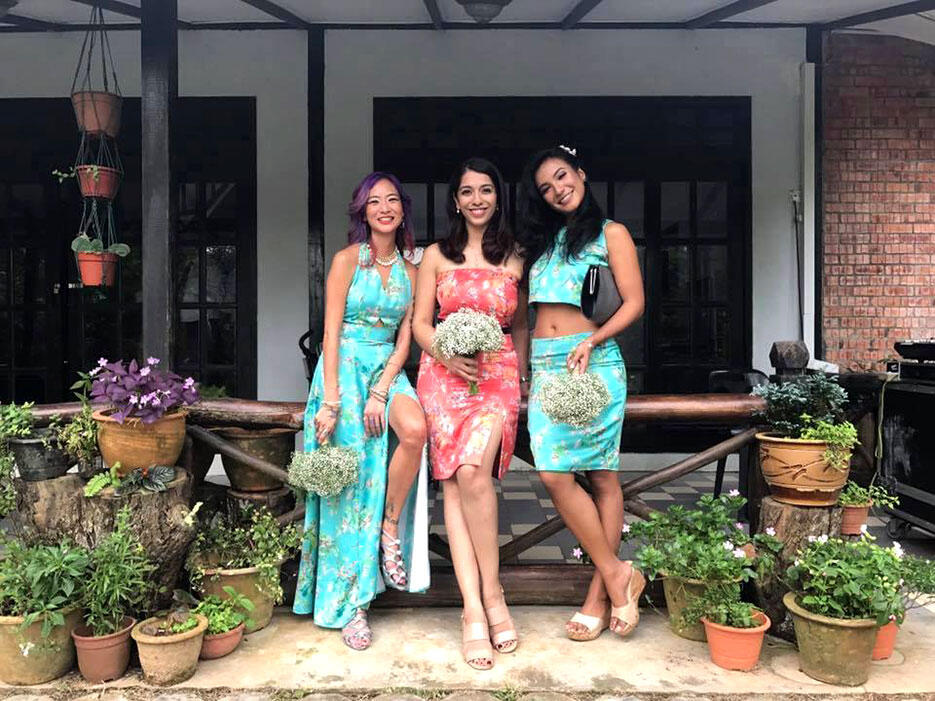 In a bridesmaid dress and still manage to sit like a samseng, like how my mother taught me NOT to. #tomboyforlyfe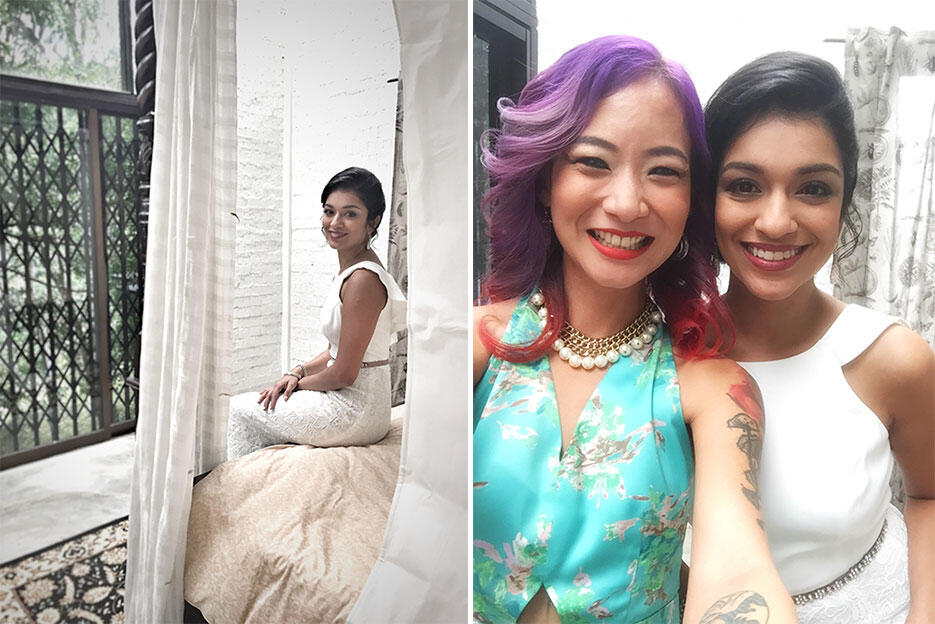 Aps having some chill out time before the wedding ceremony.
The shuttle that was transporting the KL gang from Kuching town to Ironwood Valley Farm was late cos everyone had to change bus. And they had to do bathroom stops cos *some* people were already drinking champagne in it.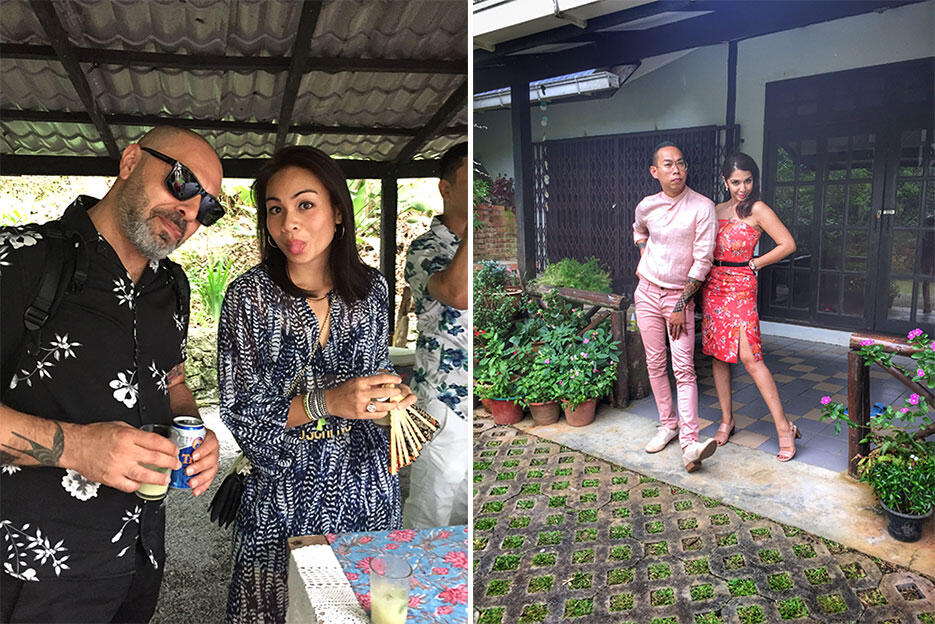 Murat, Saira ++++ Ming, Archana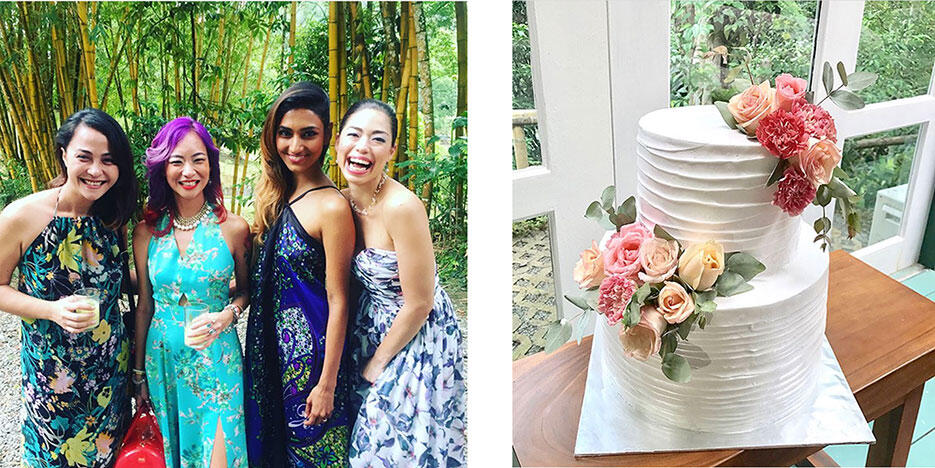 Steph, me, Dhanya, Cammy!
The theme was tropical eveningwear, here with #theoriginallovelies minus the bride cos…
On right is the divine wedding cake. I rarely bother to put pix of wedding cake but THIS TASTED SO DIVINE i need to give it credit. Aps got a local baker called My Sugar Bakes to make it, and it was the fluffiest sponge cake with strawberry cream that wasn't overtly sweet… i think it's the best cake i've eaten in a while. The girls were attacking the leftover cake the day after the wedding, and i wholly regret not tapau-ing some all the way back to KL cos i ended up sitting on my sofa when i'd got home THINKING about that CAKE and how awesome and perfect life would be if i had it in my hand right then.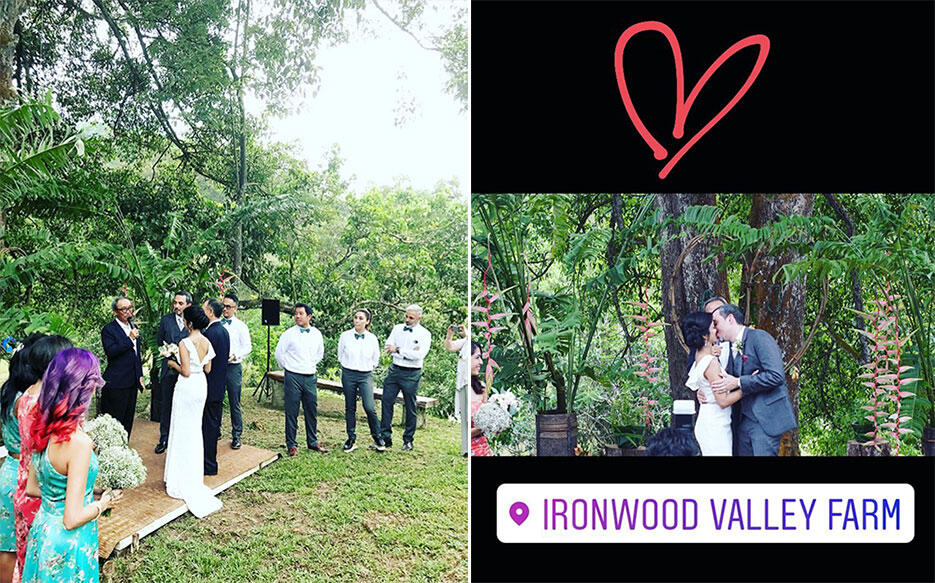 Curi pix from Sereni and Alet of the ceremony  <3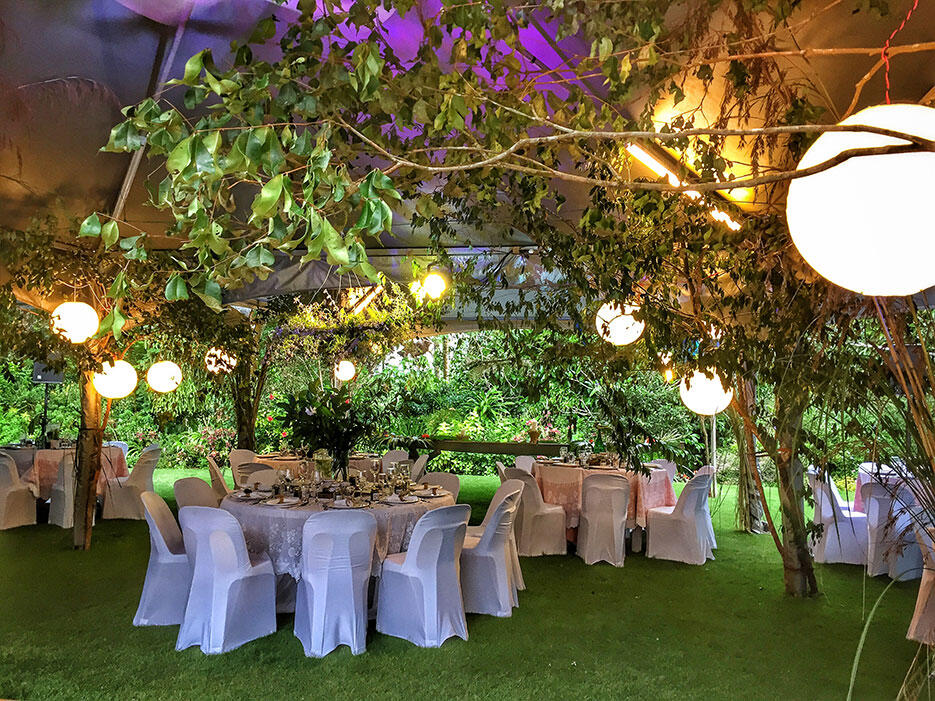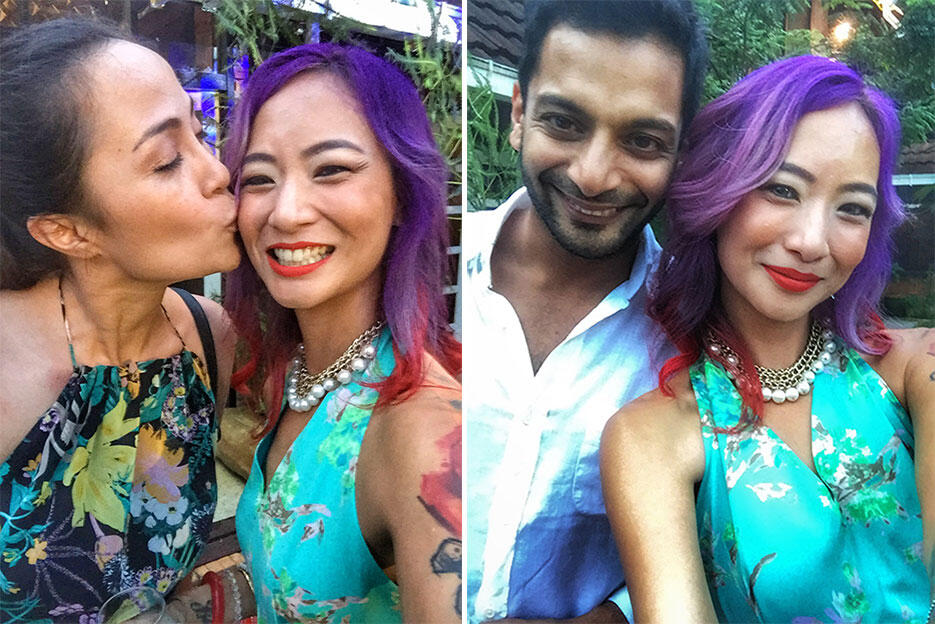 Steph & Danny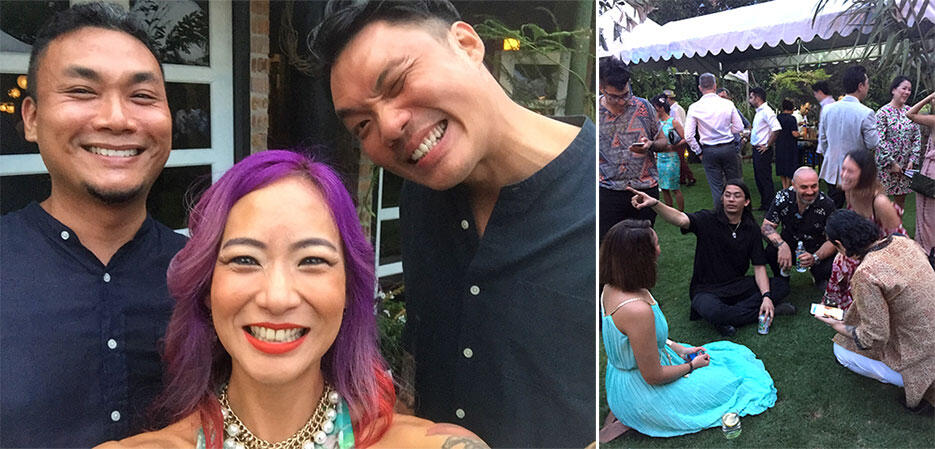 Johan and Kenny
Right: Guests who decide to have an impromptu picnic during aperitifs. Aka my friends.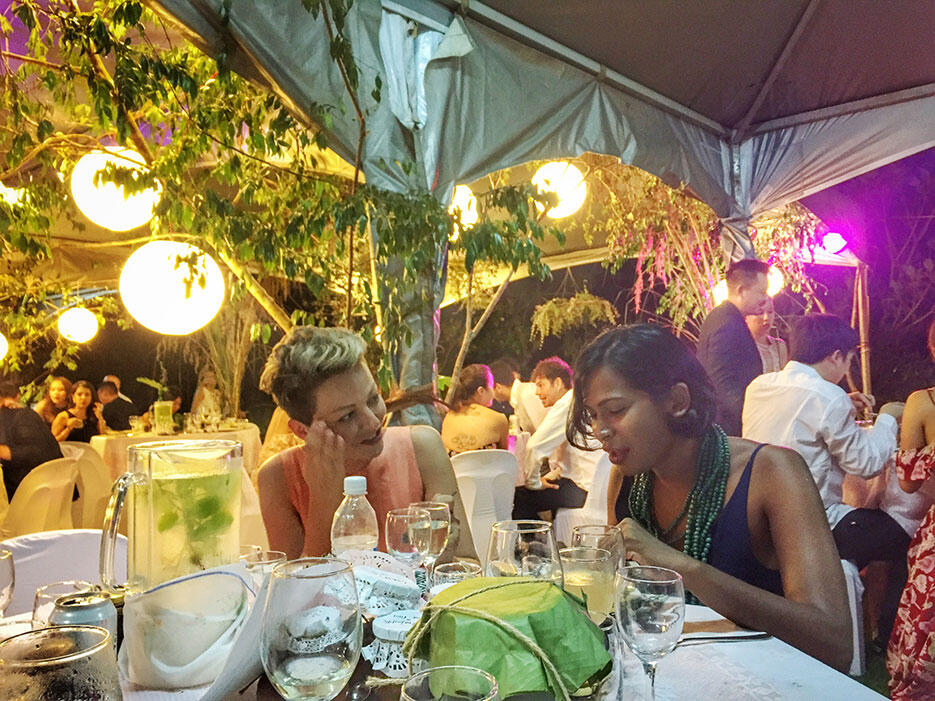 Martina and Karen – my table mates!
The dinner was buffet style and top 3 favourite wedding food (for me)… every dish was amazing and cooked in-house… I tried every single one and whacked two plates of food. I would pay good money to eat that all over again!
From the Farmland:
Kerabu Pa'uh Ebpa – Fern Salad
Fern tips foraged from the farm-land in a lime and homemade virgin coconut oil dressing and topped with fried ikan pusu and crispy bacon bits
Udung Udih – Tapioca Shoots
Tender leaves of Tapioca crushed in Highland Bario Salt and fried in homemade virgin coconut oil with Bunga Kantan and Heart of Wild Ginger topped with Crispy Wild Tapioca and Cracklings
Sambal Puluh – Bamboo Shoot Sambal
Wild Bamboo Shoots julienne – foraged from the farm land and fried in Sambal Udang Kering
Ubud Butan – Coconut Shoots
Steamed heart of coconut palm
Nuba Kulat – Wild Mushroom Rice
Bario rice fried with foraged Wild Mushrooms
From the Lands & Waters of the Hinterland:
Kari Labo – Pork Curry
Dry pork curry with an assortment of seasonal legumes and root vegetables
Labo Sinutuk – Pulled Smoked Wild Boar air-flown from Bario
Smoked Wild Boar braised in ginger, pulled and served with bunga kantan and wild Mexican coriander
Luang Sinunuh – Grilled Batang Ai Fish
Fish from Batang Ai marinated in sambal and local herbs, wrapped in banana leaves, and grilled over charcoal fire
Buttered Prawns
Prawns cooked in a light butter sauce and topped with fried curry leaves
Ayam Pansuh – Bamboo Chicken
Chicken slow-cooked in bamboo over an open fire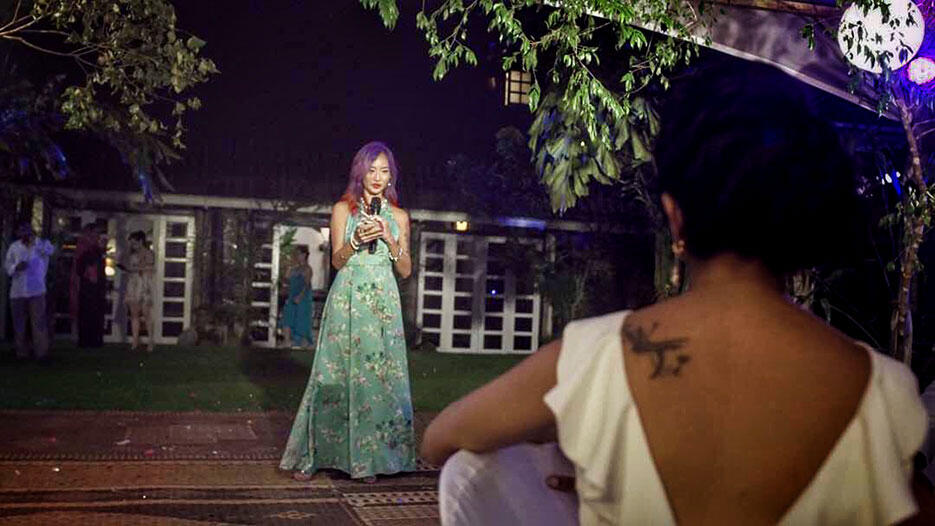 I gave a short speech and made Aps cry! Success!
My notes from my phone of the speech i unsurprisingly wrote the day of the wedding >
"From the many years I've got to know Aps, there are two things that make me think of her.
One- that she's terrified of lizards. And I may be her only friend who constantly sends her pictures and videos of lizards, and still* manages to remain her friend.
Two, I call her Charlotte, from Sex and the City, cos Aps is always proper and sophisticated, with a cheeky side she lets out in the most feminine way. Even when she's angry, she looks really cute. But unlike Charlotte, there are other attributes that make Aps an esteemed individual in her own bright light. Apsara is soft spoken, intelligent, beautiful, playful, compassionate, passionate, hardworking, and nurturing in all that she says and does.
Jamie, you have scored yourself a gem for life, consider yourself extremely fortunate 🙂 In you, I see a man who has a very strong sense of self, and is responsible, patient, and loving.
I remember in the first few months you guys were dating, Aps once told me rather gushingly something you'd said to her. She said that you'd held her face in bed one morning, reassured her that she looked beautiful without make up, and given her a hug. It warmed my heart watching how loved you made Aps feel, and I thought to myself – "Maybe this is gonna be the keeper for her."
I've never seen Aps so excited to see her partner, even till today!"
Then i hacked the rest of it.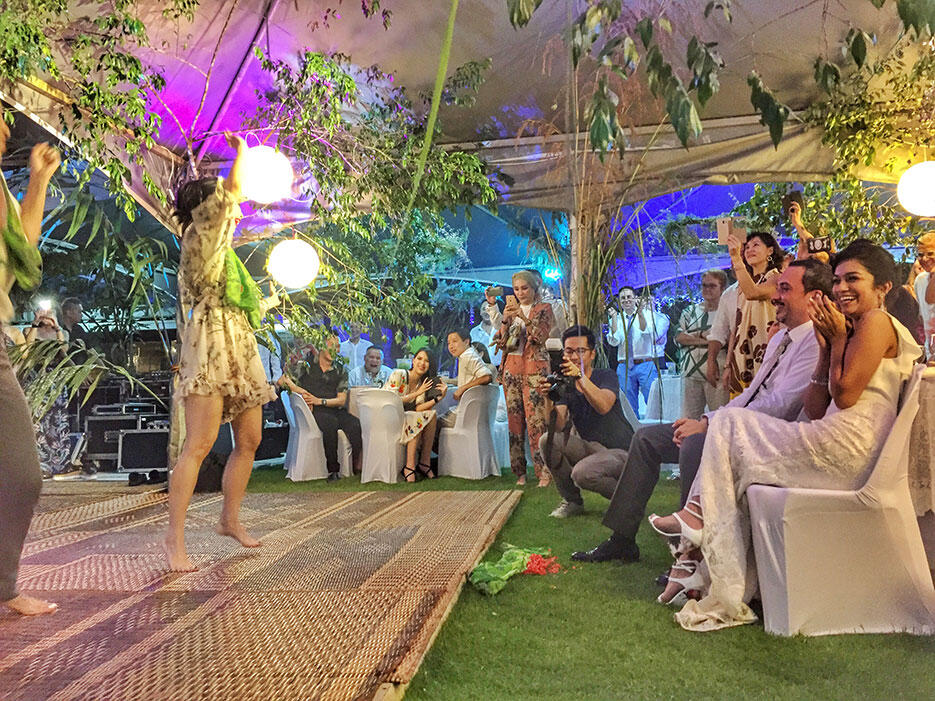 A whole bunch of Kuching friends put together an enthusiastic dance performance, which Aps was clearly delighted by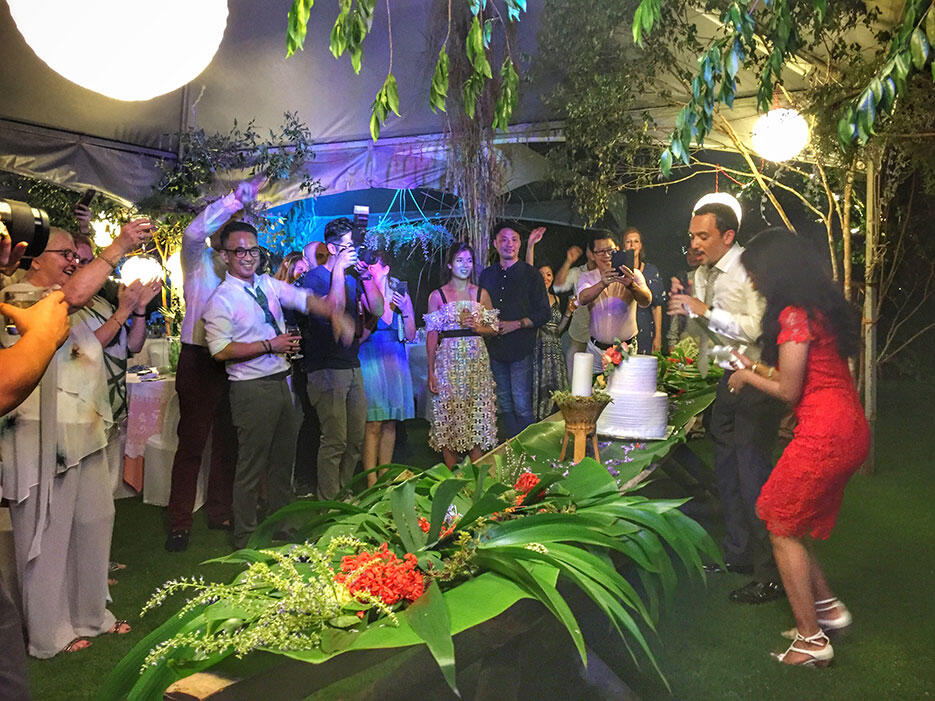 Cutting the cake. YES THAT CAKE

Left = Rahul, one of my favourite naughtiest beings on the planet.
On right is the magical Keng Hwa (Epiphyllum strictum)
It is a specie of the many epiphyllum which is a kind of cacti orchid but stems with no thorns. This plant is also called the 'night queen,' as its flowers bloom at night starting at 10 pm to 11 pm (Malaysian time) to full blooms by two to three hours and fade by the following day. The Chinese called this plant 'Keng Hwa' and some believe that it is auspicious when it blooms. [source]
And a number of them bloomed at the main door to the house that faced the garden party that night! It just made the wedding all the more perfect and beautiful cos guests were admiring and taking pictures of it throughout the night.
Pix below taken by Murat, which are so nice i'm totally stealing them for here, thanks Murat!!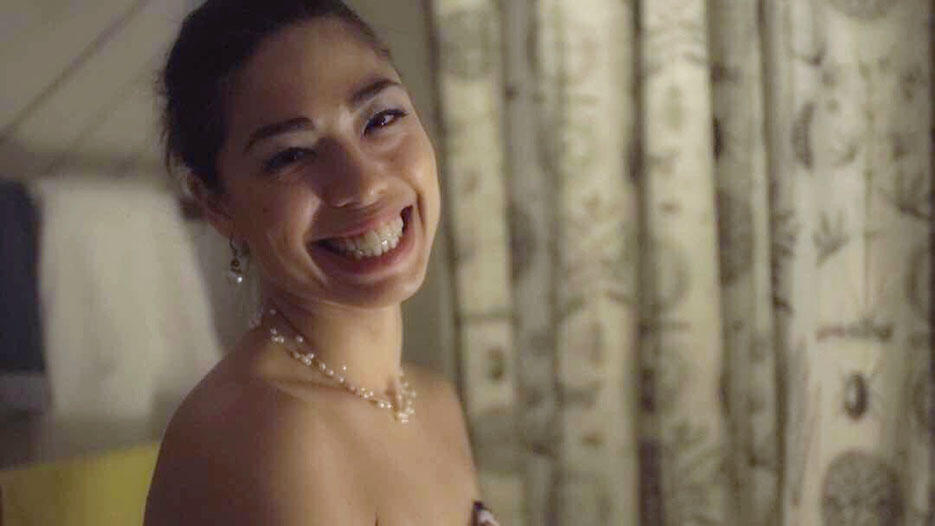 Cammy. I whatsapped this pic to Kenny and wrote "You're a very lucky man." He replied, "I know." <3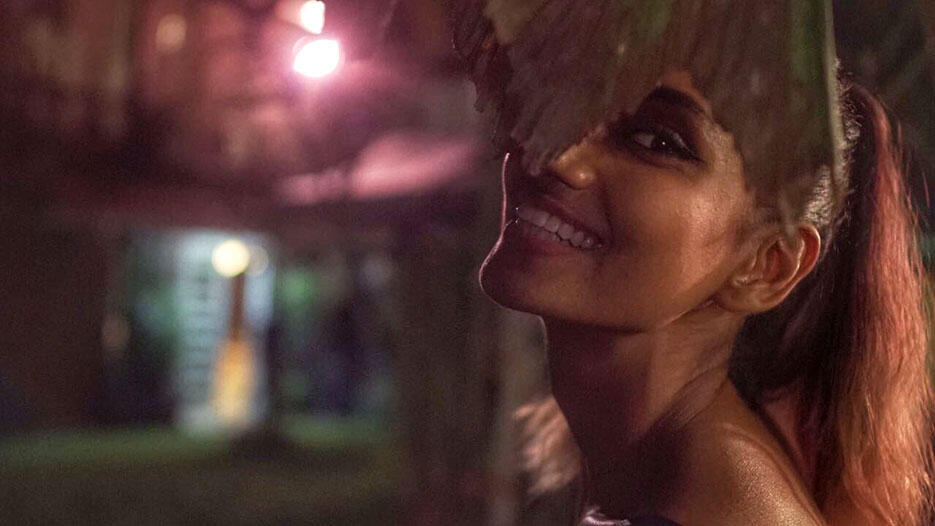 Dhanya <3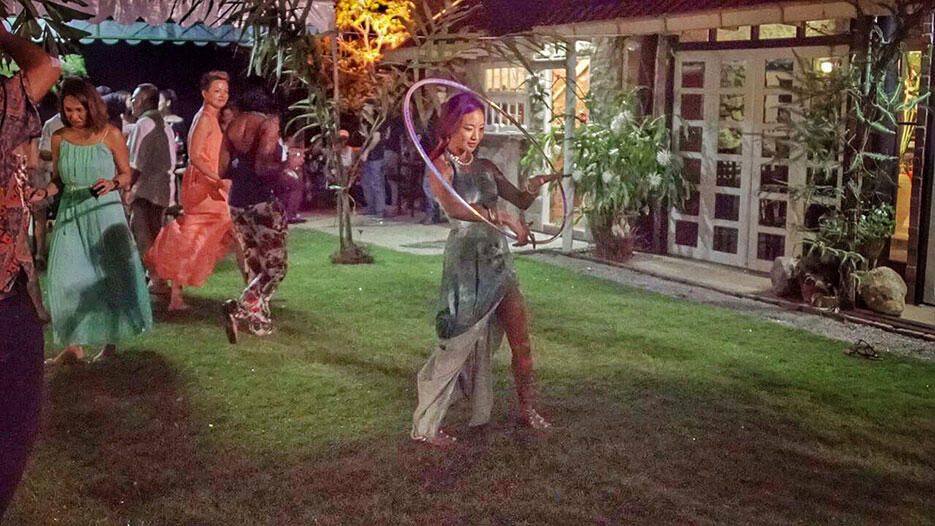 After a while i must have got tired of talking to people and wanted to hoop instead, so i tied my bridesmaid dress up as to not trip on it. Obviously i did trip on it prior… hence learning how to just tie the damn thing up.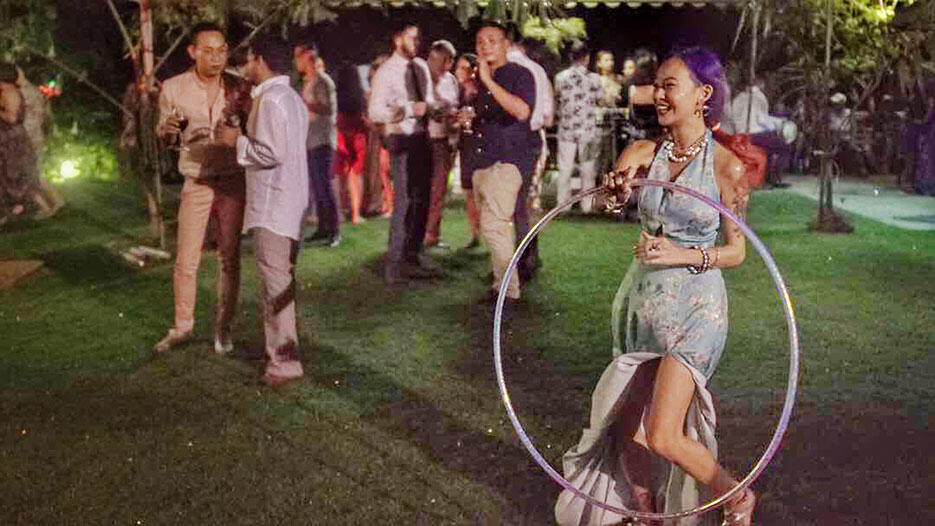 Haha look how gleeful i am running around with my hoop in hand!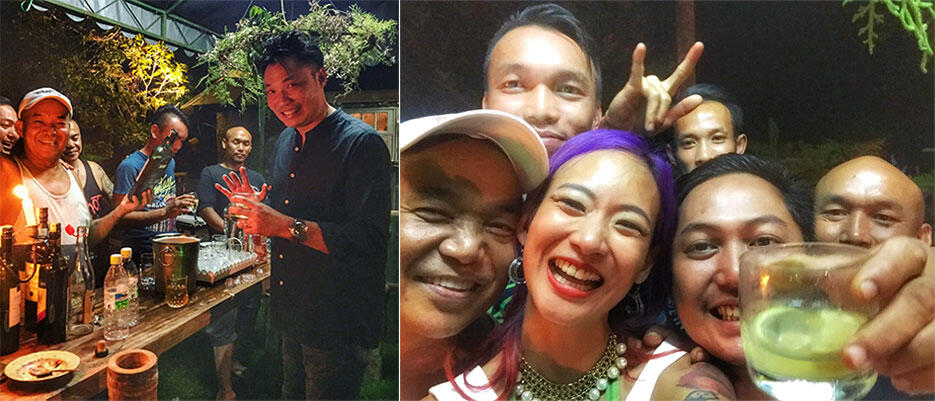 Kenny, and the chef + boys who helped at the party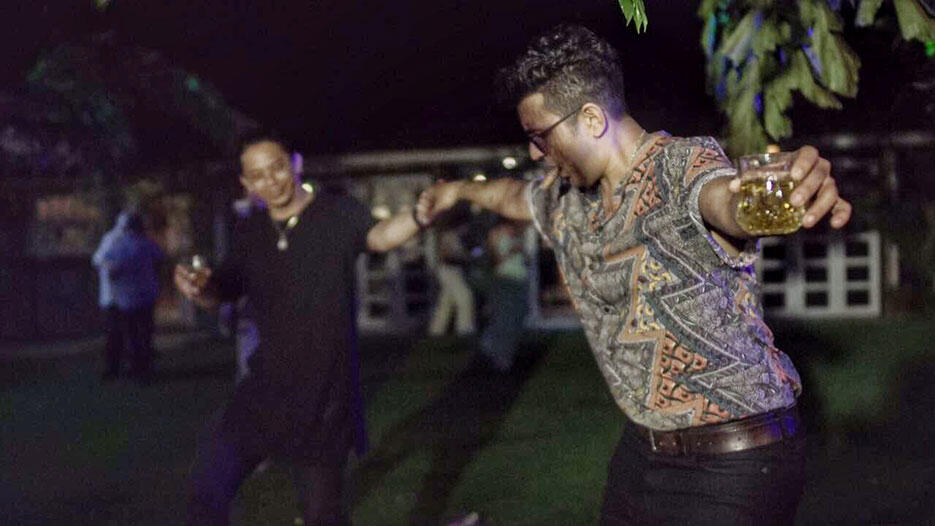 Alet, Rahul, cigar and whiskey = the party is ON
At some point later that night, i got tired of hooping with my cumbersome dress on, and asked Dhanya, "Dhanya, do you think it's okay if i wear my bikini top instead so i can hoop?"
She said, "Sureeeee"
Apparently Danny also went up to her and asked if it would be okay if he took his shirt off, and she said, "Sureeee"
I think we both subconsciously asked the most hippie friend there so we could hear the answer we wanted.
For myself, after receiving validation on making an intelligent choice from Dhanya, i whipped upstairs to change into my bikini top and shorts, and came bounding down the stairs in excited joy. According to Kenny, all the girls happened to be near the bottom of the staircase, when i bounded down with the biggest grin and my arms in the air happily going, "Yayyyyy!!!"
And three of them saw me and went, "Noooo!!!!" and rushed towards me with outstretched arms to fence me in and force me back up to change. There was a kerfuffle as i yelled things like  "Why?! Why can't i wear what i want!?" and "Let me be me! I want to be free!" and "Freedommmm!!!!"
:p

Dhanya, Melissa, Cammy, Aps, me, Steph
After that i got forced back up to put on a top. Cammy said i came downstairs and sulked for 30 minutes by not talking to any of them. LOL. #facepalm
Post-wedding, i whatsapped Dhanya the pic above and mentioned that she was so maintained.
Her response: I didn't get the memo that everyone was going on full RETARD mode!
At the end of the night, there was Danny and i left standing at 4am and everyone had gone to bed. I stared around at all the lit balls of light in the garden area and convinced him to switch them all off with me, "Save energy Danny!" Then we scavenged the kitchen and snacked on some fried ikan bilis we found.
The next day saw everyone hungover as heck as you can imagine…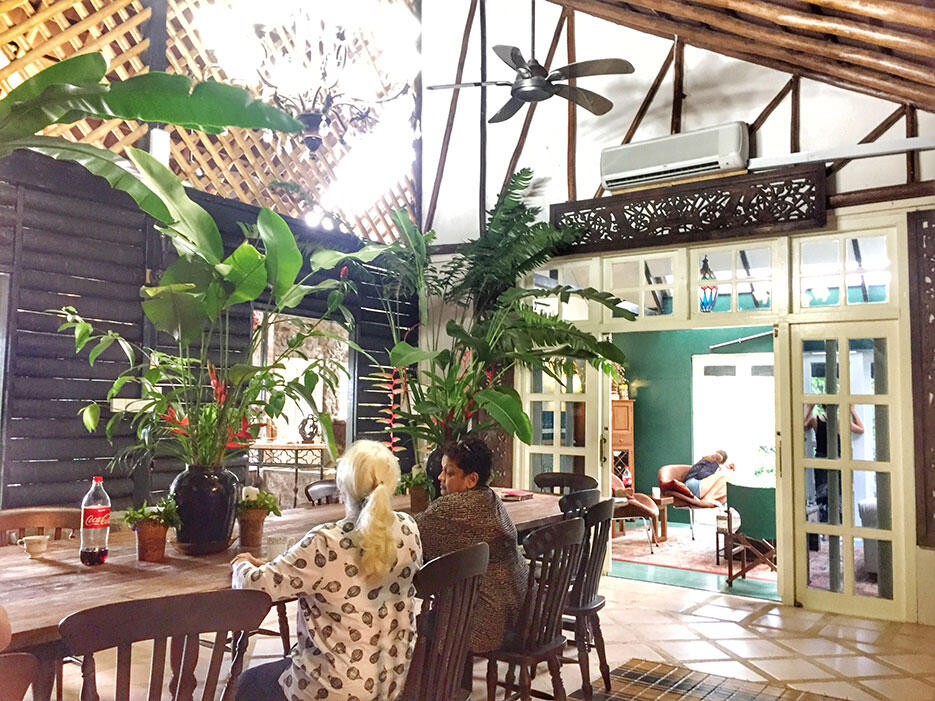 The dining area

This was the landing outside our bedrooms where we chilled after having brunch. It was great to just roll around on the floor recollecting the night's events and laughing our heads off.
Around 2pm, Kenny (who rented the car) and Steph were going on a mission to town, and recruited Danny and Jess to go with them for the adventure. Cammy and i giggled in relief that we got to stay and do jack, and taunted Danny how we were just gonna LIE there on the floor all day.


We were served home-cooked meals by the kitchen team during the rest of our stay there, and as reflected in the wedding dinner's food – was delicious to the T and AMAYZING.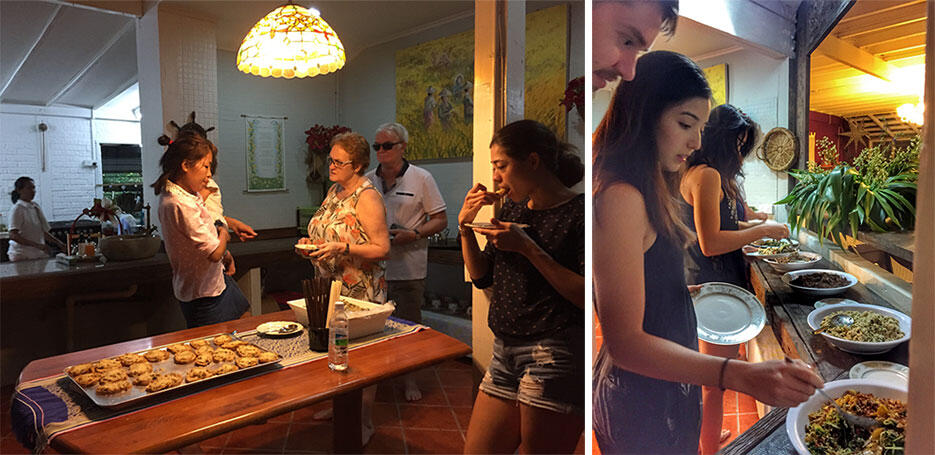 One of the couple rooms with cute viewing attic >

On the day we checked out, Danny and i got 2 hours of massage in Kuching and we flew home.
Well. He flew home before Jess, Dhanya, Ming and i. Our* flight got delayed by THREE HOURS. And AirAsia pacified us with RM10 McDonald's vouchers for a McDs that was outside the boarding area -_- And we all know how much i love McDonald's. -_-
But that aside, the wedding was beautiful and amazing and so much fun with everyone together laughing soooo much and celebrating the union of Jamie & Aps!
So much love!!!!!
Kudos to Jamie for planning the Kuching wedding! I think all future couples-to-wed can take a cue from them, let the groom plan it! Hehe
Congratulations you both, it was gorgeous and you outdid yourselves.
To your everlasting love, life, happiness, and health. <3
xxx