Tainan is a city whose name has taken fair credit in our minds when we think of cities pertaining to street food. The main reason for it is due to the influx of immigrants who would make their way into Taiwan via Tainan, and what else would the Chinese turn to for comfort while being able to flex creativity, industrialism and wealth… but food. Immigrants would set up food stalls peddling the best of their provincial flavours back home, but being in a new atmosphere pushed some to merge or instil new recipes that has become a major part of Tainanese culture.
Just a 3-min saunter down the street from the Jia-Jia-at West Market Hotel where we were staying, were the two most popular roads for daytime stalls. I don't think there are enough vendors to accommodate the demand, which results in massive queues for deemed favourites!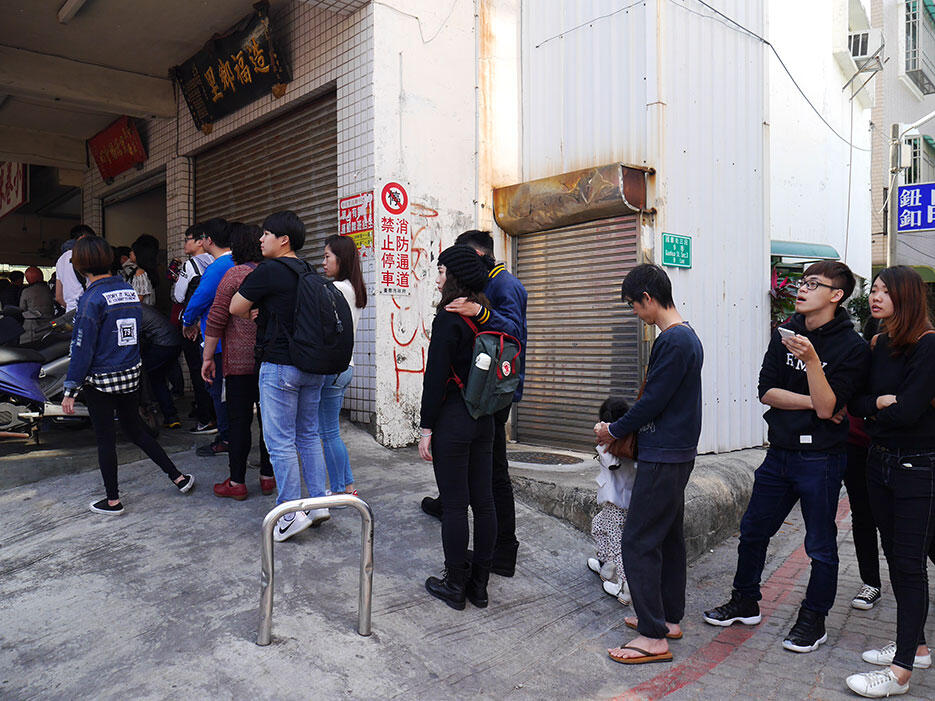 This was the longest queue we spotted, that stretched around the block, all for a bowl of squid noodles which we were strongly recommended to try.
I'm apprehensive when it comes to queueing for food… my longest record being standing in the cold winter air for 90 minutes outside L'Entrecote in Bordeaux, and second being 45 minutes for Kagari in Tokyo. Both were worth the wait, but both also happened across the past 8 years. It exemplifies my unwillingness at queueing (fine, a little diva in there). I find it a little harder to swallow lining up for street food. Even the crawl to buy fried chicken was shocking >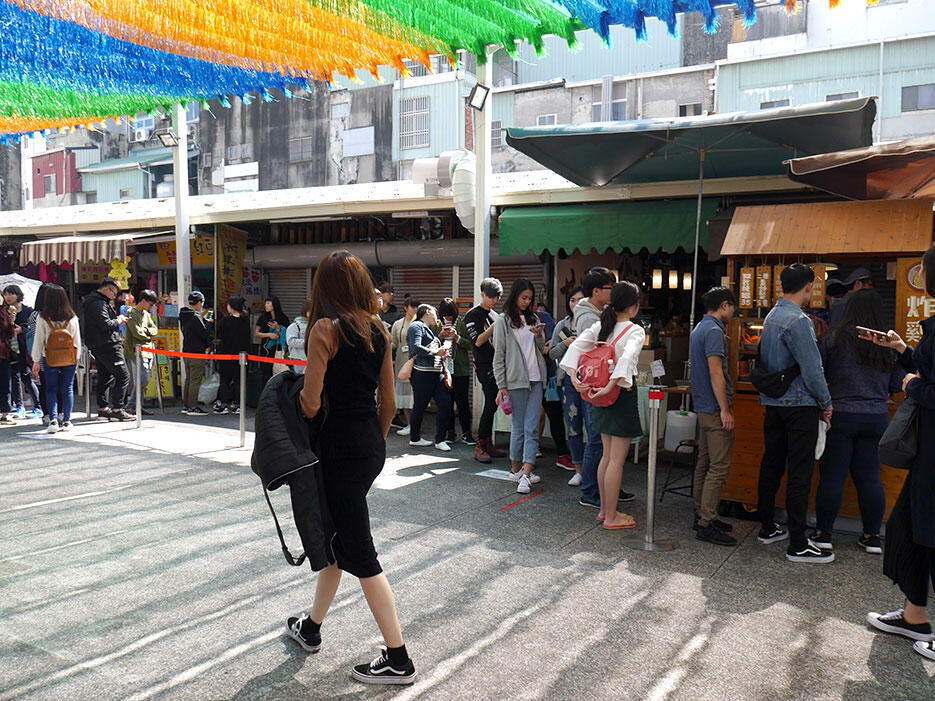 Daphne surveying the queue for fried chicken cos its one of her favourite foods. We decided that she'd start queueing for fried chicken, while Jerry stood in queue for 5 of us at the squid noodles store, and i walked to the back alleys to check out anything else worth standing for.
The alleyway was filled with street food stores selling beef noodles, desserts, and dubious-looking bean stews. They were all crowded, with the longest line stretching a few shoplots long for… a barley dessert. Incredible.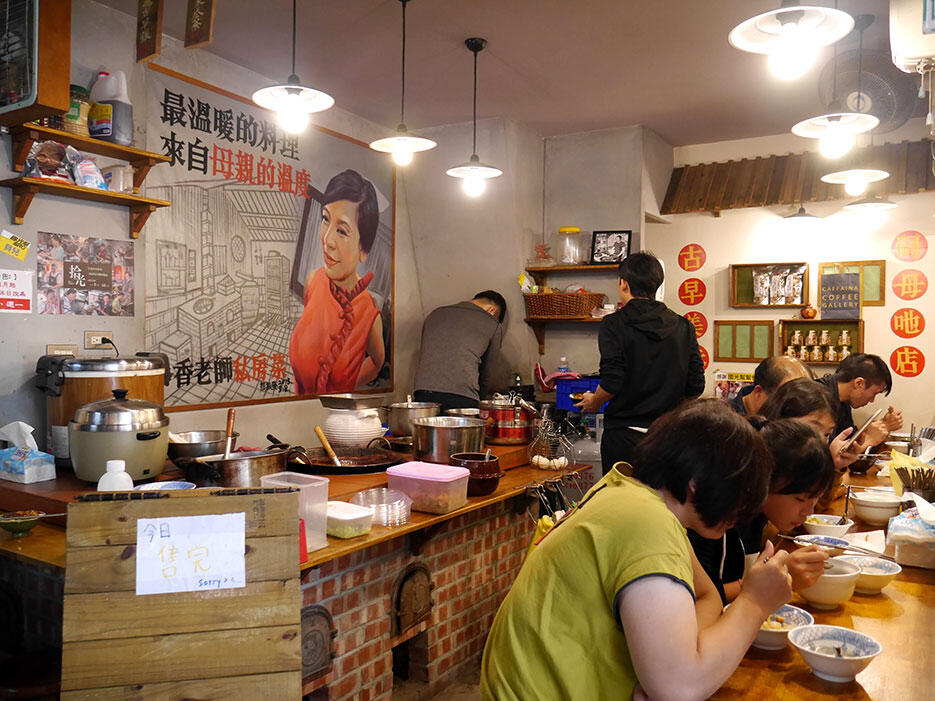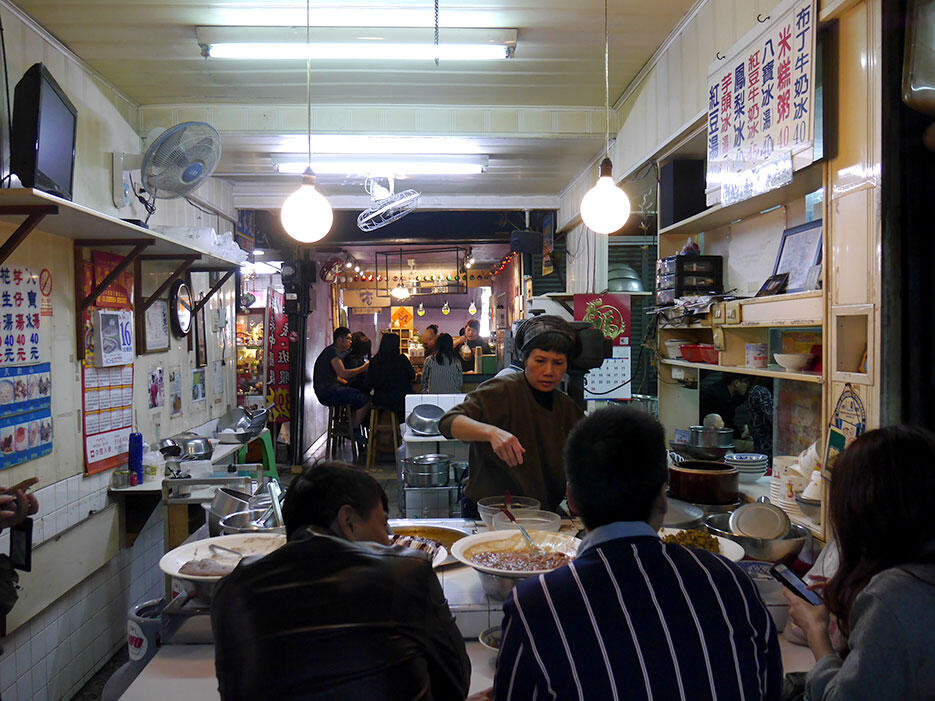 I made my way back to the fried chicken queue (which lasted 20 mins) where Uli, Daphne and i waited till we arrived at the tiny store. I mean, the guy didn't even have a shoplot, just a hawker booth in the middle of the pavement!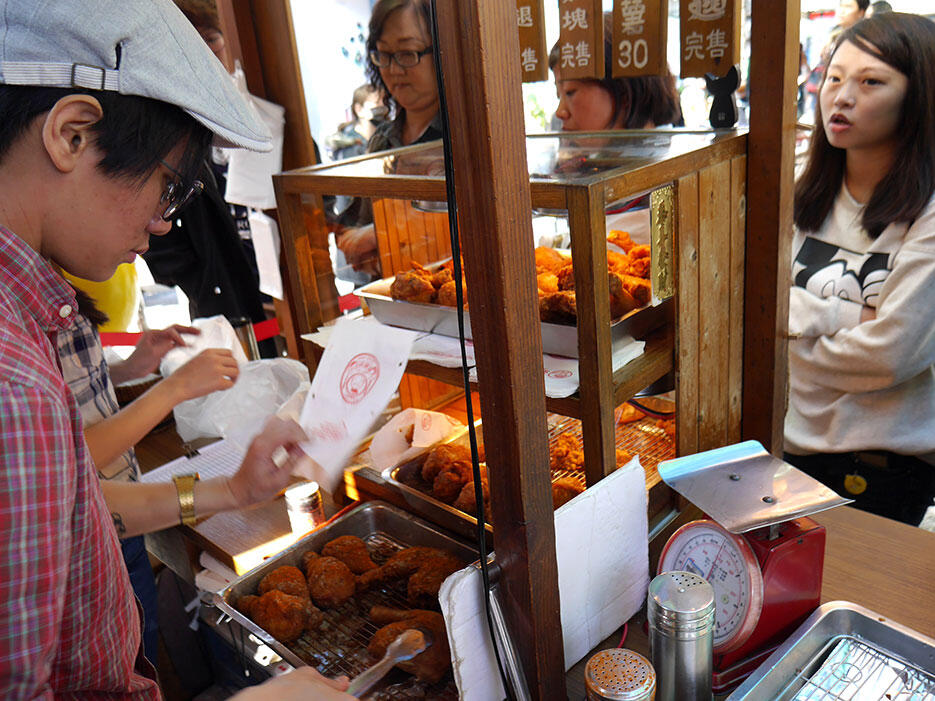 We bought 4-5 pieces for all of us and crossed the street to the squid noodle store, where Jerry had just got a table. Great timing.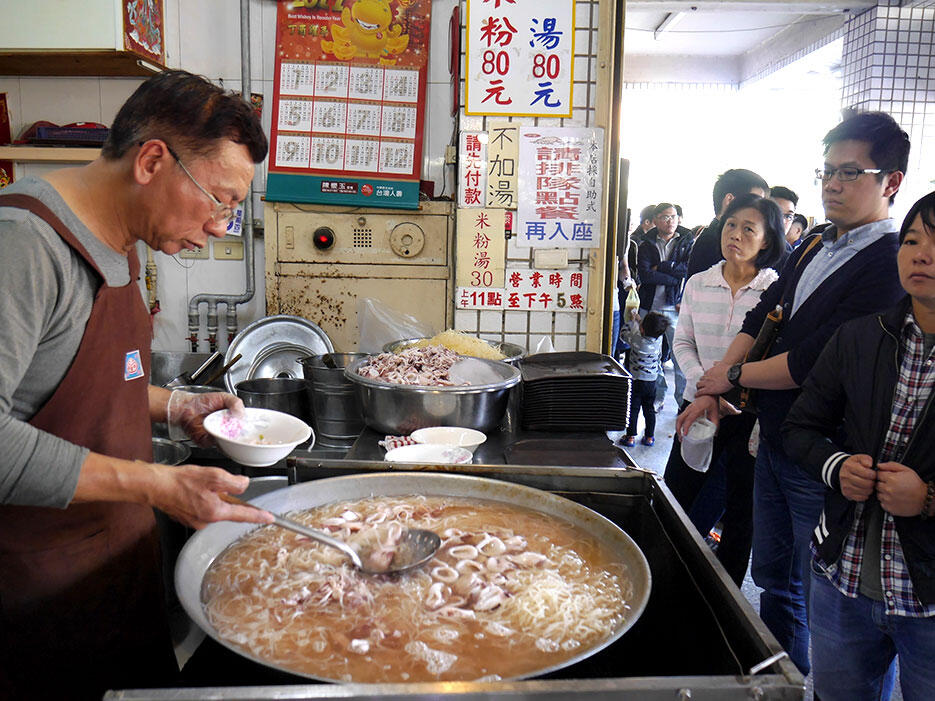 The end of the queue *angel chorus*
The arrangement there is such that you get the table first, then someone else in your group goes to order/get all the food.
Yina and Jerry asked us to sit first; so Daphne, Uli and i obediently followed through and eagerly started on our piping hot fried chicken. Uli and i opted for chilli pepper to be sprinkled unto ours, and Uli had the misfortune of having the chilli pepper blow into her eye. She was tearing and cursing while we tried aiding her with tissue and attempts to look for eyedrops. There was nothing she could do but cry the chilli out… and it went on for so long (about 10-15 minutes) that Daphne and i couldn't help but continue eating our chicken and quietly say to each other, "Damn, this fried chicken is sowh good rightttt" The skin was crispy and thin with the right amount of batter, and the chicken flesh was tasty and soft till it almost fell off the bone.
I might as well tell this story about how it was just *not* Uli's day since i started it. She was tripping over things throughout the day… and Daphne would be like, "Eh, chill chill." Sometime after lunch, we were just standing around and i was deleting pix from my camera when Uli took a giant step back right onto my white adidas slip-ons. I had on a mad straight face and the poor girl tried wiping it for me cos she was sorry.
Later that evening, i was talking to her as we walked out of the hotel towards the bus for dinner when she squealed, "Ewww i stepped on something!" I looked down to see her black ankle boot submerged in… an omelette.
A large yellow omelette, in the middle of the road.
I couldn't help laughing cos it was so comical.
"It's just not my day!" she sniffled.
"It's okay, the day is almost over!"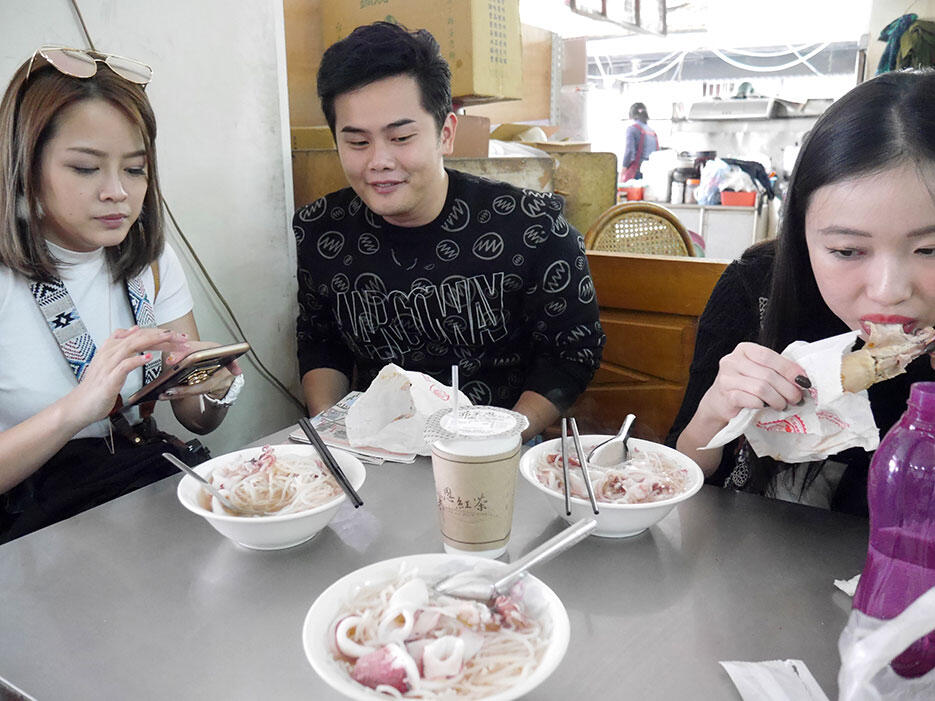 Yina, her instagram husband Jerry, and Uli finally able to start on her chicken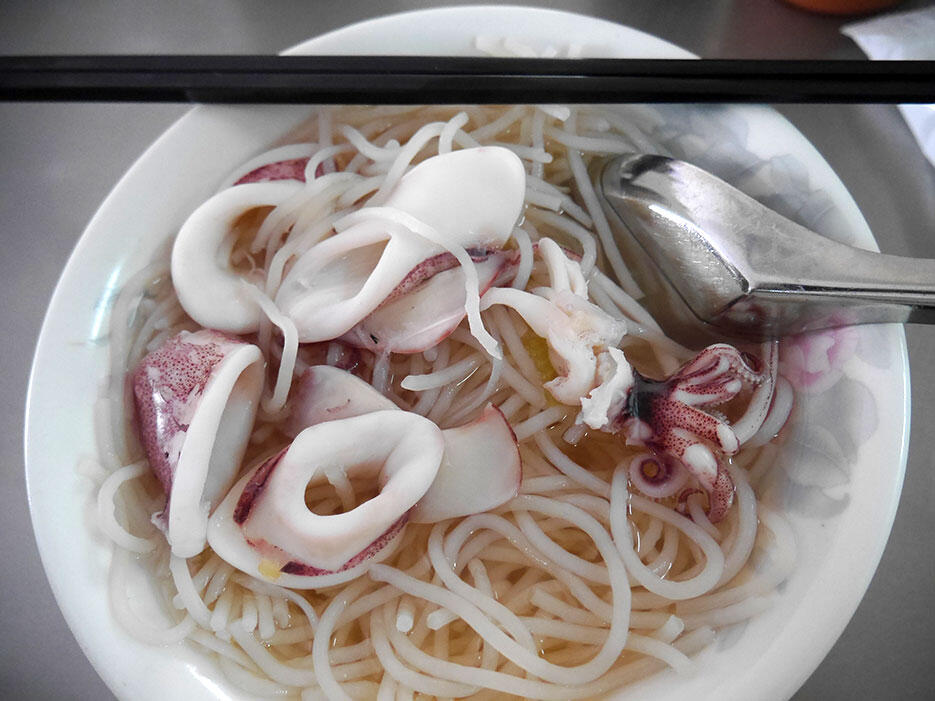 The squid noodles were underwhelming for a 40-minute queue (nasib baik i wasn't the one queueing else sure mengamuk). Its most redeeming quality was the clear squid consommé, but the noodles were too al dente and almost crunchy hard for my liking (not sure if that's the way it's supposed to be done) but not my personal preference.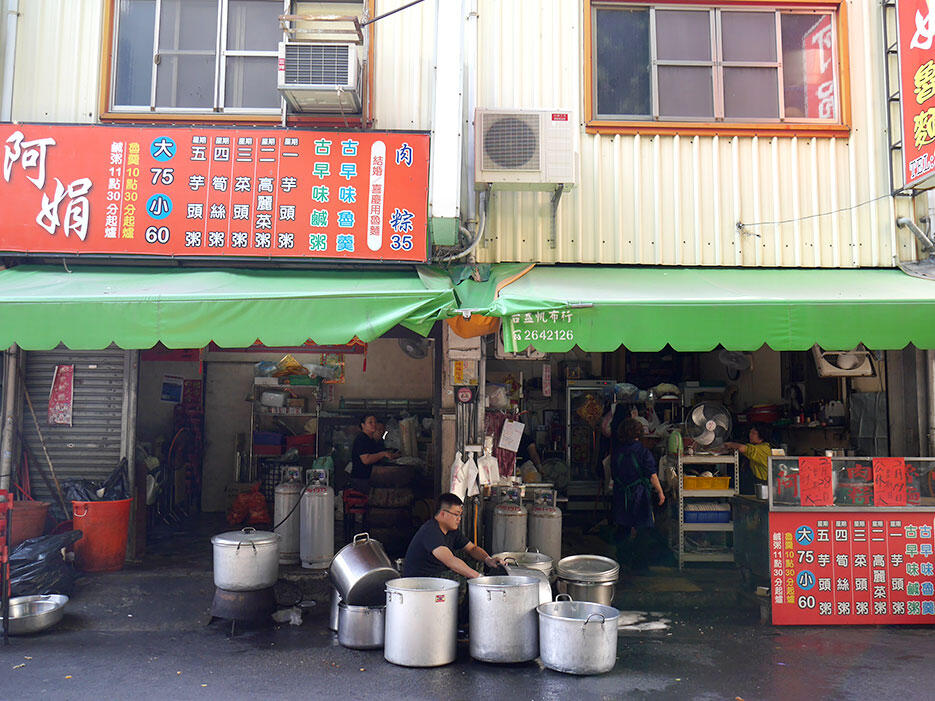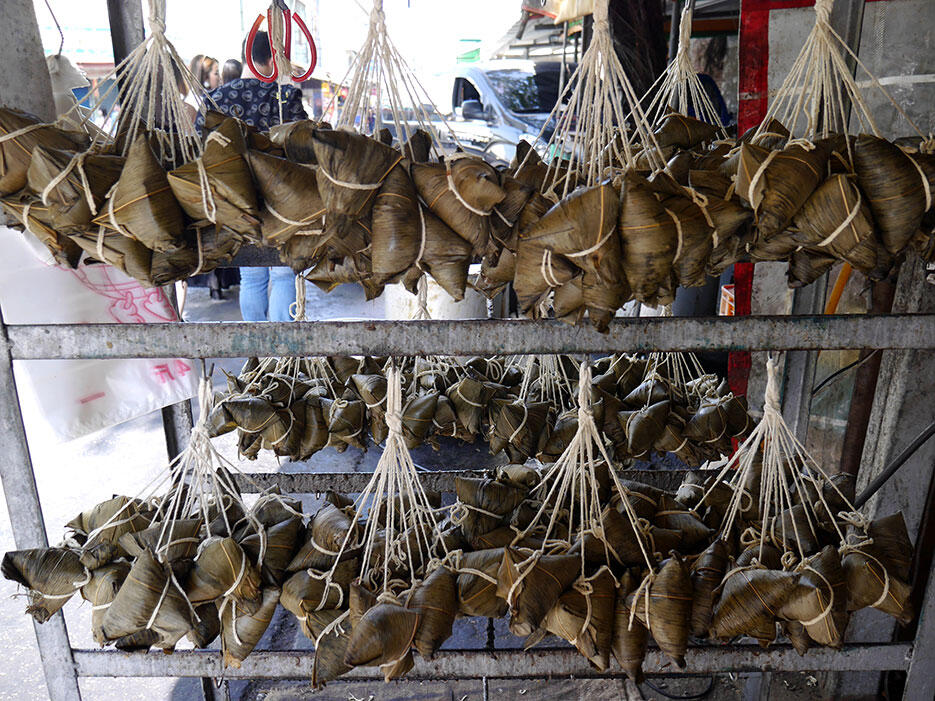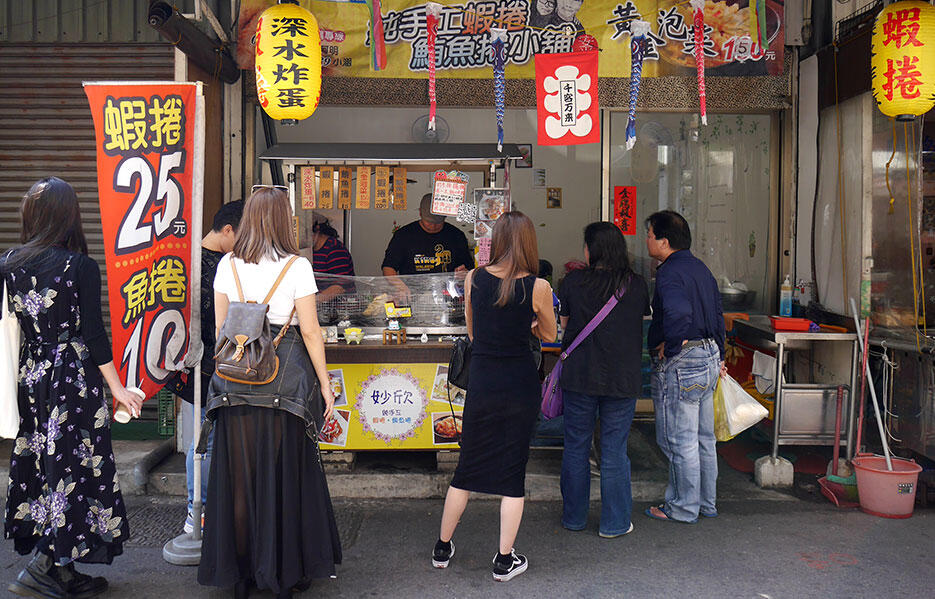 The others stopping to buy some fried prawn on a stick, i had enough of fried food for the hour and hunted for a drink. Got myself a freshly-made strawberry smoothie >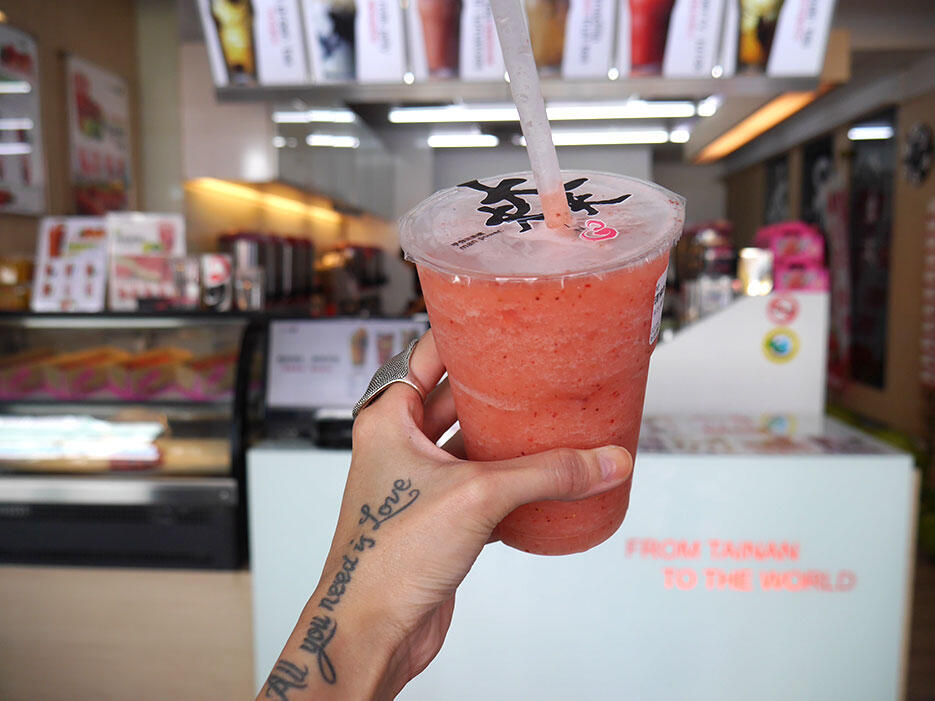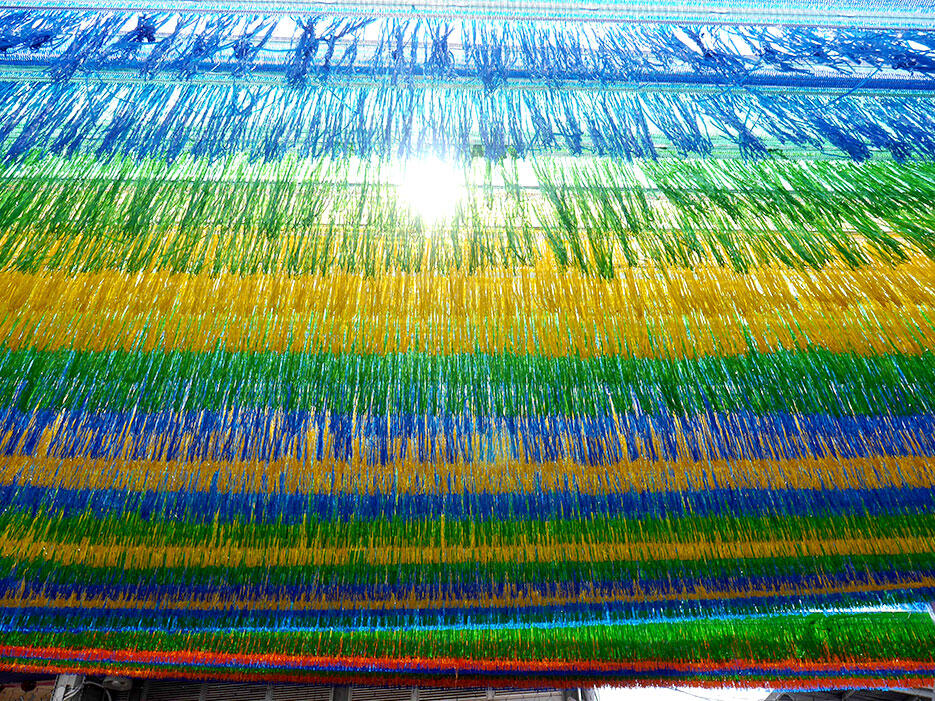 If you were to look forward to an eating haunt in Tainan, my prime suggestion would be to go straight to the food night market. The majority of us agreed to spending 1.5 hours there before meeting back at our bus, but we regretted the decision later on because there is SO MUCH to see and eat! I think 2 hours or a little more would have been great.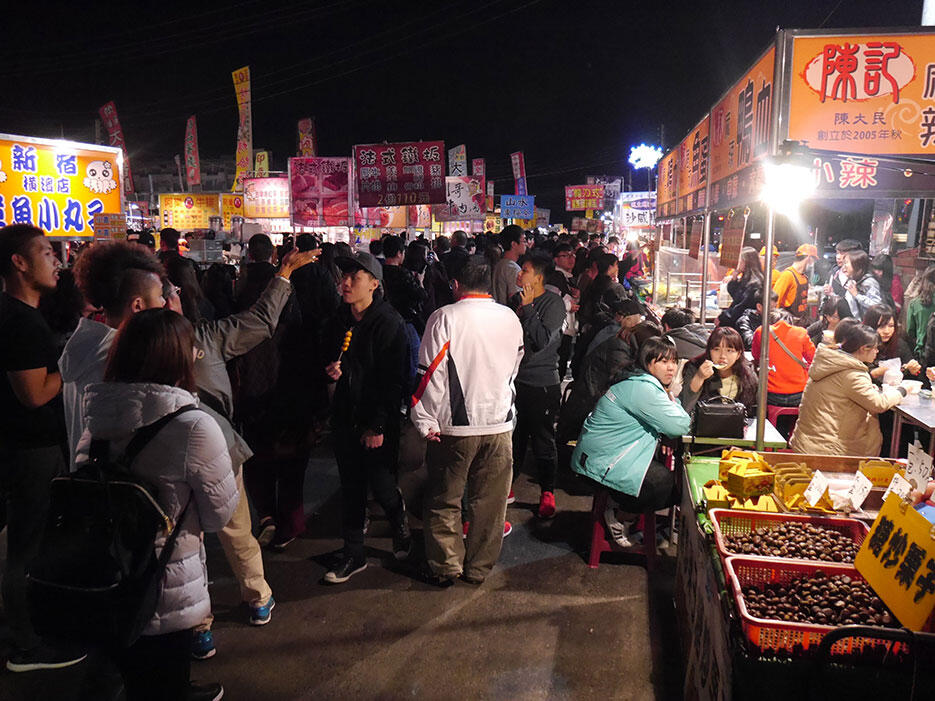 There are three massively long rows filled with all types of food… it was so crowded that all of us split up into pairs in unspoken agreement so it'd be easier to move around, yet have someone to share things with (so one can eat more!) Turns out Daphne is a fussy eater so i ended up most of it myself :p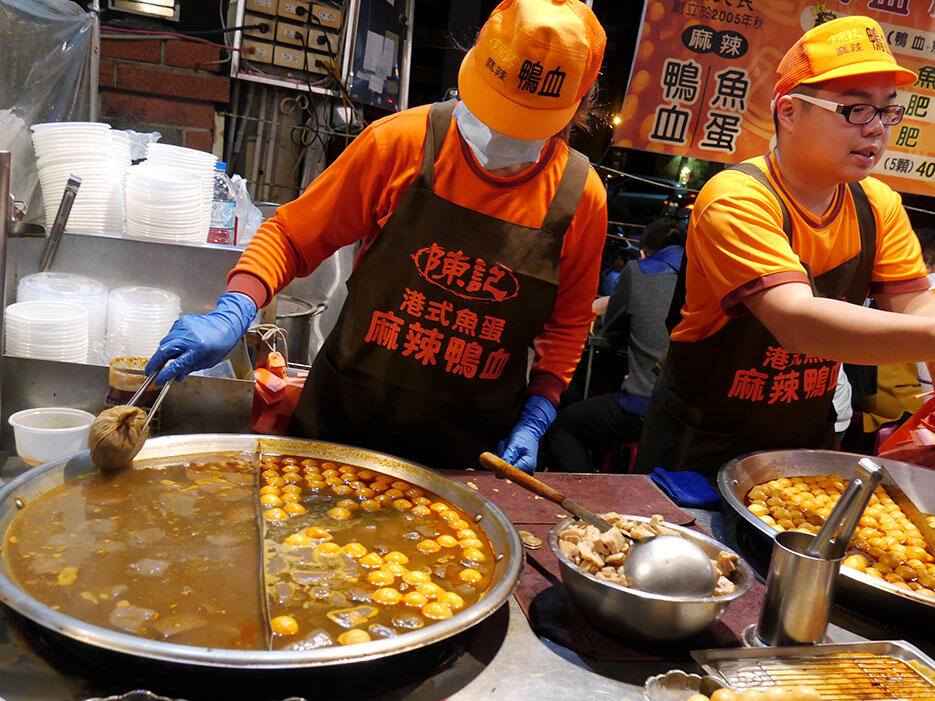 Coagulated duck blood, duck meat balls and other duck parts… i was very interested to try the duck blood but i couldn't possibly finish the whole big bowl myself (Daphne wouldn't have any) and still have space for other things, so we moved on.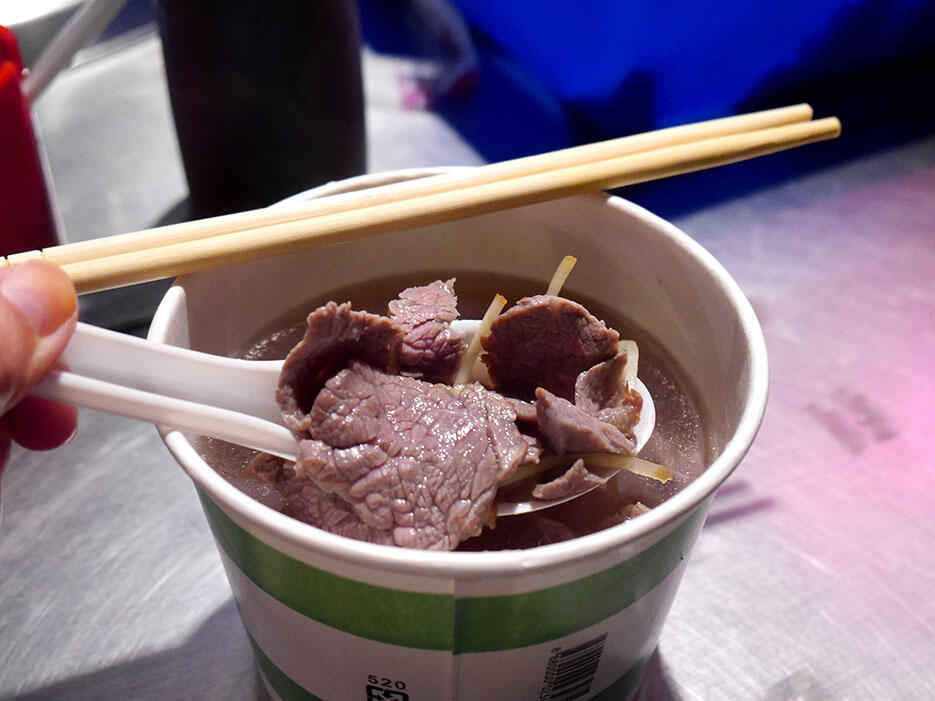 We were drawn towards fresh meat being scalded in boiling soup with ginger, this was yummy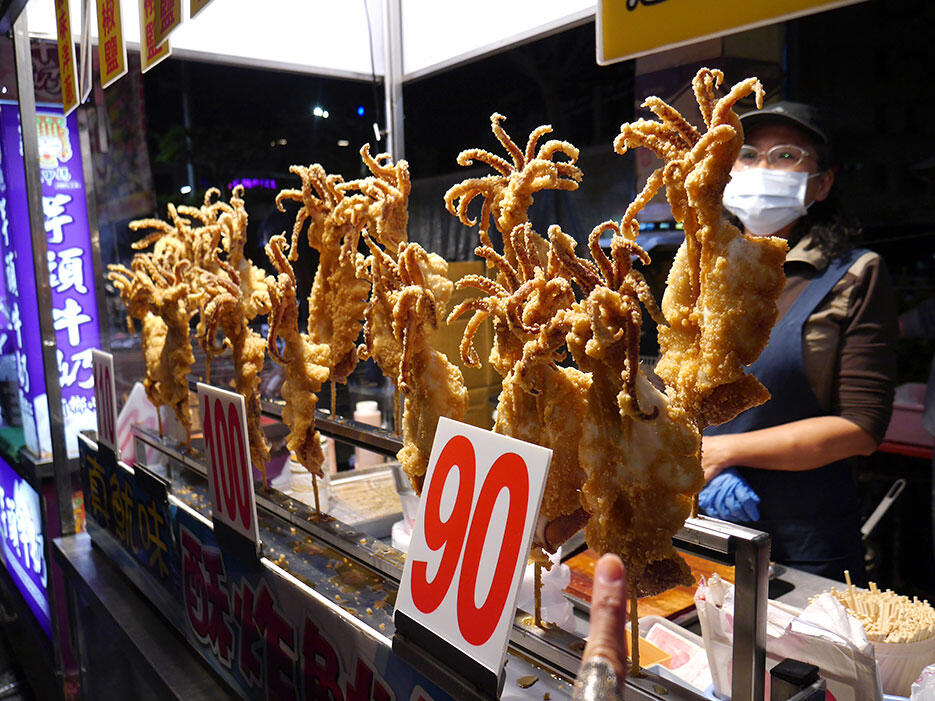 Oh we stood there staring in awe at the giant fried squid. In retrospect we should have just bought it and done a takeaway for the others to try too!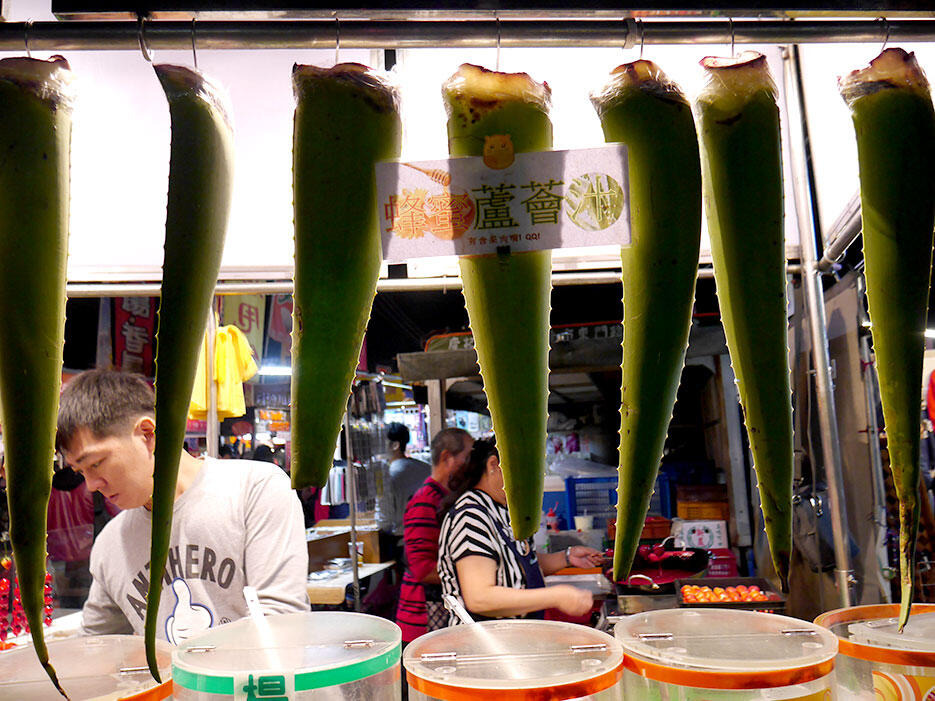 Gigantic aloe vera for drinks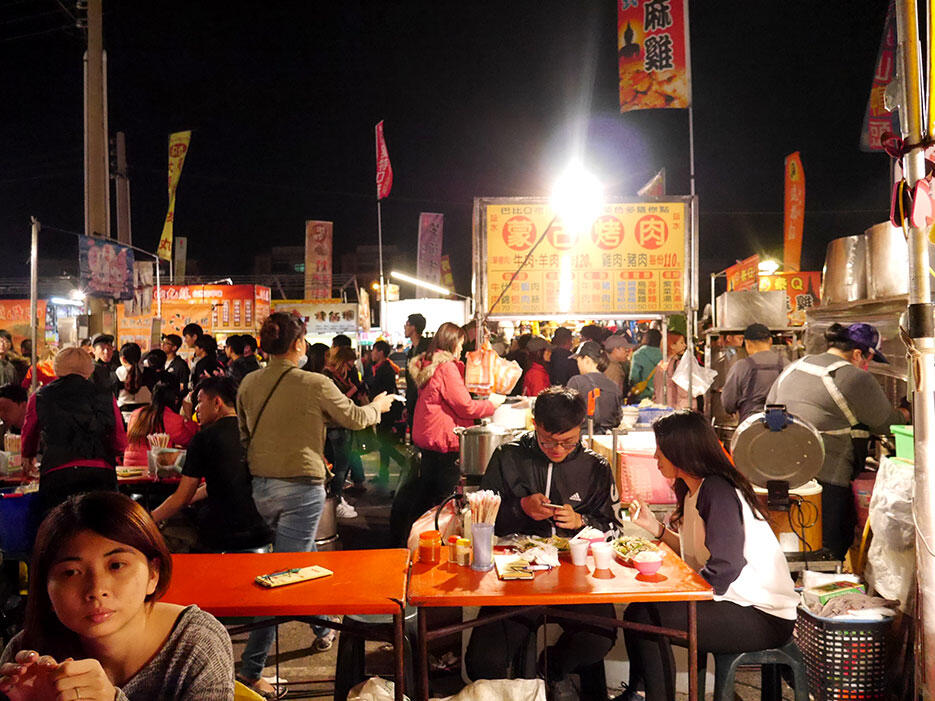 Certain stores have their own dining areas, and some even have their own grilling amenities on the table for customers to BBQ their food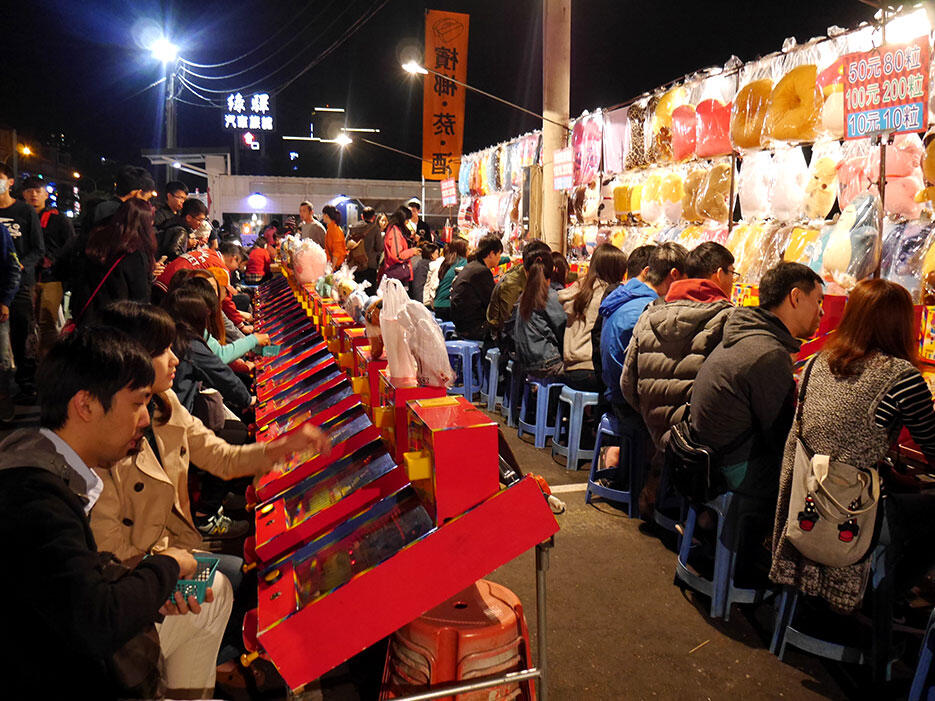 As you can see, pinball machines are adorably quite a thing there.
Daphne and i walked past some at Anping Fort earlier that day, and she exclaimed, "What is that! I want to play."
I stared at the pinball machine. "What is that? It's a pin ball machine… How can you not have seen one before?!"
She shook her head and continued walking, while i realised, "Oh my god. You are a 90s baby."
My head started reeling with cassette players, the Walkman, the Discman, and so on till i decided to stop before my brain tripped over in my head.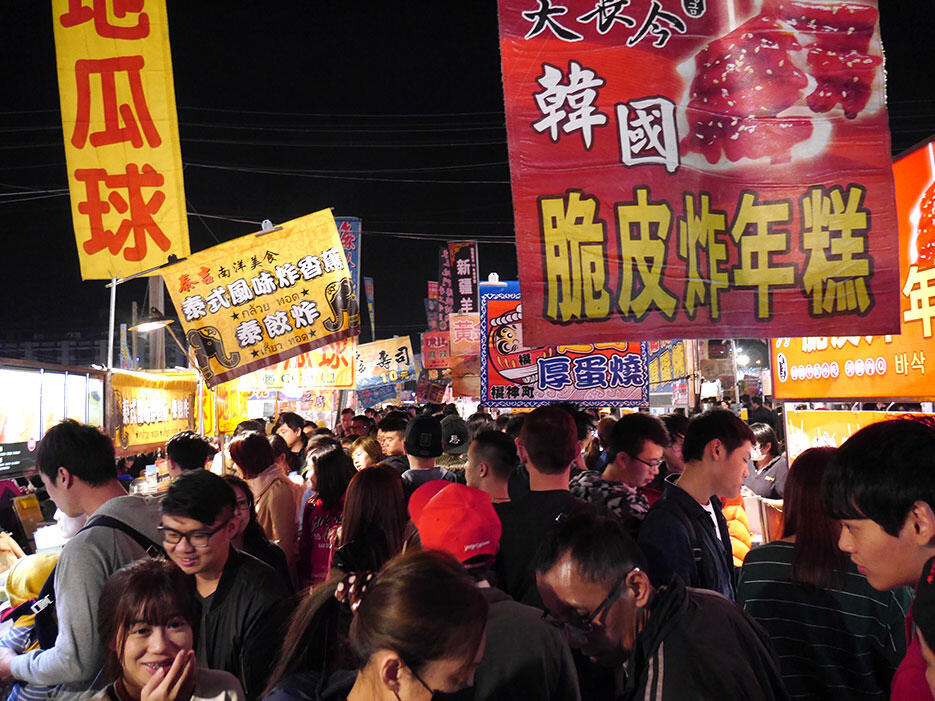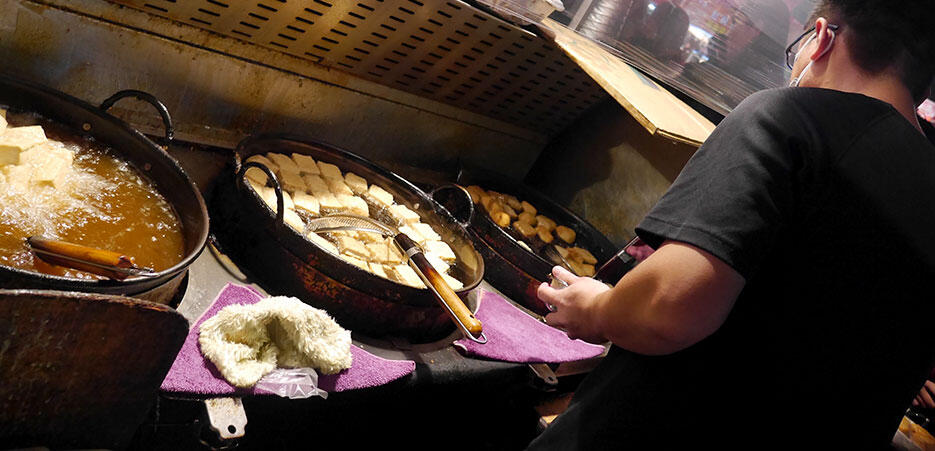 I didn't get to try smelly tofu! The queue was so long and i was done with extended queues for the day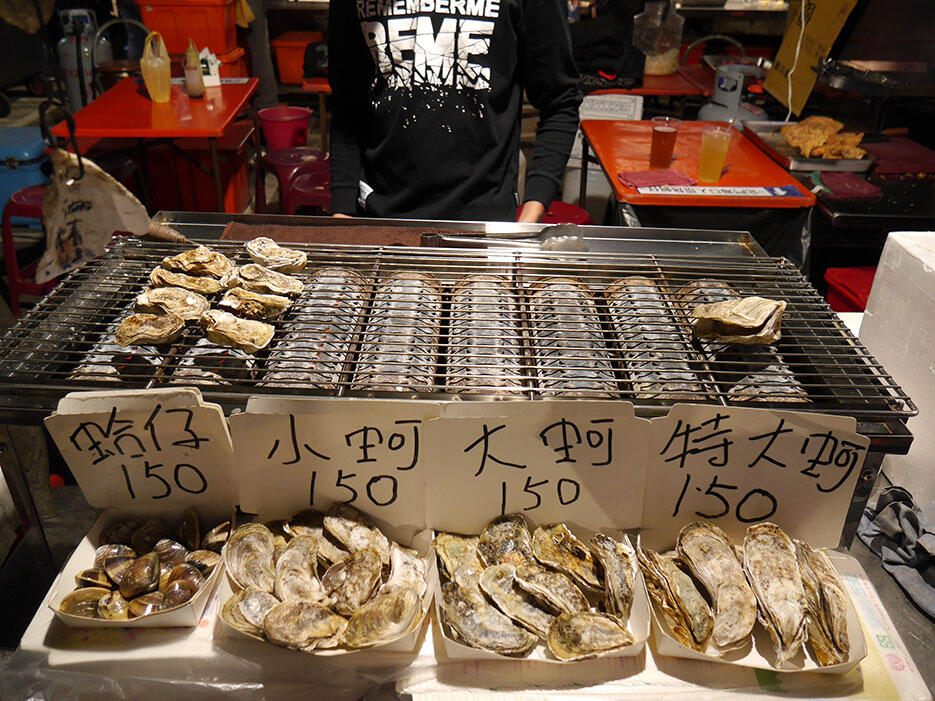 I had a dozen oysters for TWD 150 (RM22). Major score.
There was another store i spotted selling them for TWD 100, even cheaper!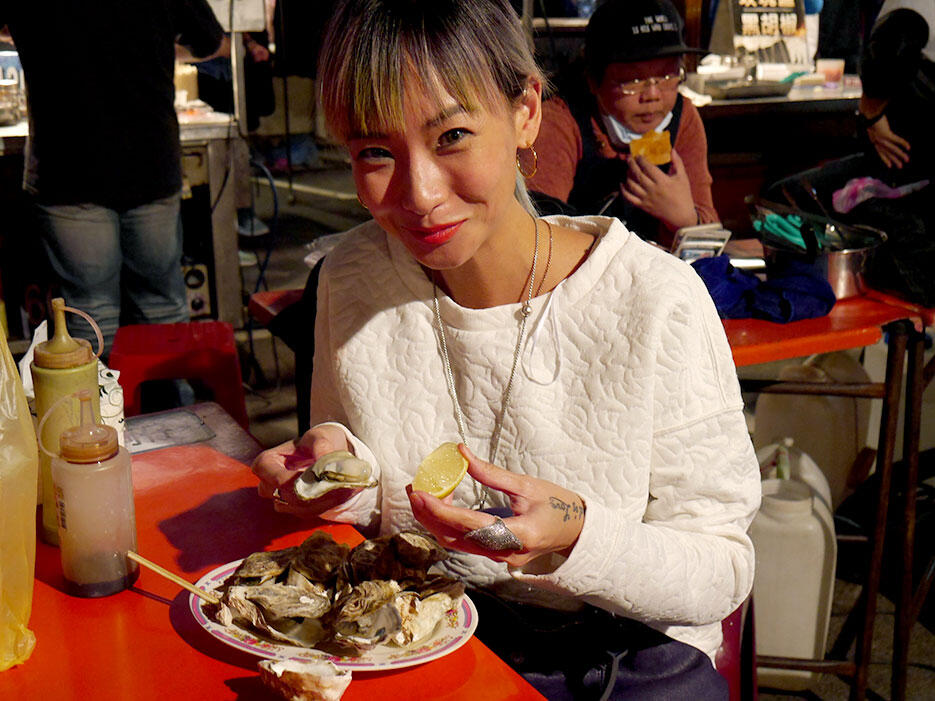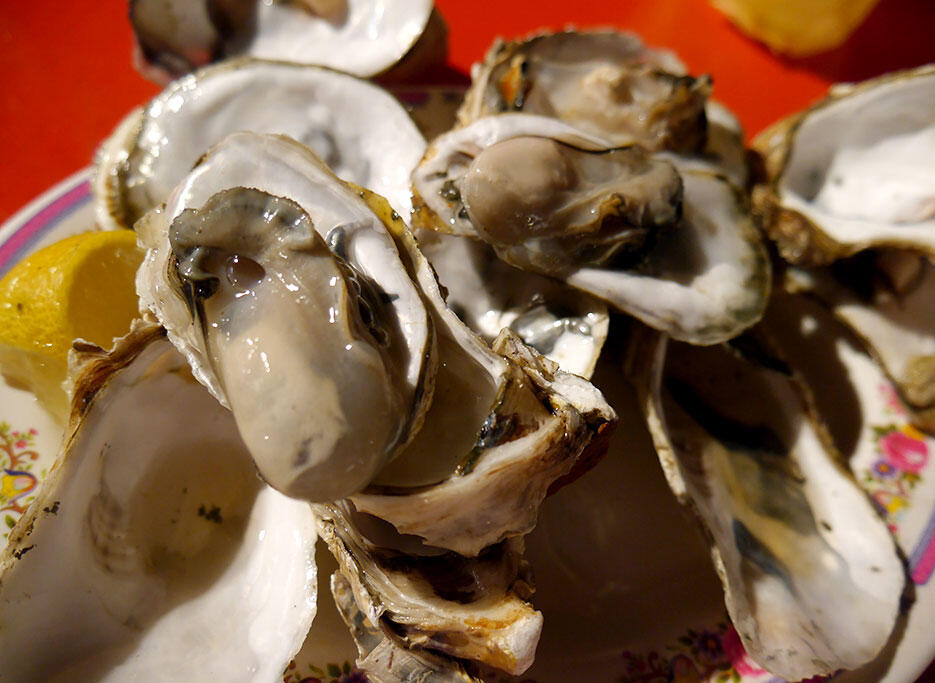 OK honestly i was a little scared when trying the oysters cos i couldn't believe they were so cheap, must be the lowest-priced i've encountered in my life… but they were thankfully fresh and succulent.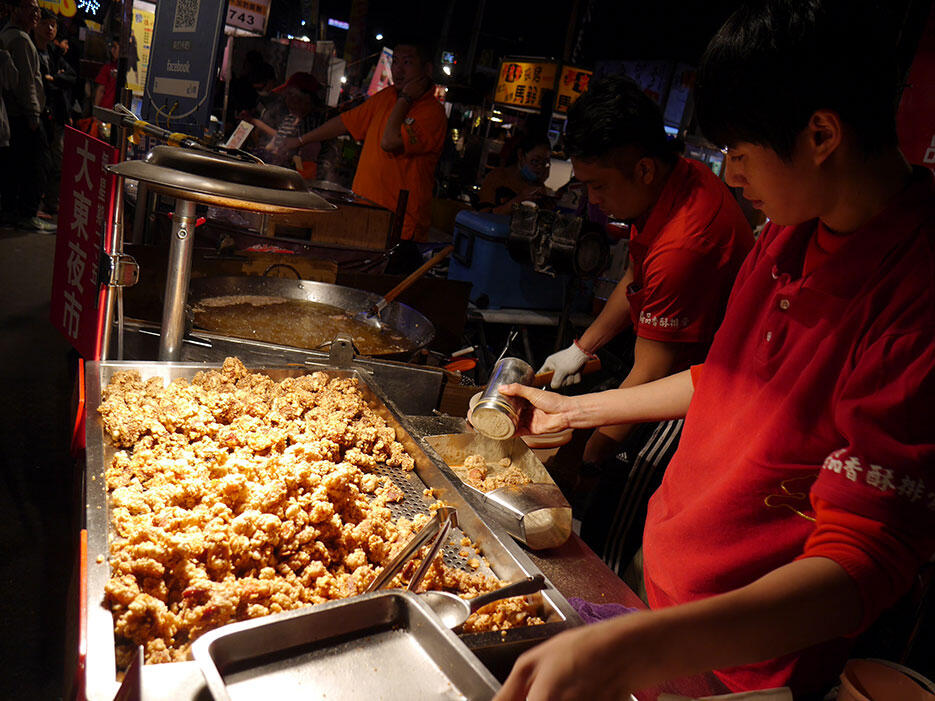 We queued a little while for popcorn pork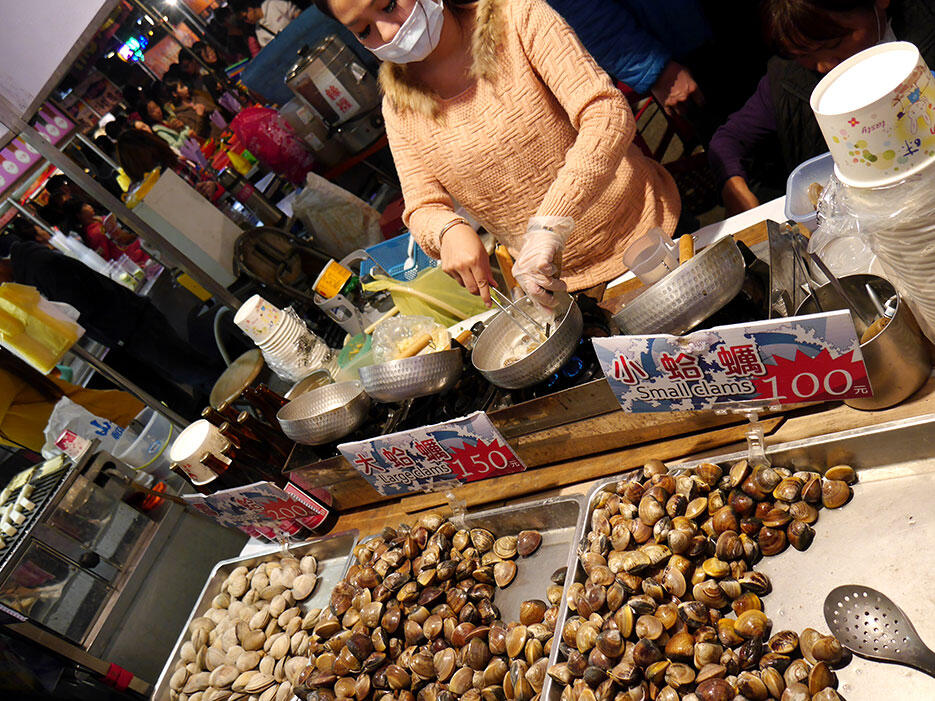 And had bowls of clams in soup whereby you could choose clam size (s, m, l) and soup type (we chose ginger, and garlic which was really good). I also had some snails, and Taiwan beer to top it all off!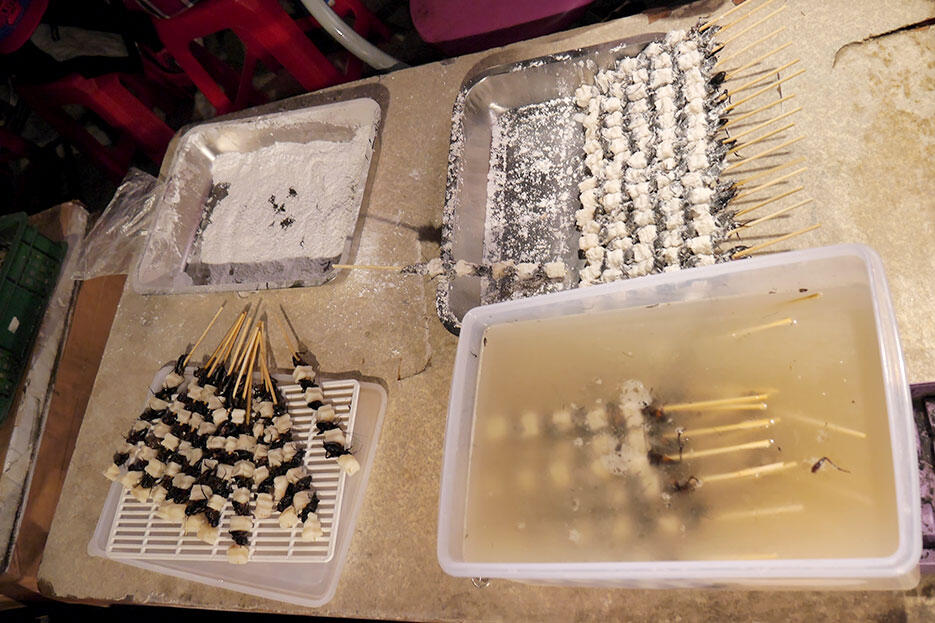 I saw someone selling fried crickets and was curious to try it due to the trend of crickets being a great source for protein without compromising on energy used to raise livestock for consumption. Crickets could be the way of the future of food one day! #justsayin #maybe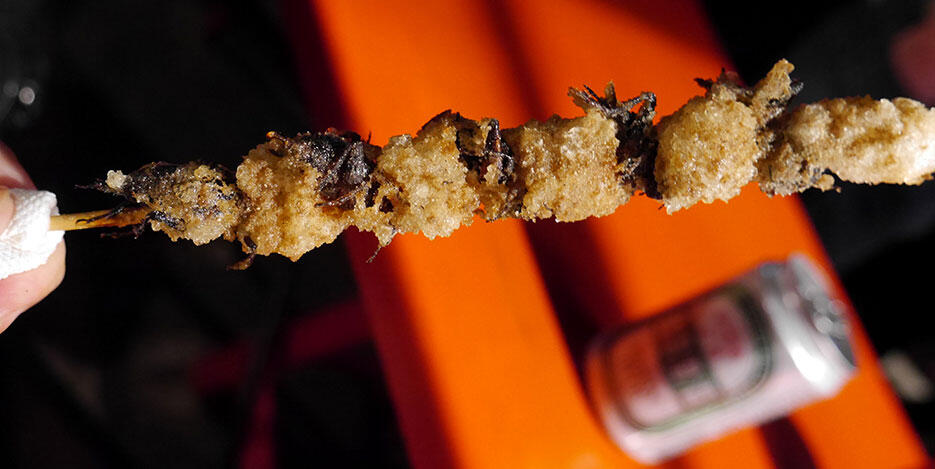 Unlike the hard and occasionally sharp insect part that pokes one's tongue that is reminiscent of my previous and sole cricket-eating experience in Bangkok, Tainanese crickets are small, crunchy and pleasant to eat. Kinda like soft shell crab, but more delicate.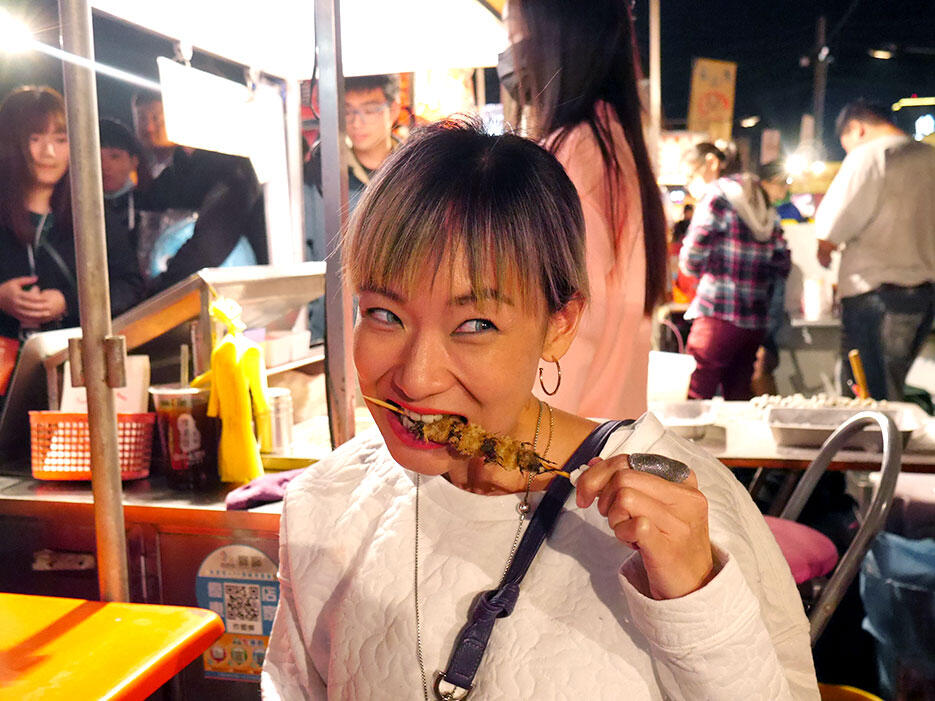 After the crickets, we both ran for the bus where i went back to the hotel and worked till about 1am+. Woke up at 8am for breakfast of fruit, a fresh sandwich and Taiwanese porridge provided by the hotel.
If you're a fan of street food but not of its potential hygiene issues or queues, a viable eating option would be Chih Kan's Peddler's Noodle, a second-generation family establishment that prides itself on serving famous local Tainanese dishes in a more comfortable and contemporary environment.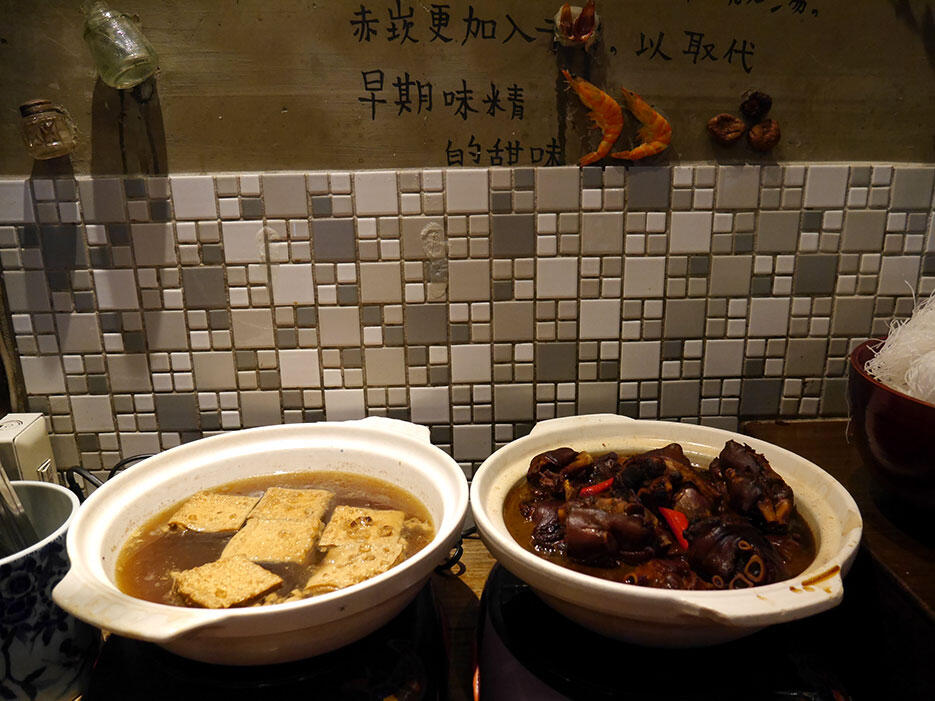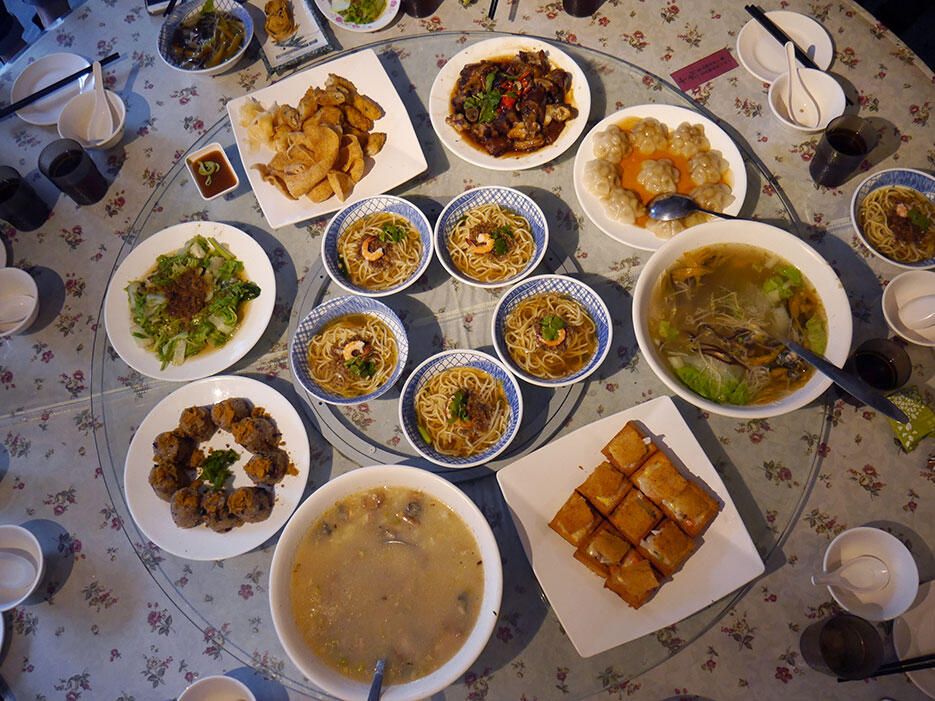 There was a feast laid out for us to try before we caught the high-speed train back to Taipei that evening!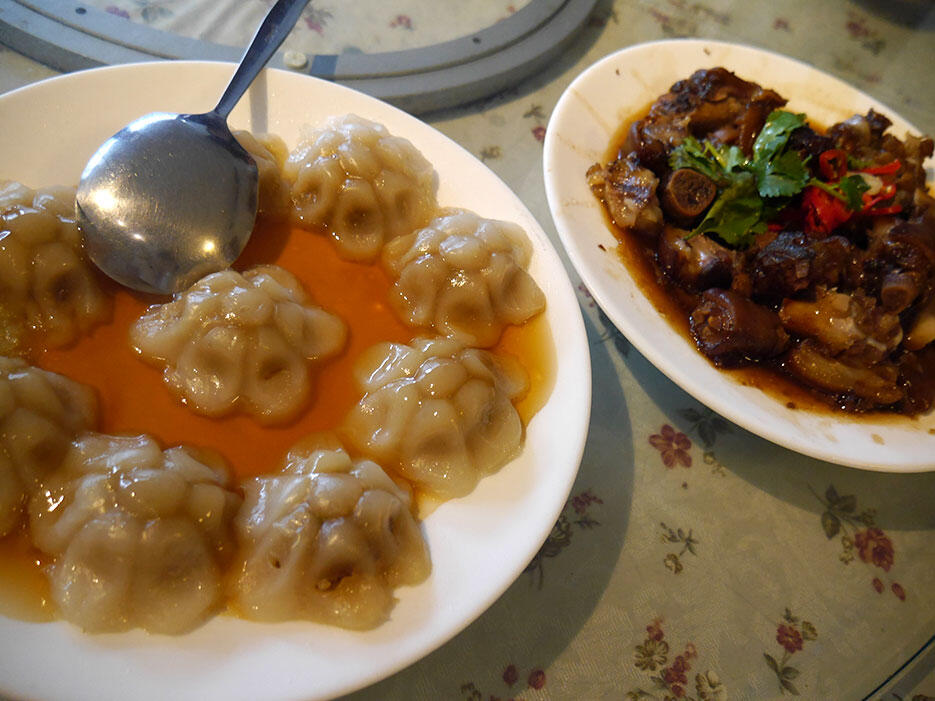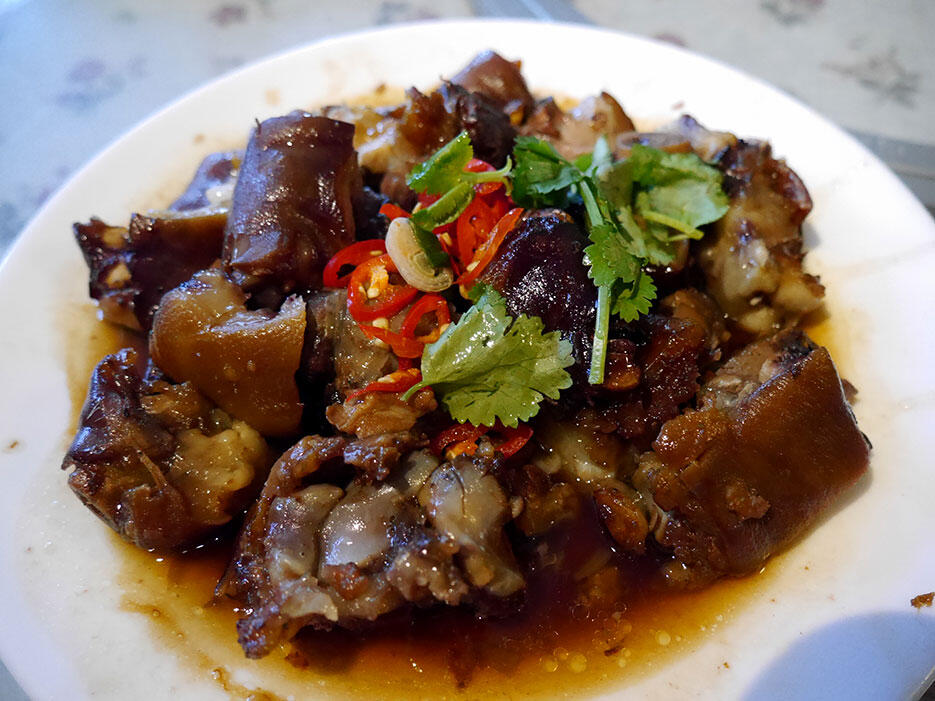 Stewed pork knuckle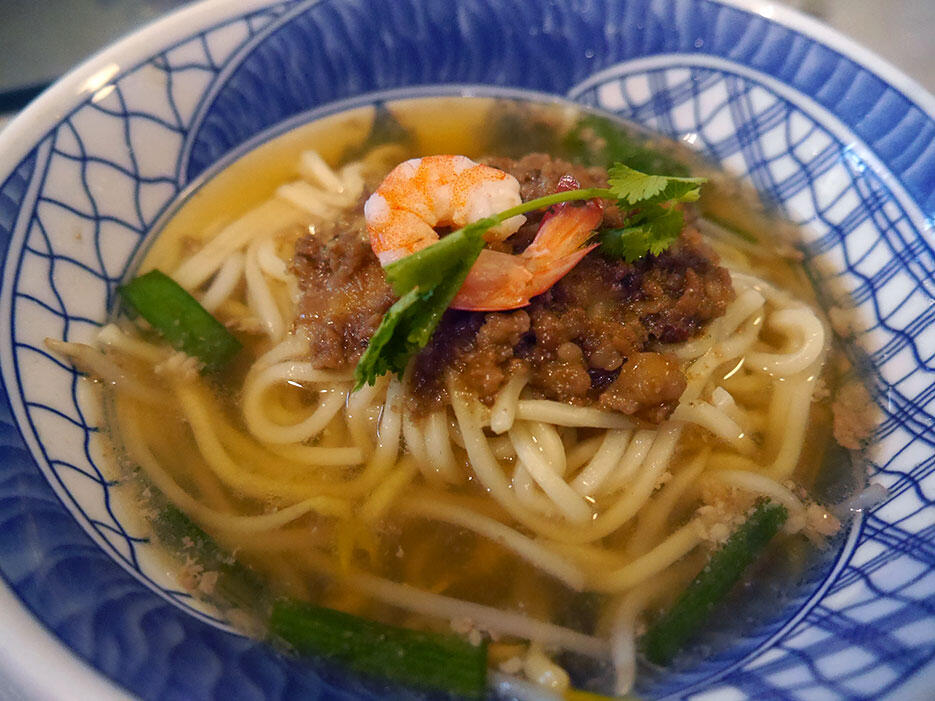 Danzai noodles, invented in 1895 by a fisherman who used to sell it from buckets strung on bamboo poles, comprise of minced pork and prawn on noodles in a little broth.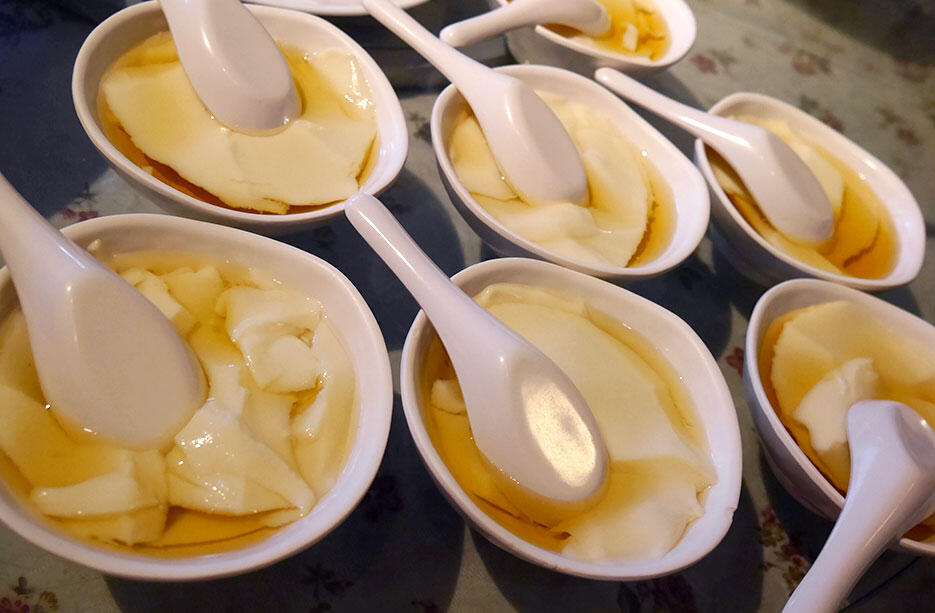 To fu fa (pudding) with brown sugar topping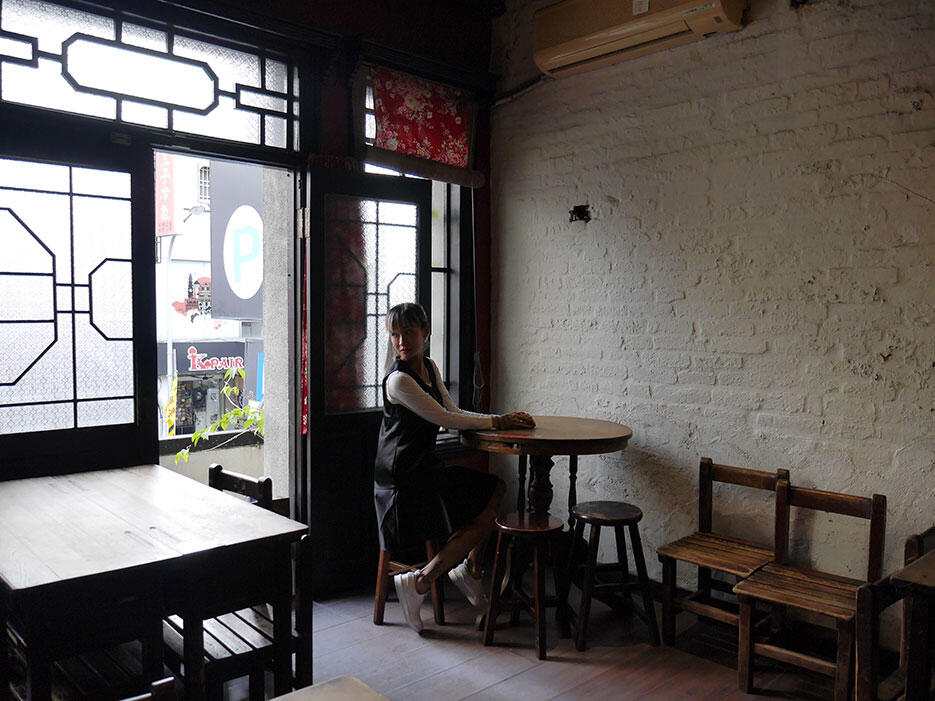 + + +
This trip was sponsored by Ever Rich x Lion Travel