Figured now is a good time to blog about food since Ramadan is starting this weekend and it'd be a lil rude to post bout it then!
Not that the first pic is even halal… WELL I TRIED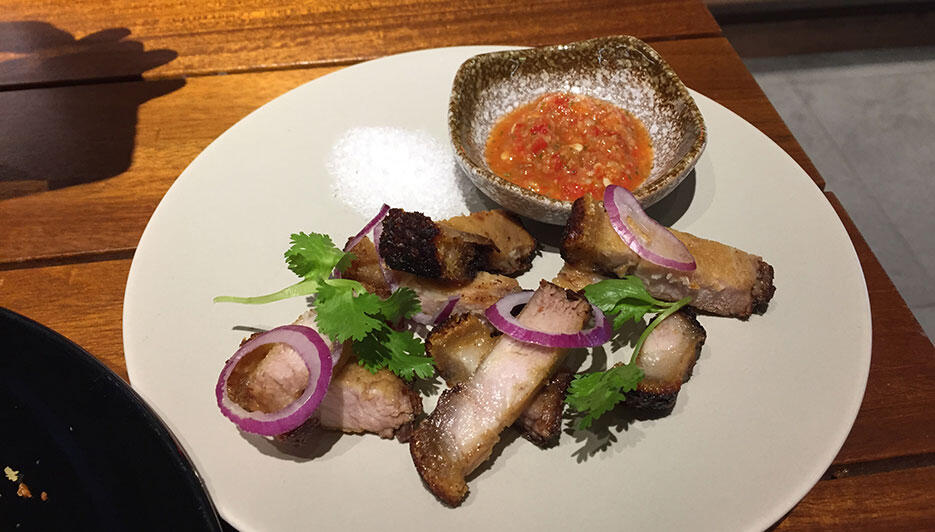 Tai Yong took me to Ru Di Fook Noodle Bar @ Kota Damansara one Sunday evening after MONTHS of us not hanging out. He was getting mad at me. When the siew yoke came, it was beautiful but TY peered at it going, "So small!" Well, it IS a slightly more atas wan tan mee place, i was expecting it to come as so. Greedy TY la.
"Next time order big okay."
While waiting for the food, the hip hop playing caught our attention and we slowly started bopping our heads along to it, while staring at it each other like we couldn't believe the music there.
"The music is so on point."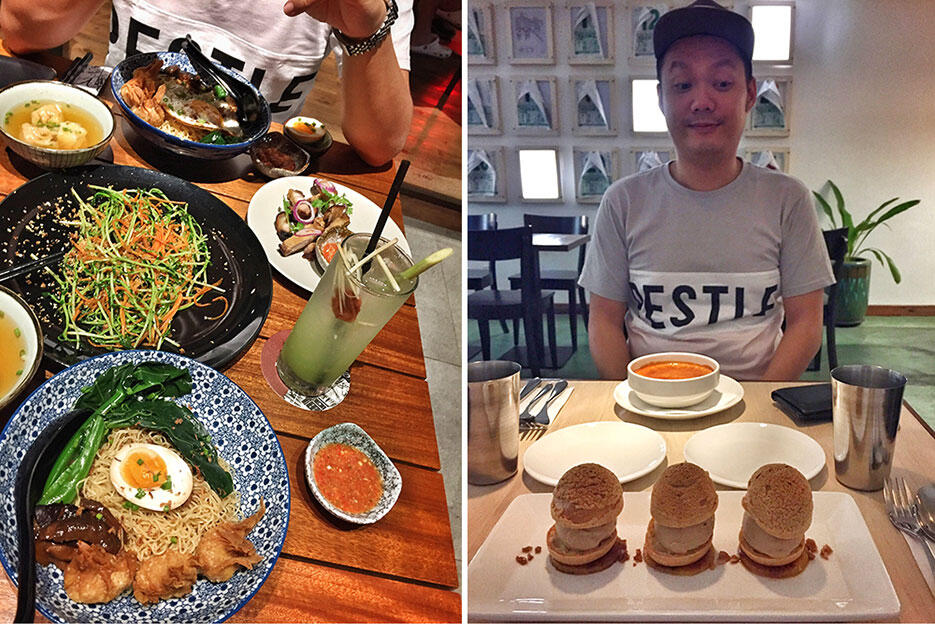 Right: I'll definitely return to it, take my parents too. Check out my mocktail – it was delish btw!
So glad there's a nice noodle place in KD!
Left: After Ru Di Fook, he took me to Foo Foo Fine Desserts in TTDI.
We were a wee bit over ourselves and ordered a dessert each and could barely finish…
TY had a green tea creme brulee, and i a salted caramel profiteroles. Two of my fave dessert factors, together! I had to try it.
+ + + + +
One weekend, Jun & i went to the Food For Good market at The Row.
Me mainly to support Idan, but also had a good laugh with Tony who introduced us to Rosana.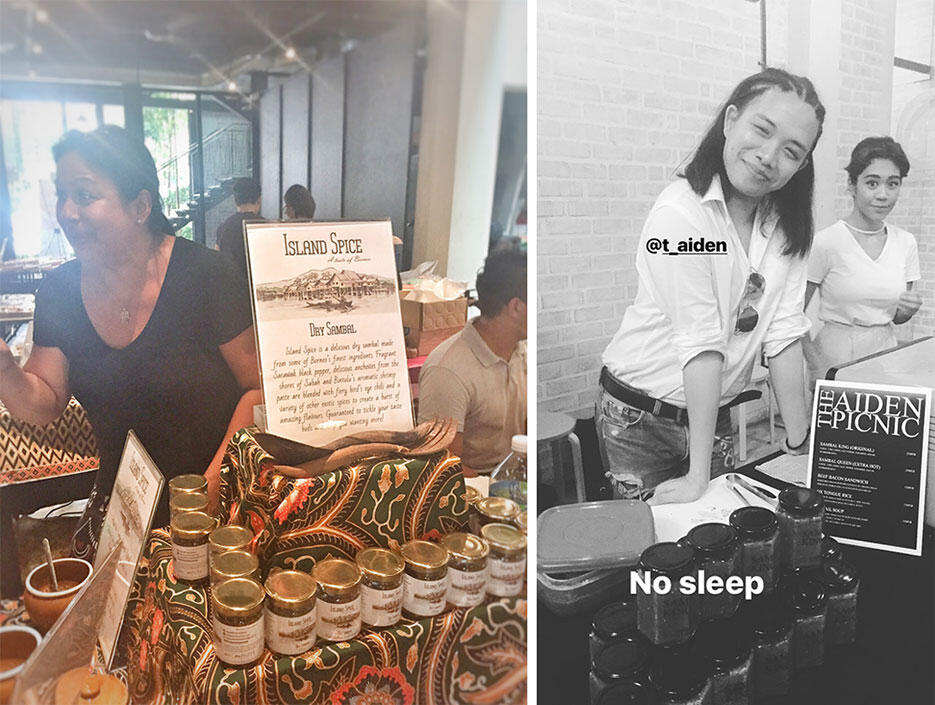 Left:
Rosana sells dry sambal under her brand Rosana's Homemade Food. It is the bomb, i bought 5 jars.
The one i'm dipping into now to sprinkle on my salads and rice for an extra kick is her Kaffir Lime & Lemongrass dry sambal, made with shrimp paste + kaffir lime leaves + lemongrass + fragrant Sarawak black pepper + bird's eye chilli + anchovies + shallots (no added salt, sugar or preservatives).
Right:
Idan was selling ox tongue rice and spicy green sambal under The Aiden Picnic.
I already have a full jar of green chilli from another local seller at a market i recently bought (called @RealSambal) so i got one for Baby called Sambal Queen cos she LOVES adding chilli to everything. It's super pedas.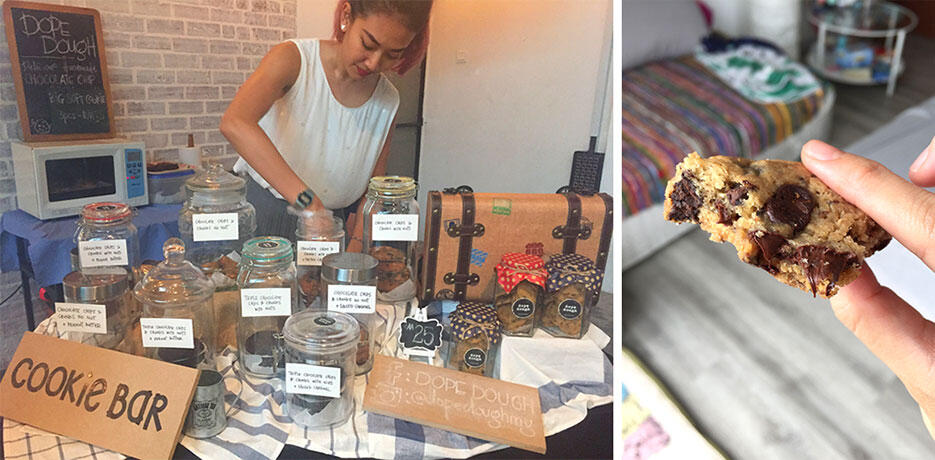 And then, i succumbed to buying 3 cookies for RM 15 from Dope Dough. I never heard of the brand, just stood there staring at the jars and was asked to try a little. I was sold -_-
I don't even like cookies that much. I never buy cookies! (except for CNY). But these had generous soft chocolate bits in them, and had variations of flavours and nuts you could choose from.
After that we ran off before i spent any more on food and snacks.
Not bad for a 45-minute pit stop.
+ + + + + + + +
When Aunt G and Uncle Mark were still in KL, they took us for dinner to Uncle Albert + Aunt May's home, where Uncle Albert cooked a hearty spread of cheese on spinach, moussaka, two types of pastas, roasted a whole slab of siew yoke; and Aunty Pat proffered a Thai salad and cakes galore. Stuffed again.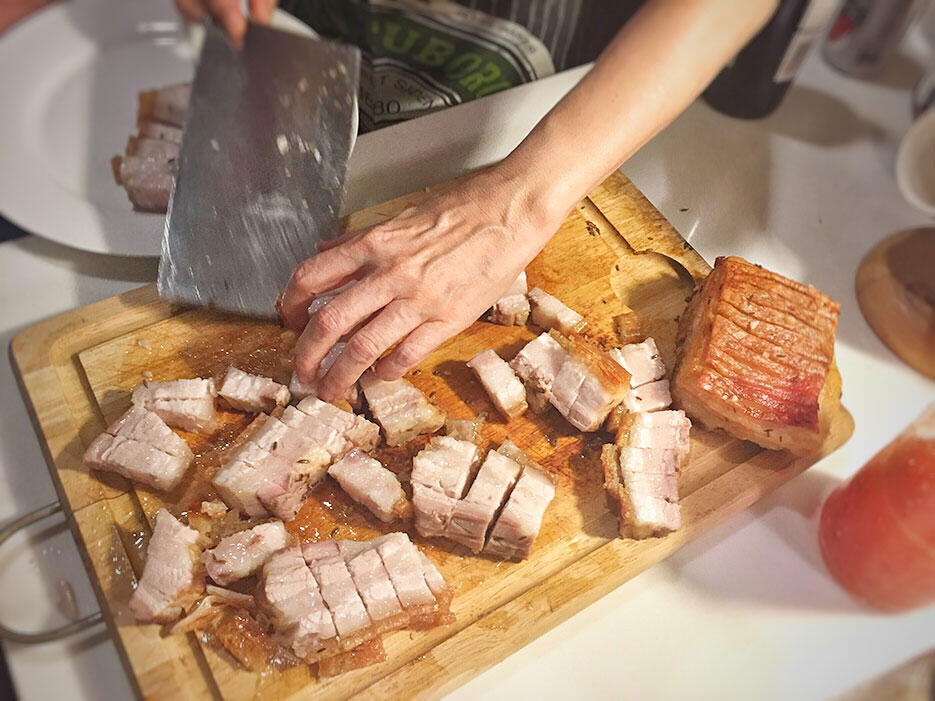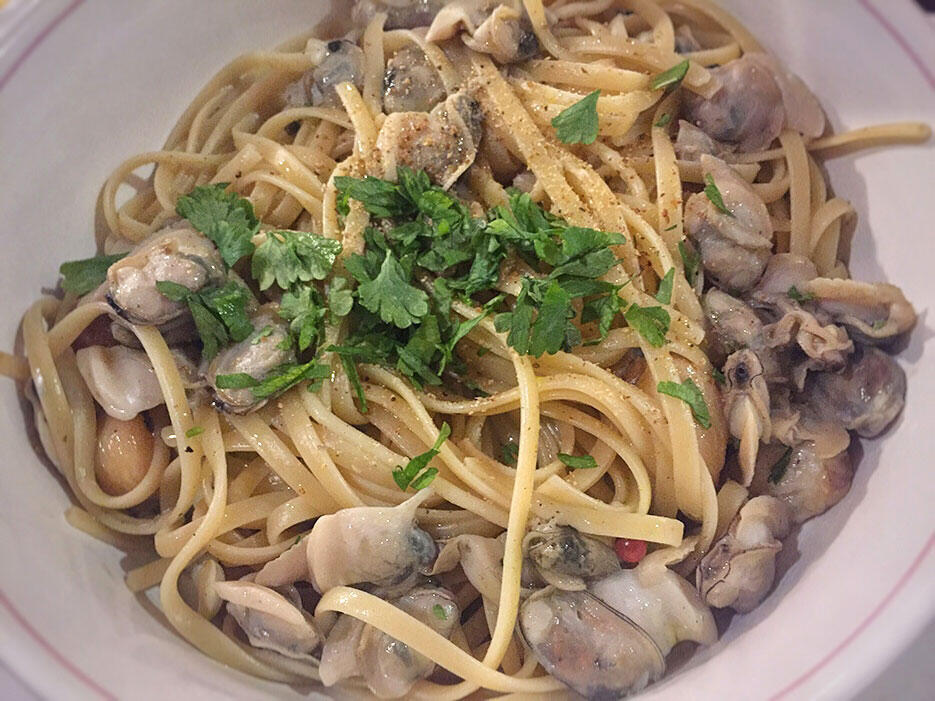 + + + + + + +
One weekday evening after Baby and i finished a briefing in our client's office in Cheras, we randomly googled somewhere nearby and good to have dinner at while waiting the traffic out.
First choice was 45 mins away. "Feck no, i'm not driving 45 mins for dinner now."
Second choice was an equally decent-looking seafood restaurant called Kam's Kitchen, "15 minutes away. Done."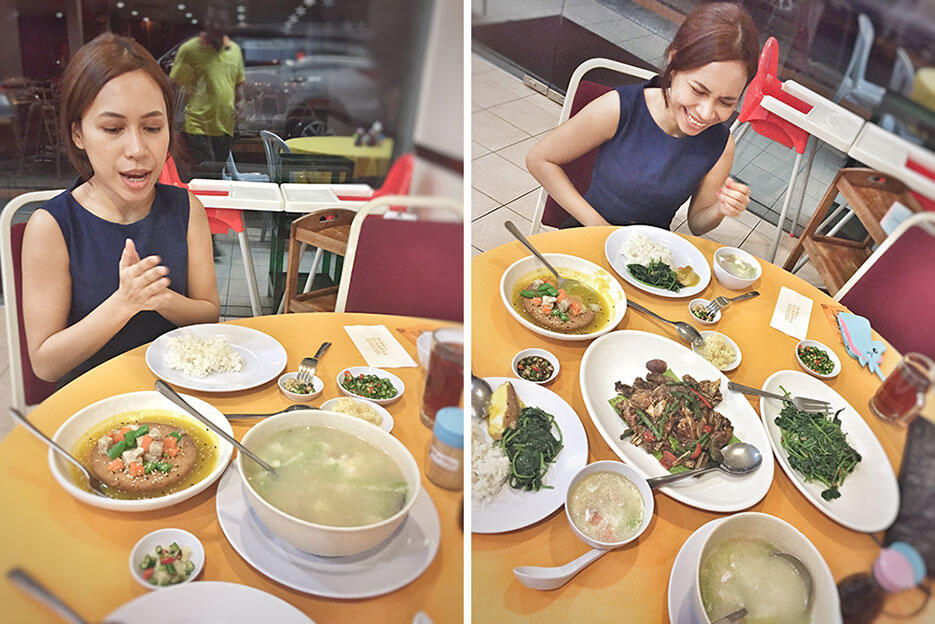 I felt a bit jakun when the bill came and it was RM 40 (or slightly less) cos i was expecting RM 80 or more.
Think i'm so used to PJ prices that Cheras just upped its points in my head!
+ + + + + + +
Another work day, Baby & i skipped out to have Village Park nasi lemak cos Sheryl (being the pescetarian she is) was not joining us and we'd been having lots of fish lunches.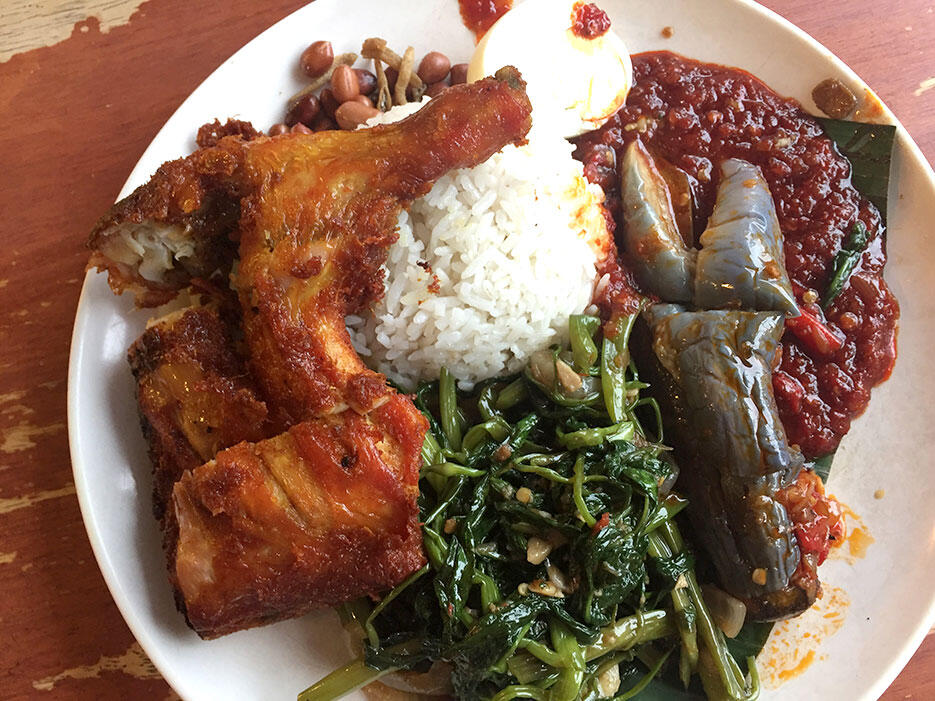 I have to order the kangkung and brinjal sambal to go with it so it's less dry. Nasi lemak craving SORTED.
+ + + + + + +
Another weekday, i had lunch with Baby & Sheryl at the coffee shop at Happy Mansion. I ordered the curry laksa (cos i'm so obsessed with curry laksa, i usually have the organic one in BMS these days) and daymn, i've been thinking about this uncle's curry laksa since! Plus i could add yong tau foo and siew yoke into it :p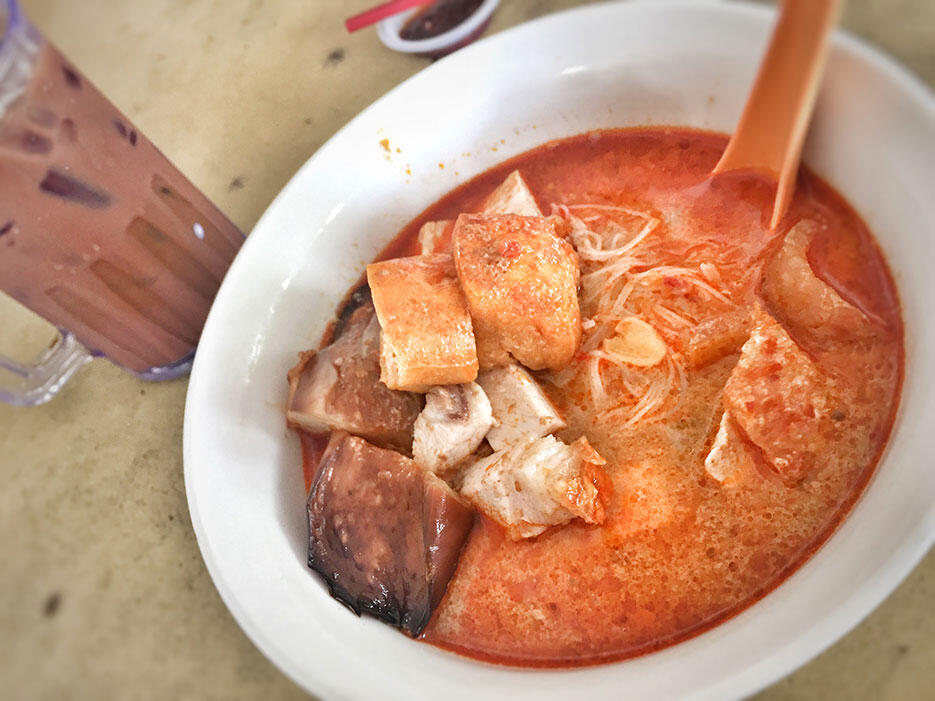 + + + + + + +
I'm equally obsessed with fish noodles, and tried the institution that is Woo Pin Fish Head Noodles in Taman Desa for the first time. The large coffee shop was super crowded!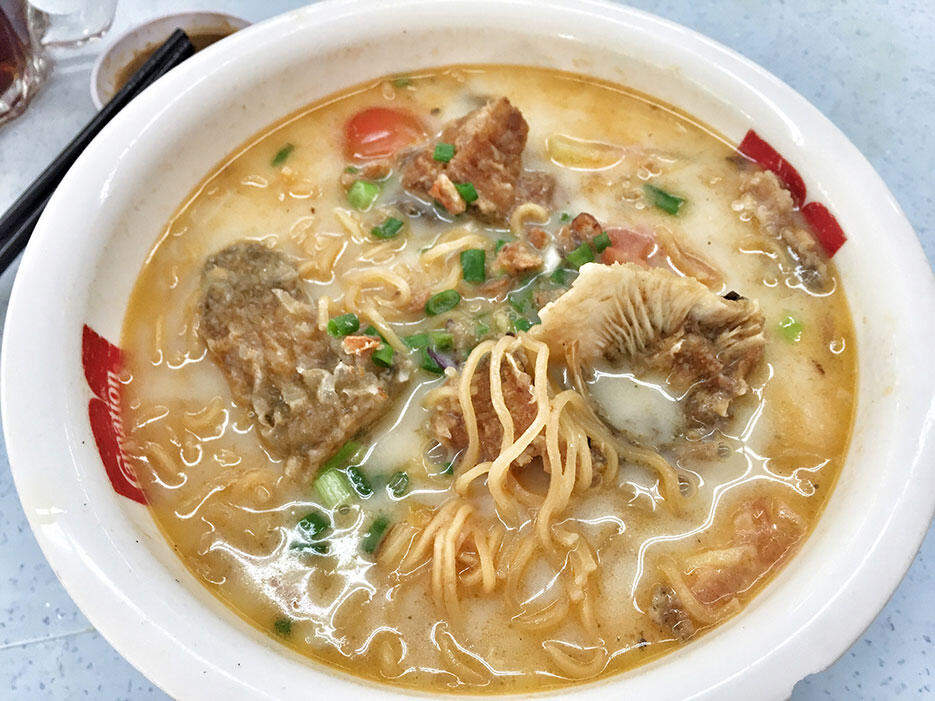 I liked the soup, but fish-wise prefer the one in Damansara Kim.
+ + + + + + +
I stop by Fin for poke bowls when i'm around Publika, cos theirs is delicious! I've even had lunch there and taken away dinner so i could just hole myself up to work.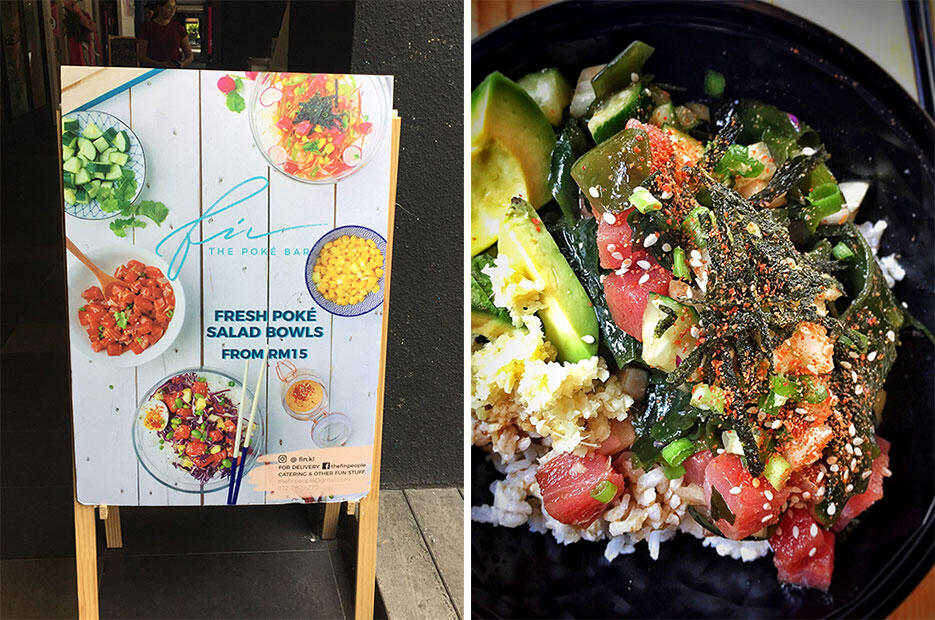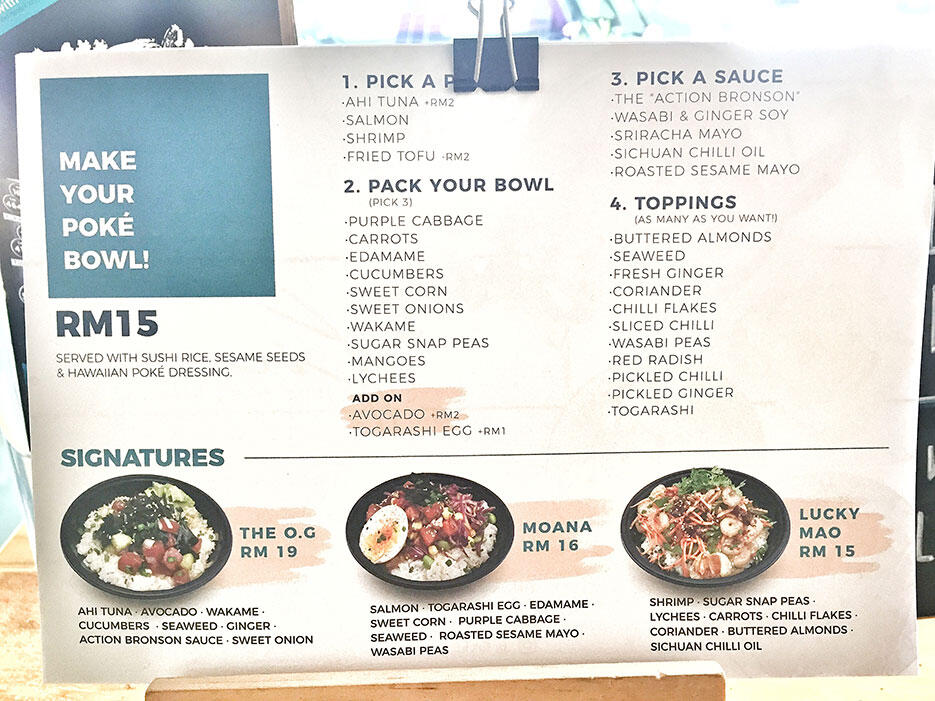 I've tried them all 😀
+ + + + + + +
Sometimes when i'm feeling sad, i like to eat the mentai rice at Uokatsu (still!) and the Buri sashimi.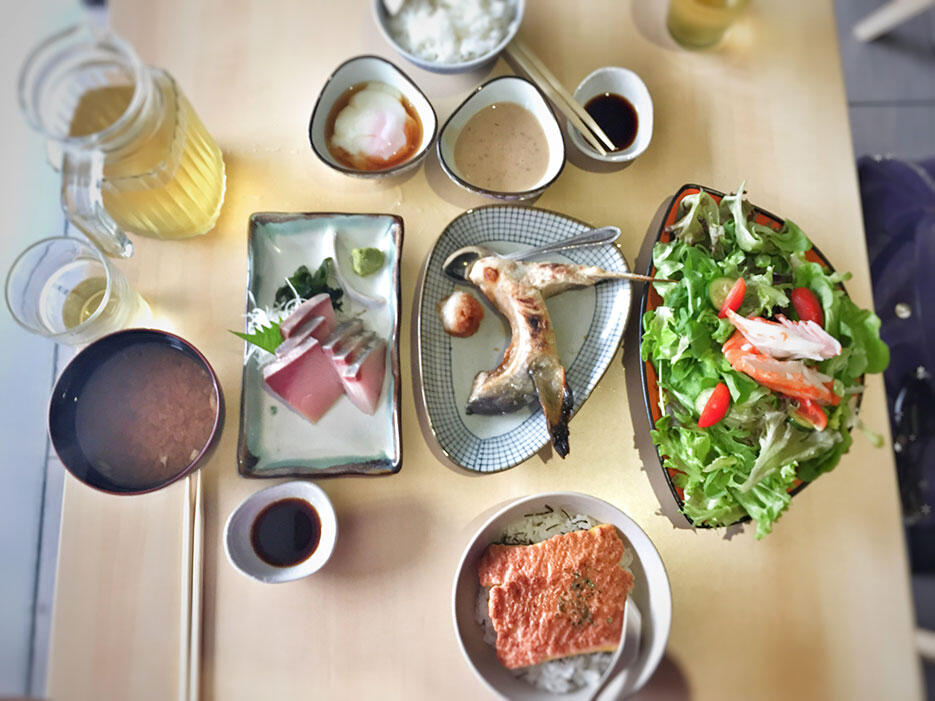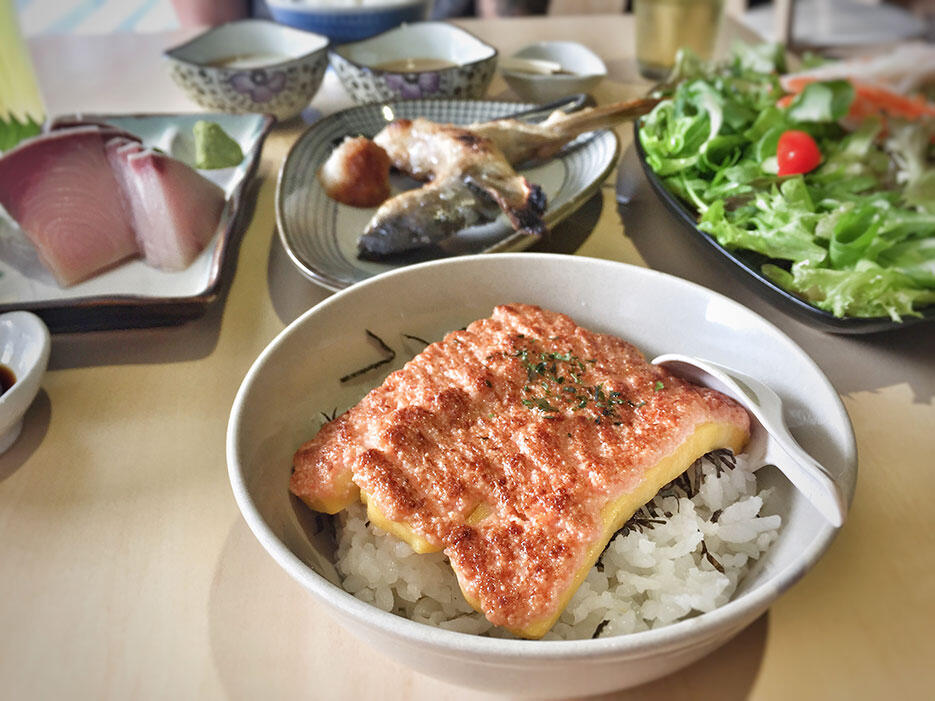 Eating that mentai rice makes me feel like someone's hugging my heart.
+ + + + + + +
Had a crispy chicken craving the other day and instead of going by KFC (ew) satiated it in the form of the chicken poppers at Mei by Fat Spoon.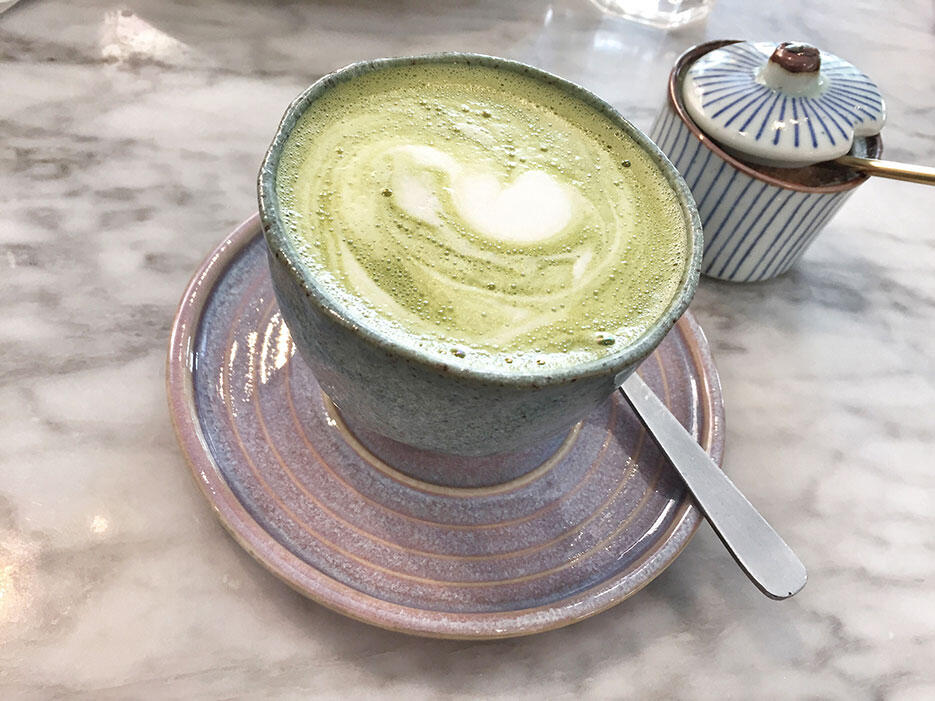 Tried their matcha latte for the first time! If you're a crazy fan of matcha, they recently introduced a Matcha Menu.
+ + + + + + +
In between all that eating, i did my bi-annual detox at Pure Health cos it was about time, and i had some major reflection to do regarding a big life decision. I always receive clarity when i undergo the detox. I was on a liquid diet for 3 days (vegetable juice + nutrients) whilst going into the centre every day for a 45-min colon hydrotherapy session. I previously blogged about *why i do this*.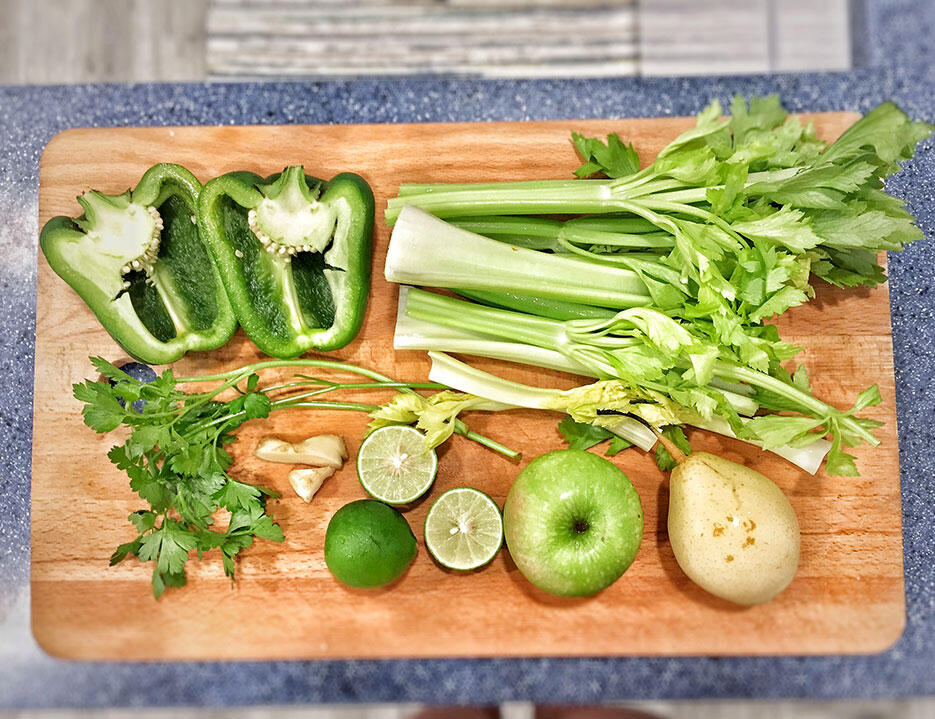 My 'dinner' one night during the detox.
Wendy said i need to put on a few more kg cos i'm underweight (at 40kg) and i said i eat a lottttt.
Wendy: You need to eat more.
Me: How much more?
Wendy: 5-6 times a day
When i heard that i was all ain't nobody got time for that!
I said i'll aim for 4 times a day.
So far i've been grazing in between meals and i feel like a cow.
Also, who knew how much time it takes to get food / prepare meals / chew the food in a more scheduled manner!?
On the super bright side, i'd rather have lost weight from stress than gain weight. Cos that happened before and it was NOT fun being angsty AND not fitting into your clothes!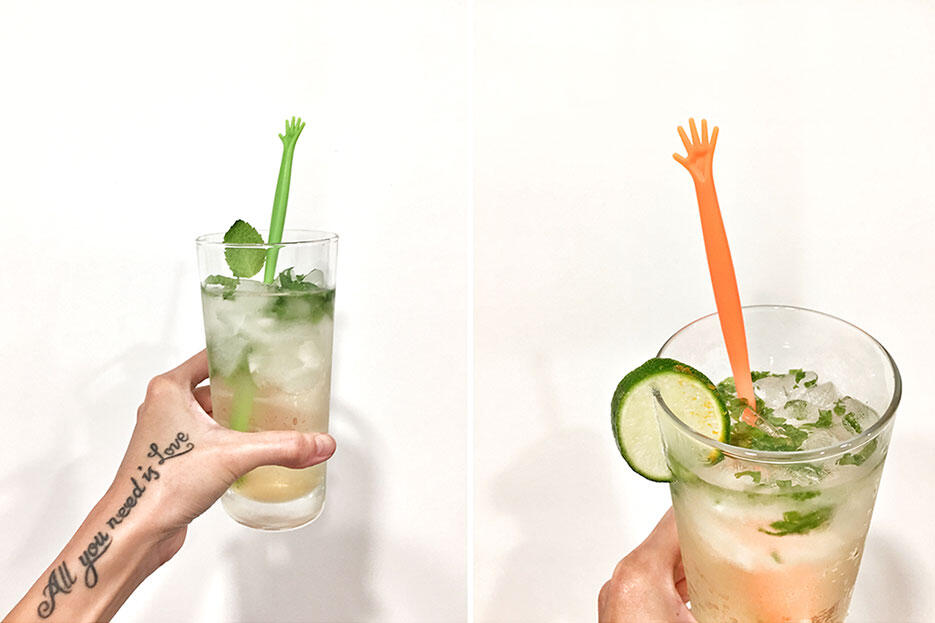 My attempts at drinking something else other than wine at home on a Friday night.
Contents were simply apple cider vinegar + a drop of stevia + crushed herbs.
On a daring night, i put TWO drops of stevia, and felt stupefied right after how excited i was about THAT.
+ + + + + + +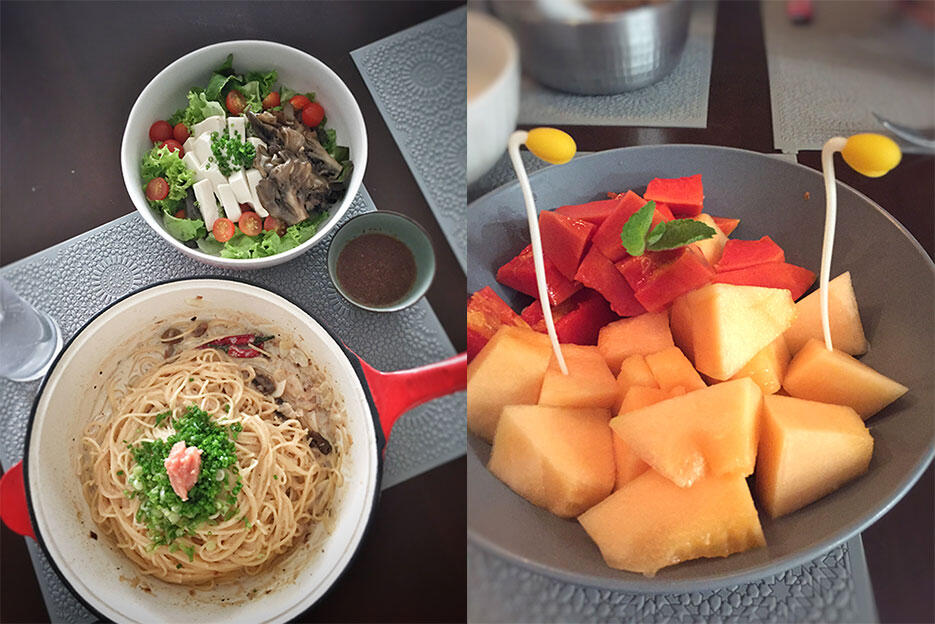 Awesome thing about having a chef at home is i barely lift a finger to cook…
– above is mentai pasta with some chilli thrown in
– fruits cos we trying to snack healthy
– below is taken from Wesak Day, when Jun decided he really felt like eating pizza and also made breadsticks (which i couldn't help but grab whilst hot).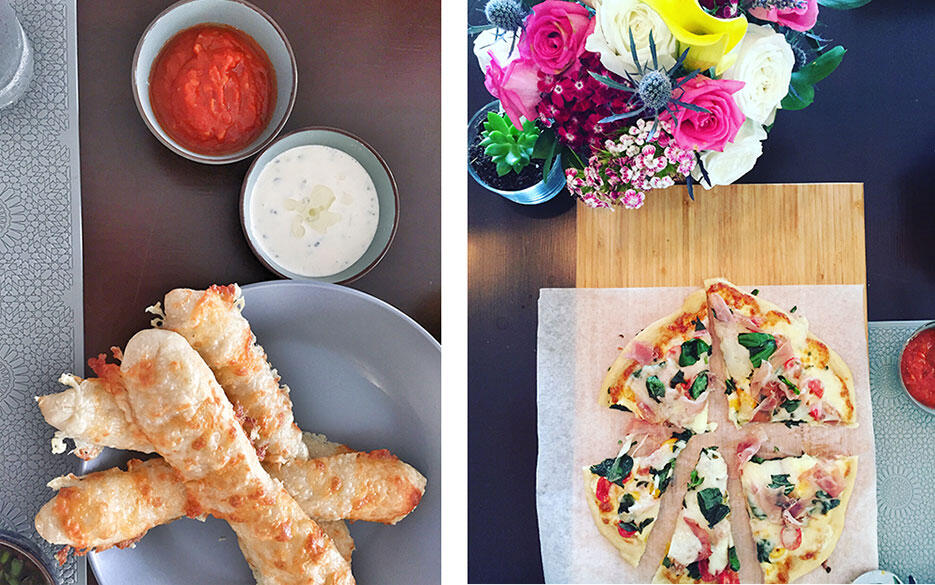 + + + + + + +
Then i was sick on and off last week thanks to the flu bug going around, and tapau-ed this supposed legendary porridge in Taman Paramount from Restoran Yong Tau Foo Khong Kee. It was pretty good, had generous amount of mushrooms + ingredients in it.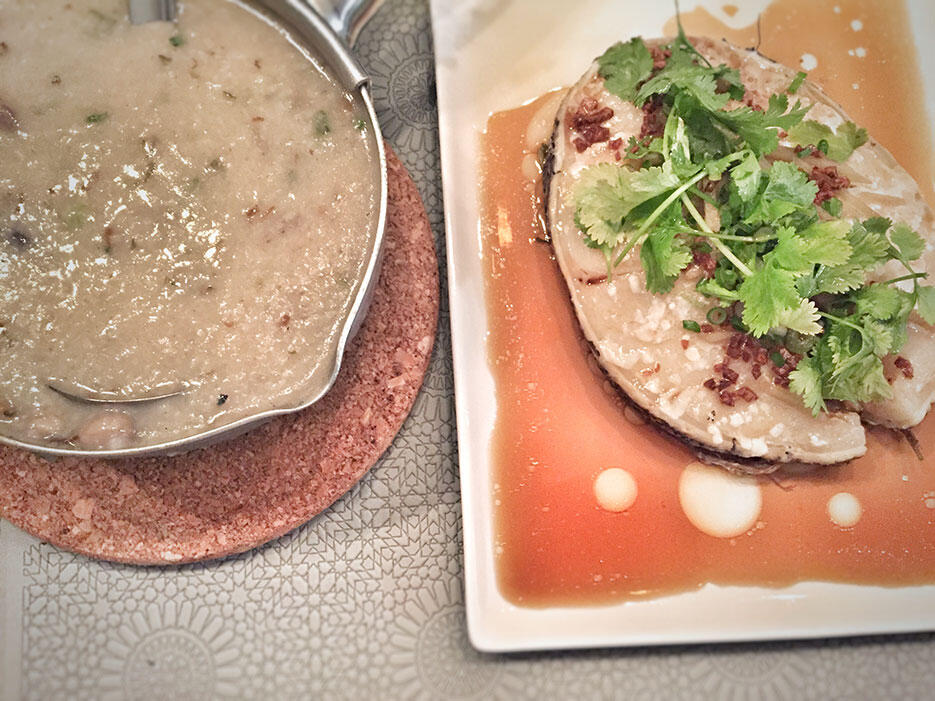 On right is cod fish Jun cooked to go with it. Made it a whole lot better.
+ + + + + + +
Then this last pic below just cos it makes me happy to stare at it.
I've been moaning about how i can't find anything in the kitchen since i'm not the one who cooks much anymore. Every time i wanted to make something small- things would topple over, spill and i'd shut the doors in exasperation at how disorganized it all was! Different types of salt were in diff cupboards, pastas were chucked in the sauce drawer, snack food mixed with cooking sauce packets in the other cupboard… i swore i'd get to sorting it out when i got the chance.
Which i did when i was banished to being indoors from being sick.

Jun said it looks almost the same, and i indignantly said it. was. not.
Now at least everything is grouped via cooking milks, salts, flours, sauces, seeds, herbs and spices.
We've chucked out whatever's expired / unknown, and i can reach for things without knocking something else over.
The end.