Three weeks ago, KinkyBlueFairy did a fashion event and the PR for Love Bonito, one of our regular clients who is Singapore's leading online fashion label.
It's so easy to market their brand because their apparel has cuts that suit the Asian woman's body perfectly and they're so up-to-date with designs and silhouettes that easily transcend various tastes and styles. I always have friends asking me where i got a particular piece of clothing from that really stands out and i'll proudly exclaim, "Love Bonito!"
For the first time, Love Bonito decided to hold a styling event especially for girls who don the hijab and we got on board three major fashion personalities in KL to host a styling session for their friends and fans at Ben's, Publika – Raja Nadia Sabrina, Shea Rasol, and Maria Elena Zarul.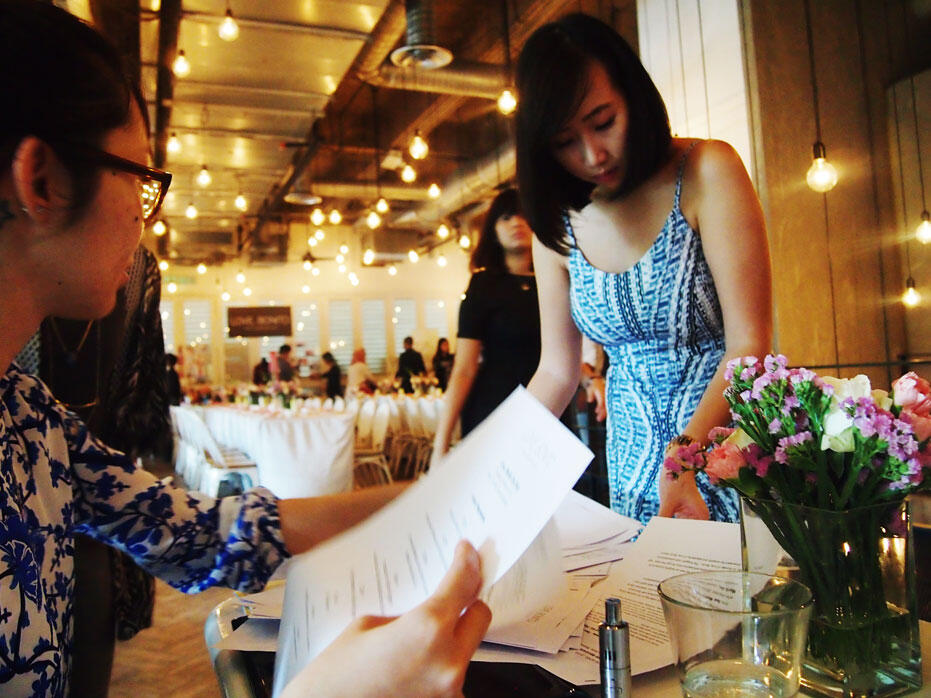 Shermaine taking care of the media that day, and Cheryl from LB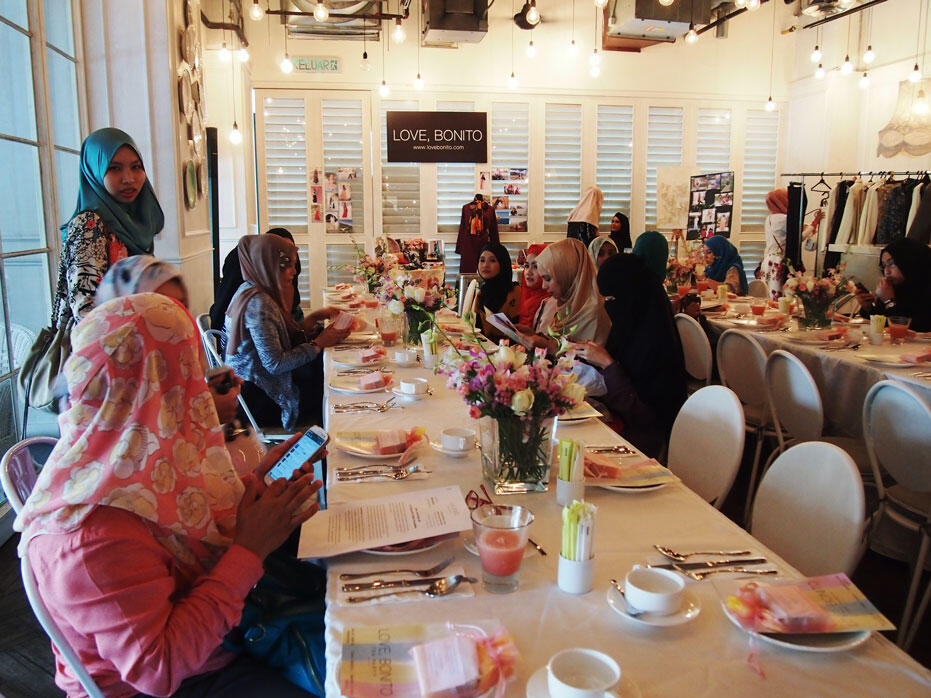 The event was held upstairs at Ben's Publika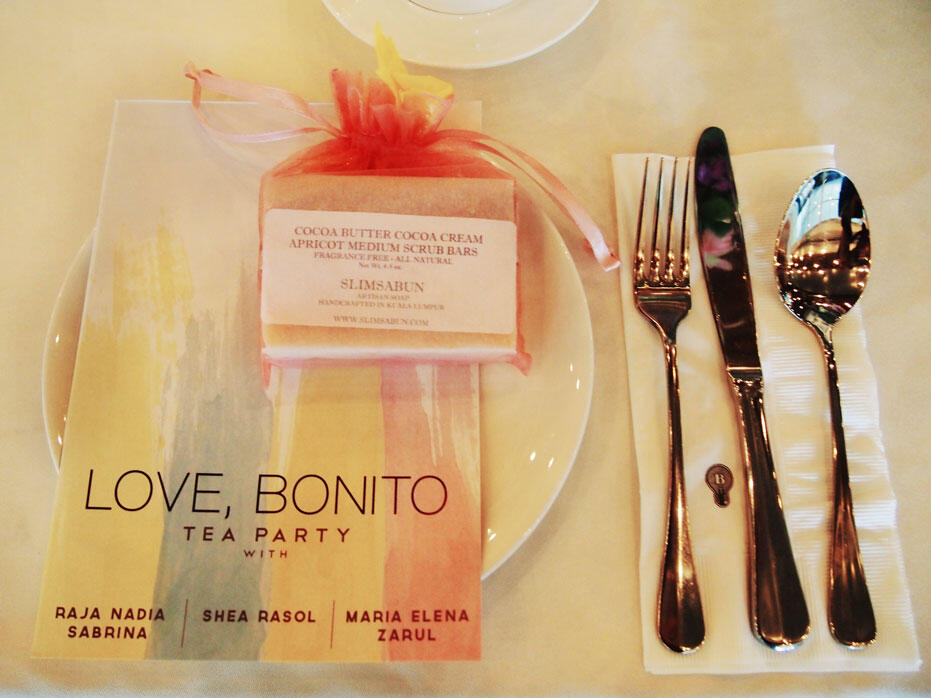 Every guest had a little Love, Bonito booklet (designed by Joe!) that was specially printed for the event, and soaps from Slim Sabun (made by Steph). Slim Sabun soaps are locally-made, all natural, and free from SLS (sodium laureth sulfate), parabens, fragrance, and phthalates. The cold process soaps are made with real heavy cream or yoghurt, and have such delicious names i felt like eating them instead of washing with them!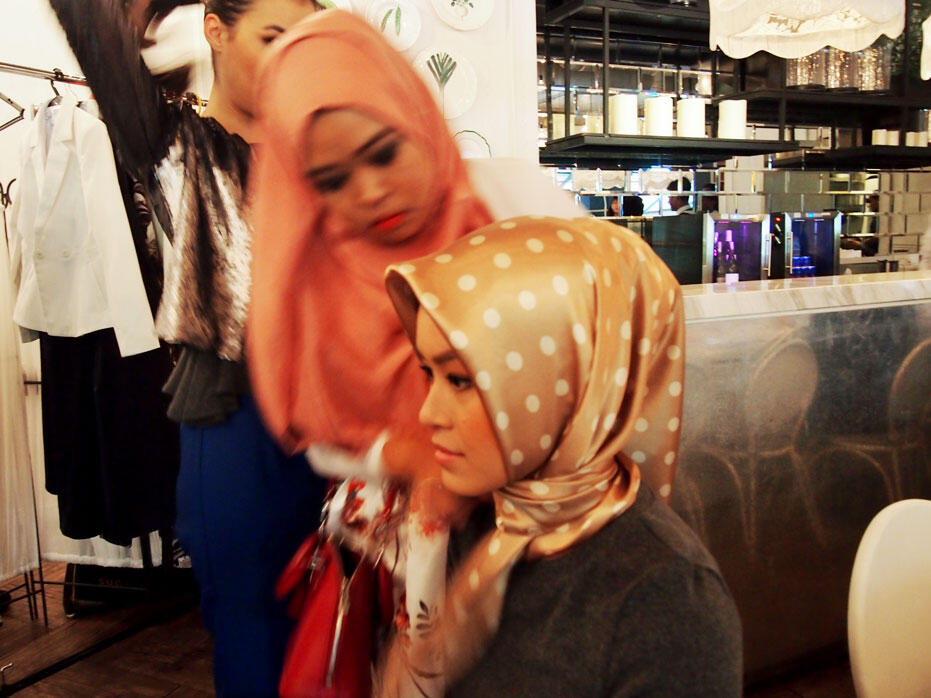 Shea tying on a scarf to one of the models.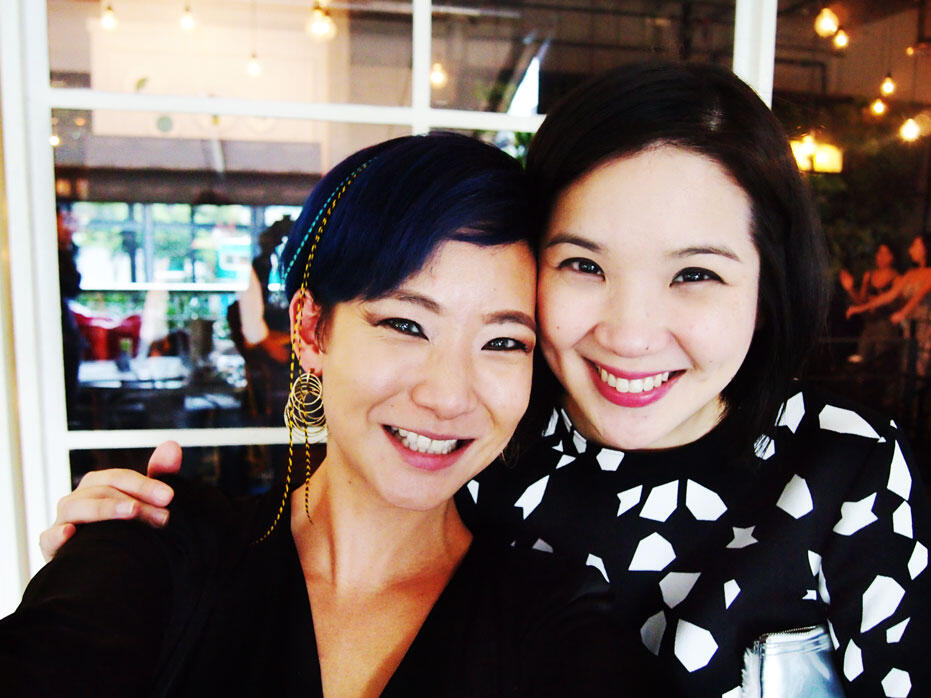 Me with Carole from shu uemura!
I'm wearing these earrings i bought from Saya Jewellery in Bali that remind me of multiple hoops… i couldn't resist.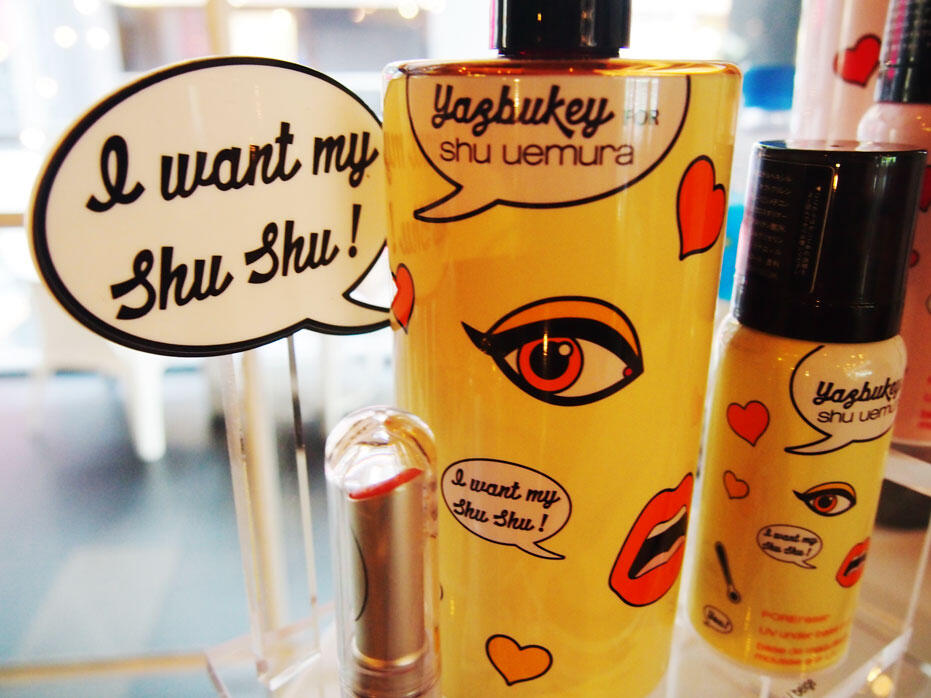 Shu uemura did the make up for the models that day, and had a little beauty booth to show off Yazbukey for shu uemura – a limited edition collaboration collection with Paris-based accessory and jewellery designer Yaz Bukey.
Just a little plug here: If you fancy make up your weapon of artistry, you should probably check out their make up competition that welcomes all beauty enthusiasts, professional and non-professional. Shu uemura's "The Beauty Art Make Up Competition 2015" is on from now until 15th June!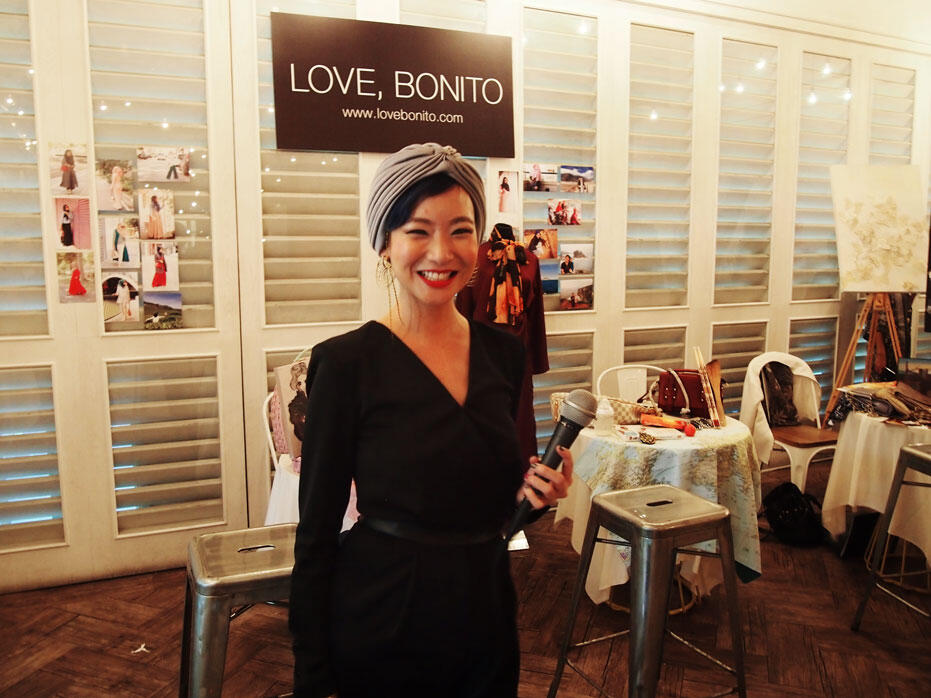 I'm wearing a turban from ByJap, and jumpsuit from Love Bonito (of course).
I donned the turban to achieve a more halal look but having not worn the jumpsuit before, little did i know that there was a giant keyhole in the back so it became not so halal after all.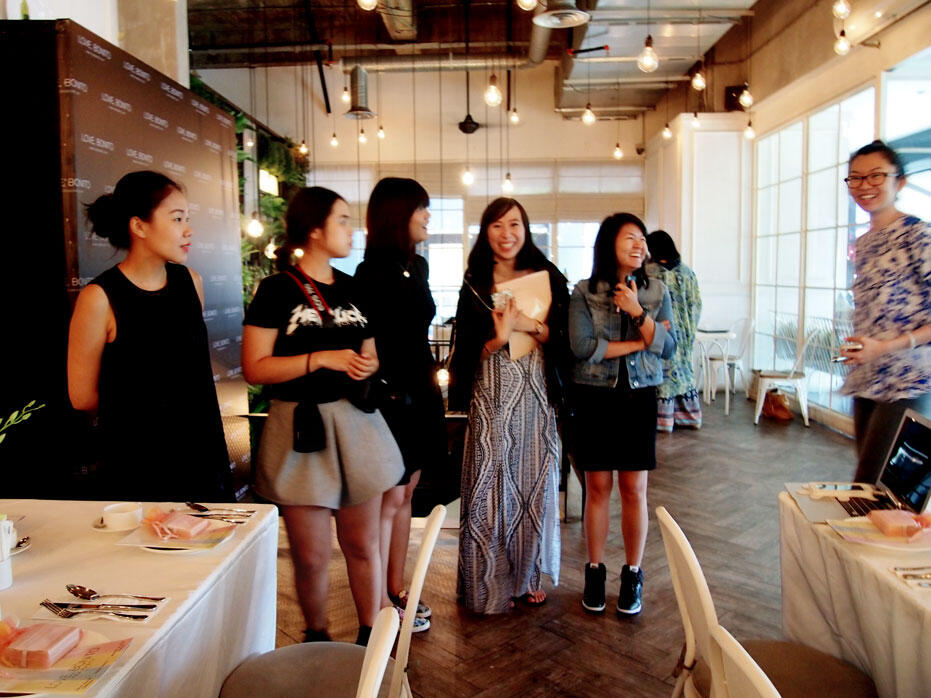 The Love Bonito team flew up from Singapore that day. Cheryl and Charmaine sure seem very happy.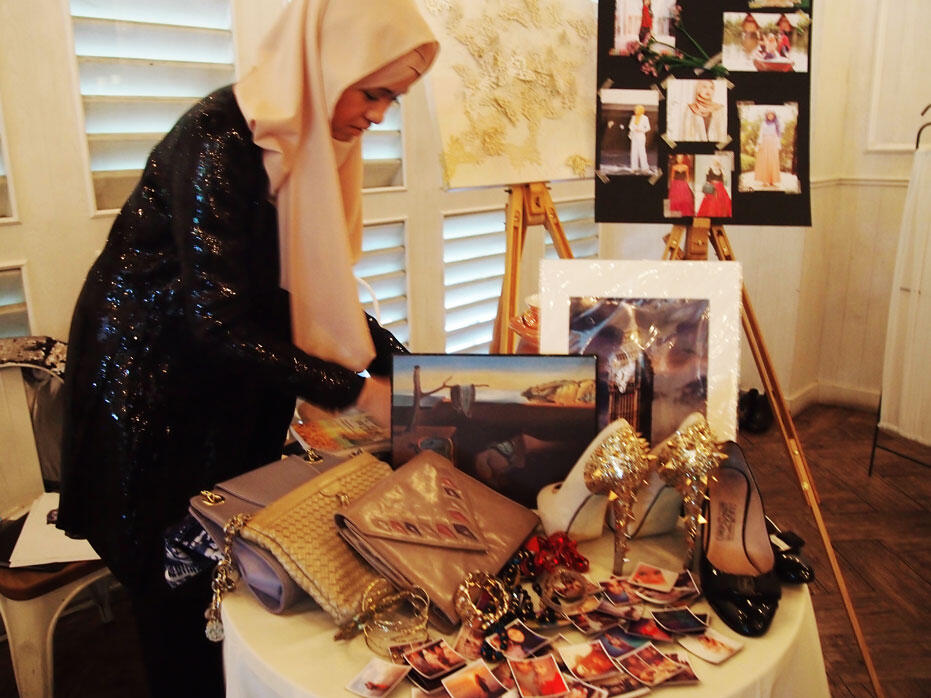 Raja Nadia Sabrina arranging her personal items on a little presentation table. She has an elegant fashion label of her own called Aere, which you can shop for *here* 
I just discovered that Maria Elena Zarul is a really famous youtuber, she's quite a funny one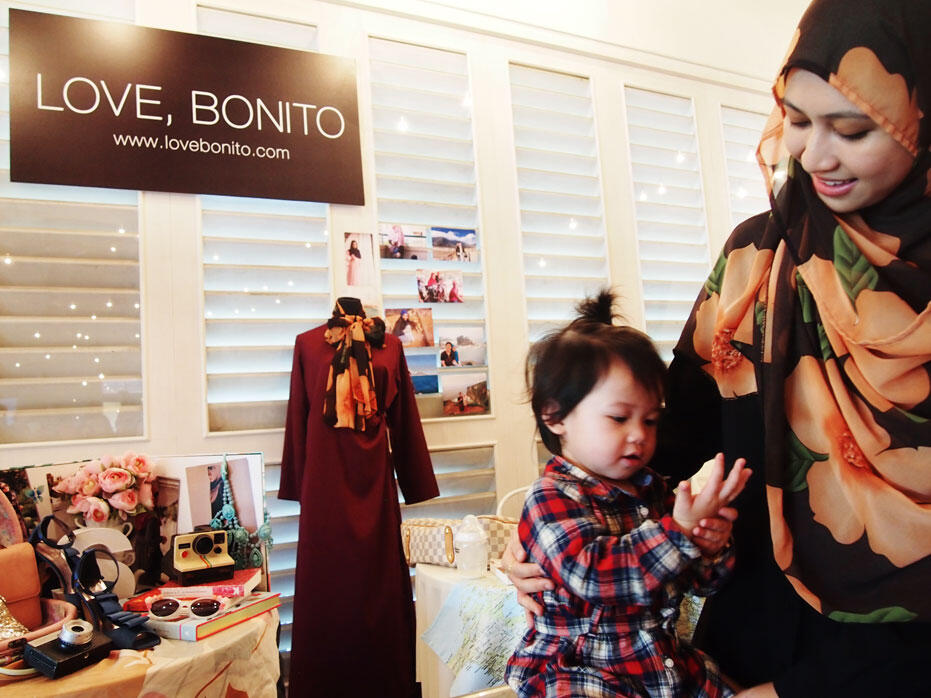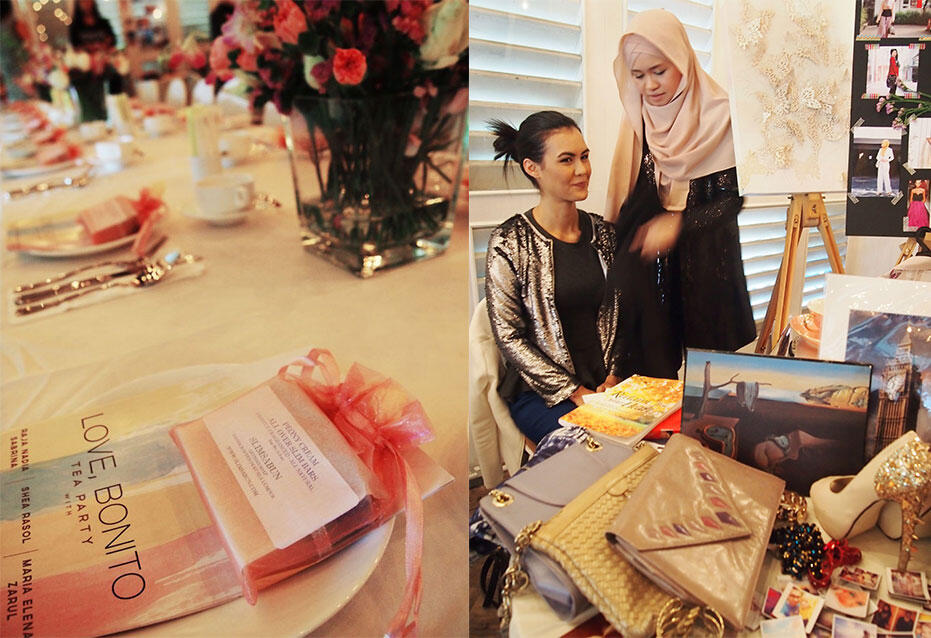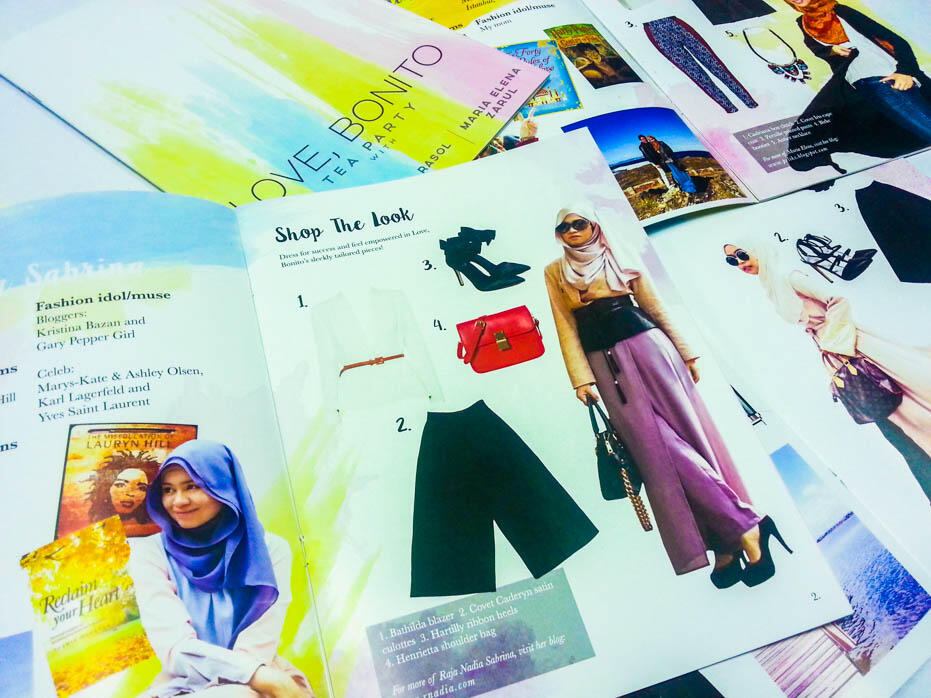 The inside of the booklet!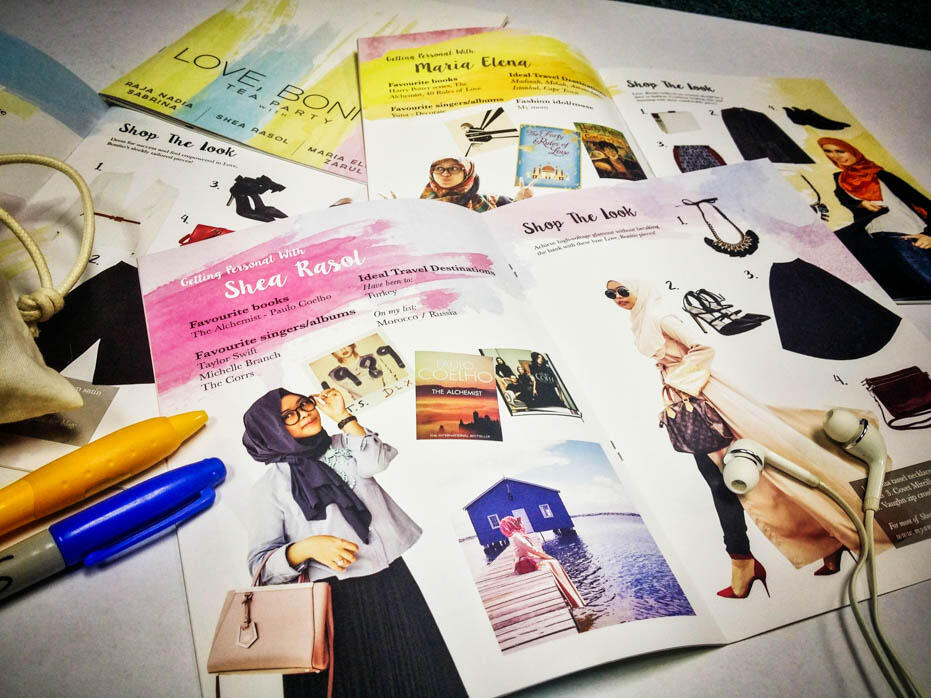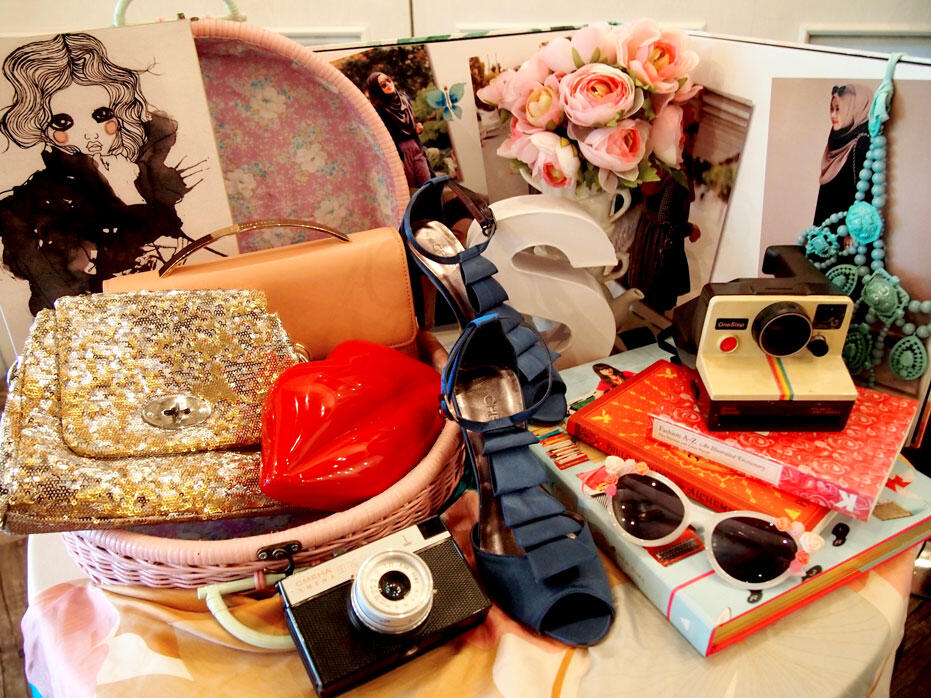 Shea Rasol's table was so cute and colourful!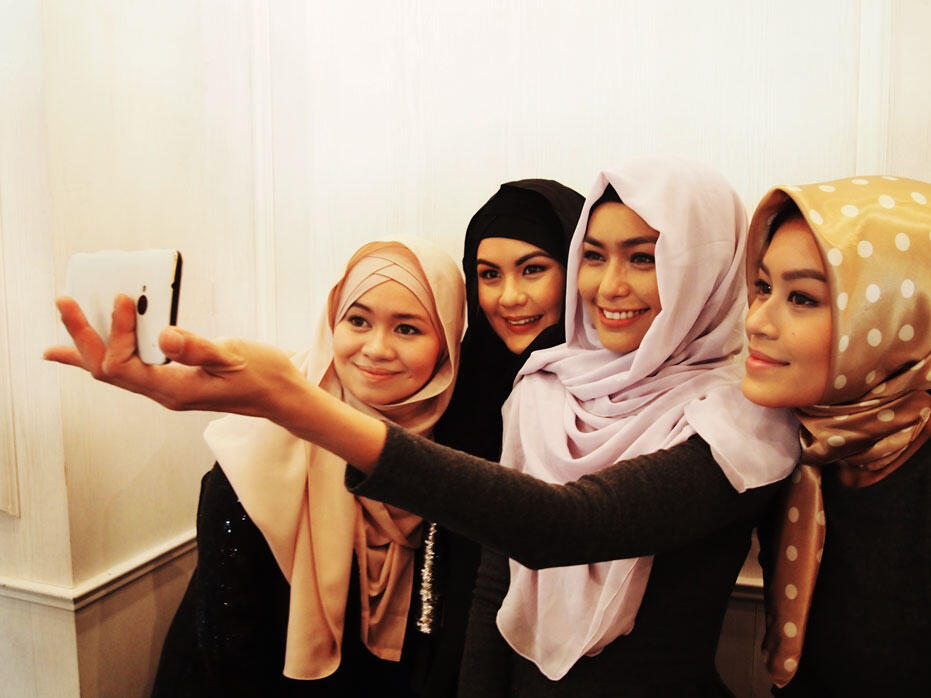 SO PRETTY. This picture convinces me that wearing a hijab allows the observer to focus on just that beautiful face.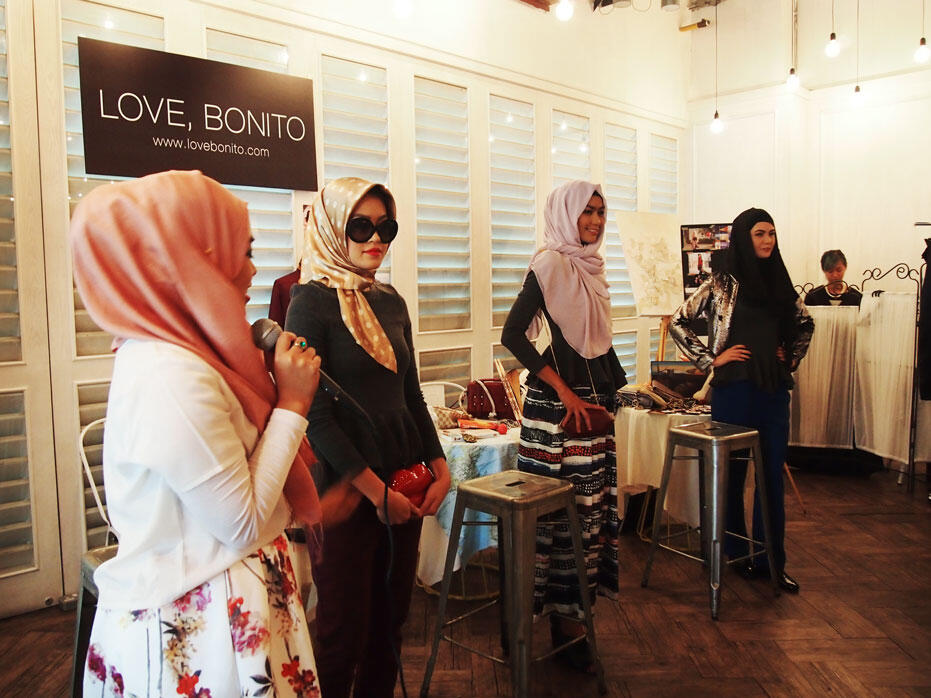 Shea, R.Nadia and Maria each styled 3 different Love Bonito looks, with each look using a similar piece they all had to use across. It was so interesting to see their individual styles speak so loudly for themselves in subtle nuances.
Thanks so much for all the work you all put in… i know there were a whole lot of emails and whatsapp messages going back and forth! <3
I now have more respect for girls who wear the hijab cos it takes EXTRA time to get ready and dress up! I'll probably be so stressed and rushed some days (if i had to wear one) that i can imagine myself appearing in public with what looks like a lopsided mushroom on my head.
I also learnt that styling with a hijab on, is a different ball game altogether cos the flowing shape lends to rethinking silhouettes when putting together an outfit.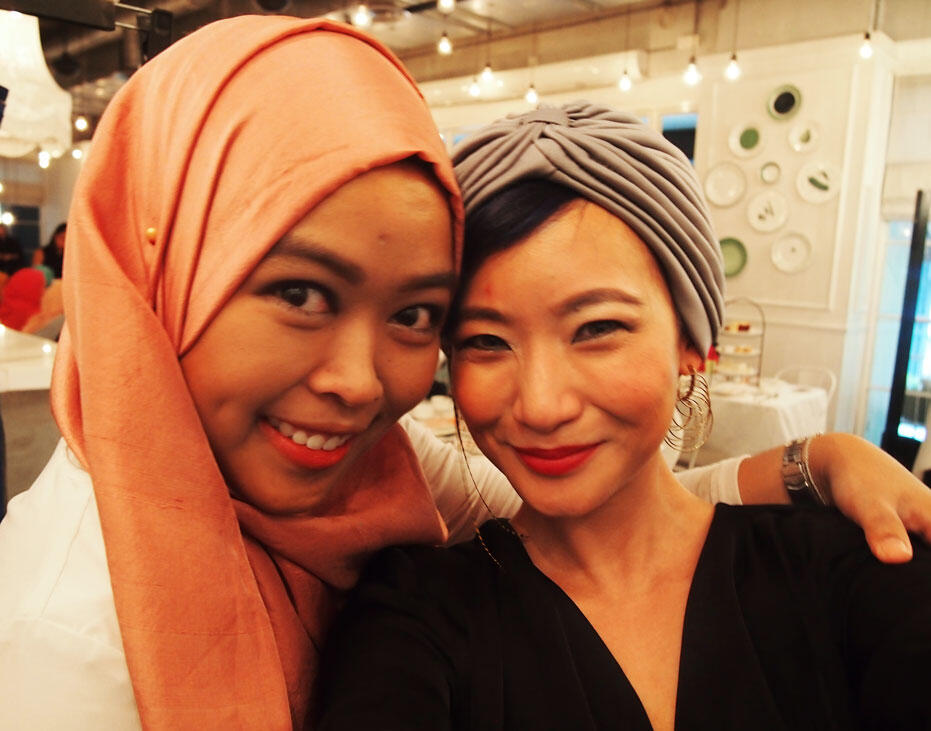 Shea and i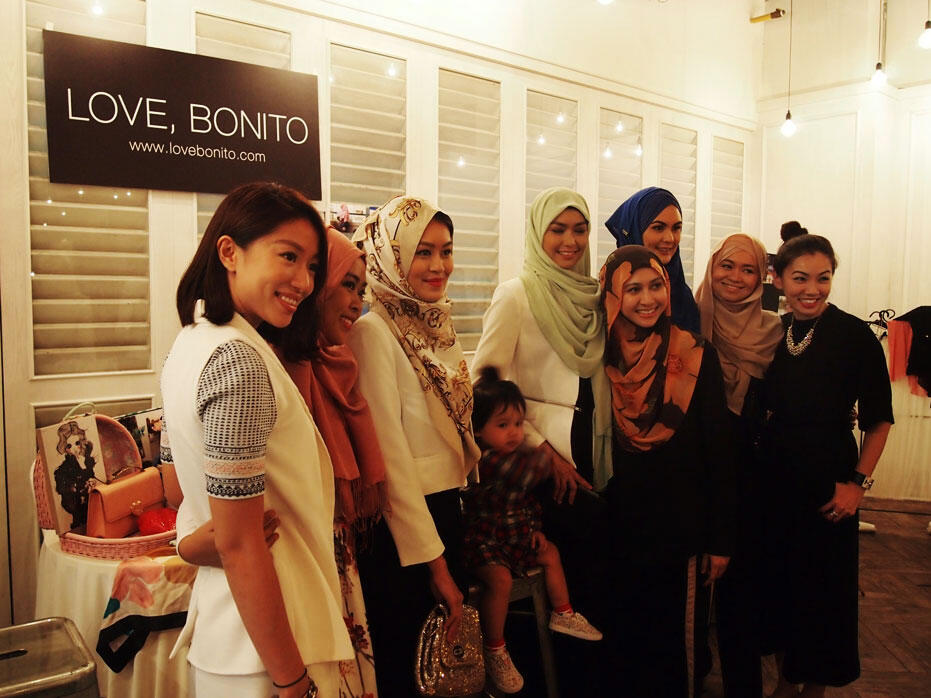 The Love Bonito founders with models and fashion stars: Rachel Lim, Shea Rasol, model x2, Maria Elena Zarul. Raja Nadia Sabrina, and Viola Tan.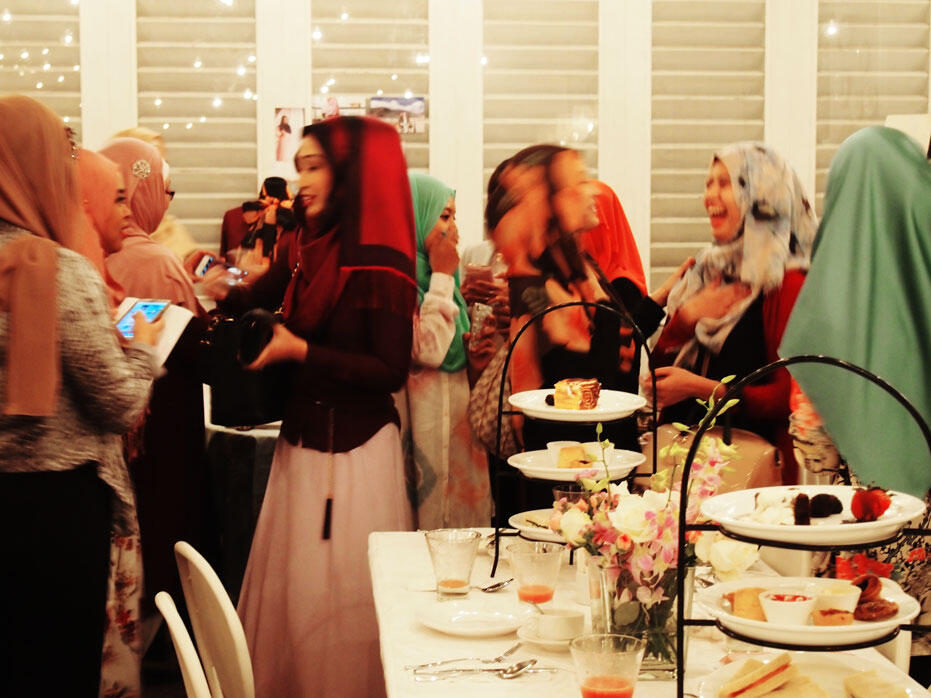 Bumped into my old primary school mate Mawar!!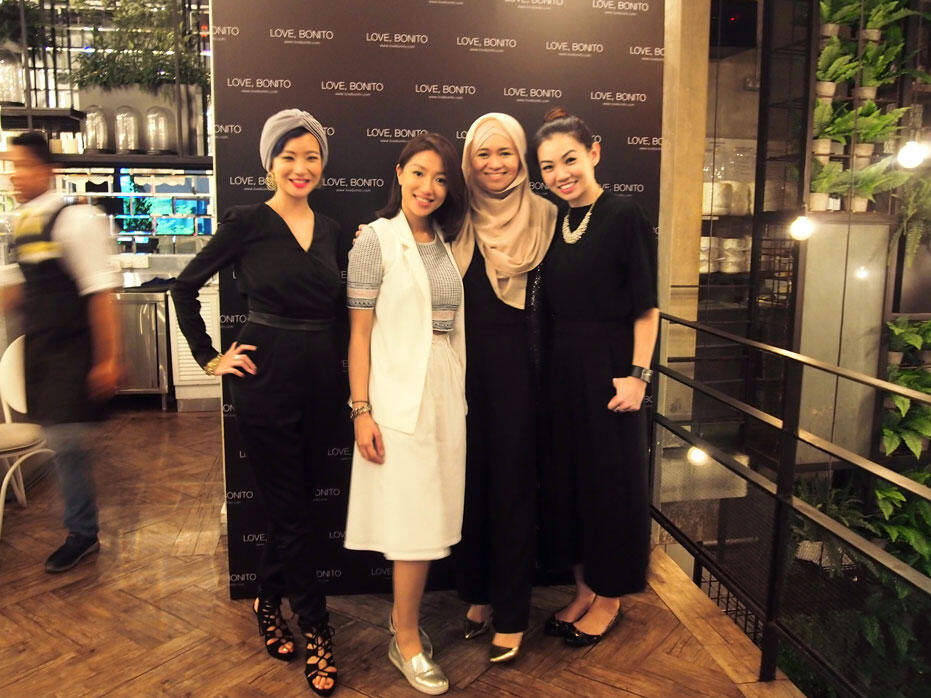 me, Rachel, R.Nadia, and Viola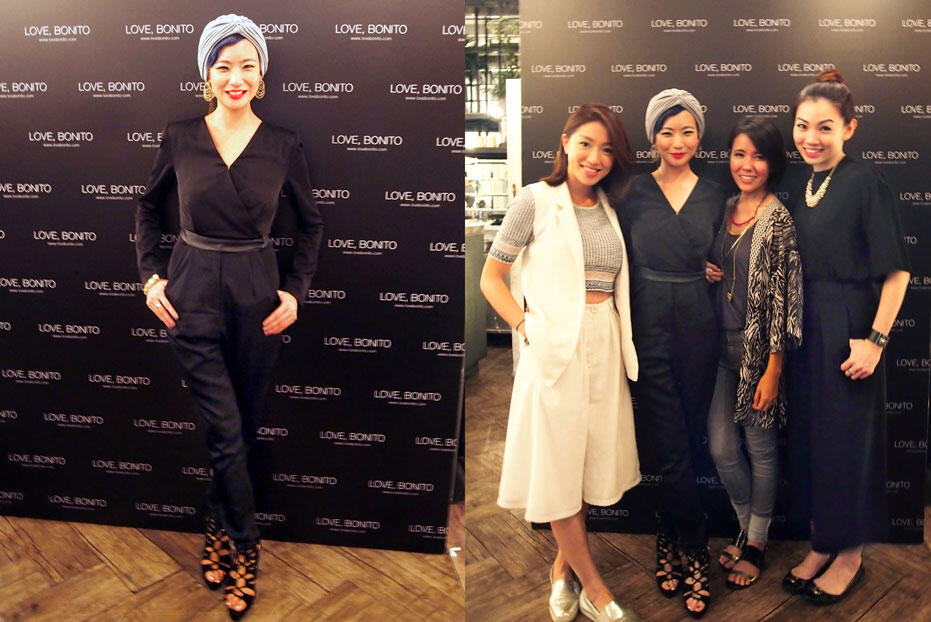 Besides my jumpsuit, my shoes are also from Love Bonito 🙄
On right: Rachel, me, Rengee, and Viola!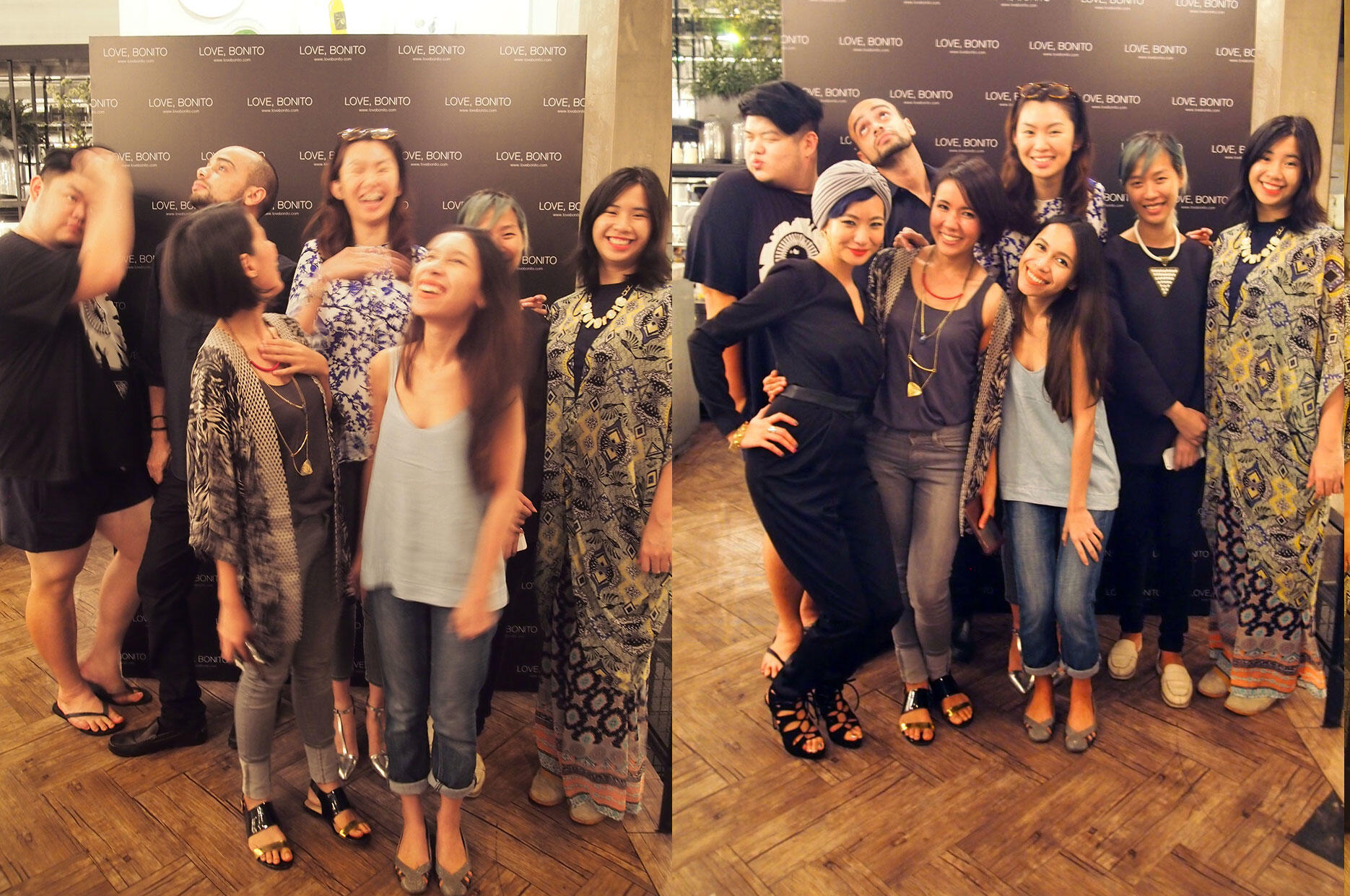 Team pic!
KinkyBlueFairy + MadHat = me, Rengee, Baby, Joe, Tareq, Shermaine, Sweet Ee and Lui Xia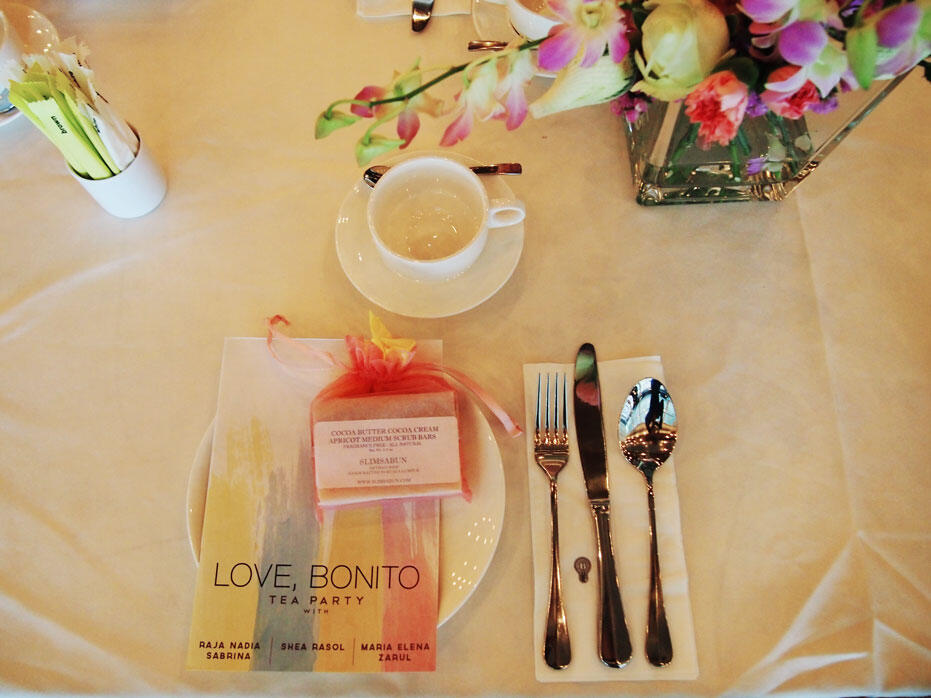 Website: www.lovebonito.com
Facebook: www.facebook.com/lovebonito
Related posts and events we've done
* Love Bonito Soft Launch Sept 2014 *
* Cheesie x Love Bonito Launch & Fashion Show @ Publika Oct 2014 *
* Christmas VIP Sale Dec 2014 *