I had my first yee sang of the year thanks to The Gardens Mall who held their CNY luncheon at The Han Room.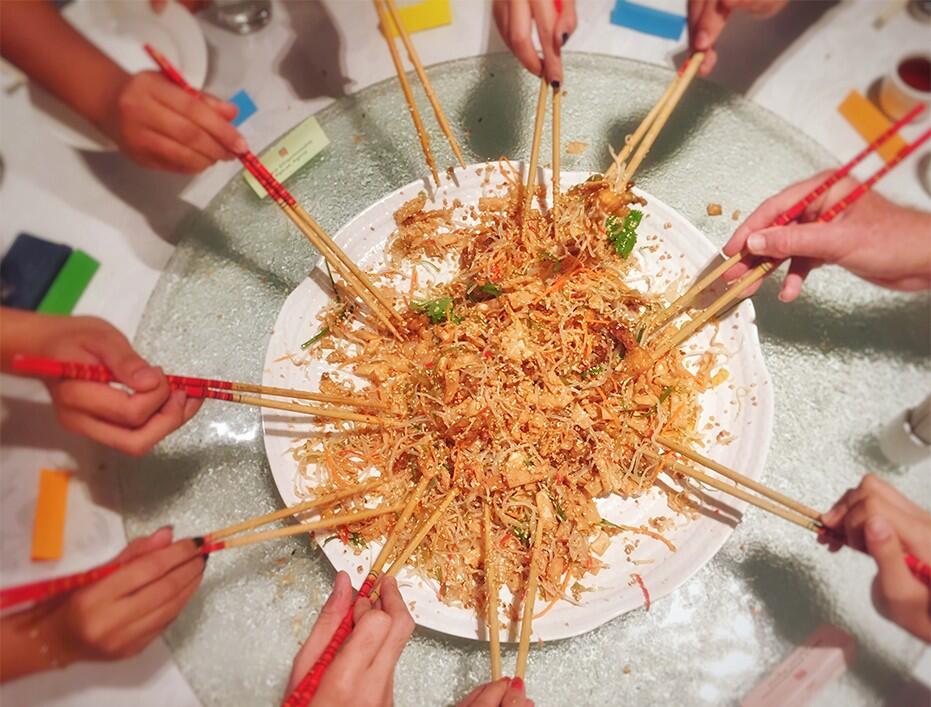 I was so excited to toss the yee sang that i completely forgot to take a pic… so this was a posed one (made everyone pretend for a shot).
Michelle (whom i just met and has just joined Lifestyle Asia) was seated next to me and we spoke about traveling in the Blue Mountain area (she used to live in Sydney and i'm heading there with my family), poké bowls (she's starting her own poké brand soon), and meditation; whilst Anthony from TGM lit up when he spoke about his golf holidays.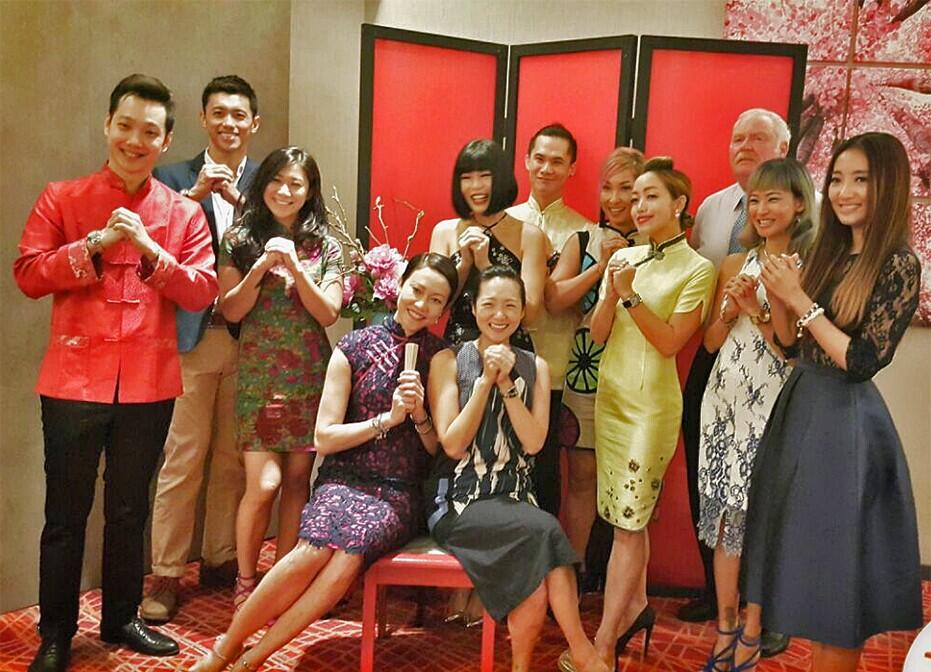 Crashed pic with all the noisy peeps from the next table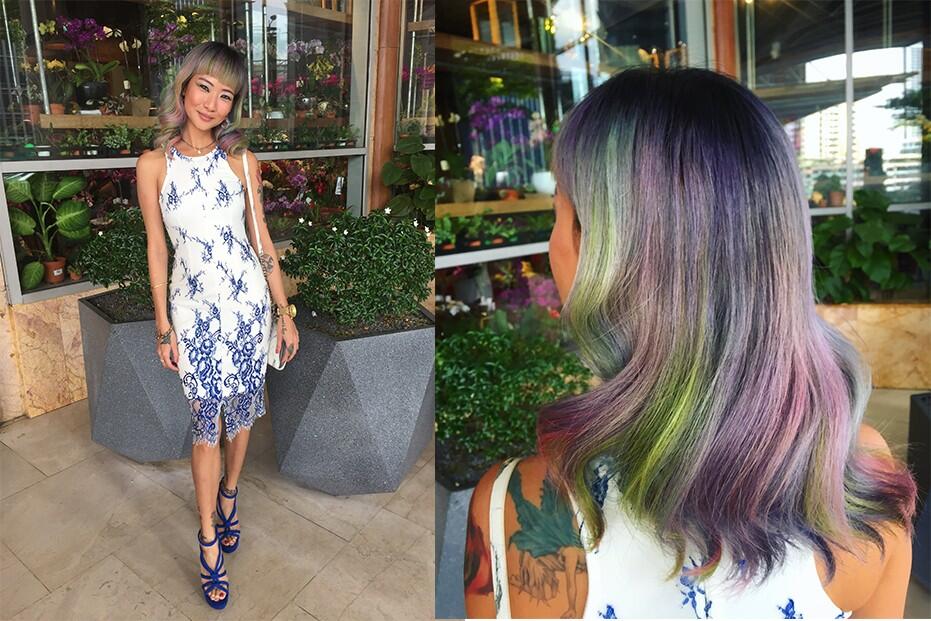 Went to the Love, Bonito store in MV early this month to pick out a new bunch of dresses for CNY including the one above!
Cammy liked it so much she went from the MV outlet to the Paradigm one in search of her whole CNY wardrobe. I'm pretty sure we chose at least two of the same designs, so now we can purposely twin for gambling sess and be a pow wow team!
I would like to say that my hair looks like that every day but it ain't true.
Nicely done that morning by Centro Hair Salon (colour by Han, styled by Kay)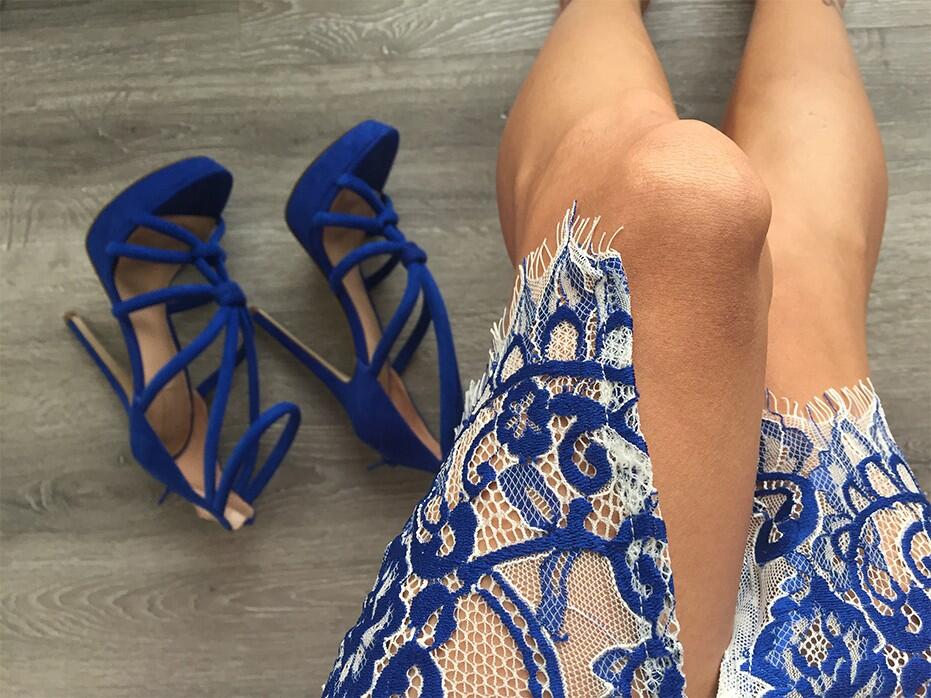 Nothing like going home and stripping those high heels off in satisfying sigh!
Chinese New Year is when The Gardens Mall goes all out with its decorations and performances to capture the festive spirit.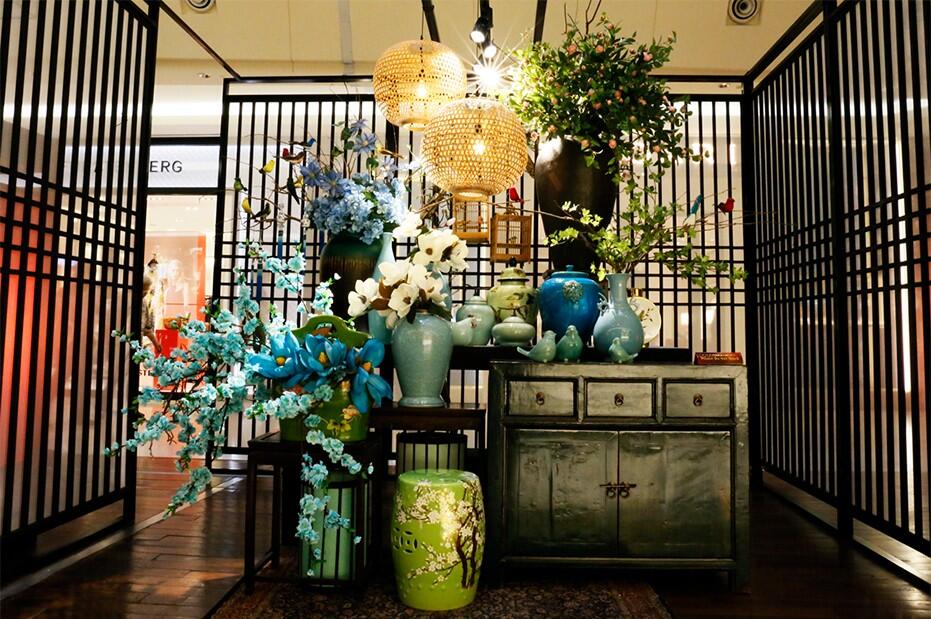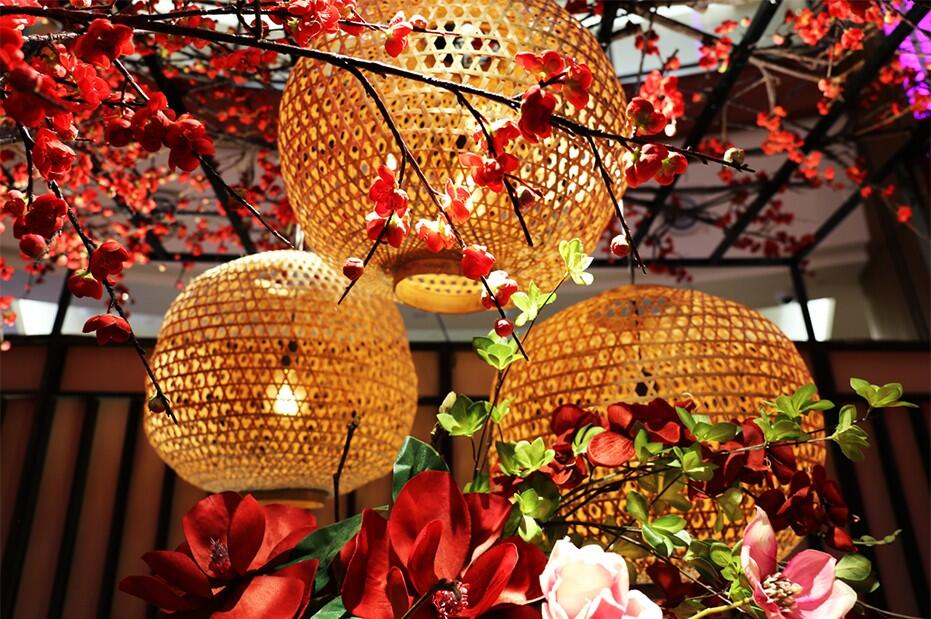 To welcome the Year of the Rooster, a variety of performances and activities amidst beautiful decorations are lined up till 5th February:
Acrobatic Lion Dance
12:00pm          6th February
3:00pm            28th, 29th and 30th January, 1st, 4th and 5th February
The Instruments Ensemble
1:00pm            27th, 28th and 29th January
5:00pm            4th and 5th February
Chinese Acrobatic Performance
3:00pm            27th January
5:00pm            30th January and 1st February
Contemporary Chinese Dance Performance
1:00pm            30th January, 1st, 3rd, 4th and 5th February
5.00pm            3rd February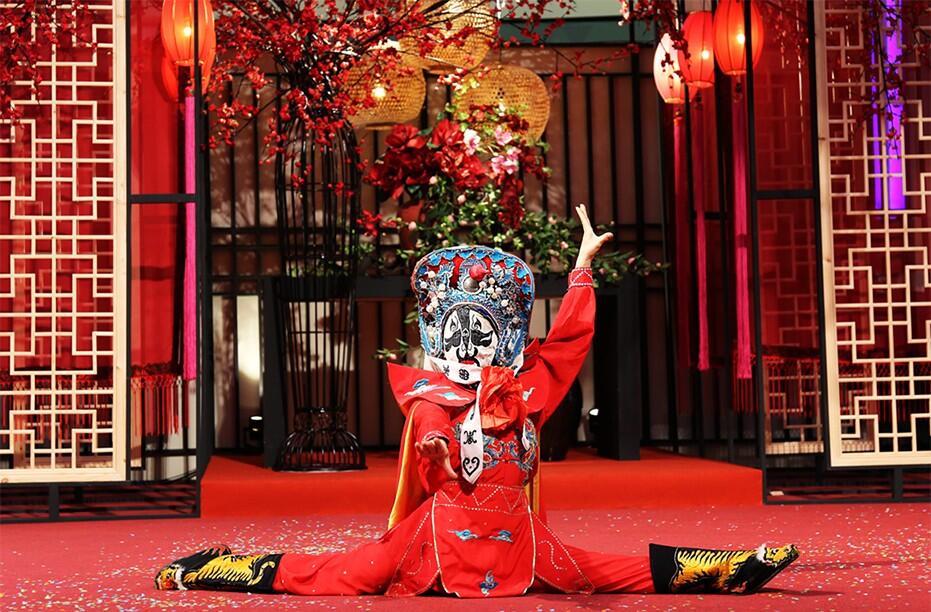 If you shop at The Gardens Mall during this season up till 5th February 2017, you get to redeem a pack of festive packets if you spend RM380 (or RM300 for HSBC credit cardholders and The Gardens Club members) and above in a single receipt* and an additional pair of specially designed ceramic jars with any purchase of RM900 (or RM800 for HSBC credit cardholders and The Gardens Club members) and above in a single receipt**
* <250 redemptions per day
** <100 redemptions per day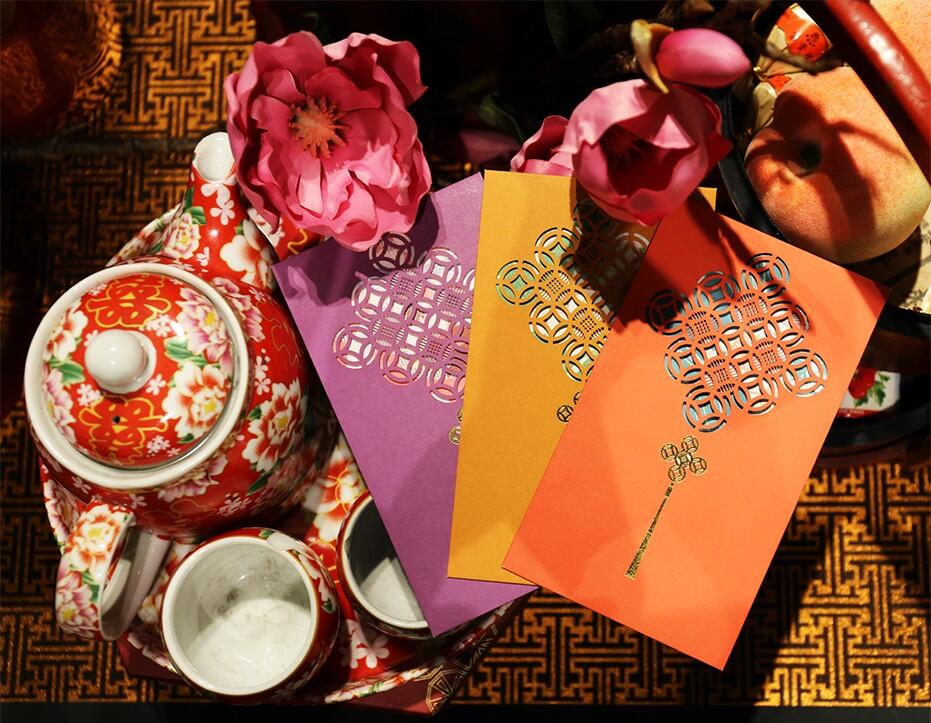 For more information:
LIKE The Gardens brand-new Facebook page: facebook.com/TheGardensMall
You can also follow them on Instagram or visit their website.
+ + + + +
Since we're on the topic of events, i'm just gonna blab a whole bunch we went to in December and never got to credit here for all the fun we had!
The Gardens Mall Christmas Dinner @ Sage restaurant >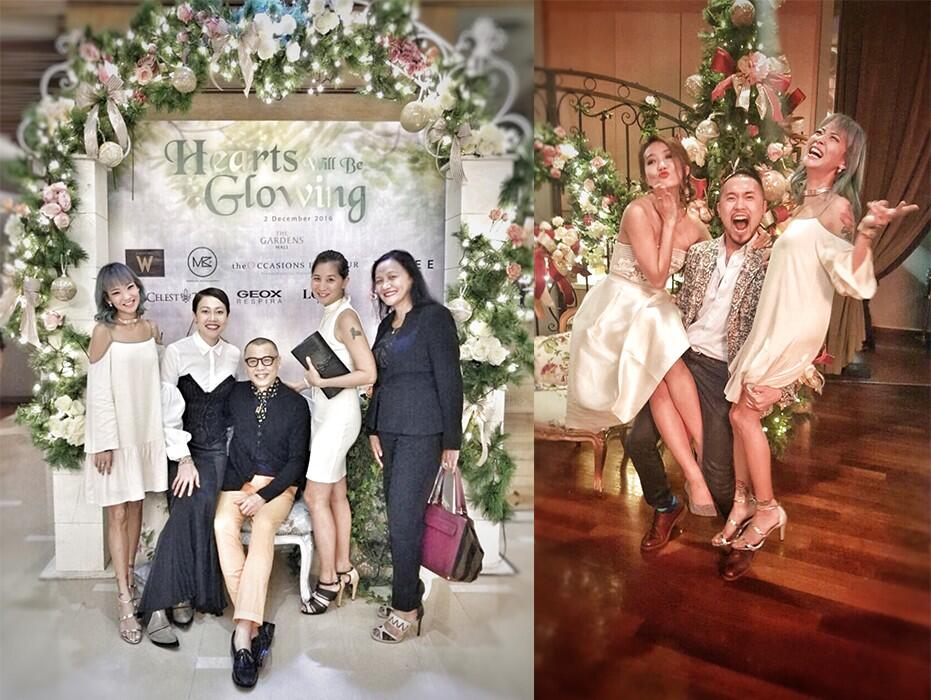 Dennis was insistent he was strong enough to carry both Chels and i.
He dropped her on the floor after that (i'm glad it wasn't me).
Guess where my dress is from  🙄

The always effervescent Bernie hosted the night.
+ + + + +
Maarimaia launch @ Journal Hotel >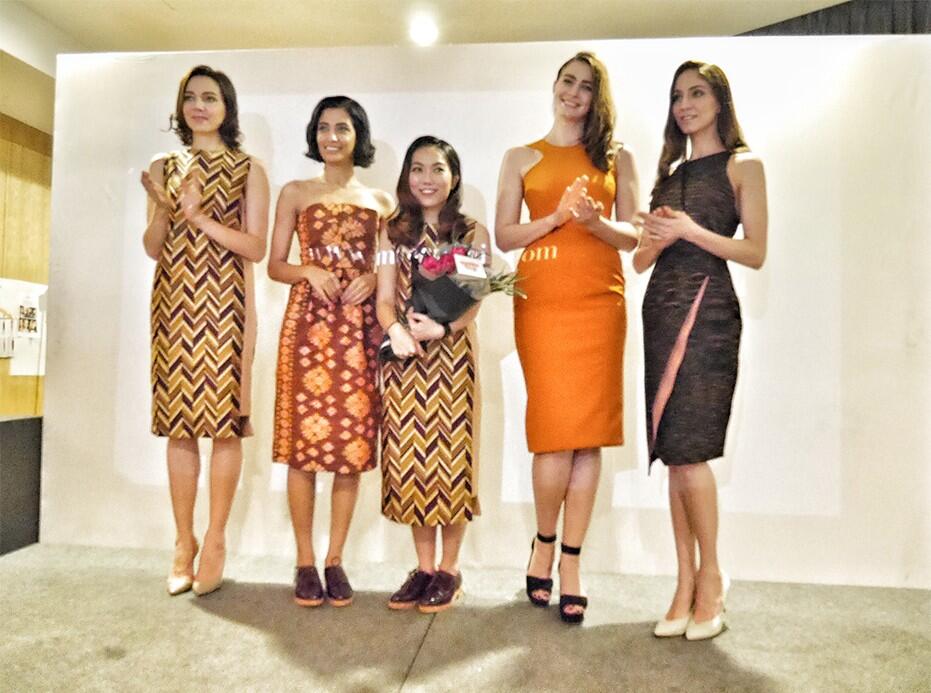 Went to support May Sze, who started her own label after quitting her full-time job in the luxury fashion industry. So proud of her! I tried on a few dresses and next thing i knew, had swiped my card.
Willpower = 0.   🙄
"Synonymous with intelligent well-crafted designs, the label's devotion to independent beauty is reflected in each Maarimaia creation – pairing functionality with handcrafted elements from inception to construction. Maarimaia sources its materials from artisans all over the world, incorporating culturally-established traditional textiles with the brand's modern aestheticism."
Confidence, independence, intelligence and complexity are the virtues that Maarimaia uses to define femininity. Taking these into account, Maarimaia aims to create timeless beauty that transcends time, space and trends with flattering pieces that can take you from a chic day out with your girlfriends to a formal dinner.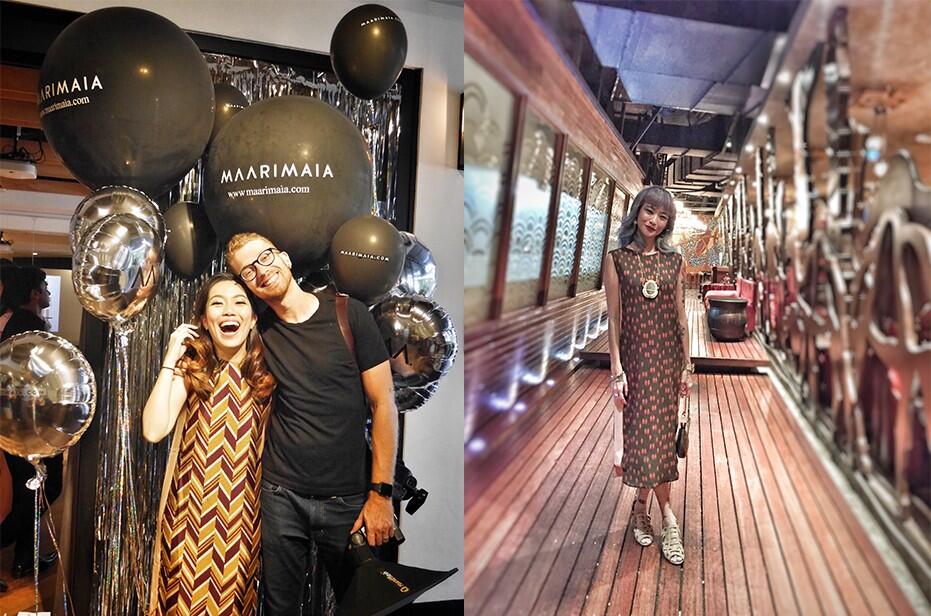 L: May Sze with Paulius of All Is Amazing who photographed her event
R: me wearing one of her dresses at an event the following week. I recently started practicing using something once i get it, otherwise it sits pretty in the cupboard unloved!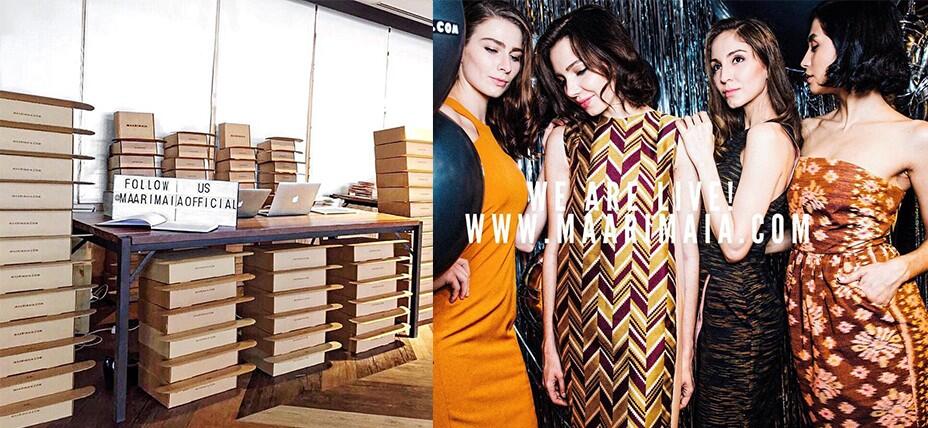 Follow their IG @maarimaiaofficial to find out where you can view them in person!
Website: www.maarimaia.com
+ + + + +
Jaeger-LeCoultre @ Starhill KL >
Creating beautiful timepieces since 1833, Jaeger-LeCoultre's timepieces have become internationally recognized for being precise works of art and heritage.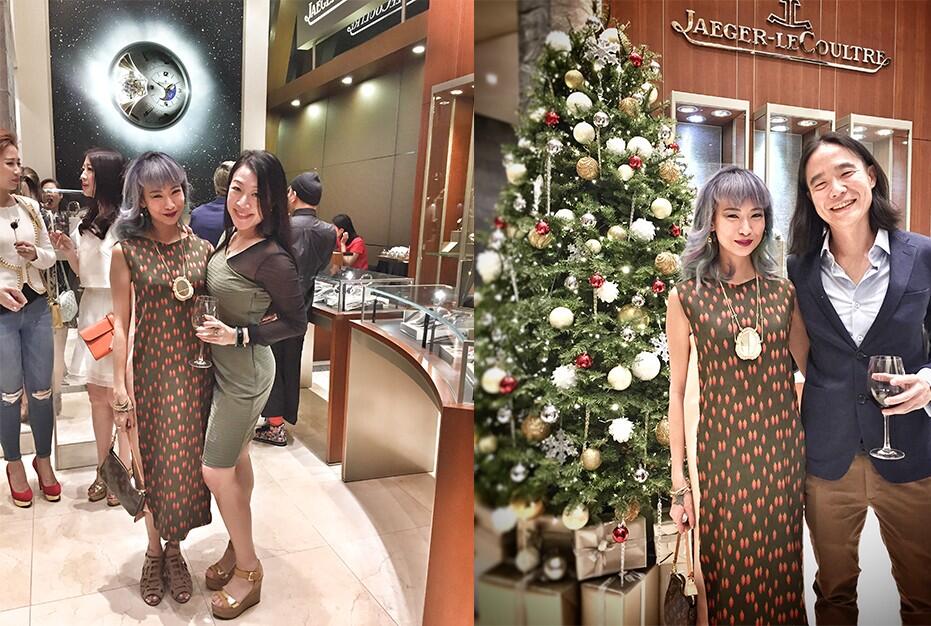 Thanks to Reena at Jaeger LeCoultre for inviting Jun & i over to pop our turkey cherry for 2016!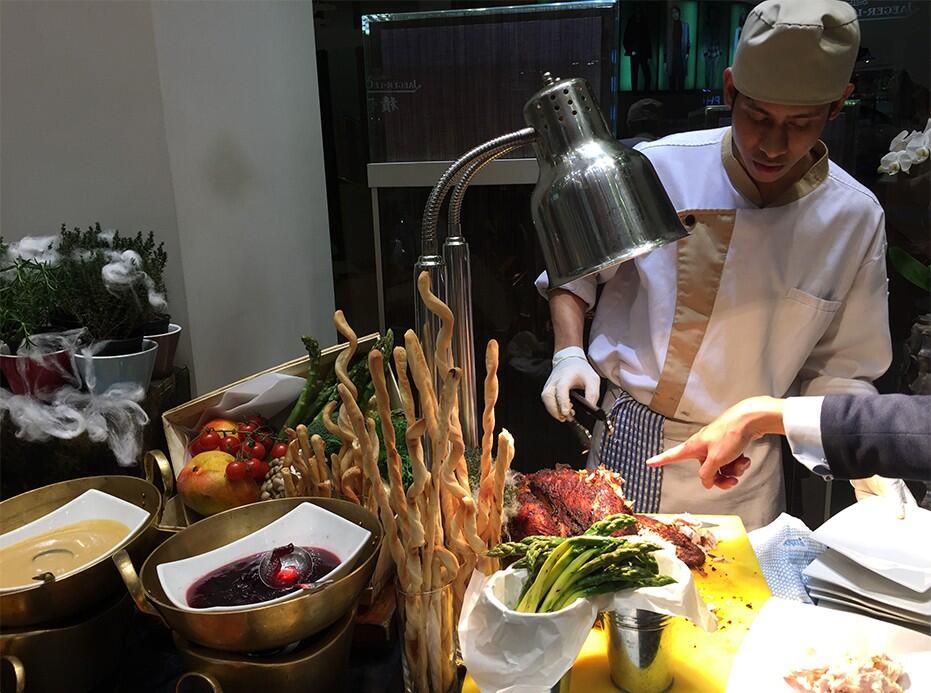 "Yes, that part please!"
Website: www.jaeger-lecoultre.com/my/en
IG: @jaegerlecoultre
+ + + +
Common Man Coffee Roasters >
Born as a contemporary cafe in Singapore, Common Man Coffee Roasters has grown into a specialty coffee roaster, wholesaler, Cafe and Academy based in Singapore which operates as actively in Malaysia. Taking pride in specialty coffee beans that are grown in "ideal climates and exhibit distinctive flavours which are representative of their variety, growing region and processing method," the beans are roasted by their team of expert roasters in Singapore.
To add to interesting bits of info bout the brand, they were awarded Readers Choice Best Cafe by SG Magazine (2014 & 2015) and have a dedicated Green Bean Buying team to source beans from all over the world.
Common Man Coffee Roasters recently opened in Plaza Vads TTDI >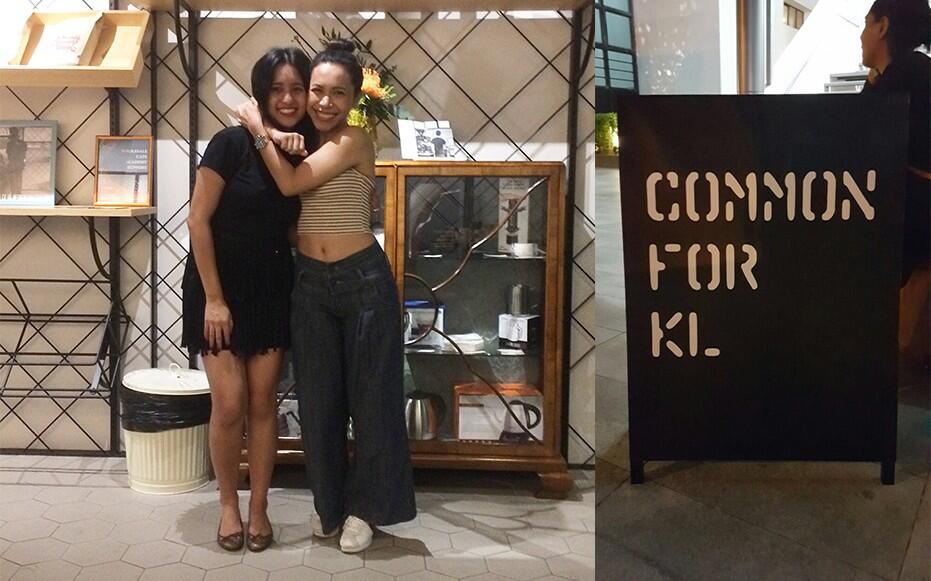 Ayesha from MadHat & Faridah from KBF at the launch. It was the same night as the Jaeger event!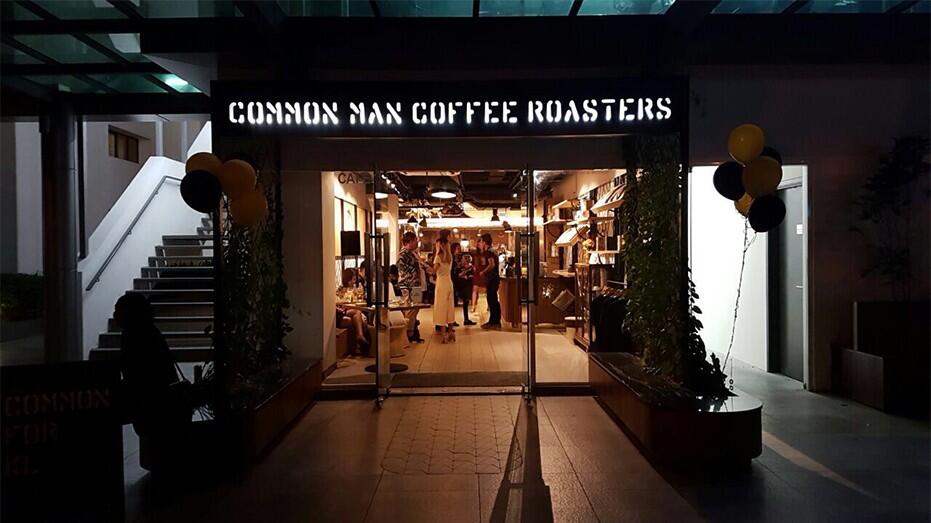 Website: www.commonmancoffeeroasters.com 
IG: @commonmancoffee
+ + + + + +
Malaysia Major Events (MME) Symposium >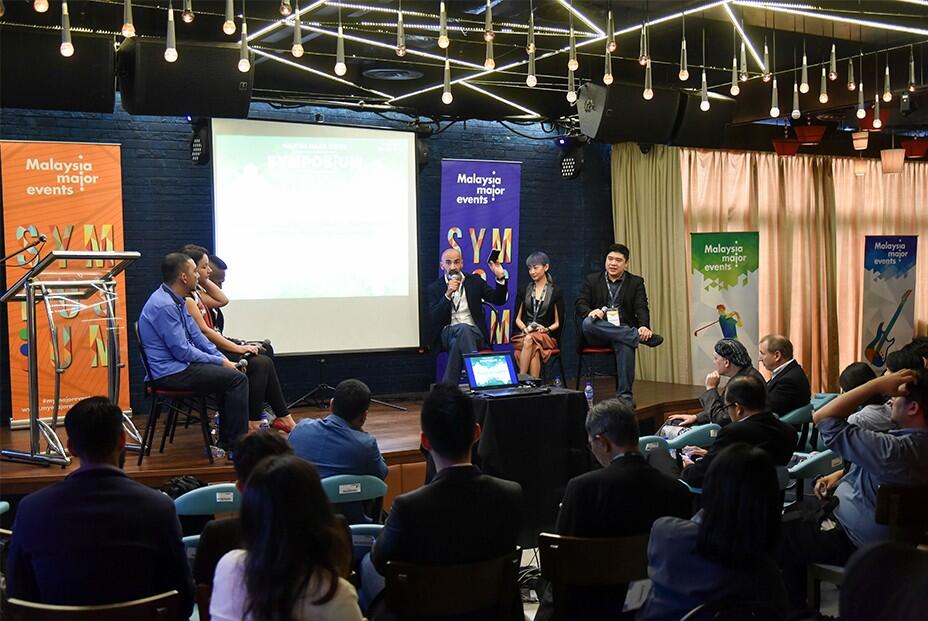 The Malaysia Major Events (MME) Symposium is an annual conference that brings together creative individuals to discuss experiences, current events and trends; and it was my second time being invited to be a panelist speaker.
For 2016, i spoke alongside Khalid Aljuned (Project Director, Berkshire Media), Maurizio Barbieri (CCO, Ballr), Muhammad Nizam (Senior Consultant, Geometry Global; PR & Director of Comm for @tarikjeans) and Daniella from Google; while being moderated by Christopher Tock (CEO, Social Grooves) to deliberate the impact of digital innovations and social media on marketing. We definitely didn't have enough time to dissect everything!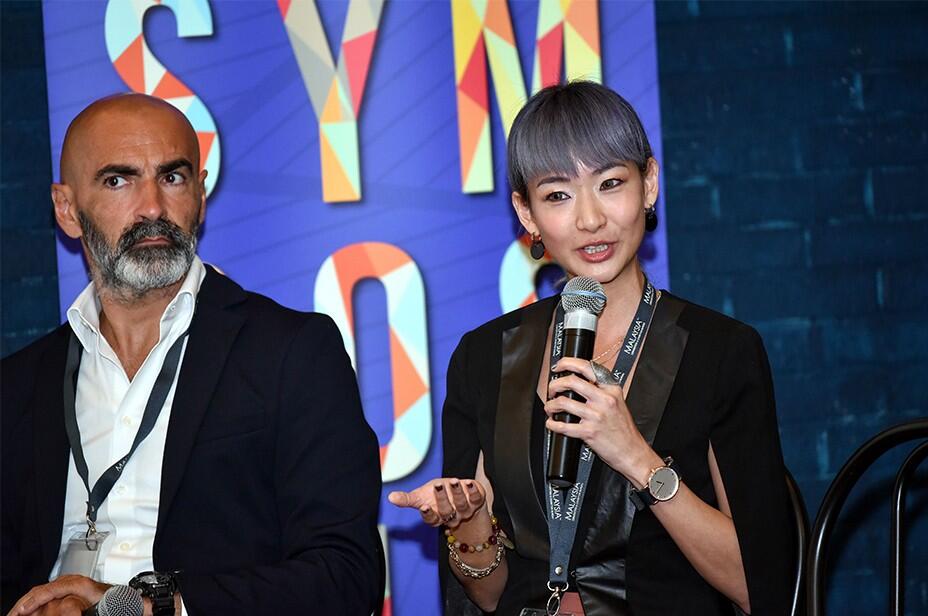 Maurizio looking like he's gonna punch someone for making a bad pass.
More about the MME Symposium on their website.
+ + + + + +
#ShuGirlsNightOut with Shu Uemura >
To celebrate the launch of their new Supremely Matte Rouge Unlimited lipstick and a new soft gel pencil, Shu Uemura hosted #ShuGirlsNightOut at Port Commune, Seksyen 51 on the 6th of Jan. I was in Club Med at the time so Faridah went to represent, thanks Little Dragon!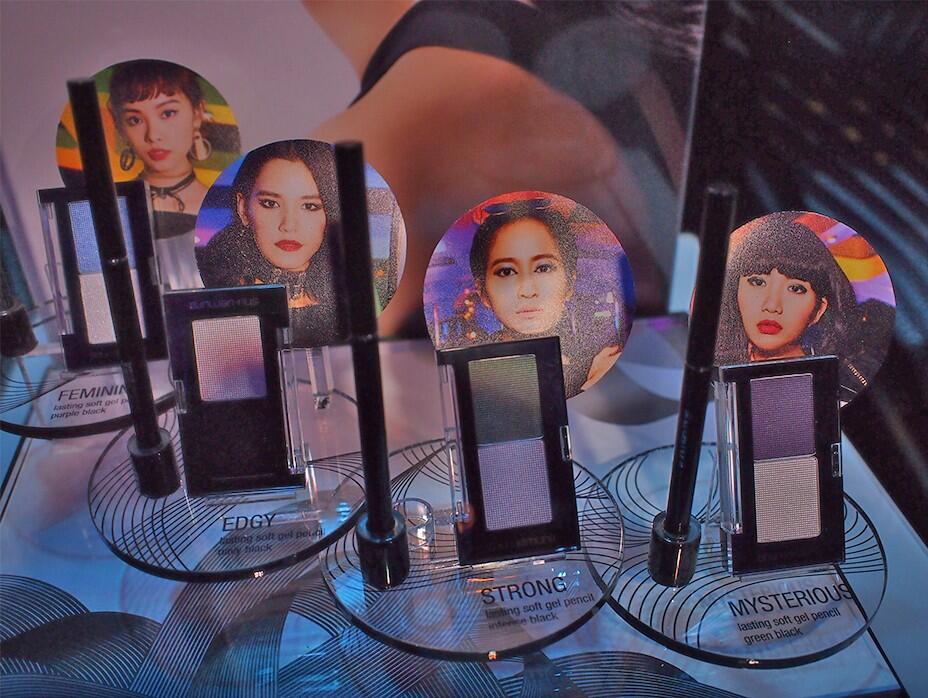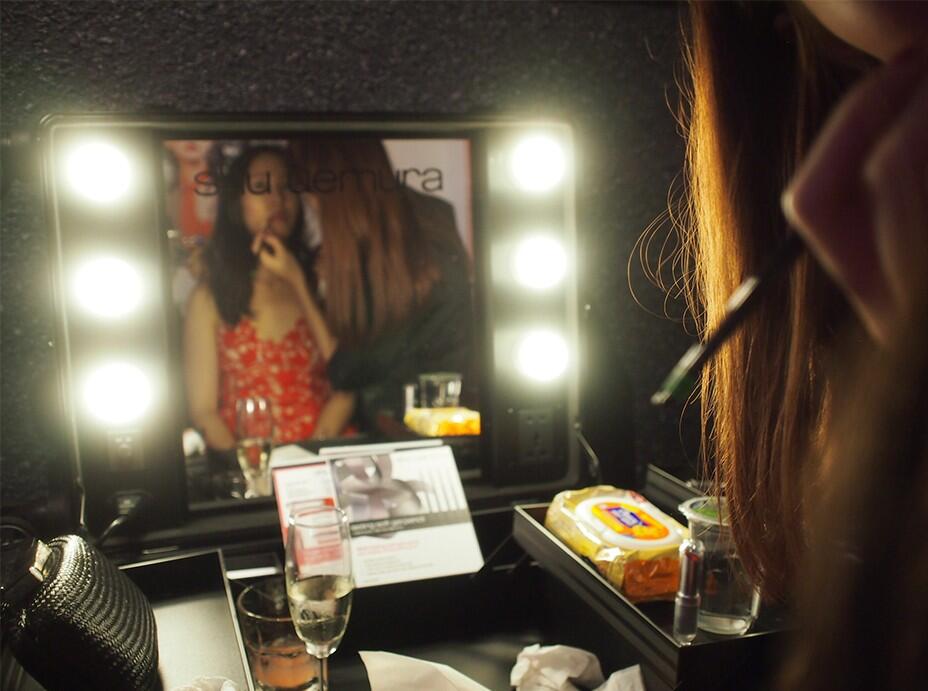 Website: www.shuuemuramy.com
FB: facebook.com/MyShuUemura
+ + + + + +
Love Michelle launch >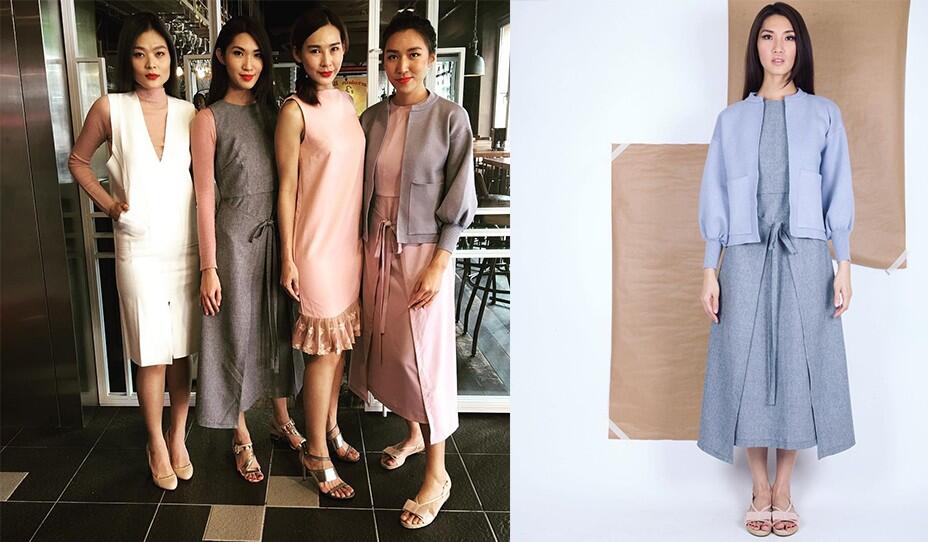 Love Michelle launched its debut collection (designed by Pearly Wong) in December!
My fave is the powder blue cinched bell sleeved cardi on the right. I could see it as a quirky staple kept in the wardrobe for years to come.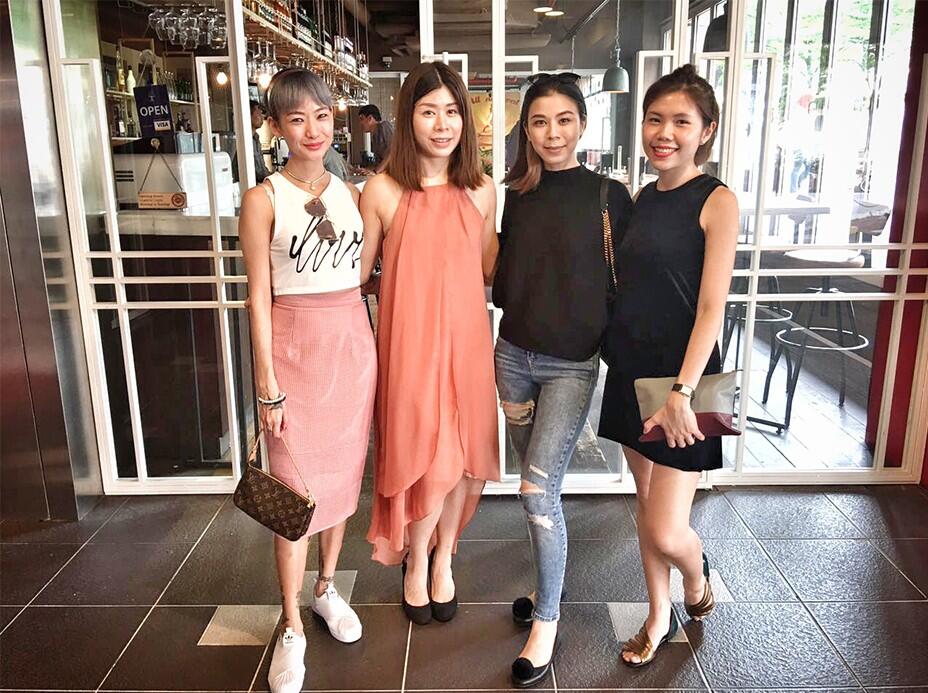 A fairy and 3x Michelles
IG: @lovemichelleco
Website : www.lovemichelle.co
+ + + + +
And last but not least, thanks to FlyMe360º mag for featuring me in their January issue >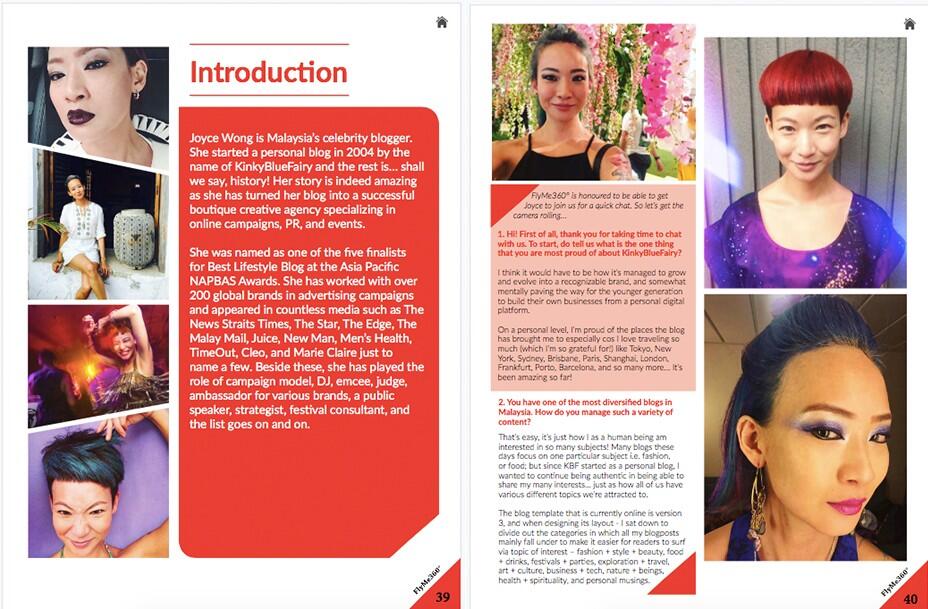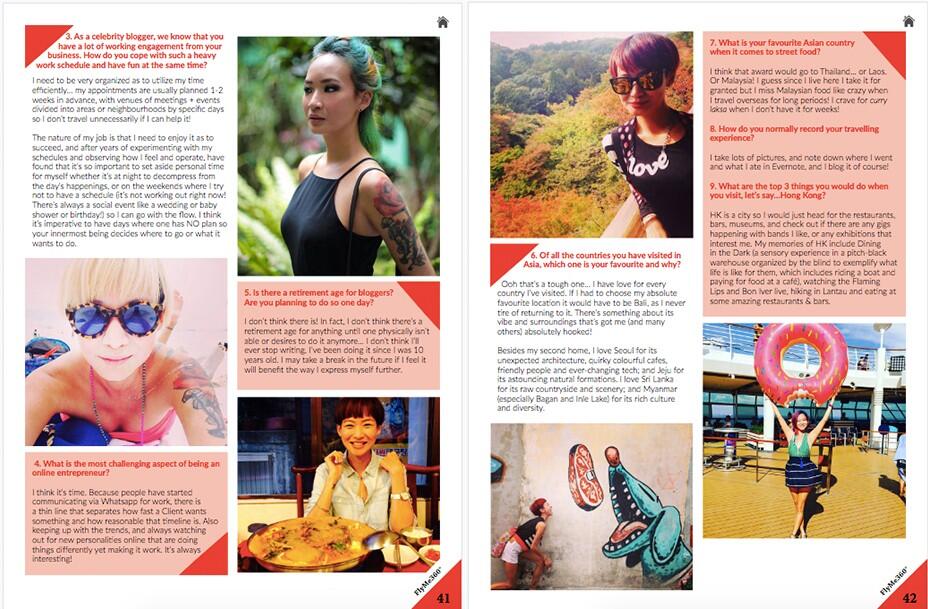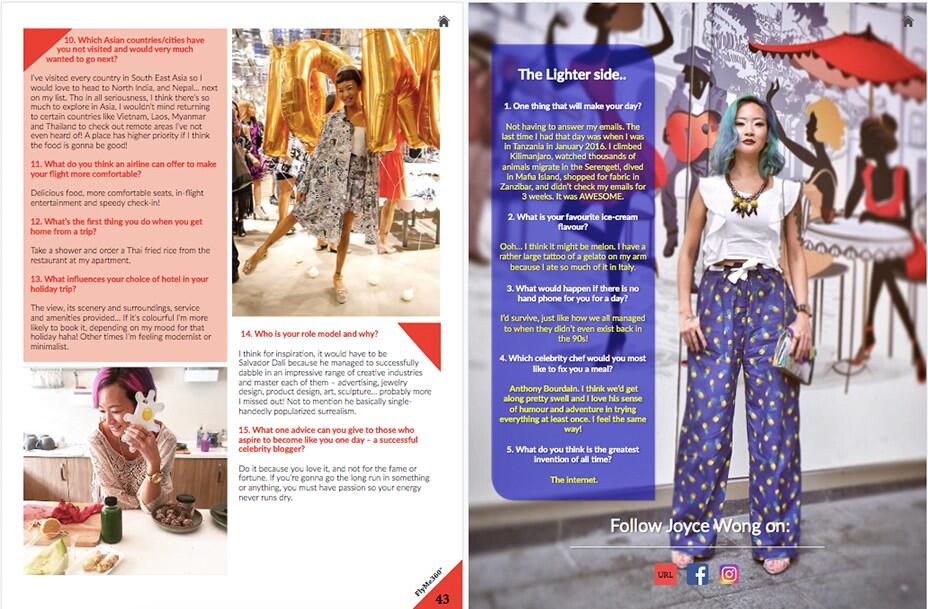 Read the full interview *here*
Website:
www.

FlyMe360

.com
FB: 
facebook.com/flyme360
Twitter: 
flyme360
IG: 
@flyme360magazine
+ + + + + + +Wow i felt tired just blogging all that, no wonder i feel so direly in need of a holiday! Been juggling NYE and CNY digital campaigns between all those events, and told myself "I'll get a break after NYE (hence Club Med) and a longer break come CNY (thank the Chinese gods so many companies come to a halt for 2 weeks)".
Next week i get to run away to Bali with friends i've known for 10 years and it's gonna be greattttttt, i am gonna keep off my laptop!!!
+ + + + + + +
Note: Blogpost assisted by Cavin