Damn, the number looks so much higher when typed down!
I find it hard to believe i'm 32 (tho i have no qualms about getting older) cos i still feel like i'm 28 or something.
So i turned 32 on Tuesday!
I had a bit of the birthday blues the Sunday before (i always get them), thinking about my life and where it's going and whatnot. I found myself mentally taking a step back and thinking, "What is my bigger picture here? WHY am i building this company? WHY am i working like this? WHAT am i trying to do… REALLY?! What am i gonna do in the future? Do i want kids??"
You know. Existential crisis and shizz.
It ended up with me starting an account on OKCupid and then abandoning it when i got overwhelmed with messages.
And then as my birthday crept up… that horrible feeling like i haven't aimed anything in life and feel so lost, slowly faded away into excitement. Sigh, i don't know why i had to feel so negative, maybe it's just something i had to go through to feel the polarity of it so i could feel so GREAT on my birthday!
My schedule this week (and next) is packed to the brim. I have lunch, afternoon, and dinner meetings and appointments set two weeks in advance now. Baby notes down my schedule so she can tell people when they can see me. It's quite mad trying to fit work i actually have to DO in the middle of it all, AND have personal time at nights and weekends (WHERE DOES ALL THE TIME GO!!!?). I didn't want to do anything crazy on my birthday especially since we just threw that big party for the 11th anniversary. I just wanted to chill, and see everyone for lunches and dinners across a month so i can actually spend proper time with them and talk.
Soooo i told myself i'm gonna GIVE myself a night all to myself on my birthday eve cos i want it, and i should darn well do what i want for my birthday!
In the end i had a one-hour Skype meeting with Rengee cos we haven't spoken properly on a work thing for weeks and… it was the only time we could squeeze in asap. But it's cool cos Rengee's cute little face is always a pleasure to see on my screen 😀
On the morning of my birthday, i went for a workout at Bodytone and just felt so HAPPY to be alive. I just kept on thinking, "It's my birthday! Hooray! I'm so glad i'm alive! I managed to keep alive for 32 years! I have all my limbs… and i'm healthy and i can move and i'm FINE!"
I mean, when i think about it, i've done some pretty crazy shit that could have resulted in me possibly killing myself (i.e. jumping off that cliff in Boracay) BUT I DIDN'T.
And just that pure knowledge and appreciation to be ALIVE and WELL feels… GREAT.
Workout was painful and i pushed myself doing some crazy core exercises that i physically couldn't do after a point despite me hyping my own self up in my head: "I have arms yay! I can do thissss Oh my god i can i can! I am so strong!" I think i've learnt how to be a better cheerleader thanks to Baby, she's like my little cheerleader in the office: "You can do it Joyce!" / "Oh my god! Why are you so cute?!" / "You're the best!"
After workout i went to meet my team for lunch, and i spotted a rainbow balloon in the carpark… with Riya holding it. She saw me and i had to brake to laugh in my car cos they obviously wanted to surprise me but it didn't work out.
We went to Mei by Fat Spoon for lunch (i think it's officially the #KinkyBlueFairyTeam 's favourite eating spot cos we had our yee sang dinner there, the rest of them go there once a week, and now, my birthday lunch XD)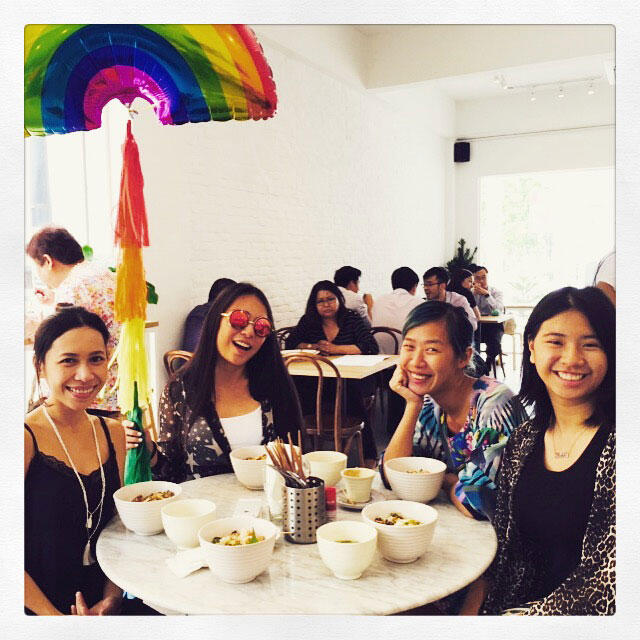 Baby, Riya, Sweet Ee and Lui Xia
Riya is no longer with us and Lui Xia just joined us as an intern.
I had a stick of chicken gizzard, a chirashi bowl and a hot chocolate. When the bill came, Chelle said lunch was on her for my birthday. We were all like, "AWWWW" so loudly (i'm starting to realise we've become a rather noisy team) till Chelle put on a straight face and announced if we continued doing that, she'd pull back the offer. The awwws died down swiftly.
They took a picture of me outside holding my birthday balloon!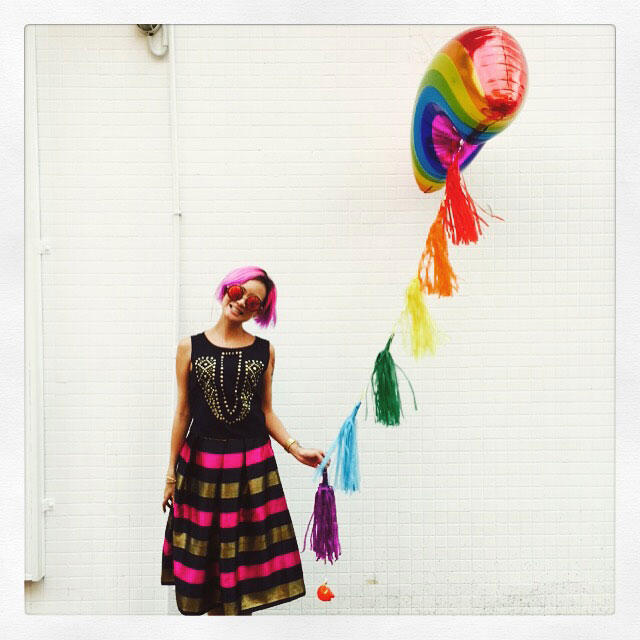 My skirt is from Love Bonito! #BirthdayBaju
I'm so happy about the balloon!! Do you know, i've never brought home a balloon from my own shop even tho i've always wanted one? Every time we have balloons from a shoot or the party, i end up letting everyone take one home… except myself. And nowww i finally have!
I wish i could go around with one ALL DAY… but i discovered that day that driving in a 2-seater car with a balloon bopping into you the whole time is challenging (and maybe a bit dangerous). Maybe i could bring a balloon around with me all day on a weekend and just take Uber.
When i walked from lunch to my car, just holding the balloon and looking up at it against the blue sky was so delightful. It tugged on me slightly as if to say, "Follow me! Let's go!" I told the others how i wished i could just screw work and follow the balloon around ALL DAY. (That's it, next year my birthday will be a holiday okay so i can do whatever i want.)
Went back to office, worked, and i was in a happy mood. Kimberley came over and there was so much screaming and jumping when Baby saw her. Now that i think of it, there's so much screaming in the office when everyone's mostly a girl or gay. Kimberley gave me a piece of cake, and a card and headband she made! SO SCHWEET WHYYYY (< oh god, now i've started)
I went for dinner at A'Perfetto and brought my balloon with me.
When Aps and i asked for the wine list, they said they didn't have it ready yet (cos the place is still quite new) and we were like, "Oh…" and about to feel disappointment, when the waiter Calvin continued, "… but we're having a promotion, where you get a glass of red wine all night if you buy dinner."
There was silence for a few seconds as Aps and i were wondering whether we heard right. Free flow of wine, all night. And we were all there to have dinner and drinks as a group. Rahul practically clapped his hands when he arrived.
I think we ordered too much food cos we were STUFFED after that, and even had to tapau.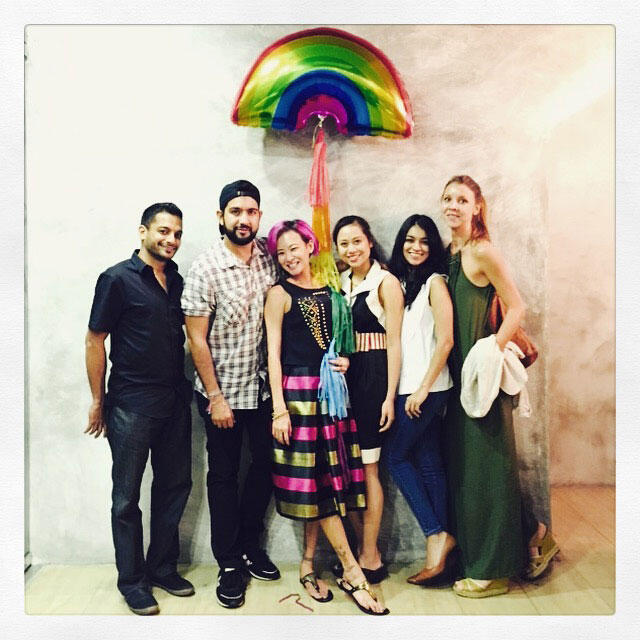 Danny, Rahul, me, Tianna, Aps, Jess
We headed to Hyde after that cos Danny's never been. Kanch met us there and she told Andrew that it was my birthday and he sent over a bottle of champagne on the house. AWWWW I really didn't expect it, so best la! I wish every day's my birthday!
Everyone didn't let me pick up the bill, thanks guys… <3 We had more champagne, some shots, a bloody mary, and next thing you know, i had to leave my car there and Uber it home. They wanted to fetch me but Uber is SO convenient it just made more sense.
And then today, i suffered a horrible hangover. After my second meeting of the day and as Baby and i were walking back to the office, i groaned, "I'm SO TIRED. I think i have to quit drinking."
I've been falling to other vices since i stopped drinking on weekdays. Like… cake. I've had cake EVERY SINGLE DAY for the past 8 days. It's been really terrible. My addiction to sugar has shot through the roof and what more it's my birthday… i've been eating so much cake and ice cream and chocolate.
Which might explain why i'm up blogging at 2:40 in the morning. #sugarhigh