It was kinda weird how i ended up in the Philippines for New Year's Eve. It was a completely impulsive move that felt right when i agreed to it. Having recently been single, i found my regular New Year's Eve plans up in the air. All my couple friends had their families and babies to take care of, and some single friends invited me here and there for NYE, but i wasn't feeling it. So i said no.
During a random lunch at Ben's @ Publika with Lexie, she invited me to join her in Manila and Boracay with two other single girl friends. The moment i heard it, something in my mind went, "YES!" So i booked my flights to spend a week in the Philippines. It was great. By being so far away, and New Year's Eve week; i could keep my phone and laptop at bay without feeling guilty.
The night before leaving, I worked till some stupid time like 5am, slept for 1 hour, then woke up at 6 to catch our morning flight. I figured i could sleep when i's on holiday. The moment we arrived in Manila, the driver took us straight to a hair appointment Lexie's mum so kindly booked for us. I don't have much hair to style so… i got a wash and blow instead. I succumbed to Burger King cos i was starving and if i didn't feed myself, i would have slipped into angry fairy mode. It was okay, i told myself. It's New Year's Eve after all.
Went back to hers, and while we were getting ready for dinner, i wished i had a drink while doing my make up. Lexie walks into the bathroom, and hands me a large wine glass with sangria in it, "My dad made it." The timing was impeccable.
I thought Buster (their mum's chihuahua) was cute when he ran off with one of my flower headbands to hide with his other toys in the living room. Cuteness factor decreased a bit when i spotted him about to pee in my Rimowa and managed to fling carry him off in a split second.
Got ready, bla bla, made Enrique (Lexie's brother) wait, then us three headed out to the City of Dreams for dinner before partying.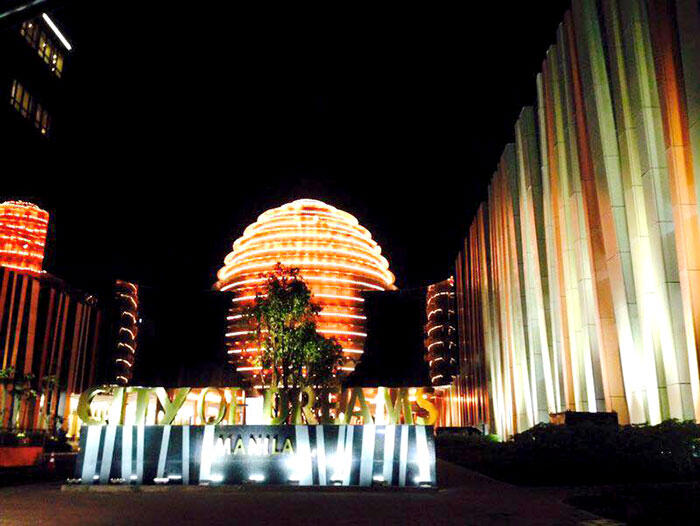 It's a brand new casino resort which also holds the Hyatt, restaurants, Pangaea club, and god knows what other facilities i have no idea about.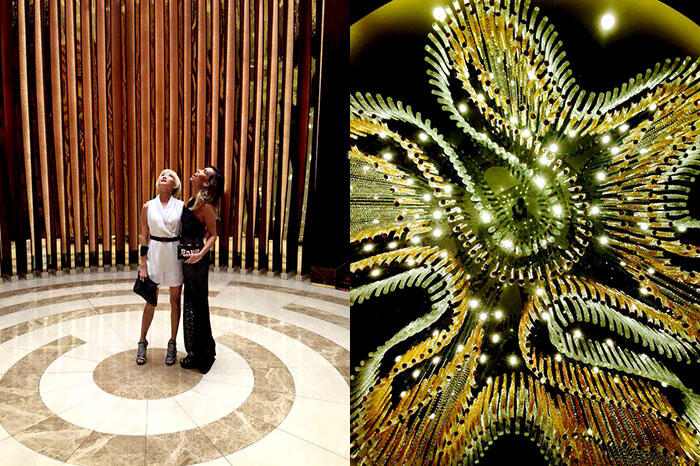 Lexie and i looking up at the fascinating ceiling work. I'm wearing a white romper from Love Bonito, clutch from Brisbane, shoes from Kurt Geiger.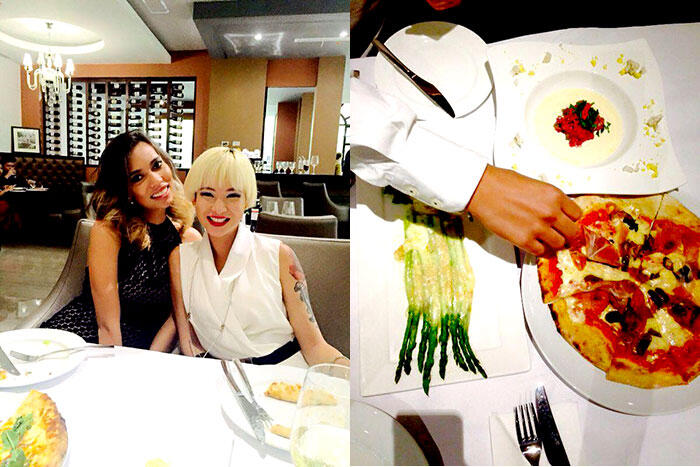 We had dinner at Prego. The steak tartare was divine. I wish it was a bigger portion!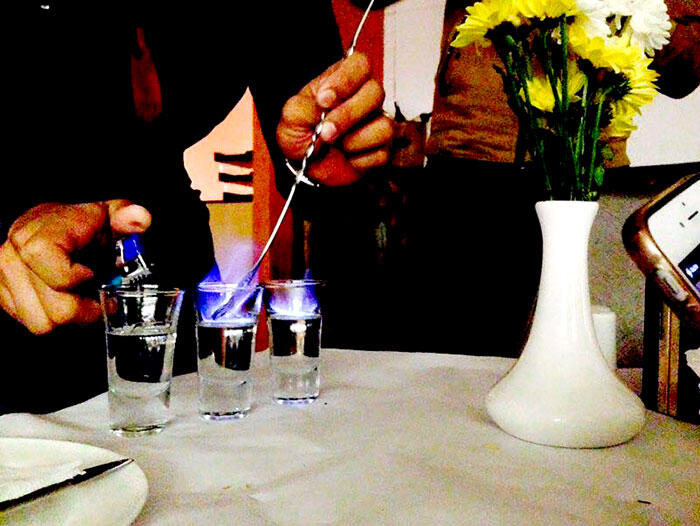 Sambuca shots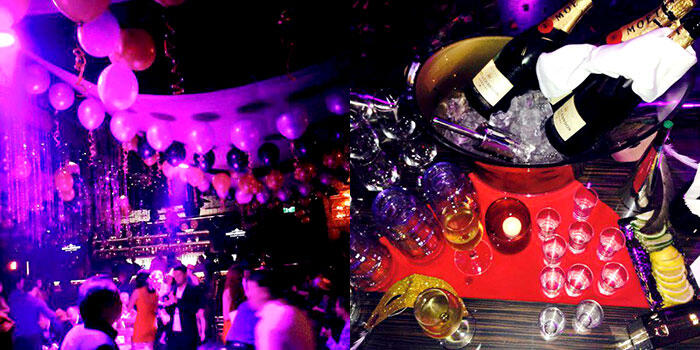 We hit it pretty hard with champagne and coffee patron the moment we arrived…
I was SO excited for it to turn into New Year's tho! I can't remember the last time i felt so excited… i just FEEL like 2015 is gonna be such a great year. 2014 brought so many changes and self-discoveries, i feel like i'm more ready to explode in 2015. Amazing things are gonna happen, i just KNOW it! When the date turned to a new year, i felt a shift in me (well, i thought i did). Like a new chapter is starting. I was just so excited about LIFE.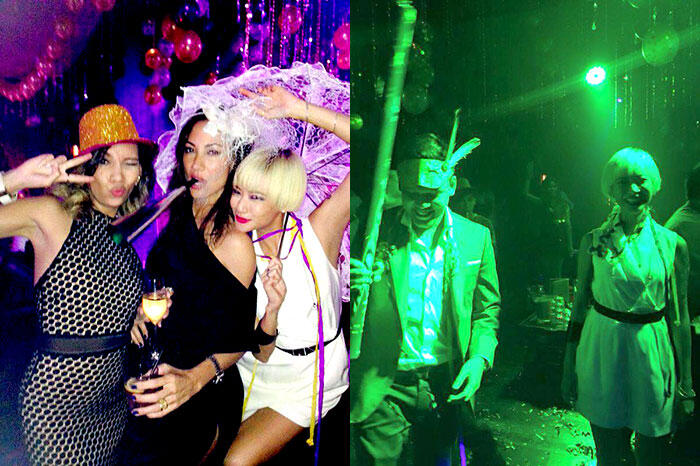 We partied till lateeeee. The next day Lexie and i died trying to wake up to head to the airport for our flight to Boracay. It sounded like such a great idea at the time – spend New Year's Eve in Manila! Then New Year's Day in Boracay!
Reason it's stupid is cos i didn't think of how much suffering it takes to get oneself to the airport hungover.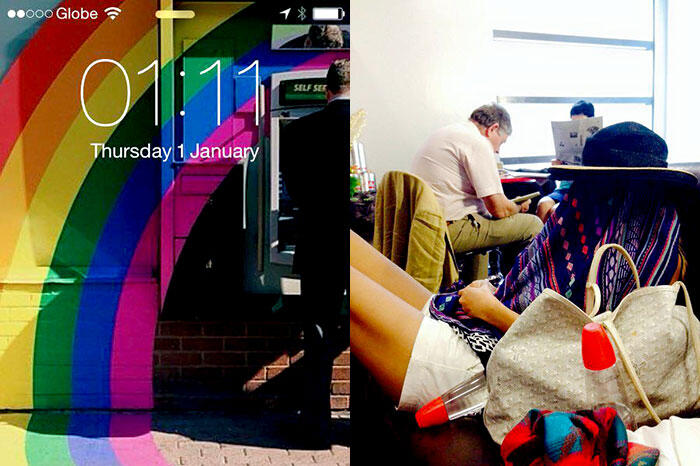 I noticed it was 1:11 on 1st January and took a screenshot.
Lexie in hungover mode.
Anyway to make a long story short: we waited for our flight which was delayed for hours. HOURS. When we finally got onto the shuttle that was taking us from our gate to the plane, we were told the flight was cancelled. Lexie and i headed back home cos we got ourselves on the next morning's flight at 6am. Went home, gave sad faces, ate a meal, got a shower, felt happier, watched The Interview, and hung out.
NEXT DAY WE finally get to Boracay!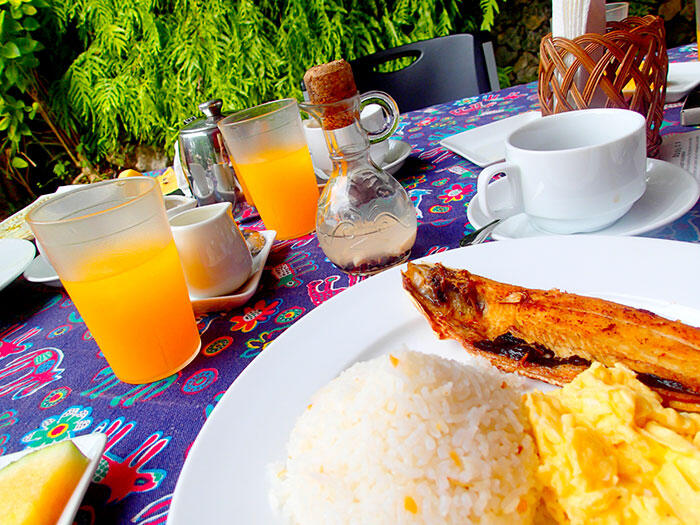 We arrived in time to catch breakfast with Saira and Hajar at the Strand, where we were all staying.
Before going to Boracay, we saw how the weather forecast said it was most likely to rain every day we were there. But i was just so adamant it wouldn't. Like, it's NOT possible. Every time people told Lex and i that, we'd be like, "No… it's not gonna rain." And you know what? It didn't rain a single day we were there. (Well, not when we were out anyway.) It was kinda cloudy on the first day we were there… but it kept on getting better and better throughout the trip! #sopositiveyoucan'teven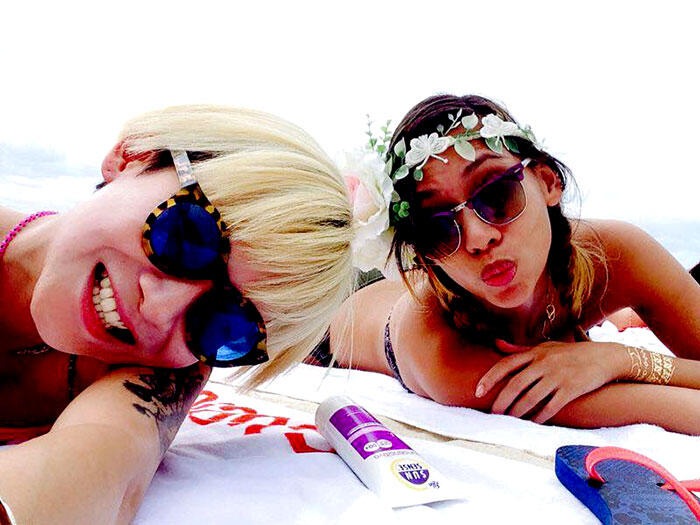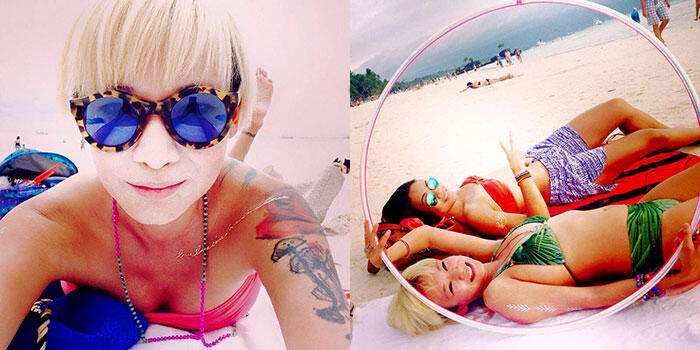 My sunnies are from Mouet, Italian sunglasses handmade with 100% acetate.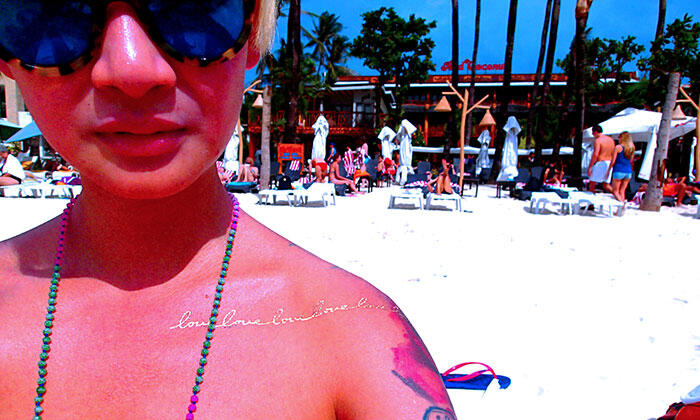 Lex brought metallic tattoos she got us all from Shoes Shoes Shoes. They can last ages with the absence of oil btw, and now i have a tan line of the words "lovelovelove" along my shoulder 😯 😆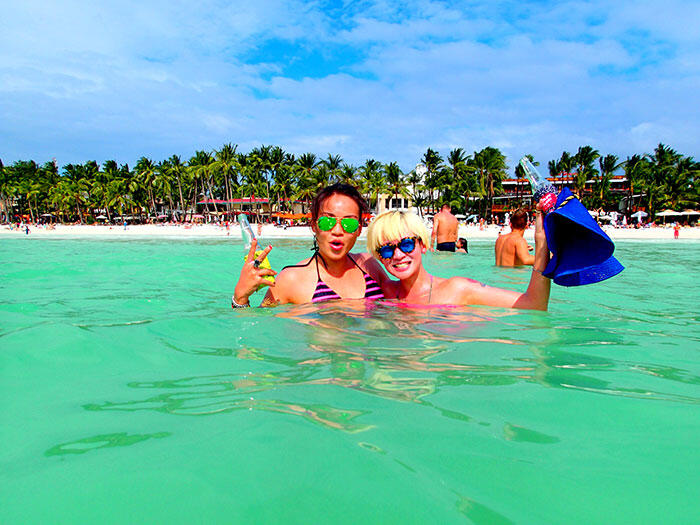 Saira and i brought my waterproof Tough camera out to take pictures. I think she overestimated how far i could go out cos i'm so much shorter, i tried to catch up with her and the water was at my neck level. While we were trying to take a picture, a wave swept over my face, a guy laughed at us, and offered to get our pic for us instead.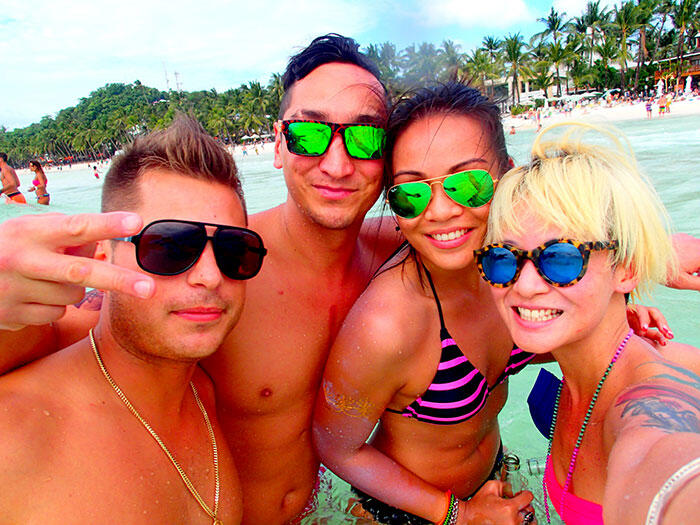 That's him and his friend, we chatted for a bit, i forgot their names oops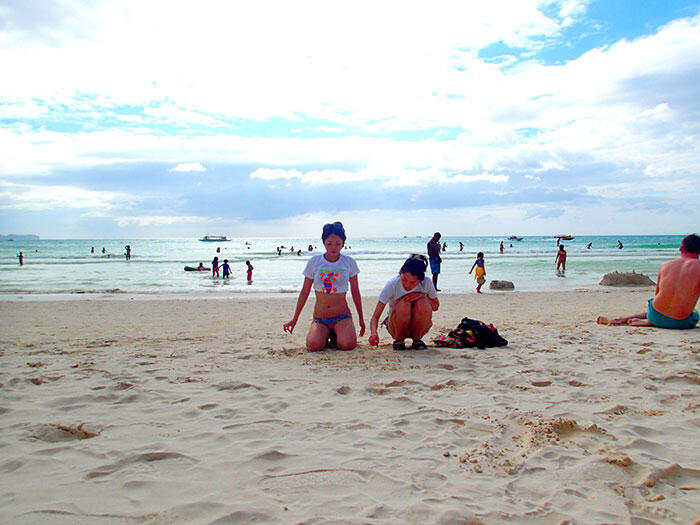 Everyone got a really good show of these two (i'm assuming Korean) girls making an exhibition out of writing on the sand.
I guess we made an exhibition too… but the rowdy kind.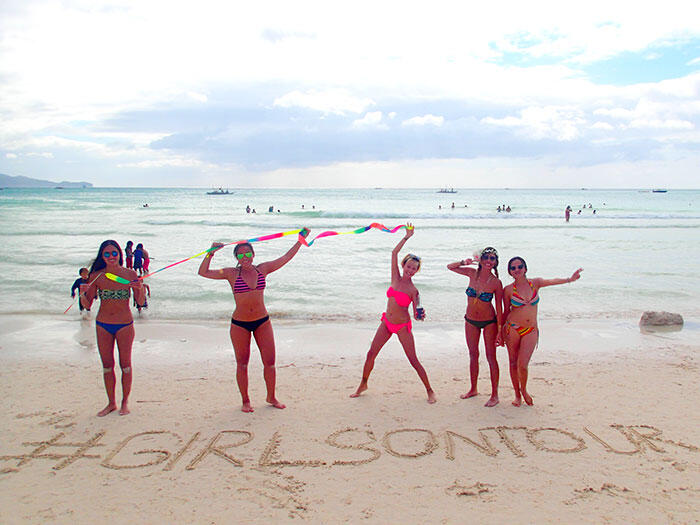 Hajar, Saira, me, Lexie, Misha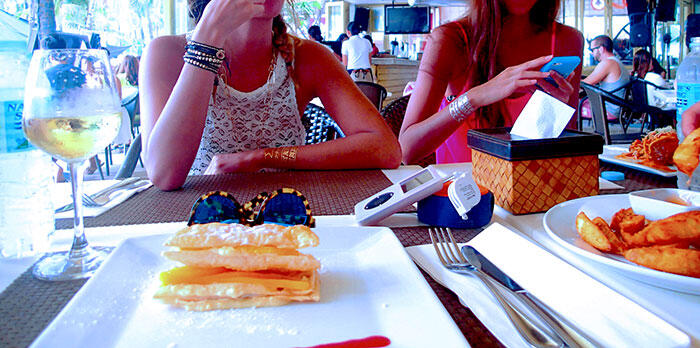 Tea time!
Lex, me, Haj, Sai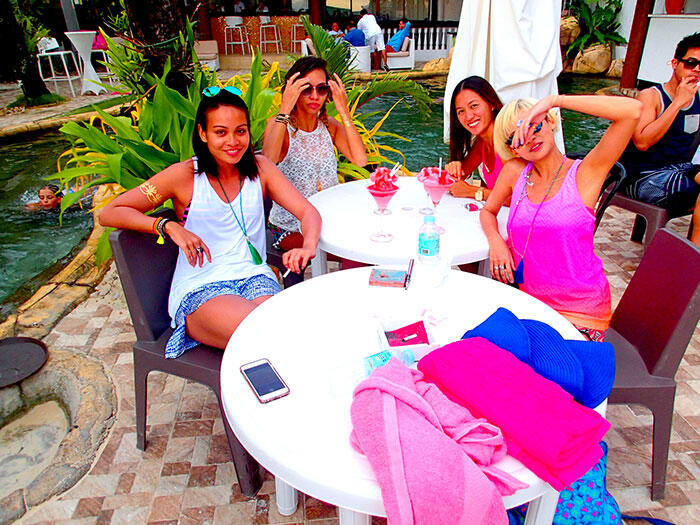 I just felt like posting up the stupidest picture we took instead of the nicest one. Lex trying to adjust her sunglasses. And me, what am i even doing. Everyone said how bright my top was to spot me easily. I got it from Lorna Jane at BV2! They've some of the BRIGHTEST nicest workwear i've seen in town.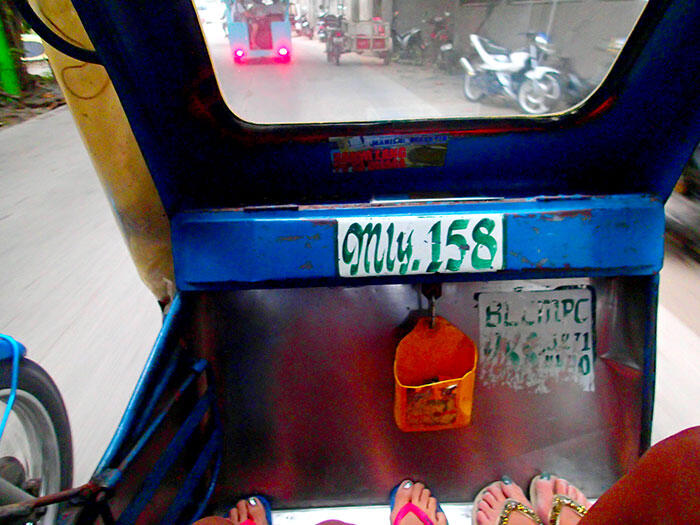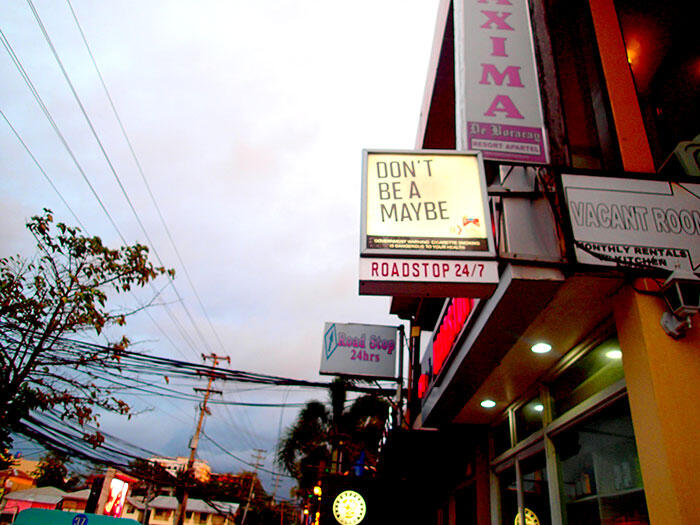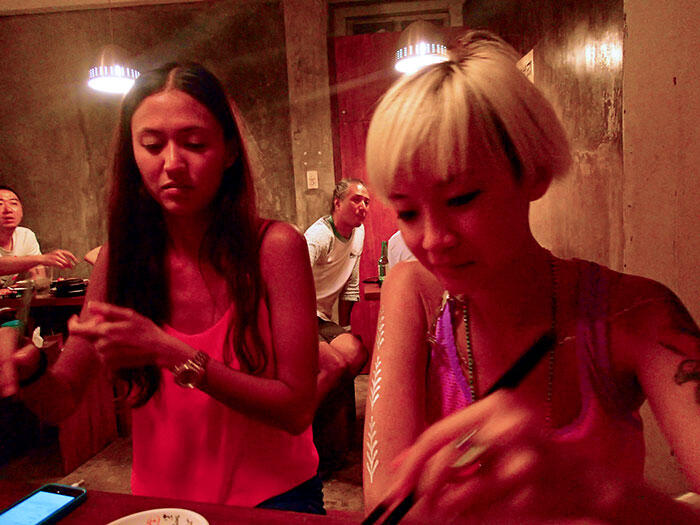 Had Korean dinner before heading back to the hotel.
Day 1 / Round 2 =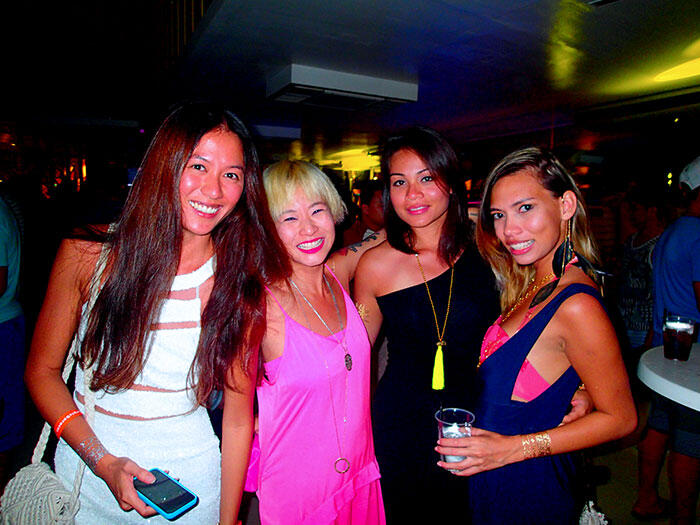 At Epic: Hajar, me, Saira, Lex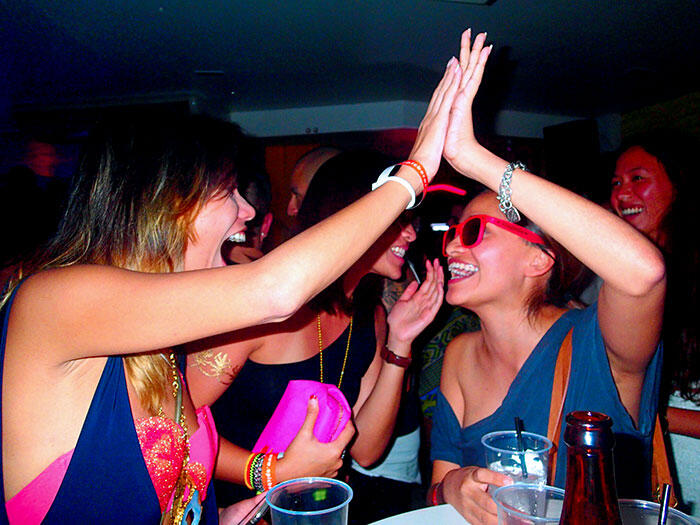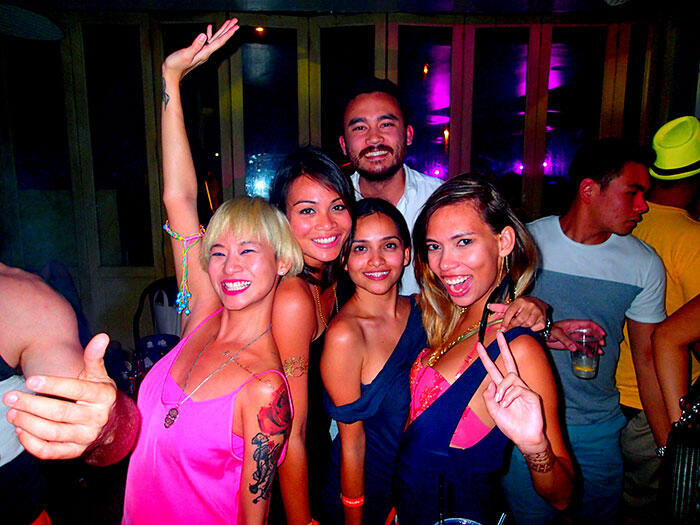 me, Saira, Misha + Josh, Lexie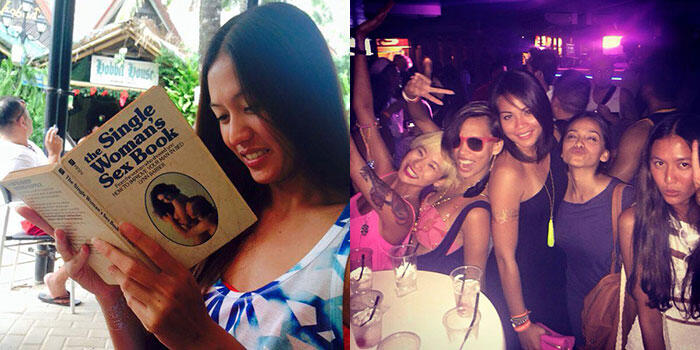 Next day:
Japanese for lunch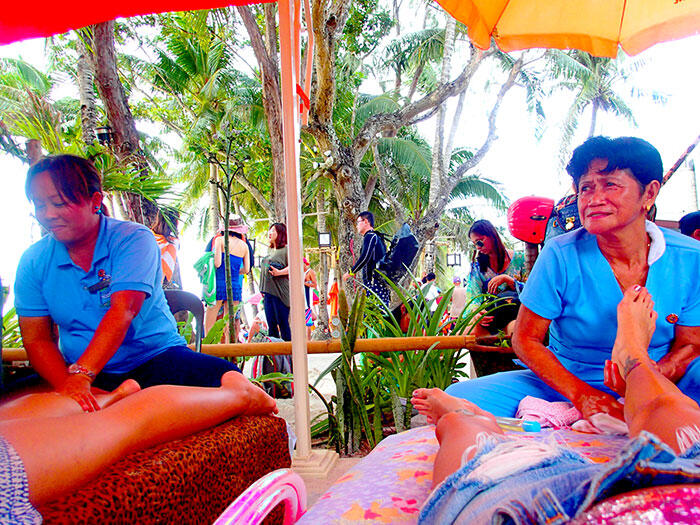 Massage after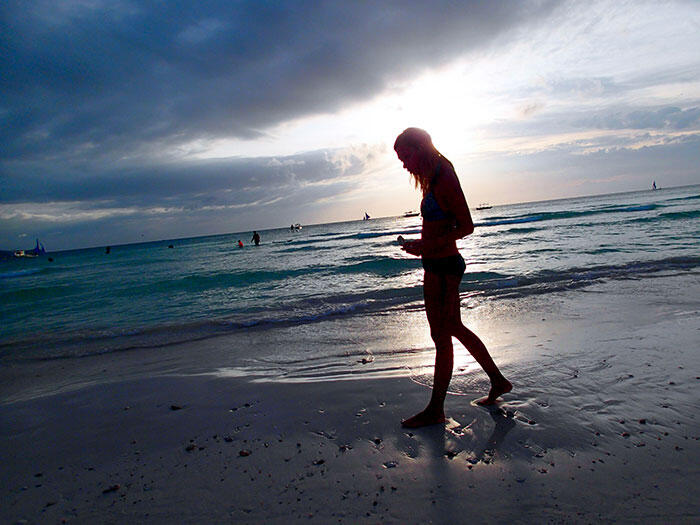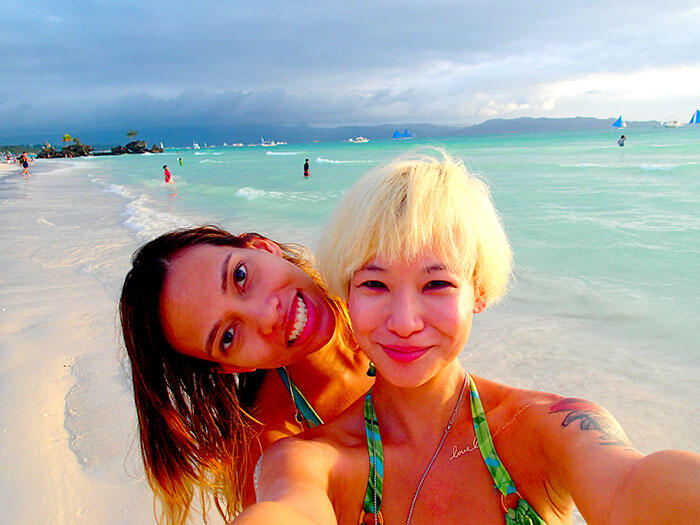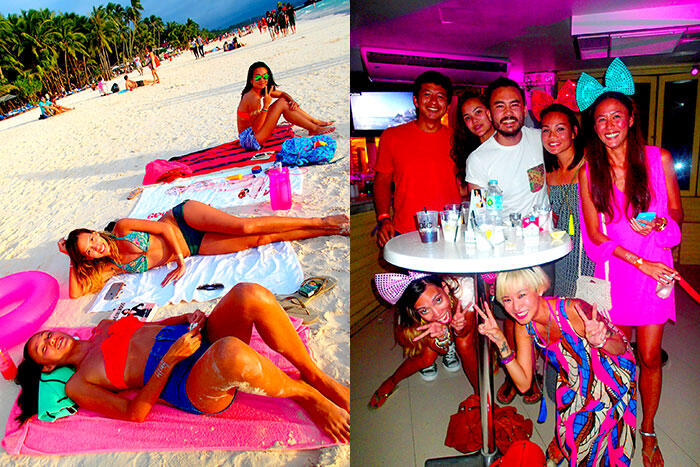 I brought the four of us headbands from the KinkyBlueFairy store in case anyone felt like wearing them.
Next day we all woke up at 8am to go for cliff-diving at Ariel's Point. It's an all-day trip where they pick you up from your hotel, you get a boat with a whole lotta other people and head to a specific point for cliff-jumping with food + free flow + music thrown in. About RM150/person.
My yellow top is from Love Bonito, green monokini from Kyla Ruiz, and black shorts from H&M.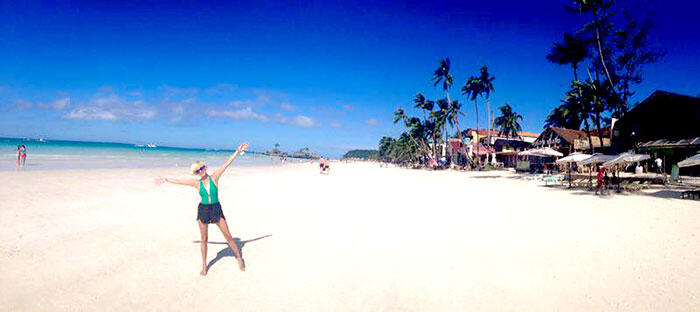 We sell KinkyBlueFairy drink sleeves *here*. Light colourful backpack from Kipling.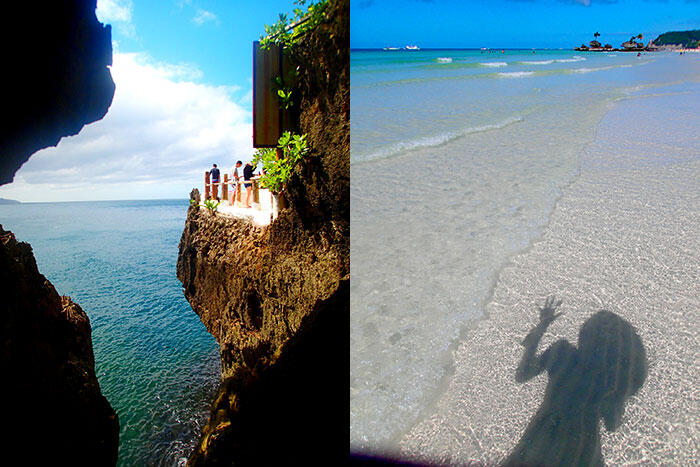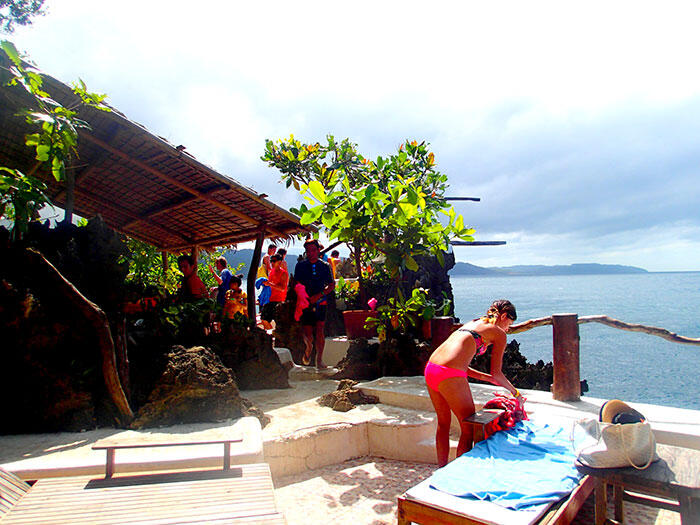 There are three heights of jumps at Ariel's Point – 5m, 10m, and 15m.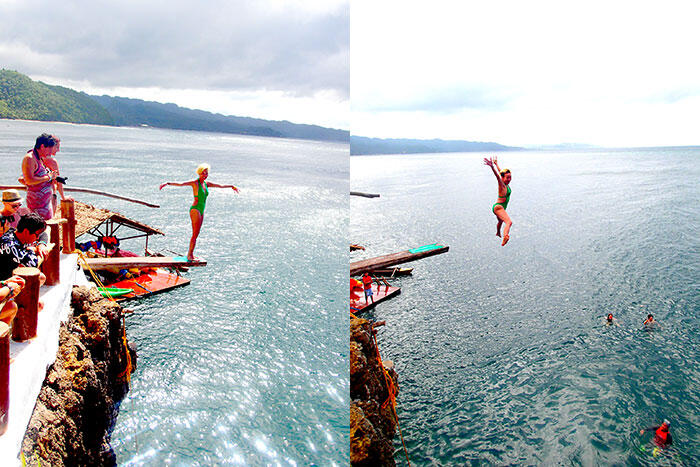 I did the 5m one twice.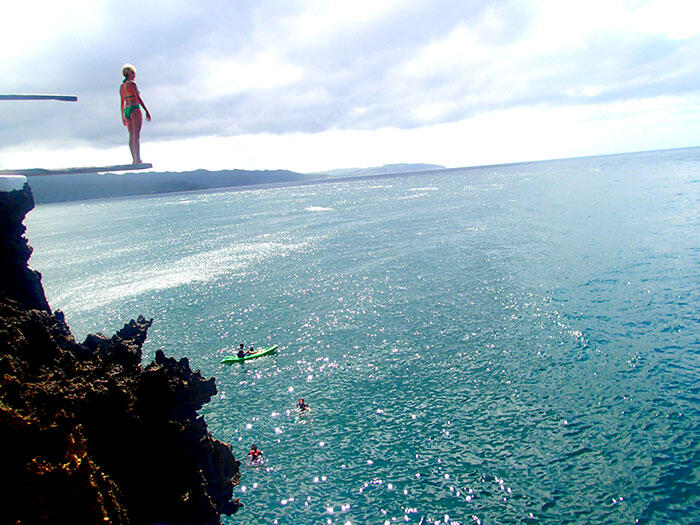 Then i did the 10m one twice.
The first time i did it, i did look down and go, "Damn, that's high," but felt it was still okay to jump.
After after doing it a second time and trying to be a champion by turning around to face the camera and hitting my body against the water a bit more sideways that i should, i decided to take a break for awhile. I felt kinda sore!
Lunch buffet was provided and it was a really nice atmosphere all day round with good easy dance music, bar and big tables to sit around at.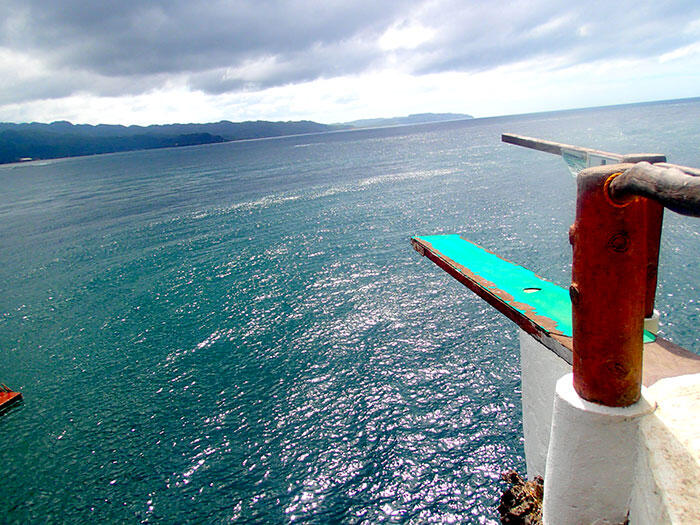 I went near the edge of the 15m one to take a picture. They put a rope there cos the lifeguards stop for lunch break, so this was as far as i could go.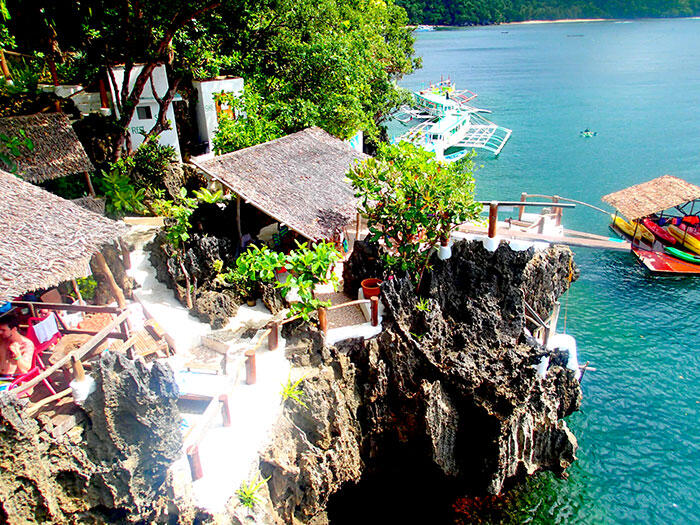 After lunch i took a nap (cos Lex tricked me into staying awake the night before so i was exhausted), and when i woke up and found out we only had 30 minutes to go before leaving; i decided that i would jump off the 15m one. I mean, i was already there, who knew when i'd come back again, and this girl told me that the 15m was the same as the 10m. "Even easier actually, cos you have more time to position your arms before hitting the water," she reassured.
She lied by the way. Maybe it wasn't much diff to her… but to my tiny body it did!
Initially i thought what she said made sense, so i gathered my balls and made my way up to the jump. The guy working there asked me whether i'd done the 10m one yet, and i said yes i did, so he let me through. So serious okay! I guess cos people can erm really get hurt there. (Okay, you have to sign an indemnity form before leaving for the island.)
Anyway, i made my way up there, and oh my god. Standing on the plank THAT high, was pretty heart-juggling. I bounced my feet on the plank out of nervousness, and when that made the plank jiggle more i made myself stop! "Oh putain… what the fuck am i doing," i said aloud to myself. This was really high! I mean, really, Joyce. Are you really going to jump off this high into the ocean? Really? Really really?
I looked out into the sky, and the ocean, and just felt the power of the universe out there. And i loved it, and trusted it. And i jumped.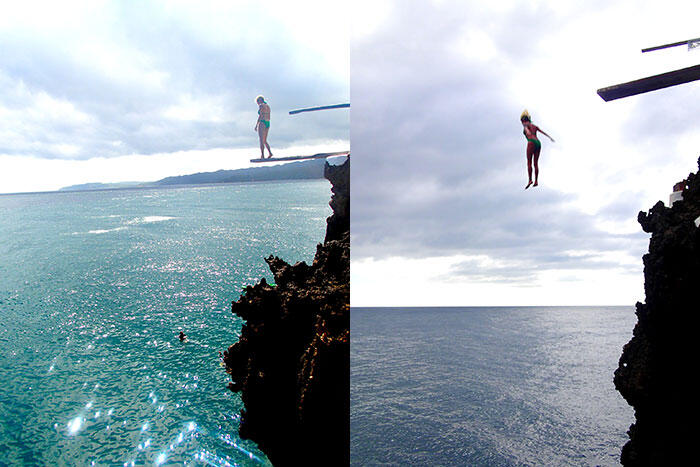 That moment when you leap off the edge of the plank into that vast space of dark green feels… extremely alarming. Thought process: "Oh my (before i can think 'god') oh well i've done it now i guess i have to see what happe.. *SPLASH*"
It was so fast. I just saw a lot of blue and green and i hit the water. I couldn't even tell whether it was the adrenaline, impact of the water or general shock when i got out. I just felt numb!
But yay i'm alive! (and i didn't break anything!)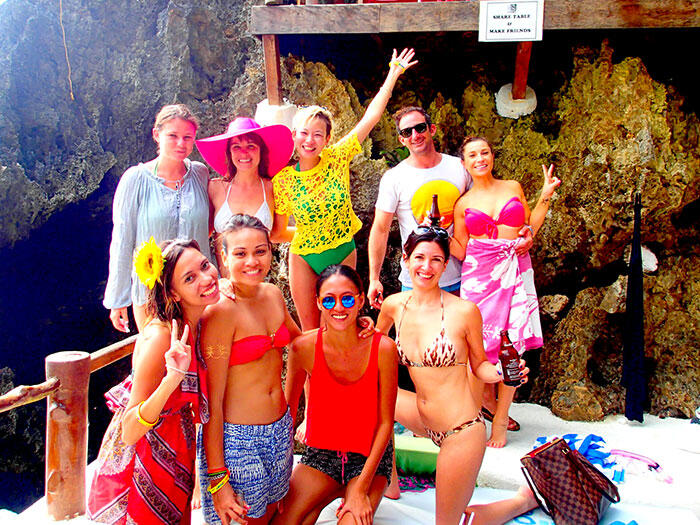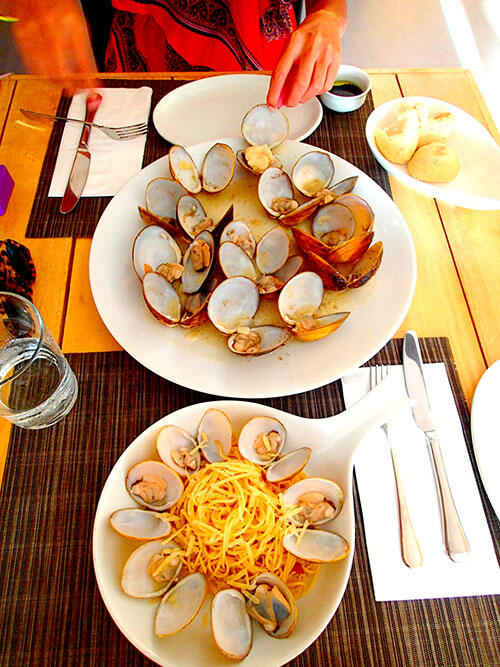 Back on the main island, Lex and i went hunting for food whilst the other two got massages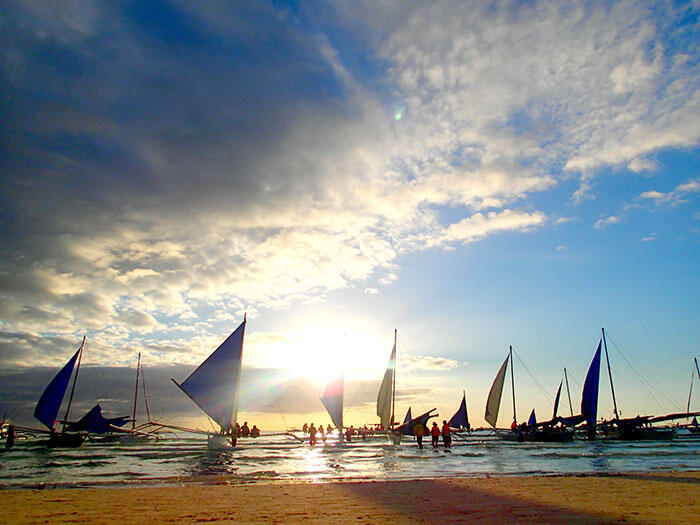 Then we went to sit down on the beach to catch the sunset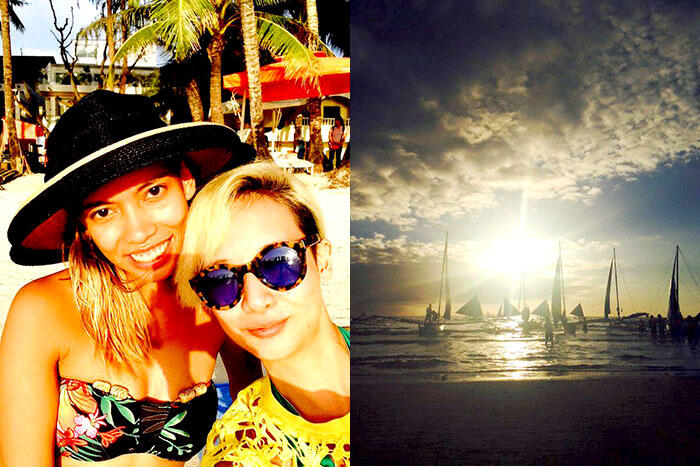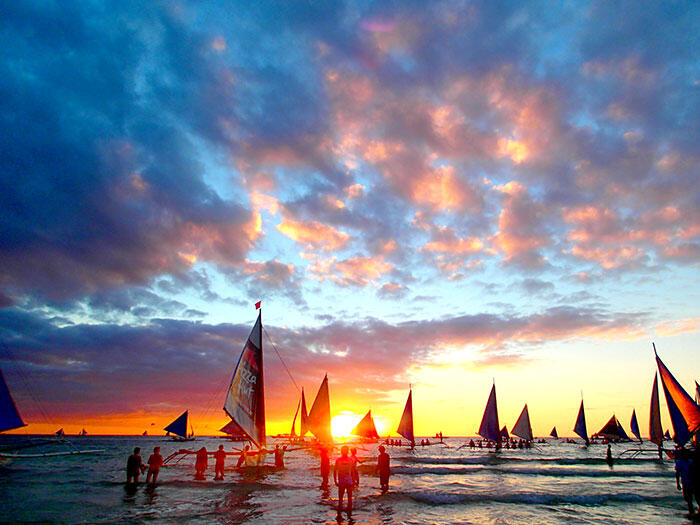 Pic on left by Lex, pic on right by Hajar.
It was the second time in a row i took away the local grilled fish with rice and vege. It was so good!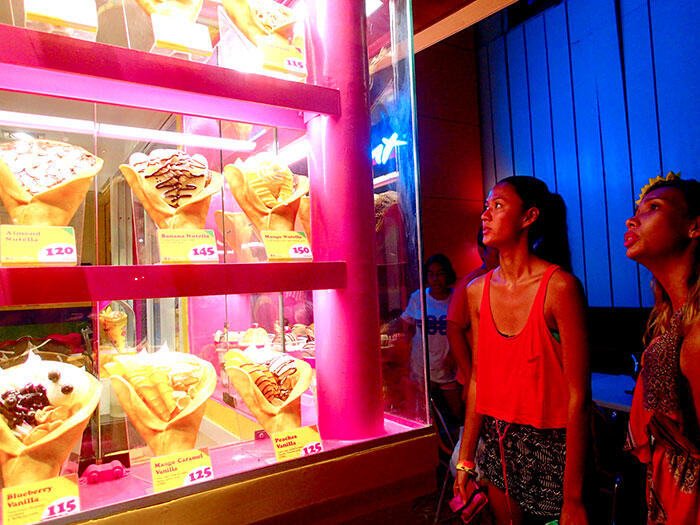 Decisions decisions
You have to weigh your bag as well as yourself when taking the Cebu Pacific flight from Boracay-Manila cos the plane is so tiny!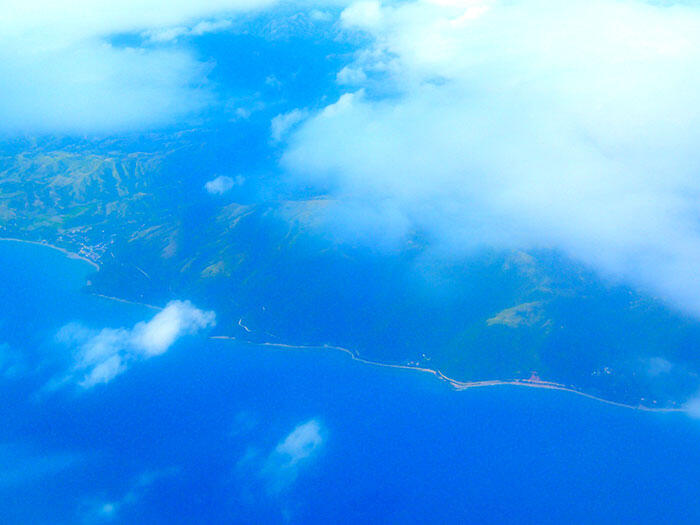 Random pic from phone: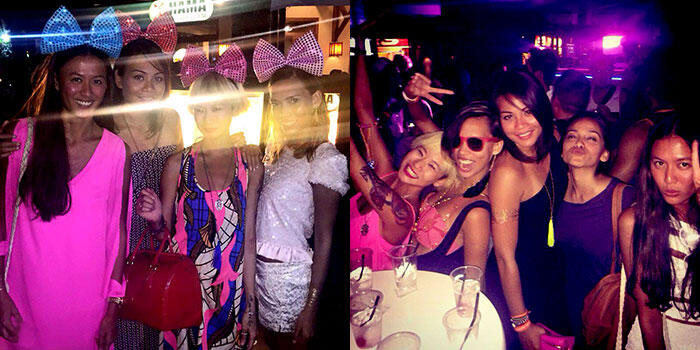 (oh man, you know what. it's so late 5am and i really need to sleep, i'm exhausted! Continue this week when i get some time to myself!)