Wow what a week. Getting older makes one more pensive.
Every time my birthday rolls round since i'm 30, i started getting the birthday blues but the moment it's my birthday eve i'm all happy and good again.
Random thoughts / realisations / happenings for birthday week:
– i'd like to learn how to earn even more money, cos recently i've been struggling with my property bills (ugh) and it makes me feel like a terrible adult. so i need to learn how to adult better.
– who i was in the past isn't who i am anymore. i realised that i enjoy my company a lot more, the music i prefer listening to has changed (by my measuring on how it makes me react and feel and do and think), i value and appreciate factors like time + love in its many various forms
– my friends are awesome… i will always the remember the love i especially got from my closest friends who reached out in their ways to let me know how much they love me. it touches me very much (oh man super emo)
– i preferred to see my parents (cos they did* make me…) over flying to Jakarta to watch Katy Perry (Rahul already put me on the guestlist, and my accommodation was sorted) on my birthday.
– i want to have children soon. unfortunately, don't have suitable candidate in sight yet. I just realised i'm so picky. I not only want my partner to resonate with me on a soul level, but also on a bodily, mental, and spiritual frequency. Good luck to me. Maybe i'm asking for too much. Maybe i *am* too much.
– the thing i want to continue striving for, is more love. Love for myself, the people around and whom i love, my work, my art, my writing, my life, everything surrounding me, nature, the stones, the sand, the air. Life.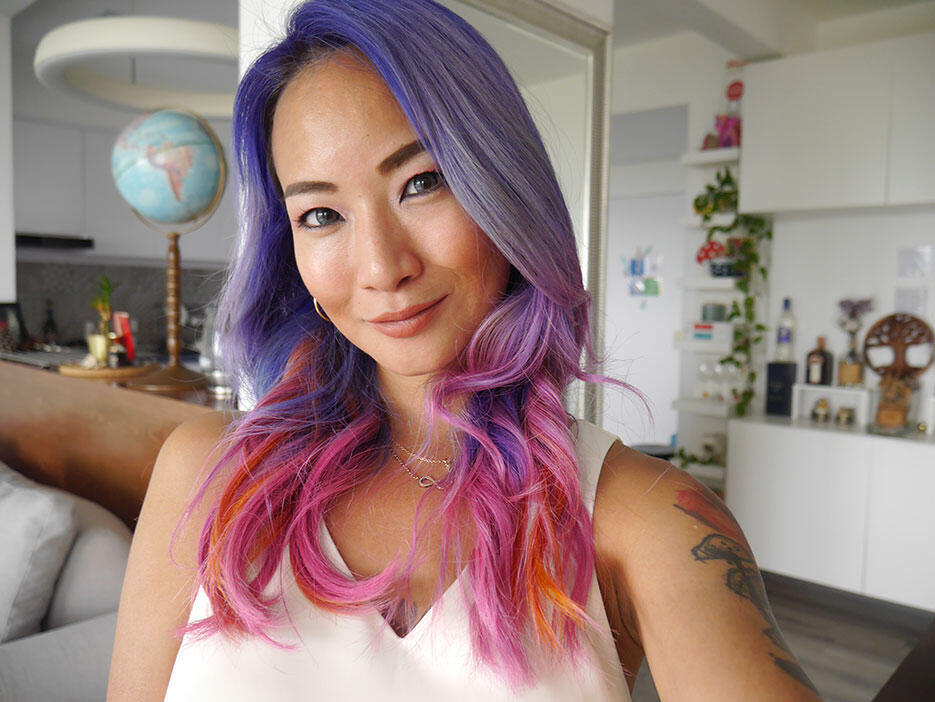 Thank you to Centro Hair Salon (colourist Han) for my birthday locks ?
I feel like as i get older, i get more sensitive to the depths of emotions. Whatever love and pain i thought i knew in my 20s, have magnified in meaning and feeling a hundredfold in the past 10 years. And with that also comes the knowledge that there is so much Love to be experienced… and excitement. I never want to stop feeling that, lust for life. I keep following its breadcrumbs, and they're so treacherous. As if, to live freely is to violate most societal norms. So it's a constant inner battle on what's right or wrong (when really, there IS no right or wrong; it's just all this old computing in my head on how i should be functioning). It's like my soul is battling the body and brain it was born with. They're all trying to work with each other to work its best way out, so that my existence on this planet is not for nil.
What did i tell you? Pensive.
My happiest moments this weekend have been: going for Amber's Face of Asia Pacific event with Danny and receiving an award on Fri night, laughing in Lavo with Aaron & Czhe Hong, having Sat dim sum and Sunday chicken rice with my parents, complaining about how we would have "donated 1million rm instead of some supermarket run" with my dad while we were temaning my mum in the supermarket #irony (like education, healthcare, charity!!), receiving messages from friends to treat me for birthday meals (woohoo!), watching a most spectacular sunset whilst receiving universal lessons, and embracing alone time right now, on Sunday night.