I regretfully have to admit that every year Melinda has her Fashion Suites event, i'm not around. This year, i was surprised to receive the invitation (again) and told her so: "Can't believe you still invite me after i don't turn up for yearS!!"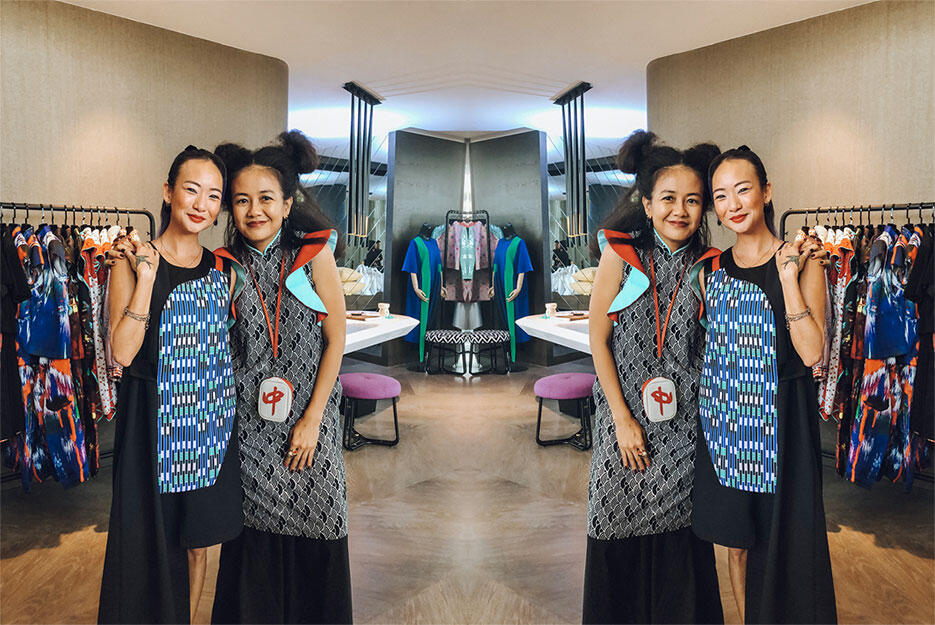 With the award-winning fashion designer herself. Read more about her *here*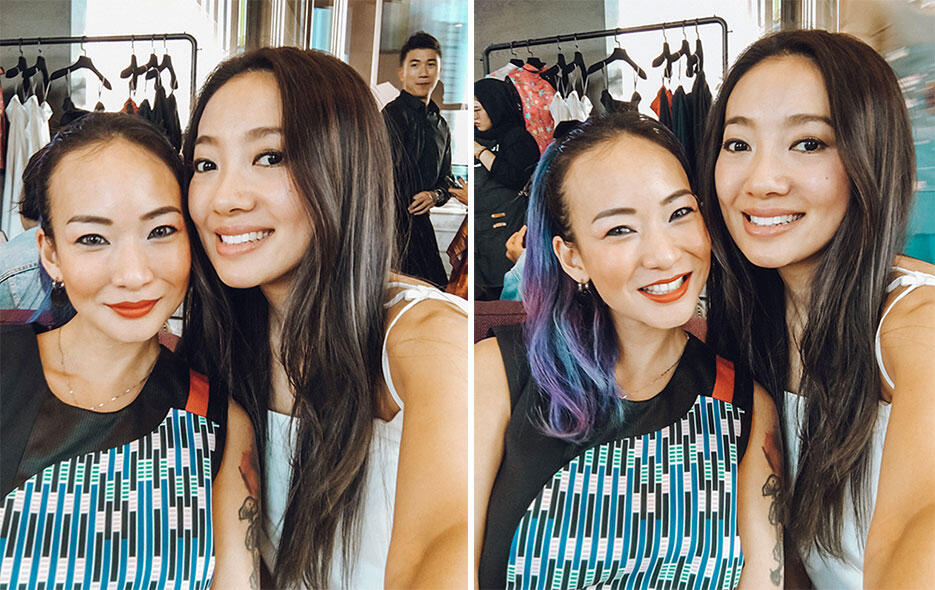 Right: After 3 secs notice and deciding to make more effort
That morning, I picked Chelsia up (who was my +1) after a product shoot, and headed to the venerable W Hotels where the event was held.
As we were standing at the lifts on the parking floor, she gazed at the design on the facade displaying the lift floors. It looked like one of the symbols was melting, and Chels subsequently mentioned, "Why is the design like that? Did they make a mistake?"
And i retorted confidently, "The W doesn't make mistakes."
We got ourselves up to the Presidential Suite (which i discovered was a lot larger than expected, 3 hours later…) and were a little late but i can blame noone but myself and my commitments… i couldn't cut short a shoot i had* to complete before my next app! Edwin (who was hosting the event) spotted us wondering where to sit, and announced on the mic, "CHELSIA NG! And Joyce The Fairy! Please find your seats! There is some space at the front here!"
Damn.
So much for an incognito entrance.
Heads down, eyes indignant; we made our way to the front lounge.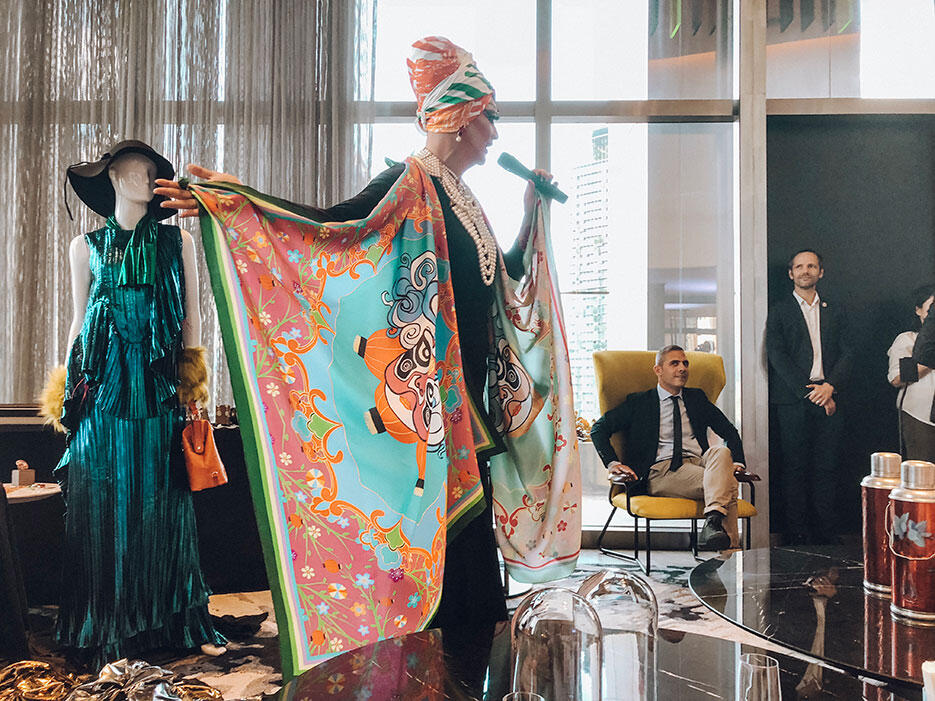 Shelah in all her Melinda Looi glory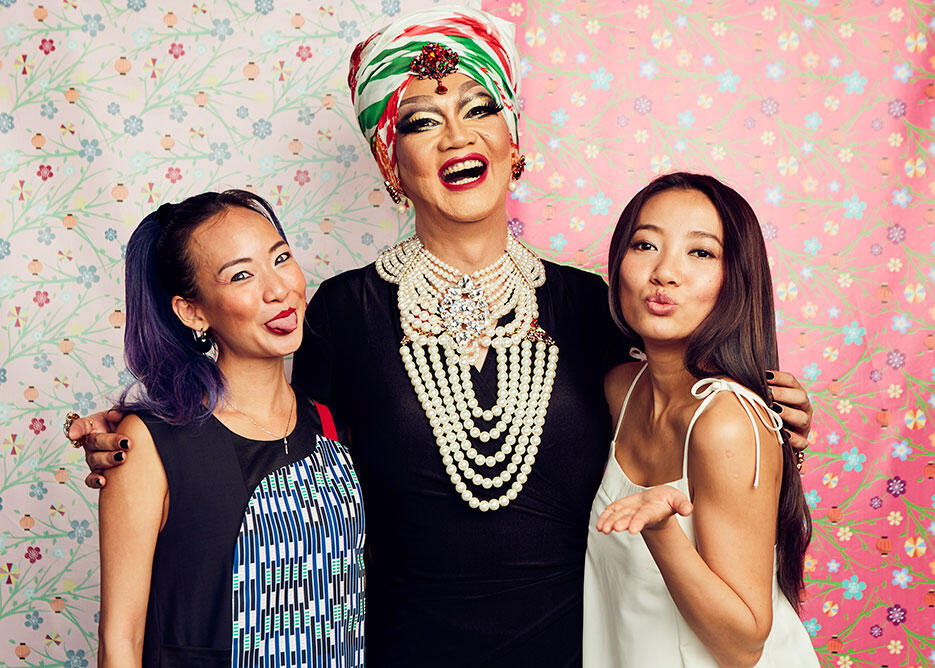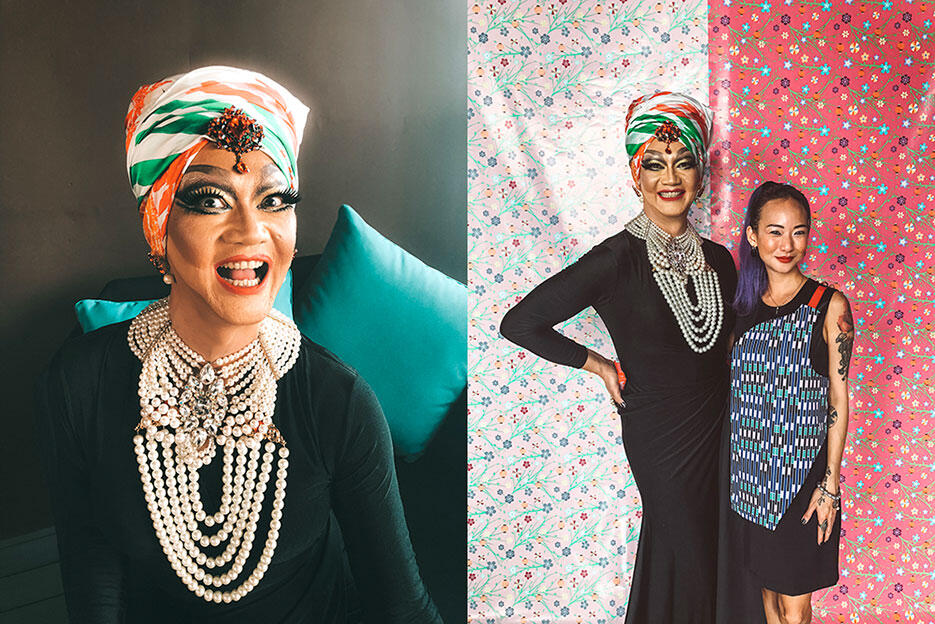 A magician / mentalist came up front to show us some tricks. Tho… i won't merely call them tricks, cos they're unfathomable.
I LOVE MAGIC!
[note mannequin covered in silver and gold fabric on left, which Shelah joked was her twin.]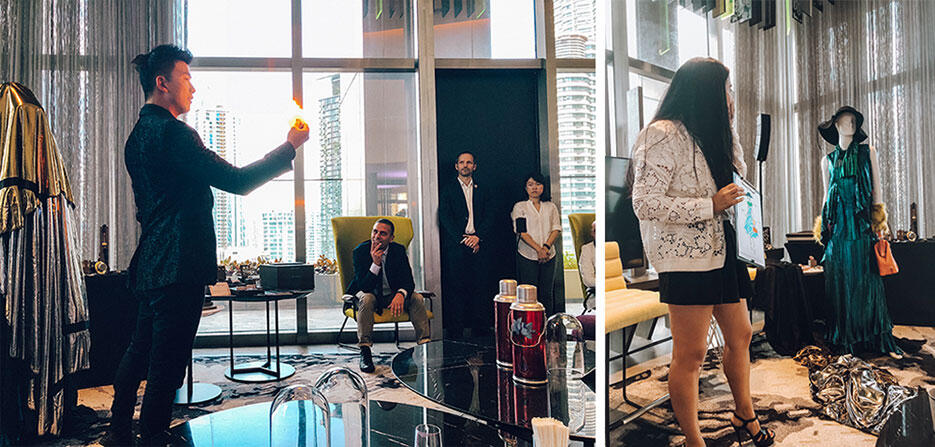 Zlwin did these impressionable antics like bending forks (which i've seen before, and thanks to human condition – failed to amuse me again) and i thought, "Oh man, this is gonna take a while."
Then he asked a lady up front to think of any person be it friend or relative, and tell no one. He proceeded to draw letters in the air with his fingers, "B…. she's a female…. B…. there's an A…. B…. A….. Her name is Bianca!!" And you could tell from the lady's expression that it was a total wtf moment.
Zlwin handed a brown A4-sized envelope to a dude sitting near me and asked him to hold on to it. Then he called up another girl and handed her a piece of paper with an outlined illustration of a girl in a dress to colour in, like the type you see in colouring books. Pointing out a bunch of markers of various colours, Zlwin turned around and covered his eyes, whist this girl simply picked out diff markers to colour the bag, dress, hat, etc, on the illustration.
After she'd finished colouring, Zlwin uncovered his eyes and turned around to compliment her work, "Like Picasso!" He then requested the dude from before for that brown envelope, and picked a paper out of it to show us – a printed version of what was just coloured in front of us.
I saw it thinking Yeah yeah, there are still other pieces of paper in there… and then Zlwin went, "Oh, look, there's another one, and another!" whipping out more pieces of the same version of what was coloured by the lady, and throwing them in the air. Till there was nothing in the envelope then he ripped the whole thing apart to prove it was empty.
My jaw dropped, "Wow…"
As a last touch, he dramatically tugged the silver+gold fabric that was on the mannequin (remember that from the beginning?) showing off the exact colour combination she'd coloured in.
We were floored.
And my love and faith for magicians returned in full.
Melinda's fashion show started right after that, showing off a plethora of looks that made my forward-planning a little more excited and anxious than usual; because her Resort 2019 collection is obviously for CNY and i was like AHHH WHAT AM I GONNA WEARRRRR [before Christmas has even come!!!!]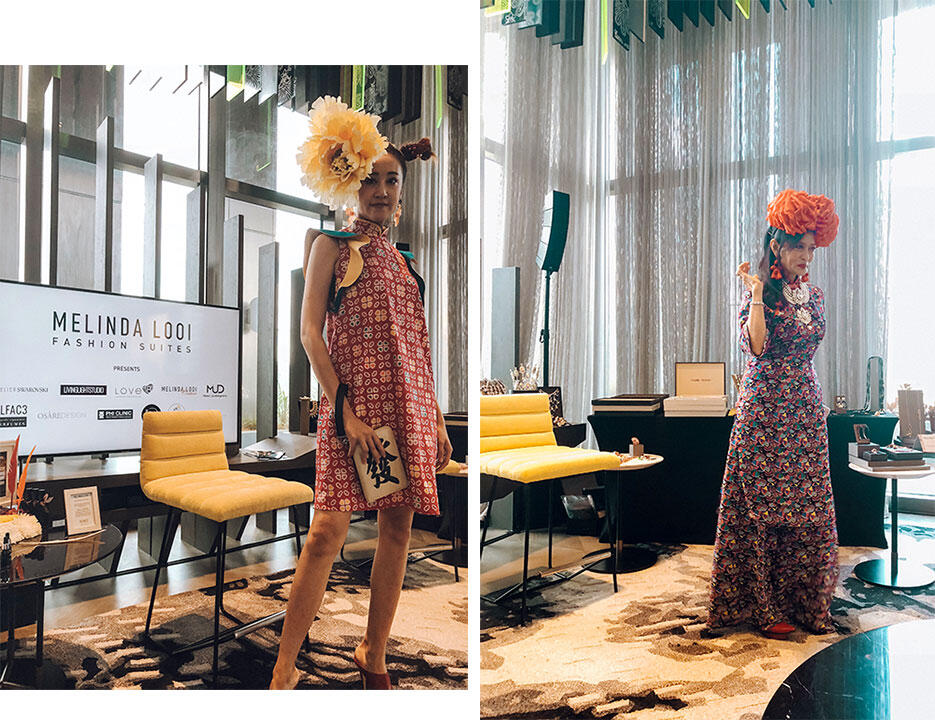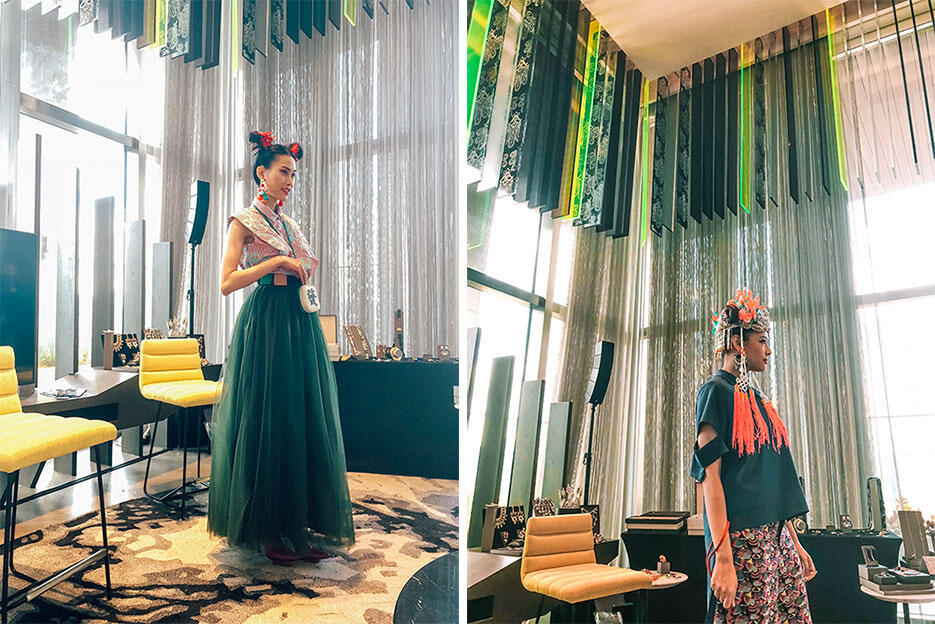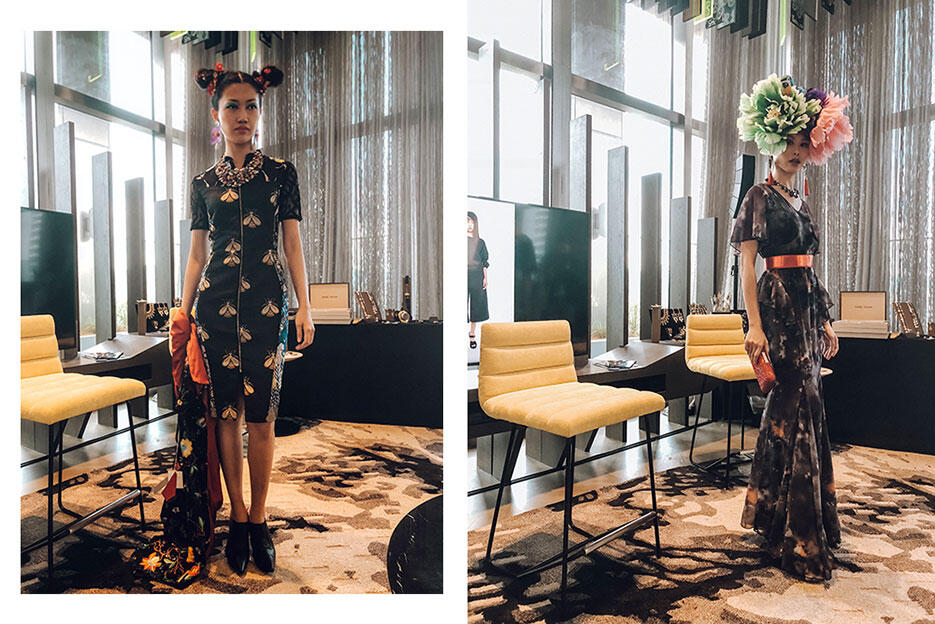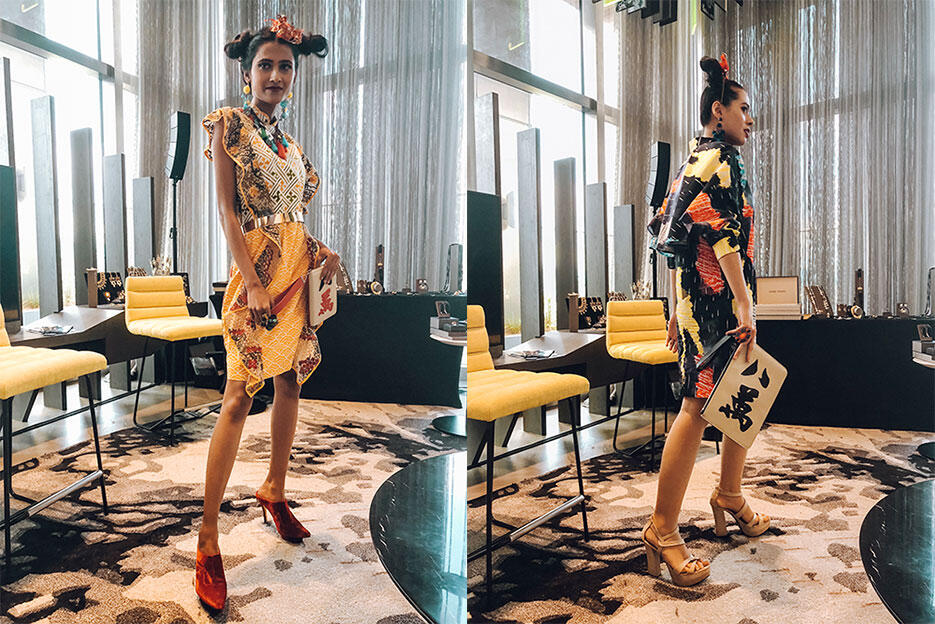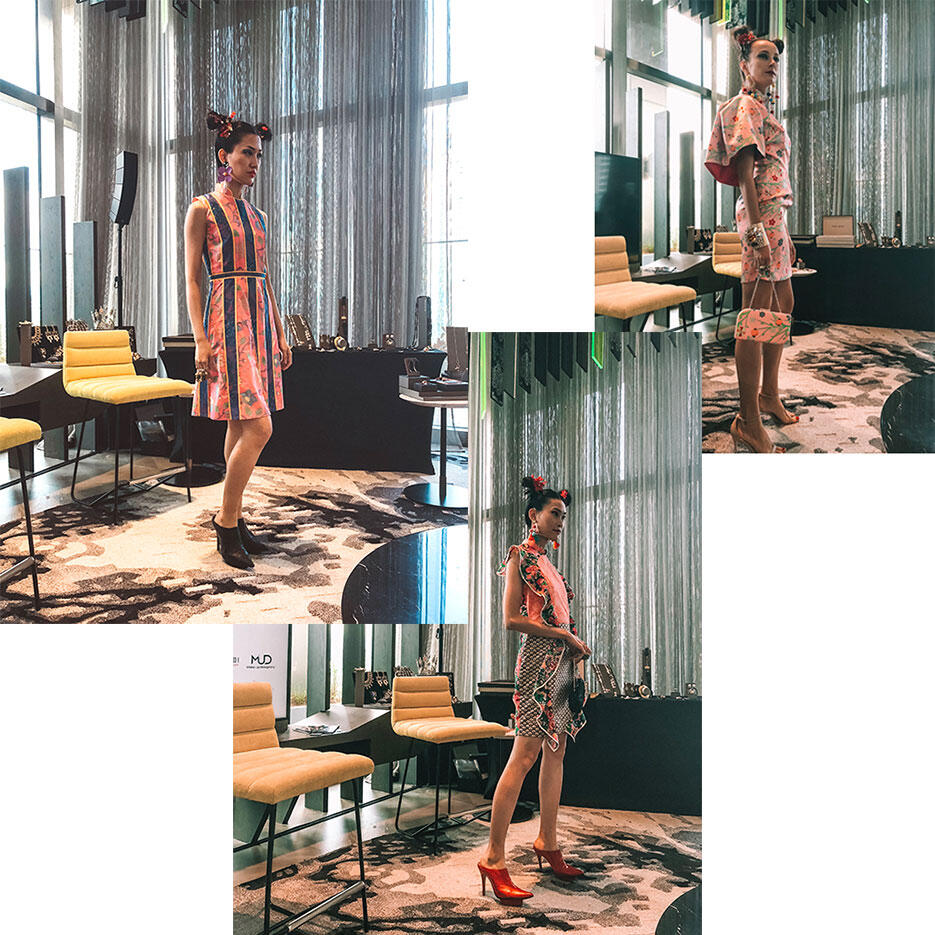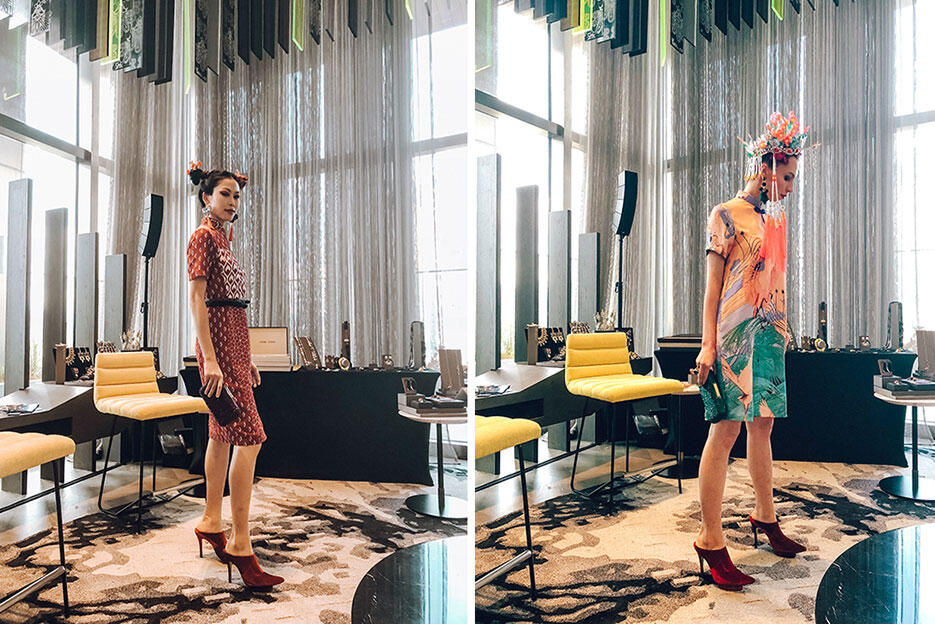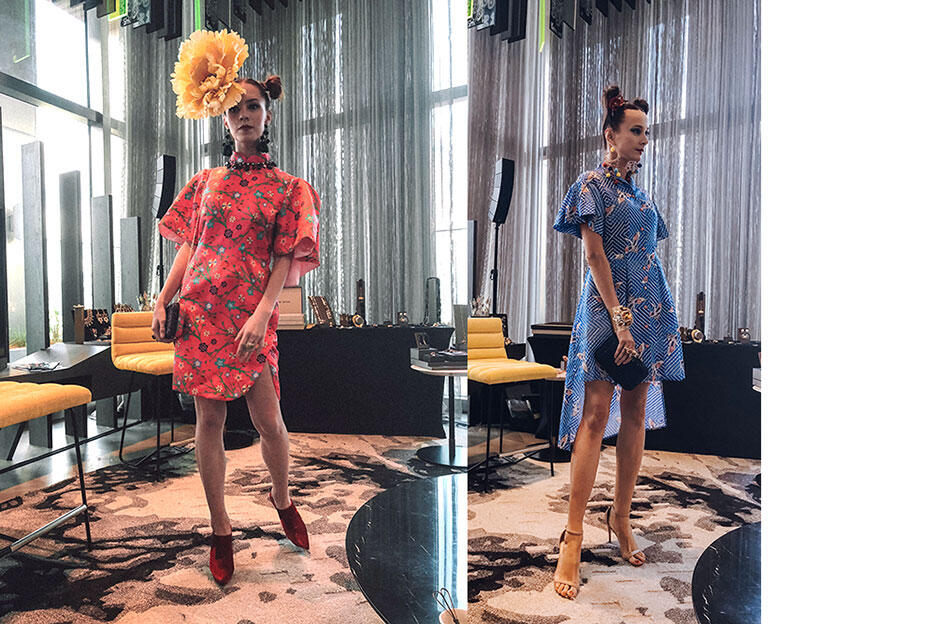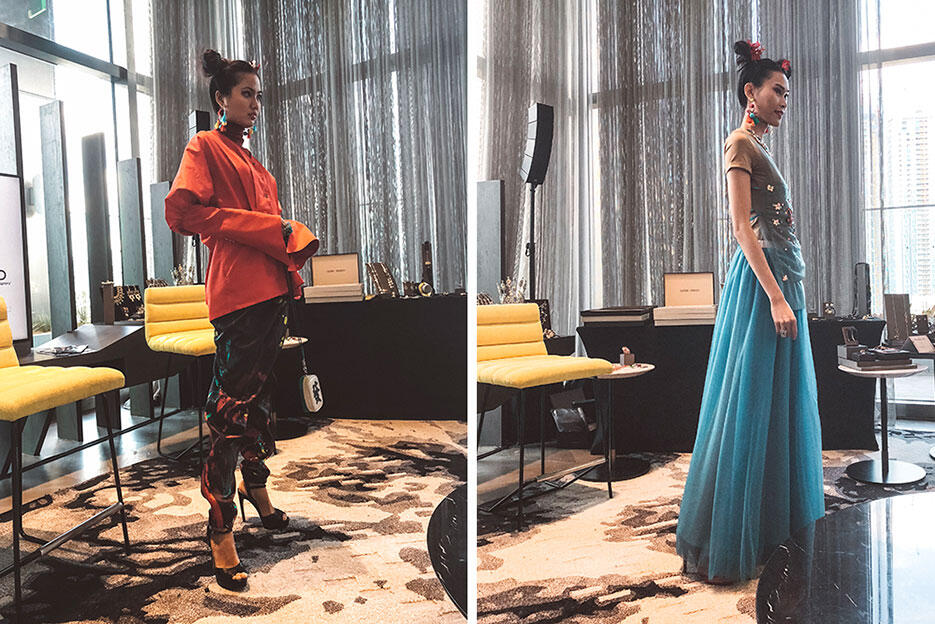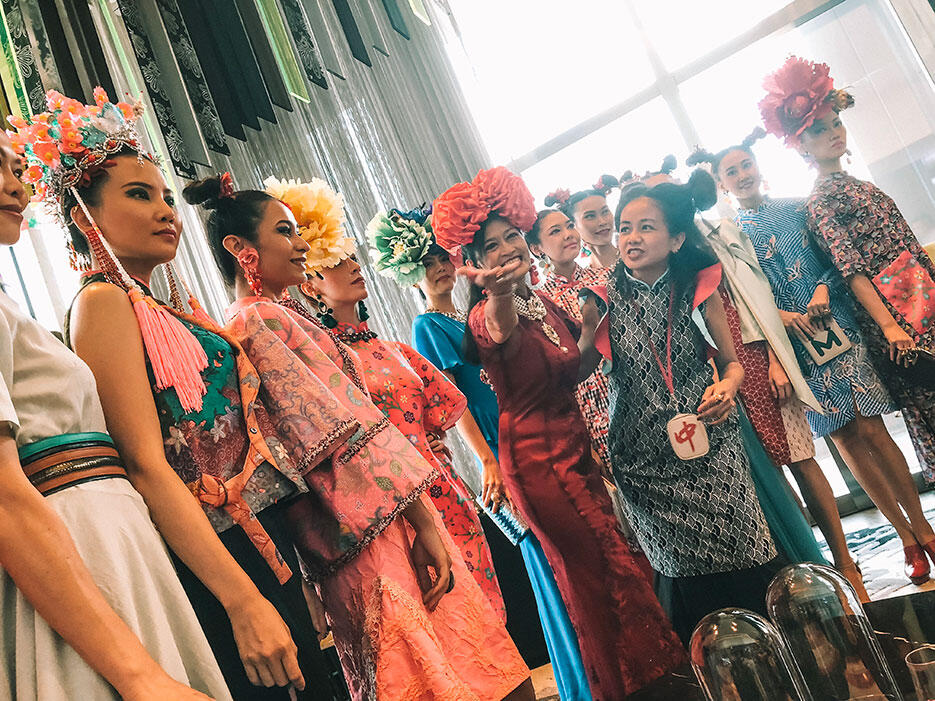 My favourite aspects of the collection where the colourful + unconventional prints on contemporary silhouettes with unexpected details like overtly-ruffled sleeves, mixed textures (i.e. slouchy metallic trousers + lipstick red blazer), and maximalist floral headbands (these would be perfect for Wonderfruit!!).
This is the kind of modern cheongsam you can eat whatever you want in whilst looking + feeling gloriously happy in! Not to mention her mahjong clutches that will bring you more ONG!
+ + + + +
After the fashion show, there were a number of curated brands around for us to discover.
Oh my.
What dangerous treasures i found. [Sorry credit card.]
OLFAC3 is a Malaysian perfume company i never knew of before.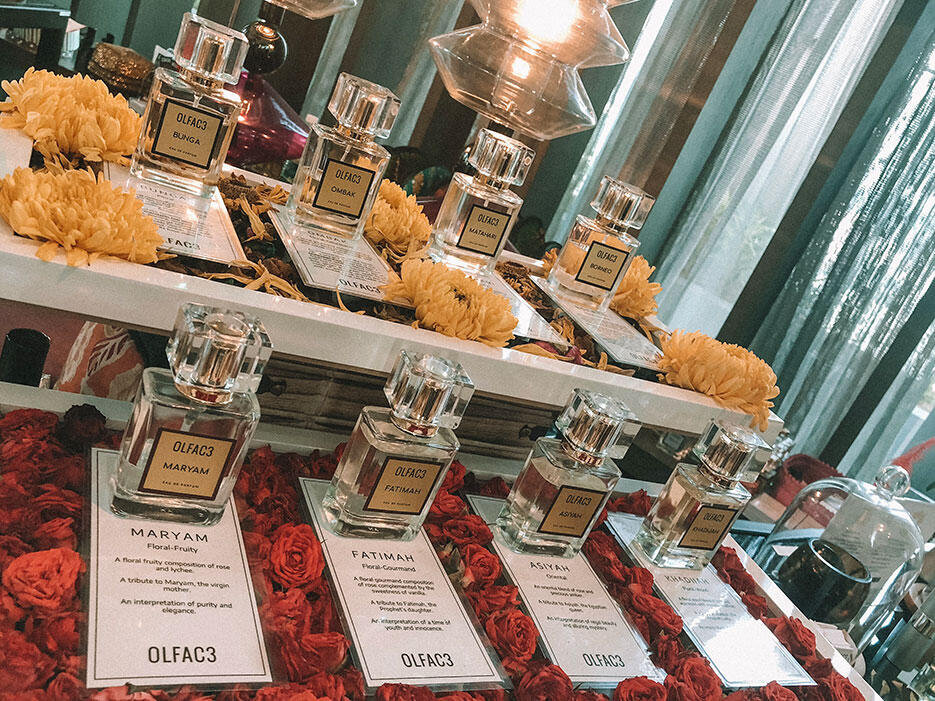 It started off with a polite testing of a single perfume, which mesmerized me so greatly, i requested to smell ALL OF THEM. This is quite rare btw… i am very satisfied with the range of perfumes i own, and do not have a desire to accumulate more.
OLFAC3 brought me to momentarily experience a different space and time via layer upon layer… and i got transported. Anything that transports me in that manner (mostly food, alcohol and fabric), and i am sold. GONE. Goodbye self-control.
There's a range named after iconic Malay women, each scent beckoning to be embraced gracefully without trying very hard at all. I was the one clamouring after it. After all of them.
I am so damn in love with these perfumes it's ridiculous, i want each one! There's one inspired by the forest, which i love, but it reminded me too much of an ex so i decided to buy others that made me look to the future. Scents and adventures unknown.
It's been the only perfume i've been dousing myself in since i got them #obsession
I even spritz some on after a shower at night, something i've never done in my life! I do it because *i* want to smell and enjoy it, and not to make an impression on anyone else! … it mixes with my skin and changes after minutes and hours… i'm entranced. My faves are Matahari, Aphrodite and Ombak.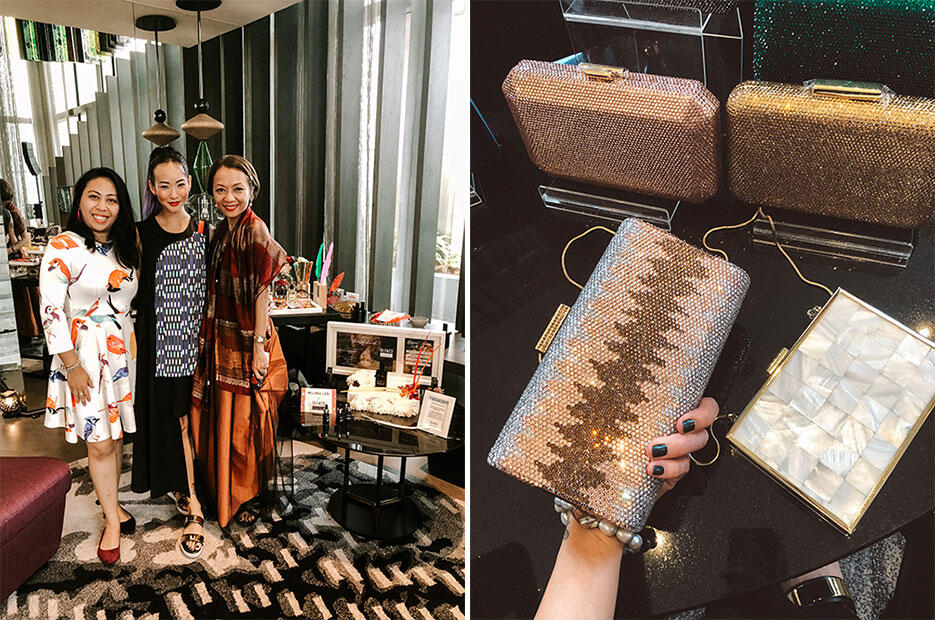 Left: Nurul, me and Ain (founder) of OLFAC3
Right: Clutches from The Chic Initiative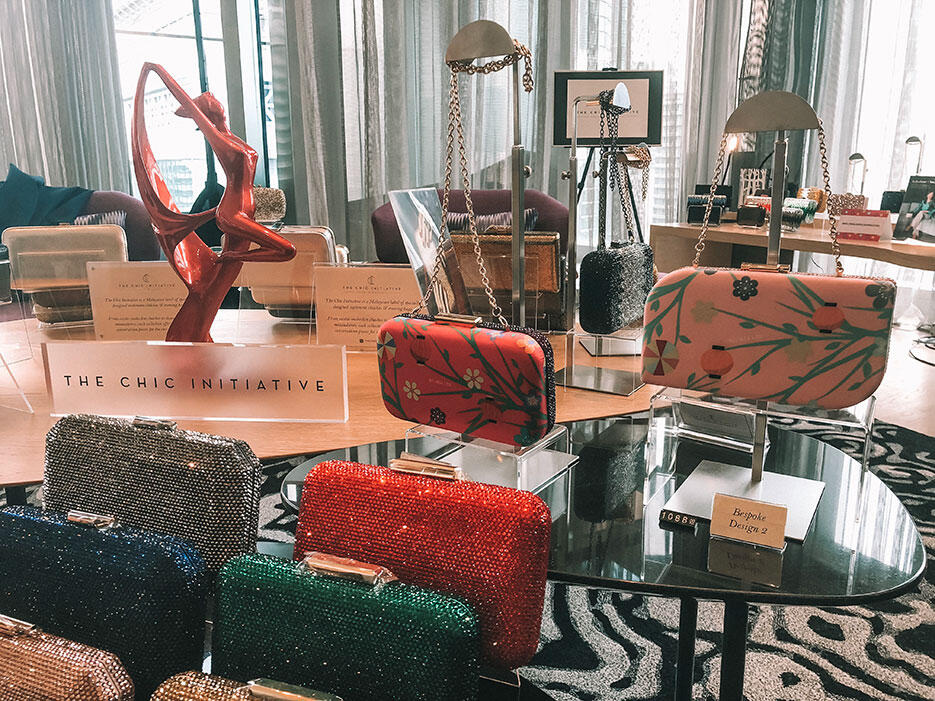 The Chic Initiative are a Malaysian brand founded by Hui Ling (whom i just met that day too). I was admiring how well-made they are — sturdy, with attention to detail (i'm OCD like that), and classic designs — when she gave me the one i liked the most by getting her staff to wrap one up on the side.
I didn't know how to react, i just sat there and blushed  -_-
Yes, i receive a number of things complimentary… but it was such a surprise and i innately wanted the clutch so much without speaking a word (cos i was thinking about all the Christmas shopping i had to do) that i felt really super lucky to actually HAVE it…
You just have to hold or touch one in person, and then make up your own mind.
They just started selling in Pavilion so you can go see for yourself  😉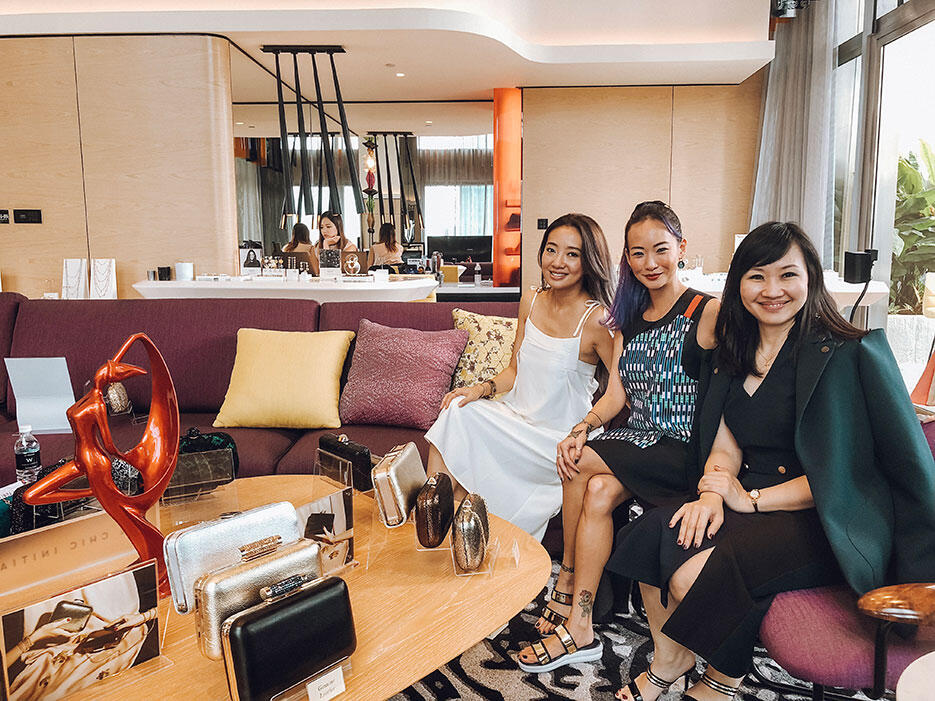 Chelsia, me, and Hui Ling.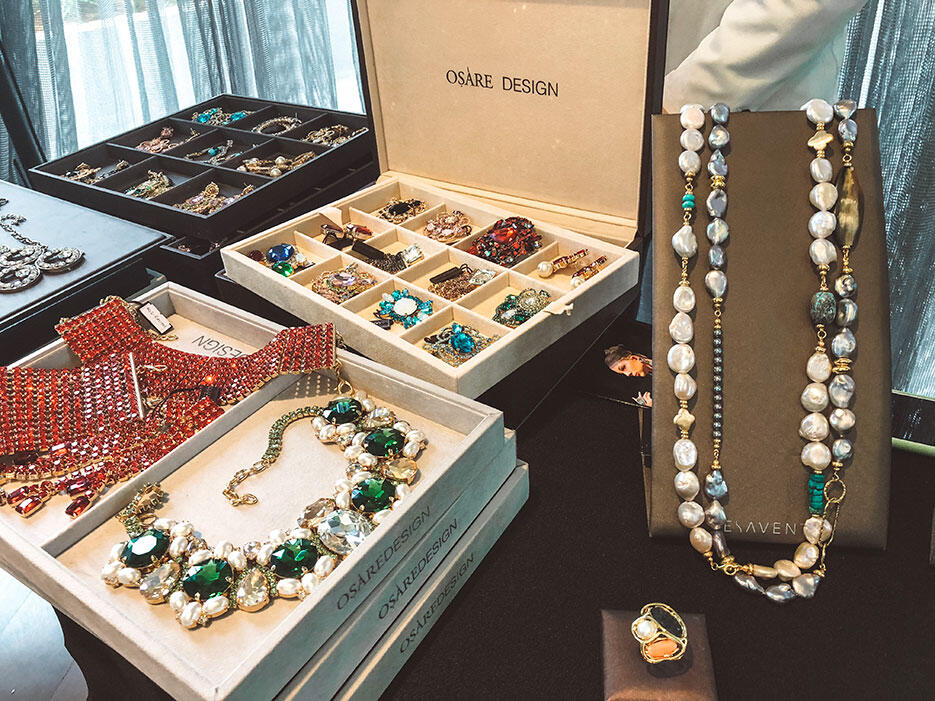 Osare Design is situated in BSC (just outside Alexis) and sells a handful of pieces from jewellery artisans and designers.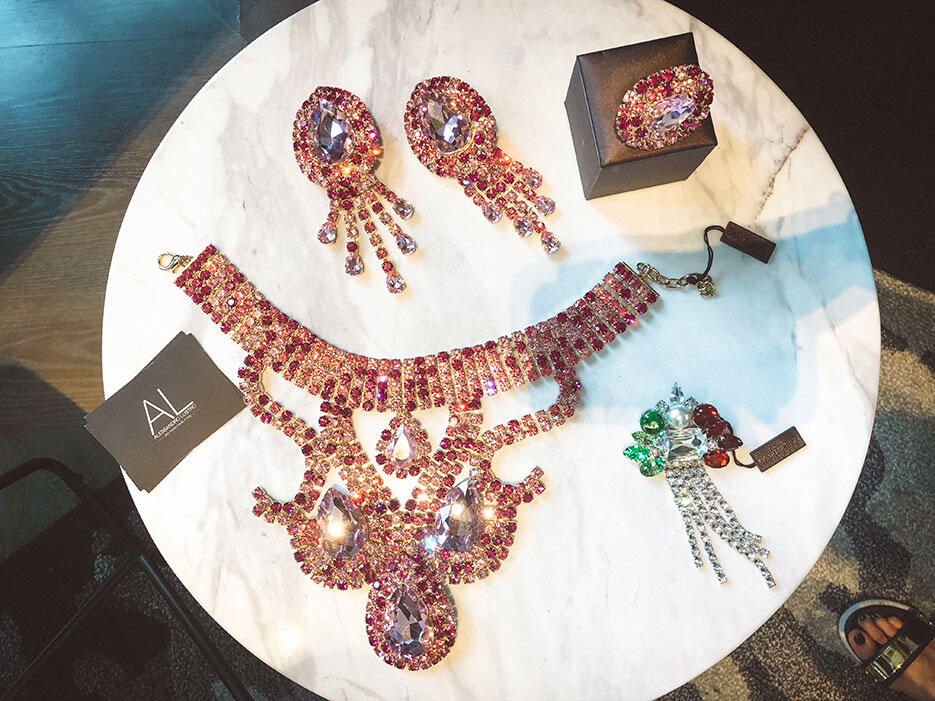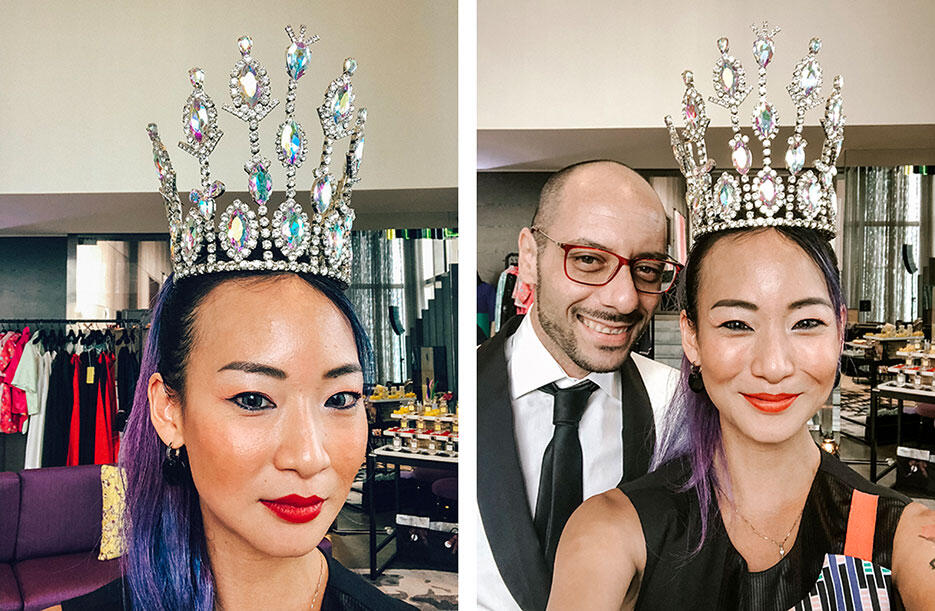 I saw this crown from afar and they were so nice to let me put it on!
Behind me on the right is the designer for this particular piece Allesandro Lustro.
I wish i could wear it to Wonderfruit too… Queen of the Glades, and the Unicorns!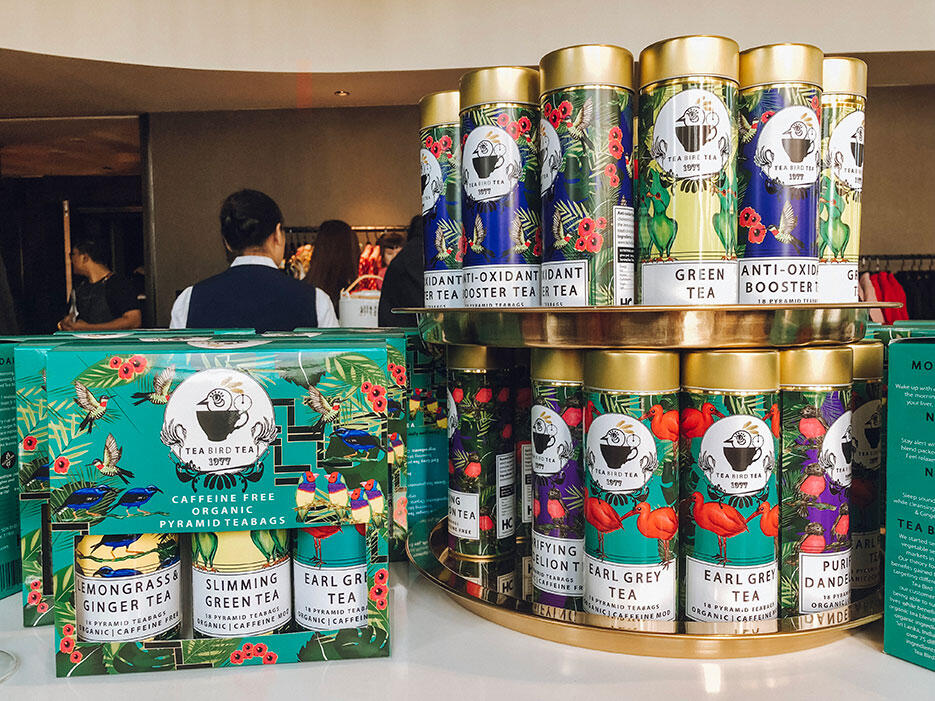 I have been drinking Tea Bird Tea constantly since last year and was so glad to see Ashleigh there…
In an effort to dissuade myself from sipping wine 24/7, i have picked up a tea habit from Val, and turn to hot tea whilst i work and write on some nights.
Again, i cannot describe to you an emotion till you just try it yourself…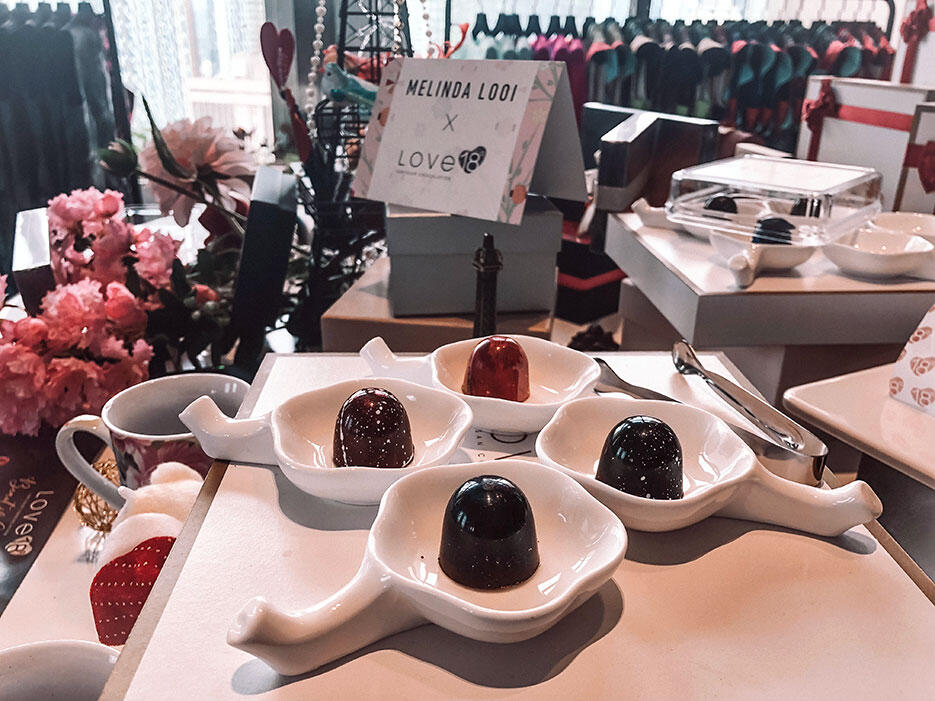 Tasted Love18 chocs for the first time. They're handmade artisanal chocolates that are made in Malaysia (with specific ingredients sourced from Europe). Must be consumed within 2 weeks so i didn't get them cos i had a lot going on then but if i was going to buy some for a house party… i would look this up.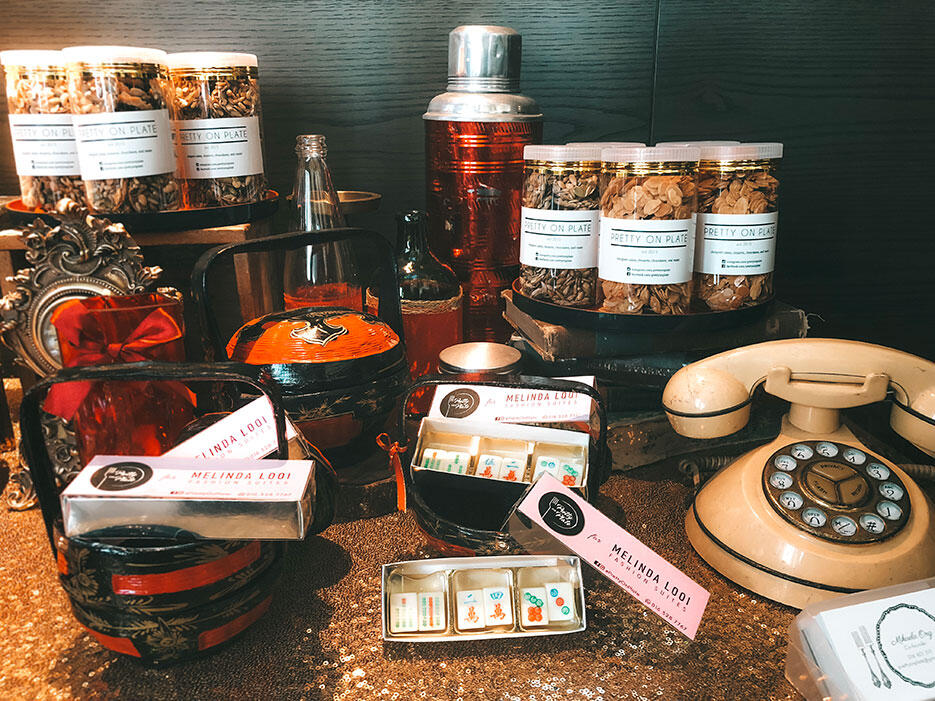 Pretty On Plate had exquisite mahjong chocolates made specially for Melinda's event!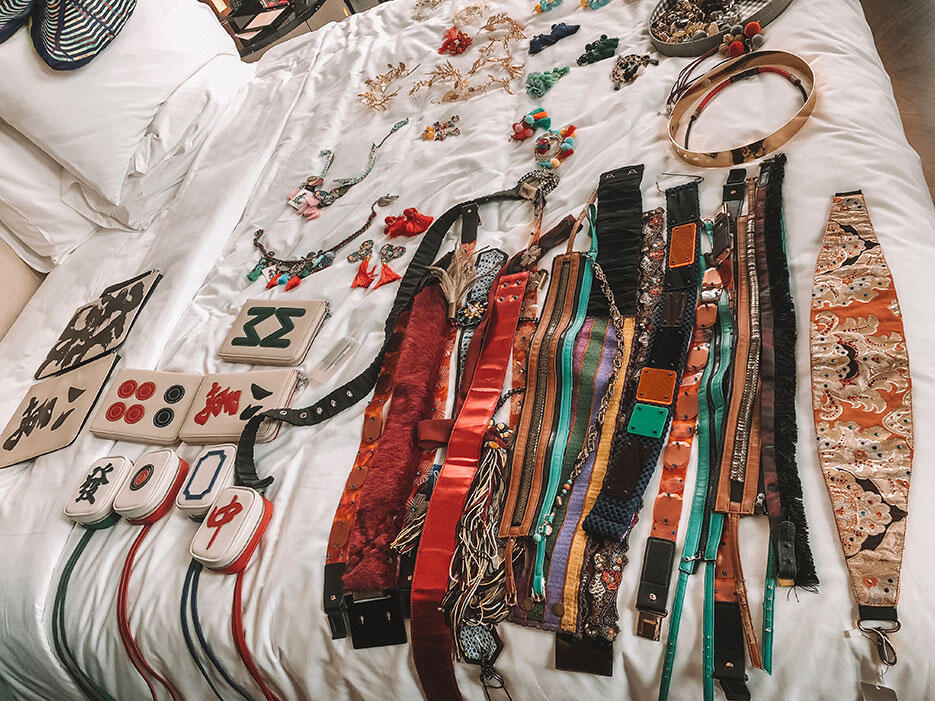 And hours later i found the dress-up room, with accessories strewn all over the bed for us to try on.
What. The…..
I had to leave by then!!!
SIGH! I couldn't stay and play and try on all the outfits and things and take pictures… i didn't know there were MORE rooms and spaces for us to explore and we just didn't have enough time.
I guess you have to invite me back again next year Mel.
Had such a great time, thank you for the invitation!!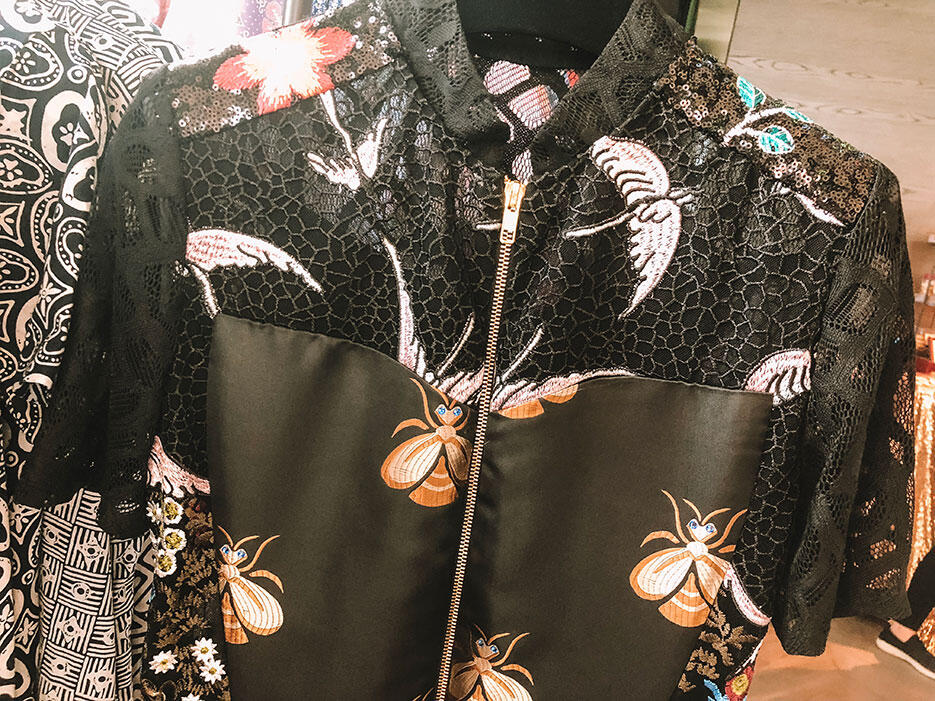 + + + + + +
Email: info@melindalooi.com
Website: melindalooi.com
IG: @melindalooi
FB: facebook.com/melindalooi
Pinterest: pinterest.com/melindalooi
MELINDA LOOI SHOWROOM
131, Jalan Maarof, Bangsar
59100 Kuala Lumpur
Malaysia.
Tel: +603 2093 2279
MELINDA LOOI @ PARKSON PAVILLION
Parkson Pavillion, Level 4
Jalan Bukit Bintang
Kuala Lumpur
MELINDA LOOI OUTLET STORE @ FREEPORT AFAMOSA
Jalan Kemus / Sempang Ampat
78000 Alor Gajah
Melaka