Hola! Is it time for vino, yet? Well, of course, it's always time for vino in Spain! Well, then, pour yourself a copa and let's begin.
My third and fourth day in Barcelona was extra special because Joyce came to join the group for two days of culture and Spanish food. We made plans to meet up at Casa Mila at 2PM, she walked all the way from her Airbnb which was near to the beach. A local told her that it's just a 15-mins walk to Casa Mila and she ended up walking for almost an hour. Never trust Spanish timing! I was so excited when I saw her crossing the road towards the building because at that point of time, I haven't seen her for almost a month! That is bananas, in the #BabyandFairy world. After a looong hug and a few giggles while waiting in line to collect our headphones, we began our adventures at Casa Mila.
Casa Mila is one of the iconic buildings in Barcelona designed by none other than the world famous architect Antoni Gaudi. Believe me, you haven't been to Barcelona if you did not visit at least one of his many crazy buildings and Casa Mila is one of it.
Casa Mila was built in 1906 and took 6 years to complete. When you see it, you'll understand why. As you approach the building, you have the impression that a huge rocky cliff had suddenly sprung up in the midst of houses and buildings. No, no… it is not an urban mountain, but it is the last house Gaudi built before shutting himself away to work exclusively on the Sagrada Familia (which is still being built). An army of air shafts and chimneys watch over the house from the terrace, as if they were sentinels mimicking the billowy smoke rising to the sky.
A fun fact about this house is the innovation that Gaudi tried – an interior ramp making it possible for horse carriages to deposit their occupants at the very door of their apartment. How crazy is that? Even we don't have such a thing! One could hardly ask for a greater luxury! There are a total of 20 apartments in the building and Gaudi, being the sneaky person that he is, installed elevators only on every second floor so that people are forced to communicate with one another on different floors. How brilliant is that?!
In 1984, Casa Mila was declared a World Heritage Site by UNESCO (as it should!) and it is now house to the Catalunya-La Pedrera Foundation, which manages the exhibitions, activities and public visits held there.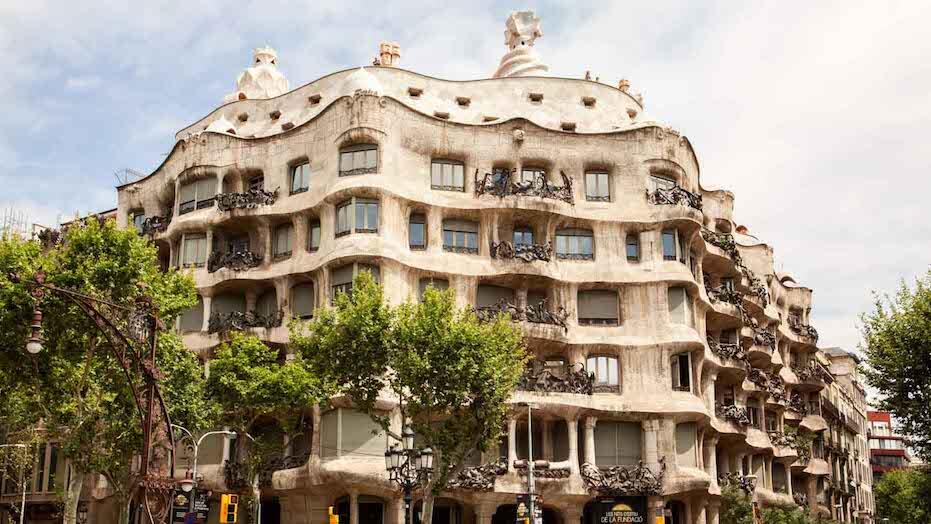 The facade of Casa Mila. The twisting wrought iron balcony is like nothing I have seen before.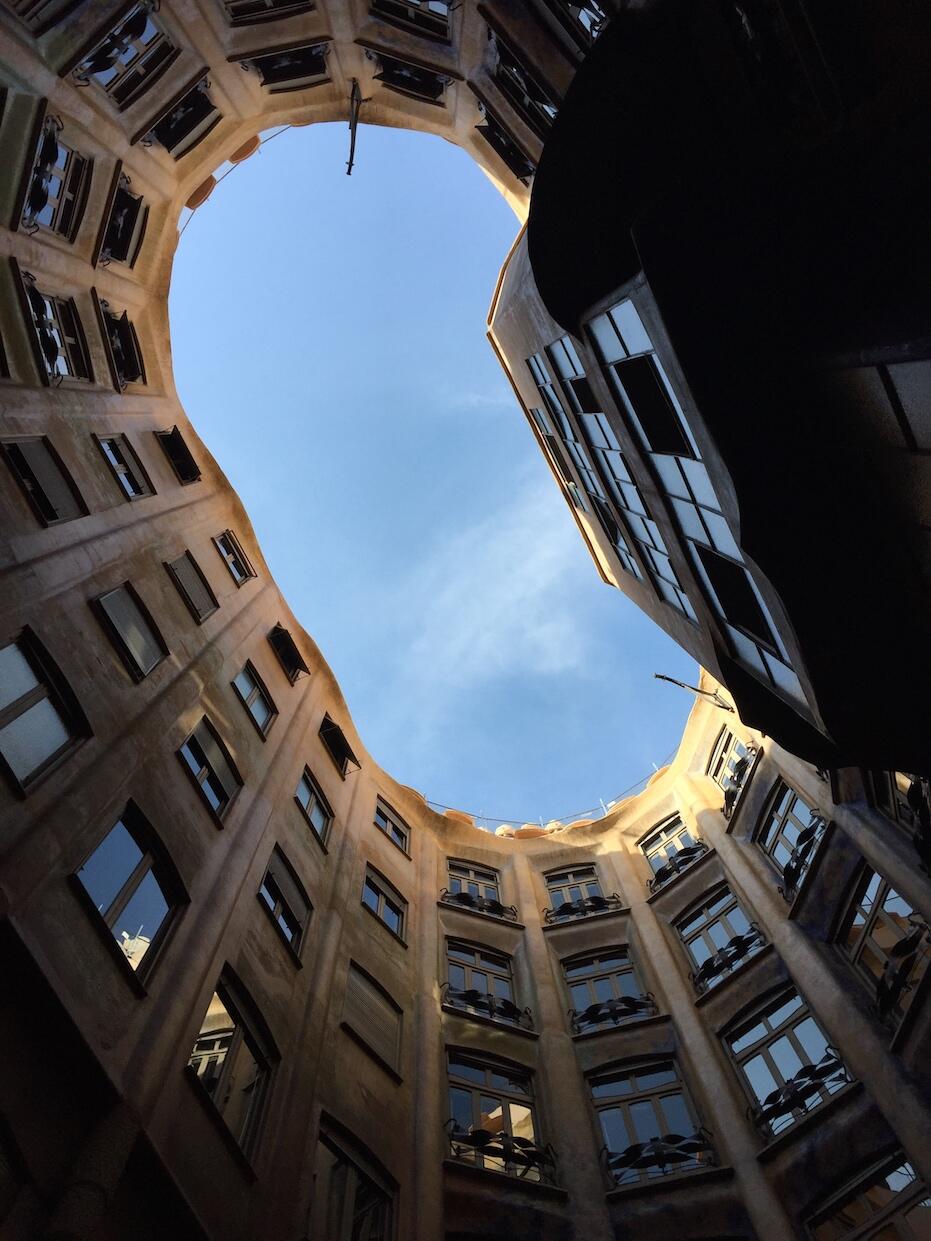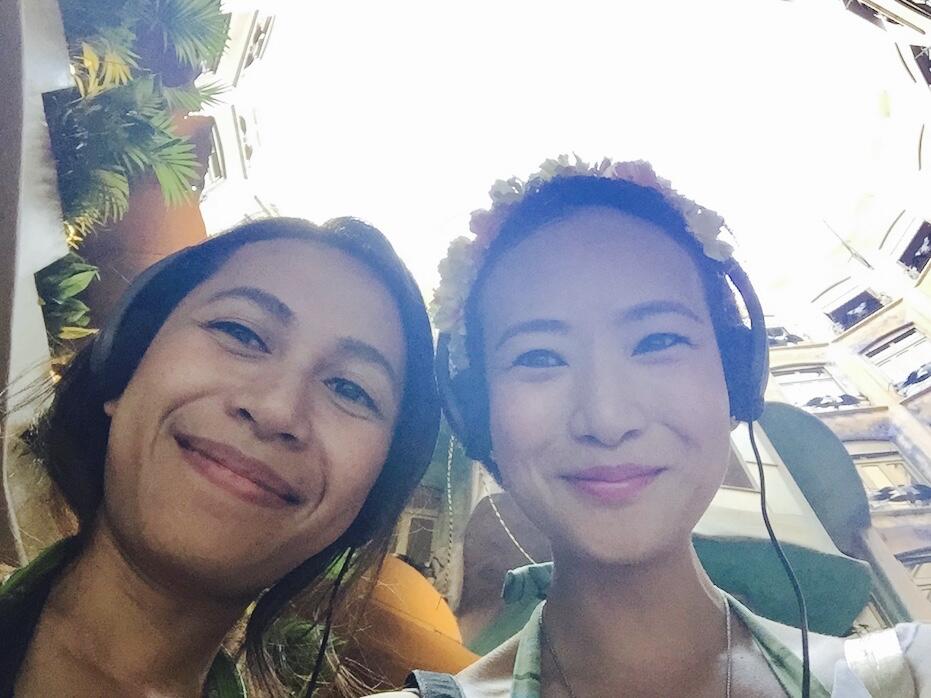 #BabyandFairy in Barcelona. Luckiest team in the world, I have to say.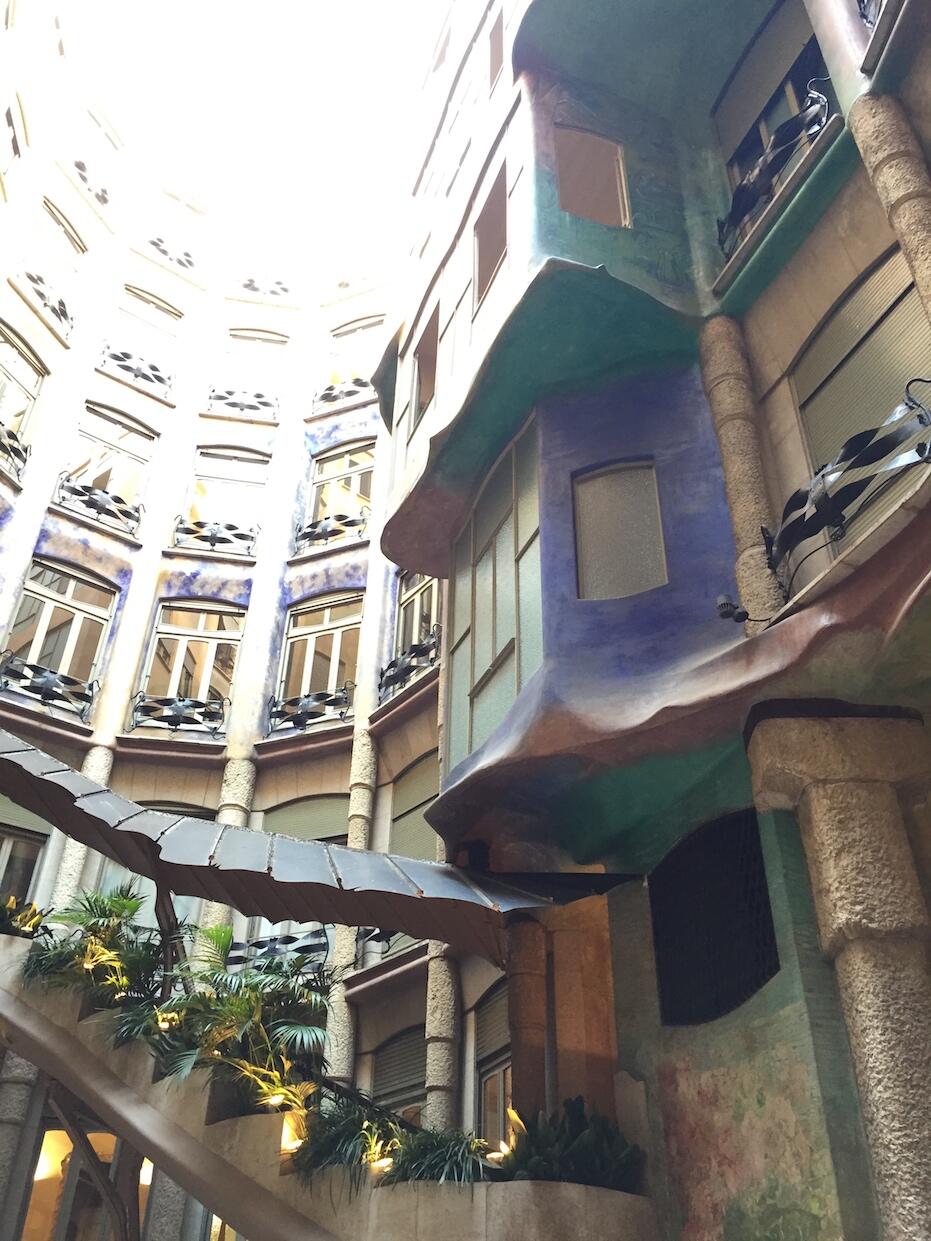 This is a part of the patio, which is considered "the soul of the building."
On the rooftop of Casa Mila are six skylights, 28 chimneys in several groups – twisted so that the smoke came out better, two half-hidden vents to renew the air in the building crowning the walkway that goes around this dream castle, four domes that discharge to the facade and staircases that house the water tanks shaped like snails.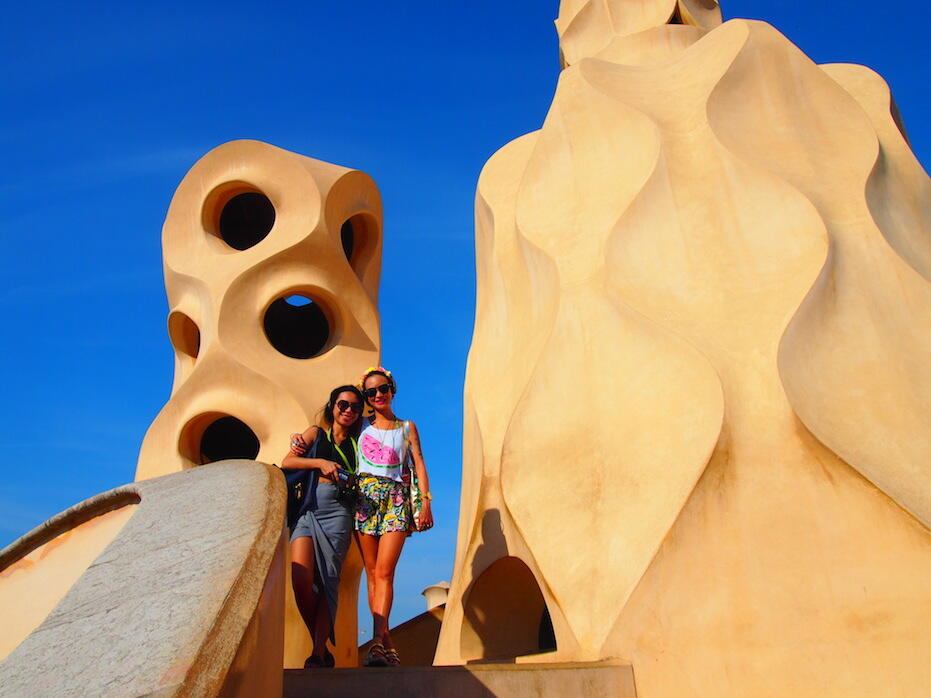 #BabyandFairy posing beside this air-vent which is now considered an art sculpture.
Joyce's outfit was gifted by Monki!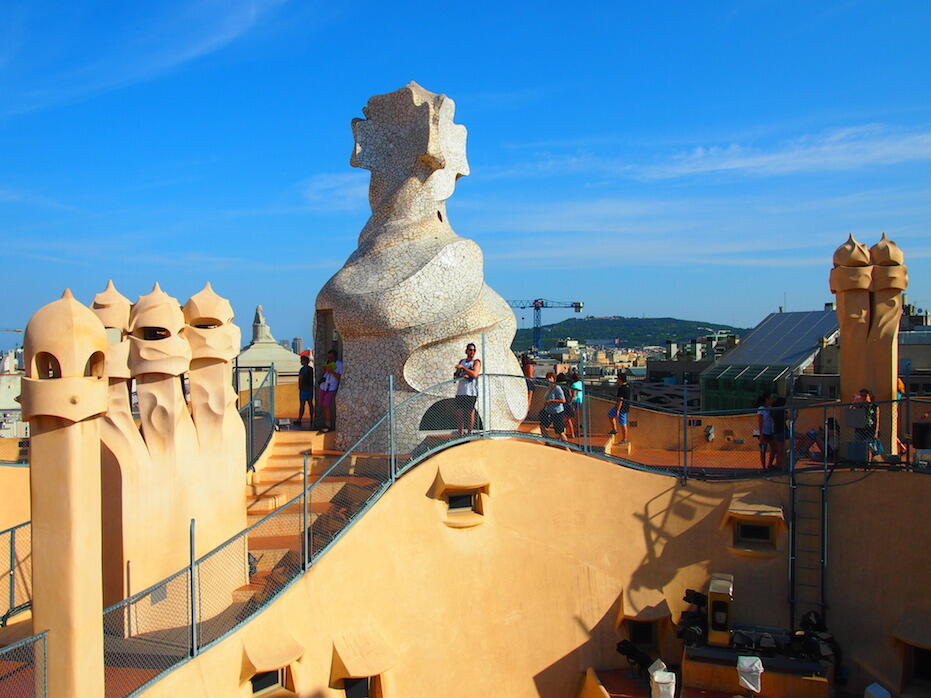 The amazing chimney.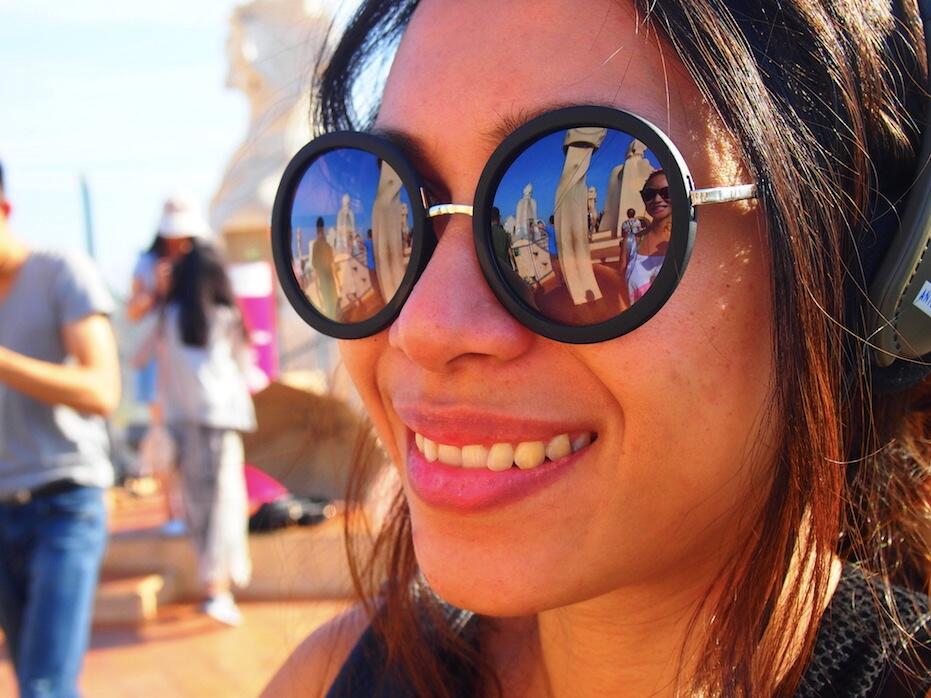 Joycie, always in my vision.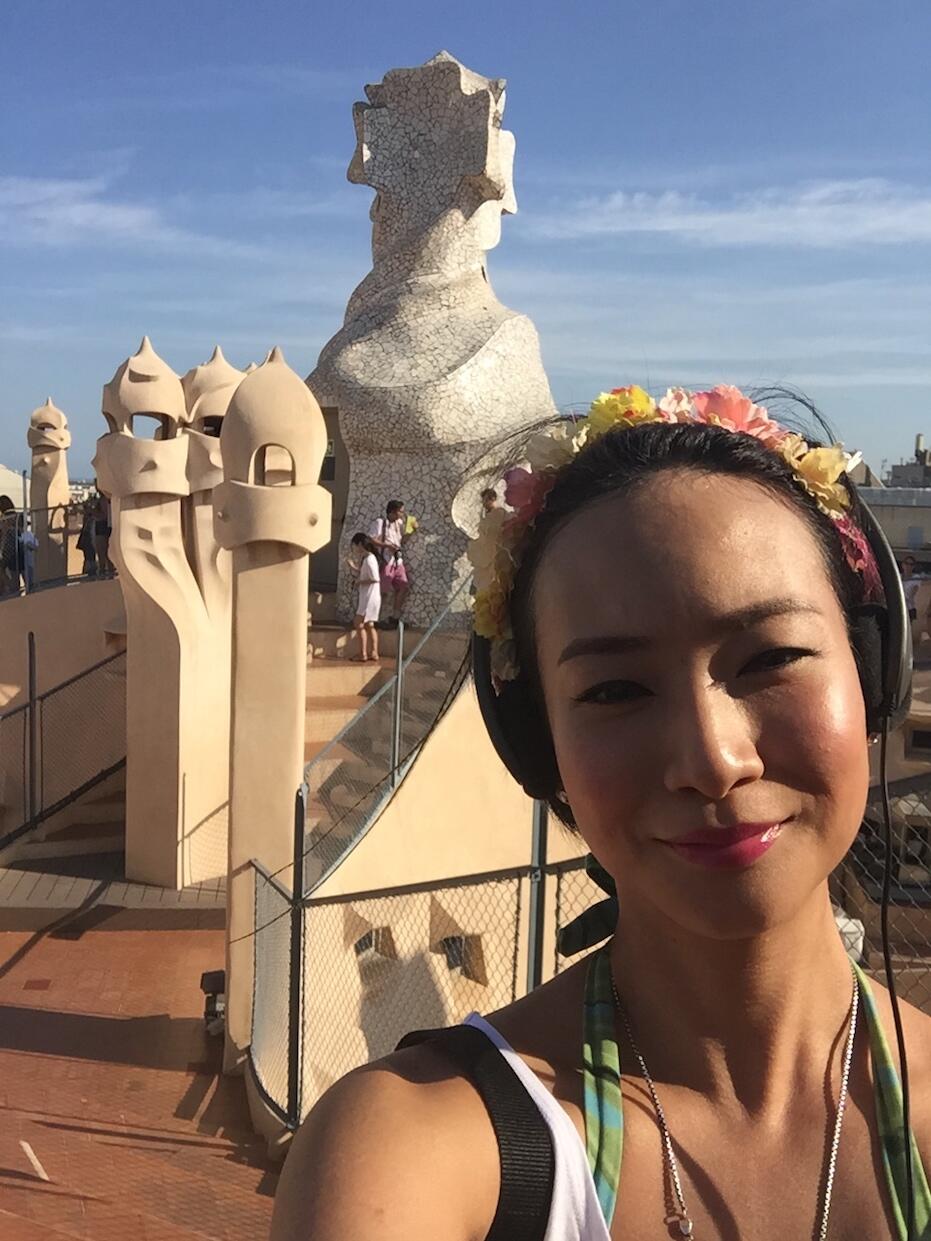 Joyce on the rooftop of Casa Mila.
After enough playing on the rooftop, we were totally separated from the group and made our way down to have a look at several untouched rooms with original furniture.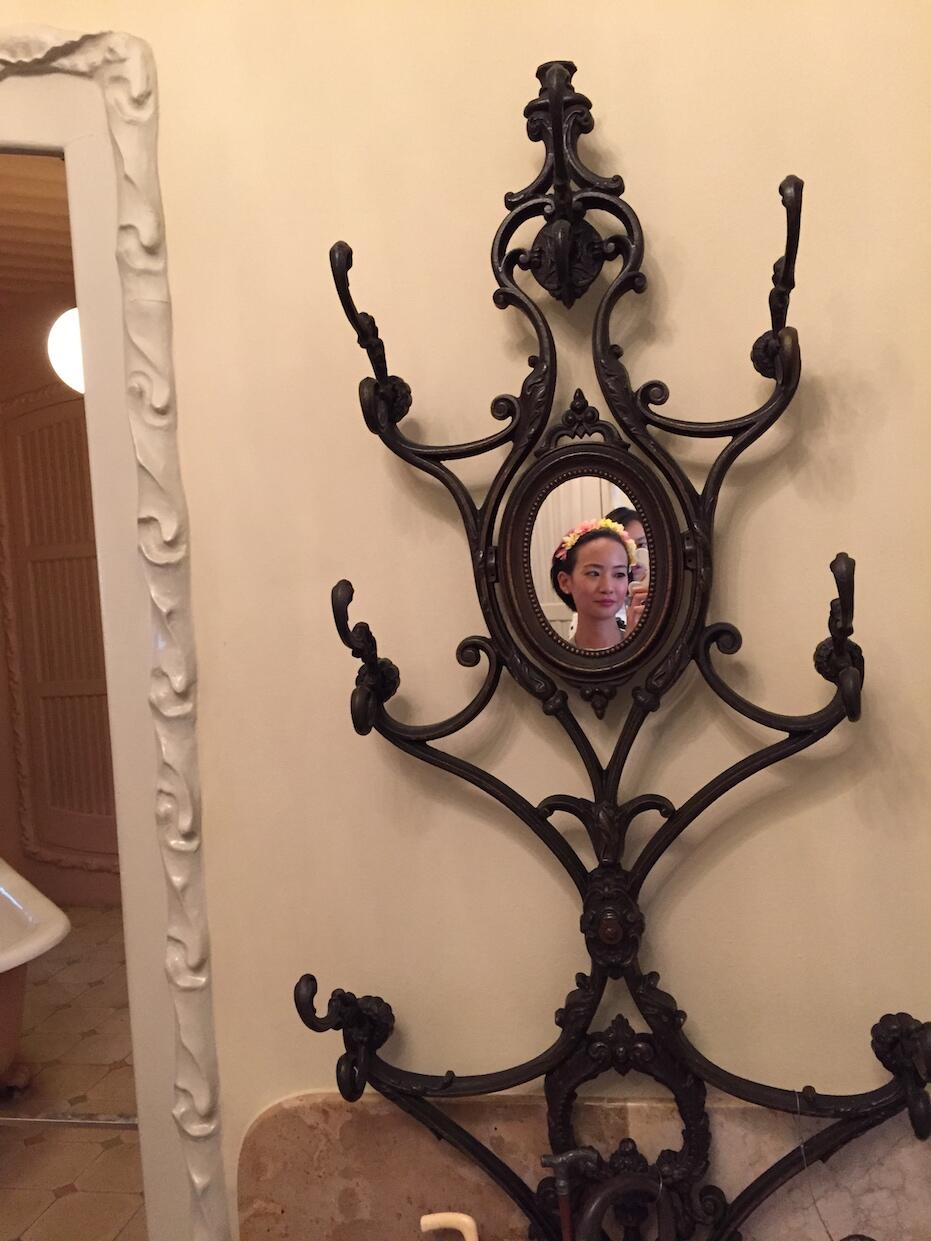 A whimsical mirror.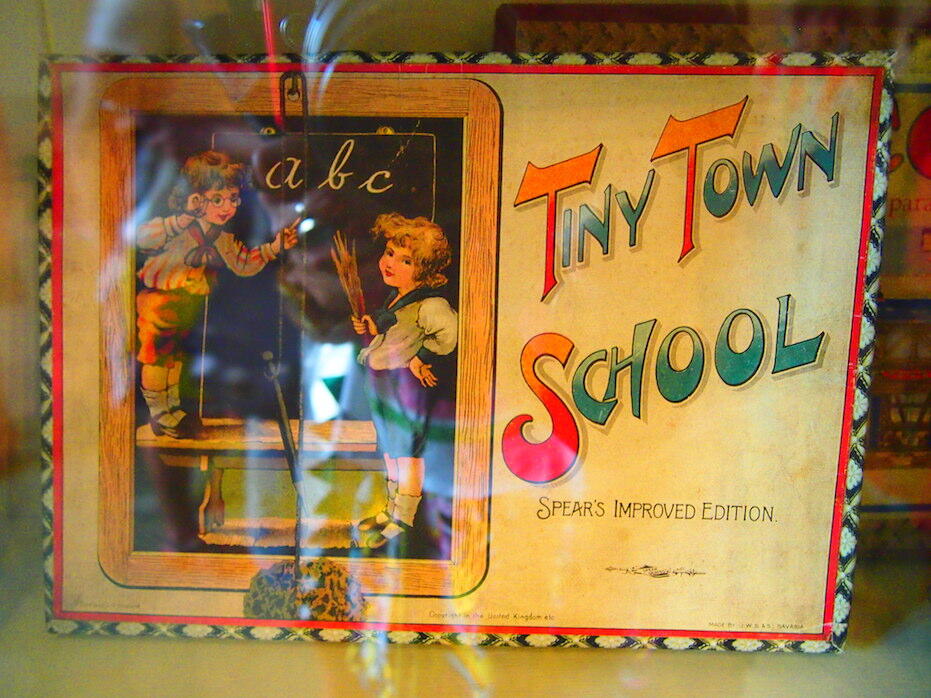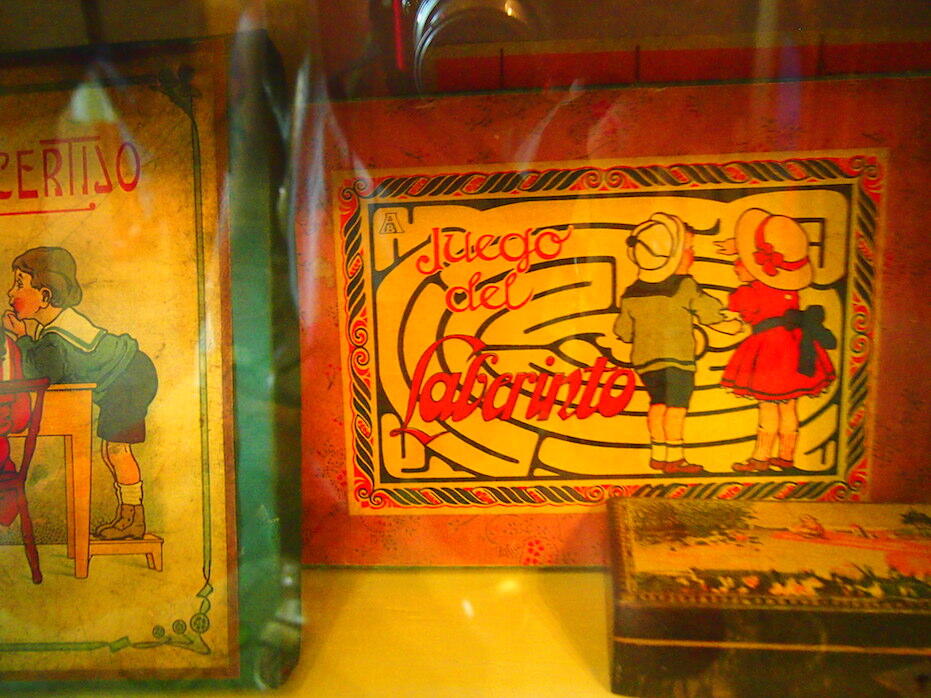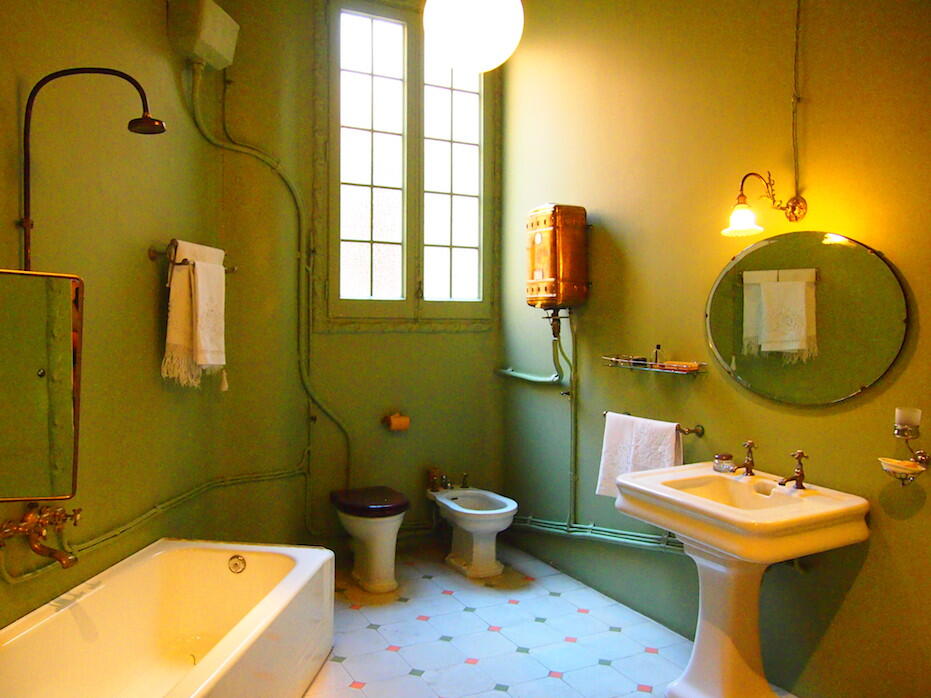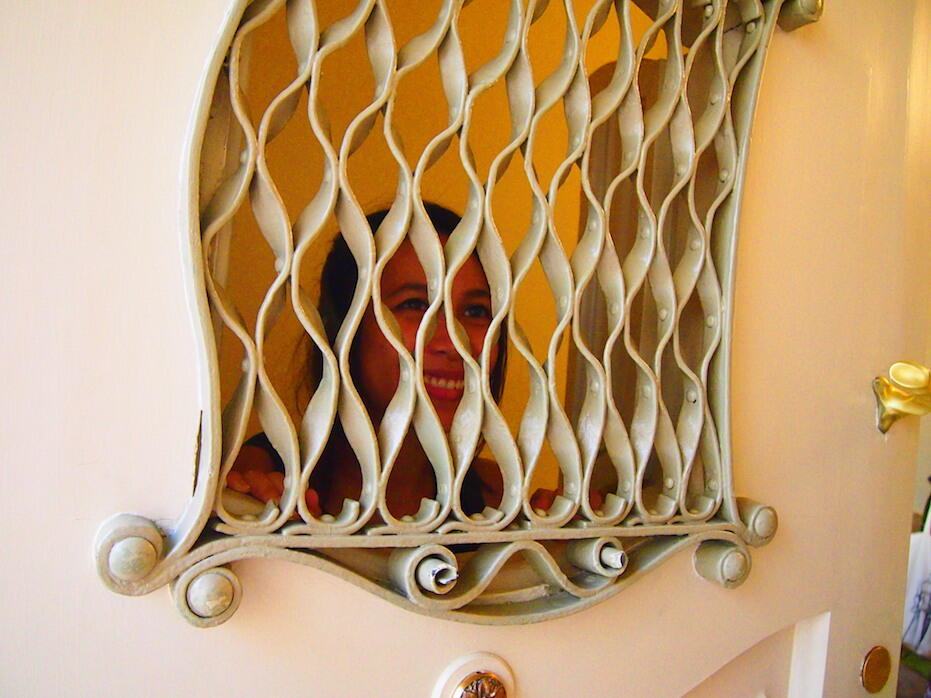 I'm not going to pretend like I understand Gaudi's work, because I don't. But I do understand why he is the most sought after, most popular and most expensive architect that Barcelona has seen.
Right after Casa Mila, we were ferried to Las Ramblas/La Rambla for a Tapas Tour!
Las Ramblas is a street in Barcelona that stretches for 1.2 kilometers with Port Vell at the Southern most end and Plaza Catalunya at the Northern most end. Las Ramblas is the boundary between Barri Gotic/Gothic Quarter and El Raval/Raval. You can get almost anything at the pedestrian mall along Las Ramblas, from flowers, local snacks, electronic adapters, art works, food and etc. It is a real tourist attraction. When we arrived, the place was packed with tourists and we saw a few other tour groups as well. We were warned by our guide to mind our belongings and to always have our bags in front. I became paranoid and held on tight to my Loewe. I'd heard first hand stories from friends who had been mugged/pick pocketed at Las Ramblas. So, if you are ever in that area, just be careful. Other than that, sitting at one of the cafes along Las Ramblas drinking a jug of Sangria is an absolute must on your first day in Barcelona.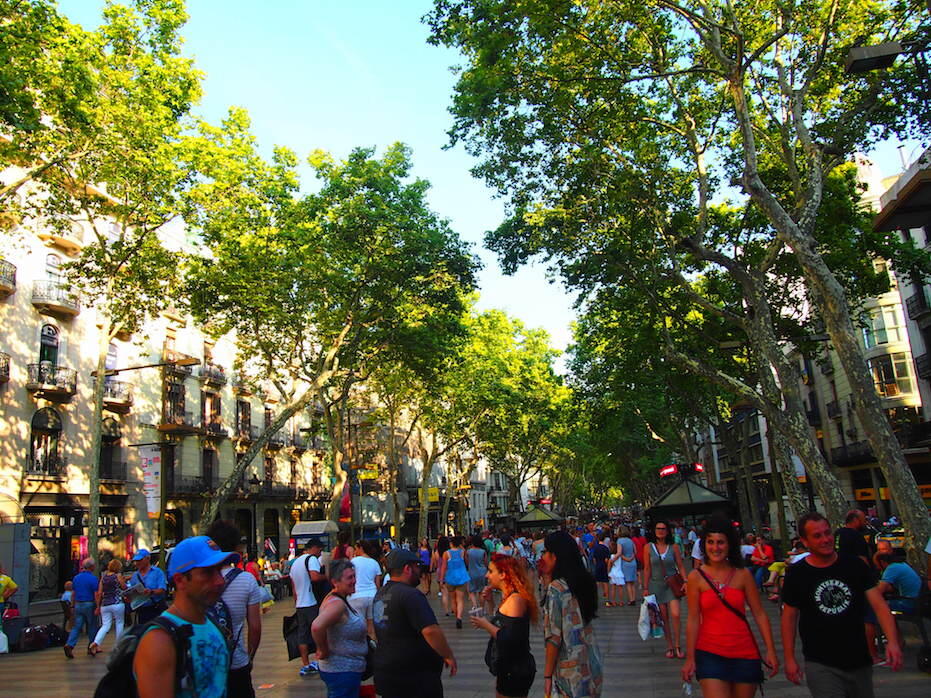 The beginning or Las Ramblas. Look at the amount of people!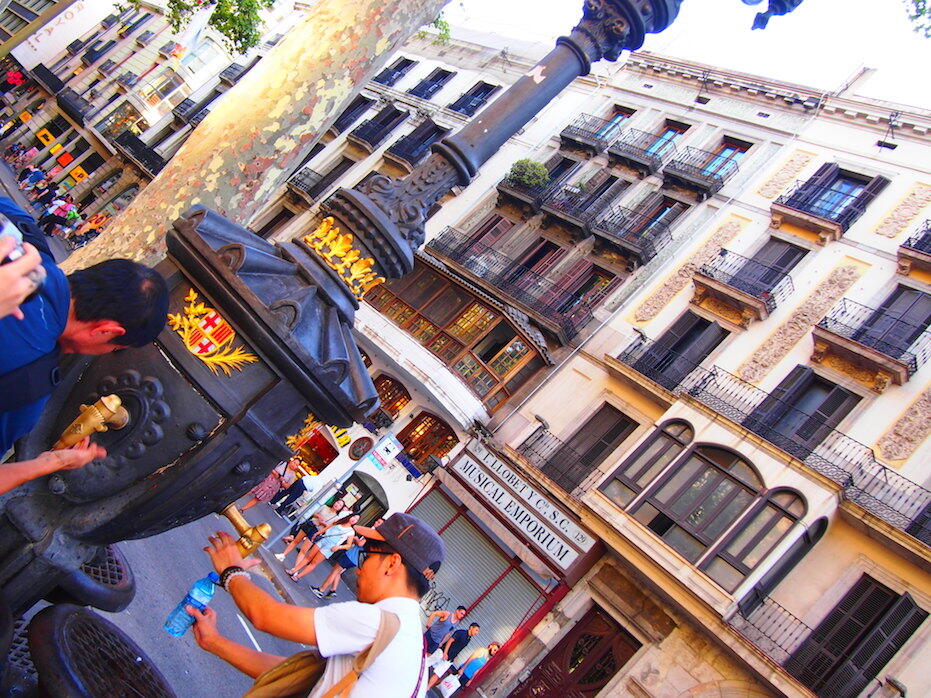 This is the La Rambla Drinking Fountain or Font de Canaletes in Catalan. Folklore is that if you drink from this fountain, you will fall in love with Barcelona and will one day return. I drank it and I DID fall in love with Barcelona! I don't know what it is, her sights and sounds, her pulsating activities, her mysterious c'mon factor, the handsome Spanish men. I hope to return one day, I really do.
Our guide took us around the Barri Gotic not knowing we'd been there the day before. But we didn't mind. The place is wonderful and there is always something new to see.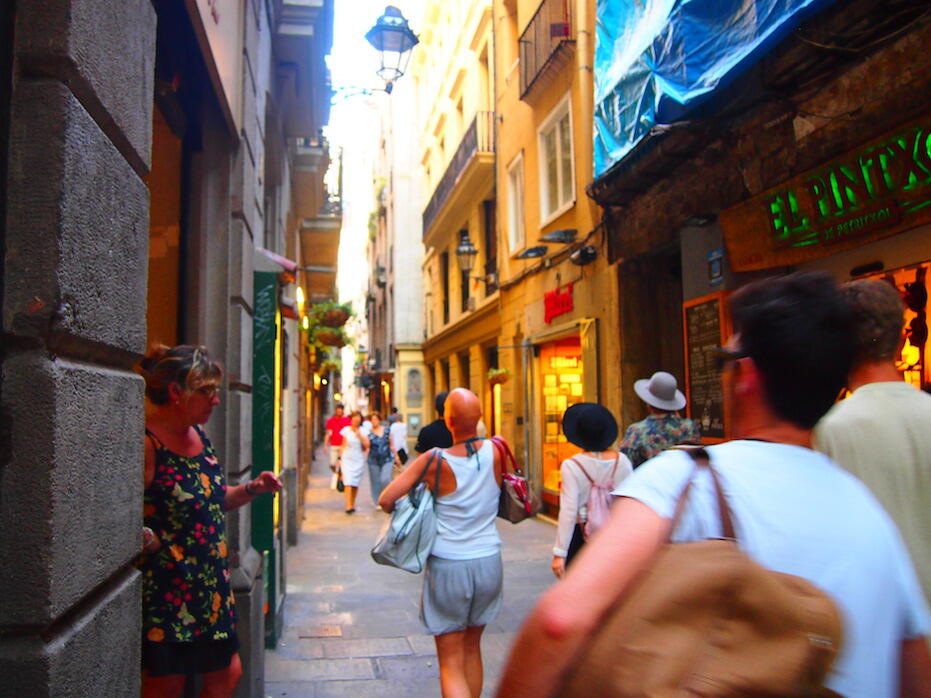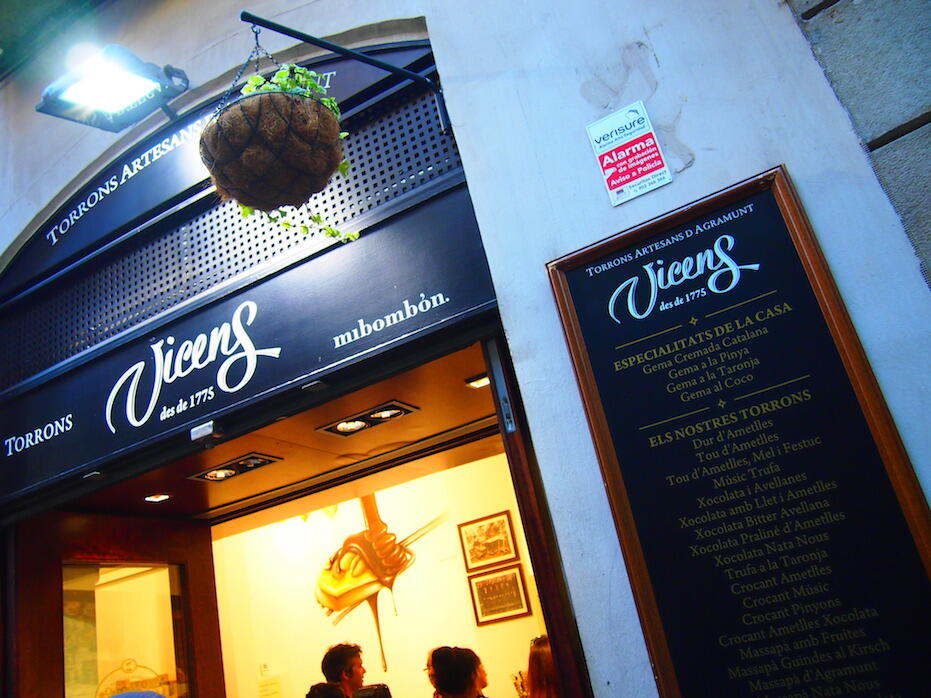 The first tapas bar we went to was Xaloc Restaurant in the Gothic Quarter. Tucked in a magical street full of antique shops, art galleries and restaurants; it serves authentic Iberian fare meets Mediteranean cuisine.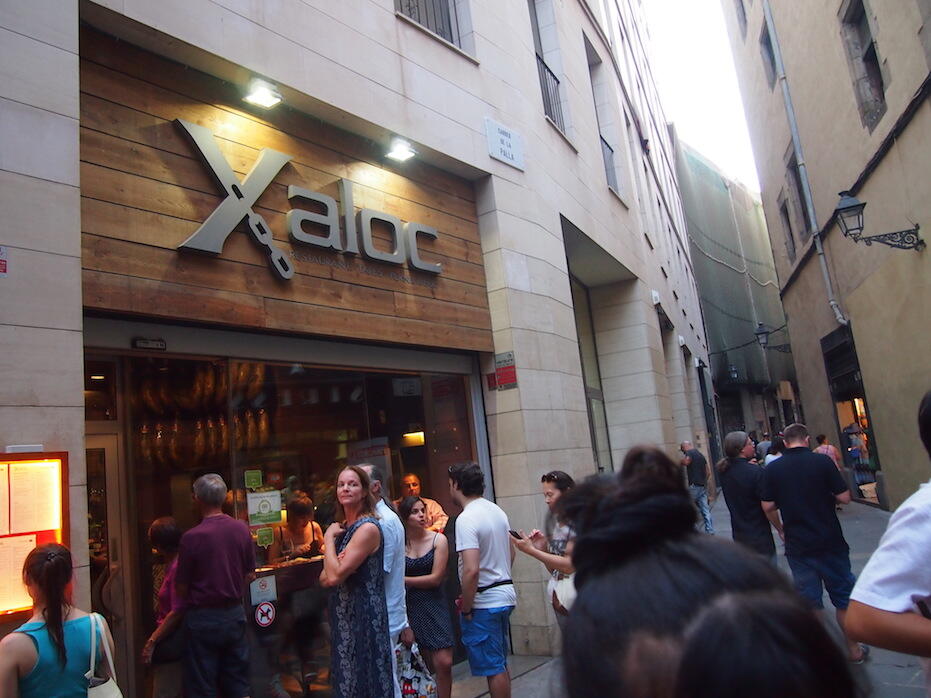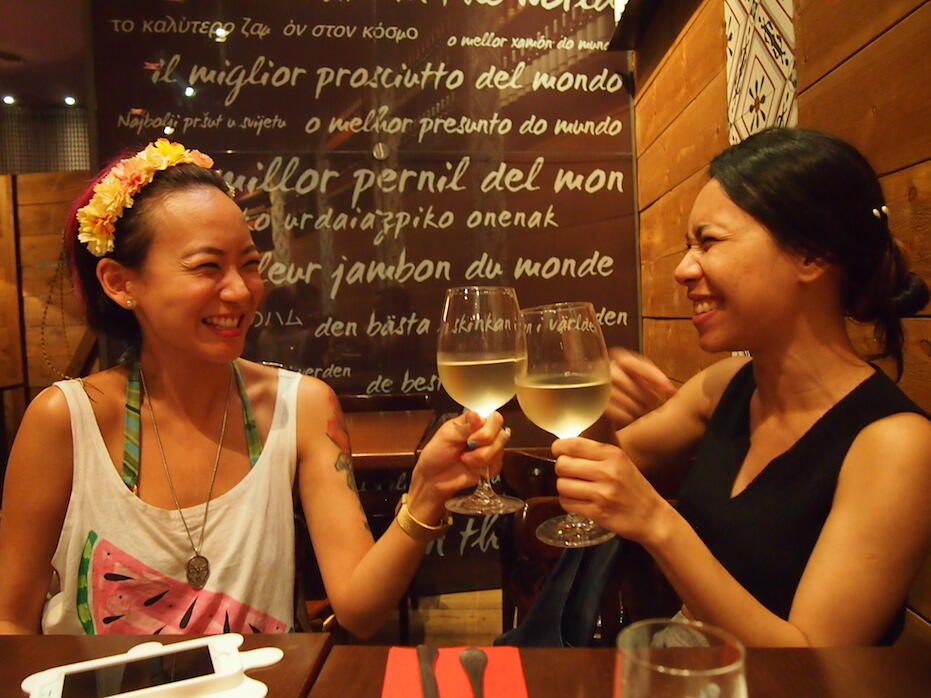 I still think it's crazy that we met up in Barcelona. I mean, what are the odds that we would end up in the same city at the same time. I think we were both clinking our glasses to that, to how the universe reunited us… IN SPAIN! It's always a good time with Joyce, always. Read on, you'll know what I mean.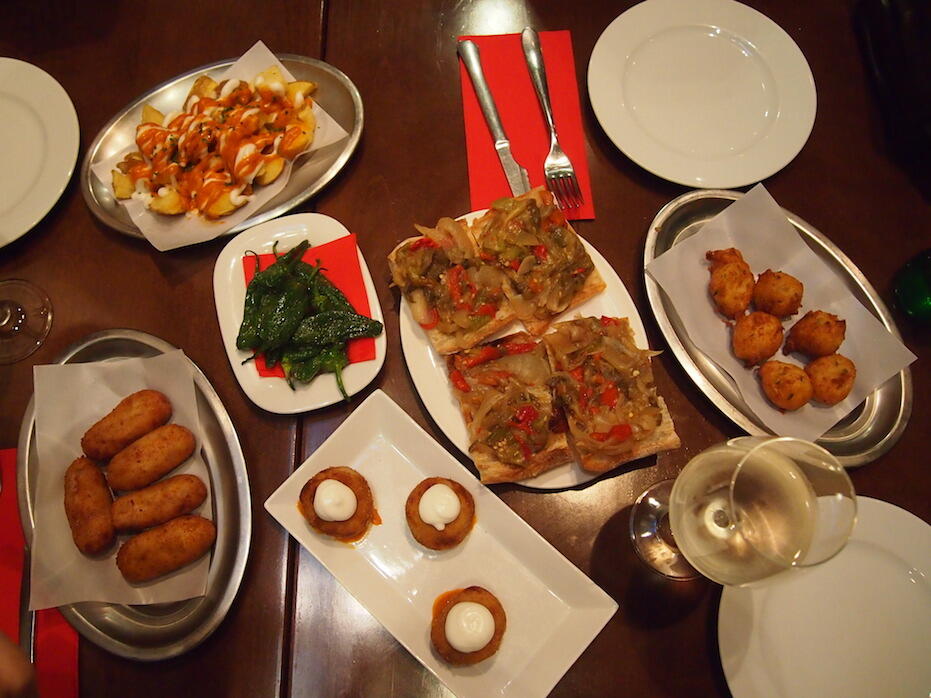 Iberian ham croquette, fried "Padron" green pepper, Bravas: fried potatoes in mayonnaise, garlic and spicy sauce, toast with Escalivada: baked aubergines, onions and peppers.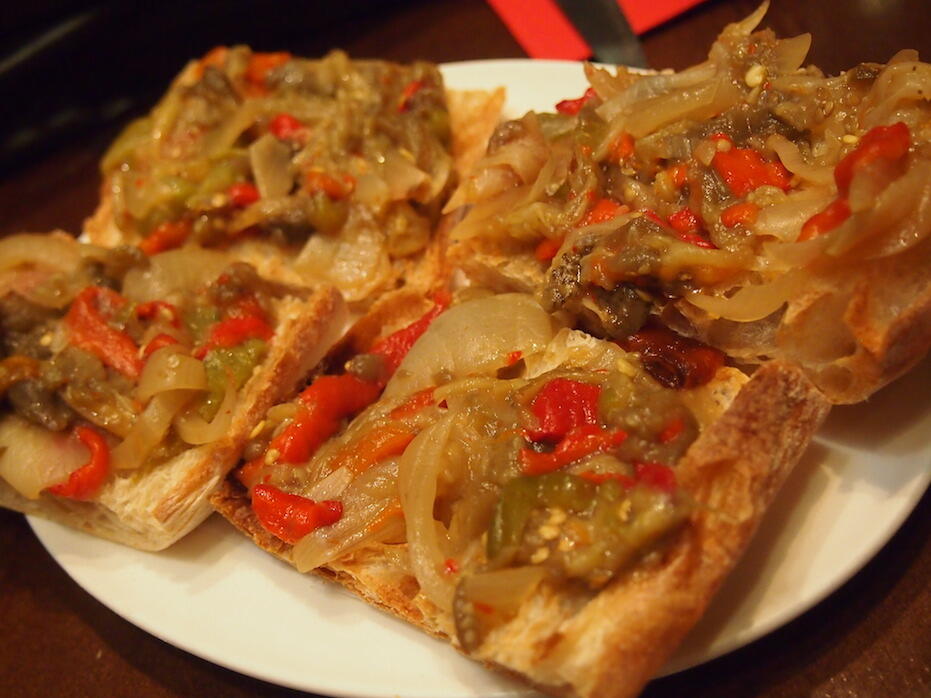 Toast with Escalivada.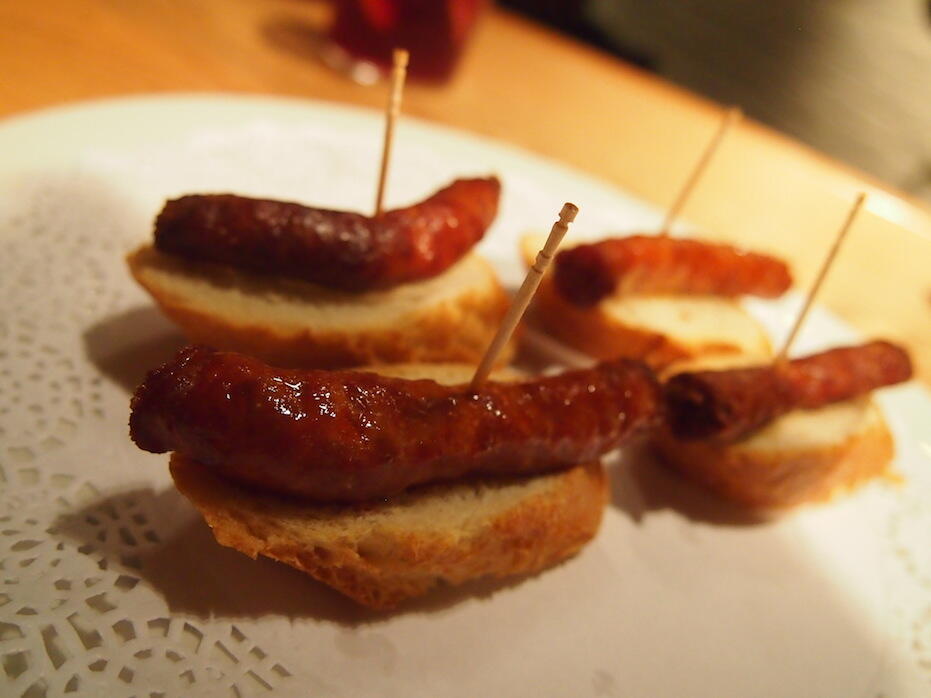 Iberian sausage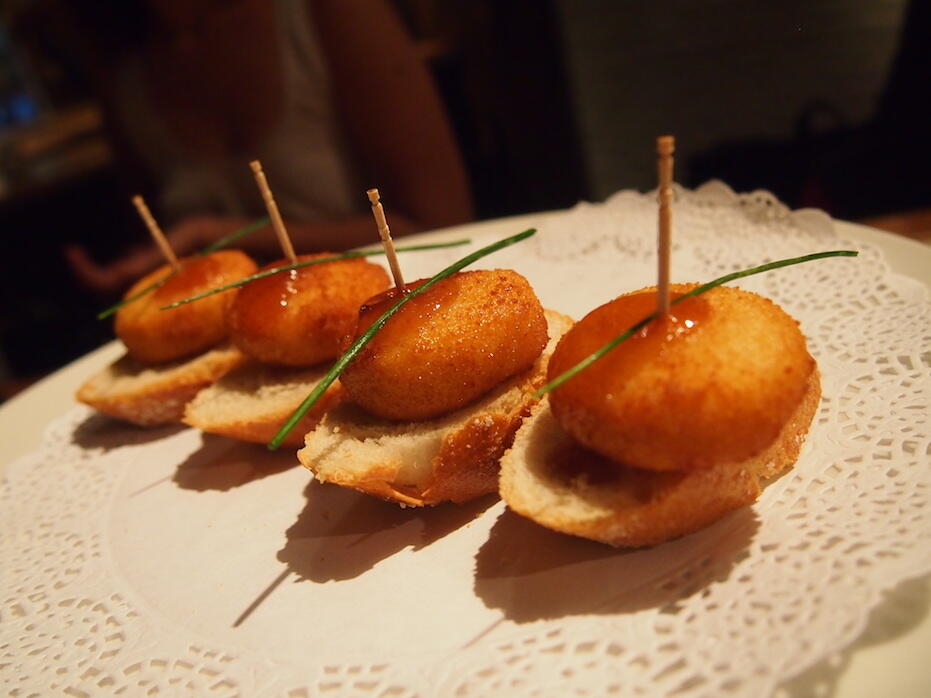 Bombas: Spicy meat and potato balls and spicy sauce.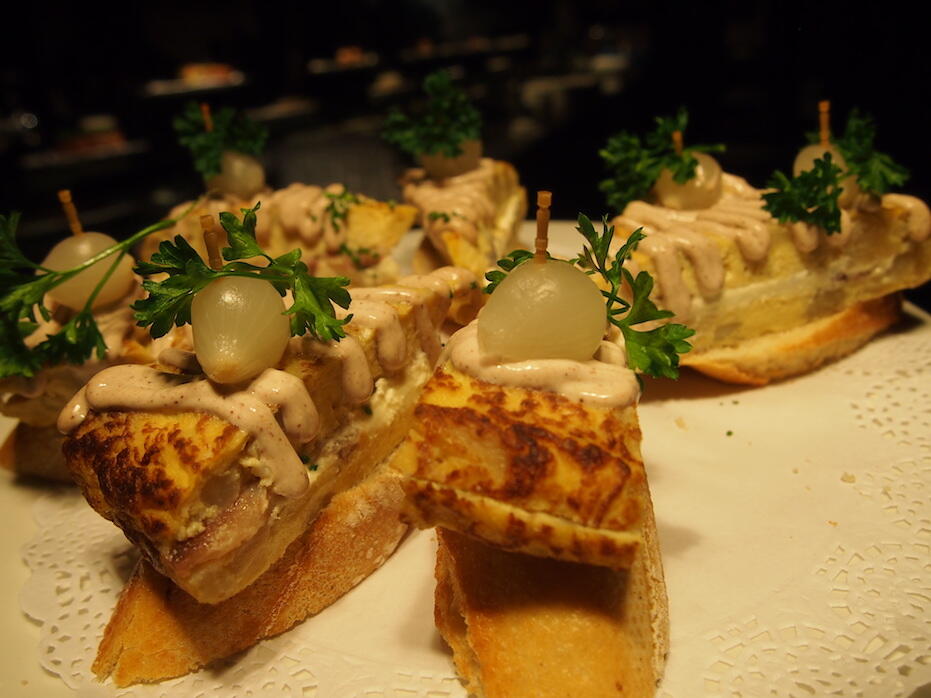 Potato and onion omelette.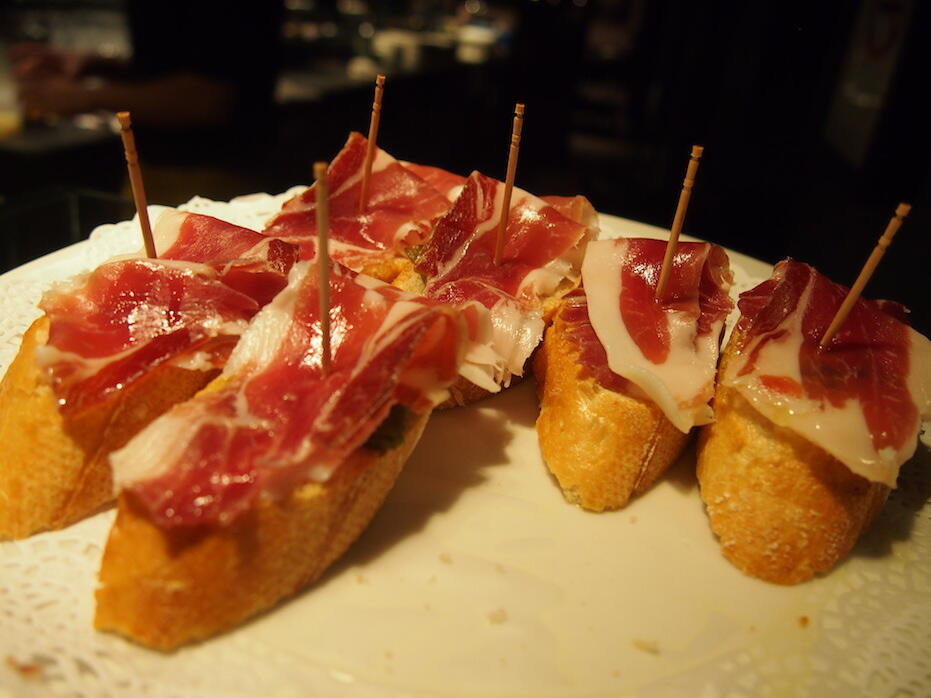 Iberian ham reserve.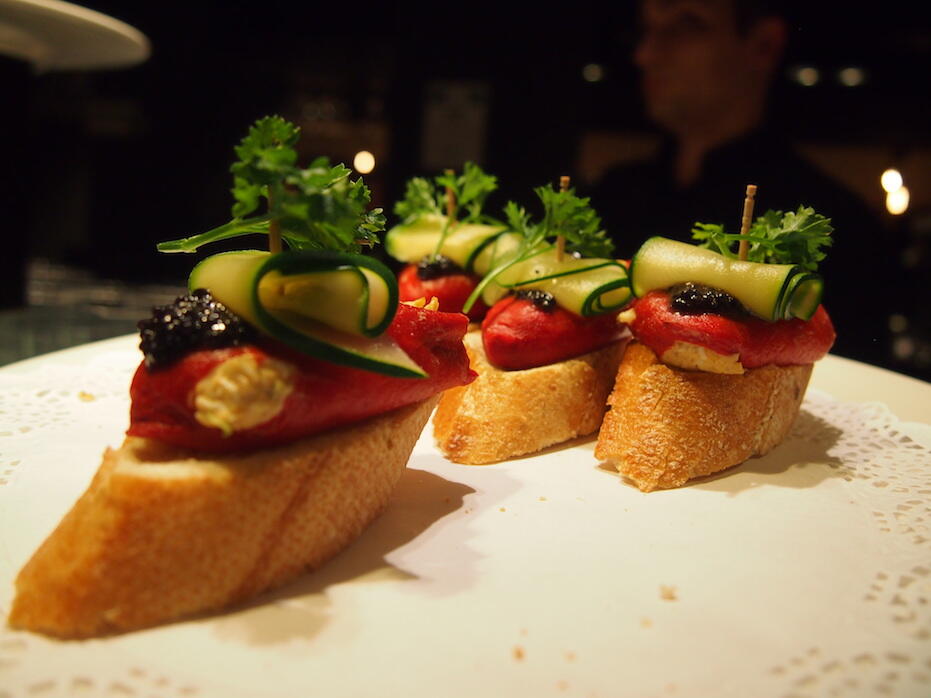 Codfish fritters.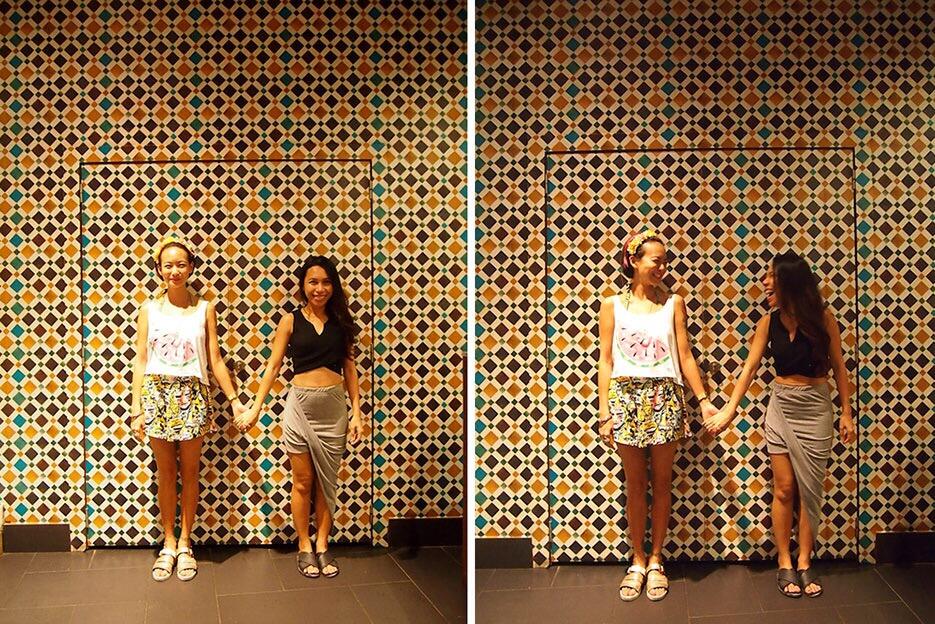 Joyce: Quick, let's take a picture at this pretty wall!
B: Ok! Let's hold hands!
*both start laughing hysterically"
After filling our tummies and drinking a happy amount of vino, we continued walking around the Gothic Quarter.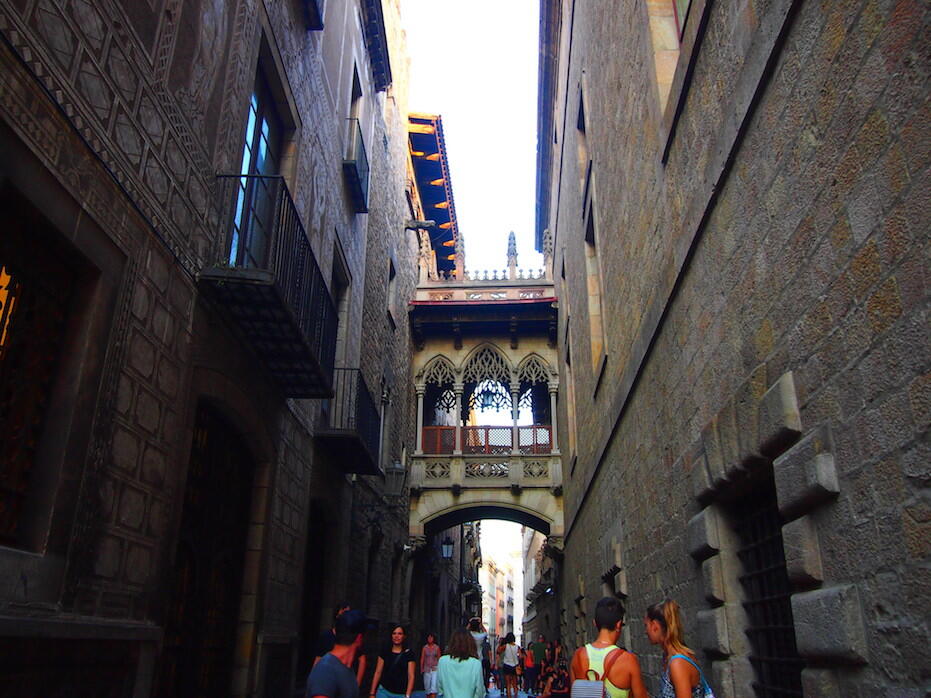 There is the neo-Gothic bridge at Carrer del Bisbe again.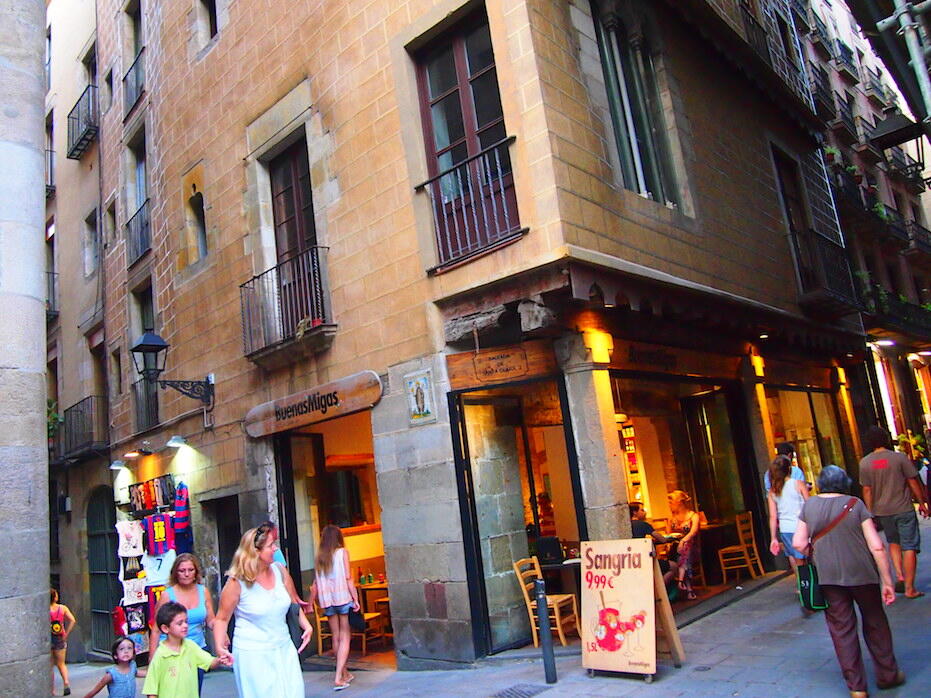 One of the many cute cafes around the area.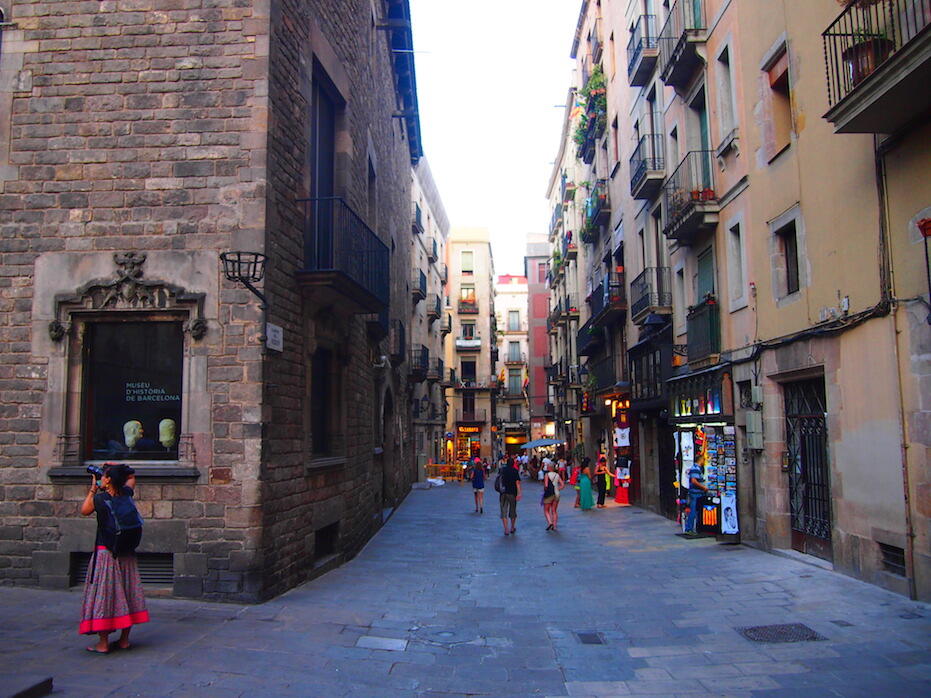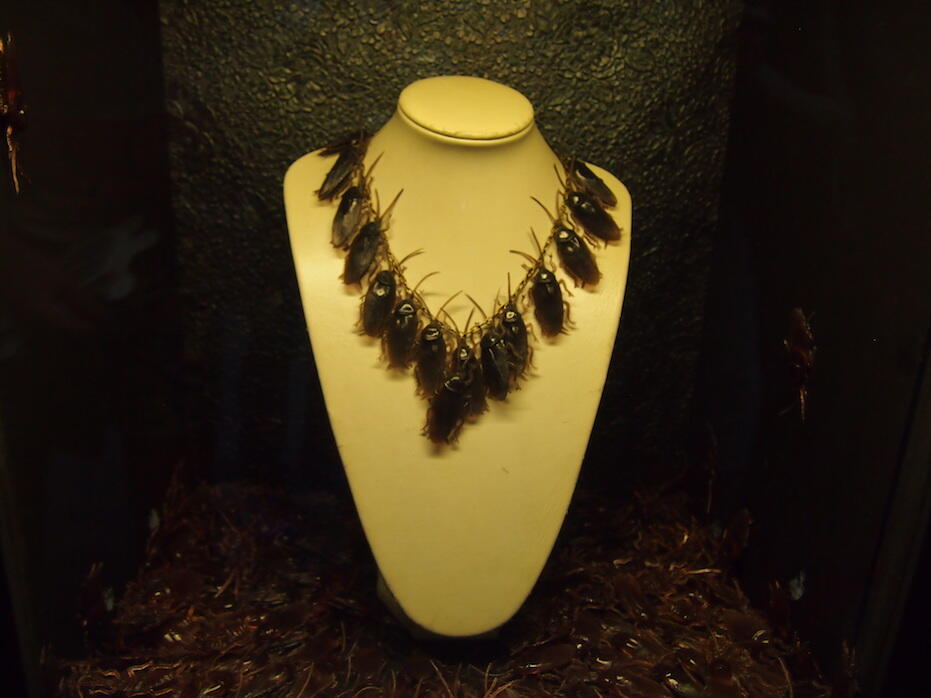 We also saw this fake cockroach necklace which was exhibited in the storefront window of the La Basilica Galeria which is a gallery that houses an array of perfume from all over the world, curious cabinets with contemporary jewelries.
Note: La Basilica Galeria has moved to Passeig de Gracia 26.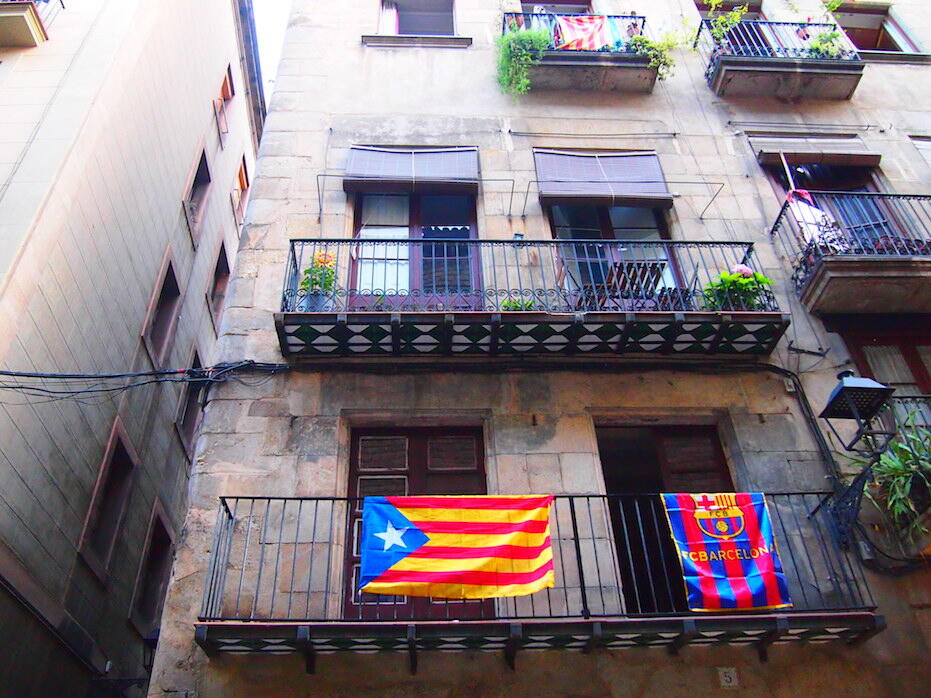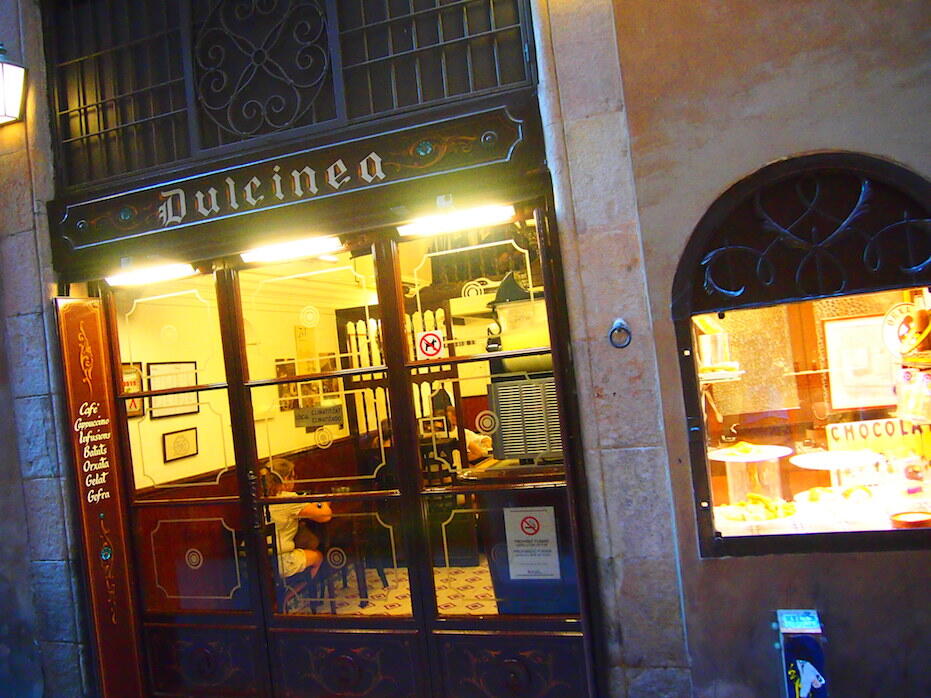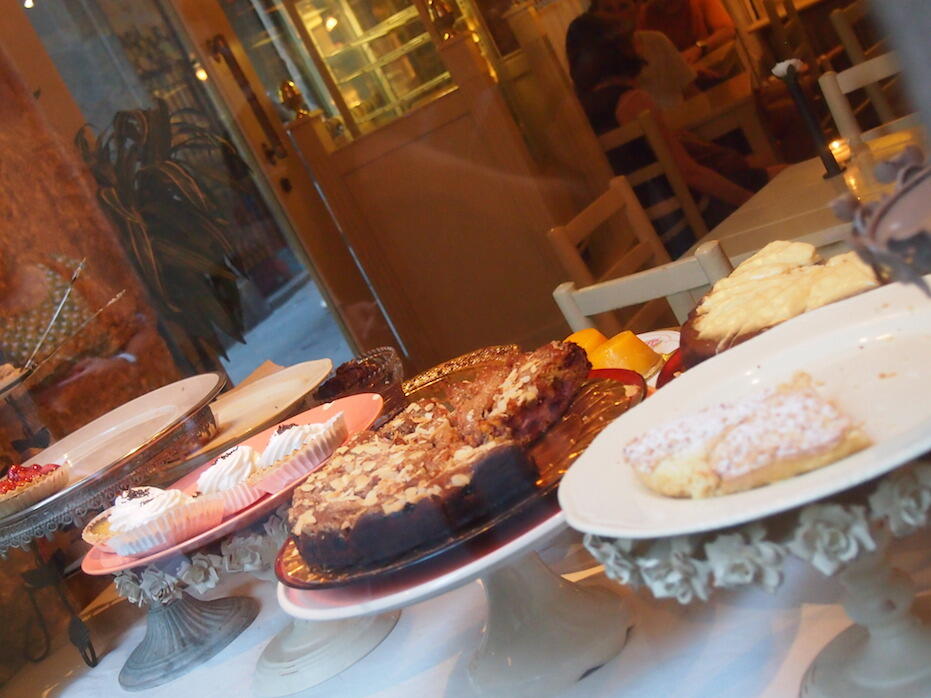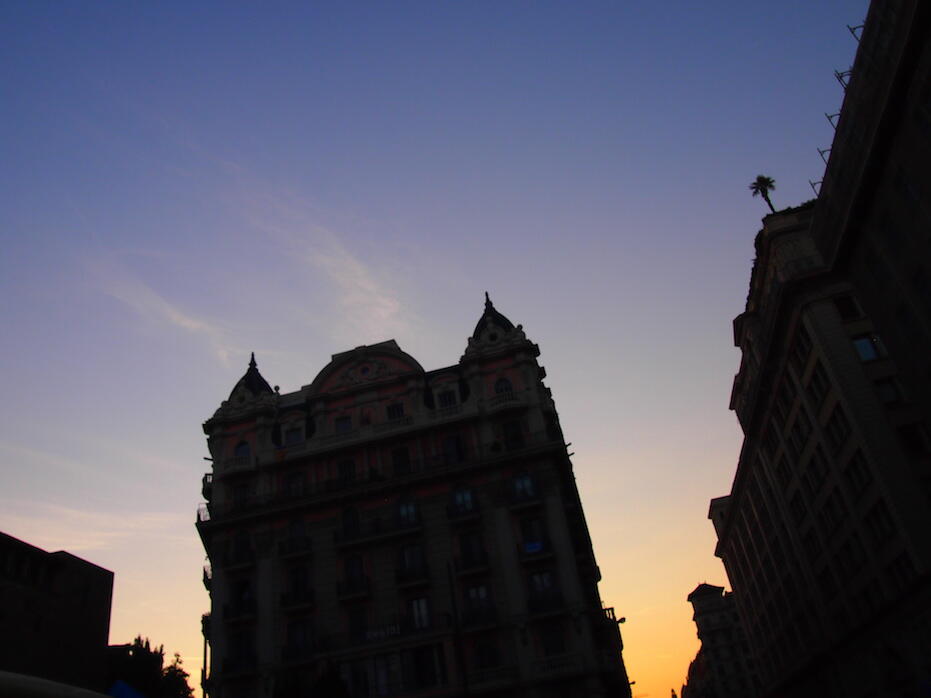 Sunset in Barcelona has to be the prettiest I've ever seen.
We ended our tapas tour at a restaurant called Orio. The restaurant is characterised by the reinvention of the Basque tavern, a gastronomy based on an overflowing pintxos. What in the world is pintxos, you may ask. Well, let me tell you, por favor. It is a small snack typically eaten in bars, tradition in the northern Spain and famous in the Basque country. They're usually enjoyed with friends and family, thus, it has that social component. Pintxos are similiar to tapas, the only difference is, they are spiked with a toothpick, and often to a piece of bread.
How Orio works is you get to choose as many pintxos your heart/tummy desires and pay by the amount of cocktail sticks leftover. There were also staff walking around with tempting plates of food, from which you choose. The tinto de Verano and wine selection are good too!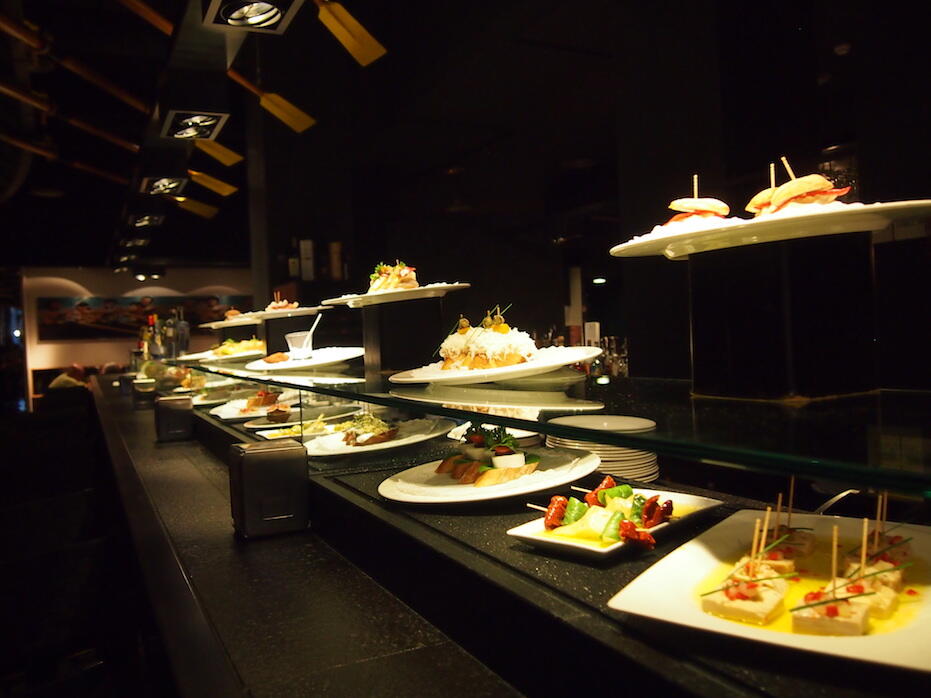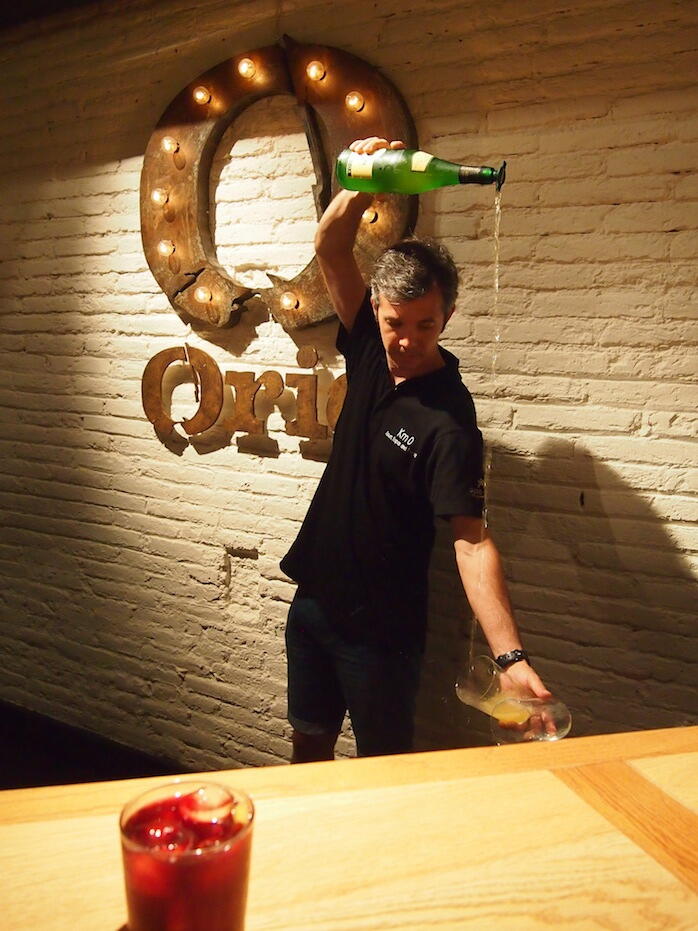 Our guide pouring Asturias cider. No, he's not showing off. That is the way the cider must be poured. Pouring it at height like this aerates the cider. Only one decent sized mouthful is poured at any one time, as the cider tastes its best with the light bubbles it gains from the aeration (like teh tarik la, but HARAM). Pouring the cider is not as easy as it looks. Roughly 1/3 of any bottles of cider never makes it into the glass – but on the floor!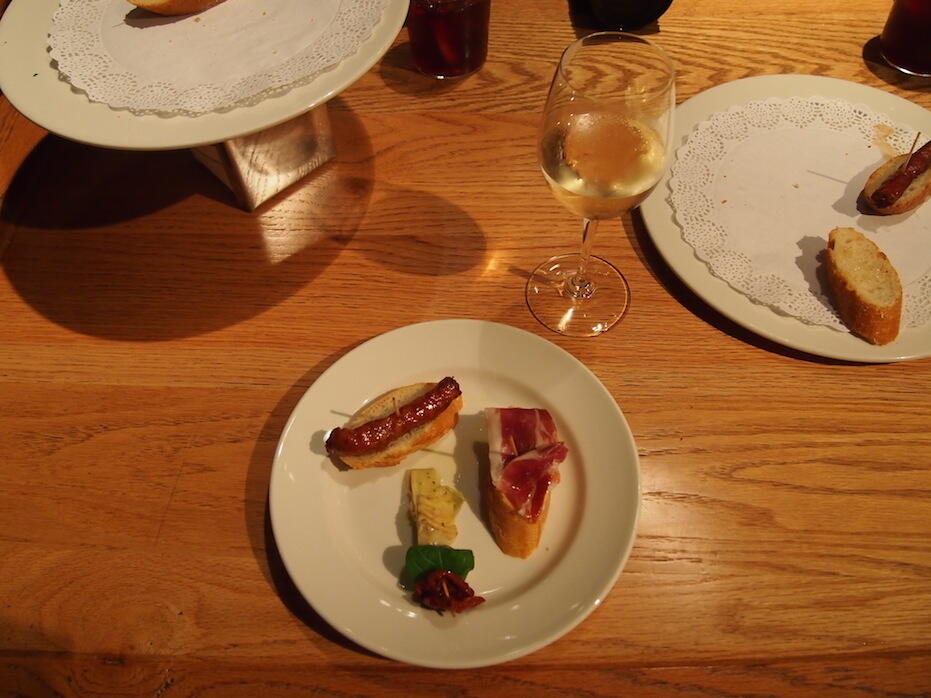 Joyce's selection. I guess she was still full from the previous restaurant.
After the tapas tour ended, we were beat! Joyce and I hung out in my room for some girl-time and also because I needed to pass her some mail from back home. It felt so nice to be around each other after what felt like a loooong time. I updated her about the latest gossip from home and she told me stories from her London – Vegas – Berlin adventures. We laughed like maniacs as always. <3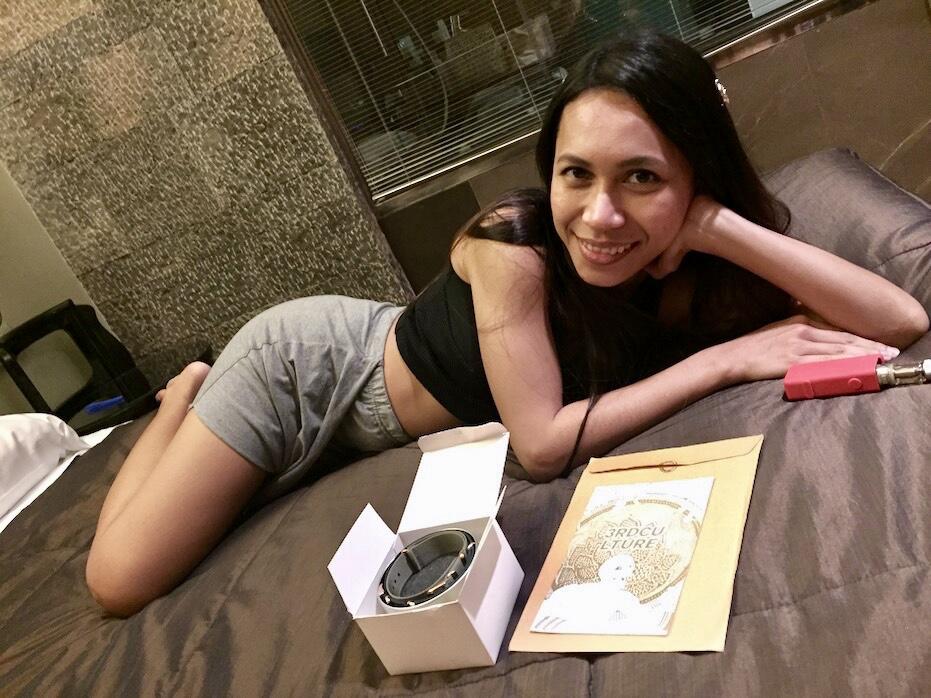 My face in the midst of gossiping!
The next day, we had the chance to visit the iconic W Hotel Barcelona at Placa de la Rosa dels Vents. It was a beautiful day and all the holiday-goers were having a good time. The whole vibe of the place was buzzing, it was afterall, the height of the summer – with beautiful girls in bikinis/summer dresses, handsome boys doing ollies on their skateboards, couples walking along the Barceloneta beach boardwalk, kids on their rollerblades, families sunbathing and swimming. It is the place to be in the summer (or any time of the year!).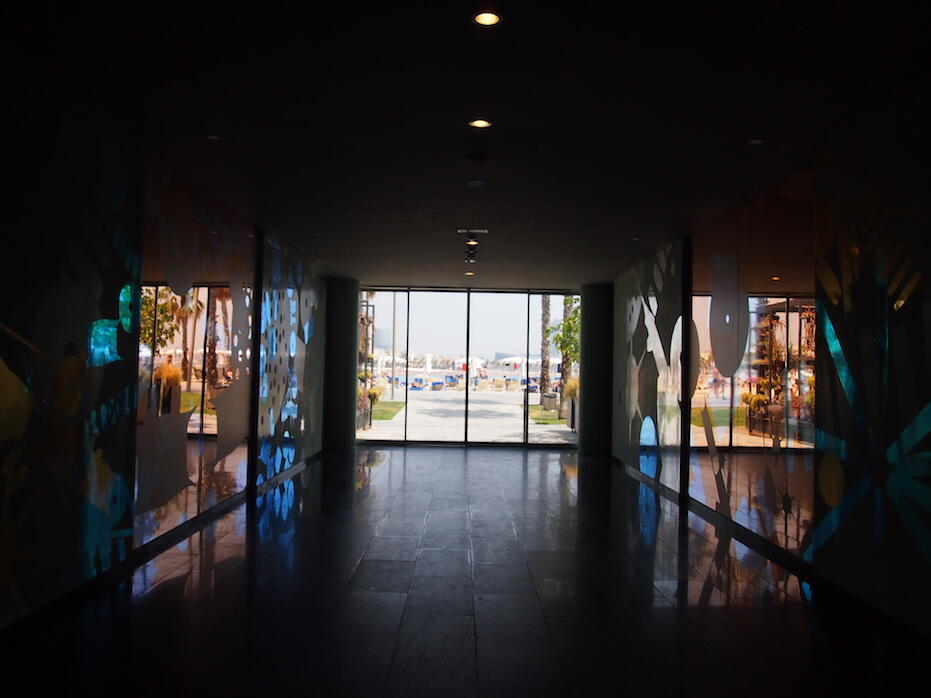 Through the door is the Barceloneta beach boardwalk.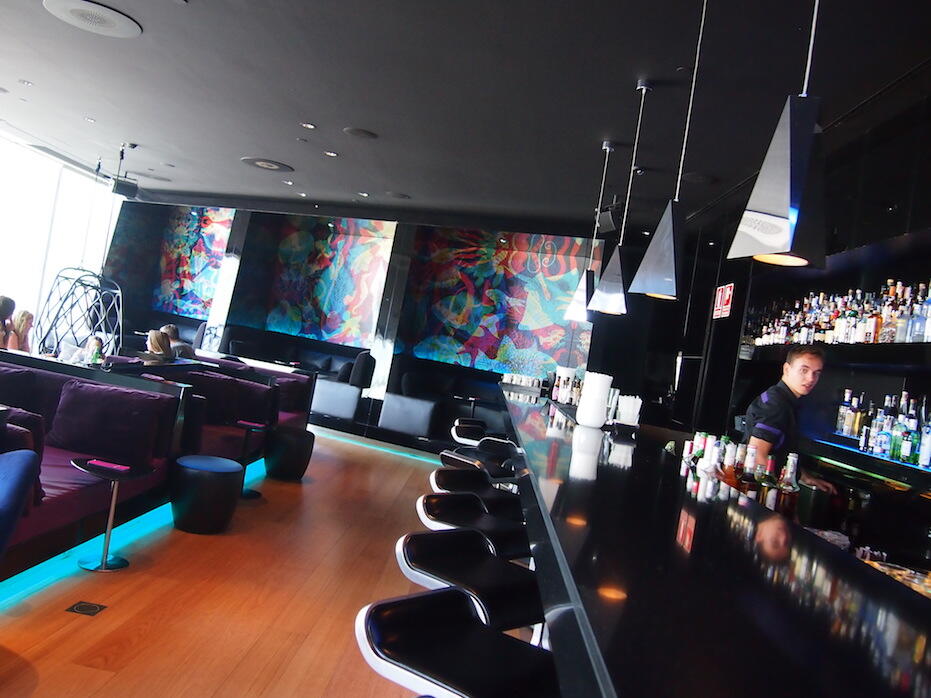 The W Hotel lounge. An energetic lounge set in the heart of the hotel, set to be the hottest place to see and be seen in the city, offering global jetsetters and local trendsetters a place to mix and mingle over stylish cocktails and pulsating music.
The design of the lounge led by Stephen Crawley from London-based United Design Partnership said, "The new design evokes a sensory experience that reflects the wow factor of the W brand , whilst the colour and materials chosen to convey the unique nautical, vibrant, playful and social personality of W Barcelona."
The inspiration behind the design is based on the theme of "the sky and sea by day and night. W Lounge reflects the changing hues of the sea and the sky; from the vast blue horizon that stretches out before the hotel when the first ray of sunlight hit Barcelona, to the mesmerizing sunsets in a range of subtle shades of pink, purple, orange and finally, indigo. And to capture this beautiful array of colours, W Lounge features a combination of electrifying and relaxing colours that change with the time of day. The entrance and bar area are cloaked in a palette of blue, turquoise, white and silver, creating an ombre of effect that echoes the meeting of sky and the sea. It's really amazing!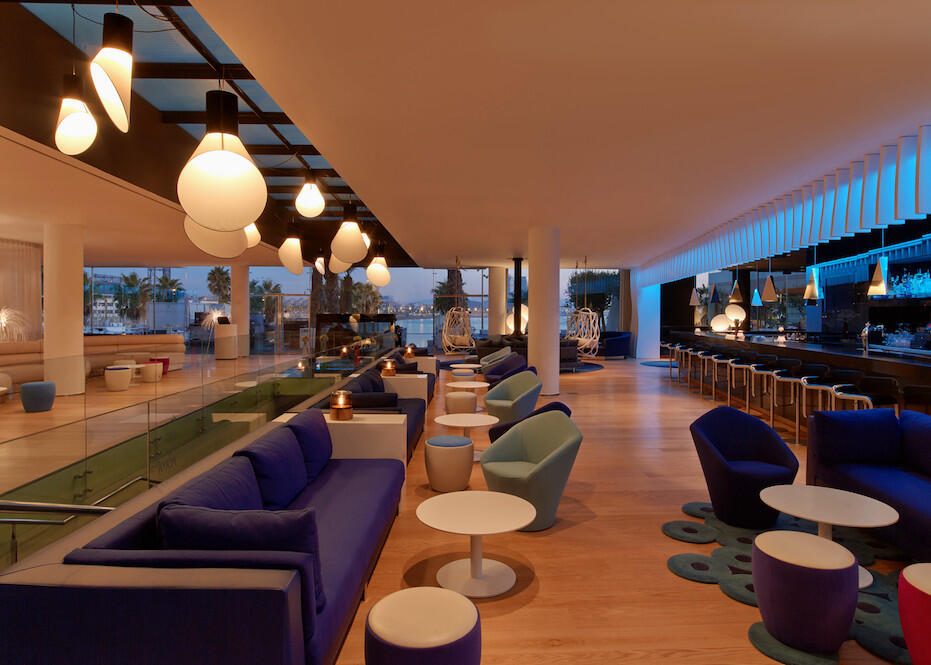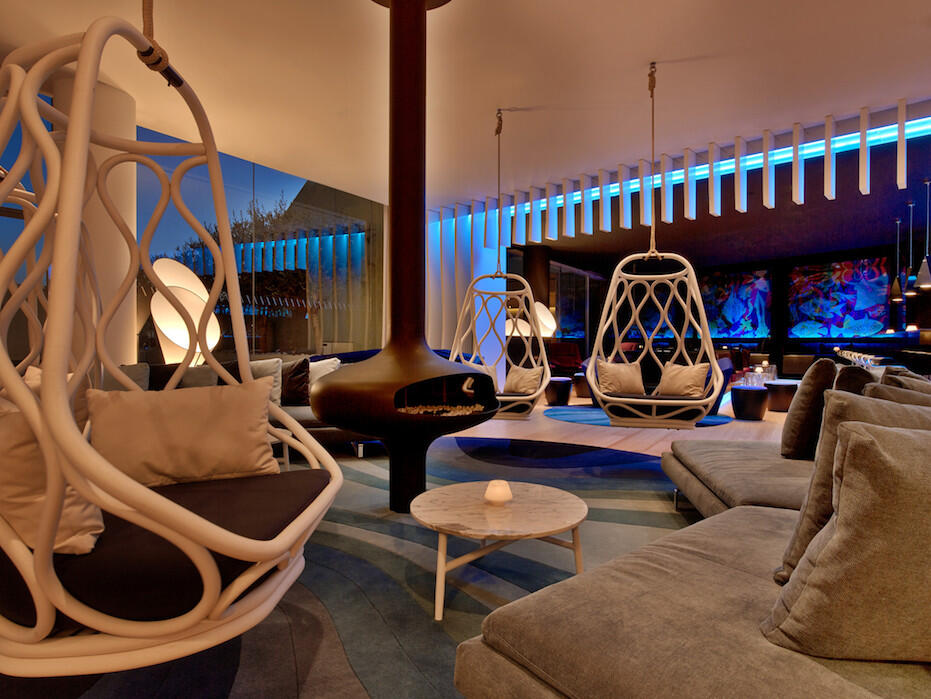 We had the chance to check out the hotel grounds, led by Stefanie Roth, the PR Manager of W Barcelona.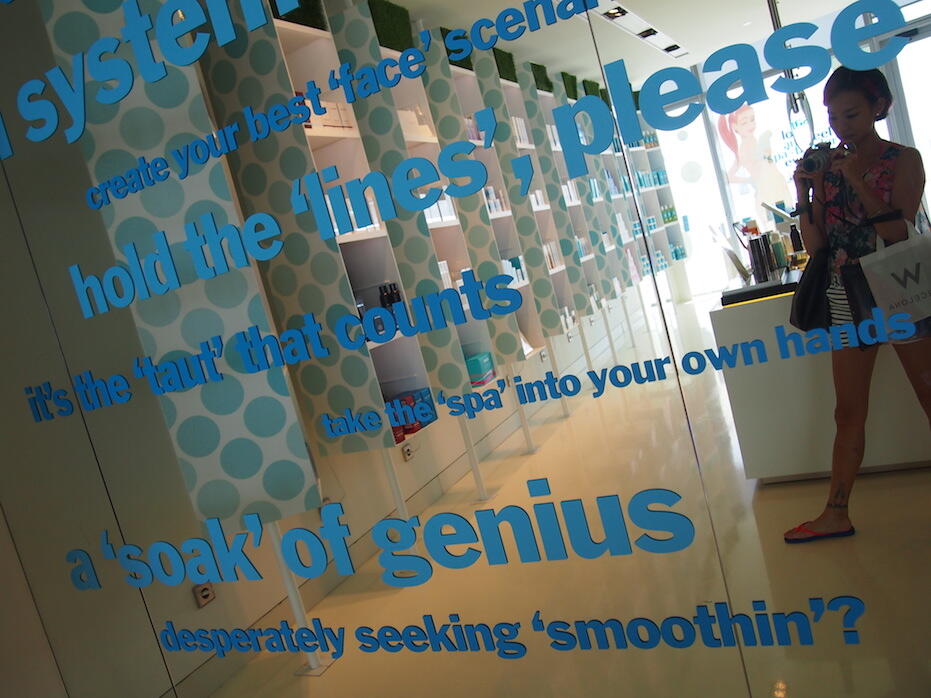 Joyce at the entrance of Bliss Spa.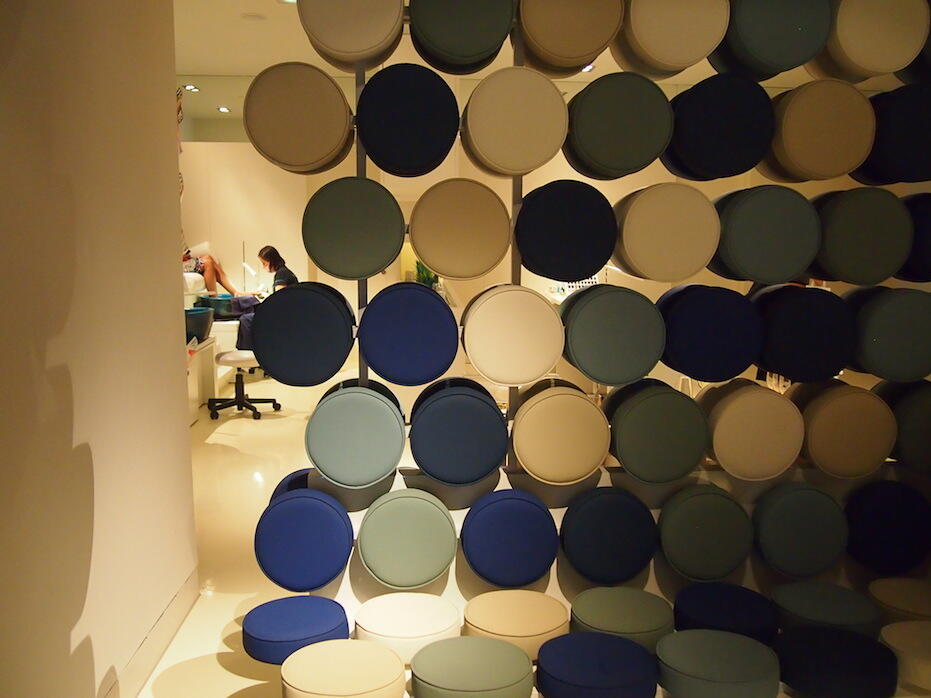 Does this not look like Geroge Nelson's Marshmallow Sofa? I bet it is!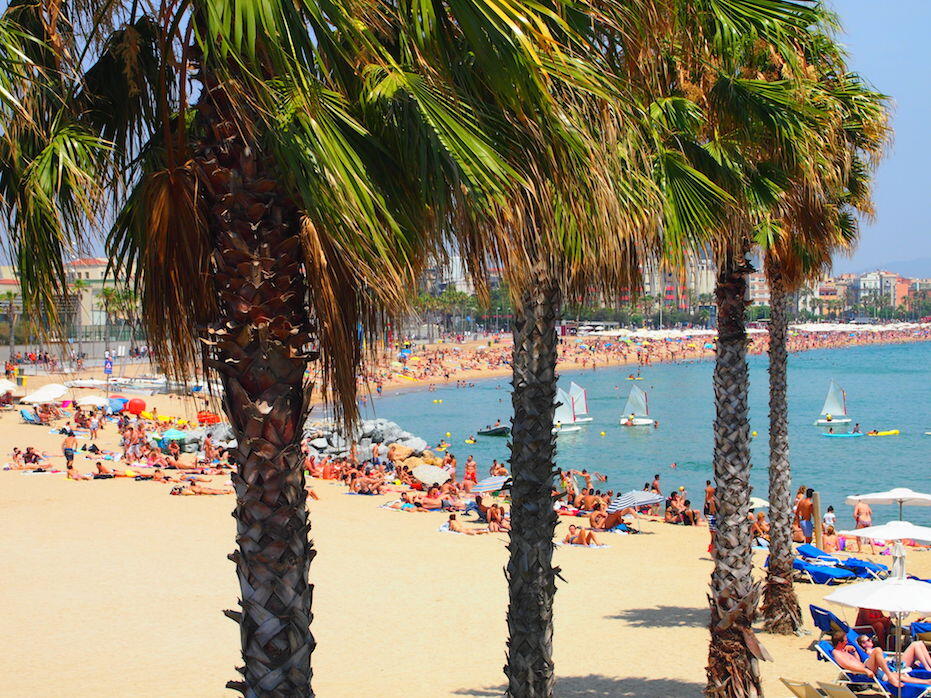 Barceloneta beach! The day is looooong in the summer so it's normal to wear bikinis ALL day. God, I absolutely LOVE this place.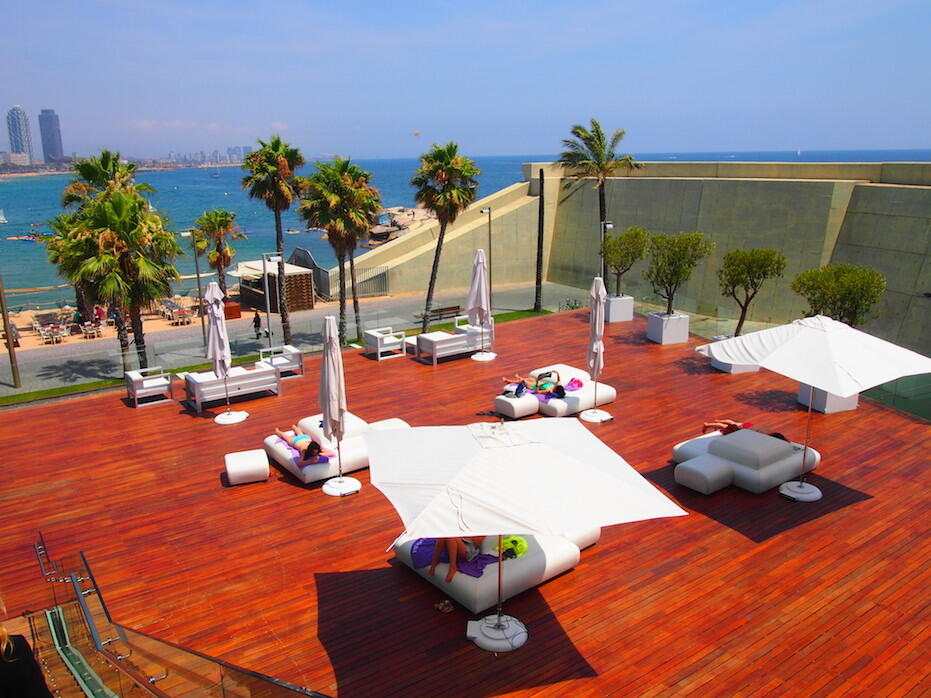 One of the many sundecks.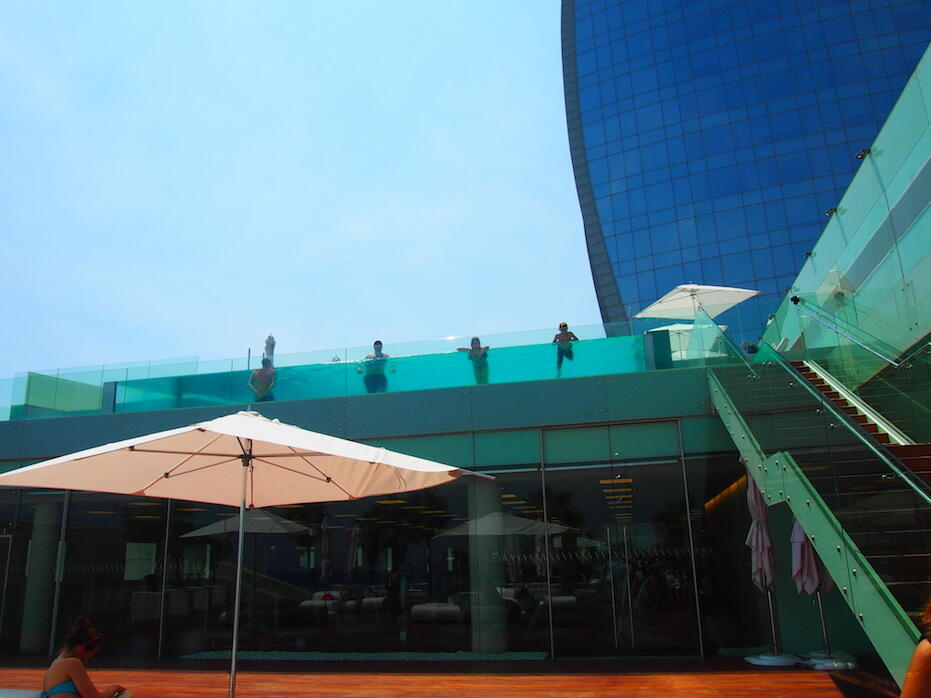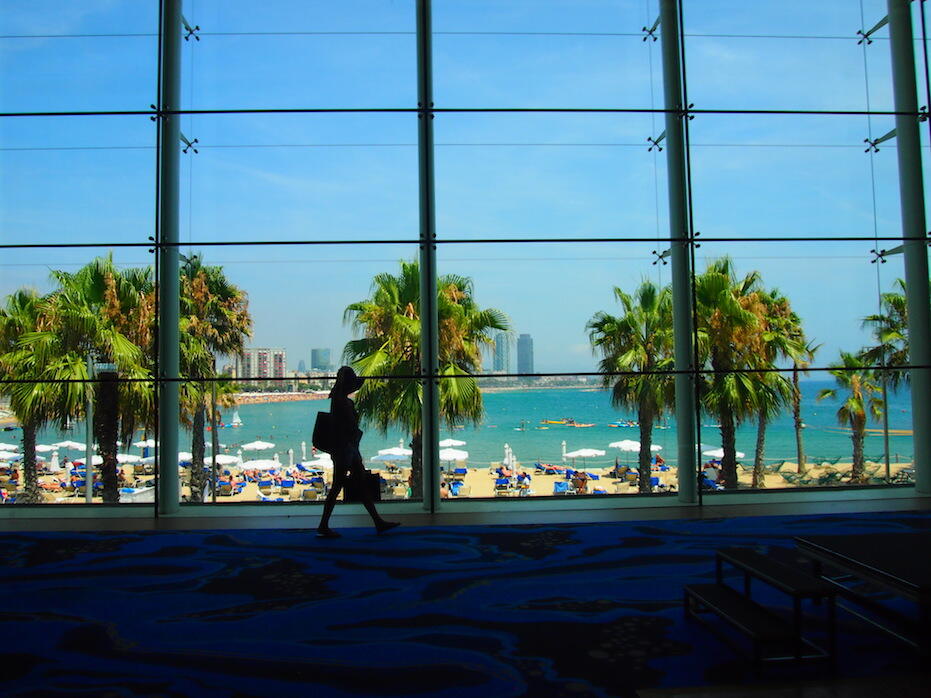 Joyce had this idea to skip across this huge window so I could capture her silhouette and right after that, all the others did it as well.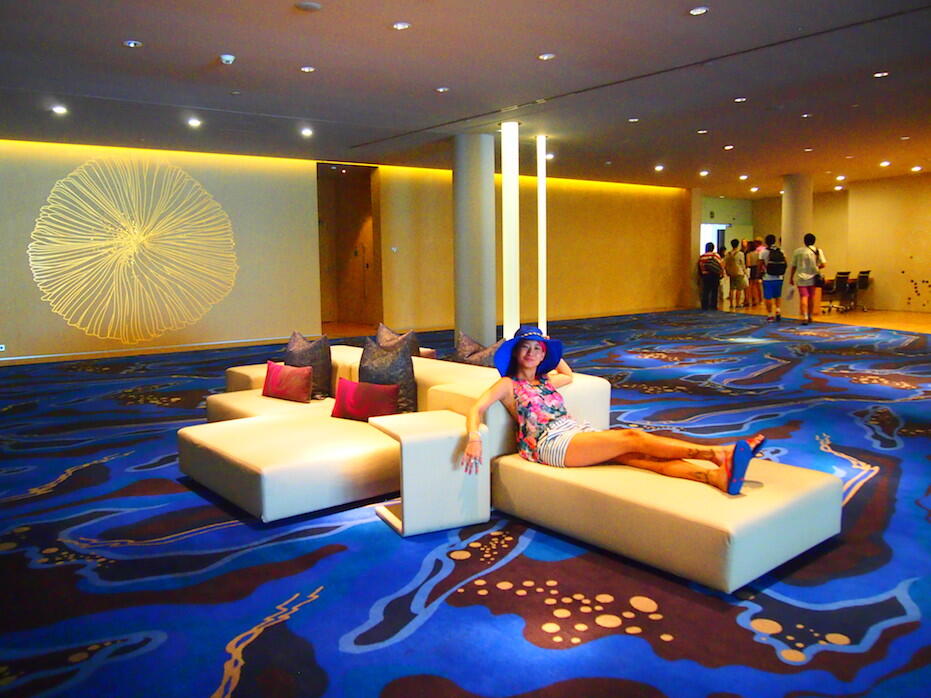 Joyce, lounging on one of the many sofas at the Breeze meeting/conference room.
And then, it was time to eat! Lunch was served at Salt Beach Club where we occupied an area on the terrace overlooking the beach.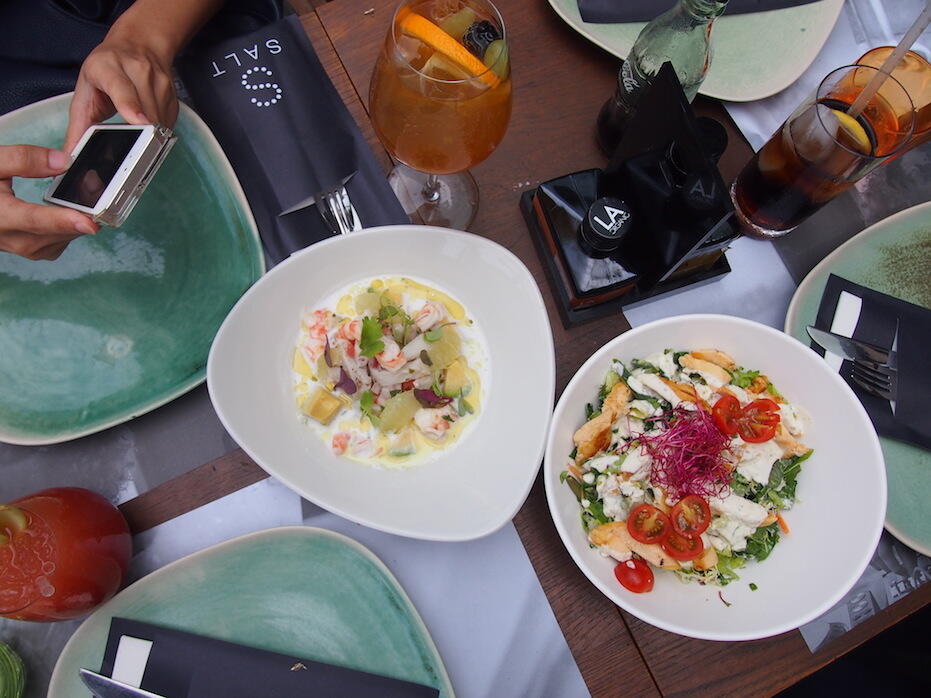 To share!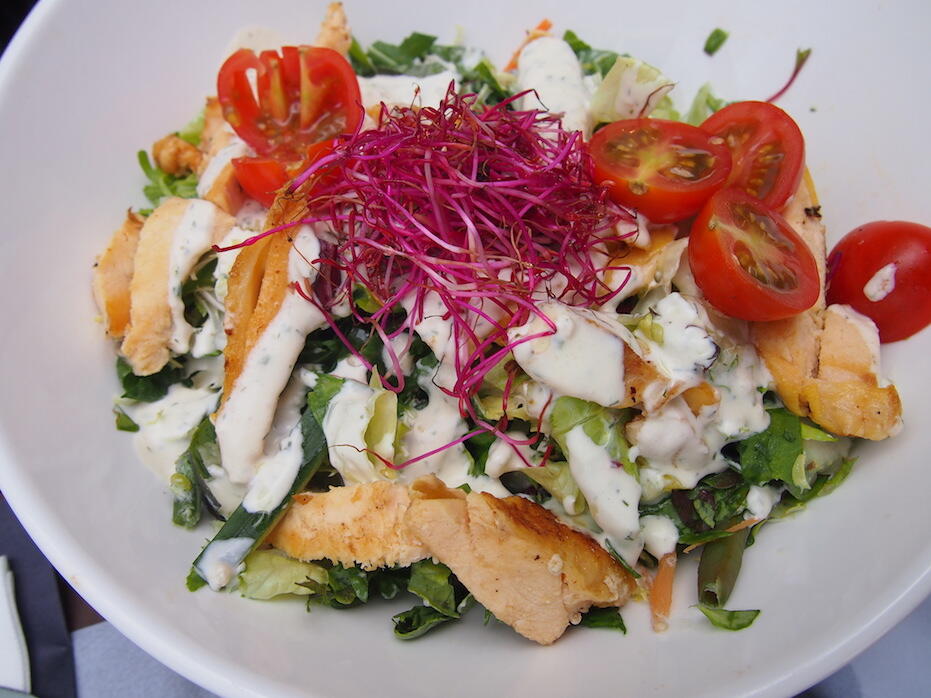 Julienne Salad – Mixed lettuce and vegetables, grilled chicken and ranch dressing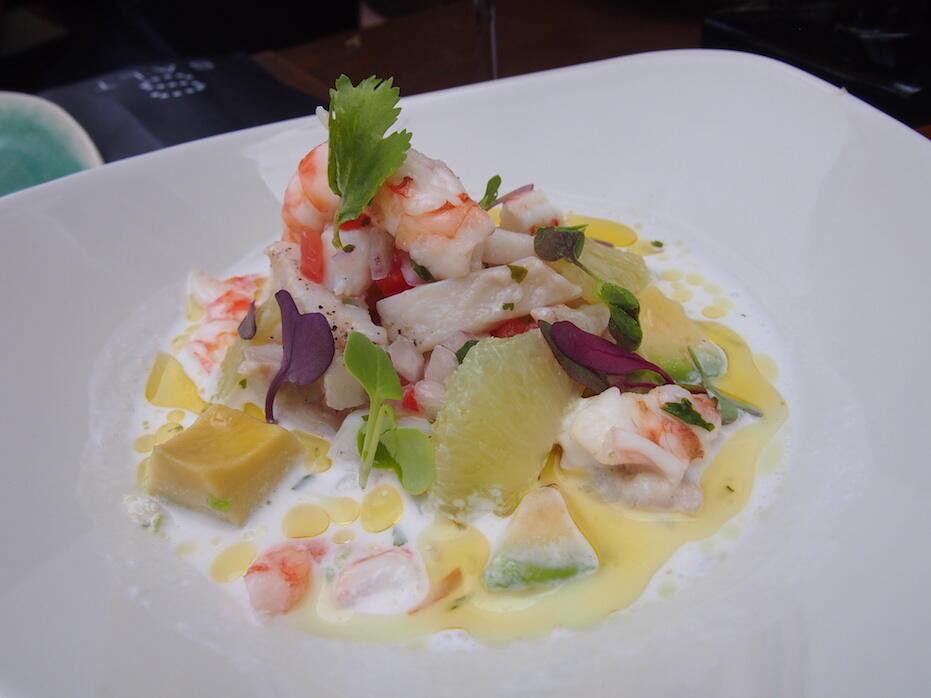 Mizuna – Red macerated prawns, mini fennel, and roasted carrots, crosne, hazelnuts and roasted tomato vinaigrette.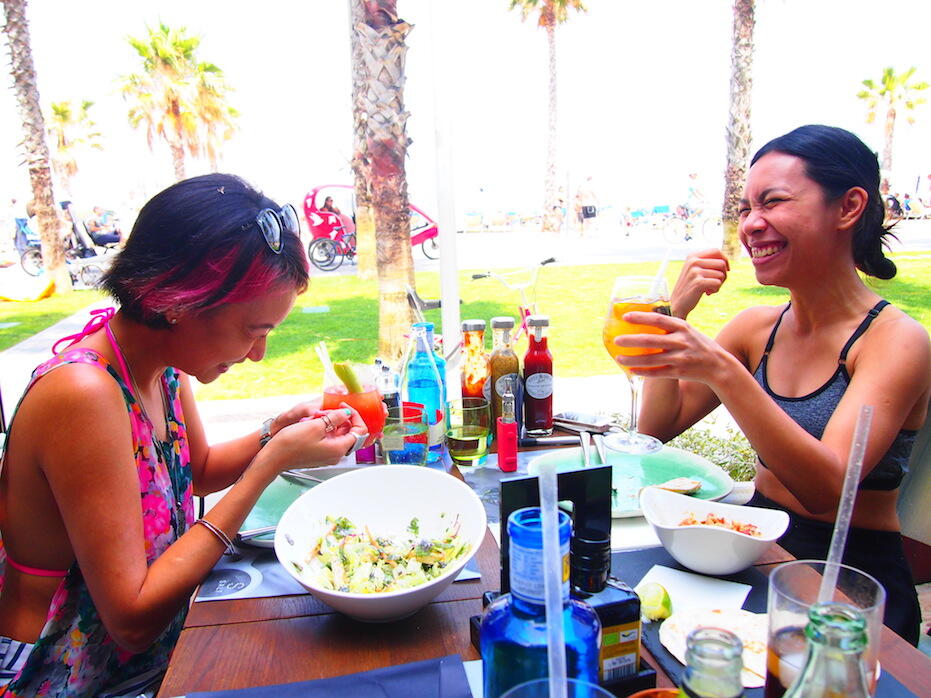 This was immediately after we clinked our glasses and went "KBF forever!" (well, that must be me obviously!). Joyce had the Mairi's Caipirinha (€12) which consists of Capucana Cachaca, honey, tomato juice, lemon and rosemary whilst I had the Beachside Bird (€12) which contains Grey Goose Vodka, Lillet Aperatif, elder-flower liquor, soda and grapefruit.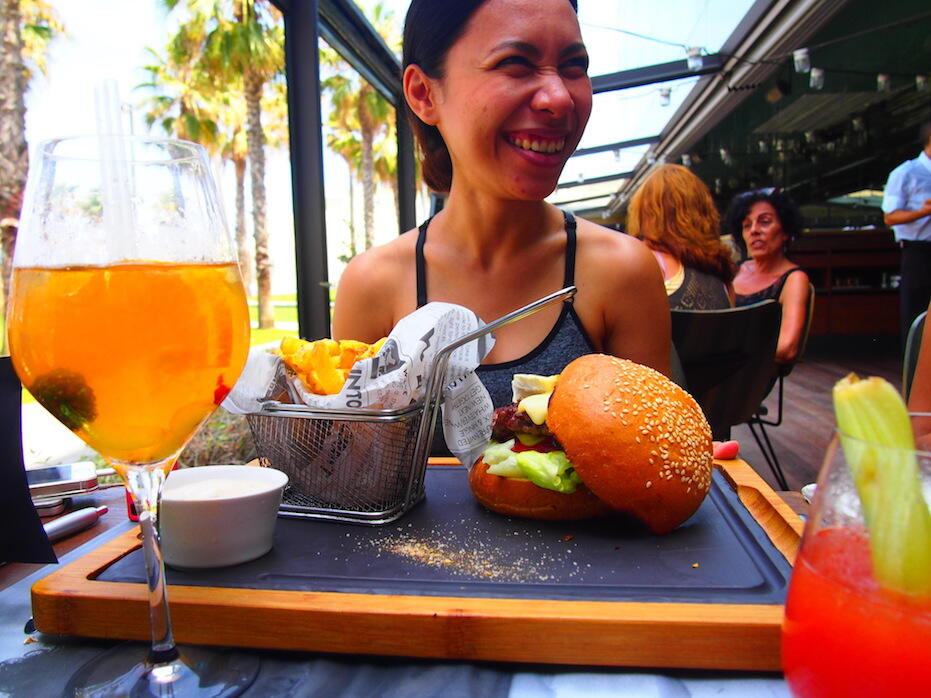 I also ordered the French Connection burger, which is hands down, the best burger I've ever tasted in my life. I still think about it till now.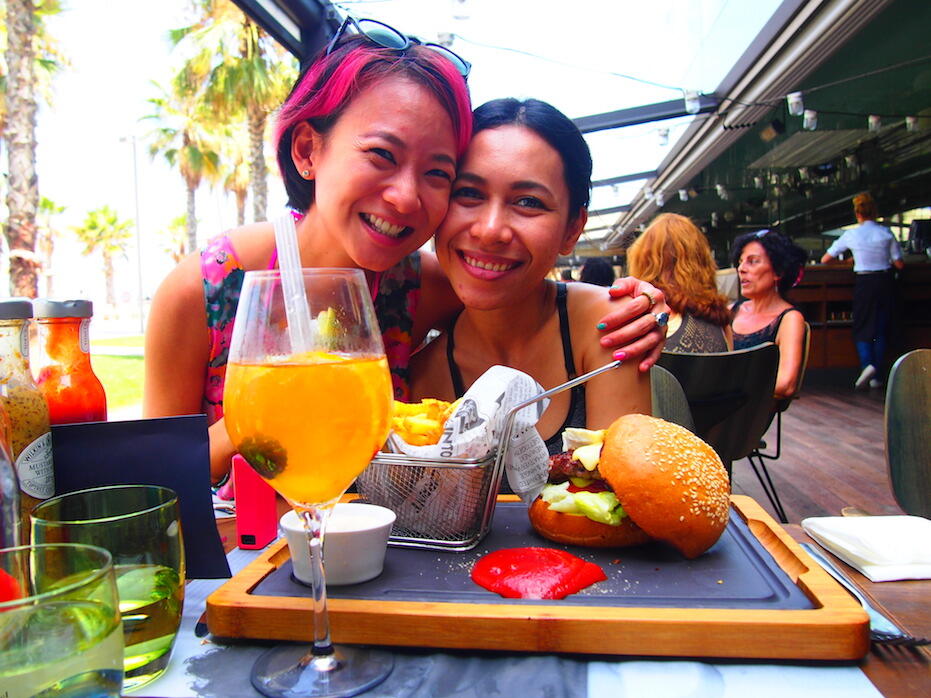 Joyce, Baby, a cocktail and burger! My life is set!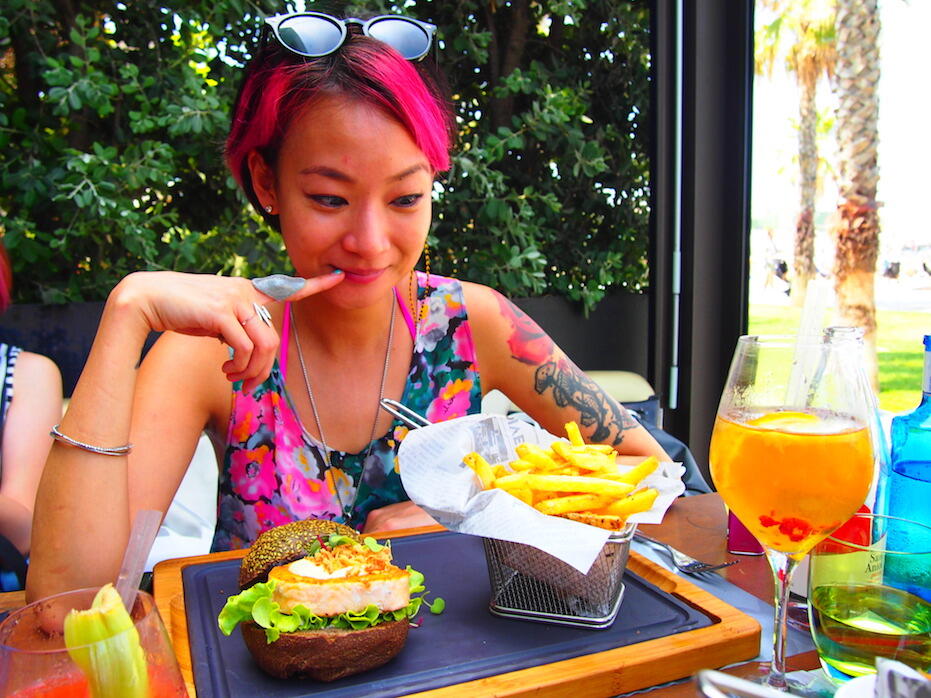 Joyce had the Grilled Seabreeze Burger – grilled fillet of salmon with lollo verde lettuce, citrus tartar sauce and crunchy onions served on wasabi buns.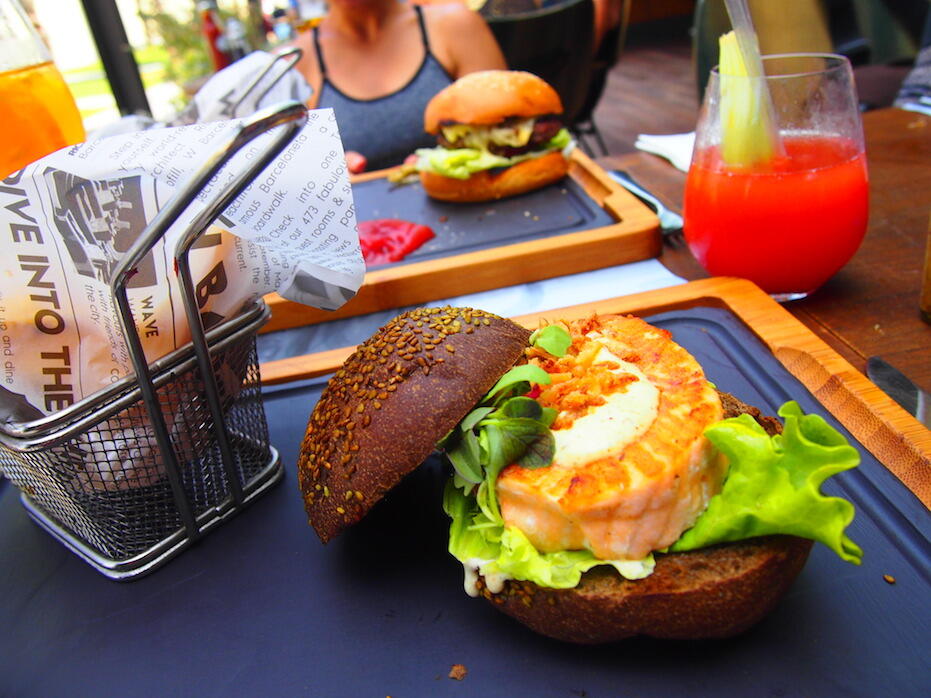 Grilled Seabreeze burger.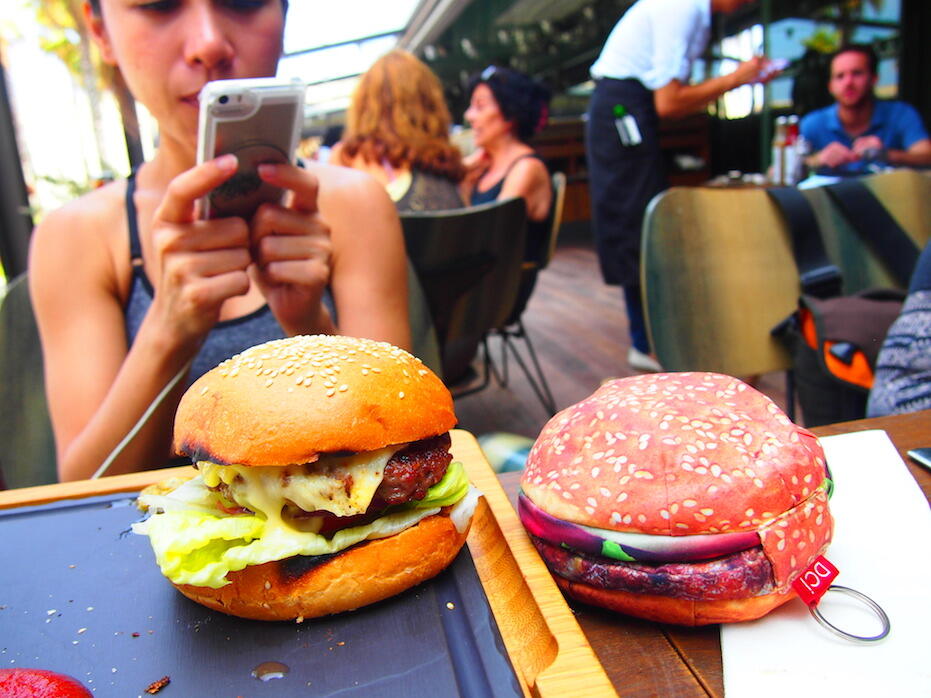 My burger and my burger pouch! We're so easily amused!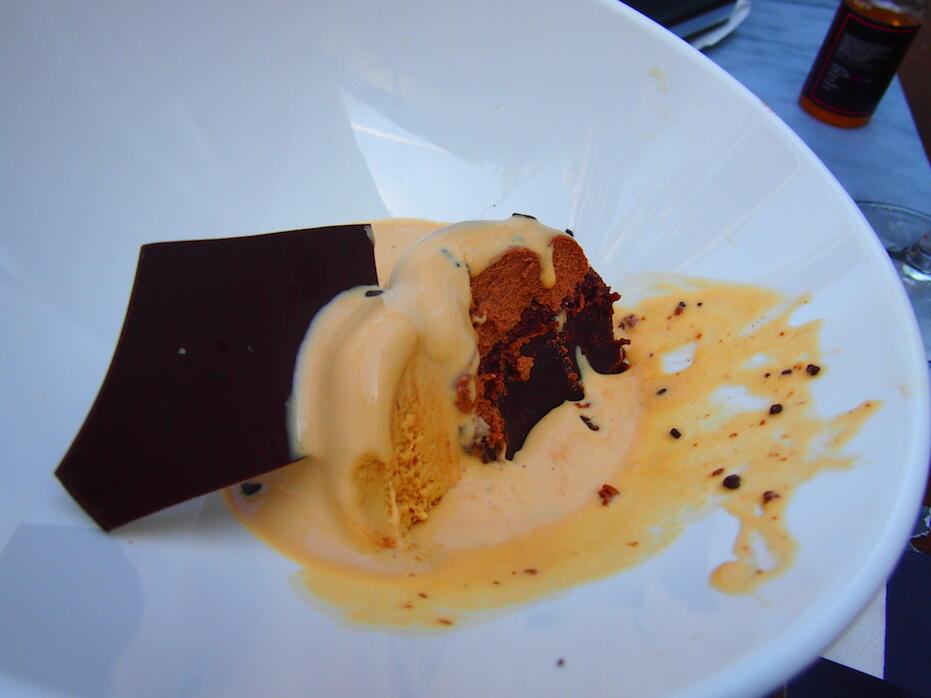 For dessert we had brownie with chocolate mousse and caramel ice cream.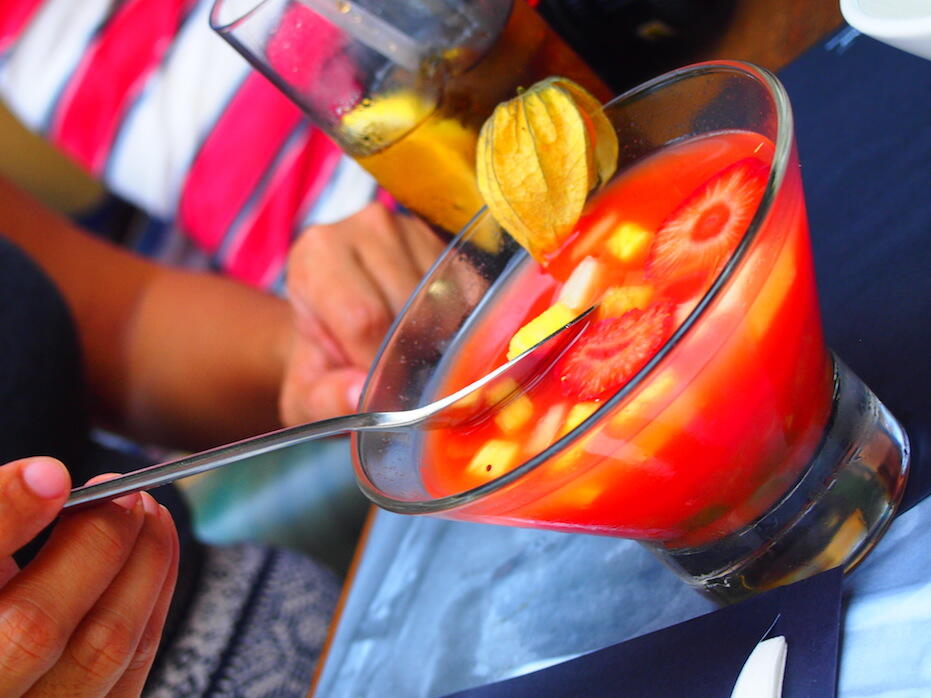 Ailene had the Seasonal Fruit Cocktail soaked in watermelon and black vermouth.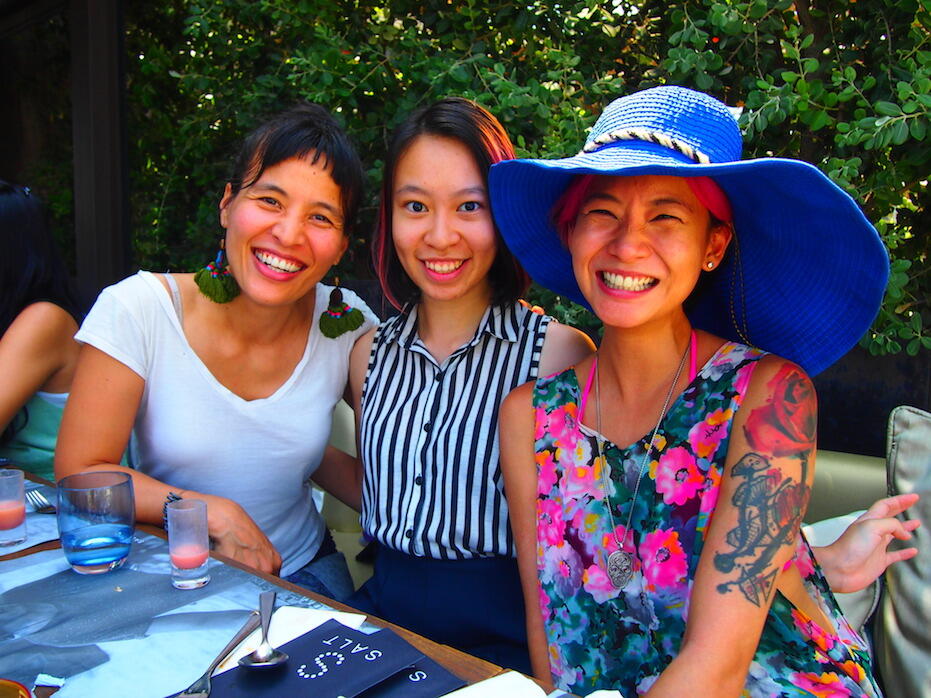 Pattrica, Amanda and Joyce all happy and extremely FULL.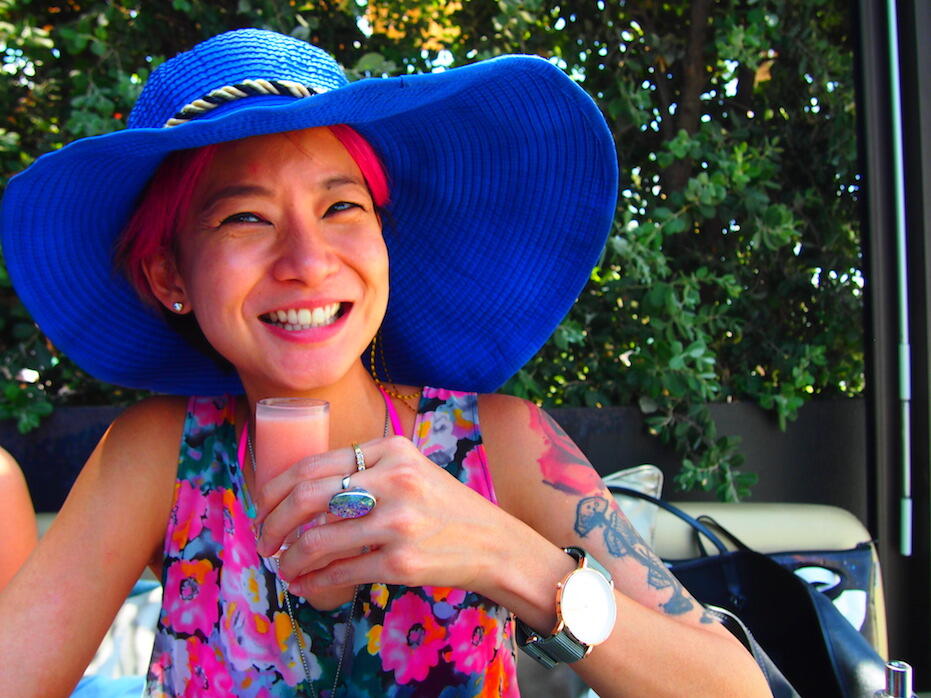 Right after she finished that juice shot….
Joyce: I have a present for youuuu… And it's pink!
Baby: OMG, what is it??!!
Joyce: *started whispering* I don't think I can give it to you here… Let's go somewhere…
Baby: Let's go sit on that patch of grass *points at bright green lawn*
Joyce: Ok…
*both sat on the grass smiling*
Joyce: Are you ready?
*passed Baby a plastic bag*
Baby: OMG! What is it??!!
*Baby open the bag*
Baby: OH MY GOOOOOOOOOOOOOOD!!!!!!
*rolls on the grass laughing*
SHE GOT ME A BULLET VIBRATOR FROM LAS VEGAS!!! THANK YOU JOYCE!!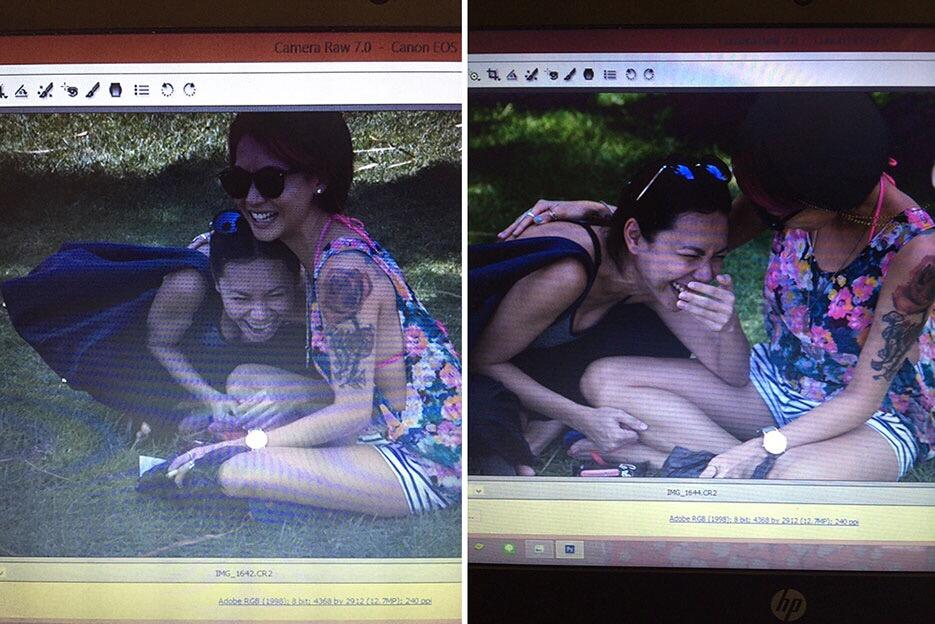 Pic credit: Pattrica (THANK YOU! I'm sorry your SD card got corrupted after the trip 🙁 . All our cute pictures…)
This was THE highlight of my trip. Everytime I think about it, I will laugh, like in the picture. It was so great. The trip was great. Joyce being there was great. New media friends are great. It was a life-changing trip for me, really. I went home a totally different person. I grew in a way I never thought I would. So thank you Joyce, for having a big part in it. Thank you, Spain Tourism Board and Qatar Airways for making this trip possible.
I truly had the best time and I still can't stop talking about it to this day! I still scroll through my phone from time to time for pictures, trying to re-live the memories when life rolls hard.
I fell in love with Spain and I will return one day.
+ + + + + + + + + +
Casa Mila
Provenca 261 – 265
08008 Barcelona
Spain
Website: www.lapedrera.com/en/home
Facebook: www.facebook.com/lapedrera.barcelona/
Instagram: www.instagram.com/lapedrera_barcelona/
Xaloc Restaurant
Carrer de la Palla 13
08002 Barcelona
Spain
Website: www.xalocrestaurant.com/
Facebook: www.facebook.com/XALOC-RESTAURANT-245312308837379/
Orio
Carrer de Ferran 38
08002 Barcelona
Spain
Website: www.oriogastronomiavasca.com/eng/restaurantes/32/Barcelona
Facebook: www.facebook.com/pages/OrioGastronomia-Basca-Barcelona/
W Hotel
Place de la Rosa dels Vents 1
08039 Barcelona
Spain
Website: www.w-barcelona.com/
Facebook: www.facebook.com/pages/W-Hotel-Barcelona/
Instagram: www.instagram.com/w_barcelona/