*written by Baby*
[Read Day 1 of my Spain adventure *here*]
Ahhh… It's been awhile. Are you ready for more of my Madrid/Barcelona adventures? Are we comfortable now? Let's begin…
After a very, very good sleep the night before, my second day in Madrid consisted of a full-day walking tour to the most popular tourist spots. It may sound boring to be visiting tourist spots but they're all important places in Madrid (you can't say you've been to Madrid unless you've set foot to them), like Plaza Mayor, Palacio Real de Madrid (Royal Palace of Madrid), Mercado de San Miguel (Market of San Miguel), Barrio de las Letras (Literary Quarter), Caixa Forum and Tablao Flamenco Villa Rosa. Yes, we WALKED to all these places. In the scorching heat of Madrid summer. Not complaining though, I'm always ready to party for KBF! Rain or shine!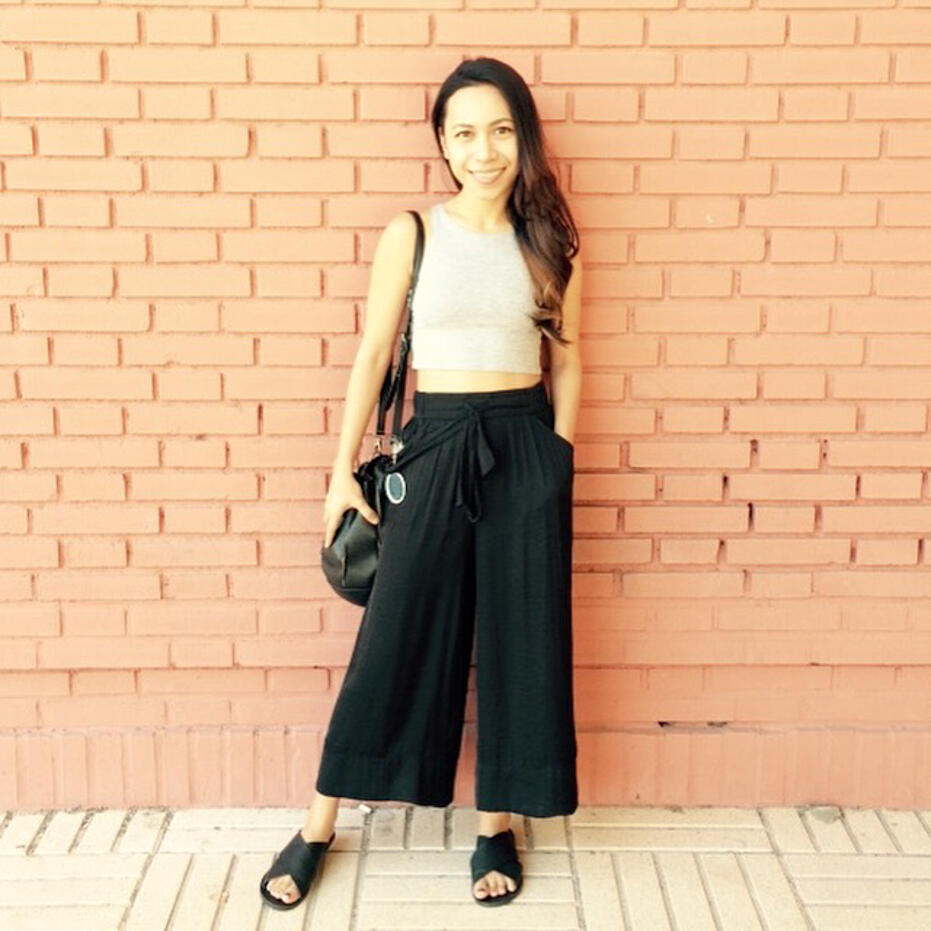 I read all about the summer heat in Spain, and Siow May (rep from Qatar Airways who flew me there on Business Class) warned me about it as well before I left Malaysia resulting in me packing my tiniest clothes. Honestly, I only packed crop tops, sports bras and small summer dresses in my luggage. And everytime I showed up at the lobby before we headed out somewhere…
Mavis: Scantily dressed again I see…
Baby: I know, I'm so smart!
Pattrica: Yes, you are. I like it!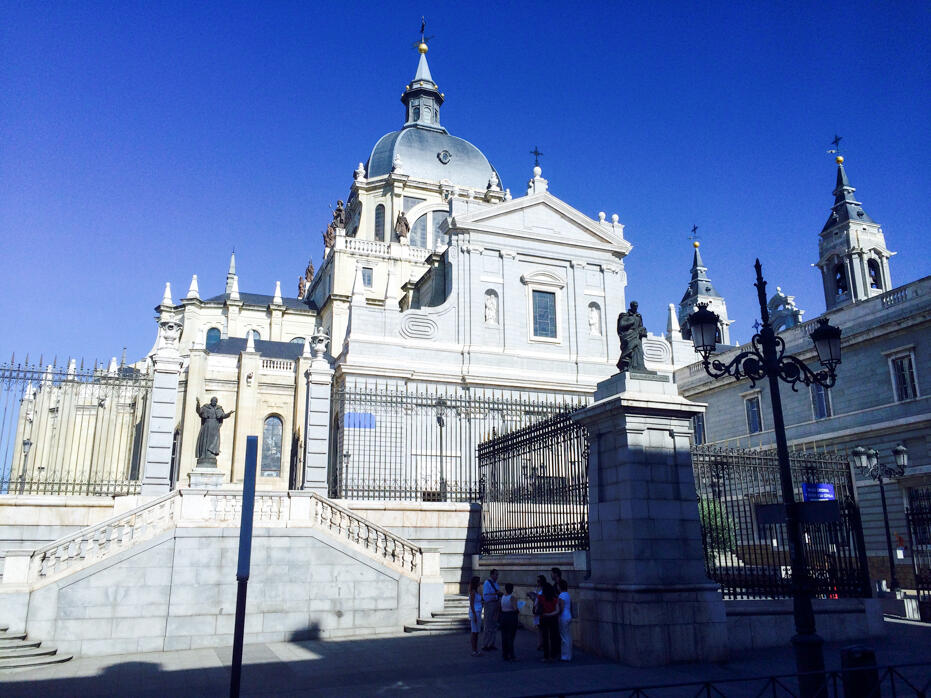 We were ferried by a chartered bus from Chamartin to Plaza Mayor. There, we met up with our tour guide who is a very sweet old lady but boyyyy, that woman can walk ALL day.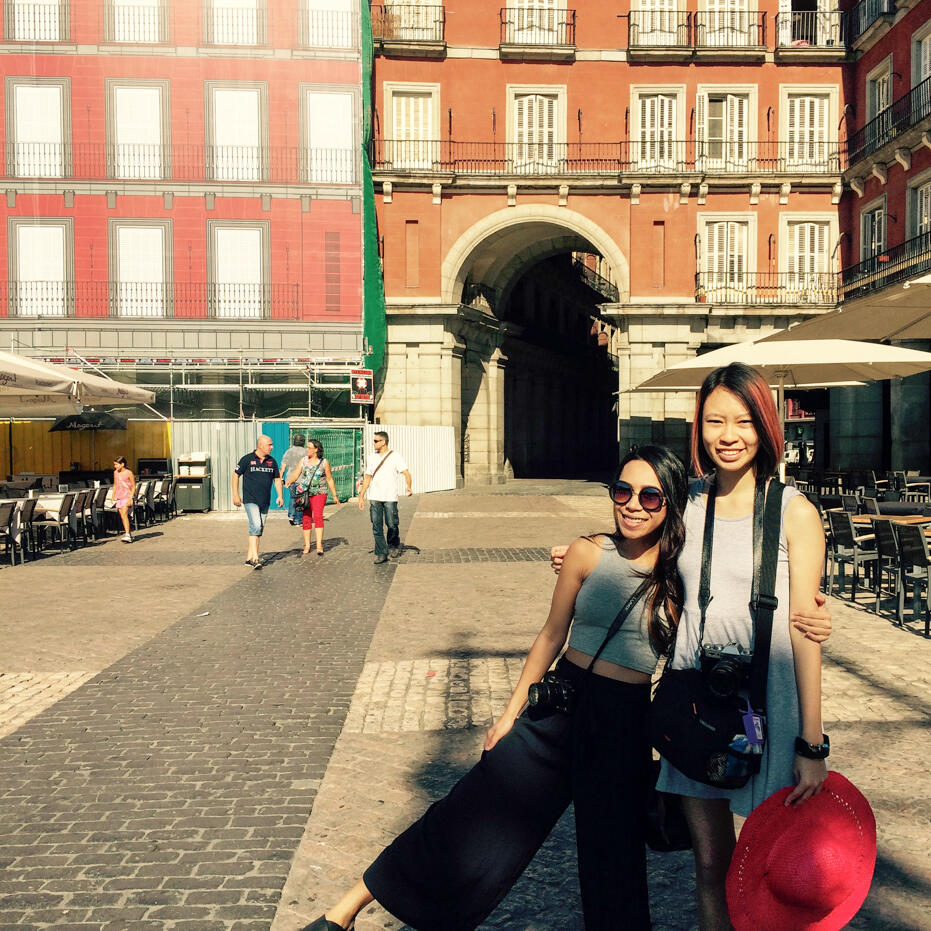 Amanda Lee and Baby (me!) at Plaza Mayor.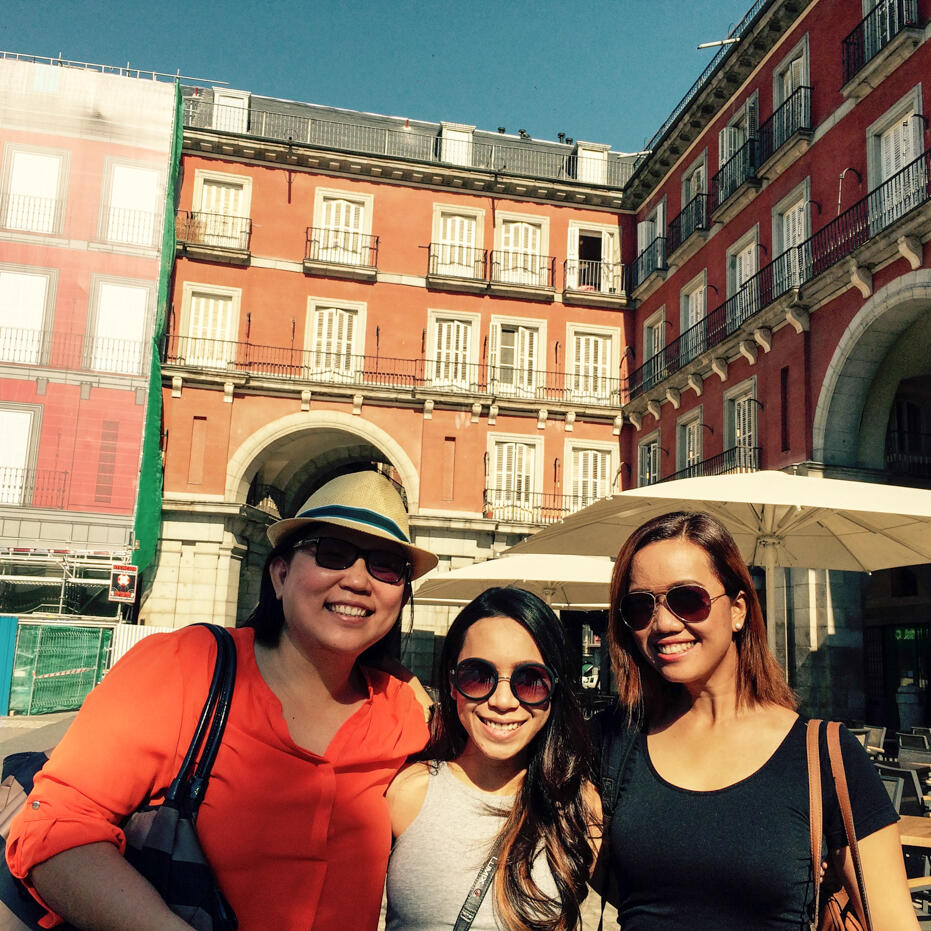 Wei Ling – rep from Qatar Airways, Baby (ME!) and journalist from the Philippines, Arlene.
All of us walked to the Royal Palace of Madrid from Plaza Mayor. It was quite a trek but totally worth it as you get to check out little lanes, how the locals spend their day, take note of shops to return to after your tour ends, and admire architectural details on each building, and catch street performers!
Note: If you're planning to go to Madrid this coming summer (which I think you totally should), know that you have a lot of choices on how you want to see Madrid. You can opt for the walking tour (tiring, yes, but I totally recommend it), bicycle tour, Segway tour, or of course, the tour bus (you'll miss out a lot though).
Once I walked into the palace's compound I said to myself, "Wow! I'm in a palace! A place where I belong!" and totally giggled at my own thought (I'm weird that way).
It's really hard to pay attention to the tour guide when everything around you is just so MAGNIFICENT! I tried though, and learnt that the Royal Palace of Madrid is not the official residence of His Majesty the King of Spain. The royal family resides in the Zarzuela Palace just outside of Madrid. Nevertheless, official banquets, state ceremonies and other important events do take place at the Royal Palace of Madrid, for example, the wedding banquet of Price Felipe and Letizia Ortiz back in 2004.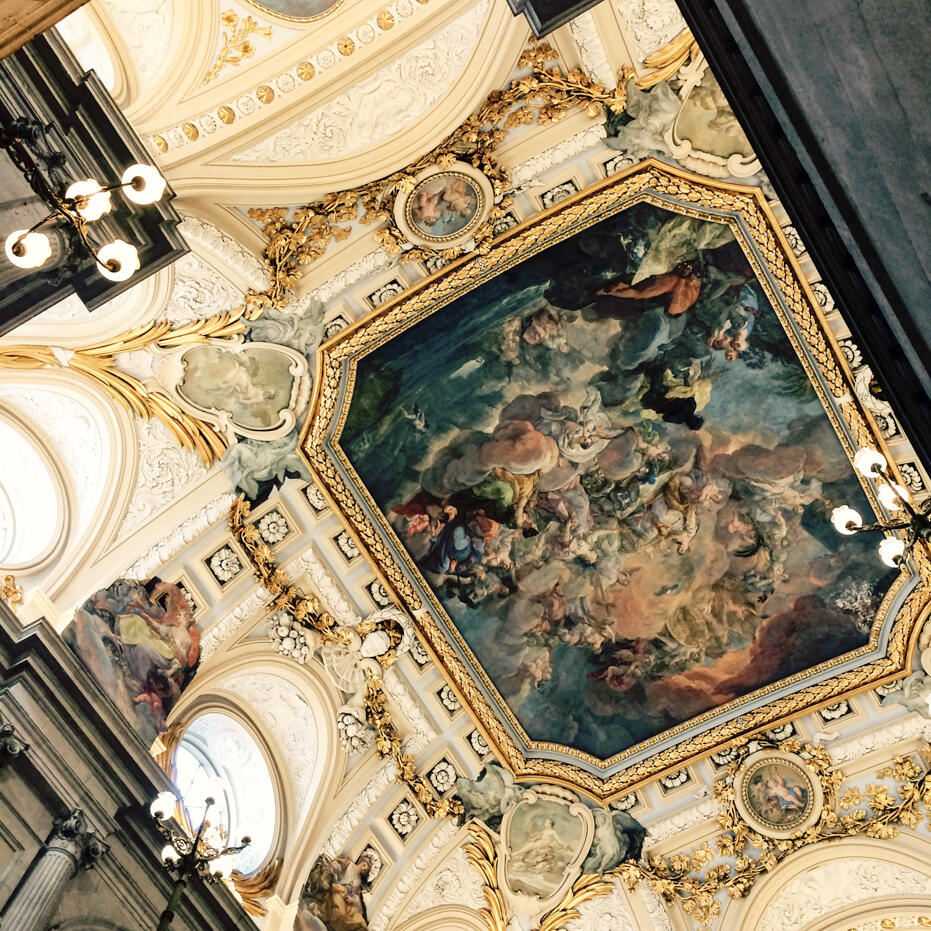 The ceiling at the palace's entrance where the Grand Staircase is. The frescoes on the ceiling is by an Italian Rococo painter, Corrado Giaquinto entitled Religion Protected by Spain. It's soooo pretty. Too bad we couldn't take any pictures inside. I would have loved to show how grand the tapestries and frescoes are, but alas, I only have it in my mind right now. Sorry, guys.
The Royal Palace of Madrid occupies 13 hectares, has 870 windows, 240 balconies (!!!) and 44 staircases. It has a central courtyard, and another courtyard on the south side (the Plaza de Armas) which is the principal entrance to the palace. There are so many rooms with each being of different theme and colour. The interior decoration is so majestic, every single thing in there screamed opulence- Spanish marble, mahogany doors and windows, stucco, and important works of art- particularly frescoes by artists like Corrado Giaquinto, Giovanni Battista Tiepolo, Anton Raphael Mengs, Francisco Bayeu y Subìas just to name a few.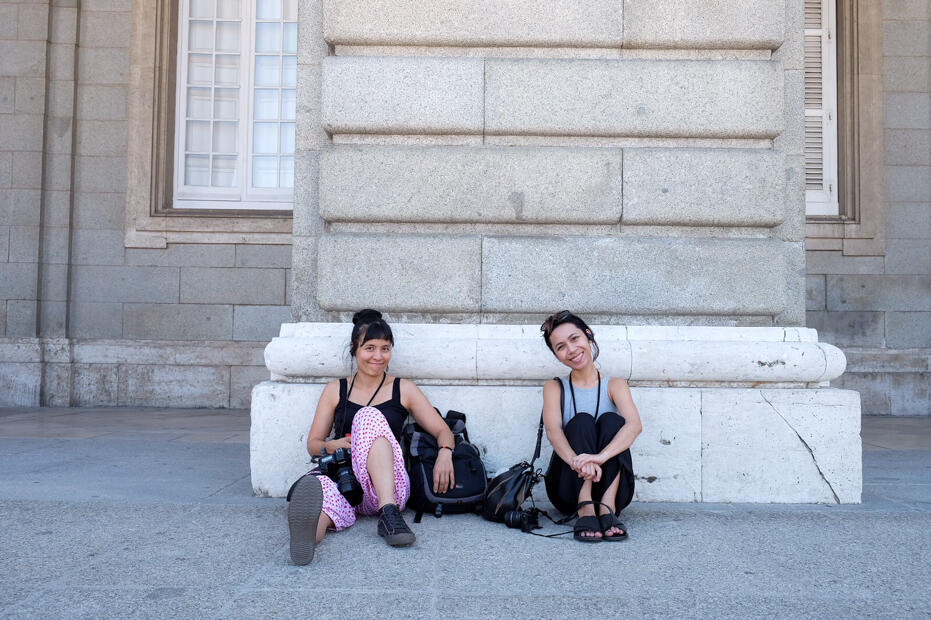 Pattrica and i plonked ourselves at this huge pillar while waiting for the others to be done with souvenir shopping.
Next on the itinerary was, Mercado de San Miguel! Personally, I think this was the highlight of the day. After the palace, we walked back to Plaza Mayor and along the way, I took some pictures of what I saw.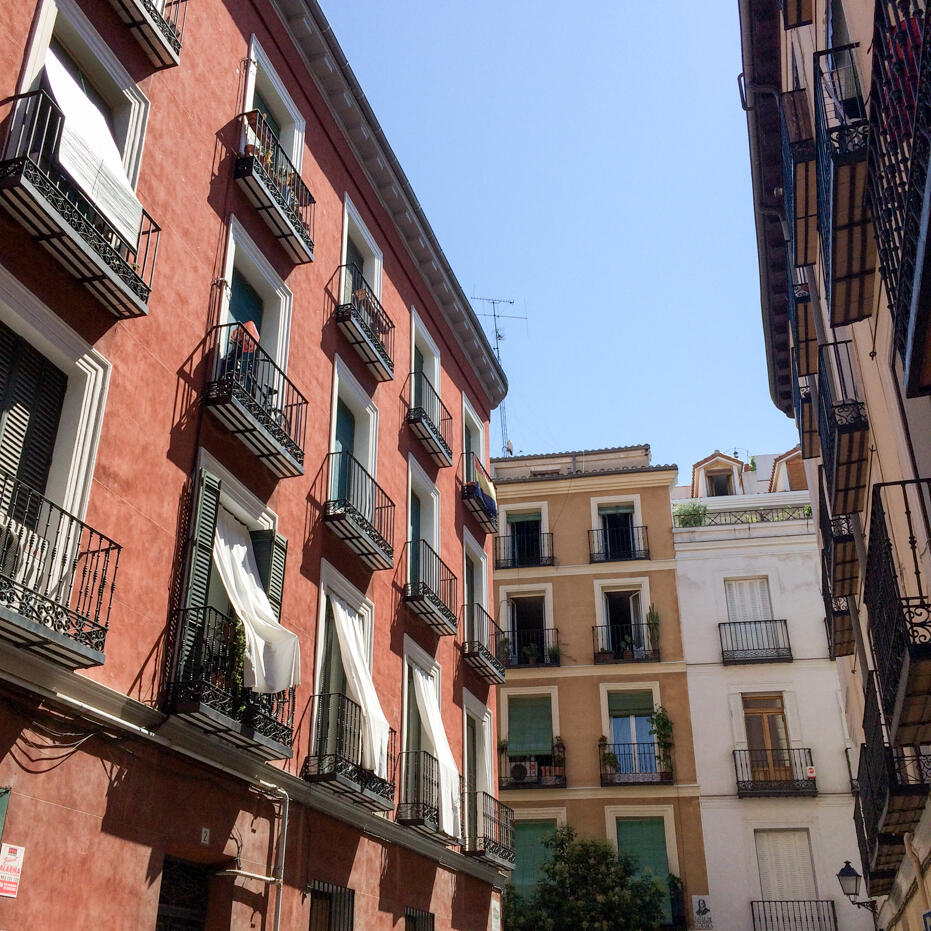 Typical flats in Madrid looks like this. Pretty, innit?

We stopped by a church as our tour guide needed to take her medicine and sit for awhile. We didn't mind. All of us just chilled and enjoyed the serene atmosphere of the church.
When we got to the market, everyone vanished to their preferred sections. We were pretty hungry by then from all the walking.
What was that? No, child. When I say market, I didn't mean traditional grocery market. Market of San Miguel is a gourmet tapas market with over 30 vendors offering various types of freshly prepared tapas, seafood, desserts, hams, olives, baked goods, paella, beer, wines, champagne and other types of food. It's fantastic! It is the most famous market among tourists in all of Madrid because of it's central location and it's also a stone's throw away from Plaza Mayor.
I did one whole round by myself and oohed and ahhed at everything I saw. My eyes became so greedy, I wanted EVERYTHING! While walking aimlessly deciding what I wanted to try first (believe me, it's hard. Especially when you're hungry), I bumped into Mavis at a stall that sold fresh oysters. She asked me to join her and I thought, why not.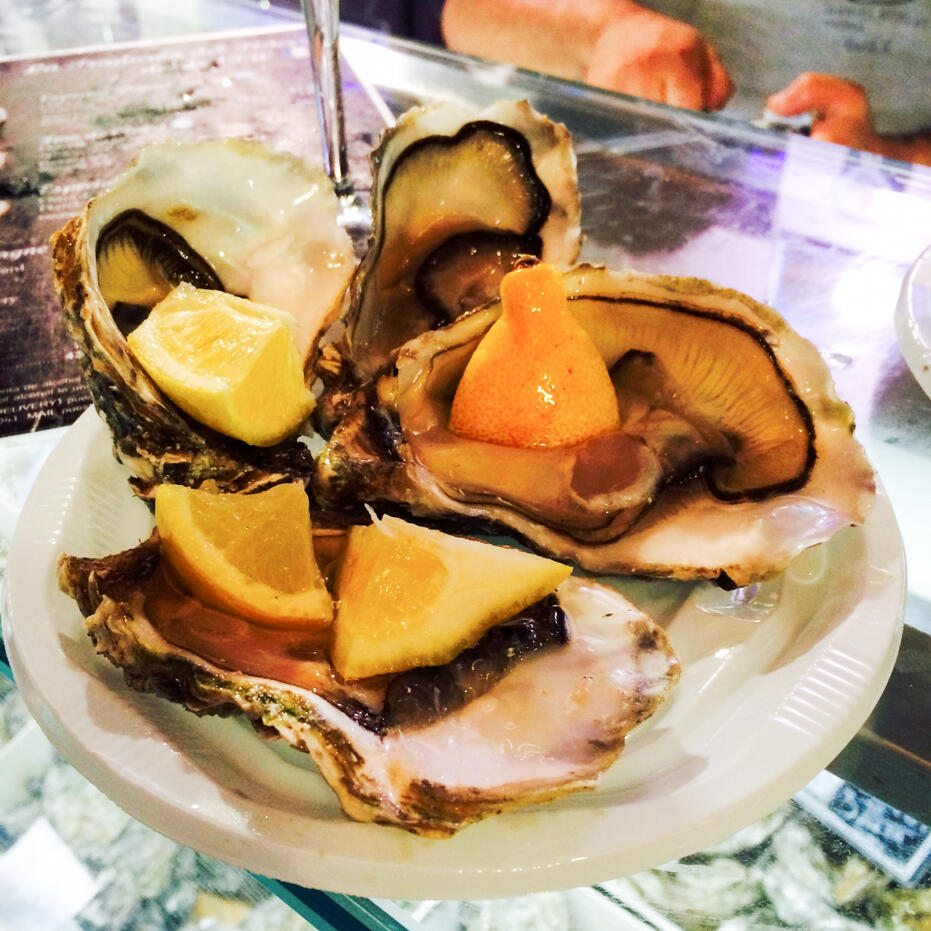 I ordered a set which consists of 4 oysters (you get to choose which ones you want) and a glass of bubbly. It cost €11 (about RM50).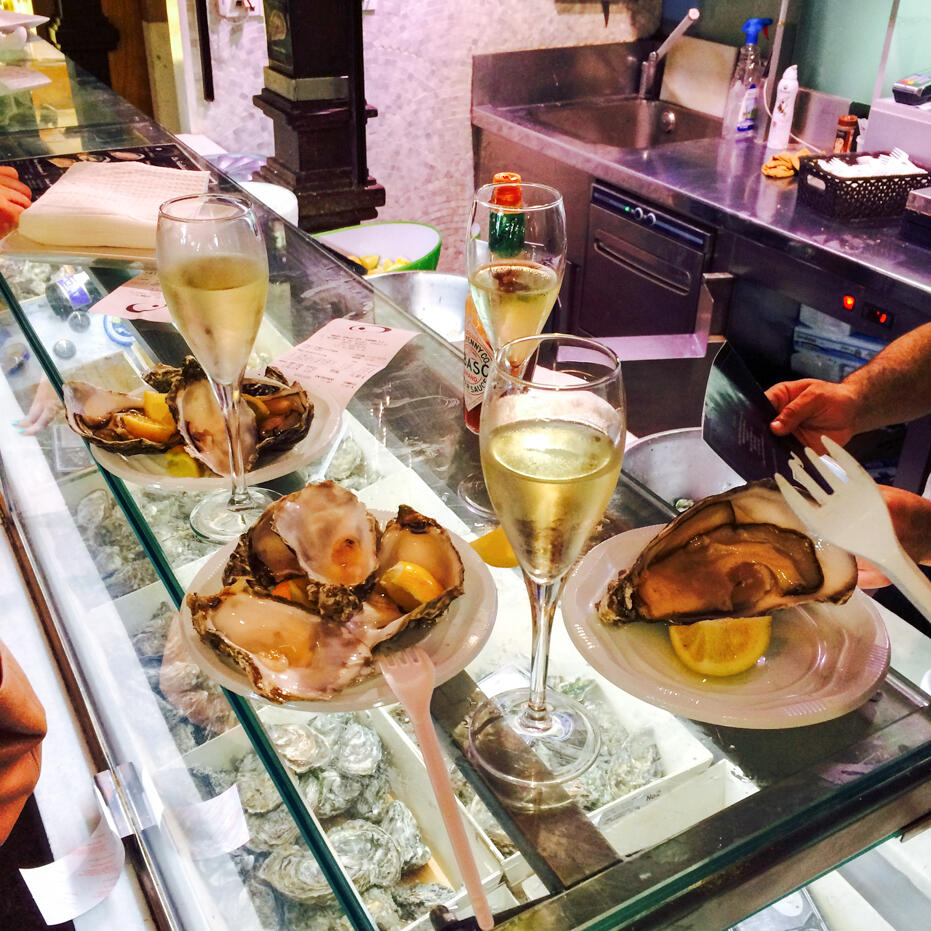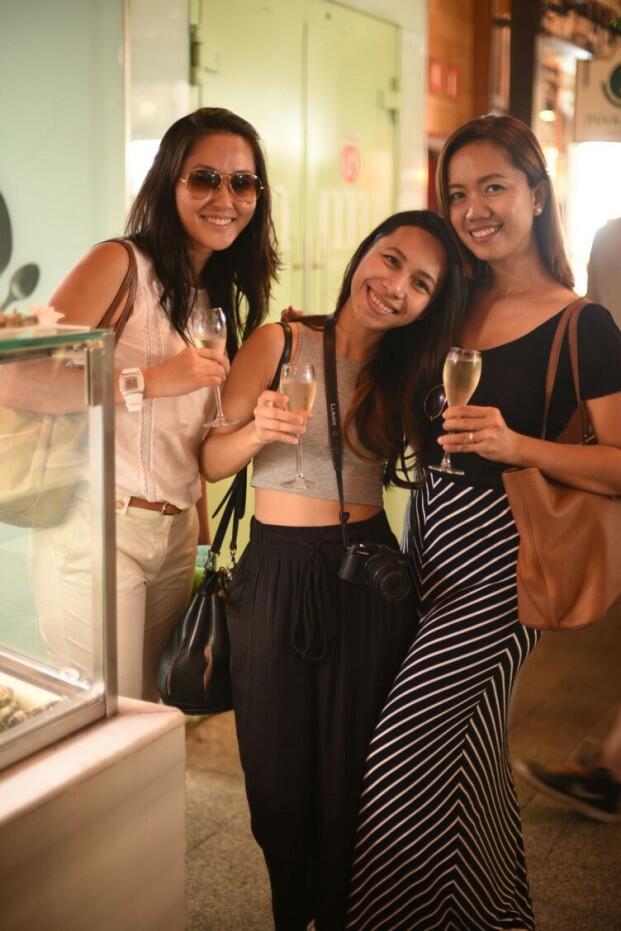 While Mavis and I were yapping away, Arlene came to join us. It was so much fun. Three girls from three different countries hanging out over bubbly and freshly shucked oysters… I live for moments like this! <3
When it was almost time to leave the market, I stopped by the dessert stall and just stood there bewildered by the array of delicious looking goodies before me. I couldn't decide. Amanda was next to me.
Amanda: What are you getting?
Baby: EVERYTHING, obviously!
Amanda: Are you serious? [Oh, Amanda. I adore your naivety] Baby: Of course not, baby girl. Haha. What do you want? Shall we share churros and the hot chocolate dip? Oh, yes we shall. [I'm so terrible. I like making brilliant decisions for people]
I ordered the churros and some other desserts which I absolutely murdered later that night, alone in my hotel room. You know, like a psychopath.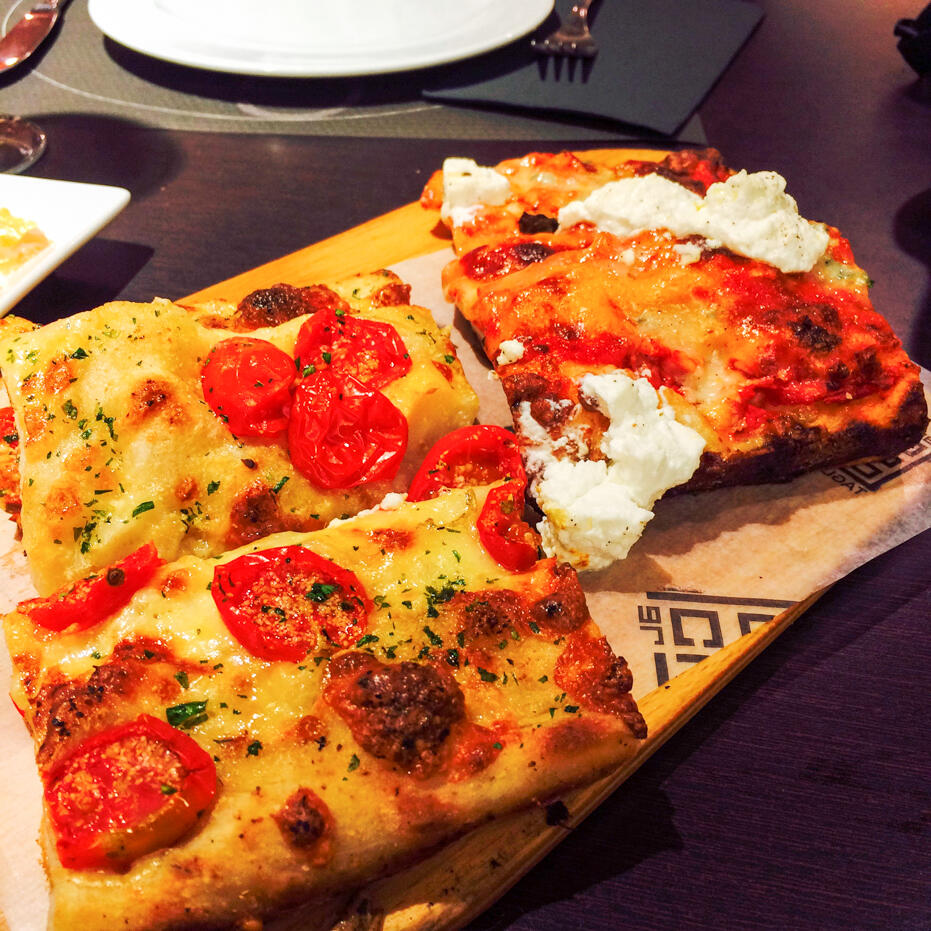 Pizza with fresh cherry tomatoes and goats cheese.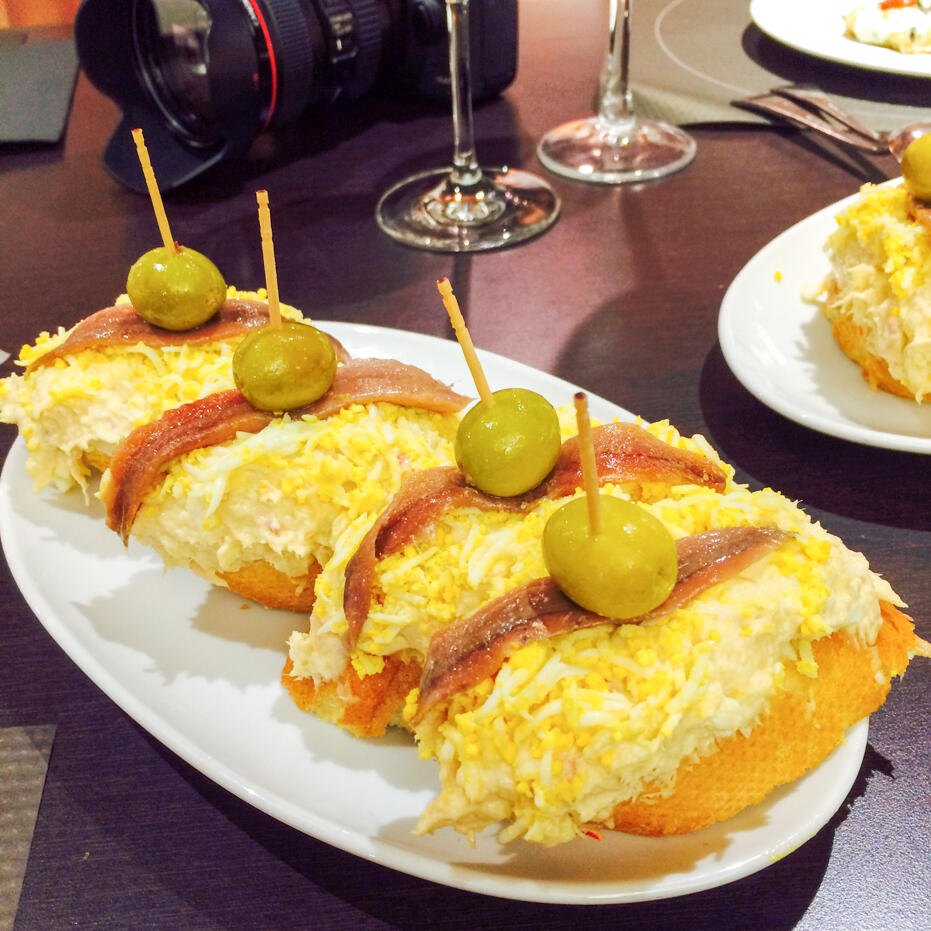 Tuna, shaved cheese, anchovies and olives on baguette.
Some pictures I took on our way to CaixaForum. Madrid is soooo pretty!
We walked along an area known as Barrio de las Letras (Literary Quarter). It's a neighbourhood right smack in the centre of Madrid where some of Spain's literature gods used to live and write. Today, it is an area which combines literature, a bohemian atmosphere, entertainment, shopping and food.
The streets are either pedestrianised or with restricted access to traffic. There is also a pretty square called Plaza de Santa Ana. On the pavements, one can find inscriptions and brief texts from the works of some writers that used to live there.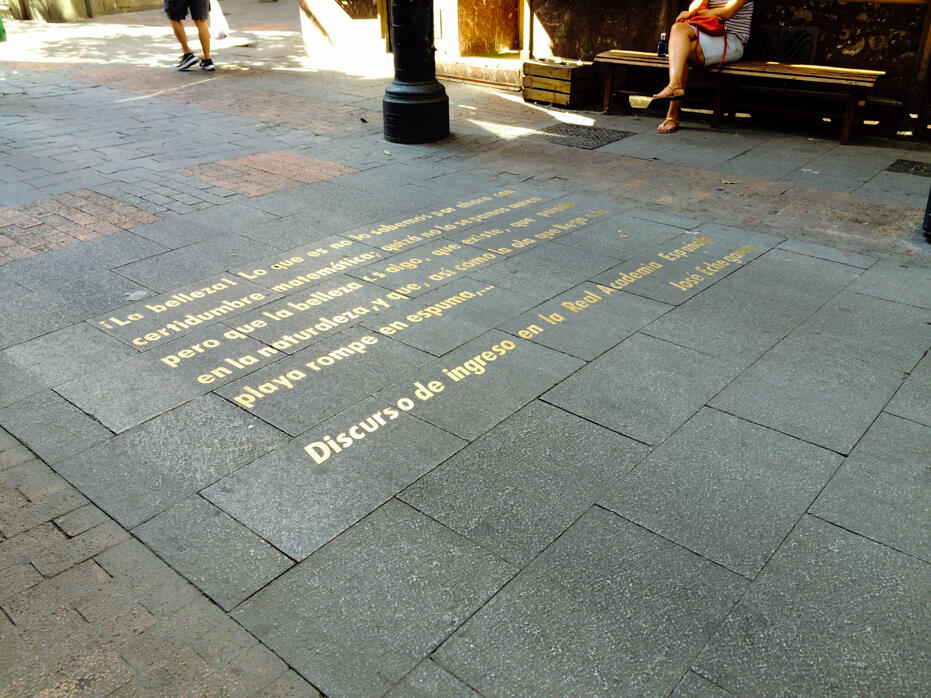 "¡La belleza! Lo que es no sabemos por ahora con certidumbre matemàtica; quizà no lo sepamos nunca. Pero que la belleza es algo, que existe, que palpita en la naturaleza, y que, así como la ola que llega a la playa rompe en espuma,…" – Discurso de ingreso en la Real Academia Espanola, Josè Echegaray
"The beauty that is not what we know now with mathematical certainty; we may never know but that beauty is something that exists, throbbing in nature, and that, as the wave reaches the beach breaks in foam,…" – Inaugural address at the Royal Spanish Academy, Jose Echegaray.
Trivia: Josè Echegaray was awarded the Nobel Prize for Literature in 1904, becoming the first Spaniard to win the prize.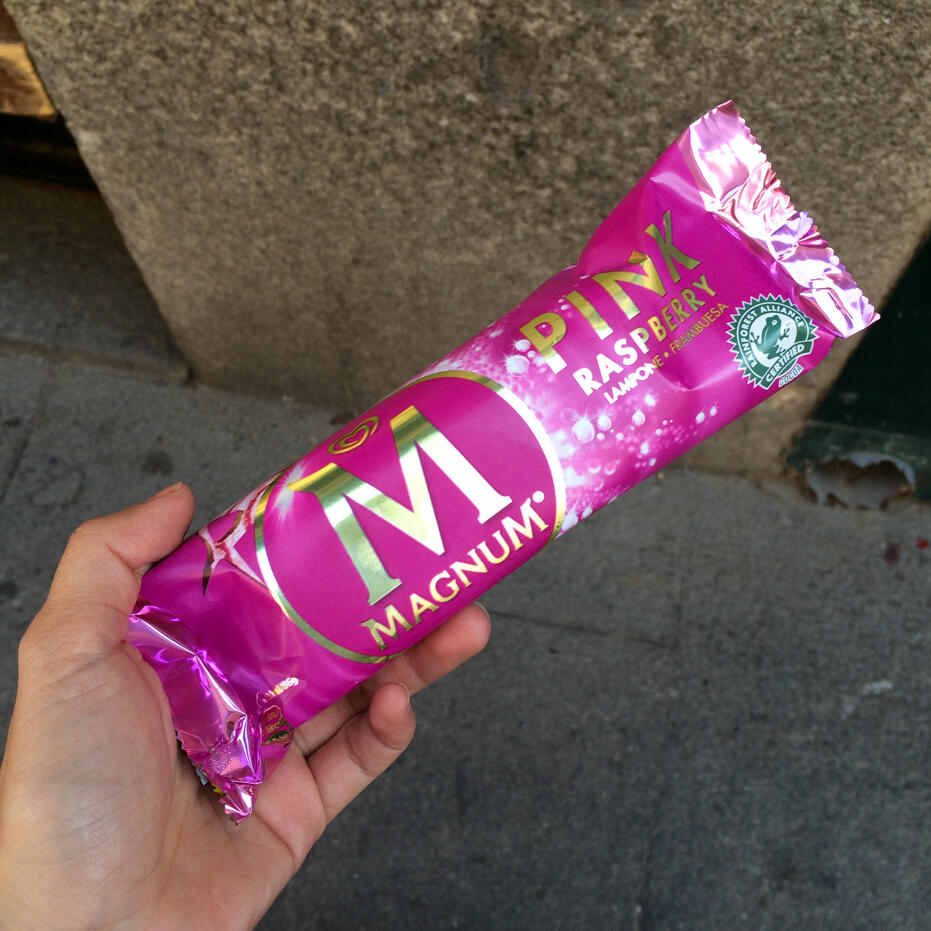 I've been wanting to try this pink Magnum ice cream since 5 years ago! It happened in Madrid <3
CaixaForum was not in our itinerary but our tour guide insisted we take a peek and boy, was I glad we went! A social and cultural centre in the heart of Madrid, CaixaForum was a power station before becoming one of the most important industrial architecture in the city's old town today. The floor area is 10,000 square metres. It is a venue for art exhibitions, music and poetry festivals, multimedia art, current affairs debates, social events, educational and family workshops.
The centre was constructed by architects Herzog & de Meuron. And standing right next to it, Madrid's very first vertical garden comprising of 150,000 plants designed by French botanist Patrick Blanc. CaixaForum is the perfect complement to the "art triangle" – Prado Museum, Reina Sofìa Art Centre and Thyssen Museum.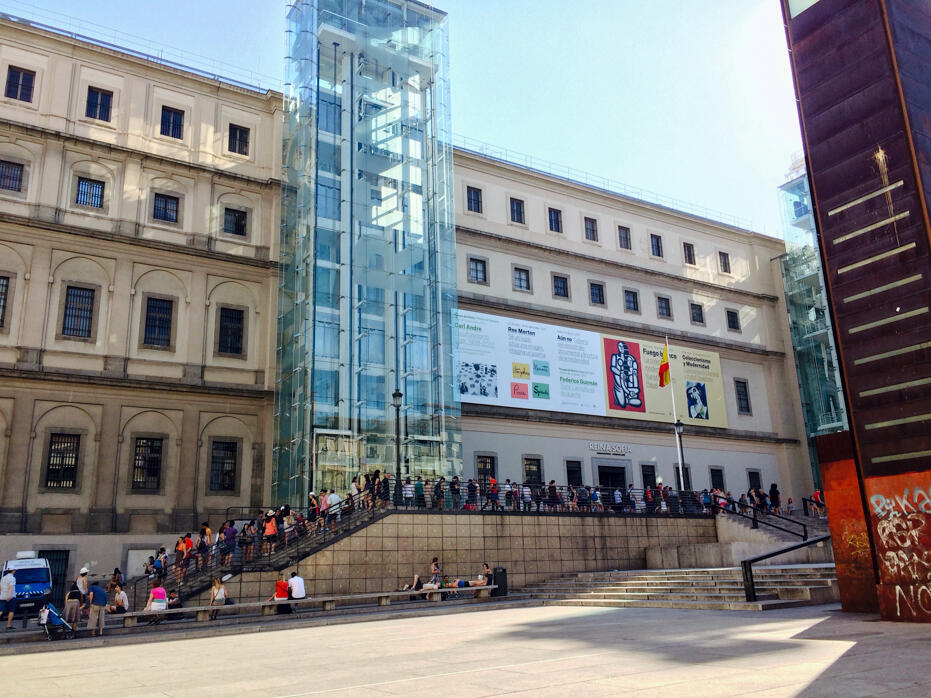 Ladies and gentlemen, THAT is the queue to get into the Reina Sofìa Art Centre. I sooooo wanted to go, but we were really pressed for time. Oh, well… One day, maybe. Who knows.
Our final destination that day was Villa Rosa. It's a restaurant and also, one of Madrid's oldest flamenco venues located in the center of Madrid at the Plaza Santa Ana.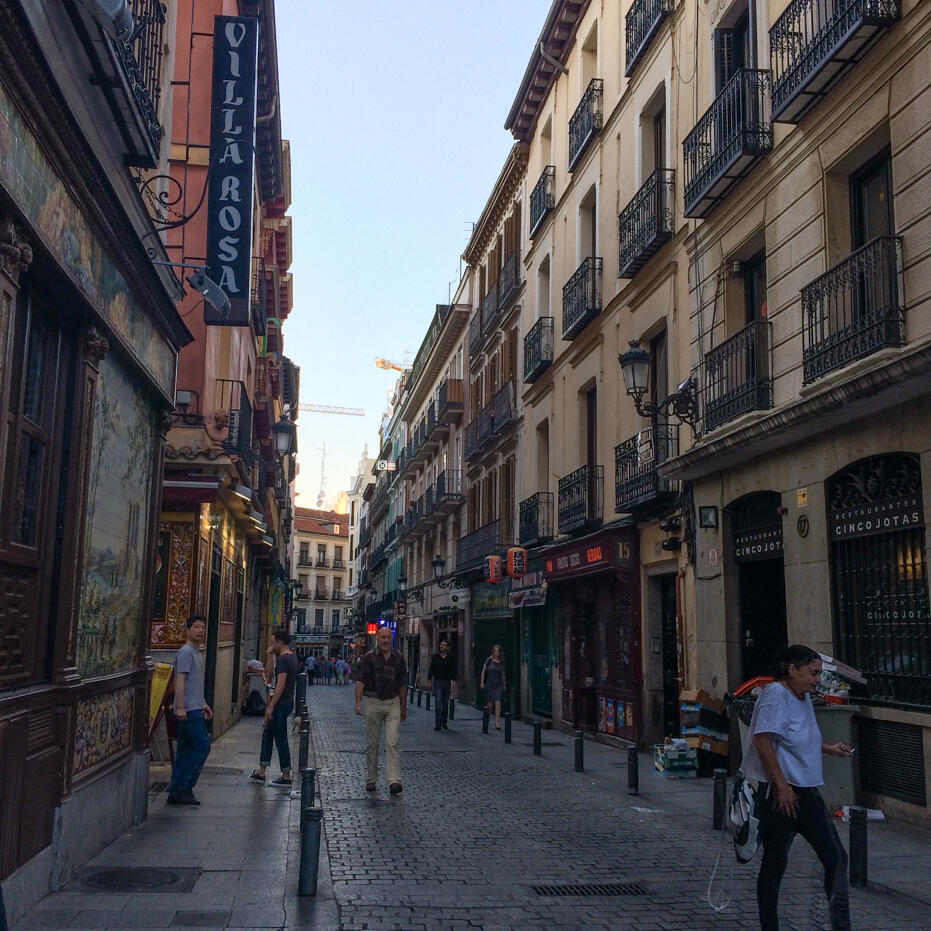 This is what 9PM looks like in the summer.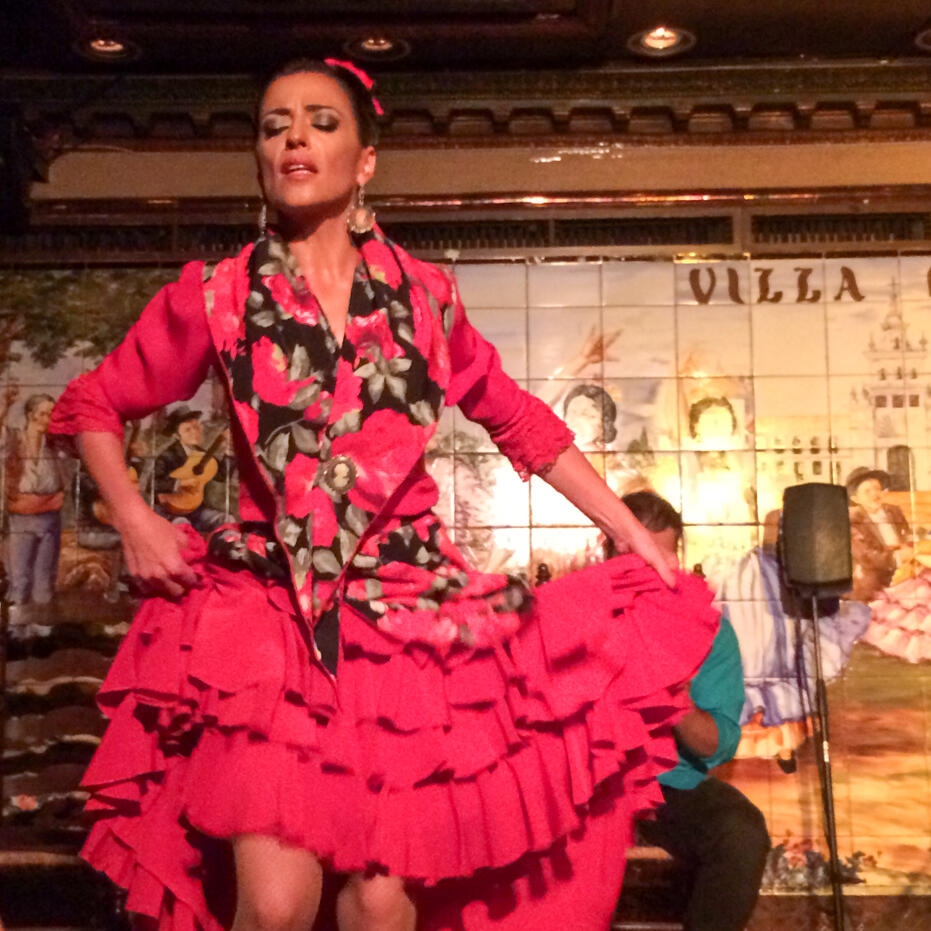 It was my first time watching a flamenco show and I was so enthralled by the whole thing. I didn't know flamenco dance was so… passionate. The expression and vigour shown by the dancers teared me up a little, as if I could feel the pain in the story they were telling. It was so good!
This coming summer, when you go to Madrid, do insert Villa Rosa into your program! There are two nightly shows with ticket options for drinks or dinner. The restaurant offers traditional dishes from the south of Spain like, pescaito (fried fish), Iberian cured ham and sausage and paella. Meals are accompanied with a good selection of Spanish wines.
Villa Rosa was the end of my trip in Madrid. A short but sweet 3 days and 2 nights. To tell the truth, I'm soooo not done with Madrid. There are still so many places that I would love to explore. I'll do it in my own time one day 🙂
My next post would be of my adventures in Barcelona. I hope you're ready for that! 😀
+ + + + + + + + +
Plaza Mayor
28012 Madrid
Spain
Royal Palace of Madrid
Calle de Bailén
28071 Madrid
Spain
Website: www.patrimonionacional.es/en/real-sitio/palacios/8280
Barrio de las Letras
Calle de las Huertas, 39,
28014 Madrid
Spain
CaixaForum Madrid
Paseo del Prado, 36,
28014 Madrid
Spain
Website: www.obrasocial.lacaixa.es/laCaixaFoundation/home_en.html
Facebook: www.facebook.com/pages/CaixaForum-Madrid/
Instagram: www.instagram.com/caixaforum
Villa Rosa
Plaza de Santa Ana, 15,
28012 Madrid
Spain
Website: www.tablaoflamencovillarosa.com
Facebook: www.facebook.com/TablaoFlamencoVillarosa