I rarely go for food / drink reviews cos it usually clashes with work. I had a really nice evening where there happened to be a food tasting sess, AND a whisky tasting sess right after, that was on our way home, AND i happened to be free.
It seemed a plan aligned by the stars to me – eat food, line stomach, then drink contentedly!
First off, the food tasting was at Tiki Taka, Hans Gill's new place he opened with his wife Chef Carrie Scully. Hans is an old friend of mine- we grew up in the same neighbourhood and he's one of few people who greet me with my full name followed by variations: "Joyce Wong, how's it going?" "Joyce Wong, long time no see!" "Joyce Wong, what are we drinking tonight!?"
Hans used to run dLegends in TTDI – which i used to patronize lots around 2010 before even finding out he ran it, Claudia and i threw a birthday party there in 2011, he garnered it an award for Perfect Tiger Serve at the prestigious HAPA – GAB awards, and then sold the bar to open Tiki Taka. I'm proud of him!
His work experience in Melbourne opened his eyes to the F&B industry in which he focuses on quality, creativity, service and cleanliness; and he's totes into new challenges and ideas. Together with Carrie, they've opened Tiki Taka on Jalan Kasah (behind Jake's, same row as La Risata).
Inspired by the food culture in Barcelona, Tiki Taka serves "unique interpretations of the eclectic flavours from around the world with the fusion spices of Asia" in the Spanish-inspired formats of pintxos and tapas.
"A pincho or pintxo is a small snack, typically eaten in bars, traditional in northern Spain and especially popular in the Basque country and Navarre. They are usually eaten in bars or taverns as a small snack while hanging out with friends or relatives; thus, having a strong socializing component." [source]
As for its name, Tiki Taka is a Spanish style of football. Figures. Hans loves football (as do 2394820989 other guys in Malaysia). You can find at least three screens in the restaurant (i didn't count) so if you wanna catch a game (or something else like the badminton finals) it's a great option.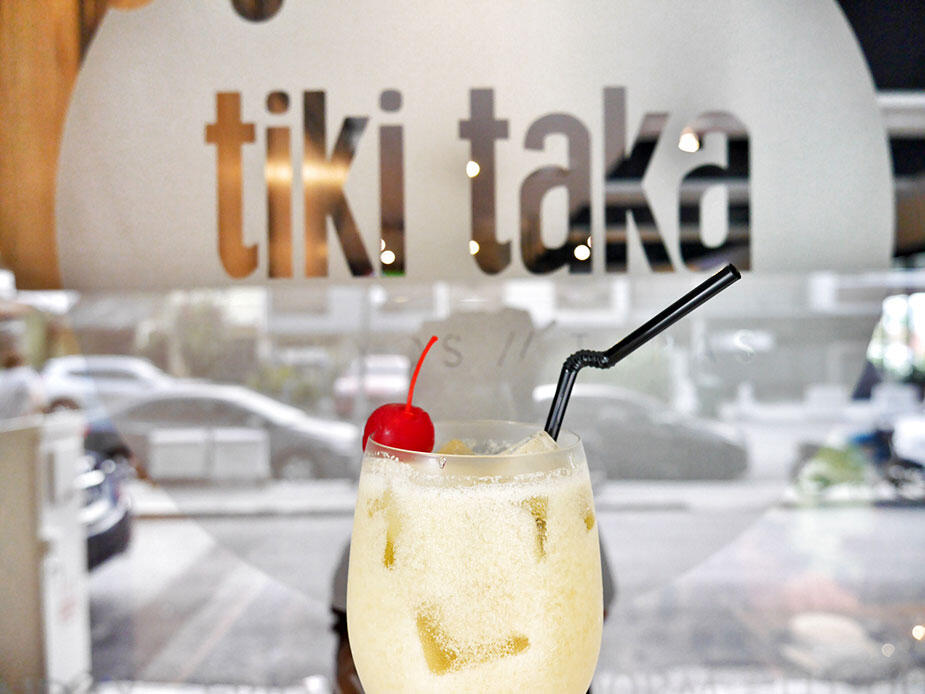 Havana cocktail with rum, mango and vanilla (RM 30).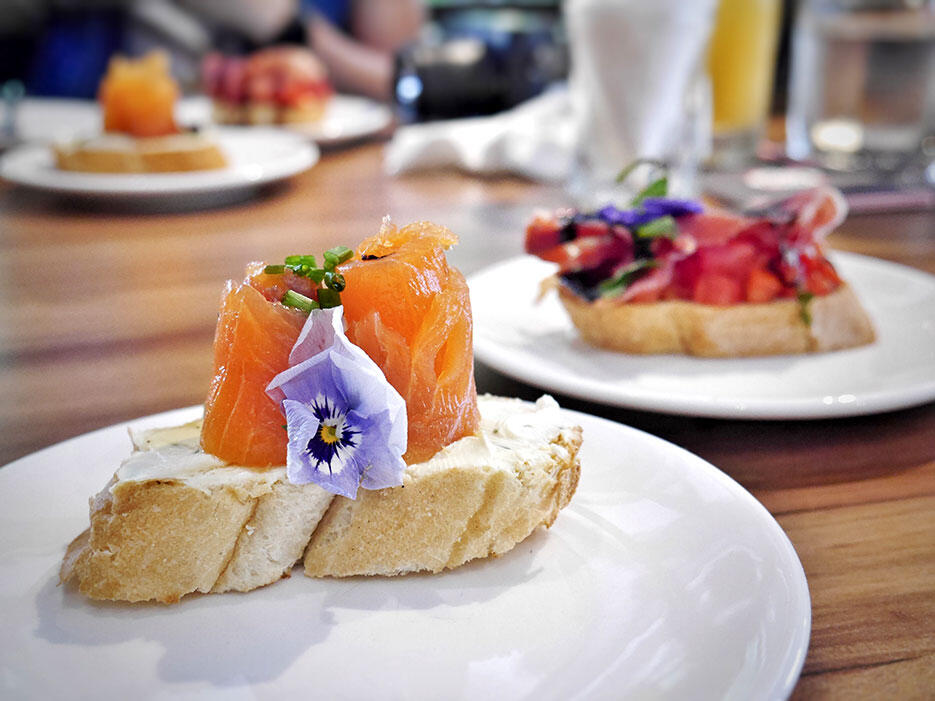 Salmon Crema – dill creamed cheese, smoked salmon, black lumpfish caviar, truffle honey. RM 8
I love being able to order small portions especially if i'm out drinking cos somehow one's appetite dissipates in place of excitement :p And it seems the older i get, the smaller the portions i eat… i feel like i get full more quickly nowadays. Give me 4 pintxos and i'm done for the night, really! I like not causing food wastage cos the portions are small, and spending less but tasting more!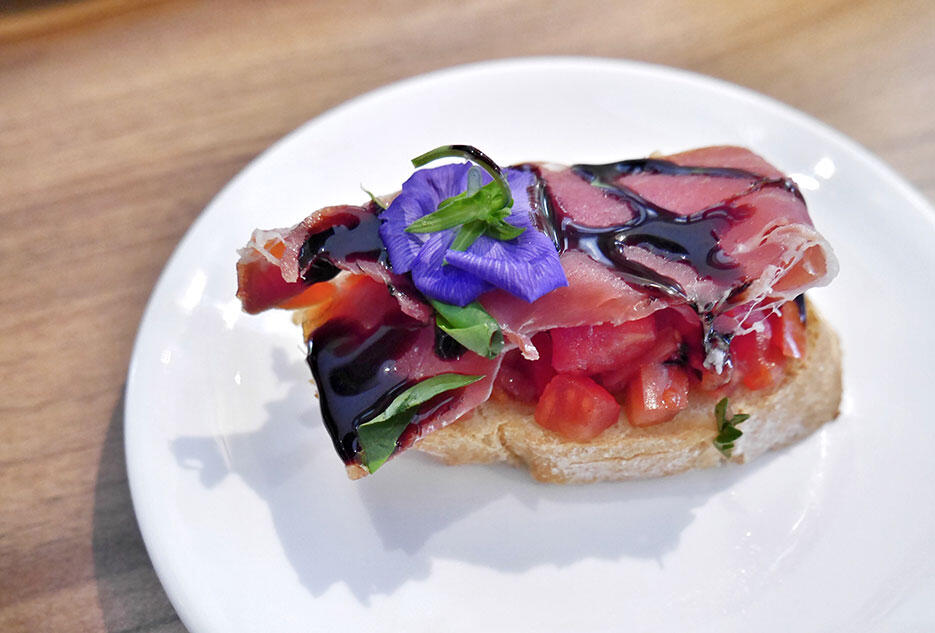 Tomato & Serrano Ham with Balsamic Glaze, RM 6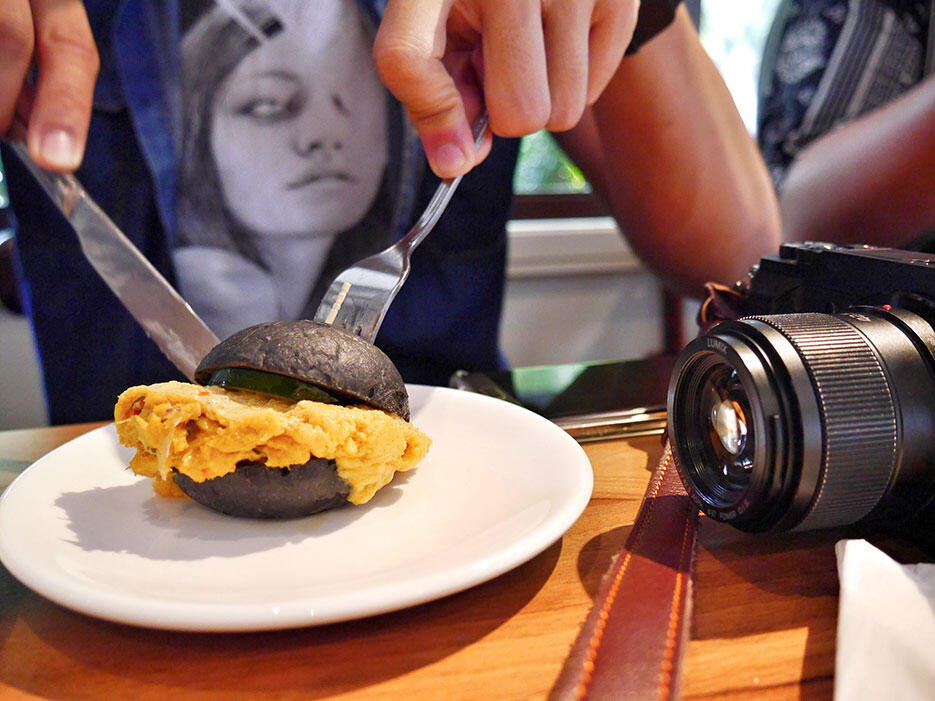 The Salted Egg Crab Bun is a decadent combination of salted egg crab meat, curry leaves, birds eye chilli, and salted egg cream sauce that comes oozing out of a mini charcoal brioche when you cut/bite into it. RM 9.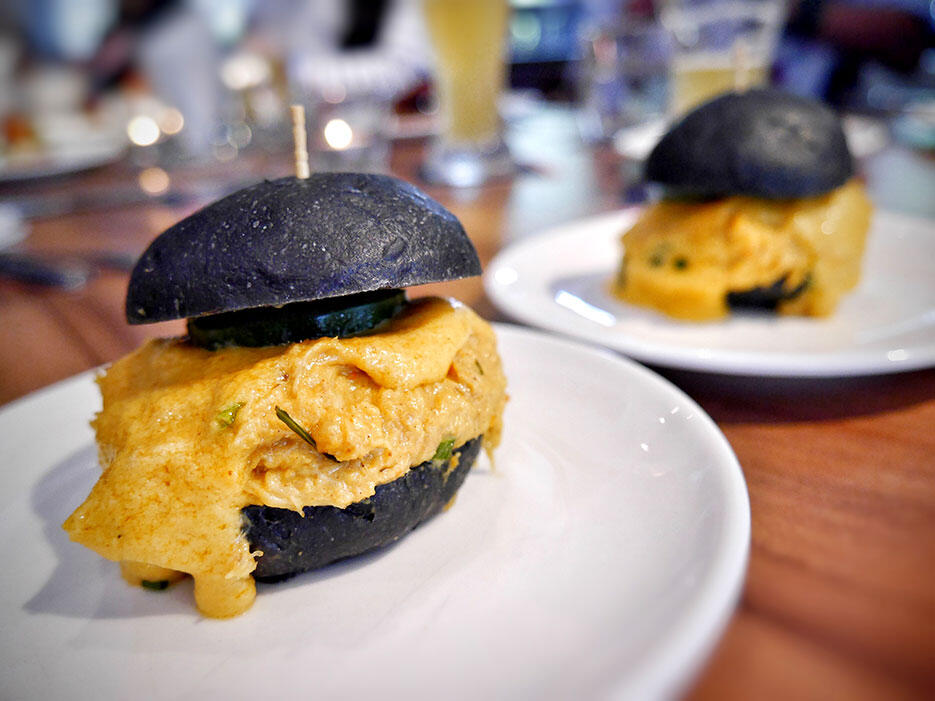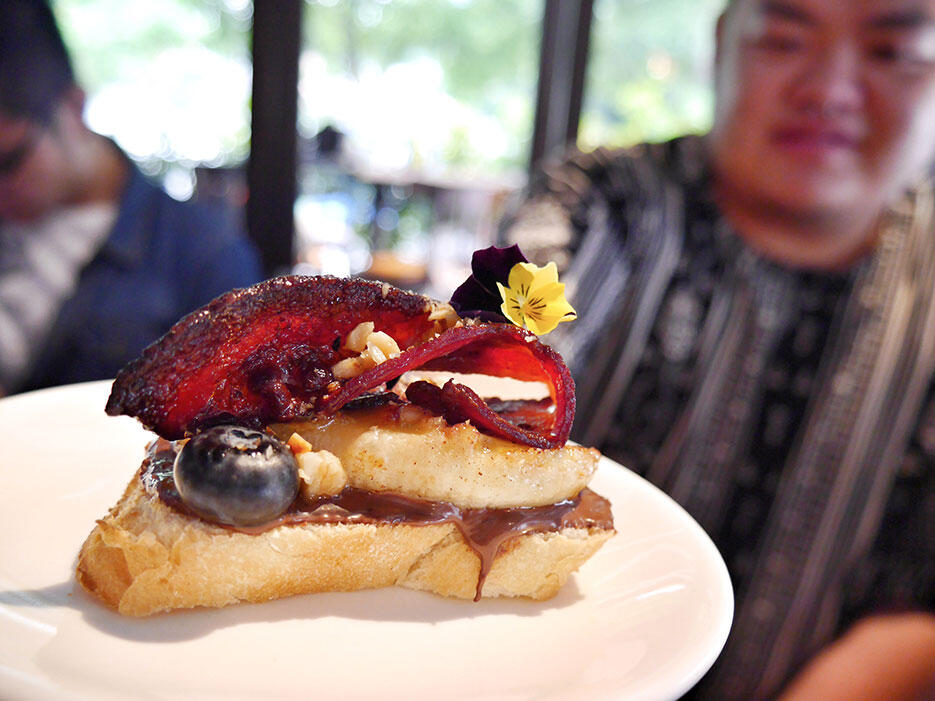 This Nutella Bacon pintxos with banana on bruschetta is one of my favourites there.
It's so good i shot a side view and aerial view.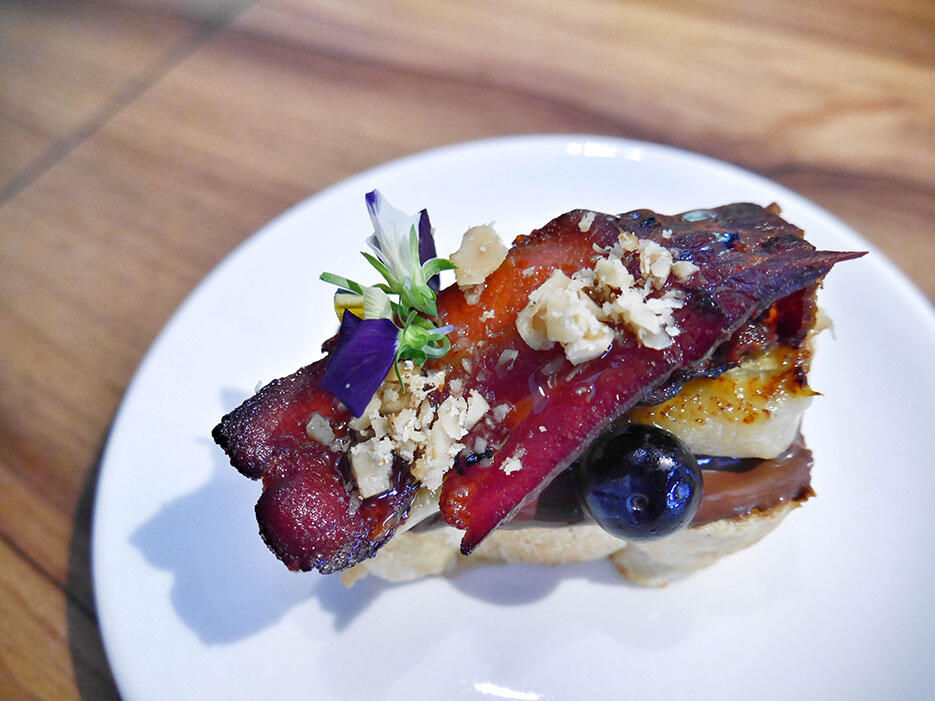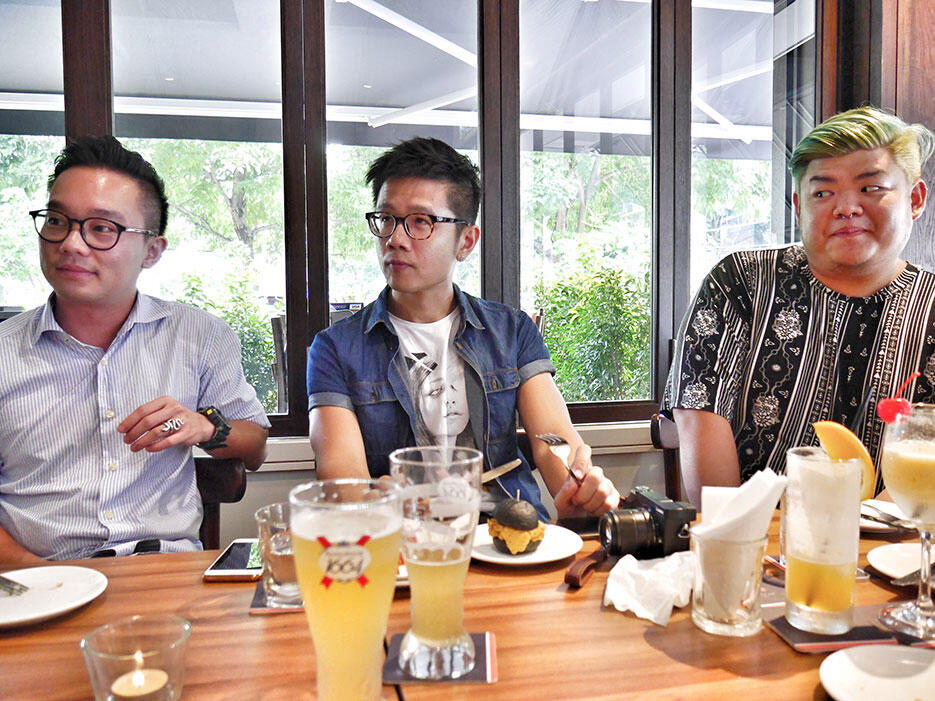 Jason aka Smashpop in middle, and Joe's face heheheh
Then it was time for the tapas: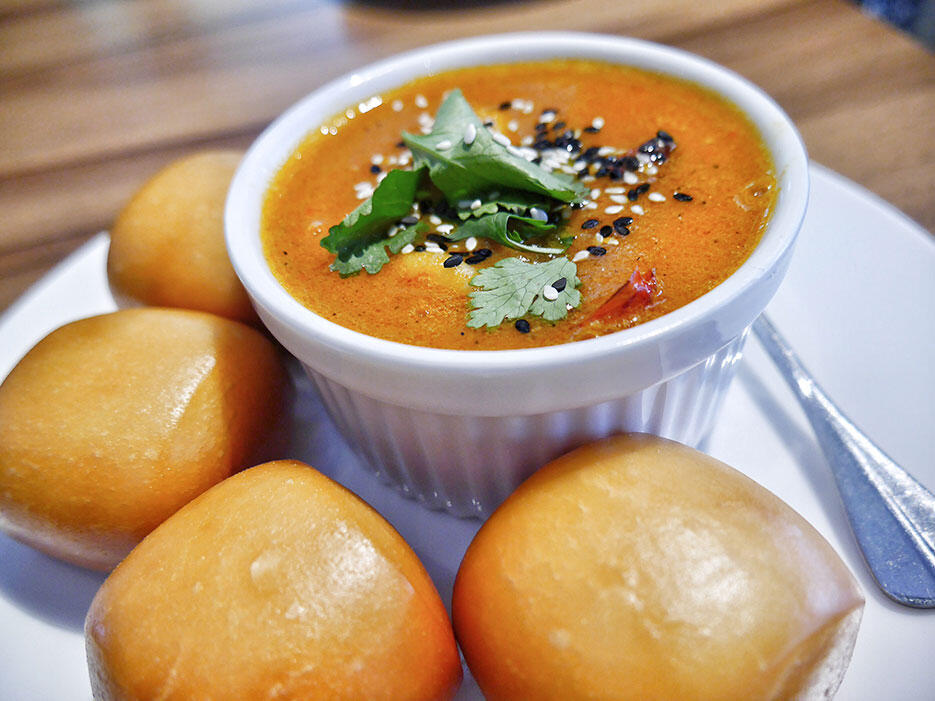 Singapore Chilli Prawns with deep fried mantou buns. RM 24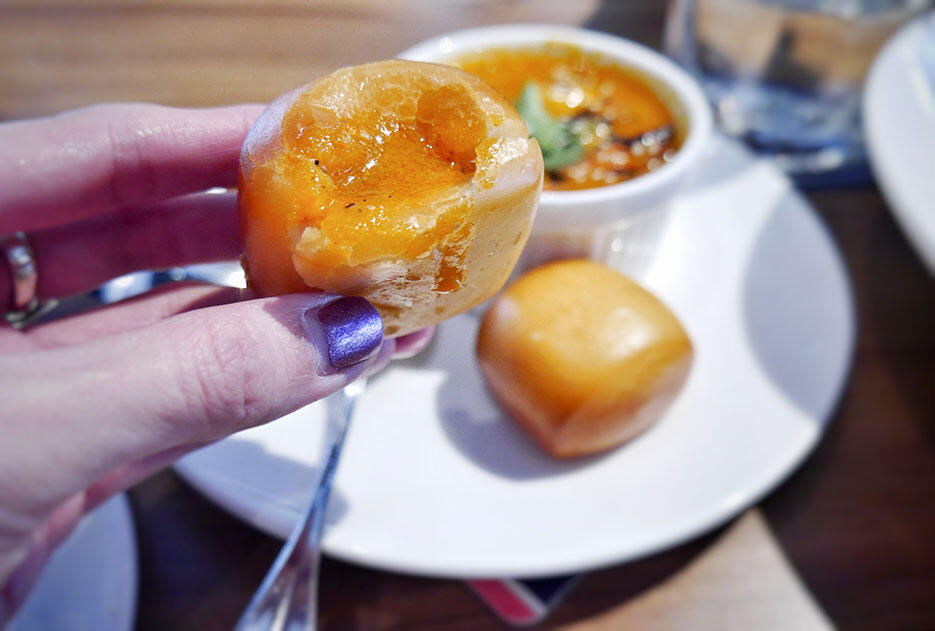 The sauce is proper spicy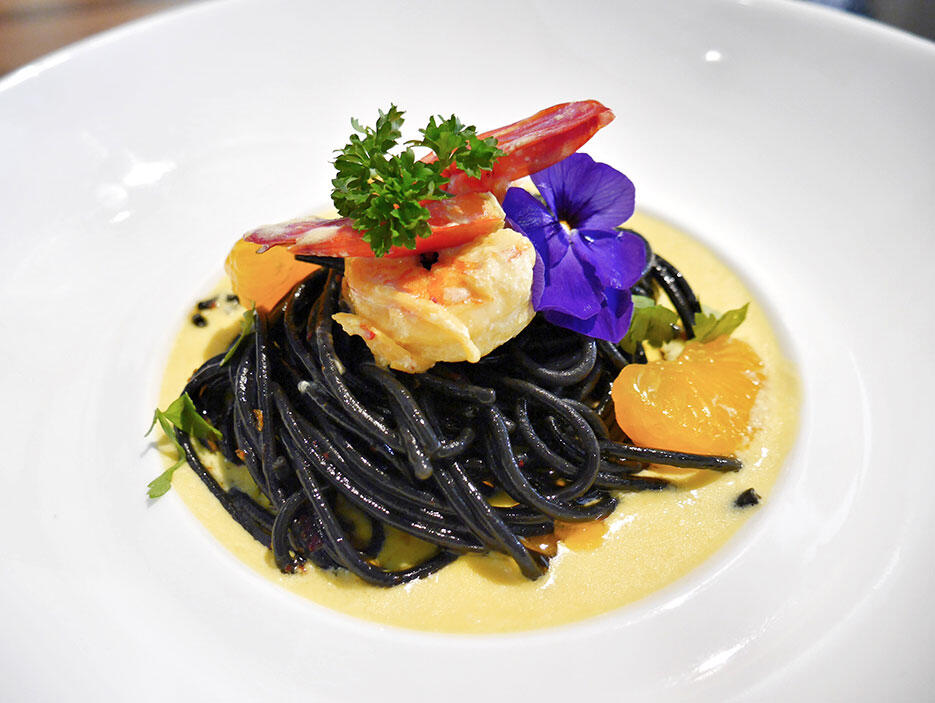 Squid Ink Pasta with creamy saffron sauce, citrus prawns, mandarin slice and szechuan chilli oil. RM 22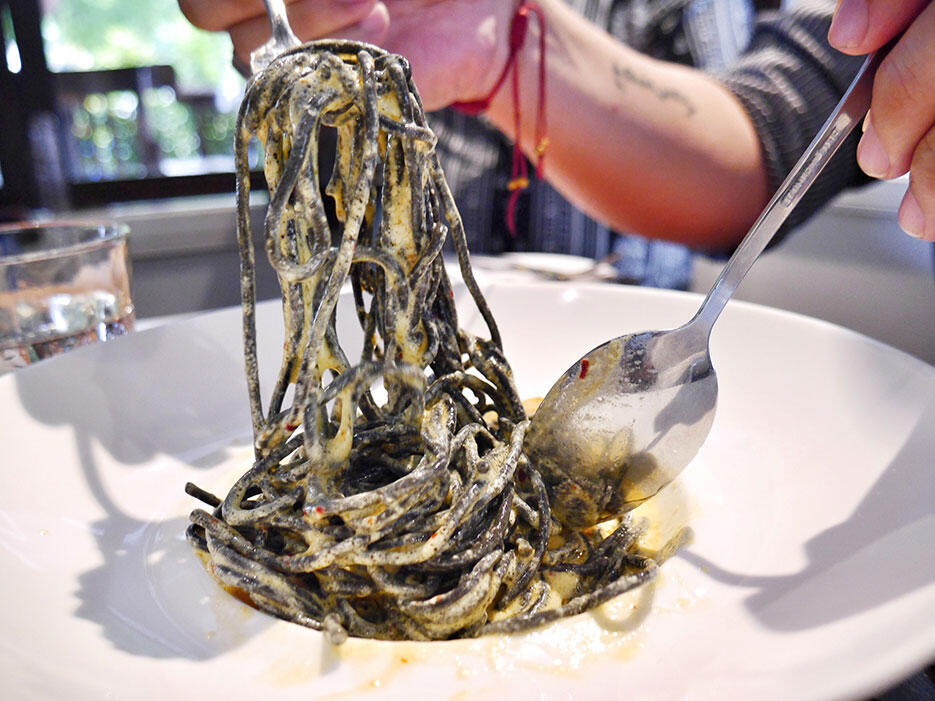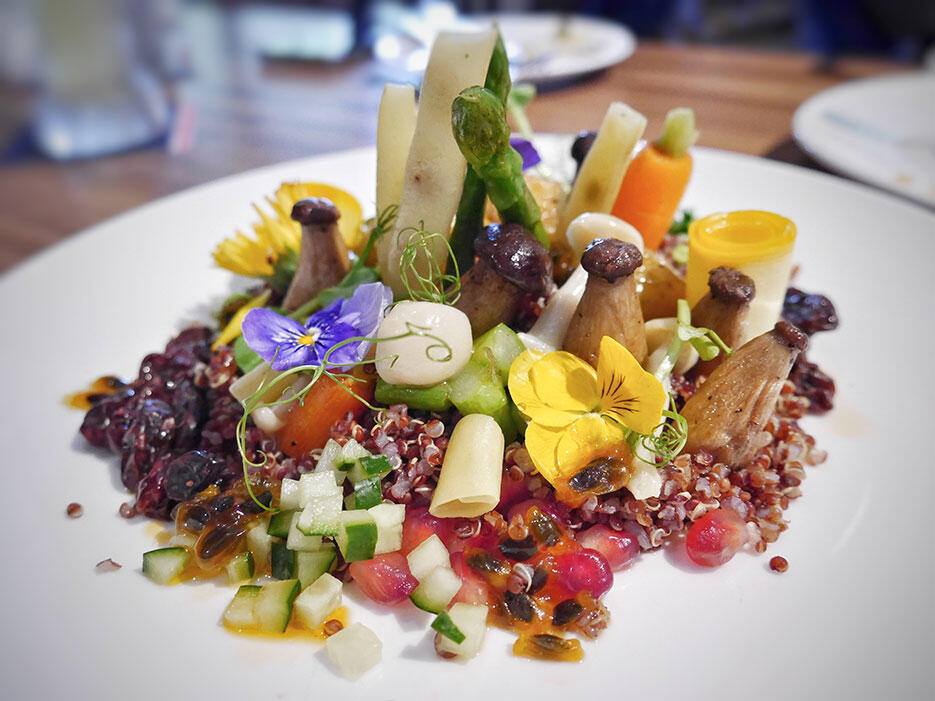 When the Quinoa Garden (butter quinoa and seasonal vegetables in passion fruit sauce, RM 22) was set in front of us, i thought it was the PRETTIEST salad i'd ever seen. Or top 5 at least. I almost wanted to live in it! If i was a tiny fairy i would… till someone eats me up.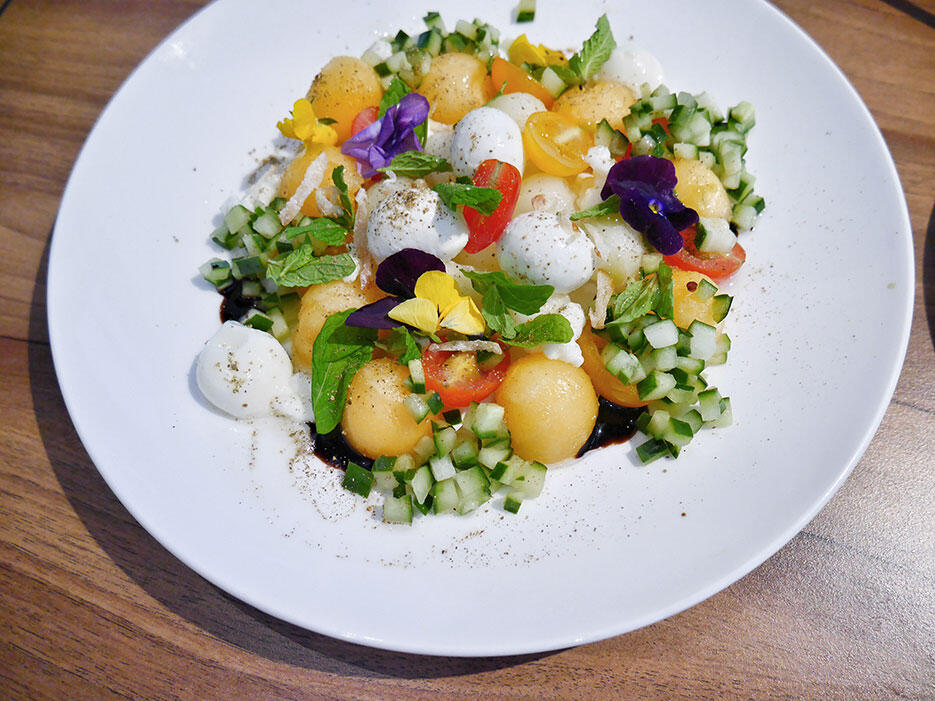 Melon, Mozarella  & Tomato Salad with salted lime yoghurt gel, green chilli powder and olive oil. RM 22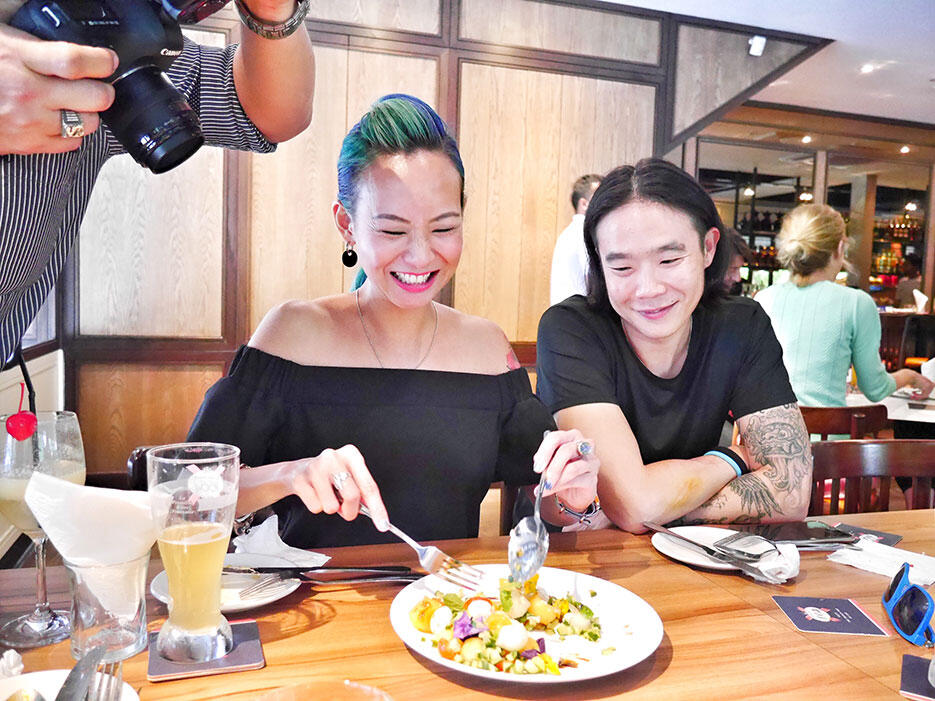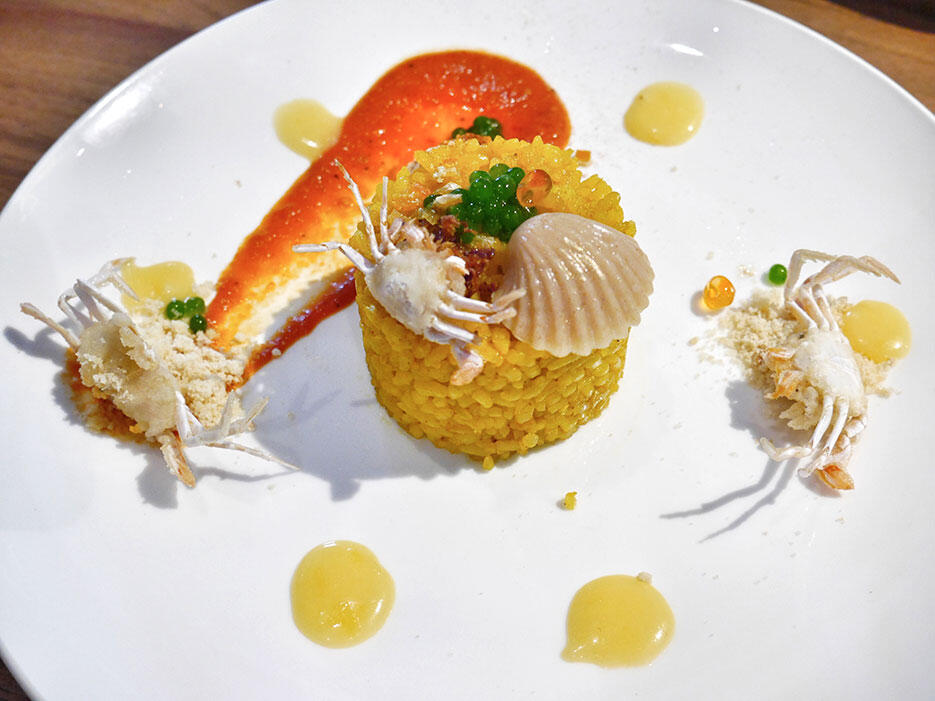 Molecular Paella – saffron rice, roasted red pepper sauce, bacon gel seashell, fried mini crab, paprika prawn ball, candied citrus peel, lemon curd and parsley pearls. RM 25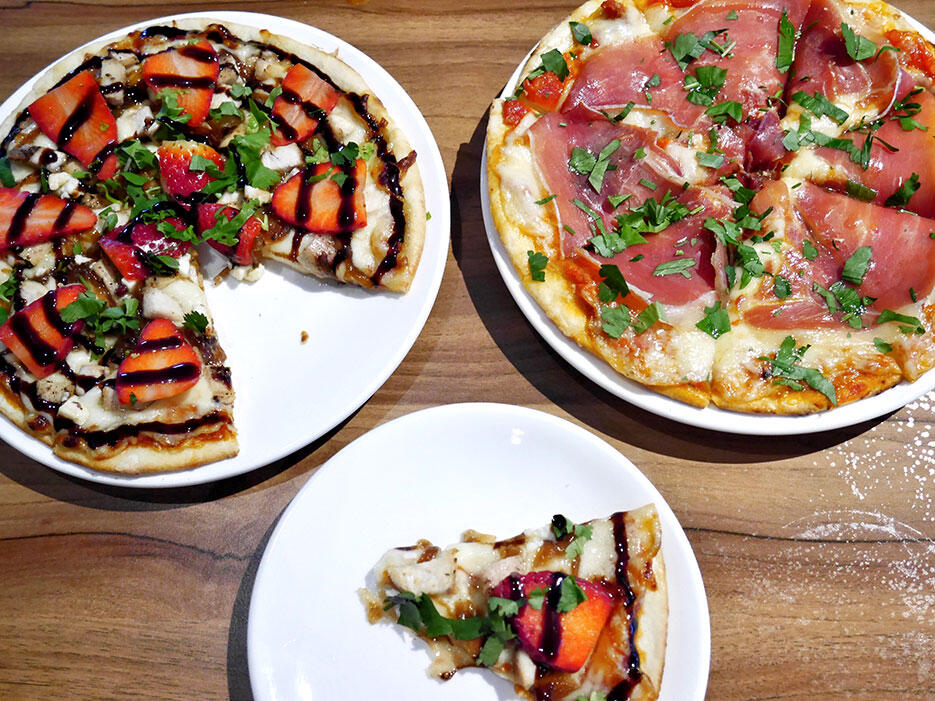 Strawberry Chicken (RM 20) and Spicy Serrano (RM 25) Pizzas.
I was really full by then and managed a bit of each just to taste.
But i had a bit of room for dessert!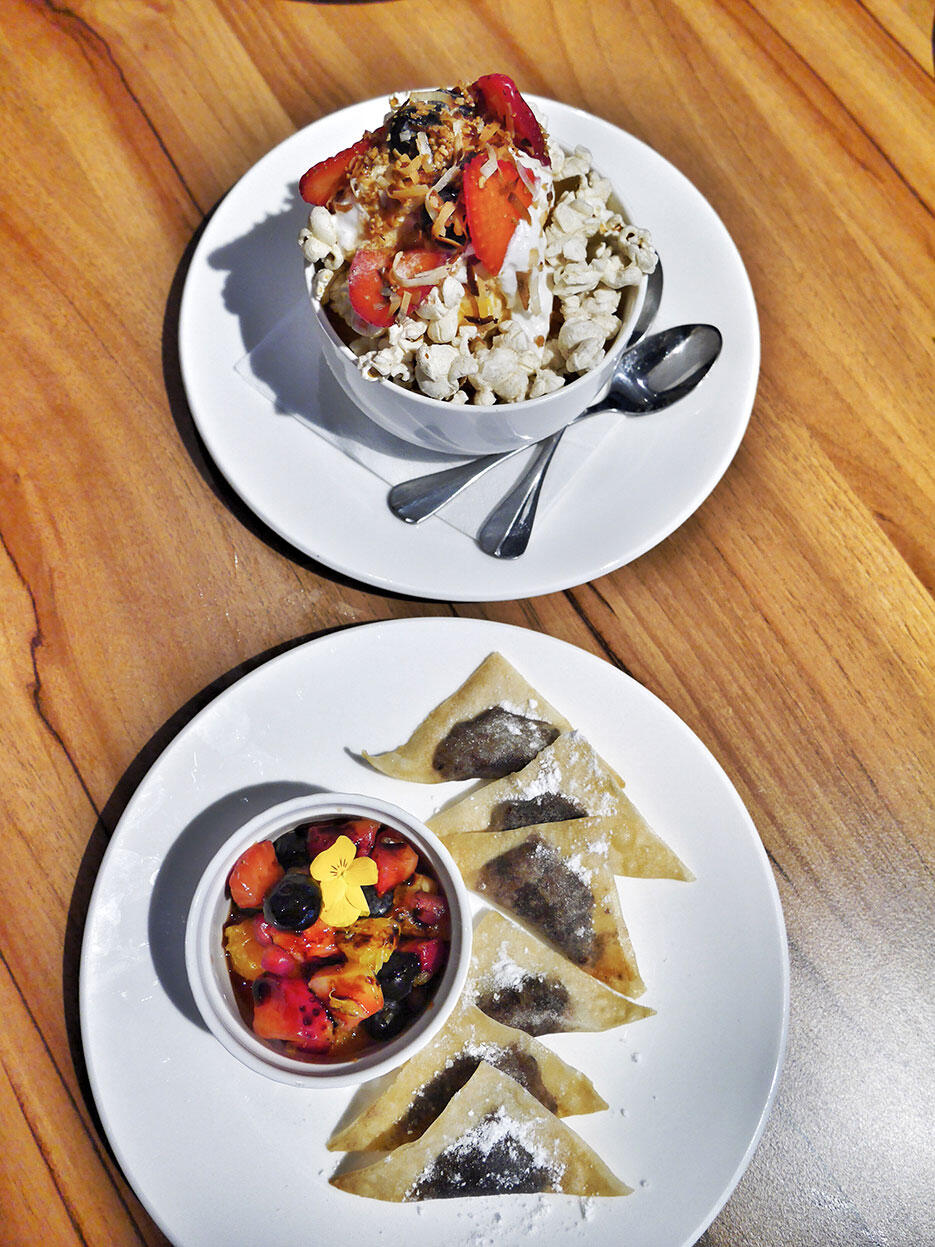 Jun loved the top one – Ice Ice Baby!, a fruit medley with mango sorbet, coconut ice cream, toasted coconut flakes, pandan palm sugar, buttered popcorn, and crushed peanuts. RM 12.
I love love love the Nutella Bacon Wantons (pictured at bottom). It's deep fried nutella and bacon in crispy thin wantons with berries, balsamic glaze and snow sugar. RM 12. Oh my god i would make my way there just to eat that.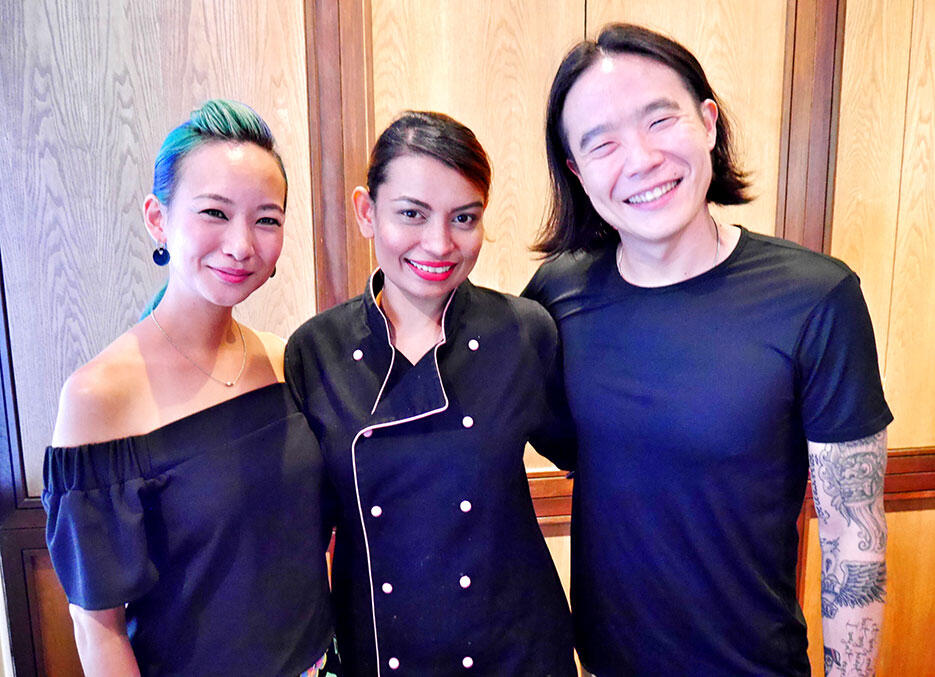 Me, with Chef Carrie Scully, and Jun!
Carrie is a Penangite who was previously in the corporate world before pursuing cooking. I'm so glad you left to feed us this way!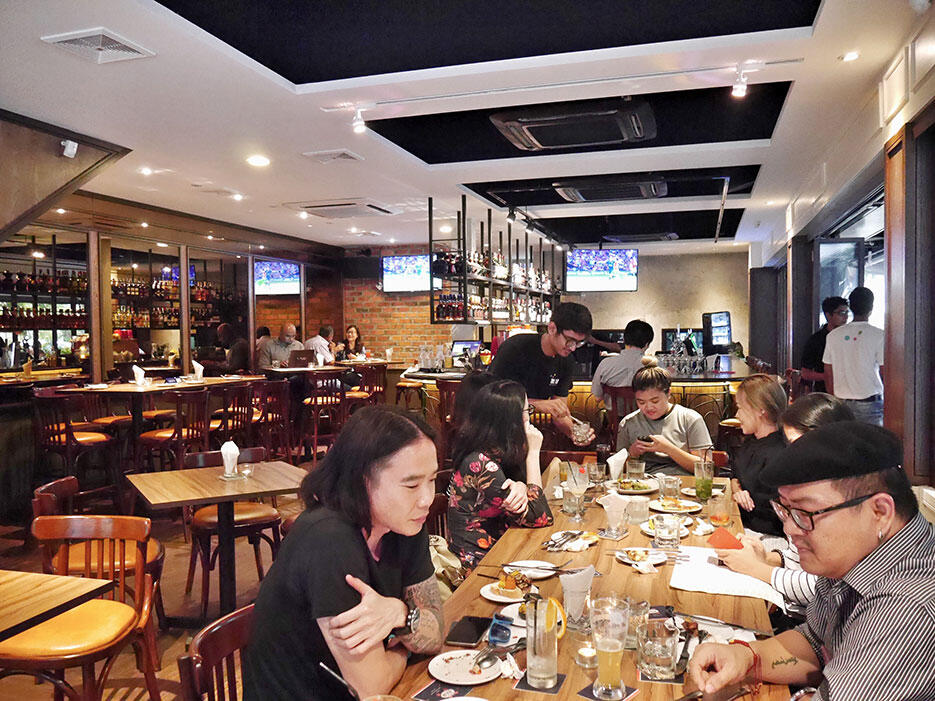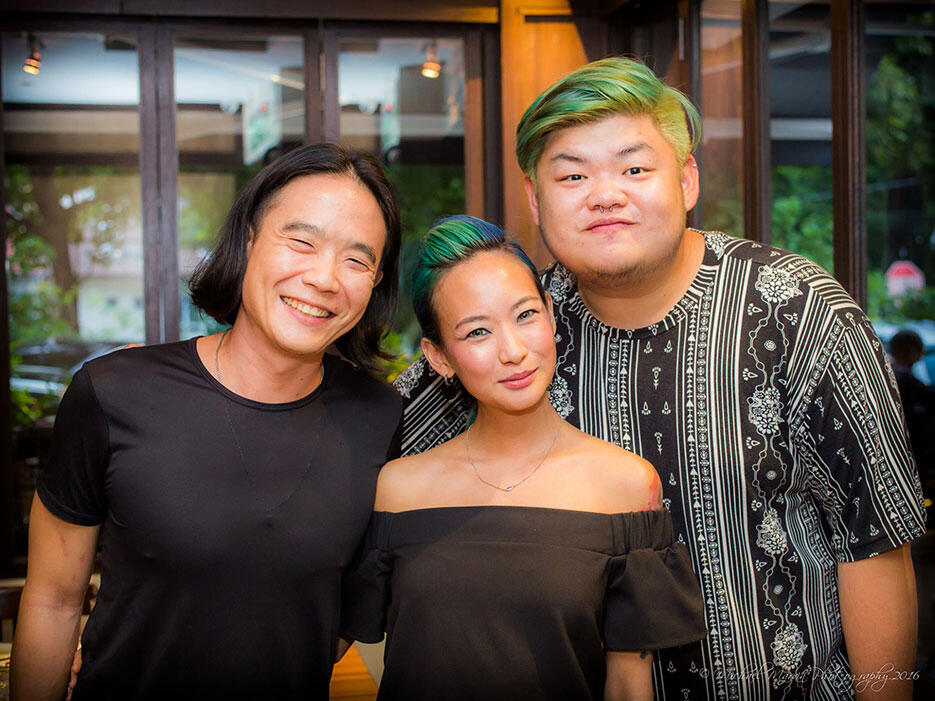 Jun, me and Joe! Mishie asked if we had our hair done at the same salon
Pic credit: Marvin Michael Kho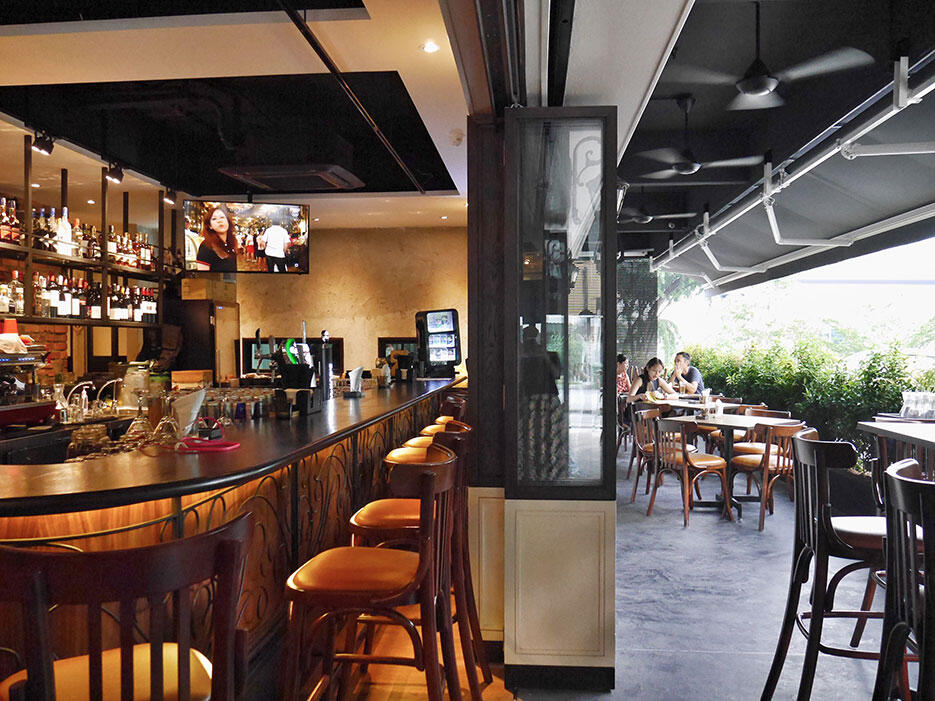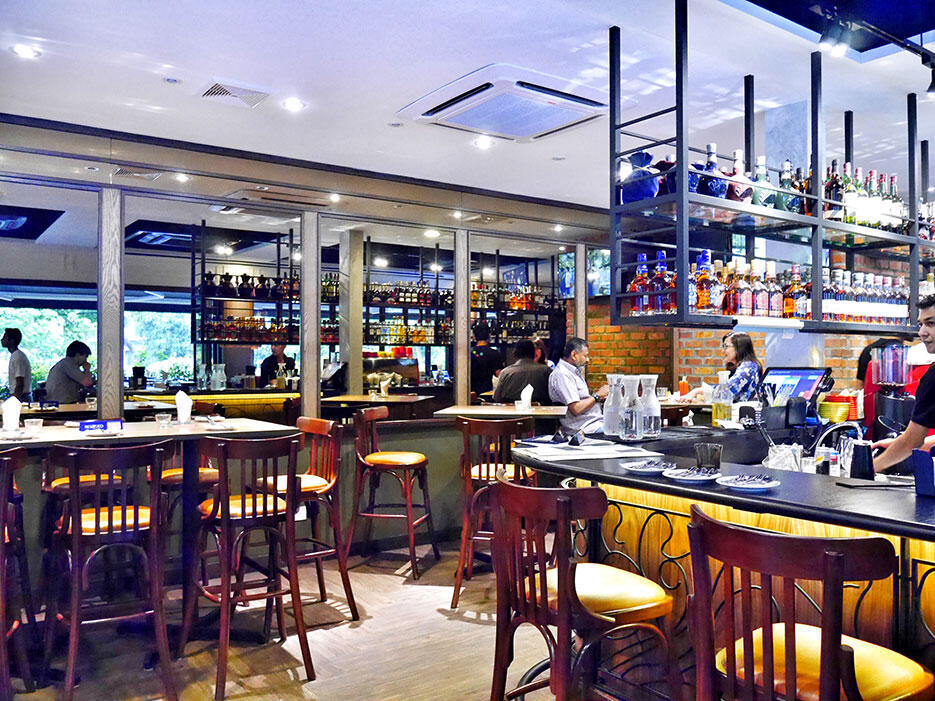 Specially curated breakfast menus are available 9am to 1pm on weekends.
Free valet parking for Tiki Taka's customers.
"Whether through the streets, aromas and sultry sauces of Europe or the rich blend of spice and culture of Asia, experience a burst of flavor in your mouth, feast your eyes upon colourful presentations and smell the aroma of flavours trickling through the air, at Tiki Taka.
With a modern flair of ingredients, and friendly twist of flavours to suit the local palate, Tiki Taka showcases a wide array of fusion and authentic dishes from breakfast to dinner."
Tiki Taka
FB: www.facebook.com/tikitakamy
IG: @tikitakamy
Operating Hours:
Monday – Friday:- 4:00pm – 1:00am
Saturday – Sunday:- 9:00am – 1:00am
138, Jalan Kasah,
Medan Damansara,
50490 Kuala Lumpur,
Malaysia