Last Tuesday, i left for Tokyo with Jun. As it always is before any trip i take, it's a race to get as much work done before being in transit, and the sleeping patterns i've taken on these days in an unperturbed manner can either be considered alarming or a downright skill. I recall sleeping 11pm-1am, then 4am-8am which is a total of 6 hours = i can survive and walk on to the plane (i once fell asleep outside the gate and almost missed a flight. But didn't.)
Once on the plane, i collapsed into an exhausted slumber. 7 hours later, we arrived in Tokyo late at night. Took a train to Shinagawa, where Jun had booked a hotel within 2 mins walking distance from the station. The plan was to just sleep at the hotel then leave for Mount Fuji / Lake Kawaguchiko the next day. I would have liked more sleep seeing we only got into bed at 4am but the Japanese have this typical check-out time of 10am (!!!). It was a little painful. Instead of paying a little extra to stay in bed a couple more hours, we used the same amount to buy a couple of expensive coffees -_-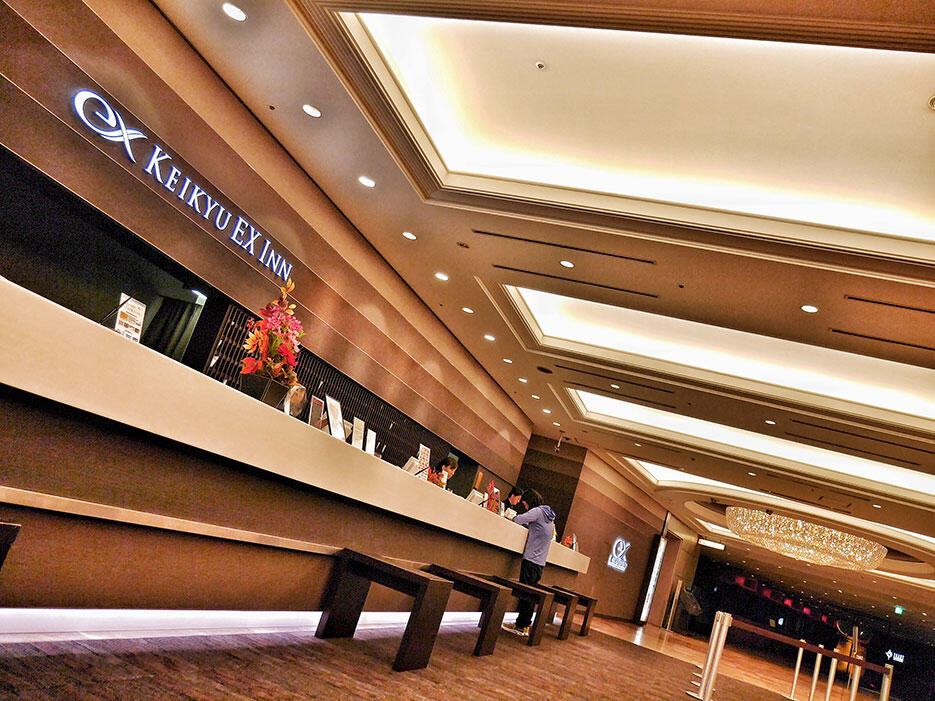 Checking in at almost midnight. The meal we had after down the street was unimpressionable so no pix.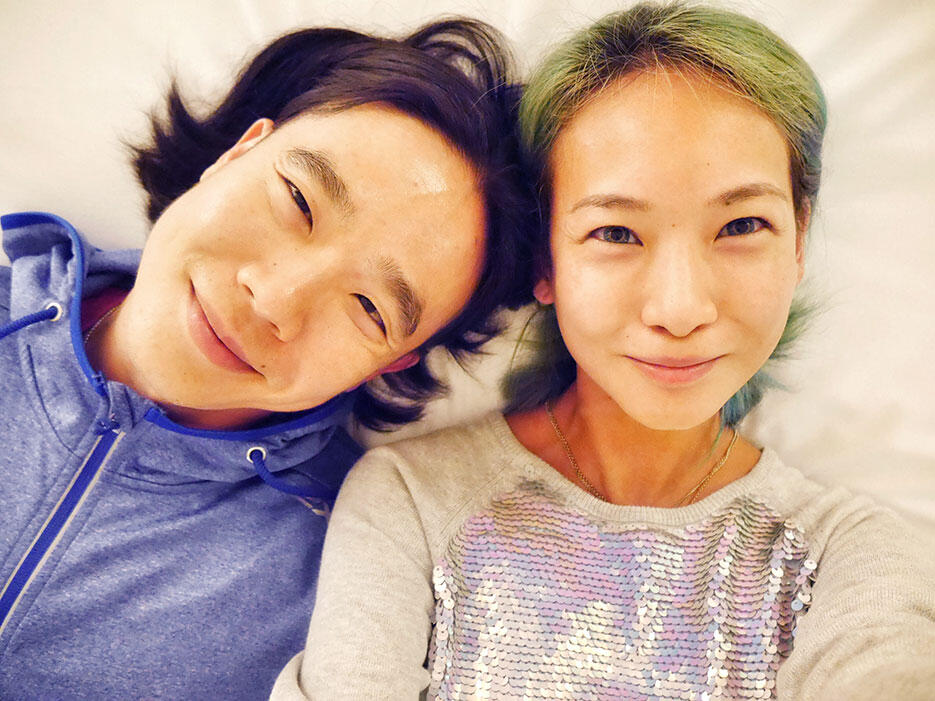 My plane face. I got my sequinned sweater from the kids section at H&M in Penang! I saw it sparkling on the rack and grabbed it up right away wondering if i could fit into a 10-year-old-sized sweater. Indeed i could. Quite perfectly. Being petite has its perks!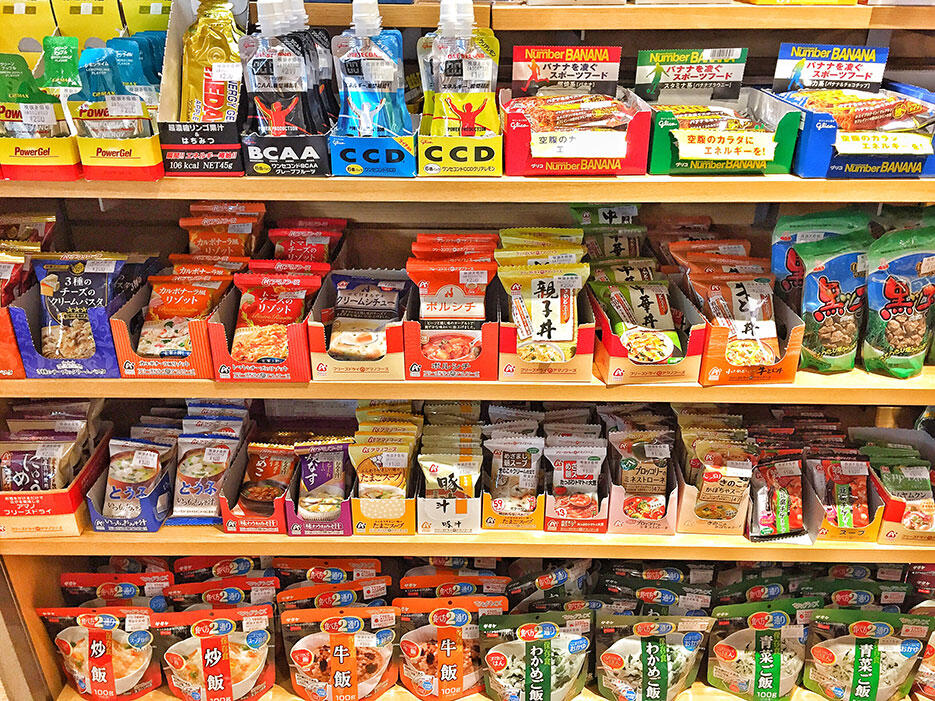 The food rack at Mont Bell, a running/outdoor shop Jun wanted to pop into. I ended up buying a really cute + comfortable + functional (deflects 90% UV rays or something liddat) T-shirt with cartoon nuts all over it for 1,800 yen (RM76); and an awesome bell which is used to cheer runners on. I honestly just bought it to join my worldwide bell collection.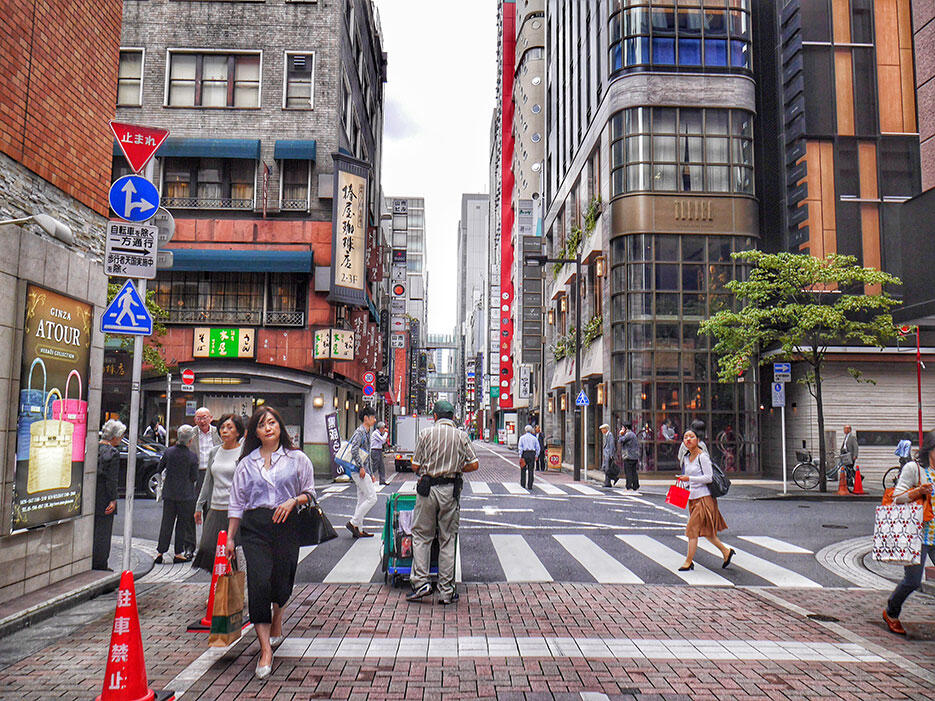 Ah Tokyo… new surprises every time, down every street, around every corner. There is always so so much to do regardless one's interests. Thing is, i have so many thus have so many on my to-do! I checked out all the gigs that are happening this week and saw Holy Fuck is performing today (decided against it cos i have a sore throat and don't want FOMO to get me more sick) but will catch YUCK this Friday! AH! (Both those band names sound unbelievable in the same sentence.)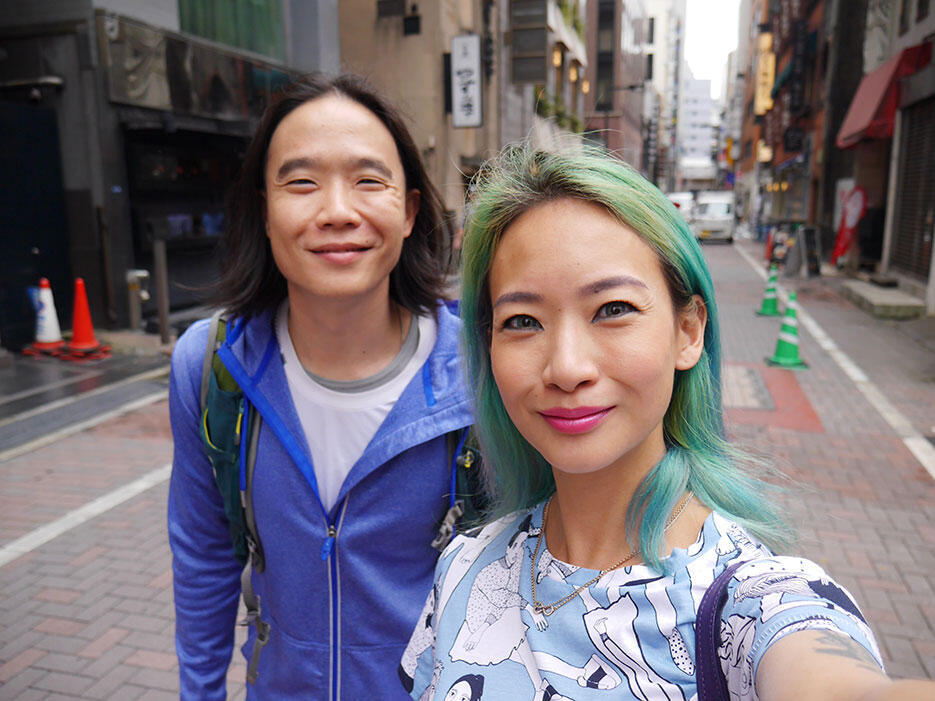 My funny shirt from #monkistyle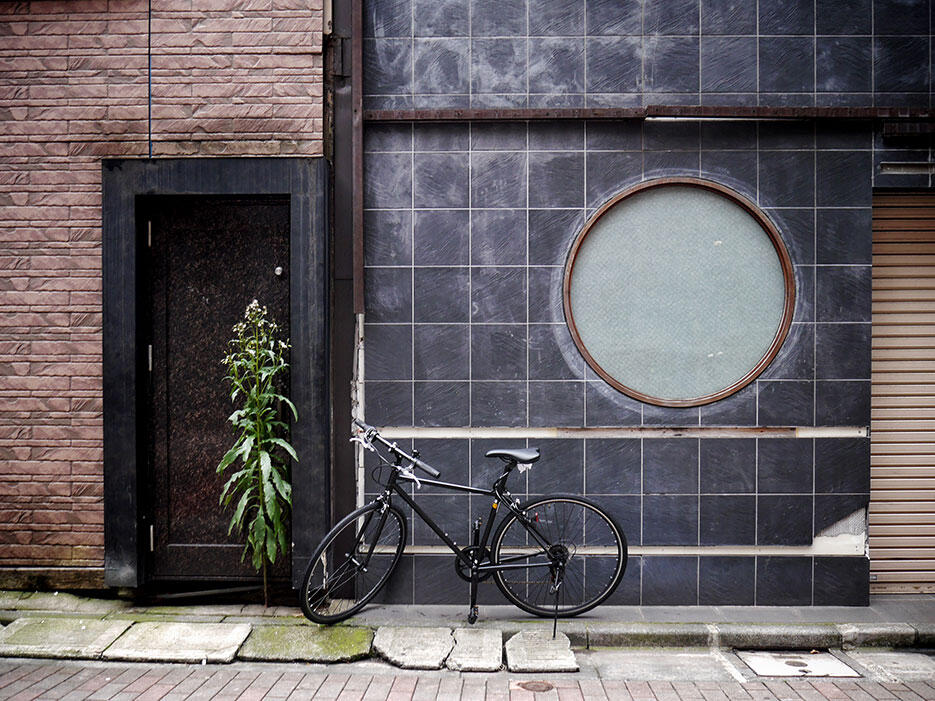 Somewhere in Ginza as we were walking to lunch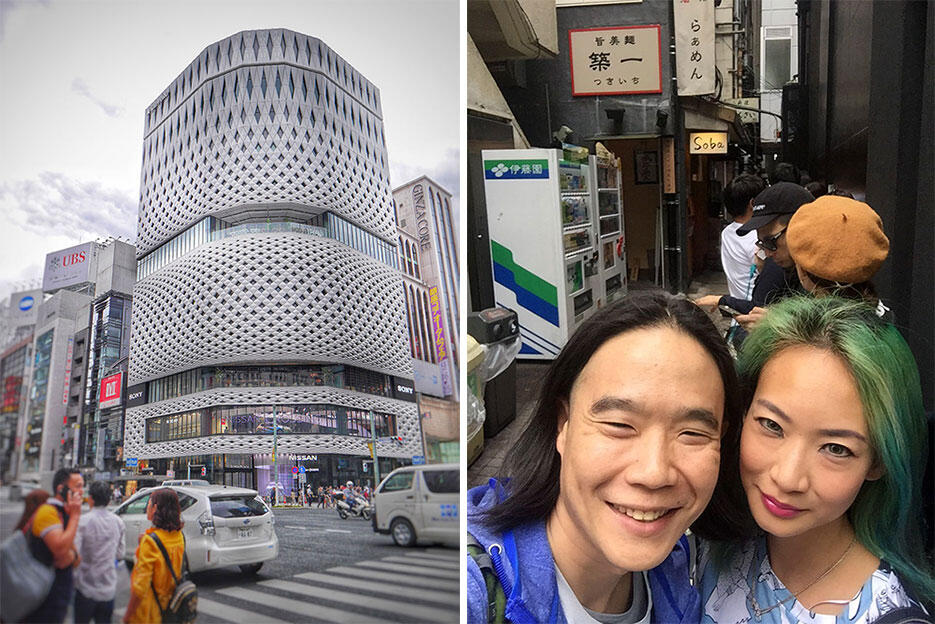 On right is when we were queueing up for seats in Kagari, but then read on the menu passed outside that you can't if your whole party ain't there :/ Was meeting up with Louis & Steph for lunch cos they happened to be in Tokyo too! We just about managed to squeeze in a meal and a walk down the street.

Each couple ordered the chicken broth udon and tsukumen to share.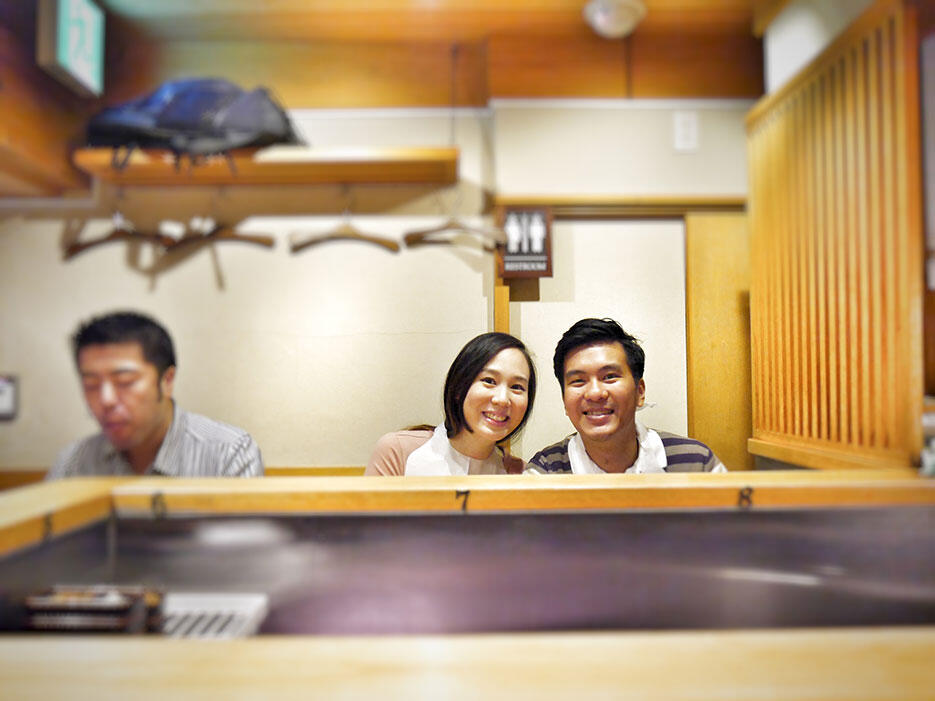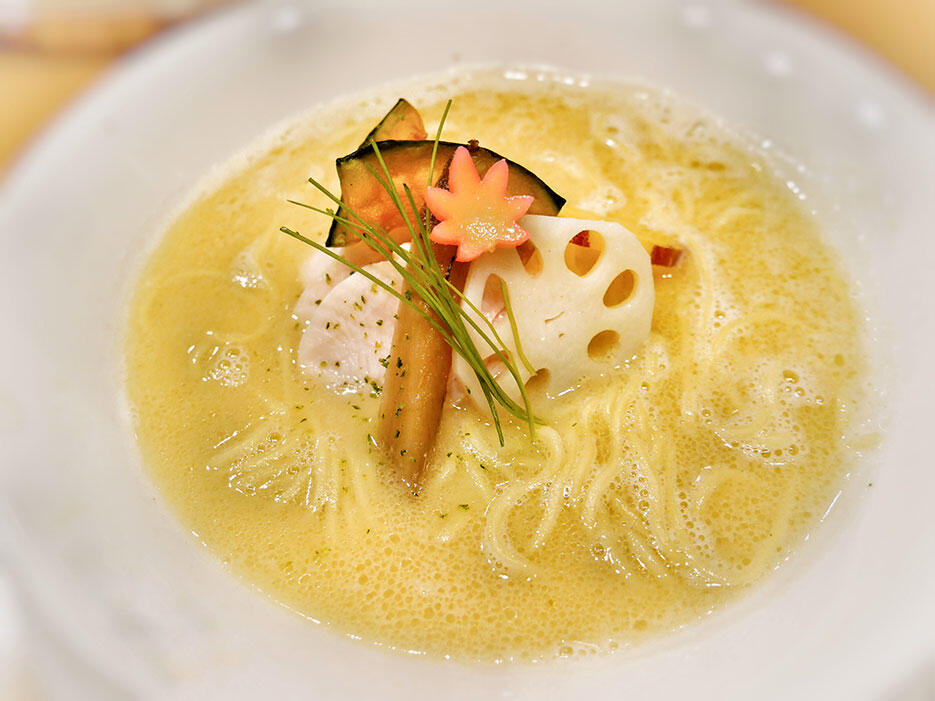 Oh this is my fave chicken broth in the WORLD. The first time i had it was last year with Keith (thanks to Jun's rec).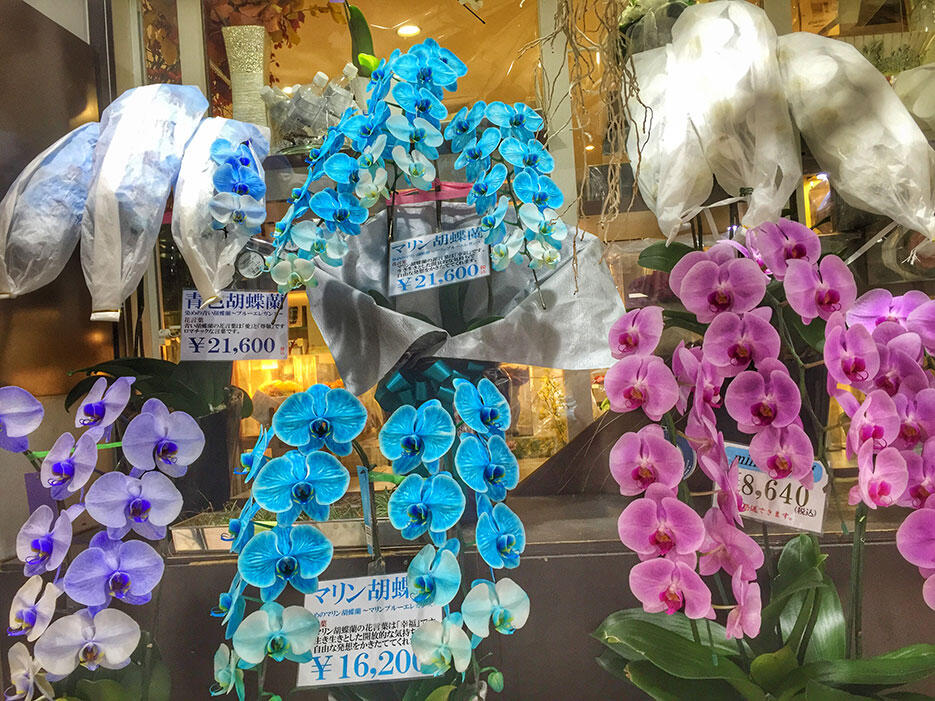 After lunch, Jun and i headed to catch our train to Kawaguchiko, where UTMF was to flag off. We arrived around 6:30pm in an area where most restaurants shut at 7pm. Was also quite dark+cold and i wasn't in the mood to go traipsing to look for food so i insisted we eat at an Italian-Jap called Heidi's, next door to where we were staying at Kawaguchiko Hotel.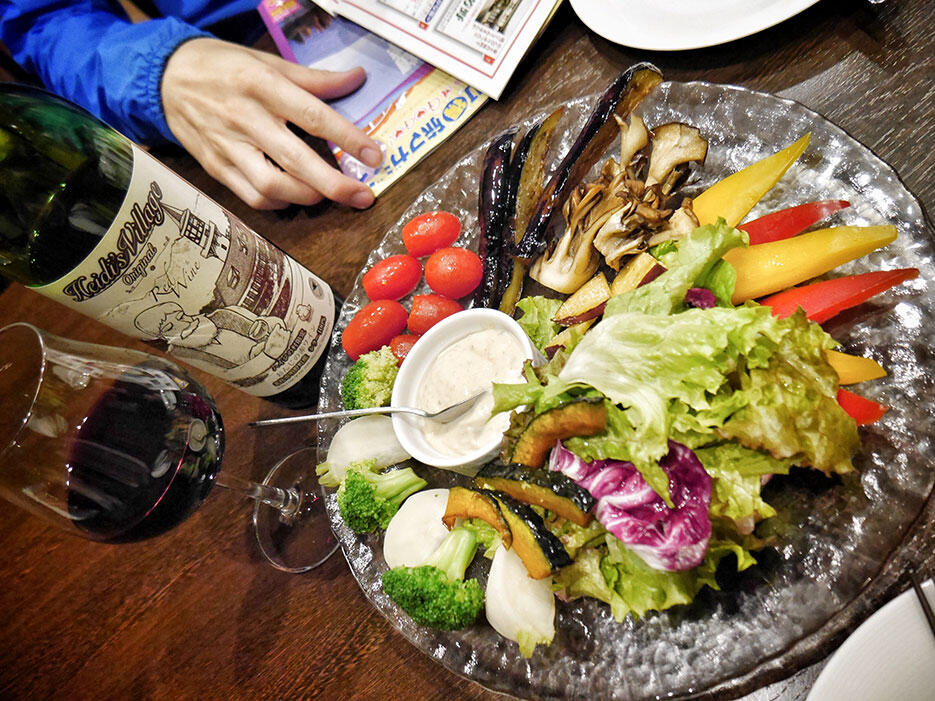 Their salad with grilled vegetables was lovely! Had some local red wine, so-so.
The mentai pasta was nice, but the one Jun makes is much nicer. The uni pasta was a little strange due to their tomato base.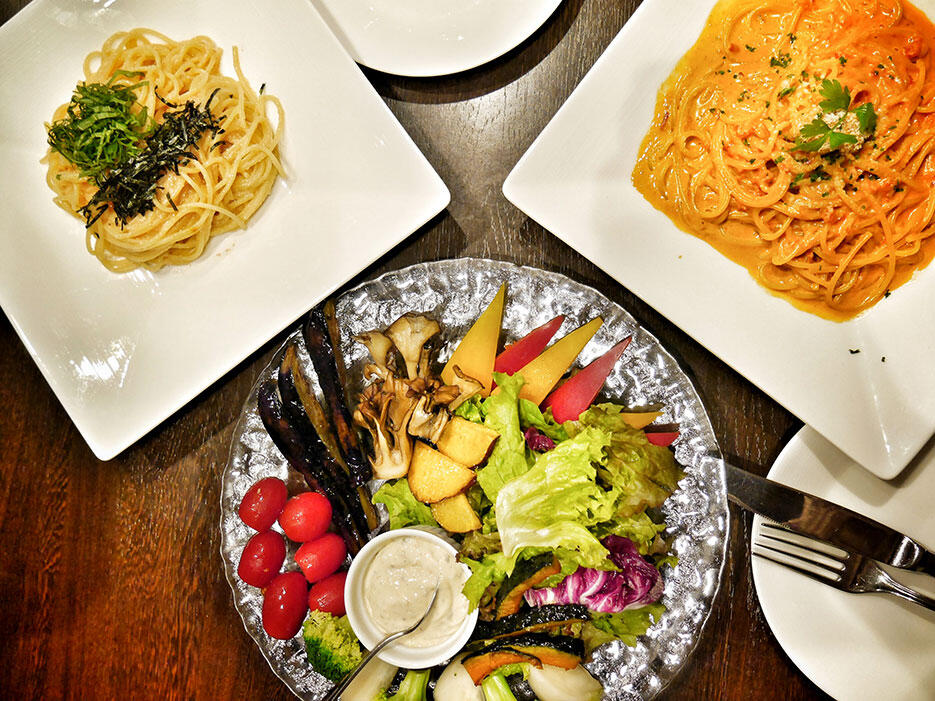 + + + + + + +
Thursday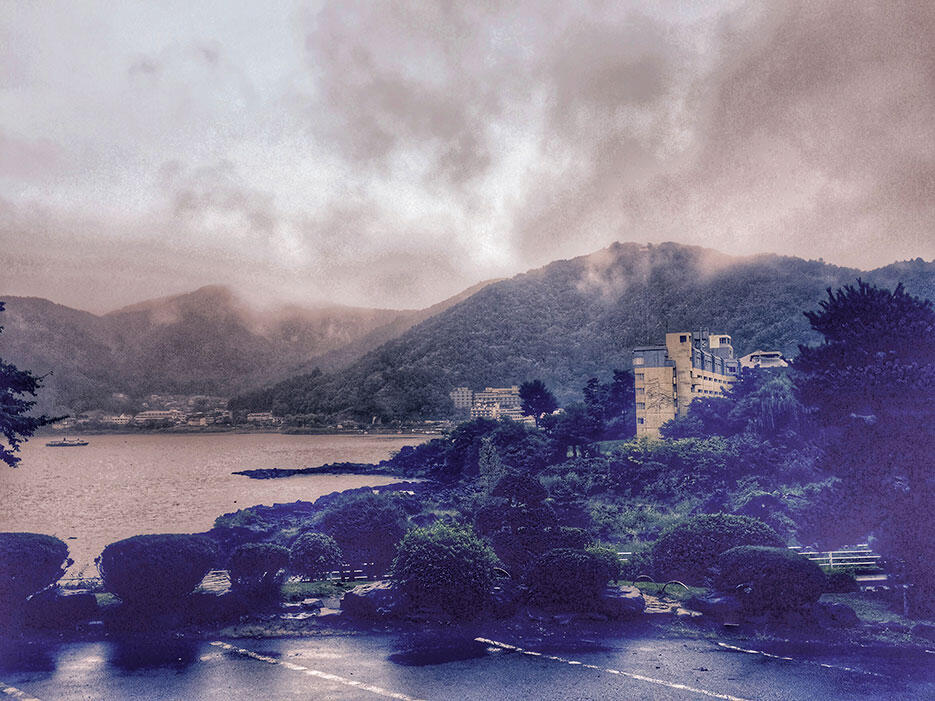 I woke up at 6:30am cos Jun's truck alarm went off (he wanted to do a short run that morning but conveniently didn't hear it for jack till i* switched it off). Couldn't go back to sleep (which he later said was my own fault omg i wanted to punch him) so i quietly went outside to the lobby and worked till 11am, seeing it WAS a workday.
He longingly stared at people fishing on the lake right in front of our hotel.
Me: Eh… focus!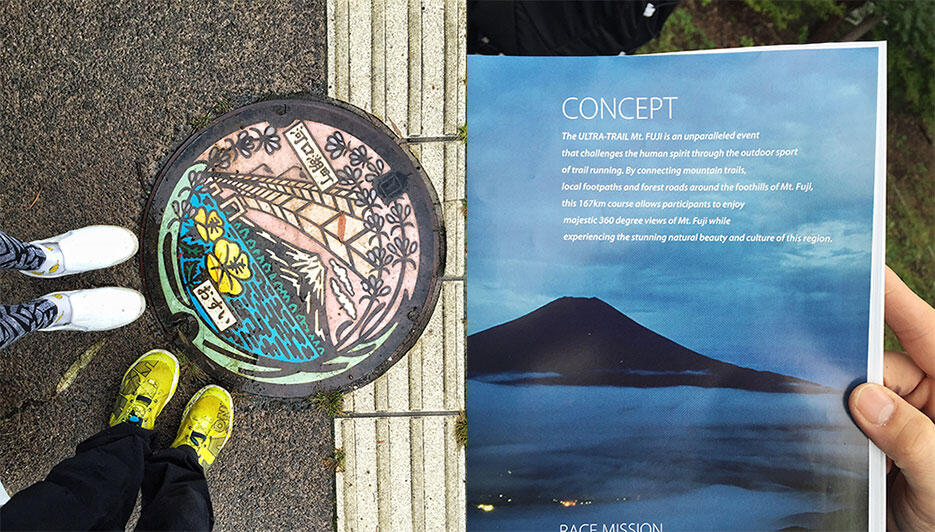 The entire reason we're in Japan is for him to run in UTMF / Ultra Trail Mount Fuji – a 100-mile (167km) run that takes 1,500 participants from 38 countries on a route around Mt. Fuji which they have to complete in less than 48 hours. It's been on his bucket list of runs and one has to quality by attaining points by running in shorter (100km -_-) runs in other parts of the world. Jun collected enough points after he completed the Lantau100 race in Hong Kong earlier this year.
Race was to start at 1PM Friday with drop bags being checked the day before (Thursday). Drop bags are filled with whatever provisions the runner might need halfway (thermals, food, medicine, dry shoes, socks, etc) which they can grab at the 100-km check point.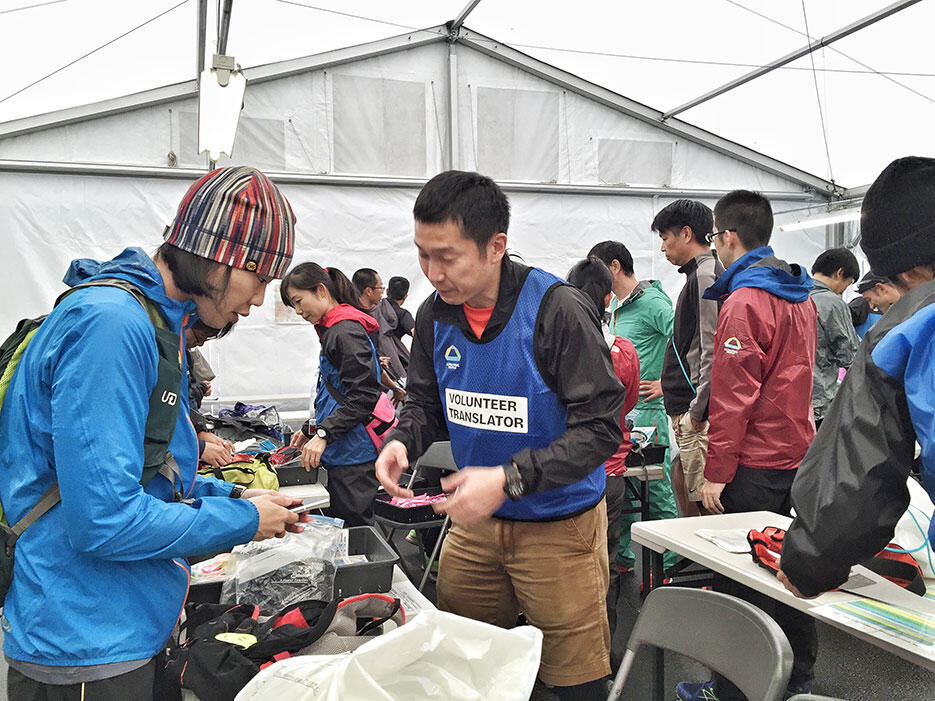 Jun having his mandatory items checked (poison remover, portable toilet, first aid kit, etc) and the Japanese are known to be very strict in UTMF with runners being disqualified (bibs being cut on the spot) if they're found without an item mid-race.
Imagine running over 120km, exhausted beyond bits, then getting disqualified cos you forgot or carelessly thought you could do without one thing… I bet those who were have written about it online so everyone adheres to the rules now!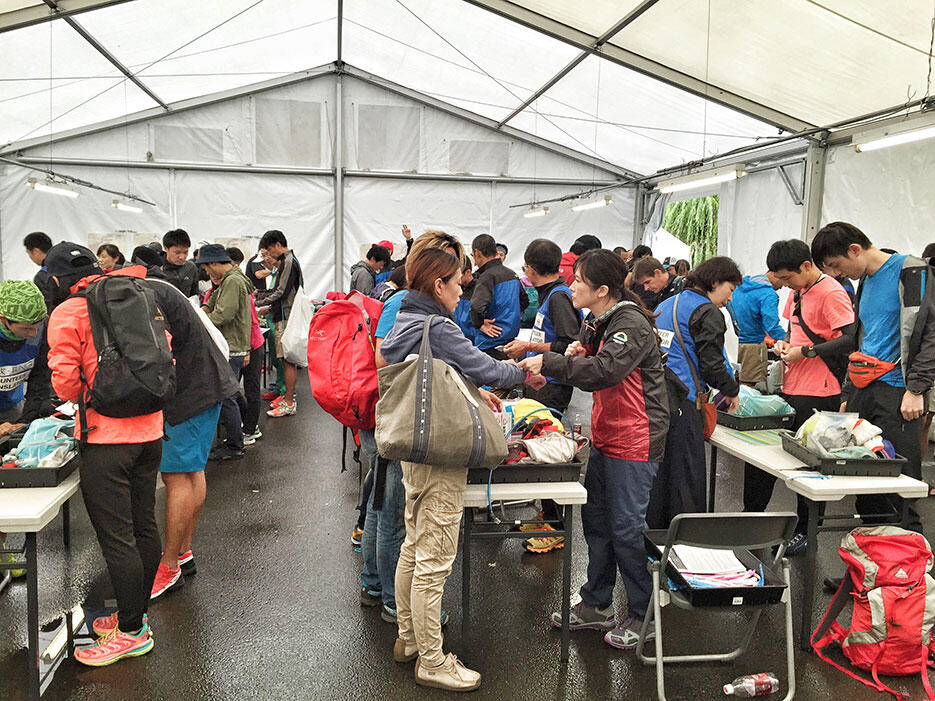 "So organized."
On the grounds were tents set up with diff brands selling their latest wares – shoes, headlamps, liquid gels, tape. It must've been like a fancy market for runners. Jun's eyes were darting around while i stared around feeling like the guy in a fashion store. Where's the sofa?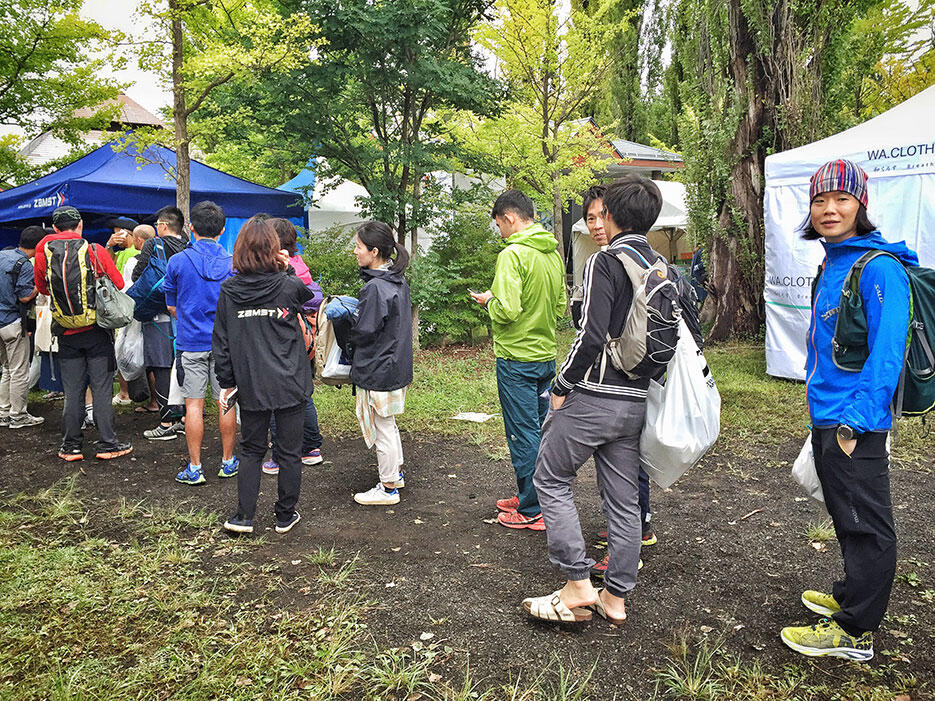 We queued up for an autograph from Sebastien Chaigneau, a French ultra trail runner.
I've never queued up for someone's signature before. In the rain.
Tho given, Seb was a very generous warm man who took his time chatting and taking pix with every person in line. (No wonder it was so long XD)
There was ANOTHER ridiculously long queue (i didn't take a pic cos it was raining heavily) for ppl to receive a piece of Polartech cloth. The line stretched from one end of the area to another.. for a PIECE OF CLOTH. I mean, you still gotta make your own baju with it yeah? We joined the queue when the rain let up but someone came up to tell the back of the line that the fabric was finished.
Went to the Buff store where i was (easily) coerced into buying another buff and cap. Tho seriously, how often am i outdoors in the cold? I already have the same items which saved my head and neck on Kilimanjaro, but the only reason i got these new ones are cos the colours are so pretty… -_- #peerpressure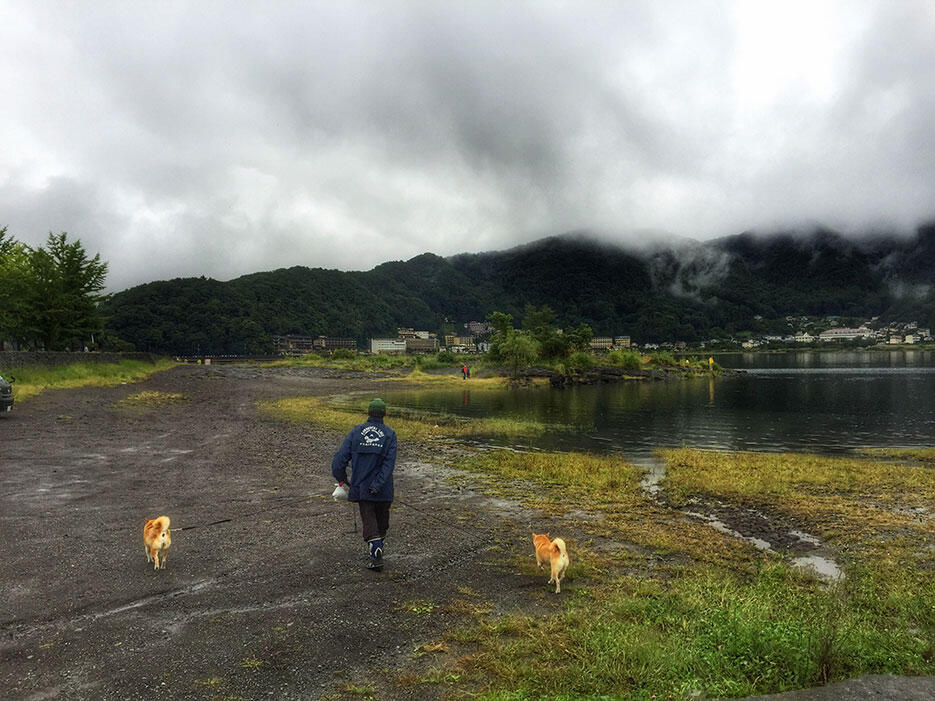 The UTMF area was a mere 2-min walk down the road from our hotel, along the lake.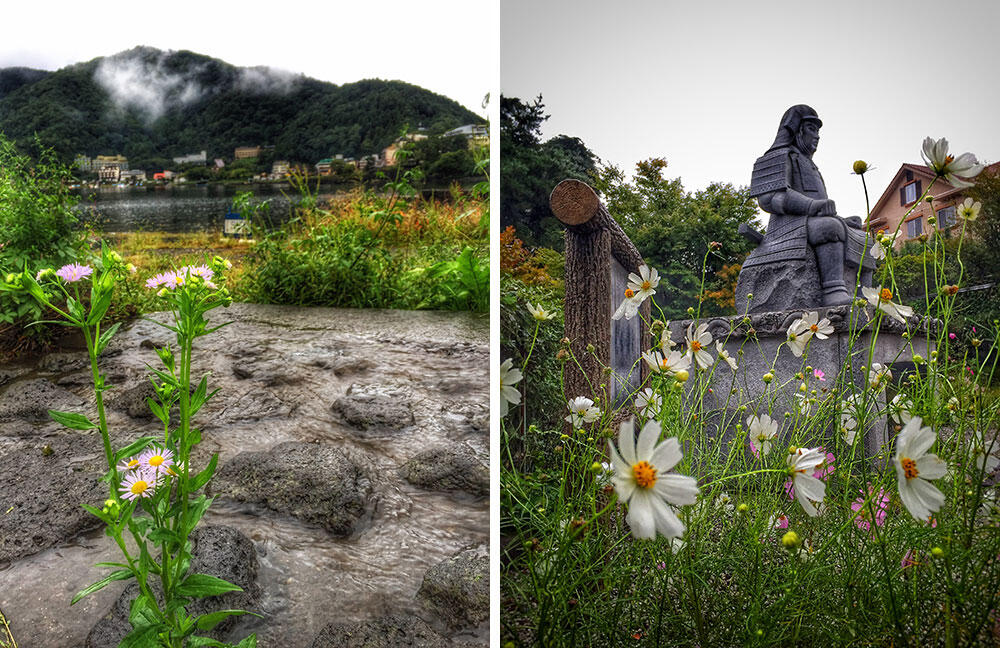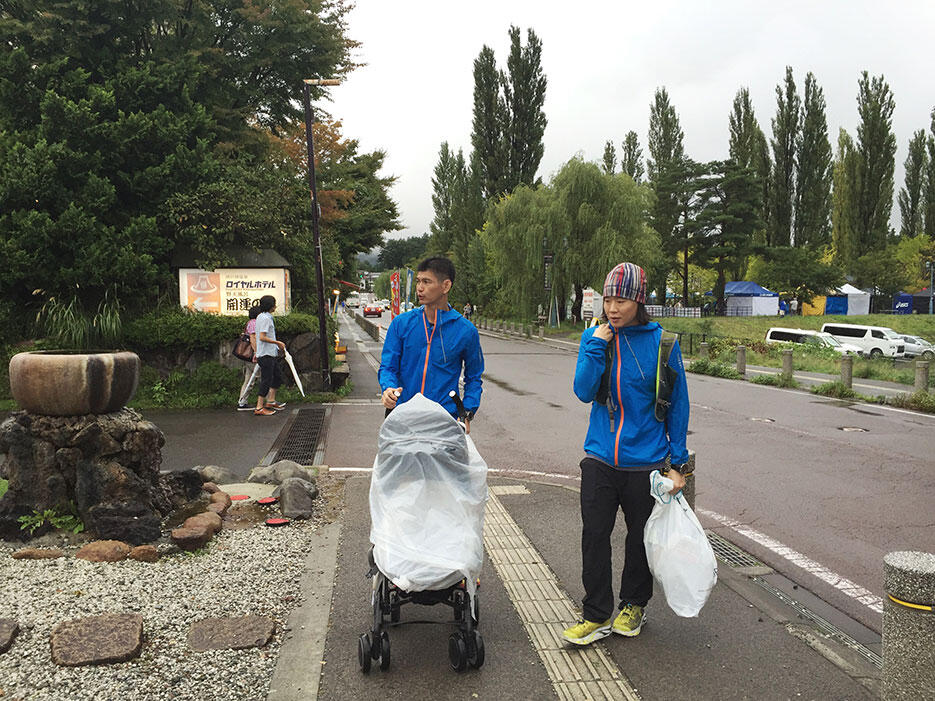 Jun bumped into his running friend Roger, one of the few Malaysians also in the race. I silently sniggered at their matching jackets. Spotted more people wearing the same jackets and sniggered some more. IT MUST BE A RUNNING THING!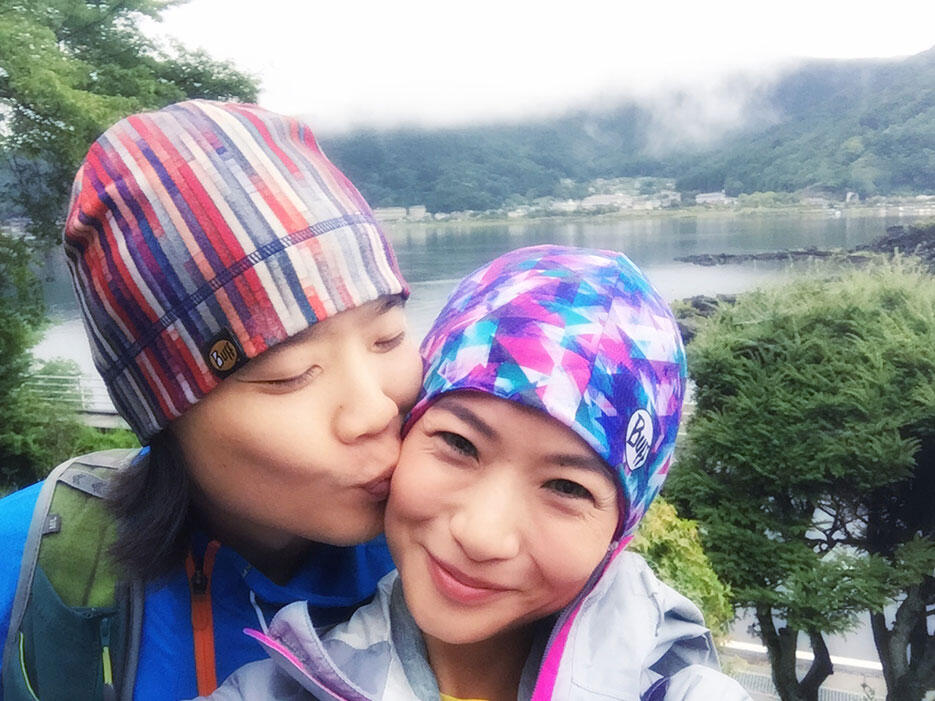 Check out my new Buff! My ears get painfully cold and these are a godsend (but not so for your hair).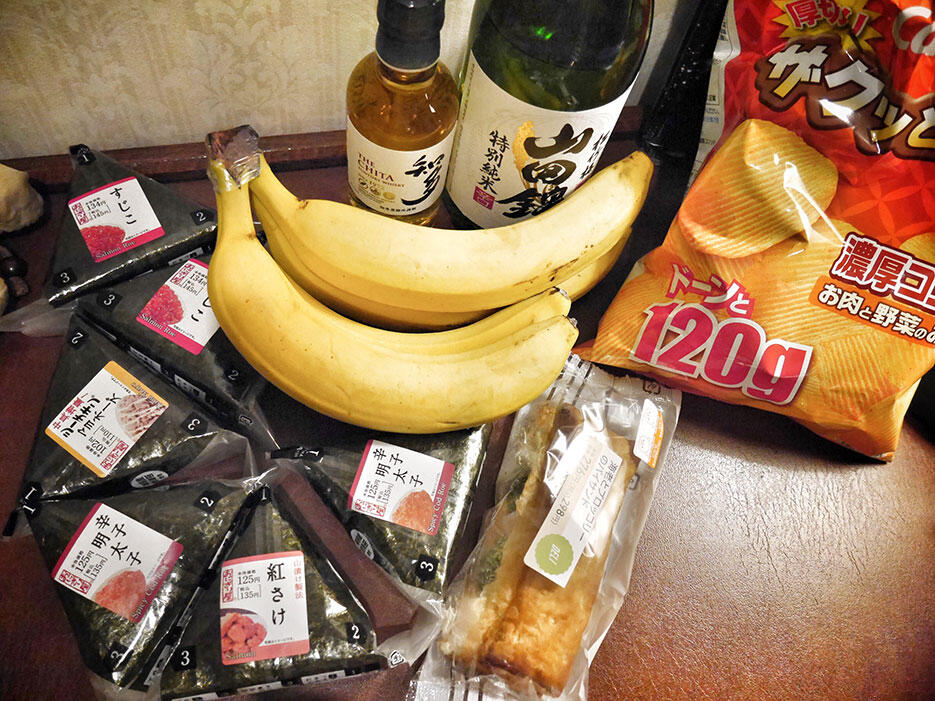 First day haul from Lawson's (like a 7E or family mart). Our priorities are obvious.
The next day was race day!
As we headed out the hotel lobby at 12:20pm, Jun read an announcement on the official website that the race was delayed to start at 3pm instead due to the bad weather.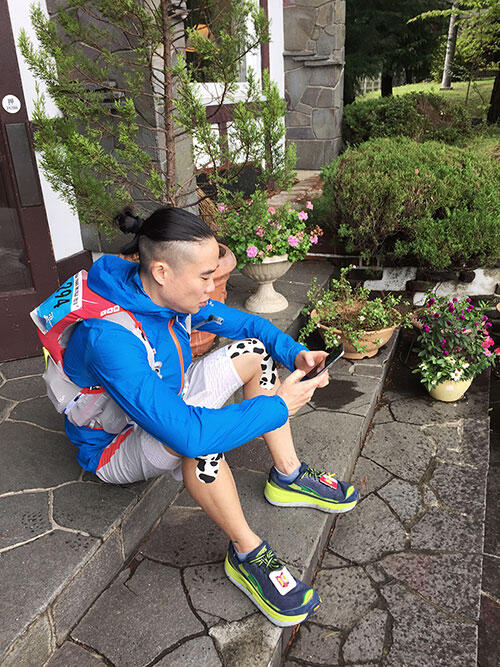 Ala he was so disappointed. Just sat on the steps for a while before we decided to head back into the room so he could get some extra kip. Every minute of rest is essential cos these psychos are gonna be running non stop for 167km…. …. …
He was so excited in the room that i felt like a mom making him keep his phone ("stop instagramming!") so he would shut his eyes.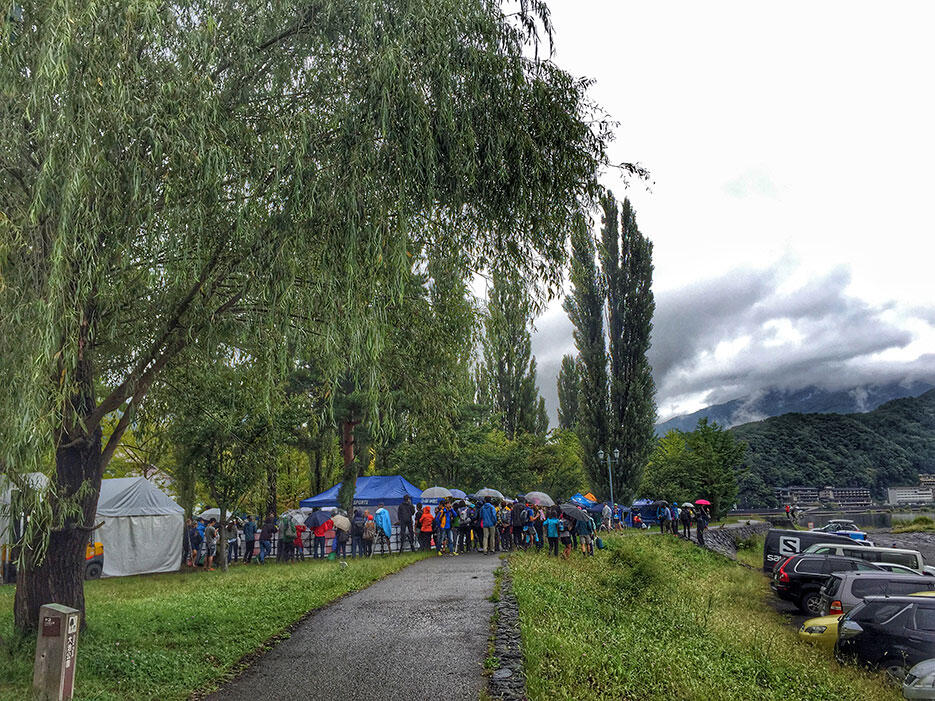 Approaching UTMF at 2:30pm, these are all the people crowding the sidelines to cheer the runners off!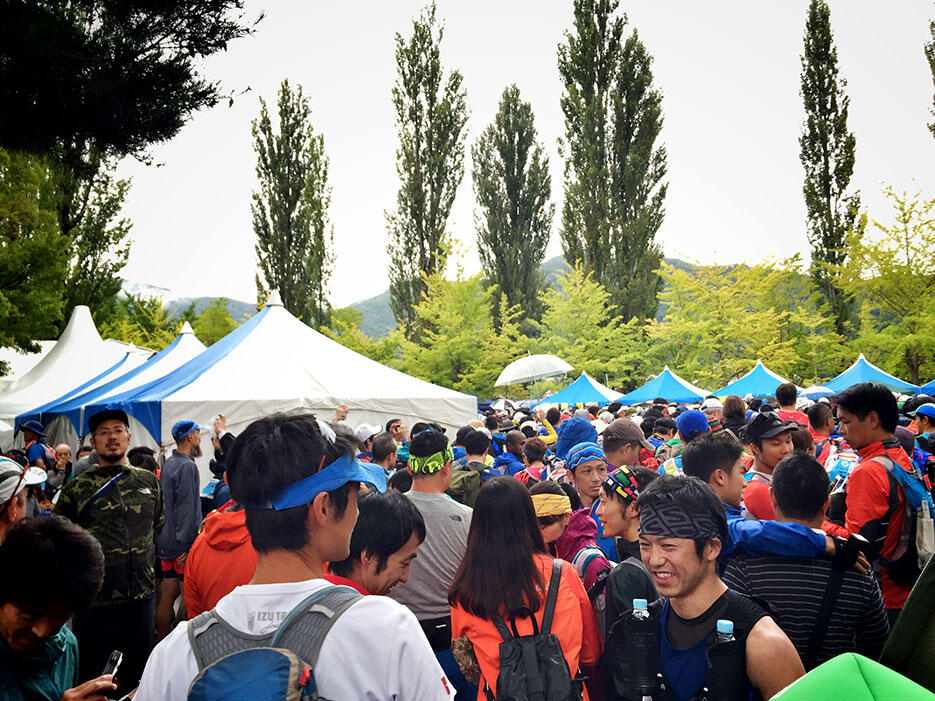 Omg it was so crowded. This time being petite did NOT have its perks.
And it's not like a festival where i could bat my eyelashes for someone to place me on their shoulders, all these runners had to retain their energy for more earth-shattering stuff (like running 100 miles, i still can't comprehend this hobby!).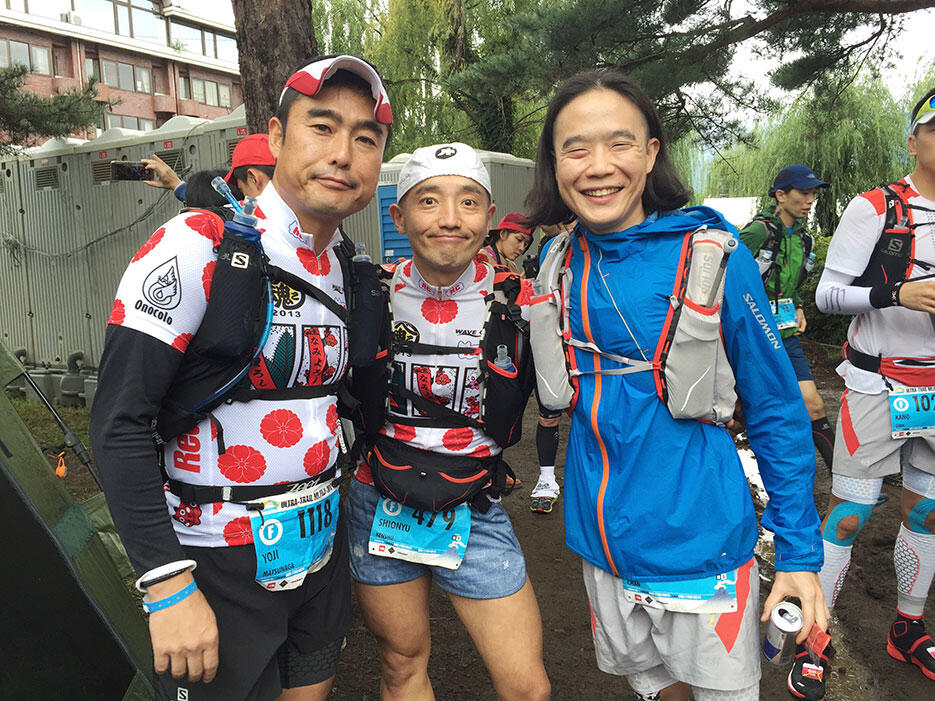 Jun and his Japanese running buddies. And I thought Japs had the smaller eyez.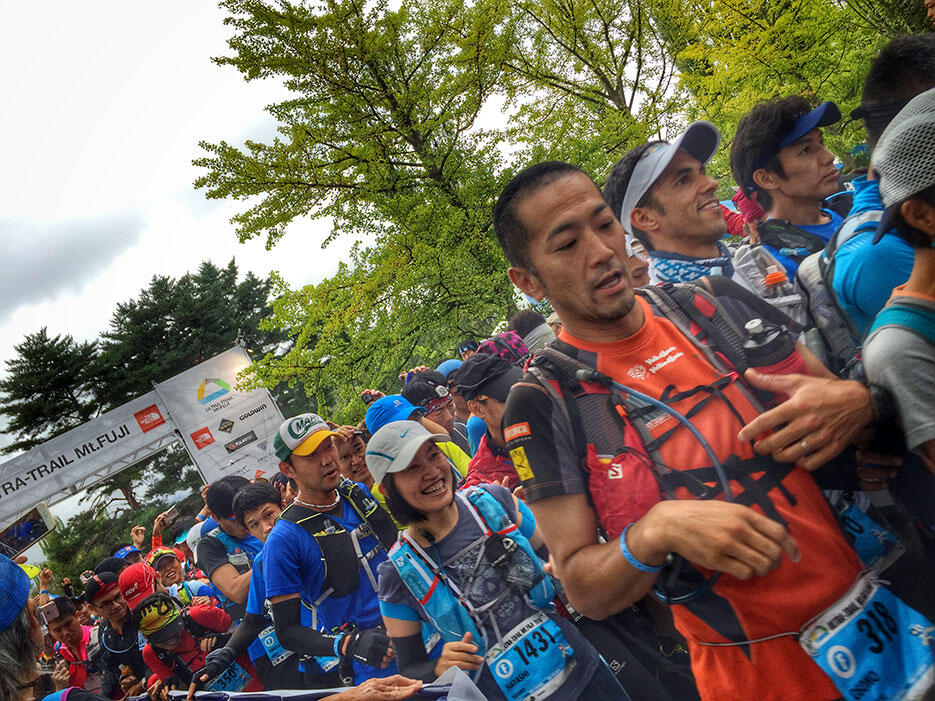 It was so exciting counting down to the race flag off! My heart was beating faster and faster, and the vibe was all-round BUZZING. Just seeing all these people so EXCITED to run made me wanna go running too! I felt pretty inspired and energetic just being there. (Truth is after that i went back to the room and downed sake.)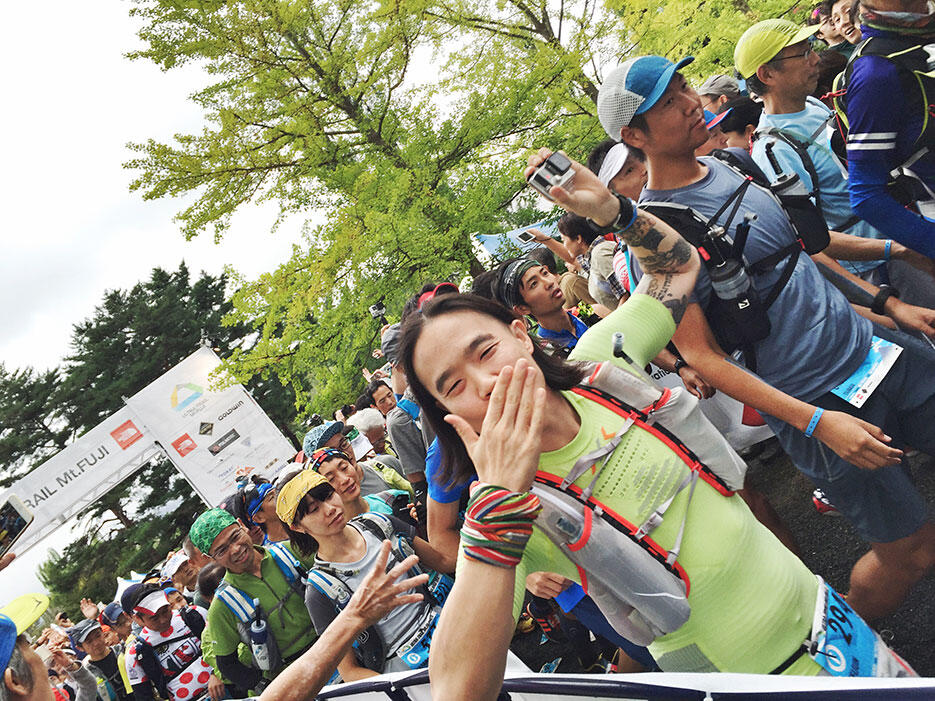 I managed to spot Jun running past me!
And he managed to give a flying kiss. This guy…
Anywayyyy what happened later on that day was an official announcement was posted- that the race was canceled beyond 50km. All the runners who reached that point were to be shuttled back to the start line. It was regretfully announced due to the typhoon and bad weather… with falling rocks being predicted. I don't want giant mountain rocks falling on Jun! The route was to take them around Mt. Fuji with an accumulated elevation of 8000 metres. It's reputed to be treacherous in past years, with steep cliffs and muddy banks runners slide down (I STILL DON'T GET THIS HOBBY) and that's with no typhoon blowing about…
I heard the race director was seen crying and i'm sure lots of runners were incredibly sad too… i mean, these guys trained for months, saved up their money to enter and flew from all over the world for THIS. It must have been so hard for him to make that decision due to the safety of everyone else… Superkesian.
Jun came home all muddy later that night and i squealed as the little rivers of mud were washed off in the bathtub.
TBC… it's 3am here and we gotta get up early trow!