Jun has been on a cooking spree cos he took some time off from his corporate kitchen for Christmas & NYE, and prepared a dinner for his closest group of friends for Mr. B's birthday, which we'd previously postponed so it had to be that week else it wouldn't have been his birthday month anymore!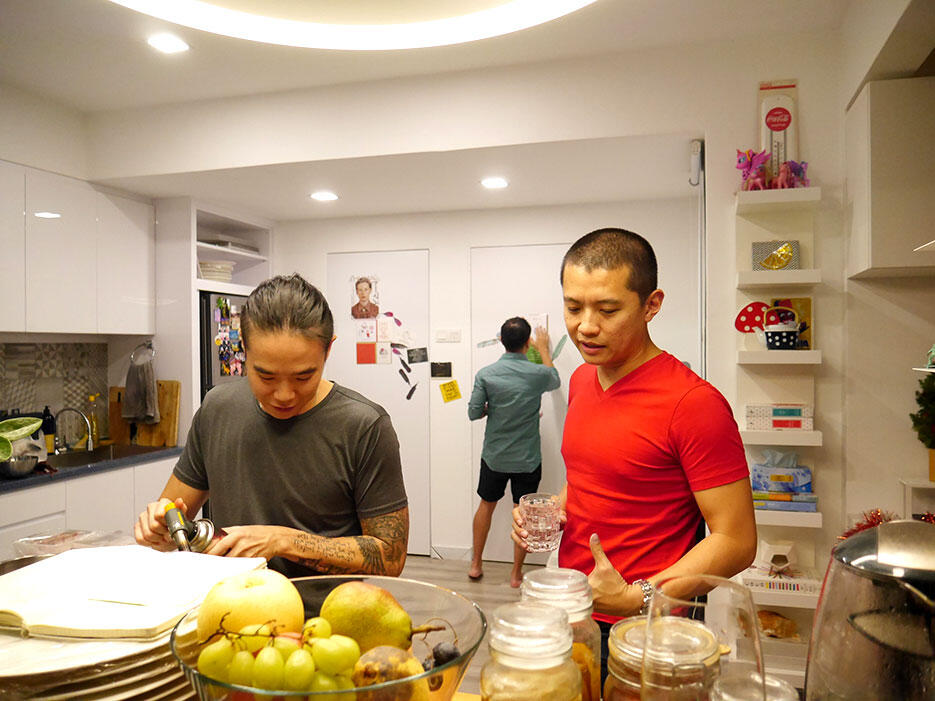 Alan watching Jun, while Siew examines my card collection that reflects the inner workings of my mind (and what a freak i am).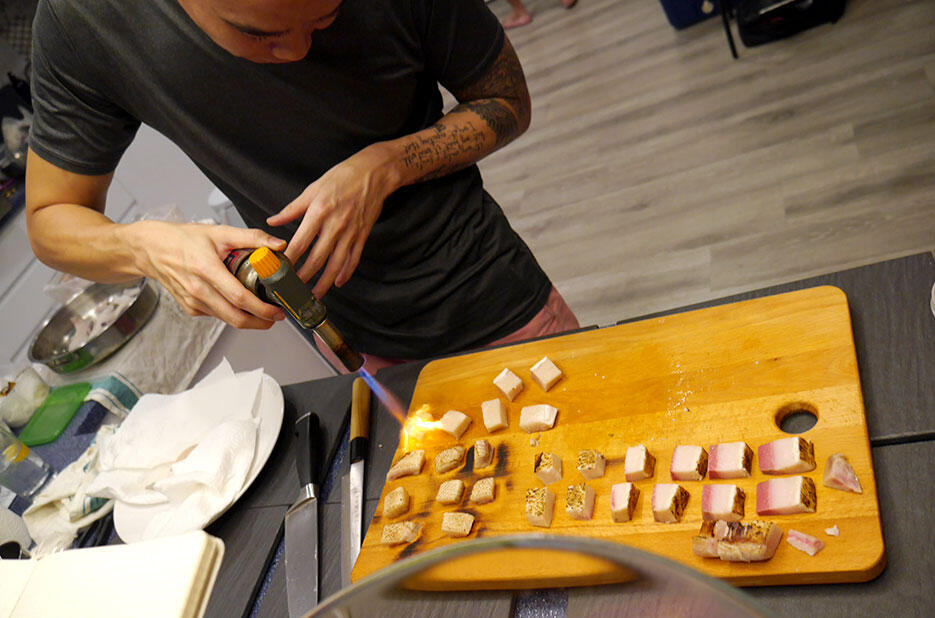 Scorching the bachi. Every time he brings my blowtorch out (thanks Chelle!) my heart flutters in excitement and i know it's gonna be a good one.  😆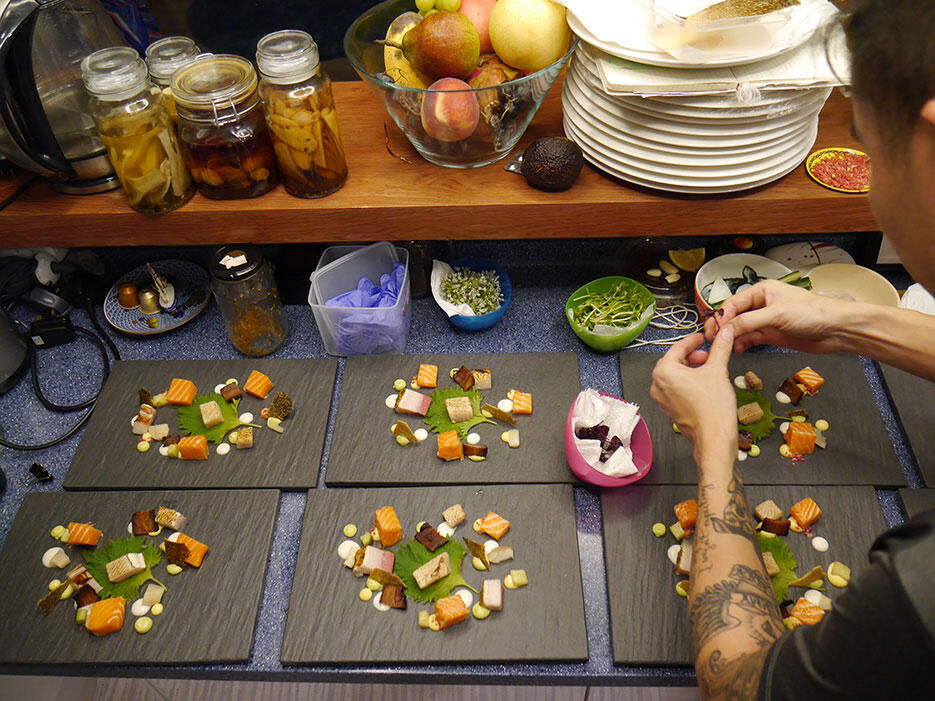 Plating the first course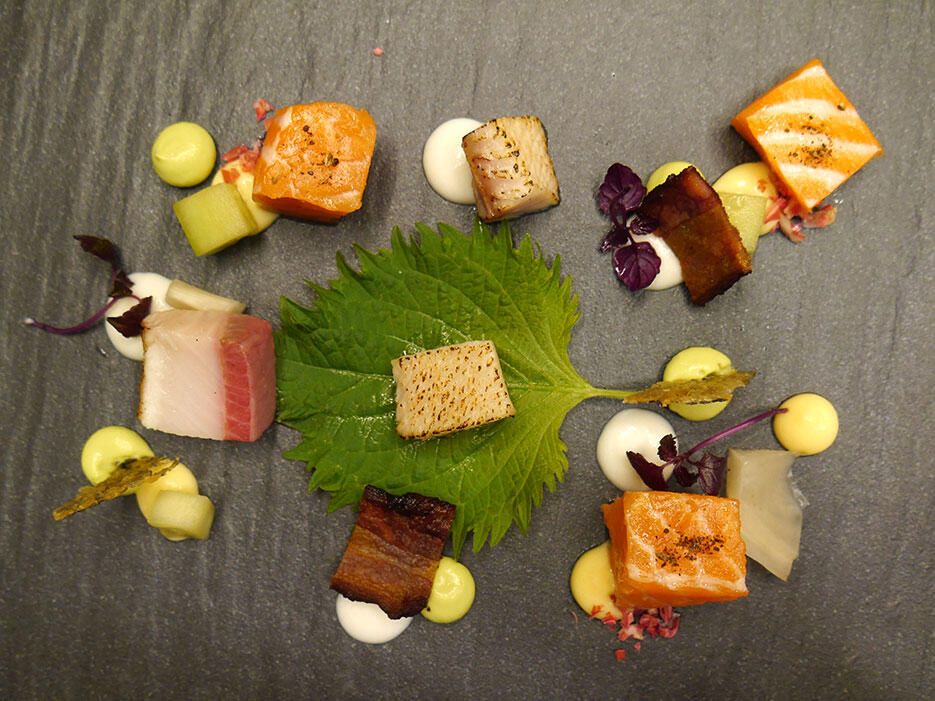 Salmon mi cuit, bachi (tuna) belly tataki, and crispy salmon skin interspersed with onion + wasabi souvise, tomyam hollandaise, avocado puree, bacon and pickles.
My favourite components on that plate were the scorched bachi and crispy salmon skin, whose subtle gentle nuances were nicely rounded off with the savoury saltiness of the bacon and creamy cushioning of the sauces, with a pick-me-up from the pickles.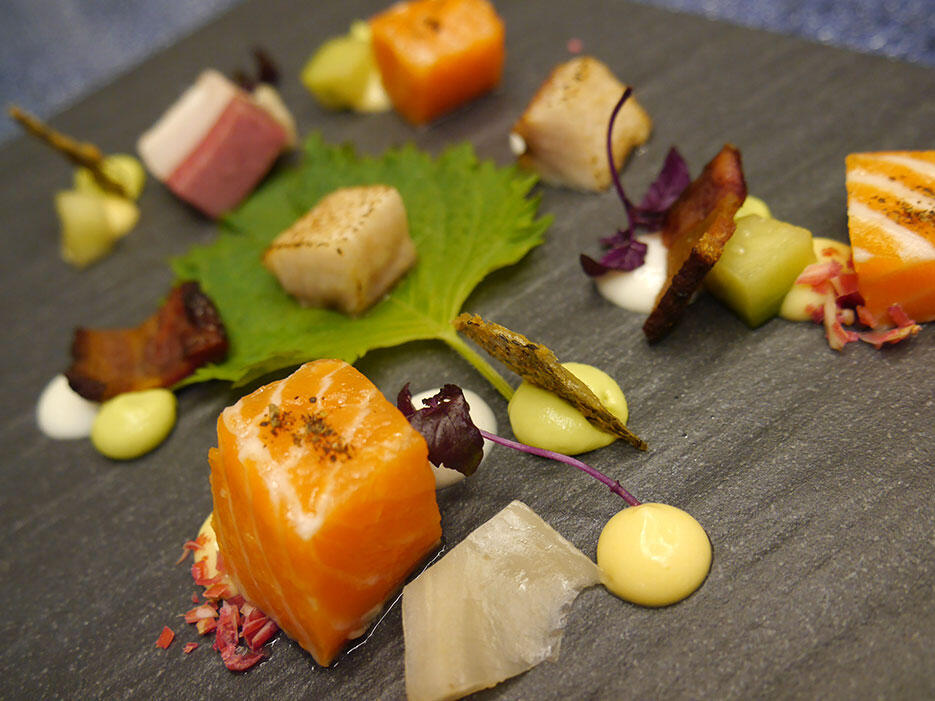 Jun instagrammed: "This is the 5th evolution of our salmon dish, and I've always felt the call for harmony and balance the more we made it. Subconsciously I'm hoping my journey and calling would be a reflection of my plates. Harmony."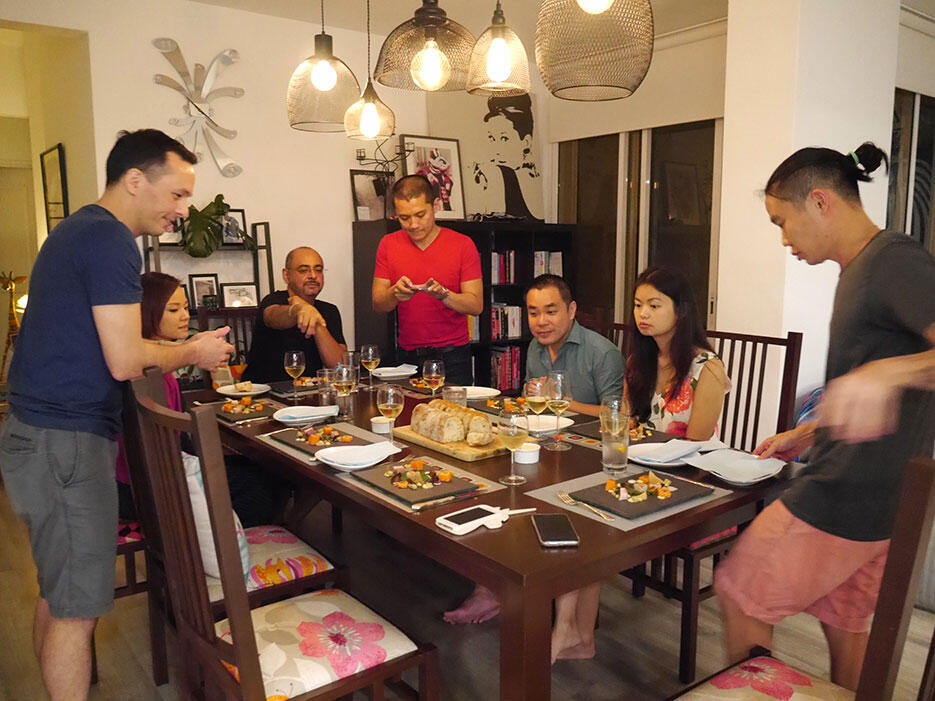 Siew is just eyeing the food, "Can we eat now?"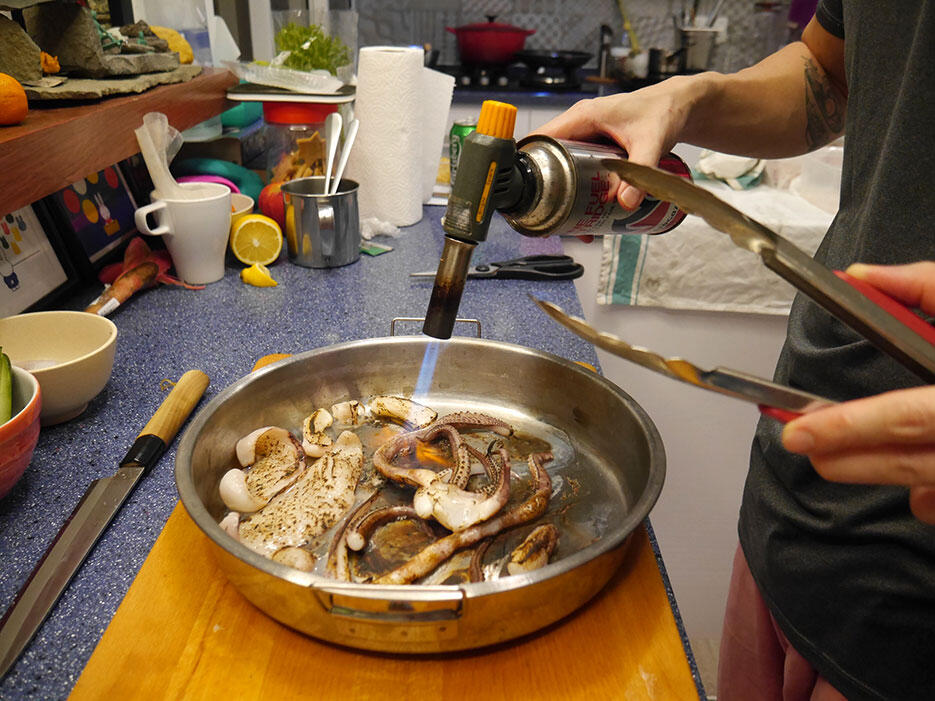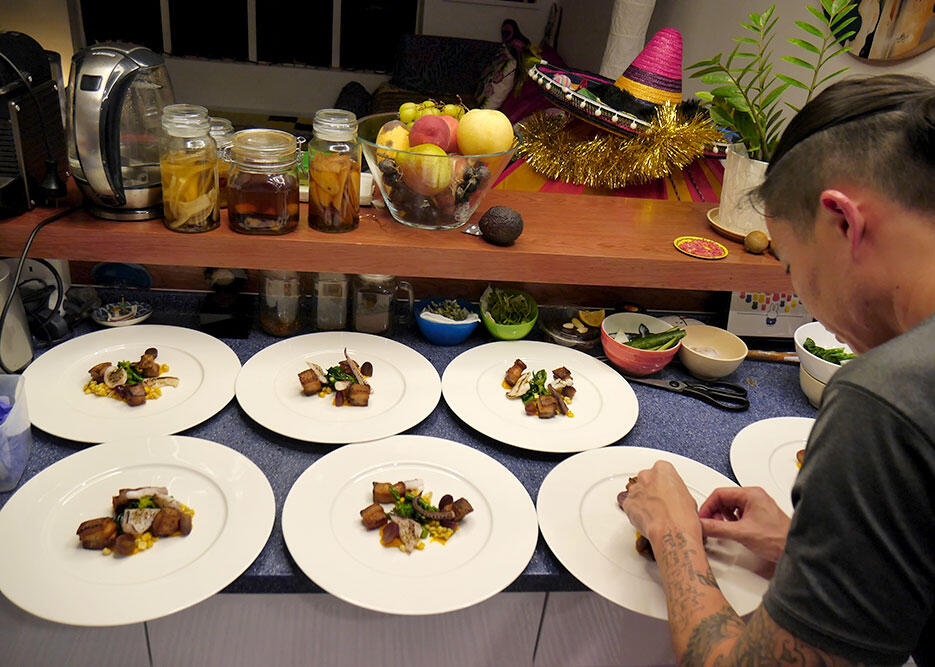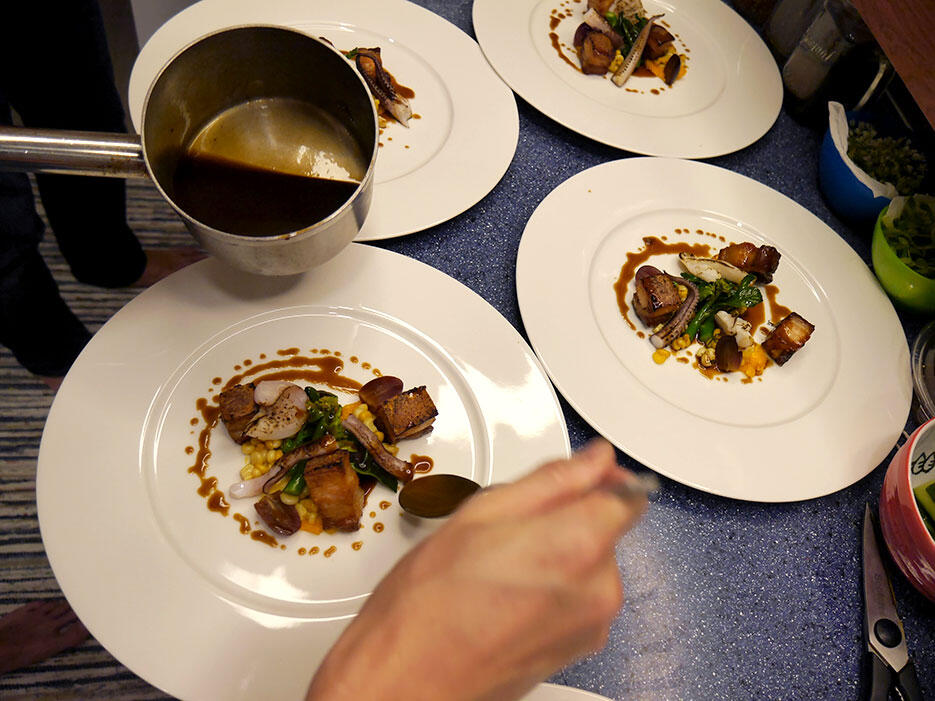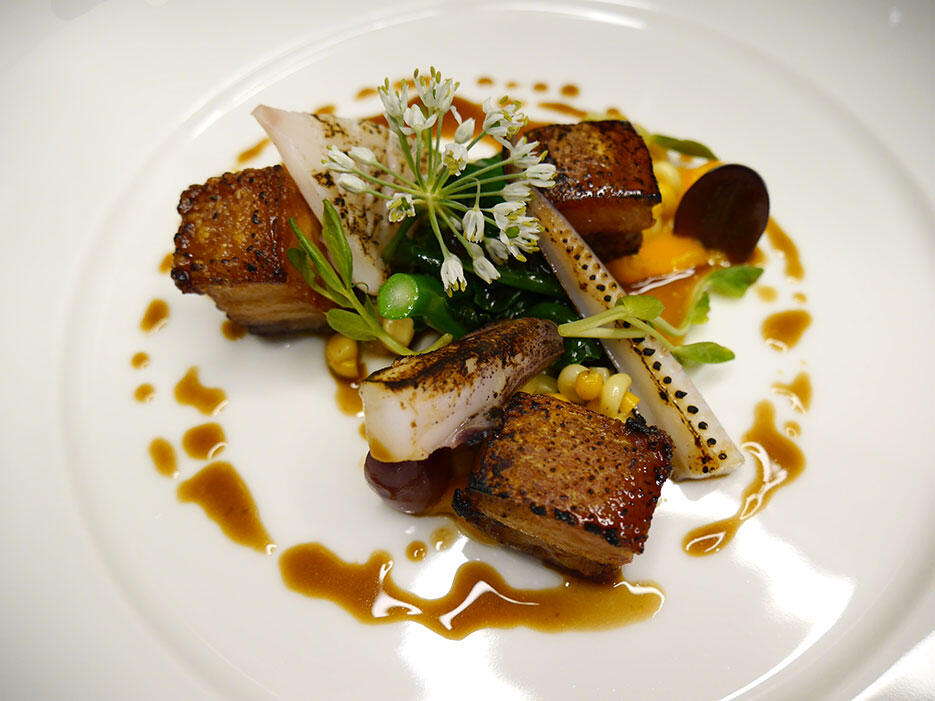 36-hour porchetta belly, torched ika, 70-degree yolk, baby kailan, charred sweet corn, pea shoots and pork jus, topped with chive flower.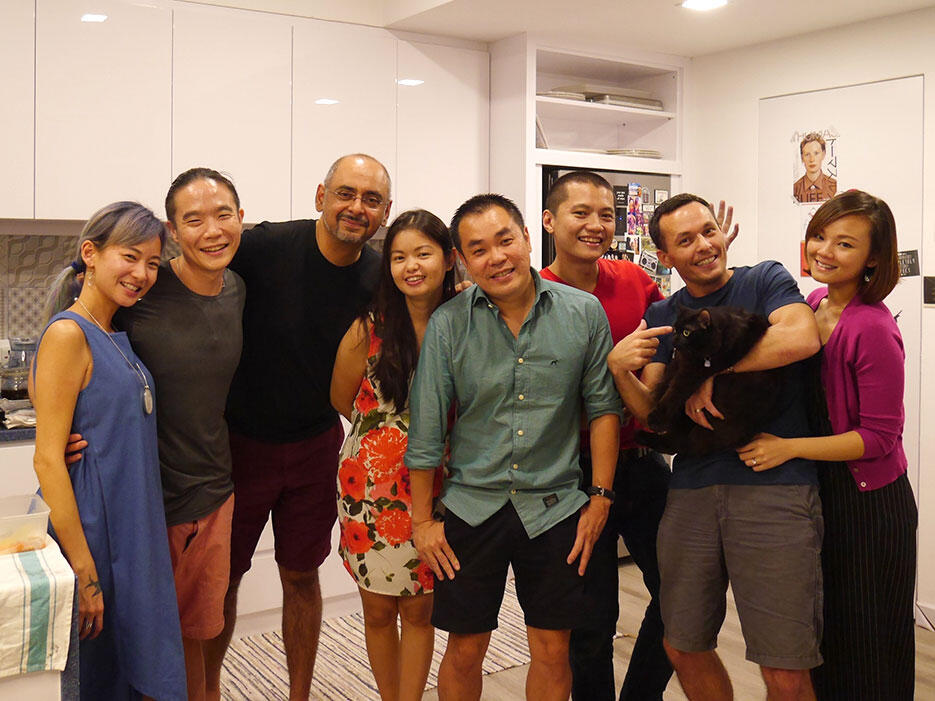 Me, Jun, Mr. B, Chui Shia, Siew, Alan, Joachim holding Truffles, and Jasmine!
Thanks for coming and bringing ample drinks! I've never had a group over so organized in bringing such a curated array of drinks to accompany the meal (and thereafter) – whites, reds, Chita whiskey, Grey Goose, and bubbly. We finished almost everything  😯
The next day, Jun wanted to cook for my family because he could prepare the previous night's ingredients in one shot for an additional group, and it was Nick's 31st birthday!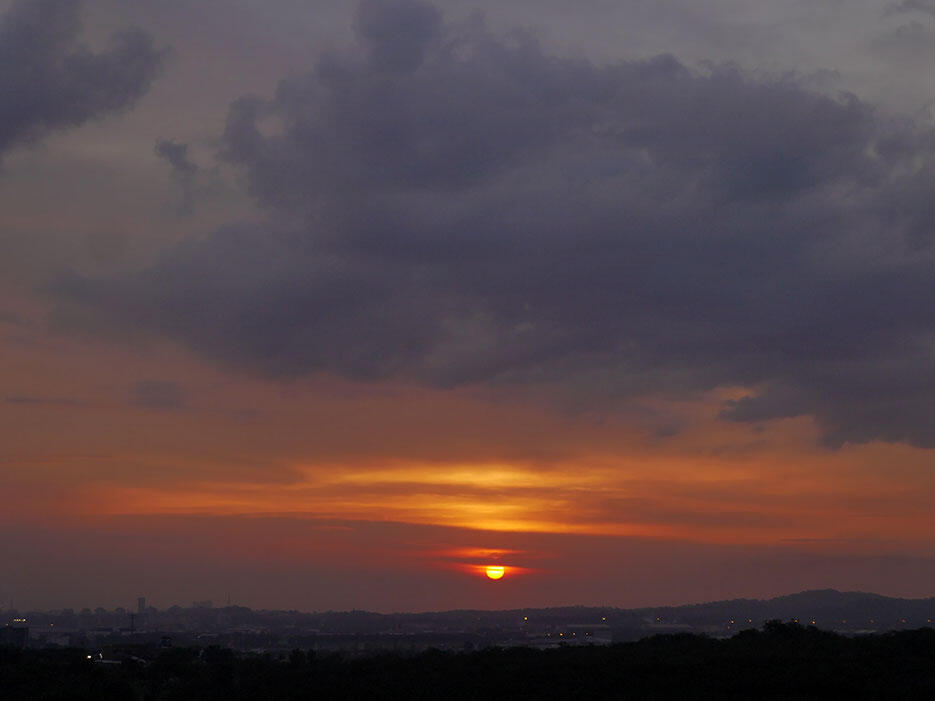 The sunset on the 30th was pretty sweet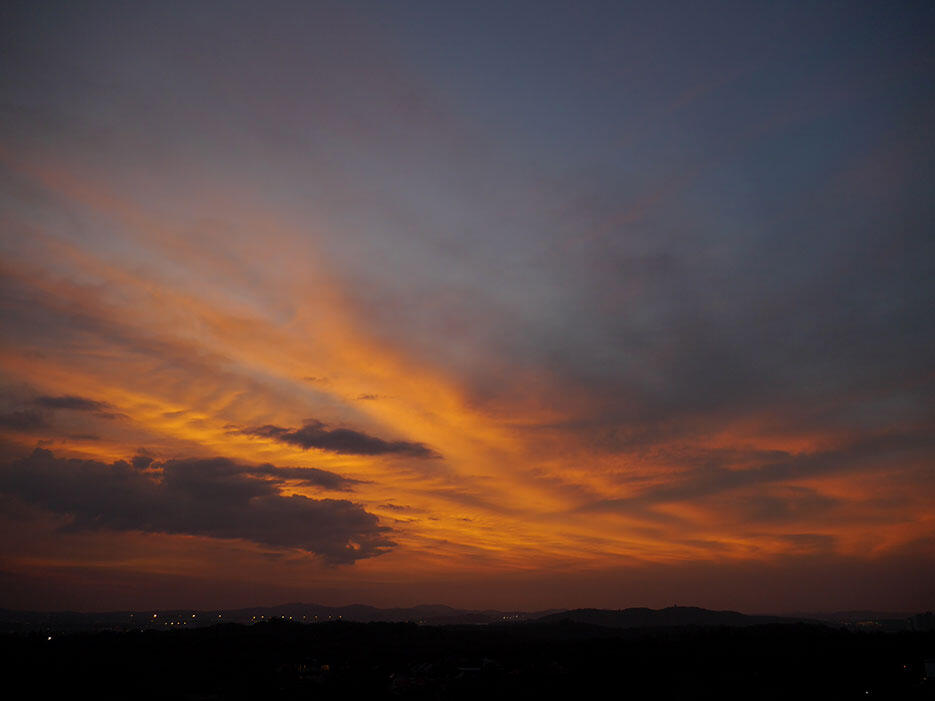 Sometimes i want to just throw myself into the sky and cease existence on earth. Yeah sunsets get me existential-emo.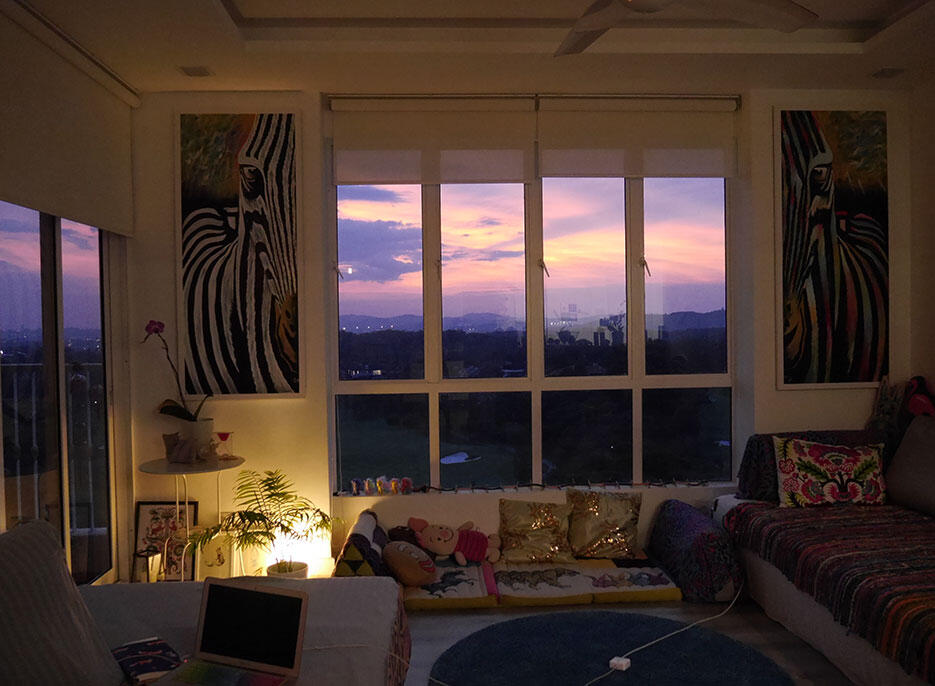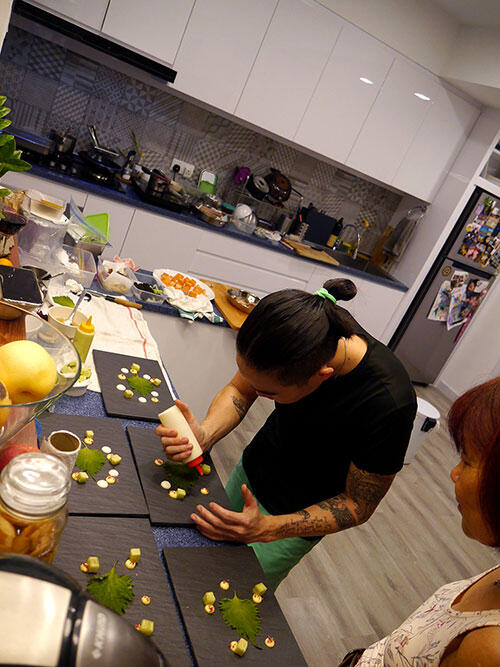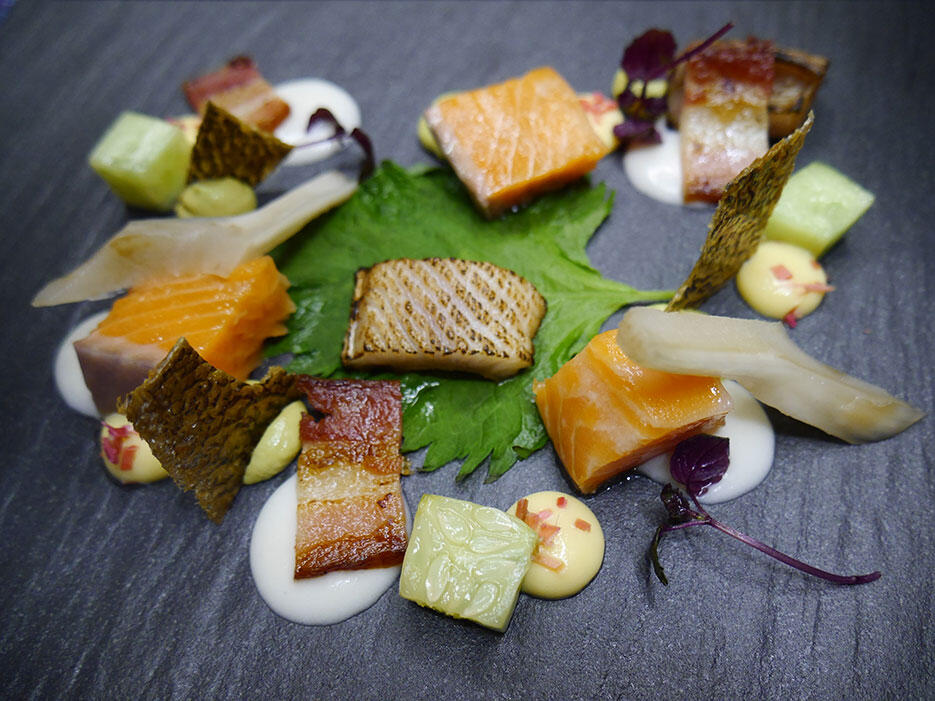 I must say i rather gleefully ate the first course for the second night in a row. Tough life.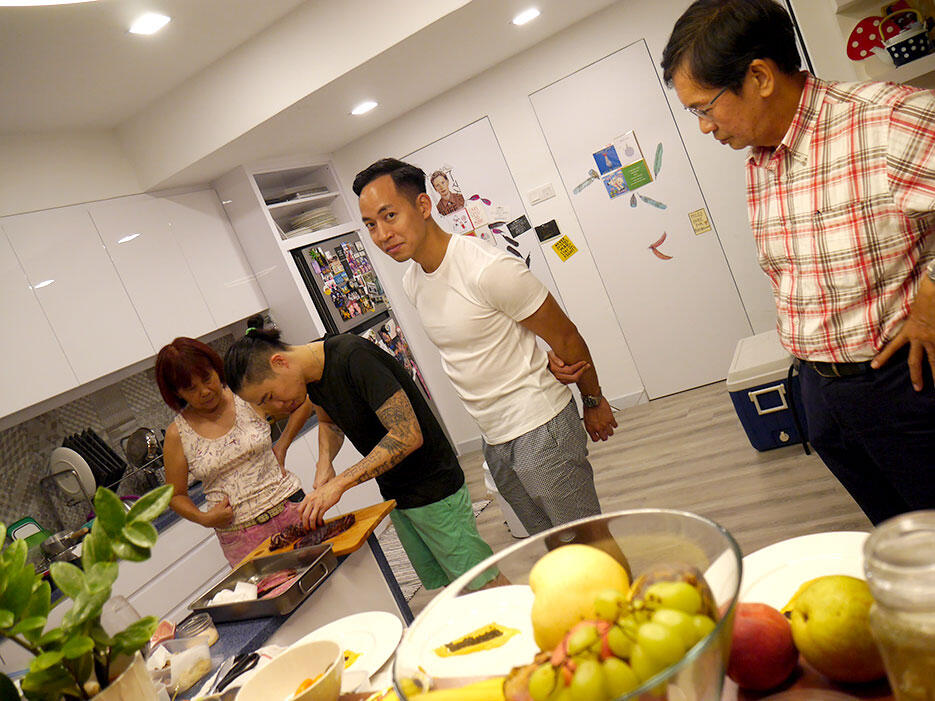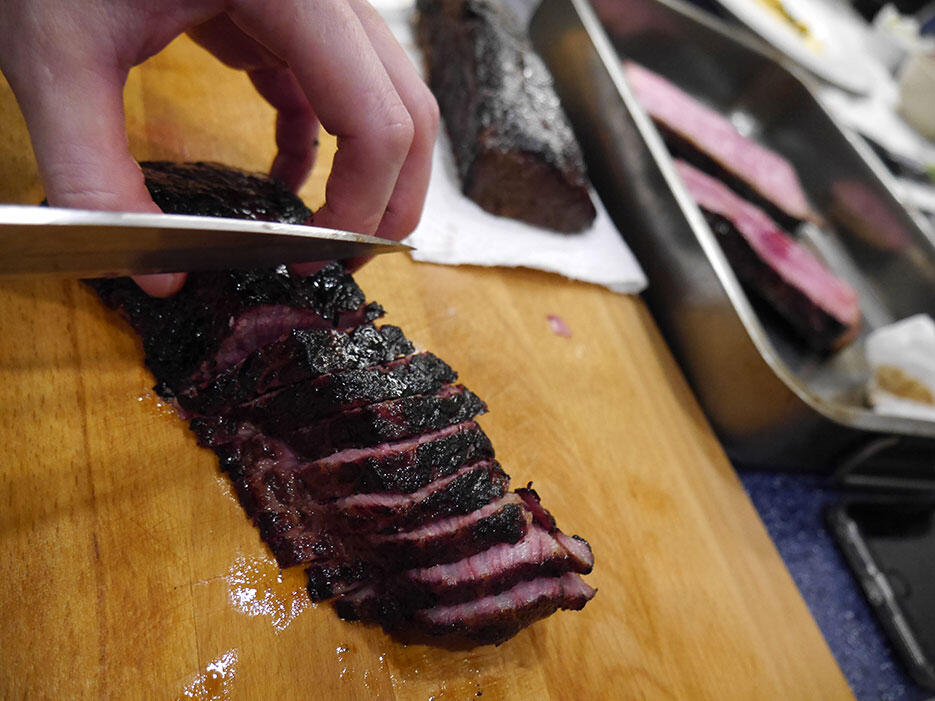 He changed the second course up with some beef instead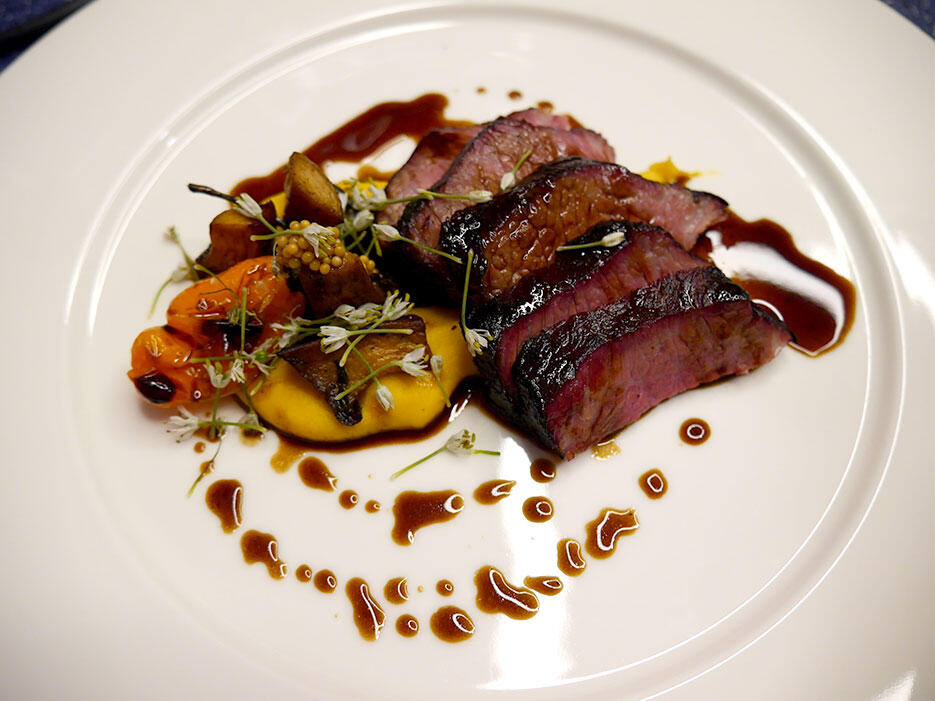 As delicious as it is beautiful: 56-hour Kalbi short rib, charred pimento, sweet potato mash, mustard seeds, chive flower scatterings, portobello duxelle and bordelaise.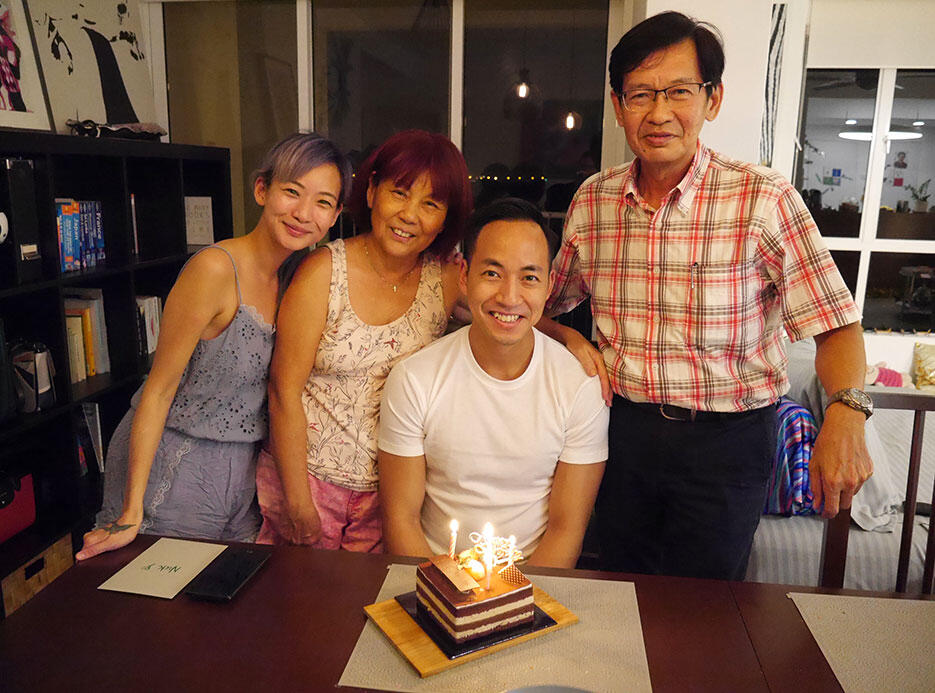 Happy birthday Nick!!
Thanks for all the wonderful food Chef <3