Jun and i stayed in Hong Kong cos he was doing the Translantau 100, and Bon Iver the same week (whom we both adore). This was in March and he's already running another race right now as i type this ?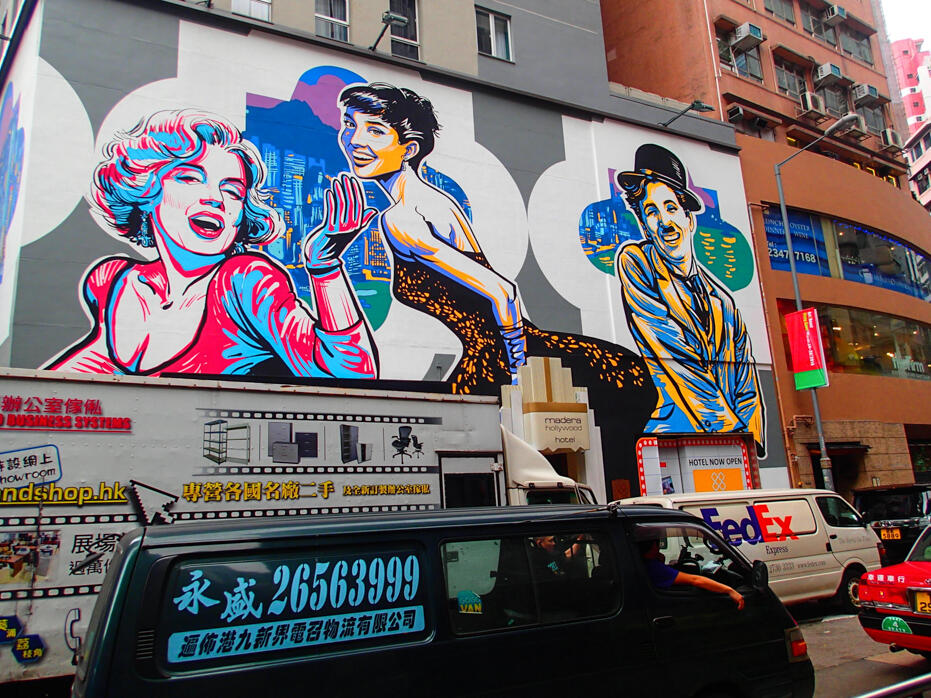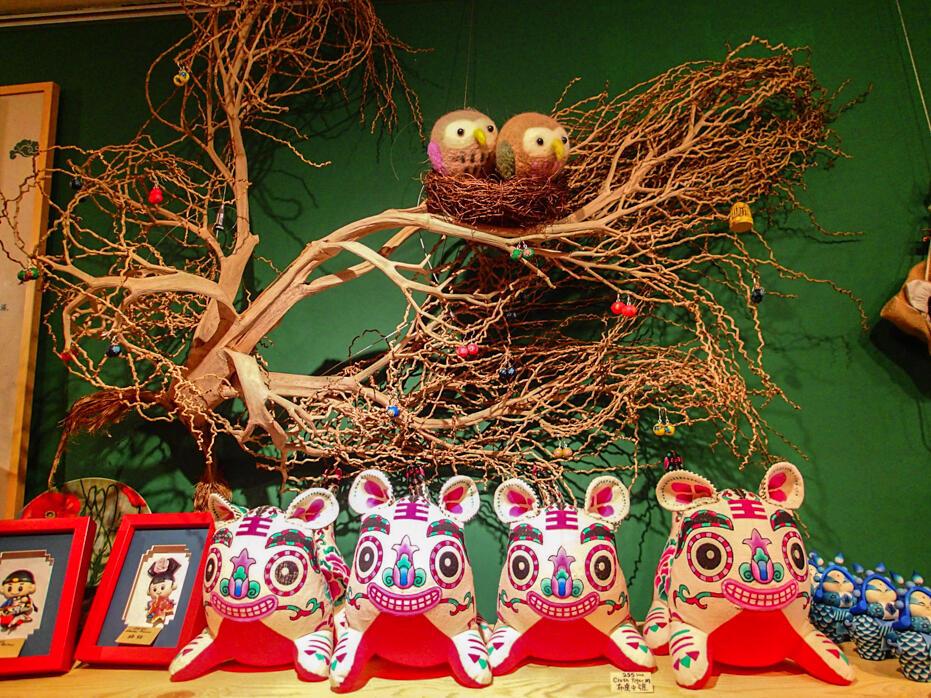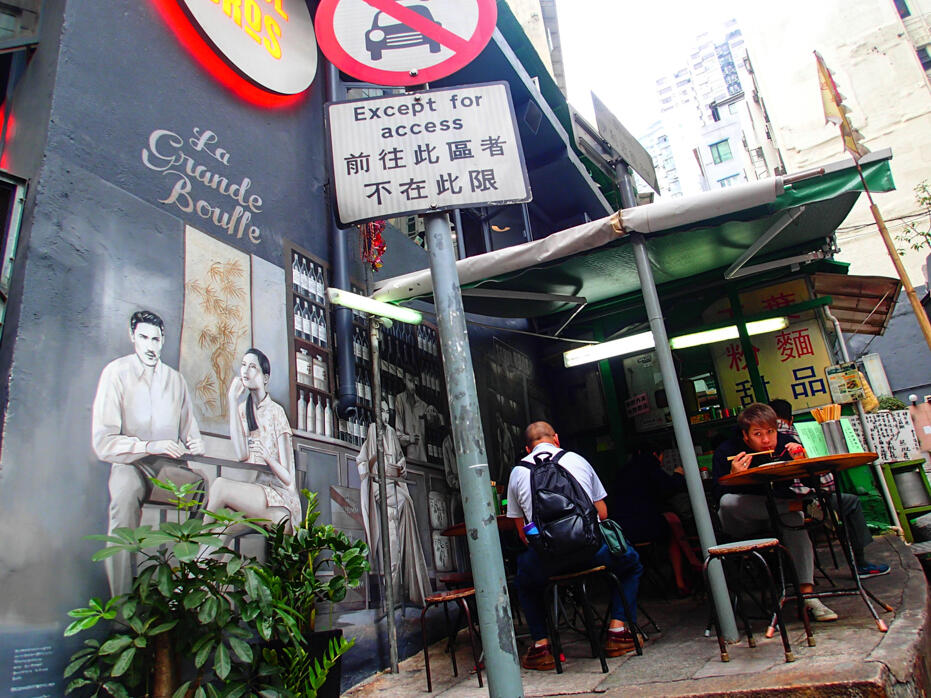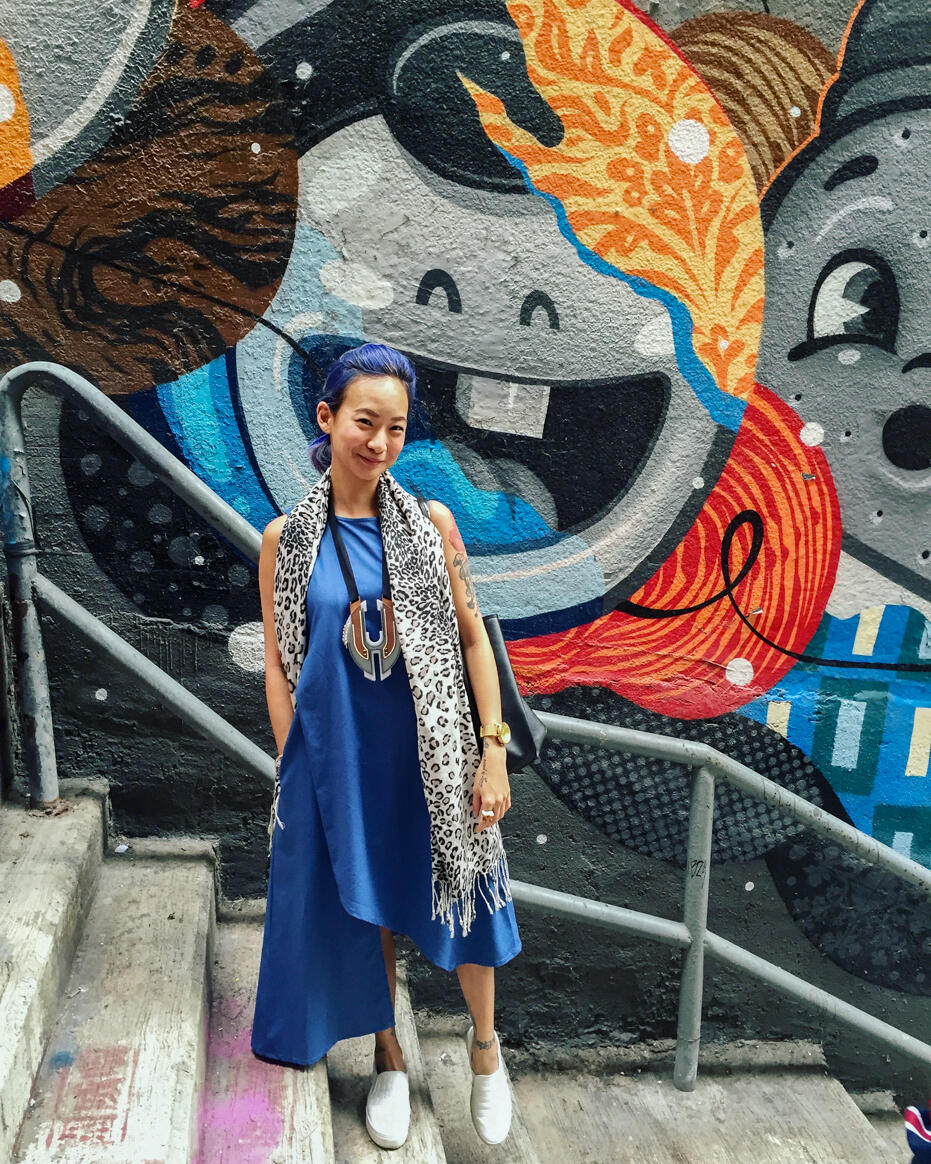 We flew in on a Tuesday and my airport outfit was an asymmetrical dress from KOZO x Justin Chew, necklace from Singaporean accessories label Vice & Vanity, shoes from H&M, scarf pressie from Nick & Sonia. My invisible accessory was my hangover, which makes me the grouchiest person to travel with. I never used to have hangovers till i hit 30. Getting old(er) sucks sometimes! ?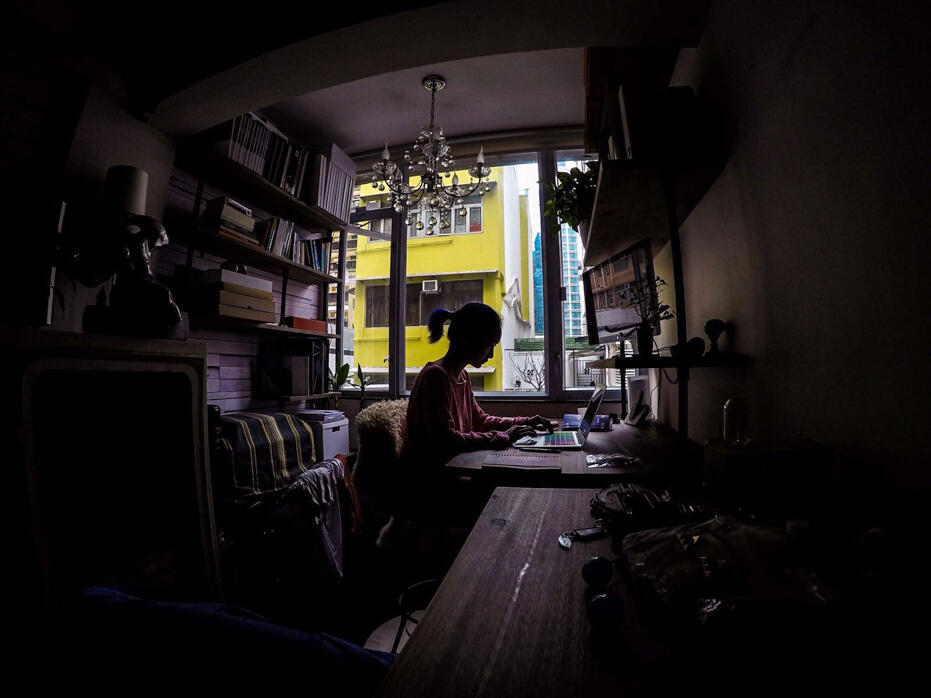 We stayed in this 1-bedroom airbnb on Hollywood Road in Sheung Wan which was a little on the pricey side, but seeing we needed a second home where i wanted to work comfortably from as well, we just went for it. Anyway it's Hong Kong. Gonna be pricey!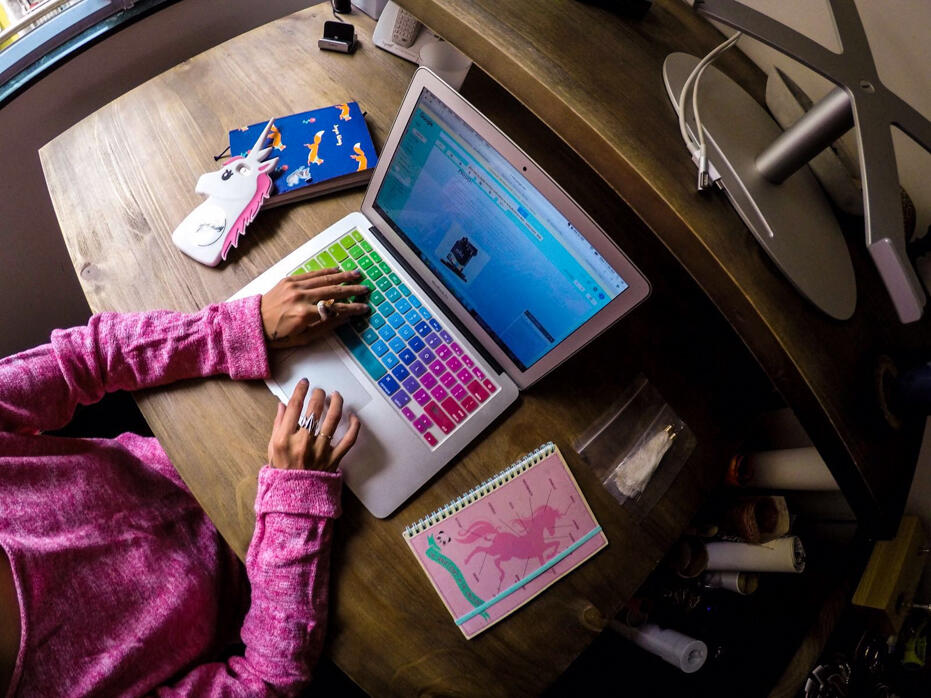 I never thought my favourite colour would be pink in my 30s. I started off with green during kindergarten, moved on to blue in primary school, then purple, white, red (for many years), orange, and now, pink. Now i love ALL the colours and it reflects in my clothes and everything i own. My favourite colour is rainbow!!! ?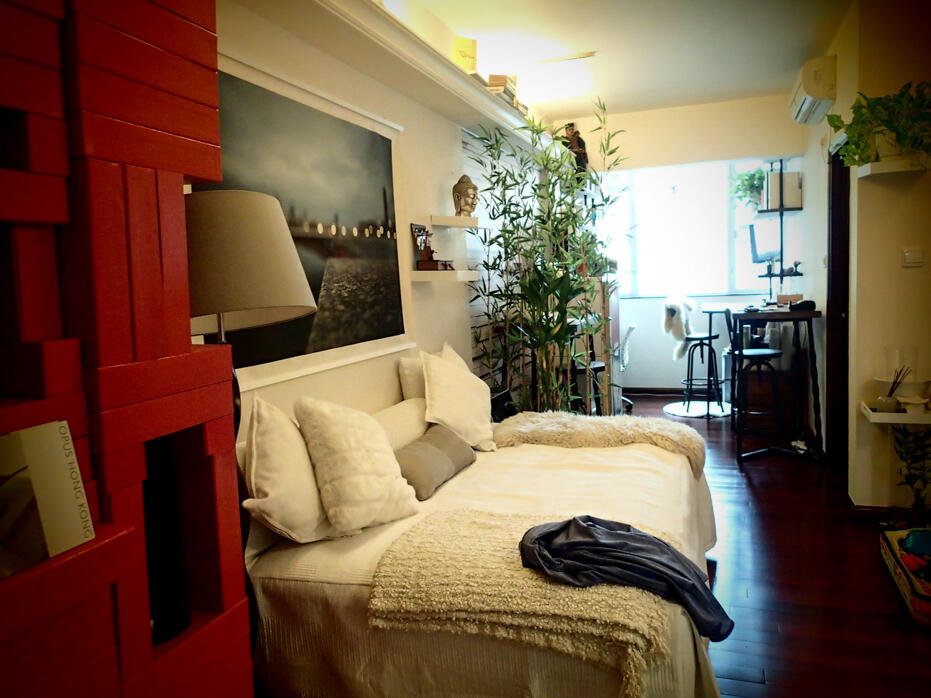 The airbnb was so cleverly designed for a small space!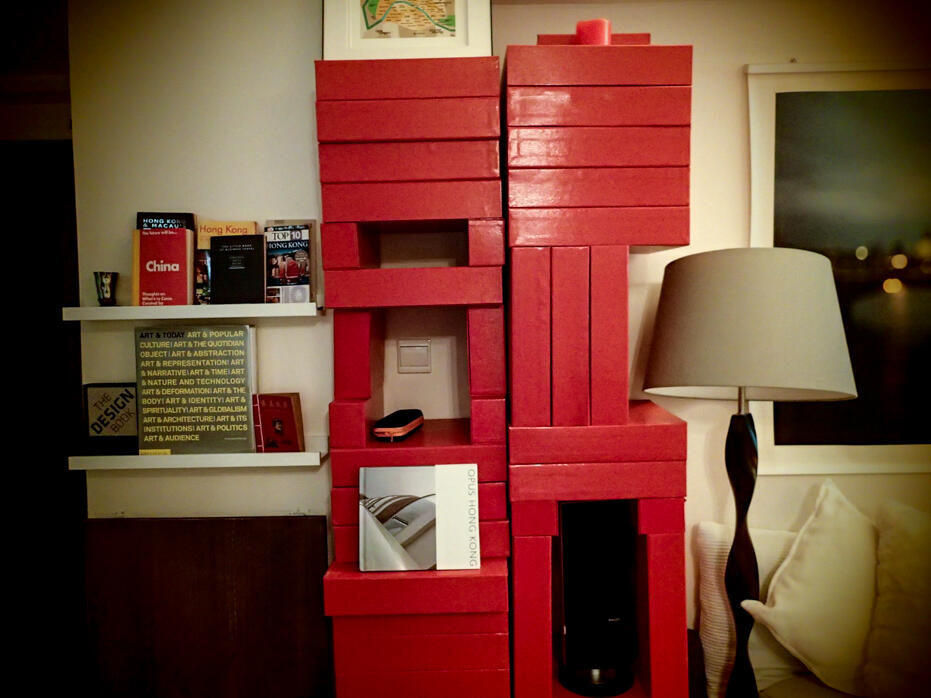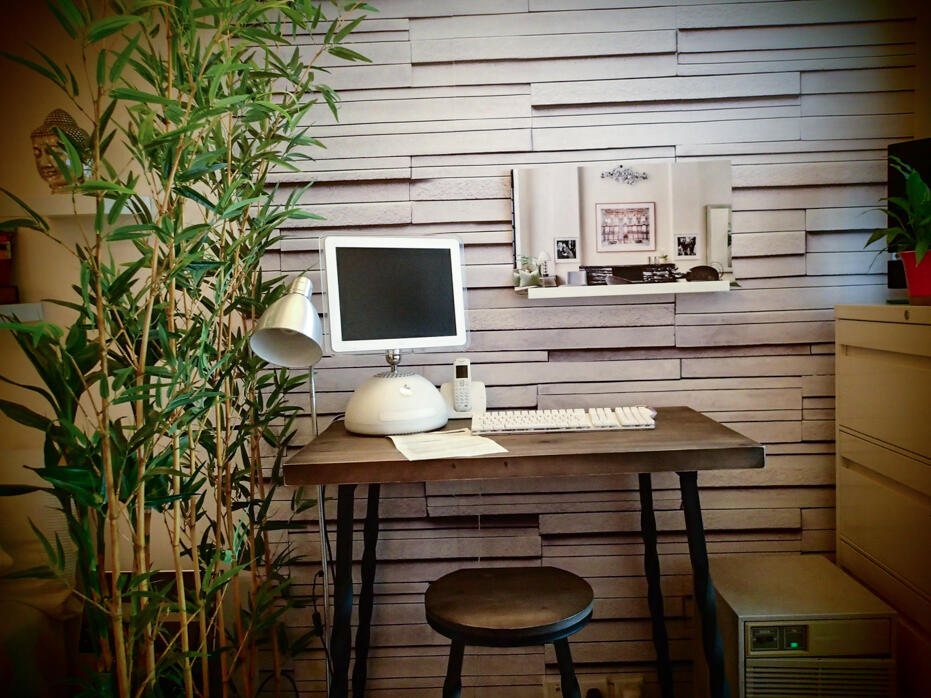 Bamboo to divide a space without causing line of disruption to the eye, check.
Two work spaces, check. Also loving the wallpaper.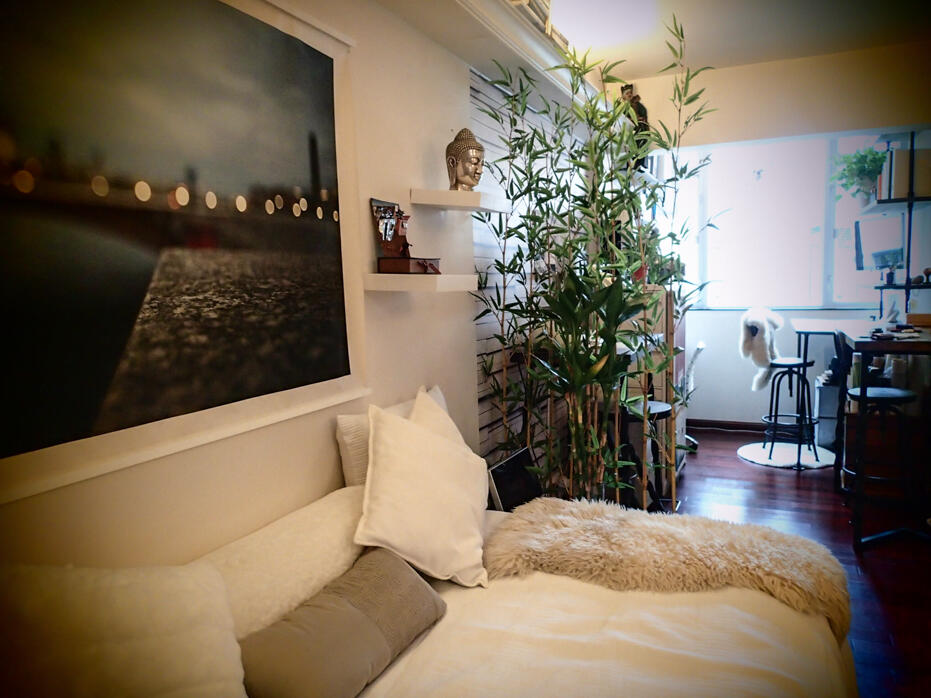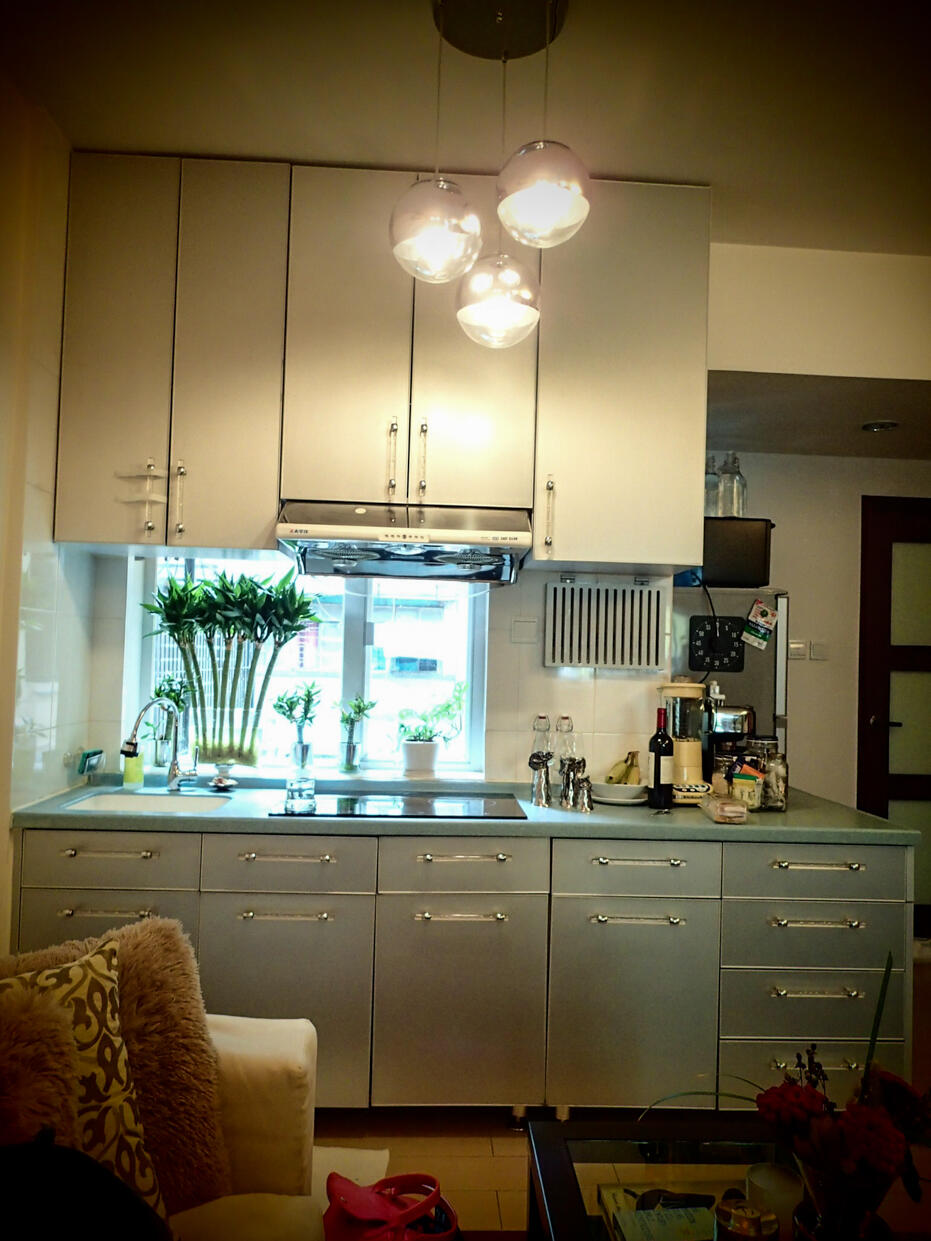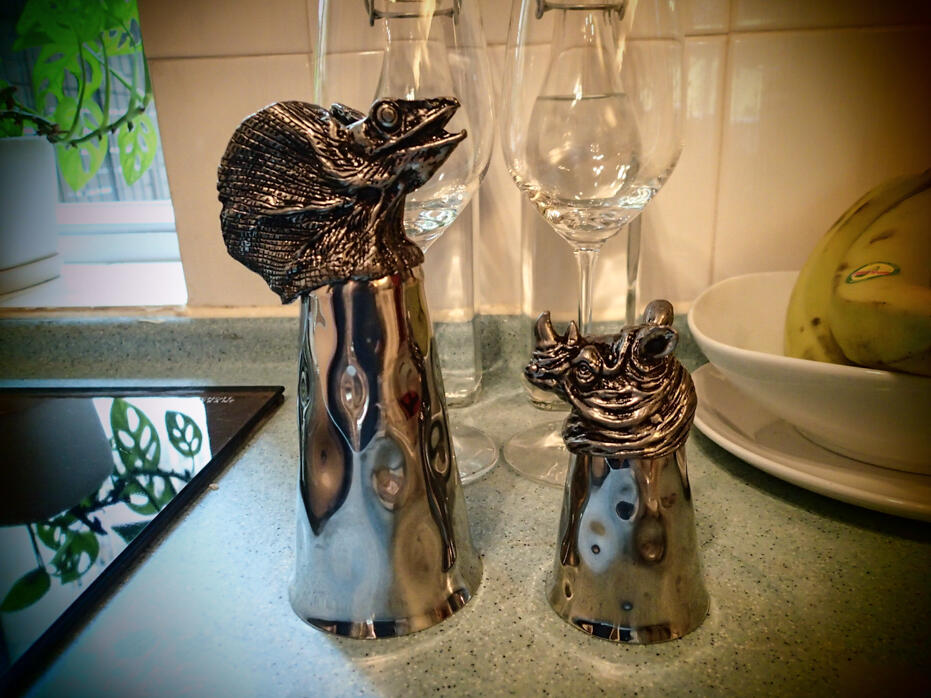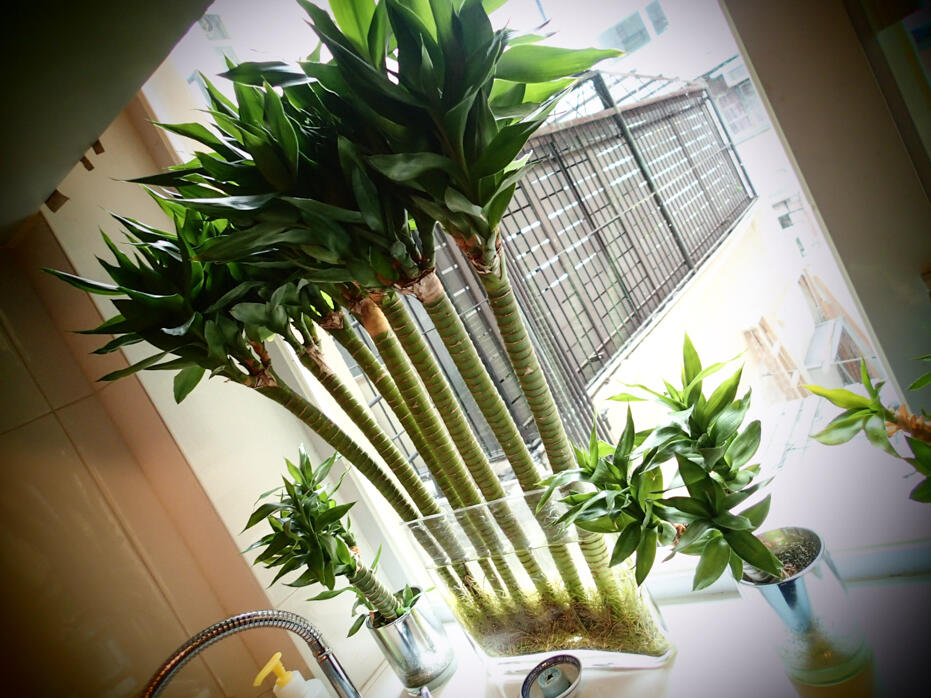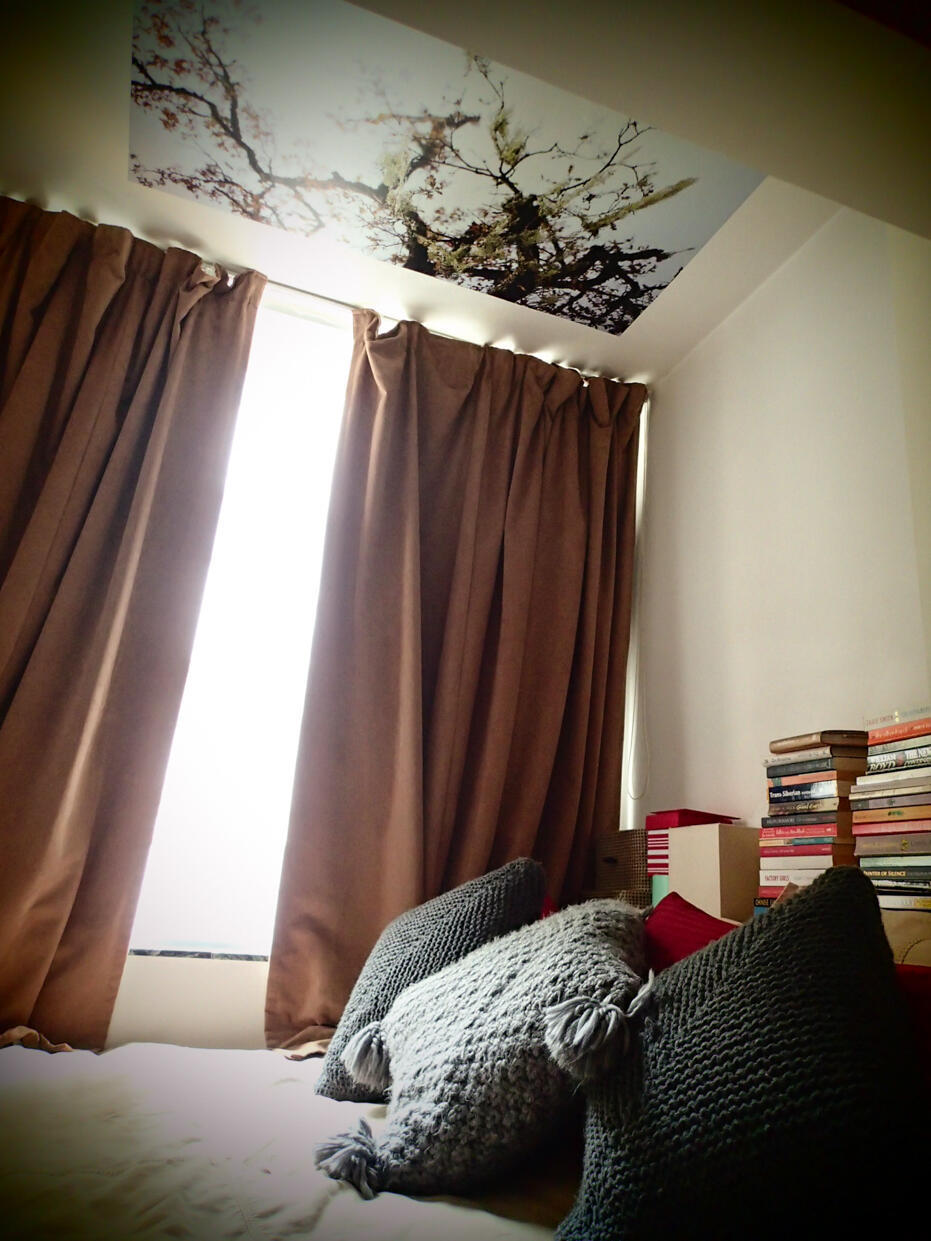 Our bed was very high, with a calming photograph on the ceiling! I've always had the idea of putting paintings on the ceiling so when you lie down, it's easy to admire, and someone's done it!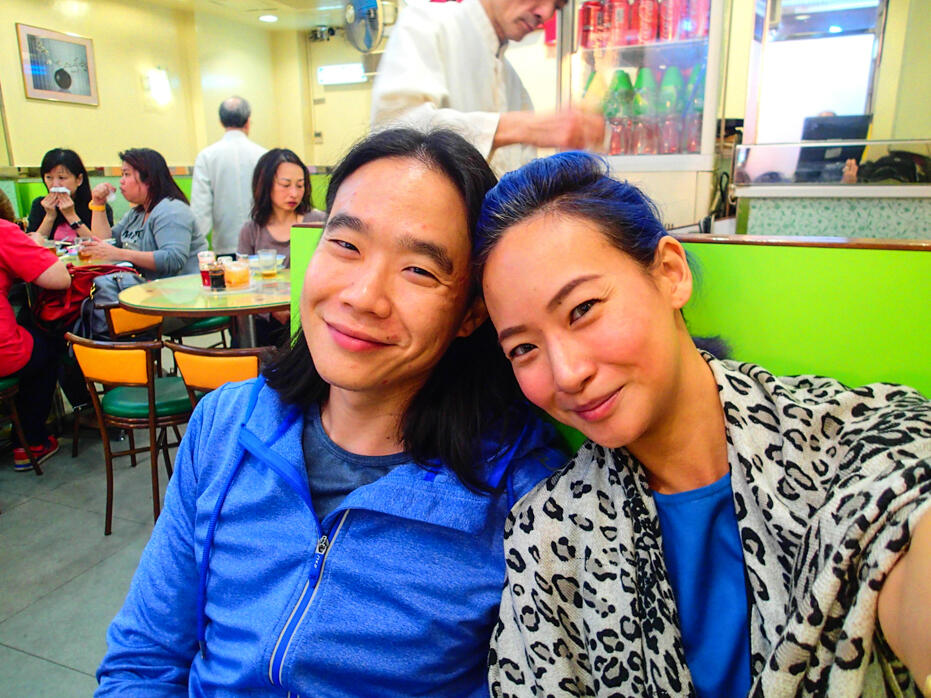 Jun and i all blue! We do not look alike. Look, our features are all completely different! People keep on saying we look alike cos we're petite and have no eyes when we smile. That's ALL!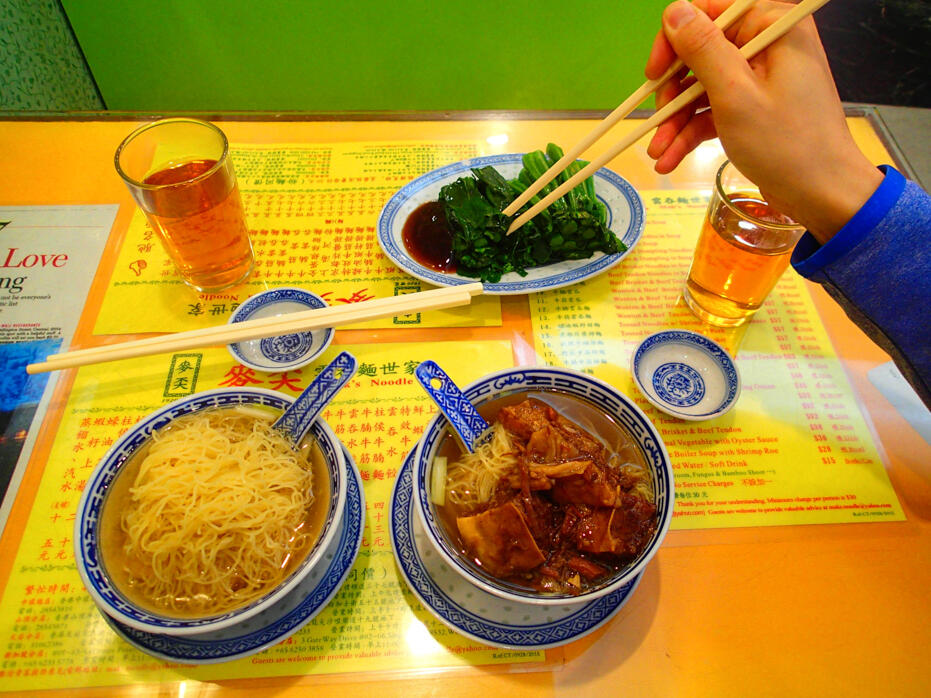 This was pretty good but so tiny. Forgot name of place, gotta ask Jun when he's back.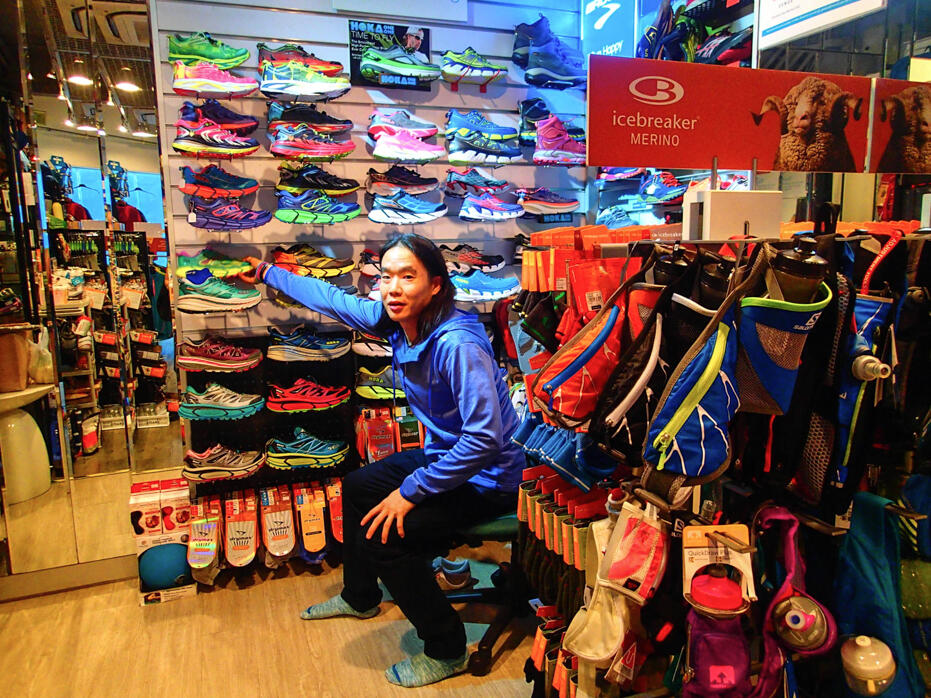 Over the few days we were there before his run, Jun made some pit stops at all these running shops that sold all this specialised running gear. I now know what guys feel like when they follow girls shopping. I checked out running accessories and gear (never even knew many of them existed) while he spoke to people about running. I foresee the word 'running' appearing a lot in this post.
We were looking for a pair of road running shoes for me cos HK has so many more choices than KL, and the Salomons i have are more suited for trails. Jun was so set on me getting a pair of Hokas but its design just didn't suit my foot arch/shape so i didn't see the point. Found this awesome pair from North Face which was fluoro yellow and pink, and made me just want to DASH about with them on, but my size wasn't available so the Shopping Gods were telling me it's not meant to be. In the end i just bought a pair of New Balances when i was in Mid Valley running errands a few weeks ago. Jun was aghast, "You bought running shoes without me?!" I was like, "Chill la… i'm the one who's gonna be running in them right?" ?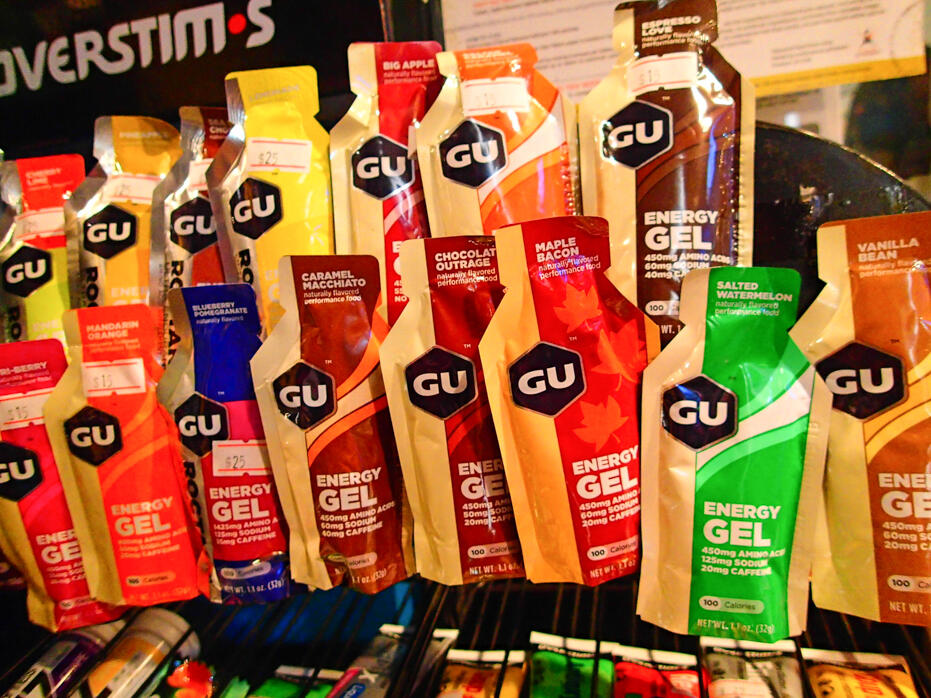 Omg these things. They're these energy gels runners take and i scrunch my nose up at them butttttt this little packet of gel saved my life when i was summitting Kilimanjaro cos i was so hungry i was going to pass out. I never thought i'd succumb to one of these. Jun tries not to take them much cos… how natural can they be right (and he's really healthy when it comes to food). I must say i was tempted to try the Maple Bacon just because.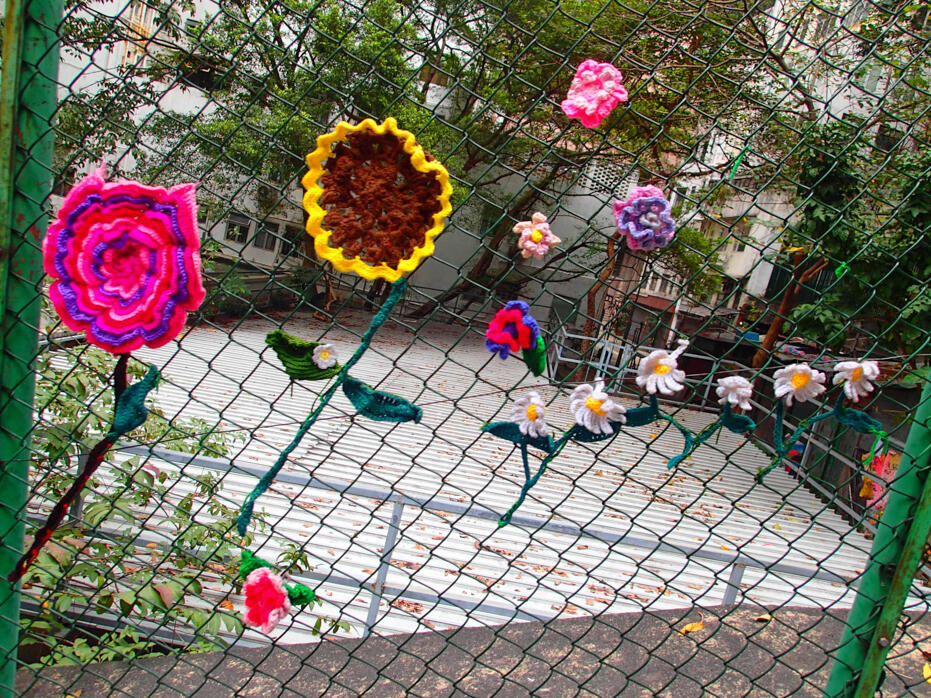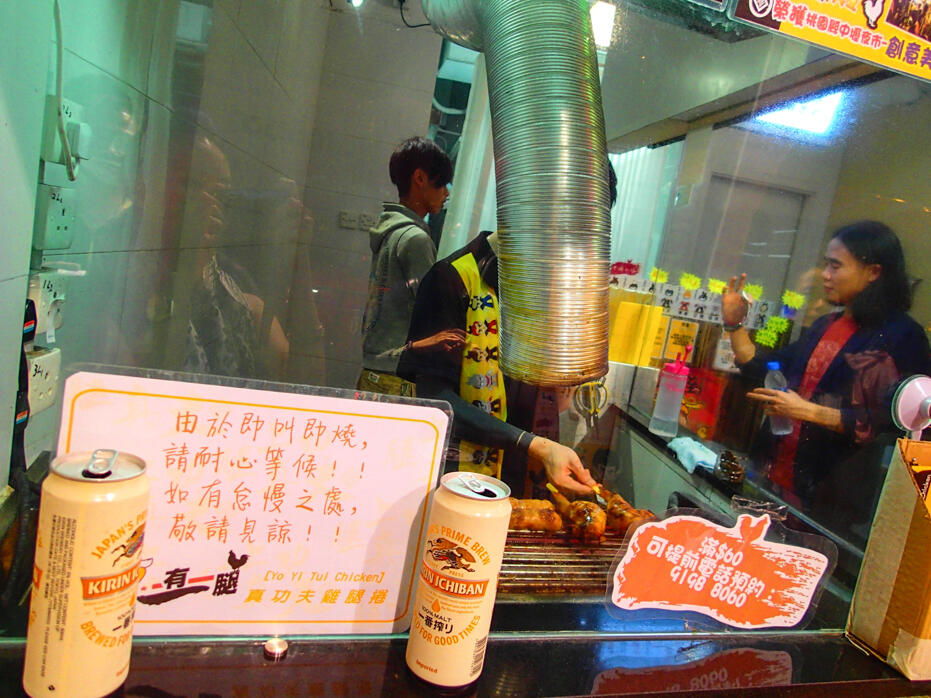 We got some snacks and beer before the Bon Iver concert.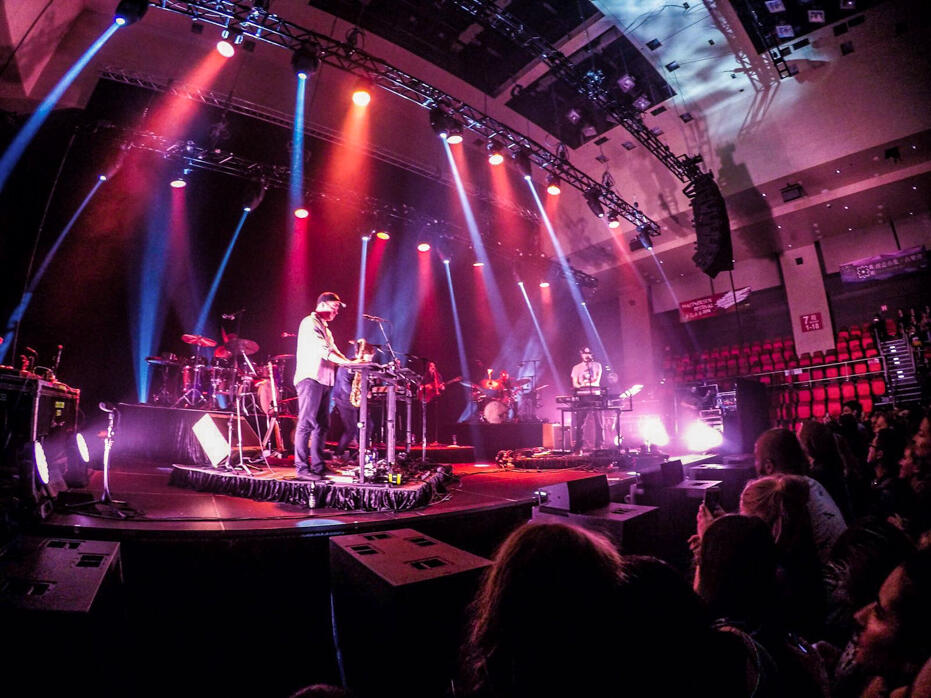 + + + + + +
Wednesday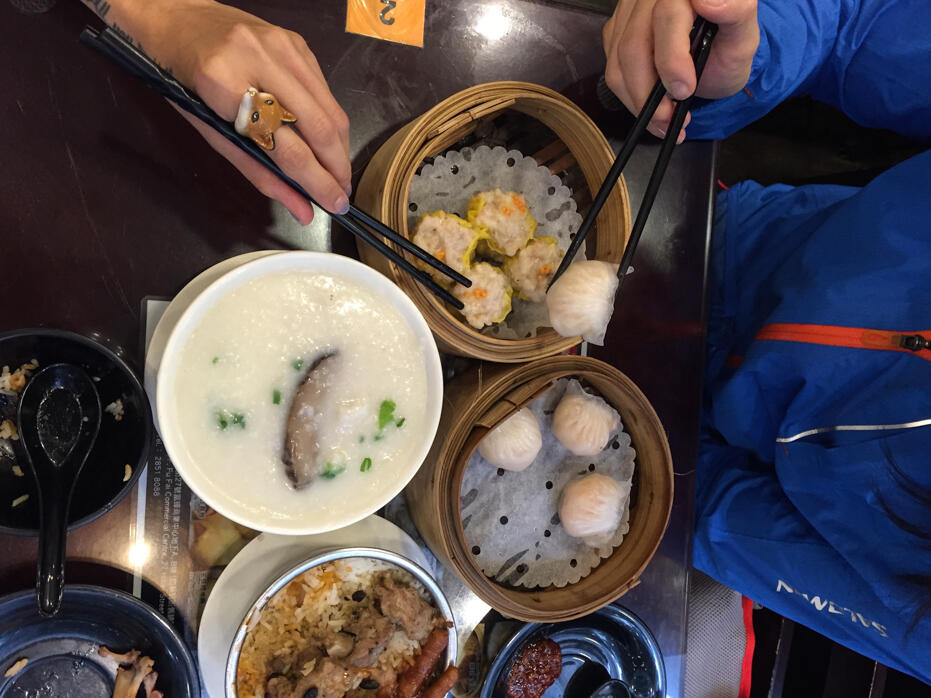 The next day we went for dim sum, then back to the airbnb to work before heading out for a hike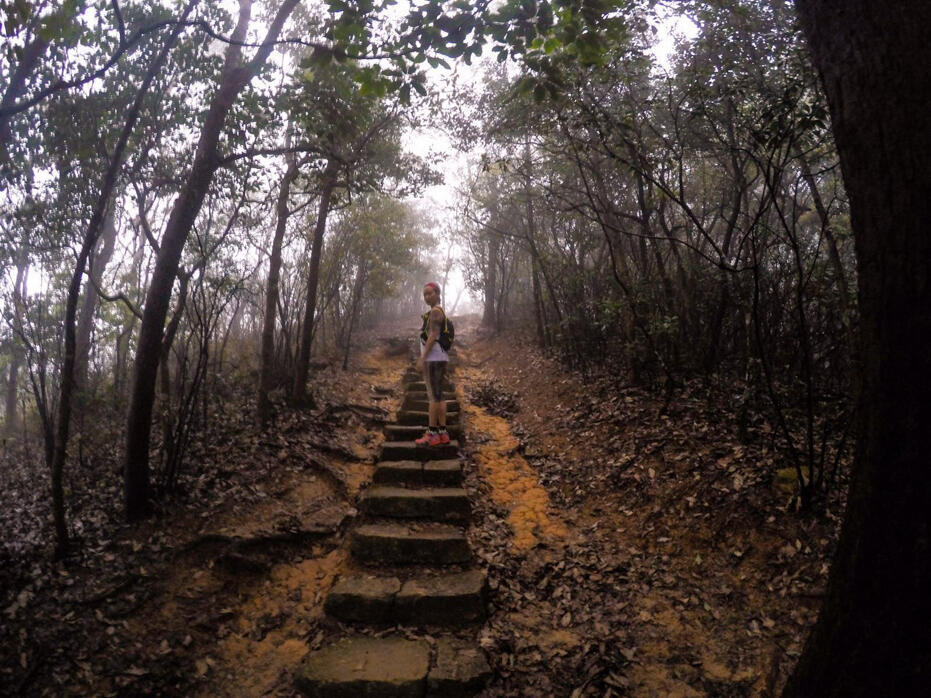 Jun wanted to show me how beautiful it is on the trails in Lantau, but it turned to be really misty and all we saw over the cliffs was… white. At least i got some exercise!
+ + + + + +
Thursday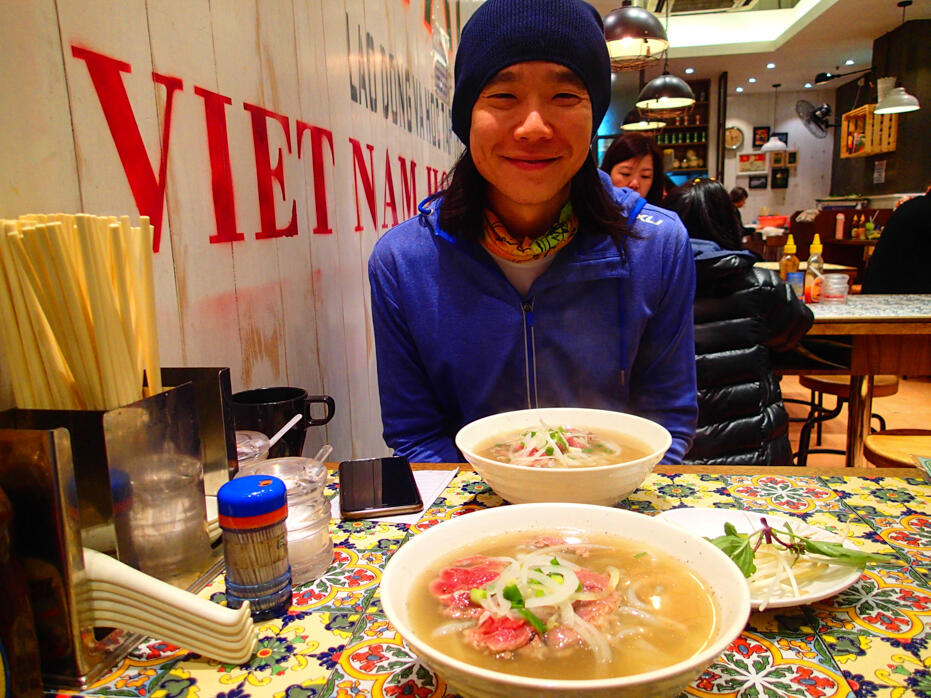 Had mediocre pho that day
After work in the afternoon, we headed out to meet Tai Yong who happened to be in HK the same week! It's my first time spending time with him outside KL despite inviting each other for holidays in Bangkok and Bali. Timing just never right. And now… hello danger.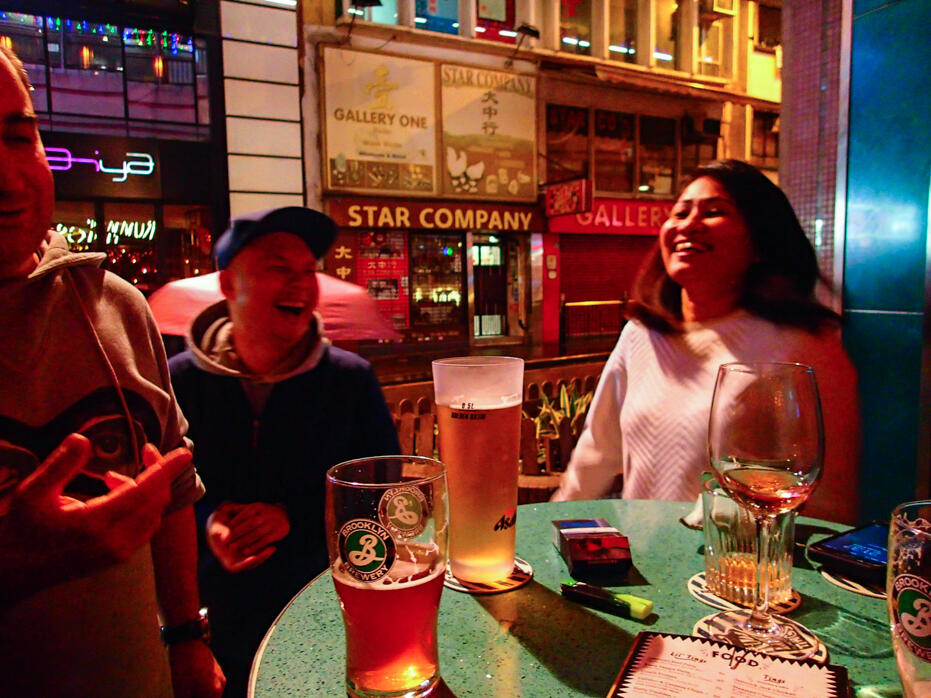 Met up with Tai Yong's panda gang from his uni days – Rowan and Iko (who's from KL too)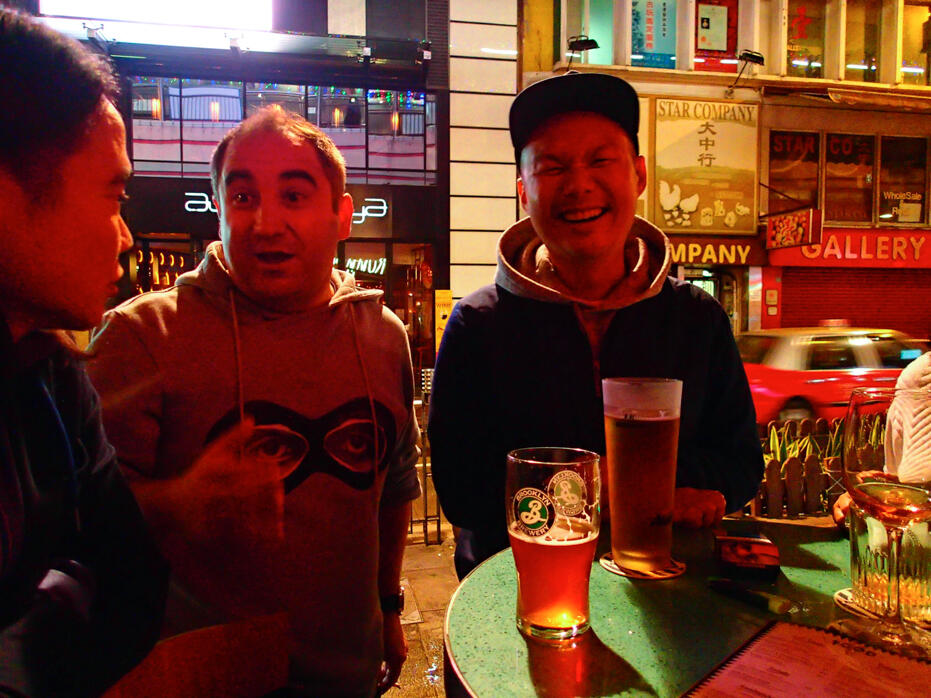 Jun, Rowan and TY looking incredibly happy cos he usually works 6 days a week in KL running two establishments and rarely gets holidays off ?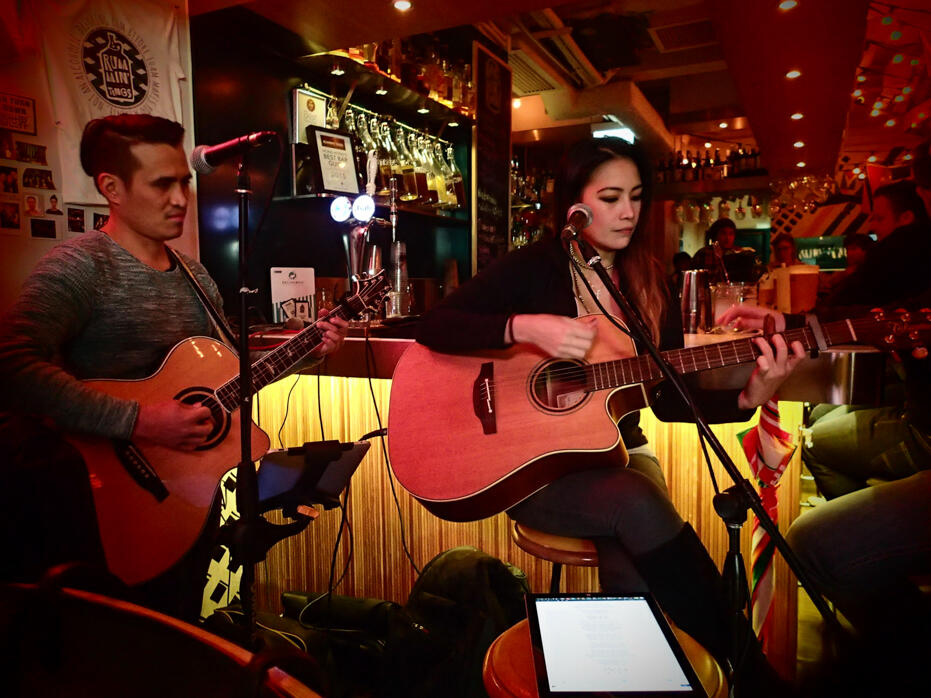 Hot girl, take picture.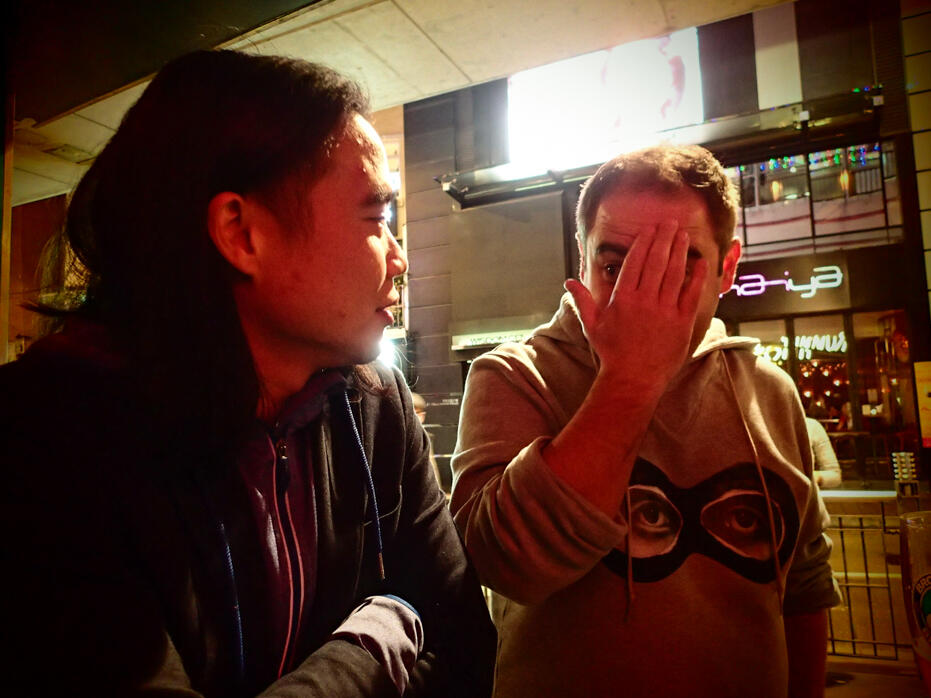 Rowan doesn't like pictures. That's kinda impossible with me around.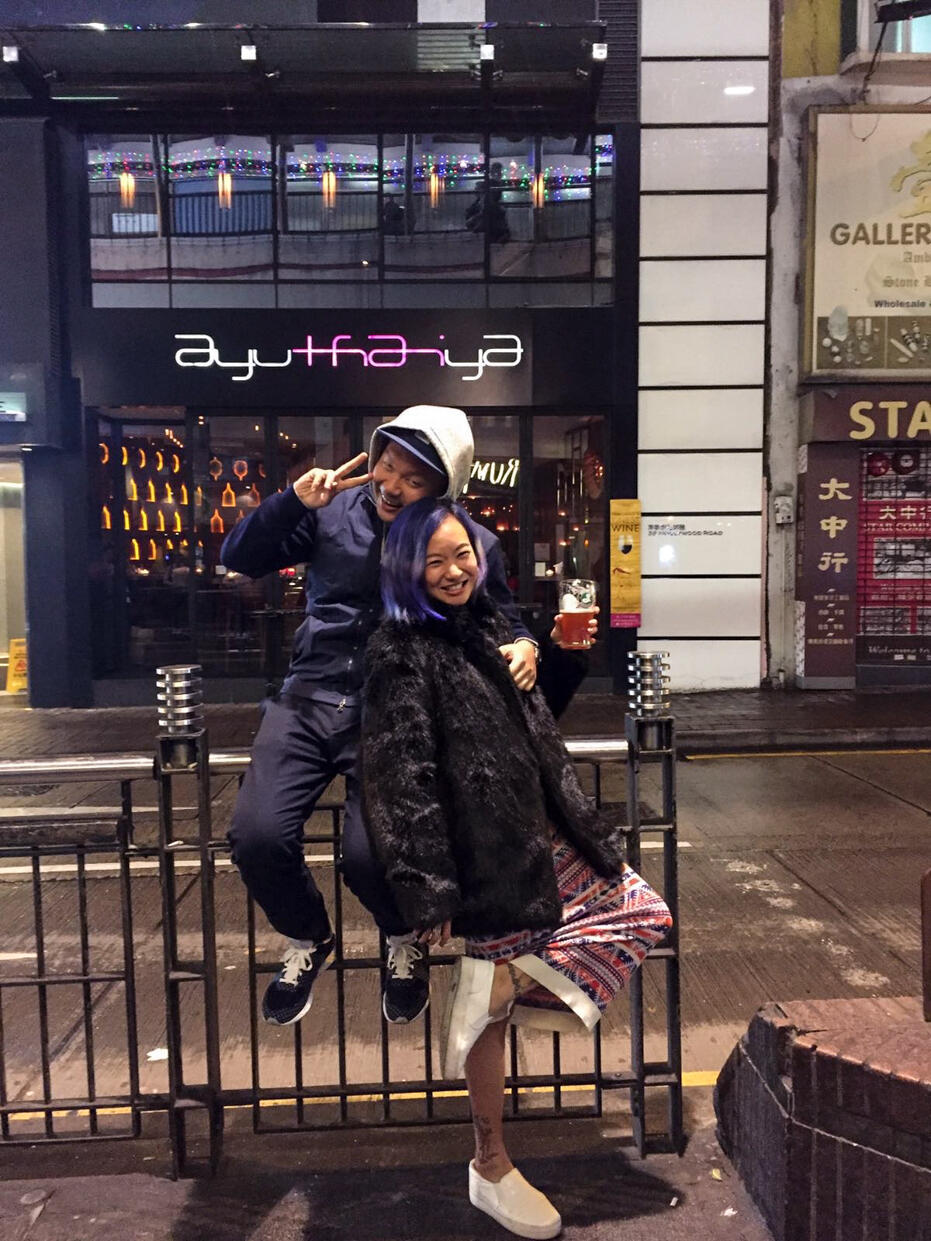 TY and me go way back! To days of Sunday parties at Marketplace which made people skip work on Monday.
I'm wearing my Uniqlo x Carine Roitfeld faux fur jacket i got in Tokyo. It's so freaking warm i can wear that over a slip.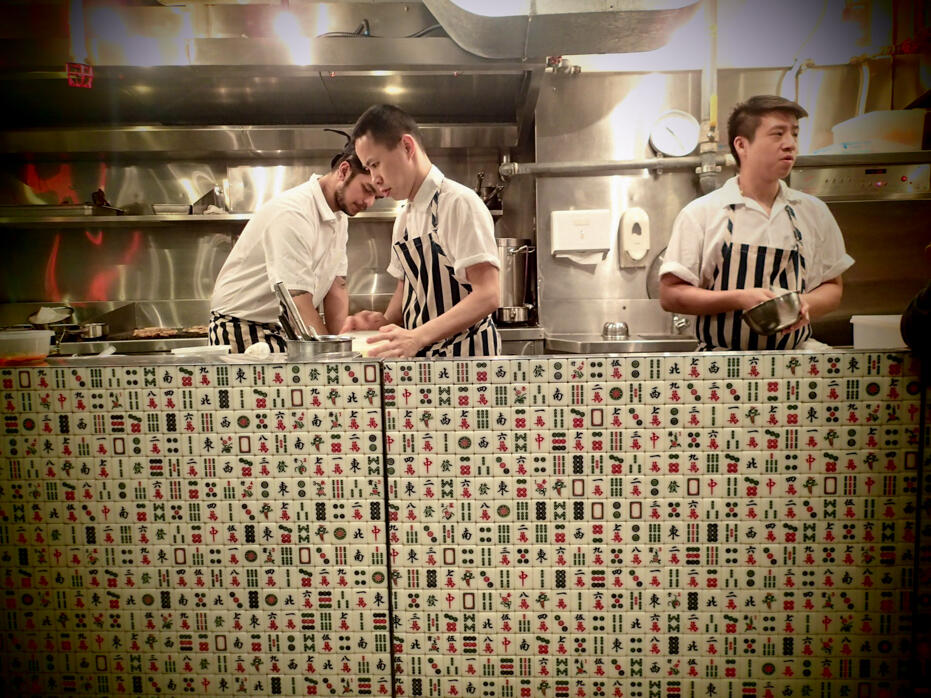 Rowan suggested Ho Lee Fook for dinner. Say its name quickly and it sounds like… ?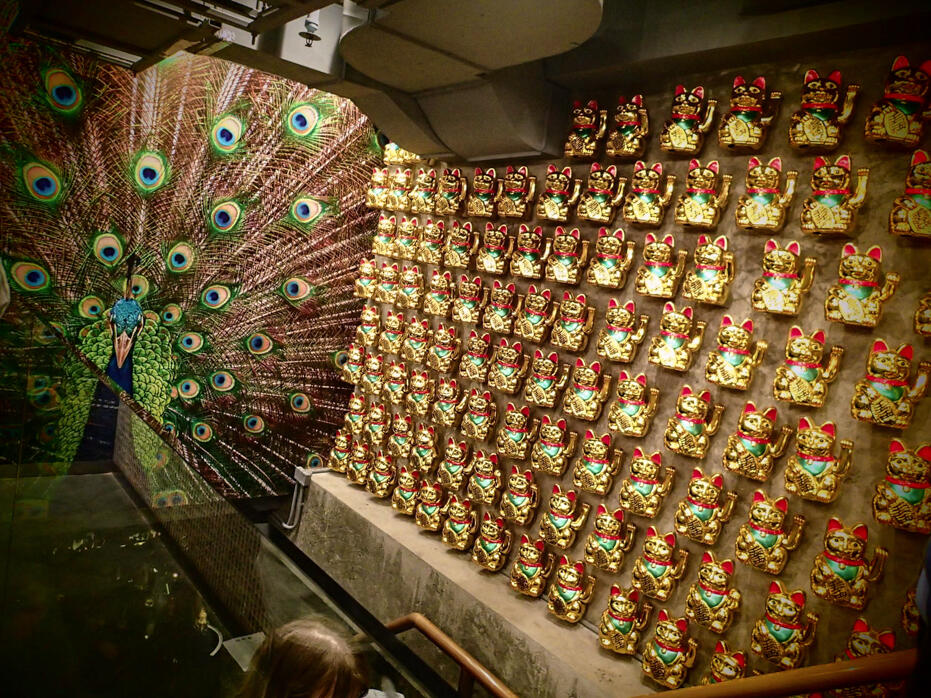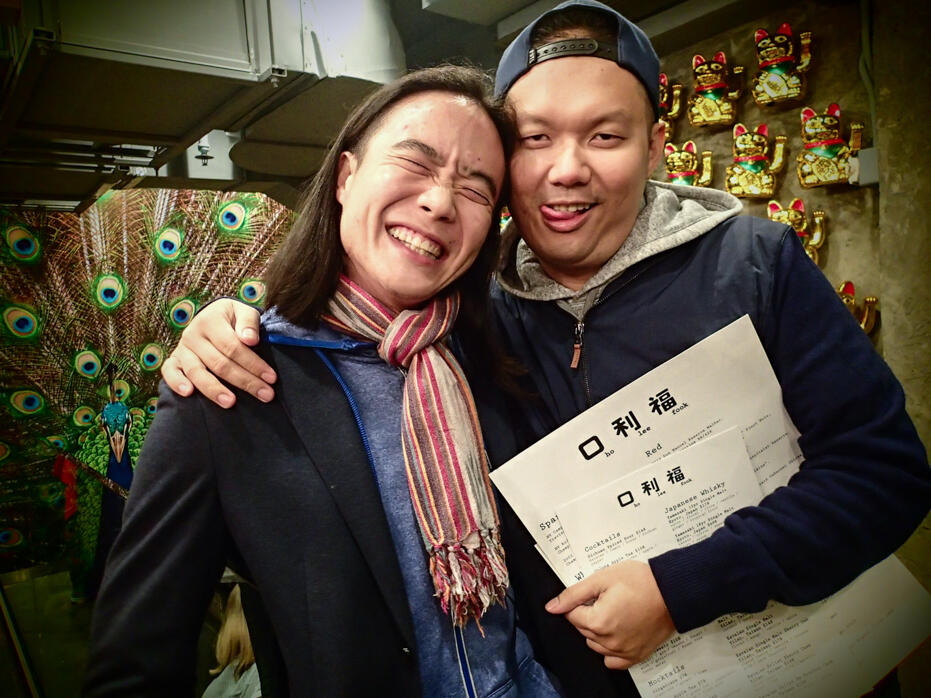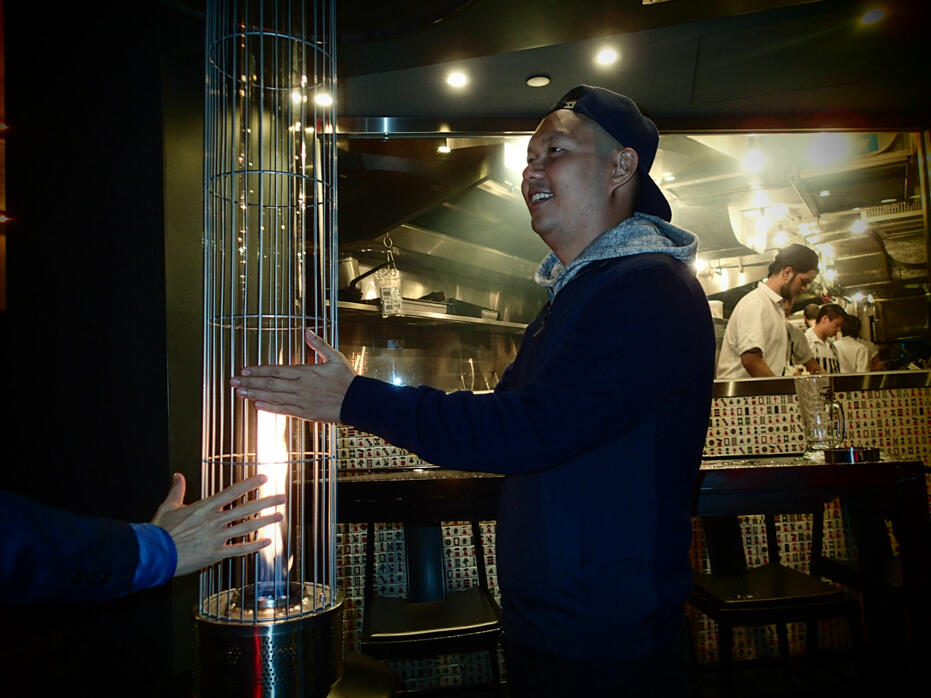 The place was packed so we were put on the waiting list while we walked up the street for drinks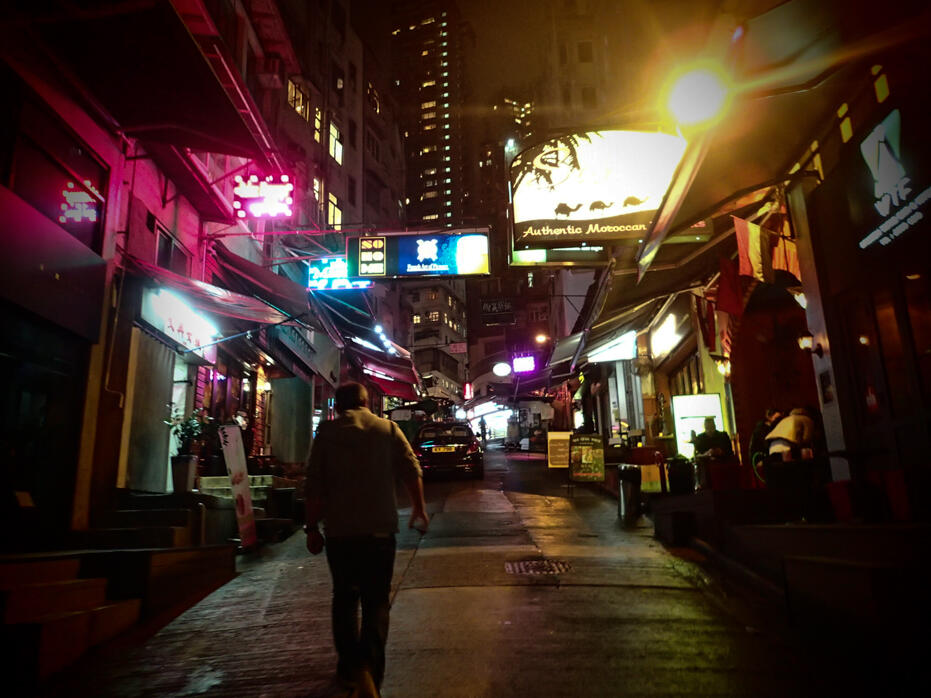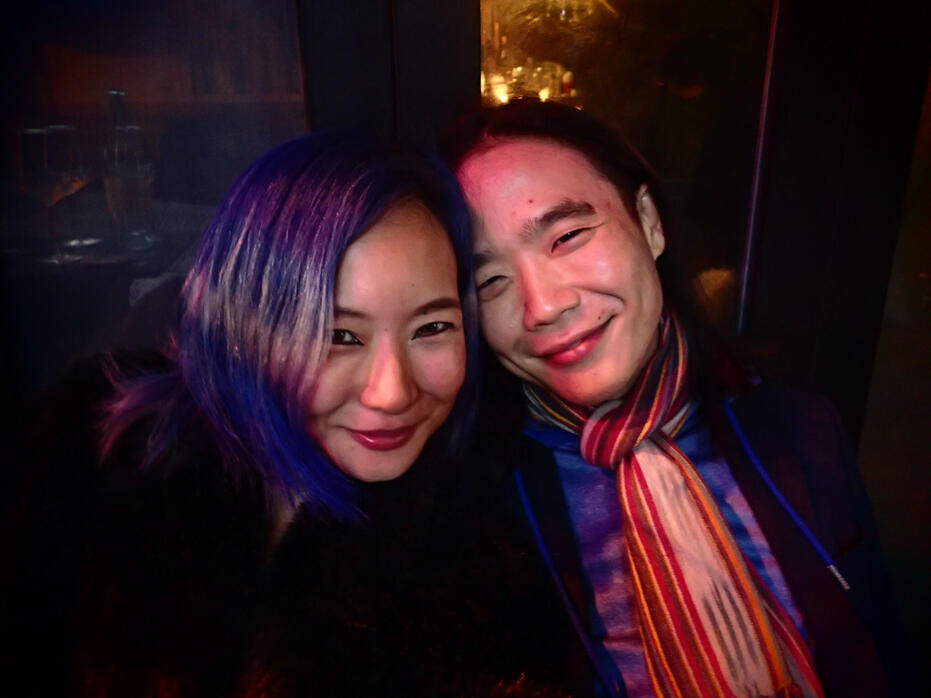 My cutiepie! Observe again how we do not look alike! My eyes are bigger!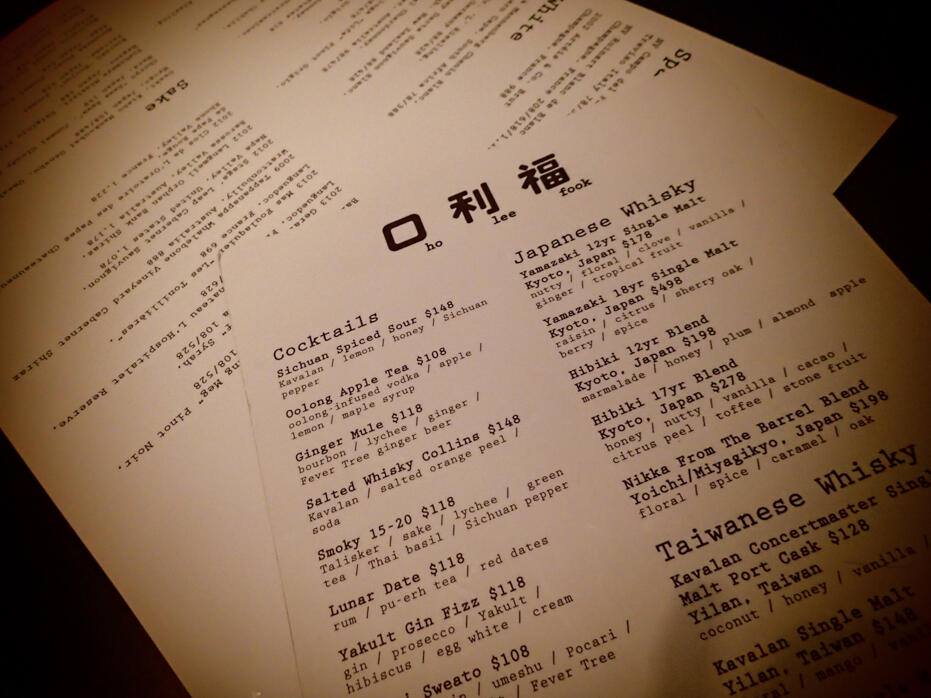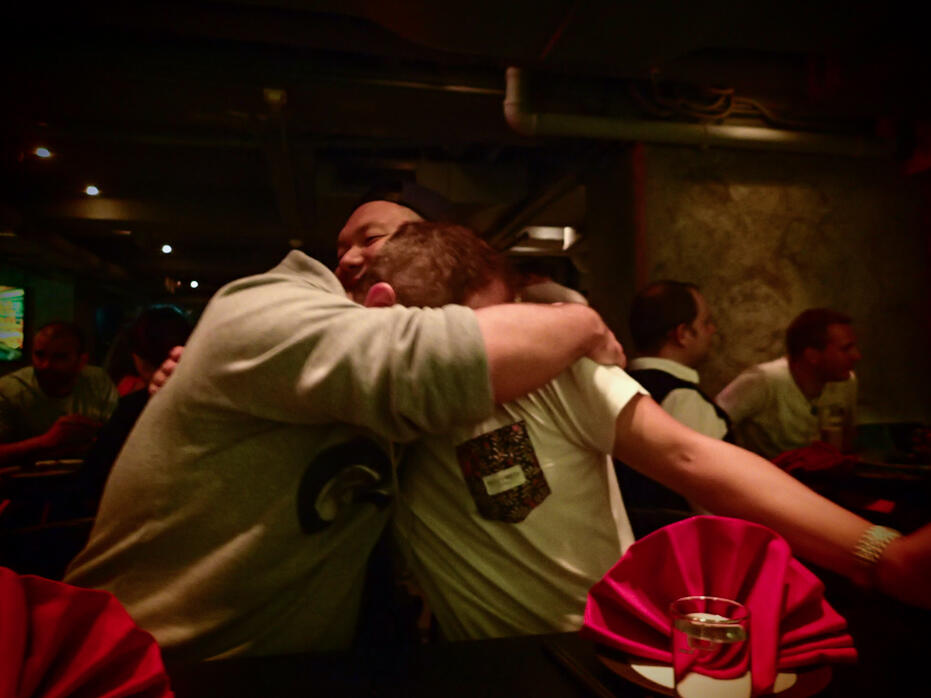 Aw i caught a hug!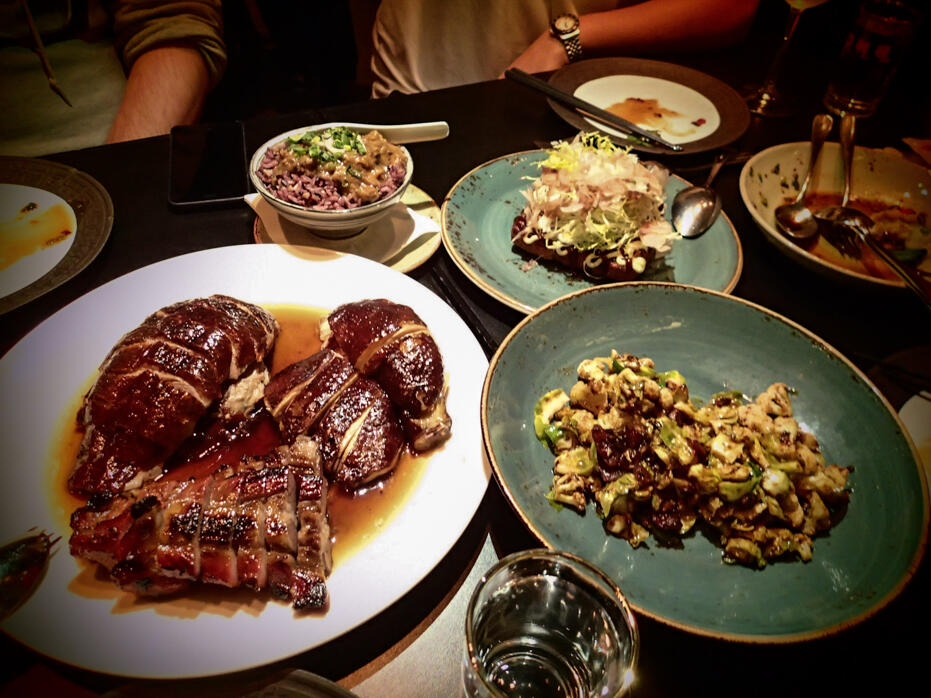 I REALLY enjoyed the food there. All of us did.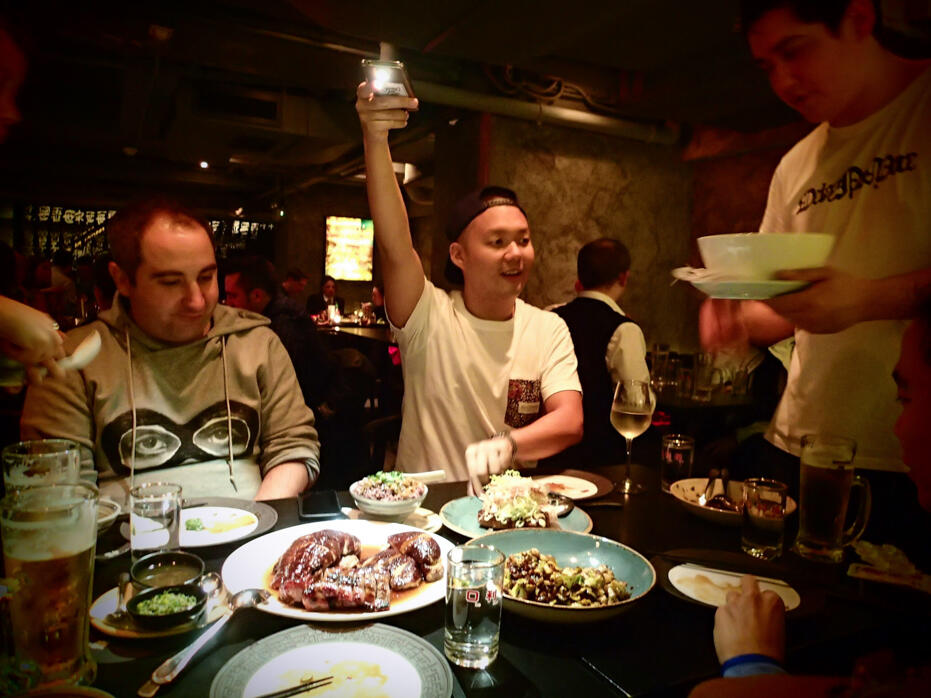 After dinner we headed back to Rowan's place to hang out till 2am. He broke open a bottle of bubbly, and we had beluga vodka. I could have stayed longer but Jun *did* have a race the next day…
+ + + + + +
Friday
Rowan and TY met us at Yat Lok for a roast goose lunch, it was yummeh (tho i personally prefer the goose at Goldmine).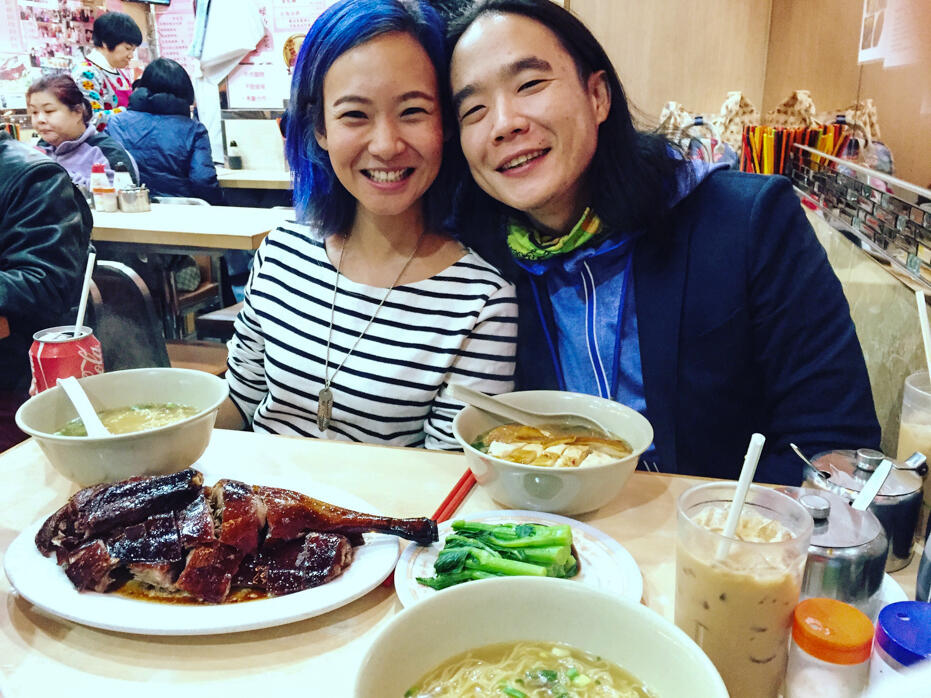 Right after lunch we headed back home cos Jun needed to nap before his race started at midnight.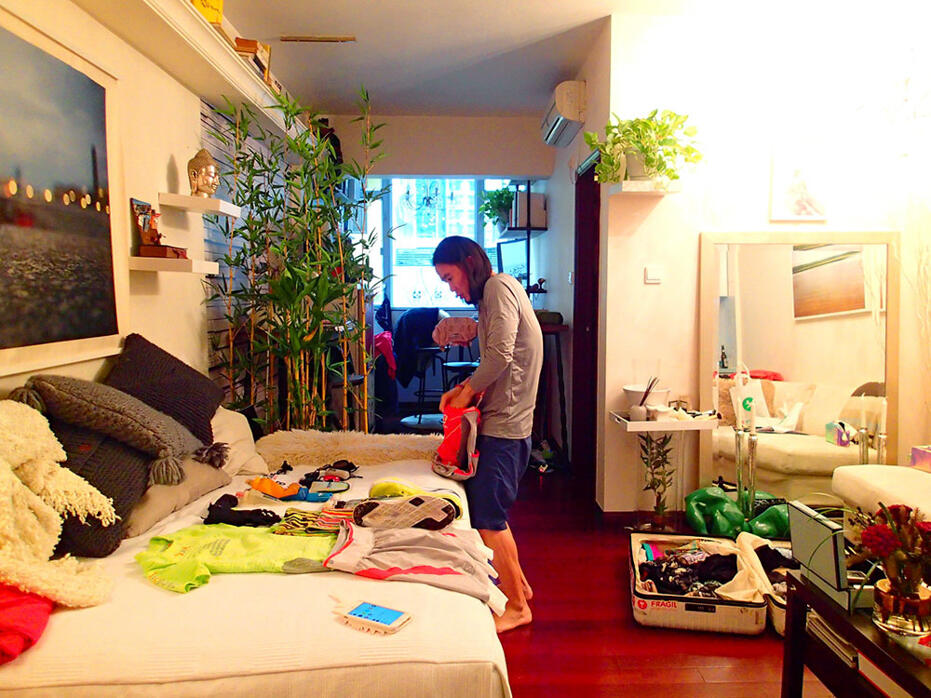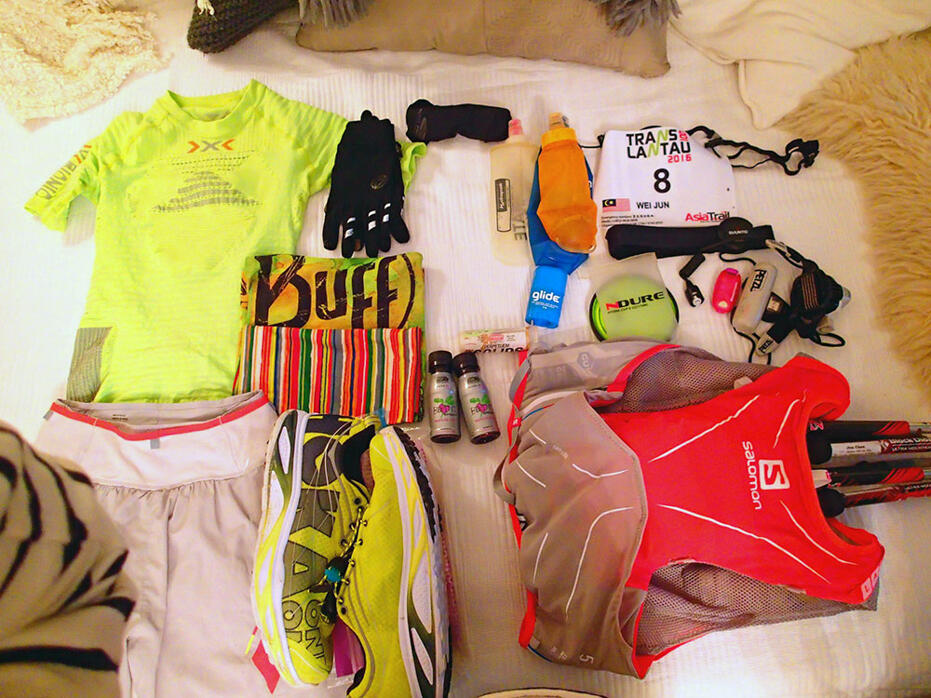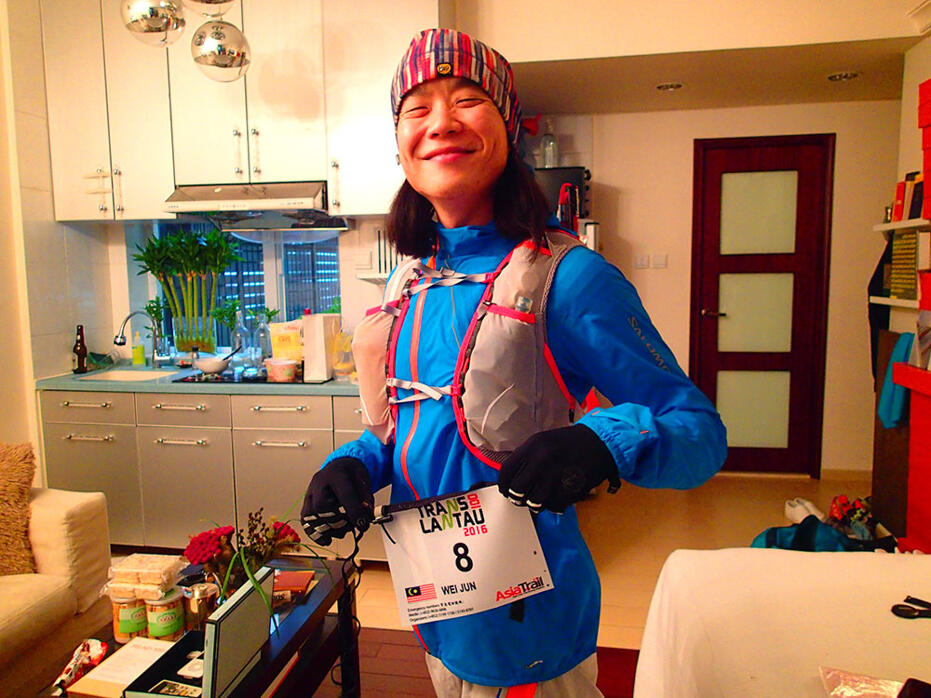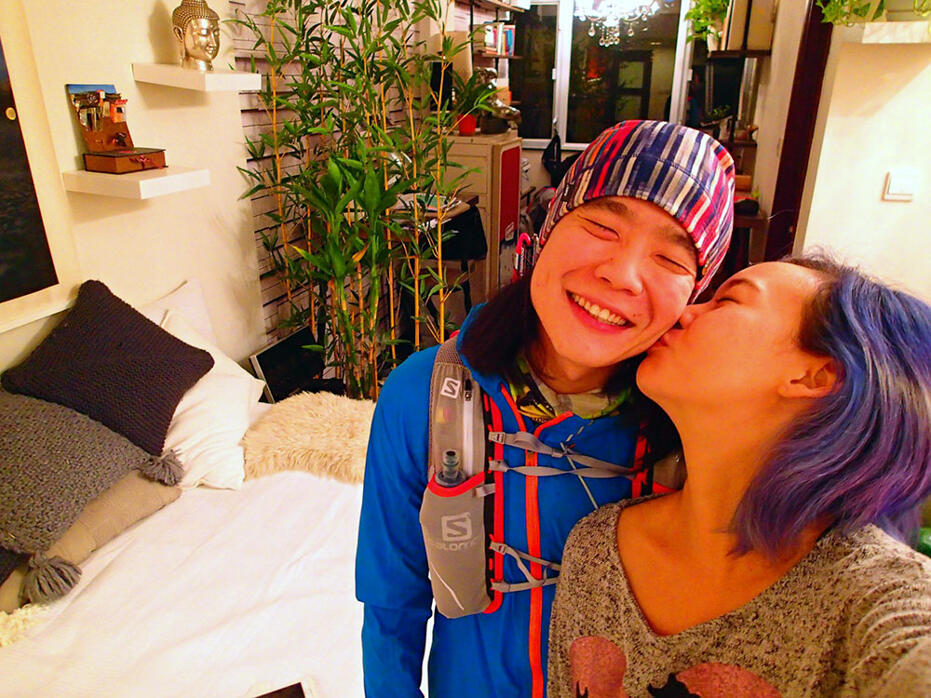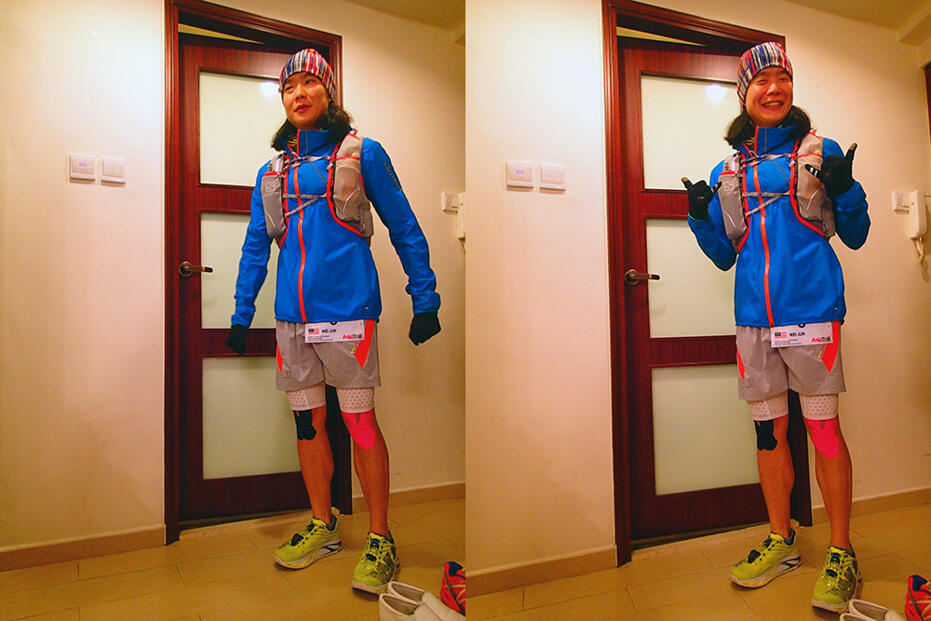 Look at him so cute and raring to go!
He left for Lantau around 9pm, and i went to work on my laptop till 4am. In between, i was checking his status online, as each runner has two chips (slipped into their backpacks and bibs) so everyone can track where they are / which checkpoint they've passed. I couldn't help refreshing the page frantically when i couldn't see his location progressing and worried about him running in the dark, next to cliffs, up and down mountains in the frigging COLD. For 100 km. Why… why why why would anyone want to do that!
Crazy fool.
+ + + + + +
Saturday
Jun assumed he would finish the race early Saturday night; so the plan was for Rowan, TY and i to hang about Lantau island and sightsee while waiting for him to finish, then we head home together.
On Sat morning, i messaged the boys at 9:30am about meeting at the ferry terminal, but noone replied so i figured they were still asleep cos they'd asked me to come out for a drink the night before but i declined cos of work.
I accidentally fell back to sleep myself while the boys actually got up and to the ferry on time as planned at 11am.
Rushing like crap, i managed to get up, shower, dress, make up and get my ass to the terminal in 40 minutes. Didn't think i had it in me.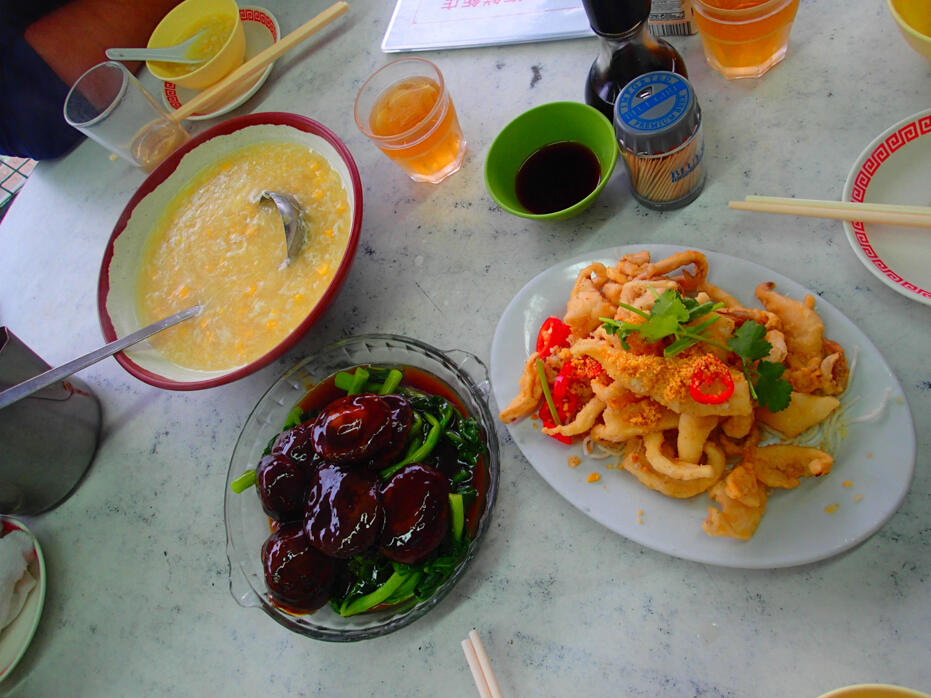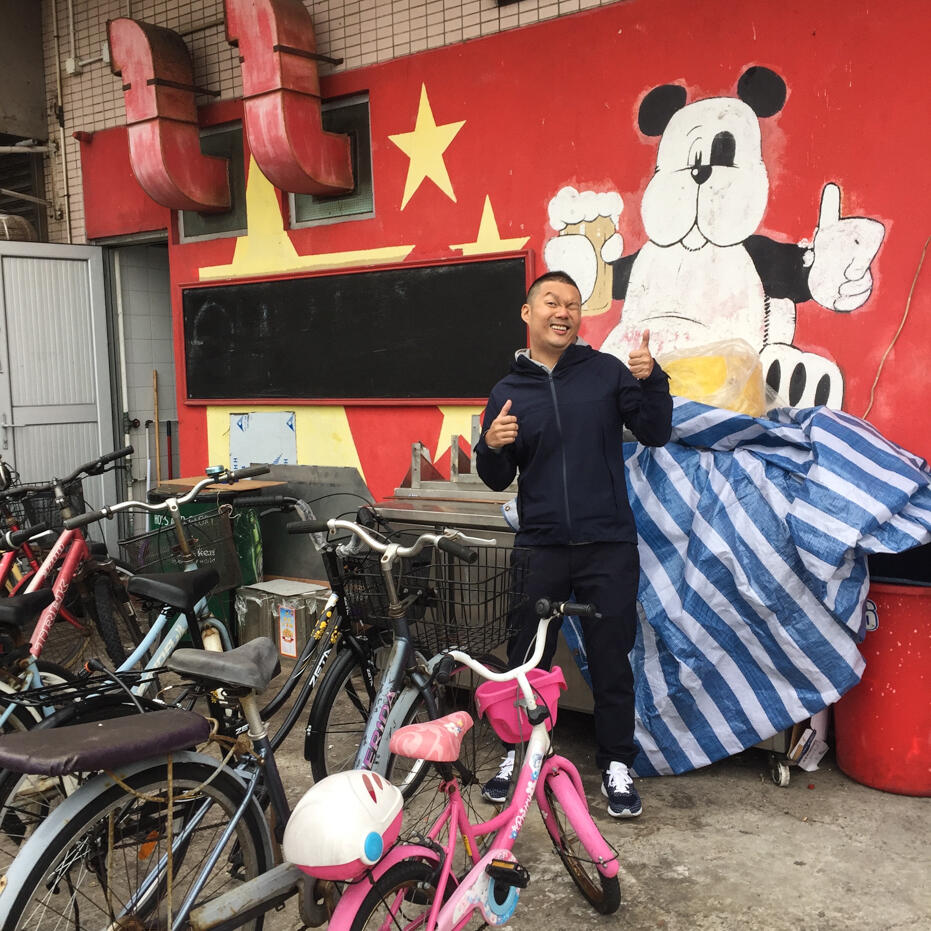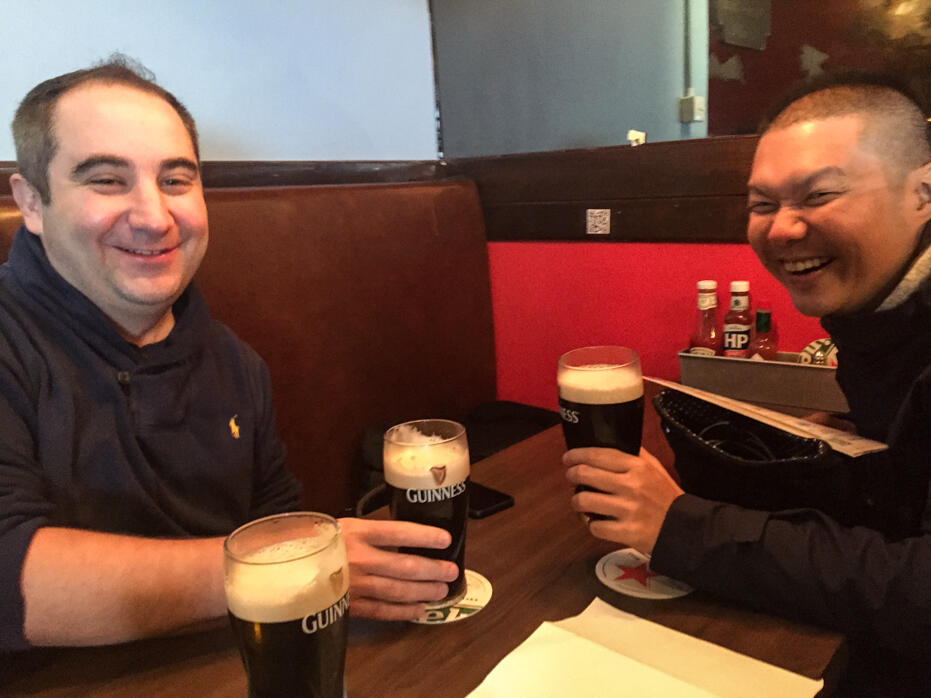 I was laughing at them cos they were so hungover, and nobody was gonna drink but i ordered a Guinness.
And the other two went (only slightly reluctantly) 'oh well…' and ordered one too.
TY wanted to stay out of the cold in the warmth of the bar but Rowan refused to hear of it, "We can't come to Lantau and do nothing while Jun runs 100 km!"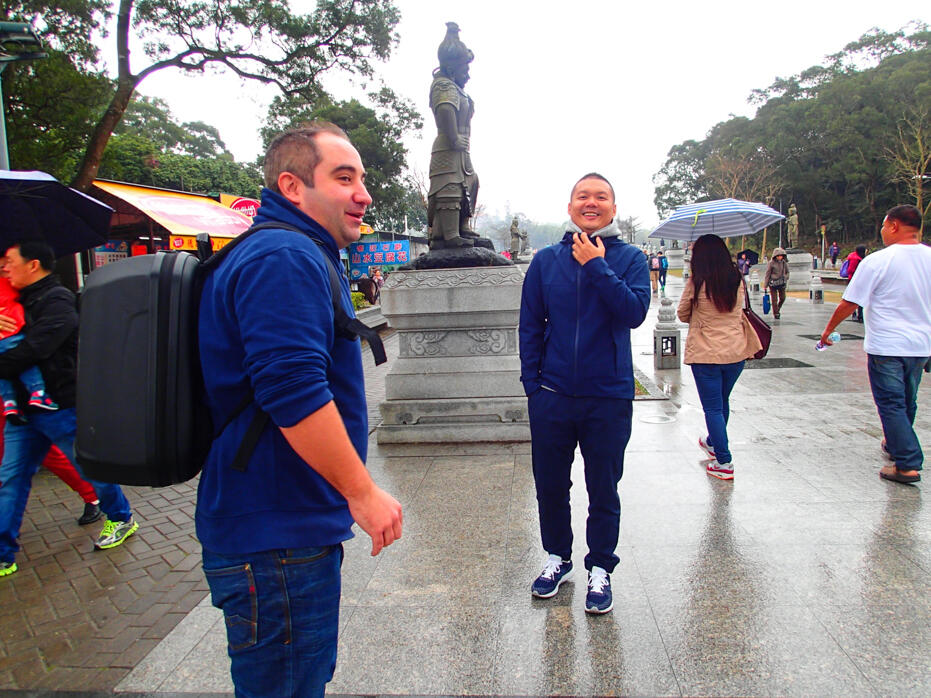 Supposed to hike to the Buddha statue but we took the bus instead.
Saw a cow chasing a Chinese lady tourist while everyone laughed, wish i got that on cam.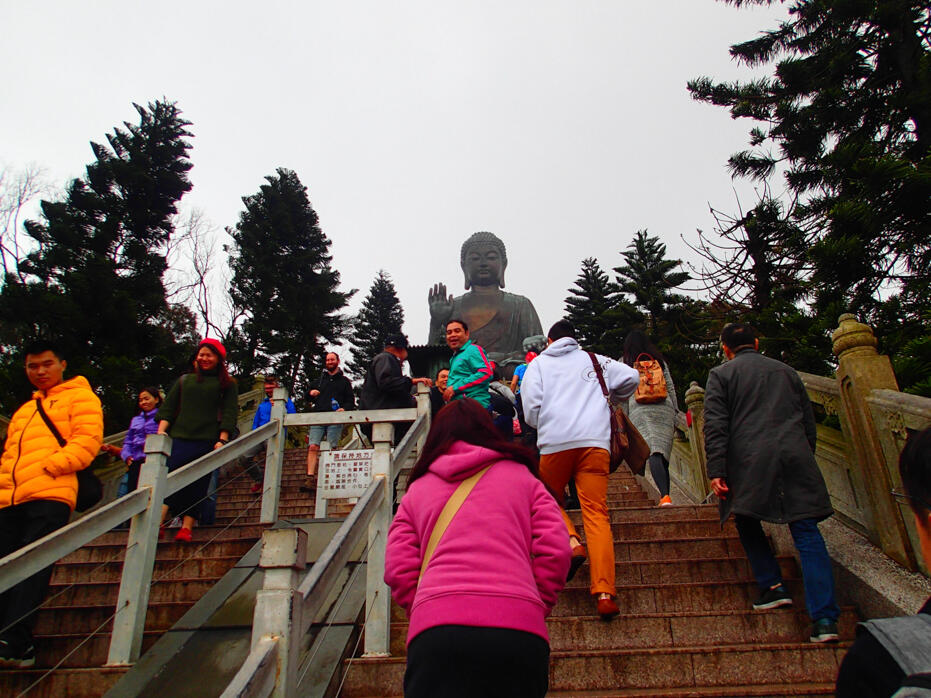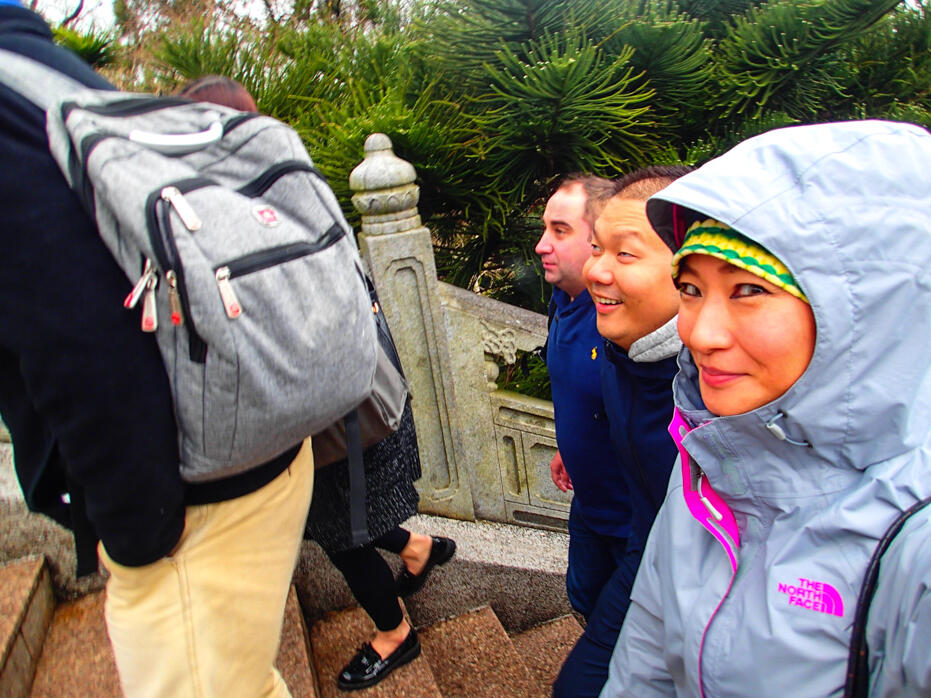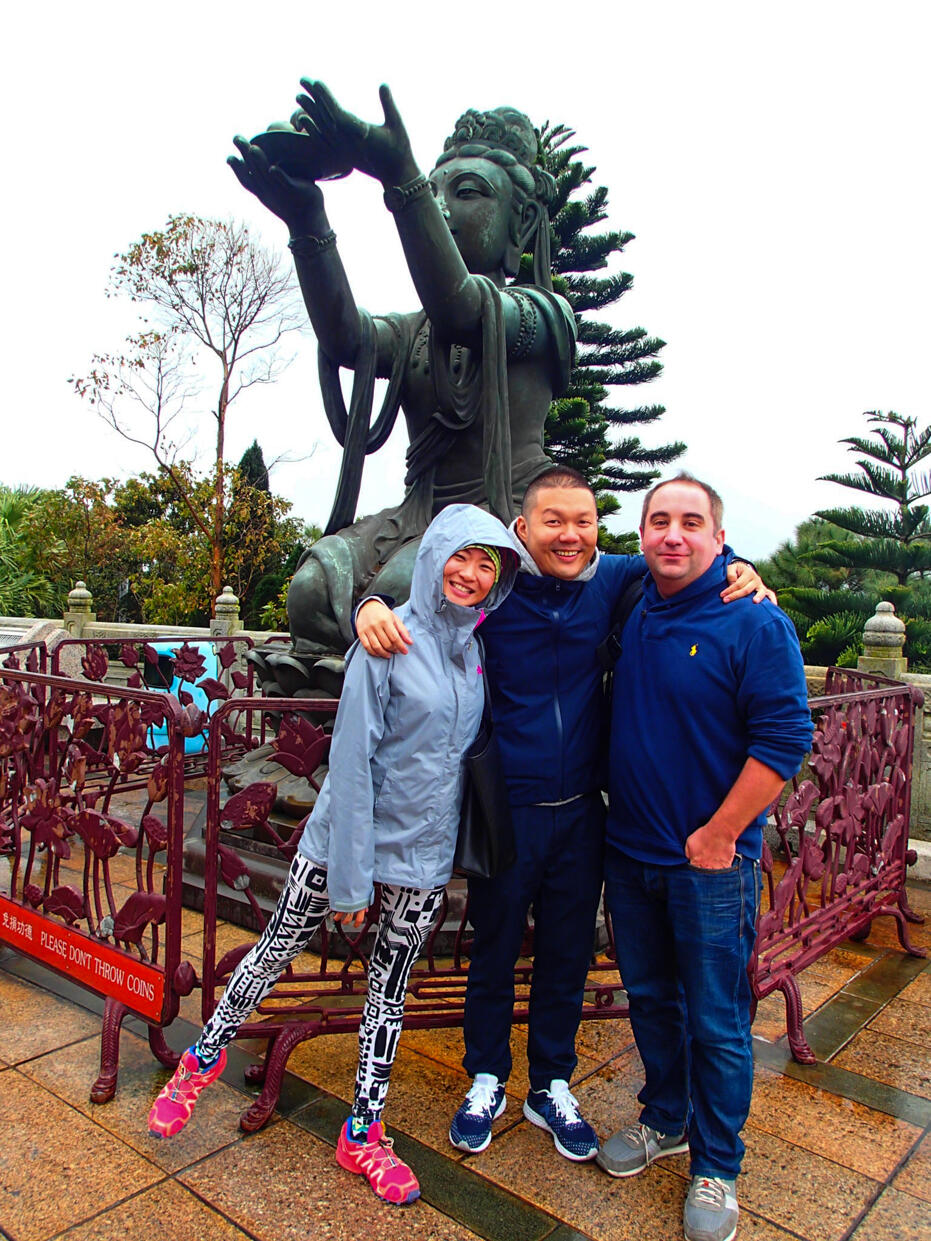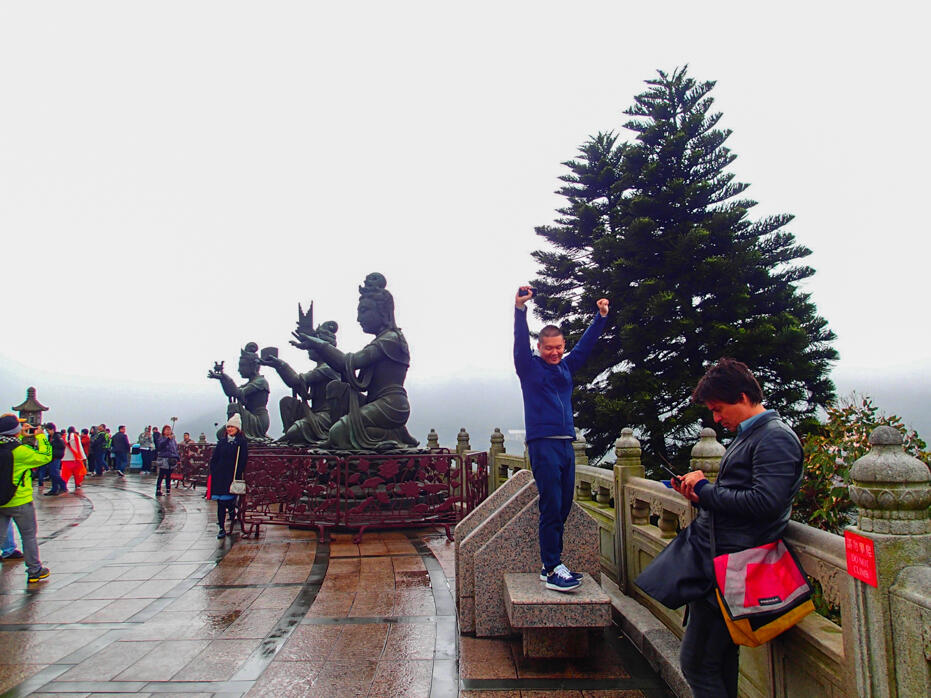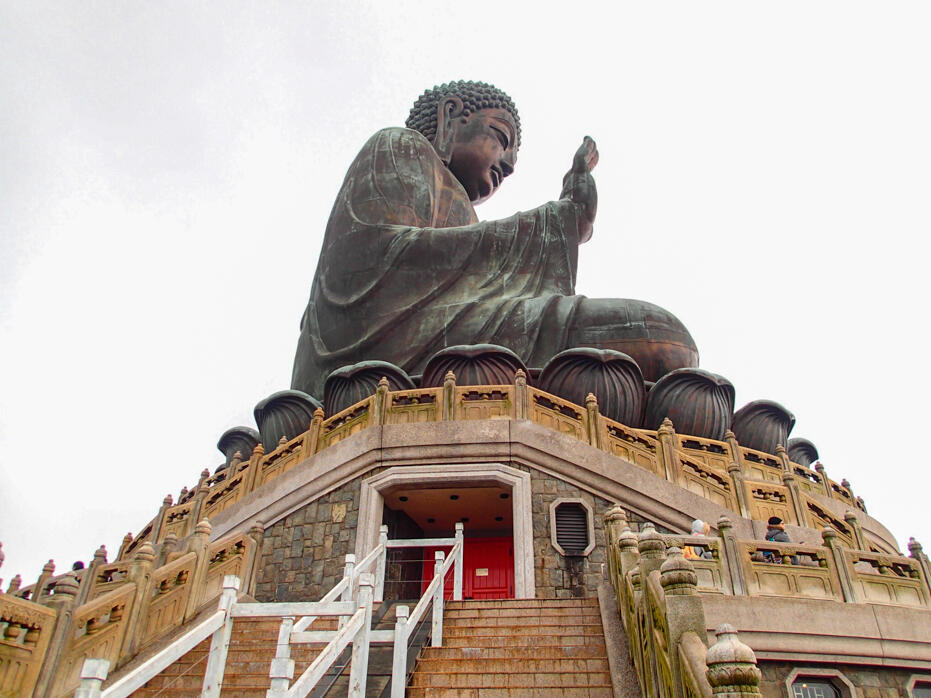 Then we took a walk through a little forest to get to these inscriptions.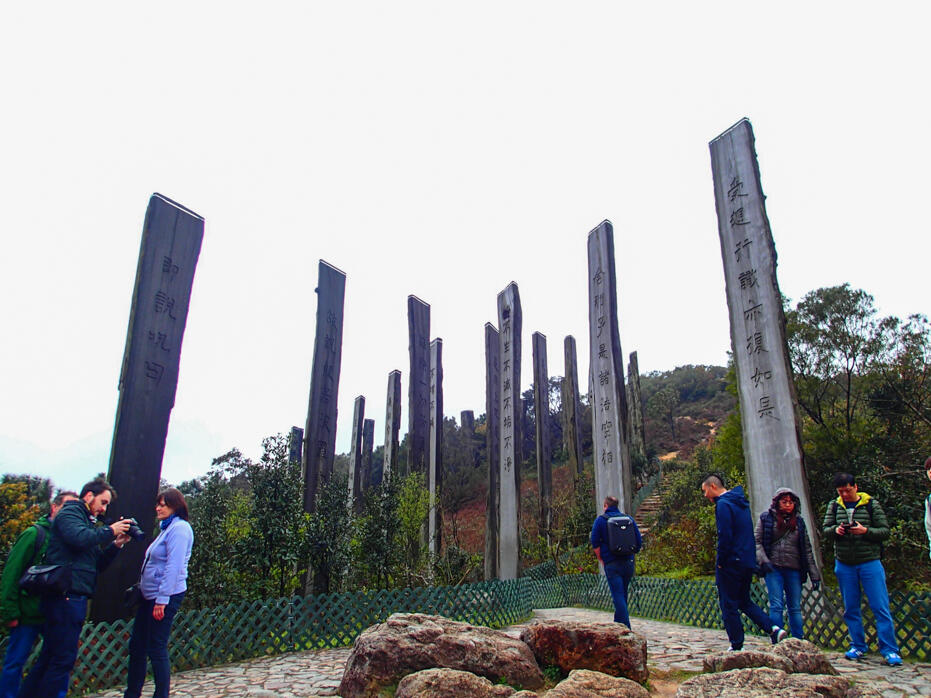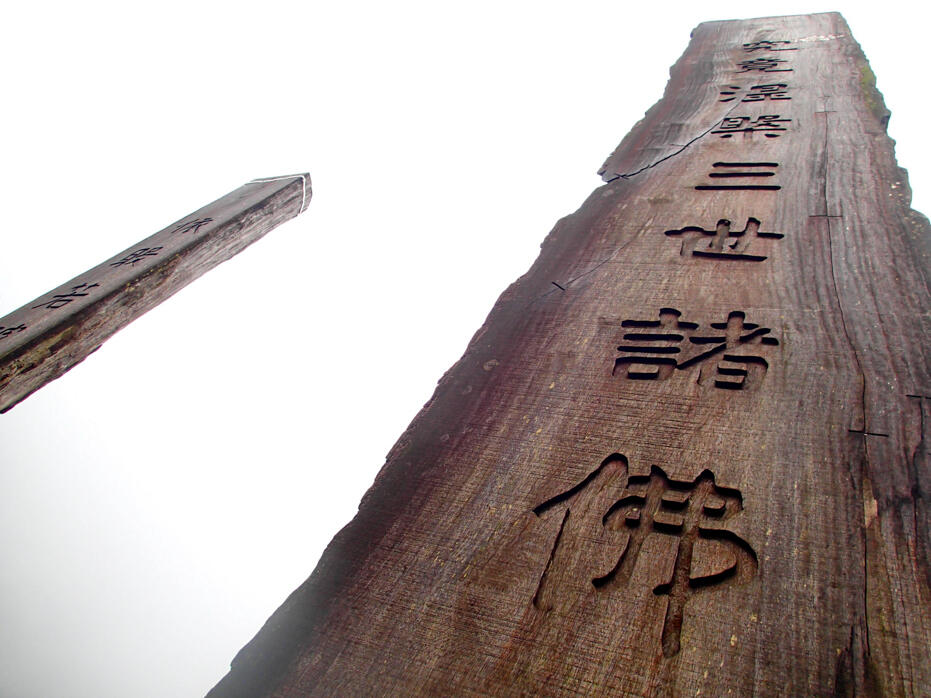 Went to a temple where TY bought a bunch of joss sticks for us to pray with.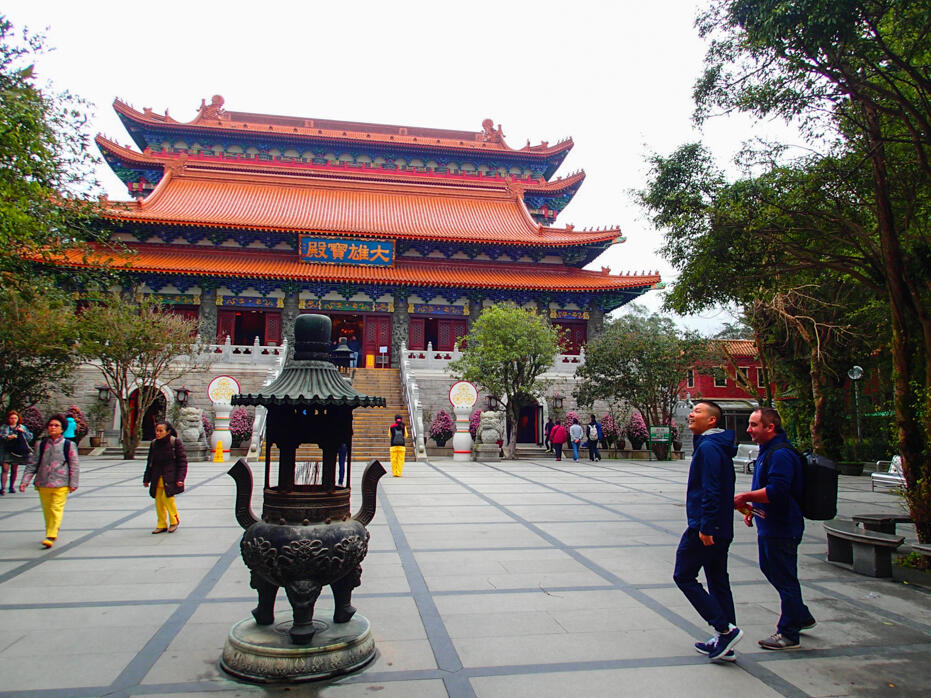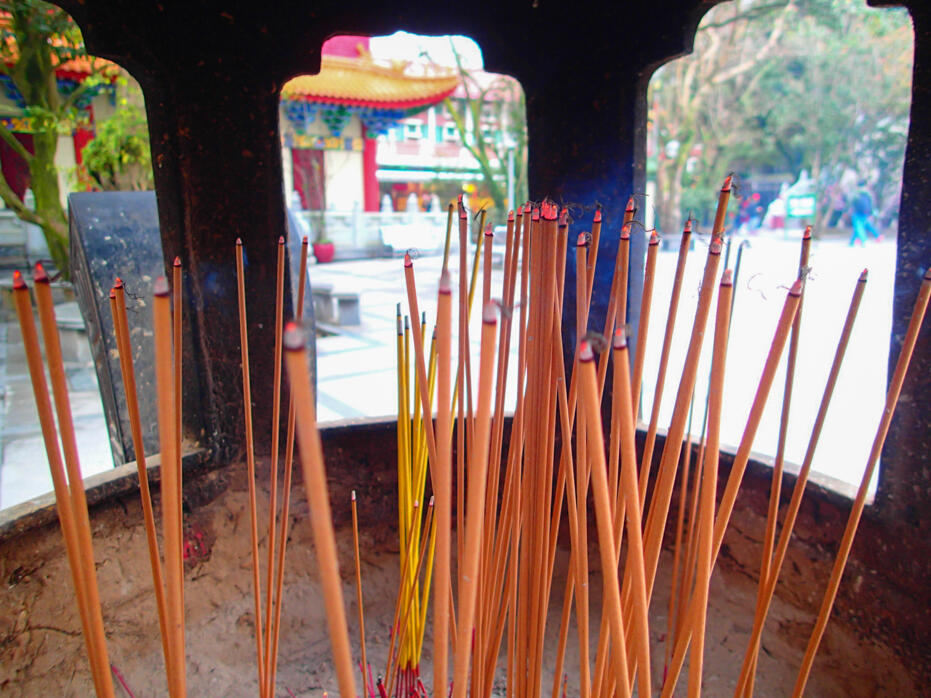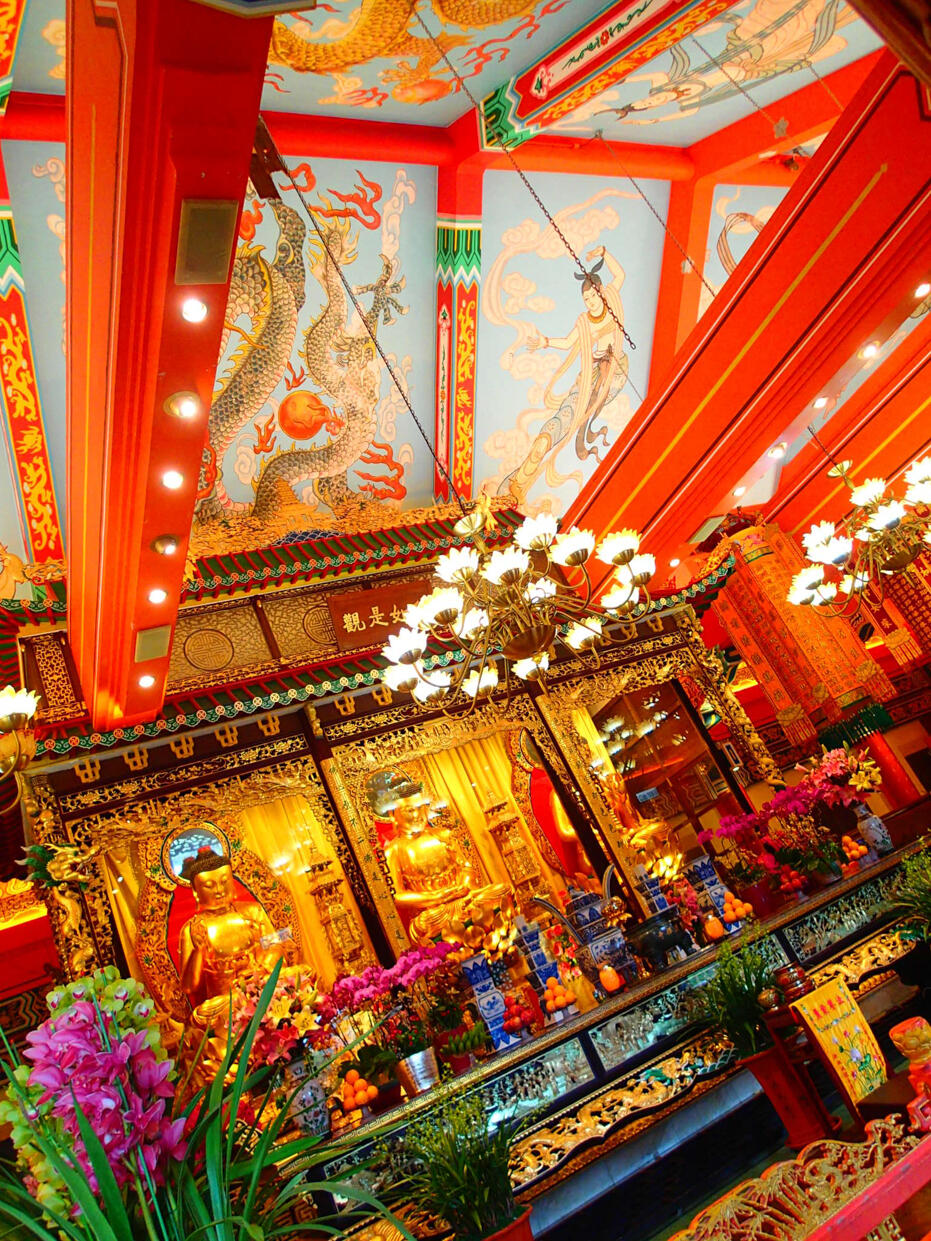 Went by the river where there were some shops selling foodstuff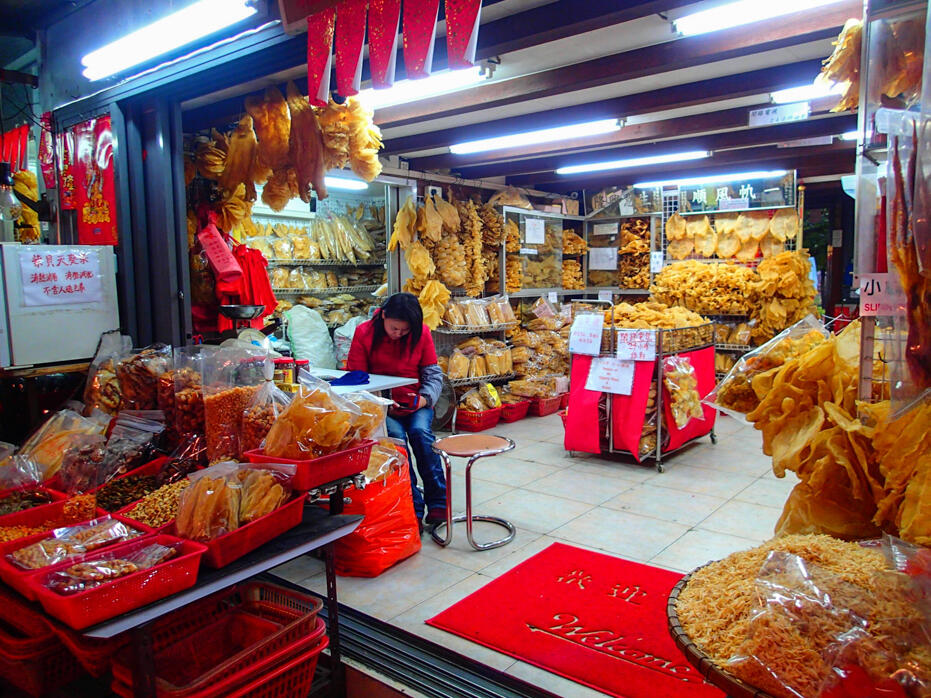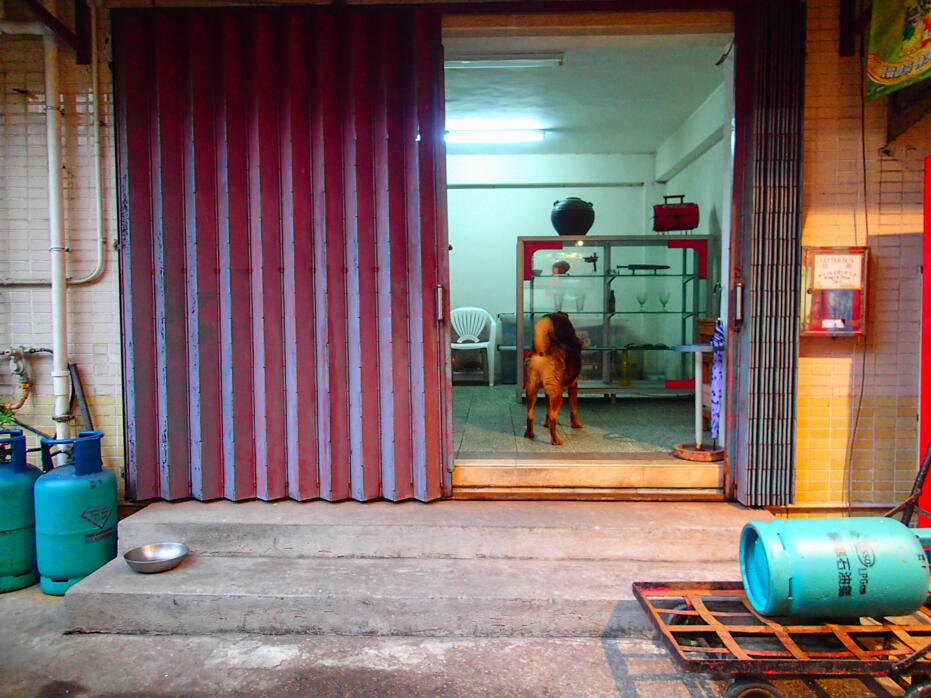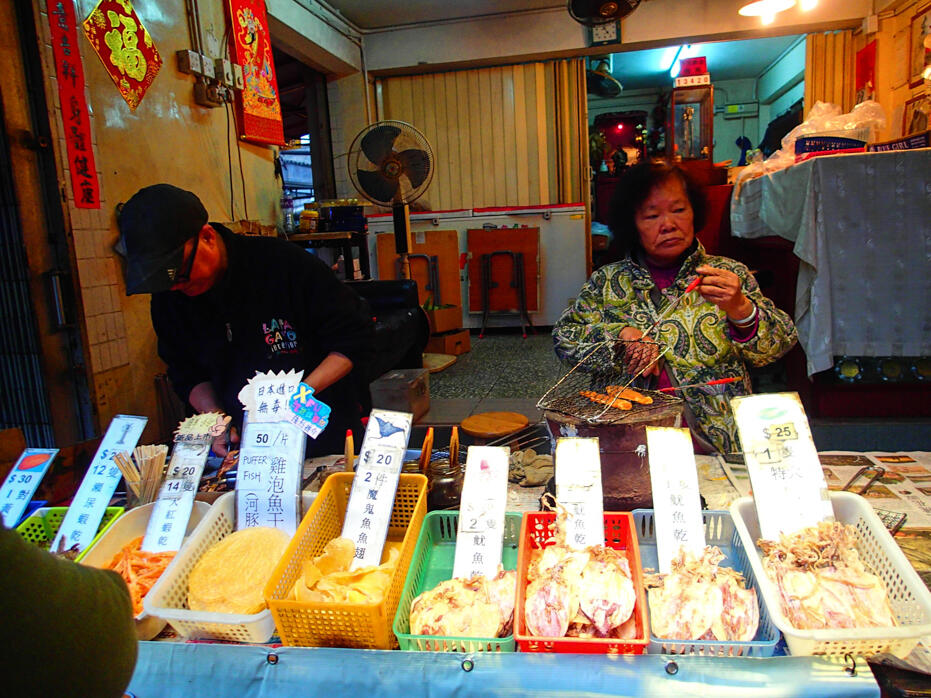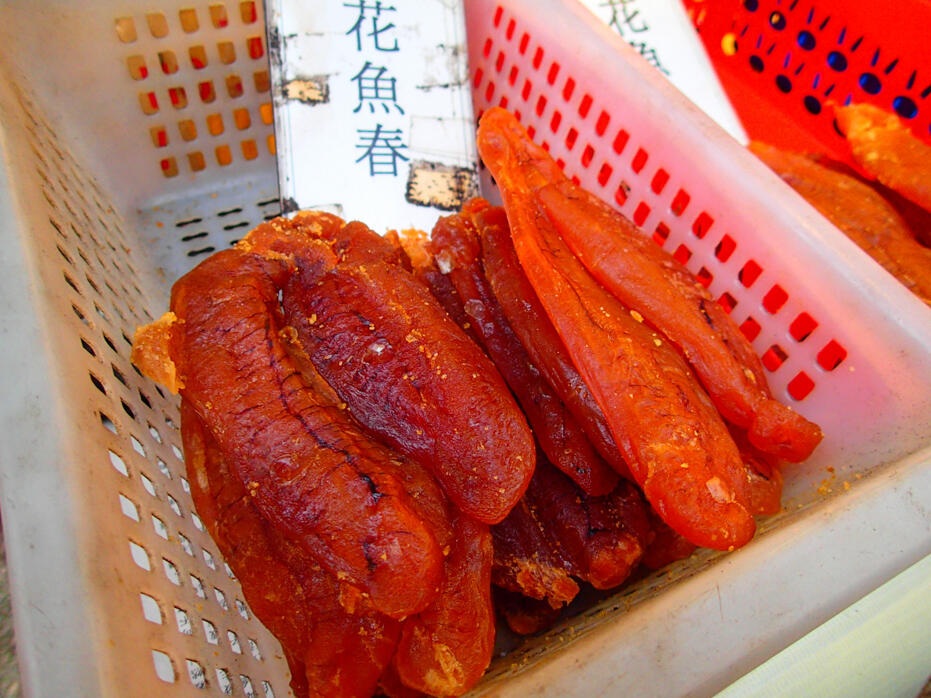 Dried fish roe!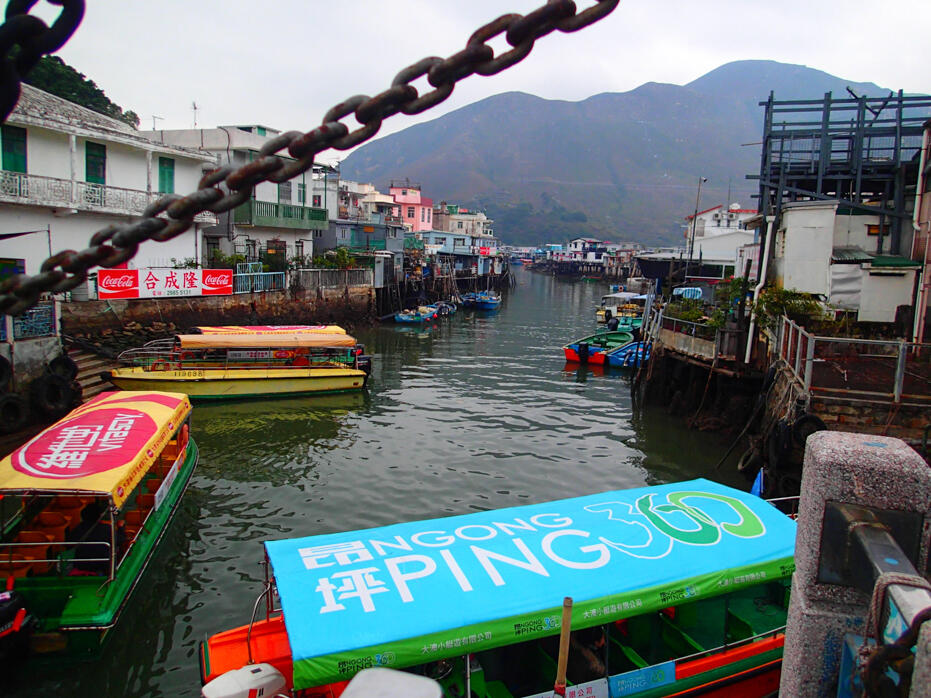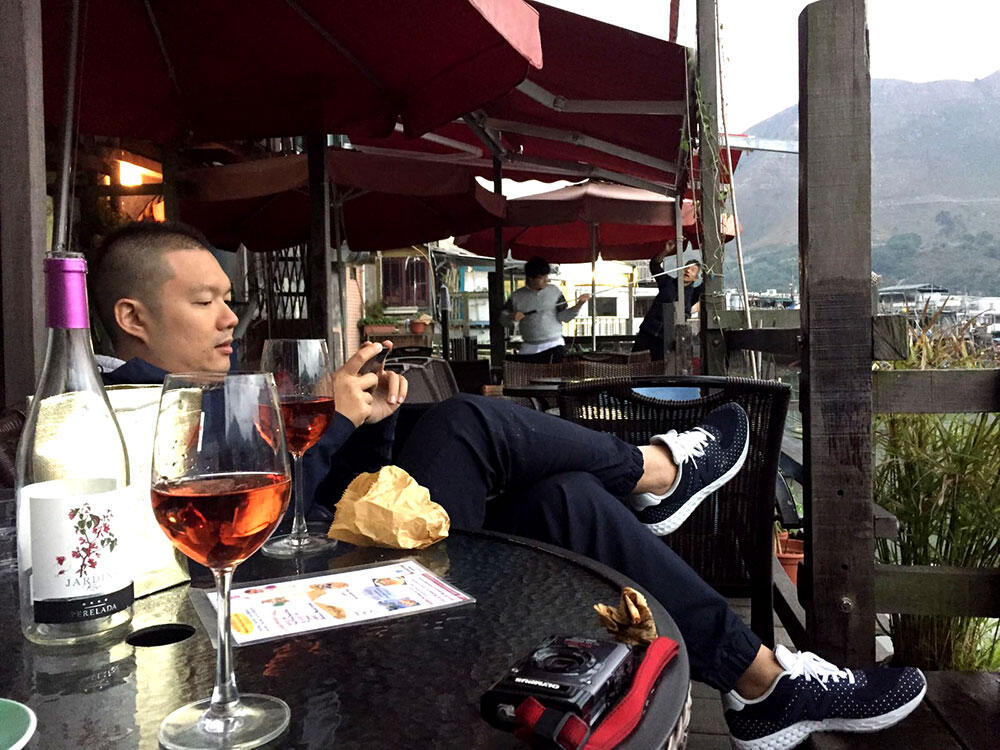 We had a couple of bottles of rose while waiting for the time to head back to where the finish line was.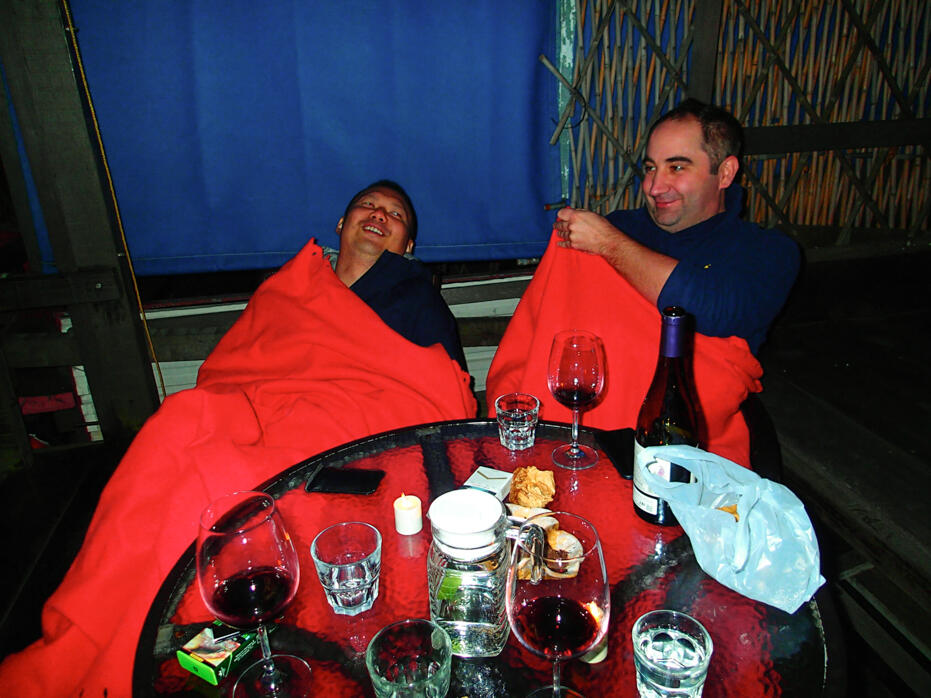 They even gave us blankies at the bar cos it got so chilly after dark.
At the finish line, was a warm bar where we could wait.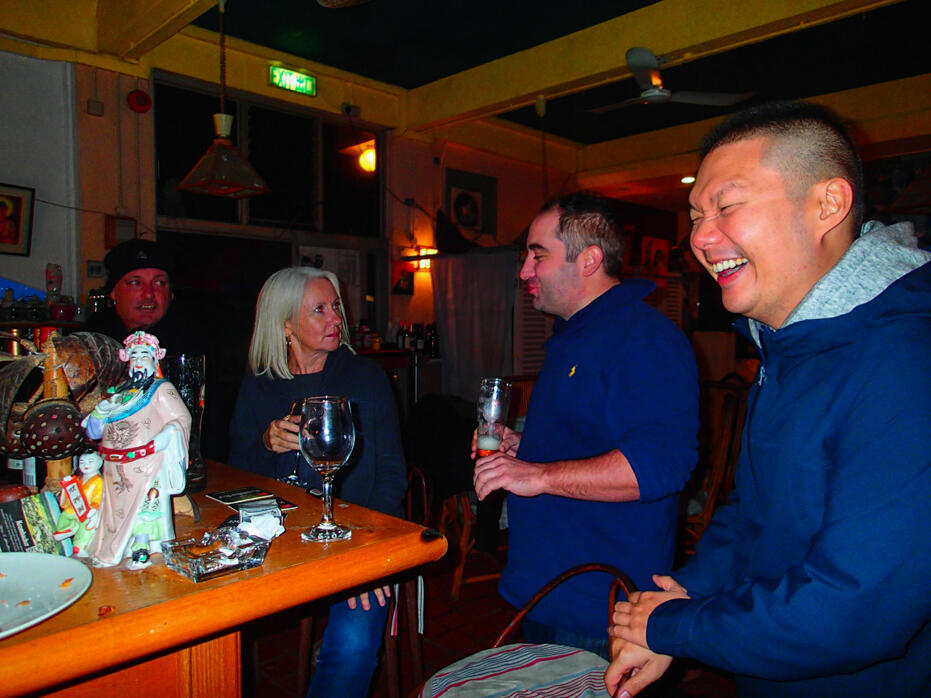 I knew when Jun would be near cos he could whatsapp us so we needn't wait in the cold.
When we felt he would be arriving at anytime, the three of us went to stand by the finish line where there were some drums or bongs Rowan happily took over.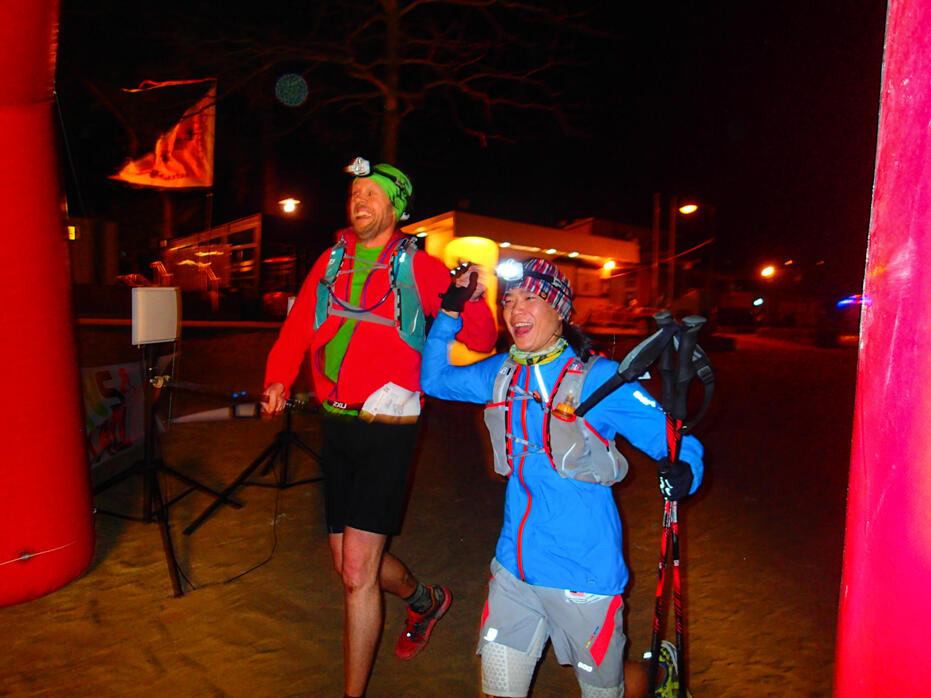 He's arrived hoorah!!!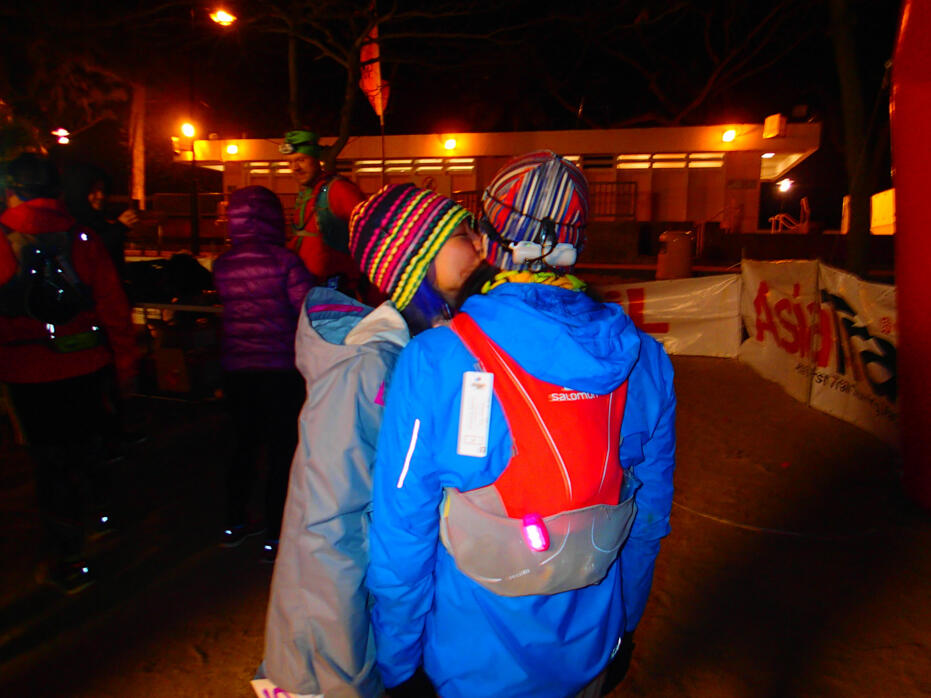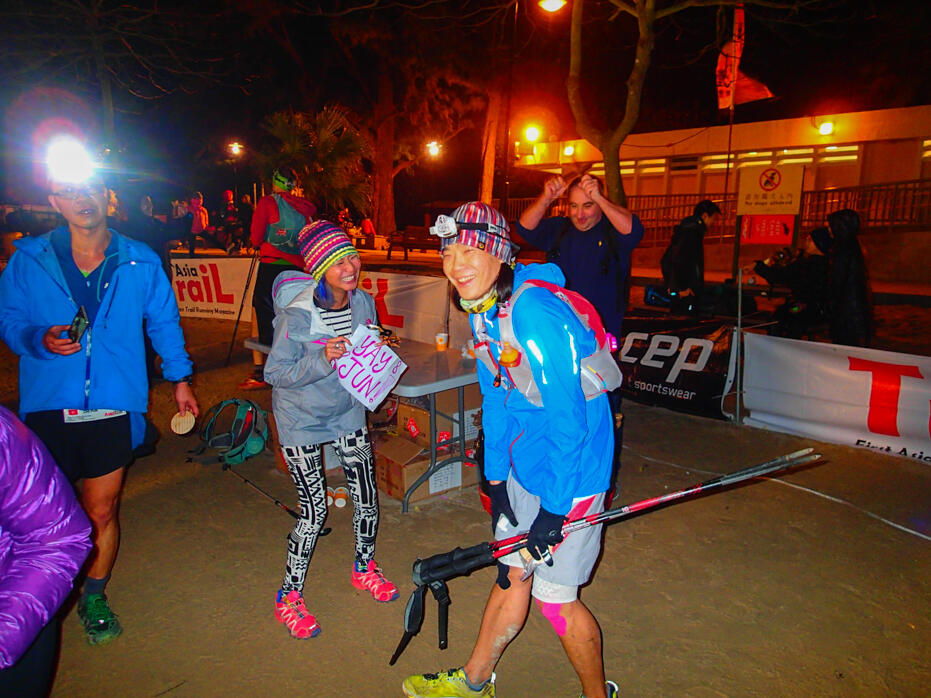 I thought he looked pretty good for someone who'd run for 22 hours non-stop ?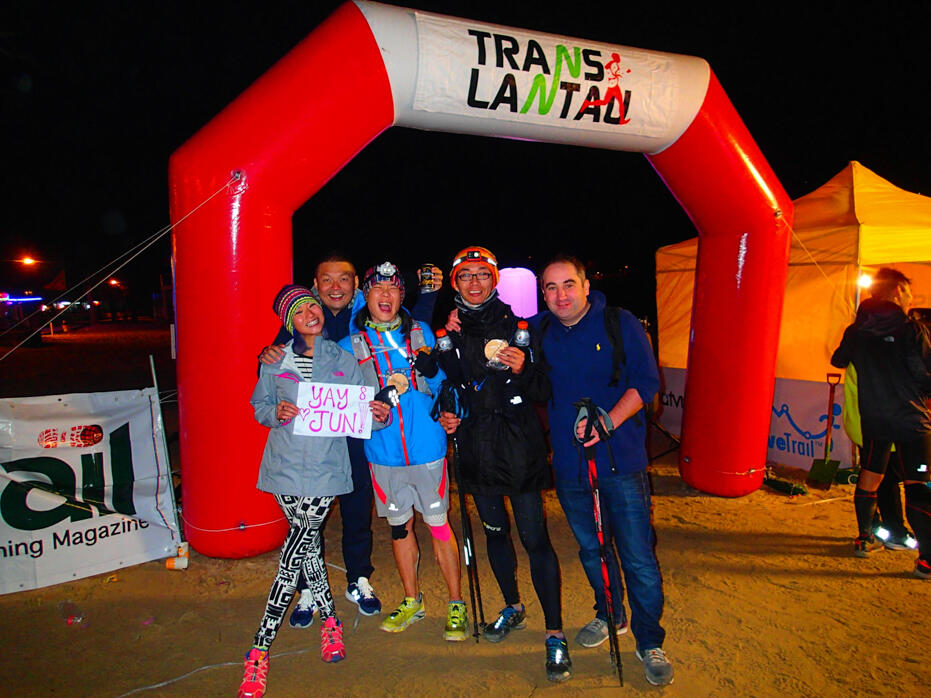 Yay you!!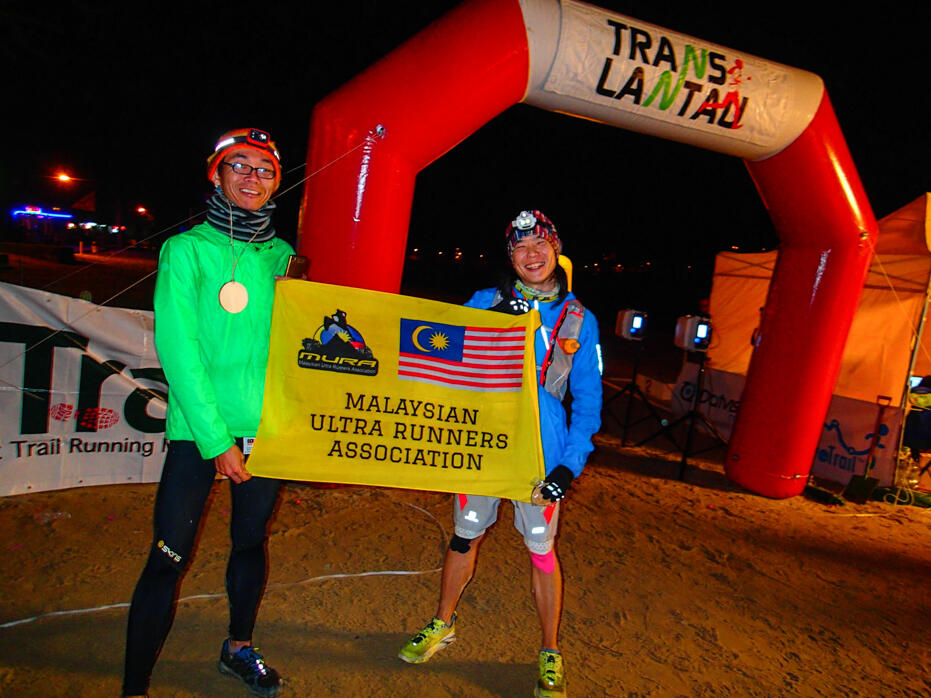 After these quick pix, Jun tried to find one of his drop bags (but it got stolen… with a few thousand RM worth of stuff in it ?) and we rushed to catch the last ferry but just missed it. Took a taxi back home cos our first priority was to get Jun home, warm and fed. He completely passed out in the car and i just felt glad he was alive and safe next to me!
Later that night he told me how they'd stopped the race for runners who didn't pass a certain checkpoint by a certain time cos the weather was so bad people couldn't see anything and were running blind. He had to use his poles to tap the ground in front of him while running (seriously wadafuq). I don't know how telling me things like this is supposed to make me feel better!
+ + + + + +
Sunday
We all went for a big lunch at ChaChaWan to celebrate him finishing the race.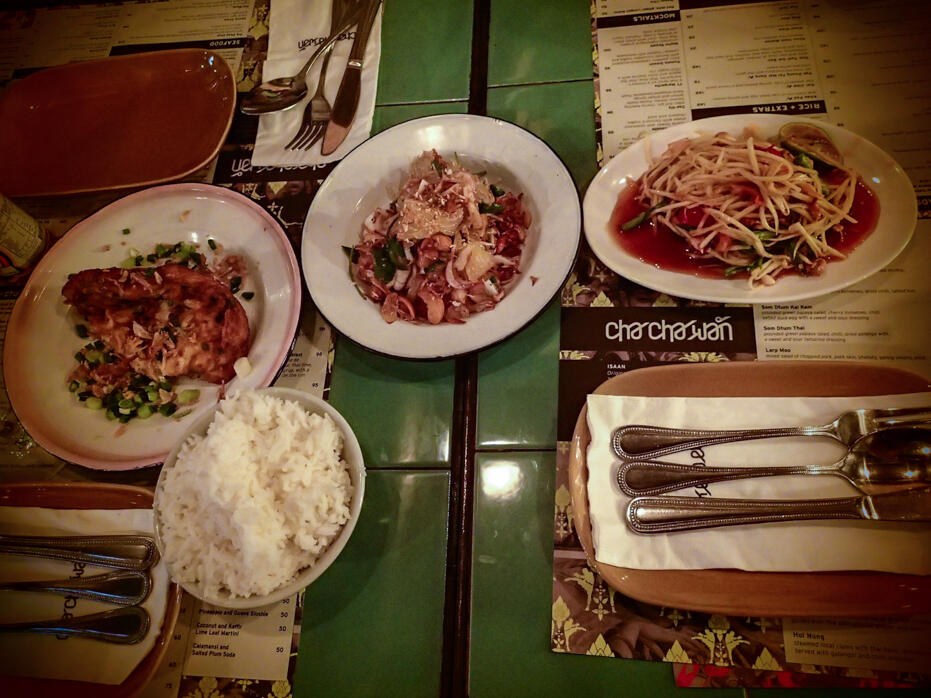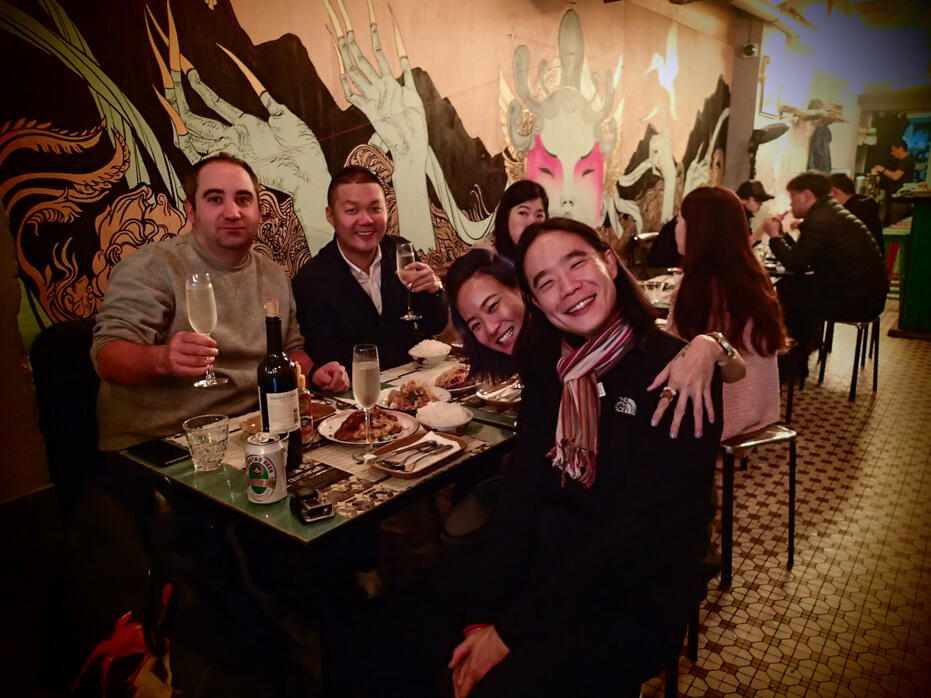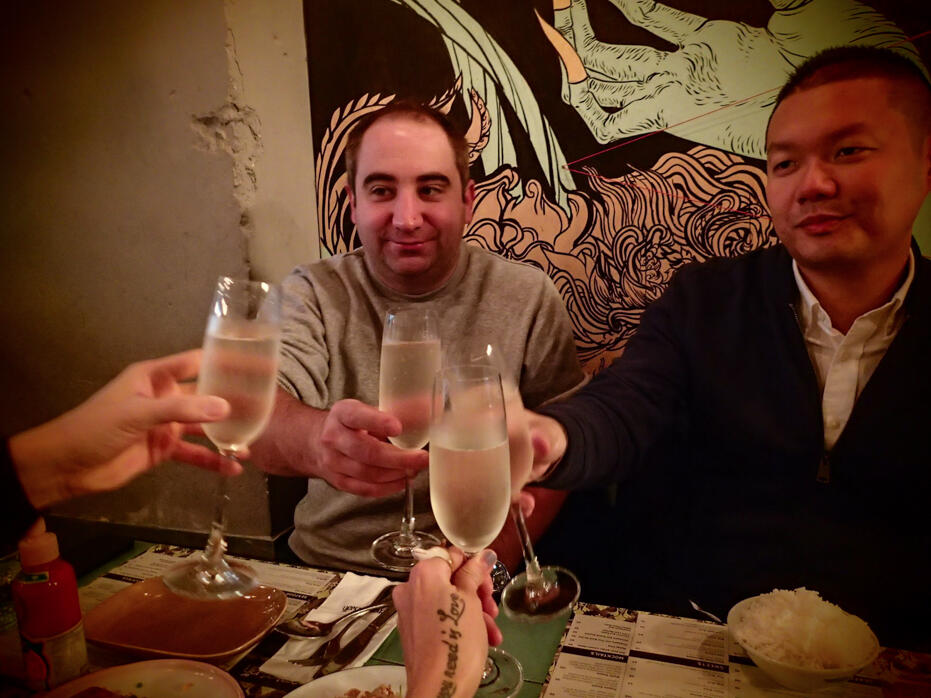 Thanks Rowan and TY for waiting with me at Lantau! It was so much more enjoyable with you guys around, tho we all felt a bit useless that all we did was drink and gallivant all day while someone ran non-stop ?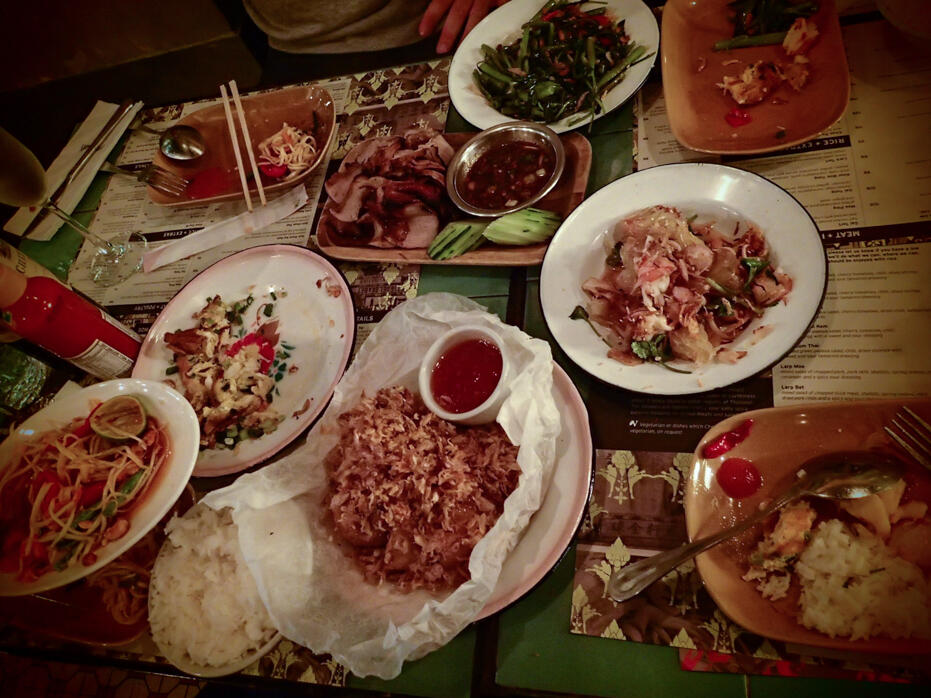 The food there was really good! So awesome to be on holiday with foodies cos everyone has done their research / knows where they want to eat / has checklists (read: Tai Yong).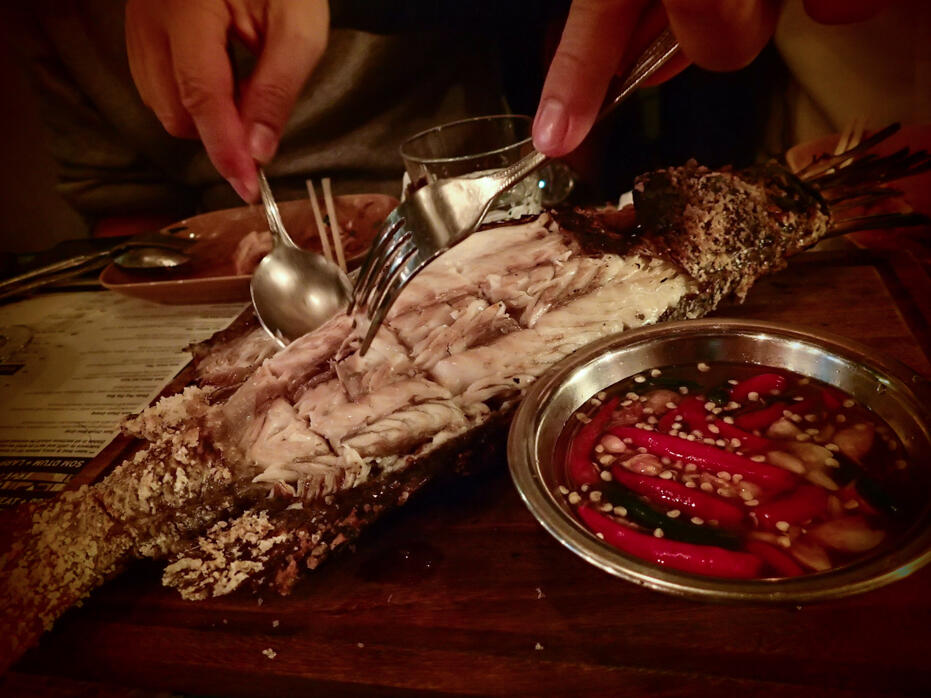 Iko joined us a little later, and we all went to get egg tarts and window shop, which turned into shopping. Iko got some sneakers and Jun and i got caps!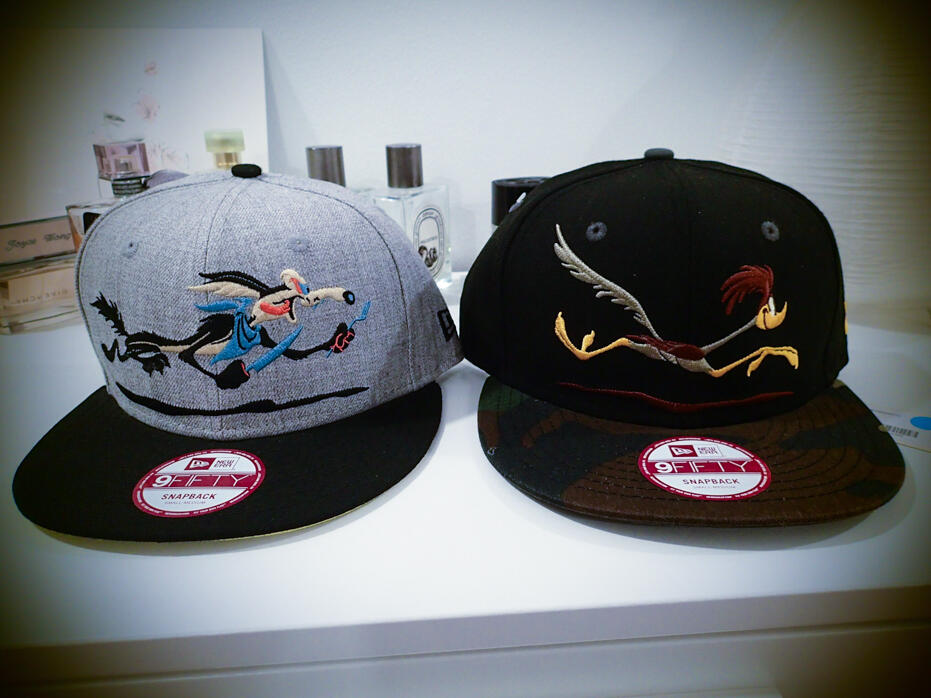 Mine is the coyote cos i'm always running after food, and Jun's is of course, the road runner ??
+ + + + + + + + + +
It's 3am on Friday right now, and Jun's in the Philippines doing this race called the Hardcore Hundred Miles.
He's running for up to 40 hours… in the mountains… in the dark… in crap weather… again.
Only this time it's 160km.
Why why whyyyyyyyy
I'm so proud of him yet i can't help worrying!
TY says he's a big boy
Yes i know, he's an adult
And i'll support whatever makes him happy
Myra interviewed him for a running article *here*!
So proud of him for getting recognition for his running!
I asked him whether i can check his location like when he was running in HK and KK,
and his response was, "Er, i don't think they have chips, this race is a bit more primitive…"
That sure makes me feel better! 0_-
Okay i'm gonna try not to worry and go to bed
While Jun is doing a hardcore race, i'm doing a hardcore detox.
If you're reading this before 8pm Saturday, please send him thoughts of good luck and godspeed!
? 
? 
?