Two weekends ago, Jun needed to meet a fellow runner in Penang who had completed UTMF last year (which Jun is taking part in this Friday) so he could describe the trail to him and know what to expect. The following Monday was Hari Raya Haji (a public holiday), making it a great weekend to get away for a longer period of time. We were afraid it'd be jammed heading up on the highway so we left on Friday night. It was still jammed anyway and we arrived at his family apartment at 1:30am. I headed to bed almost immediately and slept soundly till the next afternoon.
Oh to be able to sleep without setting an alarm!
I'd been getting 6 hours/night for the past week so i pretty much RAN away to Penang so i could get some sleep.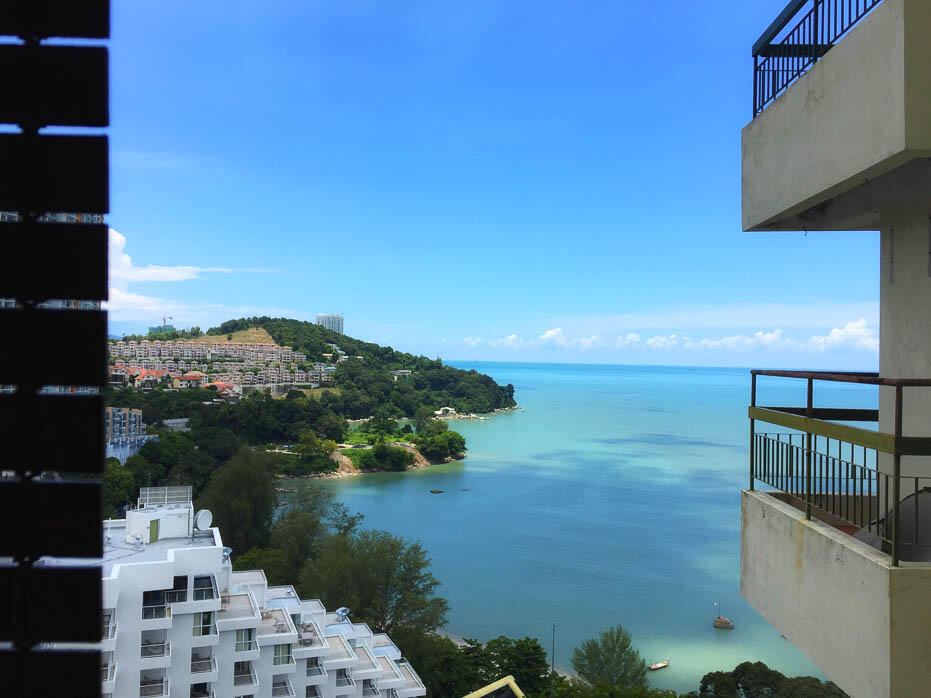 When i awoke, Jun was out buying breakfast.
He didn't know what i felt like that morning so he bought… 7 dishes for me to choose from #damnlebih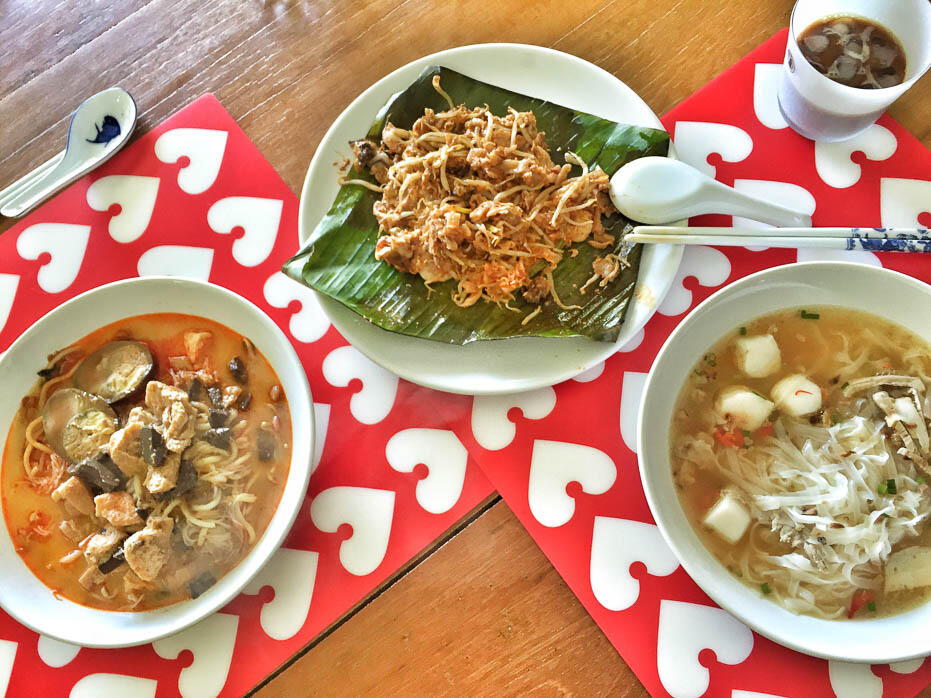 L-R: Curry mee with blood, char koay teow and koay teow th'ng (all my absolute FAVES)
I'd surreptitiously packed my laptop charger and external drive thinking i would get a little work done there.
Arrived to realise… i'd forgotten the entire laptop 0_-
Was a little surprised at myself cos this has NEVER HAPPENED but figured it was for the best since i've not been separated from it for more than 24 hours since early June in Langkawi.
I just ate and slept allllll day, it felt sooooo goodddddddddd
In the beginning i was a little antsy, like what do i do? I can't watch netflix! Can't google something i'm thinking about to read up. Can't do a little work here or there to feel less useless.
Wow i really needed to be FORCED to be off my lappie in order to recall what i would do with myself in its absence…
like read the books i brought,
breathe in the ocean air and mentally take note of how it smelt,
fall into cuddles in bed with abandon,
linger in and out of naps.
I glanced at the cats, you guys get to do this all day! I wish i was a cat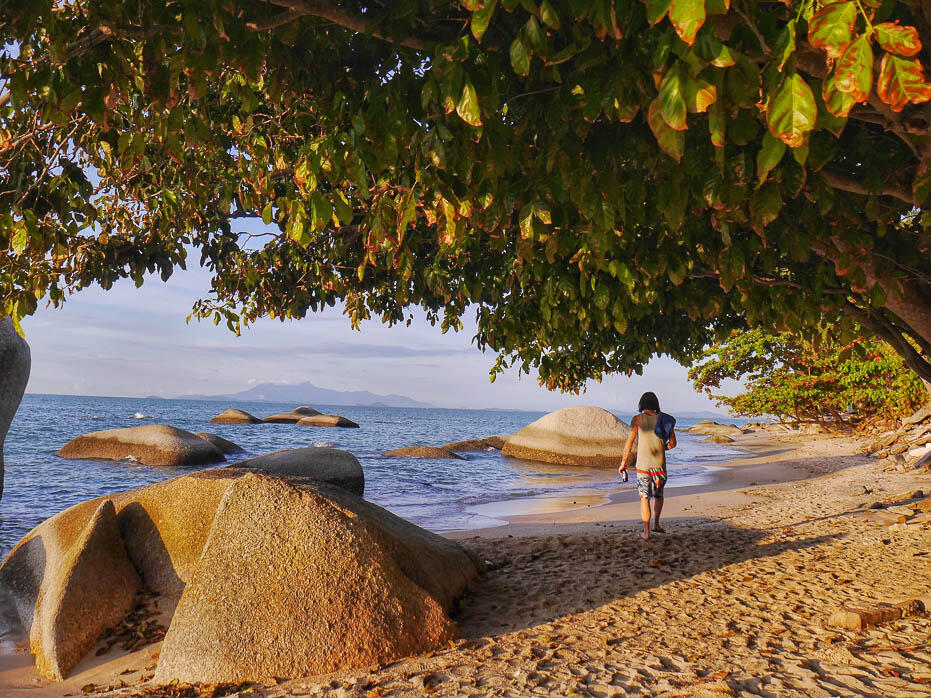 Right across the apartments is a little beach that is usually empty with no tourists, the way we prefer!
It has its own tiny bar and cafe at the bottom of the steps that lead to the beach, where we get our beers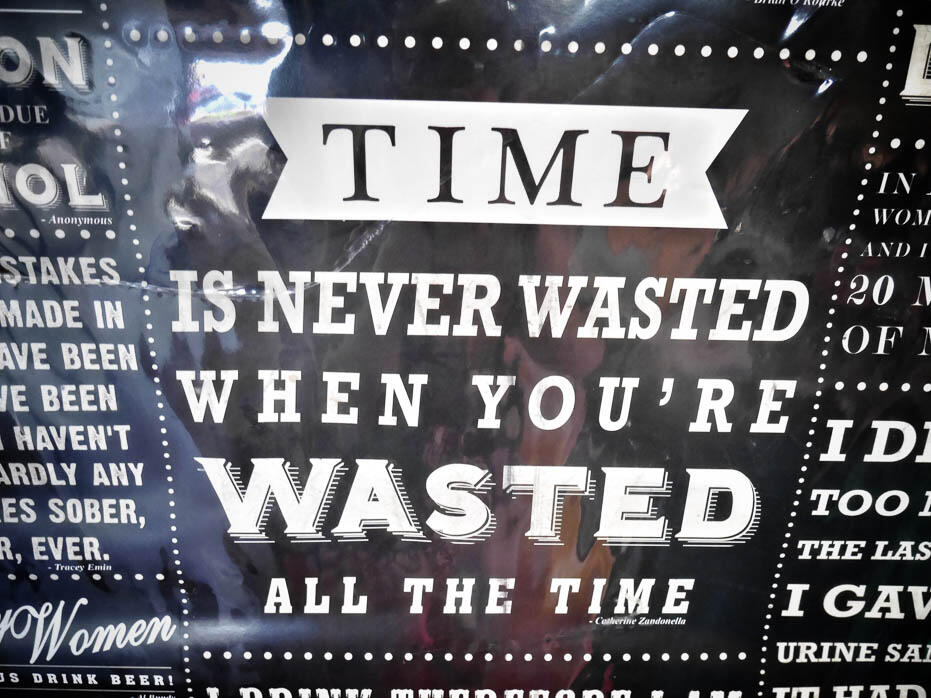 I miss Deep haha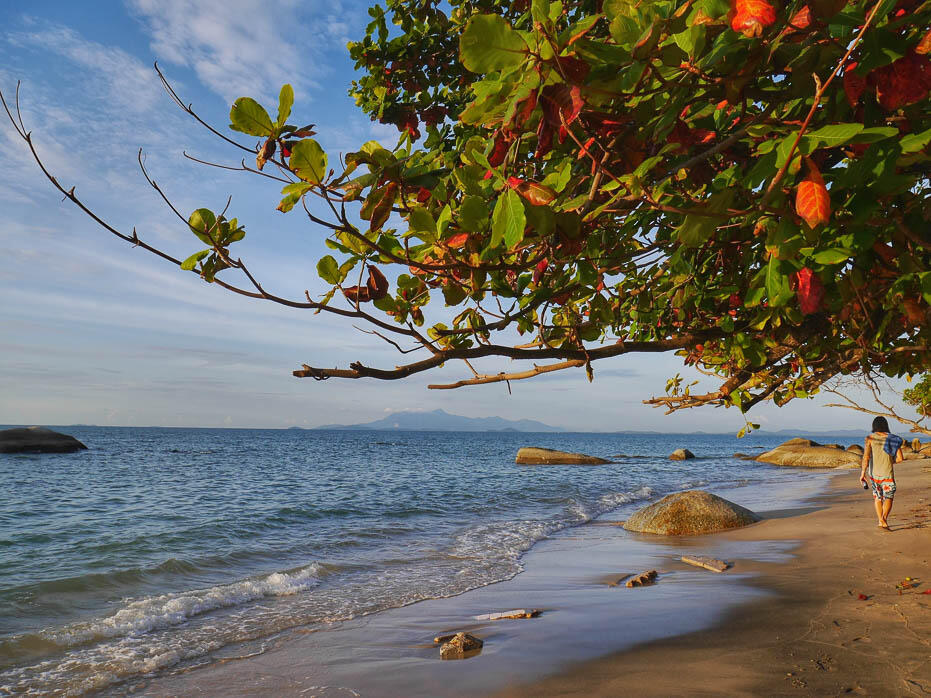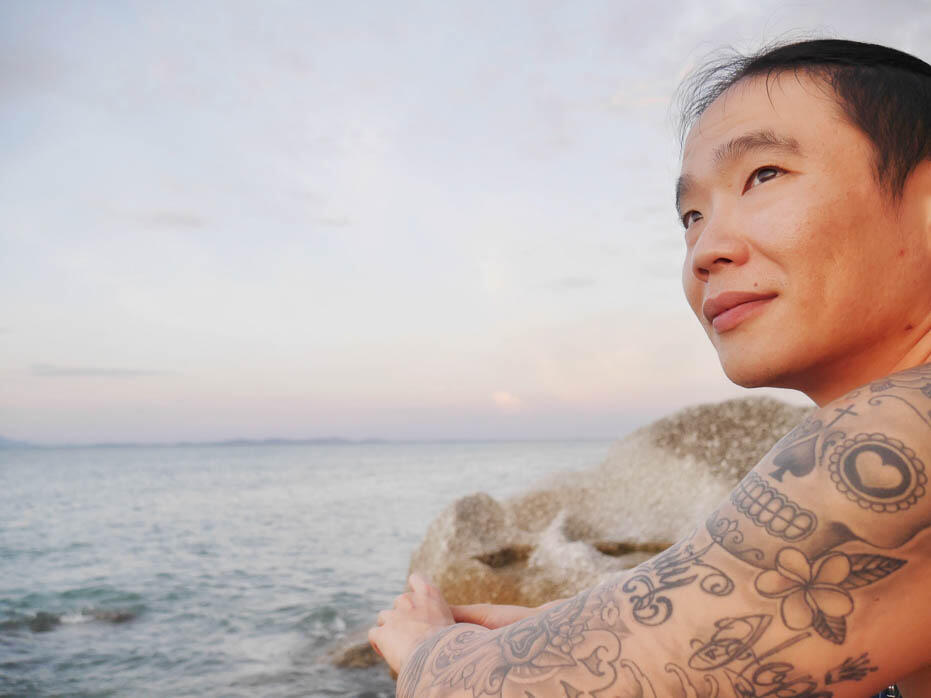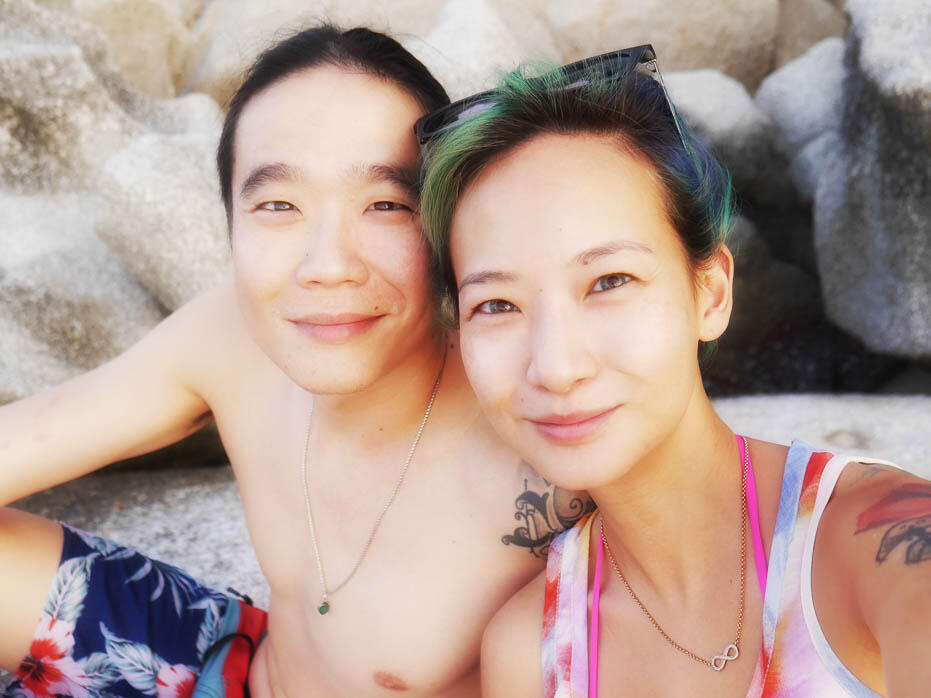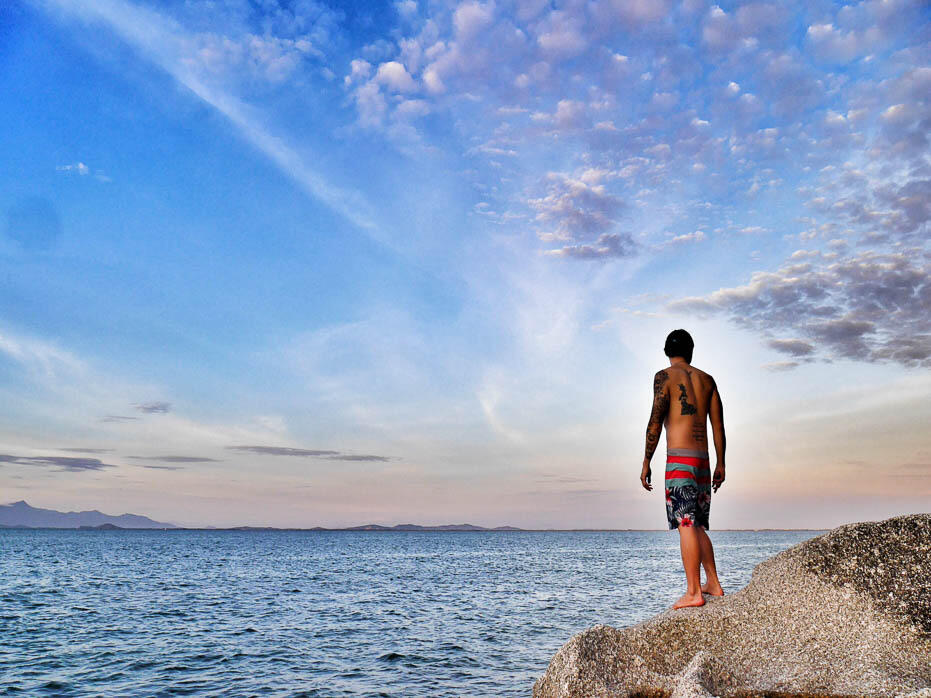 Jun is always running and rushing ahead, climbing on things, checking out where else to go / do / see. Can't sit still!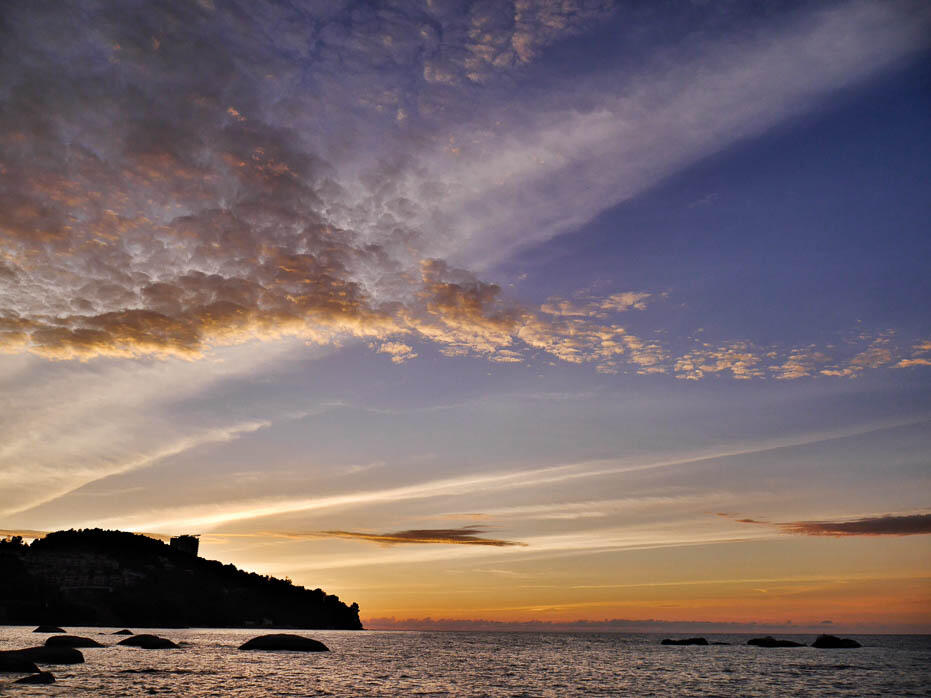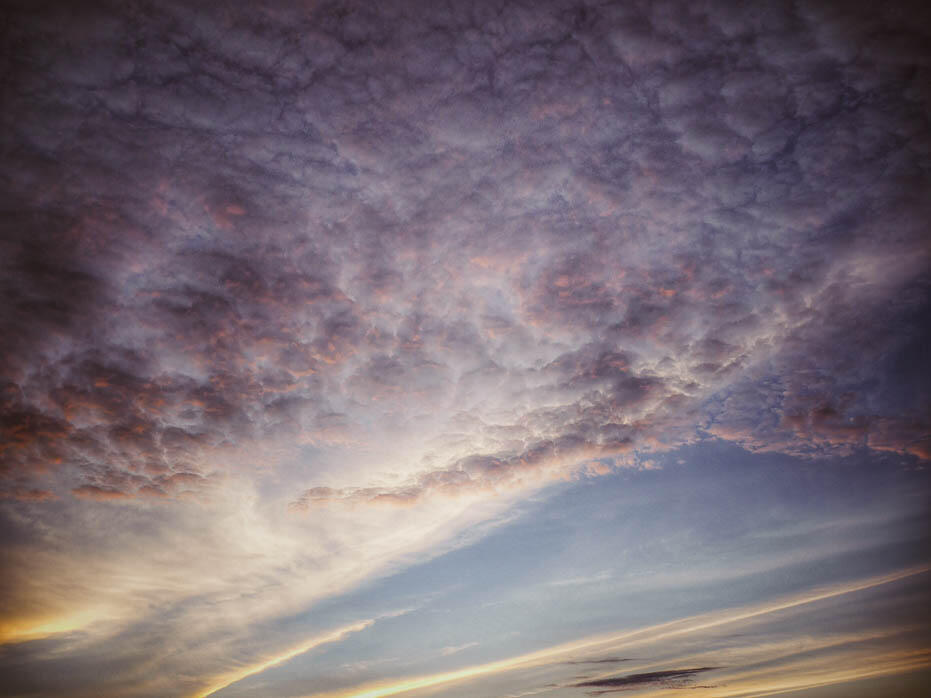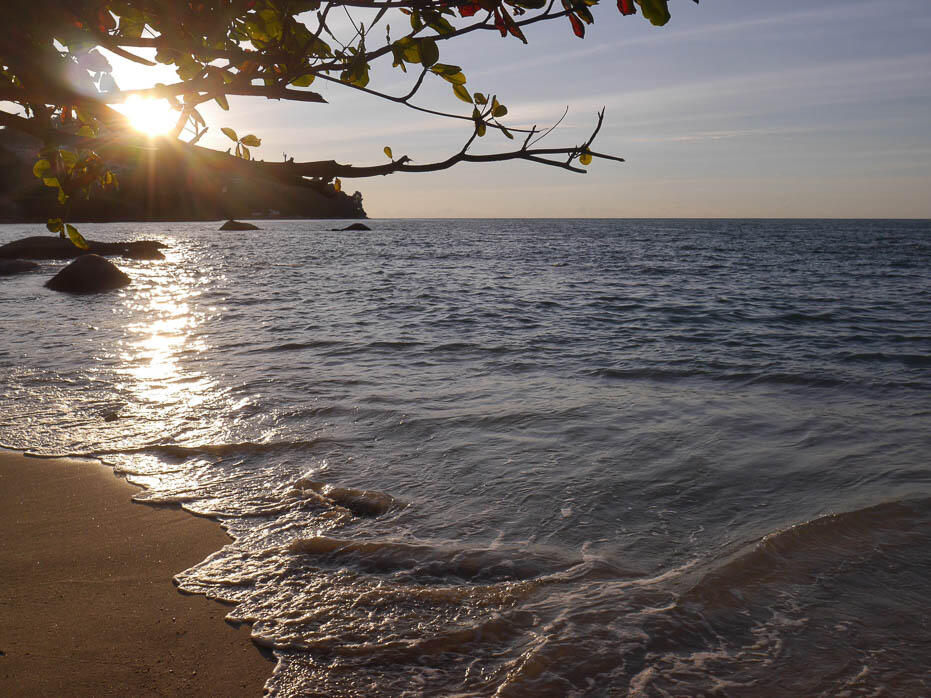 Lap it up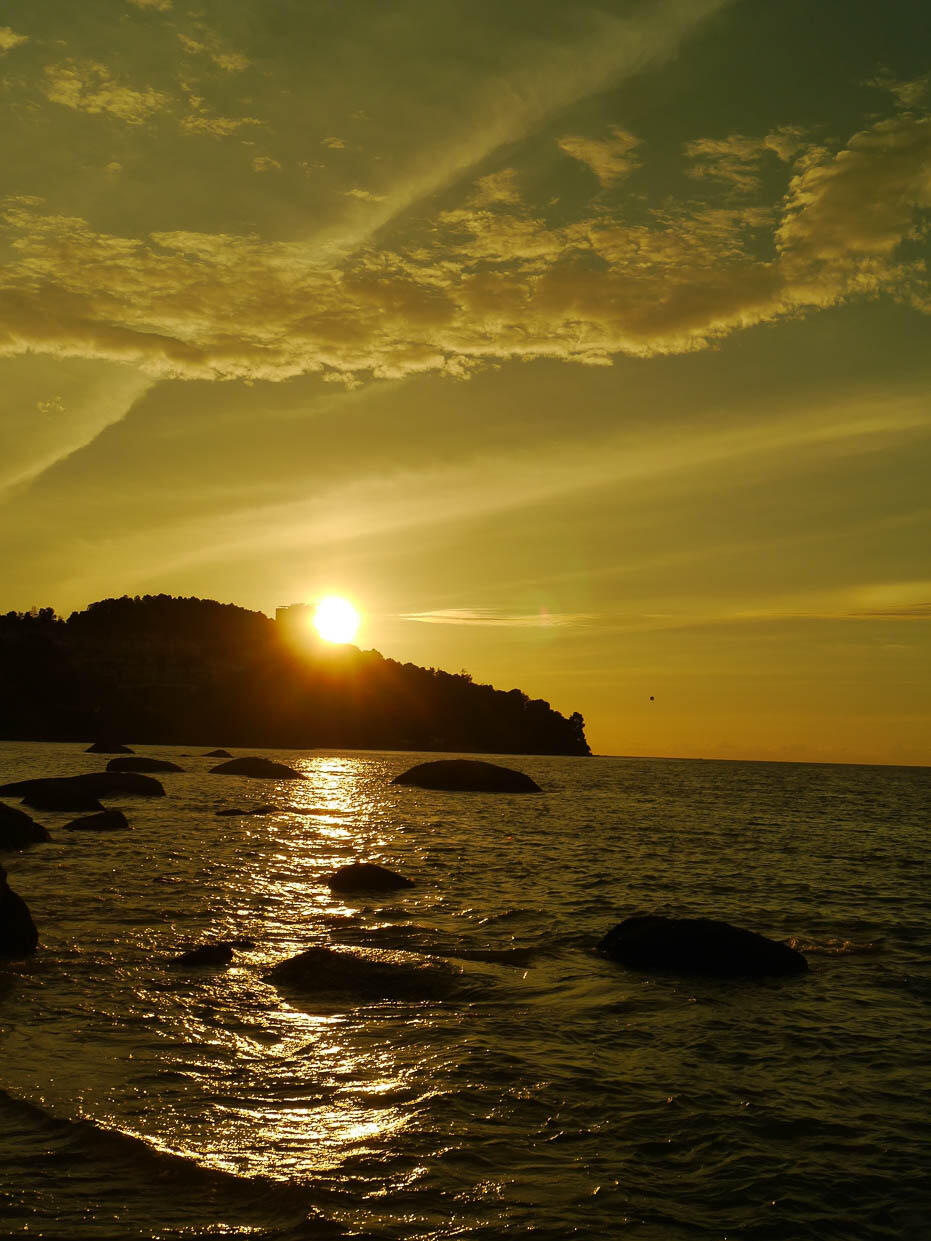 Liquid gold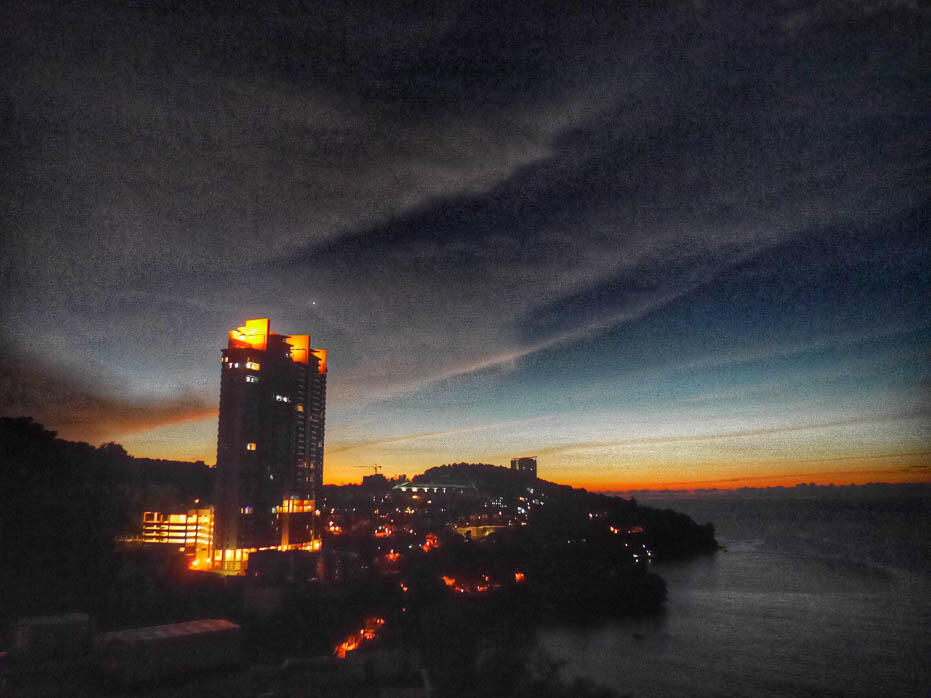 From the apartment balcony
We took a 10-min drive down the road to a local seafood restaurant regularly patonized by many families, food is decent!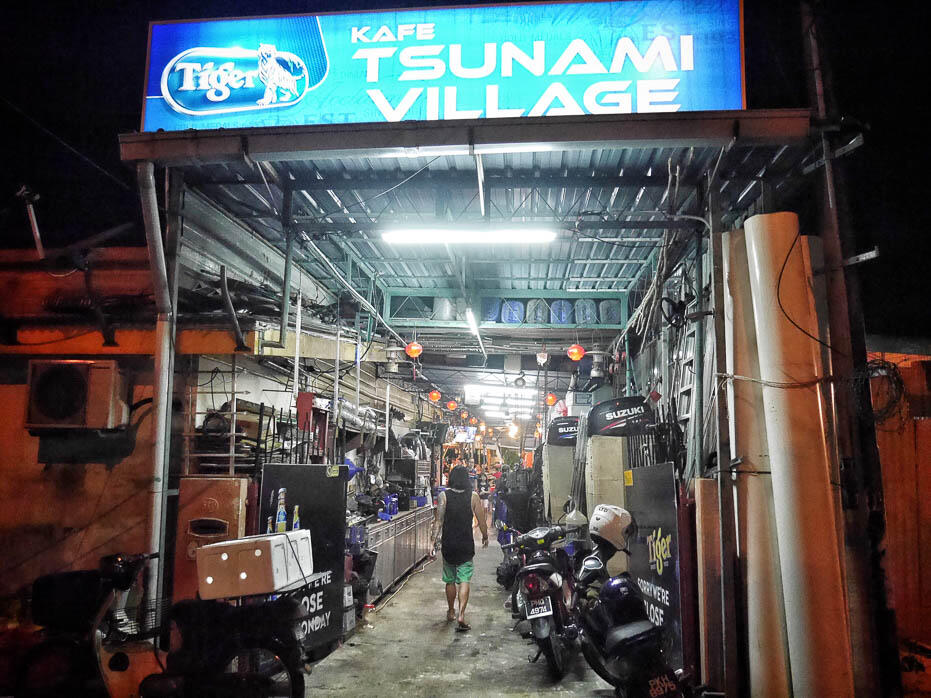 You have to walk past a motorcycle business leading in to the restaurant that's set on a wooden pier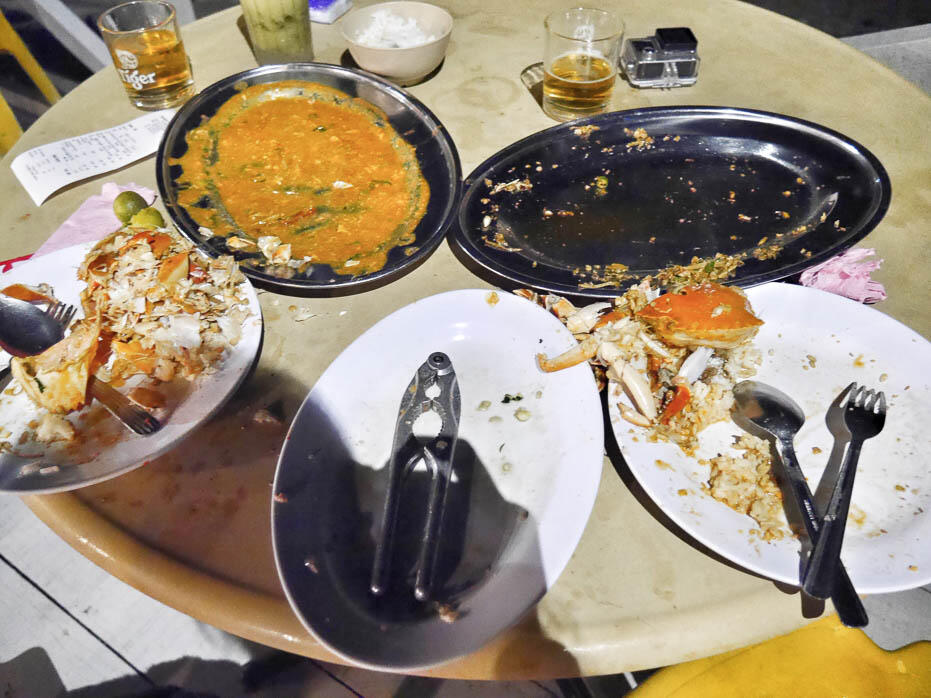 Whoops forgot to take pix of the meal
The next day, Jun went for an early morning run with two Penangite friends at 6am while i soaked in more sleep till noon. Damn once i got addicted to the act of sleeping, i was all GIVE IT TO ME. We headed out for lunch when he came back at his favourite coffeeshop in town, Ping Hooi, where we whacked our favourites.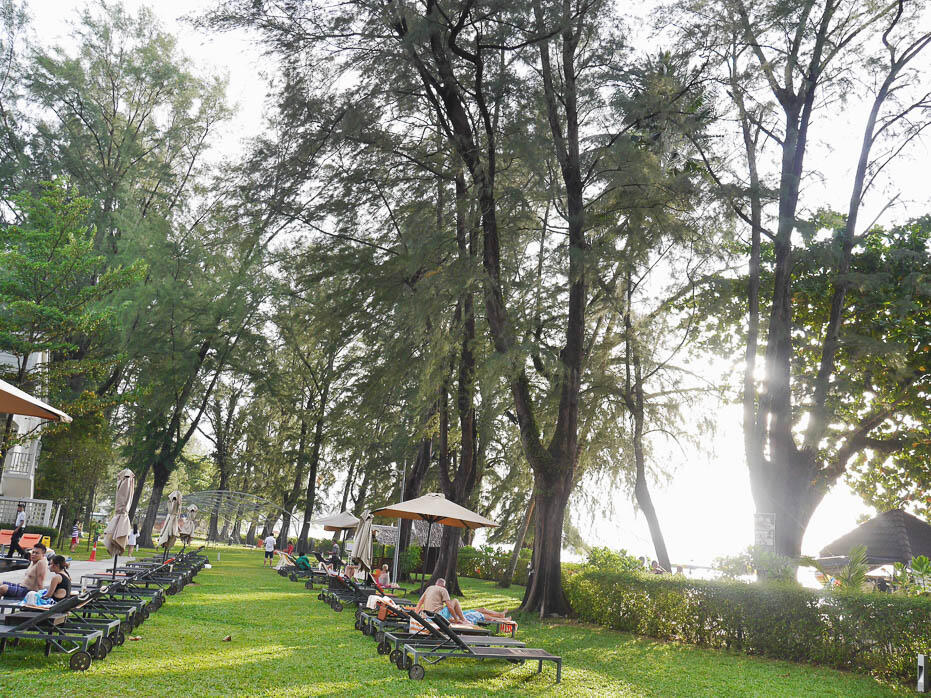 In the afternoon, we went to Lone Pine Hotel (Baby's favourite, tho i've never stayed there) to get a massage at Pure Energy Spa (which i'm a member of at their KL outlet in GE Mall).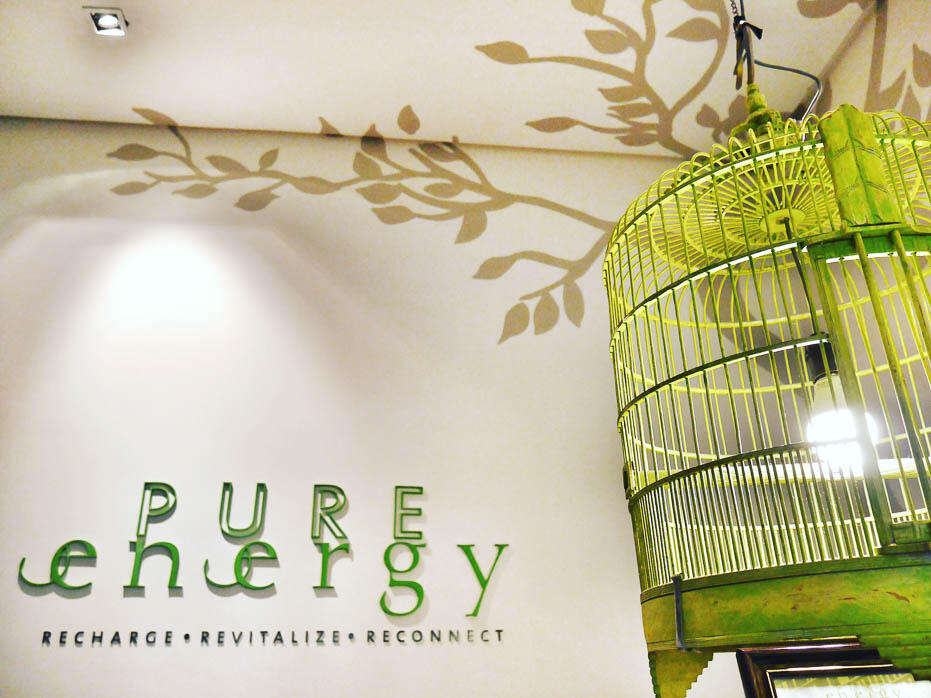 It's just down the road from where we're staying and i'm so happy i realise this now, cos we're gonna get a massage there EVERY TIME. We both had a 75-minute massage and the therapist i had (named Shirely) managed to quietly and deftly pinpoint a tiny knot in my lower back as i silently cheered her on to get it. She kneaded it out slowly and firmly all the way to the top of my shoulders and my brain just shouted MARRY ME! Can i marry a massage therapist? Who CARES what people think!
It was really amazing. As Jun and i sipped our tea post-treatment, he said, "Shall we come back again tomorrow?"
#damnlebih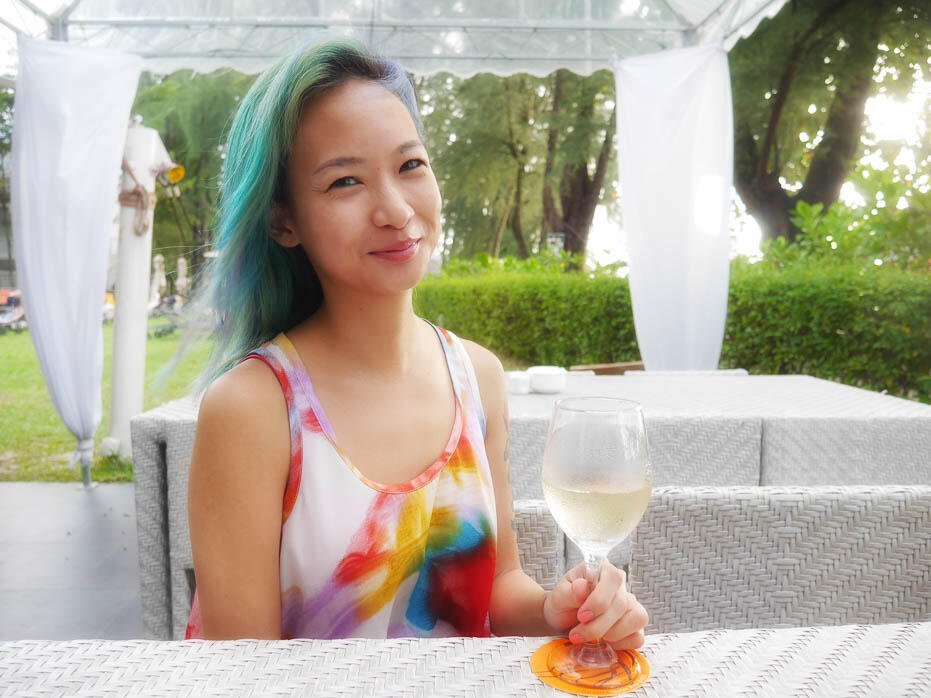 Had a post-massage pre-dinner drink at Lone Pine's restaurant,
then Jun insisted on driving 45 minutes around the island to his family's favourite seaside restaurant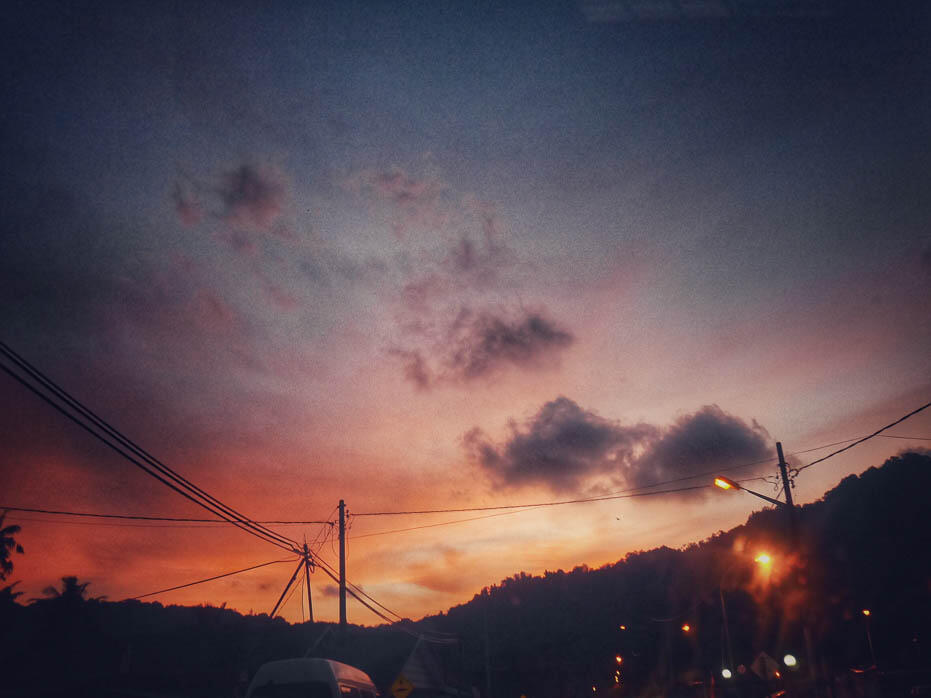 Sunsets on an island are always prettier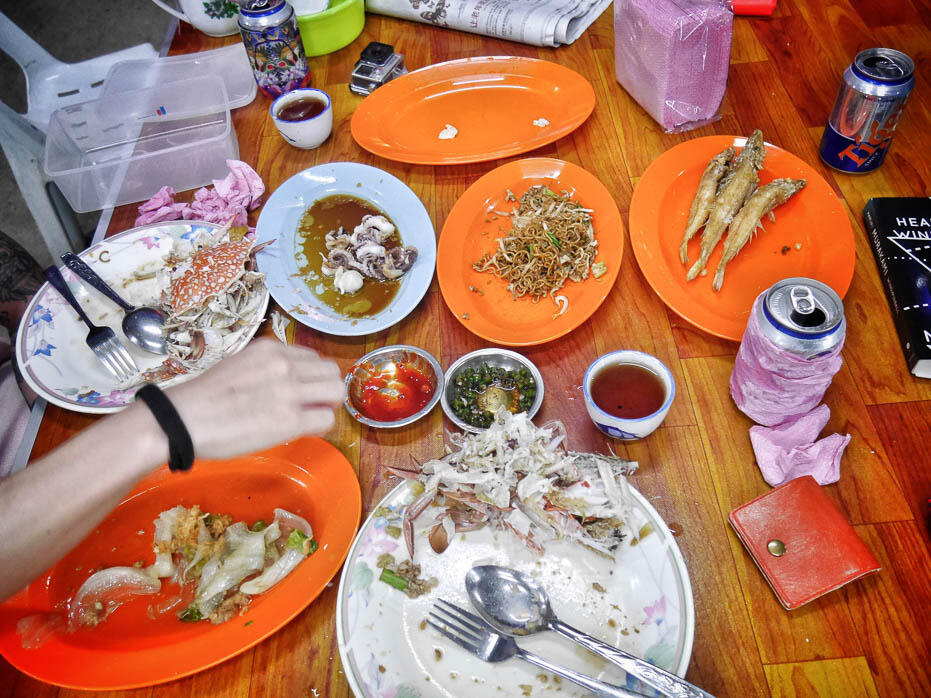 Oh no i did it again! Well i took close-ups of the food *here* before, same dishes!
When we arrived at the place, we both realised we had no cash on either of us, so we ordered food and i read my book while Jun drove 15 minutes out of the deserted area to get to the nearest ATM :p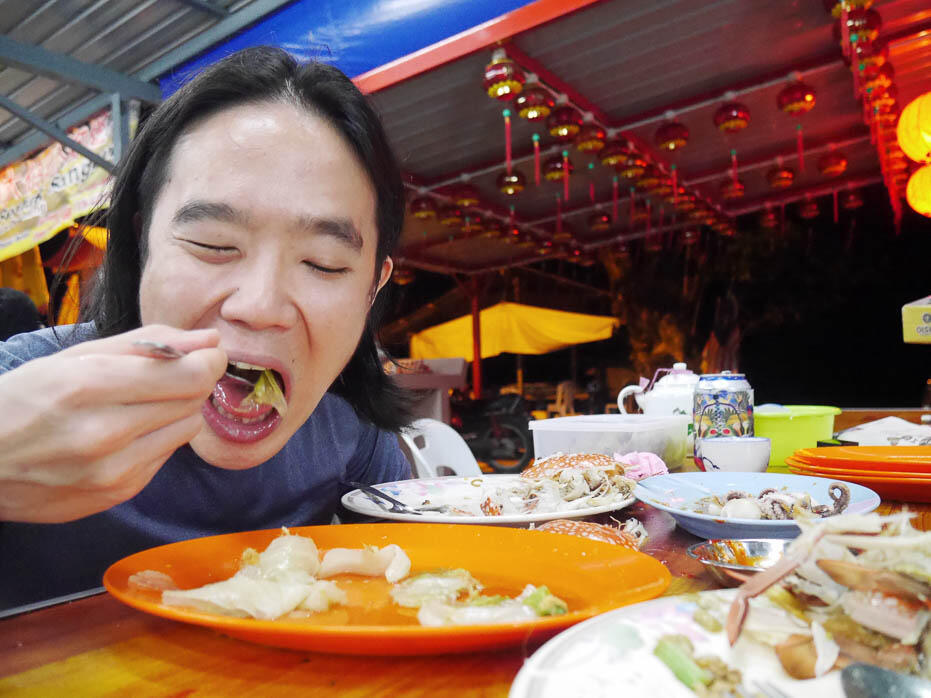 Lovely, baby, just lovely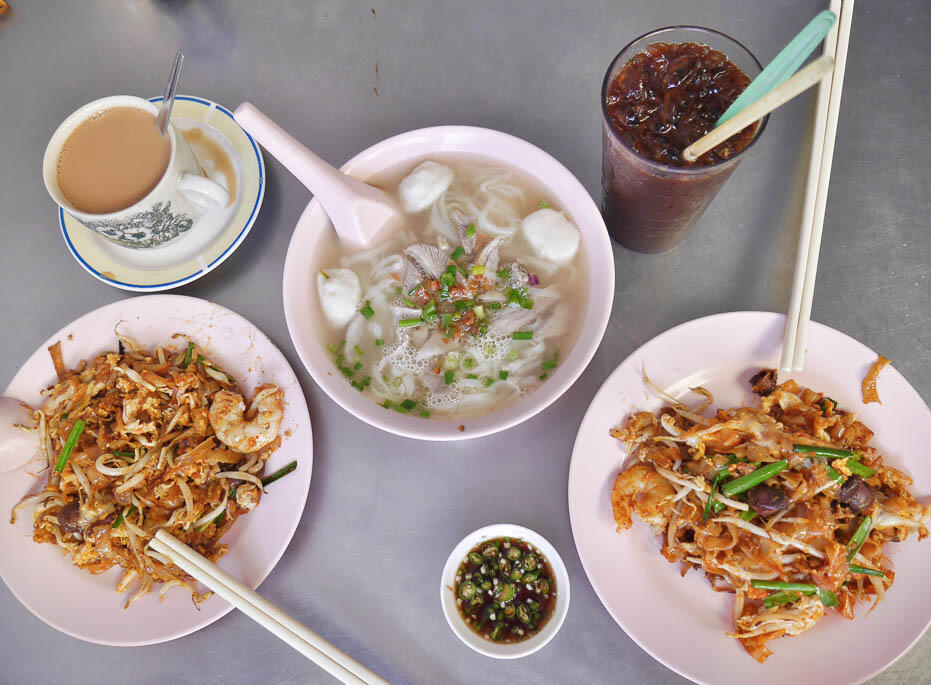 I ain't no sharing my char koay teow so once each please. Duck koay teow th'ng with tiny duck intestines which i know looks really gross up close but they're so crunchy and delicate in texture, i find it very unique!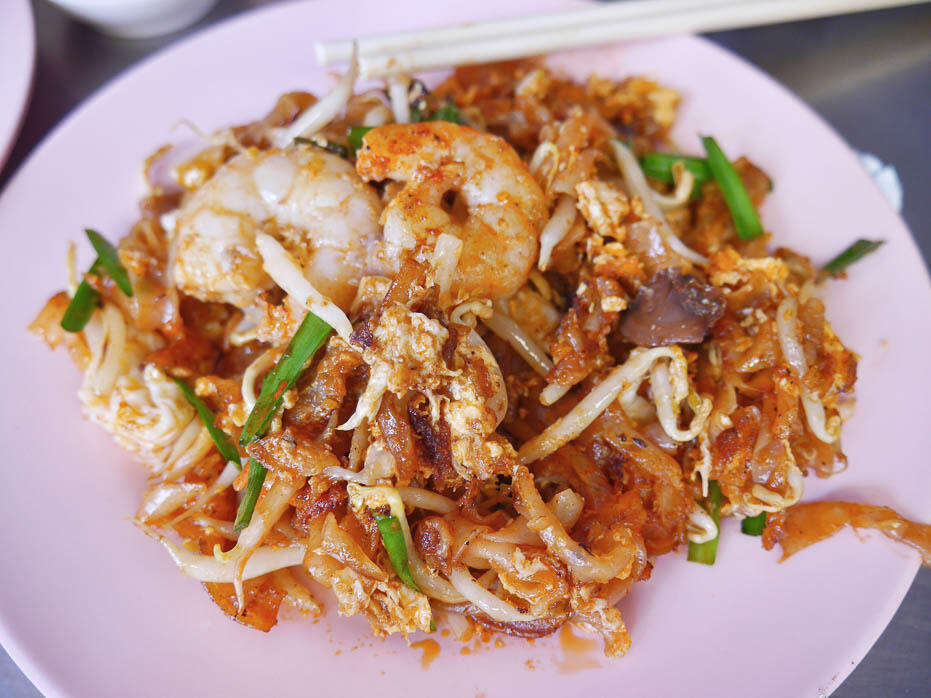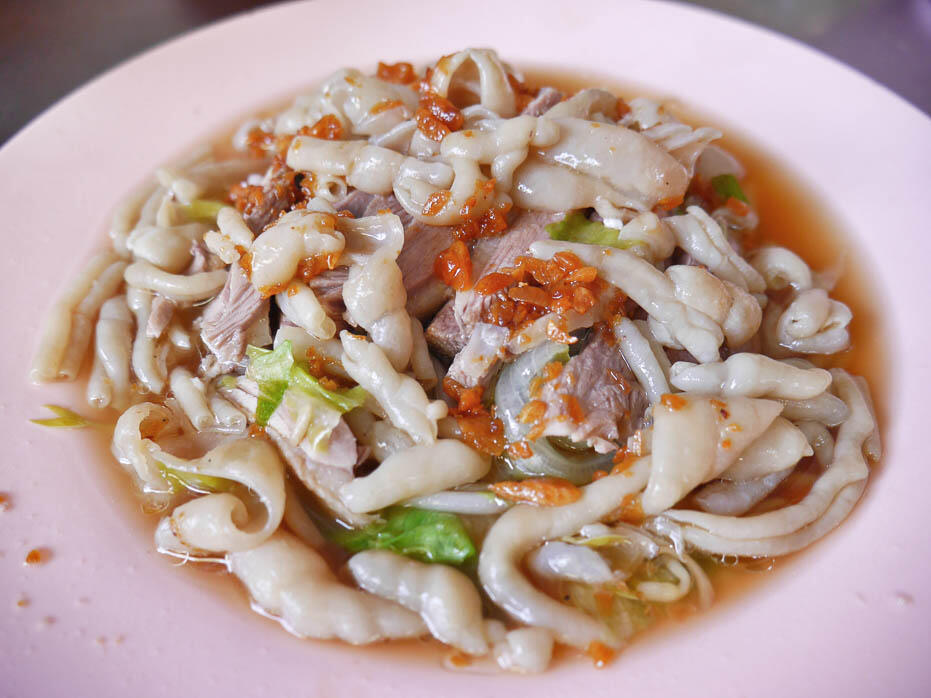 So good la guys. You gotta try this if you're a fan of eating spare parts.
On Tuesday, we were gonna head back to KL at noon after I met up with Chelsia at 9:30am so we could play at Escape beforehand. Jun was giving us a lift cos he was heading the same direction to run in the National Park, but all plans fell through when we spotted a little dark brown adolescent monkey crawling across the road on his front arms. As we approached, he was surrounded by a pack of macque monkeys (diff species) who looked like they were bullying him, and his back legs were completely limp so we (rightly) suspected he was half paralysed.
We stopped the car, there was an oncoming bus and Chels was waving her arms at the driver to which he thankfully braked. Us three followed the wee thing to the other side of the road where he was crawling away from the forest/his home and wondered what we should do.
We couldn't leave him like that cos he was gonna get run over, or hurt.
He obviously couldn't climb up a tree by itself and got separated from his own pack/mother.
So we put him into a giant grocery cloth bag Jun had in the boot and googled animal clinics we could take him to.
"There's one Dr Gill that's 3km away," i said
Chelsia: No…. not that one, people around call him Dr. Kill. Cos most of the animals that go there end up having to die.
Me and Jun: 0_o
We went to Windsor Animal Hospital which looked legit, and discussed with the vet on what to do with Peter (i dubbed him that, after Jun asked what his name was). There was a lot of waiting and phone calls cos the only official rehabilitation centre is PERHILITAN, and we heard they keep the animals in tiny cages for observation before being released back into the wild. All these hopes of injured/lost animals like Peter being hugged and carefully taken care off like on TV shows just isn't what happens here, as i just realised. The government doesn't prioritise funding wildlife bodies such as this… sadly.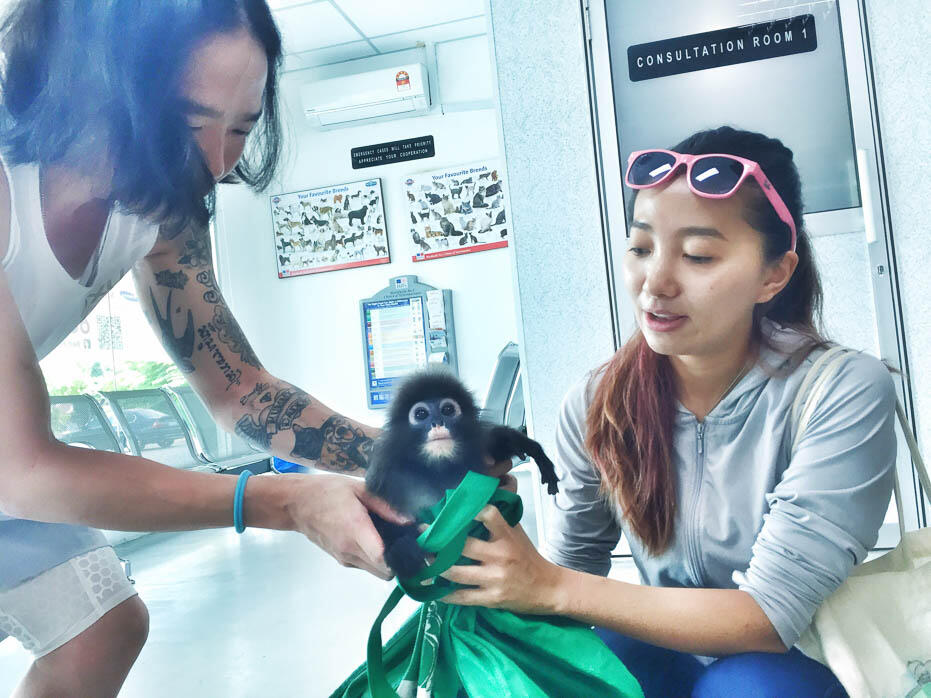 Look at that cute face!
I stared at him, then at Jun.
Jun: No. No more animals!
Me: I didn't say anything.
Jun: No no no no
Cos he's already saved 5 other animals who live with him and take up a lot of energy, time and money!
I momentarily thought about whether i* could take Peter home… but once i imagined him climbing all over my living room and probably breaking my glass displays, i abandoned it as irresponsible. I'm just about keeping my plants alive, forget a monkey.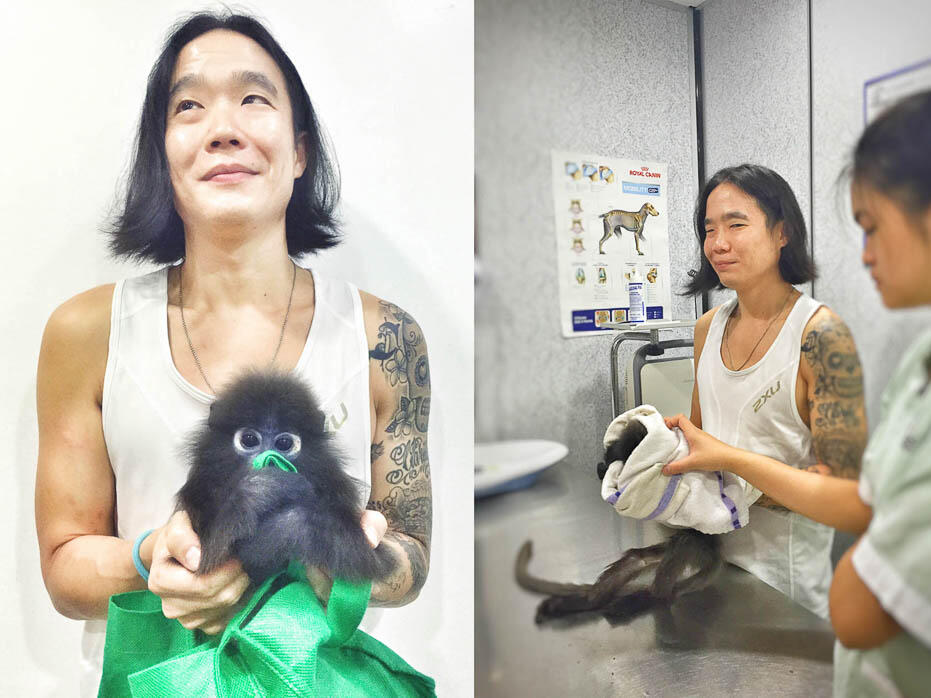 Come onnnnn dat faceeeeee ngawwwwwww
4 hours later, we left the monkey in a cage at the animal hospital so we could grab a late lunch while waiting for a volunteer caretaker and some ppl from Perhilitan to meet up with us. Chelsia had two half-boiled eggs in her tote bag (she grabbed from the breakfast table at her house) which i strongly advised against. As expected, one of it broke in her bag at lunch…
Chels: Oh nooooo
Me: … What can i say…
Chels: You told me so 🙁
Me: Only because i learnt from experience! I wanted to keep this half-eaten hotdog in my bag in Belgium. Rahul told me not to, and later it BURST open. Horrible. Mustard all over my sunglasses.
As we were leaving lunch, she didn't know where to put the second half-boiled egg and popped it into the back pocket of her jeans before getting into the car.
Me: No Chels no!! BAD idea!! Hahahaha
Chels: I know…. *laughs*
Me: I worry for your future children.
They met up with all the peeps while i passed out from lunch coma in the car, and Jun and i ended up going back to KL the next day. Monkey drama! A whole day spent on a monkey! Somehow being on the island makes you take life as it comes and sort out what you gotta.
The new caretaker has been sending Jun pix of Peter (she's renamed him, but i don't care) drinking goat's milk and eating sawi. I'm sure he's gonna be alright. Much better than being run over by a truck 😀 The wildlife peeps will be checking in on him to release him back in the same spot they guess his pack might be at, if he can move/climb by then?
x