One of my main thoughts in anticipation of going to Japan is always, "I can't wait to EAT!"
Japanese food is one of my ultimate favourites in the world… and i have many.
I eat Jap cuisine in KL at least twice a week, and that habit didn't cease before nor after our 2-week trip there last month.
Given, having had such wonders of sashimi enter my mouth brought my spirits down when eating it back in KL.
Japan spoils you cos once you taste such wonderful fresh seafood from the land it originates from, you're ruined.
Thanks to Jun who researched all the places to eat!
I left it to the expert while i searched for art exhibitions and music gigs, blogpost on that to come!
We had many amazing dishes and meals there but these are my personal top favourites in no particular order.
1. Ei / Hide Sushi, Nakano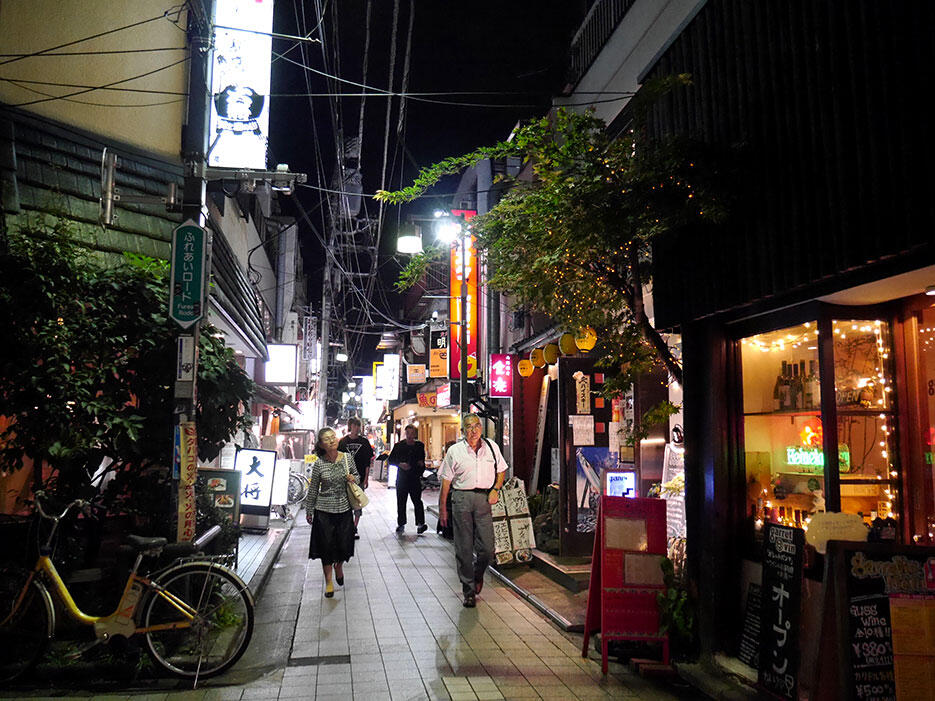 One evening, Jun and i made our way to Nakano to eat at this restaurant that only serves tuna. We didn't have reservations (a little tough when you don't speak Jap and neither do they, English) and they said (or rather, gestured) that they were booked all night so we got turned away. Rejected and hungry, we walked away planning where to go next, when we walked past this hole-in-the-wall sushi restaurant that looked warm and cosy. I got a good vibe just peeking in at the local families, singles and couples eating there and decided on the spot it was where we were gonna eat.
It was amazing. Everything was in Japanese, nobody spoke English, even google translate couldn't save us cos the menu was written in handscript kanji from up to down. It's just the sort of place we strive to eat at – where the locals would love to go.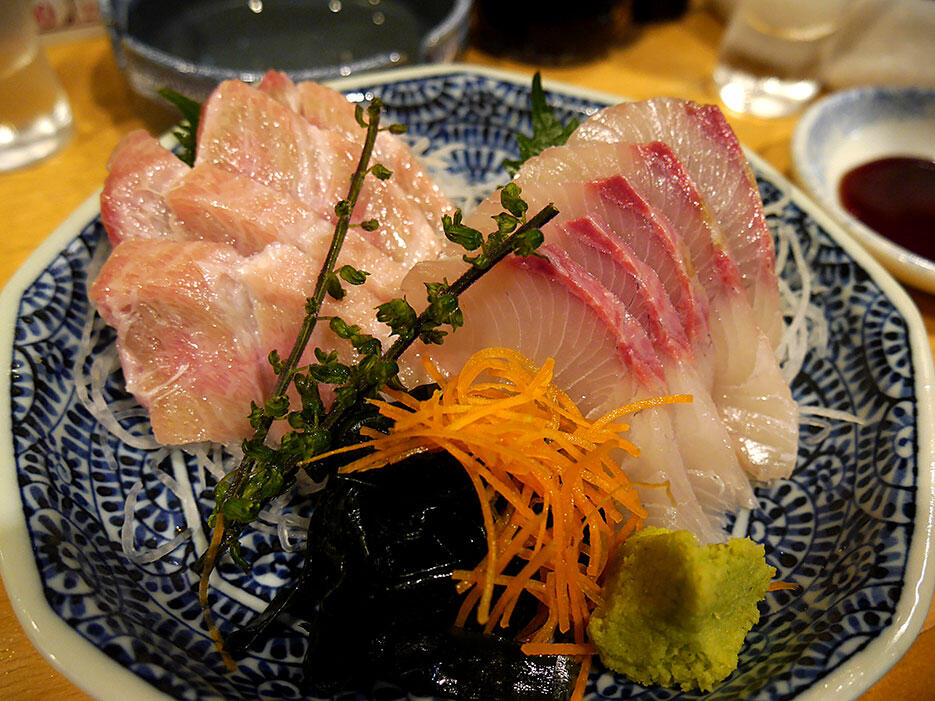 We ordered chutoro (medium fatty tuna) sashimi on the left that's got me dreaming for days.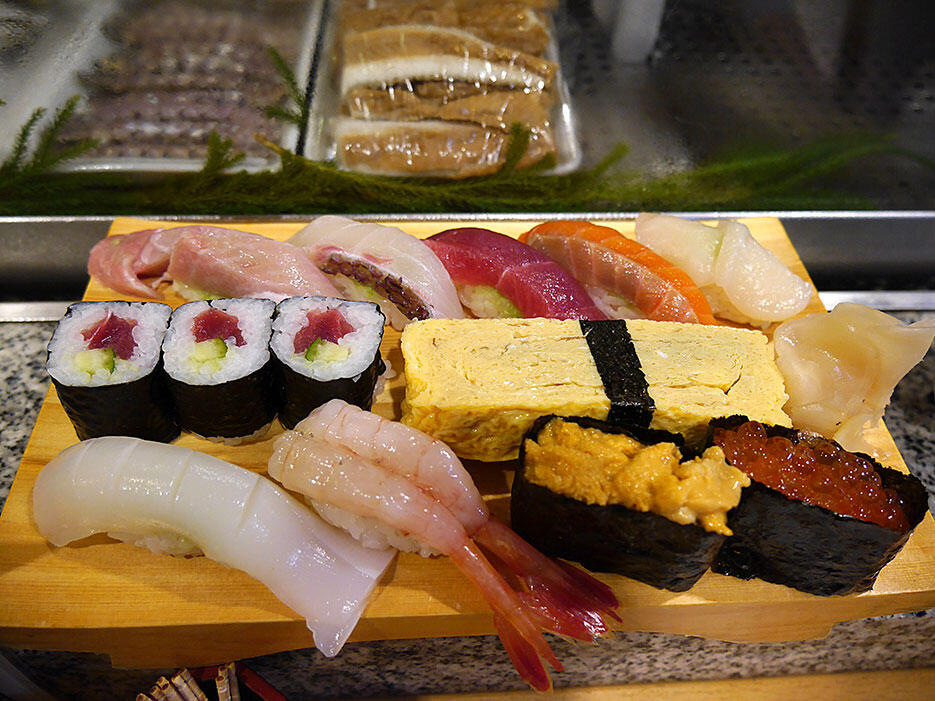 Playing it safe, we ordered a sushi platter to share, before watching the other patrons select individual sushis to their liking, and wizened up.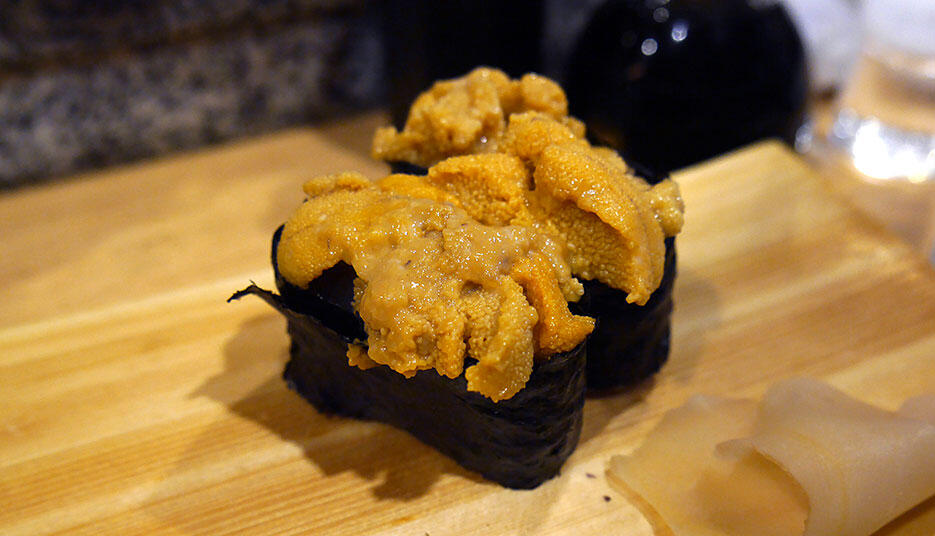 Uni you…
We liked the restaurant so much, we made a trek back to eat our last meal there before heading to the airport to go home!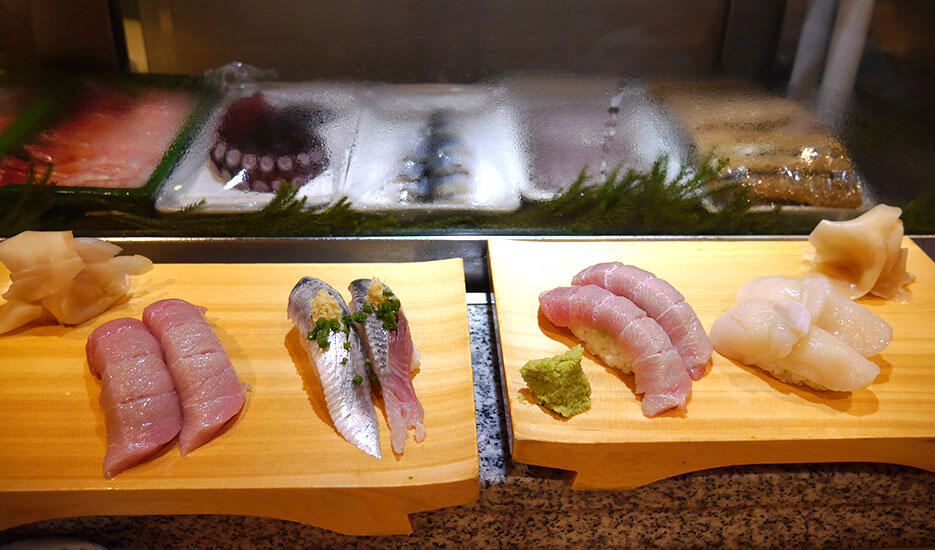 During our 2nd meal there, we went straight the point and ordered specific sushi we wanted – sardine, chutoro and scallop above. The scallops were buttery and melt-in-your-mouth. Hell, even the chutoro was super MIYM. Jun and i said we'd eat as MUCH CHUTORO as we could since we couldn't get any of the same calibre back home.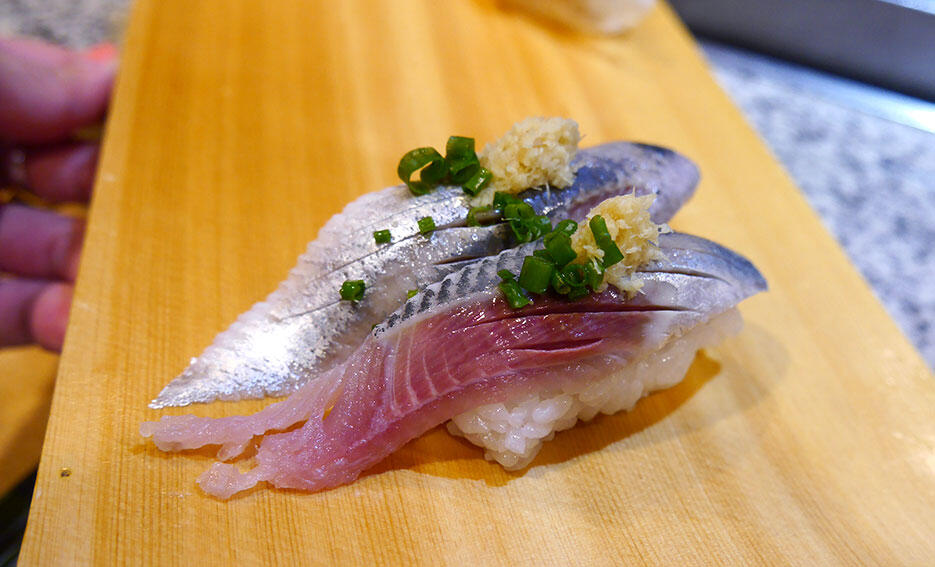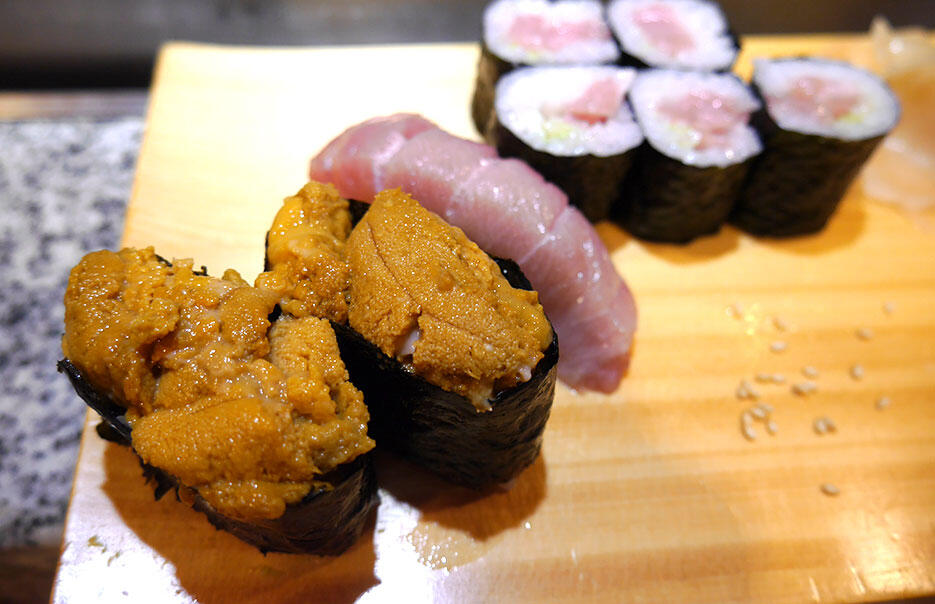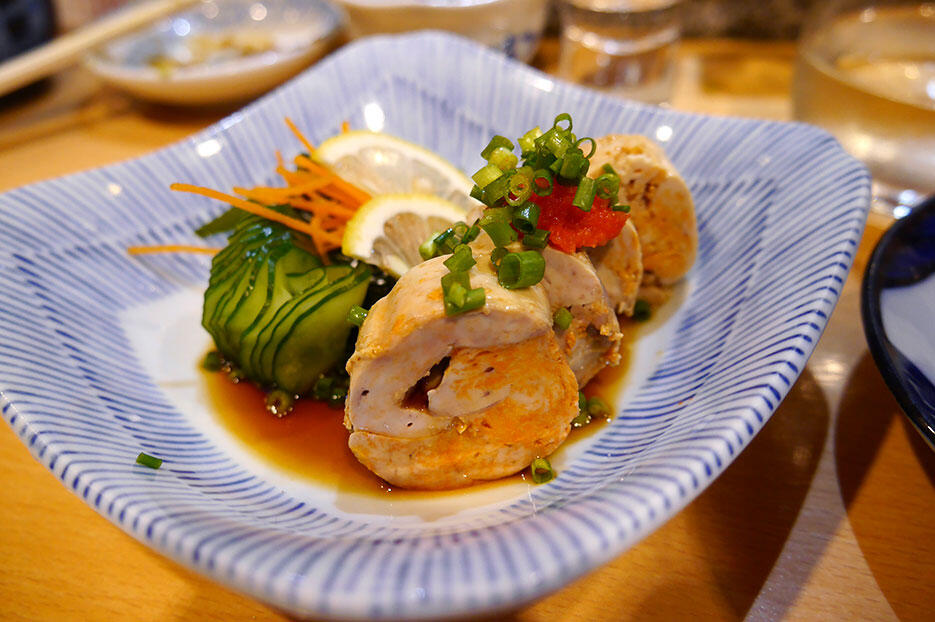 We tried monkfish liver, which we feel is like a cleaner gentler version of foie gras.
I watched this girl in her 20s put a piece of this sushi in her mouth, whereupon she closed her eyes, savoured it, smiled a little and went "mmmm" to her date next to her. Whatever it was, i wanted that!
"Excuse me…" i asked her after she'd swallowed, ".. what is that?" i gestured to her sushi, then to the menu in my hand.
She grinned and pointed out the name on the menu (which i still had no idea what it was) but pointed it out to the chef and ordered it straight away.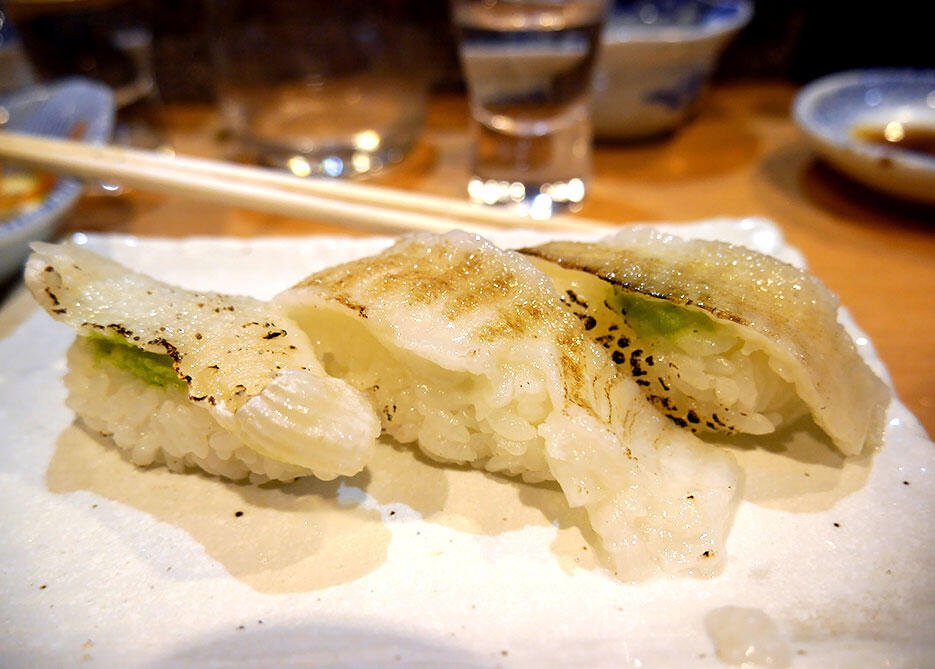 Thanks to Ringo who translated it for me, we found out it was 'torched fatty flounder'.
Oh my, it was delicate and delicious. You know how cod breaks in your mouth into little pieces? This flounder breaks in slightly larger chunks, but its texture is best described as being close to cod. Divine.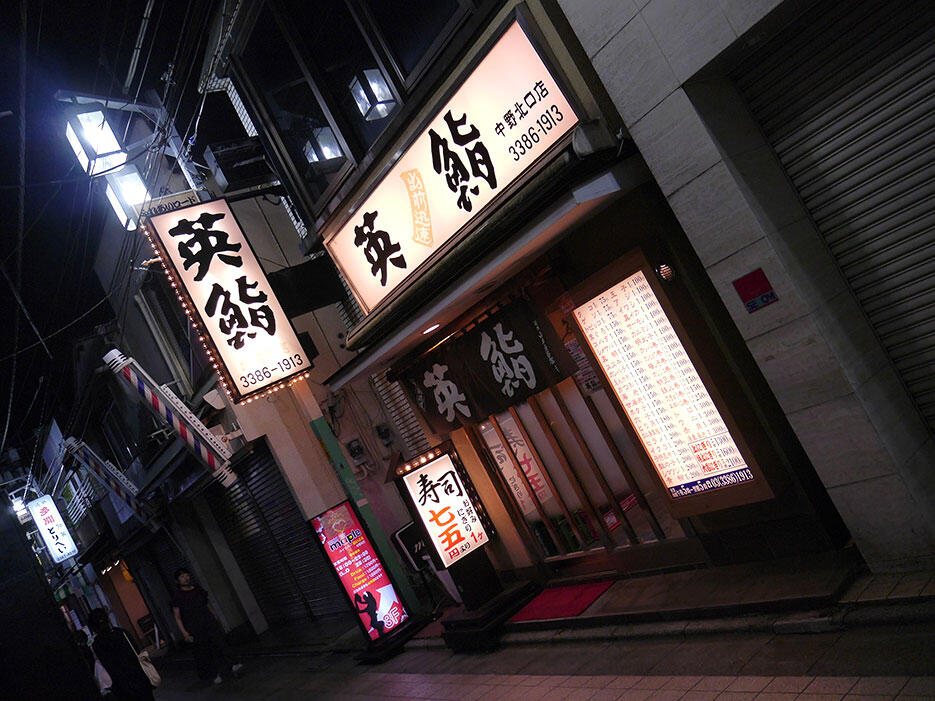 This is the restaurant with no English name. I asked Ringo what it's called and she said either Ei or Hide Sushi.

The only way we'd find it again is by looking for the back entrance of Namco Game which leads down to the alleys, and the restaurant is right next door to Jeune Matsushima jewelry store.
+ + + + + + + + + + + + +
2. Saikoro, Nakano
Ever on his quest for ramen inspiration, Jun made a long list of all these ramen places he wanted to try, with his only enemy being time. And a girlfriend claiming 'there is only so much stomach space we have every 2-3 hours!'
"The owner of this shop, Koitani-san, is one of the ramen legends. He was a founding member of Bassanova, a shop instrumental in nurturing the ramen boom and one of the first to popularize kotteri (rich) ramen. He closed his original tiny shop four years ago and reopened in Nakano. His new shop is super stylized and diner-esque, with vinyl-topped fixed stools, a black-and-white floor, and a Formica counter. But what's really amazing is that he threw away his original recipe and rebuilt his ramen from the ground up. What he came up with was brilliant. He started making his own noodles, thick and eggy. His soup is pork and chicken based, with whole smoked mackerel added at the end of the cooking process. He finishes the broth with a rich, dark shoyu and shingles the soup with thin slices of pork belly. It's so different from his original bowl, which had a lighter flavor and a gentle, aromatic quality; this has more of an edge and is deeper and smokier." – [source: Lucky Peach]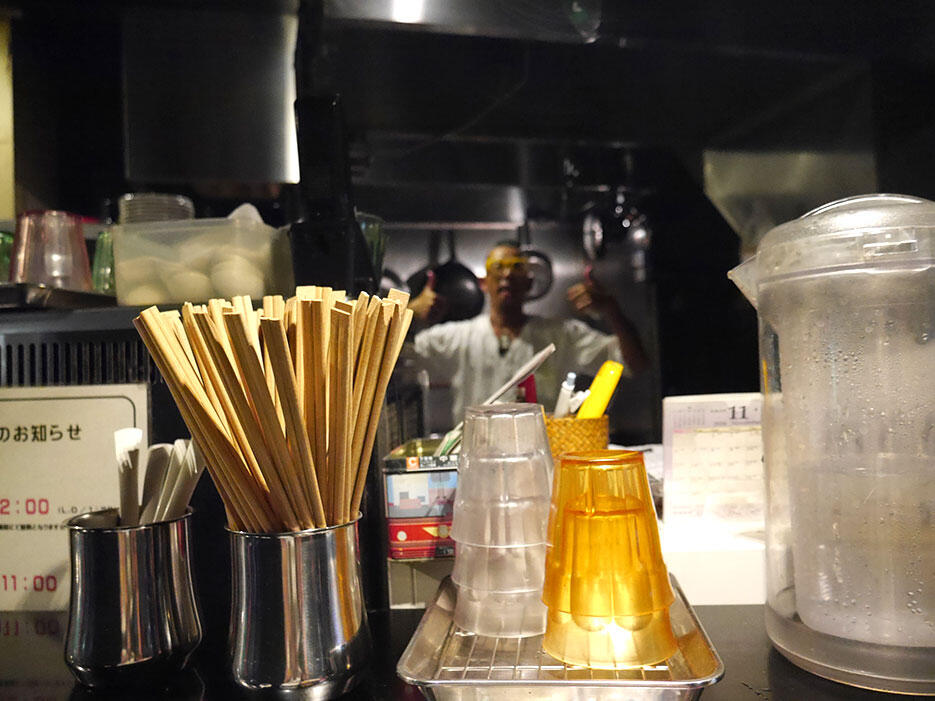 The kitchen team in Saikoro were very friendly and had almost this party vibe going on, quite unlike other famous ramen establishments where different rules are set (no pictures, sometimes even no talking. Just eat and ciao.)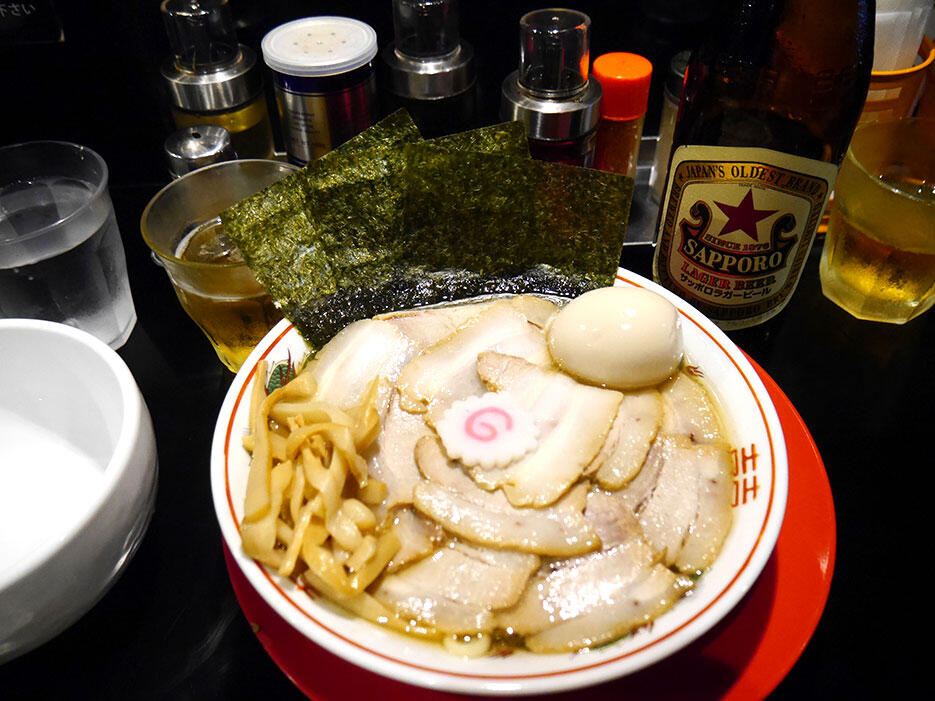 Their famous ramen (880 yen) while ambient hip hop plays in the background.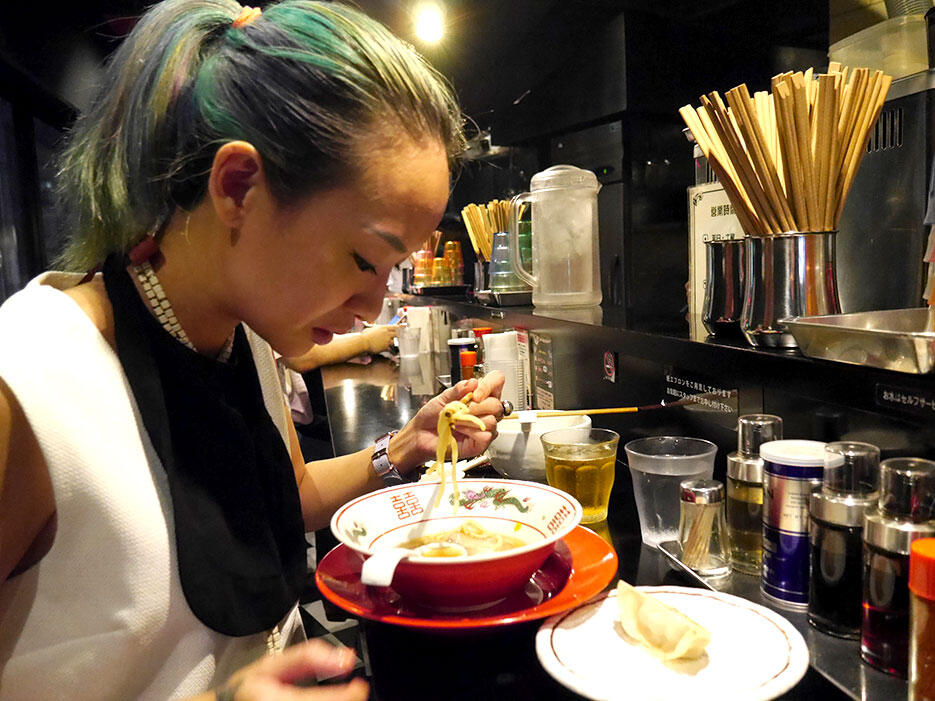 It wasn't memorable to me (but do bear in mind everyone is different as are our tastebuds!) and the key dish there that killed me (in the best way possible) was THIS: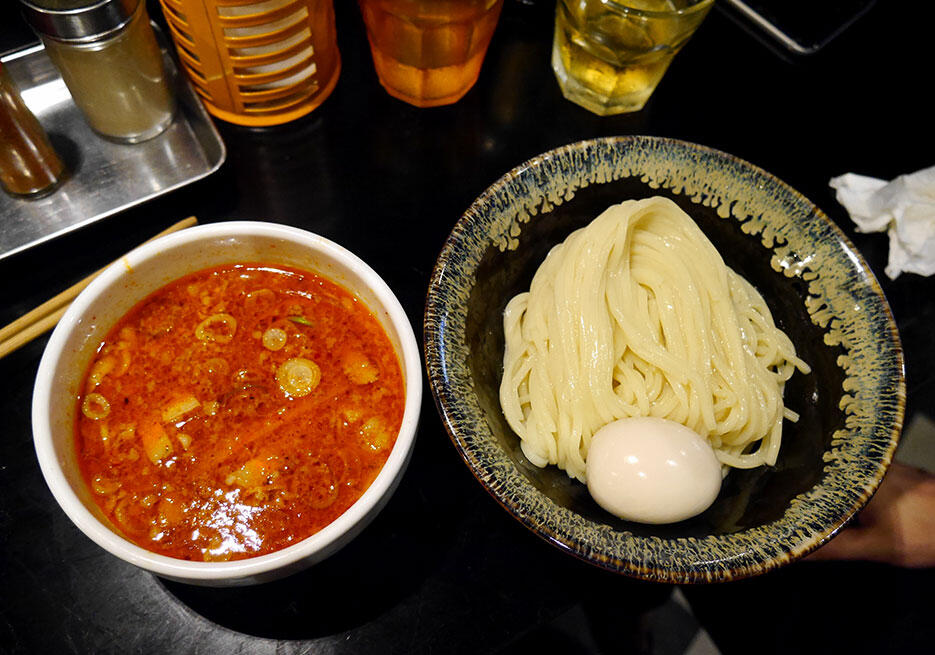 ? Spicy tsukumen (900 yen). I'm not even a big fan of tsukumen cos i sometimes find the broth too salty for my liking.
But oh my god i've never had anything like this. As slick as the former, the tsukumen is slithering egg ramen evenly coated with gravy that's balanced between acidity and saltiness. The spicy broth reminds me of curry laksa, but not exactly. I'm just trying to find the closest dish i can to describe its taste. It was lighter and oilier, but it's FLAVOUR. HOMAIGOD just looking at the picture of it makes me almost want to cry. Or buy a flight there now.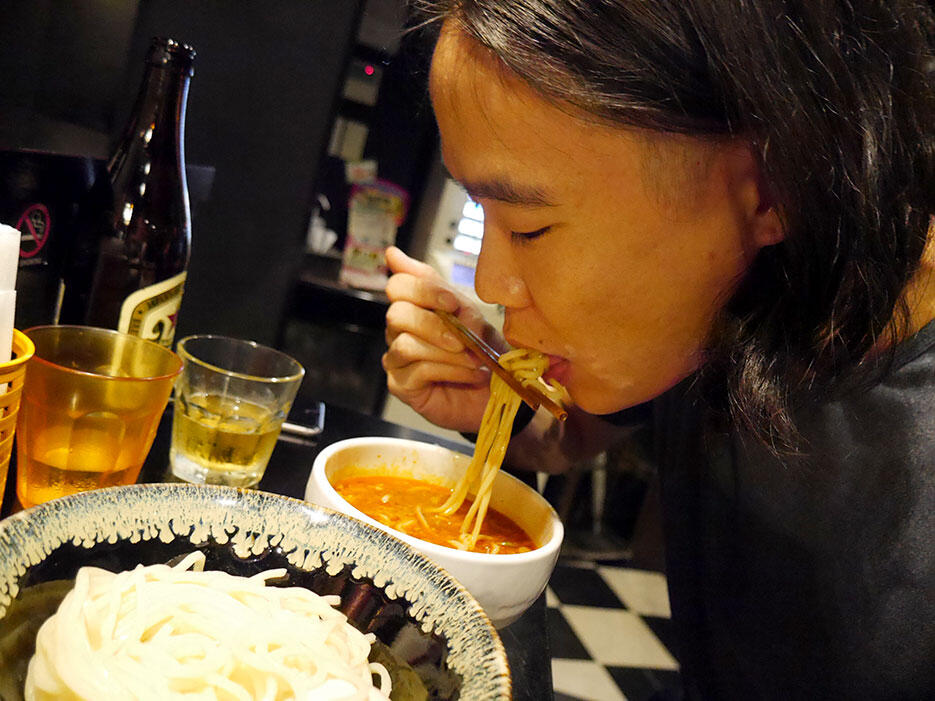 Jun, seeing how obsessed i was with it, let me savour every last drop. I stared at the bowl like a drying well, having insane thoughts of RUNNING out of the restaurant with the bowl. (0_o which doesn't make sense) BUT THEN i thought, "WHAT IF I had a NEVERENDING bowl of spicy tsukumen? Like a magic one! FOREVER AND EVER. I WILL NEVER WANT FOR ANYTHING IN LIFE AGAINNNN!!!"
This dish really brought out the psycho in me.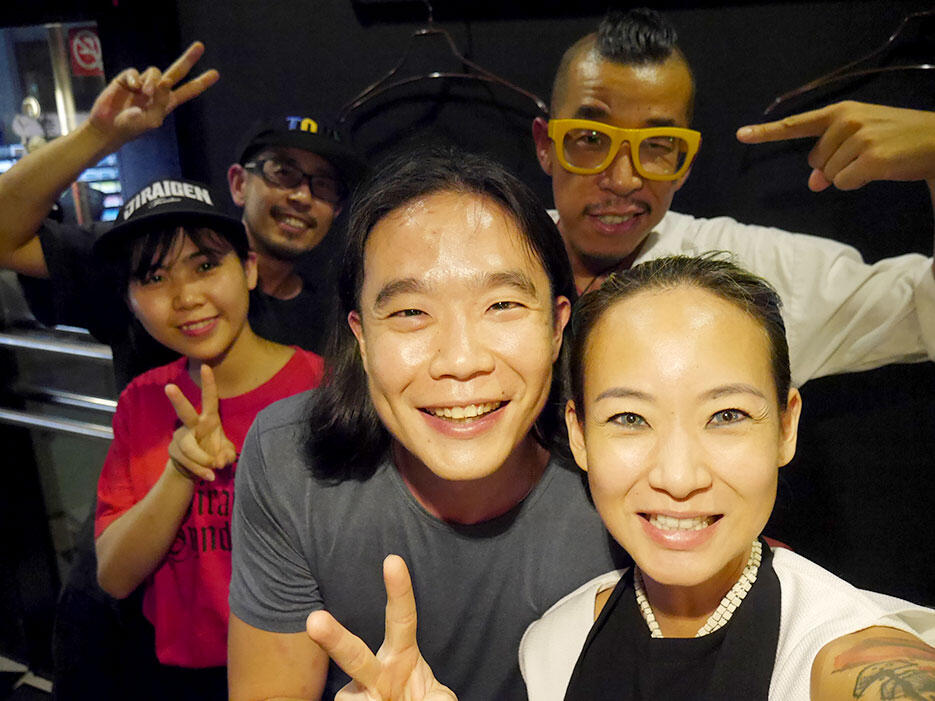 Arigatou gozaimasu!!!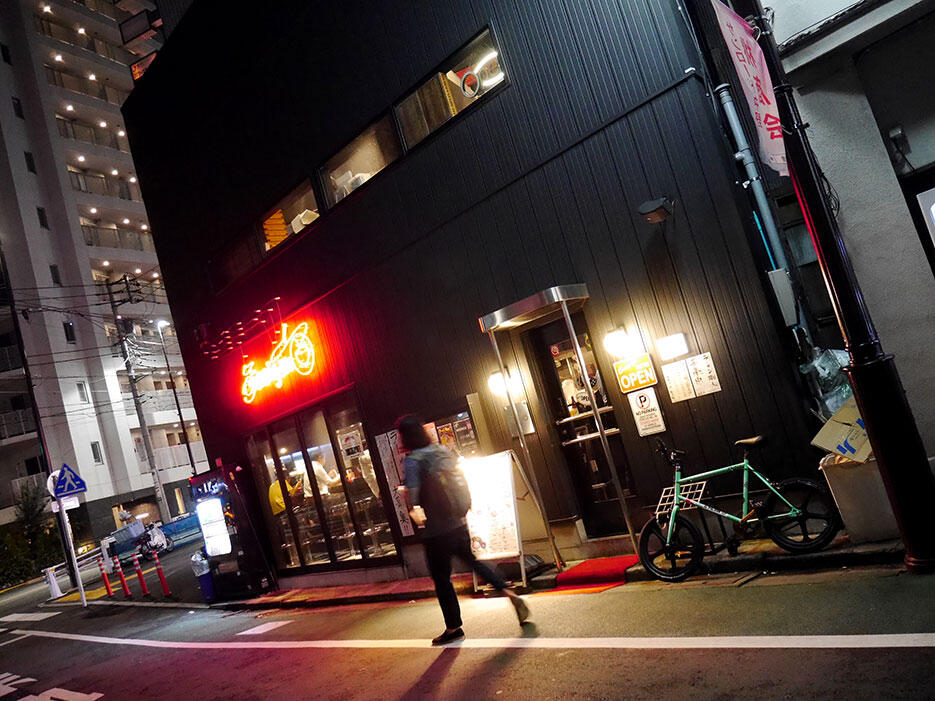 This be where it's at. Spicy tsukumen, i will come to you again.
+ + + + + + + + + + + + +
3. Ebisu Yokocho, Shibuya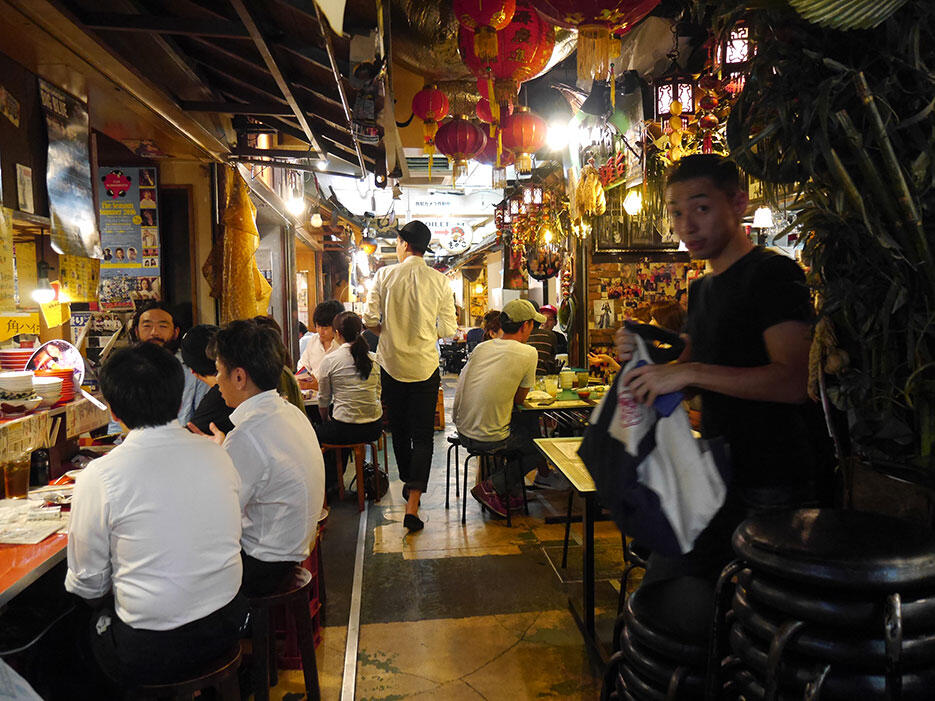 This happened to be the same night as Saikoro, right after in fact. We went for supper immediately after dinner -_-
Jun didn't even know what it's called but had been here with his ex-chef before and loved it a lot. Well hidden from the main street, it's a little maze of late-night tiny diners that each serve a certain type of food, and alcoholic drinks. Each diner only has a few seats so we just sat where we found some space and liked the look of what they were serving.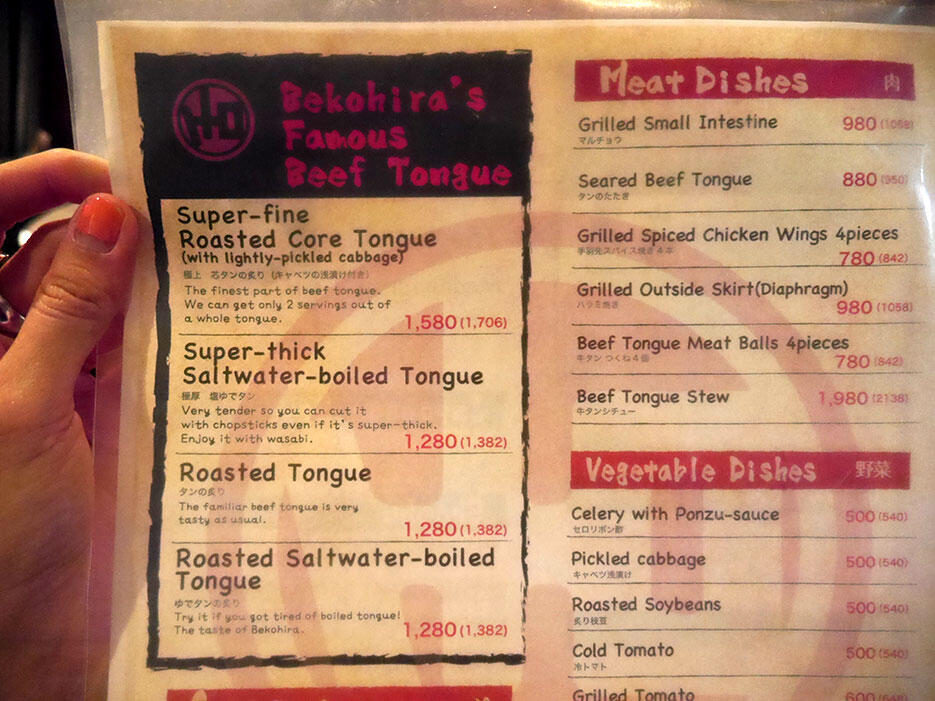 Bekohira's famous beef tongue.
I'm unabashedly a big fan of ox and beef tongue ever since i was introduced to it in London at 17. No turning back after you try tongue.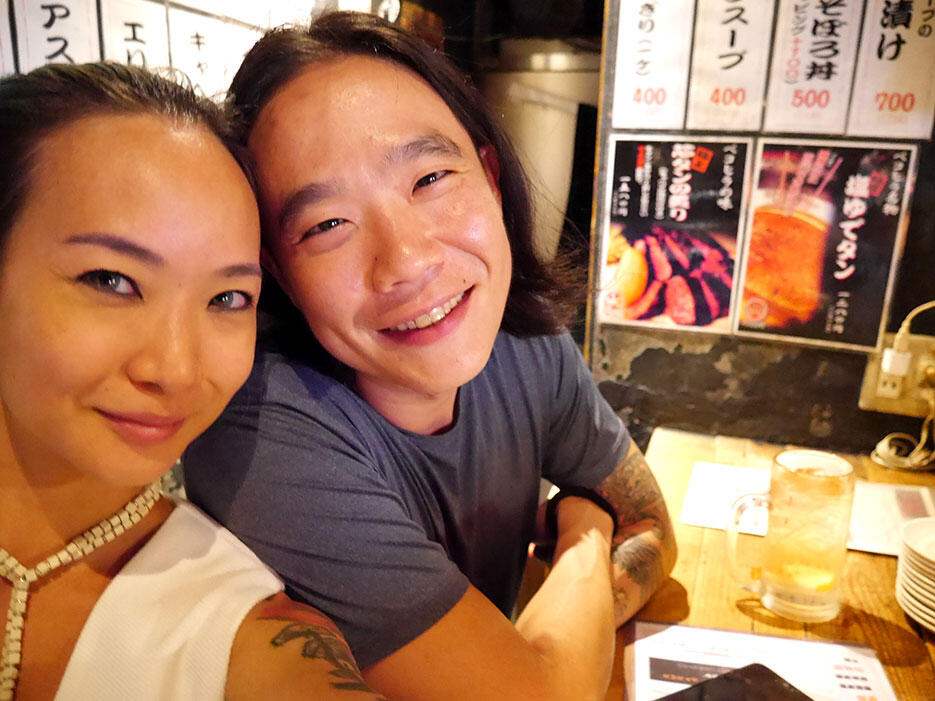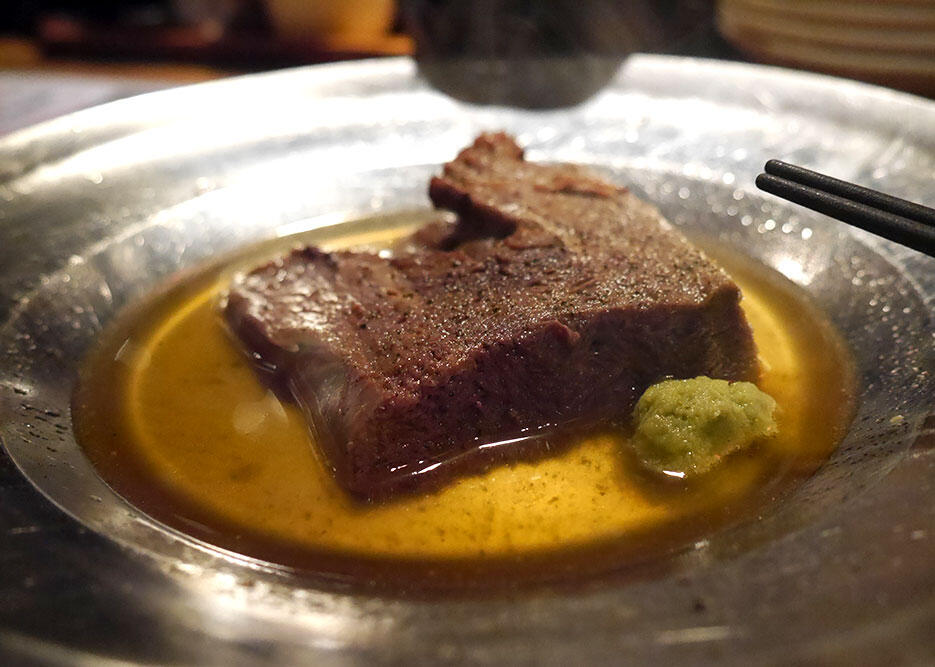 We tried a stewed one first.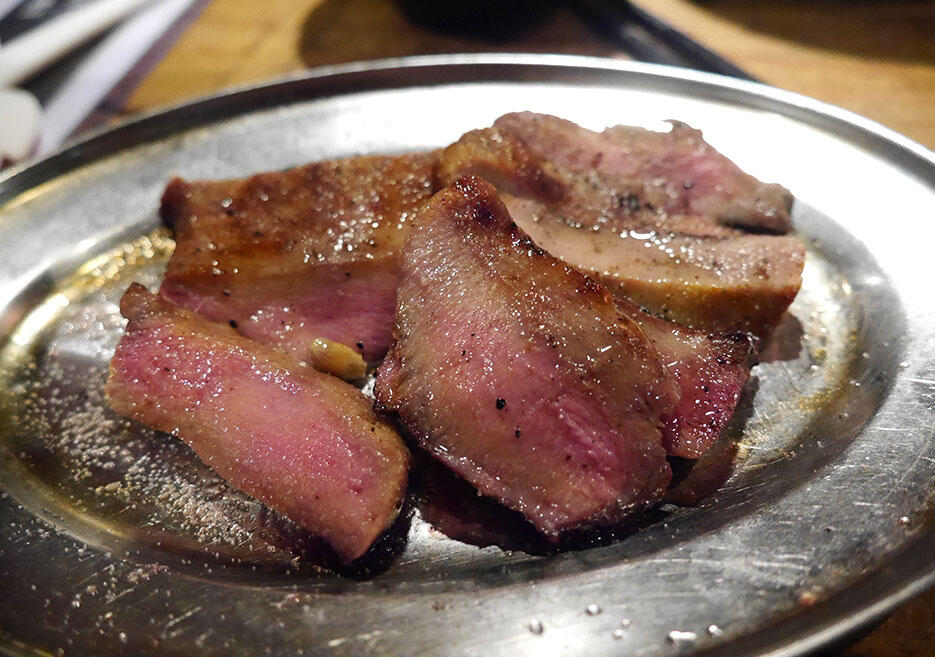 Then shared a grilled one, which i preferred. Well i liked both, but if i could only order one, this would be it!
Awesome place to go and drink all night and eat.
But wait… that goes for all the places we went to :p
+ + + + + + + + + + + + +
4. Konjiki Hototogisu, Hatagaya, Shibuya
Jun was determined to try the shoyu ramen at Konjiki Hototogisu, an establishment specializing in assari (light broth ramen). We walked down an alley where it was supposed to be, but it looked different from the pix and we paced outside for a bit before a friendly shopkeeper across spoke in clear English telling us they'd moved to the next alley. Thank god for her, we wouldn't have found the place otherwise and Jun would have been so disappointed!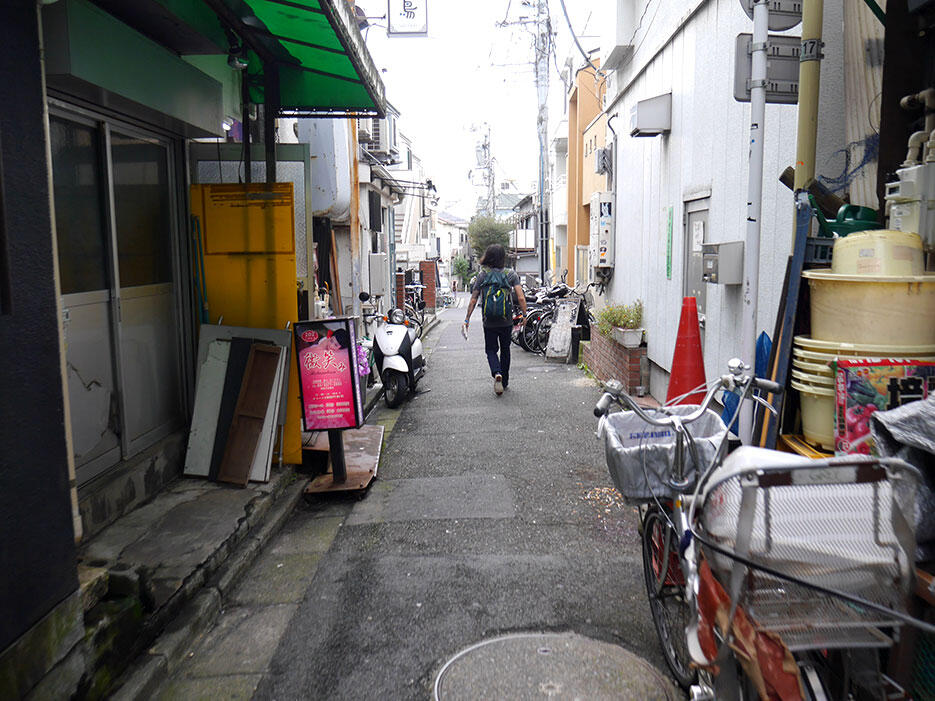 We didn't have much time to spare cos it was nearing 2:30pm and some places are known to being very strict with closing after the lunch shift.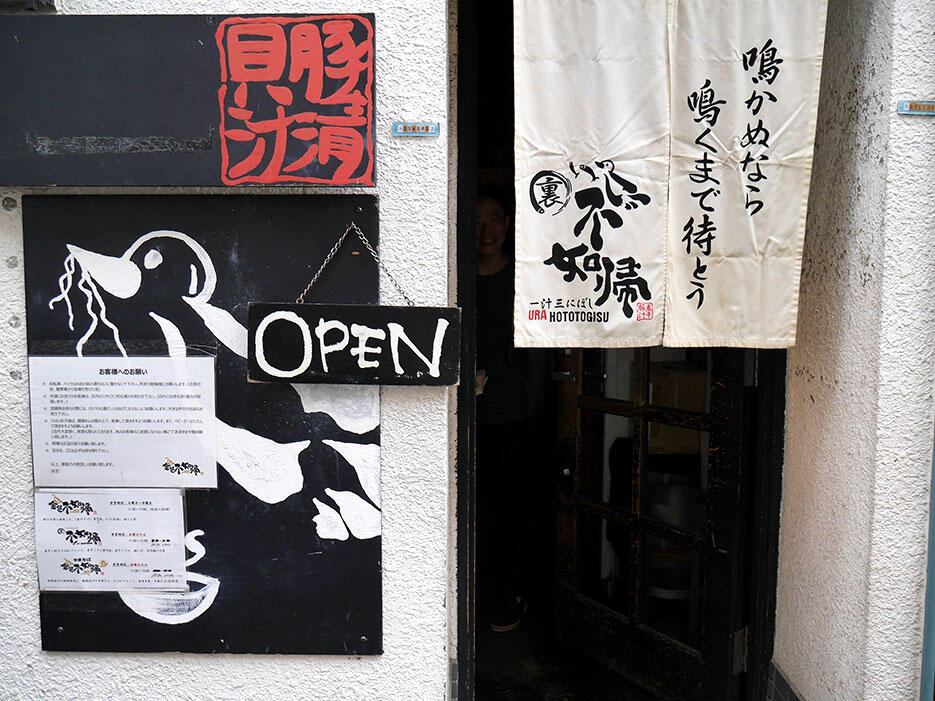 Success!!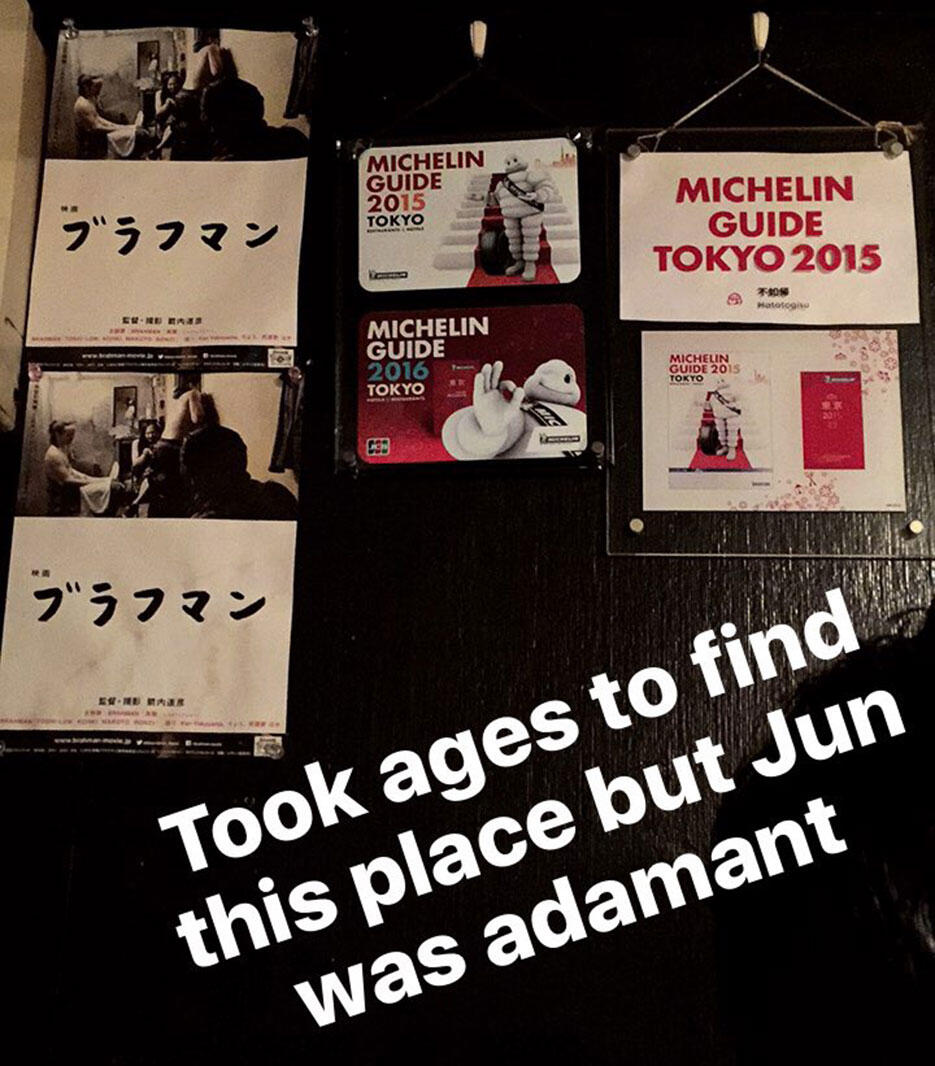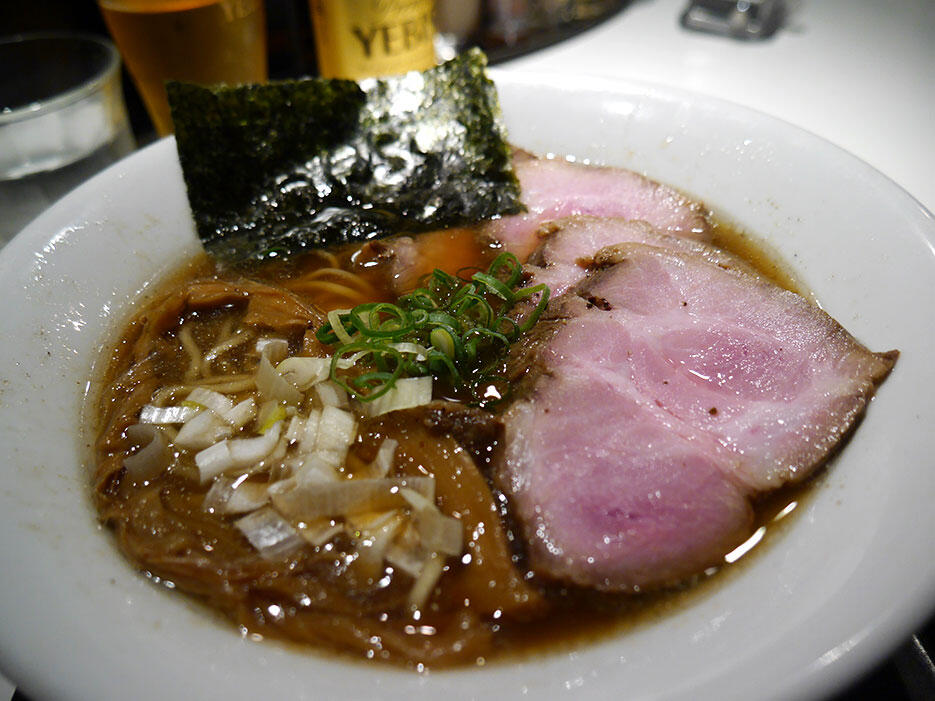 I must say that i enjoyed this shoyu ramen a LOT more than i thought i would. I think i was getting a bit too much ramen at some point, but this tasted like a little work of art in a bowl. The flavours were gentle and subtle, like a ballerina doing an elegant fluid dance on my tongue.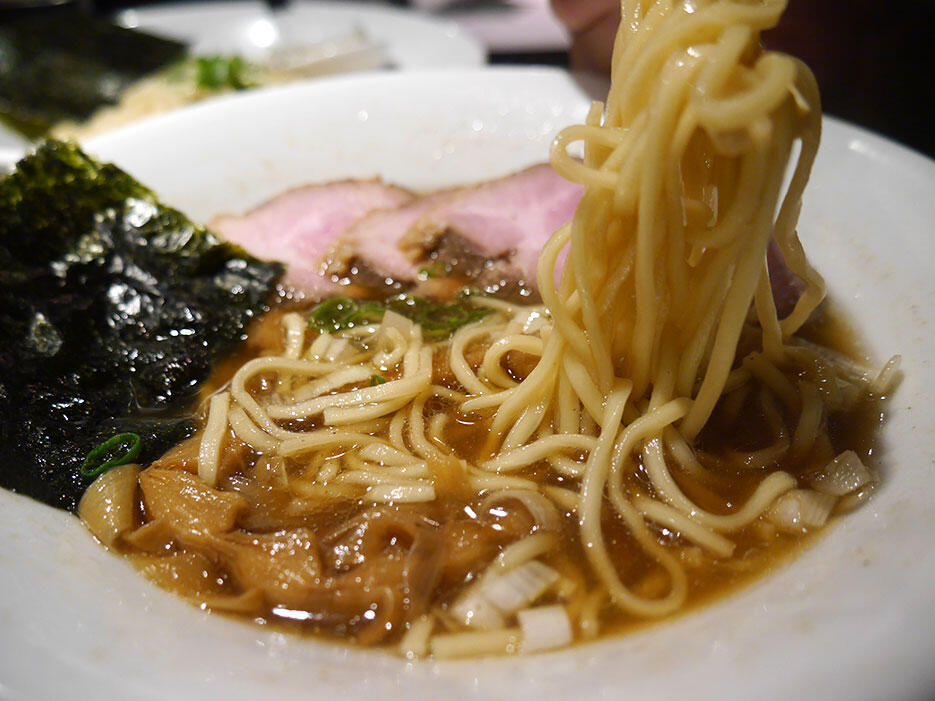 Well worth the trip there to try it!
+ + + + + + + + + + + + +
5. Marzac 7, Meguro, Shibuya

We stumbled unto this modern Italian-Japanese restaurant while shopping around for a place for dinner in Meguro. I'm not usually big on fusion when i travel somewhere – i like to eat whatever delicious authentic traditional food i can get my hands on, but increasing encounters like this one are changing my mind. Every dish was satisfyingly fresh, and that blood sausage (which doesn't sound great said out loud) was juicy with variations of texture. I would return just to eat this sausage.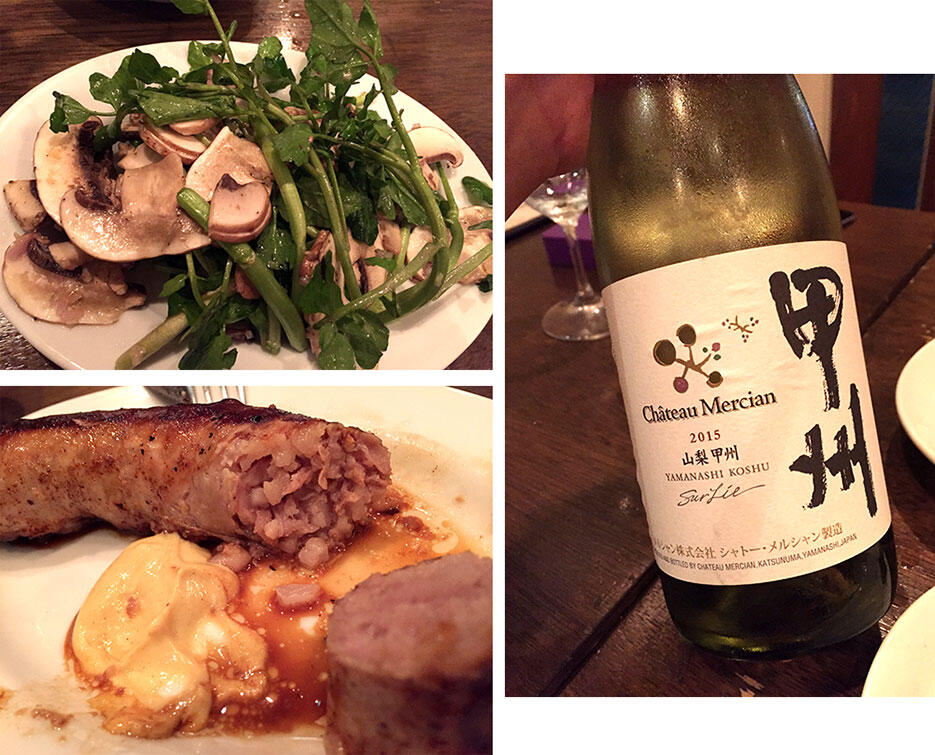 + + + + + + + + + + + + +
6. 35 Steps Bistro, Shibuya
Jun read about this izakaya run by a bunch of young Japanese chefs pushing the boundaries of contemporary Japanese food and all the pictures looked so good we went out hunting for it. Food blogs showed directions like 'follow the lamps' under photographs of nondescript white lanterns in an empty corner and i was like, "Are you serious?" It looked like any basic lamp. What sort of directions were these?!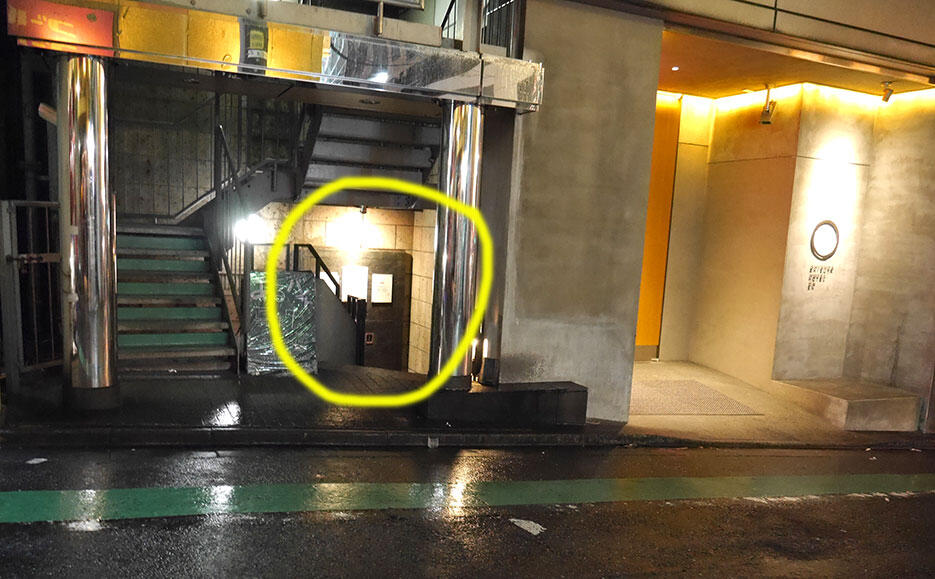 You have to enter an unmarked entrance next to Shibuya City Hotel.
Called 35 Steps due to the number of them one has to take leading down to the basement, we went down the dimly lit staircase and through a door that brought us into a large room BURSTING with energy and luscious smells.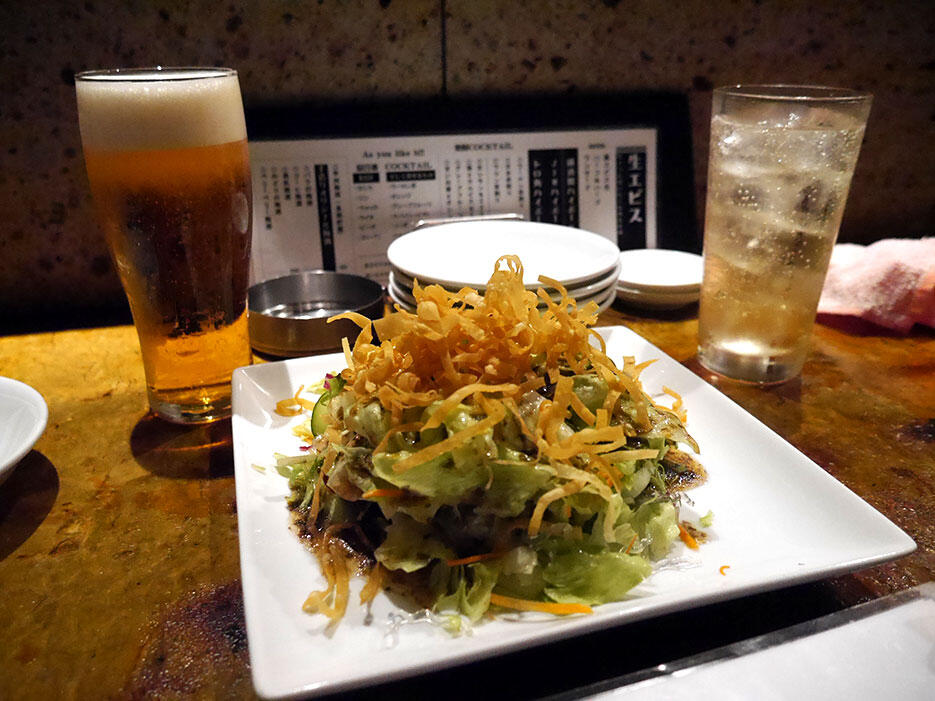 It's customary in some places to serve you a starter dish which in this case was a welcoming salad (we missed our greens!)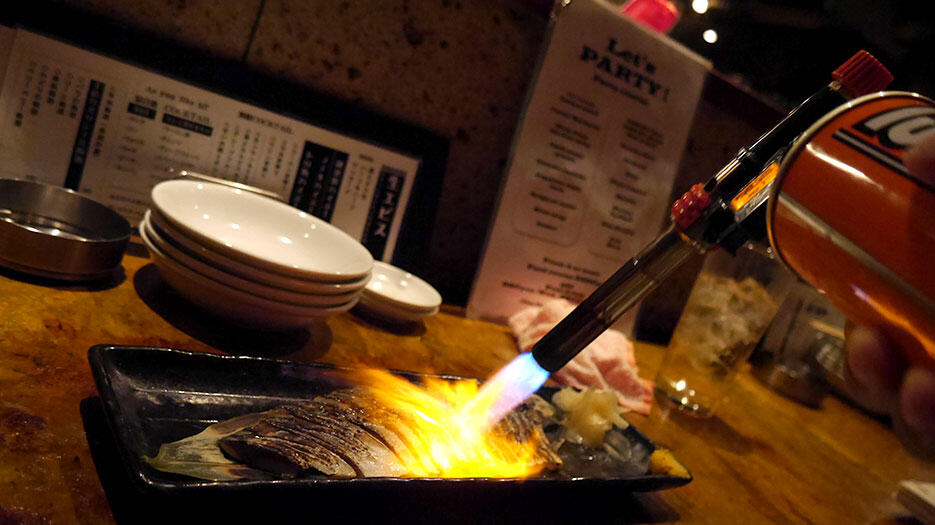 The chef recommend in simple English for us to order the torched mackerel, which oh my god… you have to order this if you go there. You HAVE to.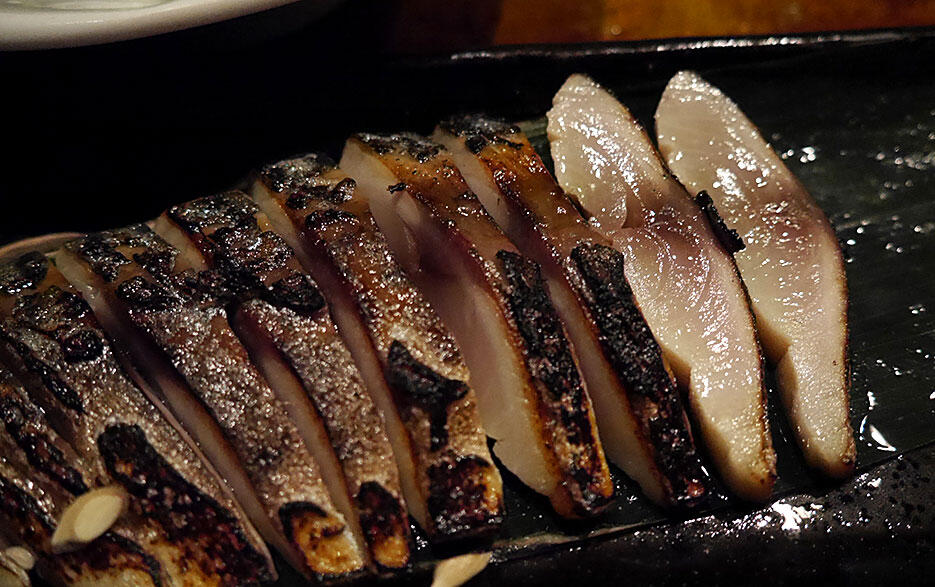 It was succulent with a beautiful balance of sweet + salty, and would melt in my mouth with a few hesitant chews as to savour it longer.
Every dish we had in there was awesome… usually i'd pick one or two favourites, but 35 Steps scored a great average.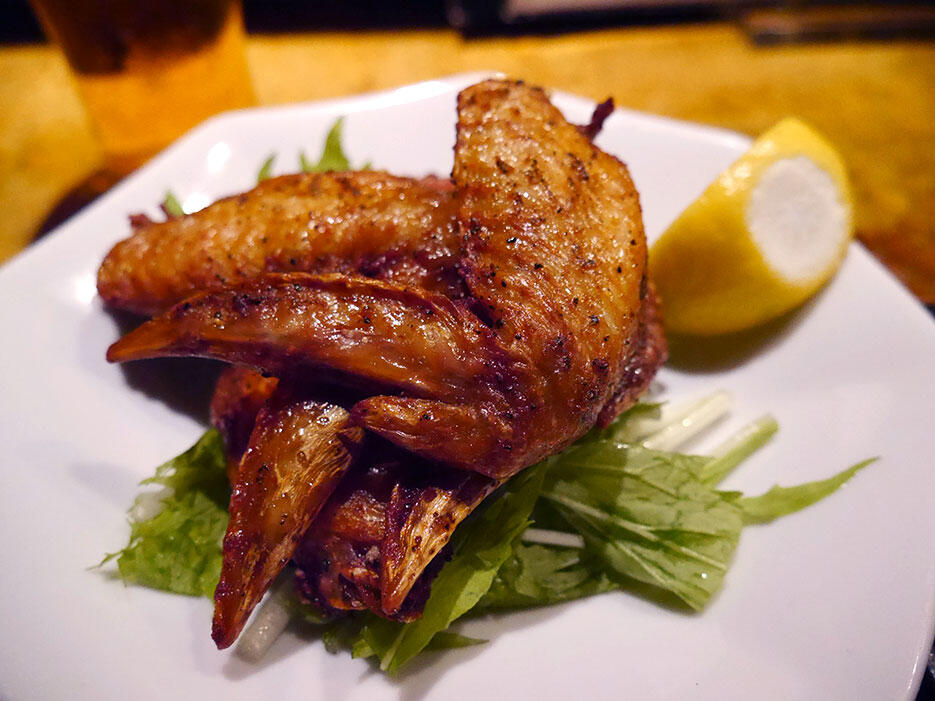 I don't usually order chicken wings. I'm not a big fan as i'd eat one and then typically use my stomach space for something else i'd enjoy more. But i'm so glad Jun ordered these cos they must be my favourite chicken wings i've tasted in 10 years. And i don't even like chicken wings! (Had to reiterate that.)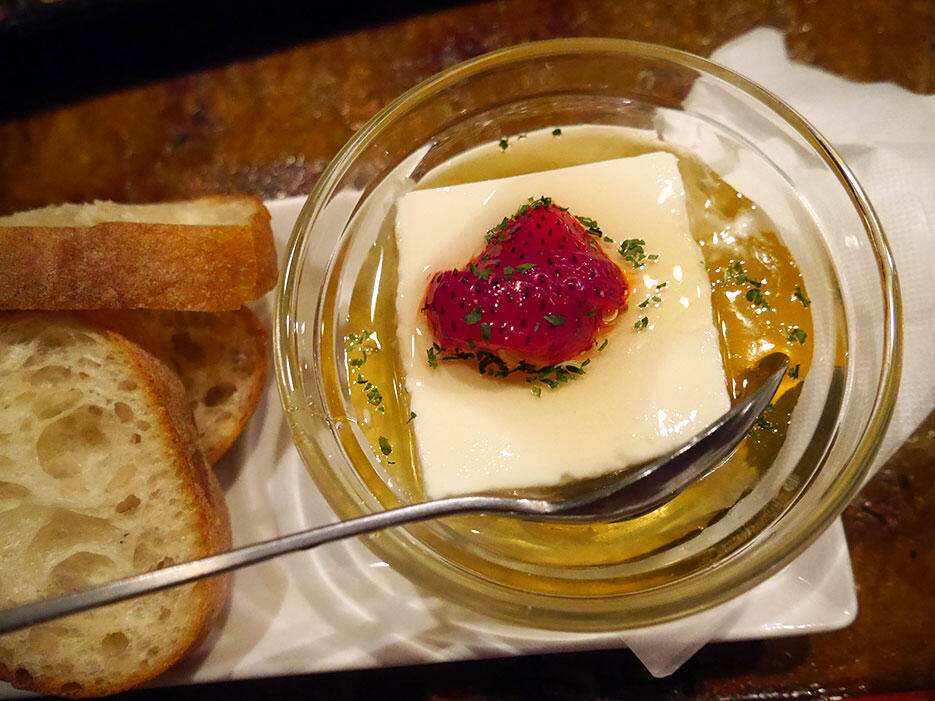 This was really special too, and Jun can't get over it. It's Japanese tofu cheese with honey, to spread over toast. It's so strange yet goes beautifully together.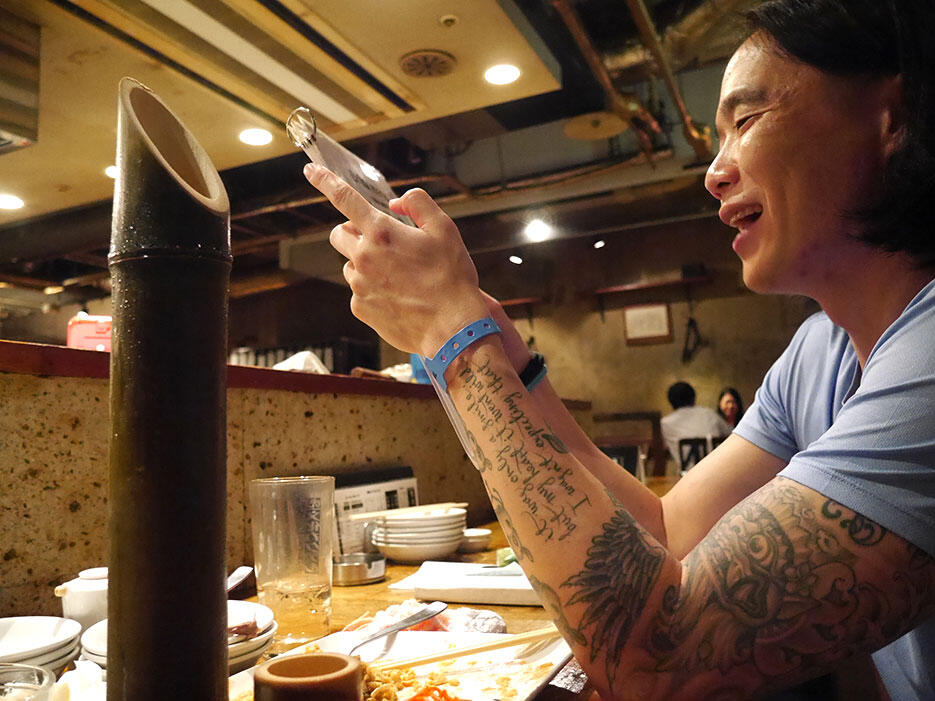 We had bamboo sake, tho no other local in there was having it so maybe we'll just stick to the highballs and plum cocktails next time.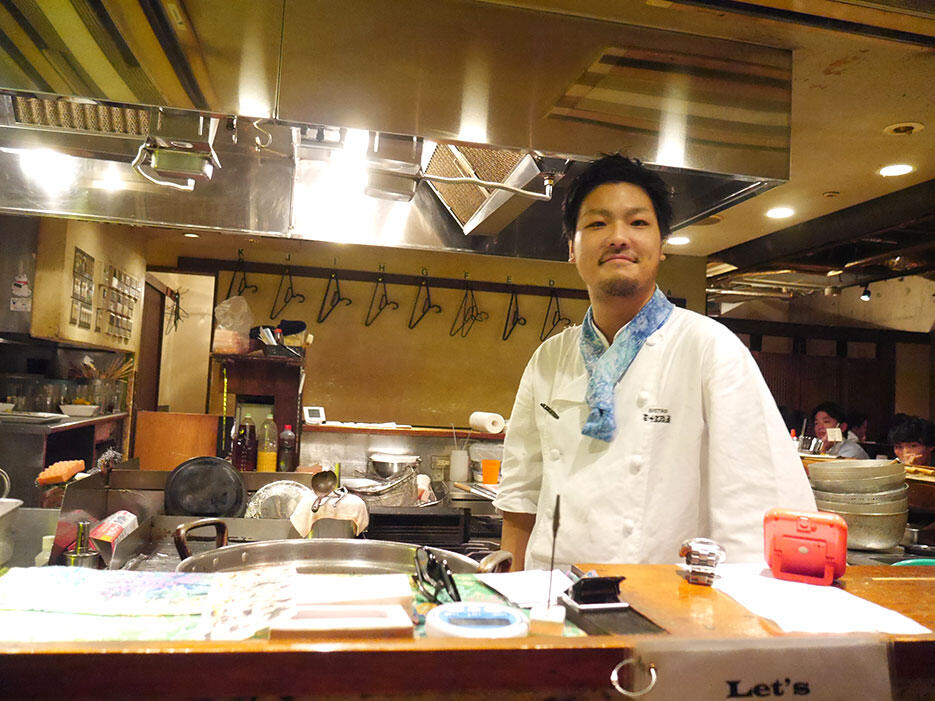 Our friendly chef "… is the head chef," said Jun.
"How do you know?"
"Cos everyone has been taking orders from him the whole night, he's manning the ship."
We noticed fondly how the chef snuck glances at us as we took the first bites of every dish and had a little smile at the corner of his mouth as he caught our expressions. Sayang!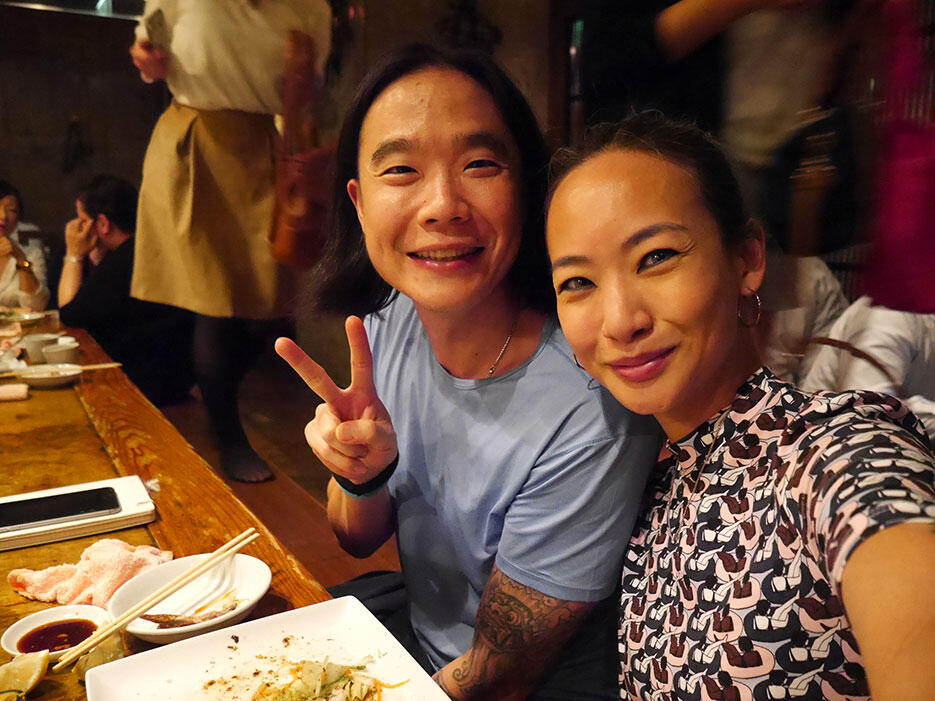 Had to go home and take my pants off after that.
Arigatou gozaimasu for your awesome food Tokyo. I can't wait to return to eat more…. spicy tsukumen… I hope i dream of eating some of these tonight. Maybe i should stare at some of the pix before bed, and train myself to lucid-dream-eat. Hmmmmm