I had a little getaway in KK for the past 4 days
and it was fantastic
It was just what i needed…
Brought my laptop to potentially do some work
but the internet at Sutera Harbour was really weak
so it was for the best and meant to be
that i DIDN'T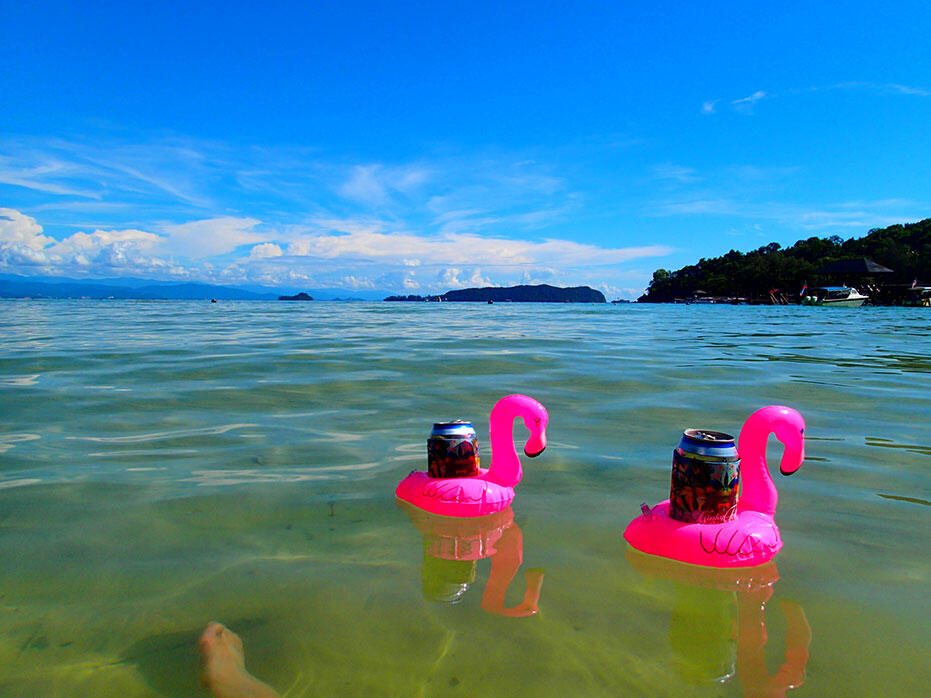 Despite selling these flamingo beer can holders on KinkyBlueFairy for the past year, i've never even had the opp to try them myself! 0_o
They work!
Maybe need a leash for use at the beach cos they keep bopping away on the sea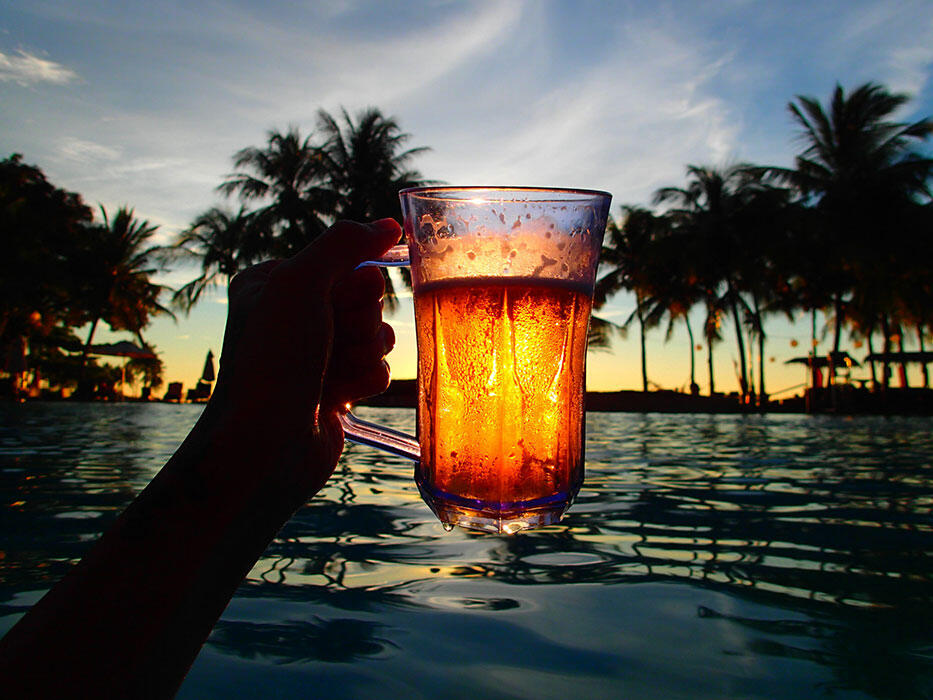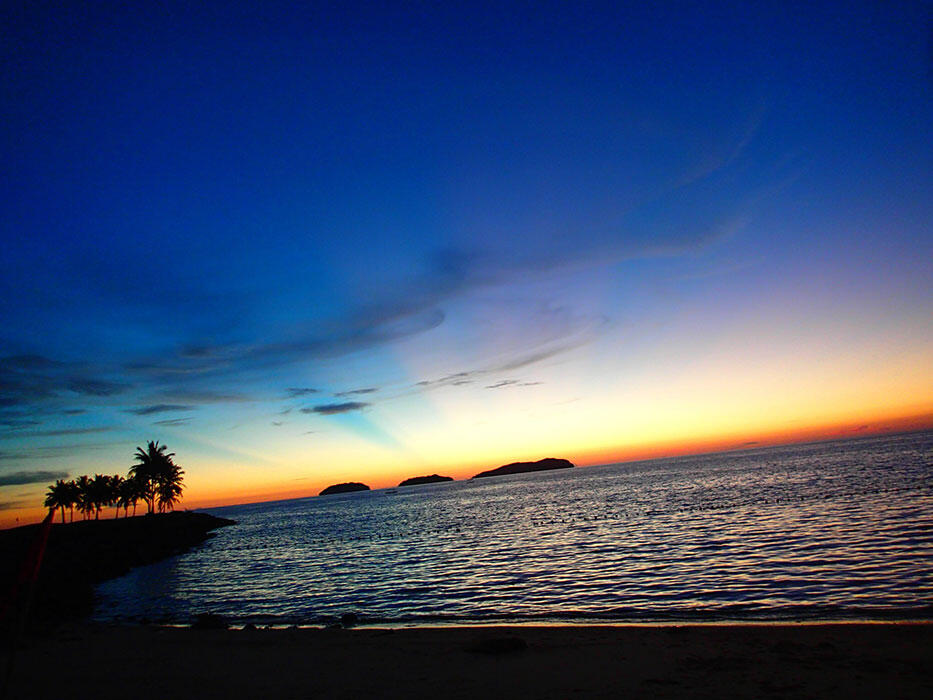 KK sunsets are so beautiful. Malaysia is so beautiful.
I've been traveling all over the world but in light of the recent economic downturn, i'm thinking of spending more time exploring my own country. I've done lots of bits of it, but there all these spots on my list- like the Belum forest, caves in Miri, diving in Sipadan – that i've yet to do!
Jun invited me to join him in KK cos he had an extra bed while he was there for a trail run called The Most Beautiful Thing (TMBT). Baby urged me to just go, i booked my flights and took off.
I do miss the beach… i haven't been on an Asian beach since last year (European beaches are diff okay, their water is freezing, and if they claim it's not, they lieeee)
Shan picked me up from the airport at 4:30, we watched the sun set, had beer in the hotel lounge while waiting for the road next to the hotel to open, went for food at Biru Biru in town (which is just 5 mins down the main road). I had ikan basong, coconut cream and prawn pasta (weird but enjoyable) and more beer. Went back to the hotel, Max came over to hang out, they ate some toffee i had in my bag from Vegas (can't believe them), and i kicked them out at midnight.
Jun returned from his trail run the next day, which was a 100km route. Well, i never.
Sure made me feel like a sloth for doing nothing but drink beer and eat all day…
We went for Melanian noodles, then i hung out at the pool all afternoon re-reading the beginning of Michio Kaku's The Future of the Mind. Had to re-read it cos i left it for so long i forgot what the first 100 pages was all about -_-
Was enjoying some wonderful peace and quiet till a family with five children came and started screaming and bouncing around the pool.
Decided concentrating was fruitless with the commotion and took to observing their antics instead.
I took to a little boy who was fearlessly jumping into the deep end while his mum saw from afar and yelled, "Jangannn!!!!!"
Man, how do people look after so many kids?
I would definitely need to have help if i had kids. Lots of help. Professional paid help. Who can also cook, clean and massage. XD
Happy hour was spent at the beach bar as Max and Shan came by. Less than RM10 a beer!
It stormed that night, and it felt so good to just feel its power from the coziness of dry indoors.
Watched some lightning. Had some Chilean cab sav.
On Monday, Jun and i tapaued some food and beers and took a boat to an island. I brought my ponies and goldie (my hoop) but surprisingly i didn't feel like playing with her. I just felt like resting. We had snorkeling masks but the thought of leaving our stuff unattended gave us an excuse to not go, which was a little bit fail (for me anyway). Spotted a couple of giant monitor lizards playing catch and a huge wild boar rummaging for food.
Rest of the day was spent with seafood dinner and foot massage and wine and talking till 4+am.
I was like, "Oh my god! Why are we sleeping so late!"
Jun: "Well when you put two night hantus together…"
I returned to KL today to be faced with the depressing haze, but i felt so good.
I felt happy!
I really needed that holiday… to do nothing.
To just be, spend some time alone reading and staring at the air.
Thinking.
Have drawn out conversations with one person at a time.
Like Jun mentioned, the art of conversation has been somewhat lost with the presence of the mobile phone.
I feel so READY to take on September before moving into the last quarter of the year.
Q4 is gonna be damn busy, i know it.
August was intense and mad. It was so busy i still haven't blogged about all the amazing people i met and things i did.
Every time i think that i can't POSSIBLY meet more amazing people, they just keep popping into my life. I feel so lucky to be able to connect with them, and feel so inspired. I really wish i had more time to blog.
Once i move into my new place, i'm gonna go into blogging mode and just write.
I NEED and WANT to. Gonna try at least a picture and some blabbing every day.
Ok going to bed, have a back-to-back rest of the week… this is my version of a marathon: Meeting, hair, meeting, fitting, hair shoot, meeting, meeting, event, shoot, performance to attend.  🙄