As an 80s kid growing up with no internet, the only source of fashion and beauty inspiration back then was from beauty magazines. When my Aunt G brought me my first Harper's & Queen mag from London when i was a teenager in the 90s, i flipped through it for years. YEARS. You've never heard of Harper's & Queen? It's currently known as Harper's BAZAAR. Gawd i feel old typing that. [They changed their name exactly 12 years ago.]
Because there was no internet back then (or rather, the web was taking its baby steps), there were no online fashion magazines. No such thing as fashion influencers. And only… a cream of the crop of the world's biggest supermodels.
Us 80s babies (and prior) know them by first name – Kate, Naomi, Christy, Cindy, Linda… and Claudia.
Claudia Schiffer is one of the world's most recognisable fashion icons whom has graced over a thousand covers (like Time, Rolling Stone, Vogue) and been the face of the biggest names in fashion (like Chanel, Dolce & Gabbana, Balmain, Yves Saint Laurent, Salvatore Ferragamo, Ralph Lauren, Louis Vuitton, Valentino).
Reaching the 30-year mark of her modeling career, Claudia is celebrating it by launching a limited edition make up collection with Germany's cosmetic giant ARTDECO.
"Growing up in Germany, ARTDECO was quite simply the most famous and trusted name in cosmetics. It is the brand that I saw on my mother's dressing table as a child, and when I began to go out with my friends it was her denim blue ARTDECO eye shadow that I would 'borrow'! Being able to work with a company with such pedigree has made this collaboration all the more exciting."
– Claudia Schiffer
Inspired from her beauty knowledge gained from her dazzling decades-long career sitting on the chairs of the world's most famous make up artists, Claudia designed the collection with the intention to offer failsafe fashion looks for any occasion – from going out to coffee to the red carpet.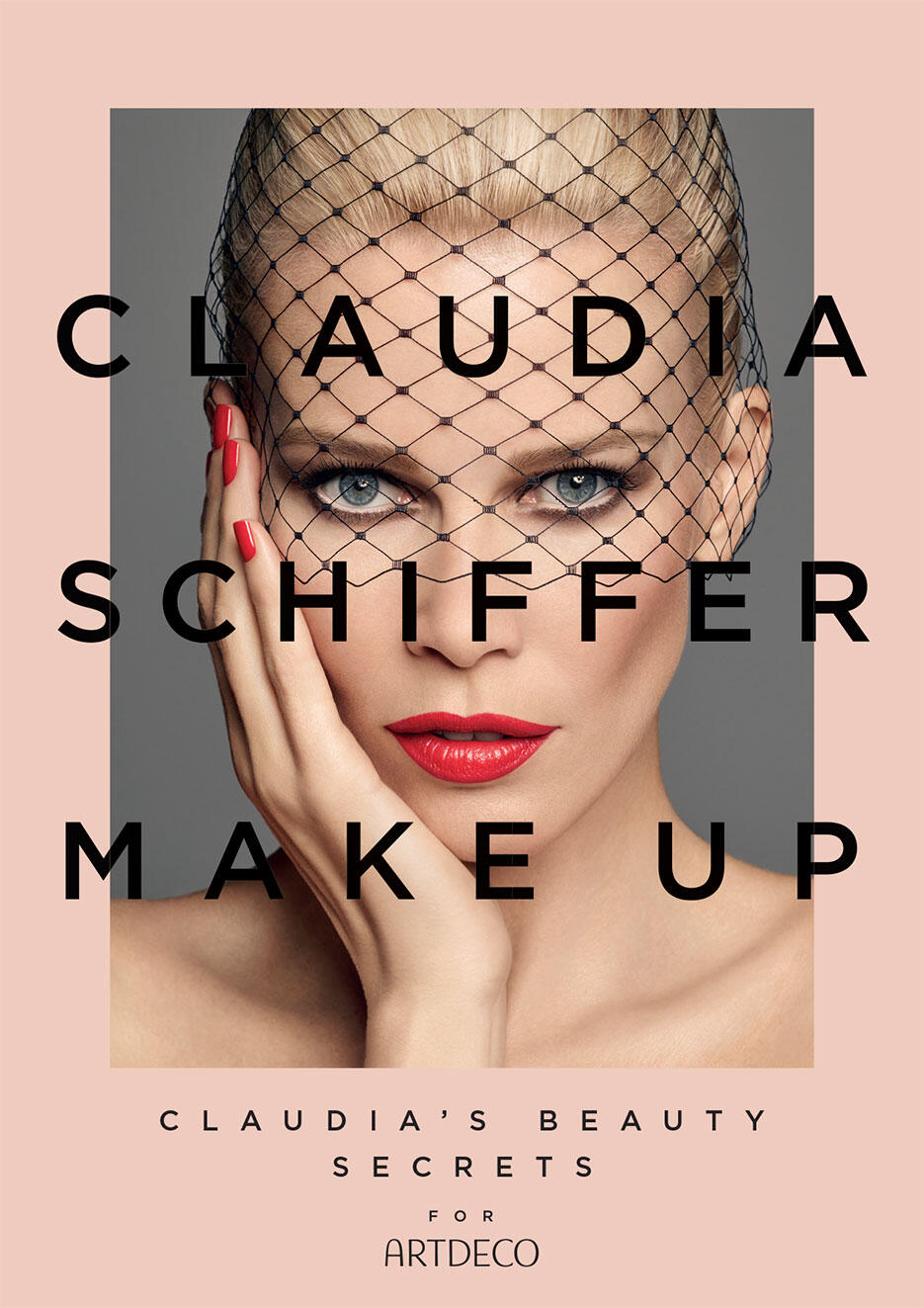 "When I first started modelling, I was so shy on set where everyone was looking at me – but as soon as I had my make-up look for the day I was able to become someone else. The more dramatic the make-up look the more silly, sexy or outrageous I felt I could be. Afterwards, even I would look at the pictures and think, 'I can't believe that's me.'"
When Baby and i saw the email for this collection in our inbox, she whatsapped me "Oh my godddd i am so excitedddd!!!!"
KinkyBlueFairy managed the digital PR marketing for it, and i got in on the products too!
Super stoked!
These limited edition products will be available in the form of the Claudia Schiffer Make Up – Claudia's Beauty Secrets for ARTDECO capsule collection, exclusively available in selected Sa Sa stores nationwide.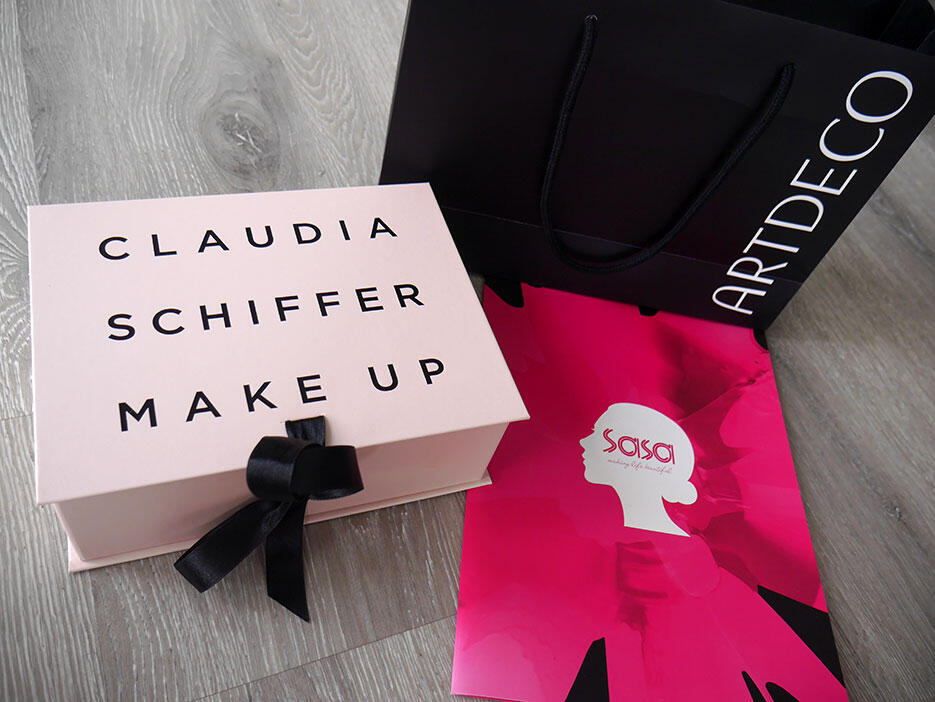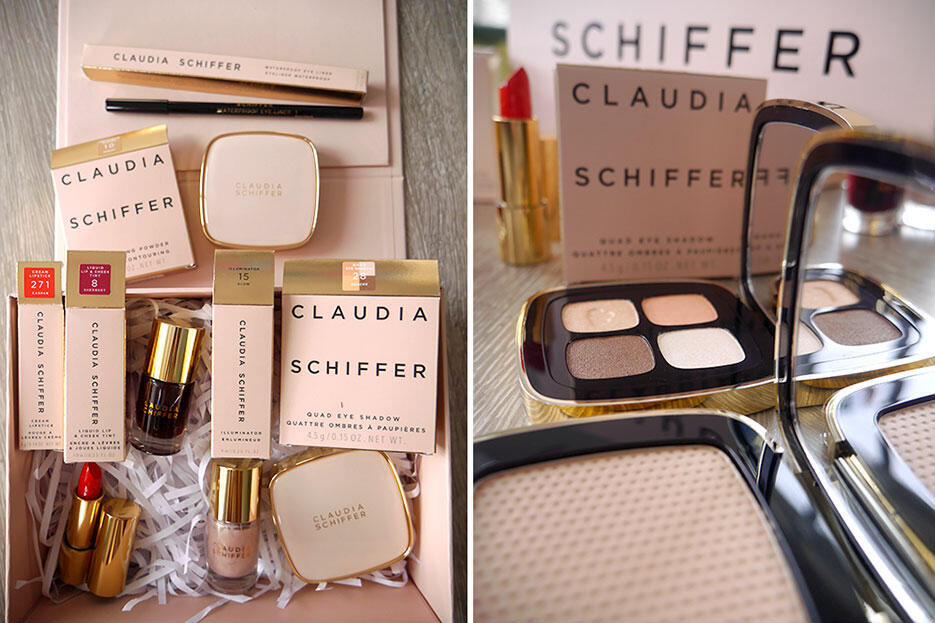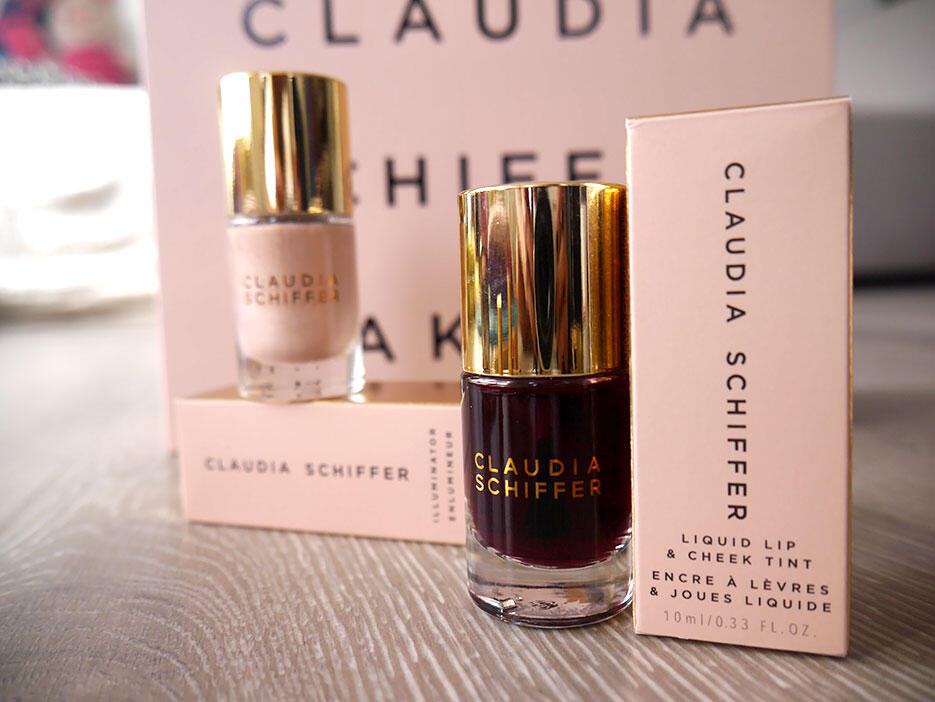 The first products i played with were the LIQUID LIP & CHEEK TINT (RM79) "sherbert" No. 8; and The ILLUMINATOR (RM89).
Out of all the products i received, these have been the ones i have been using the most regularly cos they're so versatile.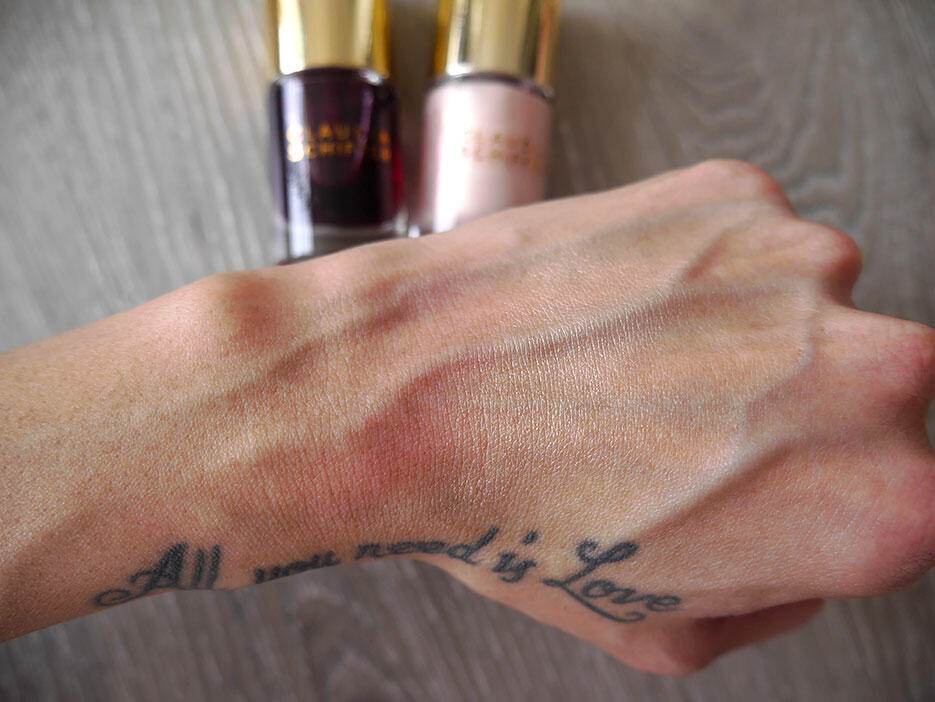 Swatch test on my hand. Tint on left, and Illuminator on right.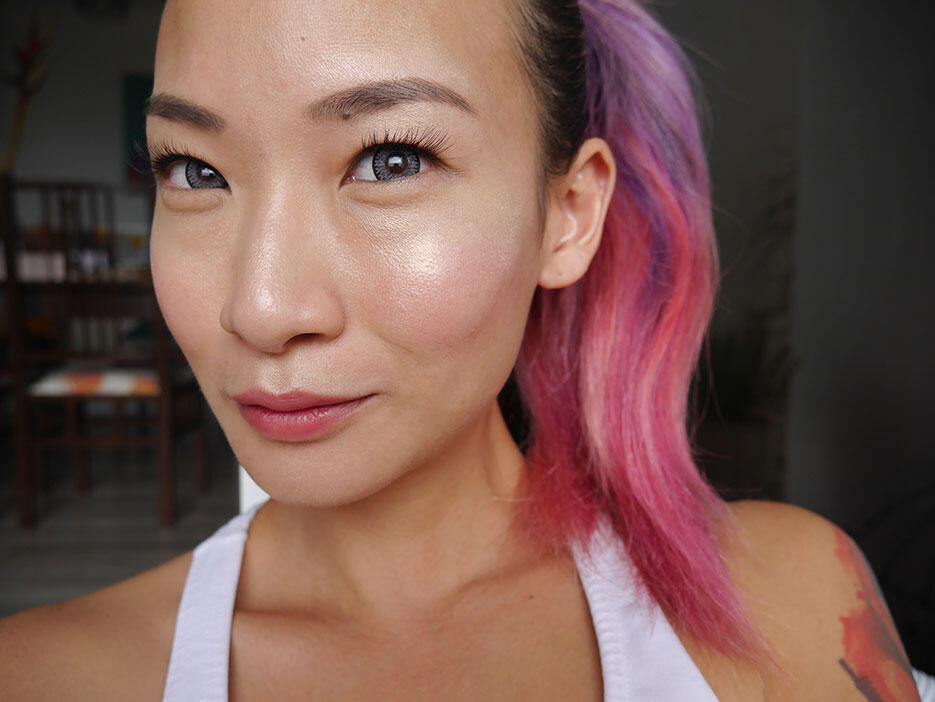 Daytime / Weekend look using just the Tint and Illuminator!
[Note: Lashes are extensions, eyebrows tattooed, and light powder applied]

The ILLUMINATOR is a cheek and brow highlighter that gives skin an instant sheen. But because it's shimmery and has a slightly goldish colour, it looks ultra sexy and gives my face a pick-me-up especially after a late night.
I shake the tiny bottle to mix up the light liquid and use the brush to dab some on, before using my fingertips to blend it in quickly. Very easy to blend.
Plus points: It's paraben-free, has Vitamin E, and is dermatologically-certified for skin friendliness. Works for me cos i memang have very sensitive skin.

The LIQUID LIP & CHEEK TINT is something i would take with me as an essential travel make up item! I can use it to add colour to my cheeks and lips without looking OTT on holidays for a dewy look.
Easy to blend with fingertips too, so no need to carry brushes. Interesting thing is how you can use it to create that gradient Korean lip look, or in my case, i like pronounced heart-shaped lips – so use the brush to colour easy precise strokes on my lips. It's dermatologically-certified for skin friendliness.

Before & After: Tint & Illuminator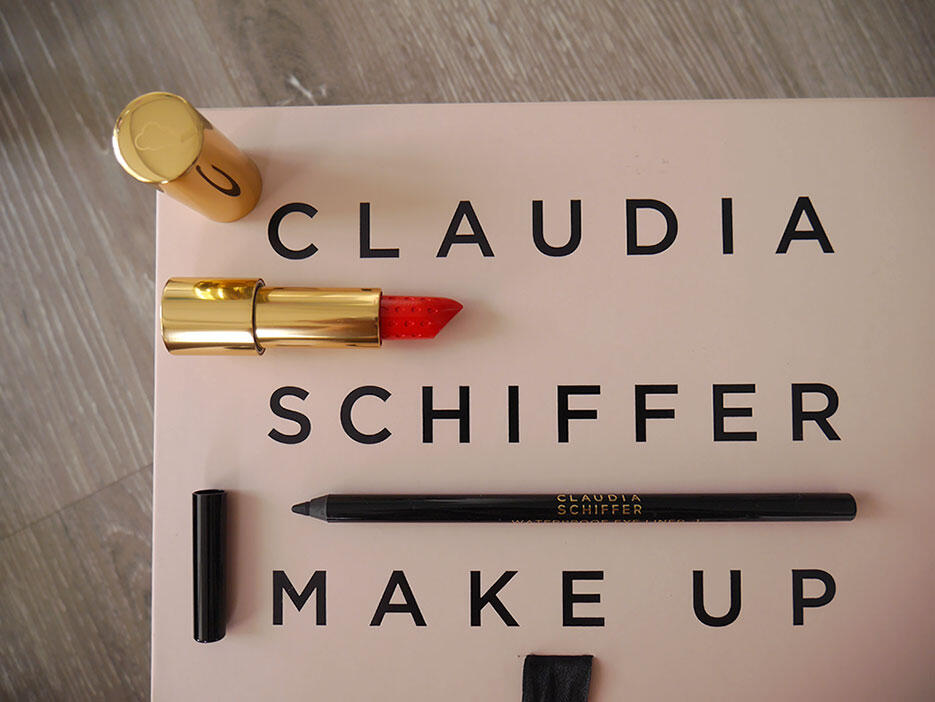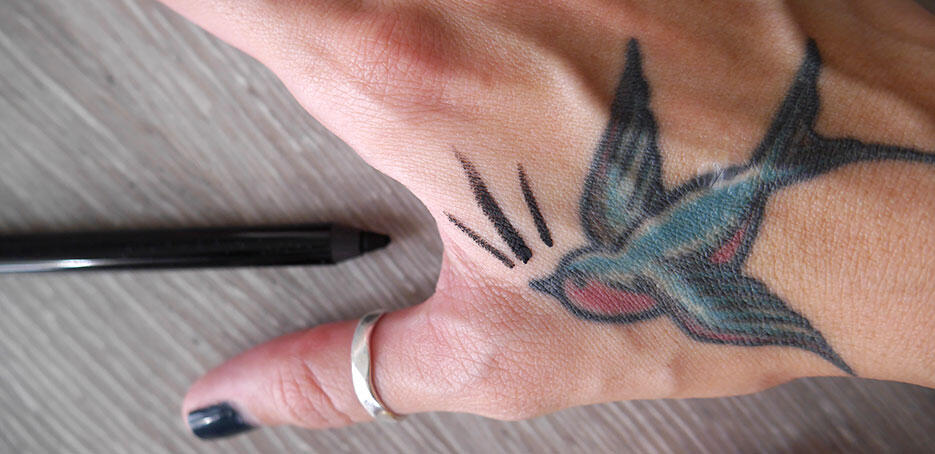 The paraben- and perfume-free WATERPROOF EYE LINER (RM69) in "true black" No.1 is a deep black eyeliner with a high pigment concentration and velvety-matte finish.
I seem to only need to apply it in one stroke to achieve a rich even line.
Plus points: The eye liner has nourishing and moisture-binding jojoba oil and rice germ oil, making it comfortable to wear on the inner lash line. Dermatologically-certified for skin friendliness, ophthalmologically-tested and suitable for sensitive eyes and contact lens wearers like me.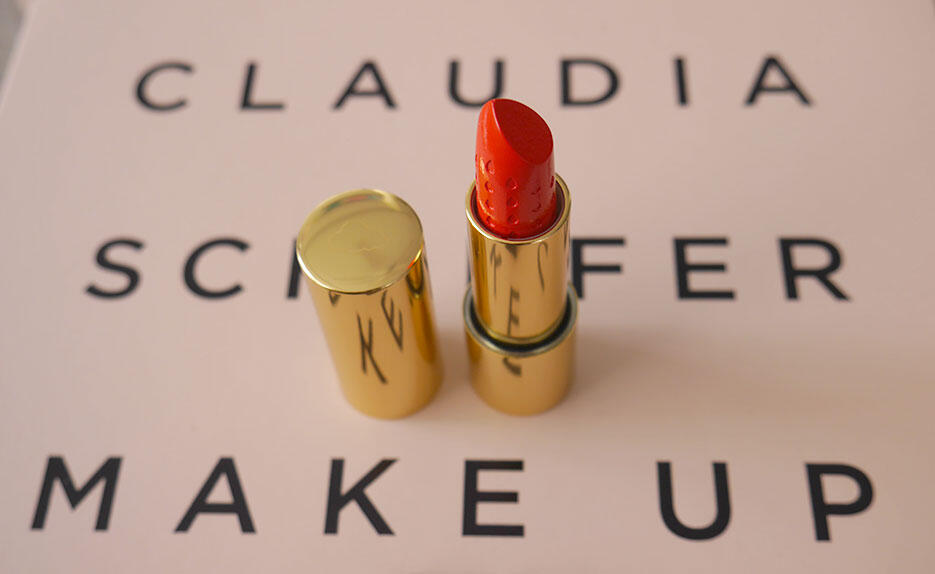 Oh, this lipstick packs a PUNCH.
The paraben-free CREAM LIPSTICK (RM89) is as soft as it claims, and glides on like thick cream with an intense colour.
"The innovative, gel-like base has a pleasant cushion effect and leaves lips looking fuller and smoother. For an elegant, velvety lacquer finish."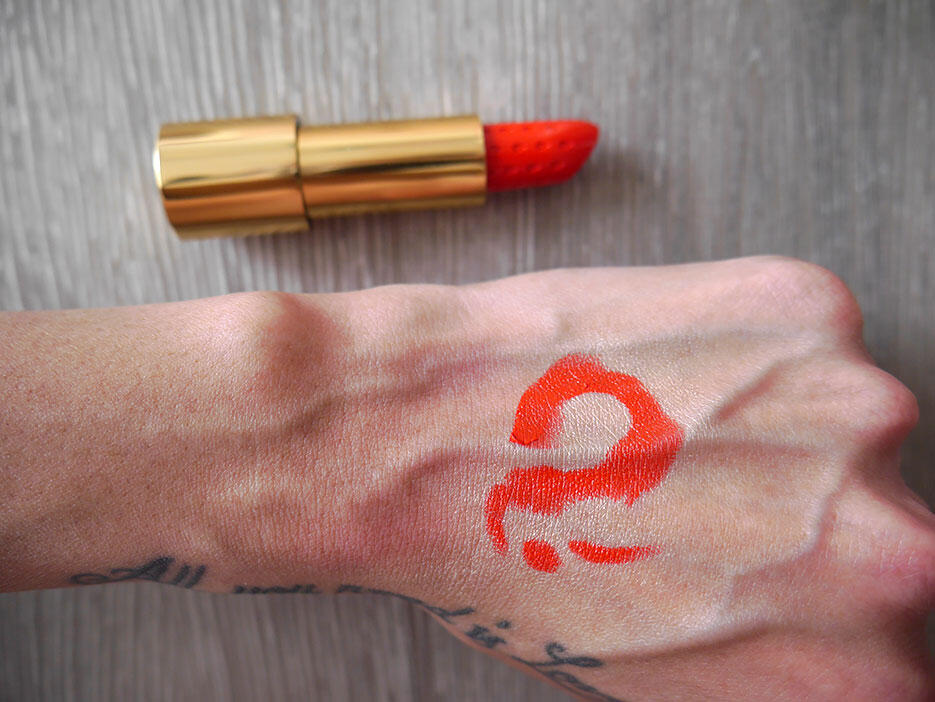 Above is "caspar" No. 271, a vibrant orange.
Also available is "poppy land" No. 300, an intense red;
and "candy cane" No. 420, a rosé shade.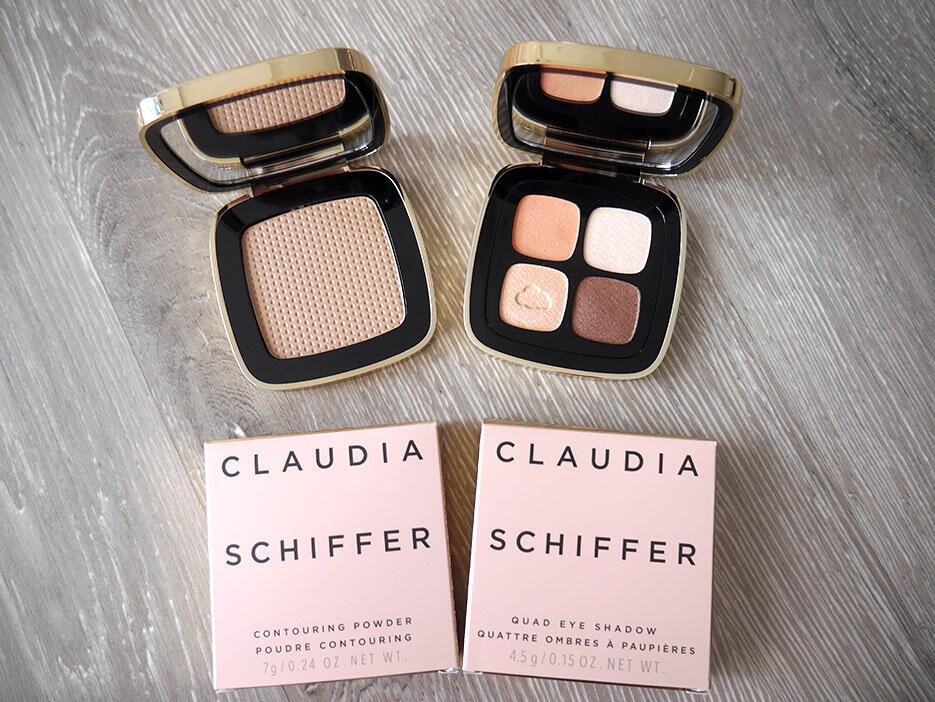 The CONTOURING POWDER (RM149) was probably crafted for Caucasian skin tones, but i find it very suitable for my Asian medium tan one. It's not too dark as how i find certain contouring shades, so it's quicker and easier to blend IMHO. Cos if i make mistakes it's not so obvious as i can blend it out better.
It's got a velvety texture thanks to ultrafine, round powder particles; and a shimmering colour.
Plus points: Paraben- and mineral oil-free, with moisturizing hyaluronic acid, and dermatologically-certified for skin friendliness.
The QUAD EYE SHADOW (RM159) is one of those palettes you need only one of to venture out with too. I got "Beachy" No. 28, a combination of apricot and nude shades, including a darker shade for a touch-up-for-night look. Also available is "Pretzel shades" No.19 is a palette of classic darker brown shades.
"The innovative texture is a cutting-edge fusion where cream meets powder, to yield a particularly silky and easy-to-blend color. Polymers very effectively diffuse light, making colors appear even more brilliant. The combination of matte and pearly shades means you can create a wealth of different looks."
Plus points: Free from mineral oil, parabens and fragrance; and dermatologically-certified for skin friendliness.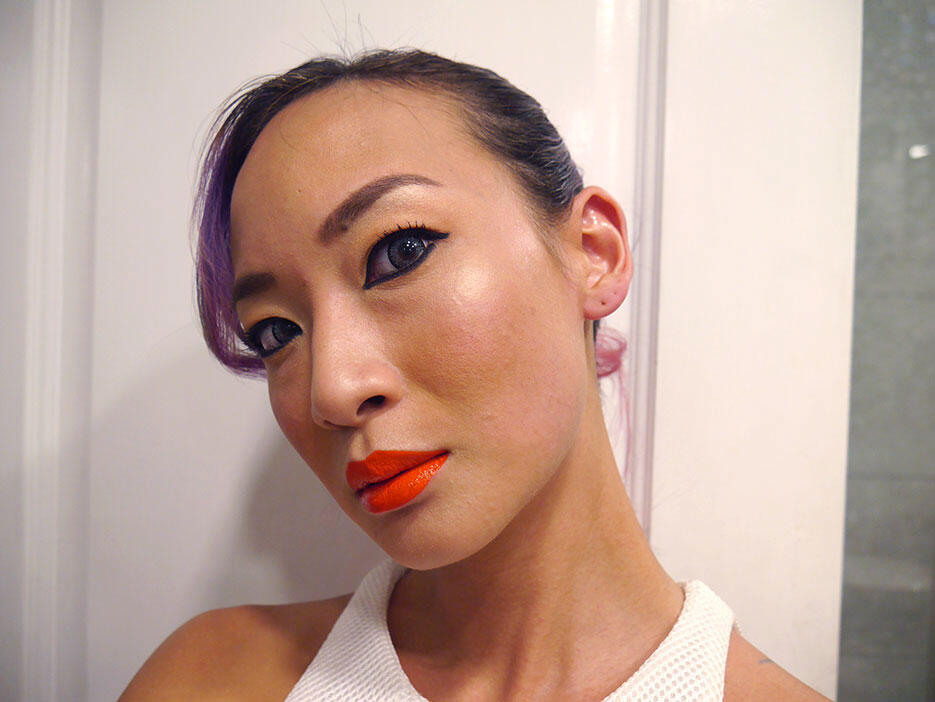 The night look i created with all the products, when i went to the Martell dinner last week.
It lasted all night, and the eye liner is absolutely smudge- and waterproof!
Besides what i got to play with, there is also: Nail Polish, No Colour Setting Powder, Lip Liner, Eye Brow Gel, Eye Brow Styler, and Luxurious Volume Mascara.
I'm quite tempted to pick up the Eye Brow Styler (RM79) cos it's fragrance- and paraben-free; comes with an angled retractable tip (no sharpening!) on one end, and a brush wand on the other.
+ + + + + + +
Check out some of Claudia's recommended looks *here*
IG: @sasamalaysia
FB: facebook.com/SaSaMalaysia
Website: sasamy.com.my
The Claudia Schiffer Make Up – Claudia's Beauty Secrets for ARTDECO capsule collection is exclusively available only at Sa Sa.
List out outlets carrying the collection:
Mid Valley Megamall, BSC, Pavilion, KLCC, Sunway Velocity, My Town, 1 Utama, Sunway Pyramid, IOI City Mall, Starling, AEON Bandaraya Melaka, Gurney Plaza, Queensbay Mall, City Square, Ipoh Parade, Sunway Putra Mall, Selective Mid Valley, Selective Sunway Pyramid, Sku Avenue Genting, AEON Tebrau City.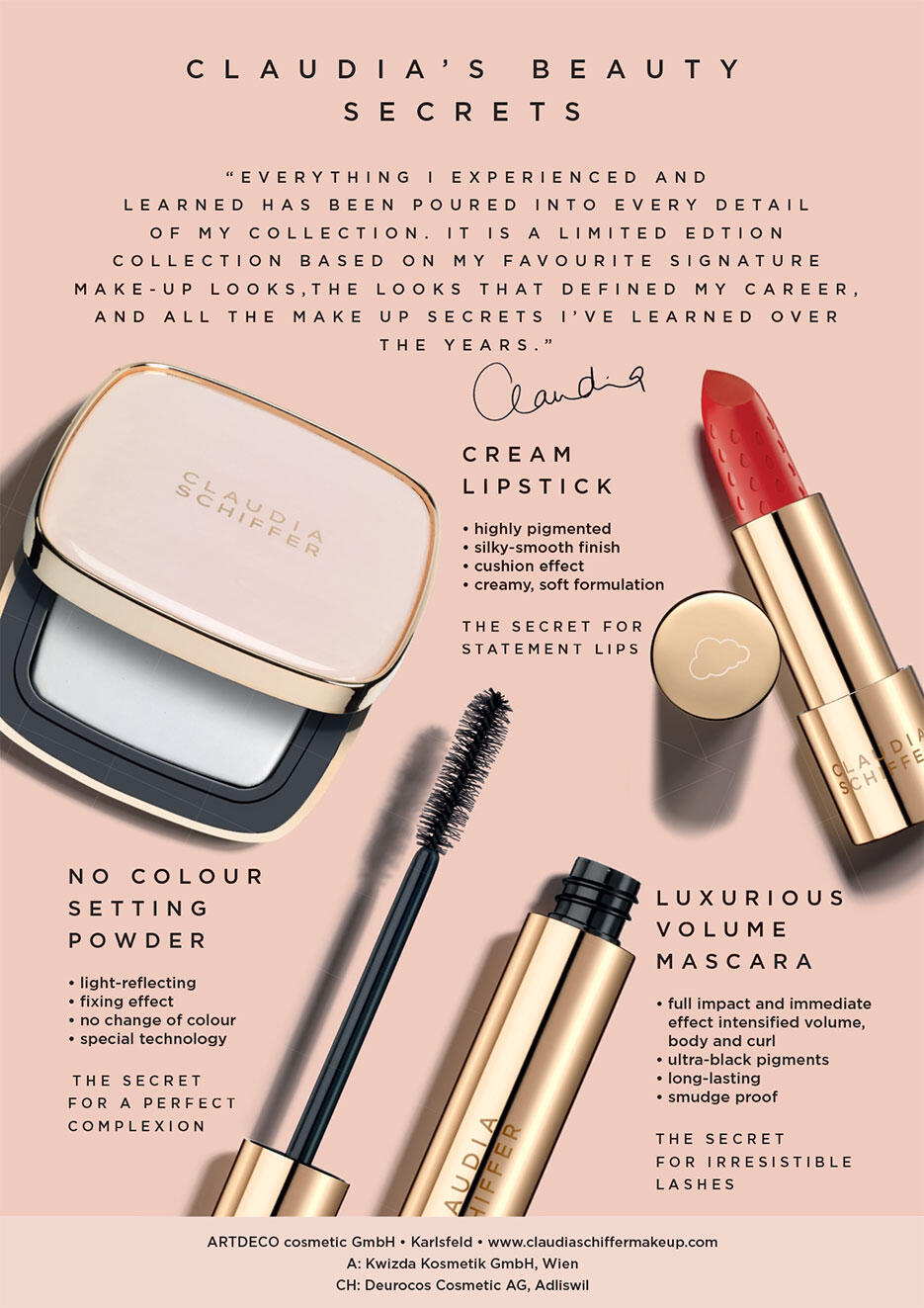 #sasamalaysia
#artdeco
#claudiasbeautysecrets
#claudiaschiffermakeup