I'm giving away a Swiss line serum worth RM 538! [read end of blogpost on how to enter] They're not paying me to give it away and i'm doing so cos i just love the brand so damn much… i admit that sometimes i apply the serum and run out without moisturizer or eye cream. #rushingfairy
Been blogging about how much i love Swiss line for yearssss and i always gave it top marks when judging the Bazaar Beauty Awards or recommending a list for the Women's Weekly Beauty Favourites. I currently use the Force Vitale Aqua-Vitale Gel-Serum, and Swiss line sunblock; along with the rest of my other beauty products of various brands.
Here are some legit pix of my master bedroom bathroom where i get ready. I say legit cos i didn't move things around and shot the pix below in a hurry!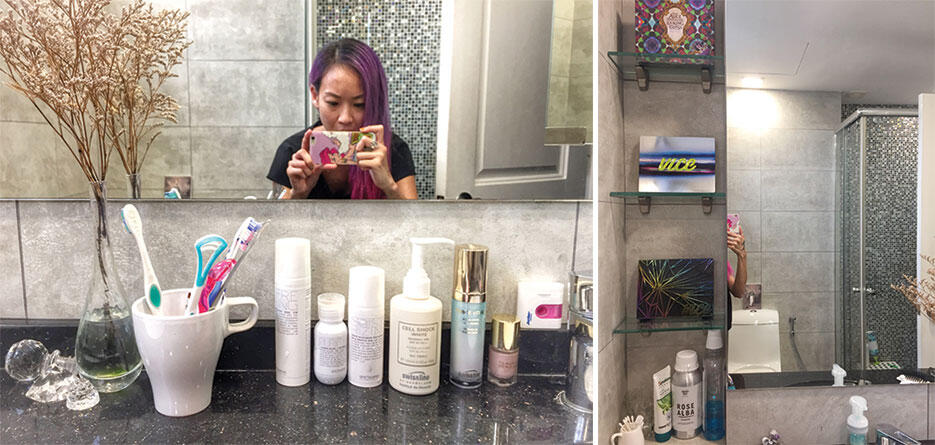 Left pic:
– Notice the sparkly stuff on lower left corner? Yeah i showcase my swarovski and sparkly mont blanc items there, cos sparkly makes me happy and looking at them while i brush my teeth makes me happy!
– There are a whole bunch of tongue scrapers in the cup cos my normal white stick that lasted friggin YEARS broke, and i went on a rampage trying to find it again for months. In the process i accumulated other brands of tongue scrapers which are all useless #truestory and FINALLY found the white one sold in Health Lane. I was so delighted i signed up for a membership at that pharmacy immediately -_-
– Skinsaikel and  Swiss Line essentials on my sink. Most other items are kept in hidden storage so it doesn't bother my line of sight #anal
Right pic:
– Left side of my bathroom where i display my Urban Decay palettes. Other palettes are stored in cupboard below the sink.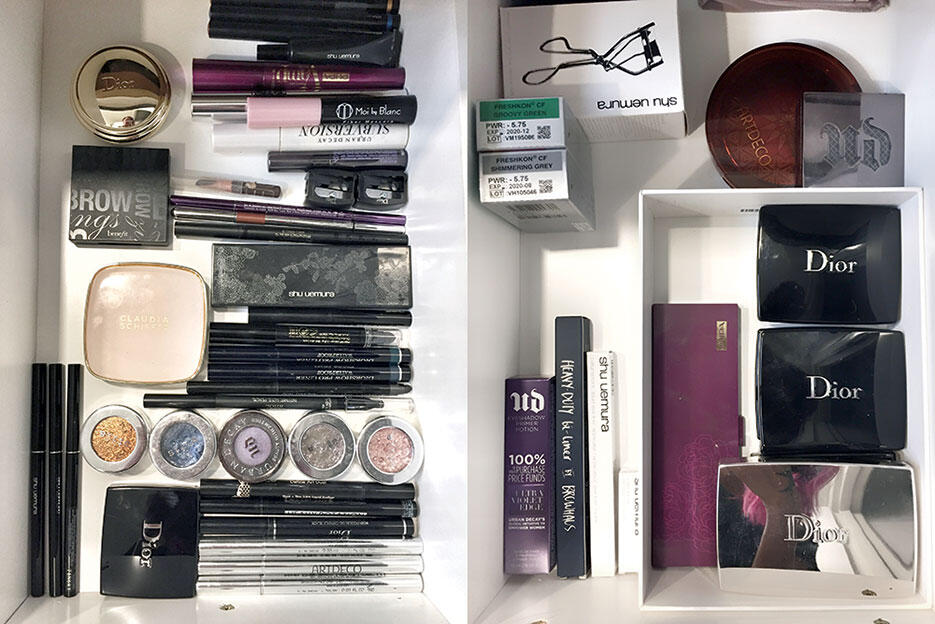 Left pic:
– I recently spent 3 HOURS going through my entire bathroom and removing all the products (you can imagine the plethora i've received from work…) that i don't use. These drawers used to be chock full of pencils of all kinds till i couldn't find what i needed when getting ready quickly!
– Feels so satisfying to look at them now… i divided them from bottom to top: liquid eyeliners, eyeliners, brow pencils, mascaras, then my precious  metallic shu uemura liquid eyeliners
Right pic:
– stacked my Dior eyeshadow palettes i use regularly. Was even thinking of labelling them out the outside so i don't constantly open them to check if it's the colour i want. But that may be taking organizing a little too far…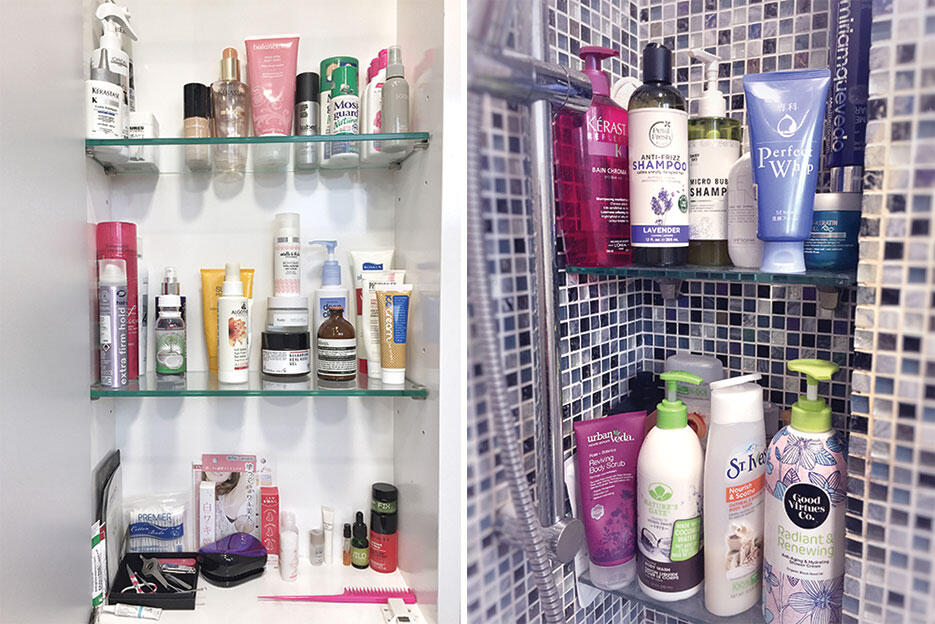 Left pic:
– this is the inside of my mirrored cupboard that's to my right when i get ready. I love ID and when renovating this bathroom, insisted on lots of hidden storage space! (1) I don't want clutter in my sight (2) I need to see my things to be able to use them
– stuff i keep in here are hair products, mosquito repellant, sunblocks, moisturizers for diff weather, exfoliate, creams, medicines i reach for more regularly, etc.
Right pic:
– My shower shelves hold mostly paraben-free shampoo and body wash. Hmm tho i'm still using non-paraben-free shampoo and conditioner cos i enjoy my hair being as soft as possible what with all the dyeing it goes through.
Spot any stuff that you use the same of too? 😉
And this, is what i'm gonna be giving away, thanks so Swiss line who reached out to me!  >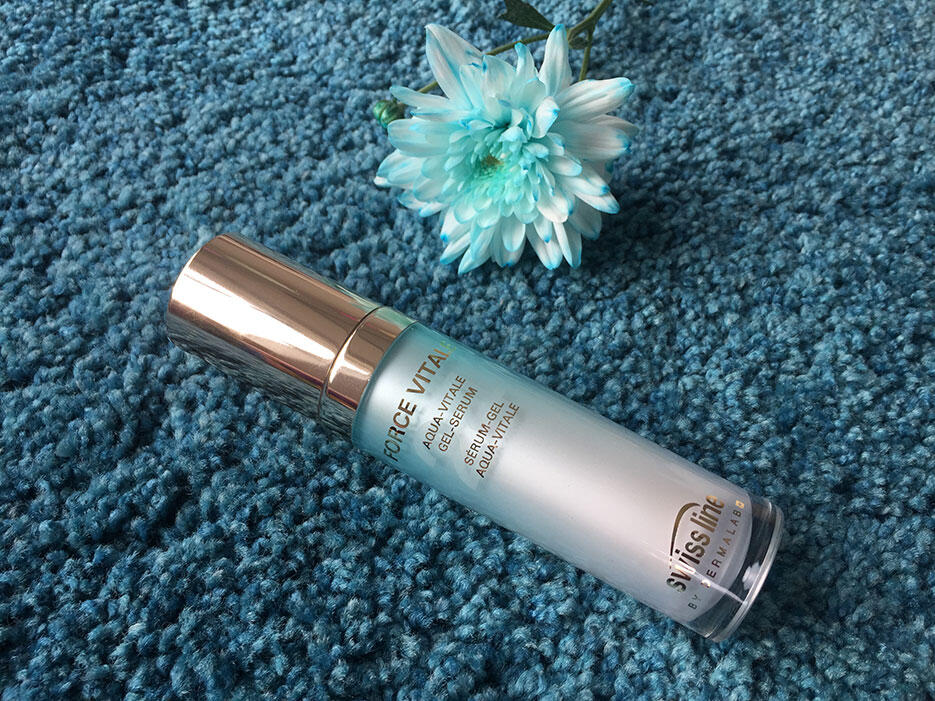 Swiss line Force Vitale Aqua-Vitale Gel-Serum worth RM538.00
An award-winning global skincare brand founded in 1989 in Switzerland by Prince Michael Massalsky, Swiss line comes from a laboratory background and traces its heritage to Dr. Alfred Pfister, the inventor of Cellular Therapy.
Swiss line formulated the Force Vitale Aqua-Vitale Gel-Serum to address the busy lifestyle of most of us these days where we're always running around taking care of work, family and friends without sometimes putting time out for ourselves. By exhausting our skin as much as ourselves, it needs more attention than ever.
This hydration serum is designed to hydrate (aqua) and energize (vitale) the skin, combat free radical damage, and strengthen the regeneration of skin with a moisture surge from the high quota of hyaluronic acid. To accentuate this feeling of revitalization, red algae extracts are also included to create an aqua-porous protective film capable of delaying water loss while naturally trapping water molecules.
Read below for more facts on the Swiss line Force Vitale Aqua-Vitale Gel-Serum >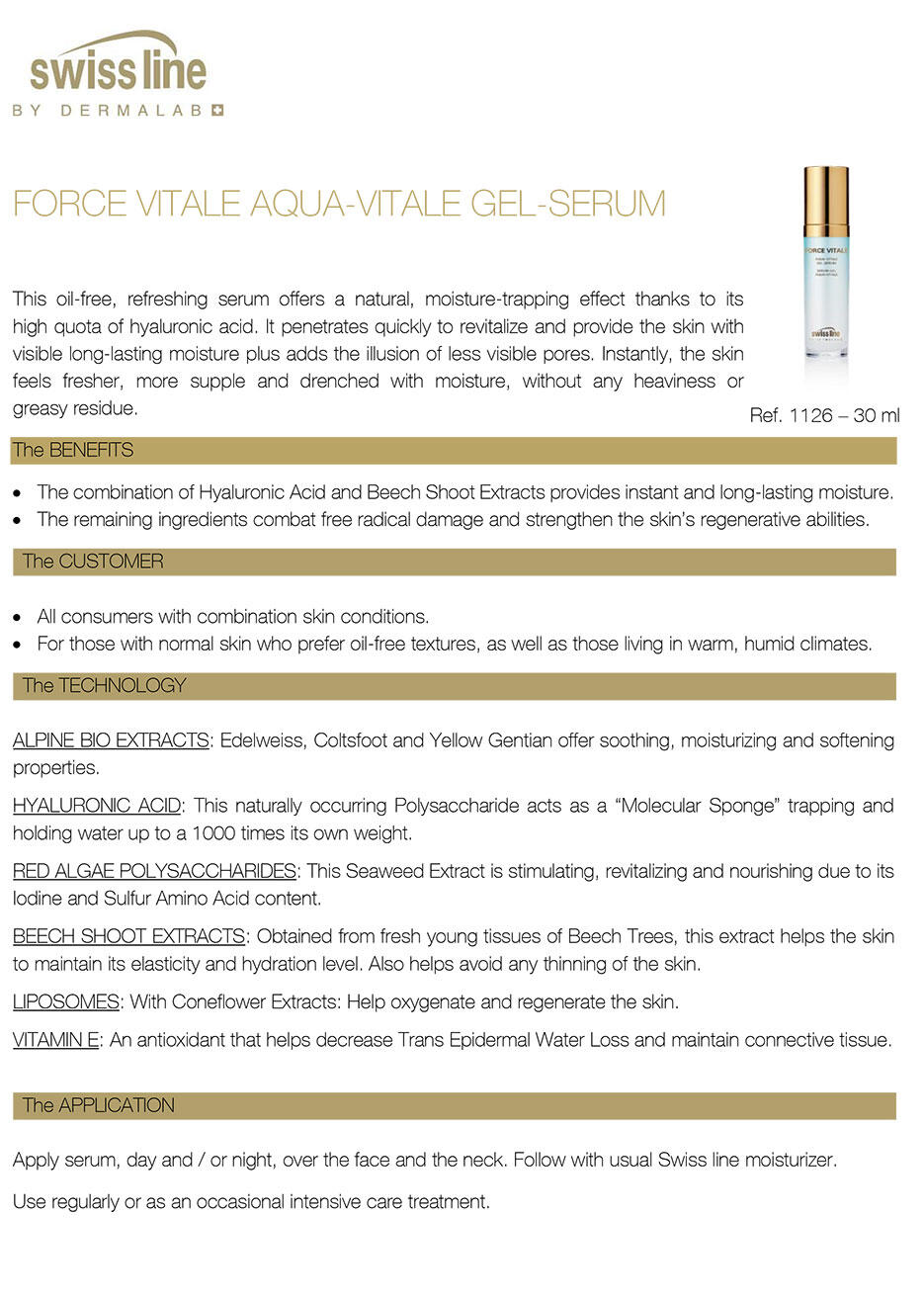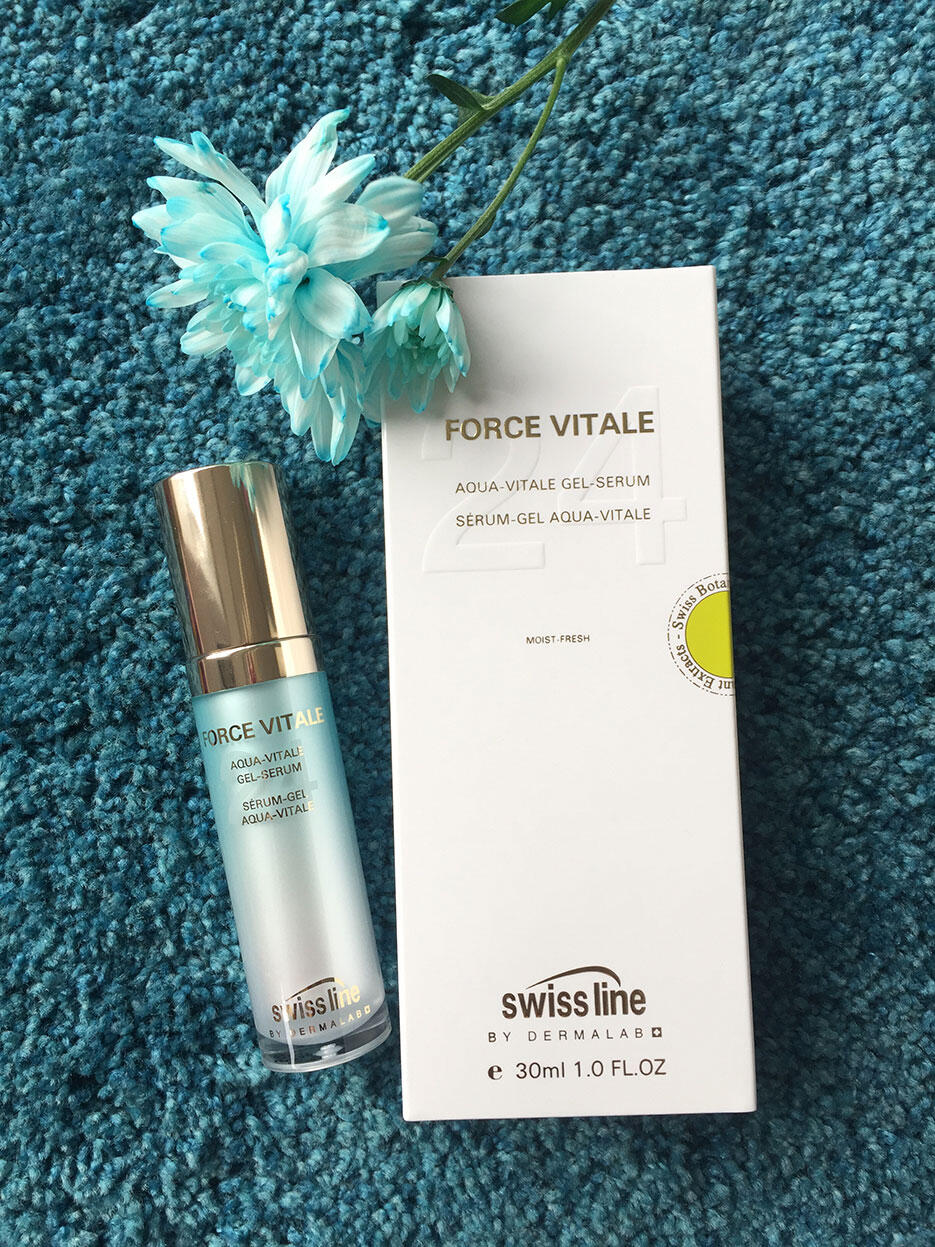 To WIN a Swiss line Force Vitale Aqua-Vitale Gel-Serum worth RM538 ; follow the step below:
(1) Comment here and tell me where you can buy Swiss line products closest to your mailing address
– er that's it. The answer is somewhere in this blogpost 🙂
Notes:
> Contest ends 31st December 2017
> Open to residents in Peninsular Malaysia only
> Winner will be chosen at random and contacted via email and announced in the blogpost. Please comment with a valid email.
> Prize will be delivered to winner
+ + + +
Swiss line products are available at over 50 Cheerful Beautique member beauty salons nationwide, including Energy Day Spa at Great Eastern Mall (Ampang). For the full list of Beautique member locations, visit www.cheerful.com.my
For more information on Swiss line: swissline-cosmetics.com/en/
+ + + +
WINNER(S) ANNOUNCEMENT
To make the contest fair, i requested the Swiss Line team to select the winner, since i may know some of the participants as regular readers of mine. And guess what!? They are so pleased with the entries, that they're providing an additional serum so there are TWO (2) winners selected!
Yay you guys!
The winners are:
1) Allison Chew
2) Kimberly Low
Thanks so much for all your entries! I will be emailing Allison and Kimberly personally to mail the prizes out
xxx