… and it was one of the BEST things i ever did in my life.
After i did it, i felt long-lost emotions that i used to have as a teenager or when i was 20… it's so weird, i don't know how to explain it any better. I felt like i was 10 years younger! I feel happier and more hyper, and i remember i used to be like this when i was in my early 20s but i don't know how i managed to slip away from that without realising (… oh yeah, by screwing up my body with alcohol and partying and all sorts of food).
I've been telling SO MANY people about it that i figured i'd better write down as much as i can here so i'll just lead friends to this blogpost instead of repeating the story over and over again!!!
WHAT IS COLON HYDROTHERAPY?
I'll explain it in greater detail further along in this post, but in summary:
I do a liquid detox for 5 days and have my colon flushed with water every day during those 5 days, for 30-45 minutes daily.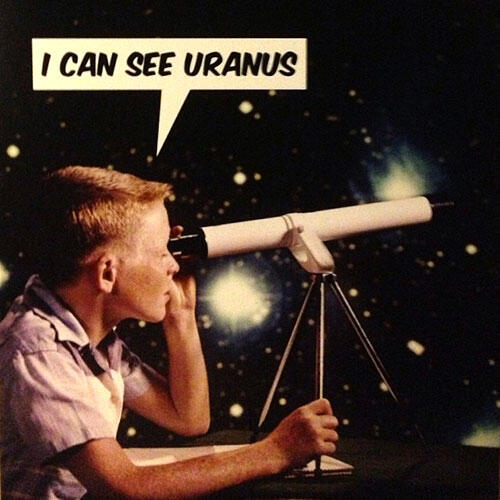 Despite what lots of people (including myself) initially think, NOBODY gets to look at your bumhole, let alone near it. I honestly thought i was gonna bare it to someone who was gonna help me flush everything out (thanks to TV shows and possibly Beavis and Butthead) but it's all wrong.
I receive specific instructions on how to do it myself (will elaborate more later), water gets flushed in, and I see a whole lotta shit come outta me — starting from food that was ingested in the few days prior, before it goes deeper and cleans out intensely dark + hard fecal matter (which i took pictures of haha) that's been stuck there for YEARS.
The reason i have to go on a liquid diet for the 5 days i'm cleansing my colon is so that my body is not spending its energy breaking down food, and can instead work on eliminating toxins that are in my body. The liquid diet consists of fruit juice and other nutrients (again, will explain more later) so i was NEVER HUNGRY during that period, and my body gets all it needs to run smoothly.
The astonishing thing about not eating solid food for 5 days, AND having your bum flushed out is = THE AMOUNT OF SHIT THAT COMES OUT. (Every person gets rid of 2-5 kg of fecal waste during this program.)
I really cannot stress enough how gross yet SATISFYING it is to see poo that's been stuck in me for decades get out of me.
Disgusting.
I'm glad it's all out.
In fact, i was kinda sad on my 5th day and wished i could continue cleaning somemore!
WHY i decided to do this… 
As some of you may or may not know, i've been having terrible allergies since May 2013.
After weeks and months of research, i knew that my sudden sprouting of having allergies is NOT because i was getting older (i seriously thought most women who hit their 30s just suddenly got it) but it's because of all the toxins in my body.
My body just couldn't take all the toxins anymore and it was showing physically by pushing it out via my skin.
About toxins: We're exposed to toxins from SO many things thanks to our modern lifestyle, especially in the city cos it comes from the food we eat, the air we breathe, and the things we allow near our skin!
Examples:
– pesticides
– alcohol (damn)
– stress
– excess sugar
– caffeine – coffee, tea, chocolate, soft drinks
– air and water pollution
– food conditioners, MSG
– artificial flavouring and colouring
– building materials and furnishing (which explains why i'm allergic to rubber -_-)
– nicotine / cigarette and passive smoking
– radiation – microwave, computers, handphones
I didn't even list them all down.
Now, our bodies deal with all these toxins by eliminating them through a few main channels, which are:
1) Skin (signs of toxicity include eczema, acne, rashes, body odour)
2) Lungs (signs of toxicity include bad breath, persistent coughing, congestion in nose/sinuses)
3) Bowels ( signs of toxicity = constipation, recurring diarrhea)
4) Urinary System (signs = strong smelling / highly coloured urine)
When these channels are overloaded, the toxins that remain in the body interfere with bodily functions and take on a form of poisoning called "autointoxication".
It's obvious when this happens cos the first signs are shown in our eliminative organs i just wrote above.
Do you suffer from any of the below?
Cos i do.
Symptoms of autointoxication include:
– Rashes (eczema, dermatitis, hives), acne, psoriasis, brown spots / liver spots, clogged pores, excessive perspiration, dark circles under eyes, puffiness under eyes, red or itchy eyes
– Chronic cough, wheezing, excess mucus / post nasal drip, sinusitis, hay fever
– Abdominal bloating, nausea, bad breath, indigestion, gas (burping or flatulence), coated tongue, constipation or diarrhea, body odour, irritable bowel syndrome, being underweight / overweight
– Fluid retention / bloating, dark coloured / strong smelling urine, frequent UTI
– Allergies, fatigue, cellulite, sore joints / arthritis, muscle aches and pains, frequent headaches/migraines
I can tell you that i suffer from more than five of the above.
What so many people don't realise is that being ignorant and lazy is literally going to be the death of you.
"Unabated exposure to autointoxication can lead to serious implications such as chronic and debilitating diseases."
Why do you think so many people around us are falling prey to the Big C?
It's because of our lifestyle of eating processed foods, available in copious amounts in the past century.
I have friends who are MY age who have gout. Thankfully they've done their own research, come to terms with the truth and started drinking juices and detoxing on their own.
I have countless girlfriends who have skin allergies like me. Most of us seem to get them around age 30, and i really think it's due to the skincare we use cos we don't see a lotta men getting skin allergies.
Some people show signs in their teens or 20s, some later in their 40s or 50s. Every body has different levels of susceptibility, but in the end we're all human and there's only so much a body can take.
Besides my allergies, i know i suffer from constipation and only go to poo once a day. Apparently you're supposed to go after every meal! Some people i know go every other day 0_o
I could go on and on but basically, i don't want to die.
I don't want to die young (i used to think it would be romantic to live fast party hard and die young but now I just want to live longer and have more fun!).
I KNOW my allergies are a blessing in disguise, for it's got me on this journey to discover cleansing my colon and giving my body a spring clean from all the toxins i've been dumping it with. And, I also think it's a blessing that I have this blog to spread word about it. I know my friends and I discuss our health a lot, and I'm not sure how many others like us there are out there, but I'm just gonna gonna share what I went through so I can pass the message on.
How I went about undergoing colon hydrotherapy
I chose to go to Pure Health in Plaza Damas cos it's been operating for more than 10 years and came highly recommended by friends like Tianna, Elaine, Carmen, Bernie and probably a lot more people I know who just NEVER MENTION they do it.
The whole detox process will take 9 days, because you need 2 days prior and after the 5 days you are on the liquid diet, to go on a fruit and vegetable diet to prepare your body for it. It makes sense… you can't simply go from eating 'normal' food to suddenly on a liquid diet – your body might go into shock!
Pre-detox is imperative to:
– get a more effective cleanse (to remove more toxins from body)
– yield greater benefits (health, energy, skin and appearance)
– reduce healing crisis (less severe reactions during detox)
So in order of process:
pre-detox = 2 days
detox = 5 days
post-detox = 2 days
Another thing I had to do wayyyyyy before making my appointment, was mentally prepare myself for this process. I attempted to detox on salads 6 months prior to my sessions at Pure Health (when my allergies were getting really bad and I basically had no choice) and it was REALLY DIFFICULT.
I'm just gonna put it out right there, it's difficult… mentally. I'm so used to eating whatever I want whenever I want (curry laksa, fish noodles, nasi goreng, spicy lamb pasta, etc) that to suddenly resort to only veggies and fruits… was really tough!
I'd suggest keeping to having a busy schedule so you don't think about eating other things, and to avoid going out with friends for meals if you can't handle watching them eat fish or meat while you can't. I must admit that I was practically in tears on the sofa at home alone (cos Clem was away) on Day 1 of my first detox attempt. Sad.
Knowing that it's not that easy, I gave myself a few months to mentally prepare for the cleanse I was going to go through at Pure Health. It helps a lot when you give yourself a buffer cos you are personally giving yourself a goal, which is to DO IT. Also, I guess what helps is having to fork out for hydrotherapy so you're not gonna want to waste the treatment!
The Detox Itself!
After being on salads and fruits for two days, I was quite excited to get the process started. I just wanted to START!
The only thing I could consume for 5 days were liquid meals that EACH consisted of:
– 2x glasses of natural organic fruit and vegetable juice
– wheat grass shot / 2 big tsps of wheatgrass powder
– 2 tbsp Udo's Choice Oil Blend
– 2 tbsp psyllium husk
– 2 pro-biotic supplements
* Important note: if you are to try doing this detox WITHOUT undergoing colon hydrotherapy, omit taking the psyllium husk that regularly! You'll end up super bloated!
The list above was breakfast, lunch and dinner. It's actually not difficult at this stage cos you've already TOLD your brain you're not gonna eat anyway, so it becomes a ritual to just make my drinks, stir in the powders and oils, and drink it.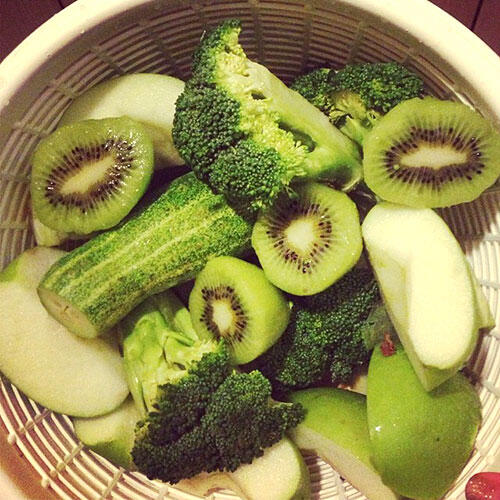 I'd have different vegetable and fruit juices as to keep it as interesting as possible.
Luckily for me i actually like vegetables… and i love vegetable juice! All i gotta do to make it sweeter is add an apple or carrot. I don't like it to be too sweet anyway.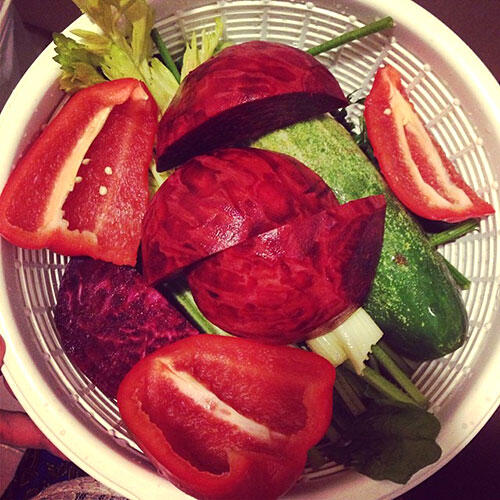 I love juicing beetroot and peppers!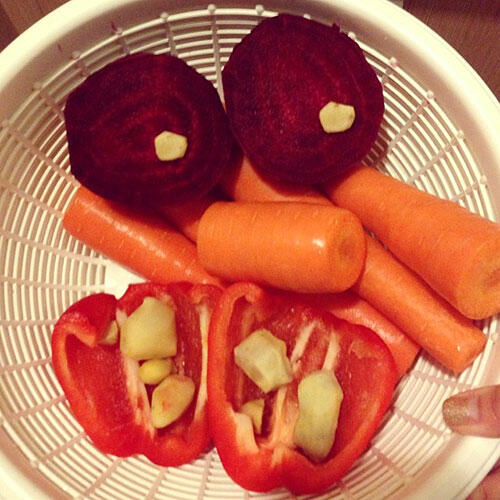 Ok sometimes i'd get bored anyway and make a face with it to entertain myself.
I'd occasionally add in a tiny bit of ginger to give it a kick.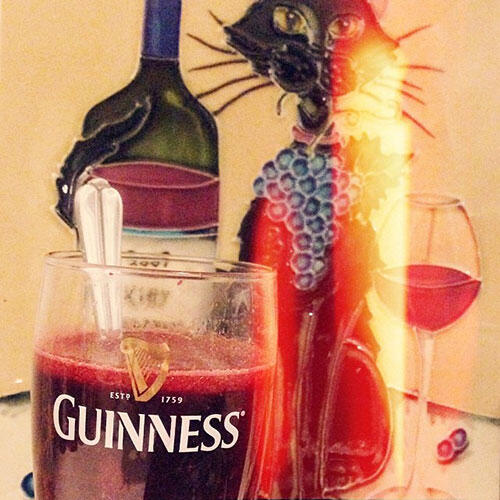 I drank my juices from a Guinness pint. Damn salah right.
What probably helped me go through my liquid diet is also knowing WHY I was taking specific things along with the juices, which I decided to write down here for your benefit. (Sorry if this post is so long, there's so much information I'd rather not miss out on!)
2x glasses of natural organic fruit and vegetable juice
Why: In short, "fruits and vegetables are our most direct source of energy and nutrients. Plants are the only organism that can convert the power of the sun into energy and in turn become a source of energy for other organisms."
Wheatgrass shot / 2 big tsps of wheatgrass powder
Why: "Wheatgrass is high in chlorophyll and contains high amounts of essential nutrients, vitamins, enzymes and amino acids. 1 ounce of wheatgrass is nutritionally equivalent to 2 pounds of vegetables. This amount provides necessary sustenance and aids in the detoxification process."
2 tbsp Udo's Choice Oil Blend / Essential Fatty Acids
Why: EFAs are "good fats" or "good oils" that are essential for helping the human body in a list of functions from energy production to brain function. Your body basically cannot live without essential fatty acids in your diet. The Udo's oil I take is produced from cold pressed organic flax, sesame, sunflower and evening primrose seeds, as well as oils from wheat, rice, and oat germ.
2 tbsp psyllium husk
Why: It's a very rich source of natural fibre that regulates bowel movement while taking away  dangerous toxic residue with it, and accelerates the entire detox process. Reduces risk of colon cancer, heart disease, diabetes and diverticulosis.
2 pro-biotic supplements
Why: The intestinal tract is made out of good and bad bacteria. During the detox phase, the good bacteria will be cleansed out with the toxins so it's important to retain that balance of the good cops in your body.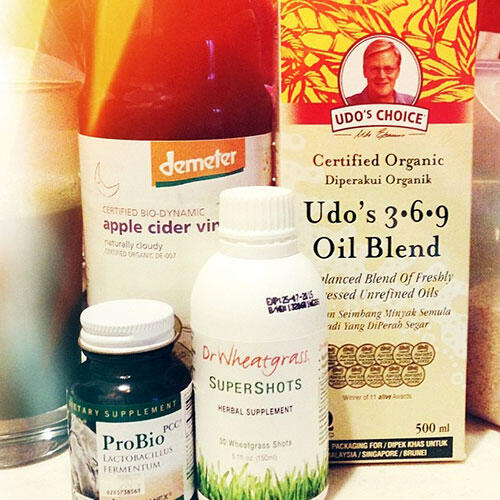 Other stuff I religiously did during those 5 days was to drink a glass of water with 1 tbsp of apple cider vinegar, drink 2-3 litres of water daily with slices of lemon, do some cleansing exercises, and (this is my favourite) REST a lot! You're advised to rest so your body can devote its energy into cleansing itself of toxins, rather than running around or working out.
I'd make an appointment with Wendy (the owner and nutritionist at Pure Health) for my sessions. Every day during those 5 days, I'd go in for:
– 30 to 45 mins of colon hydrotherapy
– 30 mins of infrared to sweat out all the toxins via my skin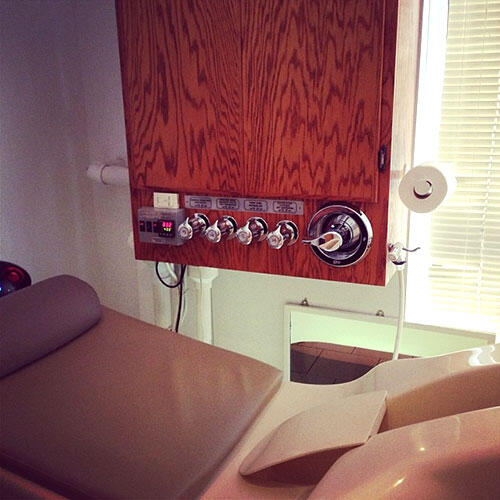 The bed/toilet i sit on during my hydrotherapy session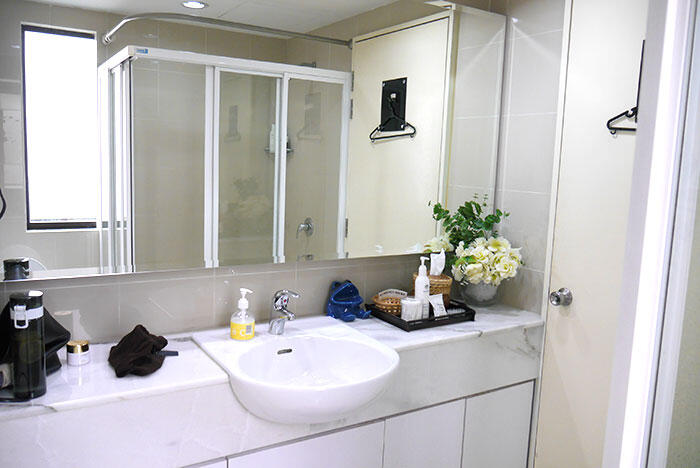 Bathroom in between the two rooms (after my hydrotherapy and before my infrared session) where i'd take showers.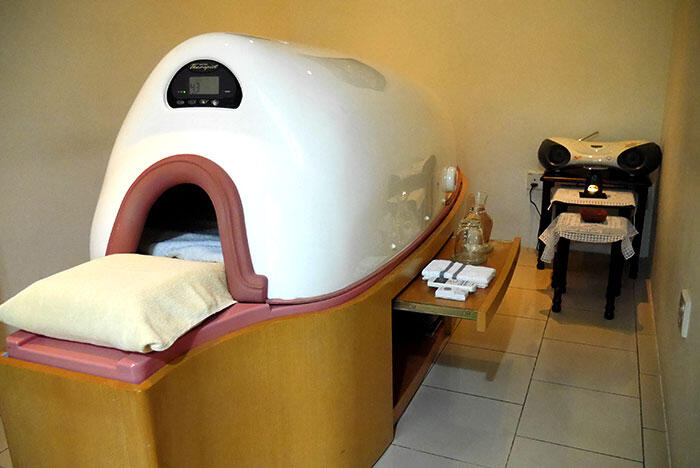 Infrared bed
//// I will be writing in greater detail what i go through during the process, but for now this post is super long so i'll write part deux when i can!! I want to… cos it's really interesting and i want to post pix of my poo that came out haha!! ///
For more info, read www.purehealth.com.my