When Han at Centro Hair Salon coloured my hair last, i initially wanted a darker colour but i think he'd already planned ahead the tones he was gonna implement onto my crown. Check out *this vid he did for a side project of his own*, so semangat and well done!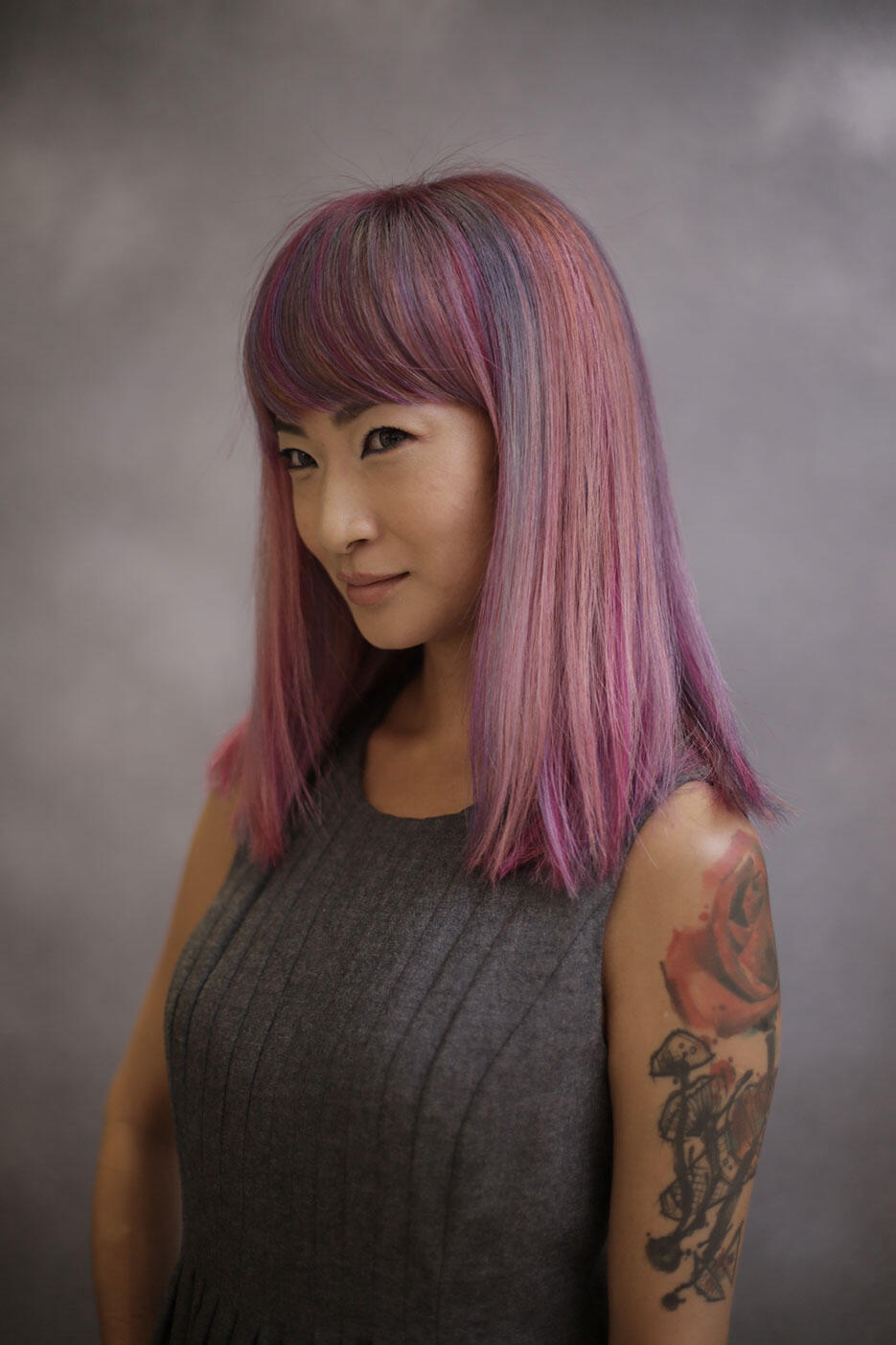 These were shot in 5 minutes right outside the salon cos they had Ikwan Hamid over to take some photos.
Eyeshadow from Dior. Lip colour my own.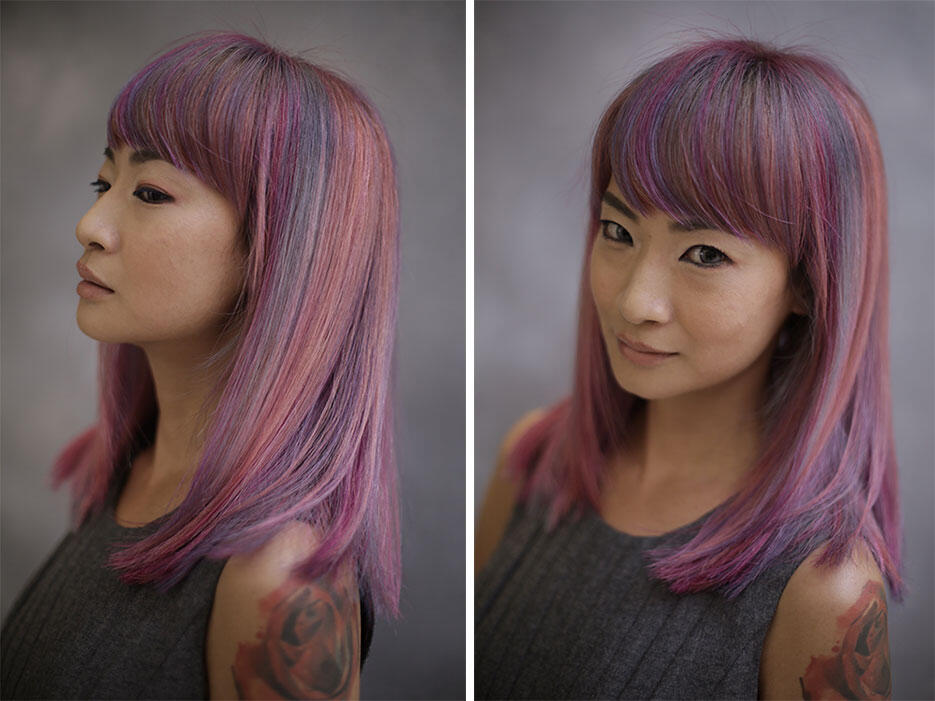 The combination of pink, peach and purple tresses were a dream.
I caught myself sitting on the sofa after work, twirling my hair between my fingers and simply admiring it. It was like i was my own little pony! I didn't need to play with their hair anymore cos… mine was even BETTER.
You should have seen how it faded over the weeks, it changed slightly every time i washed my hair, and still looked magical.
In the first week, i had a few days i went 'all the way or no way' by throwing on lots of pink clothes and make up. I looked like i was visiting from a pink planet. On days i had meetings and had to look more serious about work, i'd tie everything into a bun (less colour shouting at everyone) and wear black.
One thing i didn't think i'd get for having pink hair, was the amount of attention i got from little girls. Throughout the many variations of hues i've sported, none has enamoured more girls than this one.
I noticed girls tugging on their parents sleeves, or stop walking altogether, with mouths hanging open.
In the lift one day, i found myself standing with a Malay lady and two little girls around 4 and 7 yrs old. The auntie said, "My cucu said they like your hair. They want to have pink hair too."
My hair was tied up in a ponytail, so i entertained the situation by going, "You mean like this?" and dramatically pulled my hair tie off to let the pink waves loose. Both girls stared up at me with shy smiles and big shining eyes, as the lift doors opened to their floor.
Their grannie shoo-ed them out, but the youngest girl continue staring at me and walked out right into the wall!
So cute, i would have pink hair errday if it could entice someone with the possibility of magic.
+ + + + + + +
Completely unrelated to pink hair but thought i'd share this piece i wrote on 20.03.17 >>>
I had the team over today, which is something i haven't done for AGES cos i was away so much
It was a very productive and fun day!
Even Baby said that after we watched the sun set with a glass (or two) of chardonnay
Sheryl just joined us this week, and she's a skinny 19-year-old who also happens to be one of our KOLs before she applied for an internship. That girl has no filter (which i like).
As we were in the car on the way back from lunch at Mei by FS, the conversation skirted around how old Baby and i were, and i simply said, "I'm 34 this year, i'm 15 years older than you."
Sheryl: Owh… That's a lot of years!
Me: Thanks Sheryl, thanks A LOT. -_-
I asked Cavin about his Zimmer treatment, "So, have you measured yourself lately?"
Cos the results increase at week 5 post-treatment.
Cavin: Yes…
Me: Are you eating healthy?
Cavin: Healthierrrr
Me: -_-
Cavin hates vegetables, and from Day 1 of his joining us, Baby and i have been pestering to consume more vegetables. We've said it all to him:
"You must eat vegetables!"
"Did you know that vegetables are the ONLY source of food that gives you living nutrients?"
"You're not gonna live for very long if you don't eat vegetables!"
Poor guy gets shamed for not eating his greens.
We only do it cos we care!!
Today at lunch we got him to eat a small plate of salad.
Well, we didn't really give him a choice, Baby kept conning into eating one leaf, then one piece of cucumber,
and i stared him into meekly eating a spoonful of grated red cabbage.
Then he got applause from Baby for eating three pieces of salad leaves,
tho i kept my hands apart and said he only deserved applause if he had 10 pieces of salad leaves.
I'm obviously tougher on them than Baby.
After lunch Baby poked Sheryl's bare midriff under her crop top that read "Kitten"
Baby: So skinny!
Me: Baby, she's 19 *rolls eyes* Of course she's skinny
Her age starts with the number 1!
Me: Wow, i don't know anyone who's 19. You are like a new breed of human being to me! I'm gonna be asking you so many questions about yourself.
+ + + + + +
Baby and i are really proud of Sheryl this week cos she's on leave for the Photo Face-Off competition!
When i first heard about it, i assumed she was going off for some modelling competition.
No, Baby said, it's a photography comp by History Channel, and Sheryl is one of the only girls.
We told her that she wins in our hearts already.
It's Day 1 of the competition, we're rooting for you every day Sheryl!!!