I managed to edit some pictures but am way too tired to continue posting right now.
Didn't even have lunch today cos i was that busy!
And subsequently missed the LV party that i wanted to go for *boohoo*
See these now, come back laterz.
Initially i had no intention of doing a party of any sort.
Then Claudia said we should do a girlie birthday mad hatters tea party.
I thought there were two problems with this:
1. i have guy friends too… takkan just have girls?
2. tea party in a tea place = no alcohol. There's no such thing as a Joyce Party without alcohol. No way.
So i hijacked her enthusiasm and made it into a polka dot party 

I didn't want any fuss… cos i did enough work at Clem's party,
just wanted a simple drinking thing at dLegends pub with all our alco kaki friends.
Between Clouds and i, we know hundreds of people…
but we decided to keep it small (like a wedding haha) to close friends who DRINK.
On our FB invite, we implored friends to come in polka dots
and Claudia threatened to bring her Sharpie on to them if not.
People were calling me day before and day of party: "Hey… i really don't have anything in polka dots, how? Is Claudia going to DRAW ON ME?!"
and Big Ben was vainly saying: "Of all the patterns… you have to pick the most unflattering one!"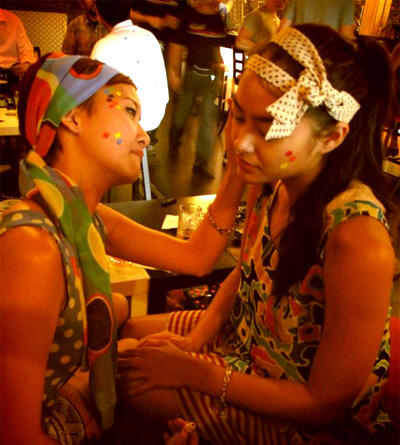 I semangatly painted polka dots on my face with Buncho,
then did Claudia.
You know, it amazes me how one of the birthday girls herself doesn't adhere to the theme at her own party

In Claudia's defense, she stuck dot stickers on her bra (pls don't ask me about this) and was wearing a tiny polka dot top at first, then pulled on this top i gave her instead.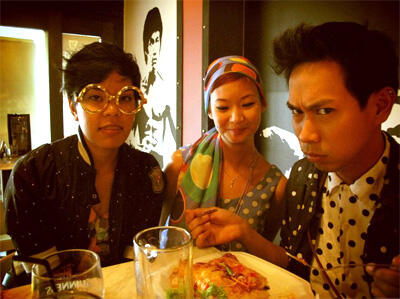 MisDeeds, me eyeing Ming's food, Ming
I should have taken a proper picture of Ming!
He wore gold polka dot shorts with what you see above!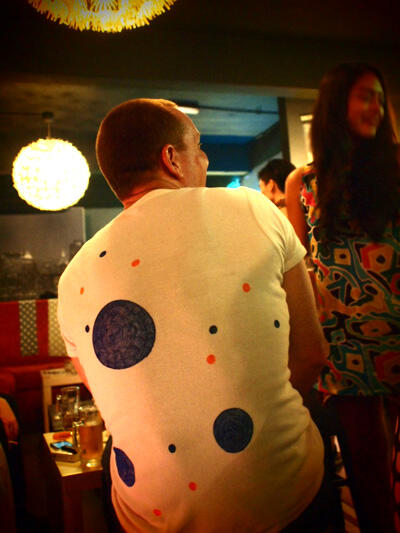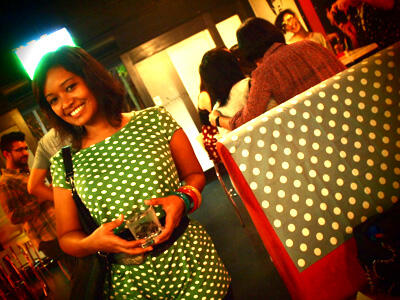 Tania matched the couch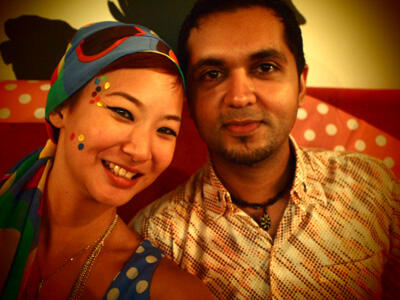 Deep has a blog dedicated to alcohol. Enough said.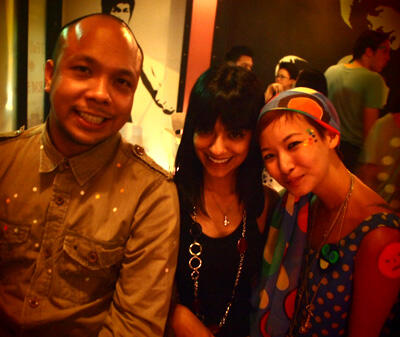 Fai, Apsy, me
Fai is a banker (zzzz)
Aps is a kindergarten teacher (WEE!)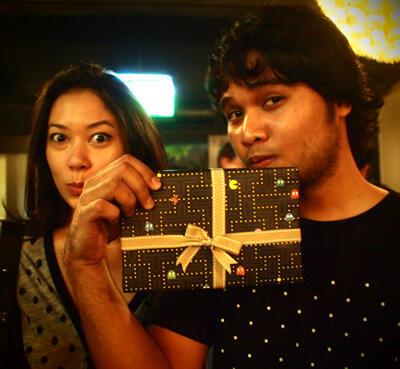 Az + Reza
Reza's present was SO NICELY WRAPPED i didn't open it till the next night…
When he arrived, i was already halfway drunk and started shrieking "Oh my god! It's Reza Salleh! Thanks for coming to my party!! *turns to person next to me* DO YOU KNOW REZA SALLEH? HE'S A SINGER!"
I always embarrass him like this (and possibly myself too but i'm immune to that).
The last time i did it was at the MTV Asia Awards and Sarah had to physically cover my mouth.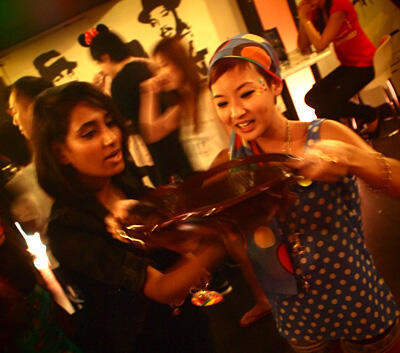 Dhanya giving me my present.
Ok. I admit at that point, i had no idea what it was and was pretending to know.
Btw Dhanya is going to be a SUPERSTAR soon!
She's already a star in my heart,
but she'll be performing in a major thingy i can't say what yet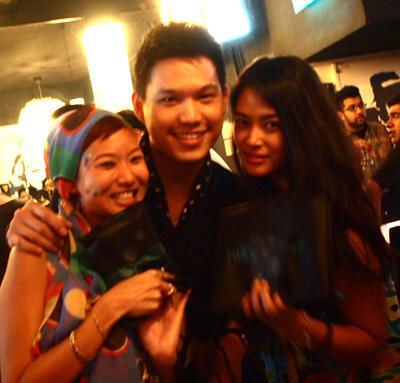 Justin gave Clouds and i accessories from his collection heeeeee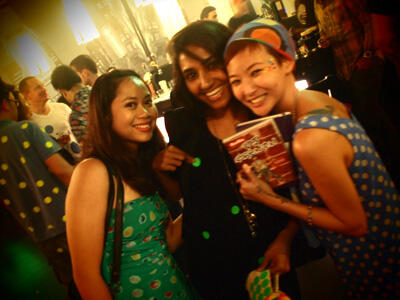 Tianna, Dhanya and me
Tianna gave me a French lesson CD in hip hop and rap.
Clem was very happy with it.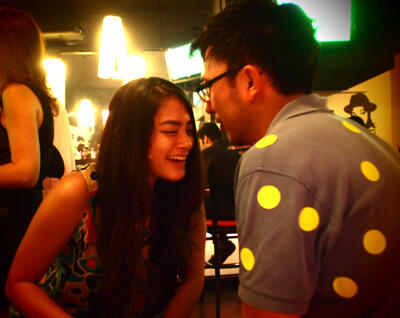 Clouds + her playtime partner Kevin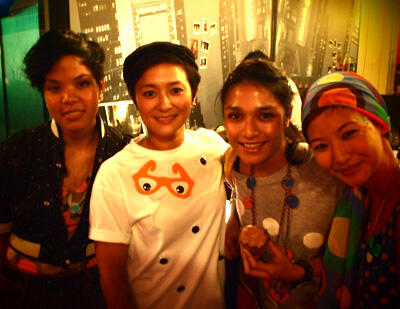 Sa and Nadia just started selling Ts online *here*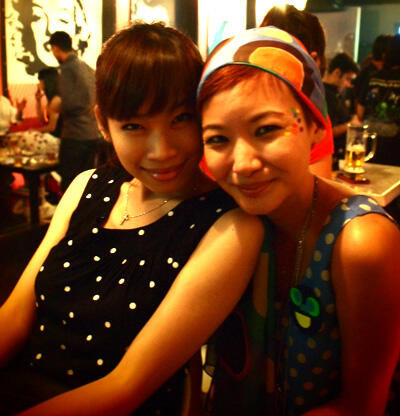 Ash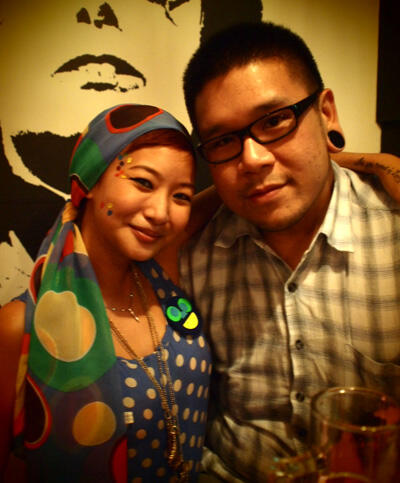 I'm so honoured BEN HON decided to grace me with his presence.
"Where's your polka dots?!"
"Here, here *lifts up pants*"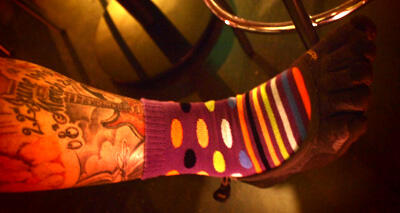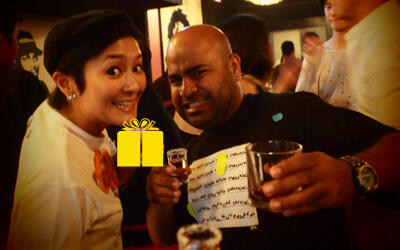 Sa + Kubhaer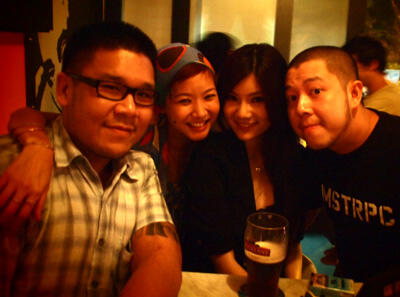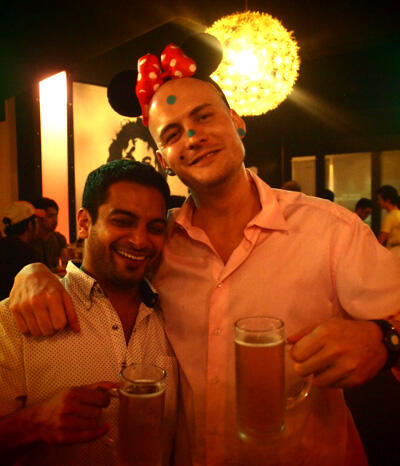 Danny + Clem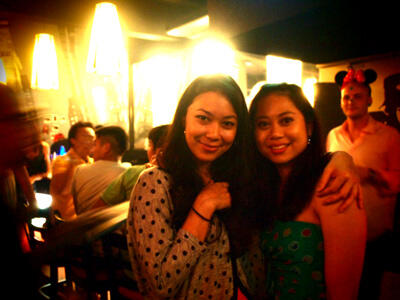 Az + Tianna (spot the drunken mickey)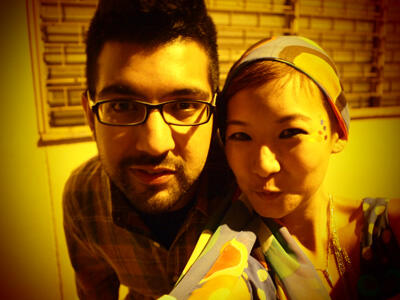 In the middle of our merrymaking, Kevin dragged me to see the back alleys in tipsy view.
And i must say… i've always appreciated back alleys.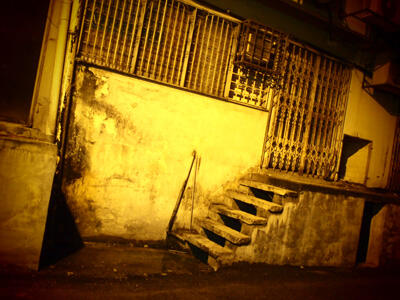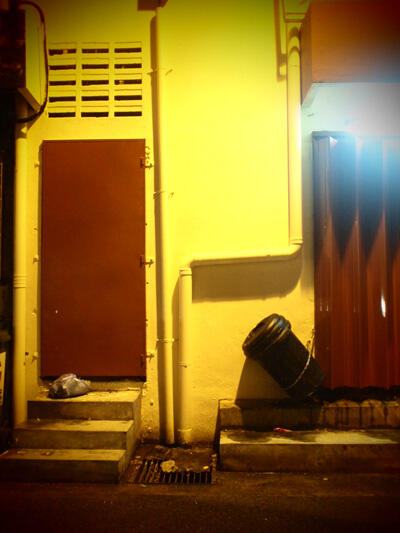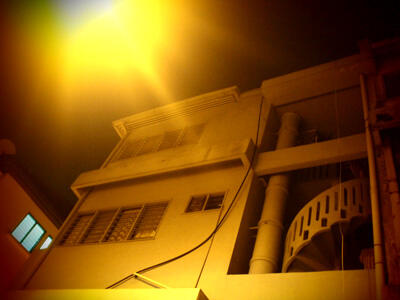 End of back alley break and back to the party: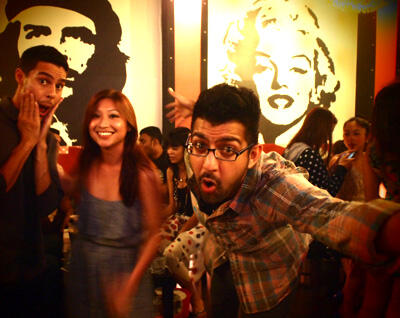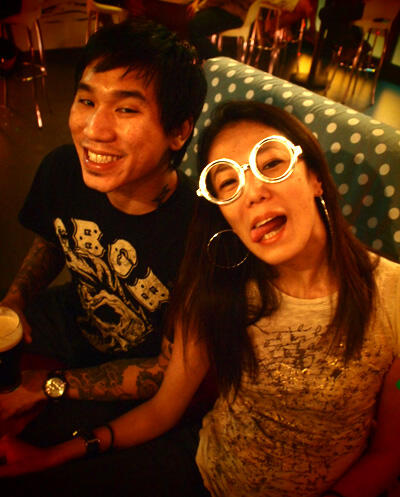 Eddy + Hawa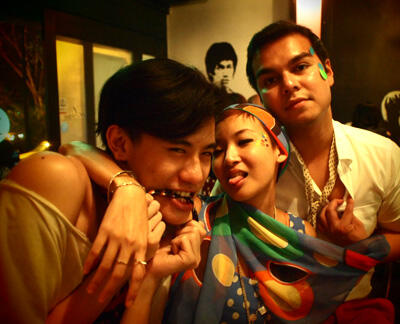 Adrian, me, Rudy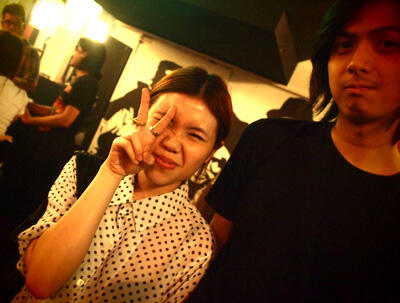 Chelle + Jee Hoe!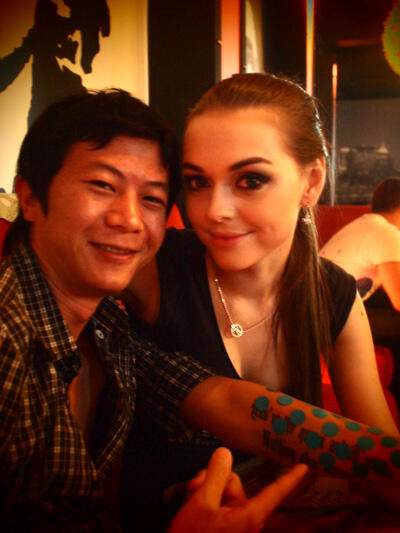 Vince + Anastasia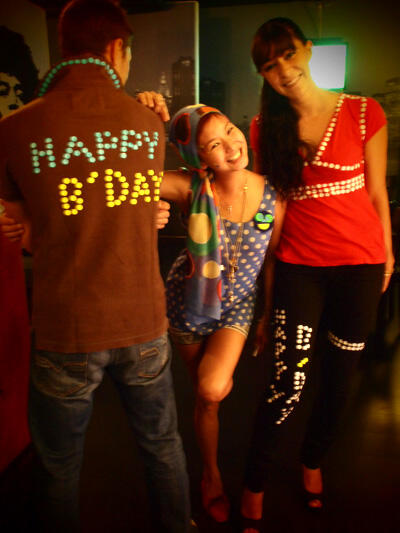 I love how Lucas + Heloise took the dress theme to heart!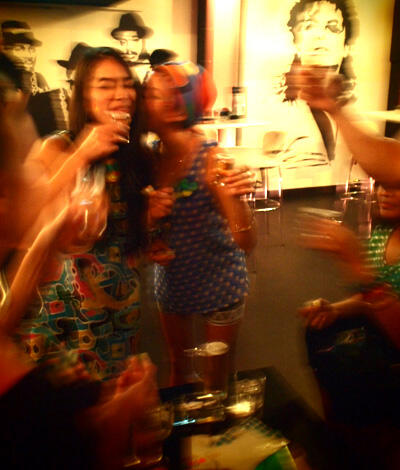 Having shots. Giving a kiss.
Trying not to puke (at the shot, not from the kiss).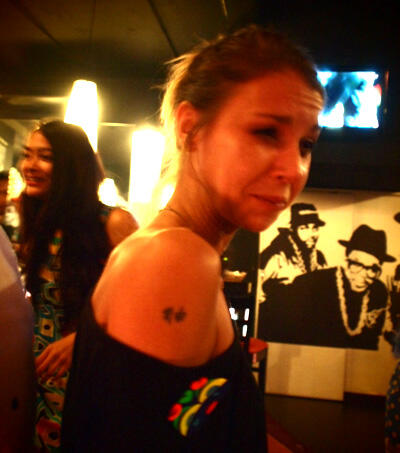 Maintain Jess, maintainnnn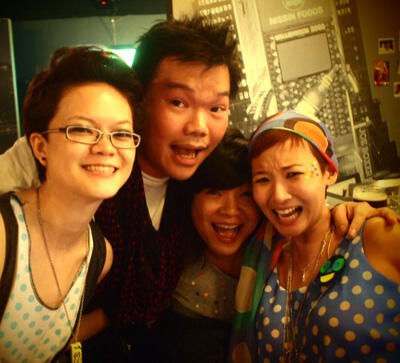 Li Mei, Chak, April Pikachu!, me
Our faces are like that cos we were forced to say 'cheebai!' while taking the shot.
I think it was Kubhaer who made us do it.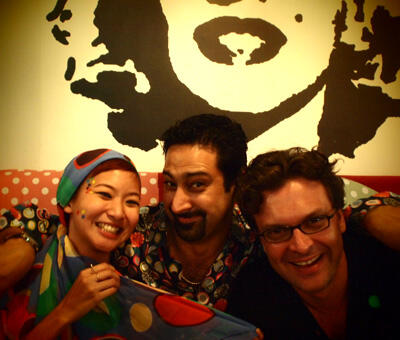 me, Yatin, Michael – these are Clouds' friends and we ended up talking about things i don't remember…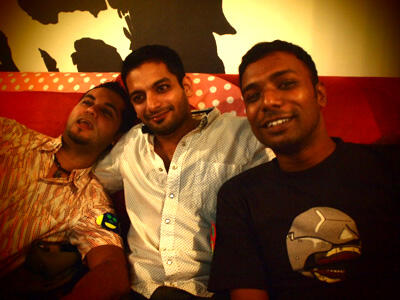 Wasted – Deep, Danny, Byron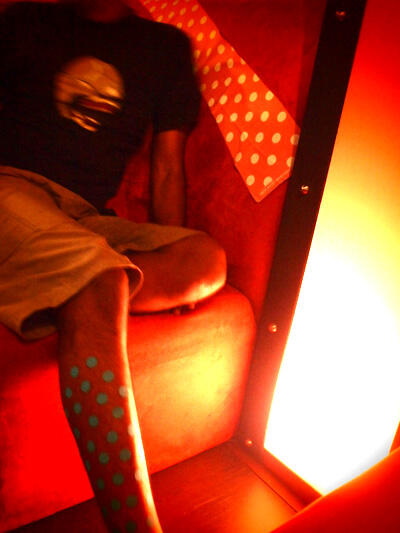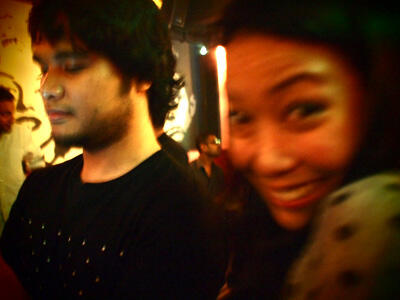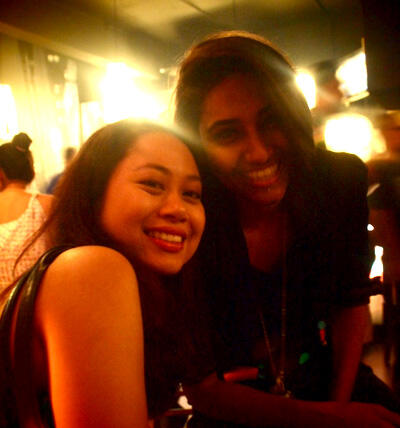 Tianna + Dhanya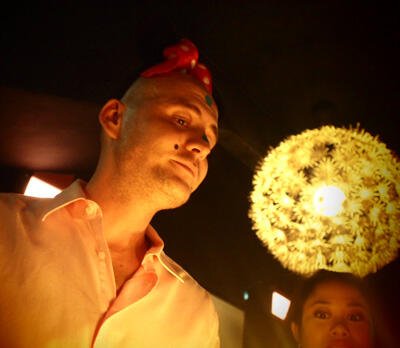 My mouse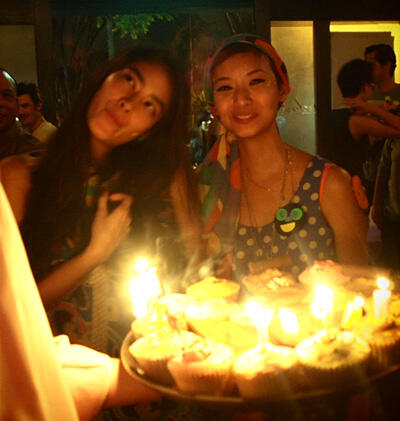 Don't you just love Claudia's face.
It's when she's having a cute thought in her head.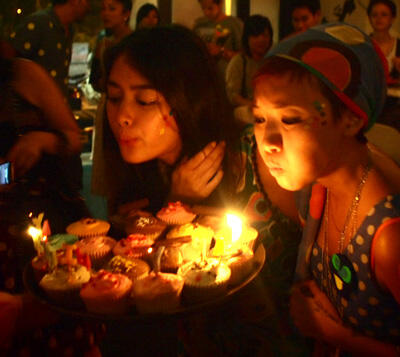 Clouds blows candles so… delicately and girlie.
Tak sangka.
And me… i look like a puffer fish. 
I didn't even get a picture with so many others who came…
Gobi, Rita and Hon Seng…
Cammy + Kenny, Serena + Matt…
and so many more……………….
Oops! Had too much fun to play photographer at own party 
The one birthday note that made me roll on the sofa laughing: