Korean cosmetic products are my go-to in the past 2 years because they produce top-notch quality that suits Asian skin. It felt like a whole new realm just opened up when I was introduced to all things Korean! What I've noticed about most Korean cosmetics is their scent; it's more pleasant and it doesn't smell like the typical scent of make-up. Compared to American/European cosmetic brands, I find Korean brands to be less heavy and harsh on the skin. Okay, you can obviously tell there's favouritism going on here.
Korean beauty brand CLIO (whose beauty ambassadors include Sandara Park (산다라박) from girl group 2NE1, and Lee Hyori (이효리); engaged KBF to invite a selected handful of bloggers/influencers to their event in the new SaSa @ IOI City Mall last Thursday. It was mainly to have a make up tip sharing and demo by their Chief Make-Up Instructor, Ms Song Yeon-bi (송연비), who was flown in from Korea just for the occasion.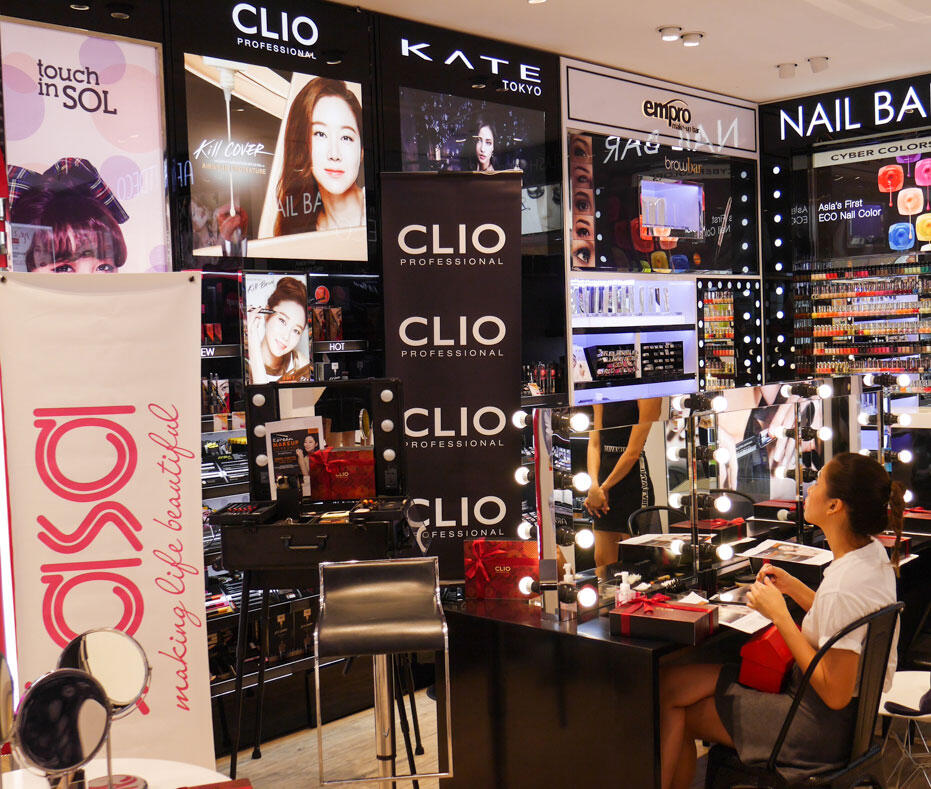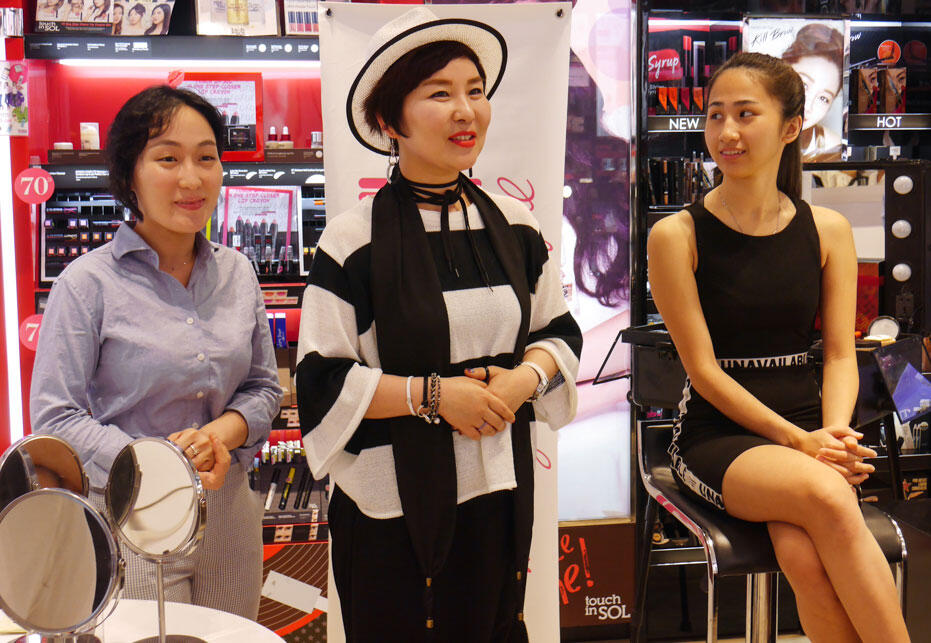 In the middle is Chief Make-Up Instructor, Ms Song Yeon-bi (송연비). She's such a cutie! A graduate from Chung Ang University with an MA in Cosmetic and Beauty, she's also had experience at the Christian CHAUVEAU Artistic Make Up School (Paris) and Jean Pierre Fleurimon Make Up (Paris).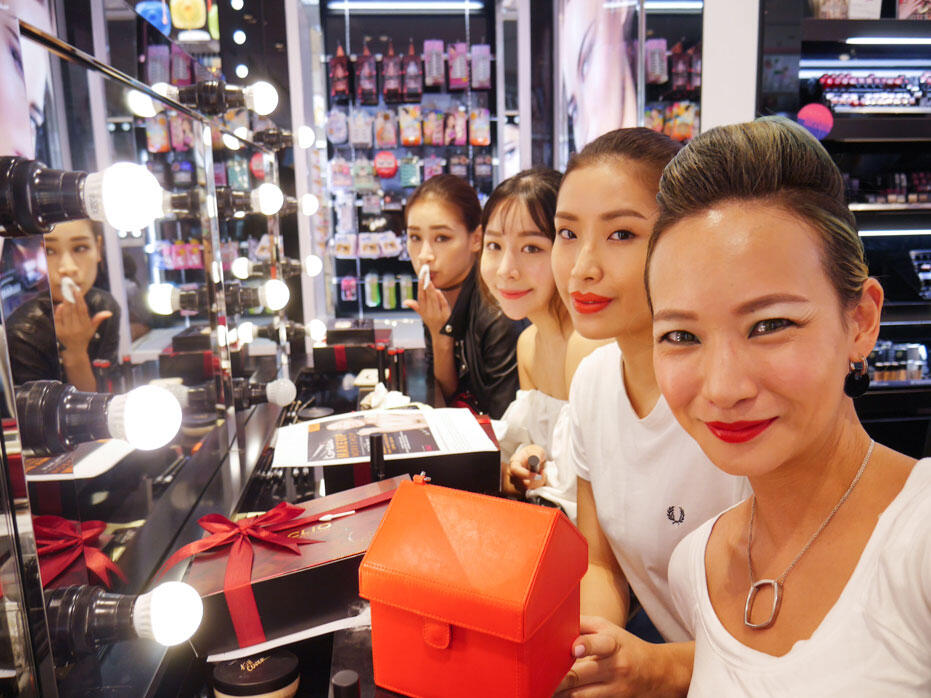 Cherrie, Chenelle, Sandra and Joyce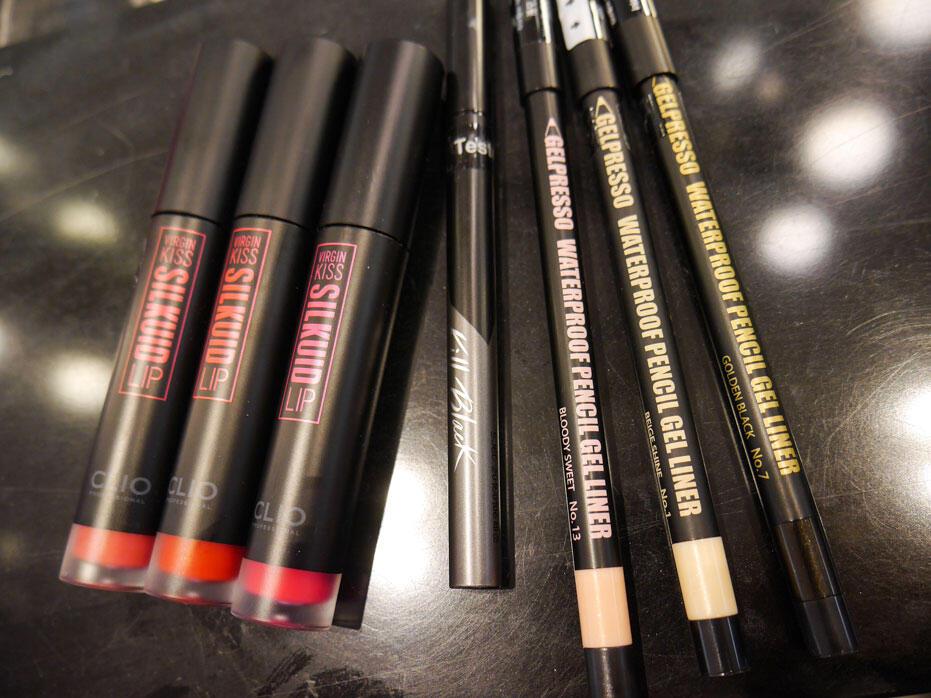 Virgin Kiss Silkuid Lip (RM 74.20), Kill Black Waterproof Pen Liner (RM 59.25),  Gelpresso Waterproof Pencil Gel Liner (RM 48.65).
CLIO's Kill Black Liner is my holy grail product. I really think it's the best one yet in the market!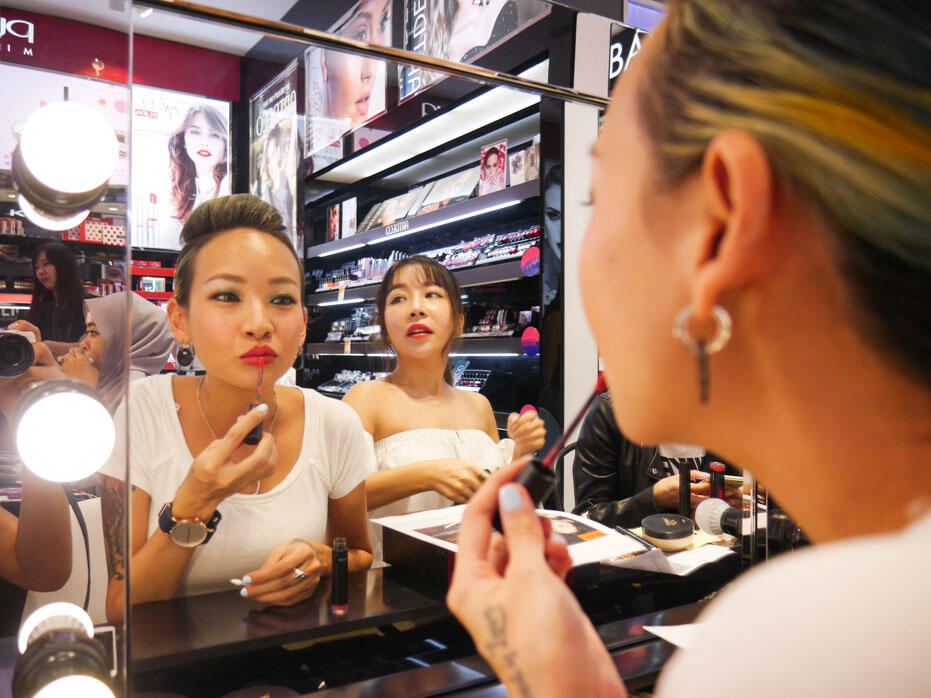 Joyce trying out the Virgin Kiss SilkUID Lip kiss-proof lipstick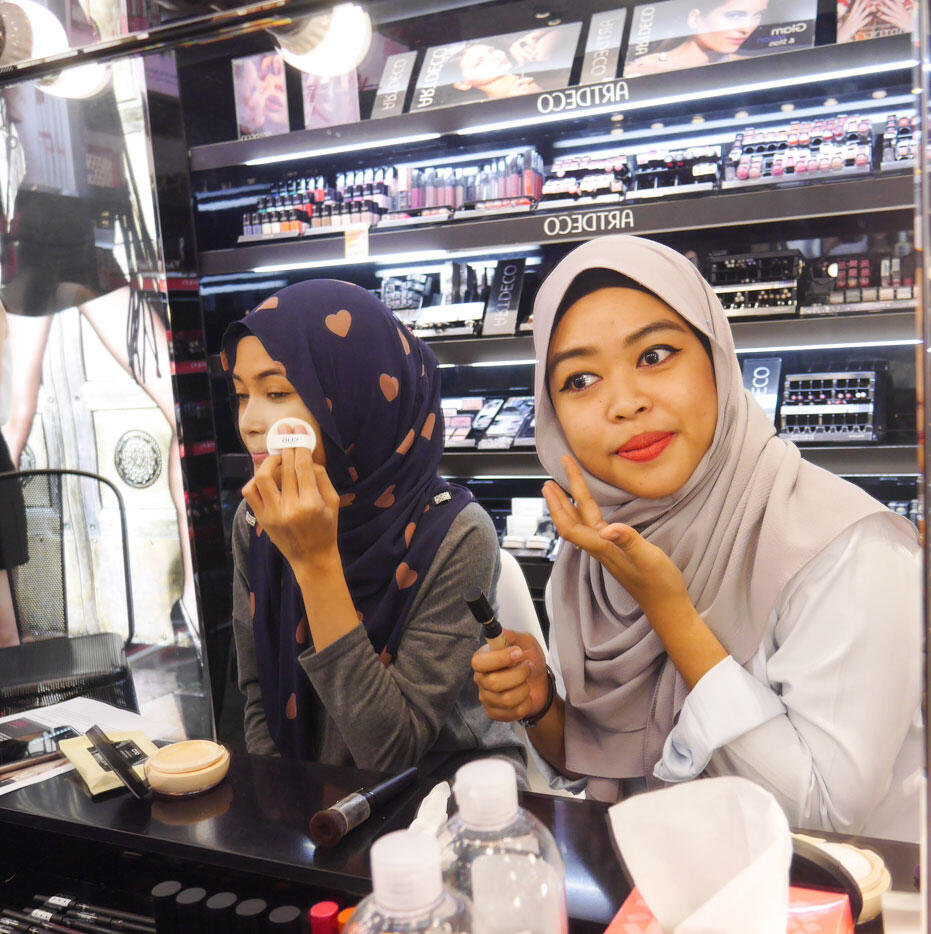 Beauty bloggers; Nisa Kay and Shea Rasol.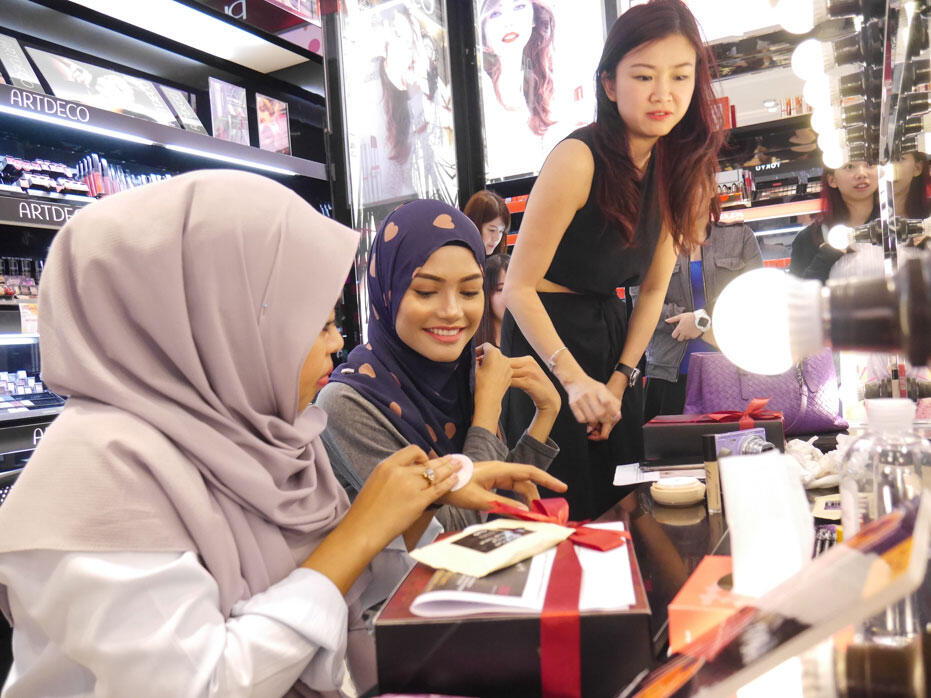 BB Cushions are a huge thing in Korea and has since been a daily make-up essential of mine since I discovered the wonders of it. I love BB cushions because it's so convenient and it works great even with the humid Malaysian weather. Containing SPF which saves you even more time in applying any before getting on with your make-up routine, the BB cushion is like a compact powder but instead, is compact foundation. It gives you a light, natural and a full coverage finish.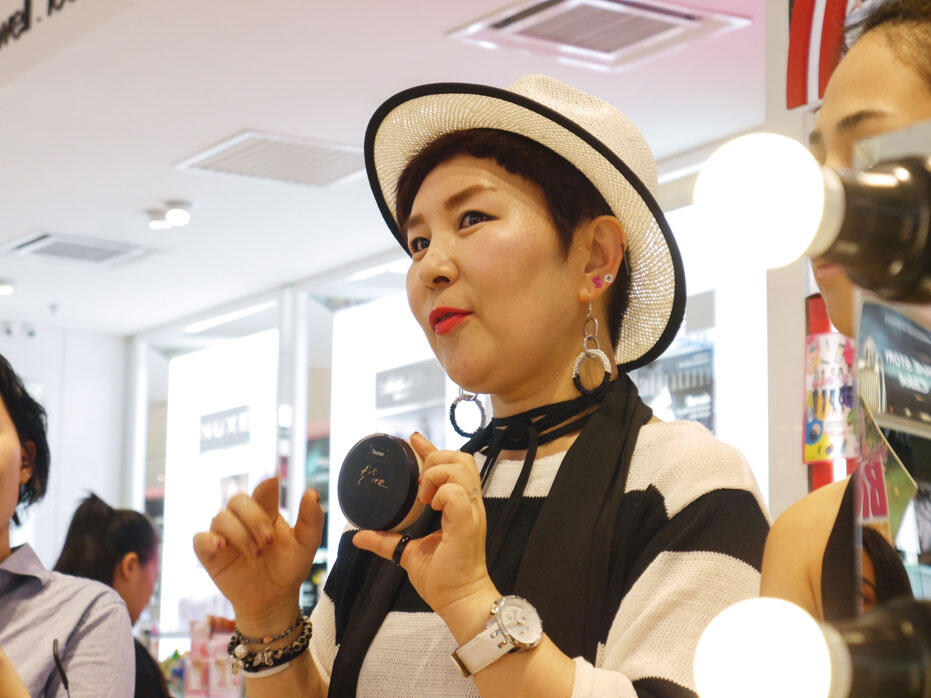 Ms. Song added that "the trend is to have a velvety appearance, and that even if just a little is used, it has good effect (coverage). […] When foundation is smooth, lips stand out."
I have yet to give the Clio Kill Cover Liquid Founwear (RM 174.90) cushion a go but I've heard great reviews from some Korean YouTubers that I follow. You can check them out *here* and *here*.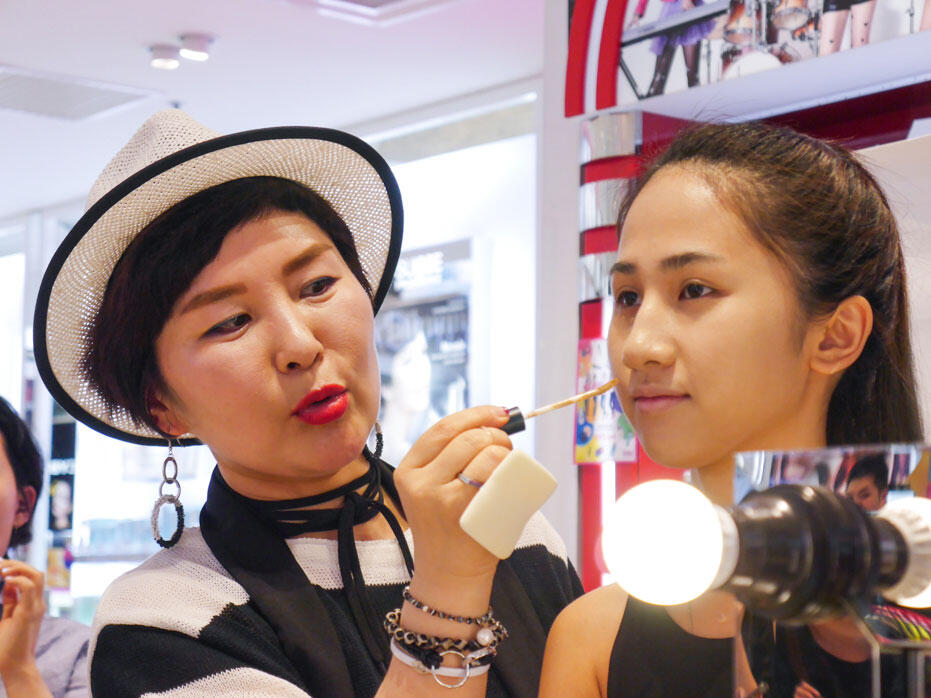 Concealer is a step I often forget after slabbing on foundation because the coverage is already so distinct – especially under my eyes. Ms. Song shared to always use our ring finger when applying concealer or even eye cream under our eyes because it has the least strength of all our fingers so it won't apply too much pressure on the delicate skin.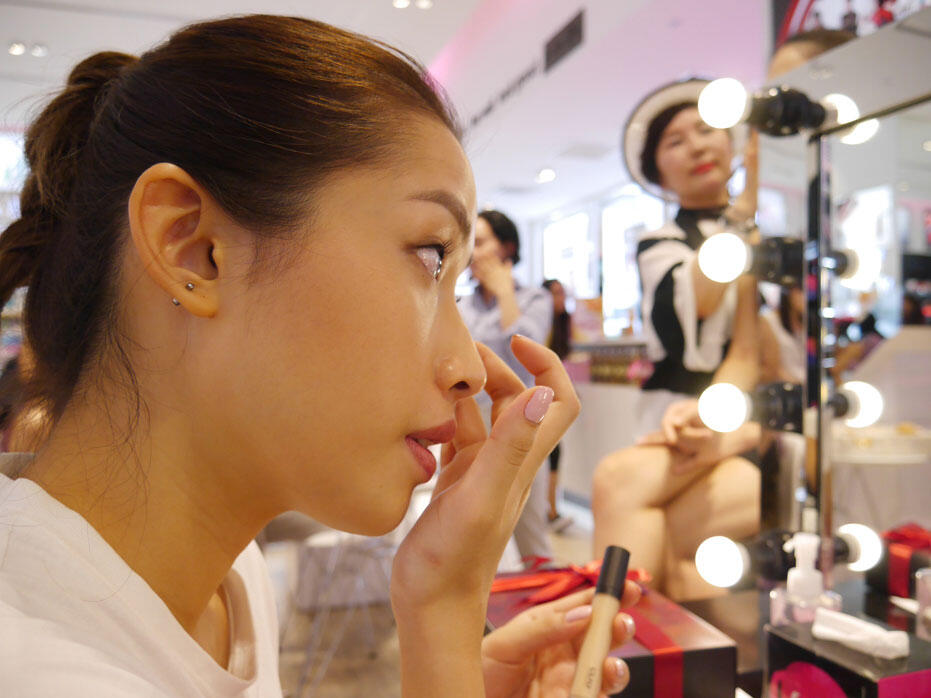 Sandra along with everyone played around with the array of CLIO make-up provided, shadowing Ms. Song's steps as she demonstrated.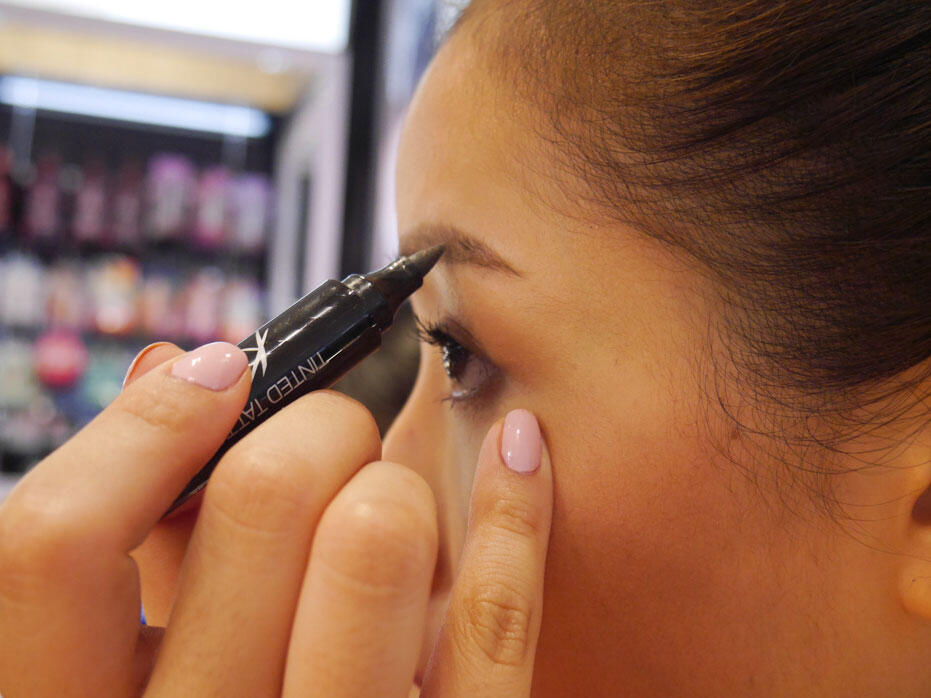 CLIO's Tinted Tattoo Kill Brow (RM 95.30) is true to its name because it really gives you a long-lasting tinted effect. The tattoo pen is first used to fill and shape your brows, before turning to the brow mascara on the other end to define and add volume to your brows. It's kind of like the usual eyebrow pencils with a spooly on one end but a more canggih version.
Ms. Song advised to stroke the brow hairs upward and outward to make them stand and appear fuller. She also revealed to using it every night before she sleeps so that her eyebrows are naturally "tattooed" on her the following day.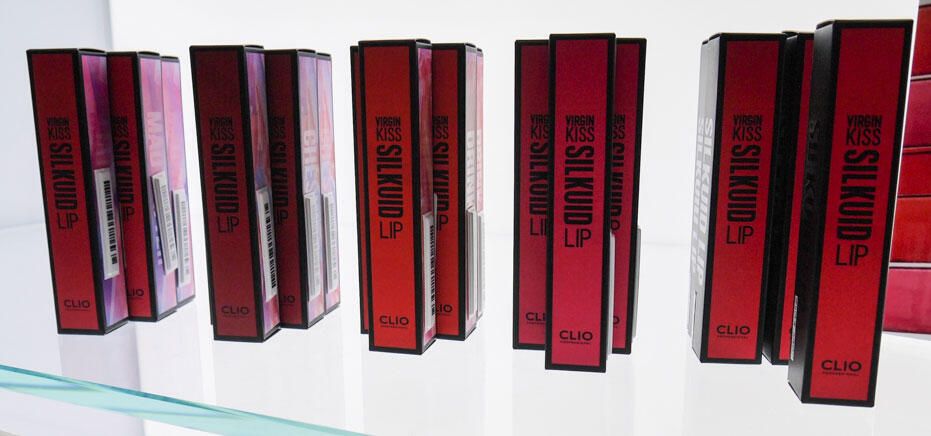 CLIO's Virgin Kiss SilkUID Lip products function as both a lipstick and blush because of its semi-matte consistency. To use it as a blush, you just need to swatch some product on the back of your hand and mix it with a little bit of foundation. And voila, you get a cream-based blush! Available in a handful of striking shades, they're fabled to be kiss-proof and transfer-proof. 😉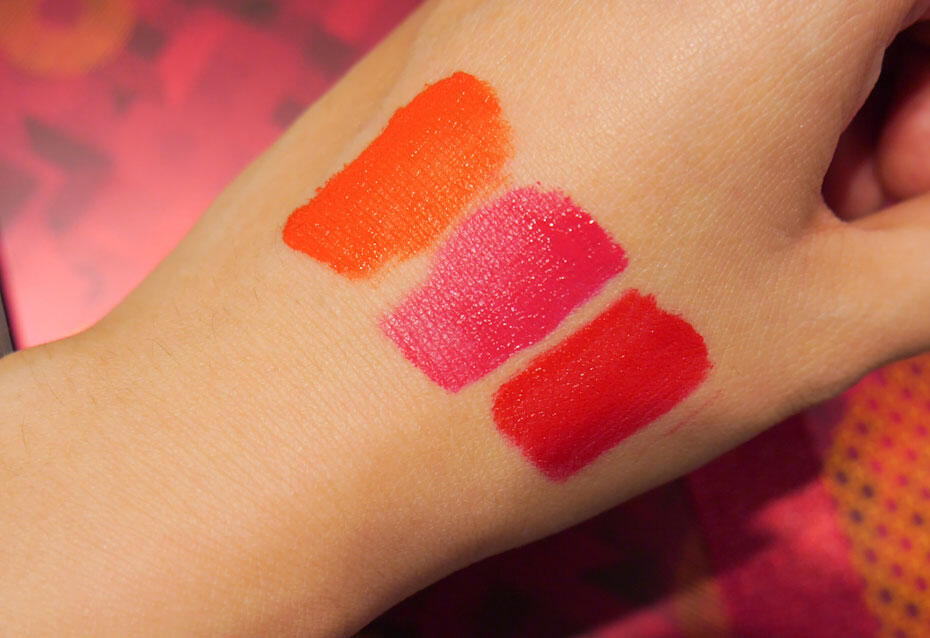 Shades: Drink Me, Godpink and Insane Red.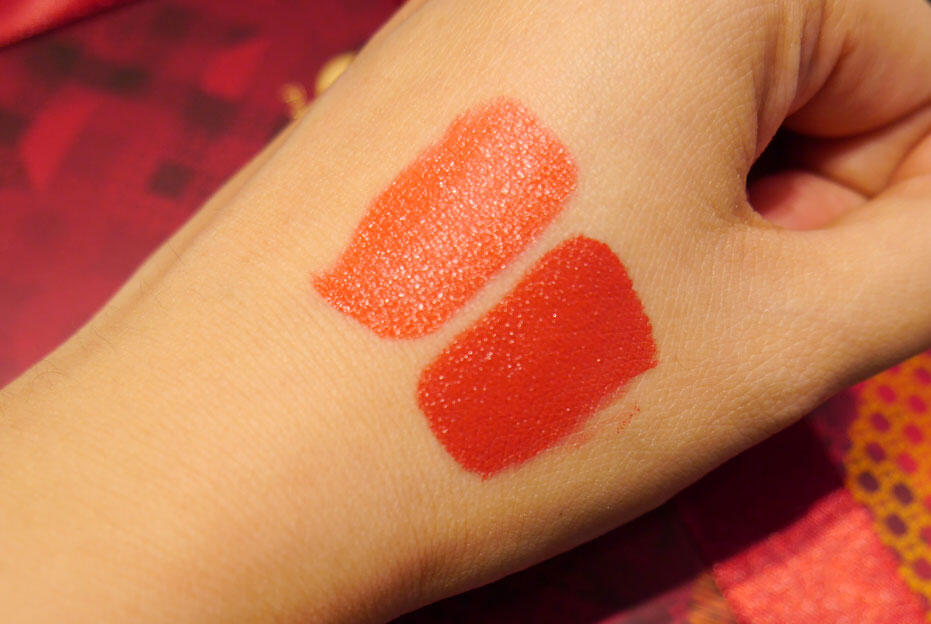 Shades: Mad Hatter and Cheshire.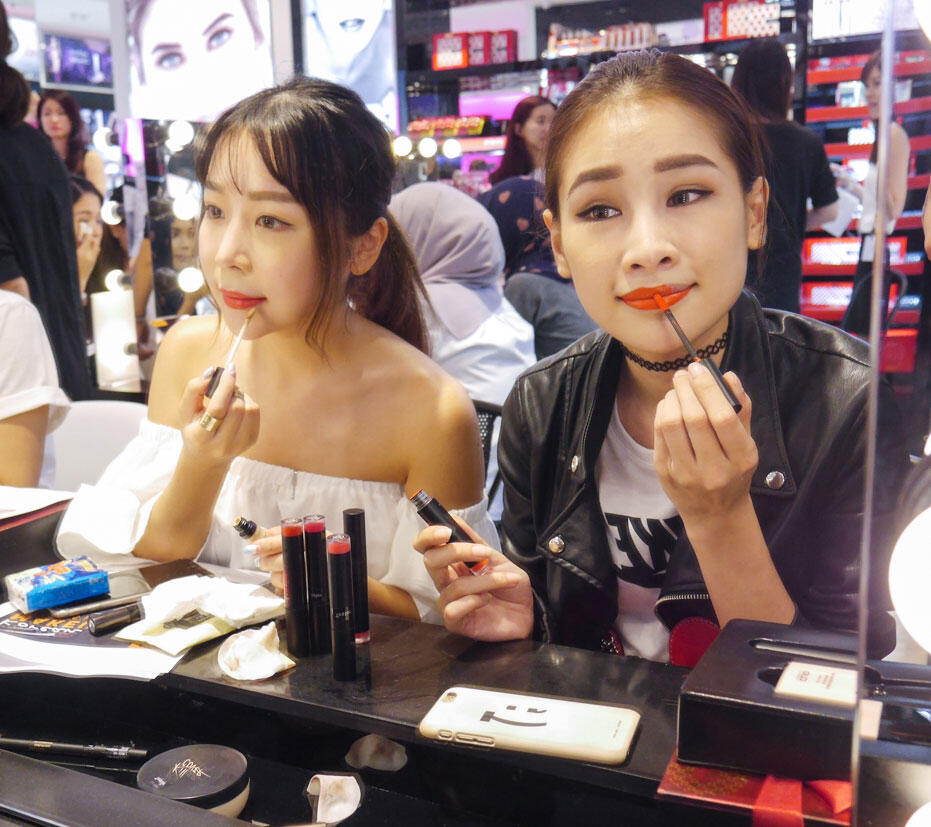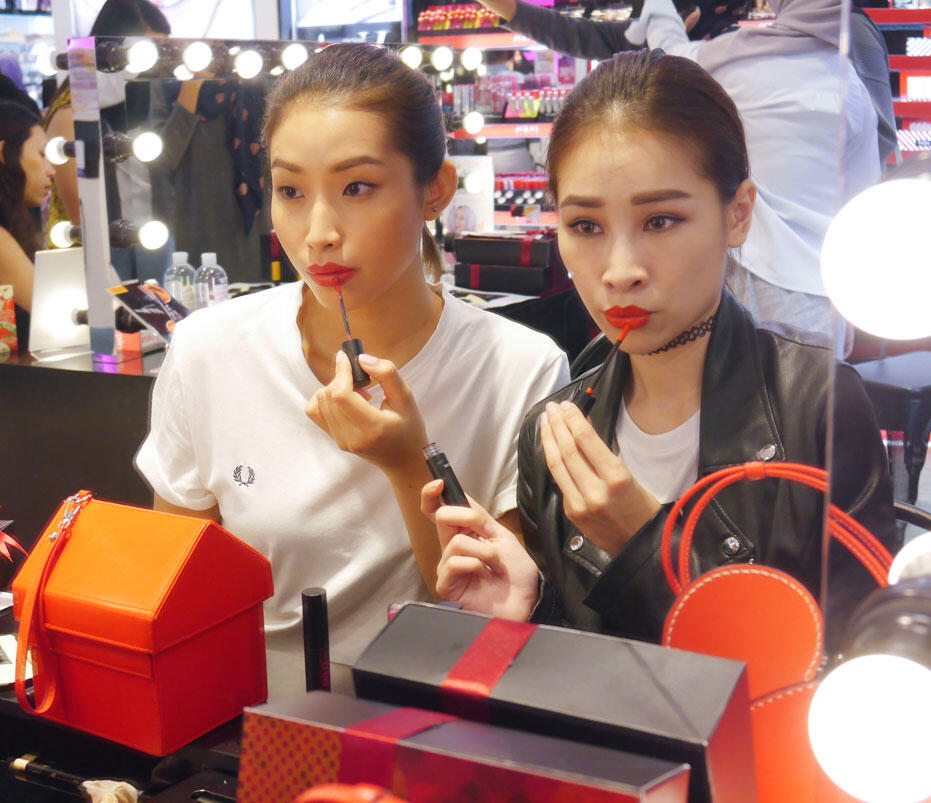 Sandra and Cherrie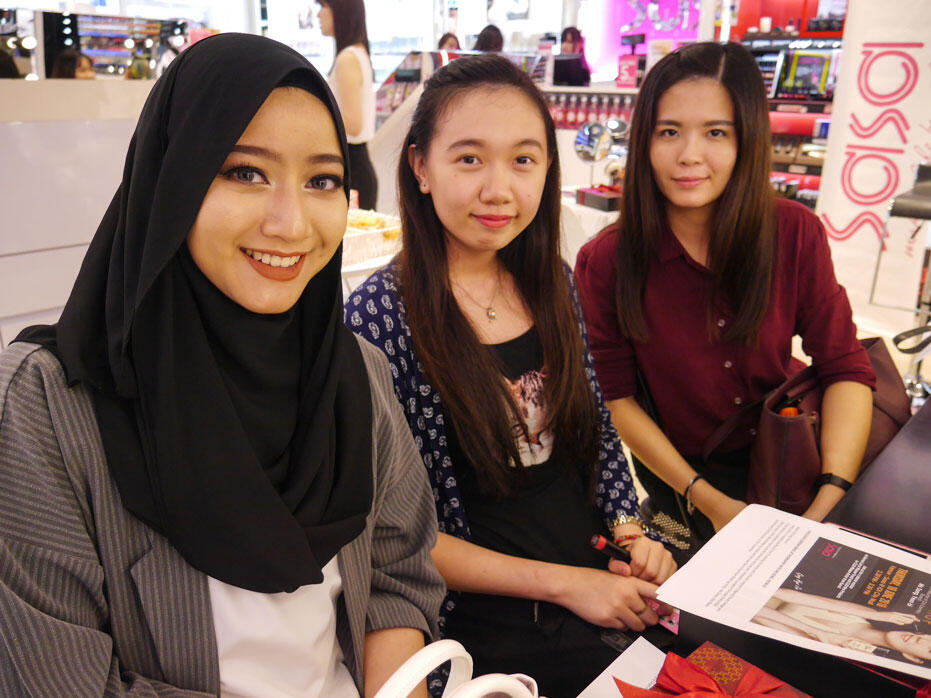 Beauty YouTuber Putri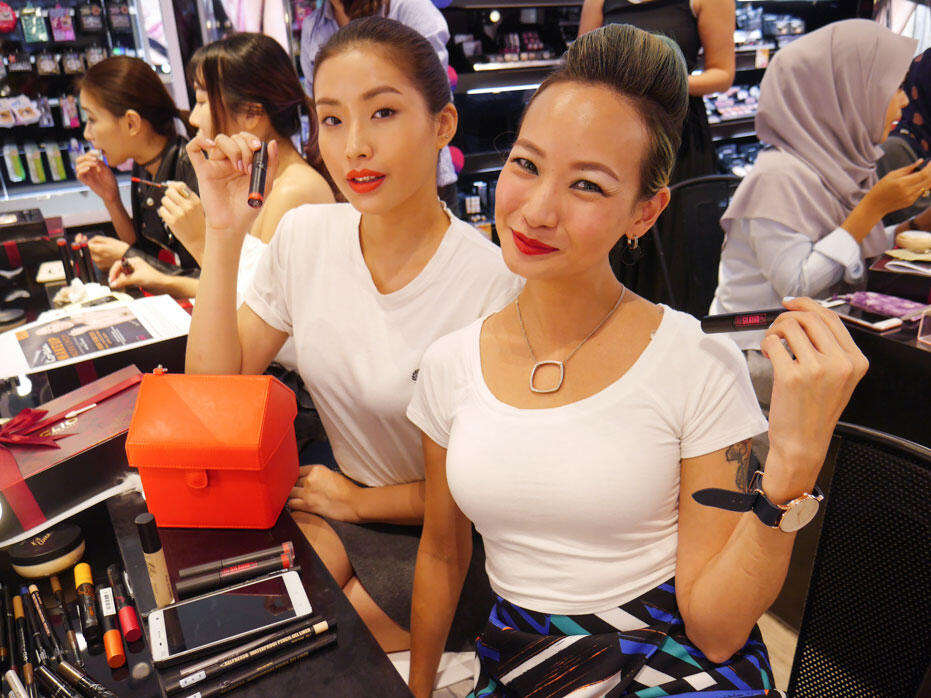 Sandra and Joyce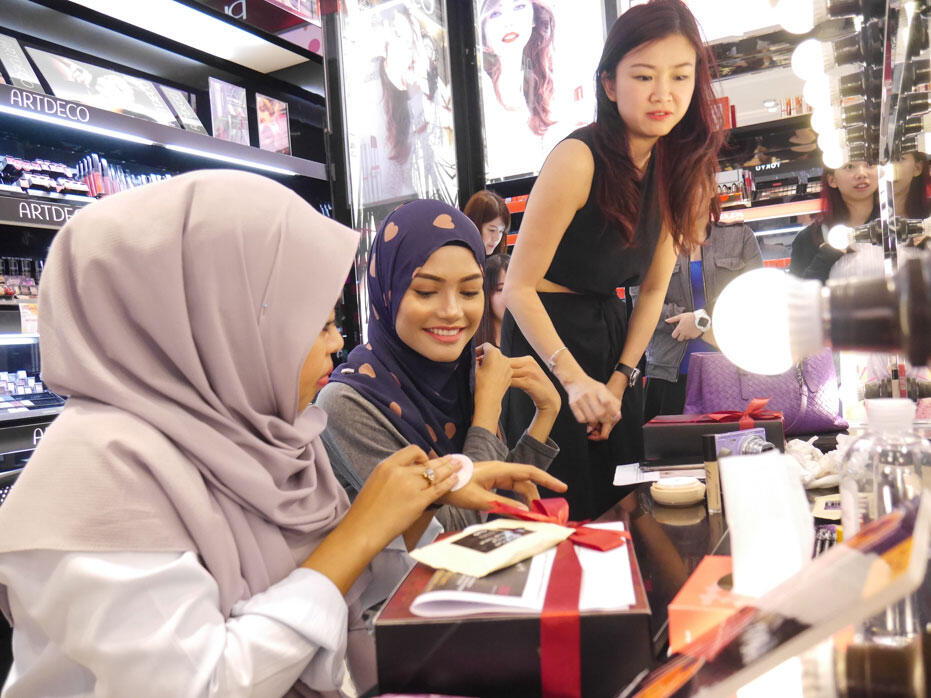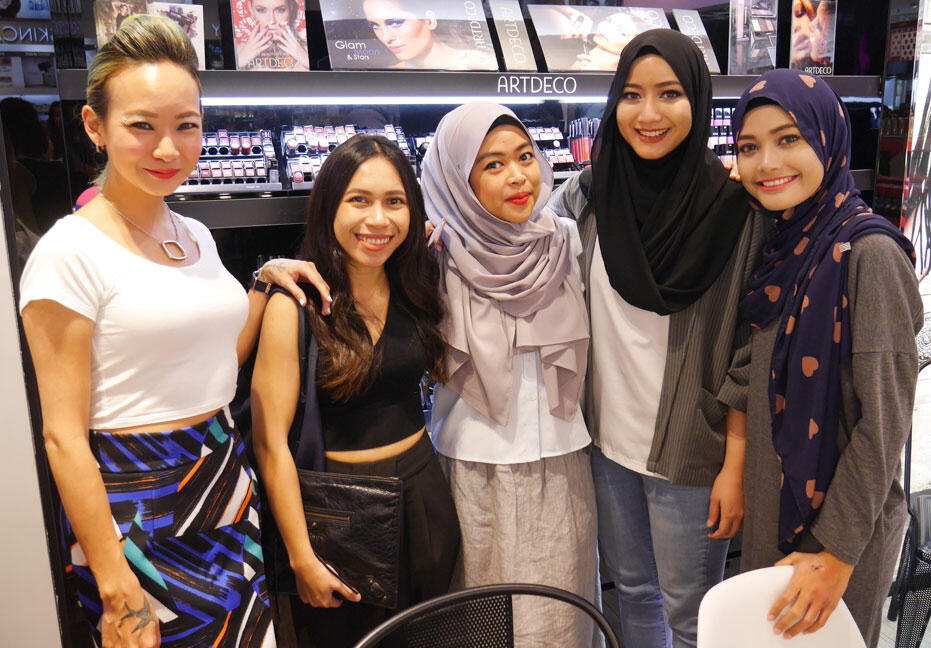 Joyce, Faridah, Shea, Putri and Nisa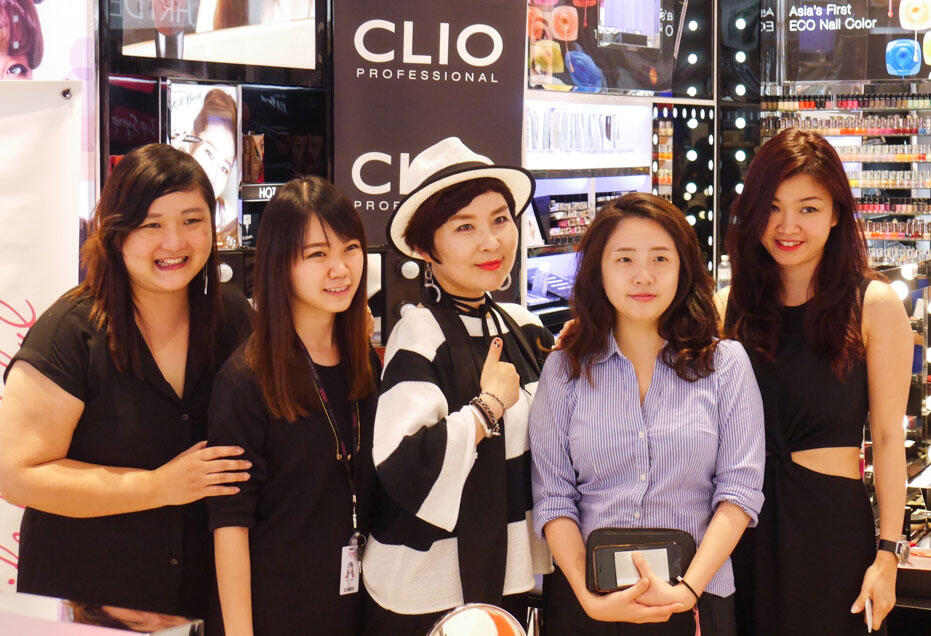 The Sasa Malaysia team with Ms. Song.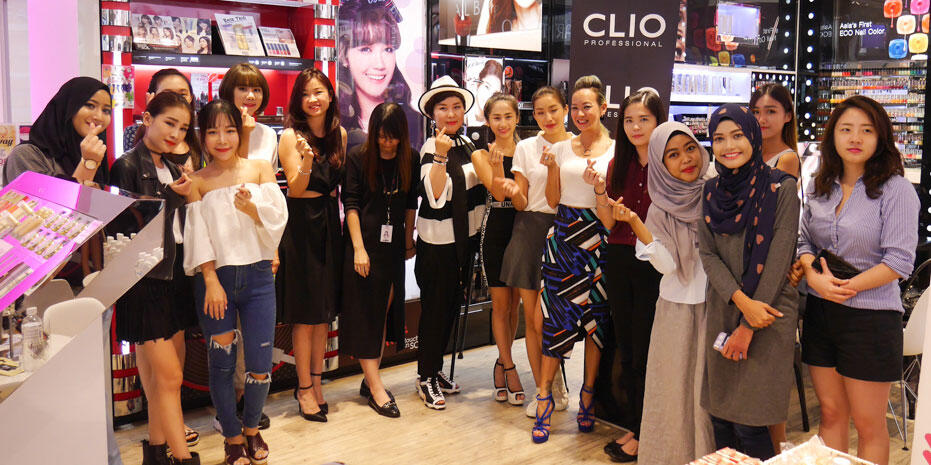 Everyone!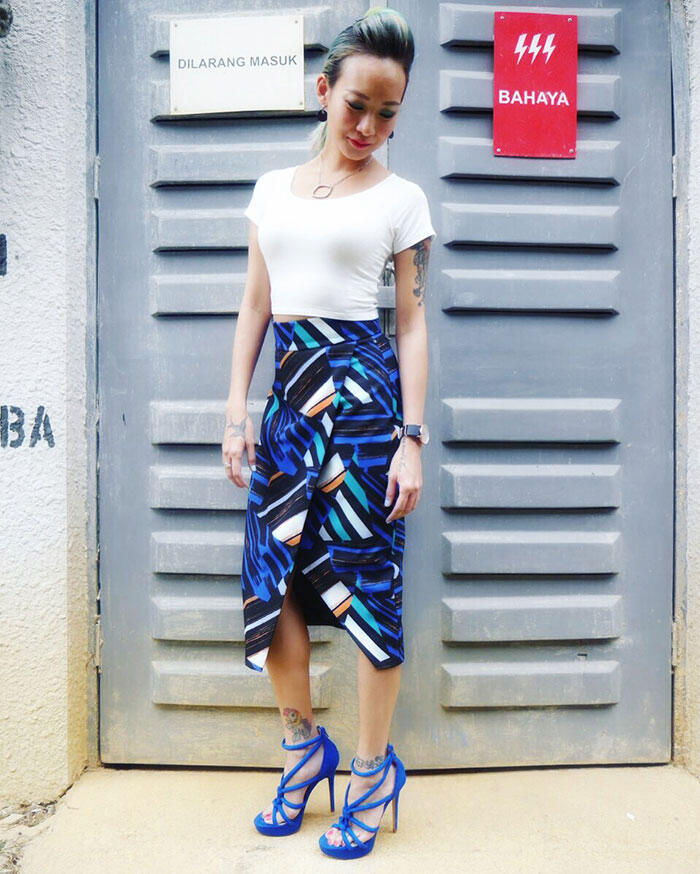 Joyce's outfit that day:
skirt from Love, Bonito
shoes from Aldo
+ + + + + + + +
Thank you to CLIO for gifting the KBF team some make up!
The Kill Cover Airwear Protexture Foundation (RM 139.60) is a liquid foundation that is ultra-soft with air light and fine texture. It comes with a special application brush that is designed to hold the liquid foundation. The brush may look like your typical flat top foundation brush but it has a little hole in between where you're supposed to fill it in with your foundation. This is Faridah's first ever foundation brush and she says "it's the bestest".
Faridah and I tried using this Heated Eyelash Curler but it doesn't seem to work. We tried watching online tutorials and read up on how-to articles. It's either our eyebrows are too stubborn… or we're not doing it properly. Can someone please educate us on the mechanics of this eyelash curler??
Virgin Kiss Skilkuid Lip in Insane Red and Stay Shine Lip Syrup Stick in Silent Wine (RM 68.90).
All CLIO products are available for purchase in stores at SaSa Malaysia nationwide.
+ + + + + + +
CLIO Malaysia
Website: www.in2face.com
Facebook: facebook.com/cliomalaysia
Instagram: @clio_malaysia
SaSa Malaysia
Website: sasamy.com.my
Facebook: facebook.com/SaSaMalaysia
Instagram: @sasamalaysia