Just before Christmas, KinkyBlueFairy + MadHat organised an intimate lunch and dinner event for Love, Bonito. The Singaporean fashion label wanted to show their appreciation for the Malaysian media and personalities who have been supporting them since it expanded to KL in October 2015, and the purpose of the get-together was exactly that.
To get together, chat, and eat!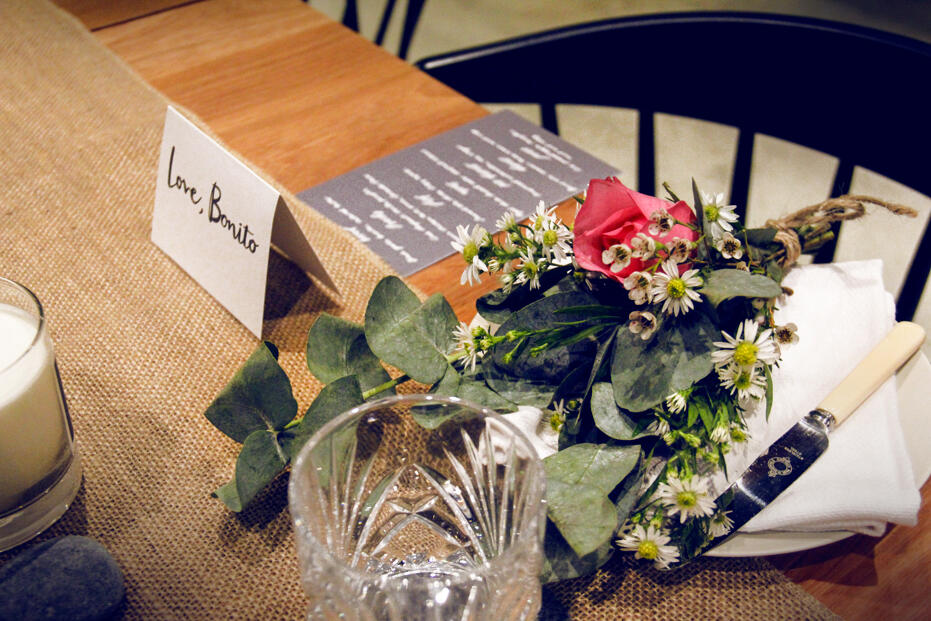 Our teams worked on securing the best venue that suited the event, and i must say they did a very good job after going through a few caterers and venue options.
The luncheon and dinner were held at Sitka Studio on Jalan Batai, a progression of their Test Kitchen which currently runs on Friday and Saturday evenings in Sitka Restaurant (downstairs).
We were the first to run an event there, and it's a beautiful, warm and inviting space where guests can experience playful gastronomy created from interesting ingredients- sourced locally, and organic wherever possible.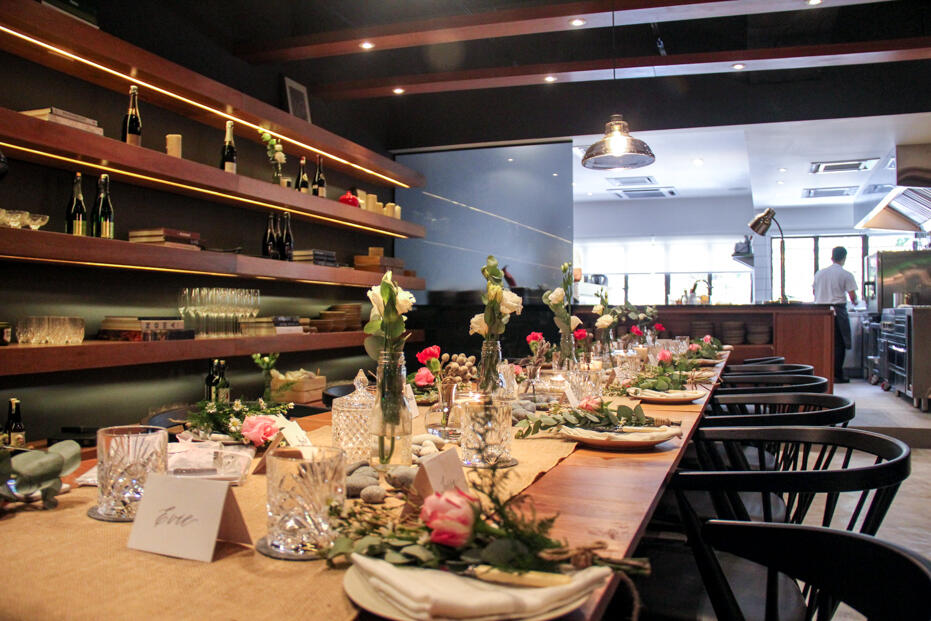 Tablescaping that day was done by Tish, interior purveyors and artisanal advocates who have established themselves amongst leading event stylists in Malaysia.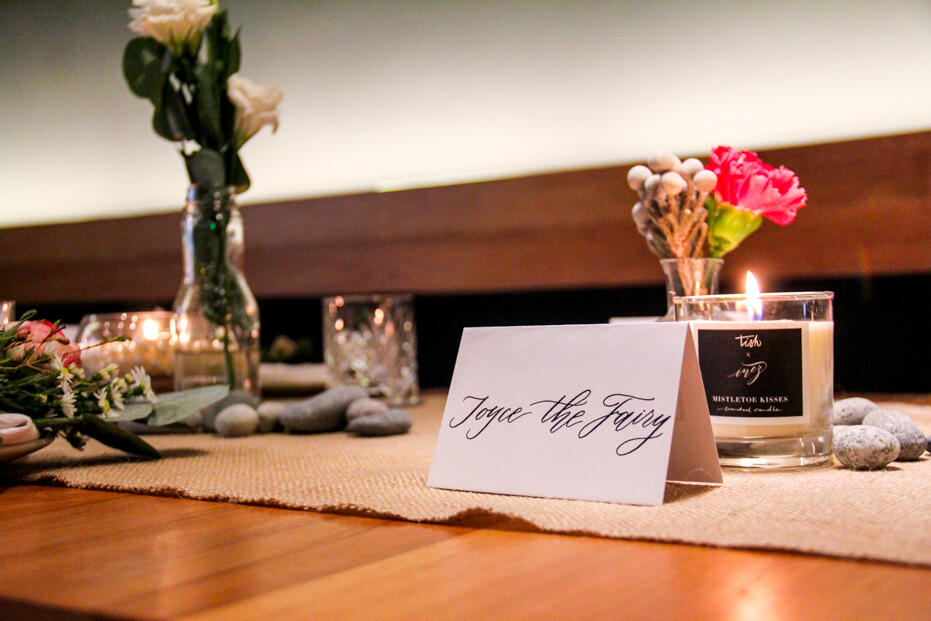 Calligraphy by Inez Calligraphy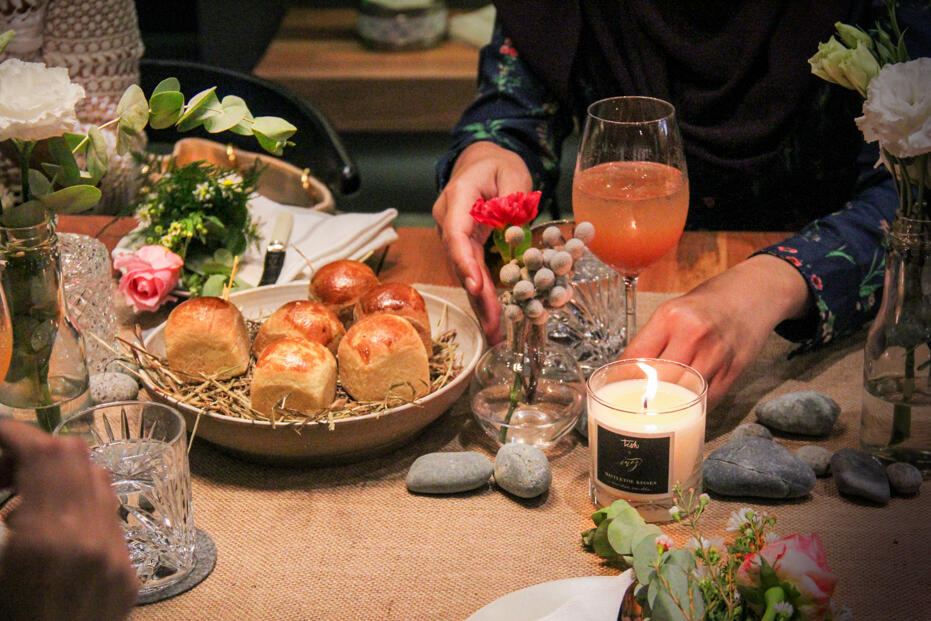 Personalized calligraphy invitation cards were sent out in bespoke floral boxes prepared by Tish.
Inspired by the Grand Budapest Hotel, the invites were personally delivered by a butler to everyone's office/home.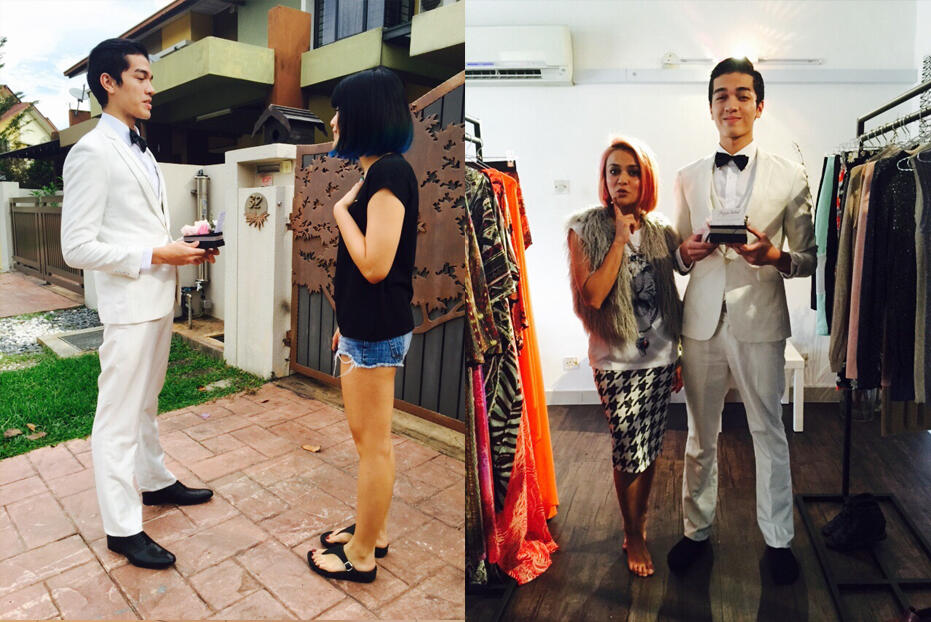 Xandria receiving hers, and Sazzy with our model butler whom we later discovered happened to be… her baby brother!
She said she was excited to be receiving her invite from a hot butler, and when she spotted it was her little brother, she was rather let down…. lollll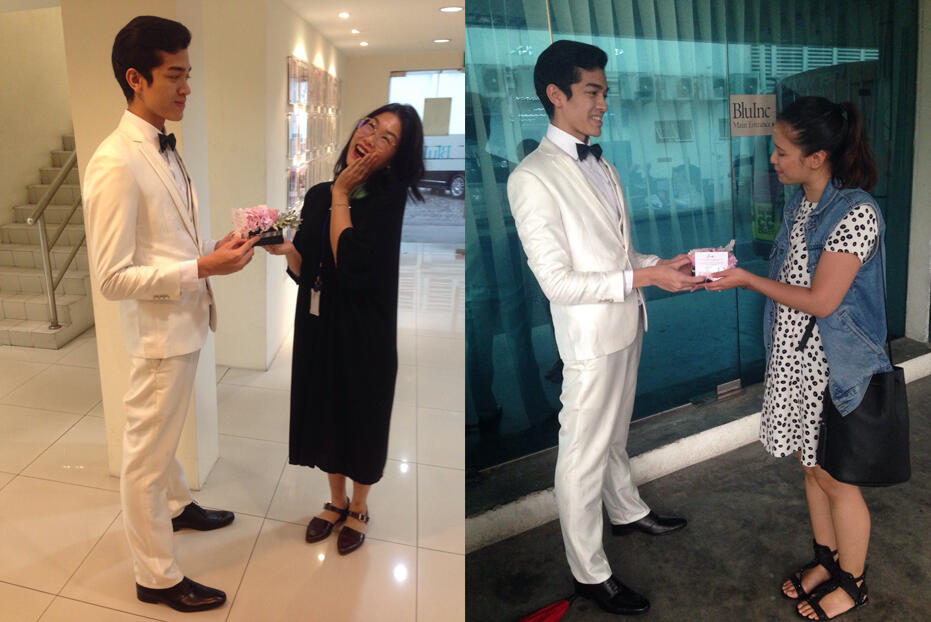 Zoe from Tongue in Chic, and Ira from Cleo.
When i was having a casual meeting the day before the event with Charmaine from Love Bonito, I placed my gigantic water bottle on the table (and forget sometimes that it's a Frozen one…)
Charmaine stared at it and said, "My niece has the exact same bottle…"
Me: Oh! Urm… i love Frozen…? ??
When i arrived at the venue for the event day, she handed me a Frozen candy cane she saw the night prior while walking around and thought of me.
WHERE can you find clients as nice as this?!
I delightedly took it in my hands and proclaimed, "It's gonna be an AWESOME DAY!"
And it was. ?❄️⛄️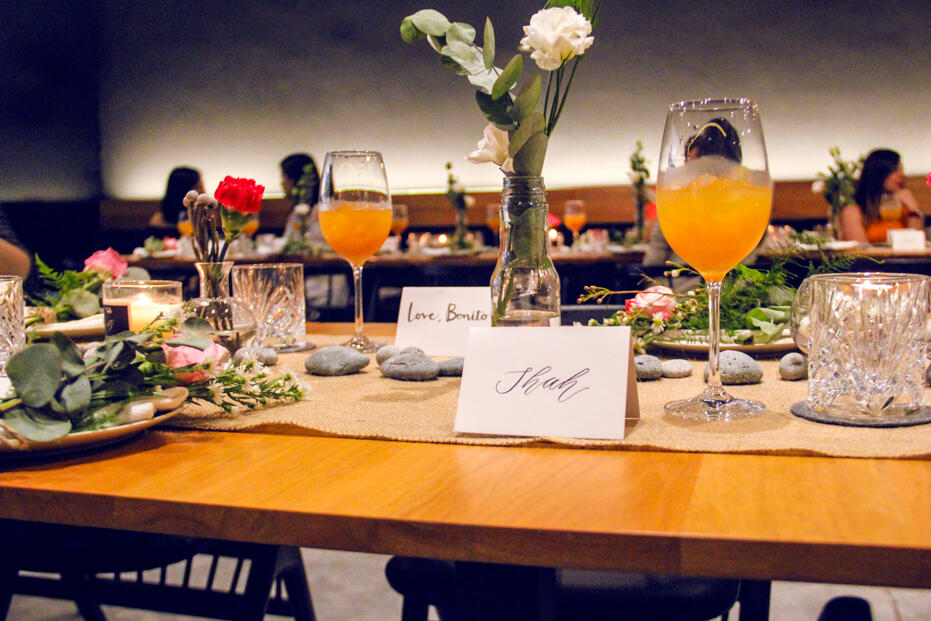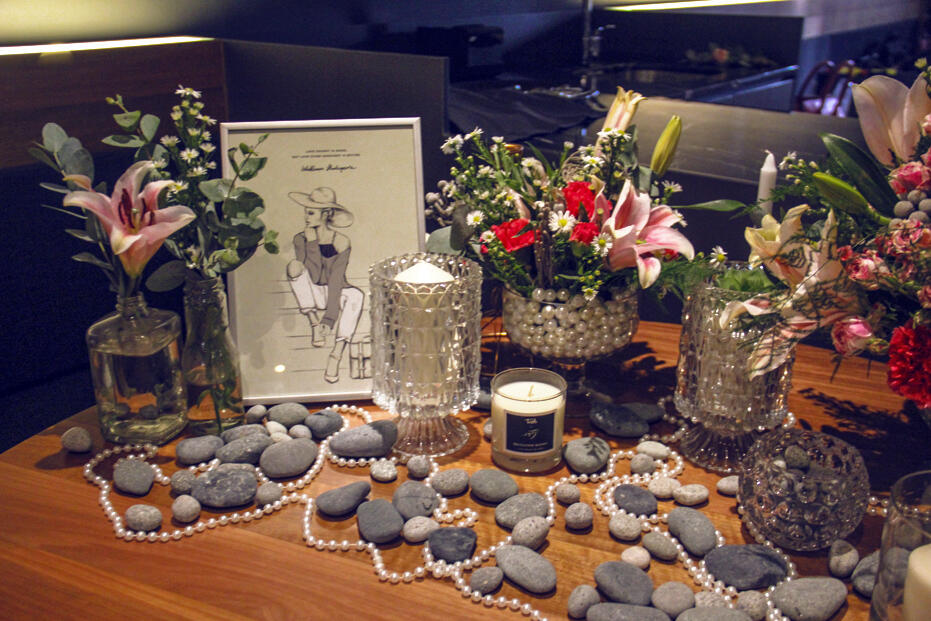 Everything was so beautifully laid out and decorated that day, great job Tish!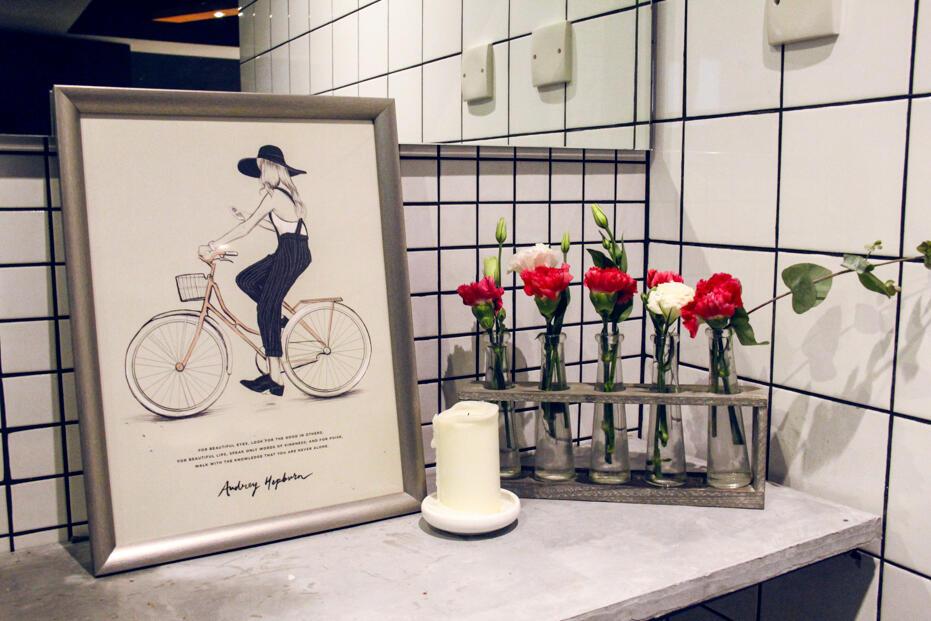 Even the bathroom was made pretty!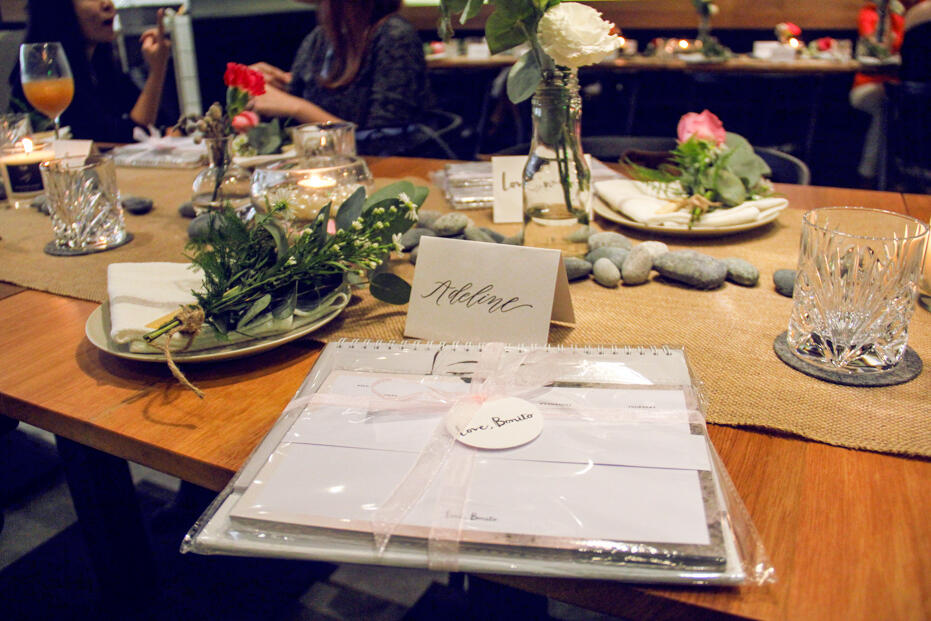 Special Love, Bonito 2016 organisers were also presented to guests that day.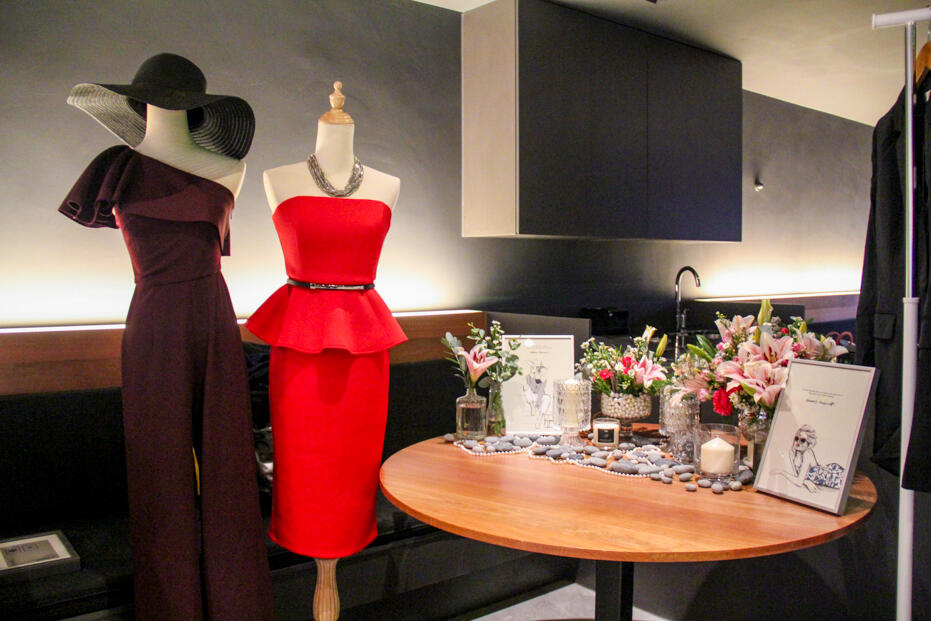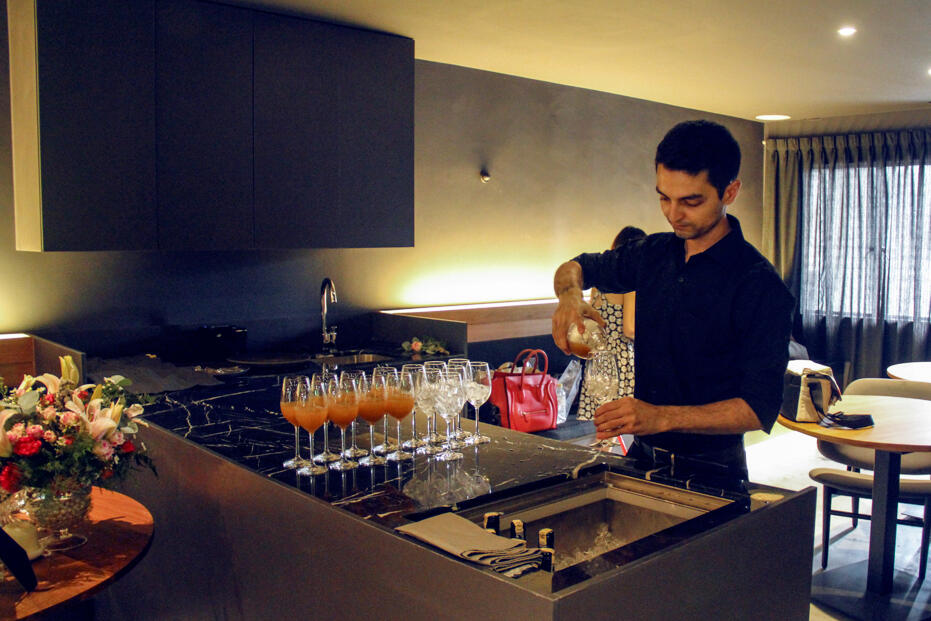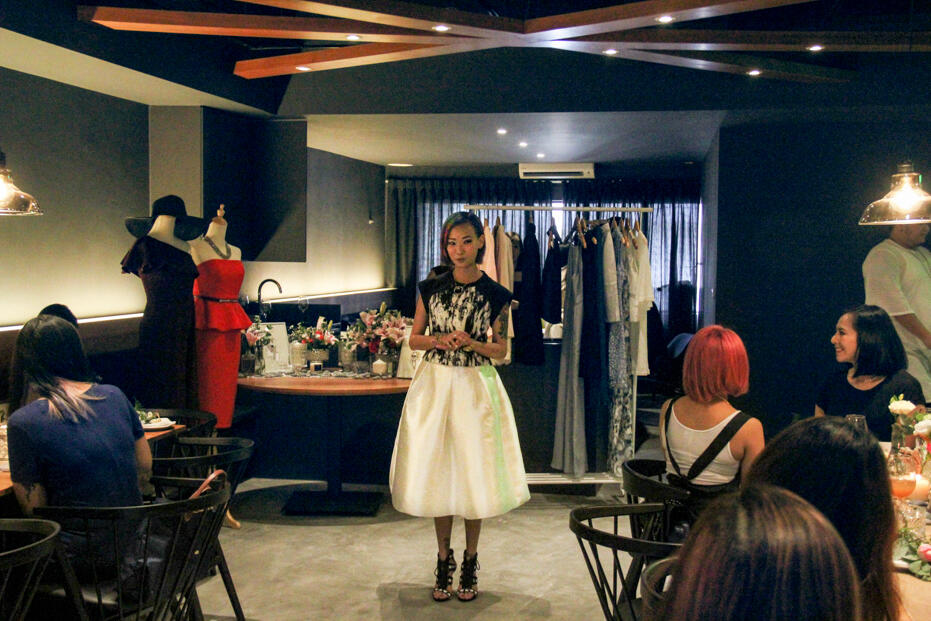 I gave a casual welcome note to everyone at the lunch session, then it was time to eat!
We had a 7-course tasting menu prepared by Sitka chef and owner Christian Recomio and his team: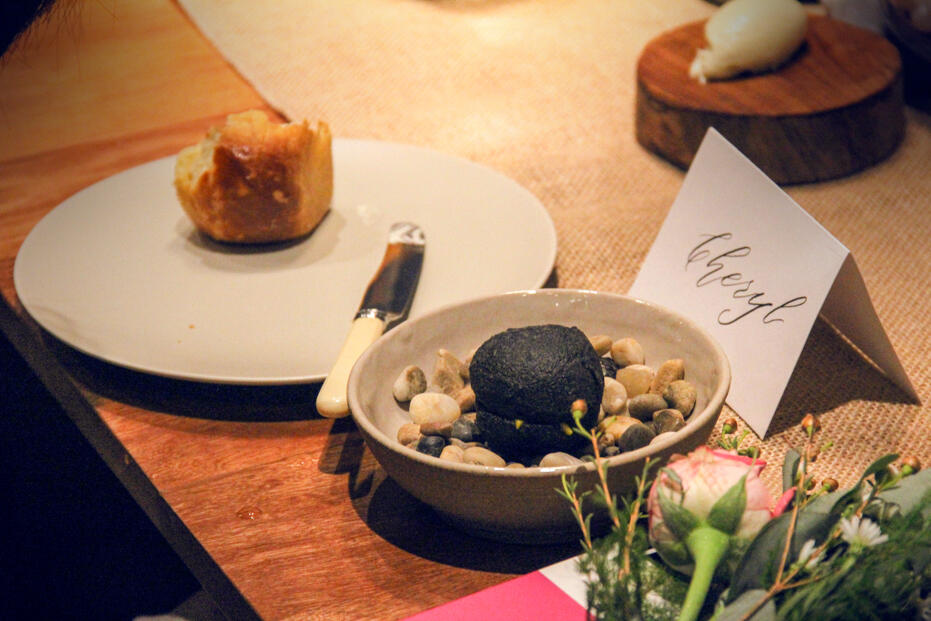 Black garlic brioche with cultured butter.
Everyone loved how they presented every dish so exquisitely, like placing the black brioche on clean pebbles (well, i assume they are clean ? I keeedddd!)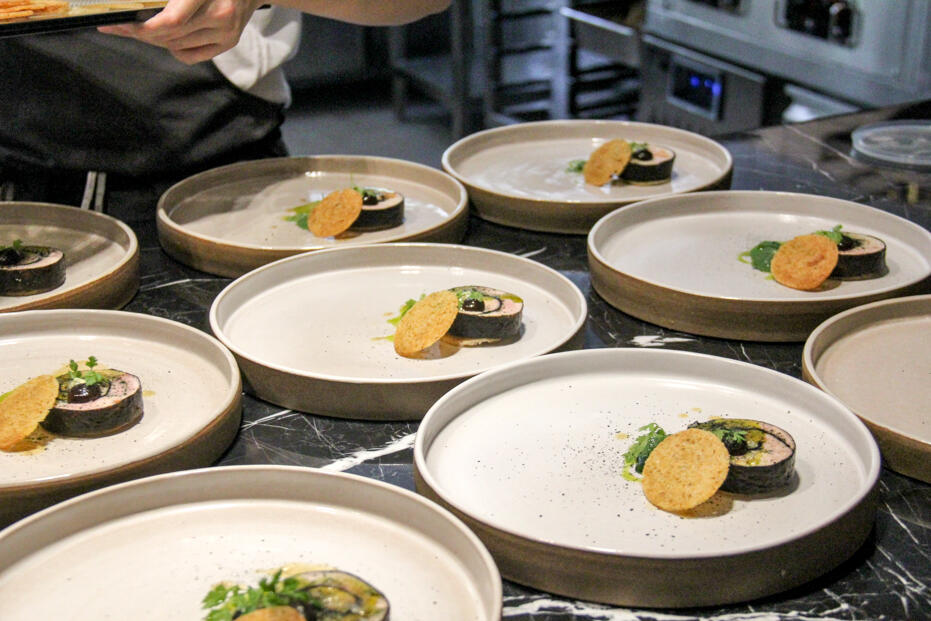 To start, we were served two snacks:
Crab doughnut, vanilla, pumpkin;
and Organic chicken tart, with prune and coriander flower.
Steamed sole with chives and crispy capers.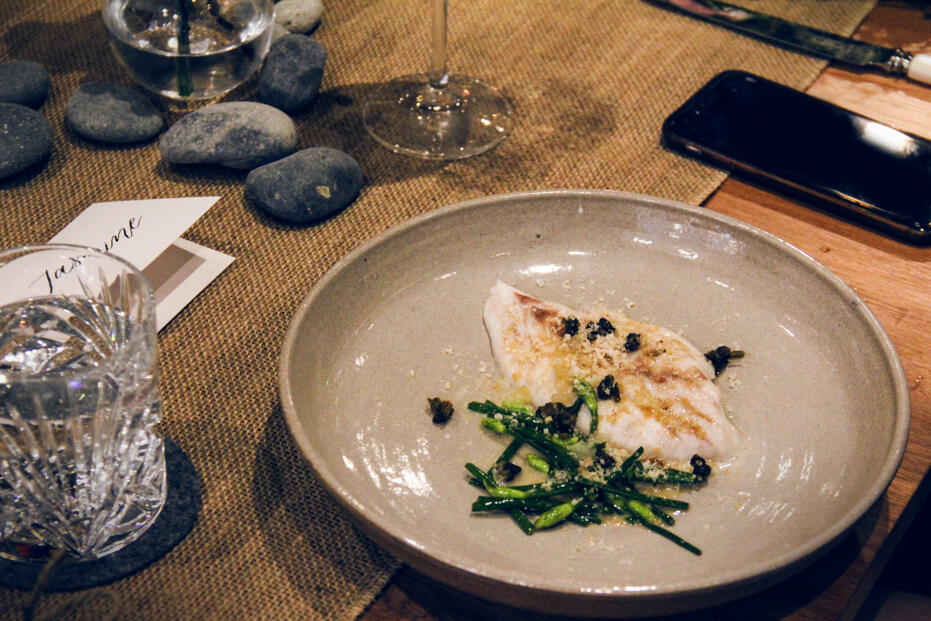 I loved this. It was so healthy, clean and fresh; i wouldn't mind eating it every other day!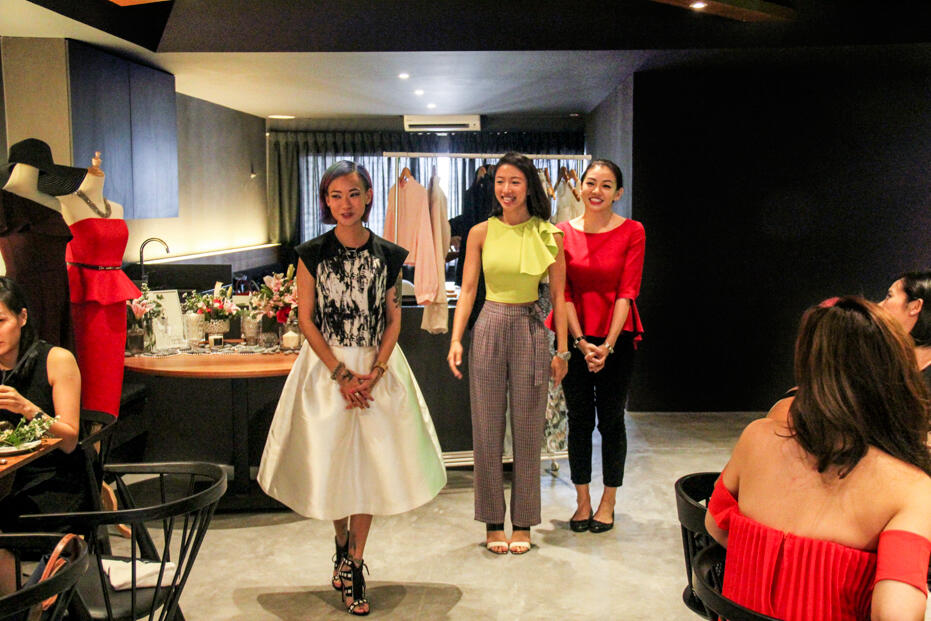 Me welcoming Rachel and Viola (the two founders of Love, Bonito) to say a few words. The duo arrived from the airport mere minutes before the event started. Jetsetters. This happens every time they want to come to KL by the way, it's slotted in between their hectic schedules.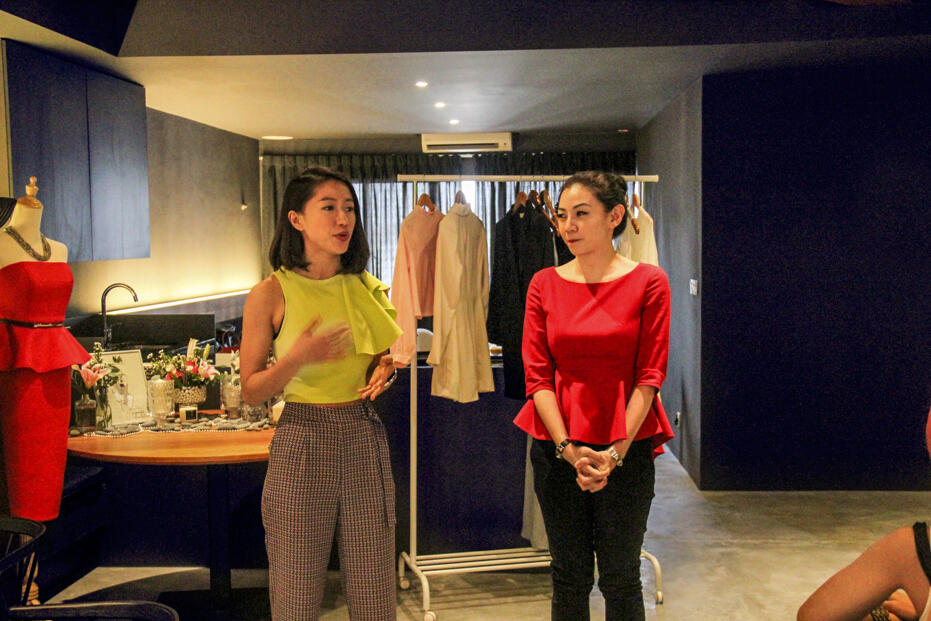 Did you know the both of them were studying to become teachers before their hobby business took off?
Christian plating what he told me later was his favourite dish for the day: 28-day aged duck, with smoked water chestnut and hibiscus.
Palate cleanser was an elegantly-prepared compressed watermelon with rose vinegar.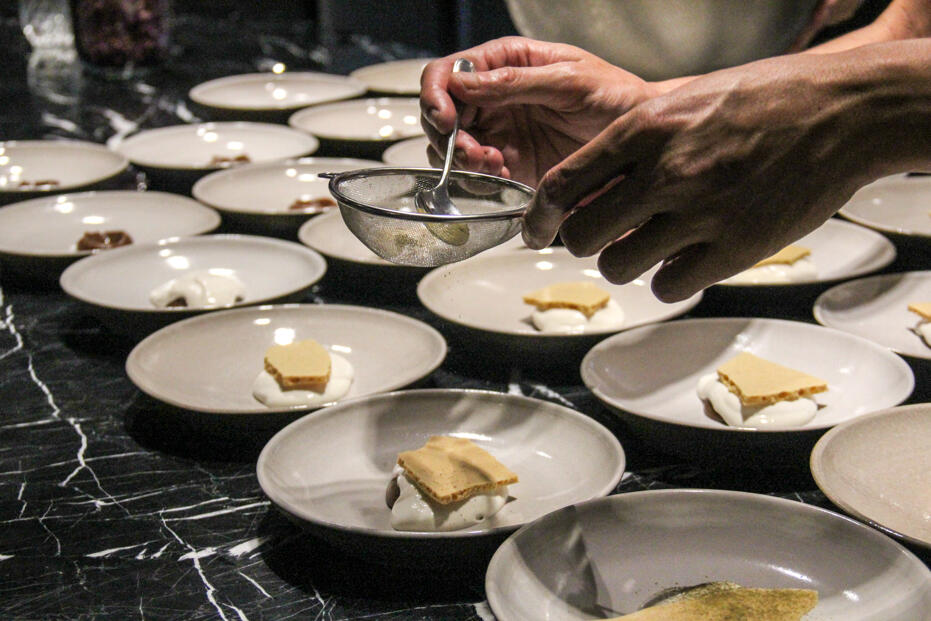 Burnt miso caramel with tonka cream and malt crisp. I LOVED THIS SO MUCH.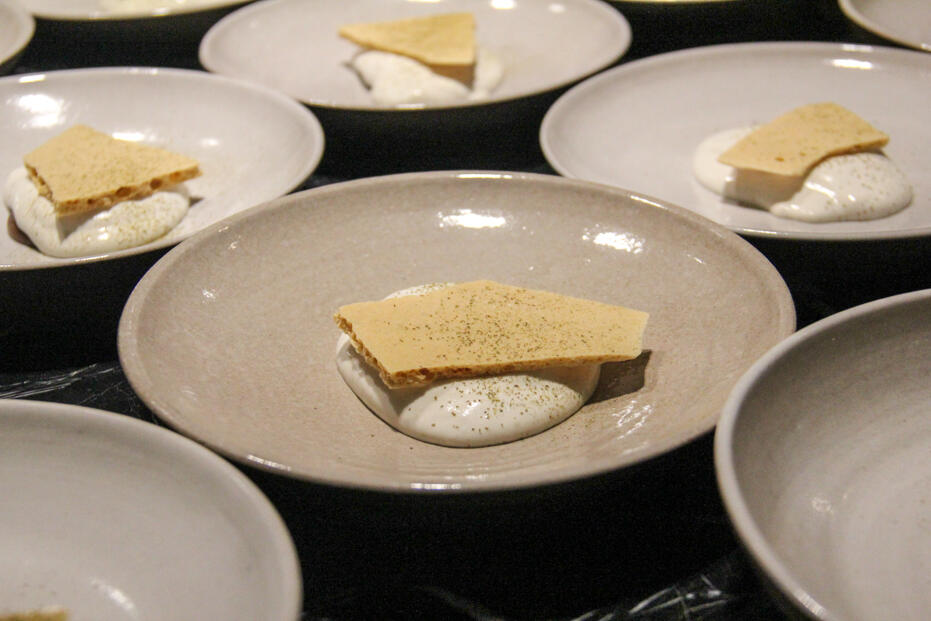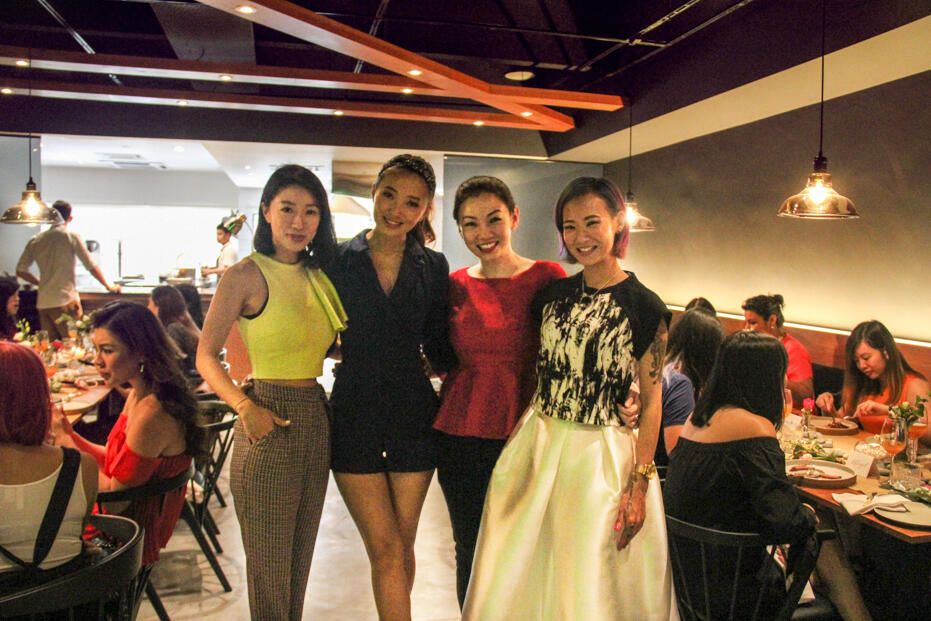 Rachel, Chelsia, Viola, and i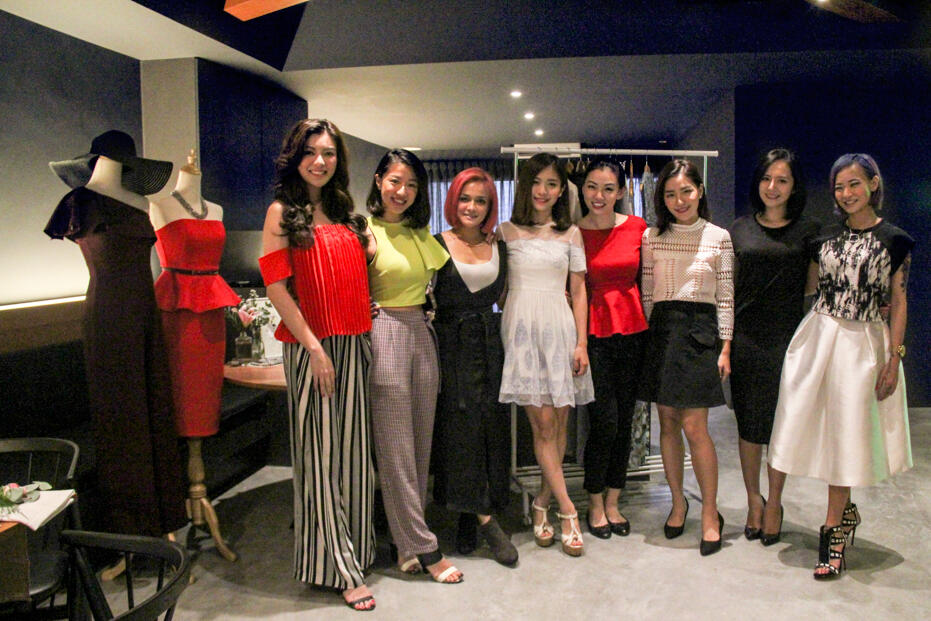 Carey Ng, Rachel Lim, Sazzy Falak, Emily Zying, Viola Tan, Karen Kho, Evie Wong, and I.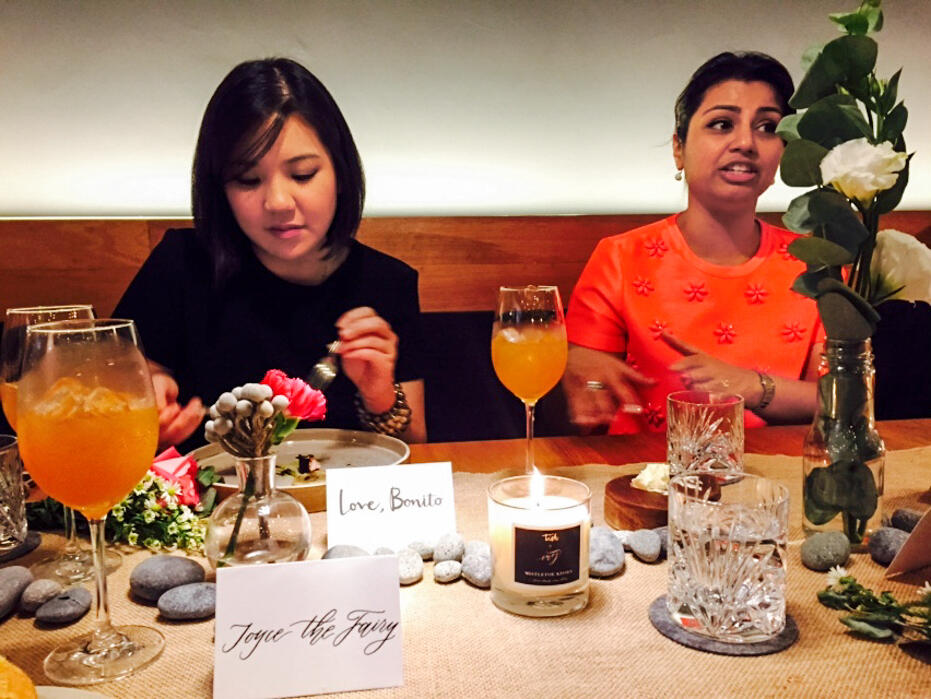 In the glasses are cold-pressed apple, honeysuckle, mint and celery.
Across me are Carole from Shu Uemura, and Nadine from The Star.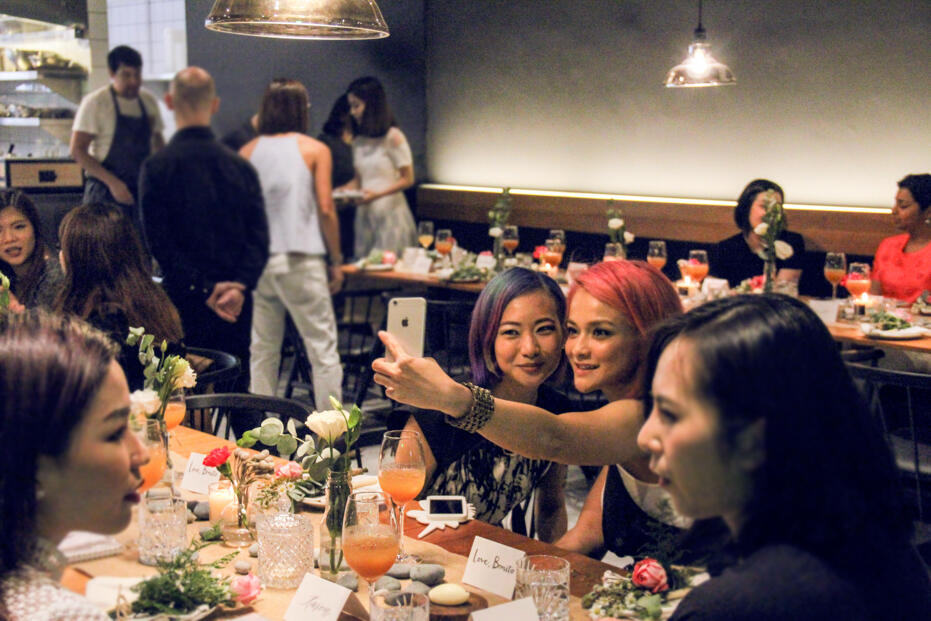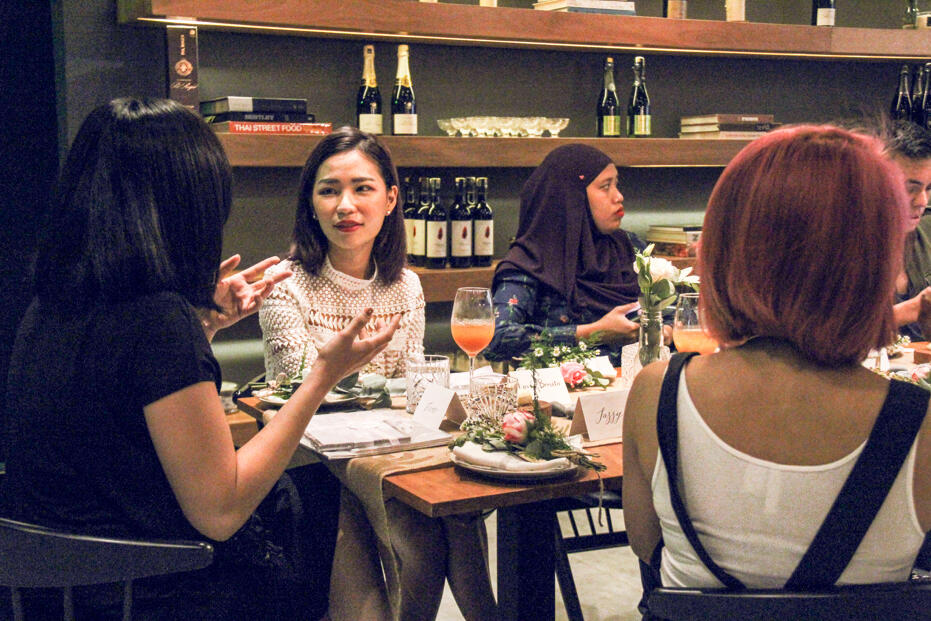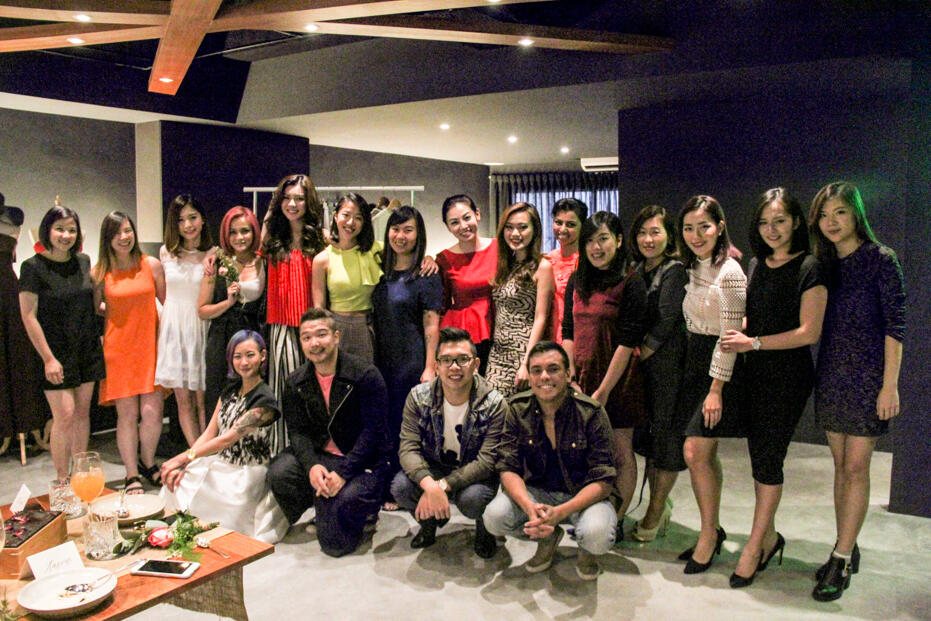 Everyone at lunch!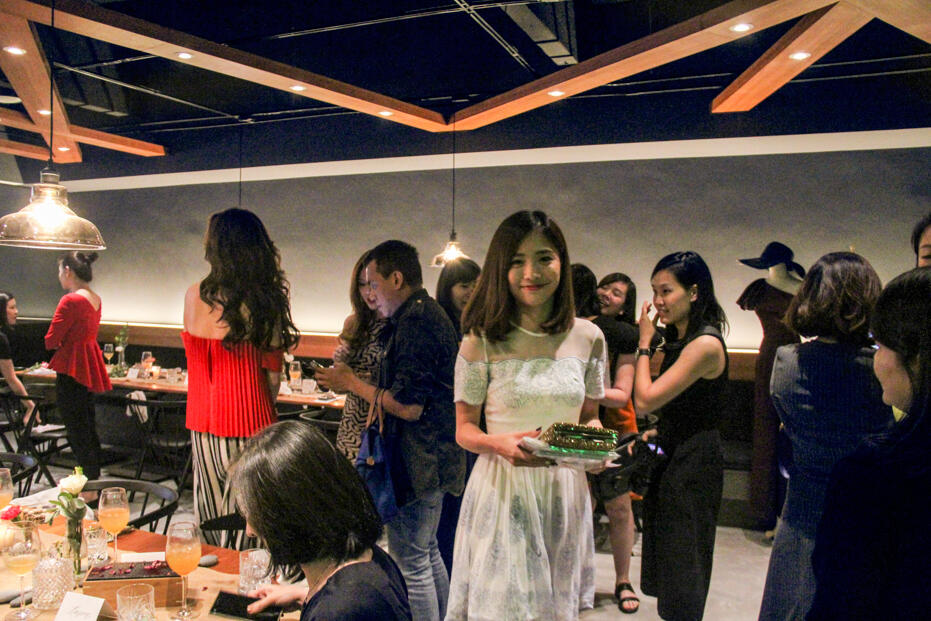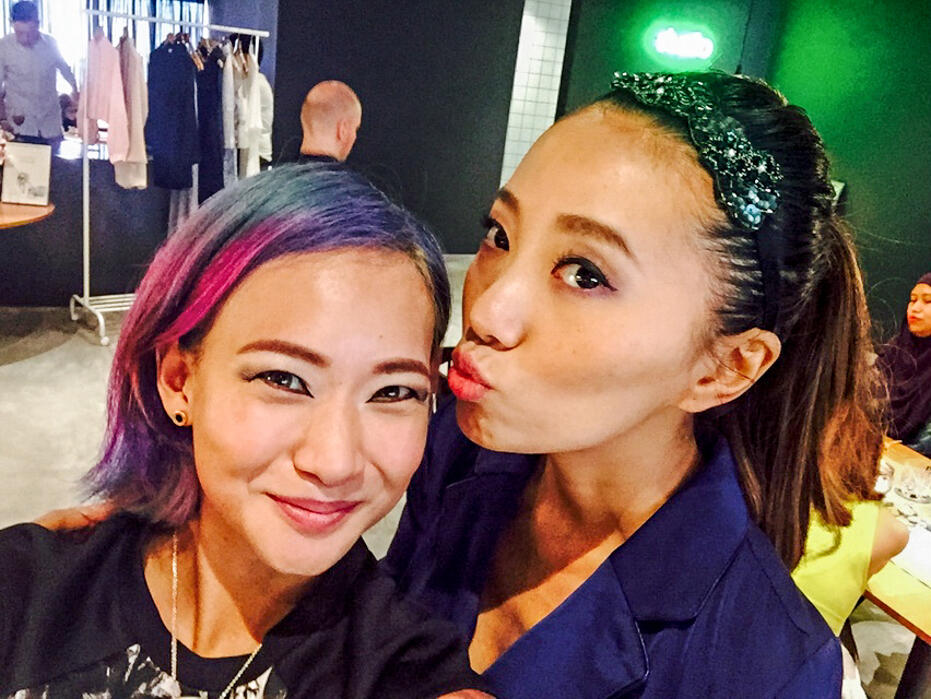 With Chelsia
Unicorn buddies unite! Me + Sazzy.
On right is me with Nadine, whom i've known since my teenage years in church.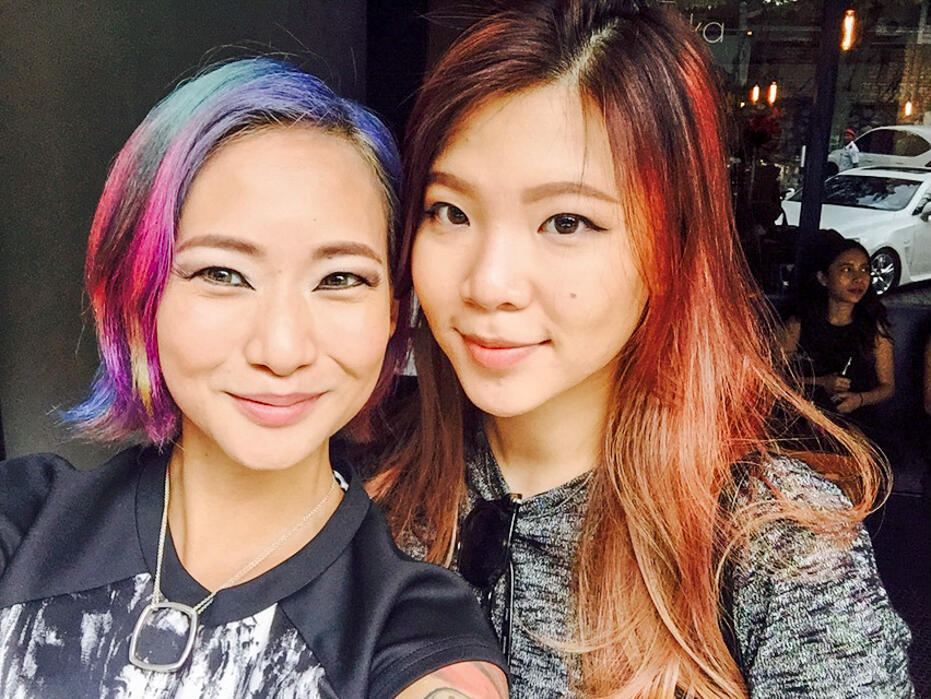 With Sabrina from Urban Decay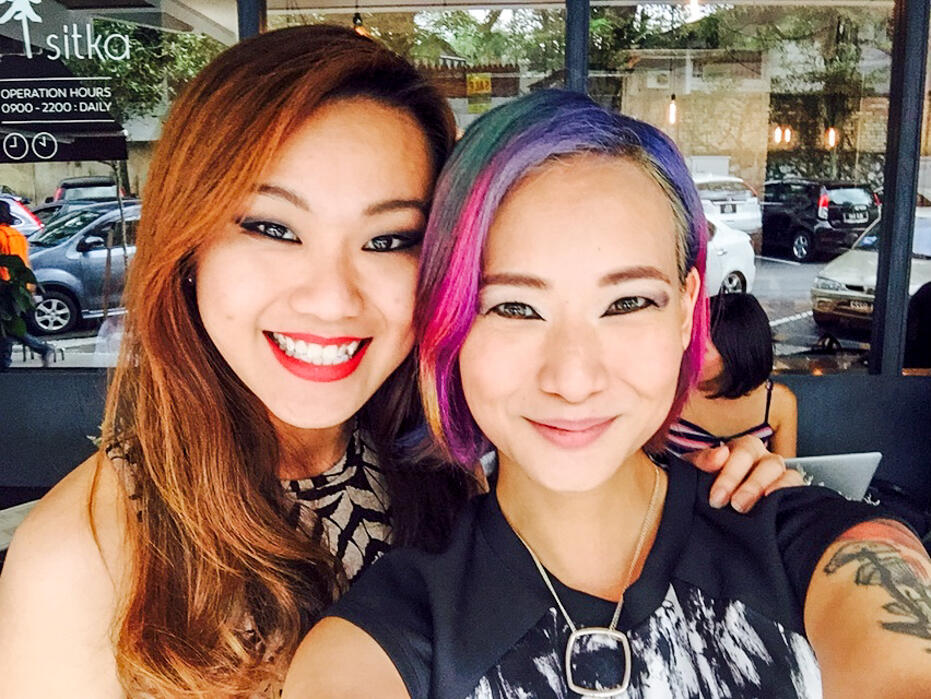 With Adeline from BFM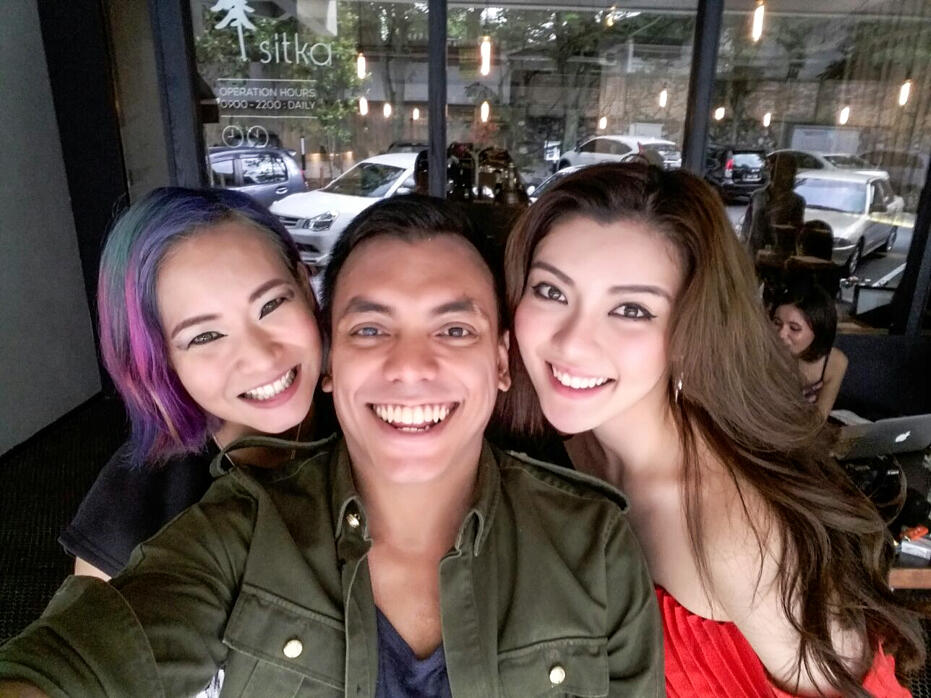 Me, Shah, and Carey!
Right after lunch, i had a photoshoot for Jessica from Centro Hair Salon, whose pix i blogged about *here*.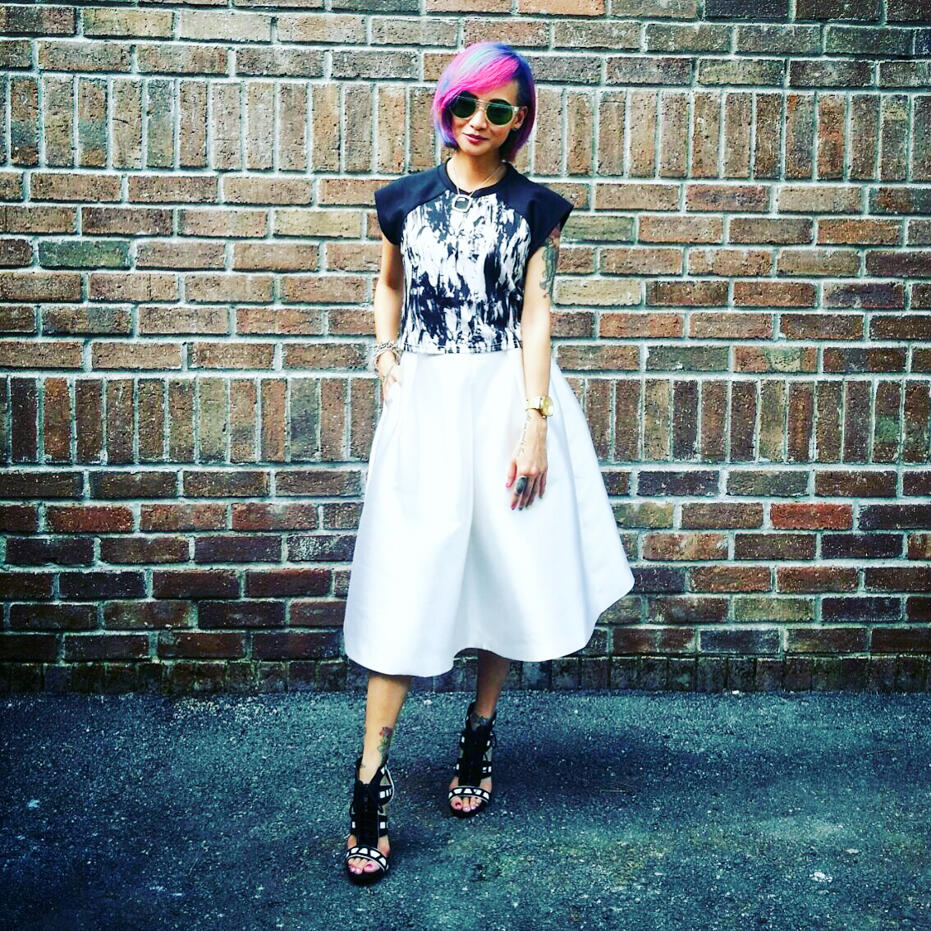 I was wearing a top and skirt from Love, Bonito of course!
Shoes from Kurt Geiger
After the shoot, i had about an hour on my laptop before the dinner session commenced.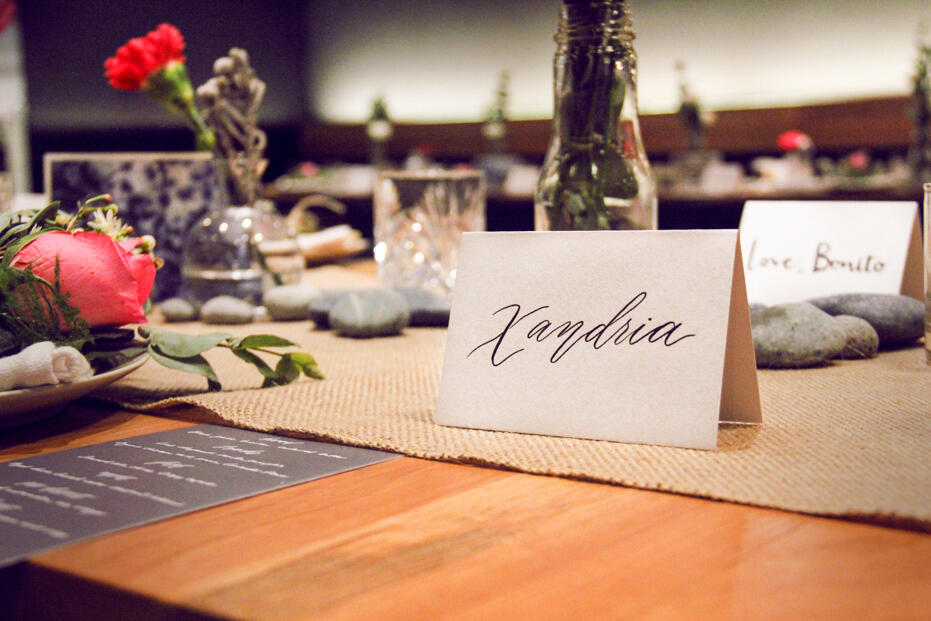 Still not over the deco, obviously.
Cheryl from Love, Bonito; Xandria, and Claudia.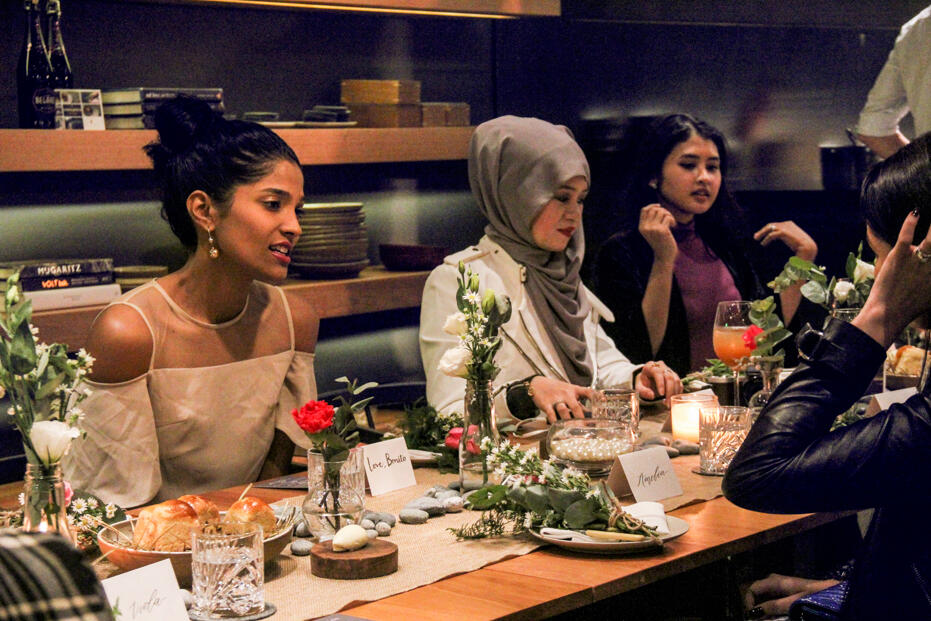 Anuja, Raja Nadia, and Julia Azman from EH.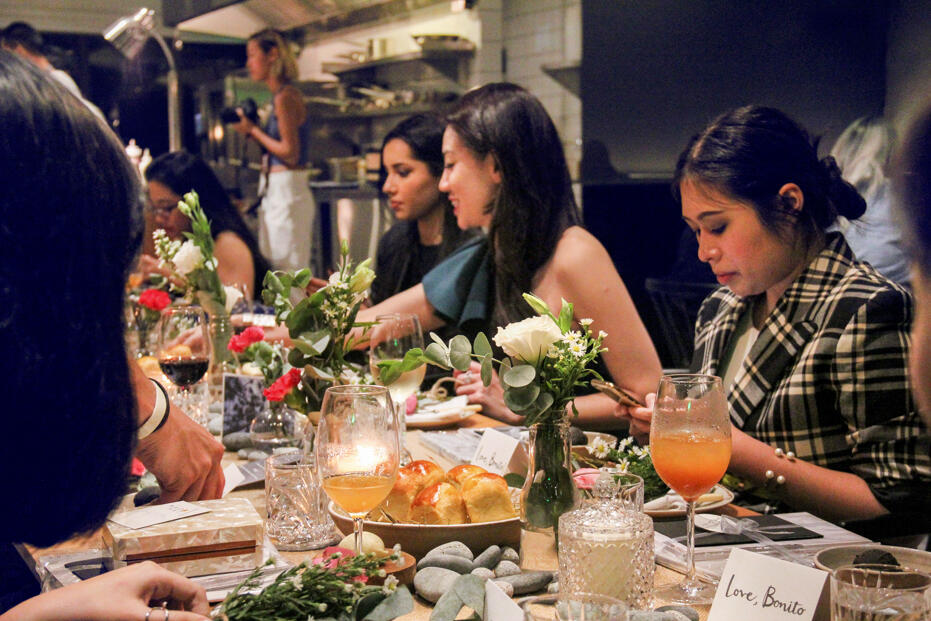 Amy Yasmine from Harper's Bazaar looking mighty preoccupied.
Unicorn on a white strike – Audra Roslani from Women's Health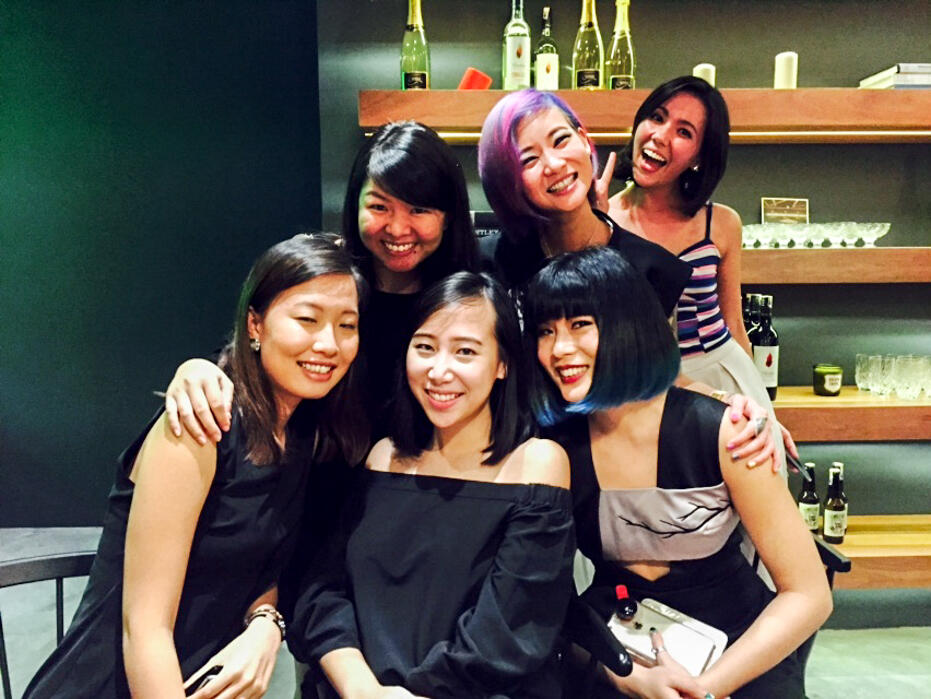 Top: Charmaine from Love Bonito; Rengee & i
Bottom: Pearly and Cheryl from Love Bonito; and Xandria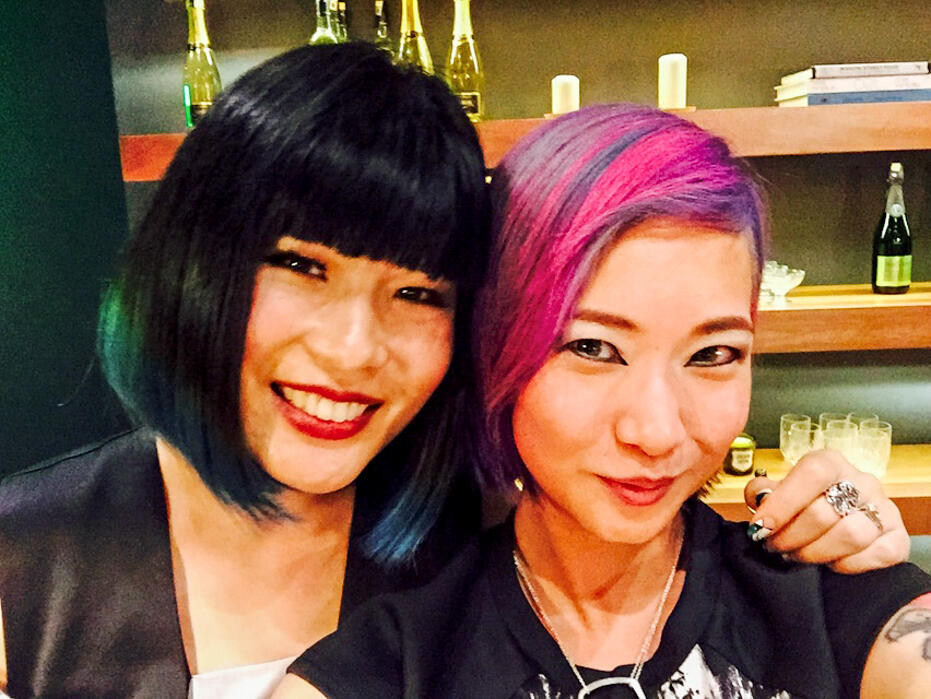 Xan and i
Close up of that 28-day aged duck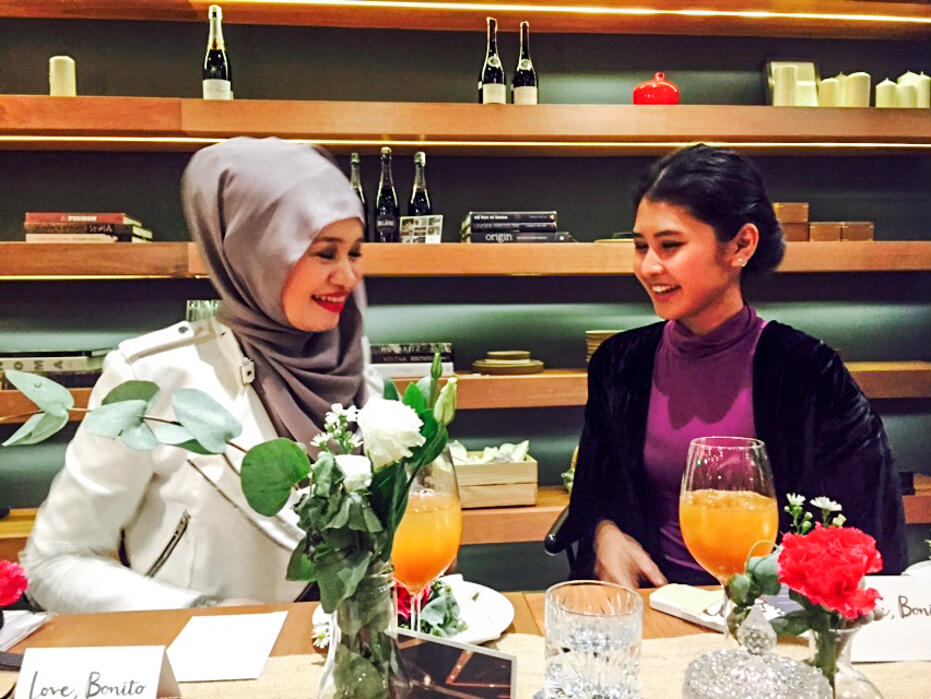 Raja Nadia and Julia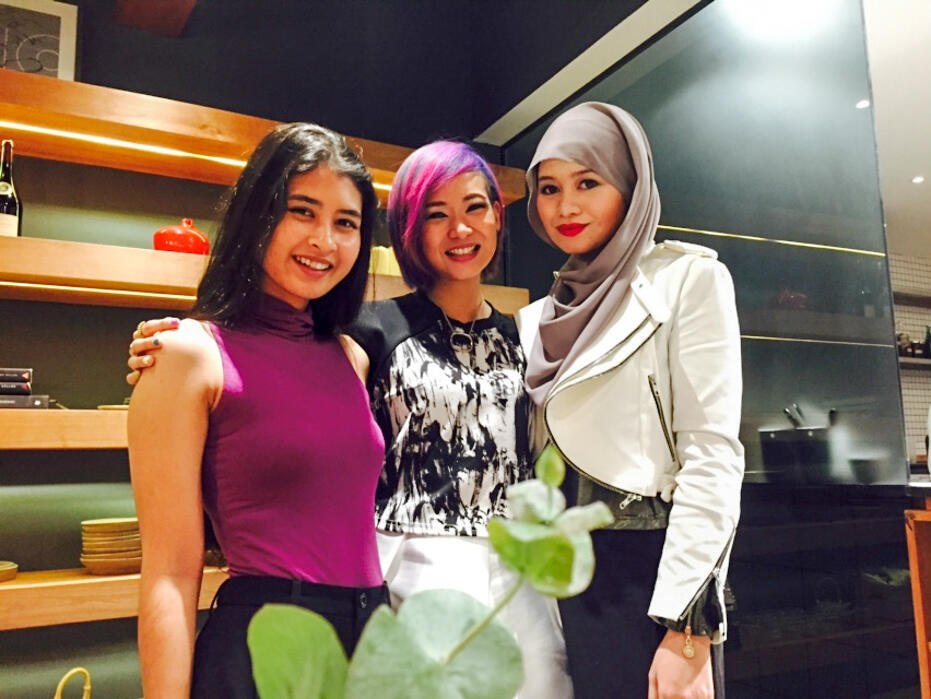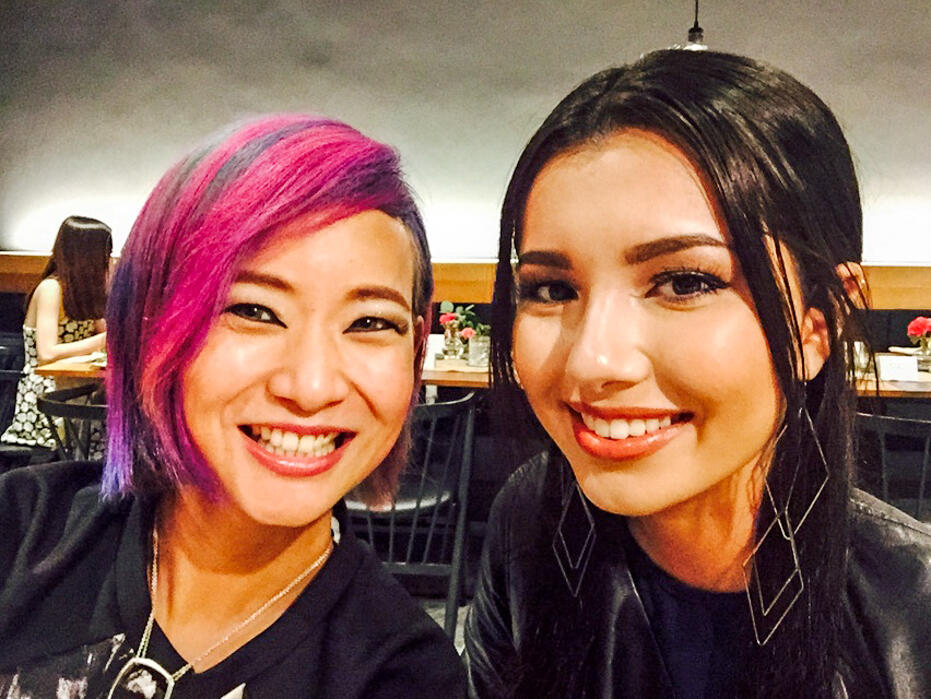 With Amelia Henderson. She is so young i cannot even ?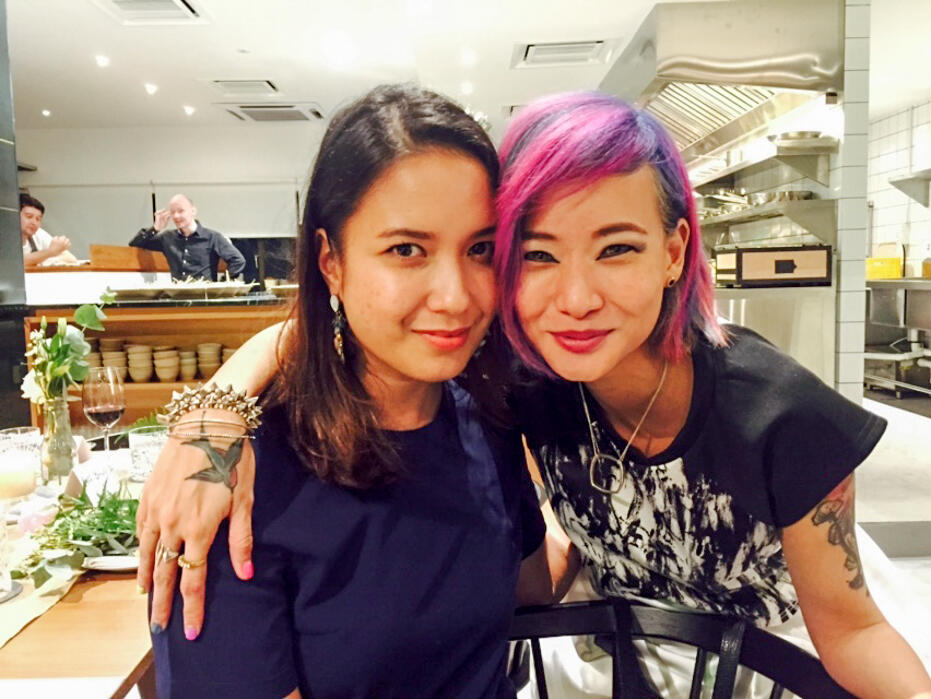 Ira!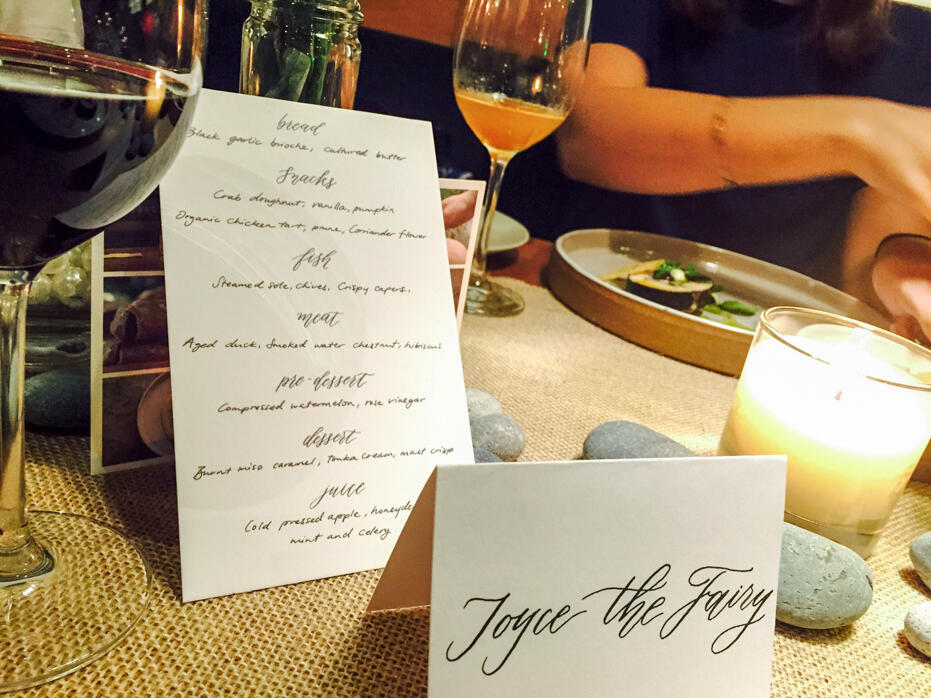 Rachel, Thanuja, me, Viola, and Anuja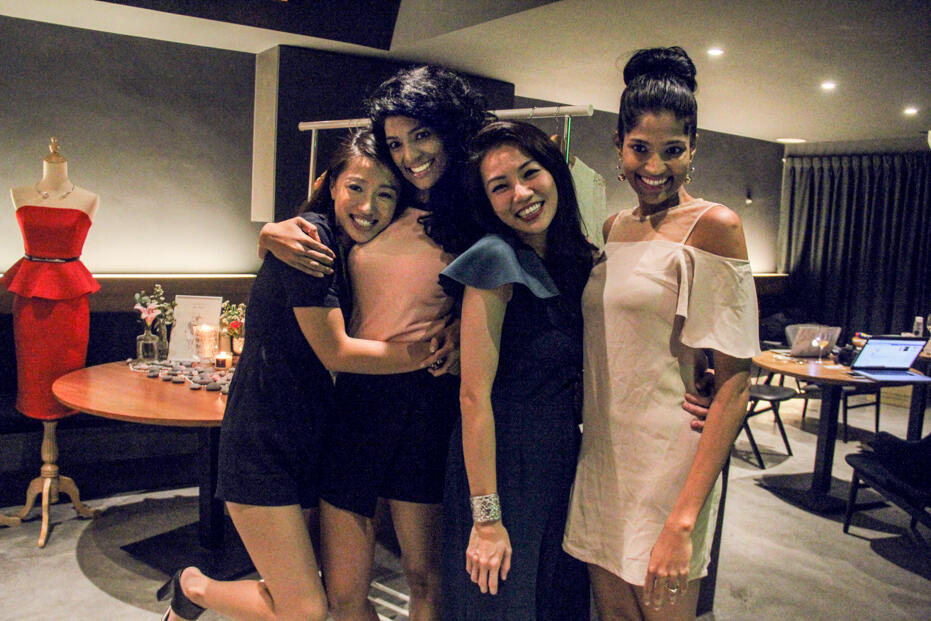 There was a lot of hugging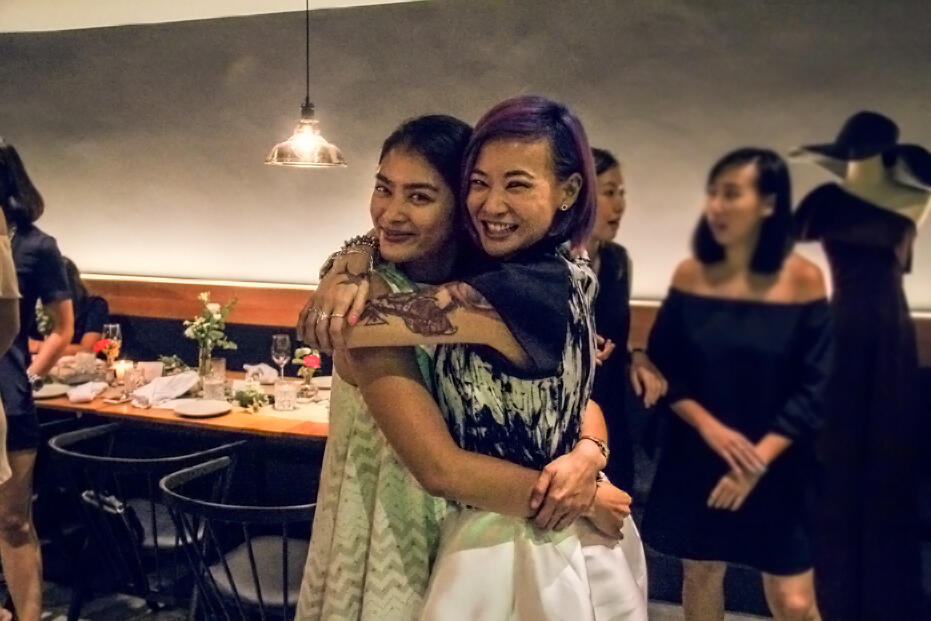 Claudia & i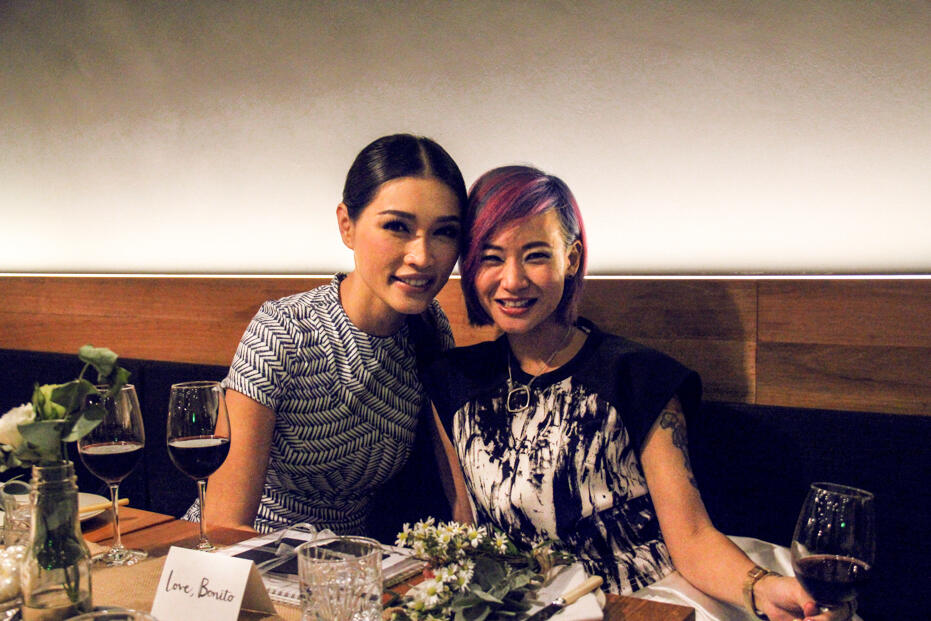 Amber and i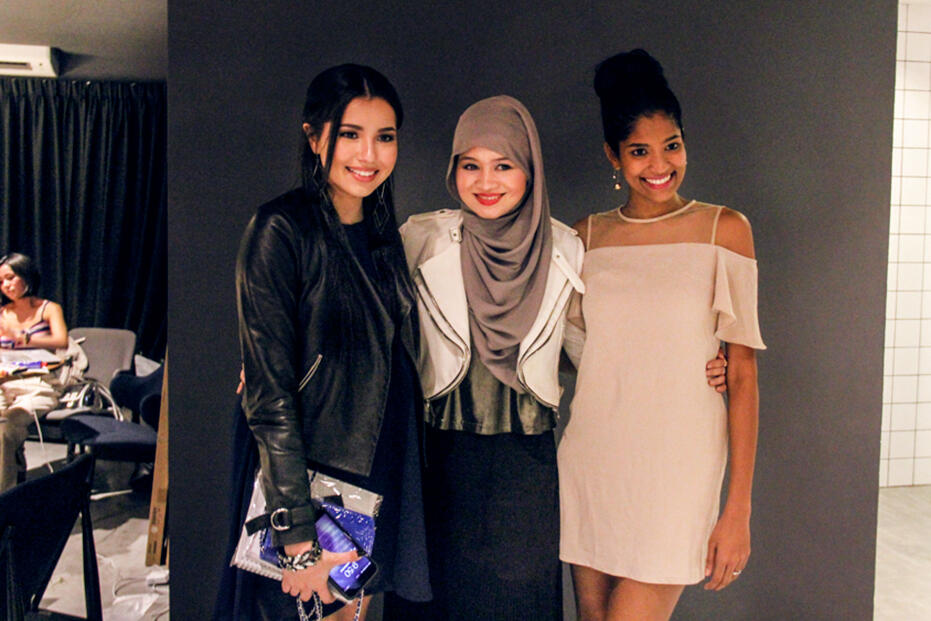 Amelia, Nadia and Anu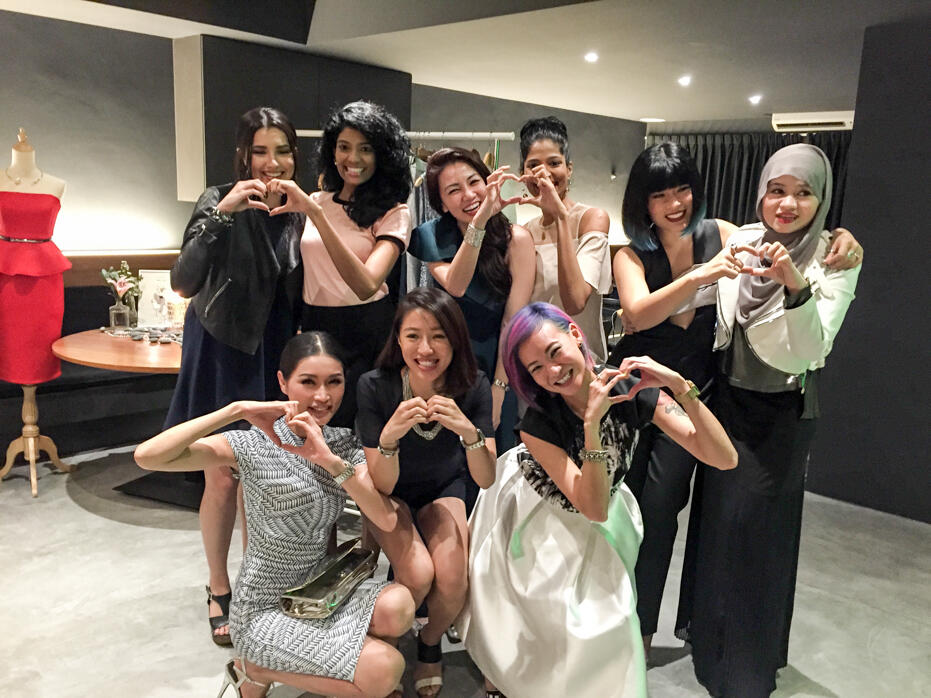 Top: Amelia, Thanu, Viola, Anu, Xandria, Raja Nadia
Bottom: Amber, Rachel, me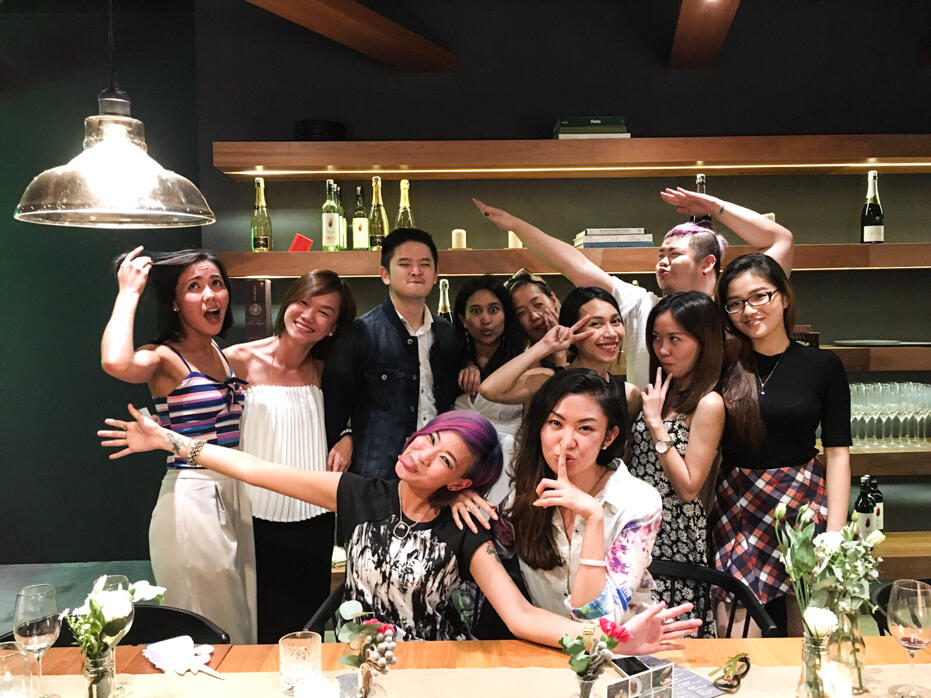 The organising team: KinkyBlueFairy + MadHat + Tish!
Top: Rengee, Joleyn, Andrew, Ayesha, SweetEe, Baby, Joe, Candy, Nicole
Bottom: Me, Shermaine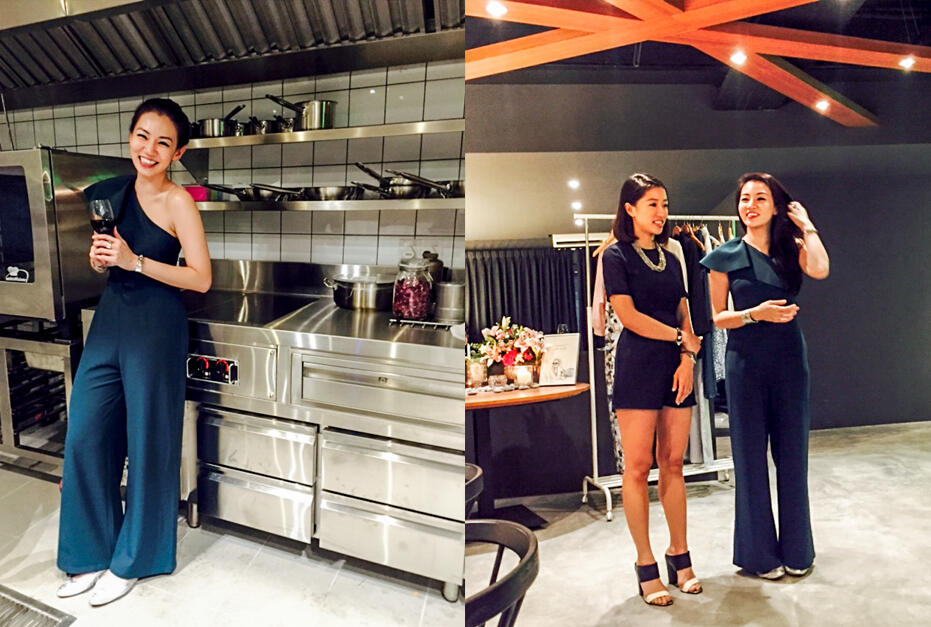 Viola and i stayed back a little for a nightcap of red wine
+ + + + + + + + + + + +
The next day, the Love Bonito team were so nice as to treat us to lunch ??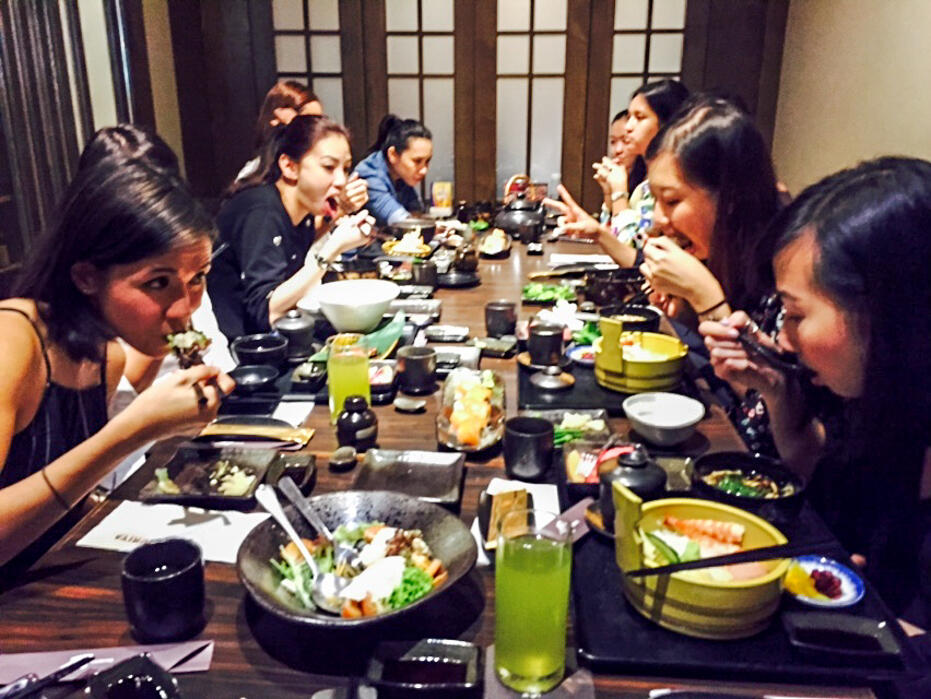 Stuffing our faces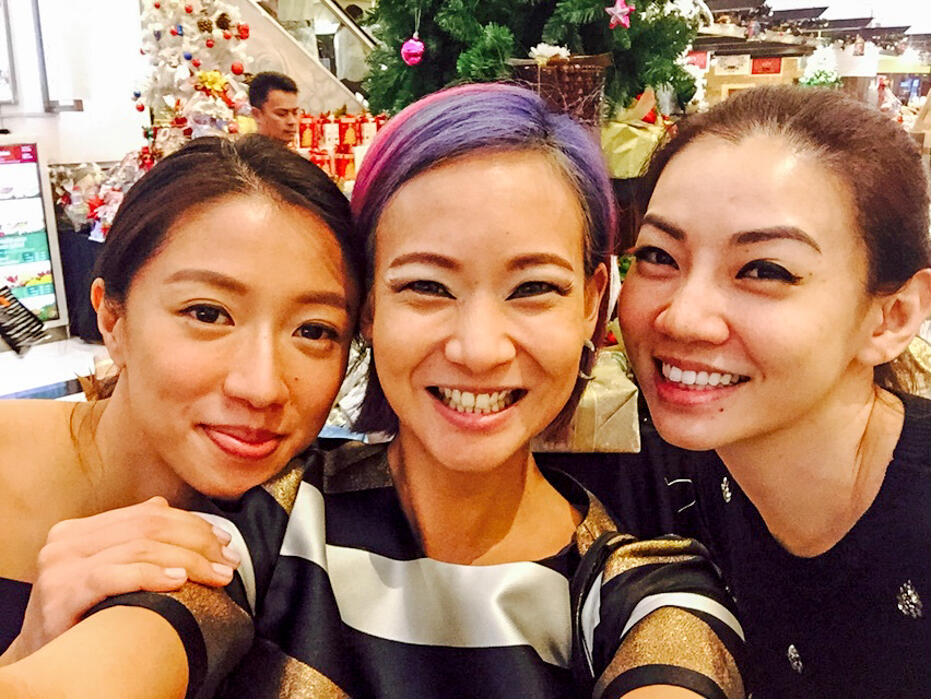 With Rachel and Viola before they took off to the airport (again) ??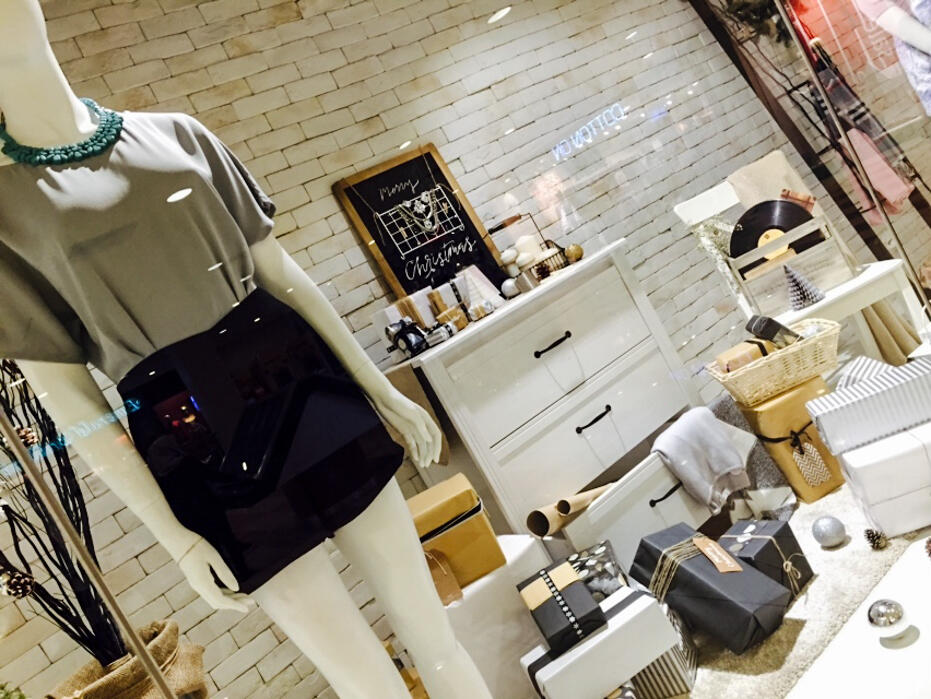 I popped by the Love Bonito store in Mid Valley right after to pick out some new clothes for Christmas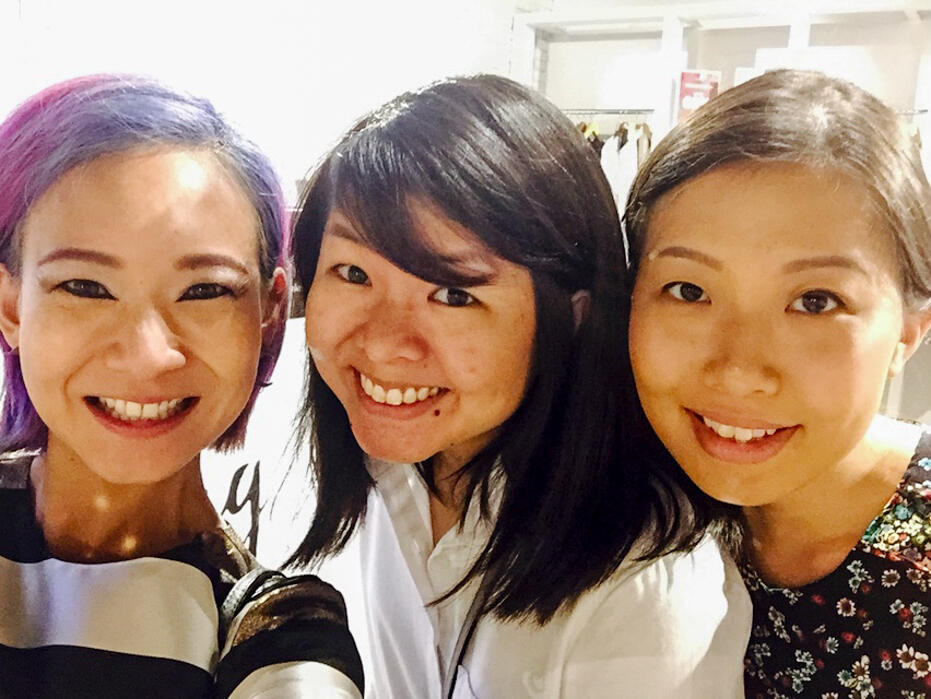 With Charmaine and Pearly!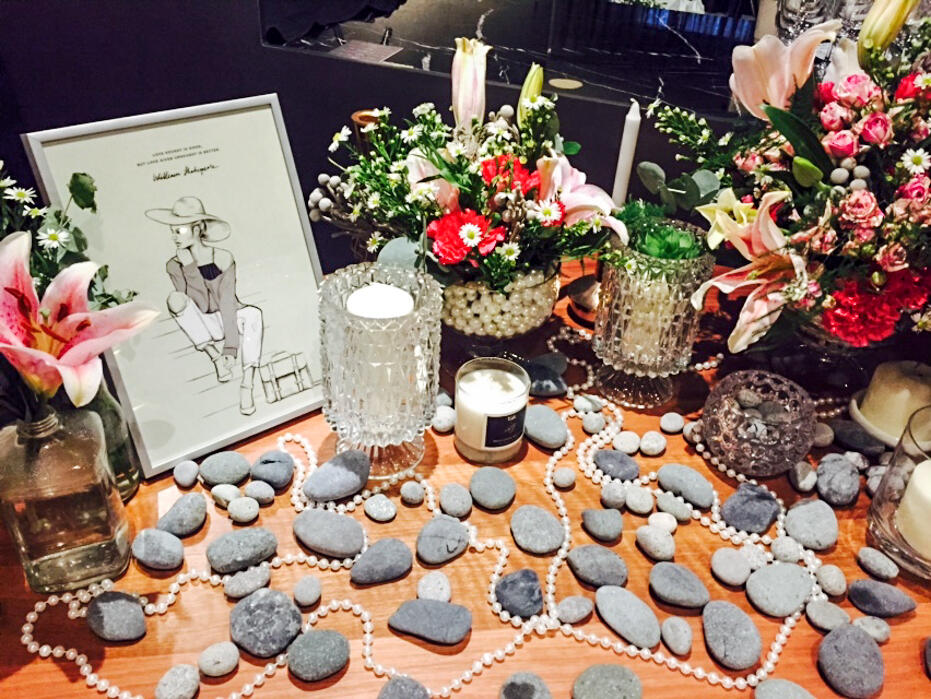 Love, Bonito
First Floor F-072A & 072B,
Mid Valley Megamall,
Lingkaran Syed Putra,
Kuala Lumpur 59200.
Tel: +603 2201 7187
Website: www.lovebonito.com
Facebook:  www.facebook.com/lovebonito
Instagram: @lovebonito.MY
+ + + + + + + + + + + + + +
In line with its ambitious menu, Sitka Studio will have a concise list of wines from Old and New World which are currently served at their sister restaurant in the UK, Moonfish Cafe. Also included are a small selection of contemporary cocktails, aperitifs, digestives and craft beers. Sitka Studio will be open to public every Friday and Saturday 7pm till late, from 11th March 2016; but will be open to bespoke events.
Tel: +603 2011 1117
Whatsapp: +6014 9688 940
Email: info@sitkarestaurant.com
Website: www.sitkarestaurant.com/studio
+ + + + + + + + + + + + + +
Table-scaping, deco and invitations by Tish
www.facebook.com/tish.my