Thomas Sabo invited me for their Autumn Winter event to launch their new store in Gardens, with dinner at Sage afterward. I wore some pieces from their latest collection during the event that they laid out for me, and despite missing the dress code on the invite, it all still managed to match. Score.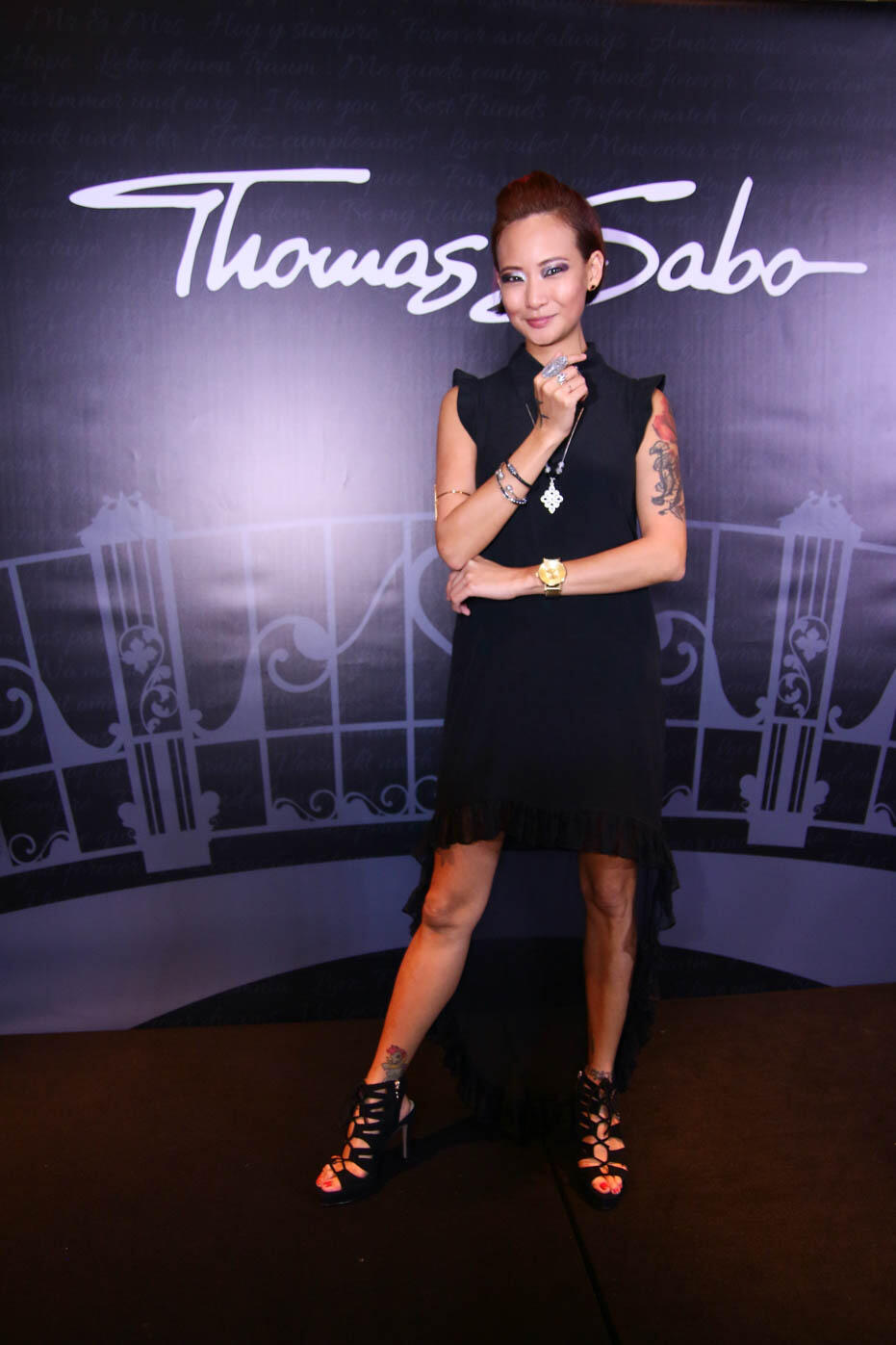 I'm wearing rings, bracelets and necklaces from Thomas Sabo,
my gold watch from KLASSE,
dress from the now defunct Gallo by Thian (i do miss that brand),
and shoes from Love, Bonito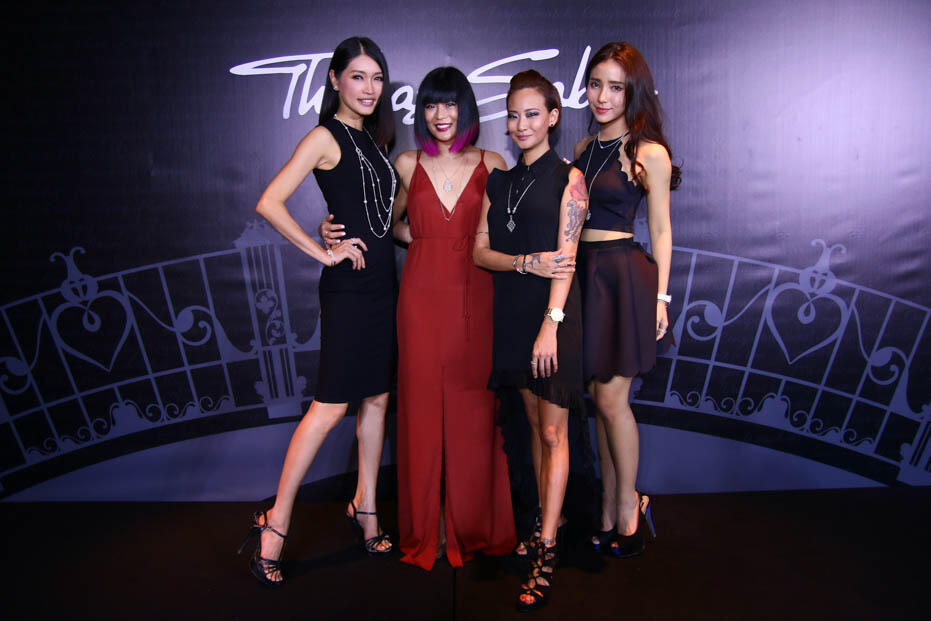 Amber Chia, Xandria Ooi, me, and Venice Min 
There were (as always) so many highlights surrounding the season's collections which were shot by provocative photographer Ellen von Unwerth with top models Georgia May Jagger and Marlon Teixeira.
New filigree Karma Beads fashioned from radiant 925 Sterling silver or with 18k rose-gold plating were added to the line of more that 140 beads, with some of my favourite features – animals! Look out for frogs, squirrels, bears, hedgehogs, owls and falcons this autumn 😀
Glam & Soul and Rebel At Heart collections include Fatima's Garden, a series with stylised lotus flower petals that capture ornamental opulence with sparkling zirconia- pavé, synthetic spinels and radiant rose quartz. Think an enchanted Indian garden full of gorgeous blossoms and intensive colour hues.
If you lean more towards modern and feminine designs, the Pearl series playfully reinterprets classic pearl jewellery along with floral accents. And oh, my favourite pieces i have my eye on… the Ear Jackets (made from sparkling rows of zirconia, small skulls or simple silver balls) and Mini Rings.
That evening, the spotlight was deservingly shone upon the Thomas Sabo Love Bridge (there's a long story between me and this bracelet which i didn't expect but you gotta read on to find out). Each Love Bridge bracelet each has a filigree bar made of 925 Sterling silver that joins the two ends of the bracelet, which you can engrave with up to 15 characters (include Chinese characters and many cute symbols like a heart and the infinity sign).
Inspired by the practice of people engraving iron locks and securing them on love bridges around the world to immortalise their connection, Thomas Sabo came up with a Love Bridge of its own where people regardless of being sweethearts, best friends or family members can express their affection for each other in their own individual ways with loving words or beautiful life mottos.
Two special engraving machines have specially been brought into the Thomas Sabo stores in Malaysia just for the Love Bridge bracelets!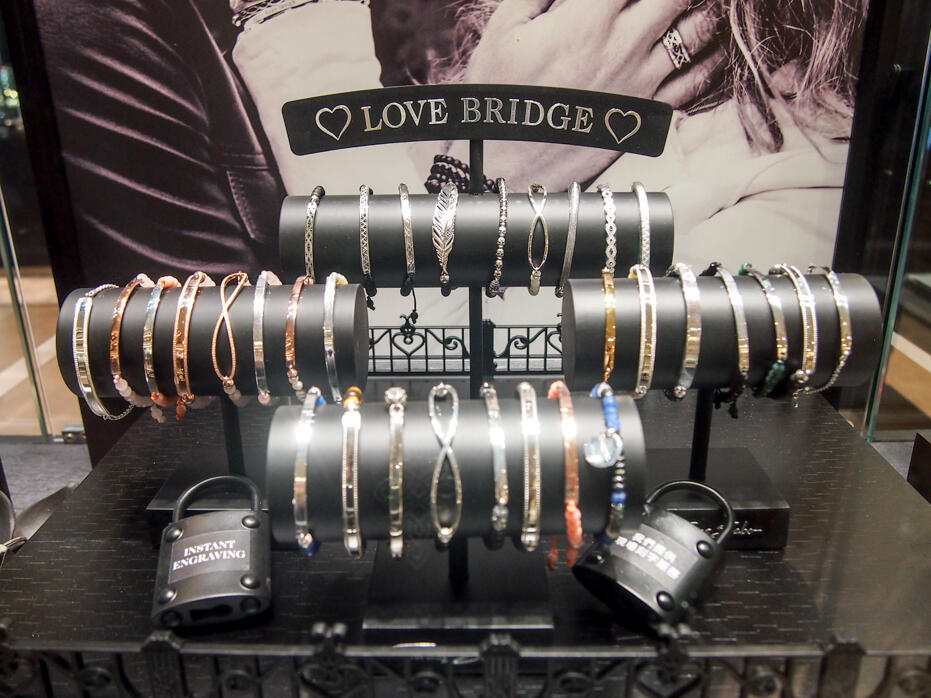 But hey, there are lots of pictures from the night… so i'm gonna bring you right back to the very beginning when i arrived.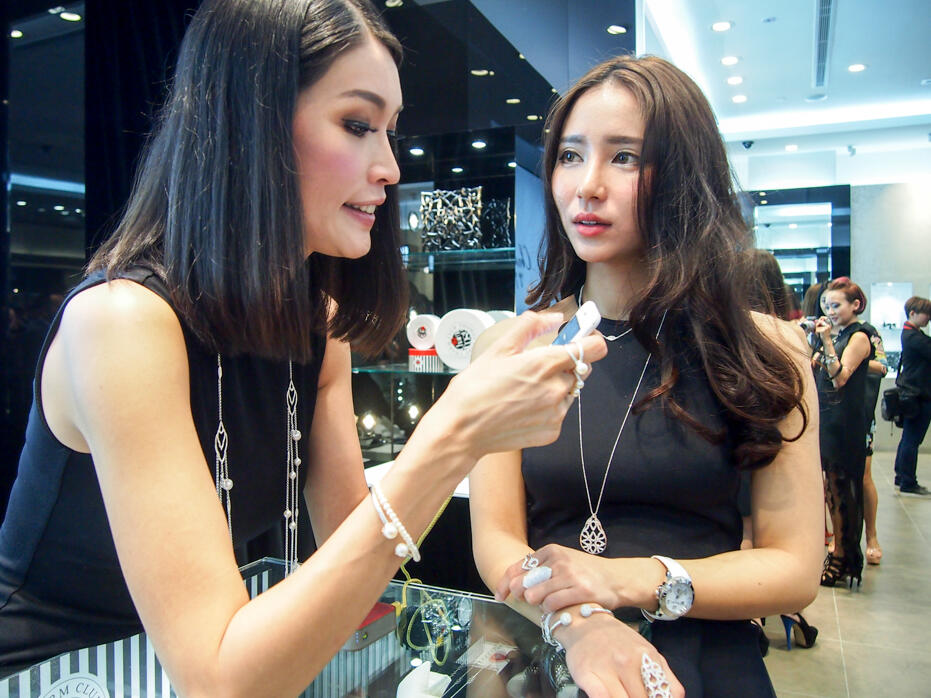 Amber and Venice, all wearing jewellery from Thomas Sabo. Amber probably updating her instagram religiously as always.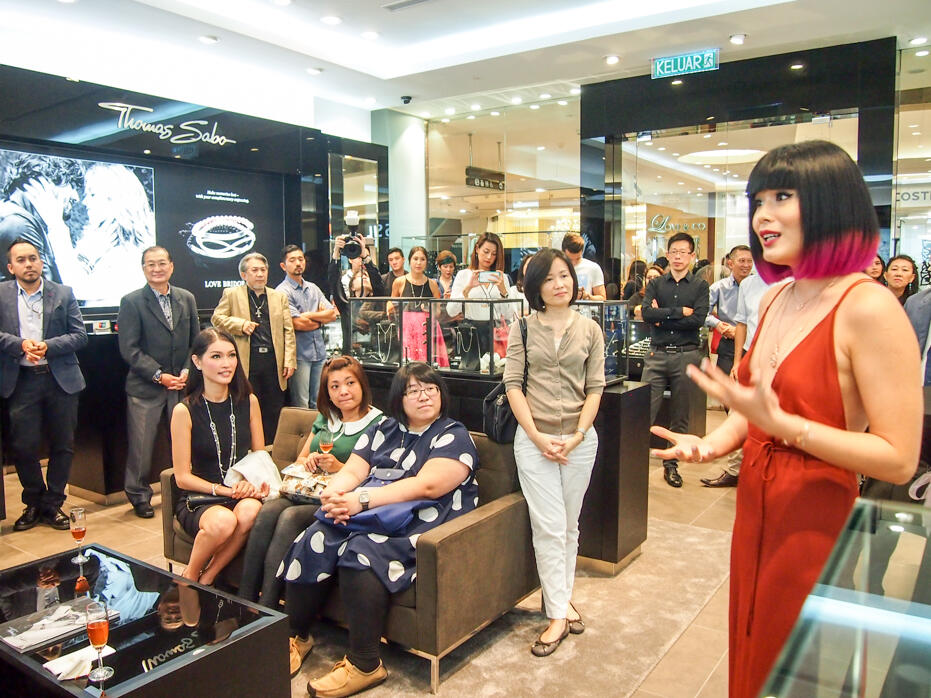 Xandria hosted the event that night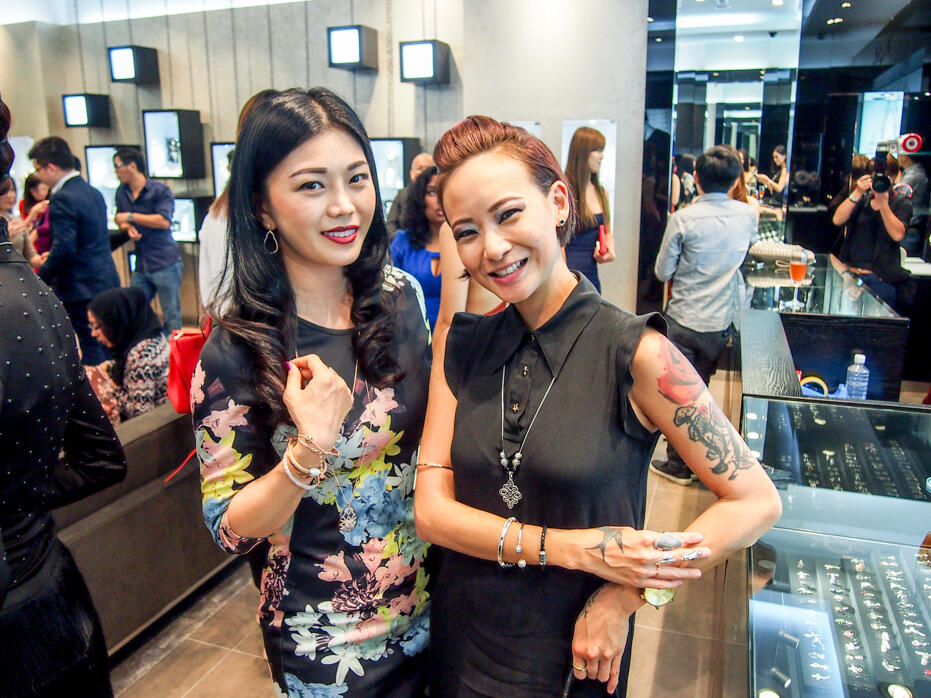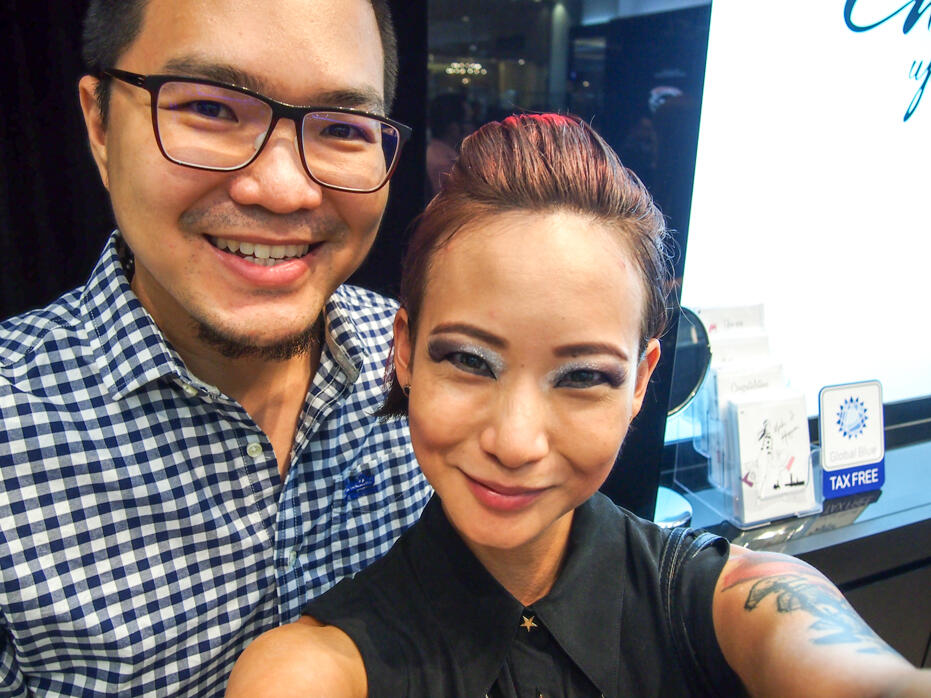 With Adrian, whom i worked with for the Paul's Boutique styling event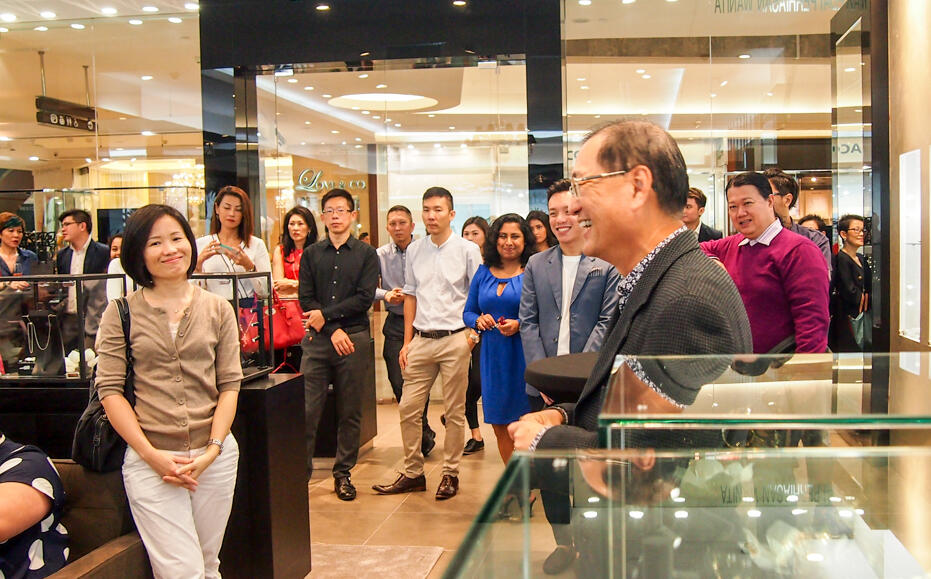 Dr. Lawrence Lim welcoming us to their lavish new store.
Measuring at 1300 sq ft, it's currently the largest standalone Thomas Sabo shop in Asia Pacific.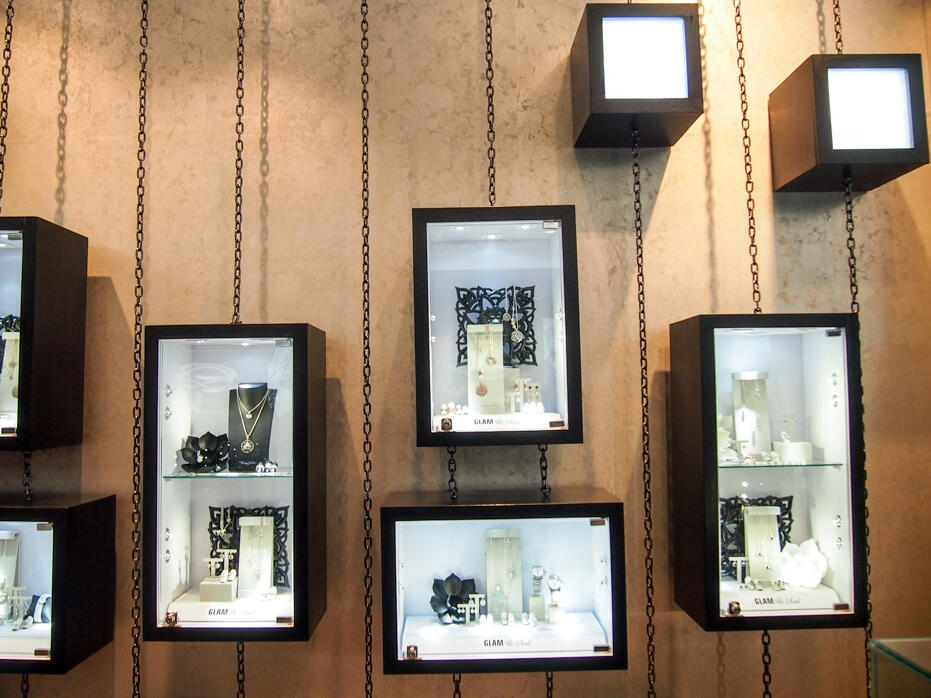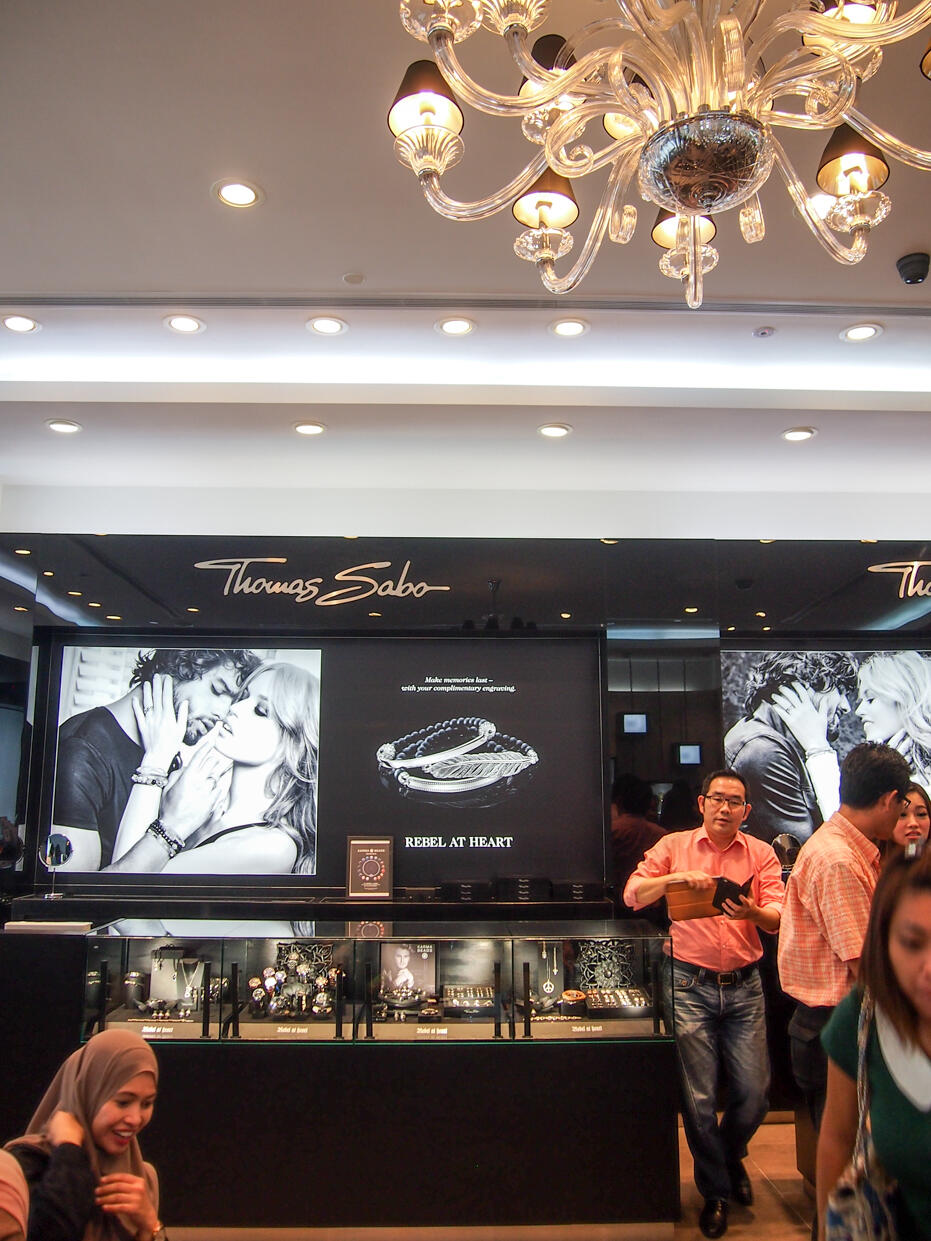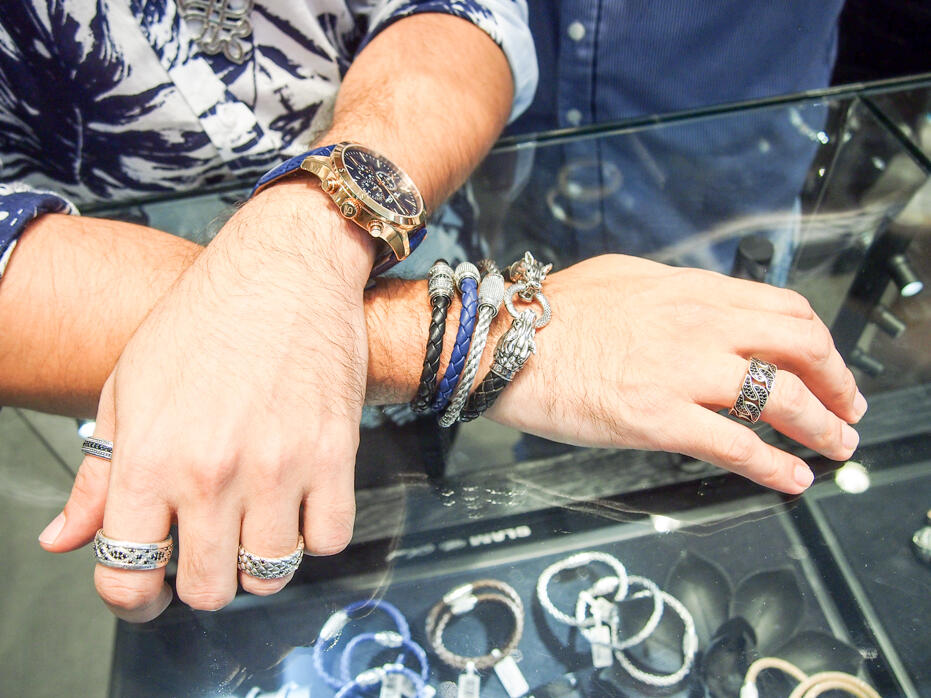 Jehan Miskin's hands.
He's wearing Unity bracelets from the Rebel at heart line- made with details of braided leather or stainless steel with ornamented clasps that are rich in detail.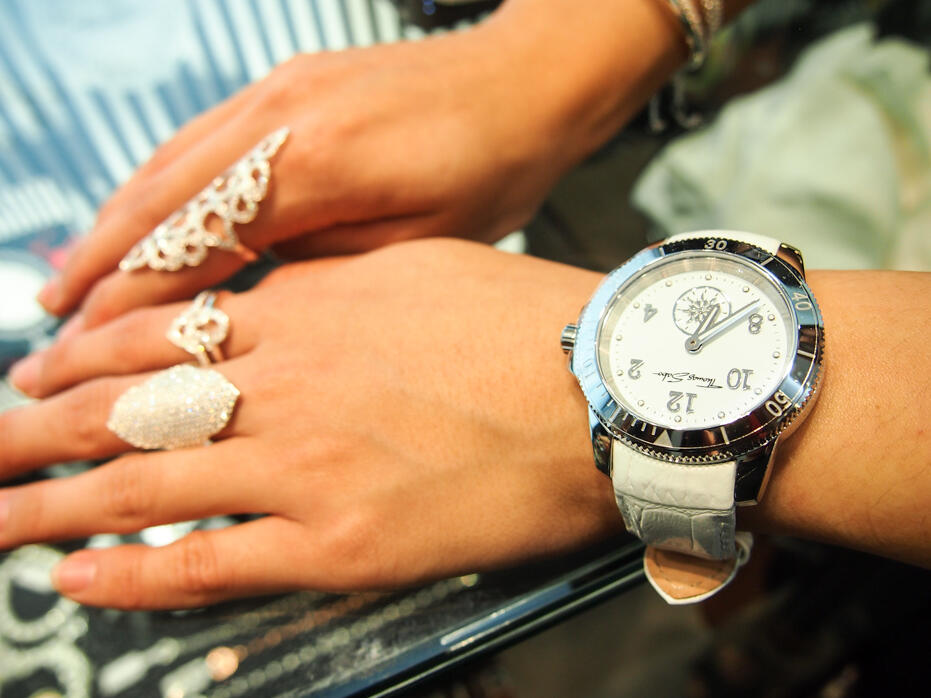 On Venice's hands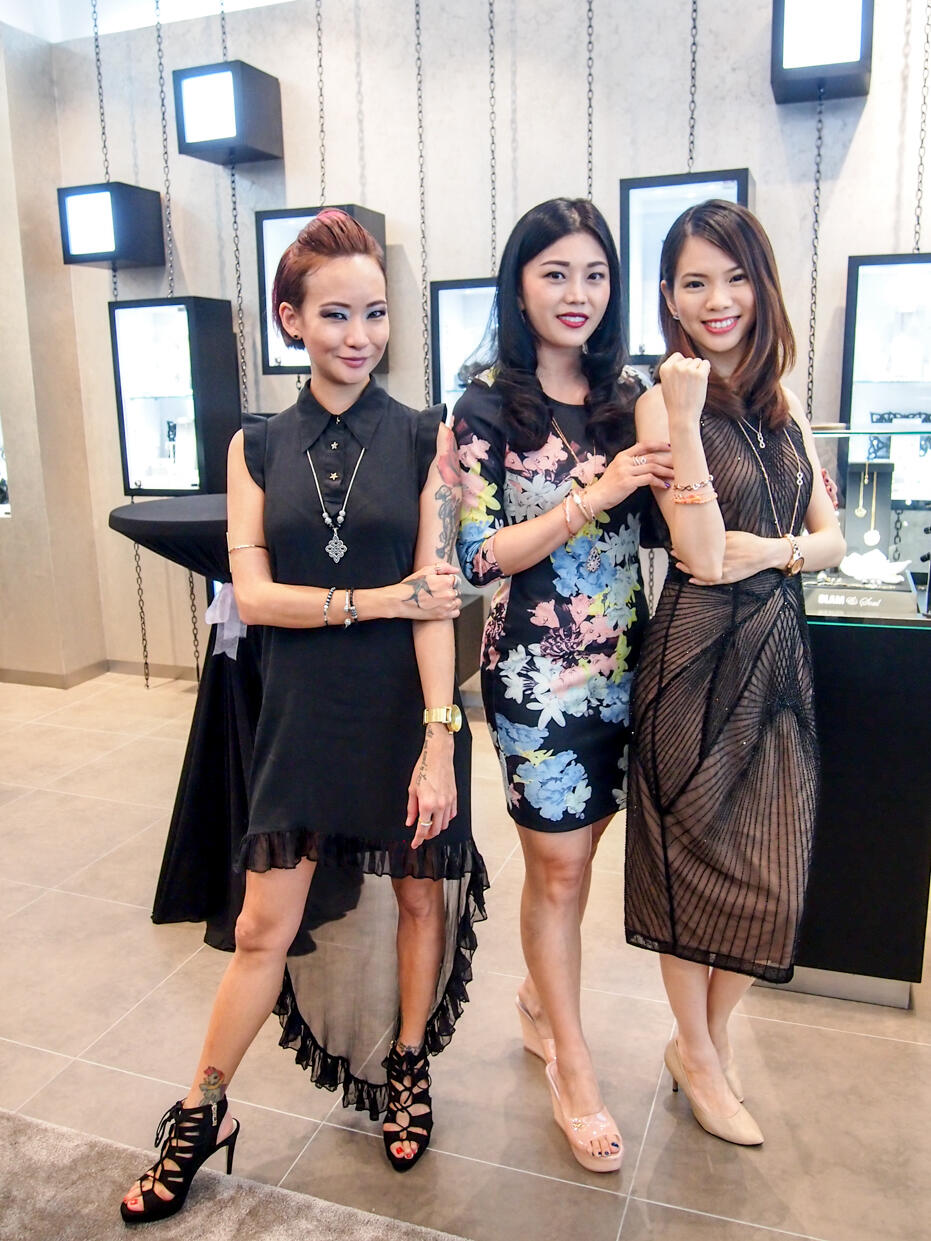 Bloggers: Me, Kelly and Mei Sze
After taking lots of pictures with each other and exploring the new store, we were all ushered upstairs to Sage for dinner.
Upon entering the restaurant, we were each allowed to pick one Love Bridge bracelet design for ourselves on which we could engrave anything we wanted. Everyone seemed to be engraving some cutesy couples name on theirs, so i decided to go with my current love – Octopus Salad. I really did think it was a brilliant idea because octopus salad was all i could think about for days and i fell in love with it so badly in Porto :p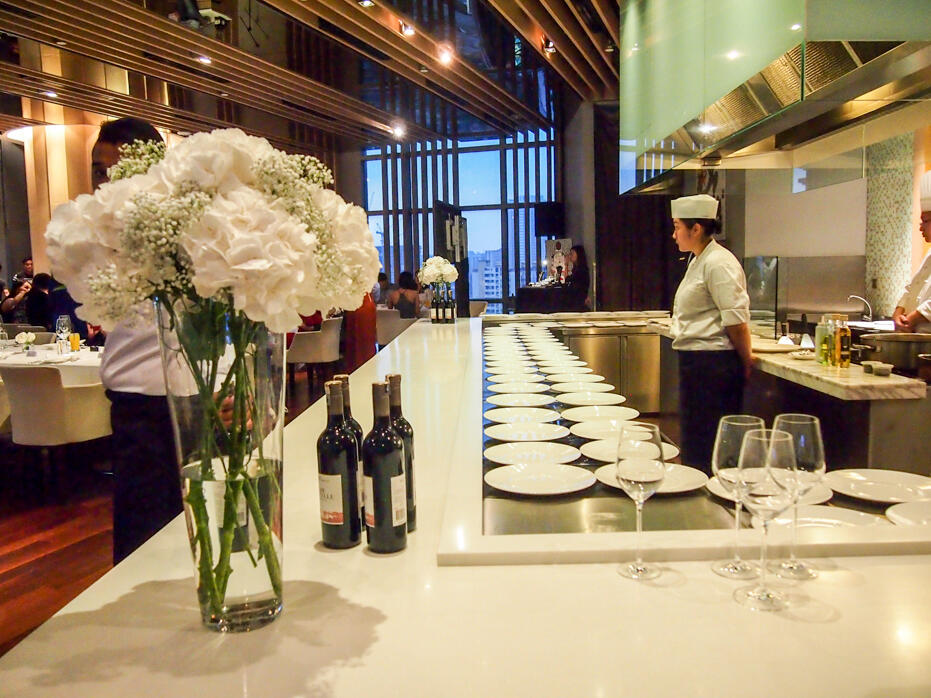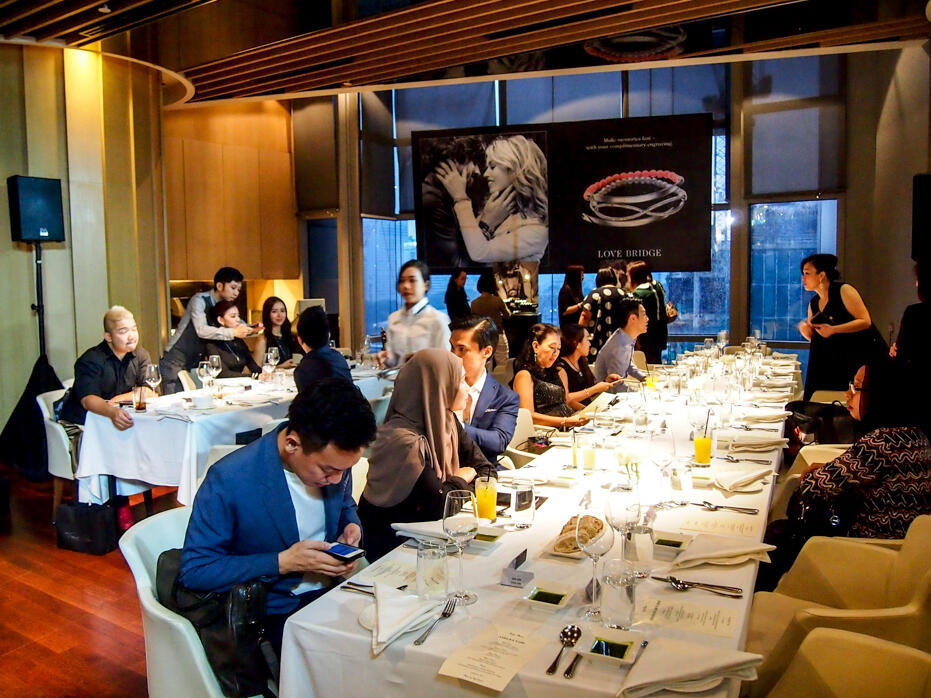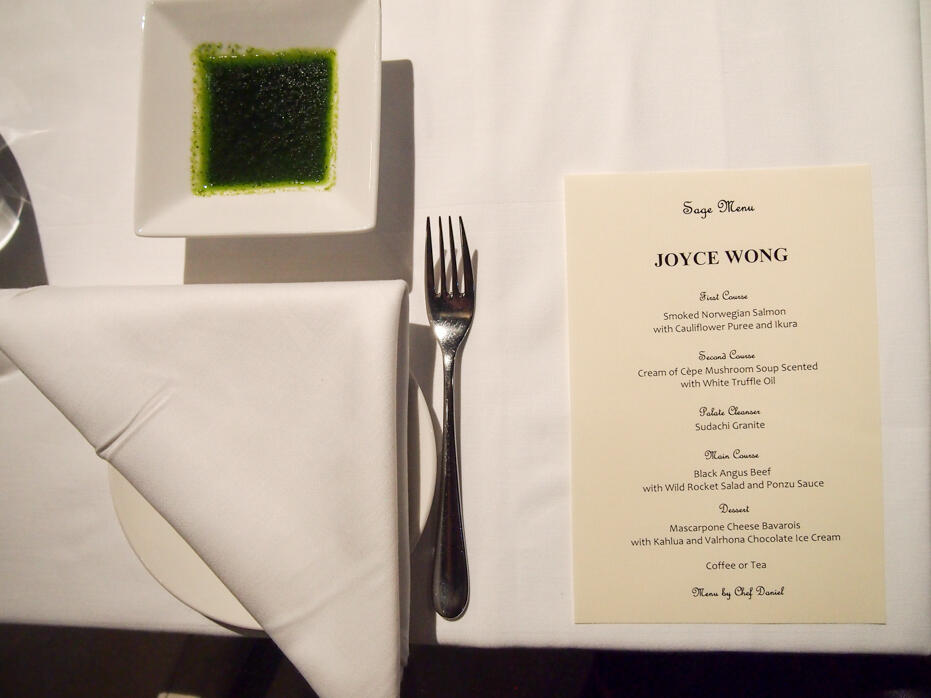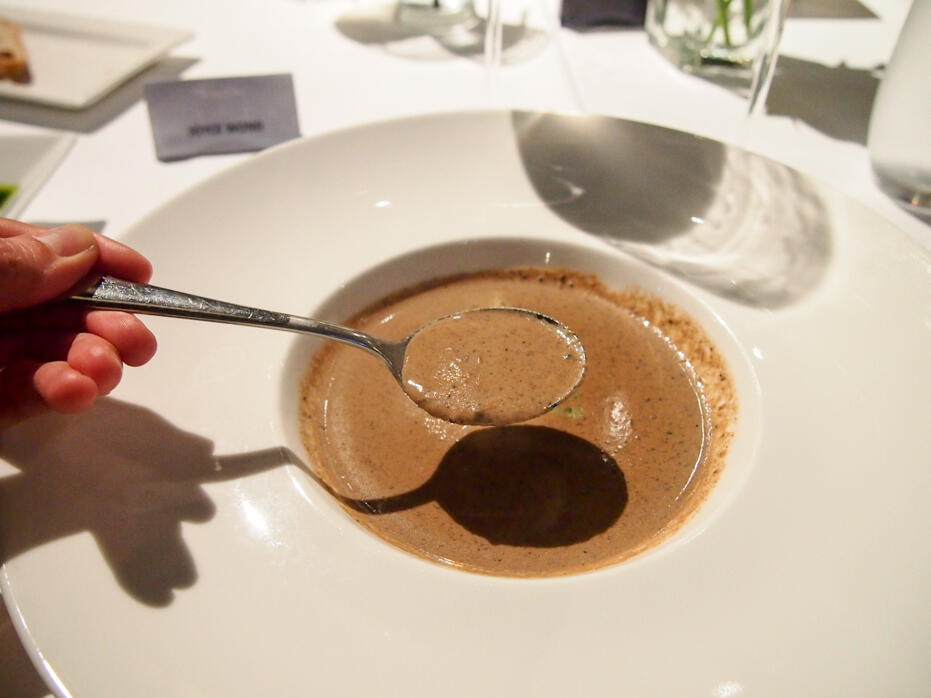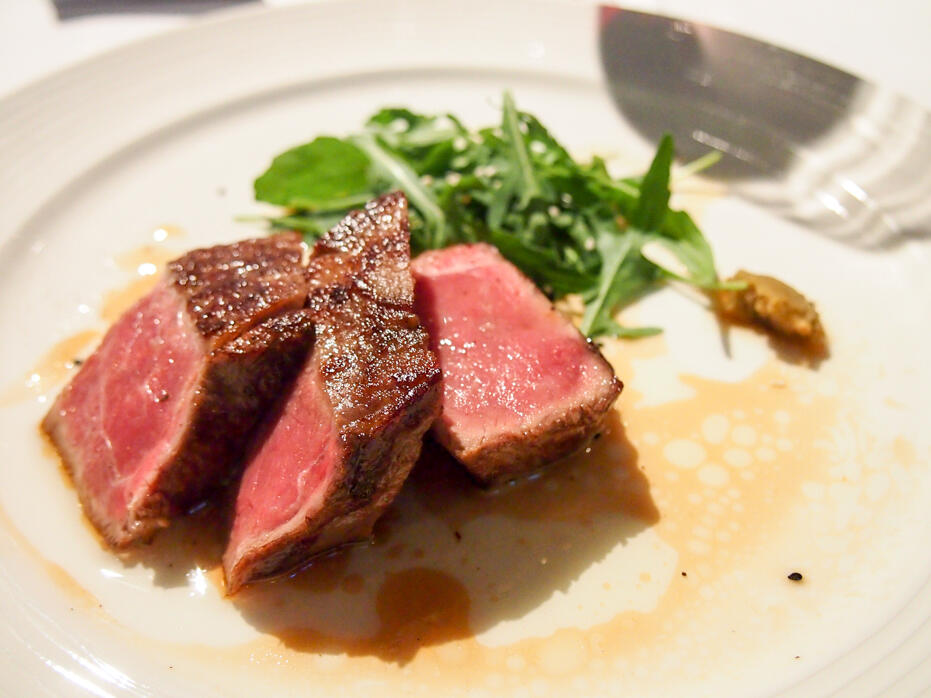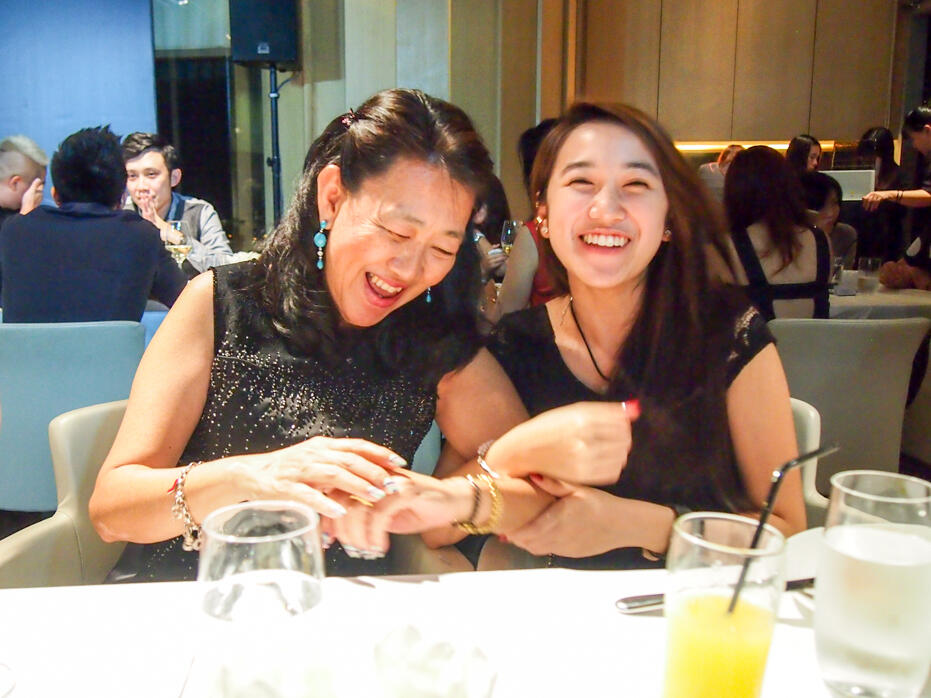 This mother and daughter seated in front of me were really sweet to talk to, and i managed to snap this pic when they discovered how they'd both engraved the exact same words for each other. Too cute.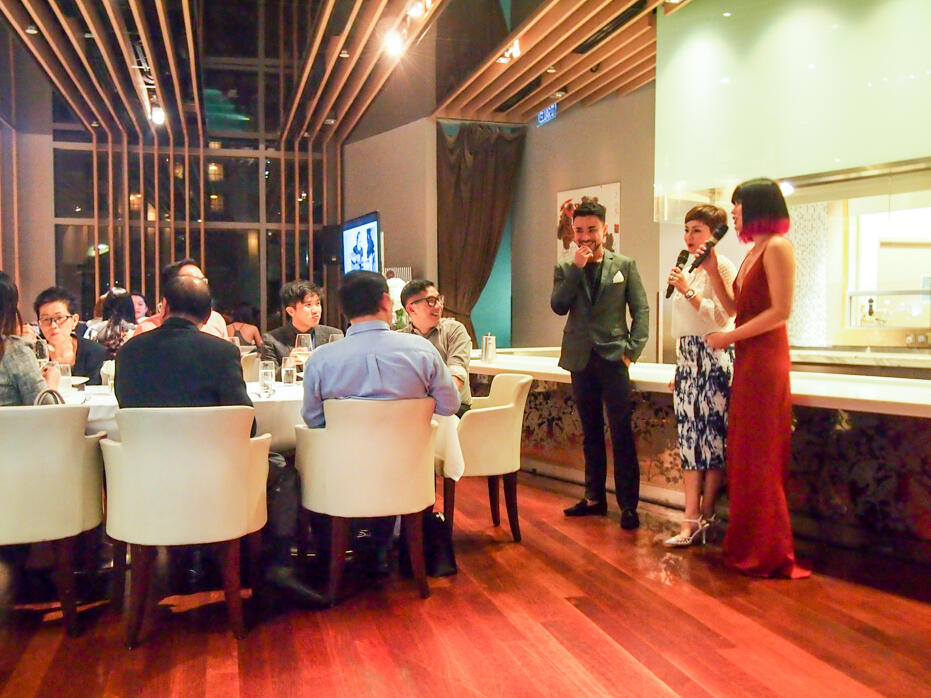 There were three couples who were to share what they'd engraved for each other, which they could only reveal that night – Yasmin Hani + Sharin, Amber + Adrian, and Xandria + Yuri. They were all such sweet gushy things that made the whole room cheer and go 'AWWWW'. Suddenly, i felt a pang like i wasn't taking this Love Bridge bracelet thing seriously.
Octopus Salad? Really?
Did i want to waste the chance to engrave such a beautiful bracelet with OCTOPUS SALAD?
I decided to be a bit more rational in my decision and raced off to see if i could change my engraving.
Just in the nick of time as the team were keying in "Octo…" when i popped my head up at the machine (they brought one in to Sage that night).
Writing down "KinkyBlueFairy" on a piece of paper instead, i headed off to chat to Ira.
Ira: Eh so, what did you get in the end?
Me: KinkyBlueFairy…
Ira:  Yeah la! KinkyBlueFairy is your first love! Octopus salad… -_-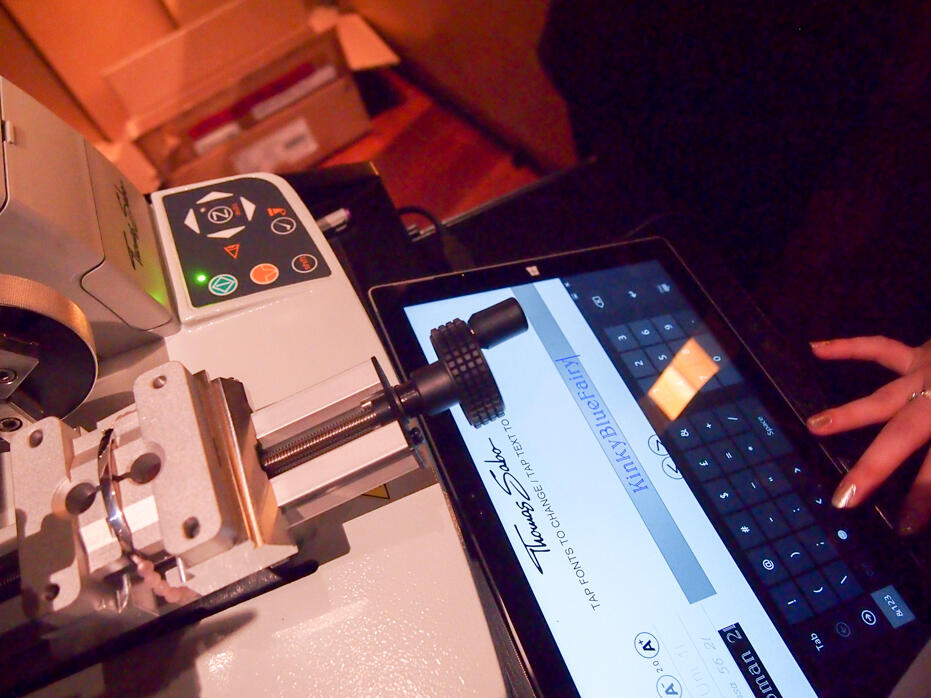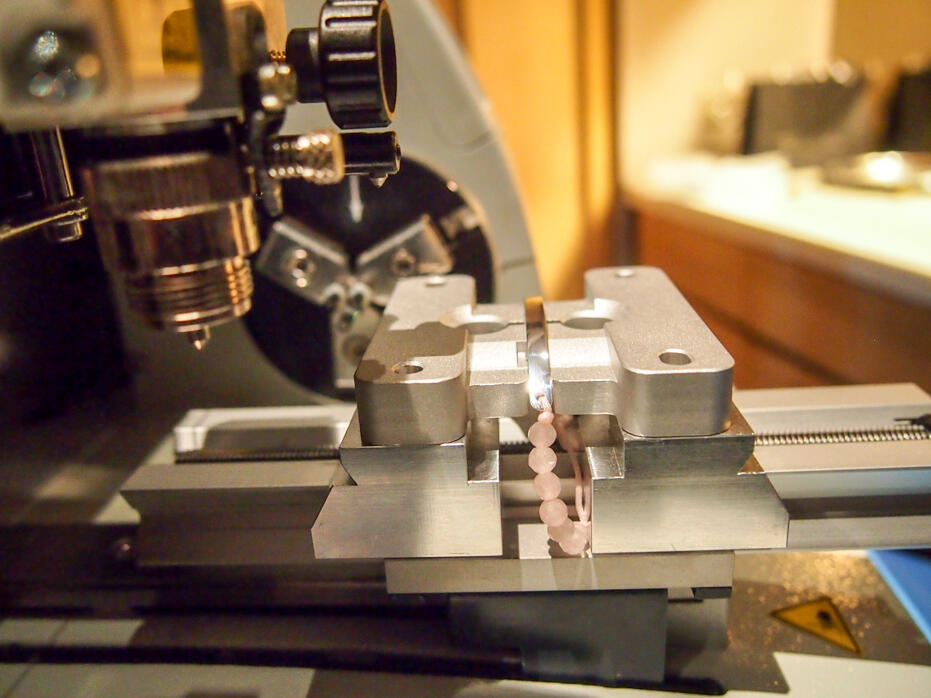 The machine is so canggih!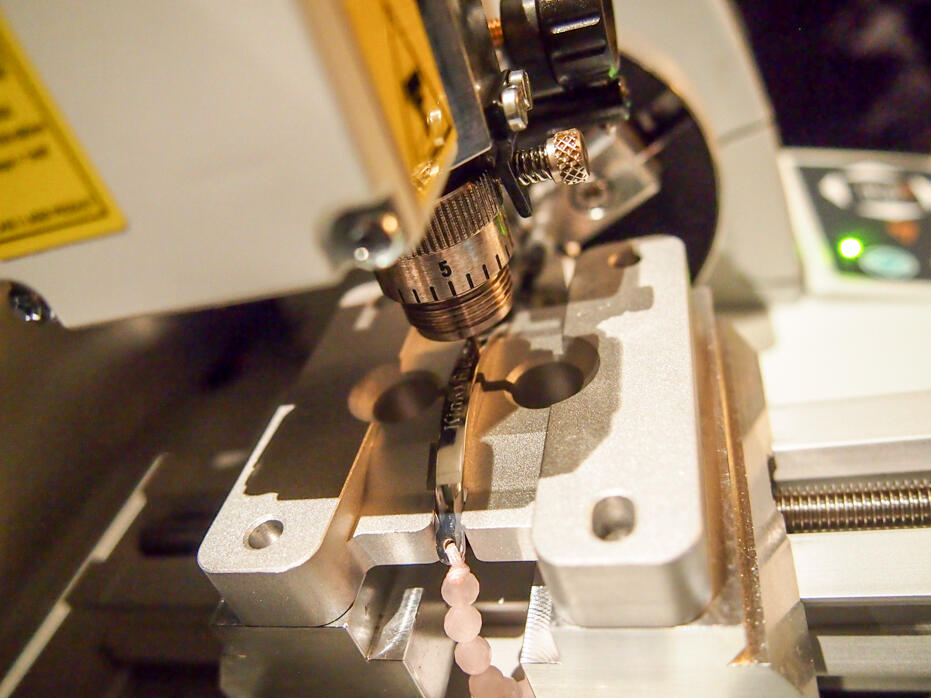 I chose a pink Love Bridge bracelet 😀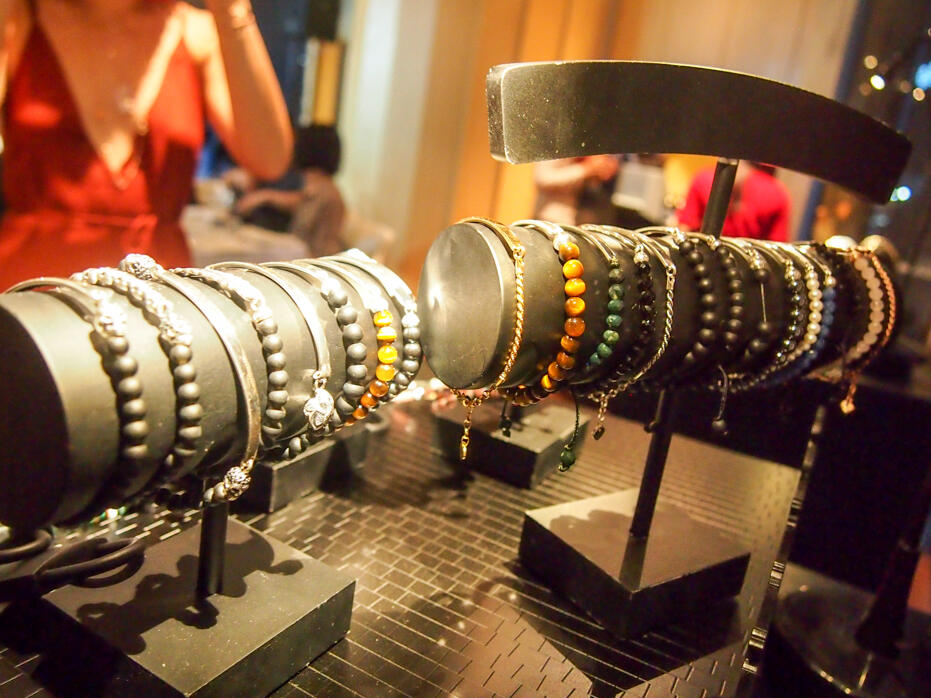 Lots more bead options for Love Bracelets include semi-precious stones and crystals, and some subtle black ones for the manly man.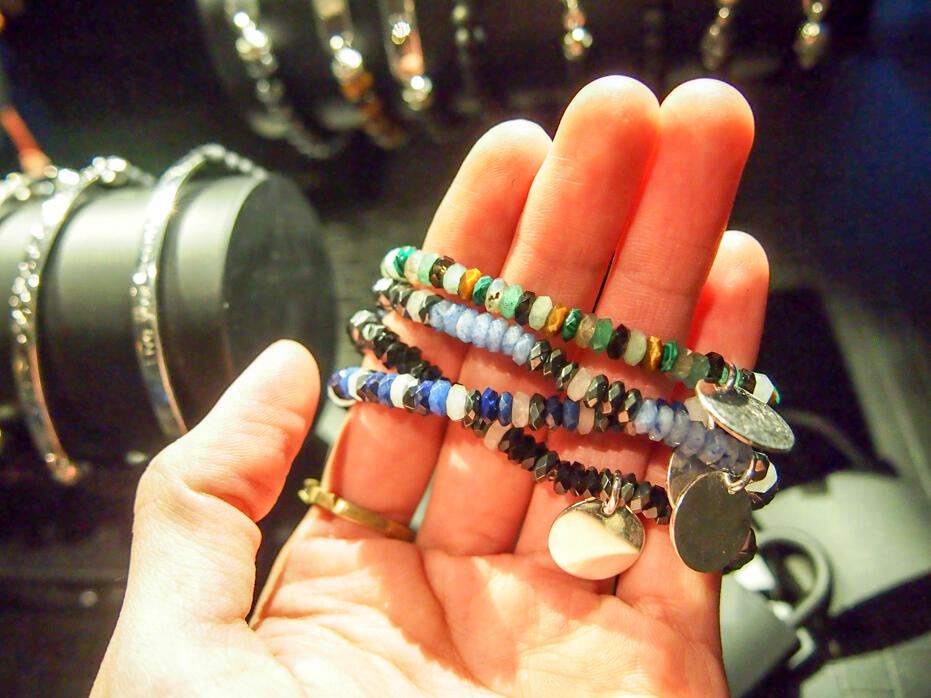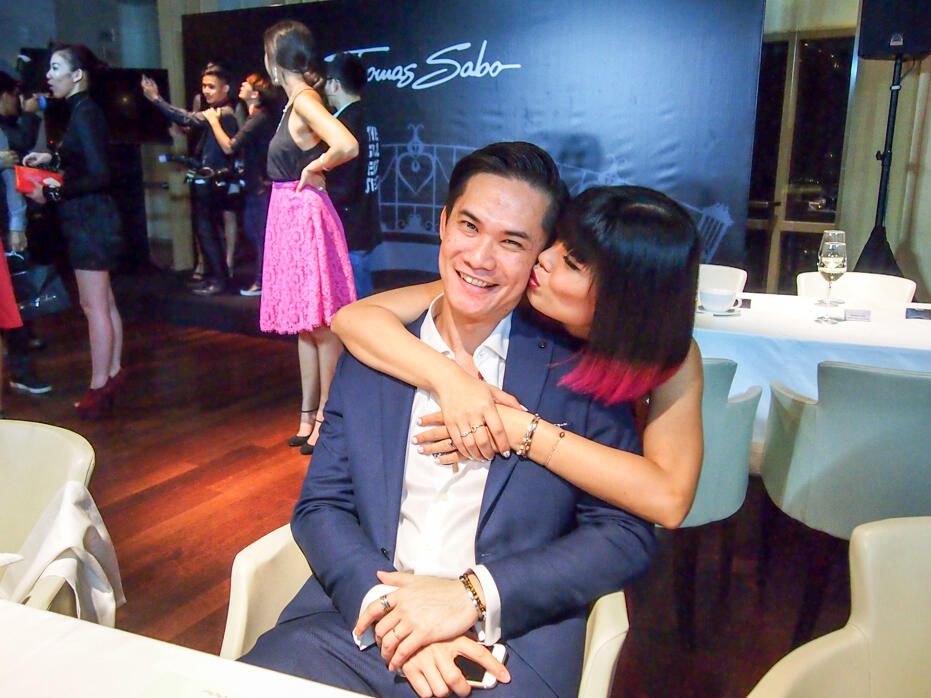 Yuri and Xan.
At first i'm like, "Awww." Then i'm going, "Ok, i've taken the picture. Stop it already guys. Guys… ok bye."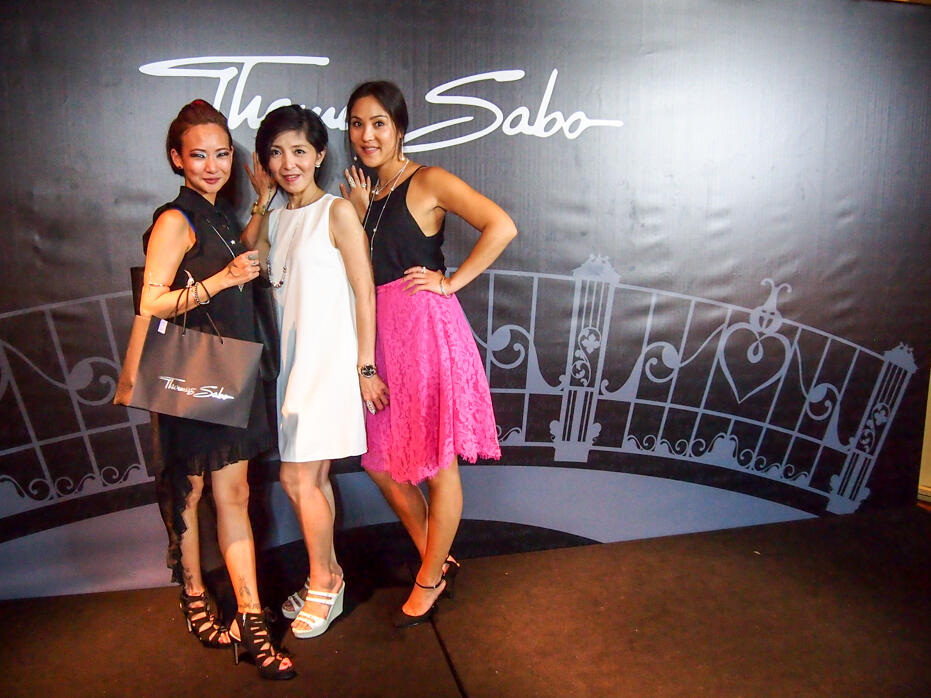 Me with Fiona and Hani from Thomas Sabo. Thank you for always embracing me at your events!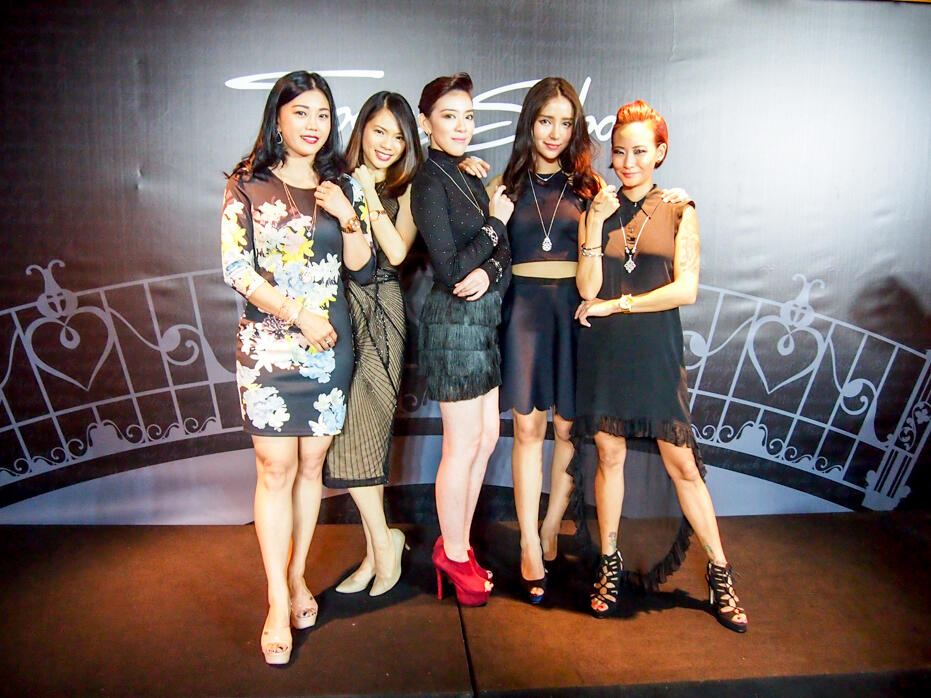 Kelly, Mei Sze, Ruby, Venice and i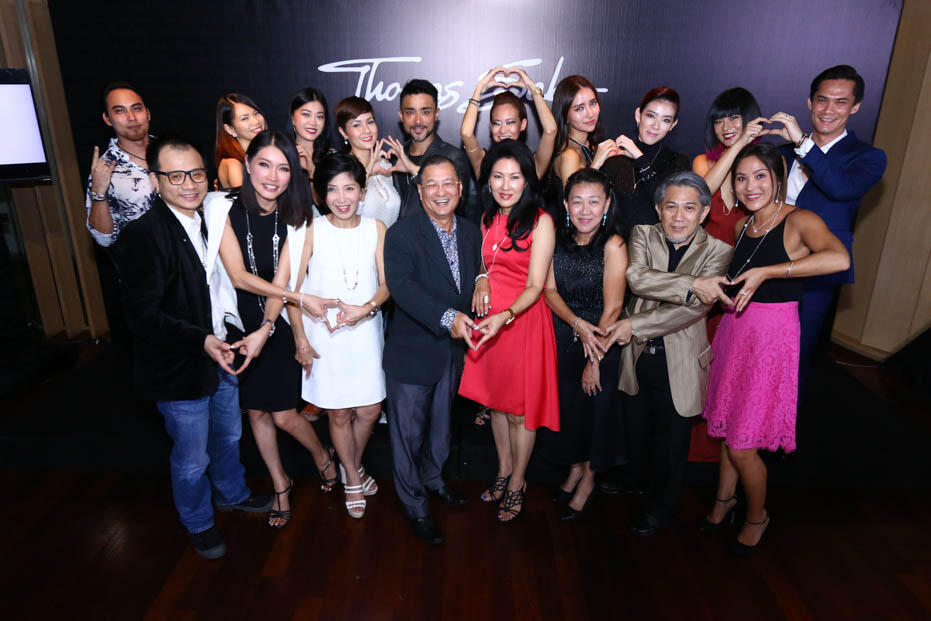 The Thomas Sabo team with all the personalities they had wearing their jewellery that night <3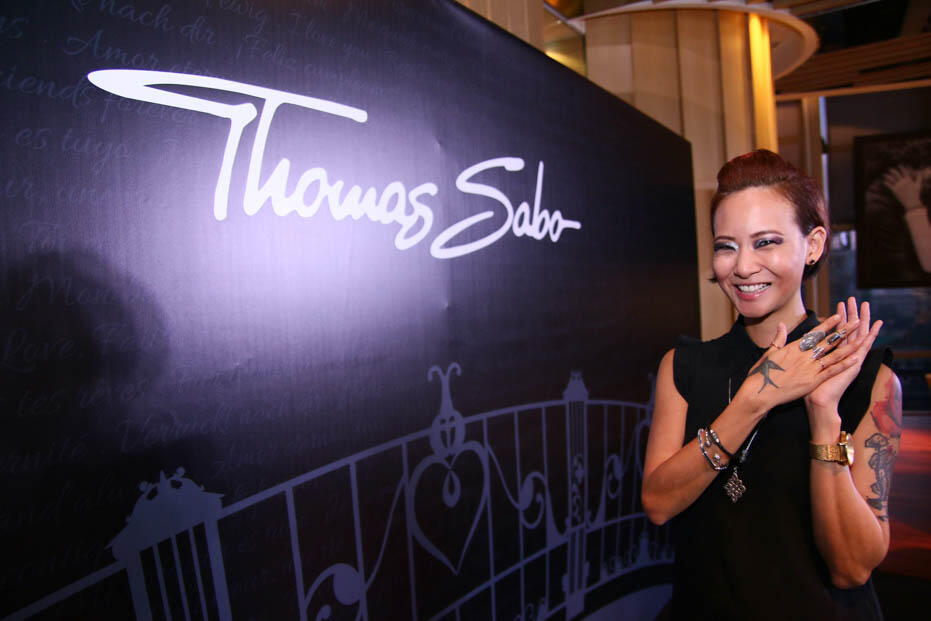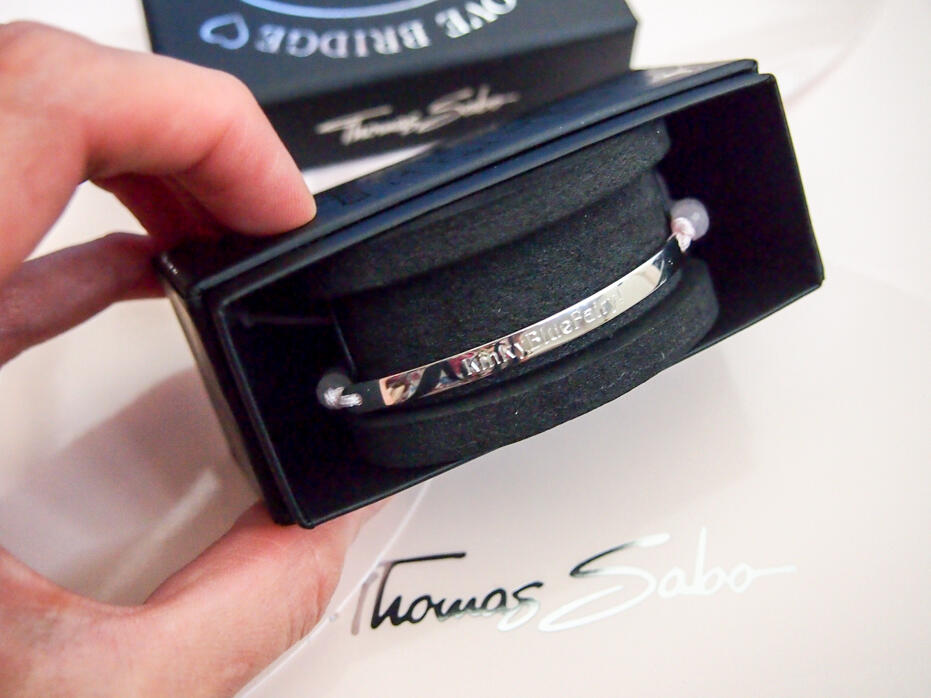 So this is the KinkyBlueFairy Love Bracelet i had made which i took home that night, and was wearing it daily till… i decided to give it away.
As i was packing for London two weeks ago, i wondered what i would give Mama (my grandmother who lives there).
In recent years, she's been giving me her own jewellery of gold and jade which i treasure. She designed them all herself from decades ago, and started giving them out to us grandchildren saying she's getting old and going to die soon (i hate it when she says that!). I've mostly been giving her soft toys cos she loves those but she's got so many already, and i know she fondly keeps this Chinese New Year card i printed of my team and i on her desk where she gets ready every morning. So i thought… since she won't have anymore gold or precious stones, i could give her this love bracelet since she's so far away and she could just look at it and think of me.
I brought the box for the bracelet, with the intention of giving it to her on my last day there. My plan was to give it to her last minute so she wouldn't ponder over what to give ME and give me more jewellery instead which i didn't want.
At T minus 1 hour before i was leaving for the airport, i went into her room and gave her the bracelet and explained in my broken Cantonese how i wanted her to have it. I pointed out the letters on it, and how it matched the card sitting on her table.
She kept on shoving it back at me saying she won't wear it, and i said that it was FINE and that the point was for her to just SEE it and think of me.
But Mama is stubborn… she came back into my room while i was packing, pushed the box into my hands, and shook her head saying she had looked at it, that it was a very nice bracelet and she thought it was best i wore it because she wouldn't and couldn't.
I kept saying no, she kept saying yes.
She patted her heart and her head saying that all she needed of me was already in there. I was suddenly so overwhelmed that i started crying, and so did she, and we were both saying i love you to each other.
In the end i got her to keep it in London with her.
All i can say is… i really enjoyed wearing it and proudly spotting the word KinkyBlueFairy on it every now and then, but i feel so much better knowing it's over there with her. I surprised myself with how much meaning it suddenly has for me. Something that is a mere… 'thing' before, a materialistic item, can take on so much more meaning when such a profound moment is connected to it.
Missing her as i write this.
+ + + + + +
For more information about Thomas Sabo:
Website: www.thomassabo.com
Facebook: www.facebook.com/ThomasSaboUK
Instagram: @ThomasSabo
Twitter: @ThomasSabo
To view Thomas Sabo stores in KL: www.thomassabo.com/INT/en/shopfinder