*written by Baby*
A few weeks ago at the office…
Baby: Urghh… Why is everyone leaving me for London? You *points to Joyce*, for Fashion Week and you *points to April*, for school!
April: Aiya… sorry la King.
Joyce: I won't be gone for 6 weeks again, Baby *whilst checking her email*. Hey, do you want to go for the HotelQuickly Weekend Sweet-Escape?
Baby: Sure. Since EVERYONE is leaving me anyway!
#KBFdrama
I was told to meet up with the marketing and PR team from HotelQuickly at Green Tomato Cafe, Jalan Ritchie at 1.30PM. I'd already planned to Uber my way there on Saturday when I got an email from Natasha with the title "Surprise FREE Uber rides for you!"
And my reply to her was, "I was planning to Uber my way there. How did you know?"
I was entitled to seven free Uber rides and each ride is worth RM50. To Uber Black or not, that is the question 😉
The interesting thing about HotelQuickly's Weekend Sweet-Escape is that there was no itinerary. They would only reveal our next activity after we're done with the first one. My first and only clue was to meet up at the cafe in KL. On Saturday morning, I panicked because I didn't know what to pack.
And then I remembered my trip to Penang with Joyce for the #LiveinLevis project last year. We were there for only two nights but she packed like we were going away for a week. [Joyce: Babyyyyyyy!!!!]
Baby: That's a big bag, do you really need all those clothes?
Joyce: I always over pack, babe. And I bring only my nicest clothes because… I'm from KL, man… REPRESENT! [Joyce Disclaimer: i swear i don't remember saying this.]
True enough, on our night-outings, she looked like a million bucks and I on the other hand looked like a runaway! Live and learn, Baby!
So in true Joyce-style I overpacked on purpose! Nice clothes only because… I'm from KBF, man… REPRESENT!
At 1PM, I booked my Uber and by 1.25PM, I was already at Green Tomato Cafe.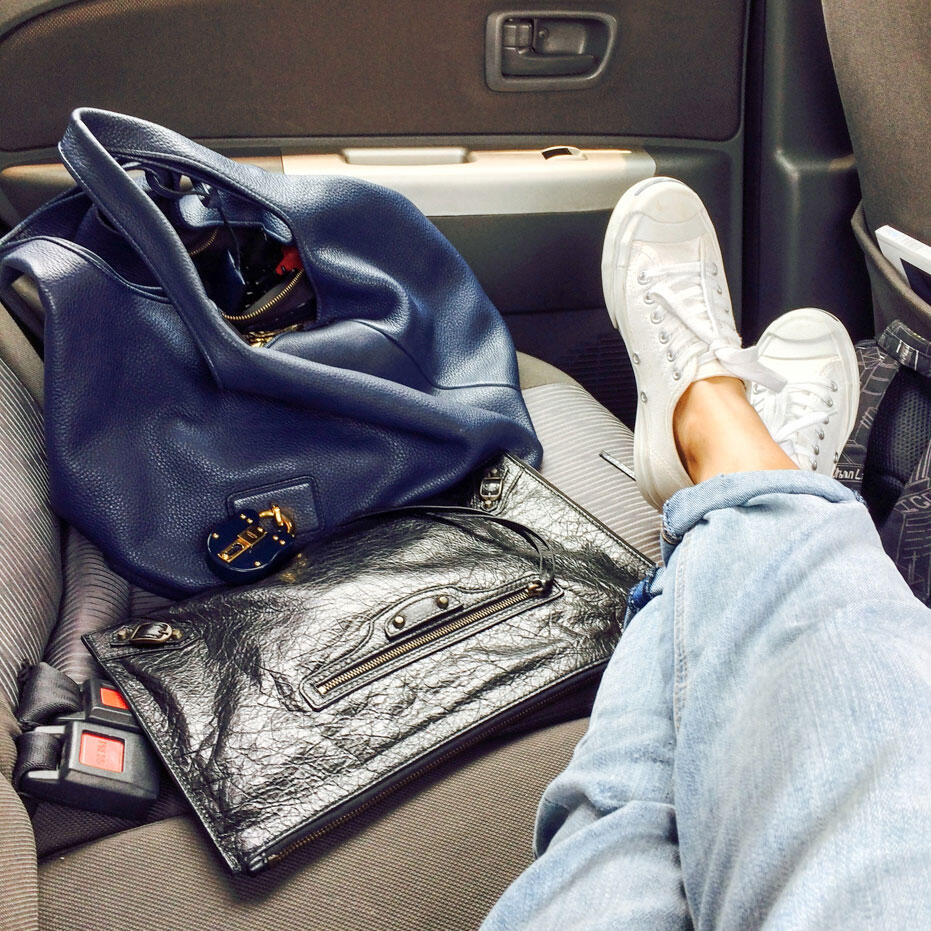 In my Uber enroute to our first meet-up spot.
[Joyce: Your tiny feet… ho ho ho]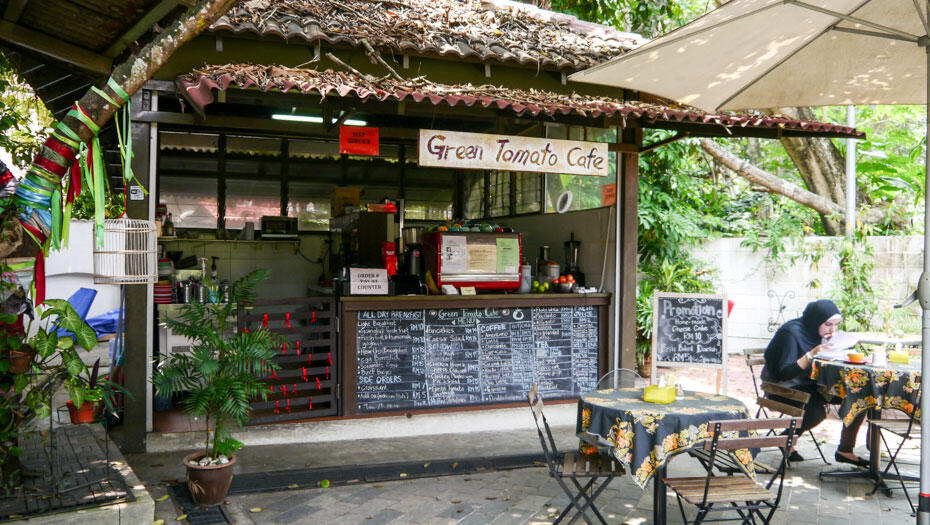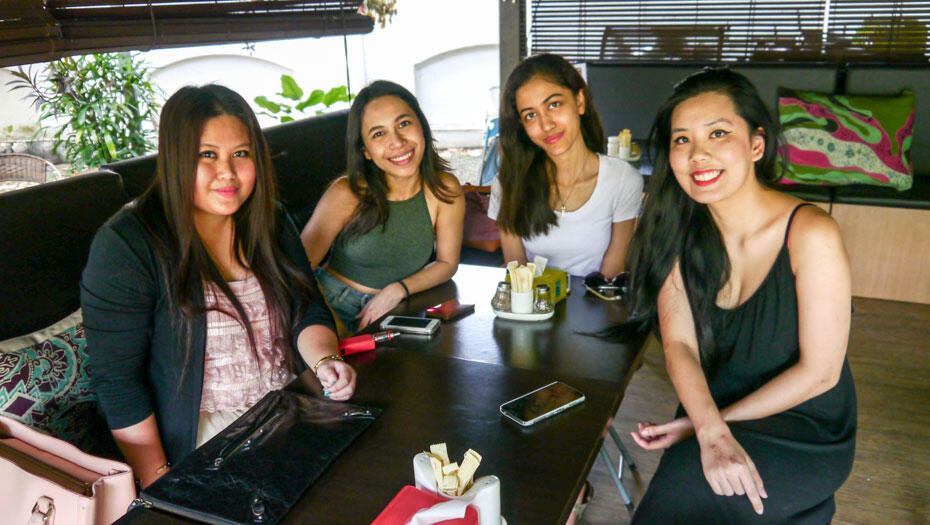 When I got there, I met Natasha and Wen Dee from HotelQuickly, and a blogger Riz Baldivia.
Let me tell you about HotelQuickly. It is Asia's #1 last-minute booking-only app and a mobile-first product designed for the modern traveller and those self proclaimed with "wanderlust". The app redefines the concept of last minute hotel booking in the mobile commerce with 6,000 curated hotels in 200+ destinations across 15 different countries in Asia Pacific. All hotels are handpicked by the HotelQuickly team and only the best rated 3-star to 5-star hotels are listed in the app.
"The hotel deals in our app are on average 30% off cheaper than the best available rates online. The app can be easily downloaded for free on iOS and Android devices. Overall, HotelQuickly serves to be the ultimate app for customers who wish to take on quick vacations, book a hotel-stay during missed or delayed flights and even those who just simply appreciate the thrill of travelling," explained Wen Dee.
"The reason why HotelQuickly is a last minute only booking app is because people nowadays have very busy lifestyle or they're always on-the-go and they don't really know what's next. For example, when you have a very stressful week at work and you just want to wind-down during the weekend but also want a different environment – you want something fun or something fancy this is where HotelQuickly comes in. You can just turn to the app and book your hotel!" she shared further.
Some of the hotels in KL that's partnered-up with HQ are Grand Hyatt, Mandarin Oriental, Shangri-La, Fraser Residence, E&O Residences and many more.
To get RM40 credit, enter this promo code JJINGYE on the app 😀
After the introduction, Natasha and Wen Dee revealed our next activity which is… batik workshop at My Batik. We were given options whether to do batik blocking or batik colouring. Colouring for me, please! I chose an existing design with two birds on it.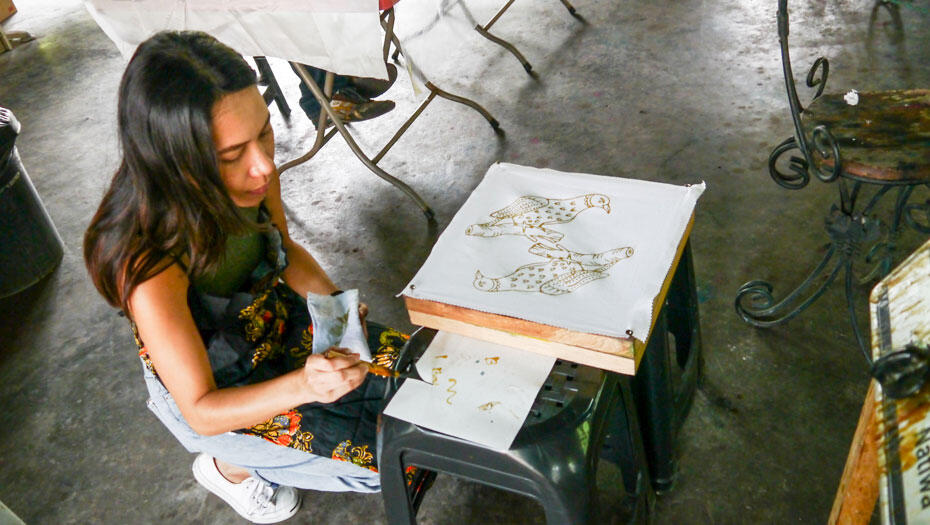 After I chose my design, I was asked to write my name with wax using the tjanting.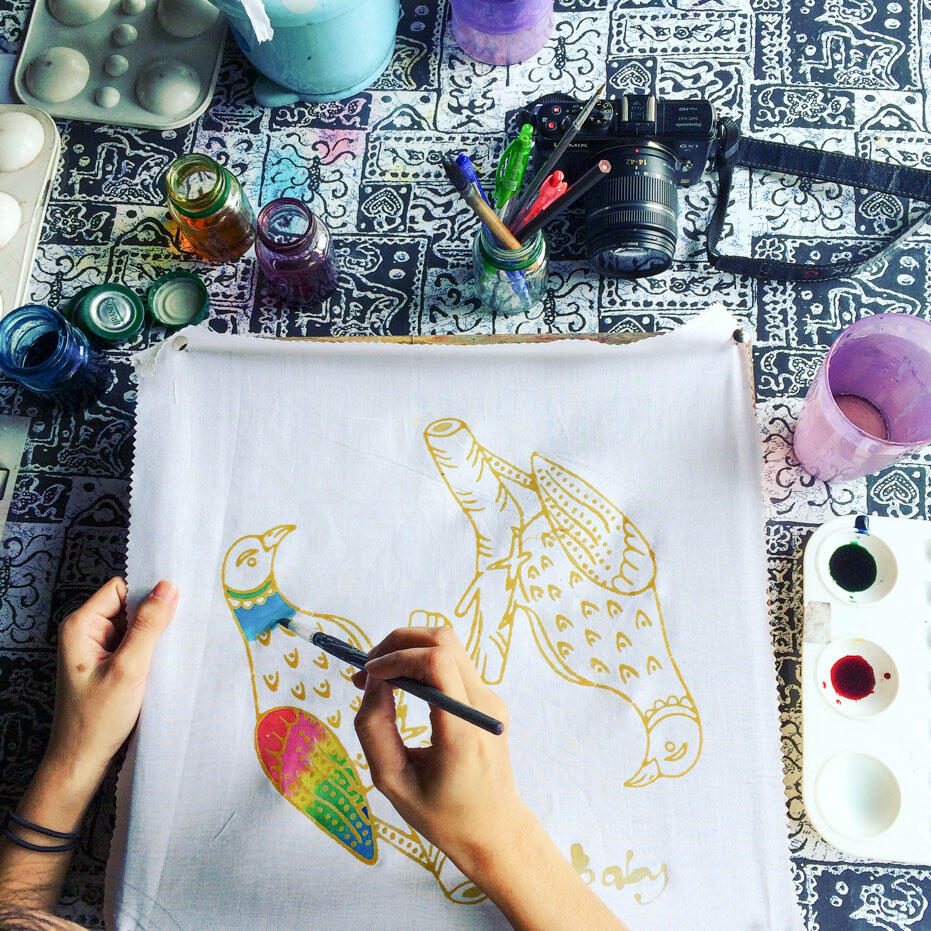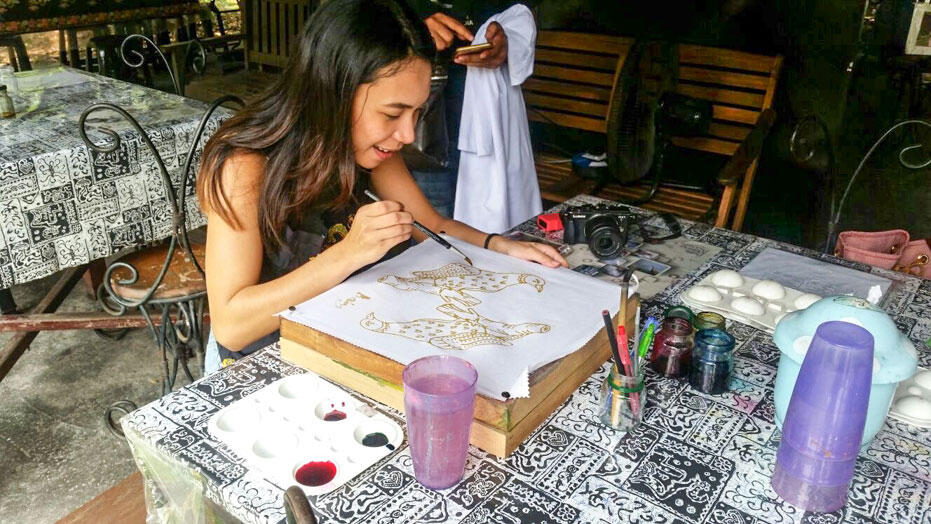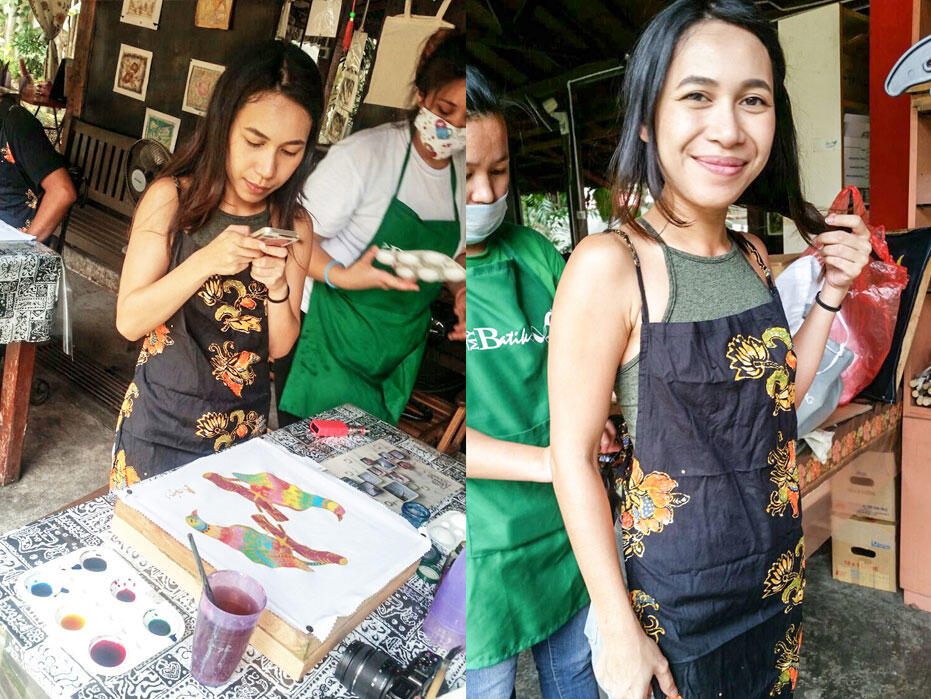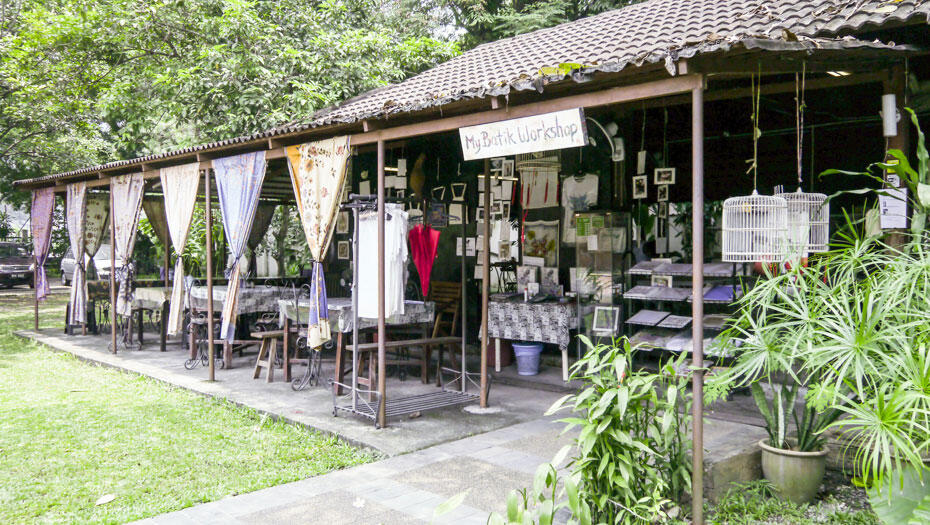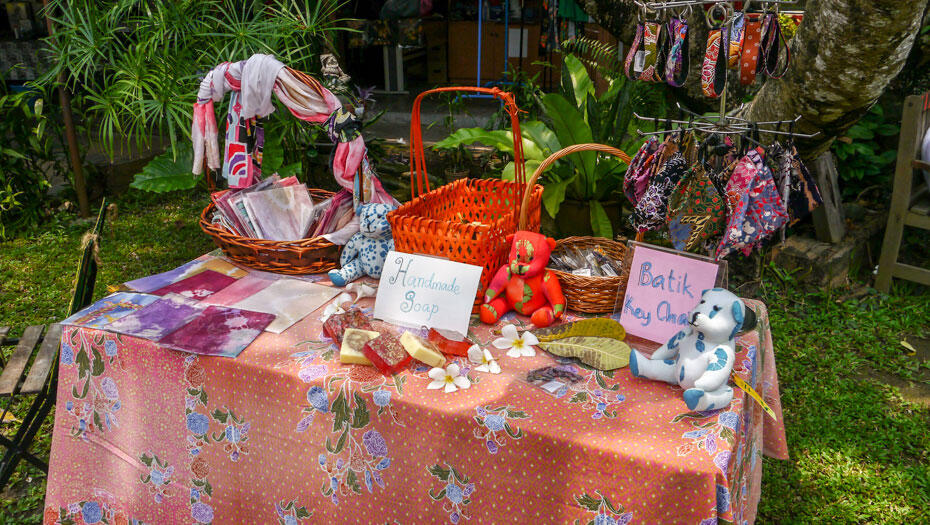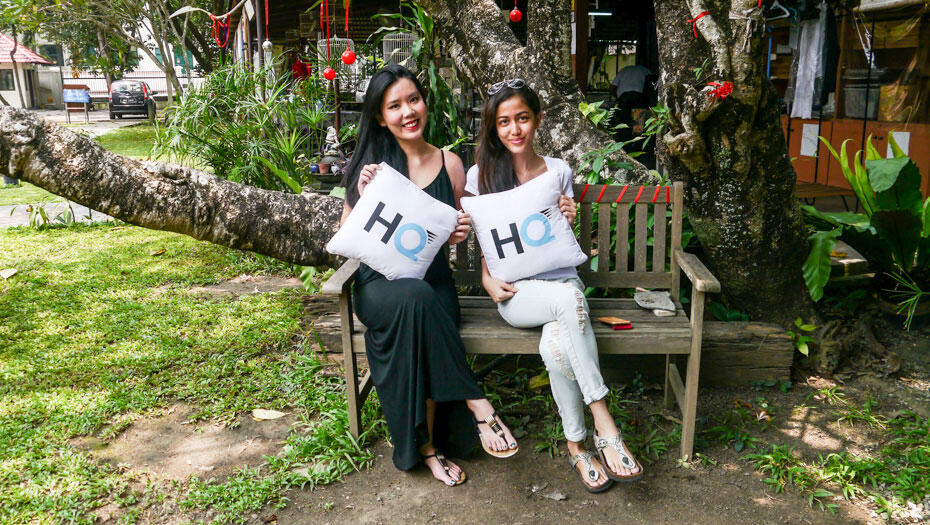 Wen Dee and Natasha from HotelQuickly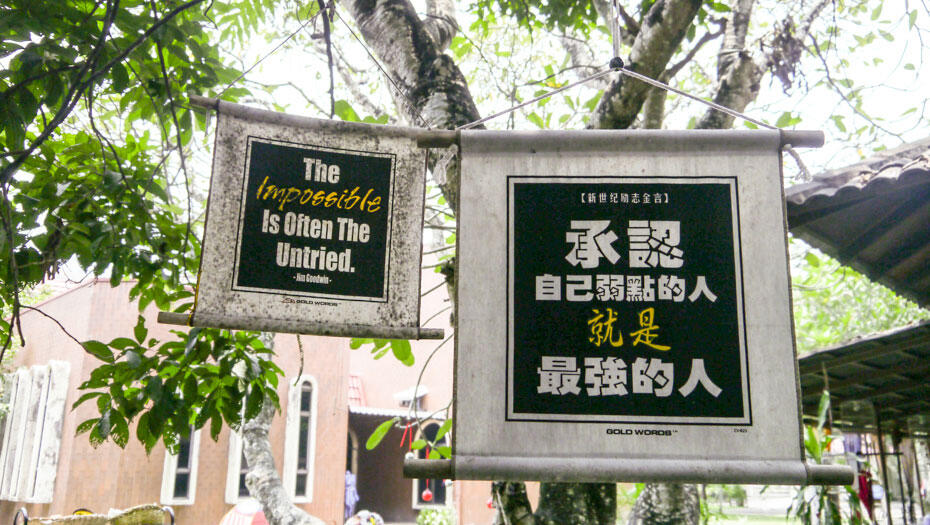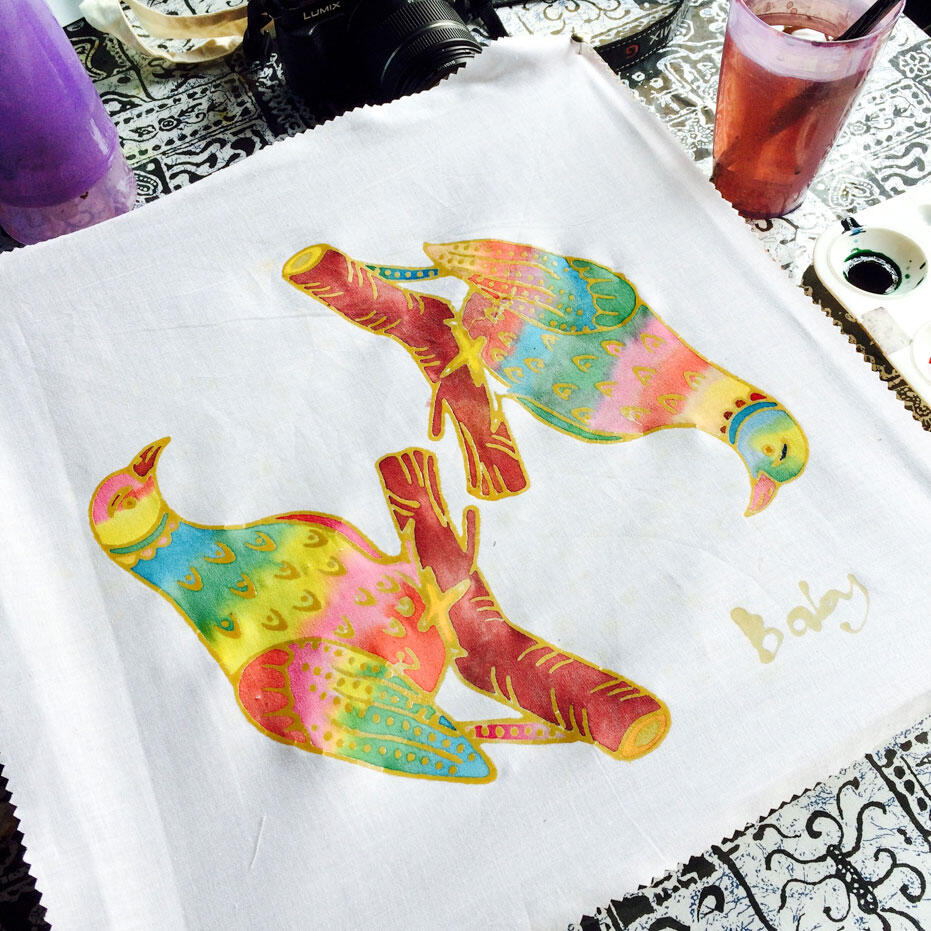 After I was done, I immediately texted Joyce.
Baby: Nice or not??
Joyce: VERY nice!
Baby: I have you in mind because you're a rainbowwww.
Joyce: *rainbow and kisses emoticons*
The batik colouring was so much fun. I can't wait to bring my nephews there! MyBatik runs batik workshop for kids and adults where they'll learn and experience the process of batik making.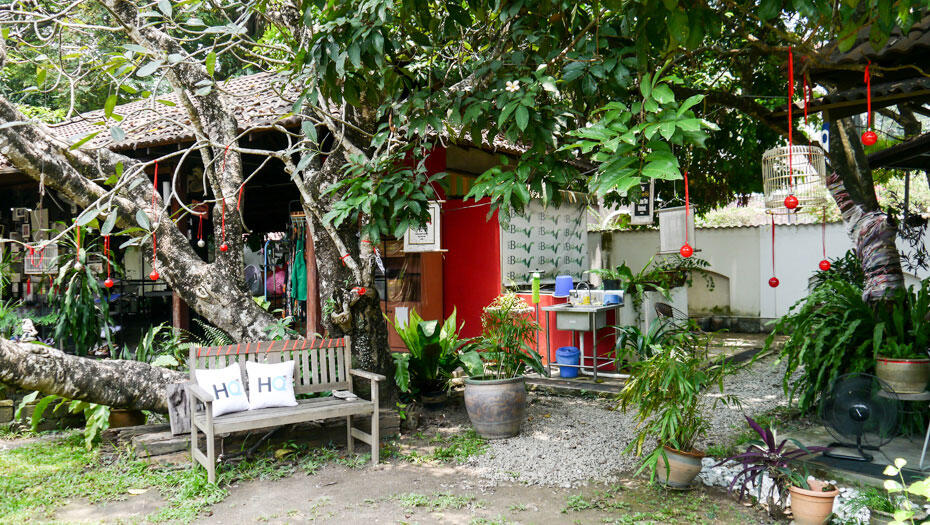 Next up was latte art at Green Tomato Cafe just next to the batik workshop. I've had experience making latte foam before but never graduated to latte art so I was really excited and volunteered to be the first to go!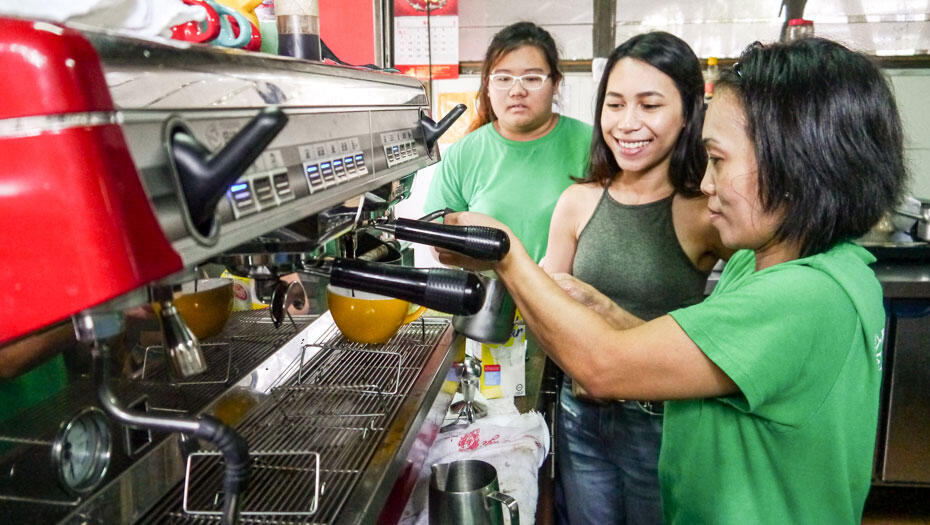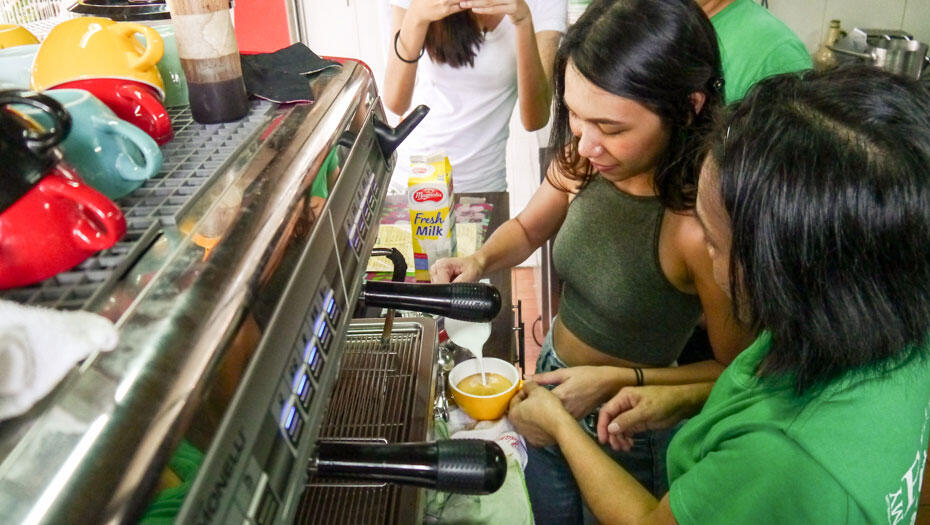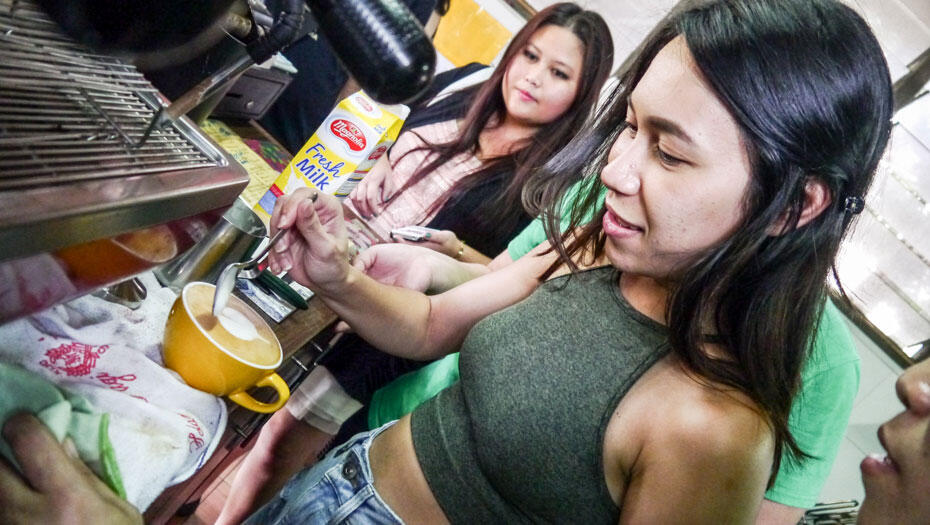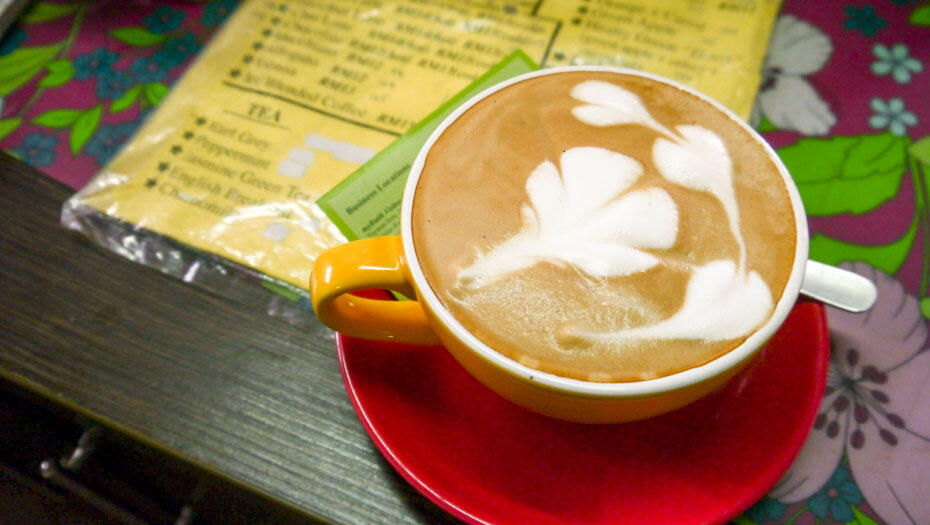 Hearts on my latte!
After everyone was done with their latte art, Natasha and Wen Dee showed us how to book our hotel via HQ app. Each of us got RM600 credit to choose any hotel of our liking in KL or Selangor. I chose Shangri-La because of its location, breakfast buffet and swimming pool.
Natasha: I hope everyone brought their swimming attire.
*the other two bloggers laughed*
Baby: I DID!
Man… I'm overpacked AND prepared! *pats self on the back*
After we're done with our lattes, Natasha and Wen Dee told us that we're going for a massage at Sunway Hotel Resort & Spa. Upon hearing that I smiled from ear-to-ear. It's been a while since I had a good massage. I was so excited, I offered everyone to share my Uber ride!
When we got to the hotel, Natasha headed the group towards Mandara Spa. It was quite a walk from the main lobby to where the spa is located. But it's alright because we were surrounded by nature – big trees, grass, squirrels and birds.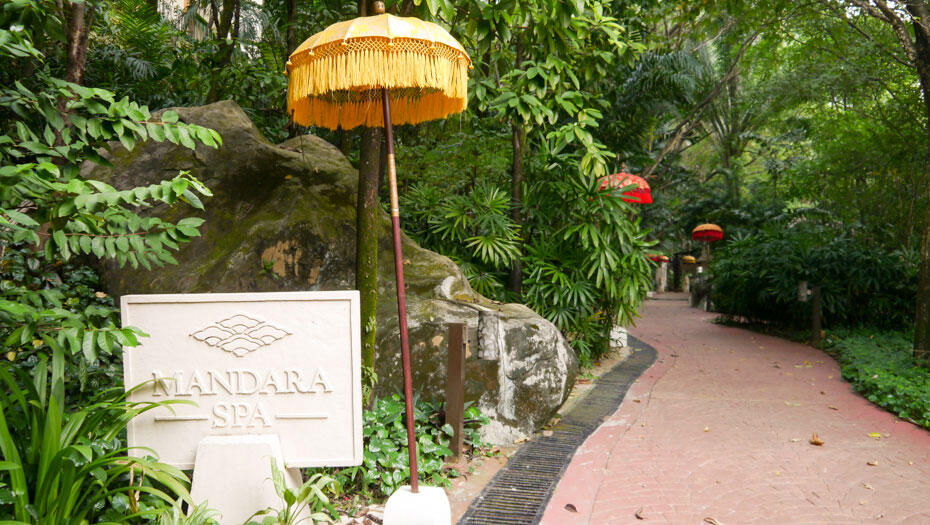 Just follow the umbrellas.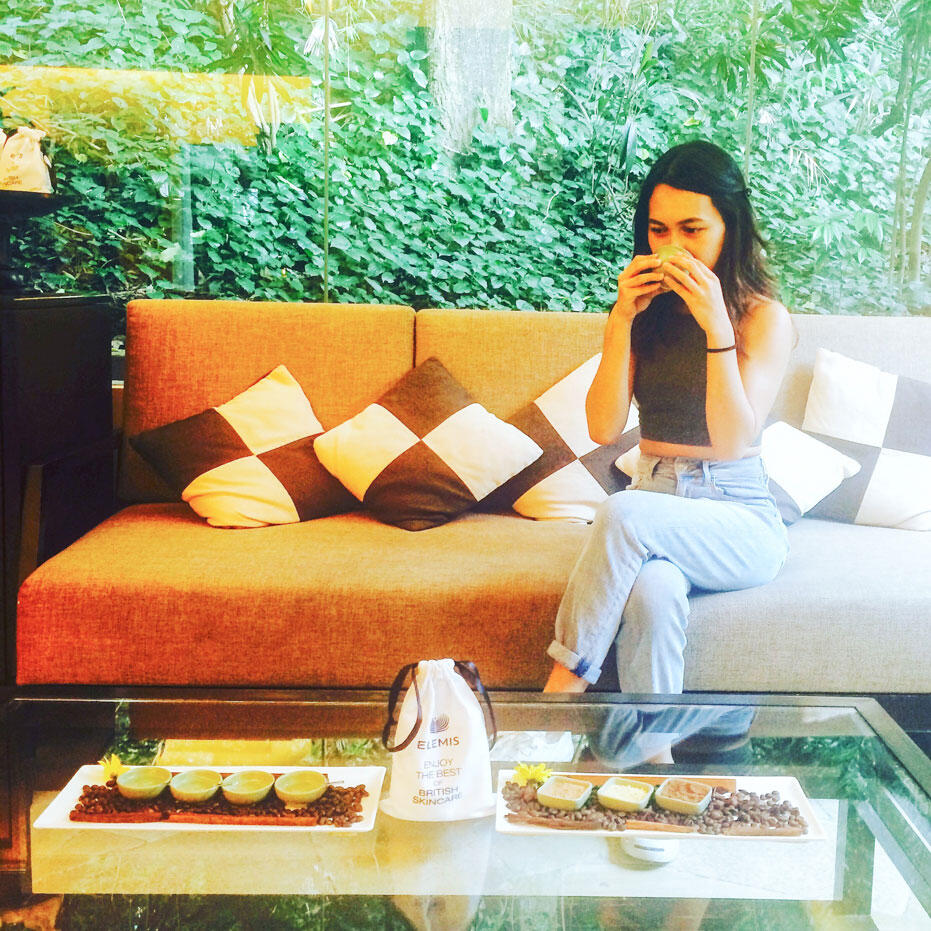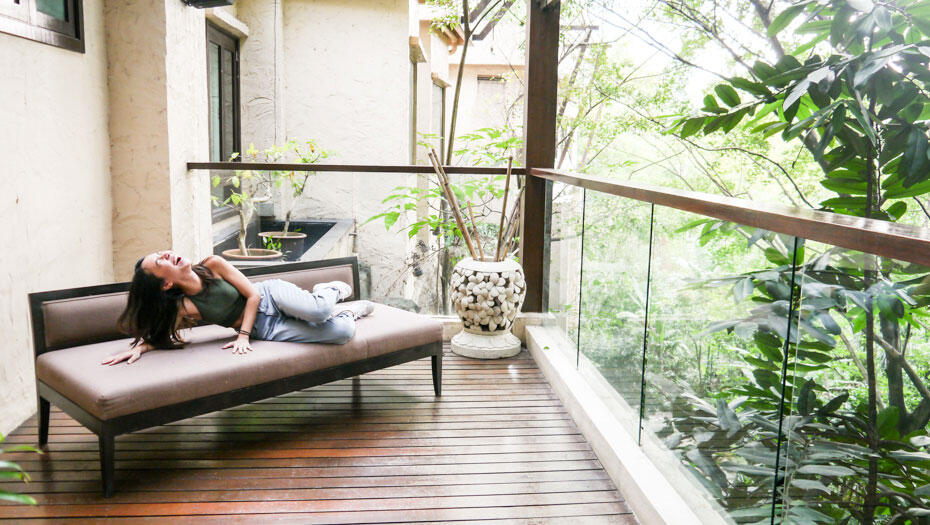 While waiting for our rooms to be ready, I saw this chair on the outside area of the spa and had this bright idea of asking Natasha to snap a picture of me lying down sideways sexily a la Cleopatra. Obviously that didn't happen because I ended up laughing at how silly I would look!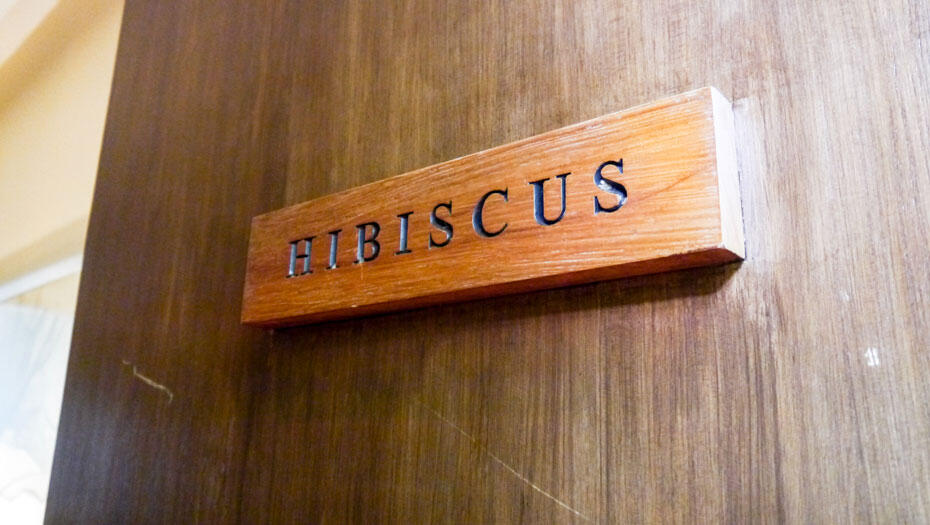 Riz and I were assigned to the Hibiscus room. I think it's meant for couples seeing that there are two massage beds next to each other upon entering.
The massage was heavenly. I really needed that and my masseuse, Chinta did a very good job. I just wanted to bring her home with me!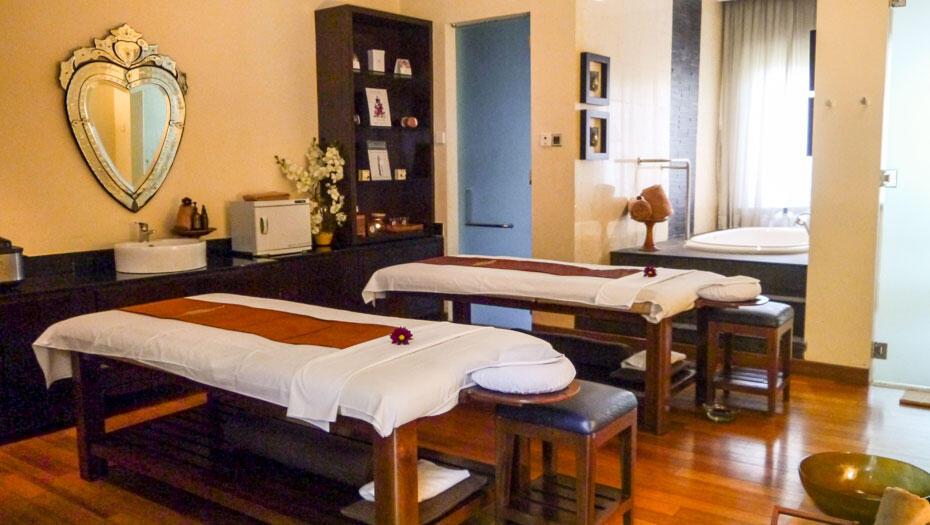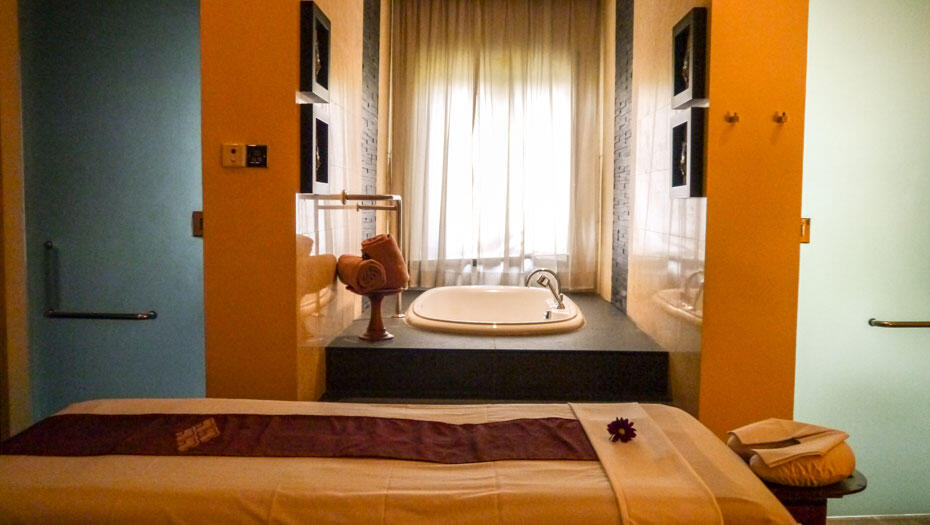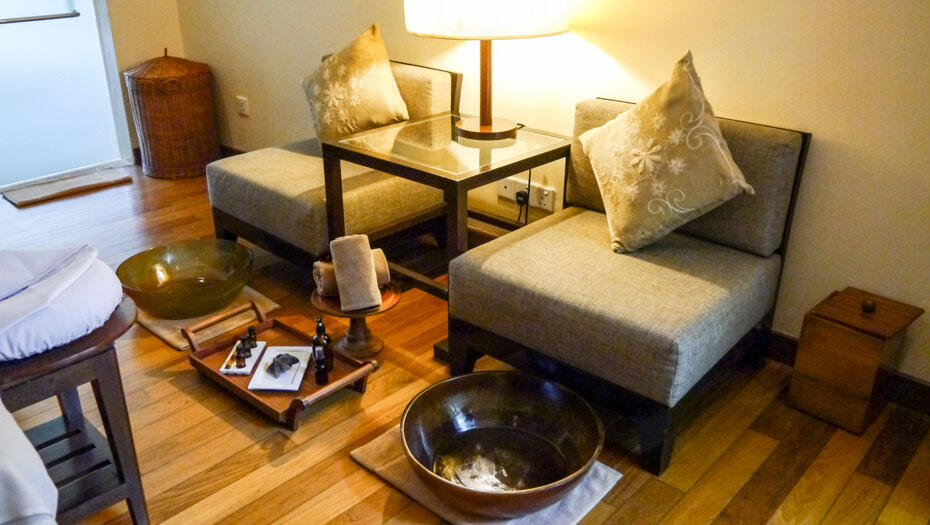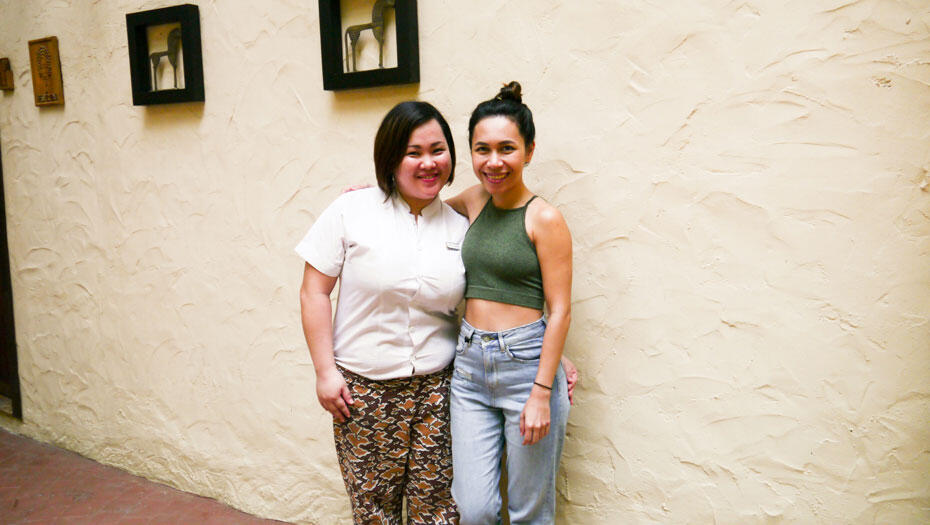 This is Chinta. Do ask for her when you're at Mandara Spa 🙂
By this time, I really needed a shower because I felt so sticky and oily all over! When Natasha and Wen Dee told us we could go back to the hotel and freshen up, it's like music to my ears! We were to meet up at Majestic Hotel at 8.30PM for dinner.
Upon check-in at Shangri-La, we were told that our rooms had been upgraded from a Deluxe to an Executive room. Thank you, Wen Dee!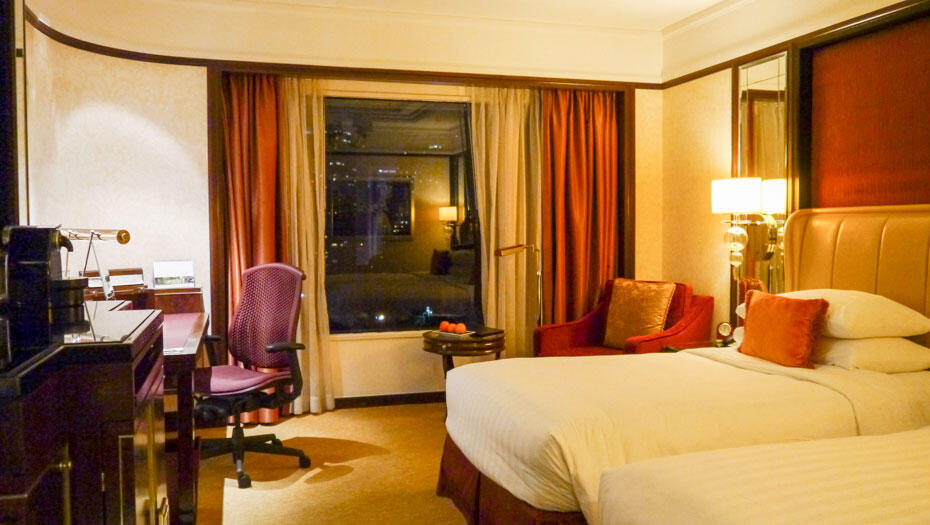 I took my own sweet time getting ready – choosing which eyeshadow to put on, which lipstick and which outfit to wear! I decided on a white strapless playsuit from Love, Bonito. I love how it matches my shoes!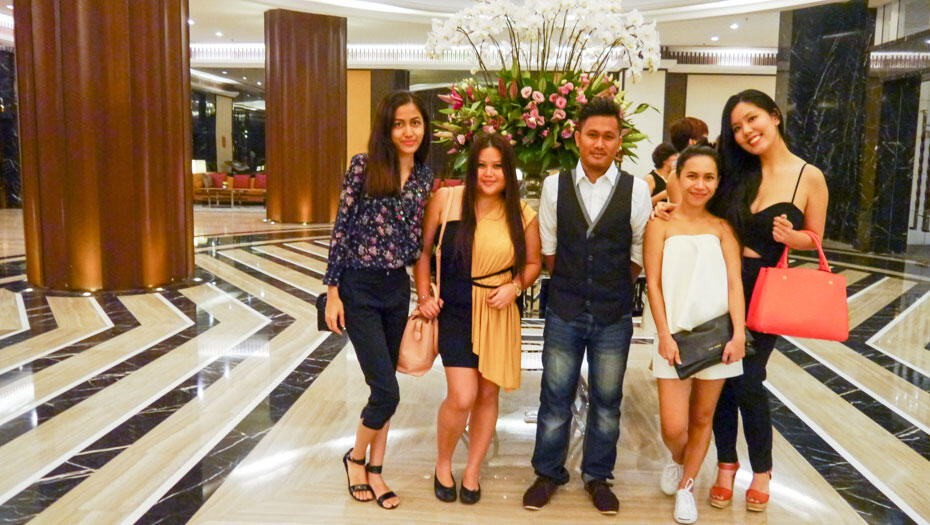 Natasha, Riz, Faizal, Baby and Wen Dee after dinner at the Majestic Hotel.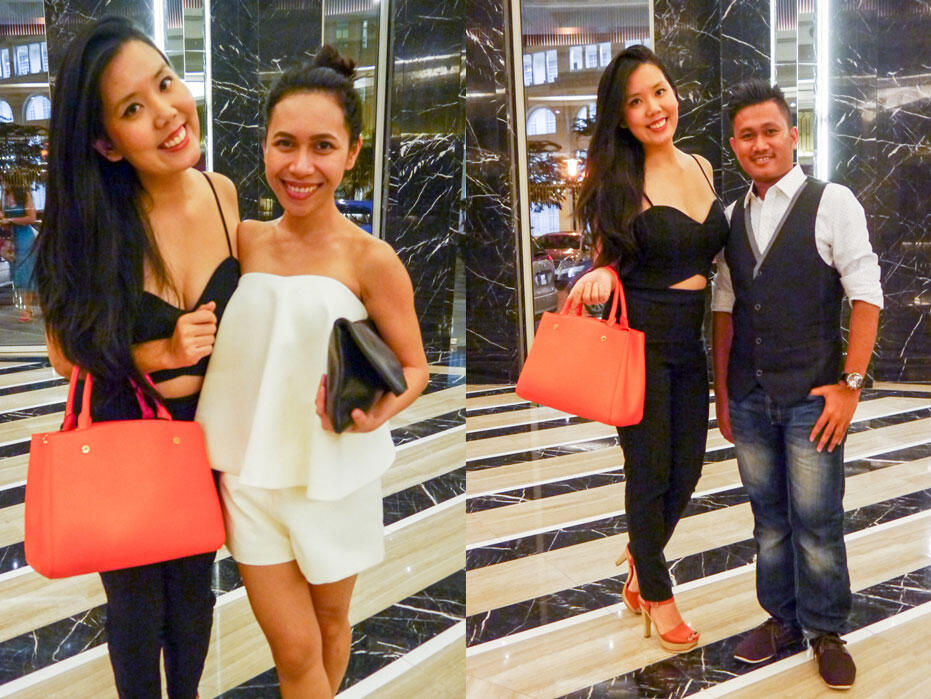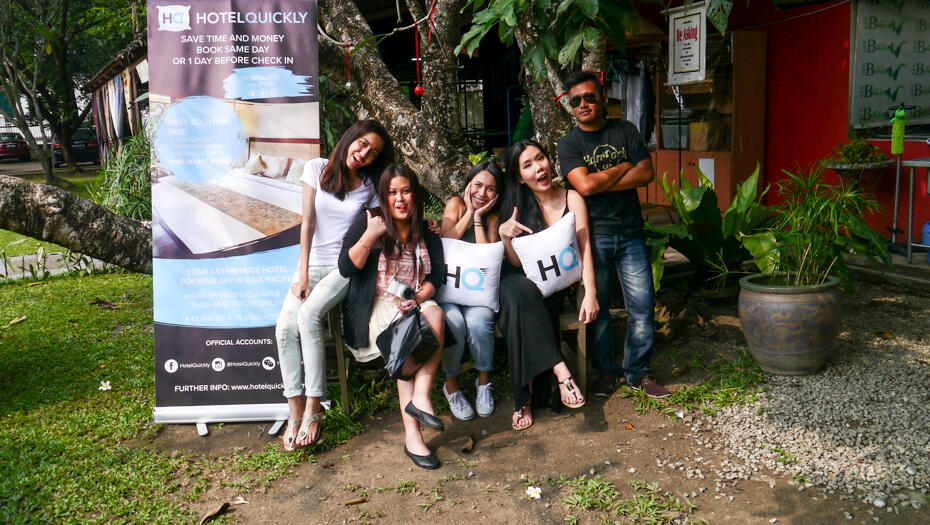 I had an amazing weekend. Thank you, HotelQuickly! It is truly an awesome app (and weekend trip!)
+ + + + + +
HotelQuickly
Website: www.hotelquickly.com
Facebook: www.facebook.com/HotelQuickly
Instagram: www.instagram.com/HotelQuickly
Green Tomato Cafe
Yayasan Seni
333, Persiaran Ritchie,
Off Jalan Ritchie,
55000 Kuala Lumpur
Website: www.greentomatocafe.com.my
Facebook: www.facebook.com/greentomatocafe.com.my
myBatik Workshop
Yayasan Seni
333, Persiaran Ritchie,
Off Jalan Ritchie,
55000 Kuala Lumpur
Website: www.myBatik.com.my
Online Store: www.myBatik.com
Mandara Spa – Sunway Resort & Spa Hotel
Sunday Resort Hotel & Spa
Persiaran Lagoon,
Bandar Sunway,
46150 Petaling Jaya,
Selangor
Website: www.mandaraspa.com
Facebook: www.facebook.com/MandaraSpaMalaysia
Majestic Hotel Kuala Lumpur
5, Jalan Sultan Hishamuddin
50000 Kuala Lumpur
Website: www.majestickl.com
Facebook: www.facebook.com/ytlhotels
Instagram: www.instagram.com/ytlhotels