*Written by April*
HA! Hello from London! Didn't think you'd see a post by me anytime soon did you? Well, I received an email from Joyce about a week ago asking if I'd like to cover an event for KinkyBlueFairy and instantly King (Faridah)'s voice played at the back of my mind singing "KBF is not letting you gooooooo…"
It made me want to burst into laughter but I was in a lecture so I tried really hard to hold it in and ended up gagging a little and almost choked… So much for not attracting unwanted attention. Anyway, of course I said yes!
I found out about Gemma Roe through Joyce's snapchat when she was here for London Fashion Week. So upon opening the e-invite, I was thrilled! I mean the invite had "Tropical Disco" in neon colours as the heading, how fun is that? What more was that the party was going to be at the glamorous Hotel Café Royal – I knew it was going to be just fabulous.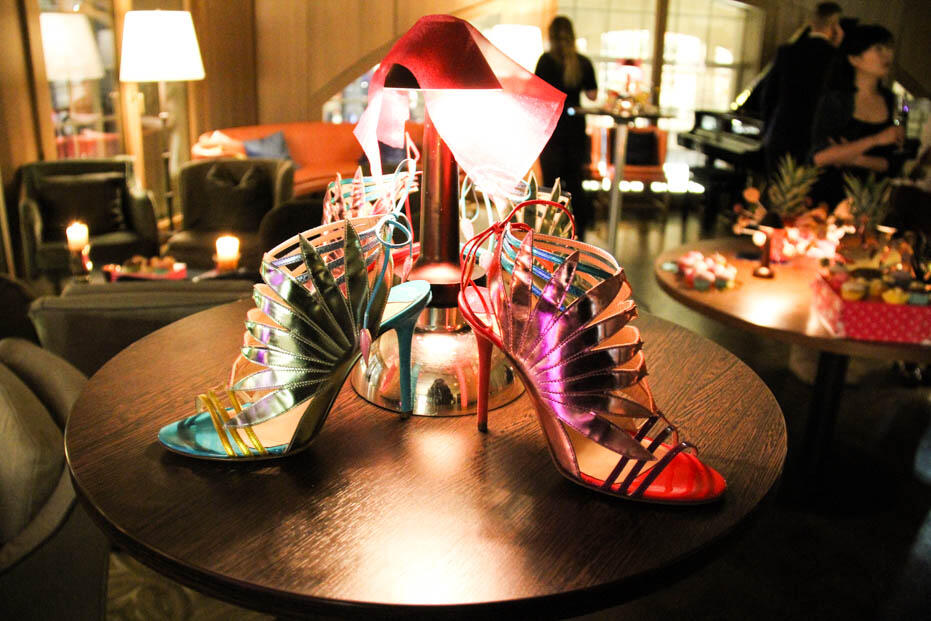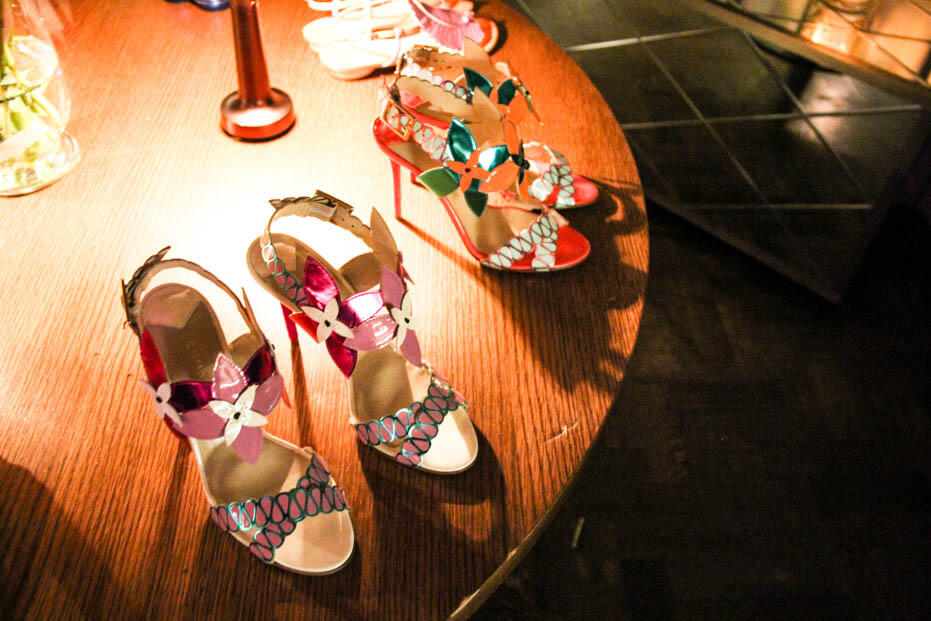 Having been in the fashion and creative industry for over nine years, Gemma is no stranger to the business. Her debut collection, Tropical Disco, is attention-grabbing to say the least.
They're colourful, unique and definitely makes a statement. Right when I saw the first few pairs, I just thought "OMG Goddess (yes, that's Joyce) & King would TOTALLY love this and this and this and just… EVERYTHING."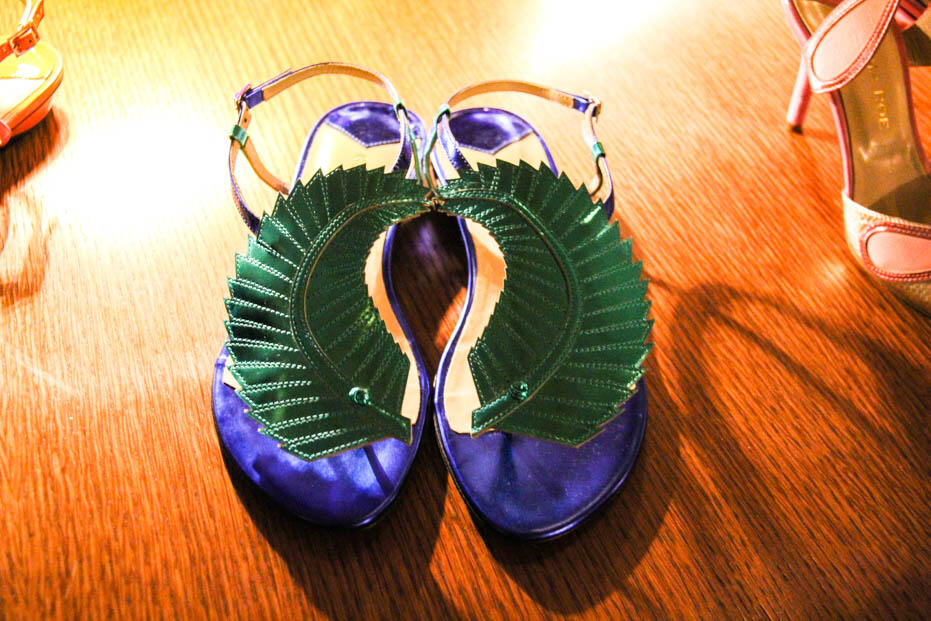 These were one of my favourites from the collection. The beautiful 'Forest' sandals that reminded me of beach holidays and the #TerribleTwos Penang trip last August. If I had a pair and were back in KL, I'd probably wear these everyday.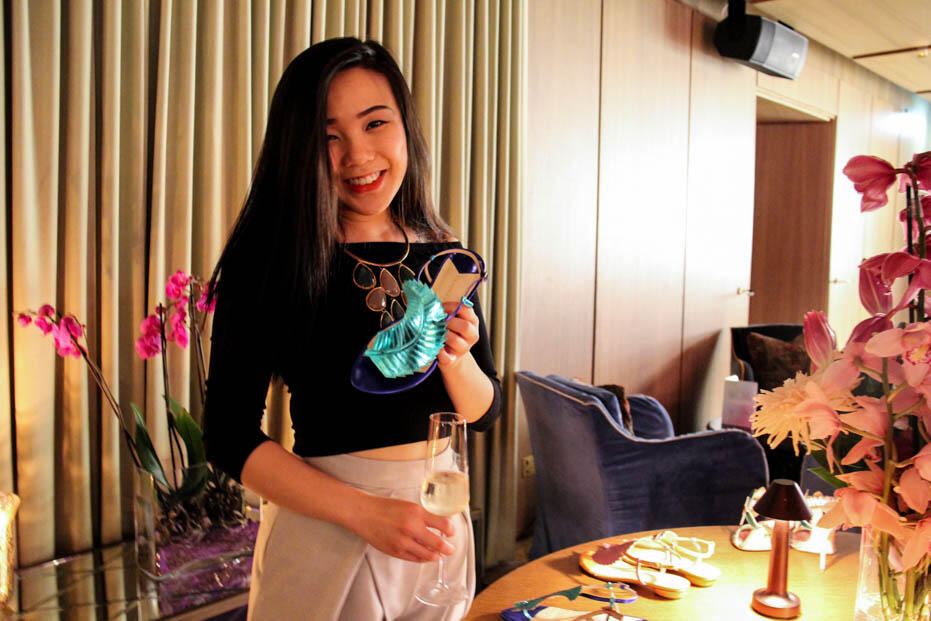 I had on my favourite pair of culottes from KOZO x Justin Chew that I got during their launch at Fabspy… which got me tons of compliments hehe.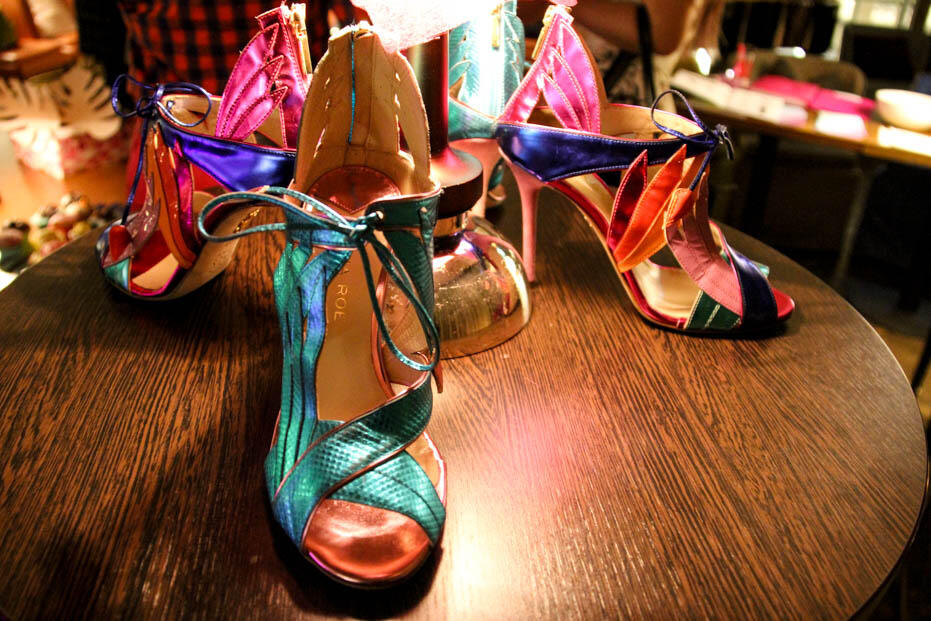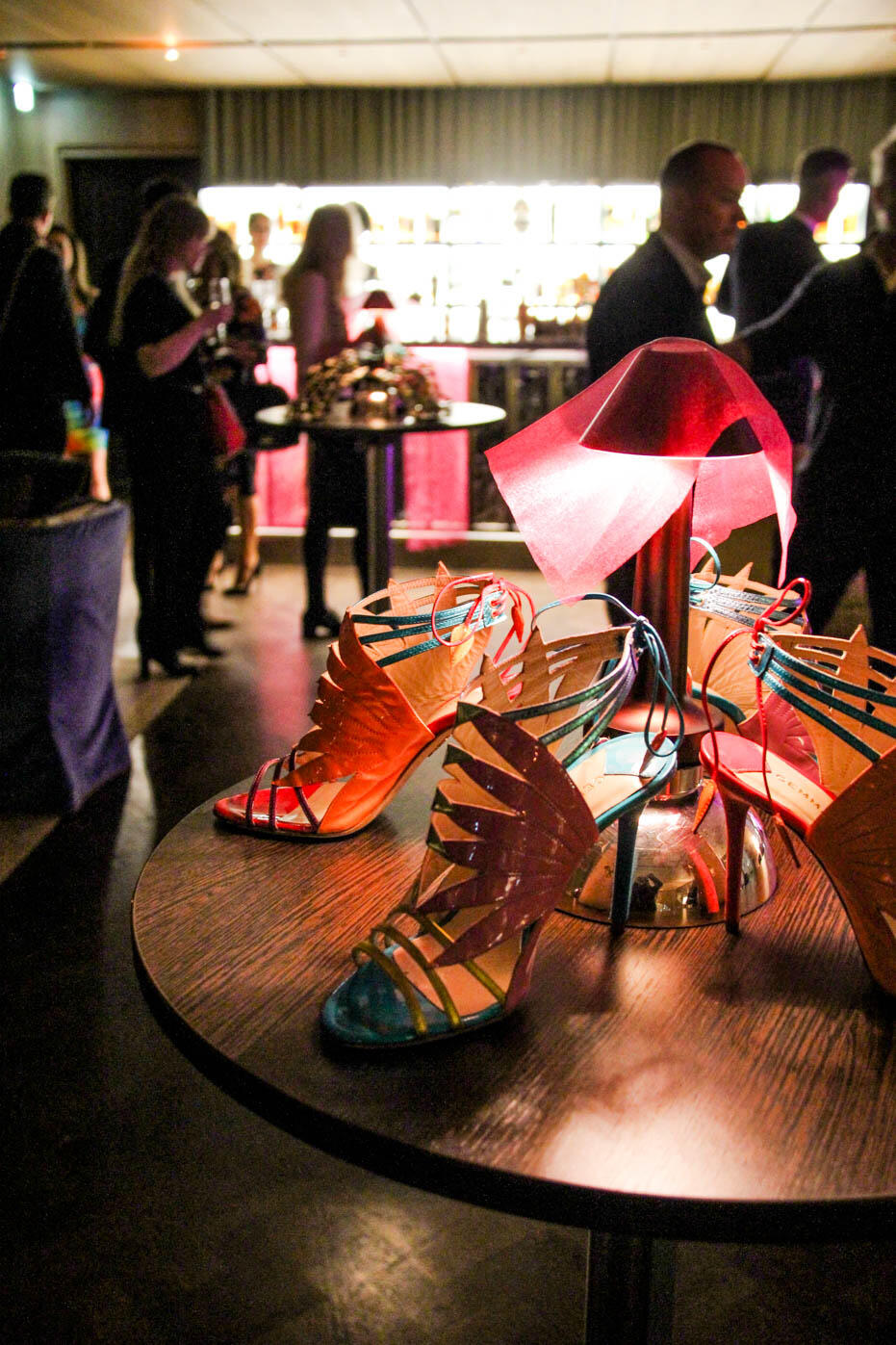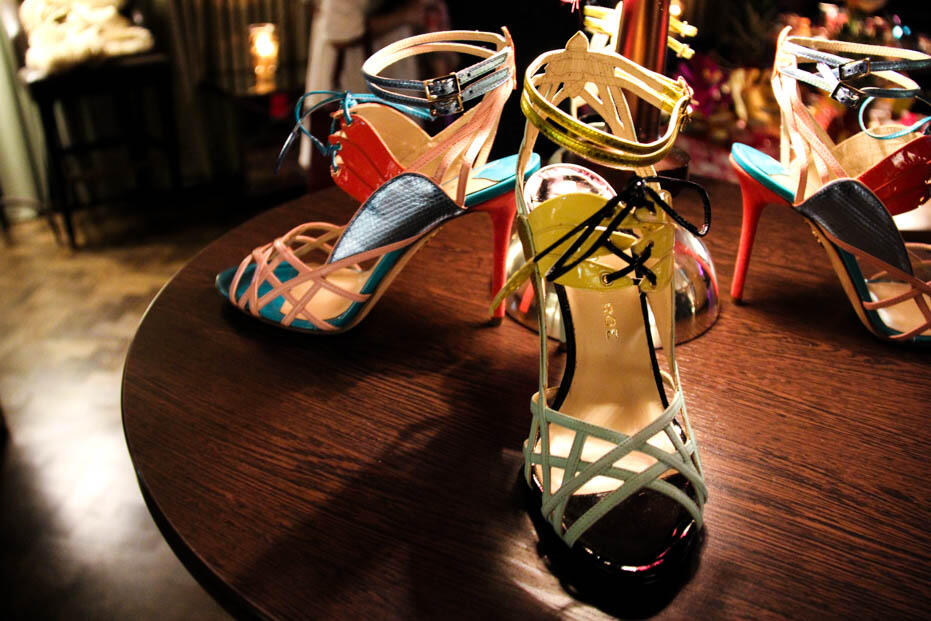 The collection exudes just the right amount of fun and sexy. I love how playful yet alluring it is, incorporating 70s disco glamour with an island girl spin. Metallics have the tendency to look gaudy but on Gemma's designs, they bring the shoes to life. Ugh, just give me all of them already!!!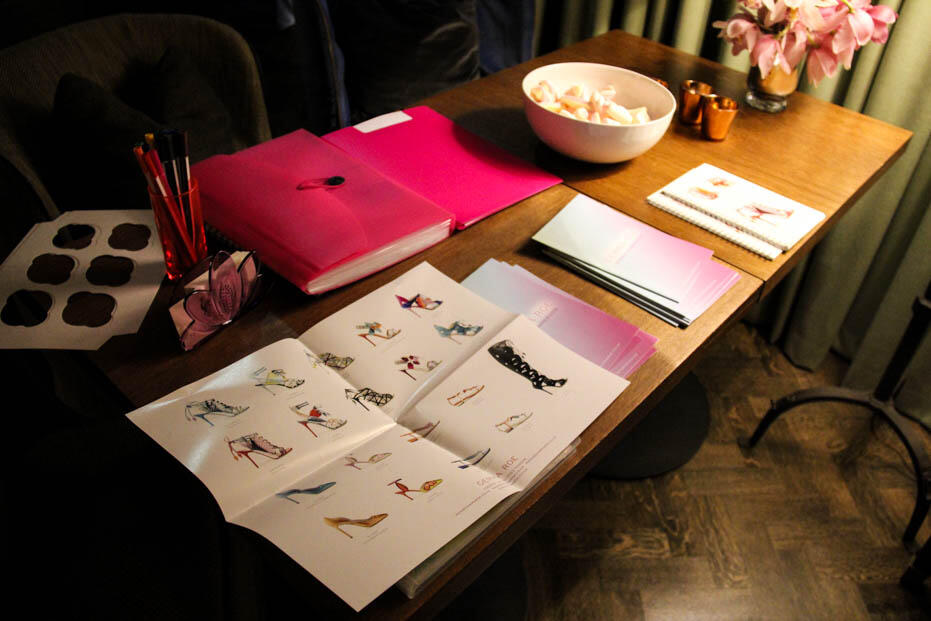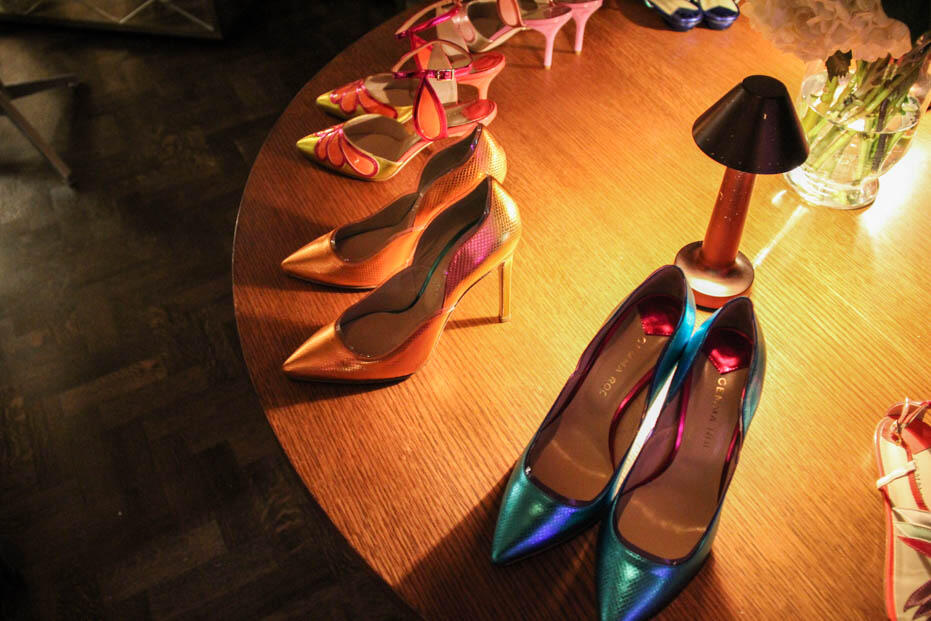 Some of my other favourites are the 'Laguna' open pumps and the 'Sunset' pumps. Just looking at them makes me feel like going dancing!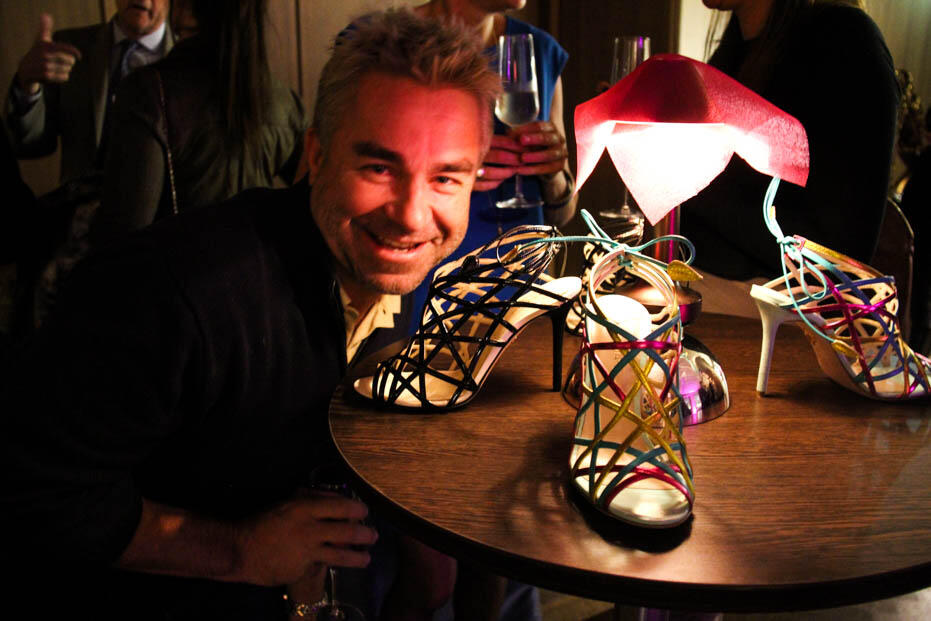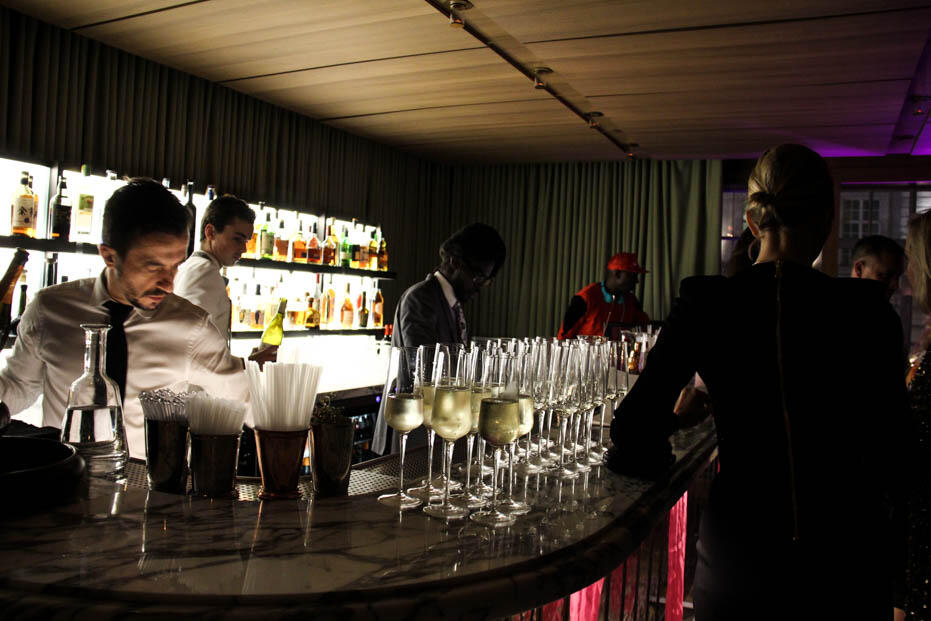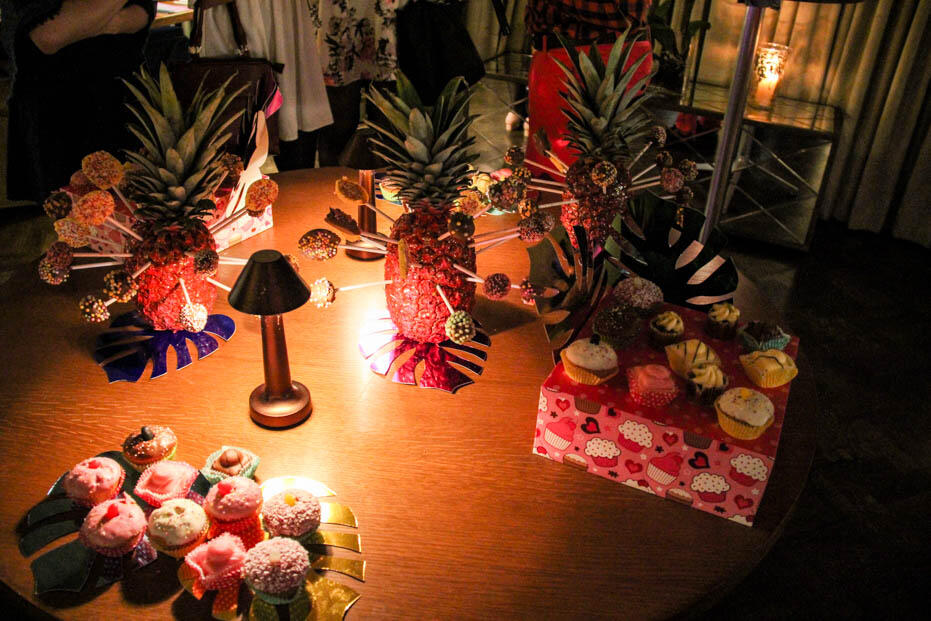 And of course we were well taken care of with some bubbly and other treats to enjoy.
Mad love the pink glitter pineapples which by the way, were hand painted by Gemma herself!!!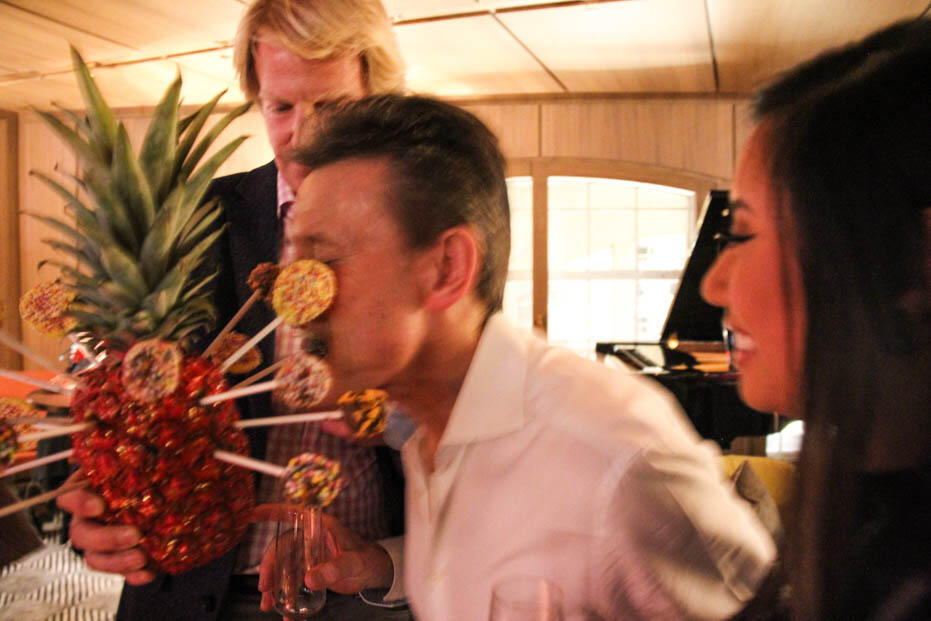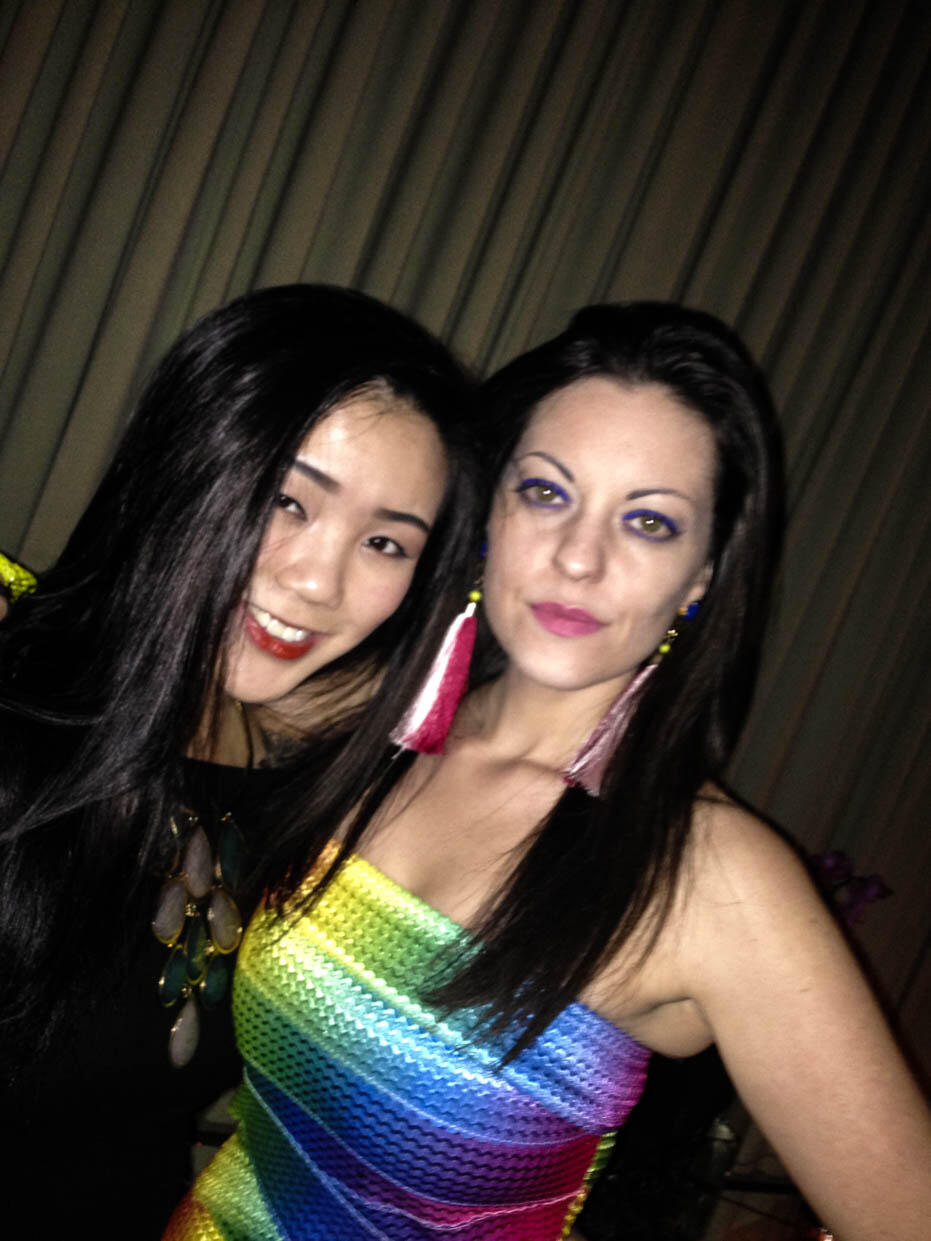 Gemma Roe and I! We actually took quite a few photos but this was the only one that turned out clear -_-
Nonetheless, she looks gorgeous in her rainbow dress and is such a sweetheart.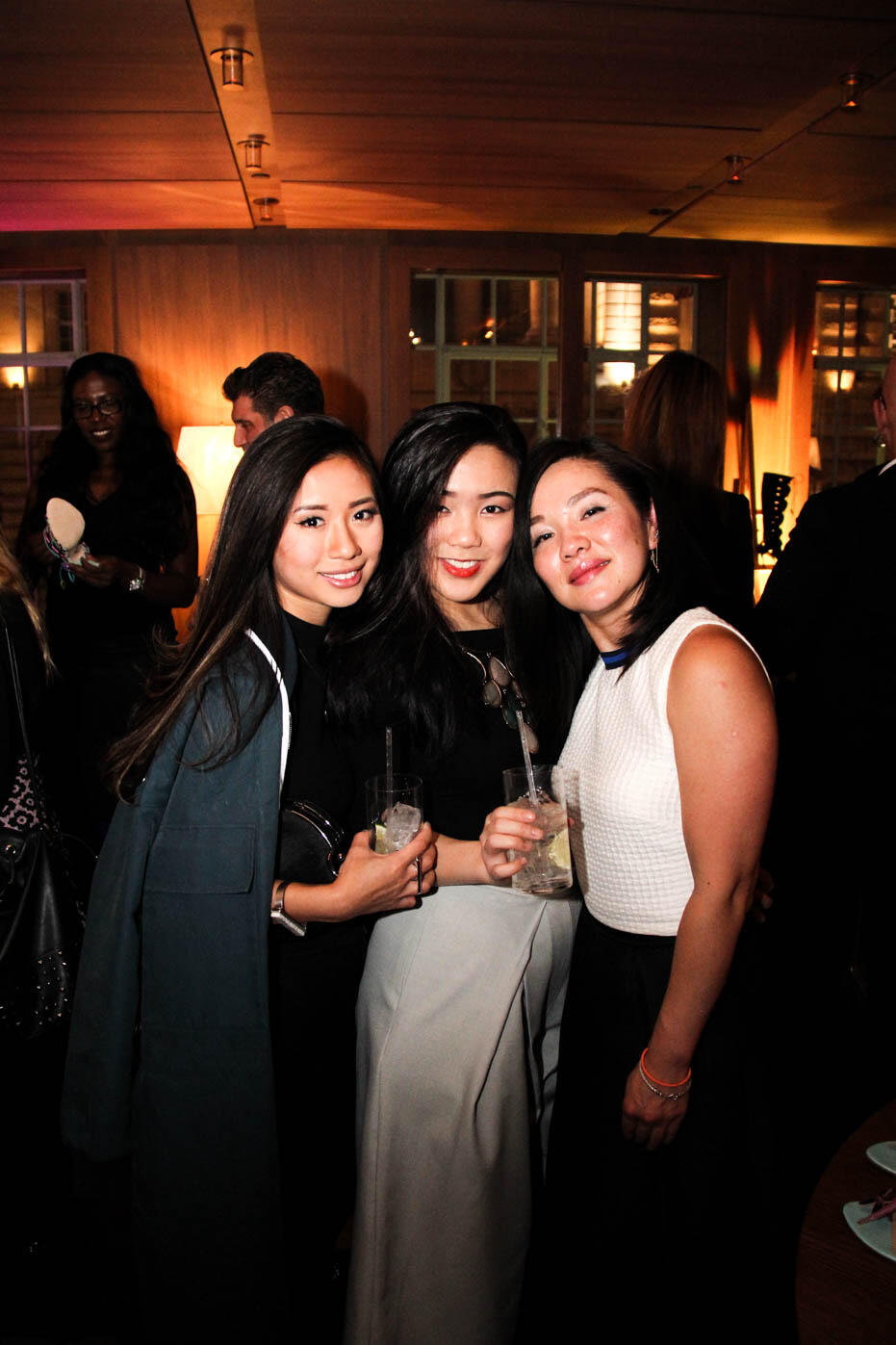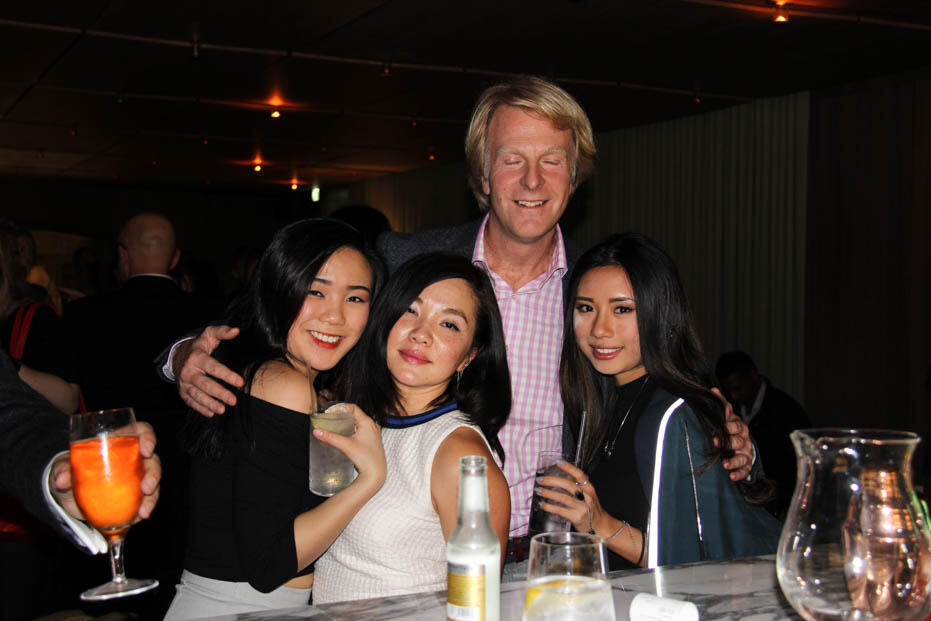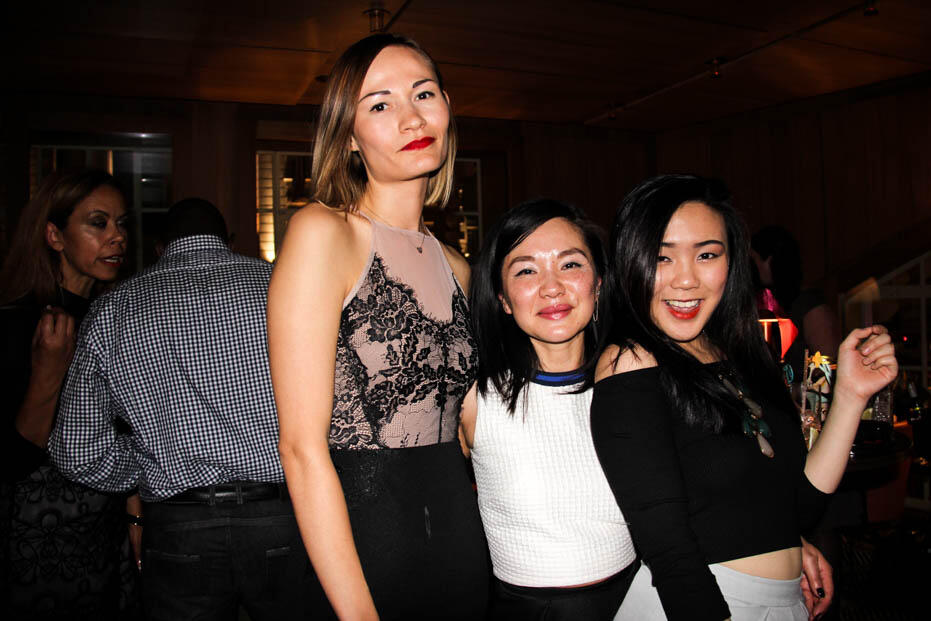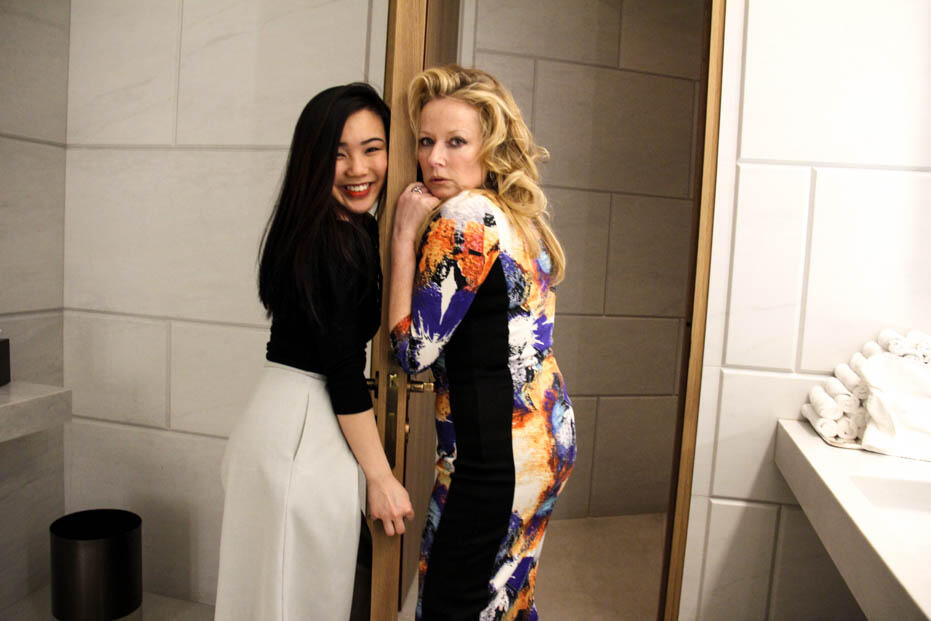 It was such a fun night of shoes, meeting new people and some dancing too 🙂 I had SO much fun. [Joyce: Hmm i saw a picture Baby showed me that you sent her… looked like a LOT of fun] Thanks so much for having me Gemma!
Wish you were here, Goddess, King and Andrew )':
#TanggachiOut
++++++++
For more information about Gemma Roe:
Website: gemmaroe.co.uk
Facebook: facebook.com/GemmaRoeWorld
Instagram: @GemmaRoe
Twitter: @GemmaRoeWorld