I spent Labour Day weekend in Macau with Dhanya and Aps.
We ate so much incredible food – Portuguese, Chinese, 3-Michelin star French, award-winning pastries.
I can't even wear my usual pants right now.
Been really busy with work since i got back (what else is new!)
I spent 9 hours running from appointment to appointment on Wednesday,
not counting social time which took up another 9 hours :p
Anyway, wanted to blog a quick one about how i finally got to do the highest bungy jump in the world!
I've always loved the thrill of bungy jumps since i was a teenager.
My first jump was over the Waikato River in New Zealand when i was 14.
I was so excited as my dad signed the waiver form and my mom fervently made the sign of the cross.
Then i did it in Bali twice in 2008, and even tried going backwards the second time.
I researched the highest bungy years ago, how high it was (233m), how much it cost, and figured it was too much effort to go all the way somewhere JUST to jump.
Forgot all about it till i found myself IN THE TOWER itself on our first night in Macau.
It happened to be in the same building we went for dinner at, and all the memories of the desire to do it came flooding back.
The girls: You have to do it!
Me: Yes… i have to… *still pondering whether i would*
We got Tino (our tour guide) to book me a slot, and i made up my mind the day before that i WOULD do it.
My slot to jump was before we headed to the airport for our flight home.
On the morning of, as i was packing my things in the hotel and deciding what to wear to the airport, i mumbled, "Hmm what do i wear to die in?"
Aps: Joyce!!! CHOI!
I laughed. Kidding la!
I was just starting to panic slightly at the thought of jumping and WHAT IF the cord was faulty and i smashed into the ground :p
It was a beautiful sunny afternoon to jump, and the perfect setting to indulge in some liquid courage chardonnay just before i ran up.
Credits to my outfit:
handmade Mediterranean acetate sunnies from Mouet Collection;
Frank Gehry necklace from Tiffany & Co.;
sports bra from Believe Active in BV2,
sports top from Ash Be Nimble.
I was ambitiously optimistic for bringing my workout wear thinking i would try to go to the gym in the hotel…
but that didn't happen. (i brought my workout wear to Sydney, Paris, etc and NEVER went to the hotel gyms #majorfail)
At least i still managed to wear it for THIS 😀 (so my boobs wouldn't go bouncing about)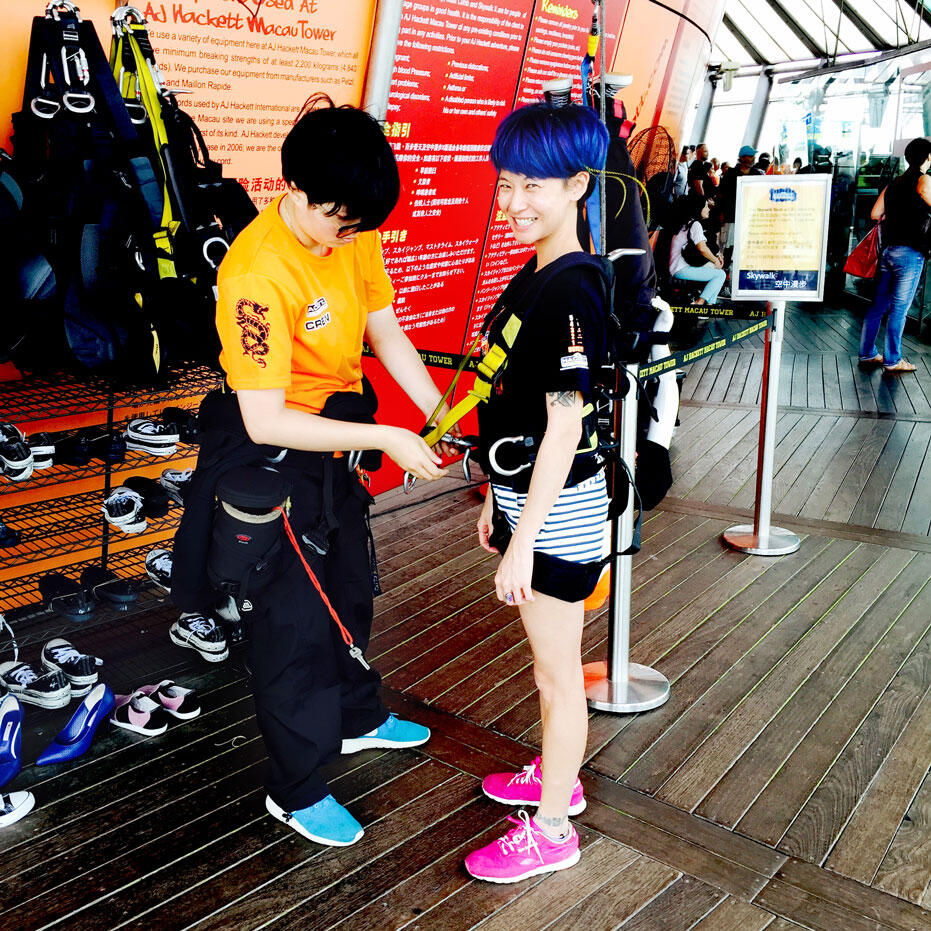 I was so excited to get geared up!
Balked when i saw the number 46 drawn clearly with permanent marker on my hand.
"I'm 46 kg?!"
I'm usually a 40 or 41.
Girl: The straps are 2kg.
Me thinking and mumbling to myself: So i'm 44… how did i put on 3-4kg in past week?!
Ok, say they increased the weight by 1-2kg just to be safe for their bungy cord calculations,
i still managed to put on 2-3 kg in a matter of days.
I put on weight so quickly when i don't work out, and EAT LIKE A PIG.
(This has happened before.)
Anyway, i'll stop with my #skinnyproblems before girls throw stones at me.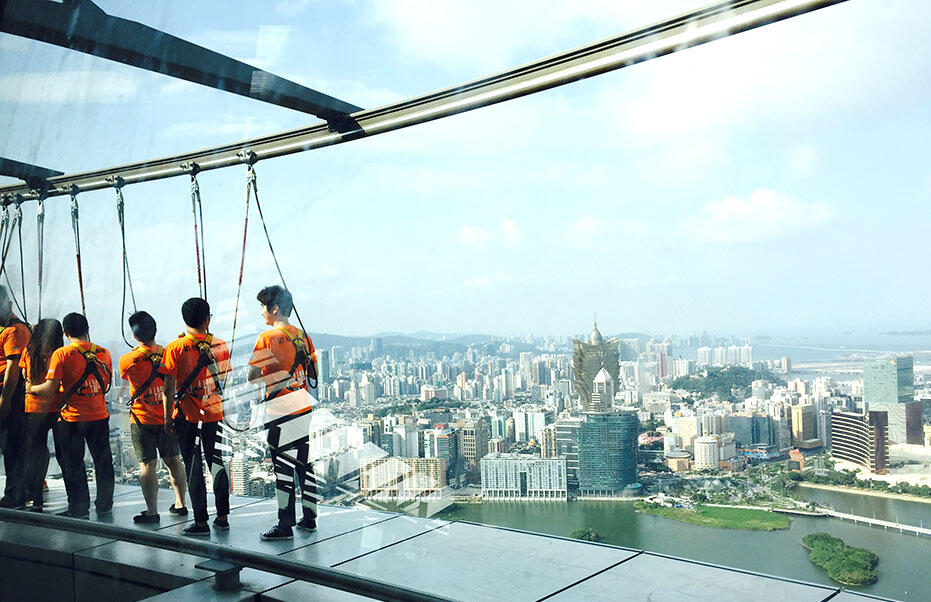 There are other activities you can do there besides the bungy jump, like the Sky Walk pictured above.
I saw a little kid that looked around 7 doing the Sky Walk too, brave parents.
Can't imagine Cammy letting Cameron do that when he's 7.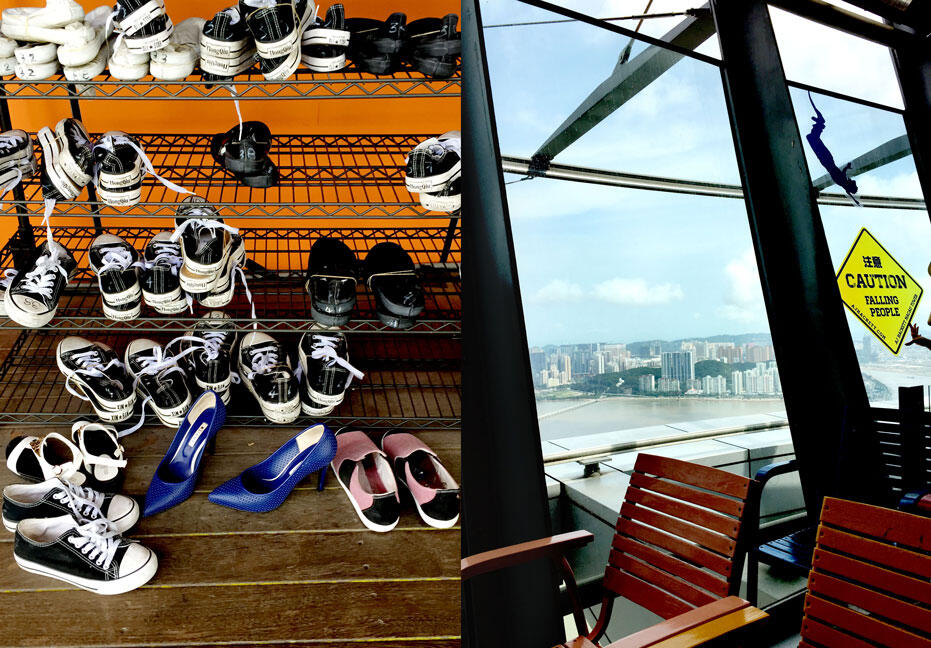 After getting strapped up, i had to wait an hour plus before it was my turn! Queue was unusually long for a Monday (so they said) and Aps and Dhanya were below thinking i was going to jump at 2:30pm sharp. They kept on asking the staff at the bottom when a girl with blue hair called Joyce was next to jump so many times that when it was finally my turn, the guys working there were like, "So YOU'RE Joyce. We've been hearing your name all afternoon."
Apparently when the team said they hadn't yet seen a girl with blue hair, Aps panicked (cos she'd recently watched Taken) and thought i'd been kidnapped from somewhere in the tower. -_-
When i got to queue up on the outside area, i thought i'd sneak just a few steps into the inner (safe) area just to grab my phone to take some pix. So i edged towards the door and… *CLANG*. I didn't know that they'd put us all on a leash attached to the railing once we were outside. Now i know what a child on those leashes feels like – a bit sheepish, and sad. It's not like i'm gonna jump off and commit suicide! I just wanted my phone! I ended up buying the pix they provided on a CD in the end. I figured might as well just get the proper ones they take.
I made friends with this Japanese guy called Tatsuya who was going to go before me (pictured above on the right). It was his first time bungy-jumping and his reaction before going was so funny i couldn't help laughing and waving, "Sayonara Tatsuya!!"
And then it was my turn to get strapped to the cord and wait for about 5-10 minutes while Tatsuya finished his jump, was lowered to the ground, and the cord brought back up to hook on to me.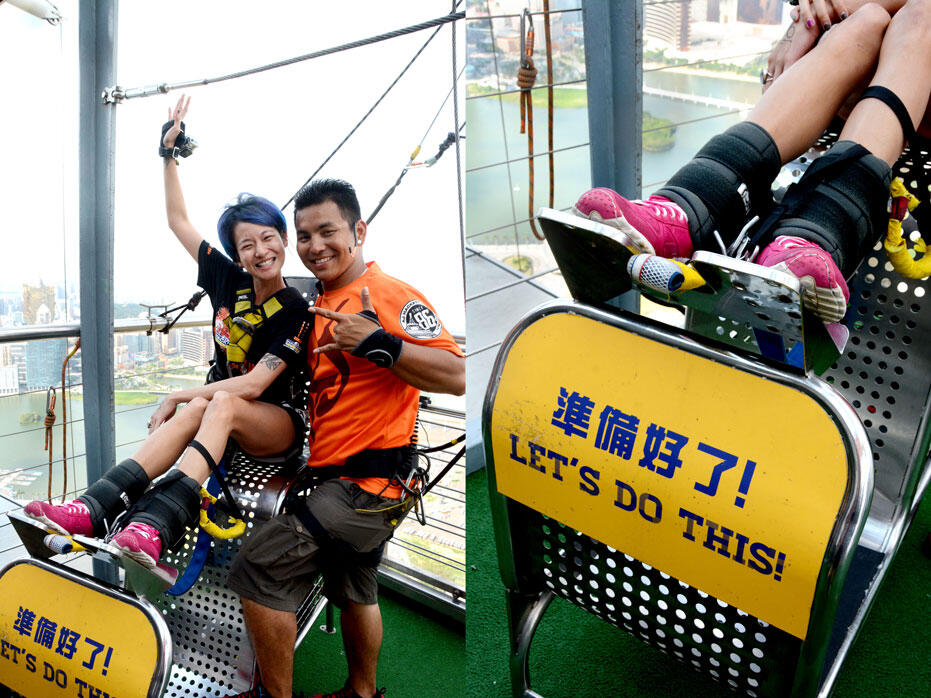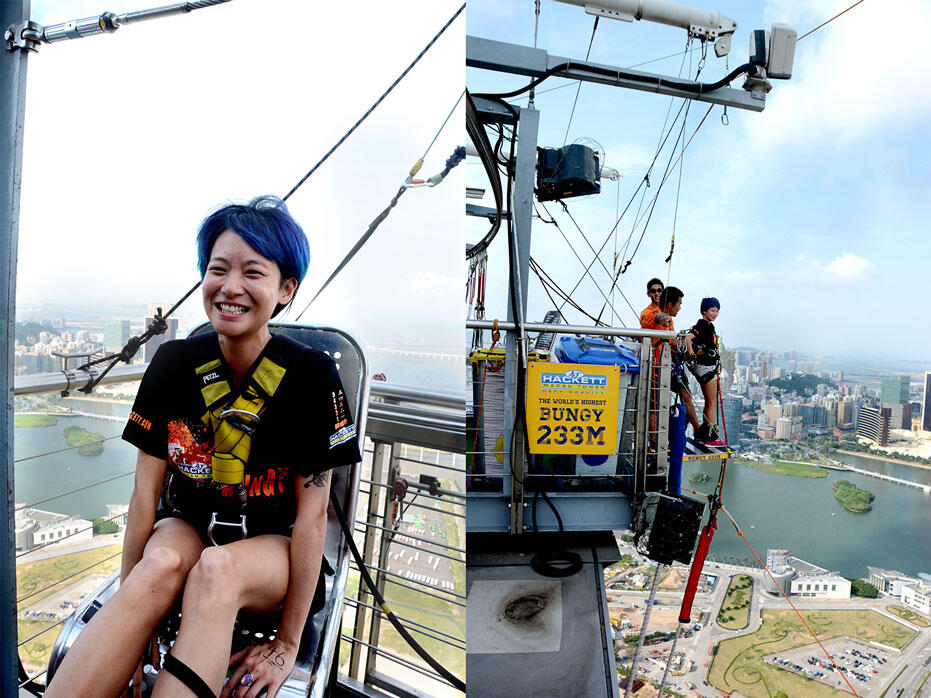 When it was finally my time to make my way to the edge, i was so scared the heavy bungy cord would pull me right off the platform or the wind would blow me over.
It was so high! 58th floor okay!
I wanted to jump when i was ready for it and not accidentally tip off and knock my sorry head somewhere.
The view at the edge is startlingly a lot more scary than a mere few feet towards safety.
It must be my genetic flight response to feel fear and flee this danger.
What is this height?! Not safe! Abort! Run!
I started talking to myself and no one in particular: WAIT! WHY AM I PAYING MONEY TO DO THIS AGAIN?!
It's like a big part of me has always wanted to and loves doing it,
and i know it's the very moment, just those few itsy bitsy seconds when you're on the edge of that insanely stupidly high precipice when another part of me screams, "WHY!? WHY ARE YOU DOING THIS?!"
Lol i don't know.
Maybe i just like to torture myself.
I admit that i DO LIKE the fear.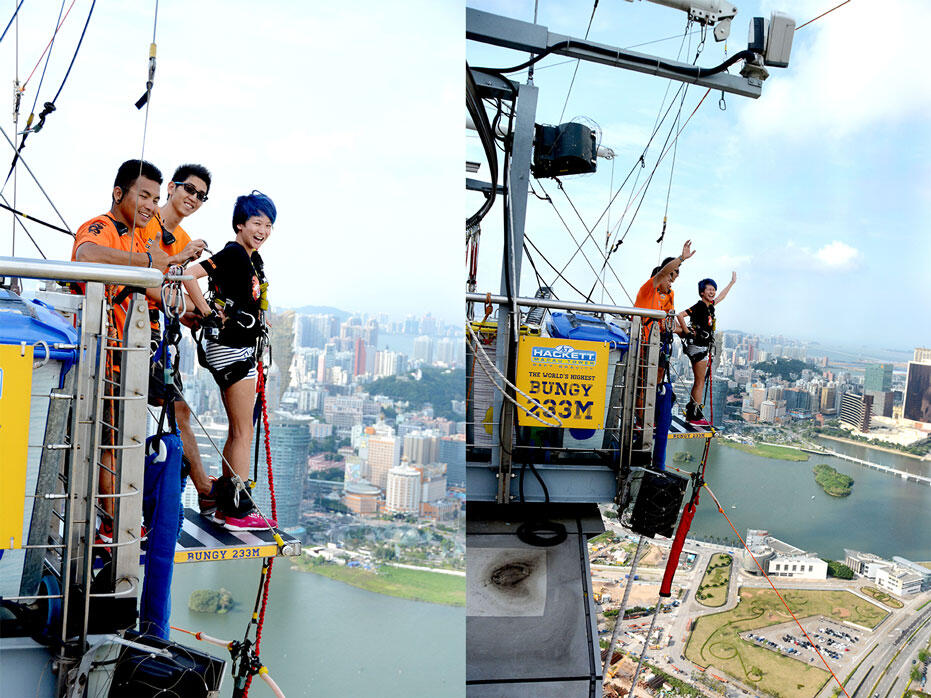 The guys asked me to look to my right to take a picture and i just want to say that it's very challenging to move your head (even slightly) when you're up so high and trying to concentrate from blowing off. It's like, every little movement counts.
After taking a DEEP BREATH, i looked towards my left where all the buildings were so i could absorb how low they looked and how high i was. I wanted to make the MOST of the thrill that clutched at my little fast-beating heart, and slowly tipped myself off the edge.
The first 2-3 seconds were kinda scary, then i started to enjoy the fall and looked all around me to drink in the scenery and feel the rush of the wind on my skin. Ahhh i really wanted it to last longer! Halfway through, i was like, "Nooooo why so fastttttt"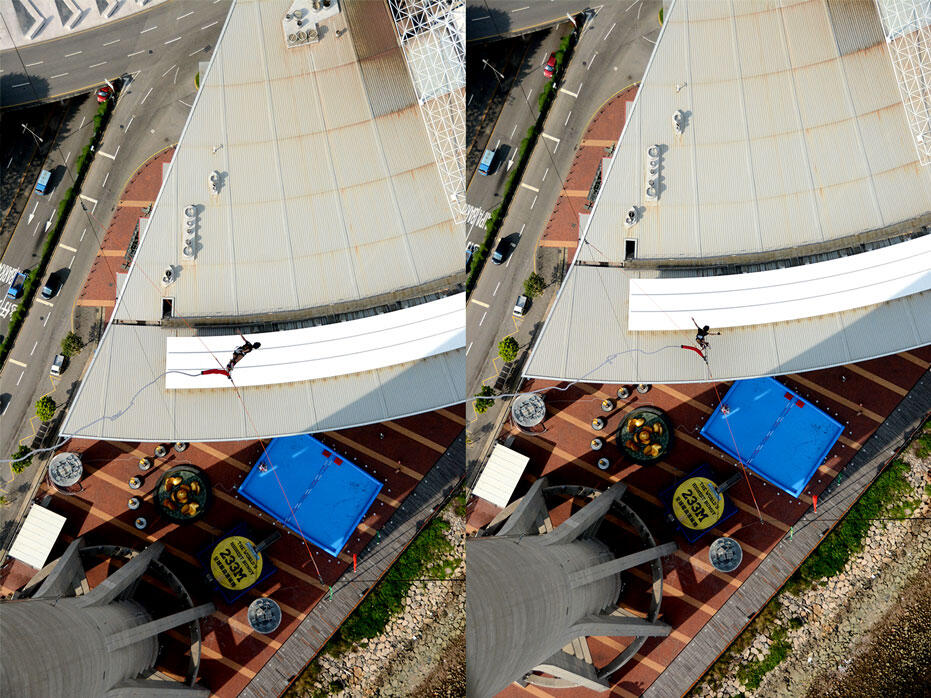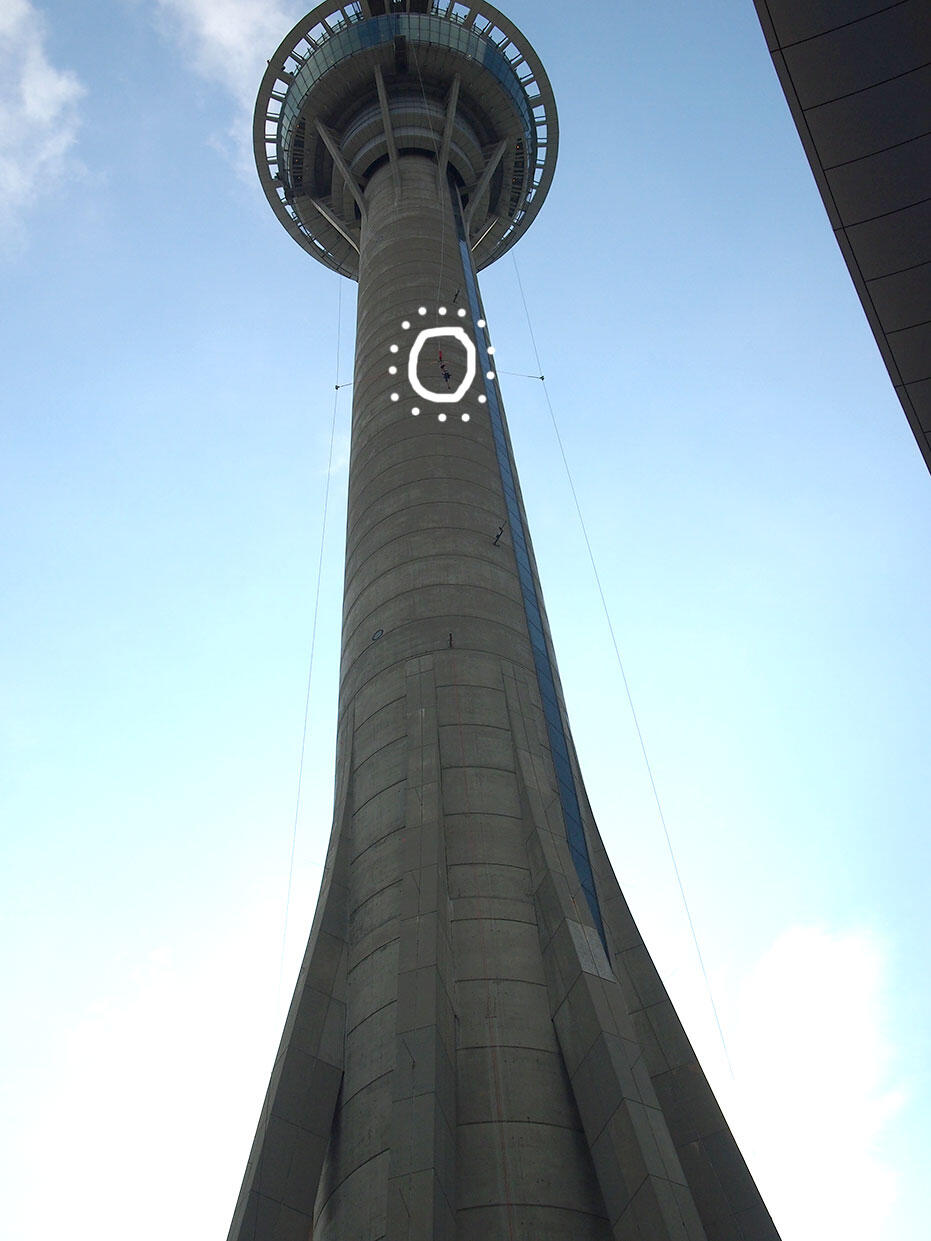 Thanks to Aps and Dhanya for getting these pics of me from the ground below.
I circled myself so you can see where i am. And put dots around it. Just because.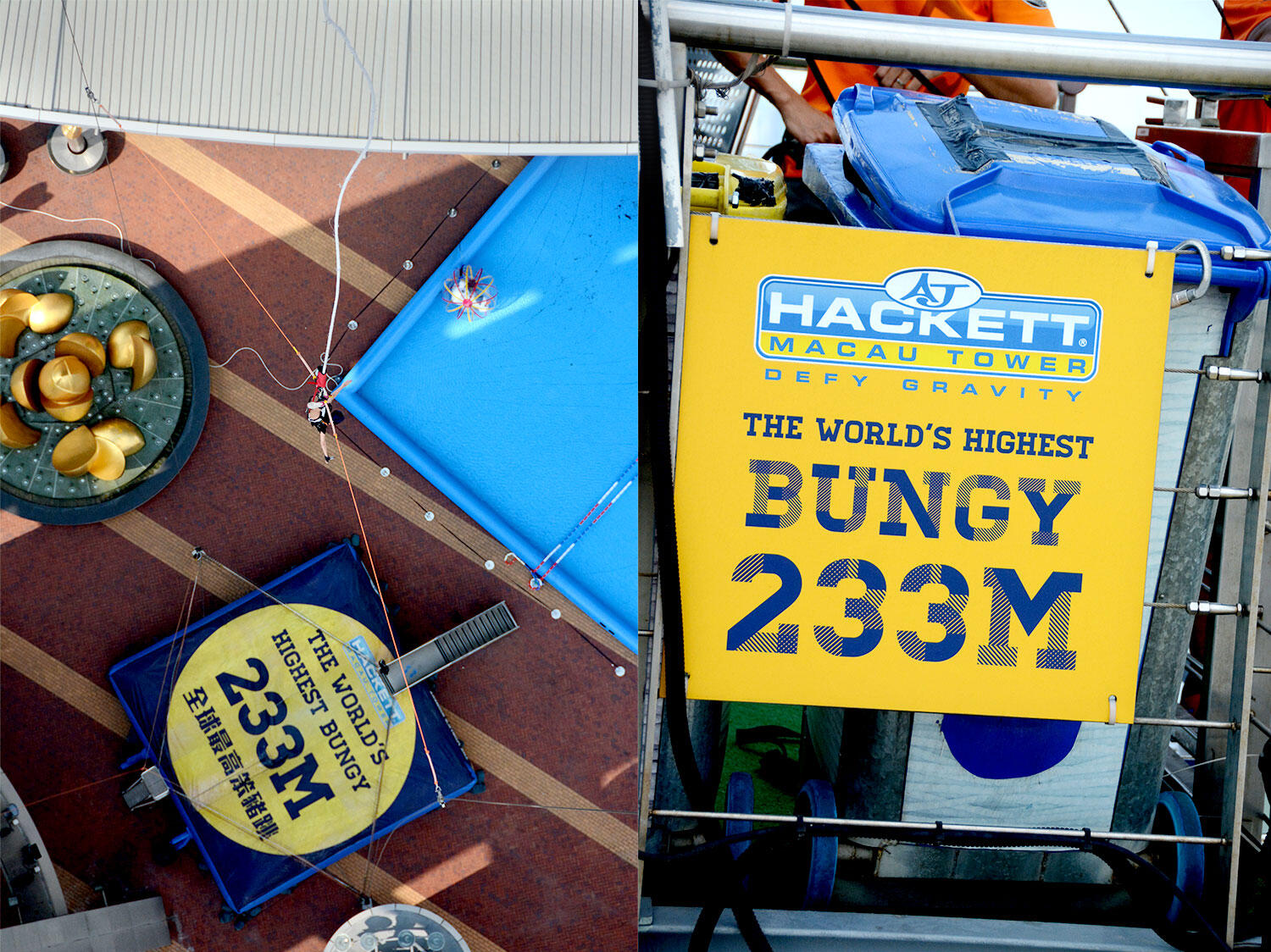 After the jump was done, i was slowly lowered onto the landing pad where the cord was unattached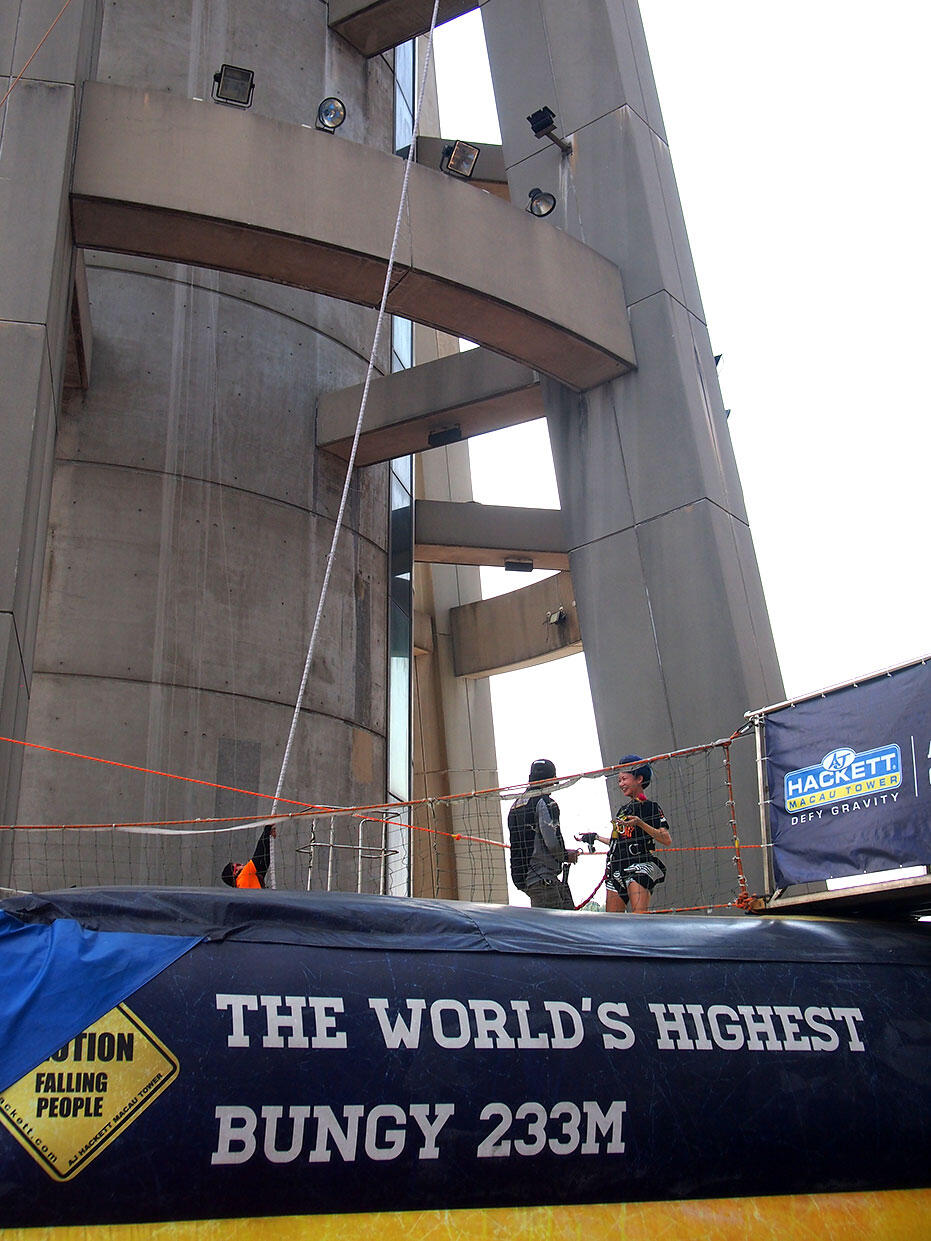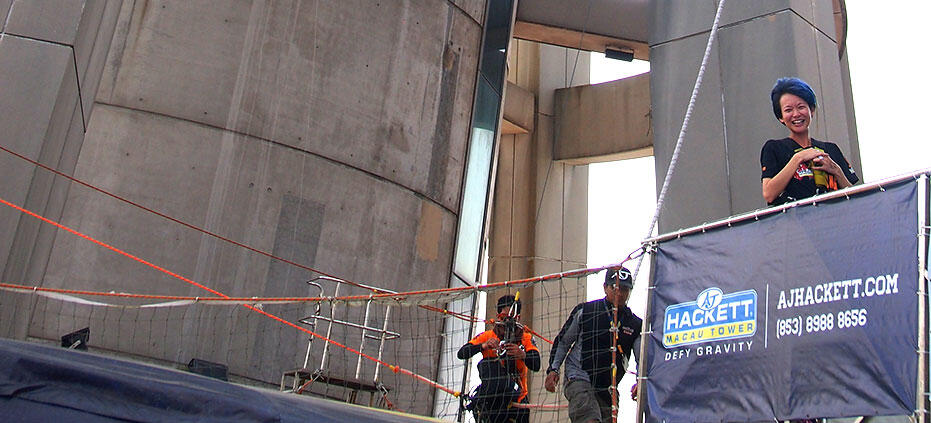 Wow, i didn't know i looked THAT happy after it XD
Celebrated with a second glass of chardonnay before rushing to the airport.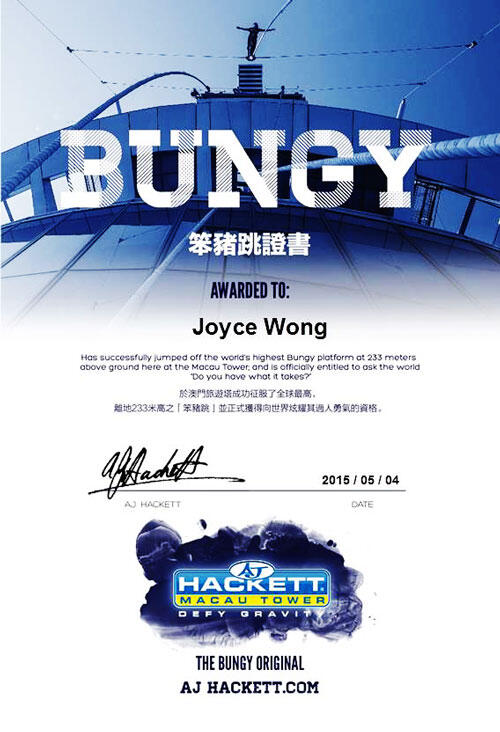 Woohoo me!
Well now that i've done the highest bungy in the world, i might have to move on to other thrilling hobbies i've always had my eye on… Sky diving? BASE jumping? Hang gliding in Nepal?
More info here: www.ajhackett.com/macau/