This is a continuation of my trip in Macau which is just going to be filled with FOOD pictures of where we ate during our trip there (with the exception of our dinner at Robuchon cos THAT deserves a post by itself!).
When we landed, the first place we headed to have dinner was Tromba Rija at Macau Tower.
Tromba Rija was initially founded as a local butcher and wine tavern shop in Leiria, Portugal in 1966. It grew to become a famous formal restaurant, before being brought to Asia and is currently operated by the descendants of its founders, Elisabête and Fernando Real.
The restaurant stays true to its Portuguese roots by serving fine traditional dishes, in a warm and rustic setting that includes private dining rooms and an indoor and outdoor dining area with a view of the water and bridge.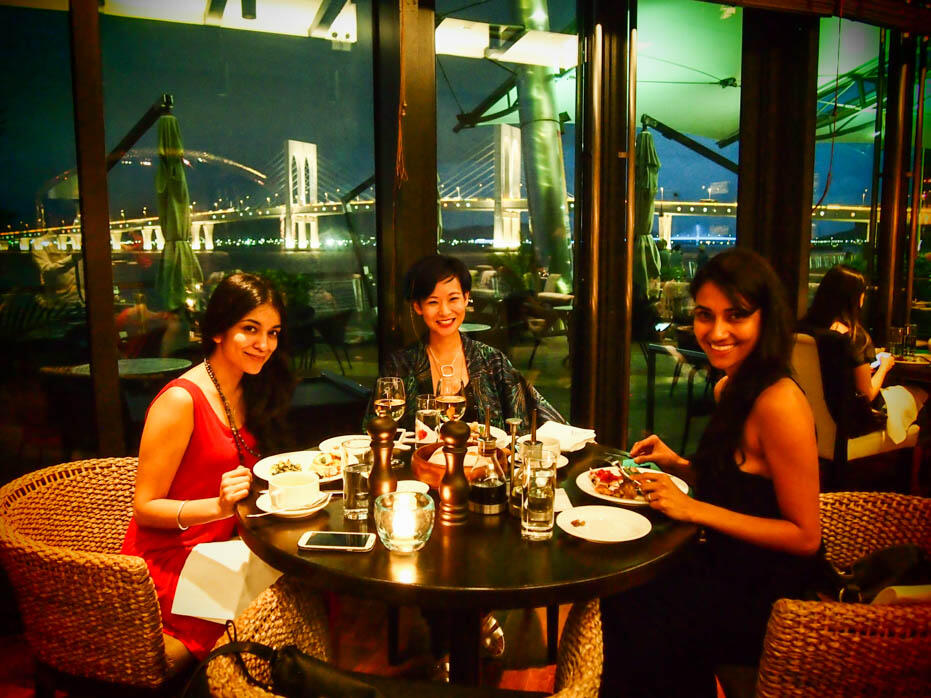 Aps, me and Dhanya.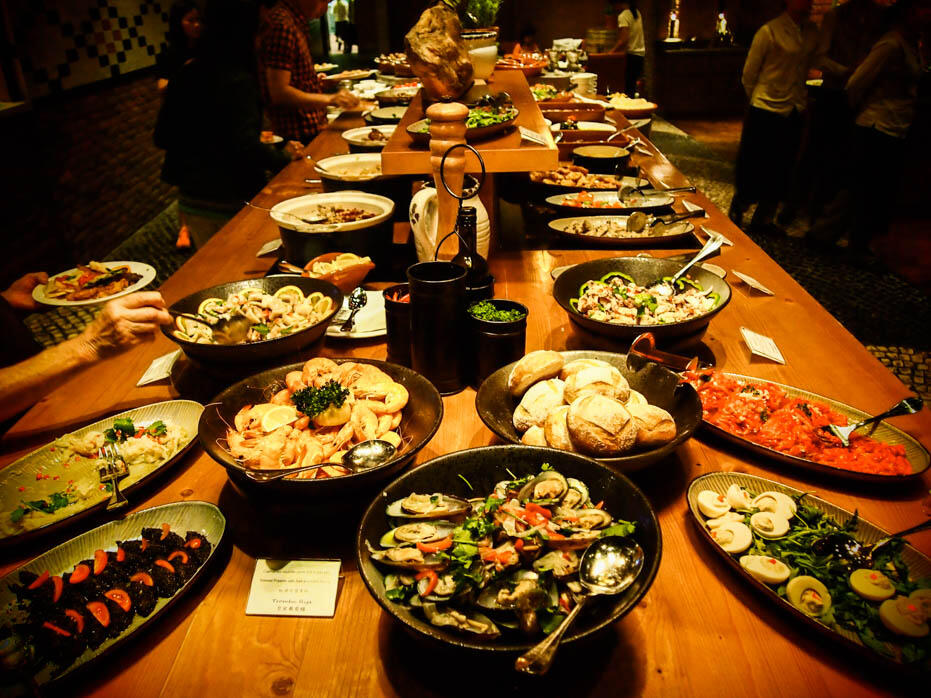 Over 60 signature dishes are served buffet-style that made us salivate the moment we caught sight of the spread. There were so many colours and ingredients making up the array of dishes including cold cuts, cheese, sausage platters… i took it upon myself to try a little bit of each! There were some exotic foods like pigs' ears with sweet peppers, and the softest quail in olive oil and vinegar sauce.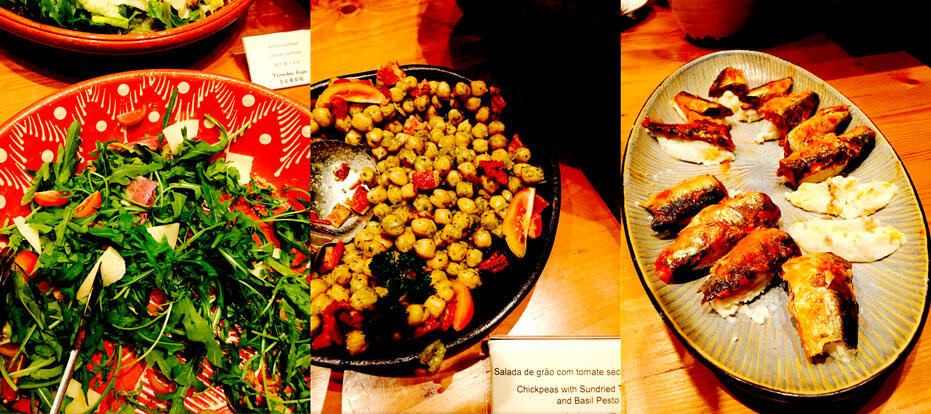 Fig salad with Portuguese air dried ham and arugula, chickpeas with sundried tomatoes and basil pesto, and baked sardines.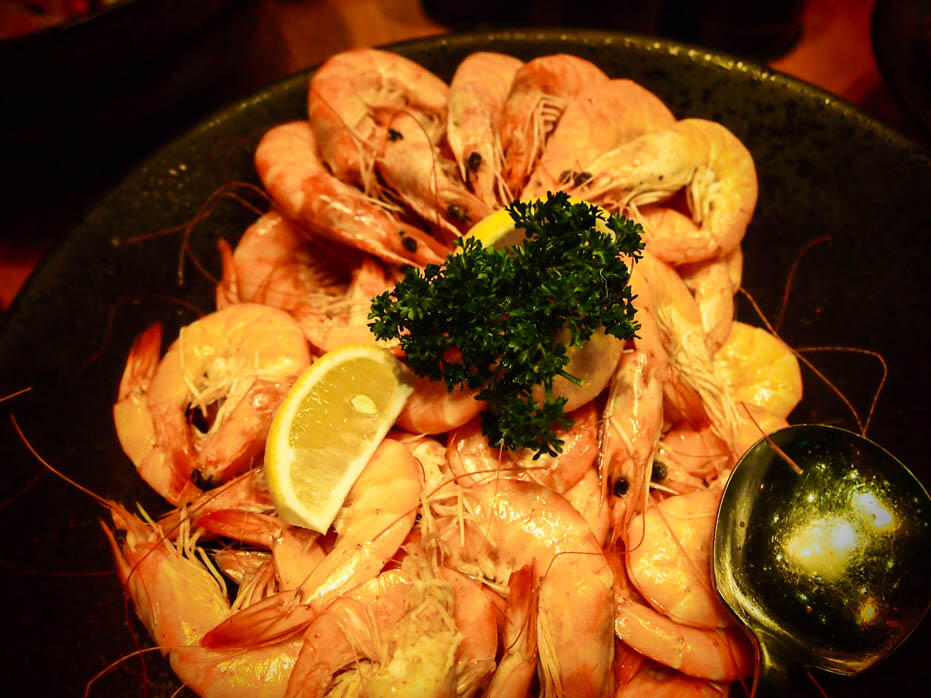 Camarao cozido com sal e piri piri – Stewed prawns with salt and chilli sauce.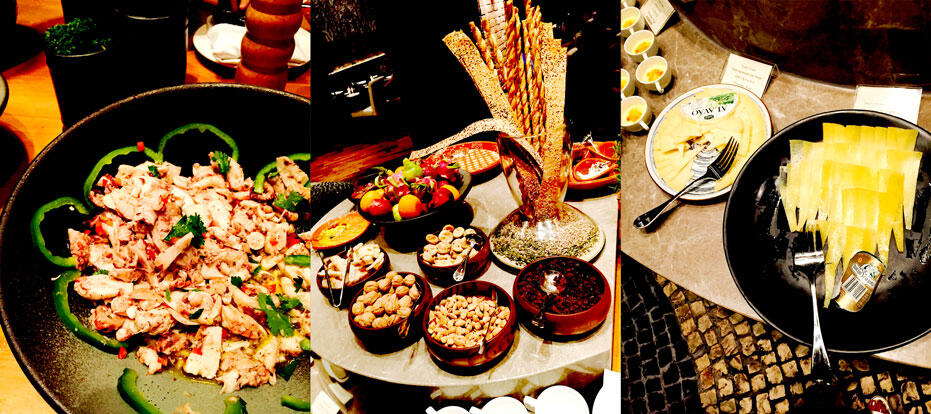 Octopus salad with onion + garlic + coriander + vinegar + olive oil. I love octopus! One of my favourite foods when done well.
There were a lot of nuts and dried condiments, along with sheep and goats cheese that tasted beautiful in my mouth.
I tried breaking open a walnut myself for the first time, just cos i've never, ended up getting emotionally attached to another by drawing a face on it and forbade the others from eating my walnut friend.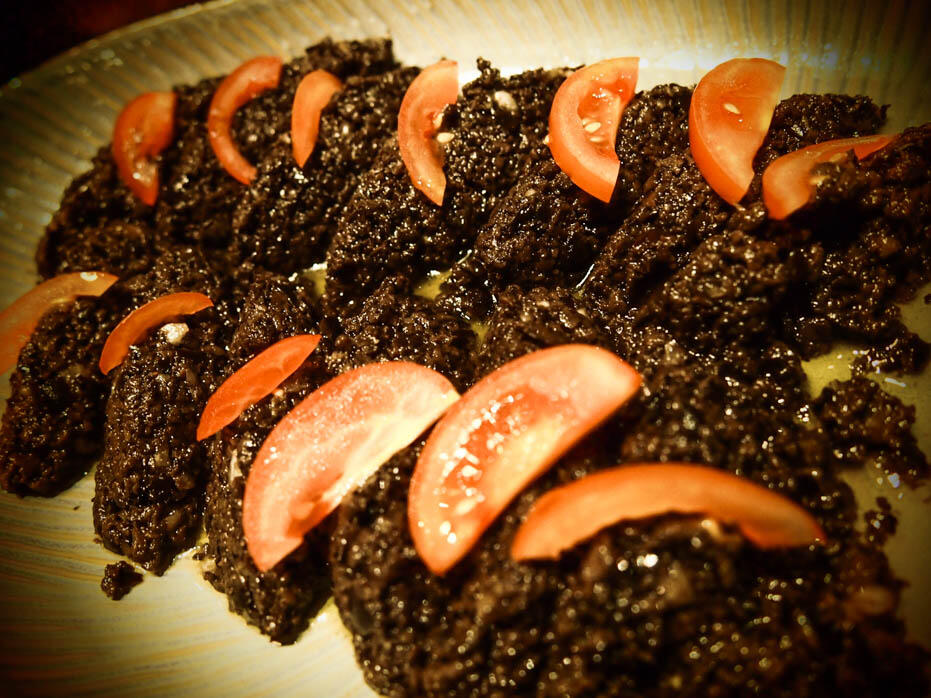 Pâté de azeitonas – olive caviar with garlic.
This was so yummy!!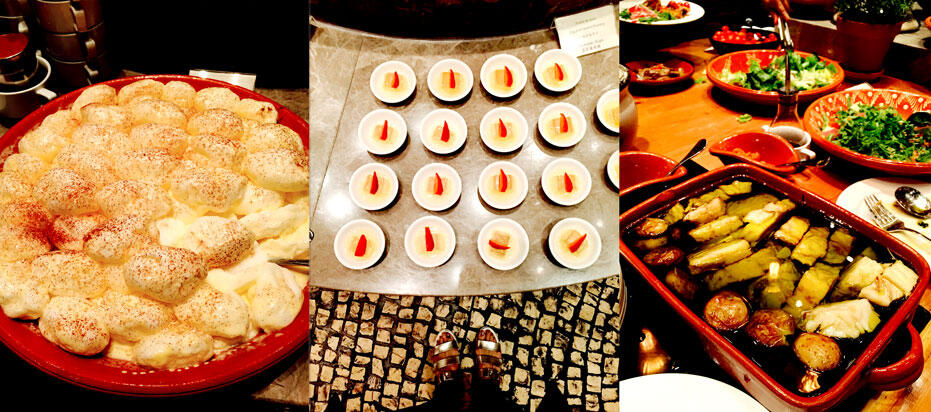 Tried saving room for dessert. We ended up having to share a plate by taking a little bite of each cos we were just too stuffed!
On left is Farofias – egg white baked with custard and cinnamon.
In middle is pudim de ovos – egg and caramel pudding,
Far right is not a dessert: Bacalhau a lagareiro – roasted salty cod in vinegar and garlic.
They were all so delicious, i could have been satisfied on dining on a few alone… but i pushed myself that night cos i wanted to try them all!!!
Eyes definitely bigger than stomach (and stomach growing in an attempt to match size of greedy eyes).
+ + + + + +
Some pix taken in the famous cookie stores while we walked around sightseeing the next day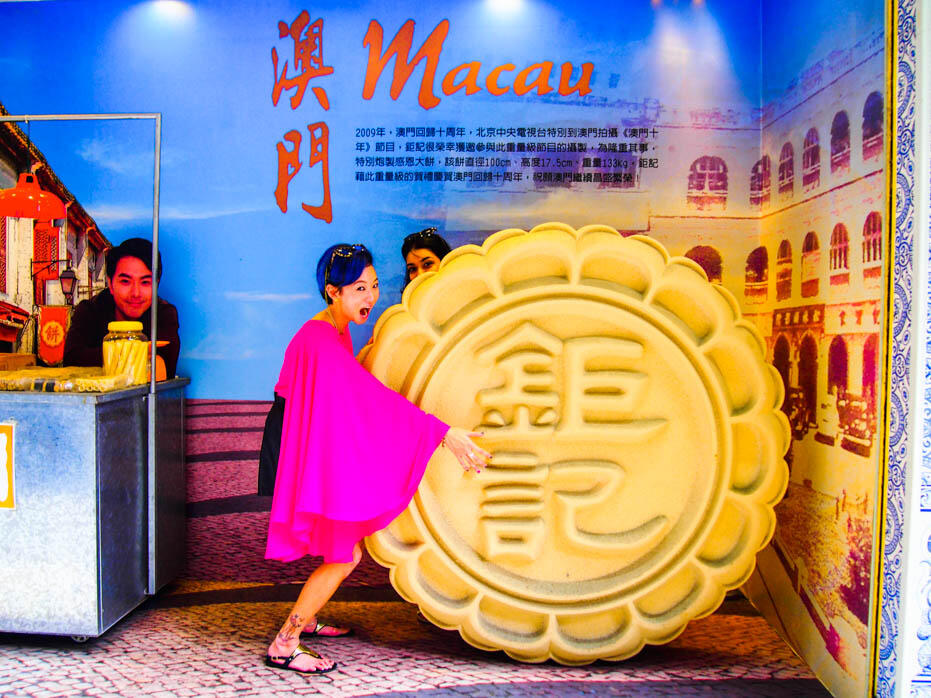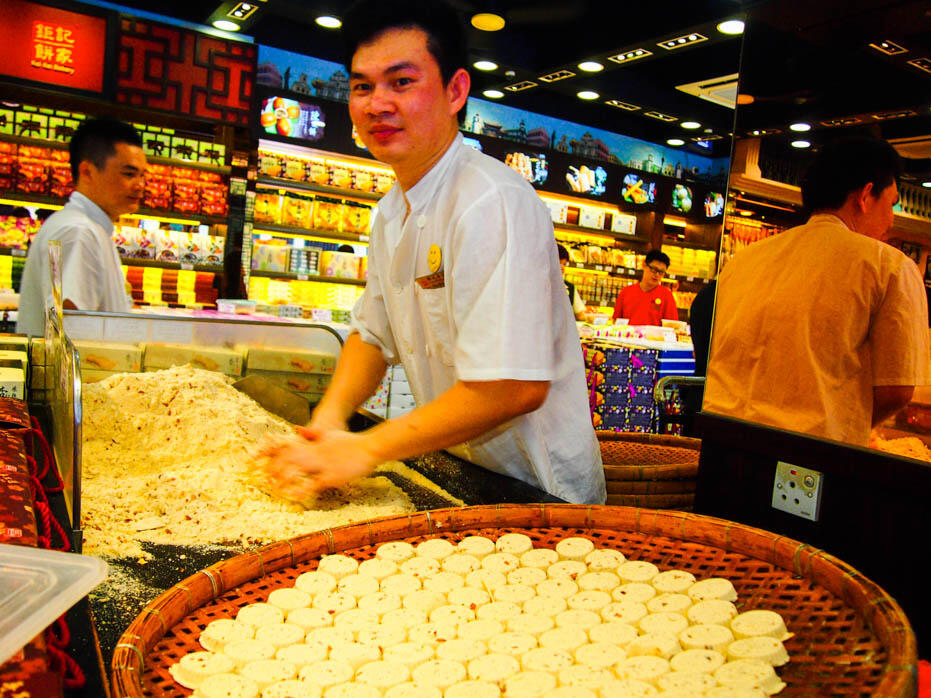 They have little testers for every type of cookie they make so you can imagine we tried quite a few… bought some back for home and office.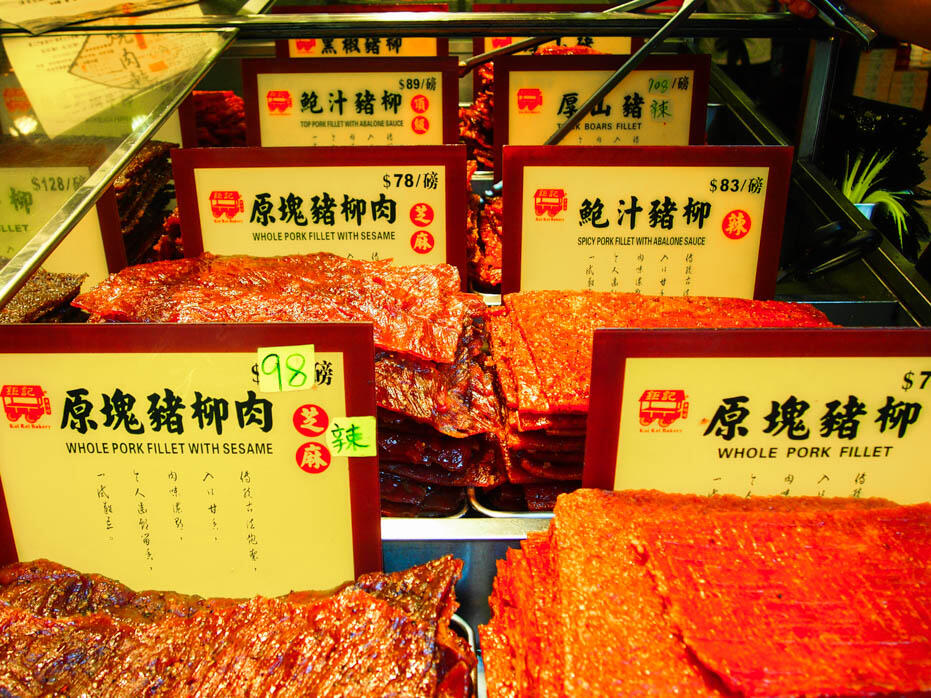 We could try the different types of bak kua too… bought some for my dad.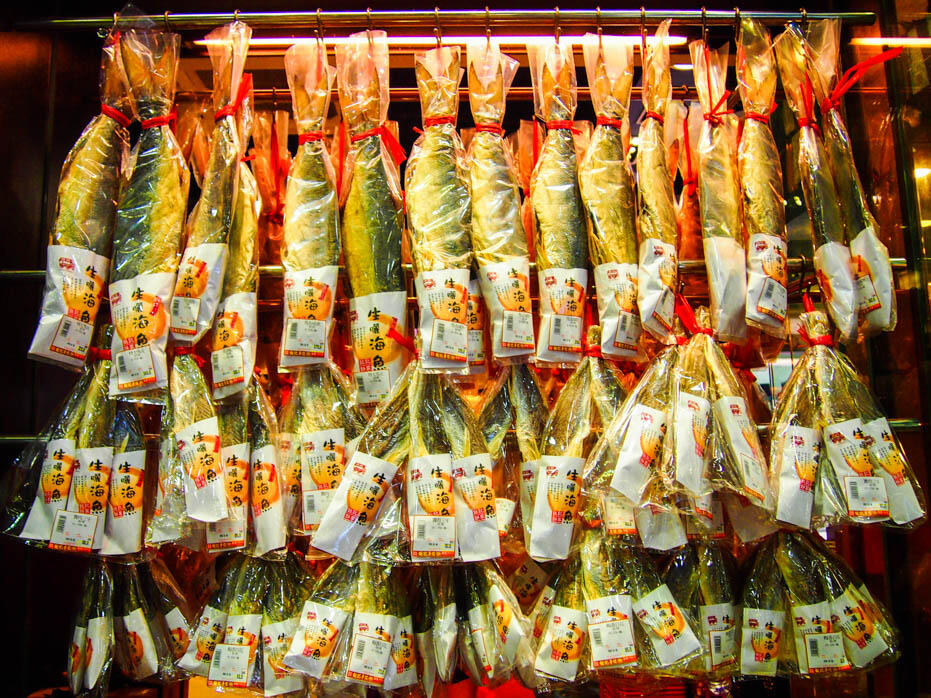 + + + + + +
For lunch, we had Chinese dim sum at the classy Canton Restaurant at The Venetian.
We ordered a few dim sum dishes and a vege… and can i just say that if you go there, don't over order cos the portions are a lot bigger than in KL!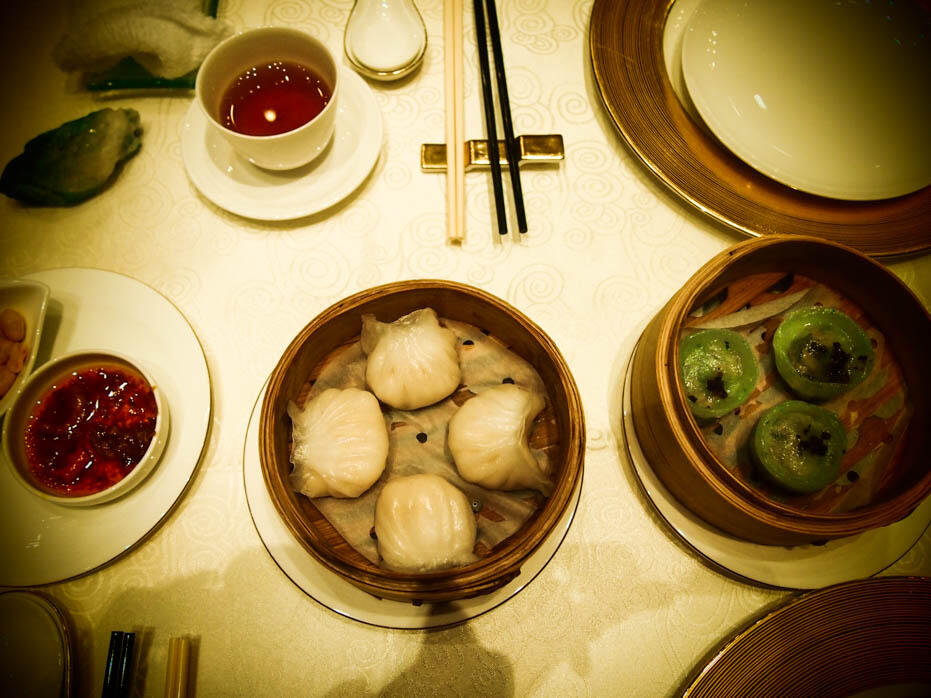 The signature prawn dumplings were amazing. Perhaps… the BEST har gau i've ever eaten in my life. The prawns were gigantic, juicy and incredibly fresh- they just burst with flavour the moment i bit into them. And instead of putting one prawn in each dumpling, there were two! Oh man, my tummy is grumbling thinking back about this har gau.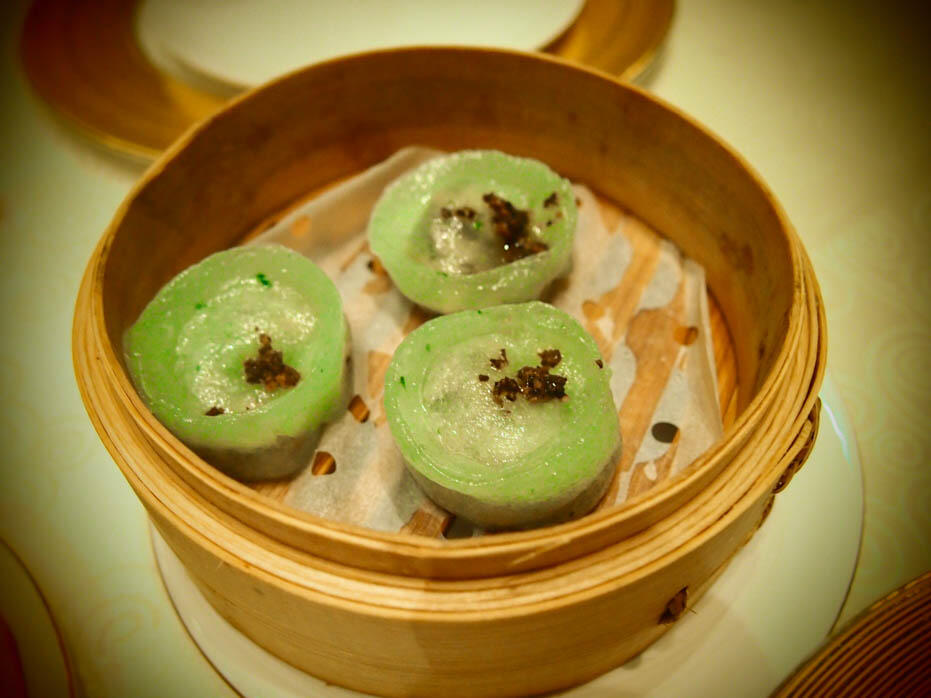 Black truffle + mushroom dumplings- also really good!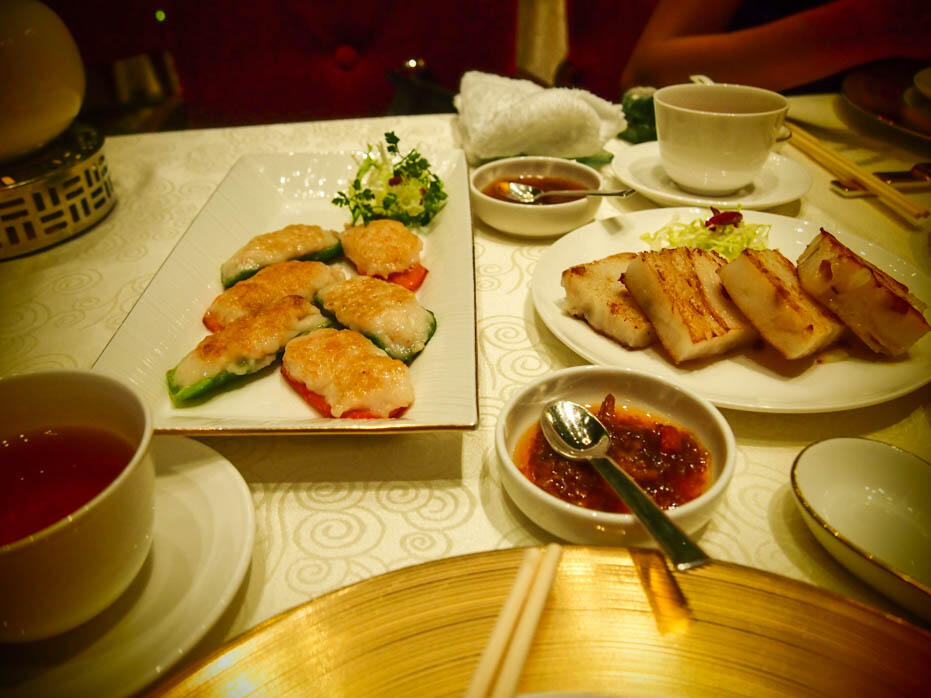 Fried turnip cake with XO sauce.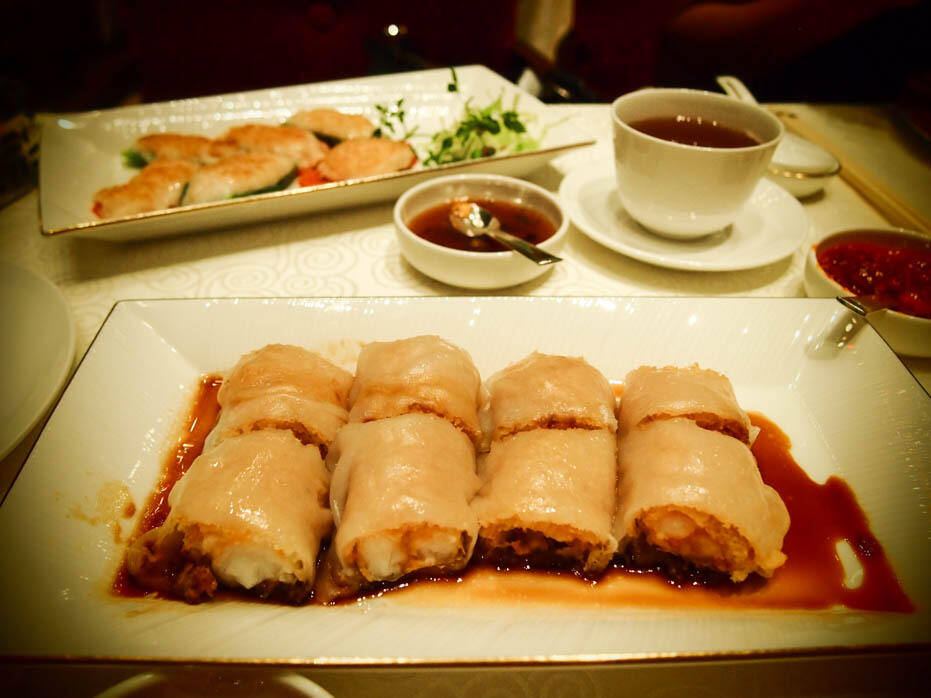 Rice sheet rolls with crispy prawn spring rolls
Deep fried diced fish with with Lotus Seed and Wild Yam in Fish Broth.
The fish broth was amazing… we drank it to the last drop.
Oh my god… we ate and ate and i definitely ate more than the other two cos they don't eat as much as i do and we definitely over-ordered cos there were some leftovers we were forced to takeaway (too good to waste!) and gave to Timo (our tour guide) who admitted the next day he happily gobbled them within an hour.
+ + + + + +
On another afternoon in the city, we went to have a girlie afternoon tea at the award-winning Pastry Bar at MGM.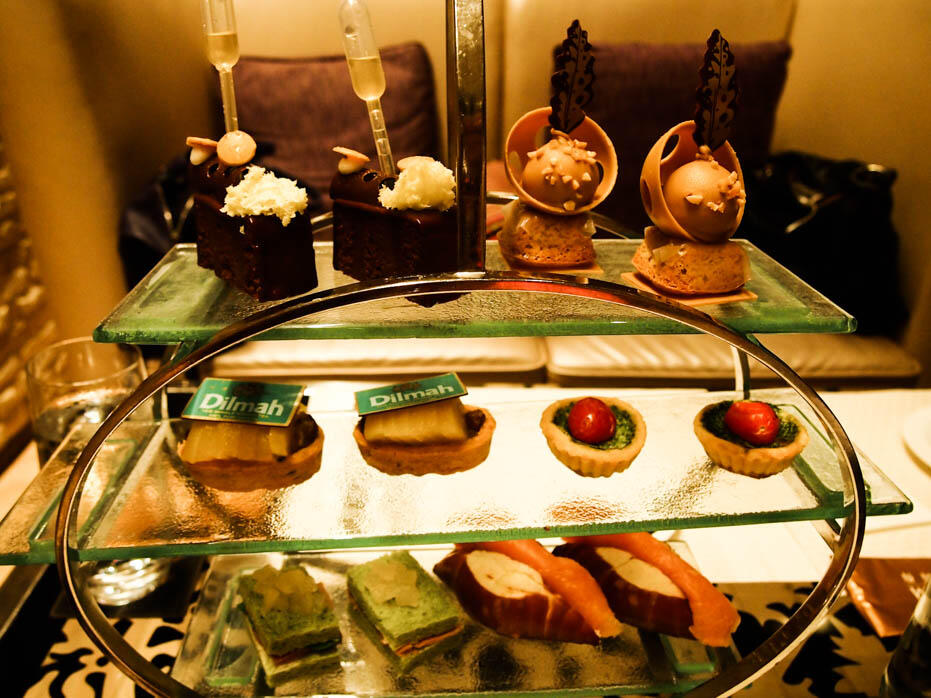 The Dilmah Tea Set and Portugese Afternoon Tea Set had all these exquisitely made tidbits… that we stared at them for ages feeling it was such a pity to destroy them in our mouths. They were practically little pieces of art! After sitting and admiring the whole thing for a pretty long time, we gingerly picked the various bites of miniature sandwiches and pastries to eat.
Oh my, they were delicious! There were so many delicate textures like crisps that melted, and savoury salmon, merged with sweet fruit.
There were pretzels with smoked salmon + shallot + curry mayonnaise,
chorizo + spinach quiche with sundried cherry tomato,
special Dilmah tea brioche with spinach + smoked duck + pear chutney,
Dilmah peppermint tea with flourless chocolate almond sponge,
chai masala Dilmah ceylon souchong tea with custard tartlets with poached saffron pear and organic raisin compote…
In the Portuguese tea set there were port wine pear tarts, Portuguese custard tarts,
cinnamon souffle cake, Portuguese sponge cake with vanilla chantilly,
white chocolate cream with pistachio sponge cake and mango passion fruit compote,
cream caramel pudding with berries,
buns of olive oil with spinach and sardine,
roasted onion baguette with pork patty and roasted sausage,
beetroot bread with pata negra and tapanede…
Can you guess i took a picture of the menu?
There was no way i could remember all of that! I'm no Mike Ross.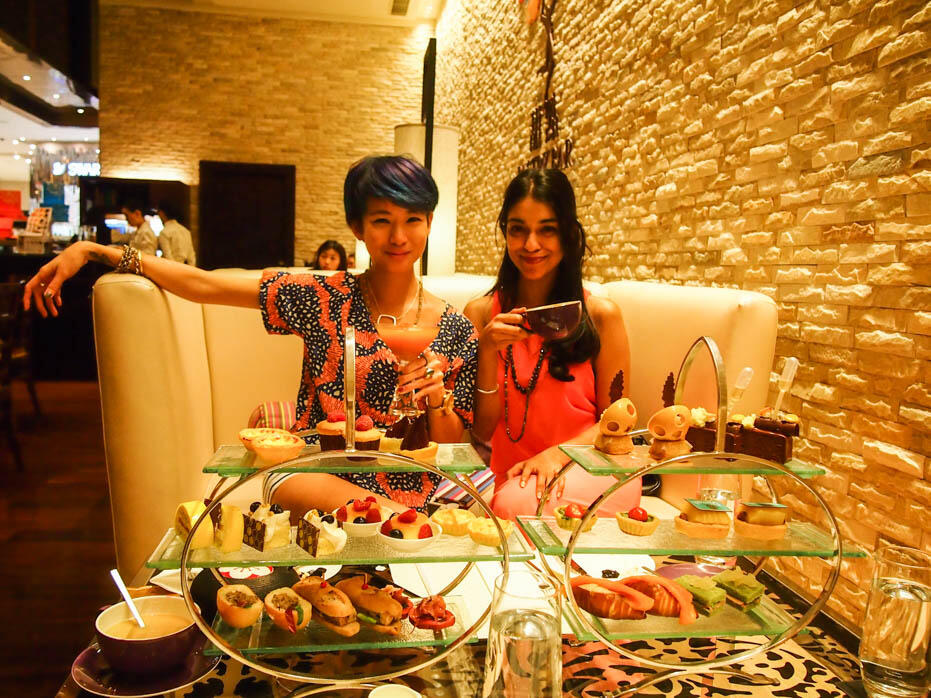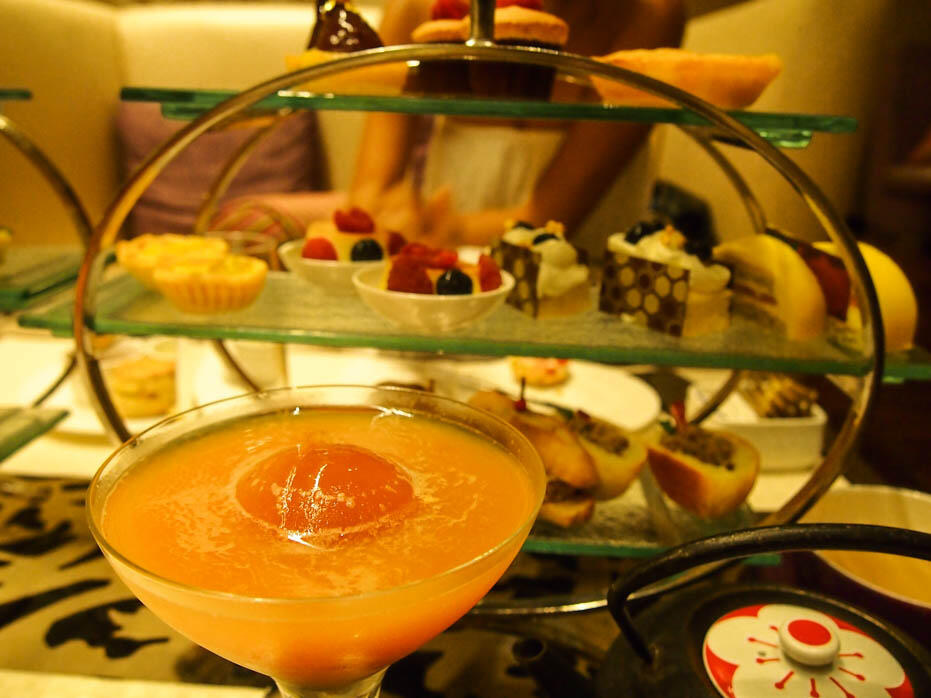 Tried some really special drinks like molecular iced cocktail tea, and iced meda watte tea.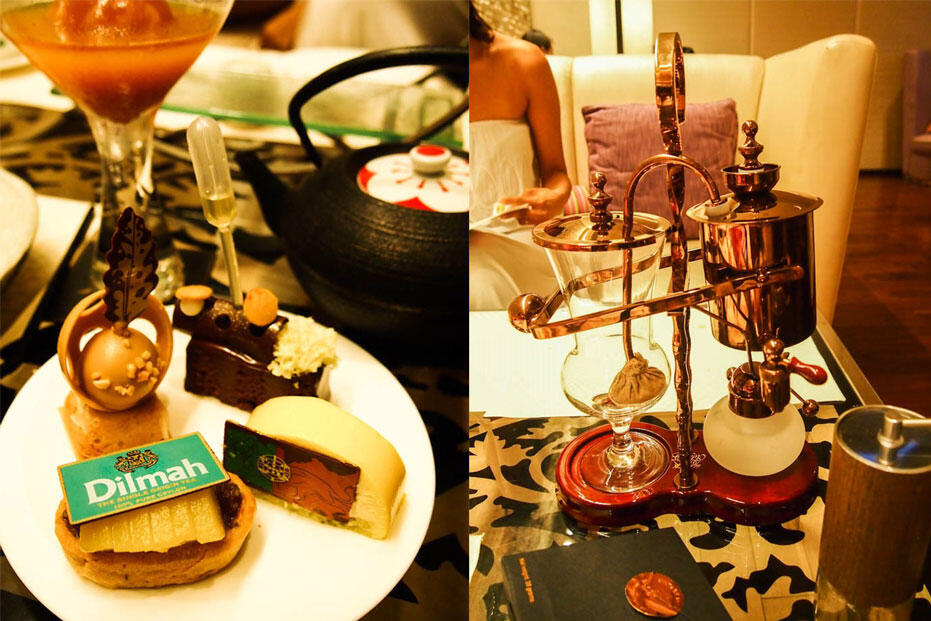 Also tried Black Ivory Coffee – one of the world's rarest coffees with only 200 kgs made per year. It cost MOP488 for 4 cups (about RM230!)
"It gives off both a floral and chocolate aroma enhanced by a full-bodied robust taste. Its deeper sophisticated flavour notes delight with hints of malt, spices, grass and tobacco."
Made with 100% Thai Arabica beans, 8% of the profits go to the Golden Triangle Elephant Foundation (a non-profit approved by the Thai government for providing special care for orphaned elephants).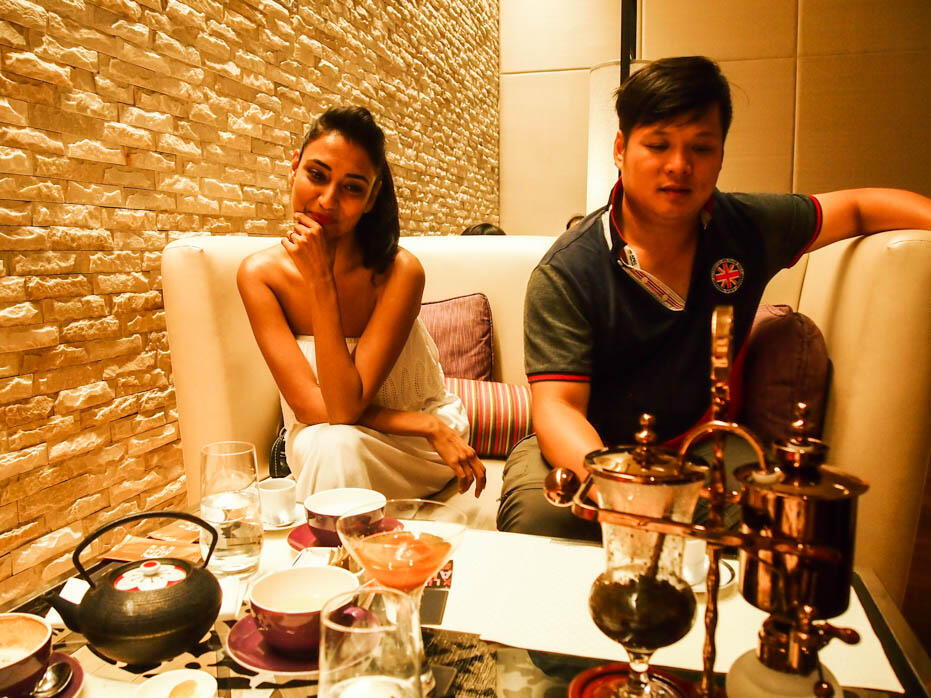 Dhanya got really high on the coffee and started giggling and pummelling Timo cos she was trying to maintain at tea… XD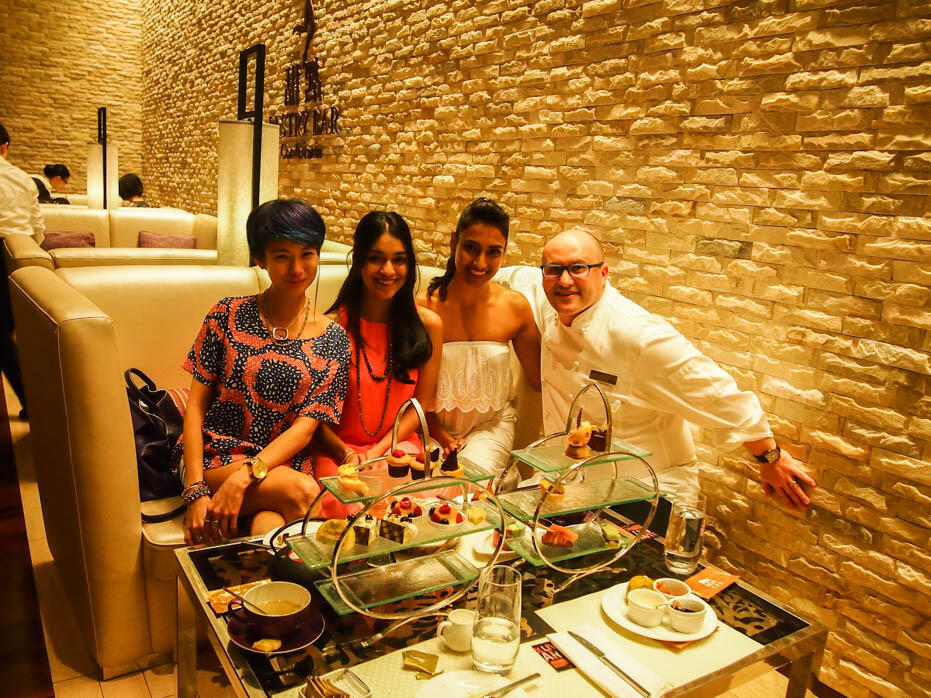 We managed to meet Chef Holger Deh who's the head of the legendary tea dream team, who mentioned he'd just moved from KL!
For related posts:
* Macau: Bright Lights Rich City *
* Highest Bungy Jump in the World @ Macau Tower *